Are you planning a trip to Oahu with kids? Get all your questions answered with this extensive Oahu family vacation planner! Scroll for all the tips!
This family guide to Oahu with kids was originally published July 20, 2019 and updated October 23, 2019 and contains affiliate links which means if you purchase something from one of my affiliate links, I may earn a small commission that goes back into maintaining this blog.
If you have ever had a question about taking your family to Oahu, you're in luck! I have had enough questions about Oahu tips and tricks for families over the years that I have created a comprehensive guide to Oahu for families.
If you're looking for the best Oahu family resorts, best Oahu beaches for swimming with littles, top attractions in Oahu, best hikes in Oahu, or just where you should take your littles to eat, keep reading!
Enjoy my Extensive Oahu Family Vacation Planner!
And be sure to see my top 101 Things to do on Oahu with Kids!
Don't have time to read a bunch of Hawaii blog posts and reviews? Here are some of our top picks for visiting Oahu with kids.
Best Kid-Friendly Oahu Tours/Activities
Best Kid-Friendly Oahu Resorts
Want to Rent a Car in Hawaii?
One of the best places to rent a car in Hawaii is Discount Hawaii Car Rental because they get the best rates from top national companies like Alamo, Dollar, Thrifty, Avis, Enterprise, Budget, and Payless.
Want to skip all the planning and just access my detailed Oahu Itinerary complete with daily schedules, kid-friendly activities, and travel hacks? Click the button below.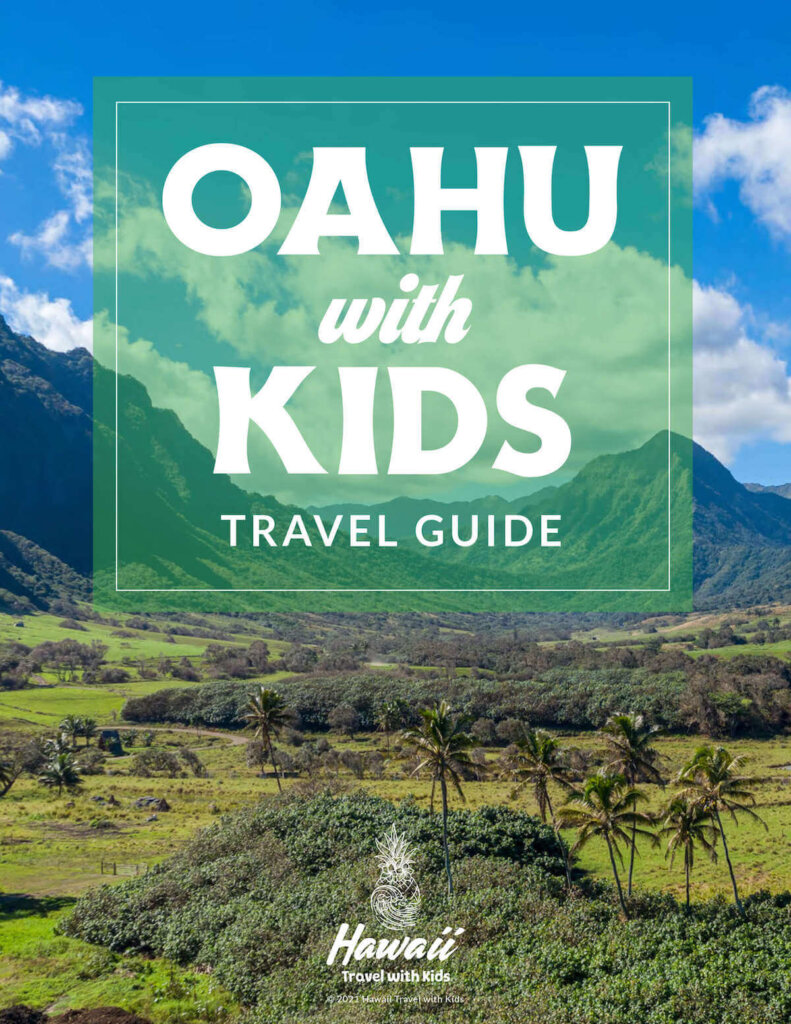 Oahu Family Vacation Planner FAQs
Is Oahu good for families?
Absolutely! Oahu has tons of kid-friendly attractions, activities, restaurants, and so many things to do. Plus, there's a lot of kid-friendly Oahu resorts to choose between.
Is Maui or Oahu better for families?
Both are excellent choices for a family vacation to Hawaii with kids. Maui is definitely more laid back but Oahu has more tourist attractions.
Is Oahu worth going to?
We think so! There's really something for everyone to do on Oahu at a variety of price points. Families can do a luxury vacation to Oahu or find easy ways to book a Hawaii vacation on a budget.
Do we need to rent a car on Oahu?
This is the one question I get asked the most – and the one question I may not be able to answer! The answer to this question depends so much on what you would like to do while you're on vacation.
Does your family love hiking, exploring new and exciting areas and finding authentic, hole-in-the-wall restaurants? If so, you will want to rent a car.
If your family just wants to relax by the pool or beach, and maybe take advantage of the activity schedule at your resort, you can probably get by without a car.
Our family always rents a car when we visit Oahu. This is just what seems to work well for us. With our two little ones, we like to be in control of pit stops and not feel like we are holding anyone up.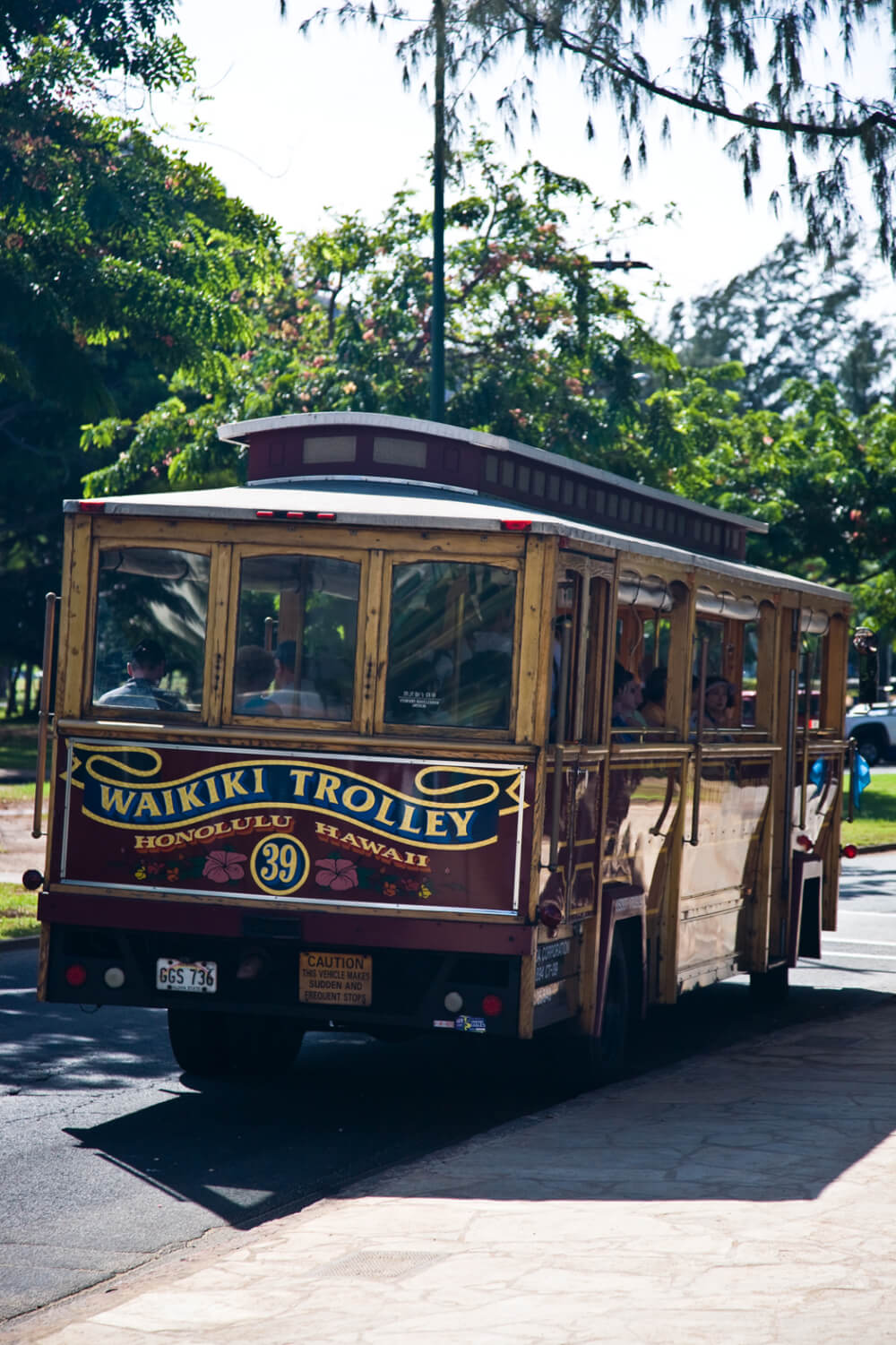 We also like to buy road snacks and drinks at Costco as a way to save a little money. Most shuttle services won't let you bring your own food. Add to that the fact that our boys can nap on longer drives to activities, and renting a car is a no-brainer for us!
Of course, this won't be the case for everyone! If you don't plan to rent a car, I highly suggest that you check out this Waikiki Trolley Pass.
The open-air trolley is a blast for kids! It includes connections to some of the most popular Oahu attractions like Diamond Head, Hanauma Bay, Pearl Harbor, Bishop Museum, and more!
The best thing is – no worrying about driving on unfamiliar roads or paying for parking!
Another option on Oahu is Uber – the ride-sharing app that can be found in many US cities currently. If your hotel or resort doesn't have a complimentary shuttle, Uber is a great way to get there from the airport.
Of course, if there is a shuttle that runs from your hotel or resort, go that route!
If you are staying on Oahu for 7 days or more, I usually recommend renting a car.
What can we do in Oahu with kids?
Oahu is a wonderful place to relax, but it is also a great place to try something new! I especially love the number of activities there are for families!
If you are heading to Oahu with a toddler or preschooler, I would suggest only scheduling one activity a day so there is still plenty of time to relax!
BEST FAMILY HIKES IN OAHU
The scenery on pretty much any Hawaiian hike could blow hikes on the mainland out of the water! I am not an avid hiker anywhere but Hawaii. Oahu is no exception and has some truly spectacular trails and views!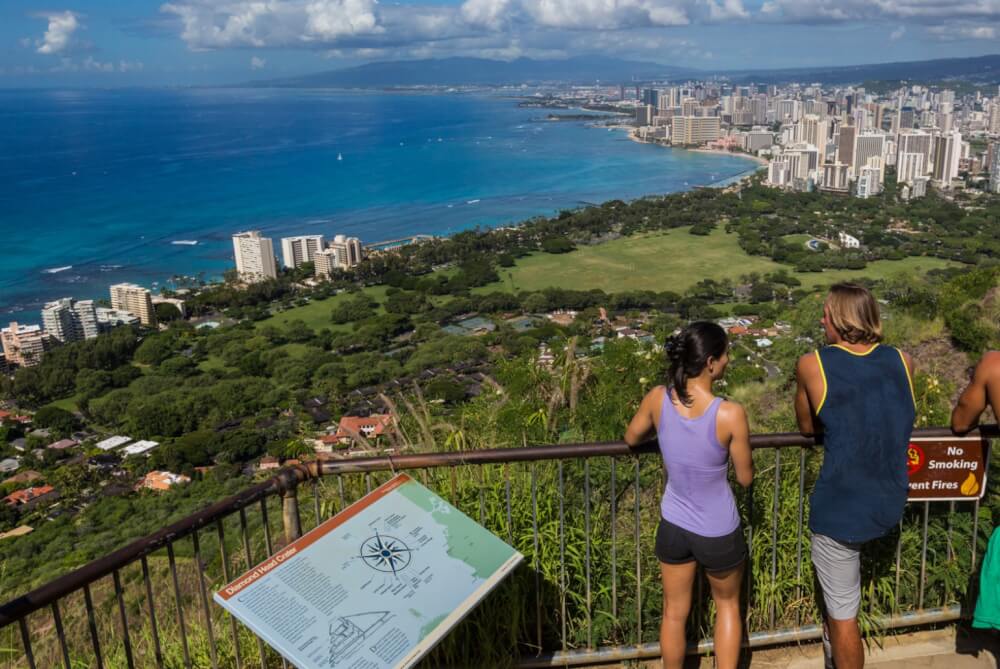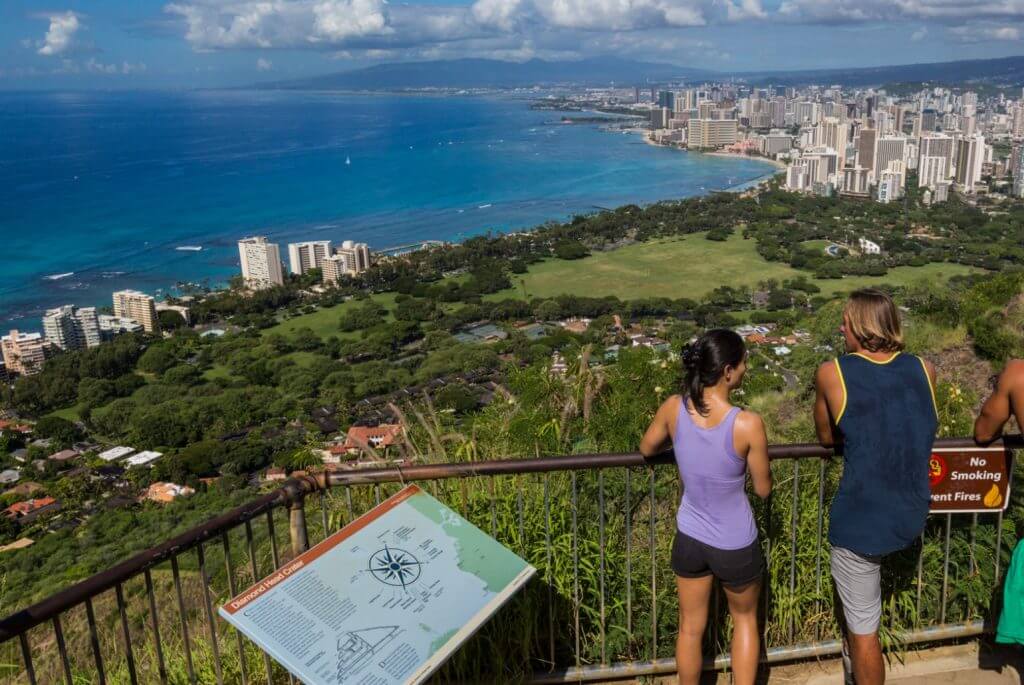 Diamond Head is probably the most well-known hikes on Oahu. It's fairly inexpensive, and something the whole family can experience together. If you're able to, I suggest going first thing in the morning, BEFORE the tour busses start pulling up!
If you are looking for a less-crowded, easy, kid-friendly hike, check out the guided Oahu Waterfall and Rainforest Hike. A tour guide will lead you through some gorgeous scenery on the way to famous Manoa Falls. Check out the latest prices and more details.
The only hike I would suggest staying away from the Stairway to Heaven hike. While this is probably the best-known hike on Oahu, it has been closed for 30 years and carries a steep $1000 fine if you are caught on it.
While there is a legal back way to the summit, it is not kid-friendly and might take the better part of a full day for even the fittest hiker to attempt.
AQUA ADVENTURES
Oahu has some of the most diverse sea life in the US. If you would like to stay dry while enjoying an immersive sea experience, book a ride on the Atlantis Submarine Adventure.
Babies, toddlers, and preschoolers are a great fit for this adventure. My boys loved our adventure under the ocean, and were settled in really well once they realized the divers bringing the sea life to the windows were friendly!
If self-propelled is more your speed, you can swim with dolphins and sea turtles, or snorkel your way over tropical treasures. Check out the latest prices and more details.
Hanauma Bay is a great place to try out snorkeling for the first time – just don't forget to sunscreen your back!
If you are exploring without the kiddos, this Oahu Submarine Scooter Adventure is an adults-only adventure on an electric underwater scooter. It's a great way to see sea turtles and tropical fish up close and personal! Check out the latest prices and more details.
For the very brave, check out an Oahu Shark Dive! Check out the latest prices and more details.
WET 'N WILD HAWAII WATER PARK
While some resorts and hotels on Oahu have pools that would make any child squeal with joy, not all vacation housing is so nicely equipped.
That is where Wet 'n Wild Hawaii Water Park becomes a great family activity! If you're visiting in summer, and are staying somewhere without access to a pool, be sure to check this place out! Check out the latest prices and more details.
Every water park attraction you can think of is here – from a lazy river to super-fun water slides to a kids water playground, You can also rent a cabana for a day so your family has somewhere to stay out of the sun.
The park was also just named "Best Family Attraction" from Best of Honolulu Magazine, so you know it's the best!
OAHU BOAT RIDES
My family and I LOVE doing boat rides around Oahu! Swimming is not really my thing (Sorry, Michael Phelps) so I like rides I can stay dry on, like this Dolphin Watching Cruise. Find the best prices here.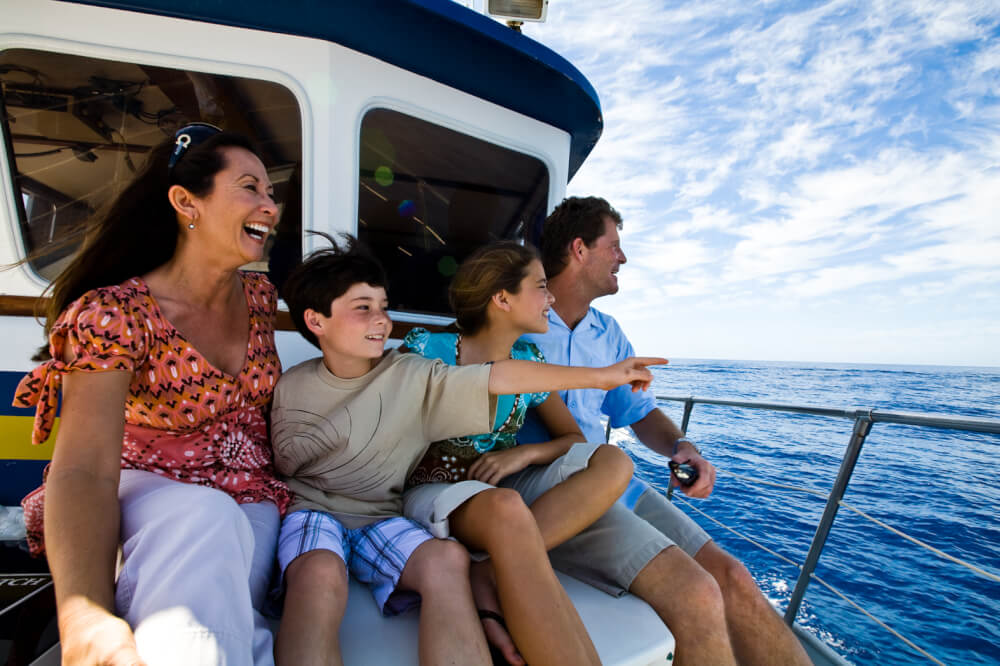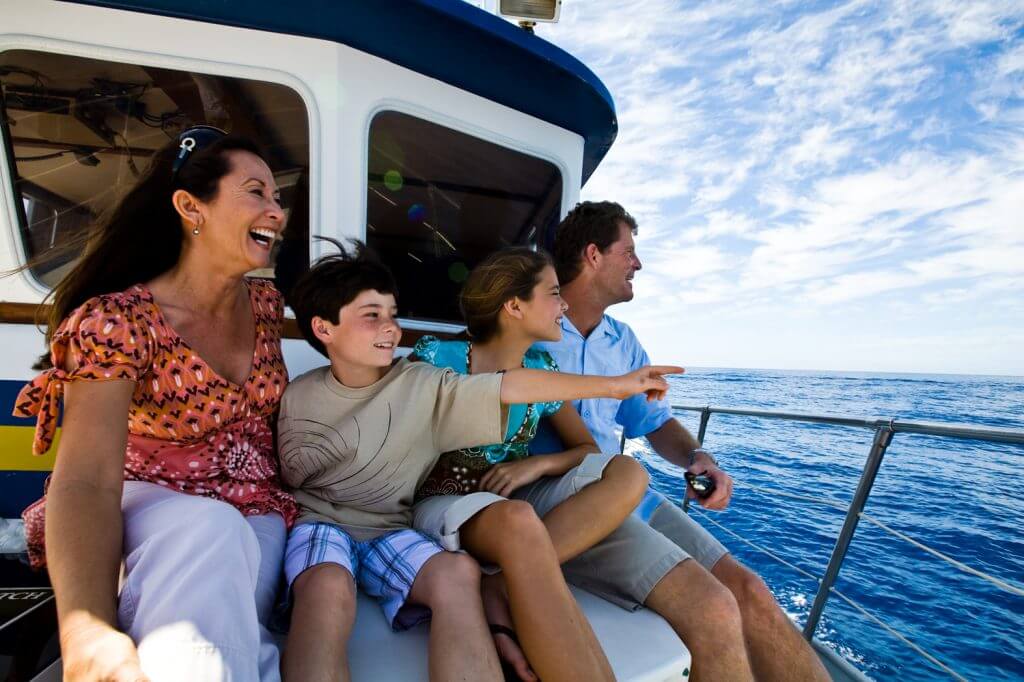 Dinner cruises are pretty fabulous, you get to eat amazing food while watching the sun set over the most picturesque scenery you'll ever see. Find the best prices here.
And of course, a Glass-bottom boat ride is on my Oahu bucket list. My boys will love it! Check out the latest prices and more details.
Speaking of my boys, while I don't care for swimming, they LOVE it. My husband can usually convince me to do at least one snorkel cruise, and so far, our favorite has been the Leeward Coast Half-Day Snorkel Cruise.
They focus on getting you as close to swimming with the dolphins as possible! Find the best prices here.
HORSE-ING AROUND OAHU
You may or may not know that there is such a thing as a Hawaiian Cowboy or Paniolo. This is great news for any horse-lovers in your family because that means you can usually find somewhere to get in a quick (or not-so-quick) ride on your Oahu vacation!
If you are traveling with children between 2 and 7 years old, the pony rides on the North Shore are perfect! Check out the latest prices and more details.
If your kiddos are 8 or older, the Polynesian Cultural Center runs 90-minute horseback rides that would be fun! Find the best prices here.
Families with children 10 and older should check out the beautiful Kualoa Ranch riding possibilities. Check out the latest prices and more details.
And of course, if you and your Hunny just want a night to yourselves, there is always the option of a romantic ride on the beach. Find the best prices here.
ALA MOANA SHOPPING
Who would have guessed that the world's largest shopping center is housed on Oahu in Hawaii? There are over 350 shops and restaurants at this sprawling shopping center, and literally a store for every type of person out there!
While you will still find the staple department stores most malls have, Ala Moana also makes sure to have some unique Hawaiian small businesses represented.
Tons of Hawaiian food is available – including several shave ice spots throughout the shopping center.
You can also find the Honolulu Cookie Company, a shop called Malie (with amazing skincare products), and Hawaiian Island Creations.
The Disney store here has a lock on all things Hawaii-themed when it comes to Disney – some of which you can't find anywhere else. There is also even a Target with Hawaii-specific gifts and souvenirs you can take advantage of!
Between the shopping, activities and kid's playground, you will find more than enough to keep you busy here!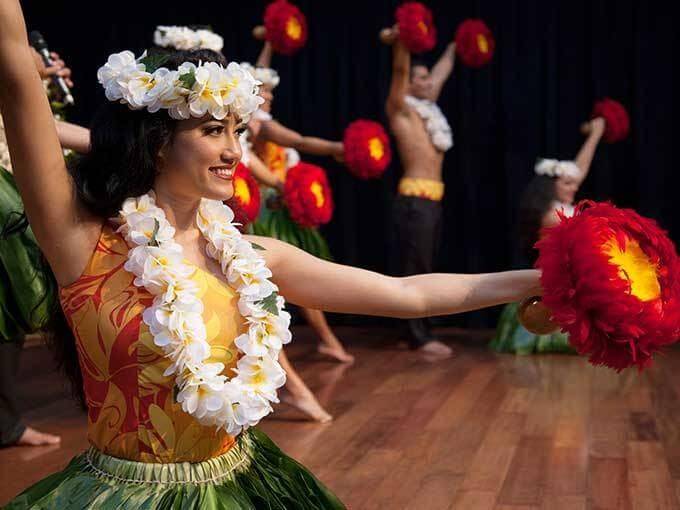 I suggest taking in some of the authentic hula lessons myself – they are available through the Hula with Aloha program, which is run by an award-winning Kumu Hula (Master Hula teacher/leader).
GOLF OAHU!
There is a reason you see so many golf bags on flights to Oahu – this island has some AMAZING golf courses!
We played at one – Ko'olau Golf Club – right before President Obama a few years ago. While I loved the views, I don't think I've ever lost so many balls before!
If you are looking for an easier course, check out the Hawaii Kai Championship Golf Course in East Oahu. You might just be able to finish this course without having to buy more golf balls!
What's the Best Oahu Luau?
Please don't make the mistake of visiting Oahu and NOT seeing an authentic Hawaiian luau! There are so many options that it can get overwhelming, but don't let that be the reason you miss out on this amazing experience!
I wrote an entire blog post about choosing the right luau for your family, so please give that a read if you need more help deciding! My family tends to focus more on the authentic cultural connections – so we are willing to drive a bit to experience a new (or tried-and-true) luau.
Here are a few suggestions to get you started – the shows are top-notch and the luaus themselves are super kid-friendly!
This small, newer luau is just perfect for my family. We aren't big on crowds, and this luau gives us a chance to enjoy ourselves without feeling rushed or packed in like sardines! Check out the latest prices and more details.
For kids, there are a lot of activities before the luau starts to keep them entertained. I love the Kava Ceremony here. It's something different – and involves the kids in a bunch of different ways throughout the authentic Polynesian experience.
You can read my full Toa Luau review.
While the luau here is fantastic, this center really could be a day all by itself! There is so much to see here that we like to go for the day, then end with the luau and Ha: The Breath of Life evening show. Check out the latest prices and more details.
The setup at PCC is just too good to miss! Not only do you get a traditional luau, but you can take in everything else the center has to offer – including the evening show!
Since the show revolves around voyagers exploring the ocean and new lands, any Moana fans in your family will be ecstatic! You can read my full Polynesian Cultural Center review HERE.
Which Oahu Beaches Should We Hit?
It is amazing how different beaches can be – even on the same island. Since we visit Hawaii a lot with our boys, I have been on the lookout for the best beaches for babies, toddlers, and now preschoolers.
Here is what I have found so far:
ALA MOANA BEACH PARK
If you are staying in Waikiki, but the beach is packed (it happens!) you might consider heading to Ala Moana Beach. The beach/park itself is right across from the Ala Moana shopping center.
I love this set-up because it means that we can grab easy food-to-go in the food court, or head to the shopping center for shave ice to cool off after a great day at the beach!
BABY MAKAPU'U
The tide pools here seem like they were made for little ones. I found out about this beach from an Oahu photographer who said it was a great spot for families, and she was right!
If you have kiddos who like to explore, this would be a wonderful, safe option!
LAGOONS AT KO OLINA (NEAR AULANI, A DISNEY RESORT & SPA)
The four lagoons near the Aulani resort are perfect for picnics and playing. The lawns are kept up and just right to lay a blanket on, and the lagoons boast calm water that means little ones won't be knocked over by a rogue wave!
Insider Tip: Lagoon #4 has the best shade, and is the only lagoon with free parking!
LANIKAI BEACH
This Kailua beach has consistently been named one of the Top Ten Beaches in the World – and for good reason!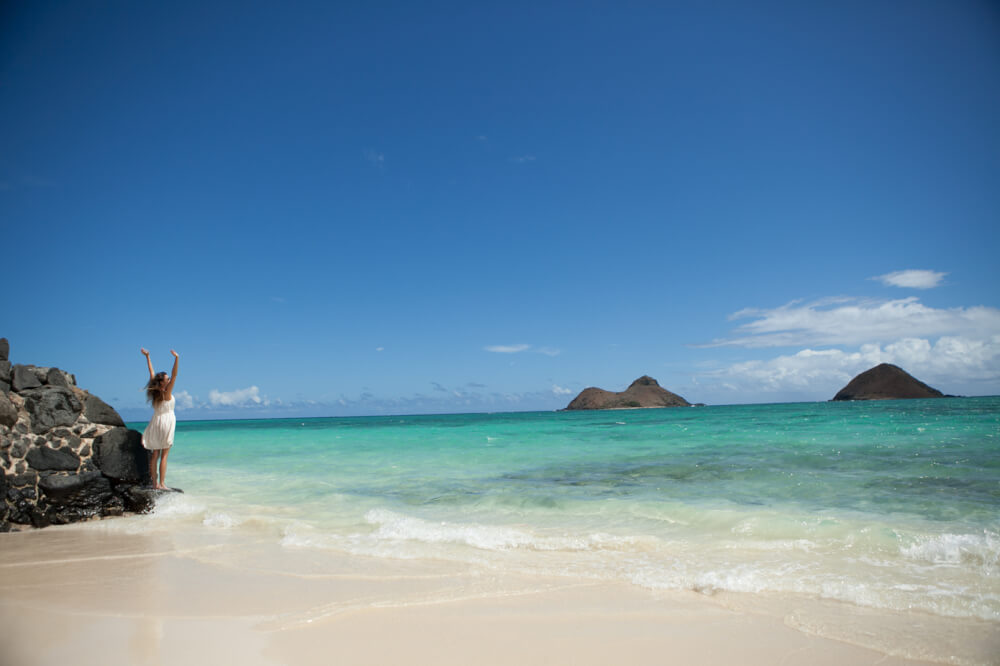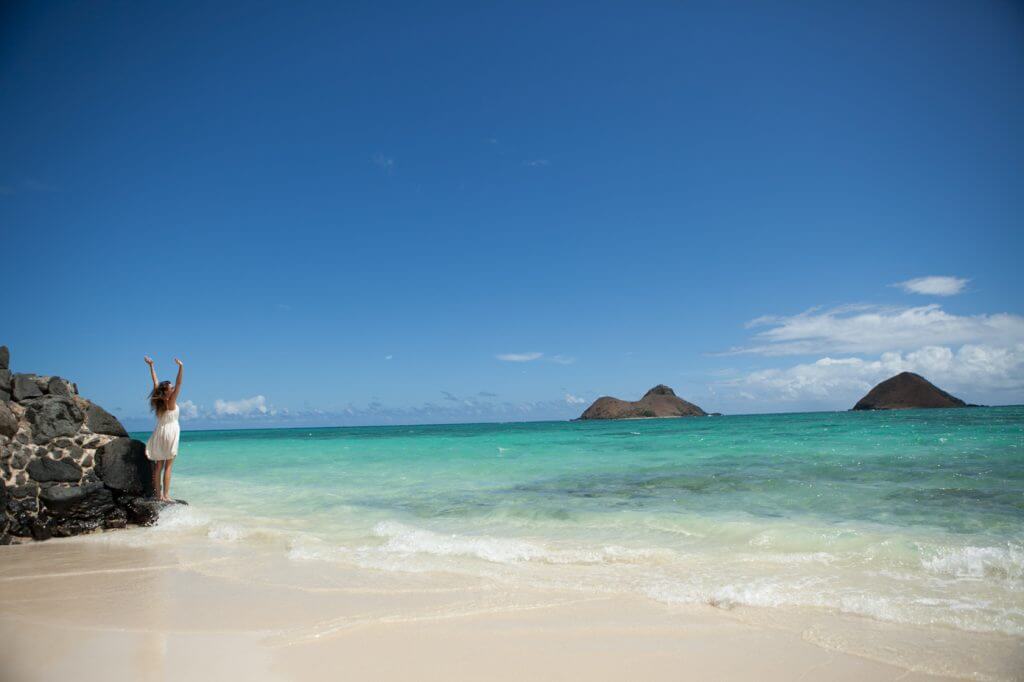 The water is calm and gentle, and the sand feels like tine goose-down filled pillows. (Ok, slight exaggeration, but seriously SO soft!)
We like to head to Cinnamon's in Kailua for breakfast before we hit the beach for a solid day of playing!
WAIKIKI BEACH
There is a reason this beach is usually a bit more crowded than others in the area – it works for just about everyone!
Our family LOVES Waikiki Beach, and we have learned which times of day and/or areas to avoid if we want to stay away from crowds.
My boys and I love to play in the calm water and watch all the people having a great time at the beach!
Read my top 25 things to do in Waikiki with kids
Can't-miss Oahu attractions:
Oahu is just a perfect fit for a family looking for a mix of attractions, activities, and chances to relax and unwind. There really is something for everyone to do there!
Here are a few of our favorite things to do on Oahu with toddlers and preschoolers.
If you think you're going to visit a lot of Oahu's attractions, consider purchasing the Go Oahu Card to help you save money on admission tickets!
This is THE place to go to learn about Hawaiian culture and history. They also have a planetarium show and a live lava demonstration that my boys loved! (From a distance!) Check out the latest prices and more details.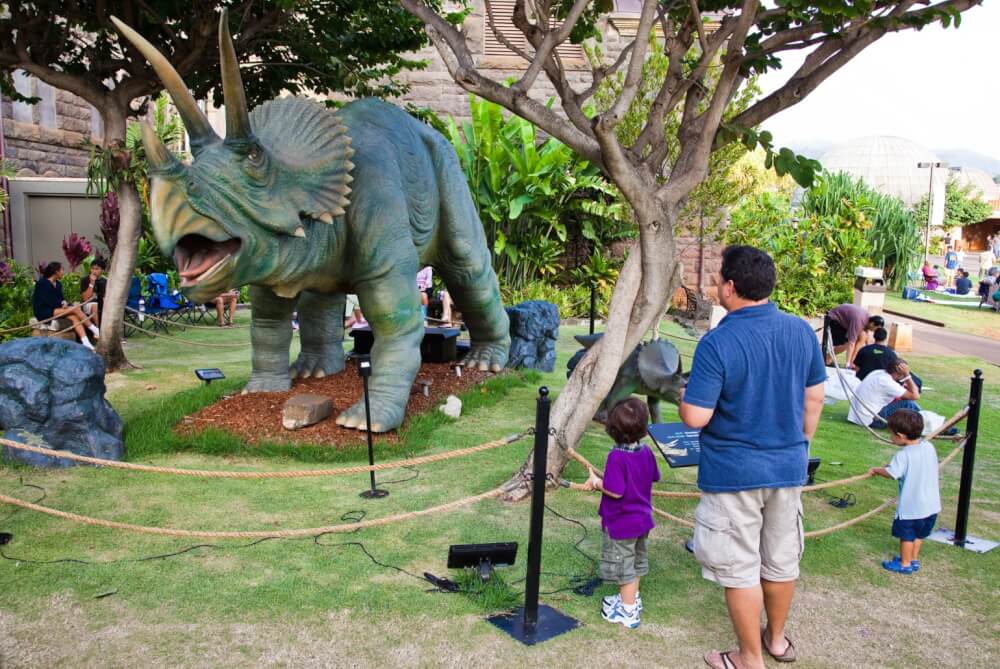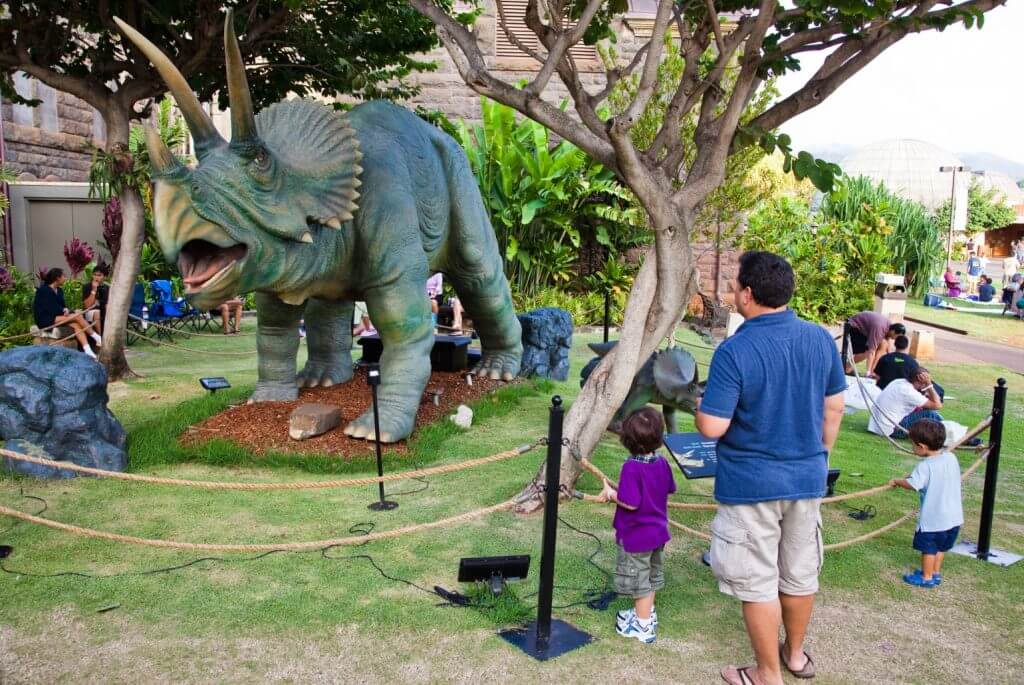 The Bishop Museum is the #1 museum in Hawaii. Weekends at the museum involve a 15-foot walking Tyrannosaurus Rex, a la Jurrasic Park.
And anyone who has seen and loved Disney's Moana will be thrilled to see the exhibit on Wayfinders and their journey from Tahiti to the Hawaiian Islands!
This is a fun attraction for someone who has never seen it before. You can ride a train around the plantation and learn about how pineapples grow, go on a scavenger hunt, and take lots of photos at various places around the plantation.
And of course, you can get Dole Whip!
Our boys do seem to get pretty bored pretty quick, so while they are this young, we usually skip this particular attraction.
If you have any movie buffs in your family, this would be a fun excursion! Jurrasic Park and the TV show Lost both had filming sites nearby, and the ranch now has tours set up to let visitors explore and learn more! Find the best prices here.
You can choose from a Jurassic Park ATV tour, movie site tour, a tropical garden tour, a jungle expedition tour and so much more.
PEARL HARBOR
I think I have seen more pictures from friends visiting Pearl Harbor than anywhere else on Oahu.
It is one of the top tourist attractions on the island, and also happens to be the site of our family's favorite airplane museum – the Pearl Harbor Aviation Museum.
There is much more to this attraction than the U.S.S. Arizona Memorial. While I certainly suggest everyone visits it, the Memorial is still over the heads of my preschooler and toddler – which is why we also love exploring the U.S.S. Missouri!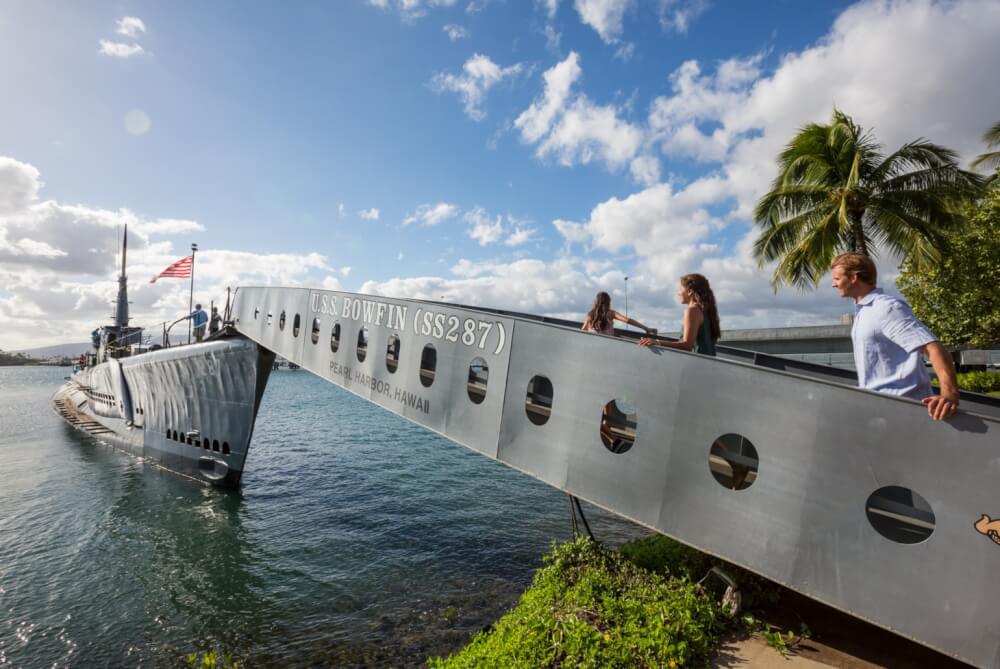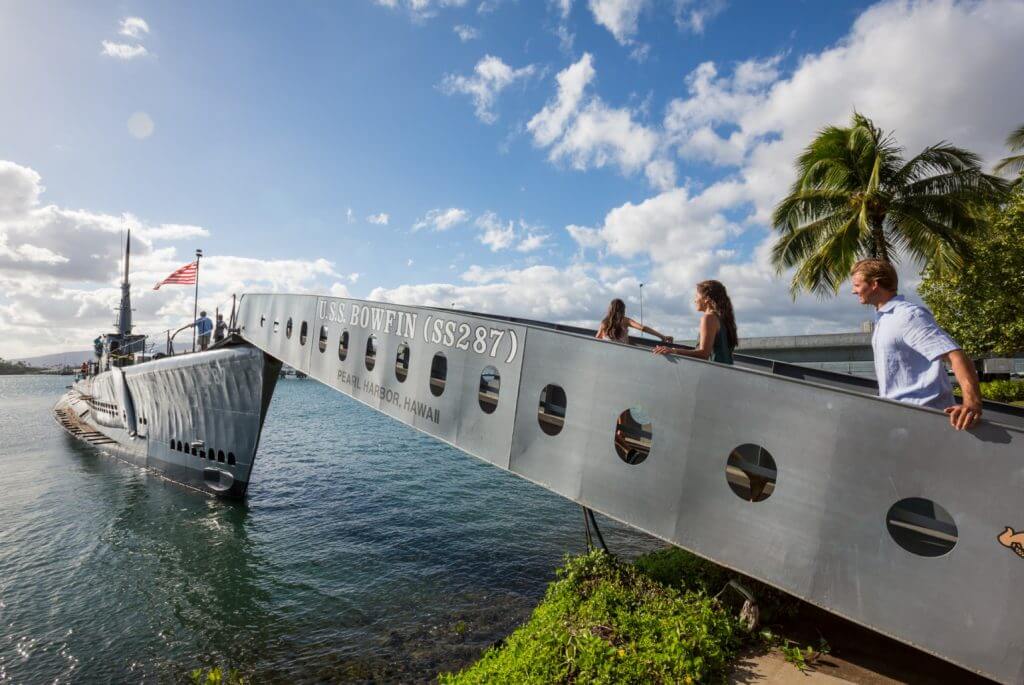 For those families who don't choose to rent a car, you can get to Pearl Harbor by booking a Private Pearl Harbor Tour.
The company will come to pick you up from your hotel, take you to Pearl Harbor, and bring you back. They are kid-friendly to the extreme, and even have car seats available for baby tour-goers!
Up on the North Shore of Oahu, you will find not only a gorgeous drive but one of Oahu's top tourist attractions as well. The Polynesian Cultural Center is definitely one of our family's must-dos when we visit Oahu!
The center is set up to look like Hawaii did in it's "Golden age", with a Hukilau Village, including shops and restaurants. And of course, the park is worth the trip all by itself.
There are different areas of the park set up as "villages" to showcase different Polynesian cultures. Master teachers lead guests through lessons on Polynesian cooking, dancing, crafts, and so much more!
The interactive lessons and the performances all work together to give guests an insight into the cultures that make Oahu what it is today, and it is simply fabulous!
Where Should We Eat on Oahu?
If you've been with me for a while, you've heard how much I love Hawaiian food! I have yet to find an authentic Hawaiian food I don't like.
When someone tells me they don't like Hawaiian food, I assume that means they don't know where to go.
So here is my list of go-to's for amazing Hawaiian food!
This is THE restaurant to have breakfast or lunch if you are in Kailua. Their pancakes are amazing, and you can get their signature guava chiffon pancakes with ICE CREAM! 'Nuff said!
The Loco Moco is my hubby's favorite here – and it is sometimes served over delicious fried rice. The menu has a great variety of Traditional and Hawaiian dishes to choose from. But seriously – get the pancakes. Thank me later!
COSTCO
I'm not joking! We LOVE the food options at the Costco on Oahu – their fresh poke is particularly amazing – we usually pick up as many containers as we can!
Just like all Costcos, they have items that are unique to them. Hawaiian potato chips, Hawaiian cookies, and other snacks that can only be found in a Hawaiian Costco are all available here! (Including holiday specials like Botan rice candy and Hawaiian gifts.)
I make it a point to stop at Costco first thing to load up on Hawaiian snacks for our visit!
JADE DYNASTY
This restaurant was discovered by my amazing mother-in-law who has a knack for finding Chinese food anywhere she travels! This particular Chinese restaurant is in the Ala Moana Shopping Center – nice a close to Waikiki!
The taro buns here are phenomenal! We actually went so far as to order a box of these amazing, light, flaky morsels and took them with us to Aulani, a Disney Resort & Spa the last time we visited. They made the perfect afternoon and midnight snack!
We discovered this cute little Hawaiian plate lunch restaurant after asking a boat crew where we should grab lunch. After our first visit, we were hooked! We now make it a point to stop here at least once every time we visit Oahu.
The servings are generous, and they have yummy Hawaiian dishes like loco moco, shoyu chicken, beef stew, etc. They also have salads and wraps for those looking for lighter fare. Easy to pack and choices for all!
Malasadas are to the morning what shave ice is to the afternoon. These fried dough balls can be filled with various flavors of custard or not, and originated from Portugal.
Leonard's bakery is famous for the quality and tastiness of their Malasadas. I like mine with cinnamon sugar! Besides malasadas, Leonard's has other baked goods like cookies and loaves of bread.
Plan to eat these while still warm for the tastiest treat!
I was able to work with the public relations contact at Honolulu Cookie Company the last time I was in Oahu and was able to ask her for food recommendations. She opened my eyes to Musubi cafe, and it's my new favorite place to eat in Waikiki!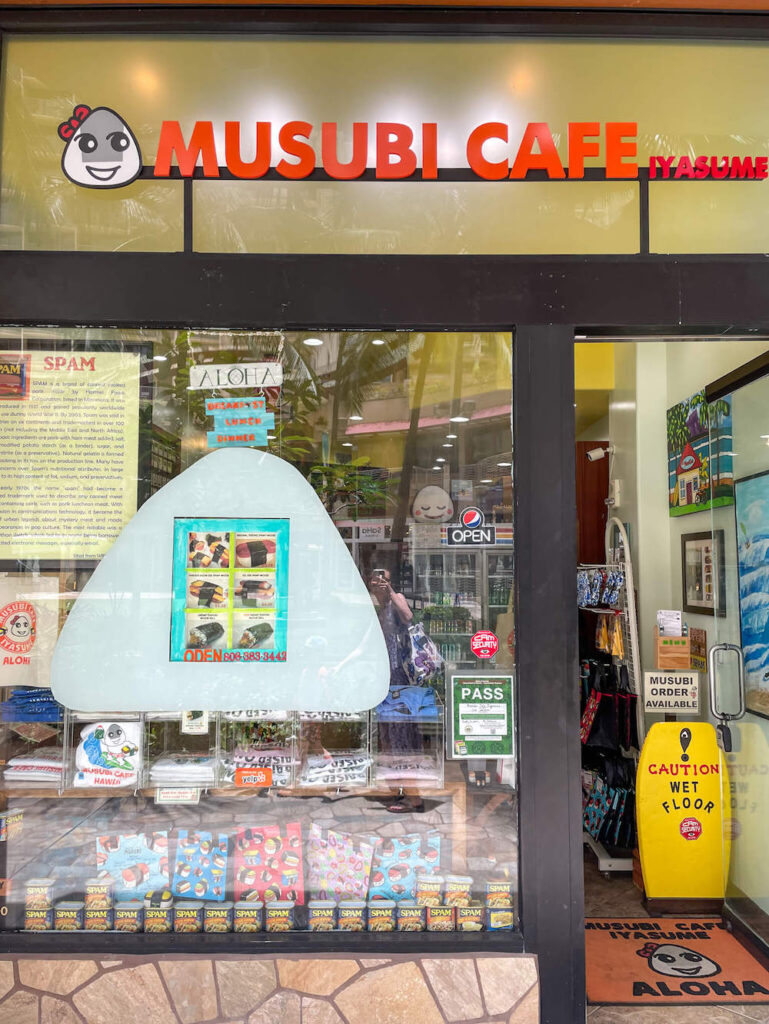 Musubi is similar to sushi, and this little (think walk-in closet) restaurant has just about every type you could imagine. Hawaiians are huge fans of Spam musubi, so of course, it's available, but there are also other musubi options like BACON!
Musubi are individually wrapped, easily packed, and the perfect size for little kids! I usually buy a few to keep on hand for when early-morning munchies hit before we get a chance to get to breakfast, or as a snack in my beach bag.
This is THE place to go for the full-on Hawaiian-style plate lunch experience. The menu changes slightly as ingredients get purchased or used up, but everything we've had here has been delicious.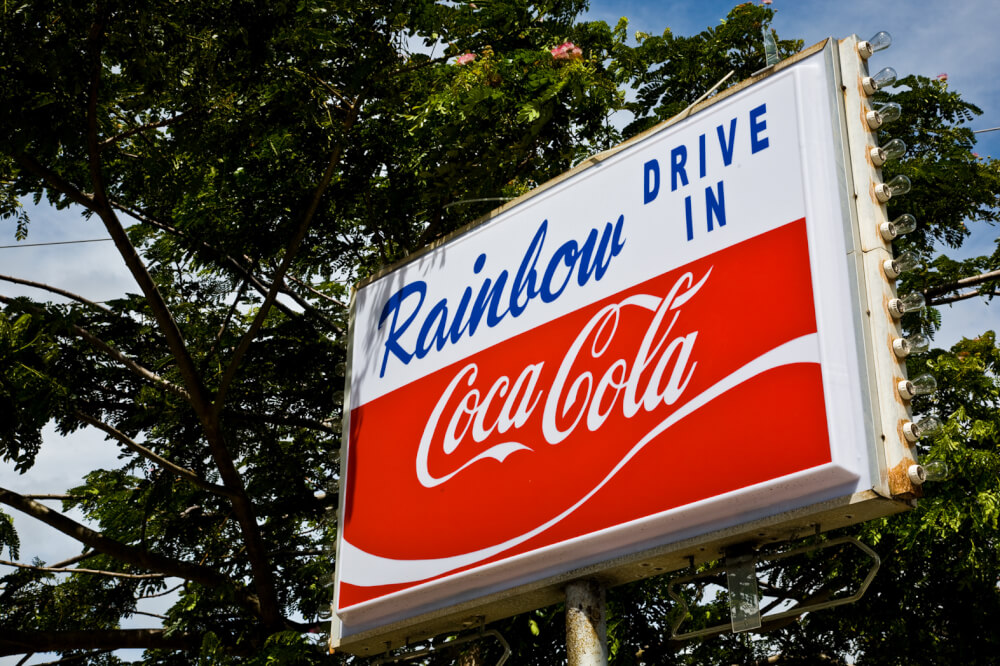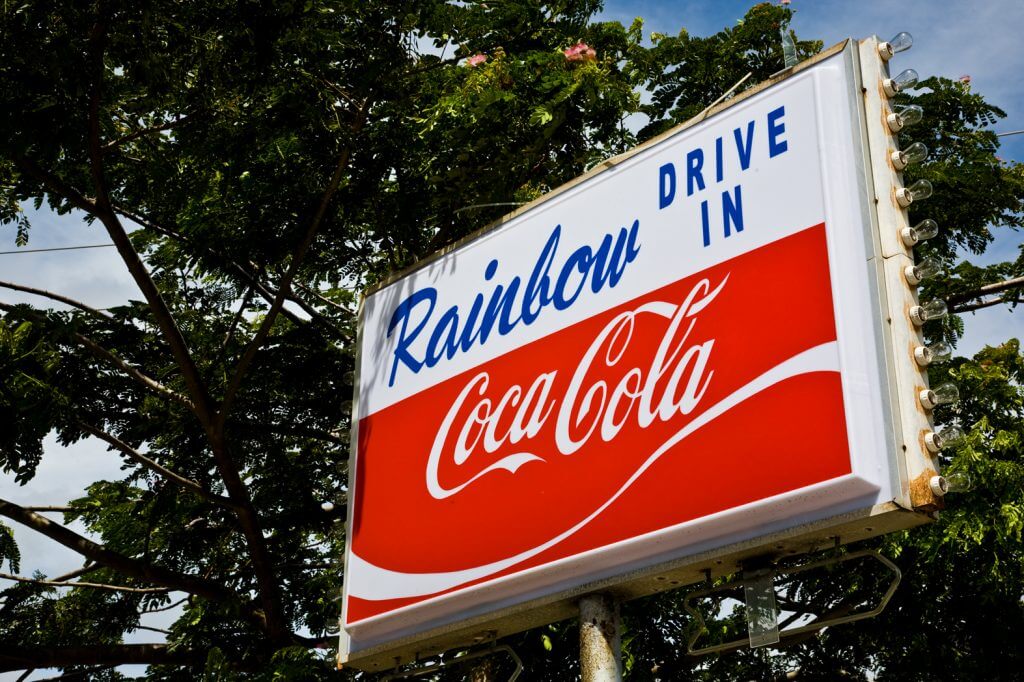 You can eat in-house if you would like, but my family likes to pick up food-to-go, and head to a beach. My favorites are their fried saimin, loco moco, beef stew, and macaroni salad. The servings are plenty big enough to share, so no one will walk away hungry!
SHAVE ICE
Is there a wrong way to do shave ice? I guess there could be, but I have yet to see it. That being said, I do have my favorite shave ice spots!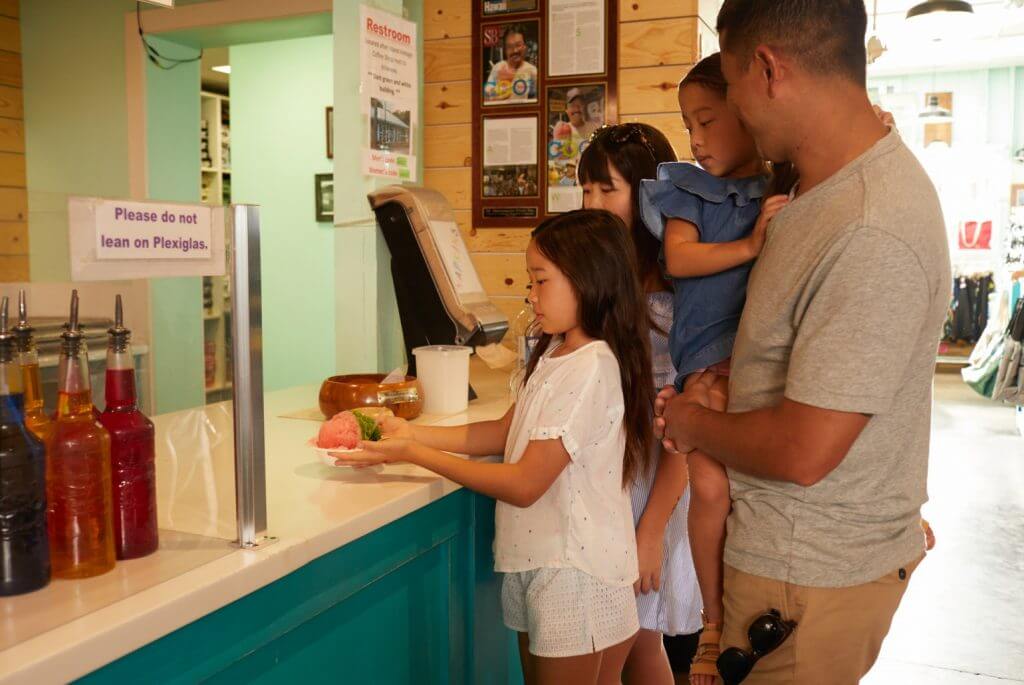 In Haleiwa on the North Shore, Matsumoto's Shave Ice is a MUST STOP. Please just do yourself a favor and trust me! Add to that the fact that Haleiwa is just a gorgeous little town, and you have one happy photographer/mommy/shave ice fiend!
Waiola Shave Ice in Honolulu has some pretty high-brow clients. This is where President Barack Obama takes his family for shave ice when he goes home. Not the prettiest shop, but good shave ice!
Uncle Clay's House of Pure Aloha has been in our rotation for years, and they just opened a new location at Ala Moana Center. I think their secret is the real fruit they use for their flavors – which are amazing!
My mom recently discovered Island Vintage Shave Ice – and are they ever pretty! They are also located at Ala Moana Shopping Center as well as a few other locations, and the shave ice is just as tasty as it is pretty!
I thought my mom and my 4-year old were going to get in a wrestling match for the spoon!
Last Tip – if you are staying at Aulani, a Disney Resort & Spa, go ahead and spring for the Mickey ears on your shave ice!
Where Should We Stay on Oahu?
There are a few things to consider when looking for a family-friendly resort, hotel, or vacation rental on Oahu.
If you want to be able to walk to restaurants and shops, you probably want to be in Waikiki. If you want more of a resort feel with on-site eateries, entertainment, and activities, you will want to look for a resort.
Here are a few places to check out:
Oh man, if I ever win the lottery, I'm moving here. We stayed last February, and as soon as we got back, we started planning the next trip. Aulani is just the perfect blend of Hawaiian culture with Disney magic! Check out the latest prices and more details.
I have several other blog posts that describe in detail why Aulani continues to be my favorite resort in Hawaii. Please know that even if you don't stay here, you can (and should!) still book a Disney Character Breakfast or Dinner!
If you have ever seen the opening credits of the original Hawaii Five-O TV show, you have seen The Ilikai in the background! Situated on the edge of Waikiki Beach, this hotel is a mix of single rooms and condos – which are perfect for families on vacation! Check out the latest prices and more details.
Our extended family all got together for Christmas a few years ago, and we were able to stay at The Ilikai as a large group. It was so nice to be able to cook hot breakfast and dinners whenever we wanted to, and we all had our own spaces!
Plus, we were just a few minutes (walking) from Ala Moana Shopping Center – the world's largest shopping mall!
This hotel is called the "Pink Palace", and has been on my must-do in Oahu list since I was 14! This building stands out nicely in the middle of Waikiki, and looks like it would be so much fun to stay at! Check out the latest prices and more details.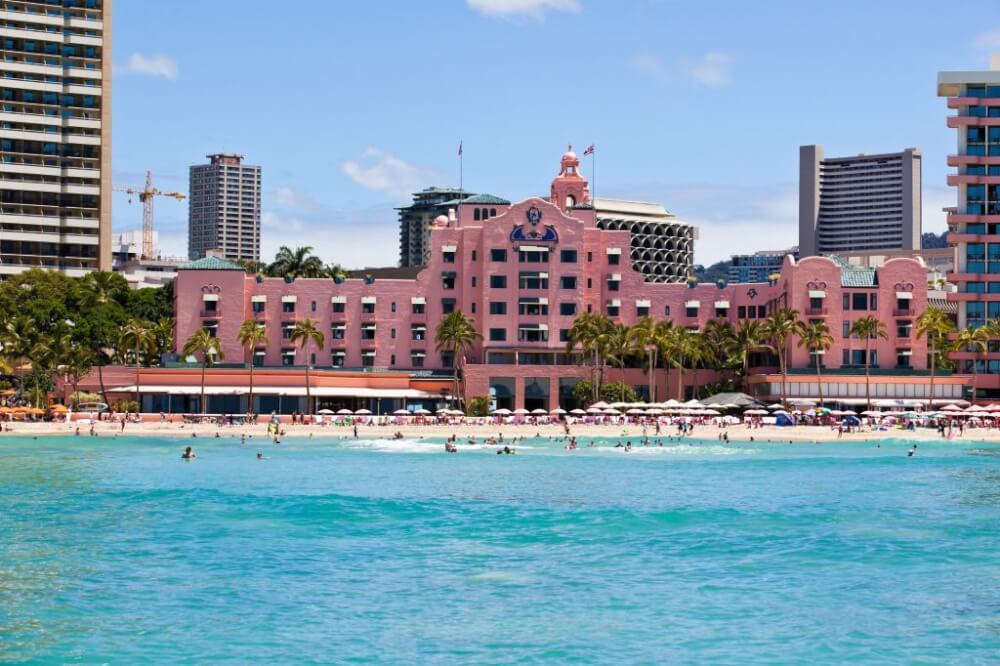 The price definitely reflects the luxury found inside the hotel, and their Instagram page (I follow them!) is full of happy-looking people beaming for the camera in gorgeous areas of the hotel.
This would be an IDEAL Hawaiian Babymoon hotel!
If you are looking for somewhere to stay up on the North Shore, this is the place to go! Families will love the children's menus, kiddie pool, and (pre-arranged) pony parties! Find the best prices here.
For adults, there is nightly entertainment – with pretty big names like Jack Johnson playing here once in a while!
This reasonable, quiet, well-located gem of a hotel often gets overlooked in comparison with the bigger, flashier Waikiki resorts. But make no mistake, this is a perfect spot for you and your family! Check out the latest prices and more details.
Our family stayed here recently, and it was the perfect home-base to explore Waikiki and Oahu. I loved the quick walk to Starbucks or Musubi Cafe, and my hubby lived the price!
Read more about our experience at the Waikiki Courtyard Marriott with Kids.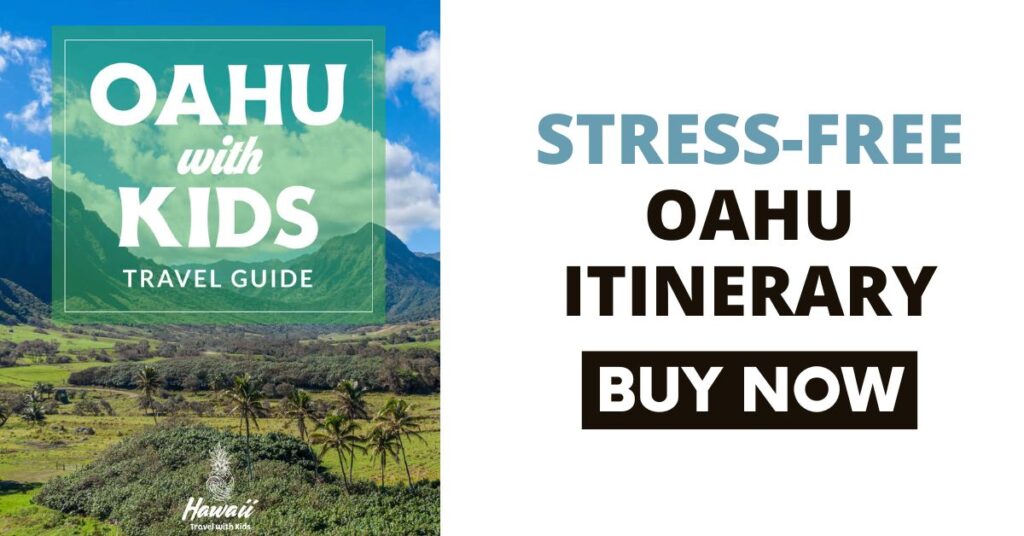 One More Oahu MUST-Do:
BEFORE I let you start planning your heart out, I have to put one more suggestion in your head! Please make sure you think about hiring a professional Oahu photographer.
You can read all about why this is a good idea HERE, but the shortened version is that this is a wonderful opportunity to get amazing pictures of your whole family while everyone is feeling good in a gorgeous setting.
Unless you live here, when will you have a chance to get these kinds of pictures again?
You will have the ultimate vacation pictures, and your Christmas cards will be done! Win-win!
What are you considering as you look over my Extensive Oahu Family Vacation Planner? I can't wait to hear about your Oahu Family Vacation!