Pregnant and heading to Hawaii? Find out exactly how to plan the ultimate Hawaii babymoon, including where to stay, where to eat, and pregnancy-friendly things to do! Scroll for all the tips!
This how to plan a Hawaii babymoon post was written by Hawaii travel expert Marcie Cheung and contains affiliate links which means if you purchase something from one of my affiliate links, I may earn a small commission that goes back into maintaining this blog.
Once you have a baby, your life will change forever. You won't be the same, and neither will your relationship with your partner.
You will grow stronger and more in love, of course, but some things will never be the same. That is why it is so important to plan a babymoon before your little one arrives!
The perfect babymoon getaway is in Hawaii. It is the best location to relax and enjoy some needed one-on-one time with your spouse before your precious baby arrives.
This guide will help you plan the perfect Hawaii babymoon and show you some of the best babymoon destinations Hawaii has to offer.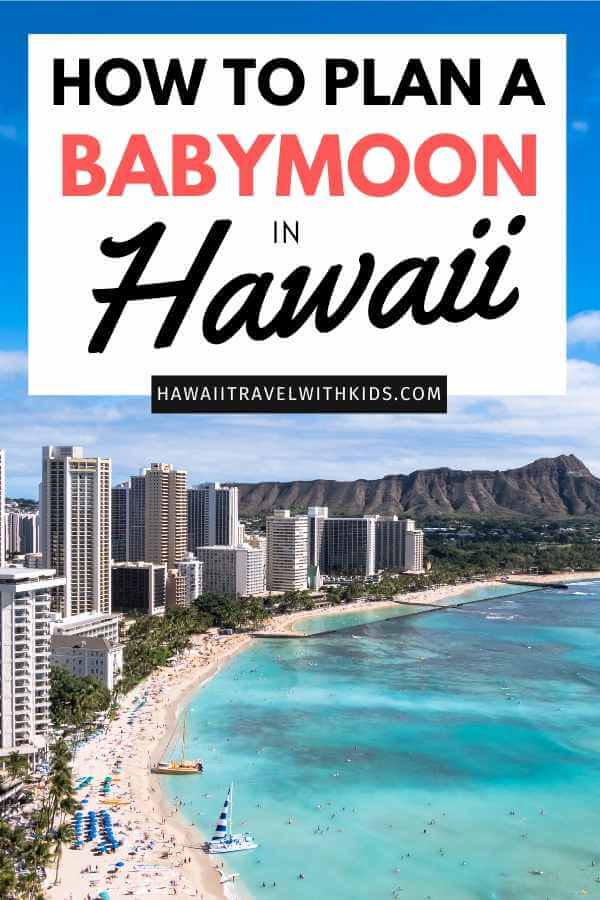 Can I Fly to Hawaii While Pregnant?
Yes, you can fly while you are pregnant! However, there are some restrictions. Each airline will have its own rules, so be sure to check before purchasing your tickets.
Also, check with your OBGYN and get their approval as well. Typically, you can fly any time before 36 weeks if you have a safe and healthy pregnancy.
The best time to go on a babymoon would be during your second trimester. You aren't too big, you are feeling much better after the sickness and tiredness of the first trimester, and you have energy again.
You will be more comfortable while flying and throughout your trip! Since Hawaii is a popular babymoon destination, it makes sense that you can fly while pregnant to the Hawaiian islands!
Then, you will still have plenty of time to plan and prepare for your baby's arrival when you return.
Babymoon Resorts in Hawaii
First, one of the babymoon tips I would say is to consider staying at a resort. There are amazing resorts on all the best Hawaiian islands for babymoons.
Because you are going to have to stay at family resorts for the rest of your life, choose a couple's resort so it is more secluded and filled with activities suited for your stay. Read my full guide to Hawaii babymoon resorts.
Find a resort that has a spa, so you can get a massage and spend a day relaxing and getting spoiled. Choose a spa that has prenatal massages. That way, you can get the best massage that will help both you and your baby.
Here are some of the top resorts for pregnancy-friendly spas.
Aulani, a Disney Resort and Spa
While the Aulani resort can be family-friendly, they have a fantastic spa for expecting mothers and new moms as well. Check out the latest prices and more details.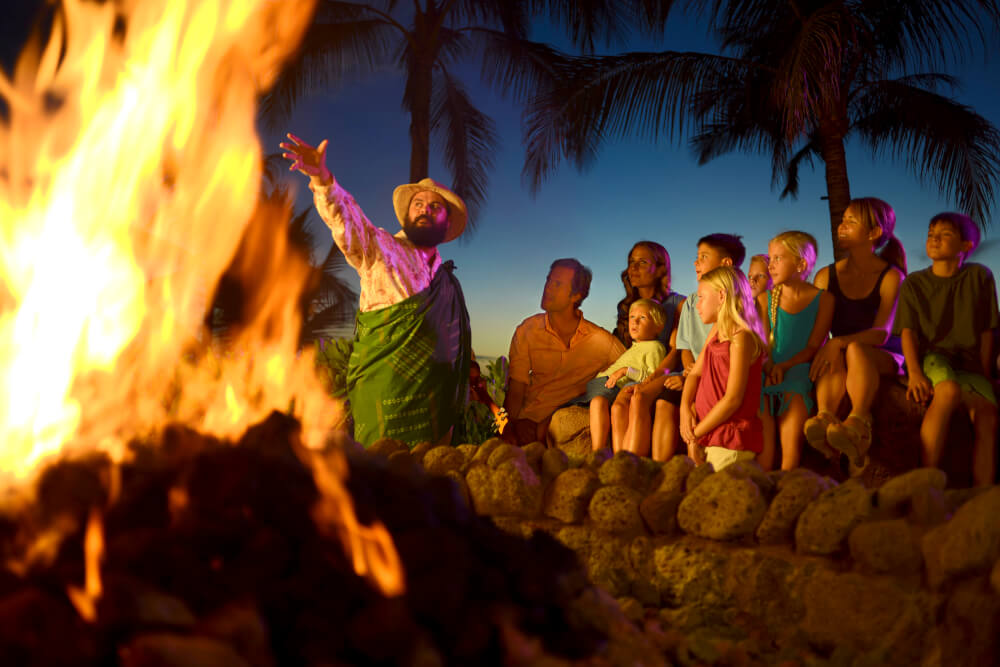 You can book a villa for a more private and relaxing stay. Enjoy the day at the spa, and then head to the beach right alongside the resort. It is a great relaxing place to stay on the West Side of Oahu.
For a babymoon in Oahu, it doesn't get better than this.
Find out more about Aulani, a Disney Resort and Spa
Royal Lahaina Resort
For a Maui babymoon, check out the Royal Lahaina Resort. It includes a spa, which has a fantastic hapai prenatal massage. Check out the latest prices and more details.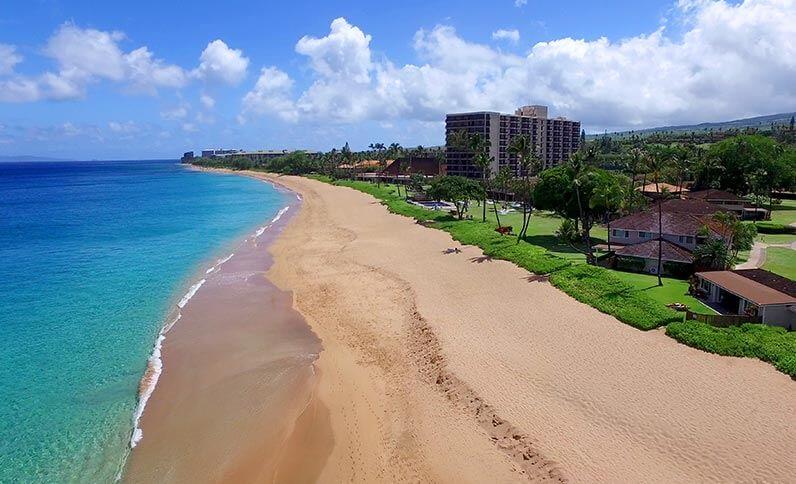 It is more secluded than the Disney Resort mentioned above and is more of a honeymoon-style resort.
Get an oceanfront room and enjoy falling asleep to the relaxing waves crashing along the seashore.
There are golf courses close by for your spouse to enjoy while you get one of the top prenatal massages!
Marriott Ko Olina Beach Club
Although it is considered a hotel, it does not disappoint for your Oahu babymoon. This hotel is a luxurious hotel that you will find suitable for your pregnancy needs. Check out the latest prices and more details.
It includes a full service spa that has massage therapists trained to give you a prenatal massage.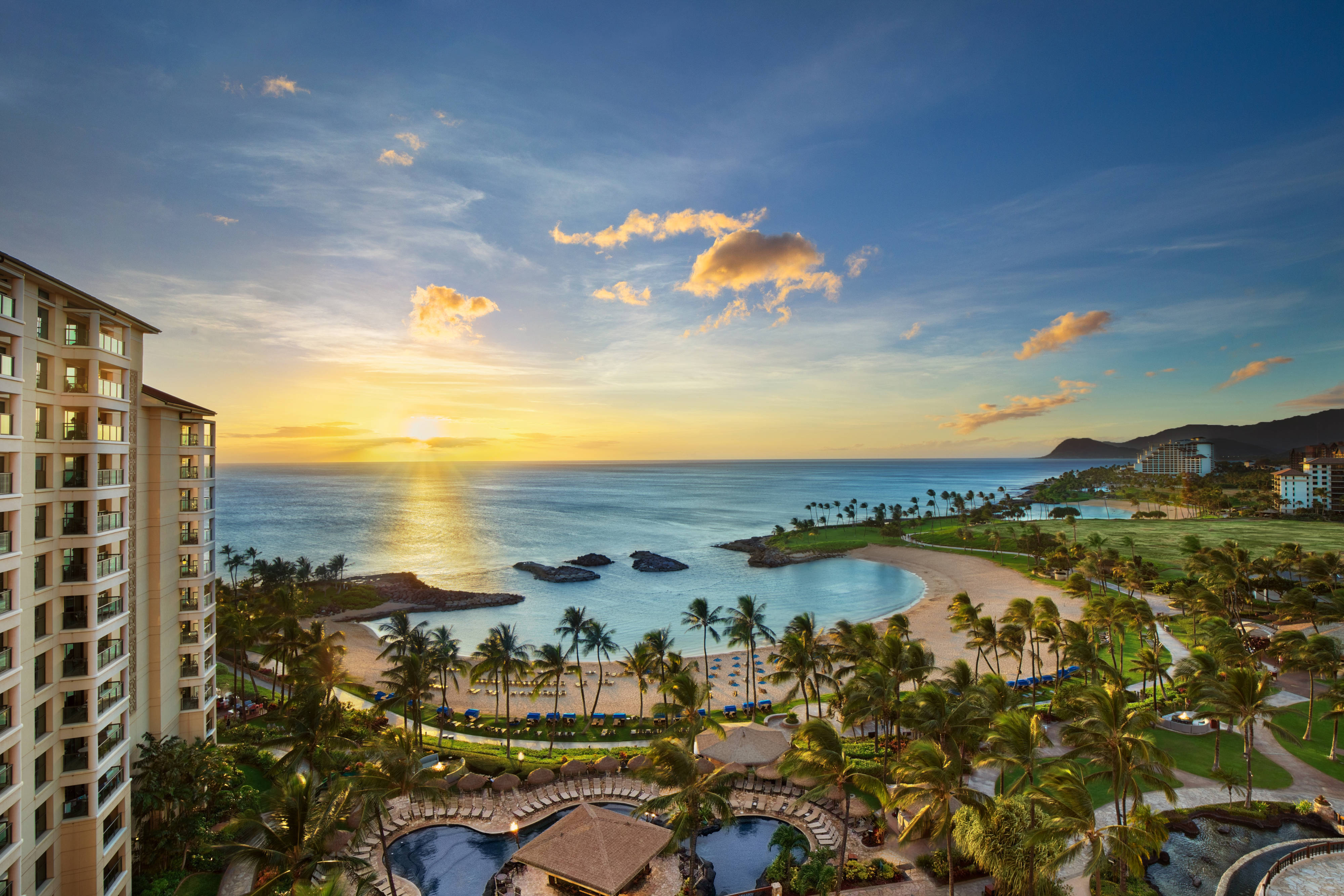 The Marriott Ko Olina Beach Club also offers a couple's experience, such as an adult's pool or trips to a romantic waterfall, so you can enjoy some one-on-one time with your partner before the baby arrives.
Ko Olina is a prime location and will be a very luxurious babymoon in Hawaii!
Turtle Bay Resort
Along the North Shore of Oahu, you will find the famous Turtle Bay Resort. It is one of the best resorts in Hawaii, as it has countless amenities to make your experience the best possible. Check out the latest prices and more details.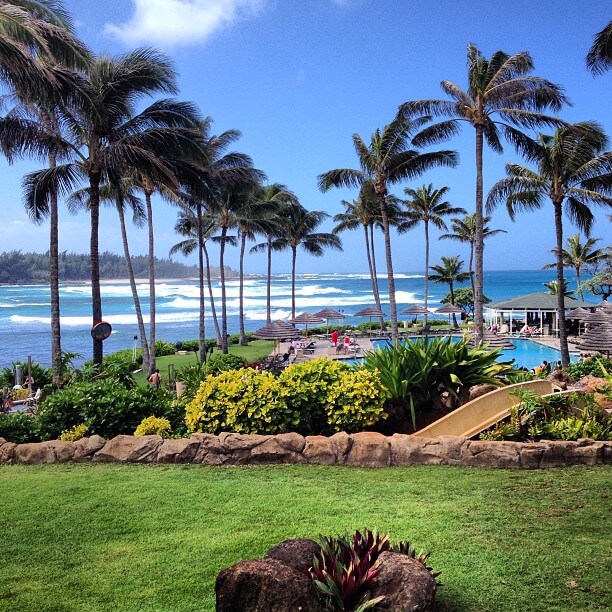 With their spa, you can have a prenatal massage, a couple's massage, or both! They also have yoga classes, which is an excellent activity during pregnancy.
You can always relax on their beach right outside your room. Some of the best beaches are on the North Shore and will be perfect for your Oahu babymoon itinerary.
A Turtle Bay Resort babymoon would be amazing!
Koloa Landing Resort
For a babymoon in Kauai, you will love the Koloa Landing Resort. It is another upscale resort and will be the perfect place for a Kauai babymoon.
Located in Poipu, it is close to some of the fun places to explore on Kauai and will offer some breathtaking views of the lush gardens surrounding your luxury resort. Check out the latest prices and more details.
You will find a pool, hot tub, restaurant, spa, and so many more amenities. The villas and rooms are quite spectacular too at this luxurious resort too!
Four Seasons Resort Hualalai
For a babymoon on the Big Island, you will love the Four Seasons Resort Hualalai, located in Kailua-Kona.
Not only will you get stunning ocean views and spacious suites, but there are also so many gorgeous beaches close by that will be so relaxing while you are pregnant! Check out the latest prices and more details.
With the adult-only area, you can have a romantic time with your spouse on your Big Island Hawaii babymoon before your little one comes.
Staying here also comes with a private beach area, a full spa, and plenty of more top-notch amenities from one of the luxury resorts on the Big Island.
If you are having a Big Island babymoon, the Four Seasons Resort Hualalai will be perfect for you.
Sensei Lanai, A Four Seasons Resort
For a very secluded and romantic babymoon in Hawaii, head to the island of Lanai and stay at Sensei Lanai, A Four Seasons Resort. Located in Lanai City, you will find a truly relaxing stay.
This island offers total peace; they don't even have a traffic light! Plus, it is one of the top babymoon resorts to enjoy. Check out the latest prices and more details.
Here you will find botanical gardens to stroll through, an adults-only area, special pregnancy spa treatments, and yoga classes.
One of the best things about staying here is that it offers one of the best Hawaii babymoon packages! Enjoy all you want to do to fully relax before your baby arrives with this Hawaii babymoon itinerary package offered by the Lanai City Four Seasons Resort.
Holualoa Inn
The Holualoa Inn is another great place for a Big Island babymoon because it also offers babymoon packages to enjoy.
Choose from the Ocean Babymoon Package or the Yoga Babymoon Package. Check out the latest prices and more details.
You will find panoramic views of the ocean, garden-to-table breakfasts, and luxurious lanais for every room.
With the babymoon packages, you will enjoy a couple's massage, lei greetings, gourmet breakfasts, a sunset sail, and much more. It makes this hotel worth it!
Save Money with Points
Here are the best credit card offers for families who travel and want to use points to pay for airfare and hotels in Hawaii.
Where to Eat on Your Hawaii Babymoon
While there is a never-ending list of things to avoid eating or what to eat while pregnant, ultimately, it is your decision and your doctor's, of course.
Hawaii is known for its seafood, and if that is on your list of not to eat, don't worry, you will still find plenty of food to enjoy!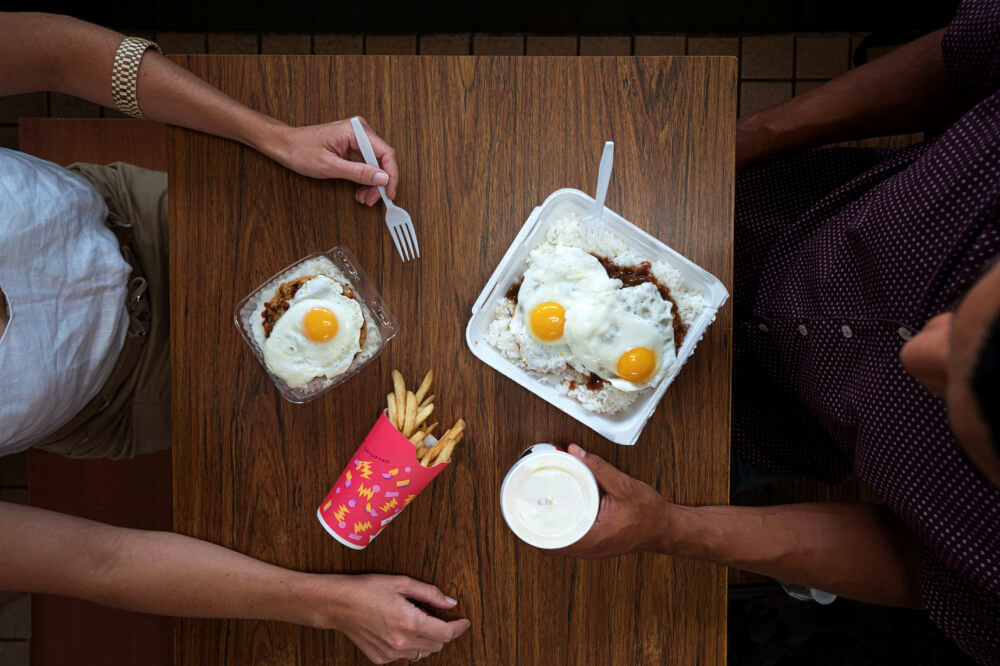 Skip the poke and try some cooked local foods instead!
Try out Hawaii's famous Loco Moco, a local classic with rice, hamburger, and eggs drizzled with mouth-watering brown gravy. You will get your fill of protein and stay away from seafood while still trying out some of the best Hawaiian food out there.
If you are still sick of certain foods, you can find the best smoothies here in Hawaii. They are all fresh fruits and will give you and your baby high nutrients and energy during your stay. You can also find some of the best shave ice as well to try out!
Don't worry about finding good food that is still on your list. Hawaii has food from all over the world! You can find Mexican food trucks, Chinese restaurants, Thai food, of course, your traditional burger and fries, and let's not forget some Hawaiian food.
No matter your restrictions, you won't have to worry about finding food for yourself, as Hawaii has it all everywhere you go on all of the Hawaiian islands.
Hawaii Babymoon: Pregnant-Friendly Things to Do in Hawaii
Here are some of the best pregnant-friendly things to do in Hawaii. You don't want to do lots of adventure-seeking stuff while on the island.
Think of it as more of a romantic, relaxing getaway, just like your honeymoon.
For the best babymoon Hawaii has to offer, here are some of the top pregnant-friendly things to do on all the Hawaiian islands.
Relax on the Beach
Instead of going on lots of hikes and tourist adventures, try to relax as much as possible. Visit lots of beautiful beaches over the island and spend time in the warm ocean.
Being in the water is great for you and your baby. As mentioned earlier, do not leave the island without getting a prenatal massage!
You might like Waikiki Beach, Kailua Beach (babymoon Oahu), Kaanapali Beach, Wailea Beach, Hulopoe Bay (Maui Babymoon), Hanalei Bay (Kauai babymoon), and many others.
Check out the best beaches on Oahu
Waimea Canyon
For a babymoon, Kauai has a beautiful canyon to enjoy. It is typically known as the Grand Canyon of the Pacific, and is a drive-up hike. Waimea Canyon is another gorgeous place to visit while on your babymoon.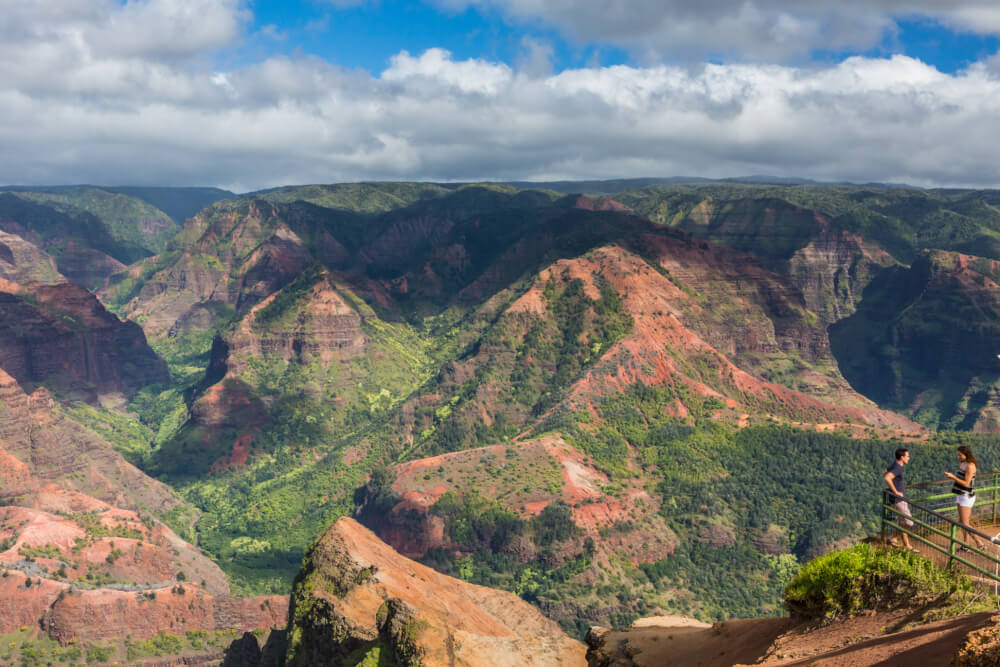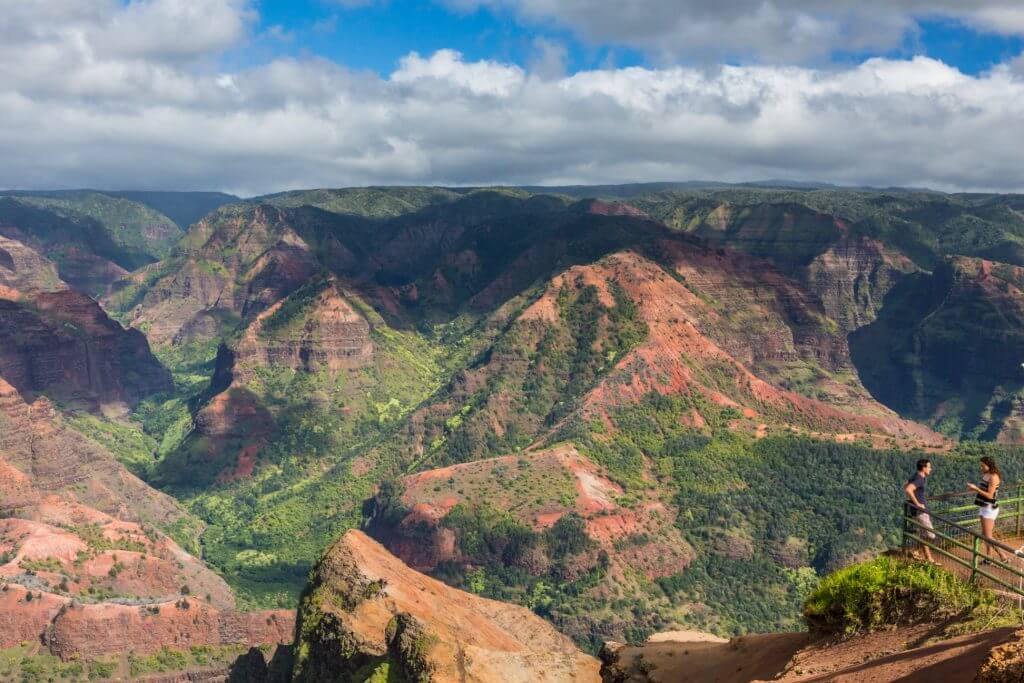 You can literally drive up the entire hike and see the scenery along the way. At the very top, you can get out and see the drop-offs and get some incredible pictures.
Haleakala
For a babymoon in Maui, you can see a gorgeous sunset on Haleakala. Drive up and see a view you don't want to miss out on.
Because it is really high up, it does get colder, so if you are going to get out of your car to take pictures, wear warmer clothes.
Get all my Haleakala National Park tips!
Drive-Up Hikes
While you may not enjoy hiking while you are pregnant, you can still go sightseeing at some amazing locations! On many of the islands of Hawaii, you will find some drive-up hikes with incredible views.
Find out easy Oahu hikes, perfect for pregnant women
Luaus
Luaus are a great pregnancy-friendly thing to do while on your babymoon in Hawaii. You get to sit and relax while eating delicious cooked food and watching some amazing dancers.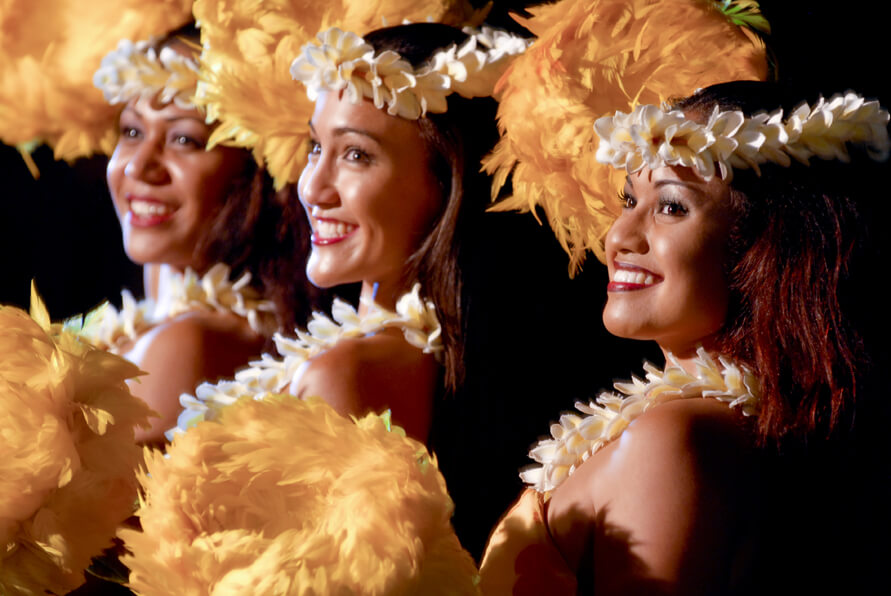 Whichever one you go to, you will find foods that are okay to eat while pregnant. You can see some fire knife dancing, along with traditional hulas and other dancers.
Find out the best luaus on Oahu, Kauai, Big Island, and Maui
Go Shopping
Another fun Hawaii babymoon activity is to go shopping for your little one!
You'll find lots of boutiques on all the islands with locally made onesies, toys, blankets, books, and so many items that will melt your heart!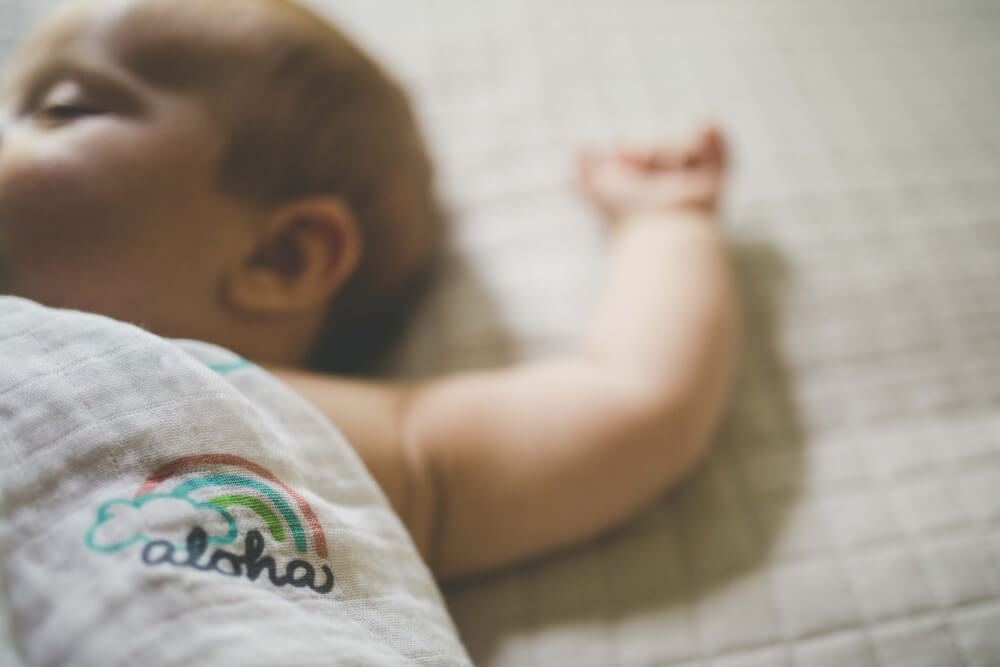 Right now, I'm pretty obsessed with Coco Moon. This Hawaii designer makes the softest swaddle blankets and baby clothing, and they have the cutest Hawaii-inspired prints.
You can find Coco Moon items at lots of Hawaii boutiques (like Sand Kids), or you can order online.
Enjoy Shave Ice
One of the tastiest treats to enjoy while pregnant in Hawaii is shave ice.
It's finely shaved ice that's packed tightly and drizzled with fruit-flavored syrups. It's sometimes topped with condensed milk or has a scoop of ice cream in the bottom.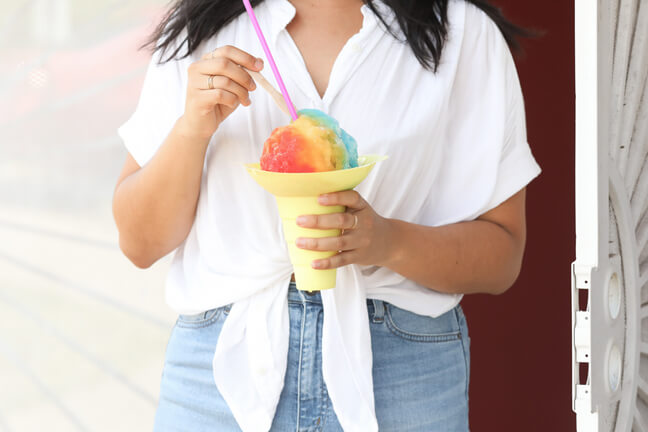 You'll see shave ice spots all over the islands, but they are not all the same. The trendier ones offer organic syrups made from fresh fruit, and they are incredible!
Find the best shave ice on Oahu, Maui, and Kauai
Sunset Cruises
I think these sunset dinner cruises are absolutely romantic and should be included on your babymoon Hawaii itinerary, no matter the island you visit.
Most offer dinner and drinks, while other boat tours will set sail while you take in the stunning views of the sunset on the Pacific Ocean.
This is one of the best things to do for a Honolulu babymoon!
Check out the best Oahu boat tours to enjoy
Hawaii Volcanoes National Park
While you may not want to get out and explore much of this park, you can definitely do a drive-through tour to see a volcano on Hawaii!
Check out my tips for visiting the Volcanoes National Park.
Go Snorkeling
If you are up for it, try snorkeling!
Whether you snorkel Hanauma Bay on Oahu or one of the many places to snorkel on Maui or even on Kauai, you will find snorkel locations all over the islands.
Molokini Crater is another top snorkeling place you might want to consider!
Your babymoon is a wonderful time to get some photos with you and your spouse before your little baby arrives! Hawaii, wherever you go, will be the perfect background for your pictures! Check out the latest prices and more details.
Get some well-deserved pictures of your bump and your spouse on the beautiful beaches of Hawaii.
There are lots of talented photographers all over Hawaii who will capture amazing maternity photos. While I've used several photographers in Hawaii, I really like using Flytographer.
It's a concierge photography company that has photographers all over the world, including Hawaii. It's super easy to find a photographer you like and arrange all your photoshoot details online. Plus, they are pretty affordable.
Save $25 on your first Flytographer photoshoot
What to Pack for a Hawaii Babymoon
Hawaii is a tropical destination, and you'll want clothing that breathes well, especially when you are pregnant.
I'd recommend bringing some cute maternity maxi dresses for romantic date nights or luau experiences. And don't forget a maternity swimsuit and cover-up for lounging at the pool or relaxing at the beach.
A few more essentials are reef-safe sunscreen, sunglasses, a wide-brimmed sun hat, flip flops, and sunscreen lip balm.
Check out my favorite pregnancy clothes for a babymoon in Hawaii.
Hawaii Babymoon FAQs
What's a babymoon?
If you are asking, "What is a babymoon?" chances are you definitely need one! A babymoon is a time to spend with your spouse before your little ones arrive. Usually, you go to one of the luxury resorts to relax as you might not after you have a baby for a while.
Is Hawaii safe for a babymoon?
Absolutely. Hawaii is a Zika-free babymoon destination. Plus, it's part of the United States, so it's easy for Americans to get around and communicate with doctors if the need arises.
Which Hawaiian island is best for a babymoon?
While they are all pretty relaxing and fabulous, Maui is the most popular and best island in Hawaii for a babymoon. That's because it has some incredible and luxurious resorts. But an Oahu, Big Island, or Kauai babymoon would be relaxing too!
Which month is best to take a babymoon in Hawaii?
Most expecting moms choose to travel in their 2nd trimester, which is usually the best time to go on a babymoon. That's the sweet spot between the nausea of their 1st trimester and the uncomfortableness of their 3rd trimester.
The best time for a babymoon also depends on your work and comfort schedule. It can be different for everyone, and that's okay!
Is Hawaii safe from Zika?
You may be wondering, is Hawaii Zika-free? Yes, Hawaii is Zika-free, so you can go to the stunning beaches on a Hawaiian island and have a relaxing Hawaii babymoon.
Is Hawaii safe for pregnancy?
Yes, Hawaii is totally safe for pregnant women for a babymoon in Hawaii. You can enjoy swimming in the Pacific Ocean, staying at a luxury hotel or oceanfront resort, and all the spa services for pregnant women!
Is Hawaii safe for a babymoon?
Yes, the Hawaiian culture, tropical gardens, and romantic hotels are what makes Hawaii the perfect babymoon vacation location! The best Hawaiian island for a babymoon, Maui is usually the first choice, but any of the Hawaiian islands work great too!
Babymoon Hawaii Wrap-Up
A Hawaii babymoon will be so relaxing as well as romantic. You will enjoy some time to sit and do nothing on the beach, soak up some well-needed vitamin D, and fully relax.
You and your partner will enjoy some well-needed time alone with each other before the arrival of your little one.
Babymoons are so important for a couple. So, now that you know how to plan a babymoon in Hawaii, what are you waiting for? Go enjoy now before your baby arrives!