Looking for an amazing place to stay in Hawaii while pregnant? Hawaii is the ultimate babymoon destination. Scroll for the best Hawaii babymoon resorts!
This Hawaii babymoon post was written by Hawaii travel expert Marcie Cheung and contains affiliate links which means if you purchase something from one of my affiliate links, I may earn a small commission that goes back into maintaining this blog.
Are you pregnant and planning a trip to Hawaii?
You're in luck! There are plenty of babymoon resorts that will make your stay unforgettable. Many of these Hawaii resorts offer special services for moms-to-be, so you can relax knowing your baby is being taken care of too.
If you want to splurge on an amazing experience while enjoying the beautiful beaches and scenery, book a stay at one of these Hawaii luxury hotels. Your babymoon will be relaxing yet exciting as well!
Take advantage of all the special perks that come with booking at one of these top resorts. From prenatal massages to private dining – it's all here waiting for you! And many offer Hawaii babymoon packages.
Keep scrolling right now to see our full list of Hawaii babymoon resorts. Book today before they're gone!
Want to skip all the planning and just access my detailed Hawaii Itineraries complete with daily schedules, kid-friendly activities, and travel hacks? Click the button below.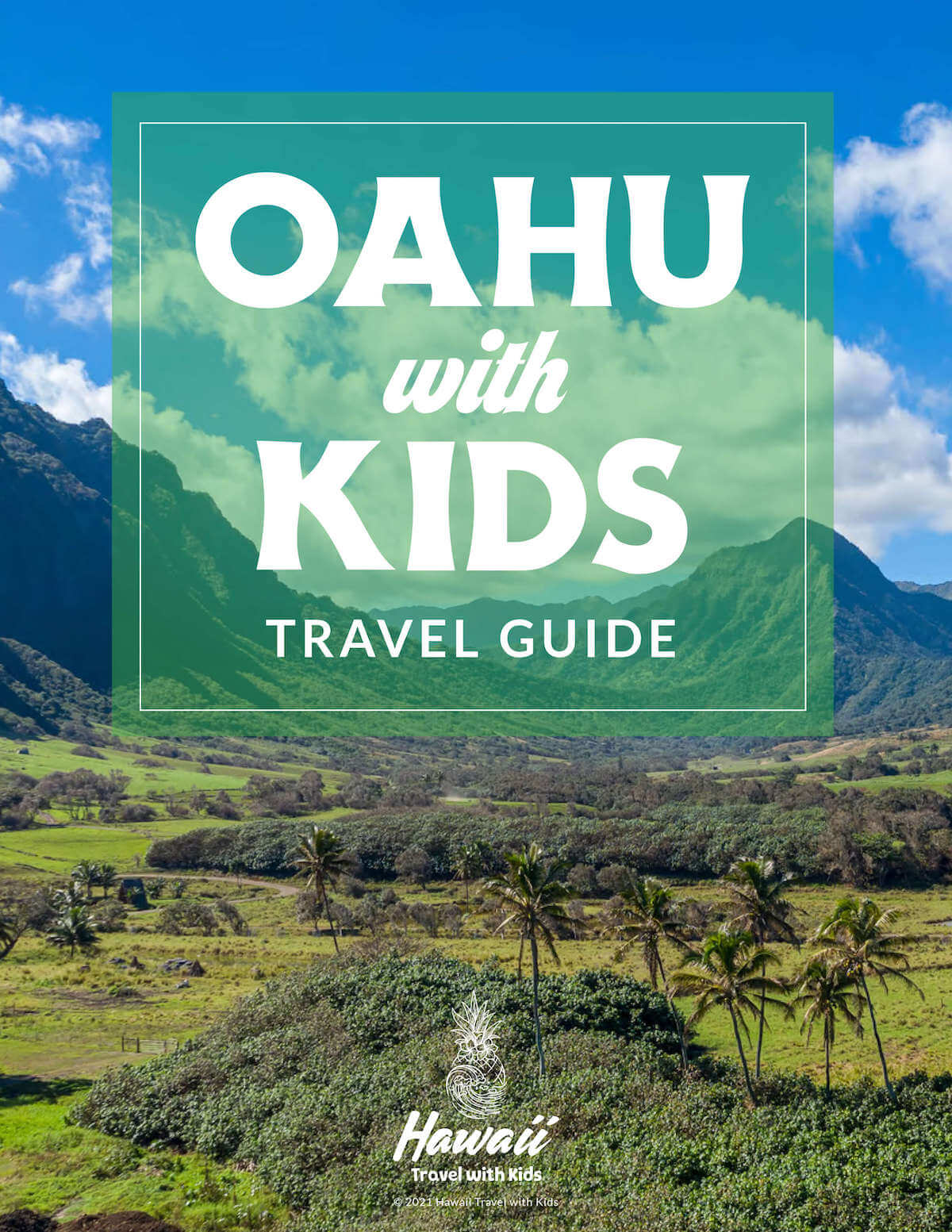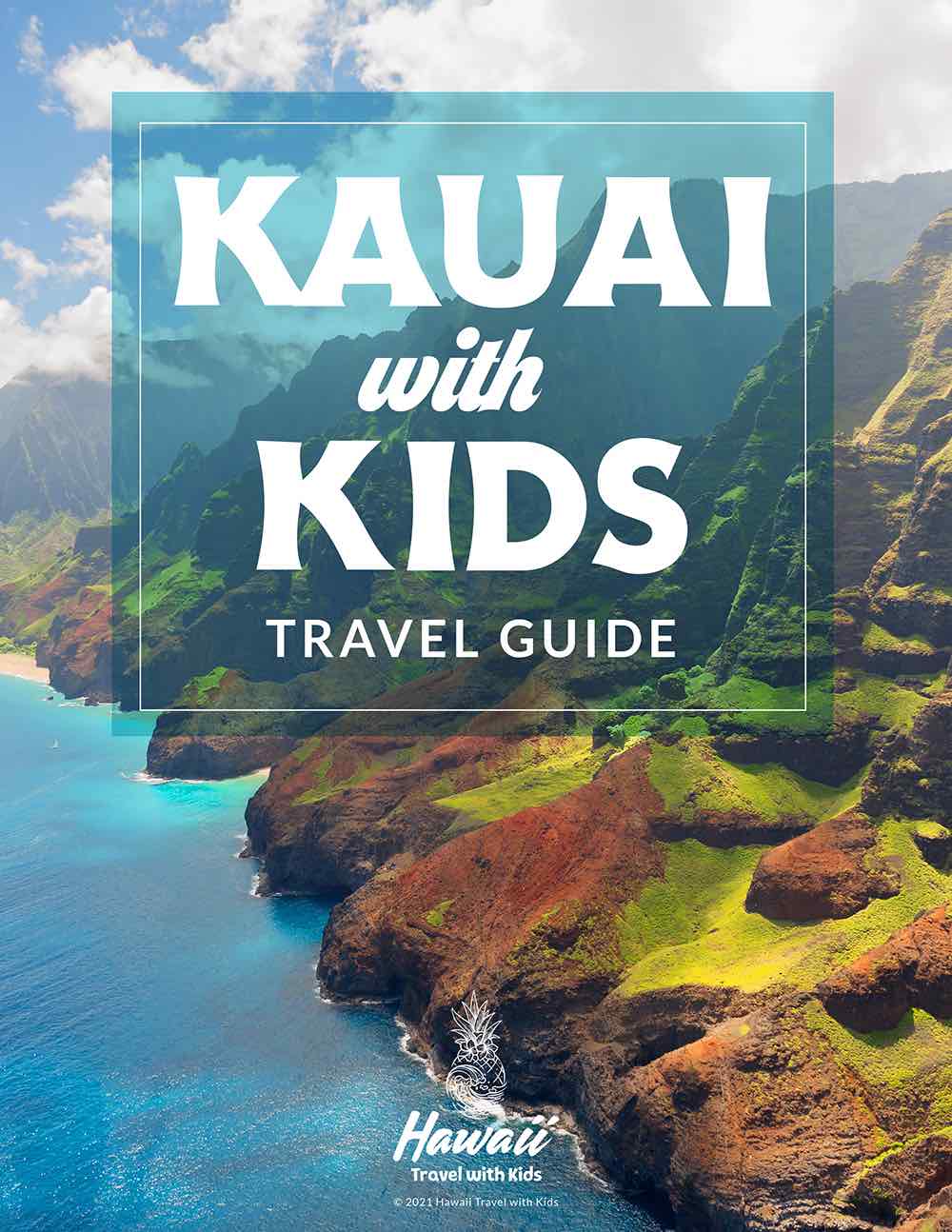 Babymoon in Hawaii FAQs
What are the most unique hotels in Hawaii?
If you want to stay on a real volcano, head to the Volcano House on the Big Island. It's located right in Hawaii Volcanoes National Park. There's also the Royal Hawaiian Hotel, which is the pink hotel on Waikiki Beach.
What are the best things to do when pregnant in Hawaii?
Some of the best things to do on a Hawaii babymoon is go to a luau, enjoy a food tour, take a scenic drive around the island, do a prenatal massage, relax in a pool cabana, do an easy hike, read a book on the beach, go shopping, and so much more!
Where are the most beautiful places in Hawaii for maternity photos?
Hawaii is one of the best places to take maternity photos because of all the gorgeous backdrops. On Oahu, Kualoa Beach is a great place to get both mountain and beach shots. On Kauai, Hanalei Bay is simply stunning. Kapalua Bay on Maui is perfect for pregnancy photos.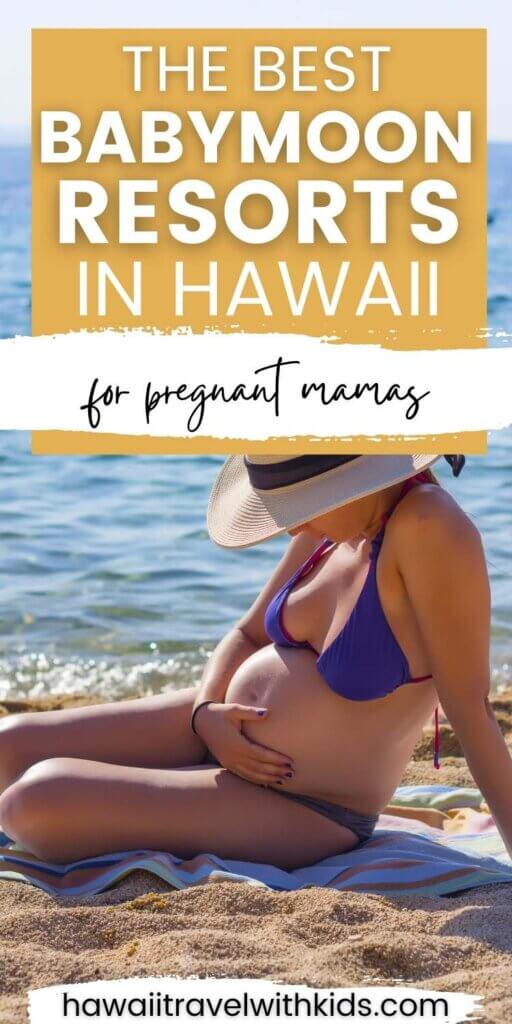 14 Incredible Hawaii Babymoon Resorts
In creating this post, I looked at highly-rated luxurious hotels in Hawaii that also had a spa, on-site dining, awesome swimming pools, and other amenities.
Some of these are the best boutique hotels in Hawaii while others are part of a luxury hotel chain. But they are the most romantic places in Hawaii for your babymoon.
Oahu Babymoon Resorts
Aulani is the perfect spot to enjoy a babymoon in Hawaii. With its stunning beaches, fine dining and romantic spa packages you'll have an unforgettable experience that will leave your mind blown!
The resort offers tons of pregnancy-friendly activities. You'll find everything from yoga classes on their beach during sunrise (perfect for couples) or star gazing at night. Check latest rates and more information.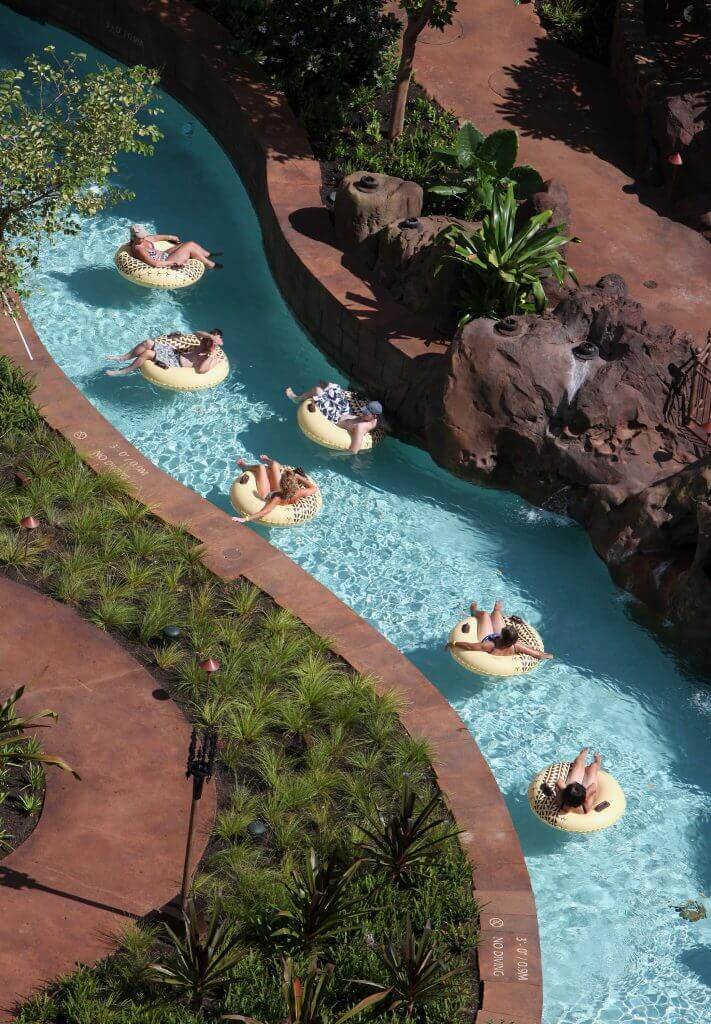 They also have an on-site luau with a Disney twist. After a full day at Aulani, you'll love being able to walk right up to your room instead of having to fight traffic.
And you won't want to miss their unbelievable couples spa packages at Laniwai Spa, including Hawaiian lomi lomi massage and tropical exfoliation. Just be sure to let them know you'd like a prenatal massage. They also offer an outdoor hydrotherapy garden.
Finally, they even have professional photography services available. You can get their Aulani PhotoPass or book a private photography session for a maternity photshoot.
If you are looking to get away from it all, then the North Shore of Oahu is your new home. And one place that will make every day feel like vacation? Turtle Bay Resort!
Not only does this hotel have killer views and an unbeatable location (just 45 minutes outside Waikiki) but their design makes them perfect for people who want not just sunsets but also sunrise watching as well.
What better way is there than waking up in paradise each morning with wonderful memories made right outside your door?! Check latest rates and more information.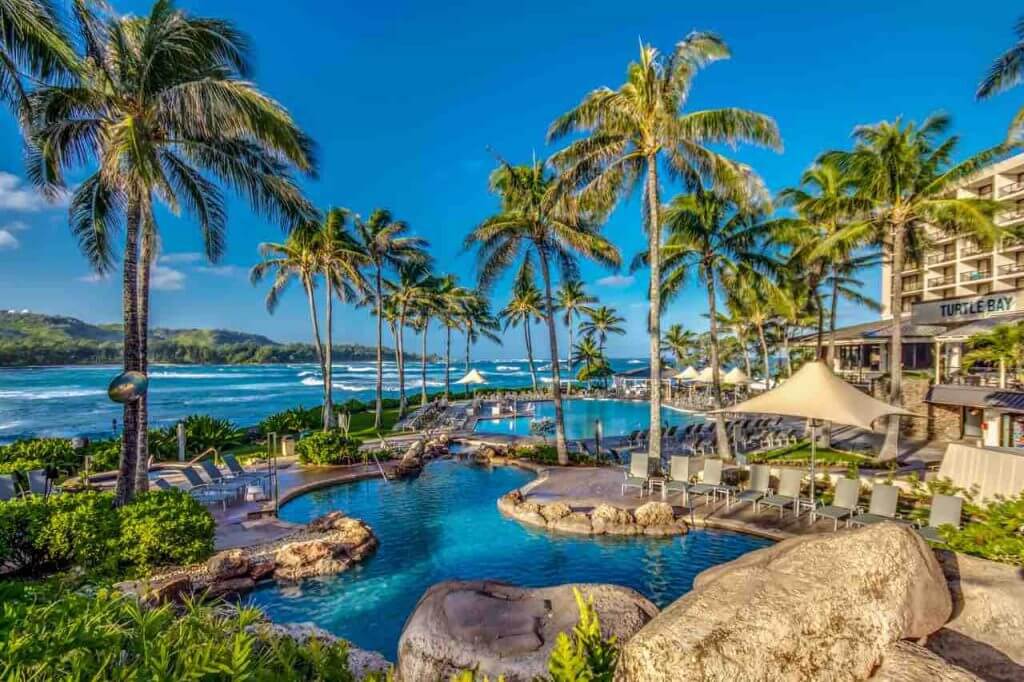 The couples at Turtle Bay Resort can enjoy many Oahu babymoon activities like relaxing in a private pool cabana or getting seaside massages.
They also offer butler service and have an on-site romantic dinner for you, followed by dessert that is just as delicious!
This resort was recently renovated was featured in the hilarious movies Forgetting Sarah Marshall and Mike & Dave Need Wedding Dates.
Save Money with Points
Here are the best credit card offers for families who travel and want to use points to pay for airfare and hotels in Hawaii.
If you want to do a babymoon in Waikiki, it doesn't get much more romantic than The Royal Hawaiian. It's playfully referred to as the "Pink Palace" and has been featured on tons of movies since the 1960s!
Located right on this famous beach town with an open-air trolley system for traveling around (you can skip renting cars), many rooms face directly towards the Pacific Ocean so they're always near some amazing views. Check the latest rates and more information.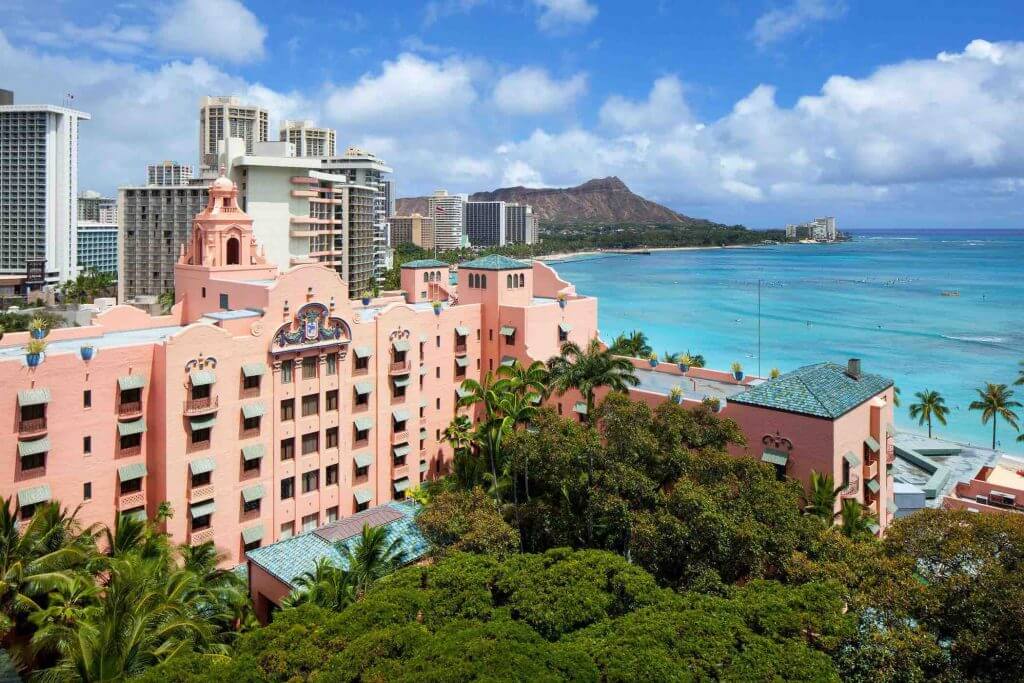 The Royal Hawaiian offers a full spa with both indoor and outdoor treatment rooms, as well as an on-site luau called the Aha'aina Luau.
You can also book an intimate dinner for two at Azure or some time out in their beautiful poolside cabanas!
And if you're looking to sip your favorite pregnancy-safe mocktails while listening live Hawaiian music then make sure to spend time at their mai tai bar!
This is one of the coolest beachfront hotels in Hawaii worth staying at.
If you're looking for a romantic, luxurious babymoon in Honolulu that has been ranked as one of the most romantic hotels on Oahu by locals and tourists alike then head over to this Kahala Hotel & Resort.
This resort offers privacy and serenity with its beautiful white sand beachfront location just ten minutes away from world-class shopping and entertainment. Check the latest prices and availability.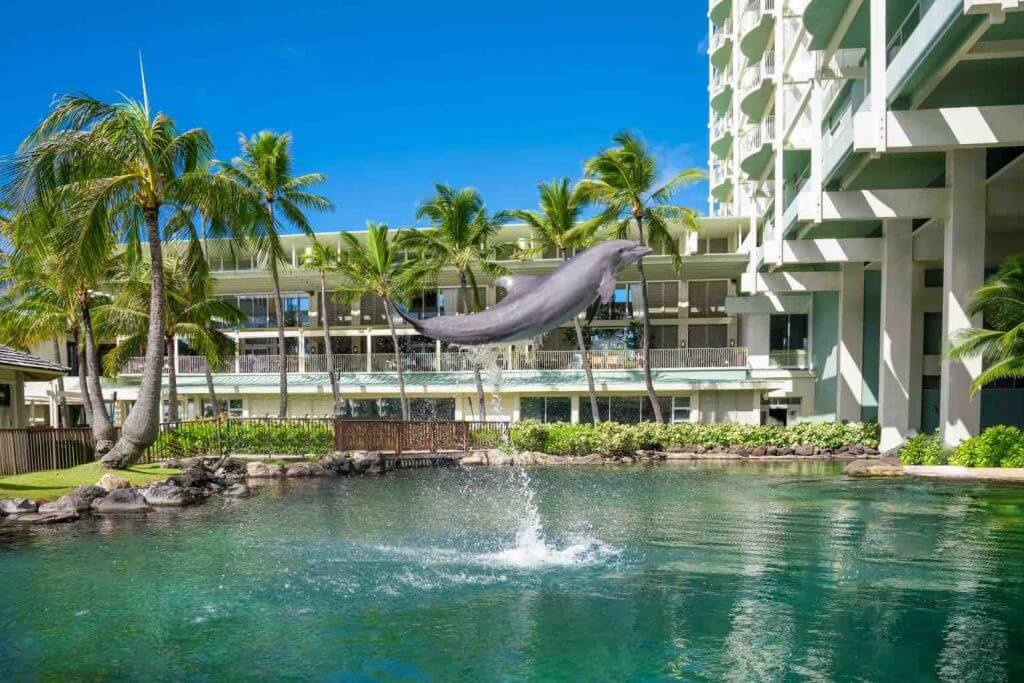 If you're looking for something different to do on Oahu, then head over to the Kahala Hotel & Resort where they have a Dolphin Quest.
This is an experience as either can become trainers of dolphins and spend some time playing in their lagoon or just watch them swim around with no one trying new tricks!
These Atlantic Bottlenose Dolphins will surely entertain guests who book at this hotel long enough so that it becomes part of your babymoon plans too!
You won't want to miss their amazing spa packages, either. They have a 3.5 hour Romance Package signature spa experience with complete soft lighting with hundreds of tropical flower petals. Just be sure to let them know you're pregnant, so they can book the right therapist.
Or, you can splurge for The Kahala Rose in Room Bath Service, where you can experience romantic bliss in the privacy of your hotel room.
Maui Babymoon Resorts
Fairmont Kea Lani is the best Maui babymoon hotel for couples and families looking to stay together. It's one of the most amazing Hawaii romantic resorts.
They have spacious suites that can accommodate up 4 people, with large private kitchens in addition! Check the latest rates and more information.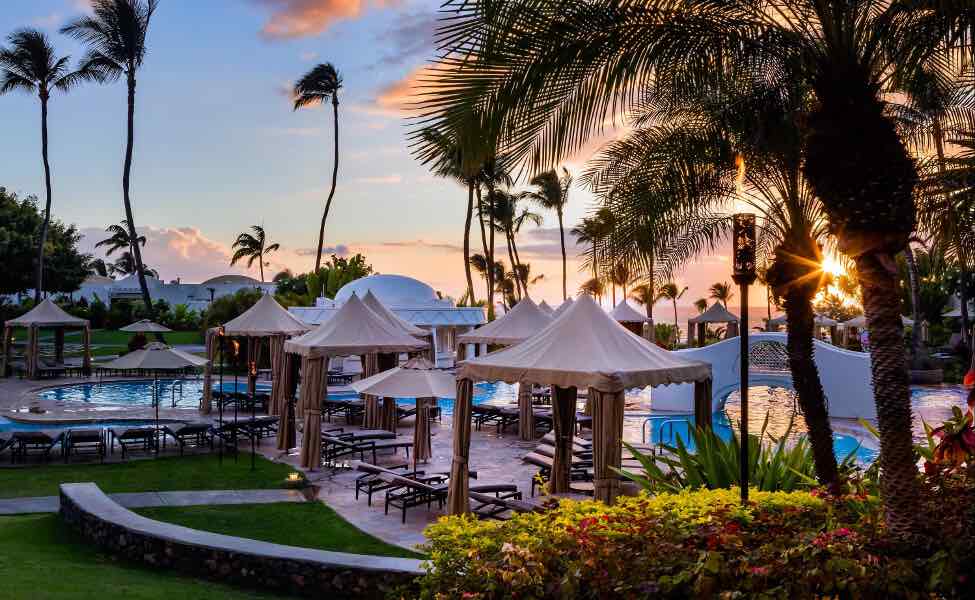 For those who need more space, there are also their villas which come equipped with two or three bedrooms plus all of your needs – from a plunge pool right down through BBQ grill availability.
While enjoying their stay at one of Maui's luxury hotels, guests can also visit Fairmont Kea Lani's Willow Stream Spa.
Not only does it offer world-class spa treatments including 24-hour fitness and personal training but there are daily group classes for those who want to keep up with their workouts while on vacation or relax after days spent exploring the island paradise that is Hawaii!
The Four Seasons Maui is a luxury hotel, home to three Zagat-rated restaurants. Plus they filmed the 2021 HBO Max mini series White Lotus here! If you've seen it, you know it's one of the most beautiful hotels in Hawaii.
This place has it all from their award-winning spa treatments to cultural activities in Hawaii. And their pool area is amazing. They have 67 cabanas and 22 oceanfront sanctuaries.
Plus they offer complimentary car service around Wailea. Check the latest rates and more information.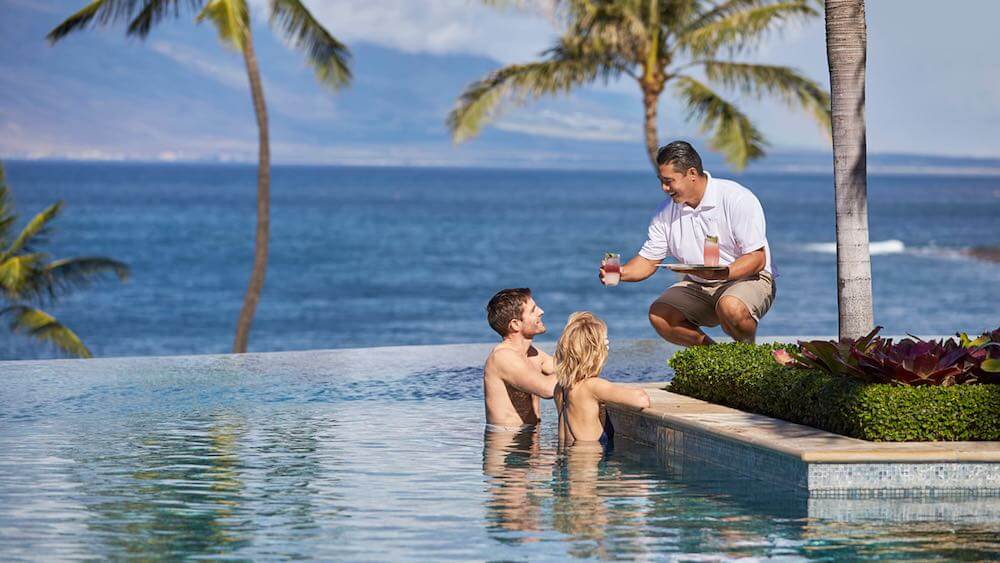 One of my favorite things about this resort are its state-of an art accommodations. These range from residential suites for families or private villas perfect for couples who want some privacy during their stay on island paradise
And all their rooms are equipped with state-of-the-art air purification systems that sanitize every 30 minutes.
If you're looking for a swanky babymoon in Maui, this is the place to stay! You'll think it's the most beautiful place in Hawaii!
The Ritz-Carlton is located in the beautiful Northwest region of Maui, with views so stunning it's hard to look away. Kapalua Bay is also one of the best places to take maternity photos on Maui!
There are 460 newly re-imagined rooms here – each with wood floors marble bathrooms island modern décor. Check the latest rates and more information.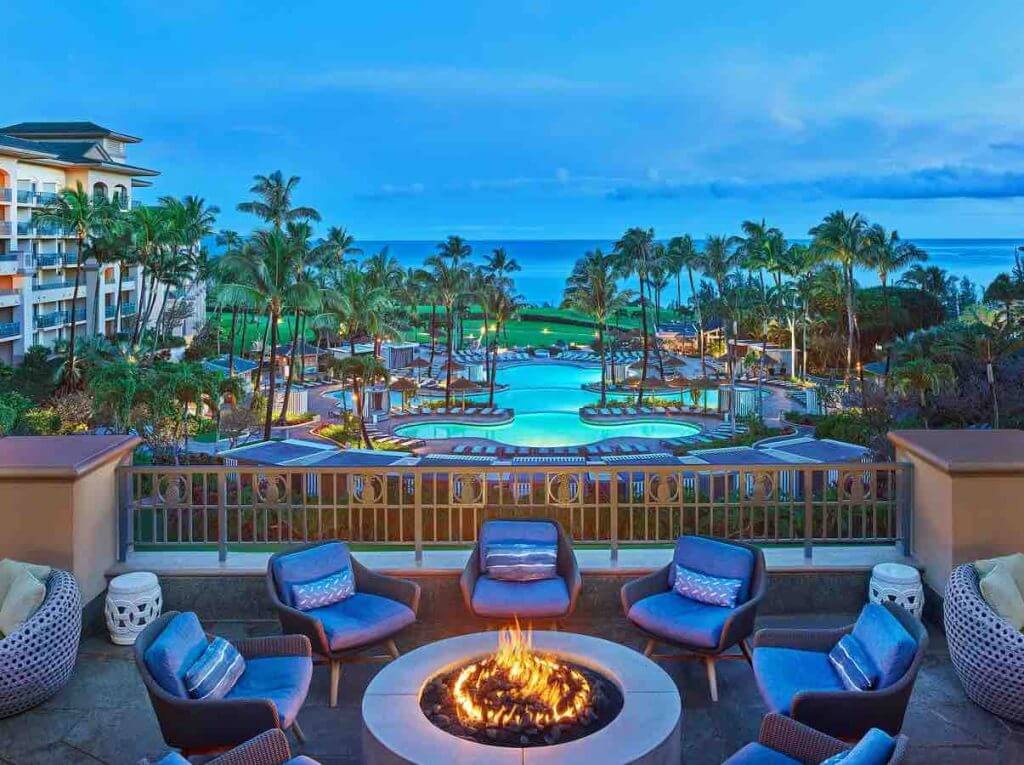 The hotel features 22,000 acres for all sorts of activities ranging from water sports and world-class golfing at their championship courses. Kapalua offers shuttle services to nearby beaches, restaurants, shopping centers, and golf courses.
The Ritz-Carlton Spa is definitely worth a stop. It features treatments inspired by ancient Hawaiian traditions that include a variety of body treatments, massages, facials, and fitness classes.
Plus, they have adorable poolside cabanas that are great for taking a break from the sun.
Kauai Babymoon Resorts
One of the best places to stay on Kauai is the Grand Hyatt. It's located in Poipu, which means it has a beautiful view and tons of restaurants nearby! And it's perfect for your babymoon in Kauai.
As soon as you arrive at this resort for your romantic babymoon getaway (or any other type), be greeted with fresh flower leis & offered fruit-infused water from their concierge team members who are eager to make sure that everything goes smoothly during your vacation.
Plus, it's just a short drive to many top Kauai attractions like Spouting Horn and the Waimea Canyon. Check the latest rates and more information.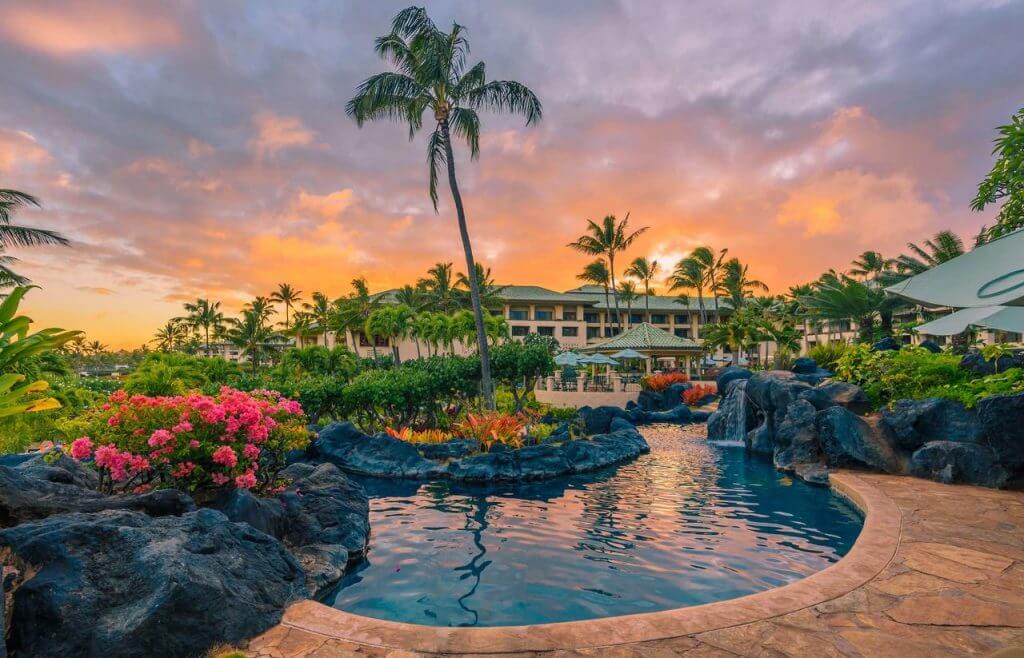 The Grand Hyatt Kauai is a large resort, but there are plenty of ways to make it feel like your own private getaway.
There's an on-site restaurant for every kind of food lover. Tidepools is my pick if you want something more romantic or just need some time alone together in nature while checking out how cute fish swim around!
The Grand Hyatt Kauai also has some of the best pools in Hawaii. There's a lava-rock-lined lazy river where you can float past waterfalls, secret caves, and their 150-foot waterslide.
Or you can chill out at their quiet adult pool area. They have pool cabanas available for rent for extra privacy.
They also have an awesome spa where you can pamper yourself with a facial or massage. And there's an on-site luau conveniently just steps away from your room. This is definitely one of the nicest Hawaii hotels on the beach.
You can read my full Grand Hyatt Kauai review HERE.
Another amazing Kauai babymoon resort is the Royal Sonesta Resort (formerly Kauai Marriott.)
It's located in Lihue, just a couple miles from the airport so you can start your vacation almost as soon as you land! Check the latest rates and availability.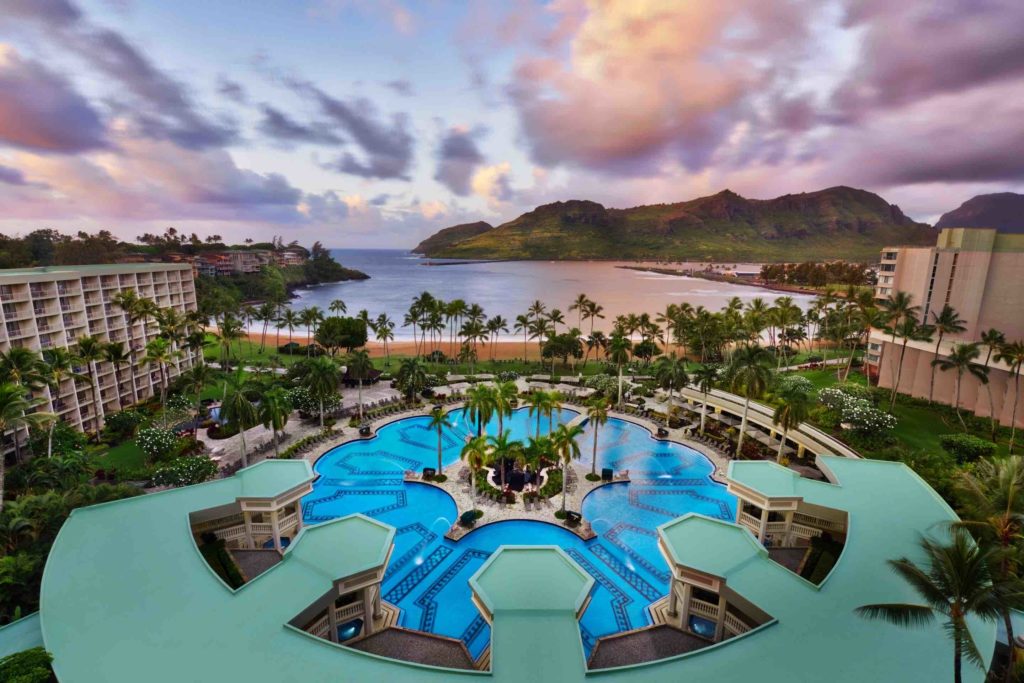 The Royal Sonesta Kauai is a great place to spend your babymoon in Hawaii. First off it caters well with its central position on Kalapaki Bay which makes swimming or learning new water sports easy–especially if those activities are what draws people here originally at all!.
The Royal Sonesta Kauai Resort has 5 restaurants. Kukui's on Kalapaki Beach is next to the pool and just launched a new dinner menu that highlights Kauai-grown produce, while Duke's offers Hula Pie so huge it can be shared between two people!
They also provide private beach or pool cabanas if you need a break from the sun. Or book a session at their full-service spa for some much-needed pampering time together.
And there's even an indoor luau here, which means it won't get canceled if it rains! You can read my detailed Royal Sonesta Resort review HERE.
The Koloa Landing Resort is a fabulous Kauai babymoon hotel. It's in Poipu, which has the best weather of all! Read my full Koloa Landing Resort review.
The rooms here are twice as large as regular hotel rooms, which can be helpful with a growing baby bump. Check the latest rates and more information.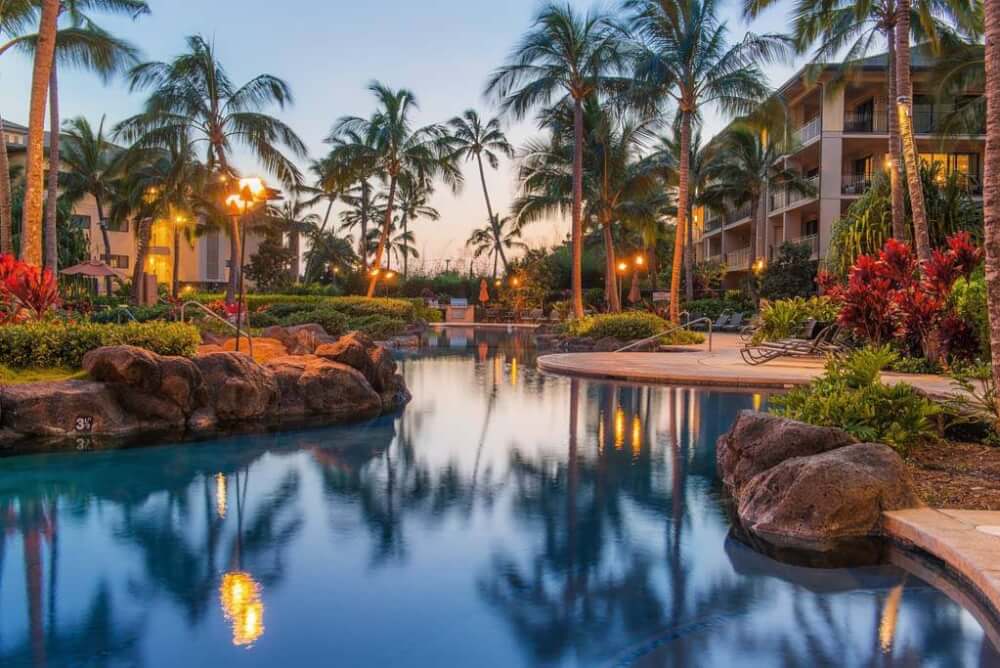 The Koloa Landing Resort is also just steps from the Shops at Kuku'iula Village. Here, you'll find lots of yummy restaurants, a health food store, and many cute shops. I recommend stopping at SoHa Keiki to find cute baby items!
The Shops at Kukui'ula Village also is home to a gourmet culinary market every week where you can get local produce from more than 20 Kauai farms, hand-made specialties, watch cooking demonstrations, and listen to live music.
They also have free shuttles around town if your feet are too tired to walk. And enjoy some time at their on-site restaurant with chef collaboration with Sam Choy from Hawaii cuisine fame.
Big Island Babymoon Resorts
The Four Seasons Resort Hualalai is located on the northwest side of Hawaii, close to Kukio Golf and Beach Club.
It's surrounded by black lava landscapes but only a few blocks away from beautiful ocean beaches- it's definitely one of my favorite places in all Big Island! Check the latest rates and more information.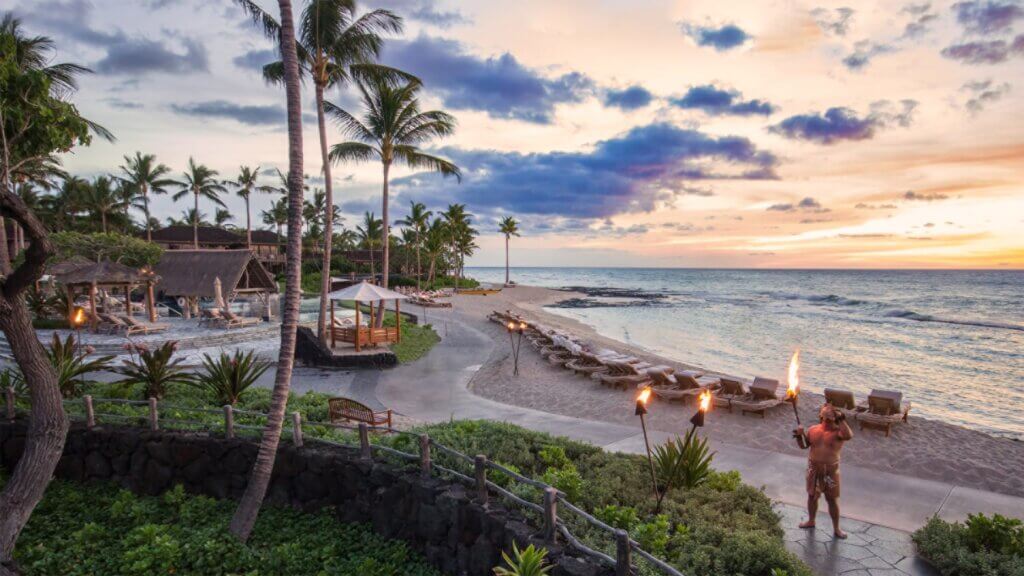 The resort strives with its Hawaiian tradition inspiration offering guests an authentic stay that will make you feel at home.
You'll definitely want to take advantage of one of their babymoon services at their world-renowned spa. And they even have outdoor massage tables in their gorgeous garden area.
They also have lots of on-site restaurants, pool-side dining, and even room service. You can even splurge on a private romantic dinner for two on the beach.
The Fairmont Orchid Resort is perfect for those looking to enjoy a Hawaii babymoon.
This resort spans over 32 oceanfront acres and offers everything from 10,000 square foot pools as well as tennis courts or golf courses throughout their property. Read our full review.
And the resort overlooks the sugar-white sandy lagoon. It's a seriously gorgeous property worth booking. Check the latest rates and more information.
One of the best things to do on your Hawaii babymoon is spa time. Enter the world of Fairmont Orchid's Spa Without Walls, where you can find your balance.
They offer 8 private outdoor waterfall hales (huts) and 6 oceanfront cabanas available for relaxation.
Or choose of of their three indoor treatment rooms that have soothing waterfalls just waiting for someone like yourself looking into rejuvenation!
Plus, there are also six restaurants on-site providing delicious cuisine available at all hours of the day, no matter when you get pregnancy cravings.
Staying at the Hilton Waikoloa Village is an excellent place to stay while pregnant on the Big Island. Not only does this resort have plenty of pools, waterfalls and even dolphins but you'll be able enjoy their 175-foot waterslide as well!
They have a bunch of restaurants and shops. Plus they even have a tram that will take you around the property so your legs won't get tired. Check the latest rates and more information.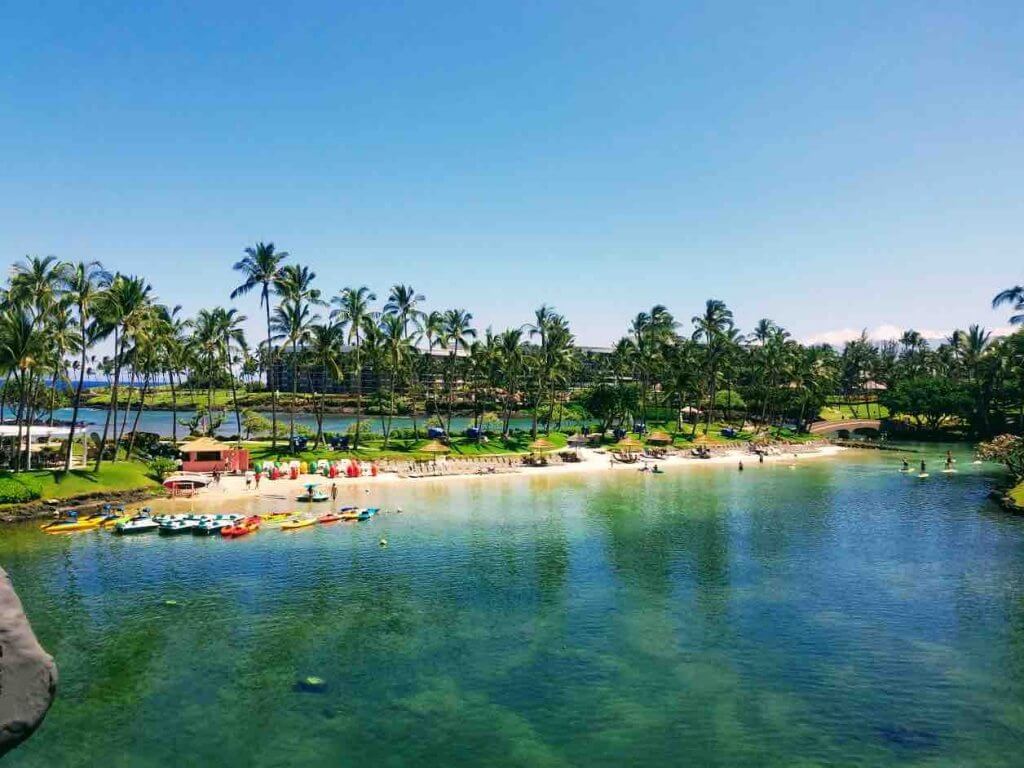 The resort also includes luau celebrations where you'll enjoy island-style cuisine prepared right before your eyes while watching dancers perform throughout dinner time too.
You'll also want to set aside time to experience their amazing spa. There are tons of services including prenatal massages and even couples massages. Read our full Hilton Waikoloa Village review HERE.
Lanai Babymoon Resorts
If you want to spend your babymoon on Lanai, there really is only one upscale resort. It's the Fours Seasons Resort Lana'i and it's the epitome of luxury.
Step into a world of sweet isolation at their five-diamond resort. With its private beach and stone gardens, you'll feel like you've stepped back in time. Check the latest rates and more information.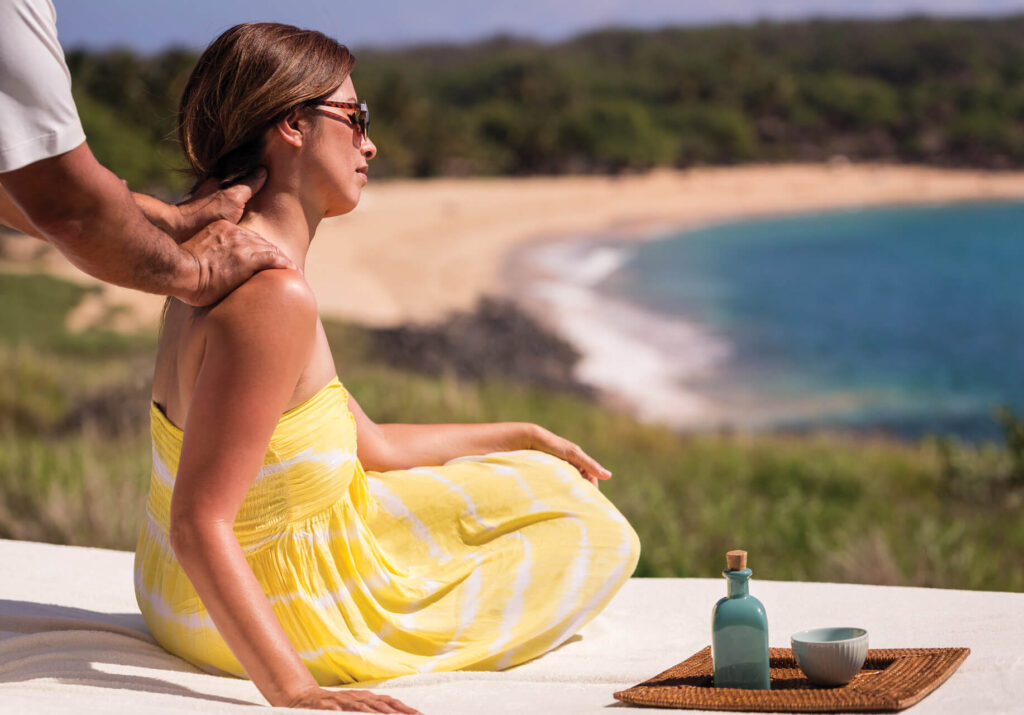 This hotel is located on Lanai's pristine southeastern coast. It's just minutes from where the best beaches are found with views that will take your breath away as they stretch out before you across miles upon miles in all directions!
You can spend your days lounging by one of two gorgeous swimming pools or strolling through lush botanical trails. They also have an amazing spa where you can get a prenatal massage or indulge in other spa services.
And if you really want to go all out, they even have their own private jet!
Luxury Resorts for Your Babymoon in Hawaii Wrap Up
I hope this gave you some ideas for romantic getaways in Hawaii while pregnant. These are some of the coolest hotels in Hawaii with fabulous amenities perfect for moms-to-be.
You'll definitely want to book these Hawaii hotels with babymoon packages before they sell out!