Are you looking for the best Kauai resorts for families with kids of all ages? Keep scrolling for my honest review of the Royal Sonesta Kauai (formerly Kauai Marriott).
This Royal Sonesta Kauai review was written by Hawaii travel expert Marcie Cheung and contains affiliate links which means if you purchase something from one of my affiliate links, I may earn a small commission that goes back into maintaining this blog.
Are you looking for a kid-friendly resort in Kauai?
We just returned from our week-long stay at the Royal Sonesta Resort in Lihue, Kauai. It's located on Kalapaki Bay and is only minutes from the Lihue airport.
I'm sharing with you all my favorite things about our stay there so that you can make an informed decision when planning your family vacation to Kauai!
If you're looking for a place where kids are welcome, then look no further than the Royal Sonesta Kauai Resort in Lihue, Hawaii!
This is one of those places that has everything going right – it's clean, comfortable, and affordable while also being close to many activities and attractions on the island.
You'll find yourself wanting to come back again and again! And if we do go back (which we plan to), I know exactly which hotel we will be staying at! So let me tell you why it's one of the best places to stay on Kauai!
Don't have time to read a bunch of Hawaii blog posts and reviews? Here are some of our top picks for visiting Kauai with kids.
Best Kid-Friendly Kauai Tours/Activities
Best Kid-Friendly Kauai Resorts
Grand Hyatt Kauai (this is a personal favorite for my kids because of the water slide and saltwater lagoon)
Royal Sonesta Kauai (my kids LOVE the pool here because it's the largest one in Hawaii)
Hilton Garden Inn (we like renting the cottages here because you can walk to a massive playground)
Want to Rent a Car in Hawaii?
One of the best places to rent a car in Hawaii is Discount Hawaii Car Rental because they get the best rates from top national companies like Alamo, Dollar, Thrifty, Avis, Enterprise, Budget, and Payless.
Want to skip all the planning and just access my detailed Kauai Itinerary complete with daily schedules, kid-friendly activities, and travel hacks? Click the button below.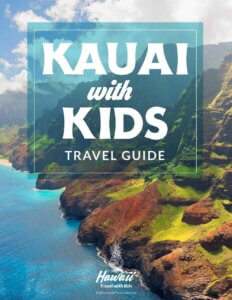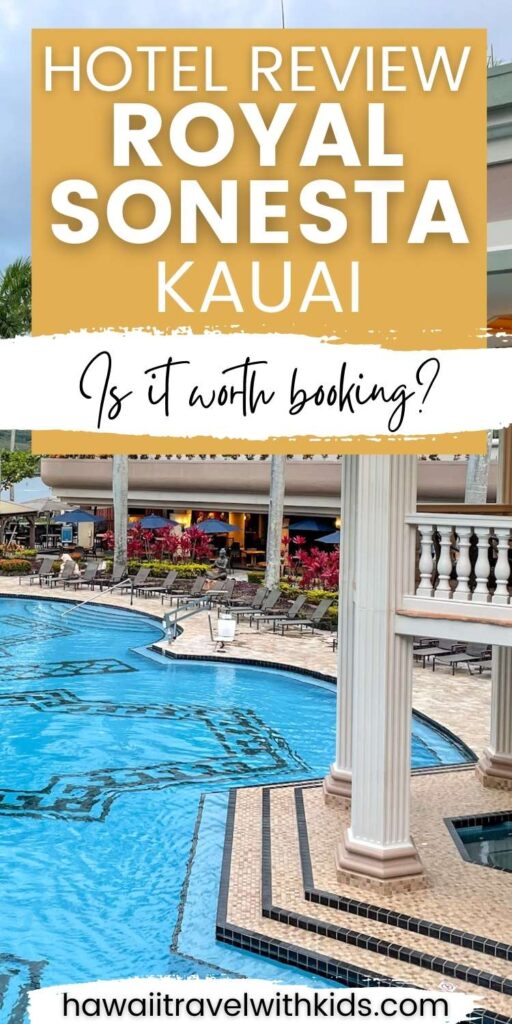 Where is the Royal Sonesta Kauai Resort?
The Royal Sonesta Kauai is located on Kauai's East Shore, just 2 miles from the Lihue Airport. But it definitely doesn't feel like an "airport hotel" since you are tucked away on Kalapaki Bay.
They have a complimentary resort shuttle available 24/7 if you need a ride to or from the airport.
It's the best place to stay in Kauai for people who want to explore Kauai. It's centrally located, so it's easy to drive to the North, South, and West shores, as well as the Waimea Canyon.
Plus, it's not far from Costco, Walmart, and Target, in case you need to stock up on items.
It's also near Kauai activities for families like Luau Kalamaku, Kauai mountain tubing, and other things to do in Lihue, another great reason for being one of the best Kauai family resorts.
Honest Royal Sonesta Kauai Review
Before I dive into my review, I wanted to provide a little context. I've been visiting Kauai since I was 10 years old, and I've definitely walked around this hotel property many times throughout the year back when it was the Kauai Marriott.
I was so impressed with the pool area that it became one of the Kauai hotels on my travel bucket list. This was my first time actually staying here as a guest.
We happened to visit just after this hotel switched ownership from the Marriott to the Royal Sonesta. I think they were still working out a few kinks, and they hadn't quite switched over all the branding yet.
We also visited when there were pandemic-related restrictions in place. That means that some of the usual amenities weren't available. And you'll see us wearing masks in some of the photos.
As one of the best family resorts Kauai has to offer, I think you will truly love the Sonesta Kaua'i Resort Lihue.
Ok, let's dive in!
What was our room like?
Our room was a pretty standard hotel room with 2 queen beds. We did have a mini fridge, which was helpful. There was also a table and chairs, a large credenza, a sofa, and a decent-sized bathroom.
It felt like we had enough room as a family of four. We put our suitcases on the sofa and lots of items on the credenza so there was lots of space to walk around without tripping on anything.
I didn't have an opportunity to take photos because our plane was delayed and we arrived at midnight. And then, we didn't have maid service because of the pandemic (which is unusual).
The guest rooms had comfy beds, air conditioning, a hair dryer, internet access, and a flat-screen tv. You have the option of getting an ocean view, garden view, or pool view for your guest rooms.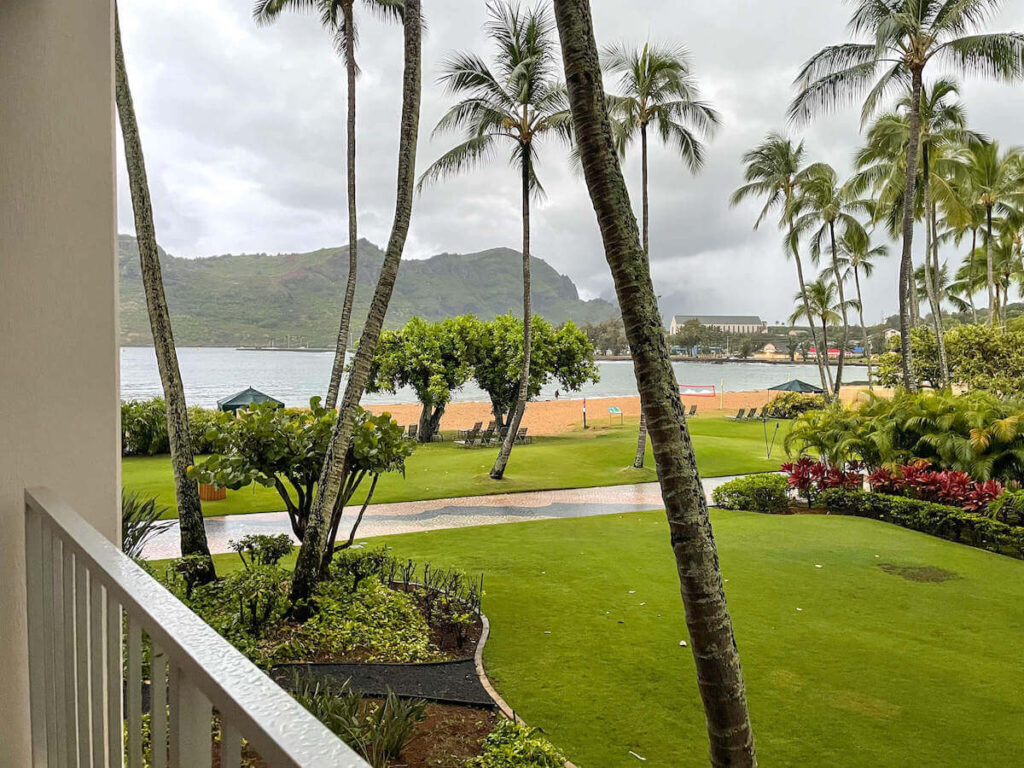 But I can show you the view from our room. We had a great view of the kiddie pool area in front of us. And when we turned to the left, BAM, there was the ocean with mountains in the background!
As one of the kid-friendly Kauai resorts, I felt like it had enough space for our family and gave us exactly what we needed.
They do offer laundry service, but it is not a washer or dryer in the room, which would be nice. You can also order room service as well.
You can ask for special requests such as a sofa bed or other room amenities you will need. They are very accommodating.
Check the latest rates and room types HERE.
Save Money with Points
Here are the best credit card offers for families who travel and want to use points to pay for airfare and hotels in Hawaii.
What did we think of the dining options?
There are a few on-site restaurants that I'll talk about below.
Aupaka Terrace Coffee Stand
The first thing we tried at the Royal Sonesta was their outdoor Aupaka Terrace coffee cart in the breezeway. I thought their prices were pretty high, but it's probably standard for hotels (I think my soy chai latte was $8)!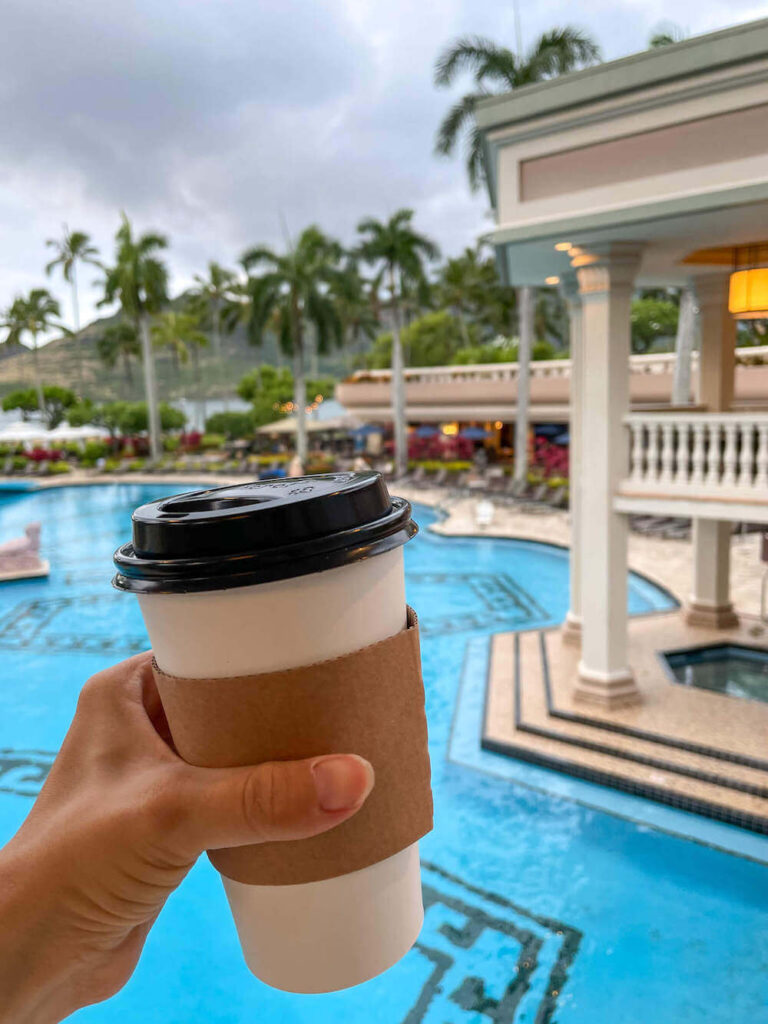 They only offered pre-packaged items for breakfast when we were there. We paid a lot for Costco croissants and yogurt that first morning.
If they have the same set-up when you go, I'd suggest stopping by a grocery store to pick up breakfast items to save some money.
Duke's Kauai
There are also several restaurants on-site, including Duke's, which serves up some delicious island-inspired cuisine, international cuisine, and their famous Hula Pie.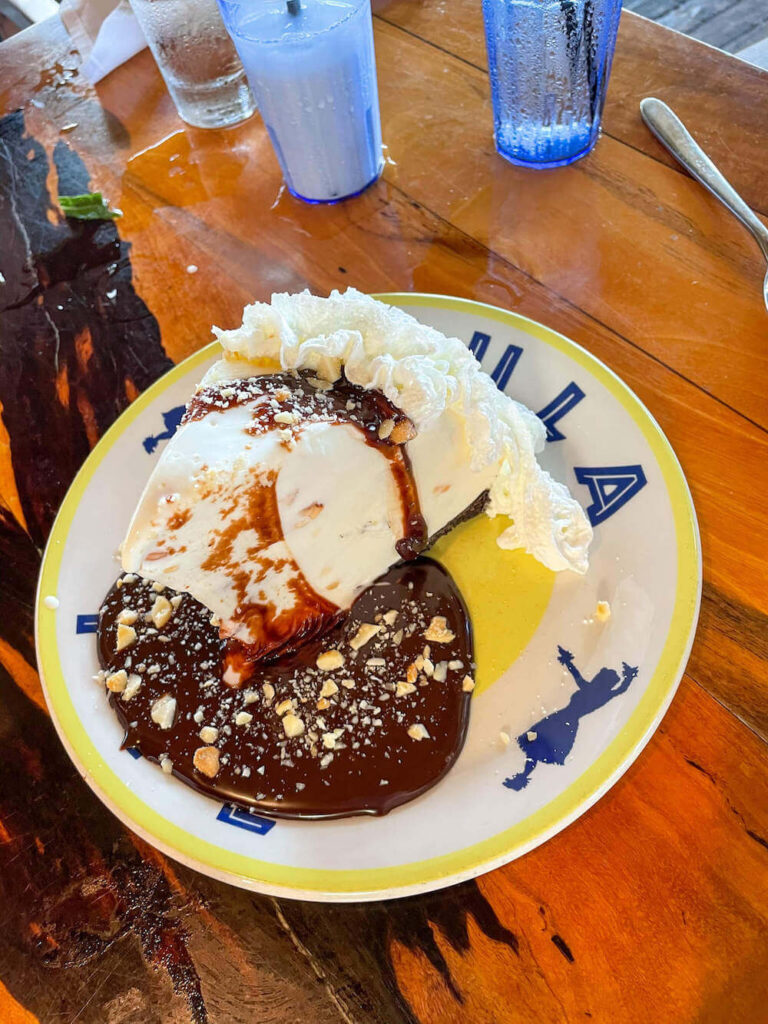 Duke's also has a barefoot bar on the lower level that's super casual dining and great for families.
Kukui's on the Beach
We also tried Kukui's for breakfast several mornings. The service here was excellent, and they had pretty standard American breakfast items. They also had a kid's menu, which is another reason why I think it is the best resort in Kauai for families.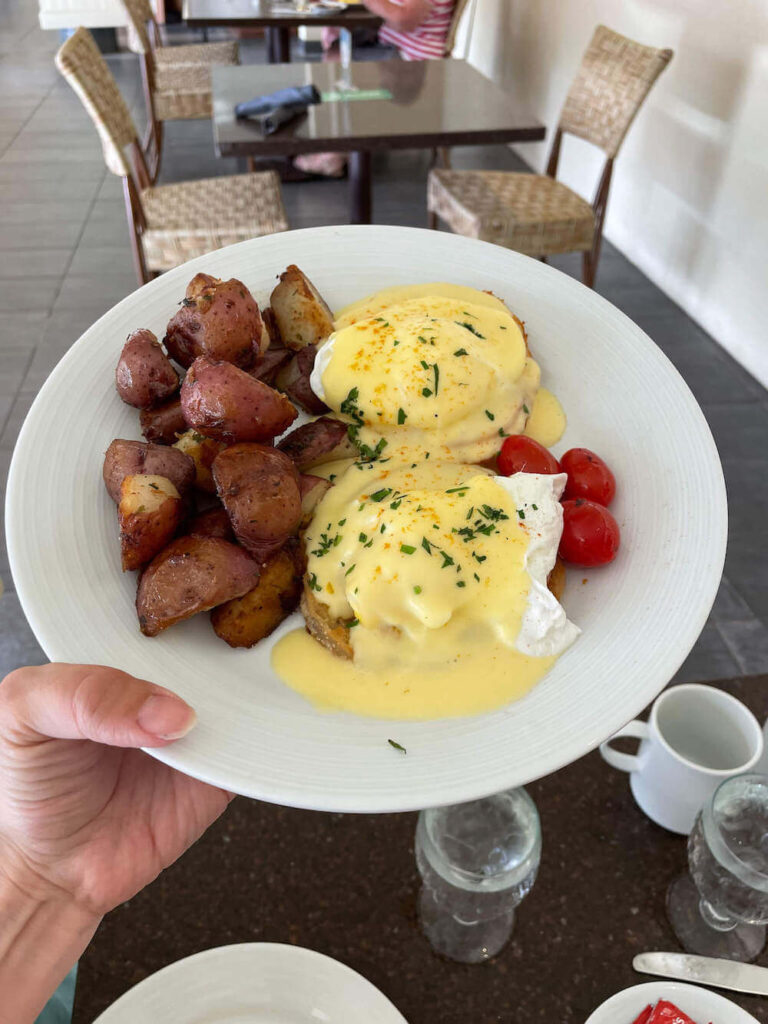 This restaurant is located right next to the pool area, and they have lots of open-air seating.
Other Restaurants
There's also Cafe Portofino (which is more upscale dining) and Toro-Tei Sushi Bar. We didn't try either of these options this trip.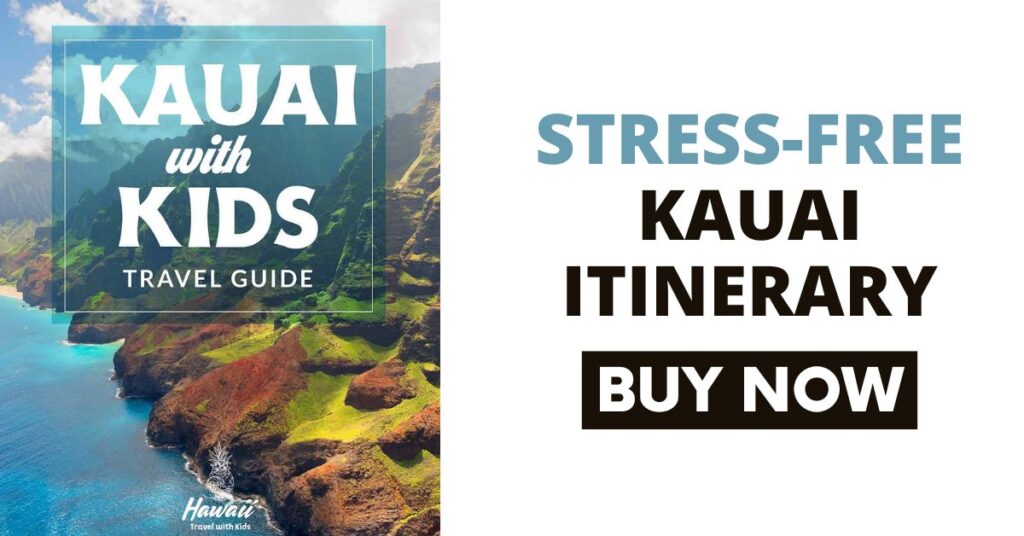 Royal Sonesta Kauai pool area
When I start researching Hawaii resorts for families, one of the first things I do is check out their pool. I mean, that's where my kids will want to spend a TON of time.
This Kauai Hawaii resort has an amazing pool area with the largest pool in Hawaii, as well as a little water slide and a kiddie pool for babies and toddlers! Definitely one of the best Kauai kid-friendly resorts just for its outdoor pool area.
They have great poolside service as well as a nice poolside bar.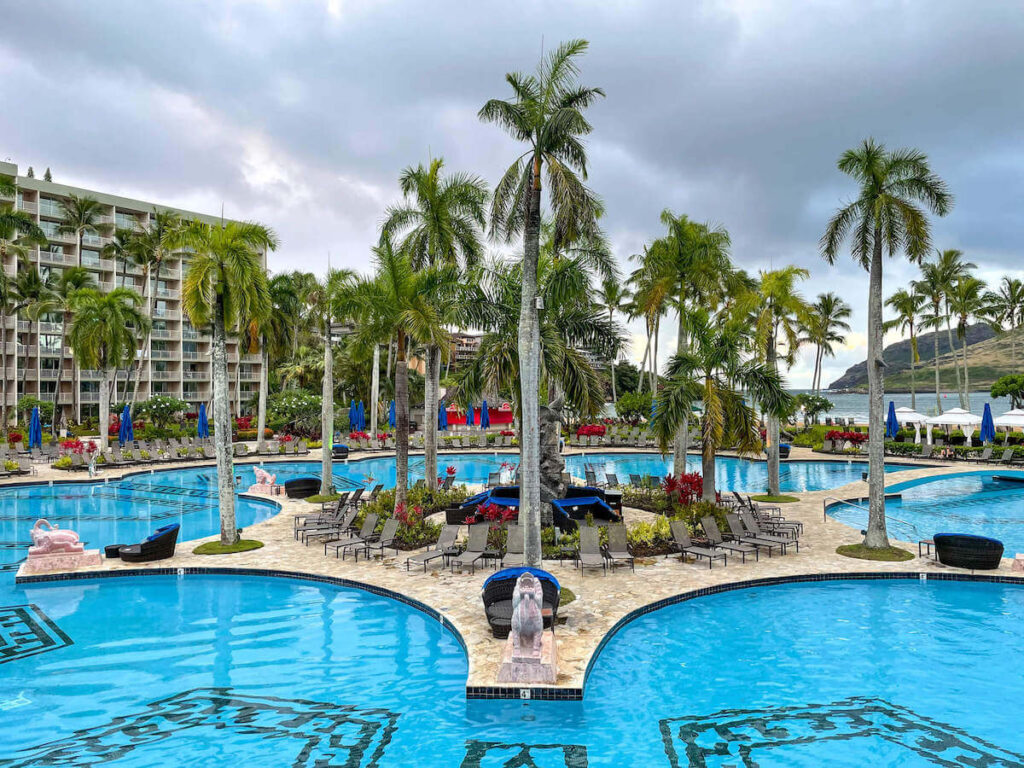 The main pool was designed to look like a Chrysanthemum flower. So each petal is sort of like its own pool, but they all stay connected.
And there are also 5 hot tubs located on one side of the massive pool. You can only access 3 of them by swimming there. The other two are right next to the pool deck. I like how the hot tub sections were both separate and together.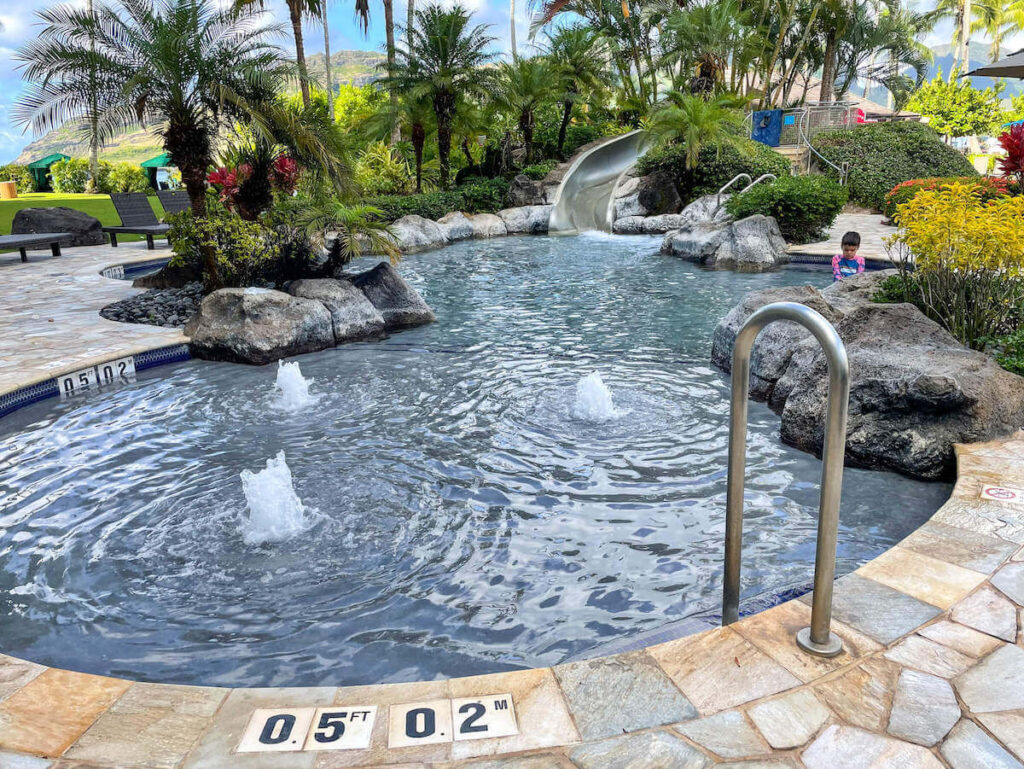 We spent a lot of time at the kiddie pool area. That's where my 4yo liked to be since he can't swim yet. The water was super shallow and warm at the children's pool, which I loved. And there were lots of lounge chairs in this area so you could watch your kids.
My 7yo really liked the water slide at the children's pool too. It wasn't too high or long, and during the busy time, the line moved really quickly.
My kids said the Royal Sonesta Kauai is one of the best resorts in Kauai for families, specifically because of its awesome pool area.
Is it worth renting a cabana?
We ended up scrapping part of our Kauai itinerary so we could do a dedicated pool day at the Royal Sonesta Lihue. We were able to secure a lounge chair cabana for an entire day.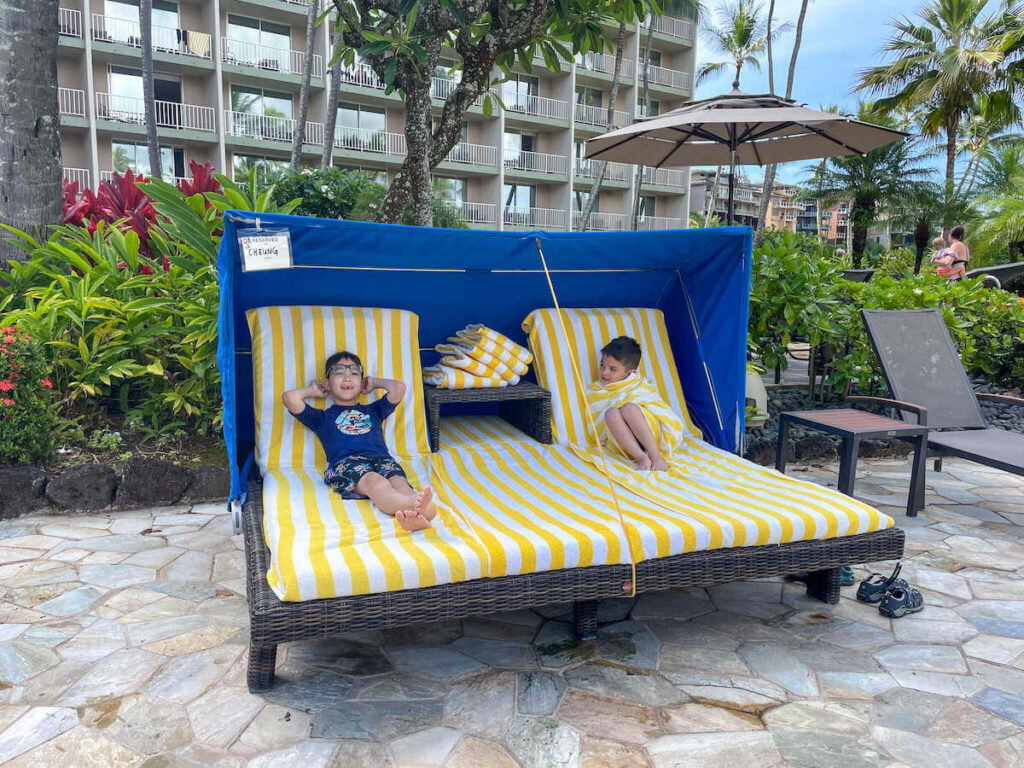 It basically consisted of two lounge chairs, a table between them, and a huge retractable sunshade. And there also was an attendant who came by to give us Kauai Kookies and bottles of water. There was also a server who came to get our food/drink orders throughout the day.
I think it was about $100 for the rental, and it was definitely money well spent. Since our kids are small, we had no problem fitting our whole family here. I don't really swim, so I parked myself in the cabana the entire day, and it was so comfortable.
You can read more about the pros and cons of renting a Hawaii cabana here.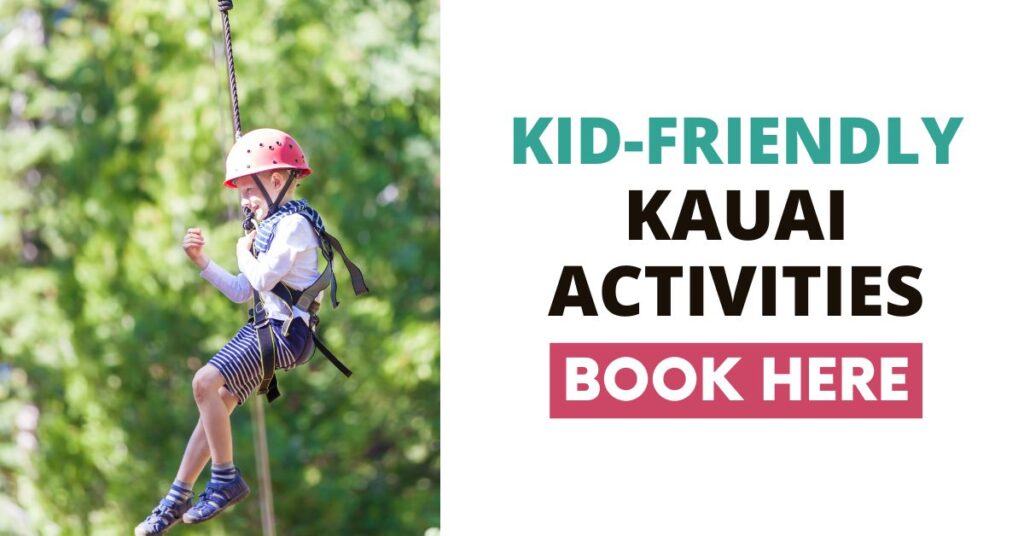 Other features/amenities
The property itself is pretty large with a well-lit path, and there were a lot of things to see/do here. I'll list a few.
Kalapaki beach
Ok, so I'm realizing that I haven't really talked about the beach yet, which is a MAJOR perk of this hotel and the reason it is one of the best Kauai beach resorts.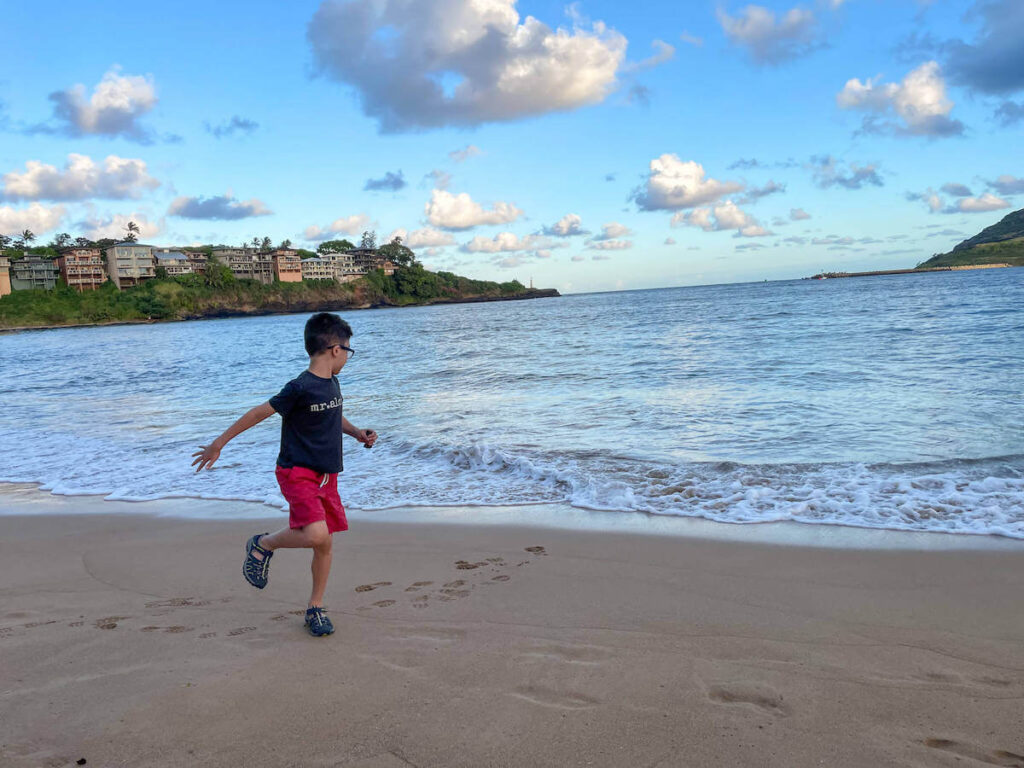 Kalapaki Beach is actually one of my favorite kid-friendly Kauai beaches. The water is super calm, and it's fun to float around on an inflatable. You can also see people paddle boarding or practice snorkeling. It is perfect for water sports.
There's also a place where you can rent beach chairs and other stuff on the golden sands.
This is one of the best hotels in Kauai for families who want a kid-friendly beach just steps from their room.
Indoor luau
The Kauai Sonesta is also home to the only indoor luau on Kauai. This is nice for families who want to just walk to/from the luau from their hotel room. Plus, you won't have to worry about them canceling due to rain.
The Hawaii Alive Luau is located in the luau gardens and is the perfect luau to show the Hawaiian culture, especially during the hula performances!
Kids programming
This hotel also usually offers children's programming. When I was walking around the Marriott timeshare area, I saw a schedule of kids' programs. However, I couldn't tell if they were still happening or if they were only open to Marriott timeshare holders.
This is another reason why it is one of the top Kauai family hotels.
Koi pond
There's a really cool koi pond just off to the side of the main lobby. My kids enjoyed sitting and looking at the fish. It's a cool thing to do on Kauai for kids.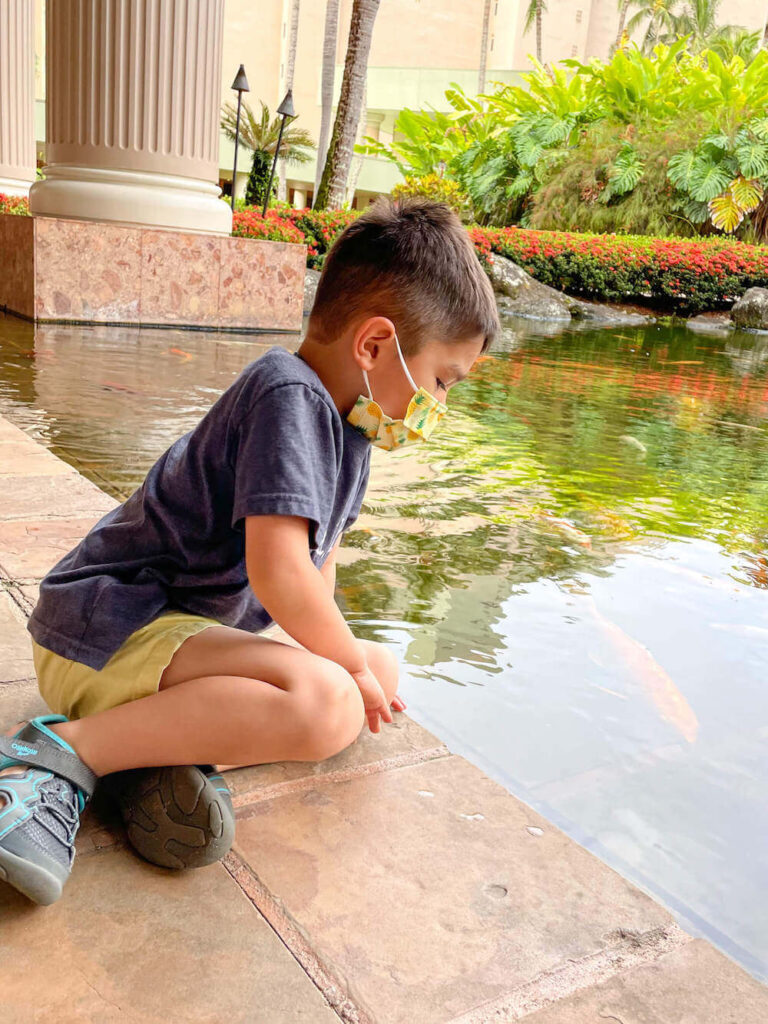 I think they normally do something where kids can help feed the fish, but it wasn't offered during our stay.
Spa
They also have the Alexander Day Spa and Salon. You can get treatments like facials, body treatments, and manicures inside their spa. Or, opt for a beachside massage. This is definitely on our list for next time!
Shopping
They do have some shopping available at the resort, but it's tucked away. There's a place to get bottled soft drinks, alcohol, snacks, breakfast items, etc.
They also sell tons of cute clothing and gift ideas. It's your typical resort gift shop with toiletries and other items you might need.
You will also find plenty of great shopping centers closeby as well.
Kauai Lagoons Golf Club
This golf club is right next to the hotel and is a great place to get some tee time if you love golfing.
It is a beautiful championship golf course. It is an ocean course that you will love seeing all the stunning beauty as you play a round or two.
Business Amenities
While we don't really need these options, there are plenty of great amenities for business travelers. You will find an event space for whatever you need. They have meeting rooms or an outdoor event space you will love.
Even the guest rooms are great for business travels as well.
Parking Options
Choose from self-parking for $30 a day or private parking with the valet for $40 a day.
Are there any things we didn't like?
The main lobby is down an escalator and then down a short flight of stairs from the hotel entrance. It just was a bit cumbersome to check in that first night. I was also carrying my bag, which had my heavy laptop and all our carry-on items.
Parking was also a bit tricky. There was a parking lot right next to our tower, but the lot filled up quickly most days. So, when we couldn't find a spot, we had to valet. That was pricey. And it meant we had to walk a long way from the main entrance to our hotel room.
Would we recommend the Royal Sonesta Kauai?
I highly recommend the Royal Sonesta Kauai to families who are looking for a kid-friendly resort that is centrally located on Kauai. We were really happy with the hotel amenities, the pool area, and the restaurants. Check the latest rates and availability.
We will definitely be staying here again, and we look forward to checking out their kid's activities! It's by far one of the top resorts in Kauai for families and perfect for your next Kauai family vacation.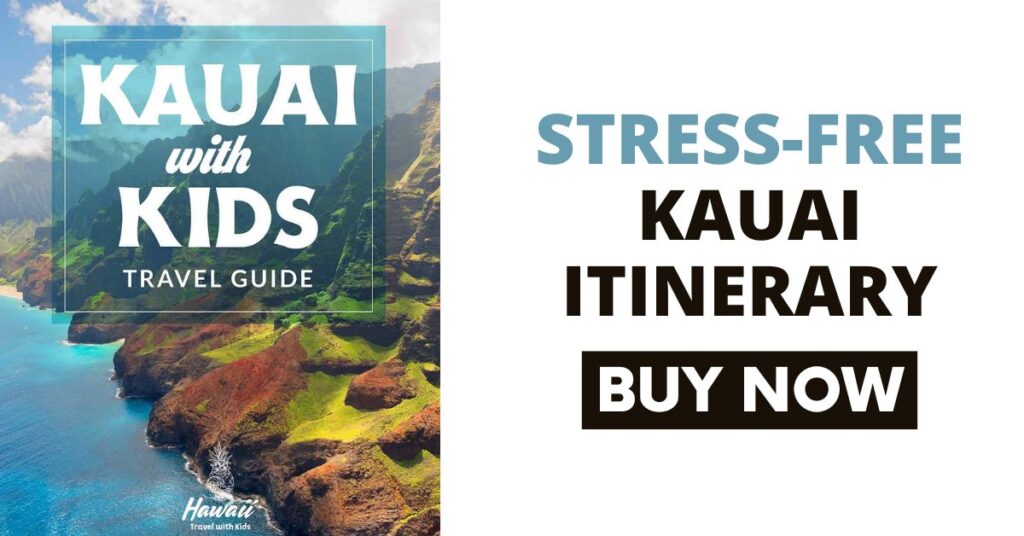 Where to Stay on Kauai FAQs
What are the top Kauai luxury resorts?
Many of the best resorts in Kauai are located on the South Shore in Poipu. These resorts include the Grand Hyatt Kauai, the Ko'a Ke'a Resort, and the Koloa Landing Resort. The best place to stay on Kauai's East Shore is the Royal Sonesta Kauai. And on the North Shore, the new Hotel 1 Hanalei will be quite impressive.
What's the best side of Kauai to stay on?
The highway on Kauai does NOT go all the way around the island. The East Shore is my top pick for families who want to get out and explore the island since it's centrally located. Next, I'd suggest the South Shore for people who mostly want to hang out at the resort and want sunny weather. Finally, the North Shore is really beautiful, but it can feel a bit isolated from the rest of the island, and it can rain a lot.
What are some things to do with kids in Kauai?
If you don't know what to do in Kauai with kids, a few options include riding the Kilohana Plantation Train, walking around Na Aina Kai Botanical Garden, playing at the Anaina Hou Community Park, walking around Hanapepe Town (the setting for Lilo & Stitch) or taking a boat ride down the Wailua River.
What did Royal Sonesta Kauai use to be called?
The Royal Sonesta Kaua'i Resort used to be called the Kauai Marriott Resort. It has just been renovated in 2022 and is such a beautiful property that offers a great location to enjoy. No matter the name, it is one of the best resorts in Kauai, HI.
How far is Royal Sonesta from Kauai Airport?
The Kauai Sonesta Resort is only about two miles away from the Lihue airport! There is an airport shuttle that will take you to and from; that's how close it is! It is one of the best Kauai hotels for families due to its ideal location and complimentary shuttle service.
What side of the island is Royal Sonesta Kauai on?
The Sonestsa Hotel Kauai is located in Lihue and is on the East Shore of Kauai. If you are wondering where to stay on Kauai with kids, this is a great option, as one of the best places to stay in Kauai for families.
Does the Sonesta Kaua'i Resort Lihue have a daily resort fee?
Yes, the daily resort fee is $40 and includes the complimentary airport shuttle, $5 discount on valet parking, access to the fitness center, wifi and internet access, cultural classes, wellness classes, and 2 Mai Tais and 1 appetizer or dessert.
Royal Sonesta Kauai Review Wrap Up
We love the Royal Sonesta Kauai and know you will too!