Are you planning a family vacation to Kauai and want to know the best place to stay with kids? Keep scrolling for my recommendations of the best resorts in Kauai for families worth checking out!
This list of the best resorts in Kauai for families was written by Hawaii travel expert Marcie Cheung and contains affiliate links which means if you purchase something from one of my affiliate links, I may earn a small commission that goes back into maintaining this blog.
Kauai is accurately known as "The Garden Island" for its tropical rainforests, beautiful waterfalls, and flowing rivers.
Some areas of the island are only accessible by air or sea, which can give you a glimpse into how much natural growth defines the island.
As the oldest Hawaiian island, Kauai is known for its opportunities to view rare and exotic wildlife via snorkel, helicopter, and scuba tours.
Today, we're taking a look into the best resorts in Kauai for families. You'll want a mix of stays that are both immersive and close to the tropical heart of the island, after all!
Keep scrolling to learn more about some of the best Kauai family resorts.
Don't have time to read a bunch of Hawaii blog posts and reviews? Here are some of our top picks for visiting Kauai with kids.
Best Kid-Friendly Kauai Tours/Activities
Best Kid-Friendly Kauai Resorts
Grand Hyatt Kauai (this is a personal favorite for my kids because of the water slide and saltwater lagoon)
Royal Sonesta Kauai (my kids LOVE the pool here because it's the largest one in Hawaii)
Hilton Garden Inn (we like renting the cottages here because you can walk to a massive playground)
Want to Rent a Car in Hawaii?
One of the best places to rent a car in Hawaii is Discount Hawaii Car Rental because they get the best rates from top national companies like Alamo, Dollar, Thrifty, Avis, Enterprise, Budget, and Payless.
Want to skip all the planning and just access my detailed Kauai Itinerary complete with daily schedules, kid-friendly activities, and travel hacks? Click the button below.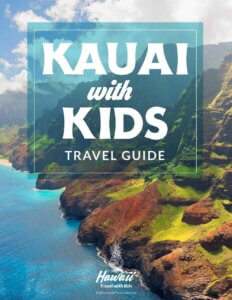 Which are the Best Resorts in Kauai Hawaii for Families?
There are SO many Kauai resorts that it can be hard to figure out which one is right for your family. Here are some of our favorite family-friendly resorts Kauai has to offer!
No Kauai hotel list would be complete without the Grand Hyatt Kauai Resort & Spa. This hotel is located on the south side of Kauai, and it's perfect for your Kauai family vacation.
It is the best place to stay in Kauai with family, in my opinion! Check latest rates and more information.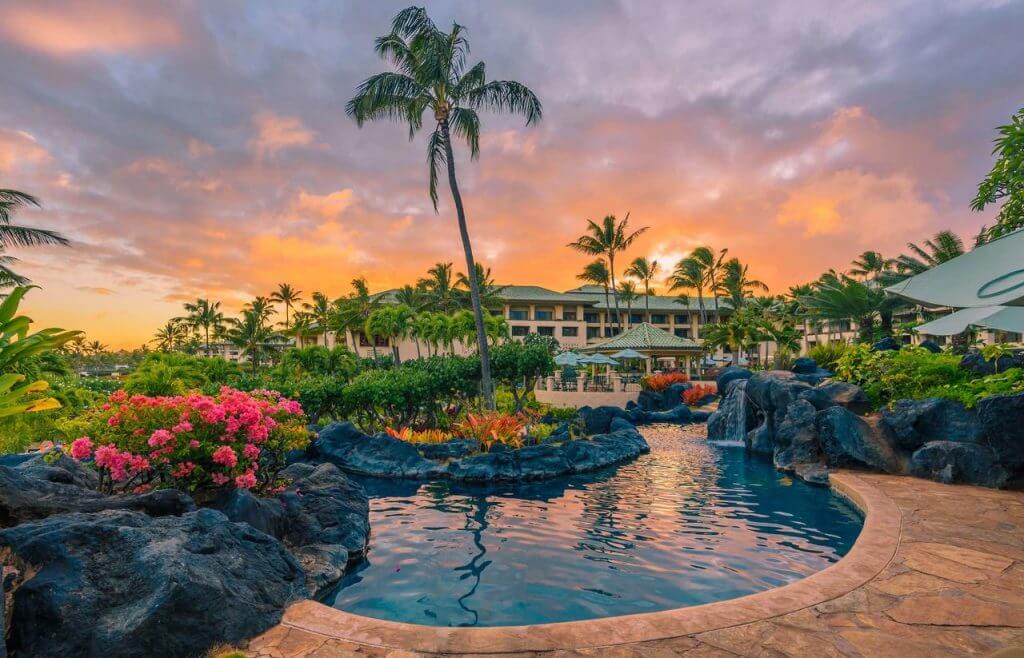 This resort tops our list of places to stay in Kauai and features the best pools in Kauai, beautiful gardens, as well as eleven restaurants.
Some of the dining areas offer ocean views, and this Kauai Hawaii resort hosts the relaxing Anara Spa as well as golfing options.
The on-site golfing area is named Poipu Bay Golf and is a Robert Trent Jones, Jr. designed course featuring daily lessons, golf carts, and unique merchandise.
Keeping it more traditional, the hotel's lobby is populated by artisans and craftsmen celebrating Hawaiian culture daily. The Grand Hyatt Kauai Resort also offers hula, ukulele, and lei-making lessons each week!
They also have a kids club available, which is fun for kids and gives grown-ups a bit of a break. Another reason why it is one of the best family resorts on Kauai!
Finally, the Grand Hyatt Kauai Resort & Spa offers a Blue Hawaiian Activities Concierge service that can help you plan anything from restaurant reservations to surfing lessons and helicopter tours.
You can reach out to the concierge service after you arrive or even while you're planning your trip! Sometimes, what you really need is an expert to help you out instead of hours of falling down internet pathways.
It has direct beach access to the golden sand beach of Shipwreck Beach. The Grand Hyatt Kauai Resort & Spa is also close to Poipu Beach to enjoy the beach too!
The Grand Hyatt Kauai Resort is definitely one of the top kid-friendly resorts in Kauai, HI, worth checking out. You can read my full Grand Hyatt Kauai review HERE.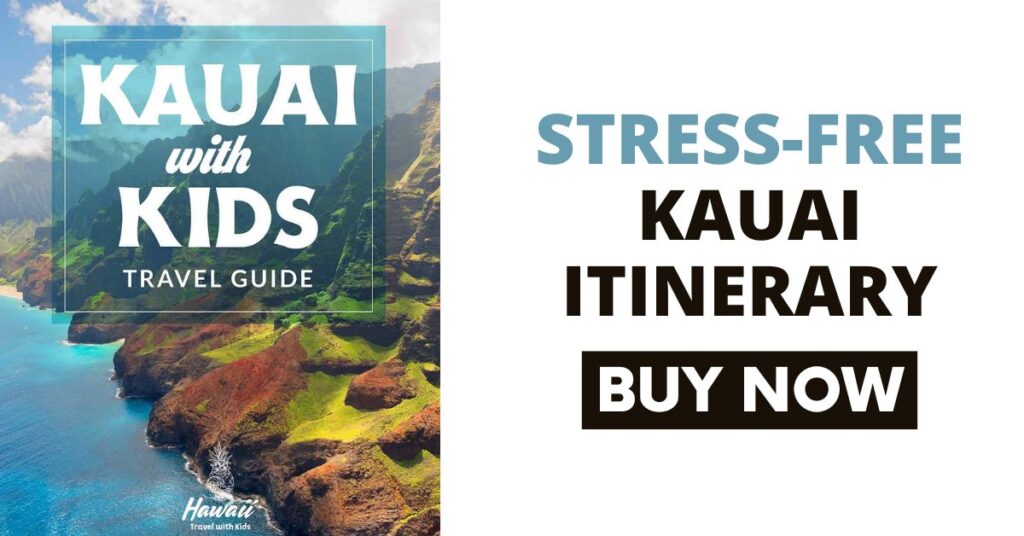 This is one of the top Kauai kid-friendly resorts in Lihue. Formerly the Kauai Marriott, the Royal Sonesta took over in Spring 2021. Check latest rates and more information.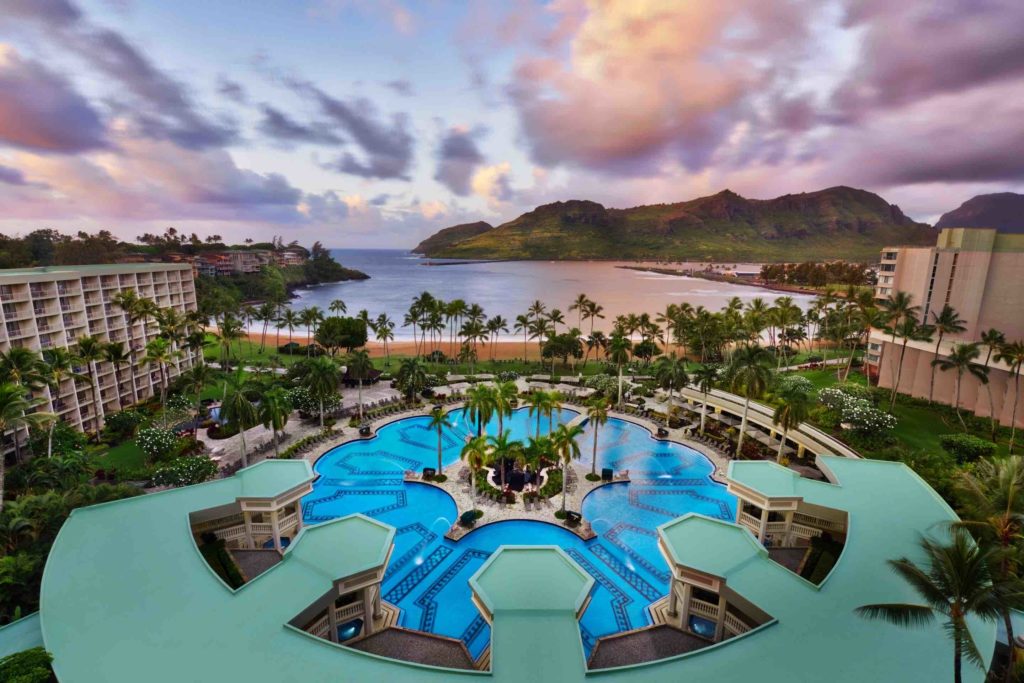 The Royal Sonesta Kauai has the largest single-level outdoor pool in Hawaii, and it's sure to be a hit with your kids. Read my full hotel review HERE.
As one of the top resorts in Kauai, they also have five on-site bars and restaurants, a spa, complimentary cultural activities, and even a free airport shuttle.
But the reason why this is where to stay in Kauai with kids is that it's located on peaceful Kalapaki Bay. There's Kalapaki Beach right in front, with calm, shallow water. Plus, gorgeous views of the mountains in the background. It is one of the best beach resorts in Kauai and one of the most luxurious resorts in general.
The East Shore location makes it really convenient for families that plan on getting out and exploring Kauai. There are so many fun things to do in Lihue!
The Hanalei Bay Resort is a great choice for a stay by, you guessed it, the Hanalei Bay beach. It is another one of the best Kauai beach resorts. Check latest rates and more information.
This resort is located on the top side of Kauai on the North Shore, directly overlooking Hanalei Bay. Enjoy marvelous sunsets, mountain views, and gardens from your 1-3 bedroom villa.
There are tons of cool things to do in Hanalei for families. Activities that the resort's concierge can help you plan for your whole family include horseback riding, kayaking, golfing, hiking, surfing, and more.
There are also lots of shopping and dining options around the resort and beach.
It is another one of the best places to stay in Kauai for families who want to be close to Hanalei Bay.
Another laid-back Kauai kid-friendly hotel is the Kauai Beach Resort. It's located in Lihue, not too far from the airport on the East Coast. Check latest rates and more information.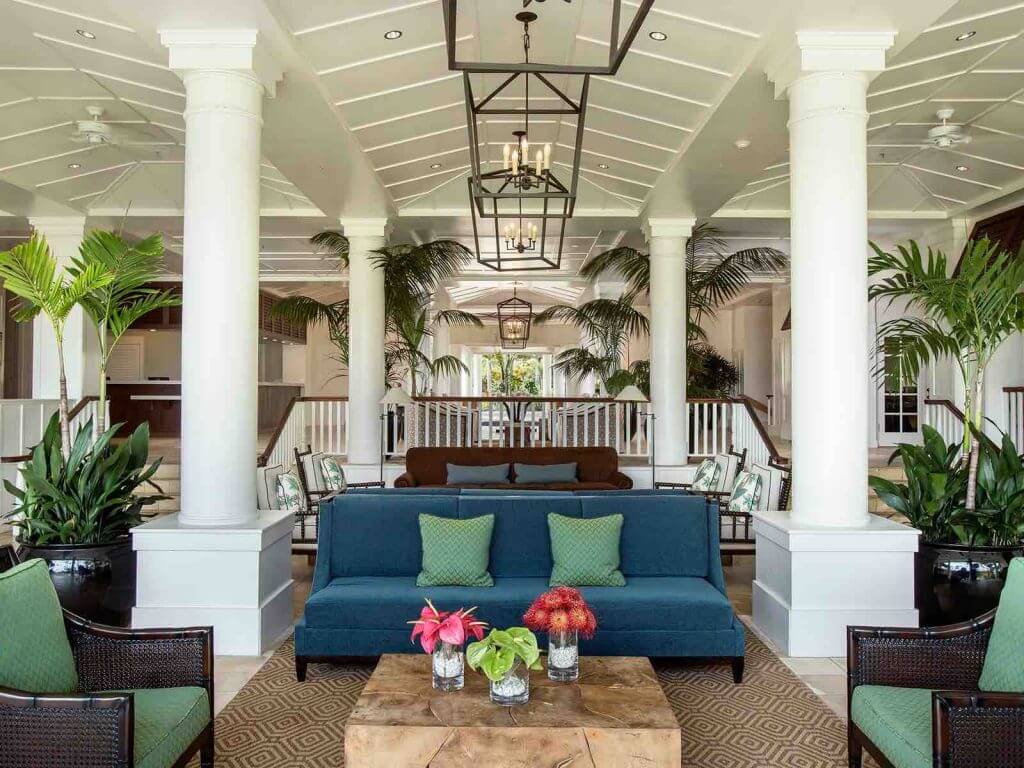 This resort is the perfect jumping-off point for families who want to get out and explore the island. Kauai is full of gorgeous waterfalls, hiking trails, snorkeling beaches, ziplining, boat tours, mountain tubing, and so many more adventures.
Plus, it's just steps from the beach, where you can take a family walk and enjoy a gorgeous Kauai sunrise.
The Kauai Beach Resort was named the Best Value Hotel on Kauai, so it's perfect for families looking to do Hawaii on a budget!
As another one of the best hotels in Kauai for families, you will love this resort!
Book a Family Photo Shoot
Whenever we travel to Hawaii, we almost always book a family photo shoot with Flytographer. They are super easy, affordable, AND it guarantees that I'll be in some photos. You can get $25 off if you book through this link or use the code HAWAIITRAVEL.
The Westin Princeville Ocean Resort Villas are located a bit farther from Kauai's beaches on the North Shore of the island. Check latest rates and more information.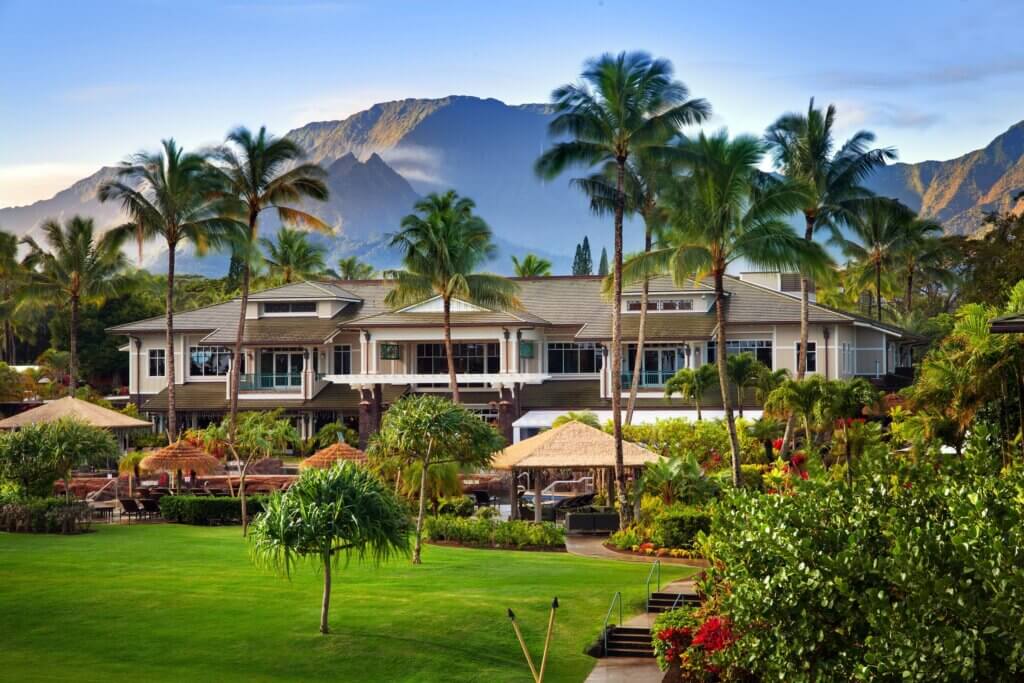 The resort offers a more homey experience with full kitchenettes and laundry facilities. The location is still nearby Anini Beach and a short way away from Hanalei Lookout near Hanalei Bay.
One of the best features of this resort is the Princeville Ranch Adventure which allows you to zipline through a rainforest. Refresh with a dip in one of the resort's outdoor swimming pools that overlook the Pacific Ocean, and relax in its 1,000-acre Limahuli Garden.
Many recent reviews of the resort praise its proximity to many shops and markets, but note that you still might have to travel farther out to reach beachy areas with soft sand instead of a shoreline.
As one of the top luxury hotels, you will love your stay here on the island's North Shore.
Save Money with Points
Here are the best credit card offers for families who travel and want to use points to pay for airfare and hotels in Hawaii.
This resort is also conveniently located only 2.2 miles away from the Lihue airport, which is the primary airport of Kauai.
Marriott's Kauai Lagoons are perfect for larger families, with villas ranging from two to three bedrooms available. Check latest rates and more information.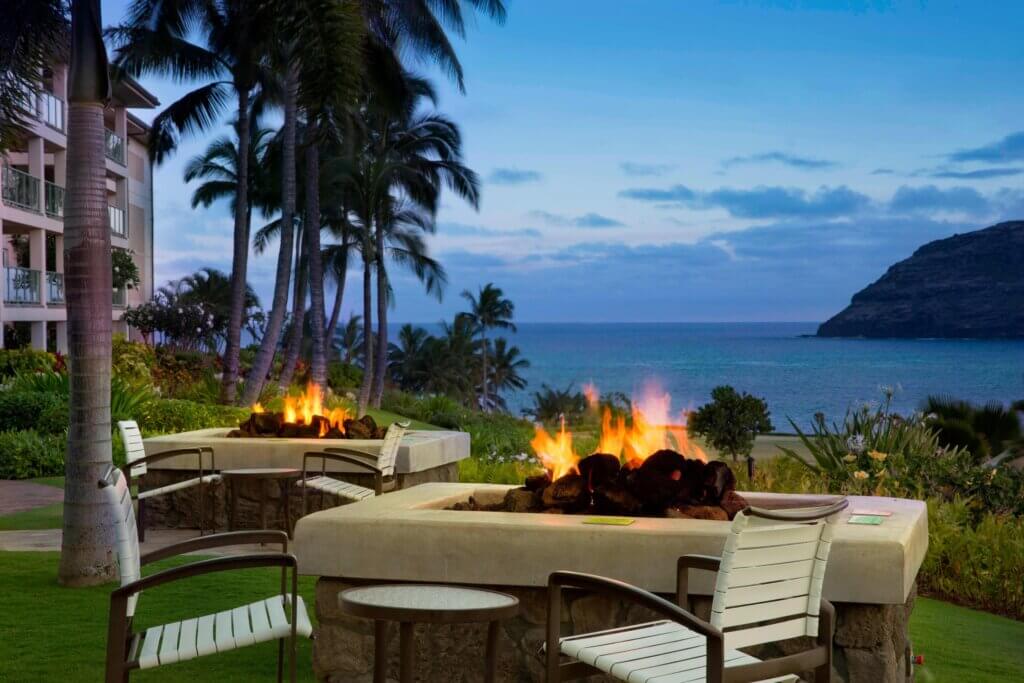 With two bathrooms in each villa, you don't have to worry about feeling cramped even if your siblings and their families come along, too!
A full kitchen area can also help cut down on costs if you're willing to cook with local ingredients.
The resort also boasts tennis and volleyball courts, as well as a whirlpool, picnic areas, a fitness center, and grills. Explore close to the resort for fishing areas and a plethora of restaurants and tour options.
This resort is also only 20 minutes away from both Opaekaa Falls and the Wailua River State Park.
Opaekaa Falls is a 151-foot-tall waterfall and one of the most accessible waterfalls in Hawaii. "Opaekaa" translates to "rolling shrimp," which were once thriving in the stream.
The Wailua River State Park features riverboat cruises to Fern Grotto, which is a cave covered in ferns inside a tropical garden.
Visiting both the waterfall and the park will have you set for a day of awe-inspiring sights, if not for a whole week!
The Marriott's Kauai Lagoons is another one of the best Kauai resorts for families you will love.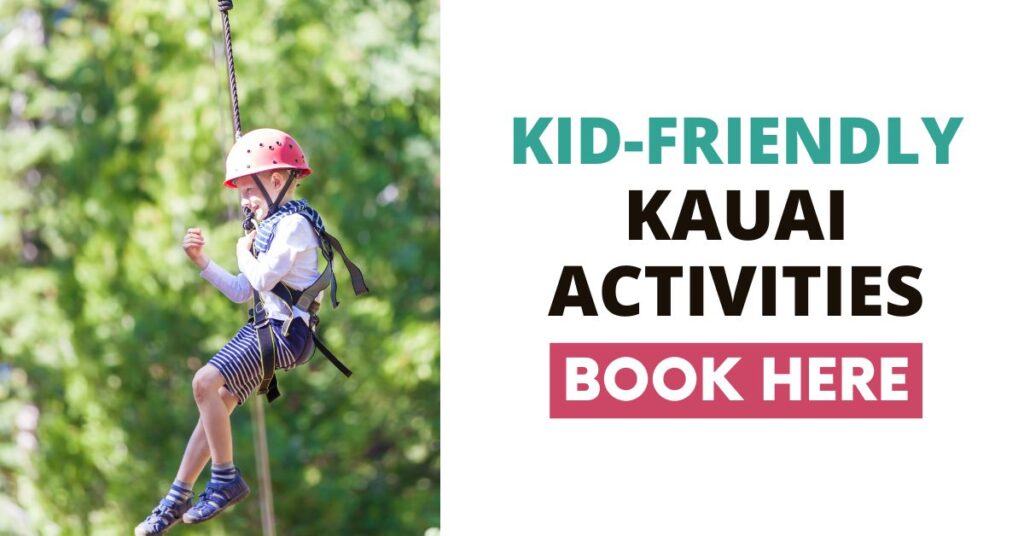 This resort is located a bit farther out from Lihue airport compared to Marriott's Kauai Lagoons but is still a great choice on the east side of the island by the Wailua River State Park and one of the best family resorts in Kauai, Hawaii.
This resort is condo-style, with each bedroom unit hosting at least two bathrooms. That's why it's a huge hit with families. Check latest rates and more information.
There's also a lazy river pool with water slides to enjoy with its swimming pools, with two acres of green grounds to explore as you float. The pool here is beautiful, with waterfalls and lava rock decorations.
The Oasis Beach restaurant nearby is a great spot for island-inspired food and beautiful views.
The Waipouli Beach Resort is located between the towns of Kapa'a and Wailua, with beachfront access.
This is one of the top Kauai beachfront resorts the entire family will love!
Another one of the Kauai resorts on the beach is the Sheraton Kauai Resort. It is located right on Poipu Beach on the South Shore and offers a fitness center, swimming pools, a hot tub, and so much more.
The Sheraton Kauai Resort offers stunning ocean views and a sandy beach the entire family will love. Check latest rates and more information.
There are a few golf courses close by, perfect for those who want to play a round or two. While there is no full-service spa, the spa at Koloa Landing Resort is within walking distance if you want a relaxing spa day during your trip.
Choose from a regular guest room or a suite to accommodate all your family members on the beautiful Garden Isle. It is another one of the top luxury hotels on the island.
The Sheraton Kauai Resort is the nicest resort in Kauai for a romantic getaway that you will love, but it also works great for kids as well.
The Koloa Landing Resort truly is one of the best family resorts Kauai has to offer. From multiple swimming pools to walking distance to the beach, this is one of the top Kauai luxury resorts the entire family will love!
Here at this Kauai resort, you will find a fitness center, hot tubs, a volleyball court, a full-service spa, and tons more. Check latest rates and more information.
Back in 2017, they renovated and added a fun waterslide to one of their many swimming pools! You can swim through waterfalls or relax in a private cabana while your kids enjoy the waterslide and family lagoon pool. It is such a beautiful swimming pool that is 350,000 gallons!
They also have a wide variety of guest rooms to fit all types of family vacations. Choose from a deluxe studio to a three-bedroom villa! It is one of the luxury hotels worth staying at. The villas come with a full-size kitchen, shower, bathtub, washer, and dryer.
There is the Holoholo Grill, the only on-site restaurant, but you are very close to plenty of other dining options nearby too.
Read my full review of Koloa Landing Resort HERE
You will love Whalers Cove Oceanfront Resort, one of the best Kauai hotels on the beach. It is a smaller condo hotel-style place to stay that offers some great amenities.
Both Baby Beach and Poipu Beach are close by to enjoy with your family or take some good family photos. There is also a heated pool, free parking, free wifi, BBQs, and much more. Check latest prices and more information.
Each room comes with a full kitchen, so you can save money and eat at your condo! Plus, they can and will stock up your kitchen with food and groceries before you arrive too!
There are plenty of shops, restaurants, and more you can walk to from Whalers Cove Oceanfront Resort, so you can fully enjoy your trip to Kauai.
The Whalers Cove Oceanfront Resort is one of the best beach hotels in Kauai if you are looking for a smaller hotel option.
Kauai Resorts for Families FAQs
When is the best time to visit Kauai with kids?
It's always best if you can avoid school breaks because the island is more expensive and more crowded. The shoulder season on Kauai runs from September to mid-December and mid-April to June.
What are the best things to do on Kauai with kids?
There are SO many kid-friendly Kauai activities. Personally, we love doing the Kauai mountain tubing down the sugar cane canals, a Kauai food tour, riding the train at Kilohana Plantation Railway, doing the boat ride to Fern Grotto, playing at the beach, visiting Spouting Horn, and so many more things to do in Kauai!
What is the most touristy area in Kauai?
The island's South Shore is one of the most touristy parts of Kauai. The Kauai resorts South Shore offers are quite amazing too, and perfect for kids. Kauai's North Shore is quite popular too.
Is Kauai good for families?
Yes, Kauai is the perfect island for families of kids of all ages! It is a great Hawaiian island that offers stunning beaches, cascading waterfalls, and tons of luxury resorts perfect for families. Some of the best family resorts in Hawaii are on Kauai too!
How many days in Kauai is good?
This all depends on what you want to accomplish and how long you can stay that works for your budget. For a family vacation in Kauai, 5 to 7 days is often great. That way, you have time to relax at your resort or the beach and enjoy all the adventures the island has. Check out How many days in Kauai you need for help.
Are there any all-inclusive resorts on Kauai, Hawaii?
You won't find any Kauai all-inclusive resorts, but there are some that offer tons of amenities included in your price. The somewhat Kauai all-inclusive family resorts have almost everything included in the price, except food and a few other activities.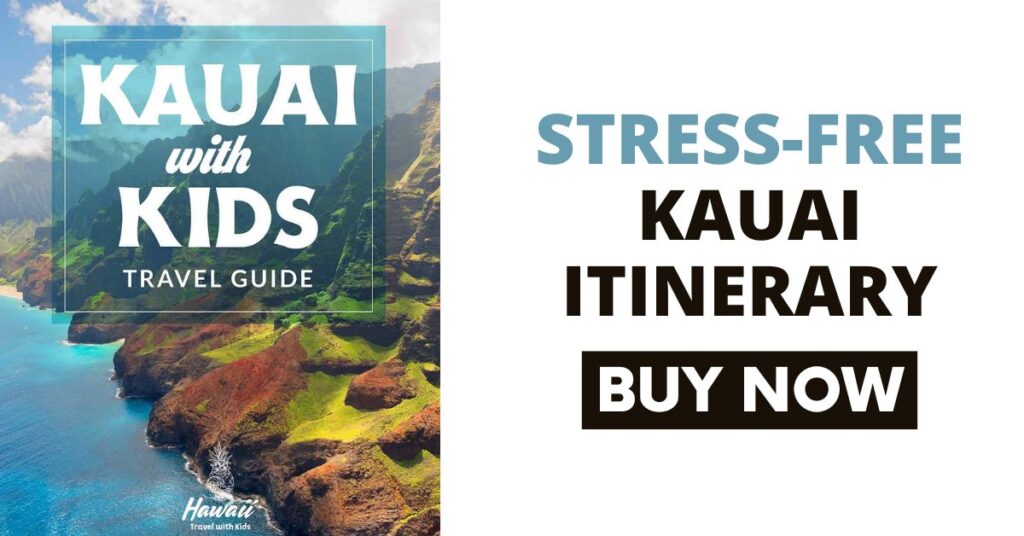 Choosing the Best Resort in Kauai for Families
There you have it! These are some of the best Kauai resorts for kids and families to enjoy. From resorts in Kauai on the beach to Kauai North Shore resorts, we have it all in this guide.
Kauai is one of my favorite islands to visit in Hawaii, and was the first one I ever visited. I've now been back to the island more than 30 times!
If you're looking for outdoor adventures and a taste of real Hawaiian nature, this is the island for you.
Whether you're looking for access to the great Hanalei beach on the North Shore or want to combine easy airport access with a waterfall tour close to Poipu Beach, our Kauai family hotels above have you covered.
You might even want to stay at a few of Kauai's best resorts for a few nights each to enjoy every part of the island.
No matter the age or size of your family, there's something on The Garden Island for you.
Read more about how to enjoy a North Shore Kauai Food Tour or about my choices for the Best Things to Do On Kauai With Toddlers today.