Are you looking for the best Kauai resorts for families with kids of all ages? Keep scrolling for my honest review of the Grand Hyatt Kauai in Poipu.
This Grand Hyatt Kauai review contains affiliate links which means if you purchase something from one of my affiliate links, I may earn a small commission that goes back into maintaining this blog.
Are you planning a trip to Kauai with your family?
I'm excited to share with you all about our experience at the Grand Hyatt Kauai Resort in Poipu!
The Grand Hyatt Kauai Resort is located on Shipwreck Beach and near several shopping centers, restaurants, and Kauai attractions. It's an ideal location for families who want to hang out on Kauai's sunny South Shore.
You'll love their spacious rooms with beautiful views of the ocean or lush gardens. The kids will enjoy all the amenities, like their amazing swimming pools, water slides, parrots, and more!
They also have an amazing spa where you can get pampered after a long day exploring Hawaii. I highly recommend staying here if you're planning to visit Kauai with your family!
If you are wondering where to stay on Kauai with family, keep scrolling for my honest review of this hotel in Poipu!
Don't have time to read a bunch of Hawaii blog posts and reviews? Here are some of our top picks for visiting Kauai with kids.
Best Kid-Friendly Kauai Tours/Activities
Best Kid-Friendly Kauai Resorts
Grand Hyatt Kauai (this is a personal favorite for my kids because of the water slide and saltwater lagoon)
Royal Sonesta Kauai (my kids LOVE the pool here because it's the largest one in Hawaii)
Hilton Garden Inn (we like renting the cottages here because you can walk to a massive playground)
Want to Rent a Car in Hawaii?
One of the best places to rent a car in Hawaii is Discount Hawaii Car Rental because they get the best rates from top national companies like Alamo, Dollar, Thrifty, Avis, Enterprise, Budget, and Payless.
Want to skip all the planning and just access my detailed Kauai Itinerary complete with daily schedules, kid-friendly activities, and travel hacks? Click the button below.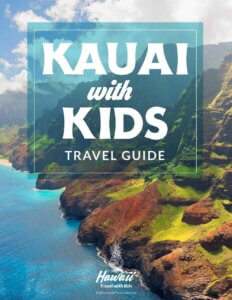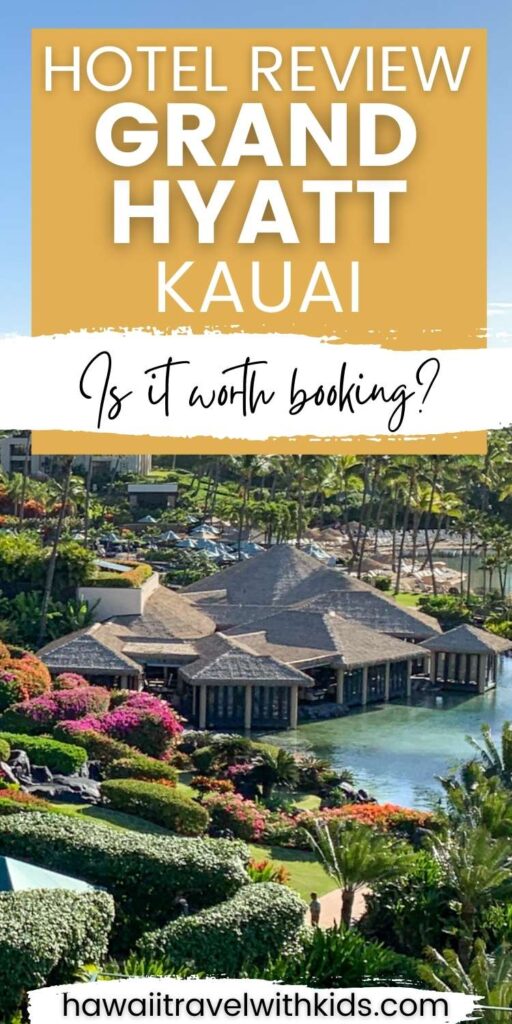 Where is the Grand Hyatt Kauai Resort?
The Grand Hyatt Kauai is located about 30 minutes South of the Lihue Airport in the town of Poipu. Poipu is one of the best areas to stay in Kauai during the winter months as it's usually dry and sunny.
It's a pretty expansive oceanfront resort with more than 600 guest rooms, a full spa, top restaurants, and a championship golf course.
It's the best place to stay in Kauai Hawaii for people who want to spend time at Waimea Canyon, Kokee State Park, enjoy the Shops at Kukui'ula Village, or just relax at an amazing resort on Kauai.
It's also near Kauai activities for families like ziplining, ATV adventures, boat rides, luaus, and more.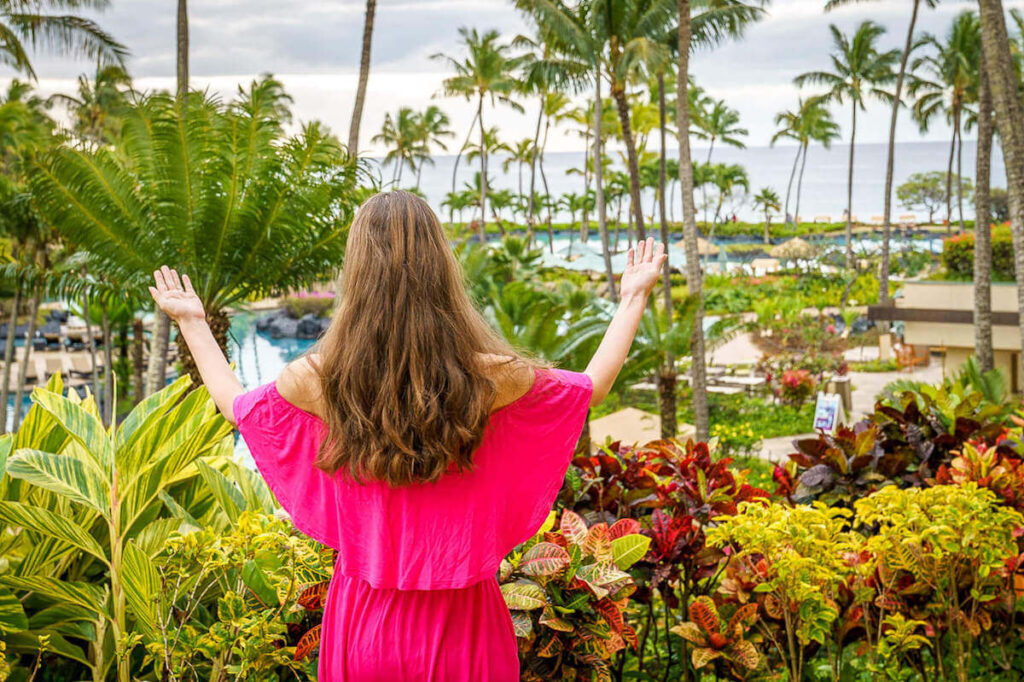 Honest Grand Hyatt Kauai Review
We visited the Grand Hyatt Kauai in March 2019 with a toddler and preschooler. I had previously walked around the property several times throughout the years.
The Grand Hyatt Kauai was definitely a Kauai bucket list hotel for me, and I was really excited when we got a good deal on a hotel room here. I had done a ton of research on the best place to stay on Kauai's South Shore, and this looked perfect for families.
After looking through my photos, I realized that I didn't get a ton of great shots that show the resort. So, I'll use what I have, and you might need to check the hotel page to see the full gallery of photos.
Ok, let's dive in!
Save Money with Points
Here are the best credit card offers for families who travel and want to use points to pay for airfare and hotels in Hawaii.
What was our room like?
We booked the 2 Queen Beds Partial Ocean View room, and it did not disappoint!
We LOVED our room. It felt really spacious, and it was decorated with cute island touches. There were a lot of wood accents that were nice.
Even though we traveled with two little kids, it felt like we had lots of space to store our luggage. There was a table and chairs, which worked well for the times we ordered room service. We also really enjoyed having the lanai.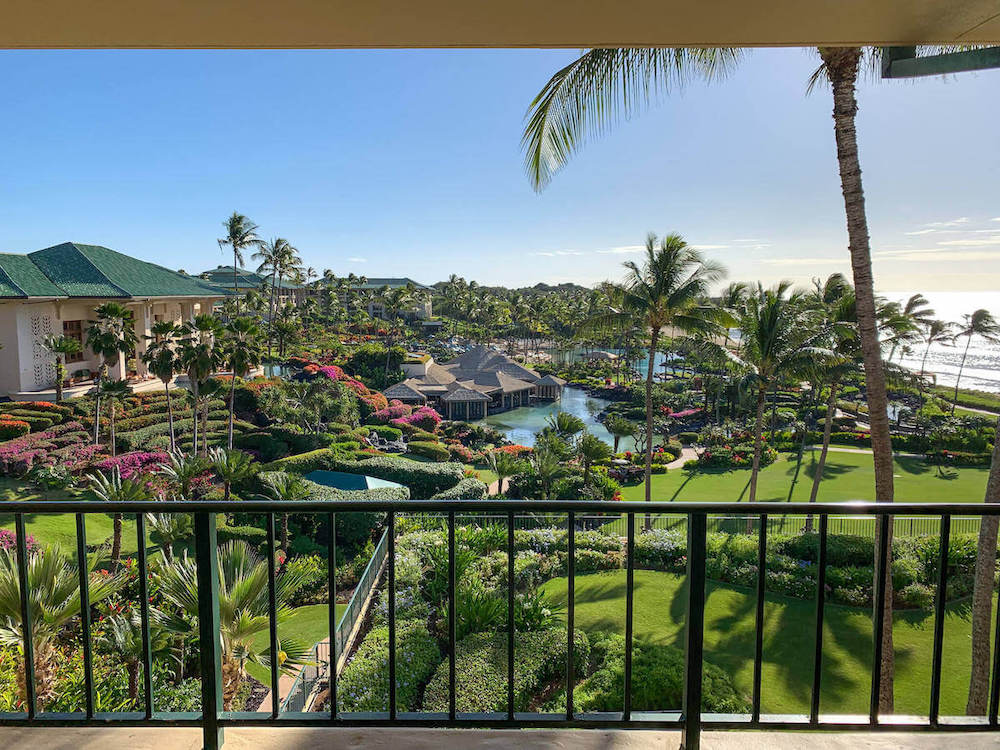 While I didn't get any photos of our room before we messed it up, I can show you the view from our lanai.
We could see the ocean to our right and the rest of the resort in front of us and to the left. For partial ocean views, I thought our room had great views!
While this is just one room type, there are plenty of room options to enjoy. You can choose from a variety when you make your reservations. The standard room does not have extra beds, but you might be able to put in special requests for rollaway beds and other amenities you might need.
The rooms offer air conditioning, which is always nice to cool off after a long day at the pool or beach. There is also a flat-screen tv to use as well in the room.
Check the latest room rates and types HERE.
What did we think of the dining options?
There are 7 different bars and restaurants at the Grand Hyatt in Kauai. We only tried a few of them since we spent a lot of our time exploring Kauai's amazing food scene. But I'll list off all the restaurants, so you know what to expect.
Tidepools Grand Hyatt Kauai
This is one of their most popular restaurants. What's really cool is that you cross over a little koi pond to get there. It's set up to look like a floating hut. Plus, the food is super tasty!
Stevenson's Sushi & Spirits
We didn't have a chance to try Stevenson's Kauai, but I did walk through it. They have an indoor dining area but also a nice outdoor lanai where you can watch the sunset.
'Ilima Terrace
This is a breakfast buffet for people who want a hearty hotel breakfast. We didn't try it.
Seaview Terrace Kauai
This is where we picked up coffee and pastries most mornings. It has an incredible panoramic ocean view. So, we'd take our food to sit out at the chairs and soak in the views.
Hale Nalu
This is the poolside restaurant where you can order lunch, snacks, or even shave ice. It's super convenient if you're doing a full pool day because there's something for everyone.
Captain's Bar and Shipwreck Bar
There are two bars available. The Captain's Bar is right near the pool but also with views of the ocean.
In-Room Dining Options
You can also get in-room dining and room service which is great, especially for families with kids! Dondero's Kauai used to be located at this Hyatt Kauai Resort Spa but has permanently closed now.
Grand Hyatt Kauai Club Lounge
You can upgrade to the club lounge, which gives you private access to snacks, food, drinks, and other options. It has a few options of food choices and offers a concierge service as well. We didn't try it out, so I'm not sure if it is worth the cost or not.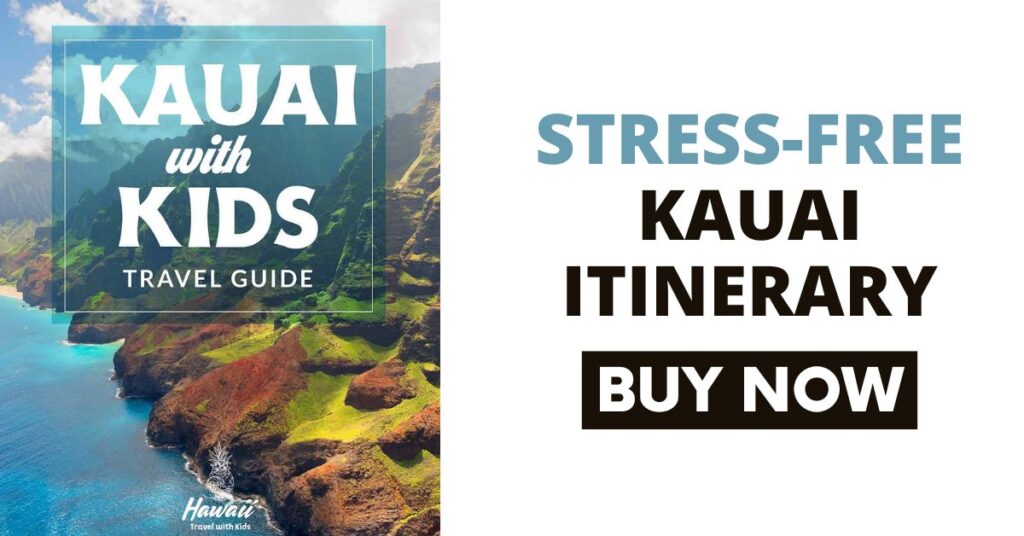 Grand Hyatt Kauai Pool Area
The Grand Hyatt Kauai actually has 5 different pools. There's also a saltwater lagoon, a lazy river, and a 150-foot waterslide. There are tons of lounge chairs throughout the pool area. You can find some with umbrellas or rent a cabana for full shade.
The Grand Hyatt Kauai cabana rental varies depending on which one you grab. Prices range from $150 to $500.
The lazy river pools is a lot of fun and takes you through waterfalls, and caves, and leads you to the waterslide. You can lay volleyball or basketball here as well. This is perfect for the kids to play in.
The lagoon has a nice sandy stretch and is great alternative to the pools if you prefer that. I love both options.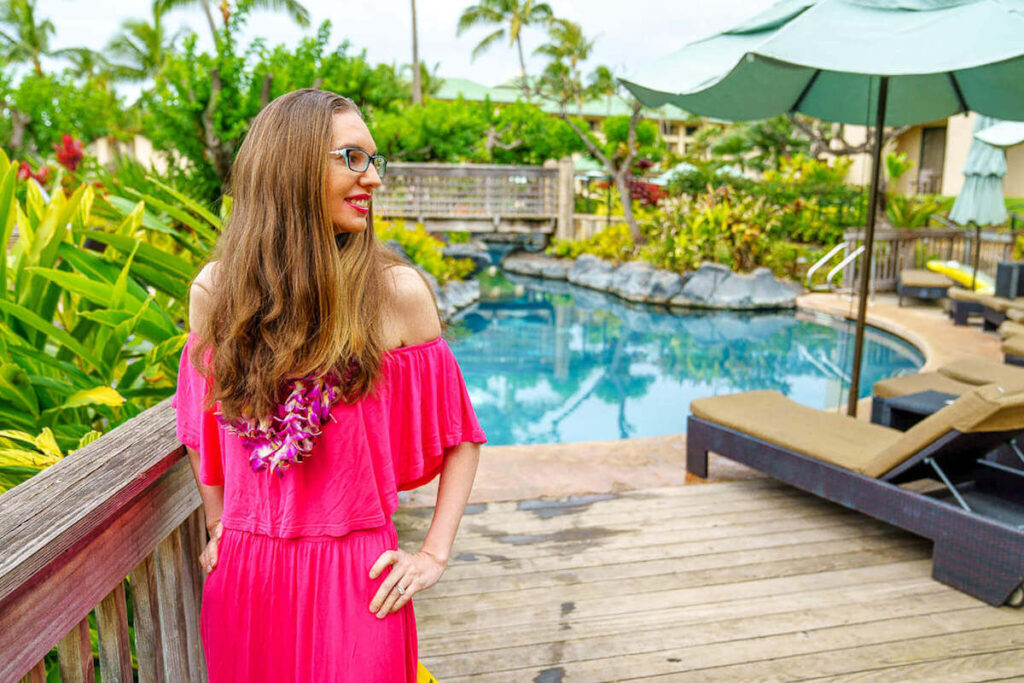 If you want some kid-free time, they have a super quiet adult pool where you can relax and read a book. There are also lots of nooks and crannies throughout the pools to sit for a few moments. There is also a hot tub to enjoy too.
My biggest regret about this Kauai family vacation is that we didn't dedicate enough time to just relaxing by the pool. It's one of the best features of the Grand Hyatt Kauai.
We did enjoy a few afternoons playing in the water. My kids were too nervous about doing the water slide but loved the saltwater lagoon.
Other features/amenities
Complimentary Lei Greeting
I know a lot of families get a kick out of getting a fresh lei when they arrive in Hawaii. At the Grand Hyatt Kauai, they provide fresh purple orchid leis.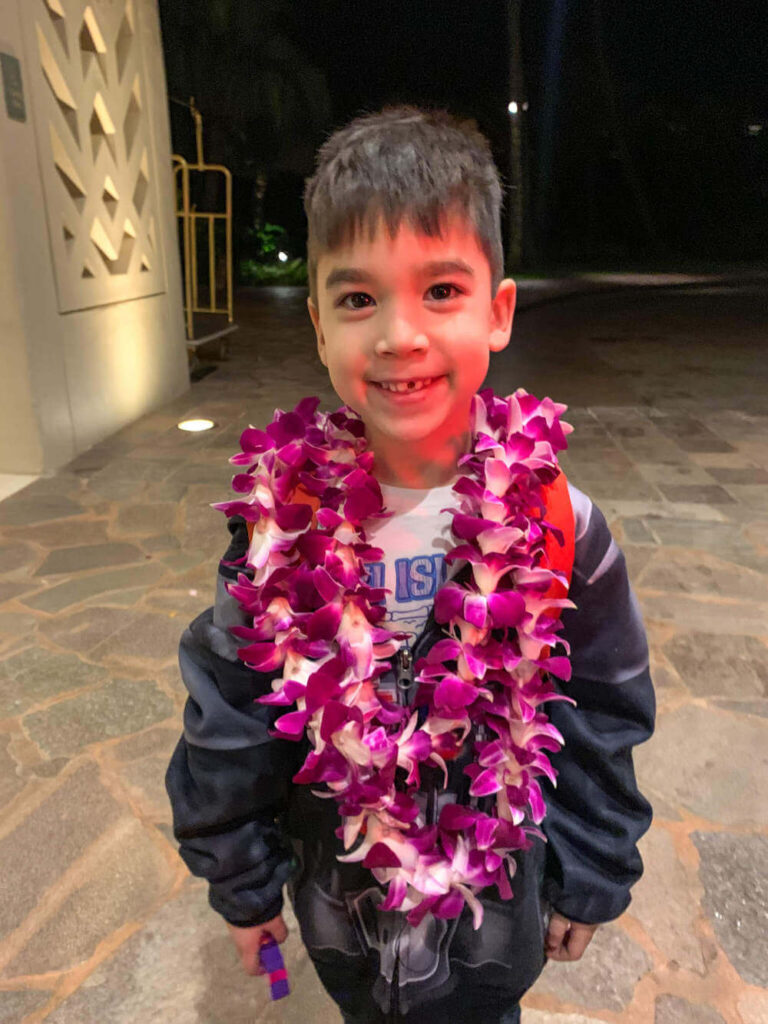 This was a big hit with my kids! The front desk even had them ready when we arrived late at night.
On-Site Luau
Another awesome thing about this Hyatt in Poipu resort is that they have their own luau right on the property. This is super helpful for families that want to be able to just walk up to their room when the show is over. You can read more about the Grand Hyatt Kauai luau HERE.
Shipwreck Beach
The Grand Hyatt Kauai is located just steps away from Shipwreck Beach. This is a popular spot to get married, do a photo shoot, or try cliff jumping.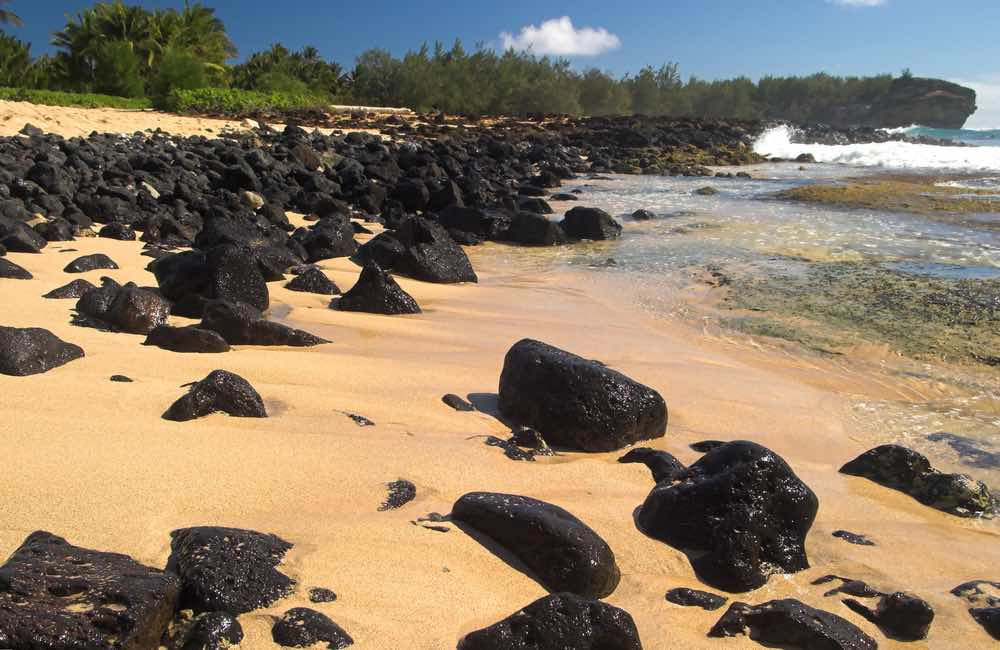 It's nice to be able to do a beach walk right from the hotel. But don't plan on swimming here. The waves are fierce, and the current is no joke.
Camp Hyatt
We never had an opportunity to use Camp Hyatt, the Grand Hyatt Kauai kids club, but it's their childcare service. This would be super helpful if you want to do a romantic spa date or enjoy a kid-free dinner for two. It looked like a ton of fun for the kids, too!
Parrots in Lobby
One of the things that makes this Kauai resort unique is that they have real parrots hanging out in the lobby. Well, they aren't freely roaming around, but they are in designated spots. It was a huge highlight for my toddler!
Anara Spa
The Grand Hyatt Kauai Spa is probably the best Kauai resort spa. It's definitely the largest (it's 45,000 square feet)! It also includes a fitness center plus open-air yoga and fitness classes.
This is a great place to get a massage or body treatment. They also do mani/pedis, hair, and even makeup. The treatment rooms are all open to tropical gardens to enjoy all the Anara Spa has to offer.
After you check-in, you can enjoy all the Anara Spa has to offer, which includes its dry sauna, steam showers, and relaxation rooms.
Shopping
There are a few shops throughout the hotel that sell items like swimsuits and resort wear. You can also get some sundries/toiletries there.
Nightly Entertainment
Along with the luau, you can enjoy other entertainment during the nights you are there. At Seaview Terrace, there is local entertainment you can enjoy while looking out at the beautiful Keoneloa Bay.
Hawaiian Cultural Activities
At the Hawaiian Cultural Center at the Grand Hyatt Kauai Resort, you can do a variety of hands-on activities as well. From lei-making to ukulele lessons, hula classes, and more, there is something fun for everyone to do!
Golf Course
Located right next to the Hyatt Kauai Resort Spa is the Poipu Bay Golf Course, one of the best in Kauai. It is a great location for some tee time with your family. Although not one of the official site activities, it is still fun to check out during your stay.
Are there any things we didn't like?
One thing that families should be aware of is that Shipwreck Beach is NOT kid-friendly. It's a gorgeous beach for taking photos, but it's not one where kids can swim in the ocean.
So, you'll have to drive to Poipu Beach or Salt Ponds if you want a kid-friendly Kauai beach.
While the location was super convenient for doing fun things in Poipu, it was quite a trek to drive to the East Shore (about 30 minutes without traffic) or the North Shore (about an hour without traffic).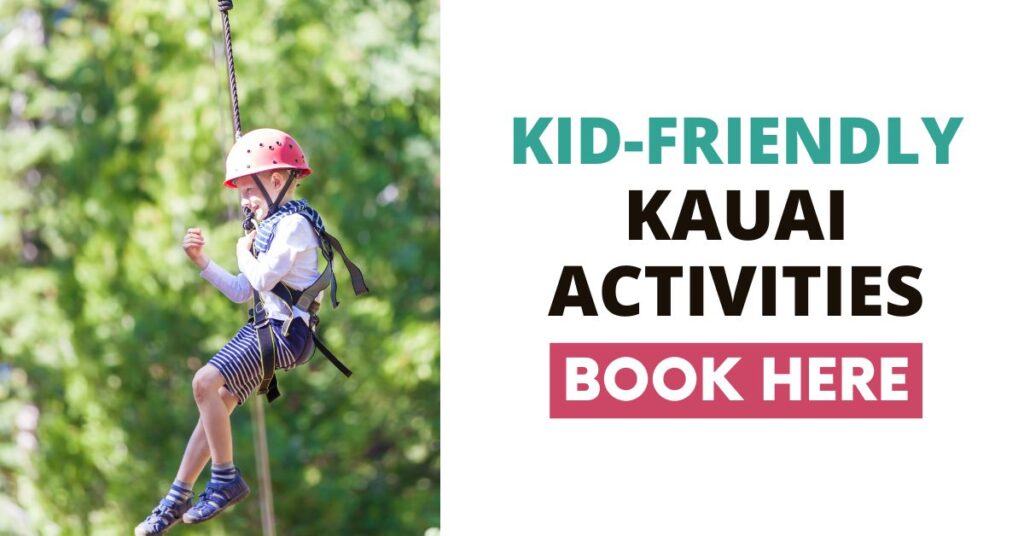 Would we recommend the Grand Hyatt Kauai?
Absolutely! I definitely recommend the Grand Hyatt Kauai to families who are looking for a kid-friendly resort that is almost guaranteed to be sunny. We were really happy with the Grand Hyatt hotel Kauai property amenities, the amazing pool area, and the on-site restaurants. Check the latest rates and availability.
There's a reason why it's highly rated, with tons of Grand Hyatt Kauai reviews as one of the best places to stay on Kauai with kids. I like all the food options, as well as the option to order food in our rooms. Also, self-parking included in the resort fee is an added bonus too, especially since we always get a rental car.
We will definitely be staying here again in the future, and we look forward to trying out Camp Hyatt! The Grand Hyatt Kauai is absolutely one of the top resorts in Kauai for families worth recommending! It has been one of our top favorite Hyatt hotels in Hawaii too!
If you are wondering where to stay on Kauai with kids, you will love this Kauai Hawaii resort!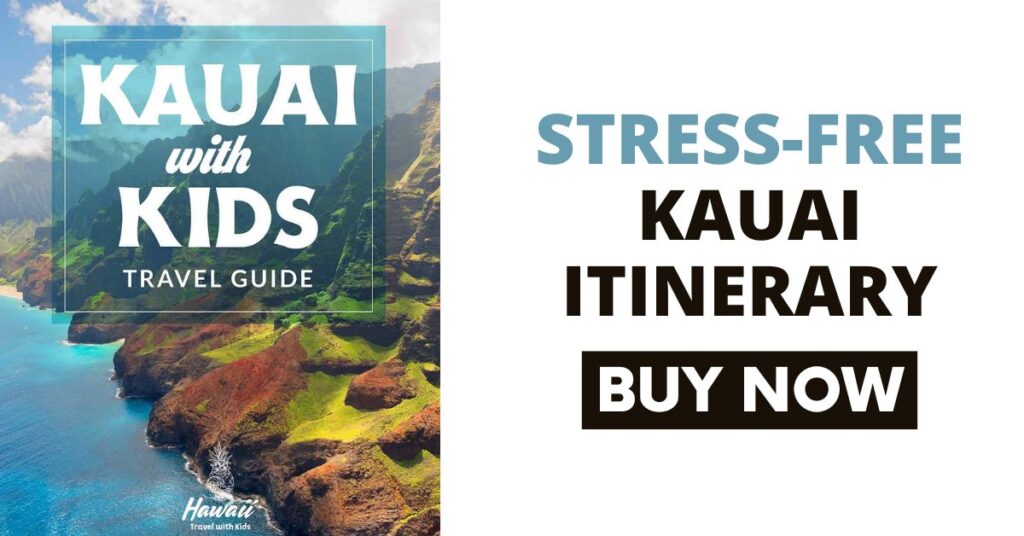 Where to Stay on Kauai FAQs
Where is the best area to stay in Kauai?
Kauai has 3 main places to stay: North Shore, East Shore, and South Shore. The most affordable place to stay on Kauai is the East Shore (in Kapaa or Lihue). If you want sunny weather year-round, head to the South Shore. That's where you'll find the resort town of Poipu (also called Koloa on some travel websites).
What are the most popular Poipu beach hotels?
There are several Poipu hotels that are pretty awesome. The top Poipu resorts include the Grand Hyatt Kauai, Ko'a Kea, Koloa Landing Resort, and the Point at Poipu.
What are the top Kauai family resorts?
We visit Kauai a lot, and my top picks for places to stay on Kauai with family include the Grand Hyatt Kauai, the Royal Sonesta Kauai, and the Koloa Landing Resort.
Does the Grand Hyatt Kauai have a beach?
Yes, the Grand Hyatt in Poipu is located on Shipwreck Beach. You will have beach access to this white sand beach when you stay here!
How far is Grand Hyatt Kauai from the airport?
It takes about 30 minutes to get from the Lihue airport to Grand Hyatt Poipu Kauai.
Does the Grand Hyatt Kauai Resort offer a day pass?
The Grand Hyatt Kauai day pass is for either the pool or spa. Each is currently $100 and includes special access to all the pool areas at the resort or the spa features.
Is there a resort fee for the Grand Hyatt Kauai Resort?
Yes, there is a daily resort fee at this luxury resort that costs $45 per night per room. This resort fee includes access to a variety of amenities, including the welcome lei, reusable tote bag, two reusable water bottles, fitness and yoga classes at the fitness center, cultural activities, bike use, tennis or pickleball games, and more. Self-parking in the parking lot is included with the fee as well, but not valet parking.