Check out these easy hikes on Oahu that are perfect for families with kids, people with mobility issues, and those who want to do a little hiking on Oahu. Scroll down to read them all!
This easy hikes on Oahu post contains affiliate links which means if you purchase something from one of my affiliate links, I may earn a small commission that goes back into maintaining this blog.
If you are looking for a little bit of adventure on your Oahu vacation, try hiking!
I've pulled together the most popular hikes on Oahu that are easy enough for kids or people who are looking for shorter hikes.
These are perfect half-day adventures, so you'll still have energy to play at the beach, drive around Oahu, go on a tour, or simply relax by the pool.
If you are an adventurous traveler, you might also be interested in the best waterfall hikes on Oahu and the best North Shore Oahu hikes.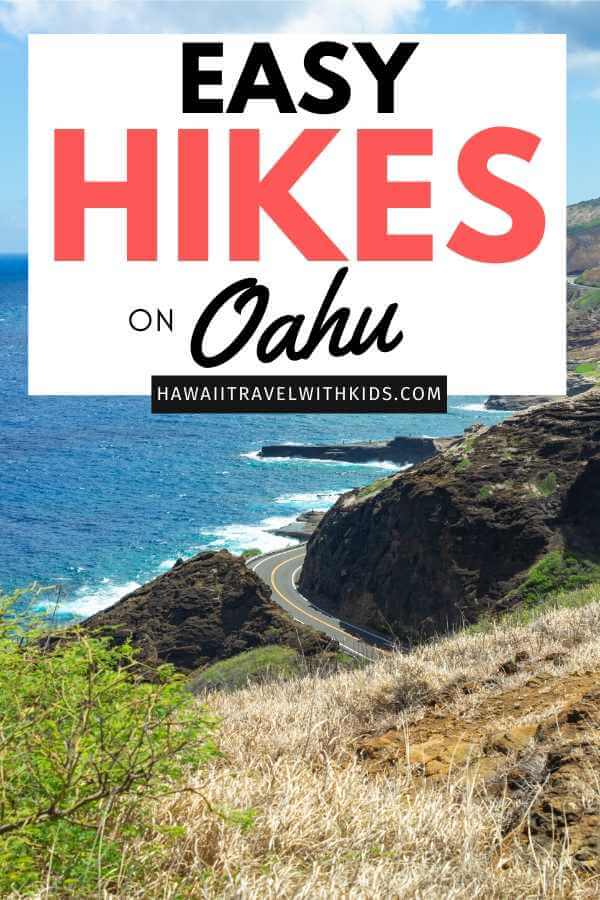 6 Easy Hikes on Oahu
Referred to as Lēʻahi by the natives, the Diamond Head Hike is Hawaii's most popular hike route. This is because the route provides one of the most awe-inspiring, panoramic views of Oahu.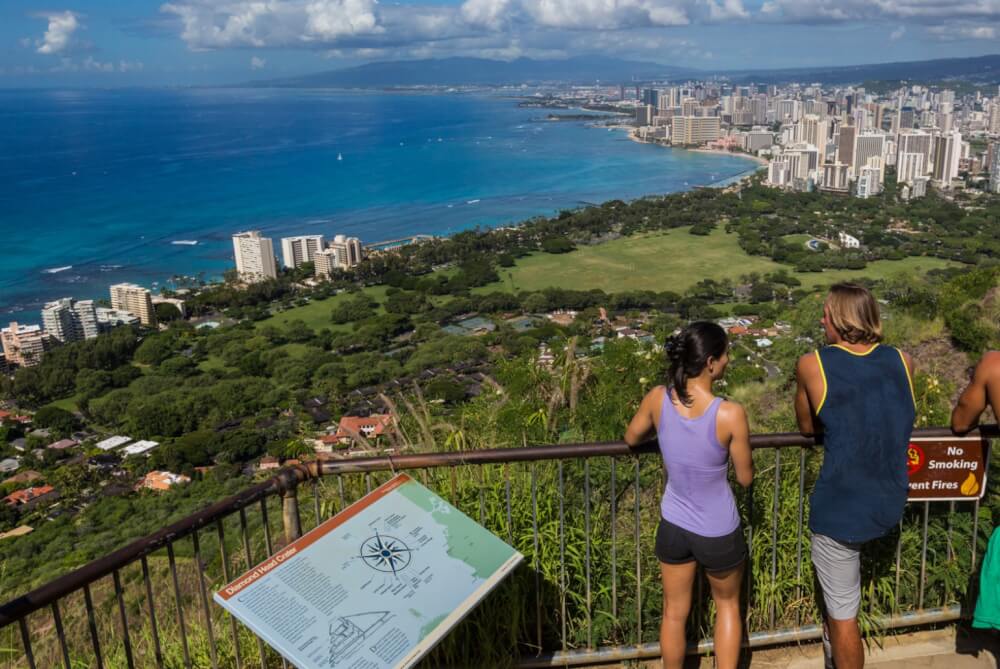 From the top of the route, the giant 300,000-year-old crater created from a volcanic eruption can be seen.
Looking out to the ocean, the most startling combination of colors plays before the eyes and as you look around, going from blue to turquoise, to green.
Open as it is, though, it gets very hot very quickly, so arrive early as possible to get a good walk before the sun comes out.
The Makapu'u Lighthouse trail is Oahu's second most popular hiking trail, coming in behind the Diamond Head Trail.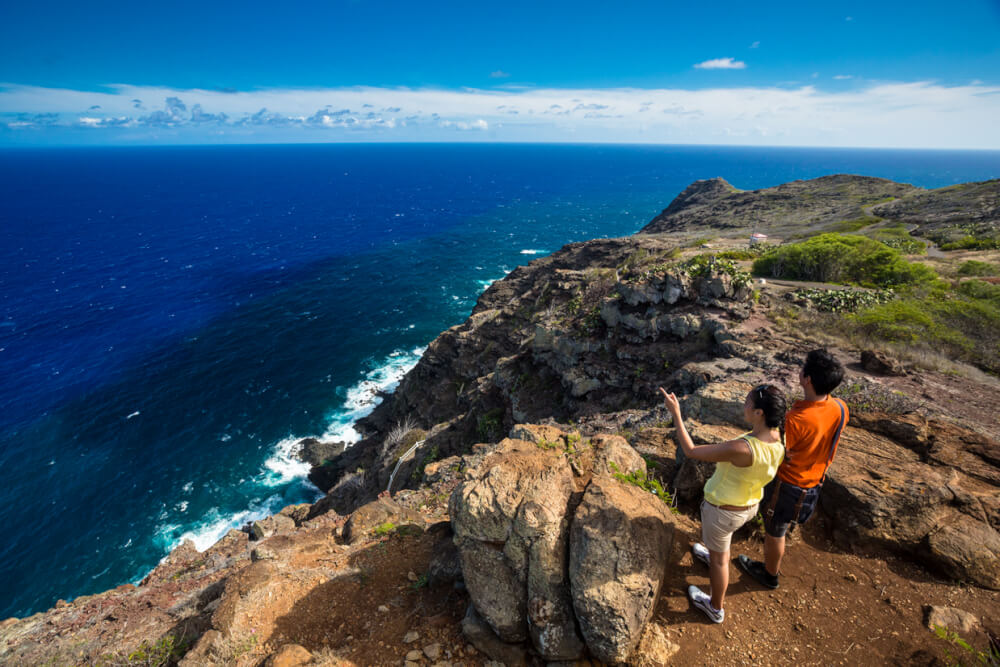 Also referred to as the Kaiwi Scenic Shoreline, it is a trail suitable for beginner hikers or those with a little experience.
It also has one of the most breathtaking views, looking out on Makapuu Beach, the windward coast, Koko Head, along with Lanai and Molokai, the neighboring islands.
As you hike, some spots of interest that you are likely to come upon include the famous lighthouse landmark, the old service pillboxes, some giant wave pools, Makapuu Point, and a secret blowhole.
The Lanikai Pillboxes is one of the most beautiful and enjoyable hiking trails in Oahu.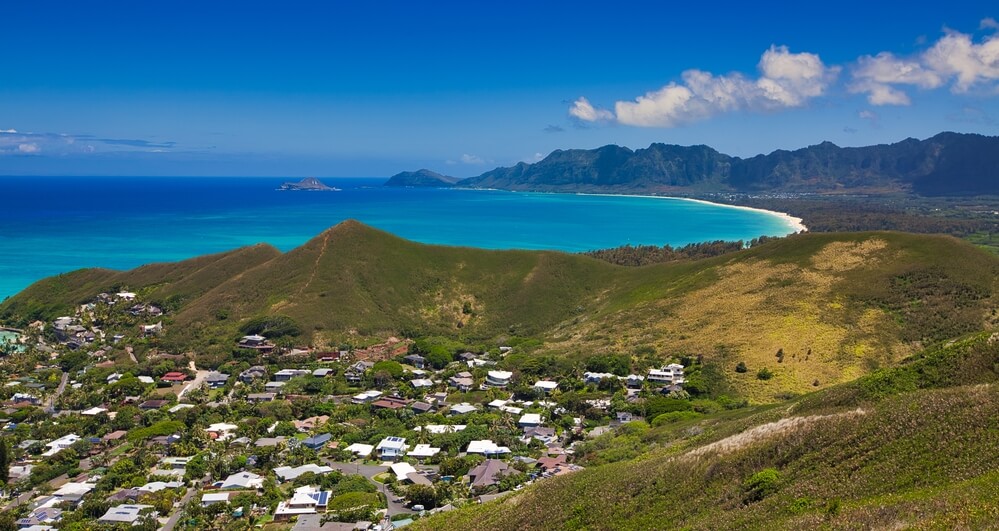 Also known as the Kaiwa Ridge Trail, this hike is rated as requiring intermediate hiking skill (due to its relatively steep but steady uphill grade) and overlooks Lanikai Beach, offering beautiful views to the fit hikers that make it to the right spots.
Hikers also get rewarded with views of Kailua Beach, the Mokolua Islands, and all the neighborhoods surrounding Lanikai Beach.
If you do not want the challenge of trails like Tom Tom and prefer an easier hike, or would like to hike a trail that can be explored safely with kids, then Manoa Falls Trail is definitely the best trail for you.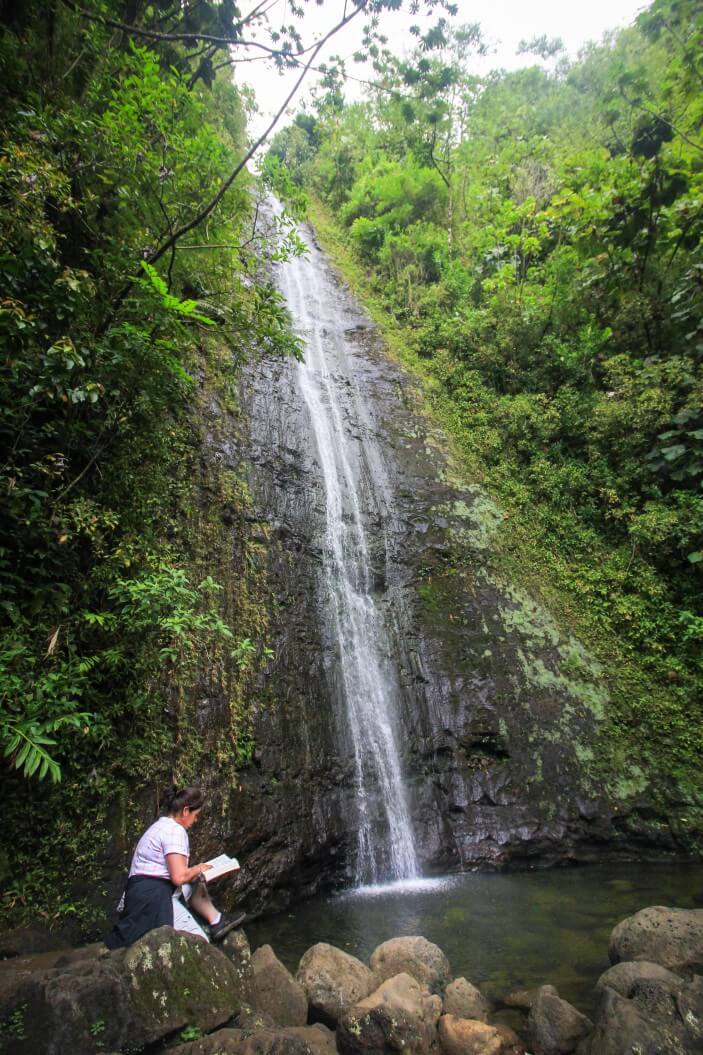 It is more walk than hike, and it runs a short and very slightly inclined distance of about 1.6 miles. This minimal-demand hike is located fifteen minutes by car away from the more developed island of Honolulu.
However, while you are on the trail, all thoughts of the developed world tend to vanish as you connect fully with nature.
Find out more Oahu waterfall hikes
Where hike trails like Manoa Falls are easy and short, Kamananui Valley is an easy hike that goes a relatively long distance.
Perfect for a long hike with children, the Valley is resplendent with beautiful scenes as well as the historical value that goes back to the 1500s.
This easy hike runs for eight miles and has many great side attractions that you can enjoy as you go along.
Not only is this hike pretty straightforward, but any remaining challenges are easily sorted by the many informational signs installed by the Moanalua Gardens Foundation.
The Hauula Loop Trail is an underrated and very excellent little hiking trail that is located in the Ko'olau Mountains, at the northeastern end of Oahu.
Found within the little village of Hauula, this trail is relatively hidden but well-preserved. This 2.5-mile hike takes hikers up 800 feet in elevation through lush, verdurous forests.
The fauna variety is great and there are lots of ironwood trees and Captain Cook pines growing all over.
Of course, this means that hiking in the afternoon is a given, with the trees providing enough shade for explorers to find their way through the trail without sweating buckets.
What to Pack for Hiking on Oahu
You might not think that you'll need to wear layers on Oahu, but you really do. At any point, there could be a torrential downpour. That's why it's important to pack a lightweight rain jacket and waterproof hiking boots or sandals.
Plus, with the humidity, you'll want a sturdy water bottle to stay hydrated.
Read my full Hawaii Hiking Packing List
What about you? What are your favorite, easy hikes on Oahu? Let me know in a comment below!!