Did you know there's a Hawaii sunscreen ban on all sunscreen that isn't reef safe? Keep scrolling to find the best sunscreen for Hawaii to add to your beach bag that's Eco friendly!
This post about the best sunscreen for Hawaii was originally written March 2, 2021 and was updated March 2, 2022 and contains affiliate links which means if you purchase something from one of my affiliate links, I may earn a small commission that goes back into maintaining this blog.
Are you wondering what kind of sunscreen is allowed in Hawaii?
We all know how important it is to use sunscreen when you're in a warm climate, like Hawaii. It protects your skin from harmful sun rays.
It's especially important for kids to wear sunscreen in Hawaii and we often slather them in it just to make sure there is no risk of them burning.
While it's definitely important to protect our skin in warm climates, it's also important to consider the health of the environment we are enjoying.
Traditional sunblock is made from synthetic chemicals. The detrimental effect of these chemicals on the environment – mainly coral reefs – is not always something people are aware of.
However, there are mineral alternatives that are both effective and environmentally friendly.
Read on to find out which Hawaii suntan lotions are reef safe and which sunscreens should be avoided for the protection of our oceans.
Ok, let's take a look at Hawaii approved sunscreen options!
Find out the best zero-waste travel items and what I always pack for the flight to Hawaii!
Want to skip all the planning and just access my detailed Hawaii Itineraries complete with daily schedules, kid-friendly activities, and travel hacks? Click the button below.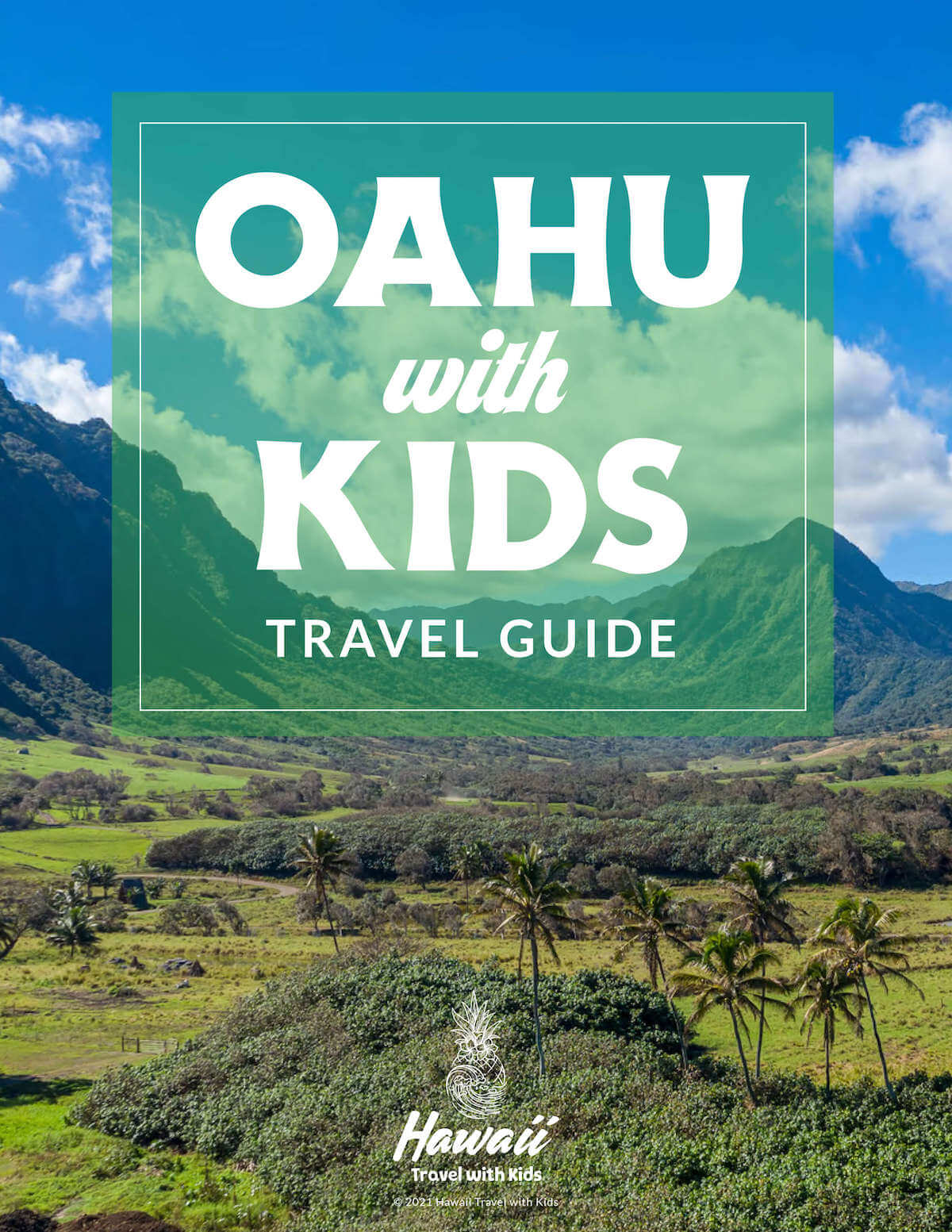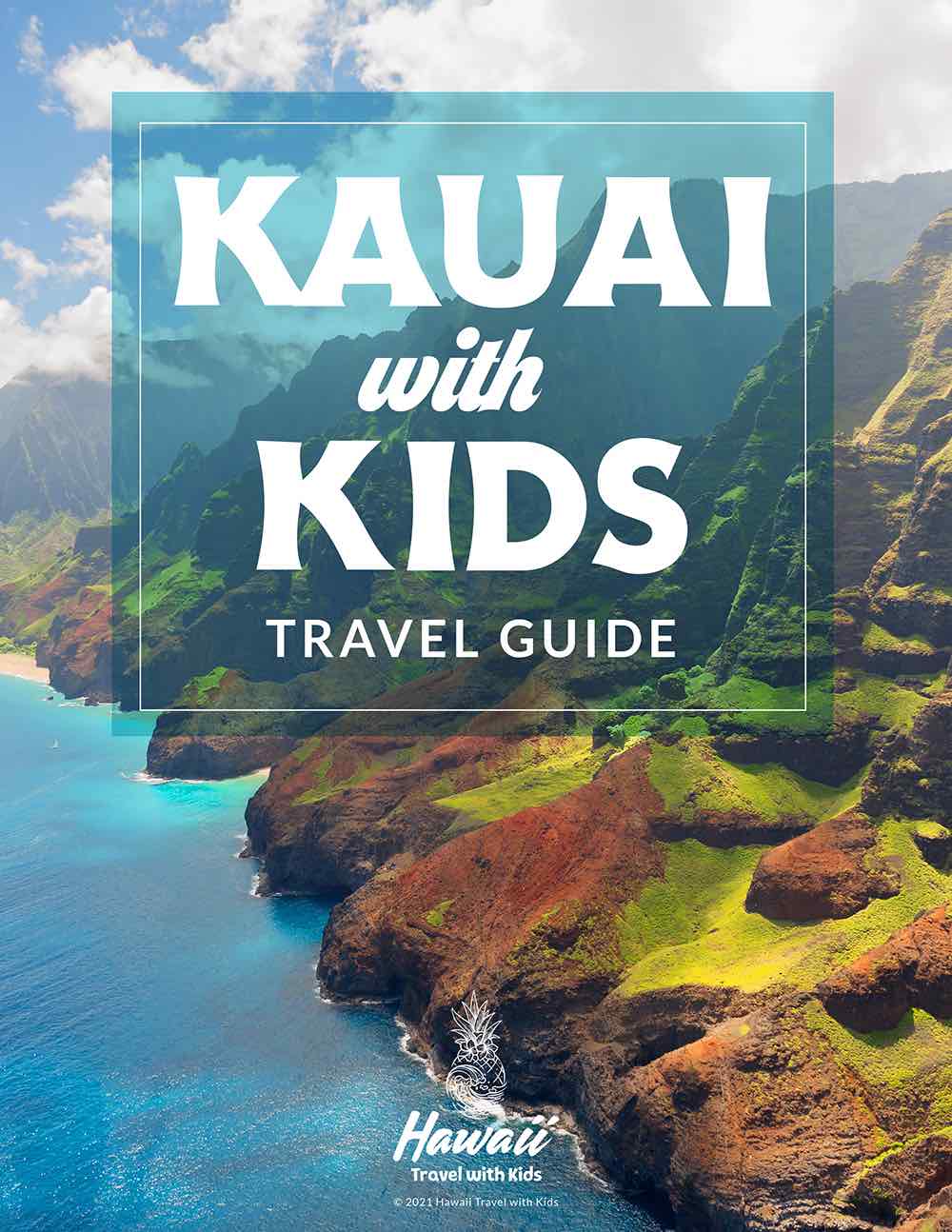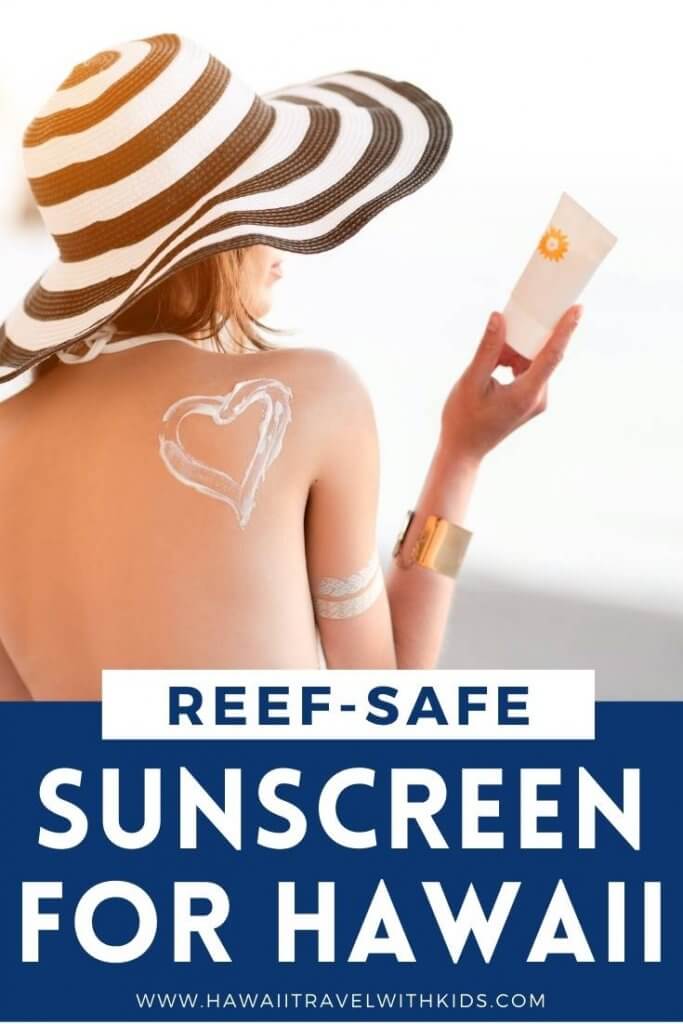 Why Should We Use Reef Safe Sunscreen?
While reef-safe sun protection is easily available, in most places using them is not a requirement and people are still using chemical-based sunscreens.
However, there are some places that are ahead of the game. Hawaii is one such place.
Is reef-safe sunscreen required in Hawaii? Absolutely.
Though most non-reef-safe sunscreen is FDA approved, Hawaii has banned any sunscreens that contain chemicals known to harm the environment.
Reef-safe sunscreen is the only sunscreen allowed in Hawaii.
However, regulations shouldn't be the only reason that stops people from using non-reef-safe sunscreens.
Sunblock that is non-reef safe contains chemicals that are extremely detrimental to marine ecosystems, such as coral reefs.
They cause a process known as coral bleaching which disrupts the symbiotic relationship between coral and other organisms that keep the coral reef alive.
Reef-safe sunscreen is made from minerals rather than harmful chemicals. These minerals, including zinc oxide and titanium dioxide, have not shown any evidence that they negatively impact coral reefs and other sea life.
What Are The Best Reef Safe Sunscreens?
So, now you know why you should only be using mineral-based sunscreen, it's time to figure out which ones are the best to use. That way you know which Hawaii safe sunscreen you'd like to get.
There are so many sunscreens out there to choose from you may need a little help in deciding which ones to go for. I have compiled a list of the best reef-friendly sunscreens out there so you can choose which is the best one for your needs.
Read on to find out the best Hawaii-approved sunscreen brands that are both safe and effective for you and your family, as well as being environmentally sound.
Best Sunscreen for Hawaii for Babies
Baby Bum is a reef-safe sunblock developed for babies. The product has environmentally and kid-friendly right at the forefront of its thinking. Check out the latest prices and more details.
Plant-based and developed specifically for babies' sensitive skin, this is one of the best sunscreens for babies around.
What's even better is they have several options you can choose from depending on the type of sunscreen application you prefer.
They have normal a bottle for general application where you just squeeze the cream out, a spray alternative for people who prefer that, and even a face stick, which makes applying the cream on those sensitive face areas easy.
This sunscreen is SPF50, so it provides high protection for your baby's delicate skin.
Pros:
Approved by pediatricians and dermatologists
Water resistant
Made for sensitive skin
Many application options
Fragrance free
SPF 50 sunscreen
Cons:
Small volume for the price
Plastic Packaging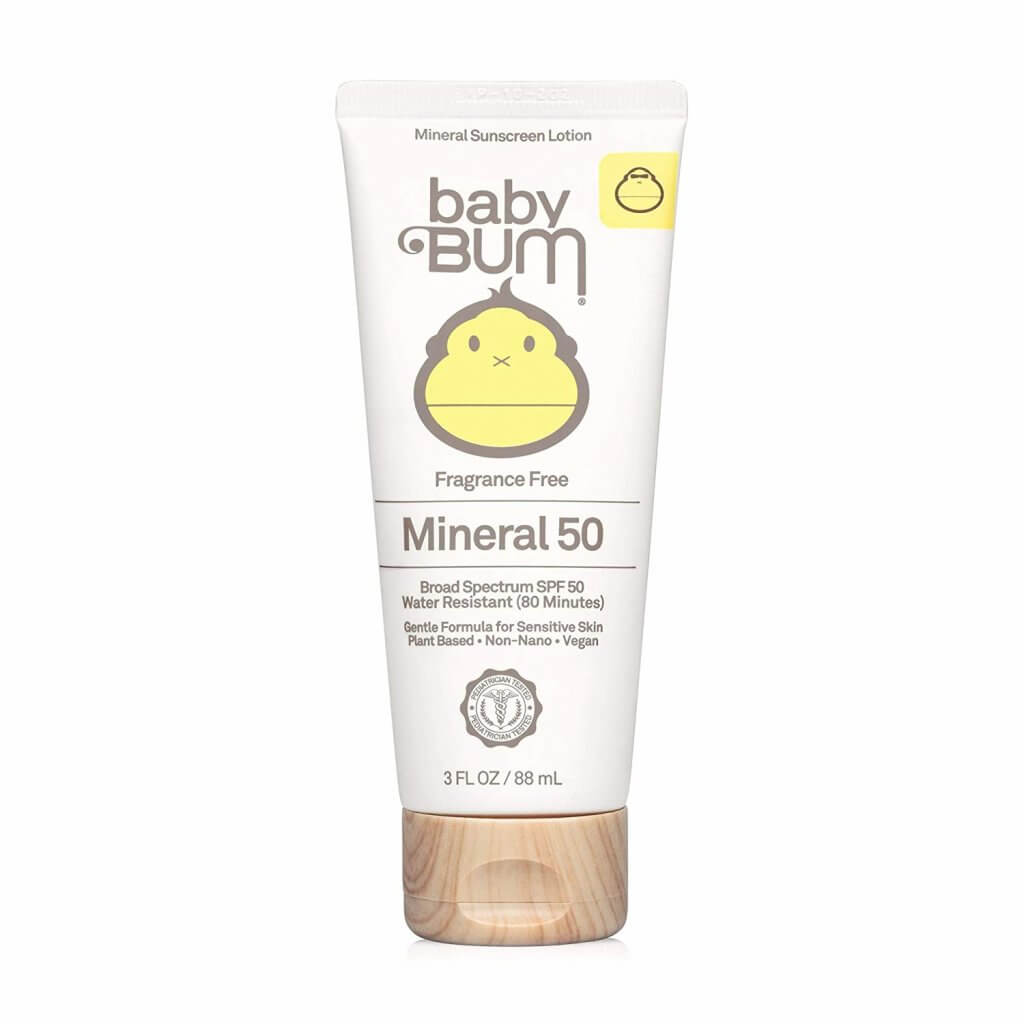 Aveeno Baby sunscreen is one you can count on. That's because Aveeno is a specialist in natural baby skincare so you know it's a safe product to use that will also be good for your baby's skin. Check out the latest prices and more details.
It's a very thick formulation that is sure to protect your baby's skin from getting burned. It provides high protection at SPF 50.
There is the option to use both the cream as well as a small sunscreen stick.
Pros:
Pediatrician recommended
Naturally sourced minerals
SPF 50 sunscreen
Sweat and water resistant
Two application options
Cons:
Not fragrance free
Hard to rub in
Plastic packaging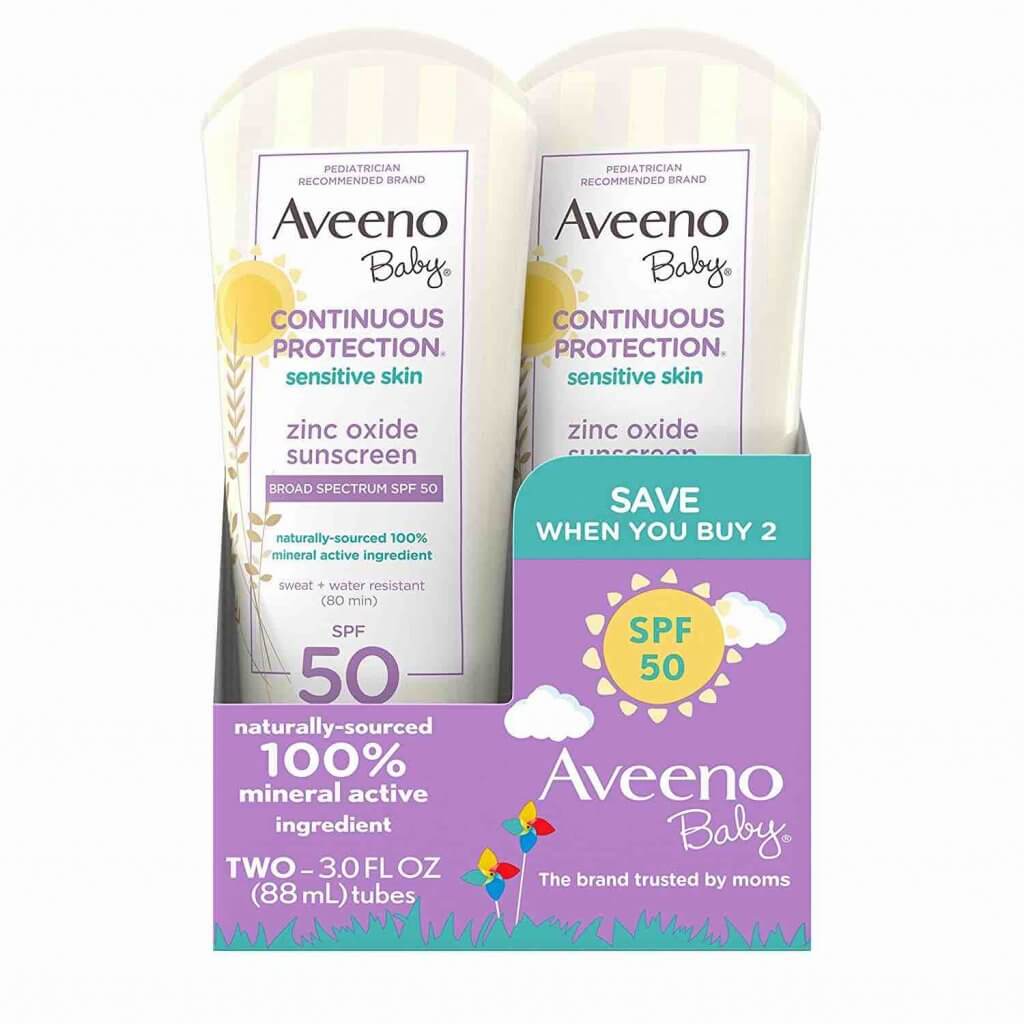 Best Sunscreen for Hawaii for Kids
Badger sunscreen is a broad-spectrum sunscreen developed especially for kids outside enjoying the sunshine. It is made from 98% organic ingredients. It's GMO-free, nano free and biodegradable. Check out the latest prices and more details.
The mineral ingredients are naturally sourced and the whole sunscreen has minimal ingredients which are hypoallergenic and suitable for sensitive skin.
Pros:
Mainly Organic
GMO free
Non nano
Hypoallergenic
Cons:
Lower SPF at SPF 30
Plastic Packaging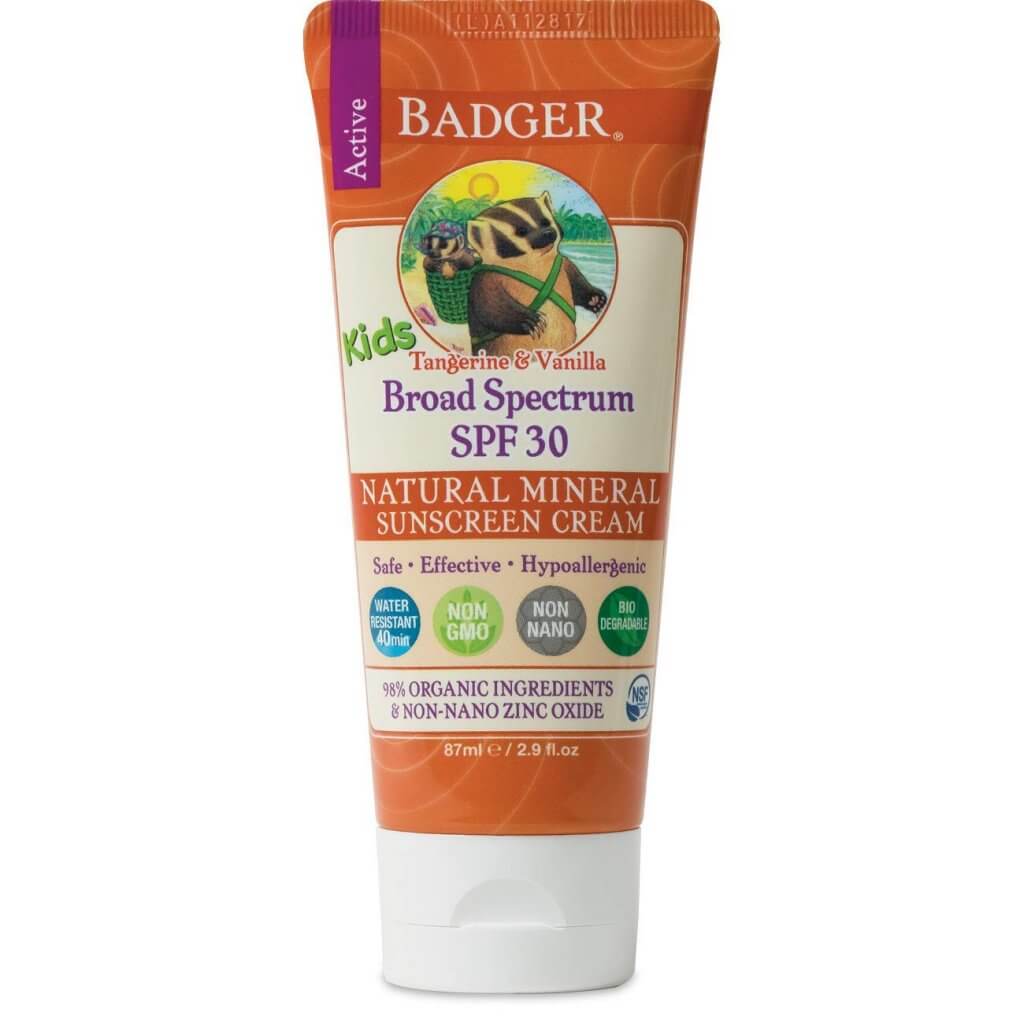 Australian Gold Botanical sunscreen is a broad spectrum mineral sunscreen for kids that is enhanced with Australian botanical elements that nourish the skin. Check out the latest prices and more details.
It's free from Parabens, PABA, Phthalate, Petroleum, SLS (Sulfate), Dye, and Oils which make it a less toxic and more Eco-friendly option.
It provides all-day protection and is water-resistant. Approved by both dermatologists and pediatricians. It is designed for sensitive skin to both protect and nourish.
Pros:
Free from many toxic chemicals
SPF 50
Dermatologist and pediatrician approved.
Hypoallergenic
Fragrance free
Cons: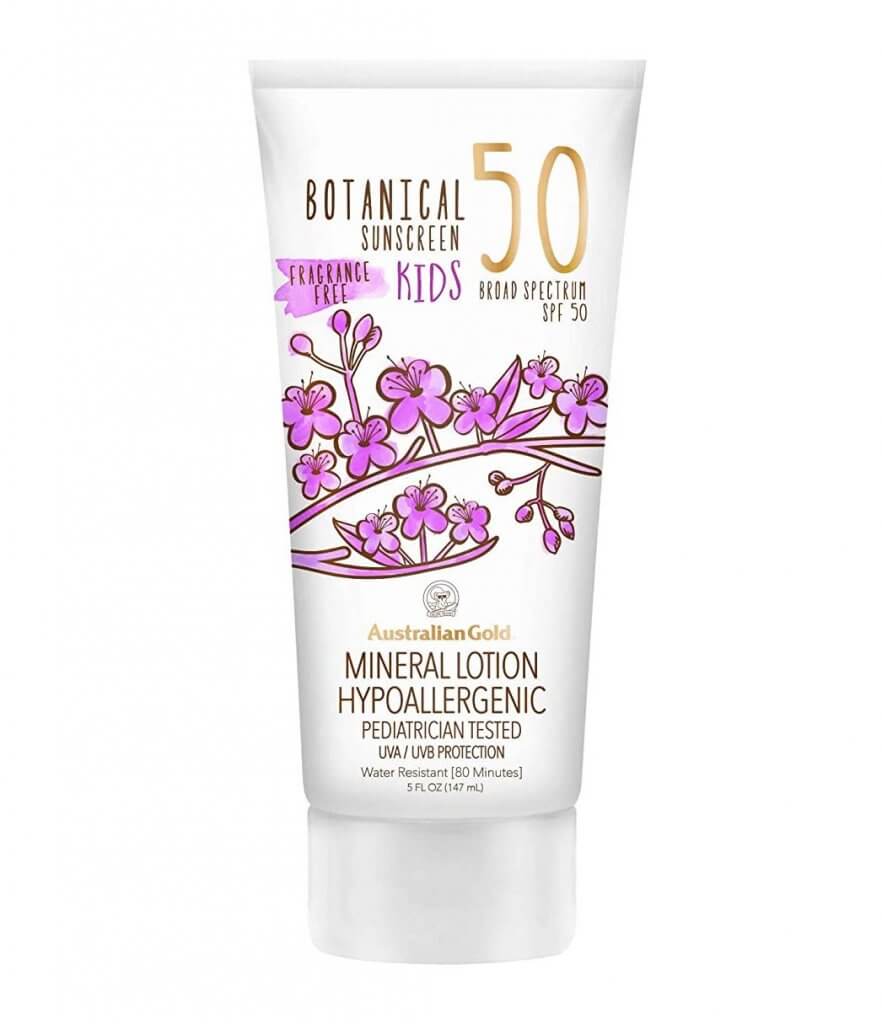 Best Sunscreen for Hawaii for Adults
Mama Kuleana sunscreen is one of the best reef-safe sunscreen products to protect your skin. Check out the latest prices and more details.
Made in small batches in Hawaii, this highly moisturizing sun cream containing a number of nourishing oils will protect and soothe.
This is one of my favorite Hawaii reef safe sunscreen options and I love that it supports a small business in Hawaii.
Pros:
Highly moisturizing and nourishing
Eco friendly and biodegradable packaging
Cons: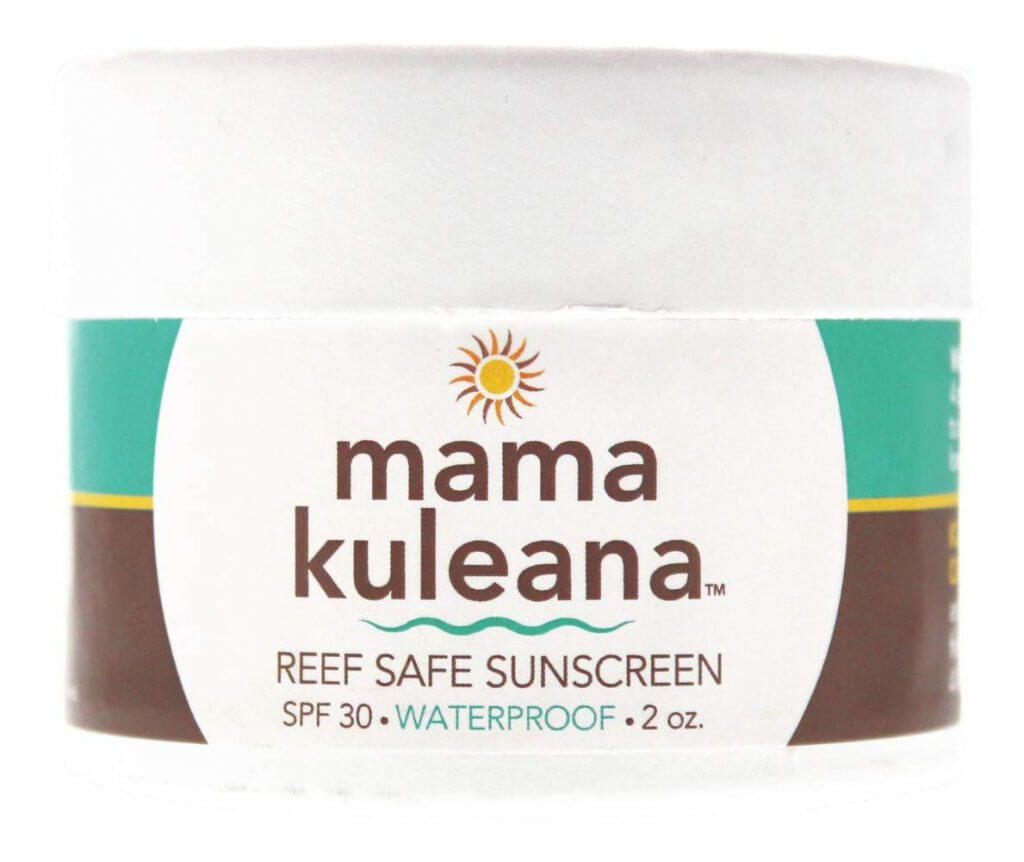 Blue Lizard sunscreen is paraben-free and fragrance-free sunscreen. It's great for people with sensitive skin. Check out the latest prices and more details.
Completely mineral-based with a high protection factor and no chemical active ingredients, this is a great general sunscreen for Hawaii that you can use out and about as well as at the beach.
Pros:
Paraben-free
Fragrance-free
SPF 50
Waterproof & sweat resistant
Bottle turns blue in harmful UV light
Cons: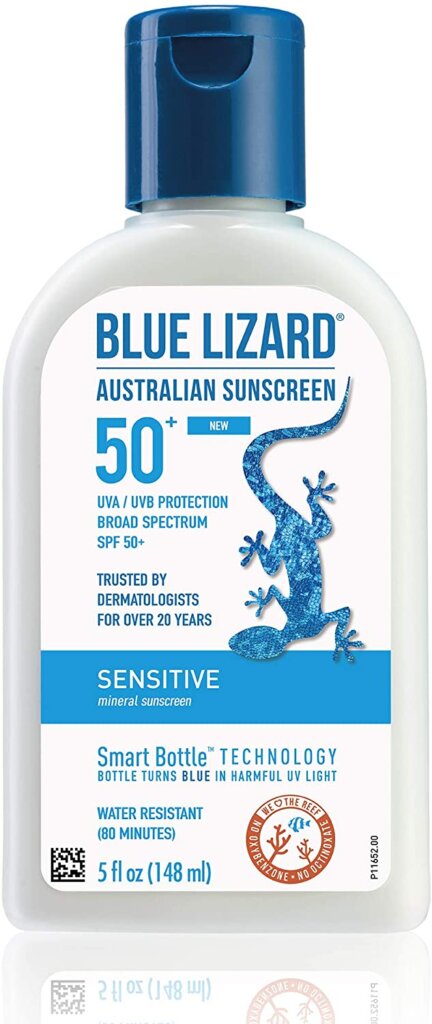 Sunscreen for Sports Lovers and Active People
Banana Boat sport sunscreen is a well-respected reef-safe sunscreen used for people who are active in and out of the water. Find the best prices here.
It's an easy-to-use sunscreen that you can buy in several types of bottles from quick spray-on to cream you rub in. It uses a lightweight formula that is perfect for active adults and kids.
The great thing about this sunscreen as it comes in a variety of SPF factors so you can choose the protection that suits you.
Pros:
Light weight formula
Several SPF factors to choose from
Great for water sports
Cons:
Spray doesn't last too long
Has a stronger smell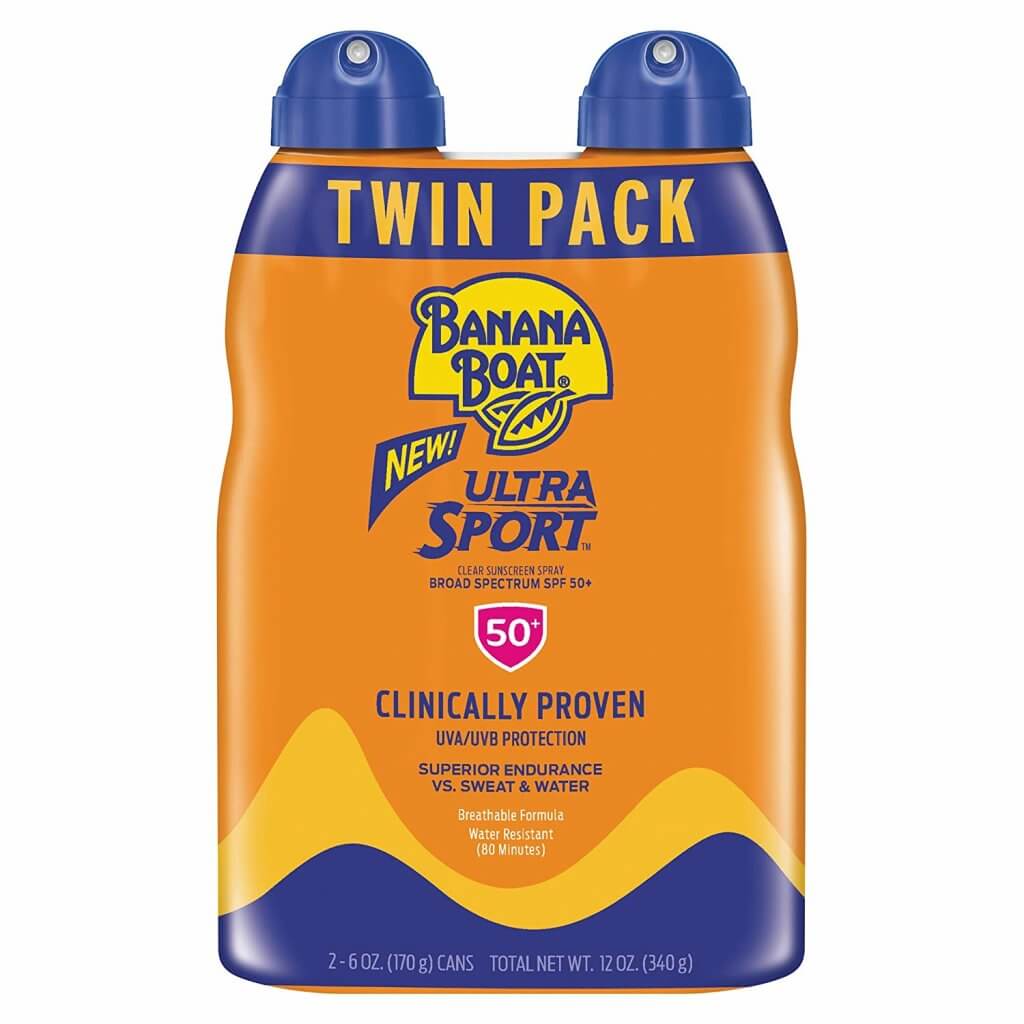 Reef Safe Sunscreen FAQs
How do chemical sunscreens protect your skin vs. mineral sunscreens?
Chemical Sun cream works by absorbing the UV rays (the damage-causing agents) and converting them to heat. The chemicals in these sunscreens then absorb the heat preventing them from penetrating people's skin and causing damage.
Mineral-based sunscreens however work differently. Titanium dioxide works by absorbing and scattering UV rays so they don't get absorbed by the skin. It is effective at deflecting both UVA and UVB rays. Zinc oxide works by reflecting both UVA and UVB rays to prevent them from penetrating the skin.
Will mineral sunscreens protect my children's skin as effectively as chemical sunscreens?
While protecting the environment for most people is a high priority, the health of their children is more so. If you're worried that reef-safe sunscreen may not be as effective at protecting your child's skin compared to chemical sunblocks then you need not worry.
Reef-safe sunscreen is highly effective at protecting skin from the damage the sun can inflict, so there should be no concern that switching to reef-safe sunscreen will be less effective.
Which ingredients are reef safe?
The two active ingredients in reef-safe sunscreen which protect your skin from the sun are Titanium Dioxide and Zinc oxide. If these two ingredients are listed then your sunscreen is most likely reef safe.
However, for your sunscreen to be completely reef-safe you need to make sure you avoid certain chemicals which are listed in the question below.
What sunscreen ingredients cause coral bleaching and which chemicals should you avoid?
There are a number of chemical culprits that are significant contributors to coral bleaching that reside in your general use sunblock.
Oxybenzone is one of the most widely used chemicals in sun cream protection and is in over 3000 sunscreen products around the world.
Other common chemicals to look out for in chemical sunscreens which are not coral reef friendly include:
4-Methylbenzylidine Camphor
Butylparaben
Octinoxate
These 4 chemicals are absolutely not reef safe and they are banned in Hawaii.
If you want to make sure your sunscreen is coral reef friendly then make sure you check your sunscreen ingredients before purchasing it to make sure they don't have any of these chemicals present.
What is the difference between nano and non nano zinc oxide?
In some reef-safe sunscreens, you will find that some zinc oxide is described as non-nano in the ingredients list. Zinc oxide is traditionally a nanoparticle meaning it is a particle that is very small. These Zinc oxide nanoparticles are small enough to get absorbed by the skin which may not be very healthy.
However, non-nano zinc oxide is zinc oxide that has been modified so that they are now too large to be absorbed by the skin and is the preferred option.
How do sunscreen chemicals get into our oceans?
Hawaii sunblock is commonly used on beaches and when swimming in the ocean. When people use these sun creams and then go swimming in the sea, for whatever reason, the sun cream gets washed off the skin and into the ocean.
This is where the problem begins.
What effect do the toxic chemicals from non reef safe sunscreens have on coral reefs?
Once the sunscreen enters the ocean, it causes all sorts of damage. The chemicals released are toxic to many marine ecosystems including coral reefs like the ones in Hawaii and Australia.
The main damage they cause is coral bleaching. This is where the delicate symbiotic relationship between the coral and other organisms gets disrupted basically killing off the coral reef.
It's becoming a major problem for many coral reef ecosystems. This is why places such as Hawaii are now banning such sunscreens in order to halt the damage being done.
Are there any other products that contain these chemicals that I should avoid?
You should always check any product that says it has an SPF factor in it. Many day creams and lip balms have an SPF factor. Make sure they are using reef-safe minerals rather than chemicals to provide their sun protection.
Tips on Using Mineral Sunscreen Effectively
Mineral sunscreen is really easy to use and it's pretty much the same as using a traditional chemical sunscreen. However, it's good to remember a few things so that you are using your sunscreen properly and effectively.
Most sunscreens are effective for one full day but you need to check each sunscreen you are using to make sure of this.
It's always a good idea to reapply halfway through the day just to make sure you and your kids are getting full coverage.
If you are using waterproof sunscreen to go swimming, remember this only lasts for a window of time. With most sunscreen brands, sunblock will remain waterproof for around 80 minutes but check each sunscreen label to make sure.
If you are in the water for longer do not forget to reapply after that time. Always reapply your sunscreen after you have finished in the water.
Reef Safe Sunscreen Hawaii Wrap Up
Whether you already knew about reef-safe sunscreens or are just learning about them for the first time, I hope you can see how important it is to use reef-friendly sunscreens rather than the old-school chemical ones.
Our oceans are facing some serious environmental challenges and chemical sunscreens just add to this problem. By using mineral-based sunscreen you can reduce the impact of damaging chemicals that are entering our oceans.
Hawaii has banned non-reef-friendly sunscreen and it's not long before other places will most likely follow suit. It's a good idea then, to know which sunscreen you can and can not buy for places like this.
By using mineral-based sunscreen you hopefully allow generations to come to enjoy our beautiful coral reefs.
I hope by now you know what sunscreen is allowed in Hawaii and which one you'd like to add to your Hawaii packing list!