Are you looking for things to do in Kauai with kids? Keep scrolling to read my full review on sugar cane canal tubing on Kauai with my family. Plus, get my Kauai tubing discount!
This post about Kauai tubing with kids contains affiliate links which means if you purchase something from one of my affiliate links, I may earn a small commission that goes back into maintaining this blog.
I've been curious about Kauai tubing since I first heard about it years ago.
You can look up videos of it on YouTube. You'll see people floating down Kauai's old sugar cane canals on inner tubes through rock tunnels near Mt. Waialeale.
I'm not really an adventure traveler, and I have always worried it would be too extreme for me! I don't usually do anything outdoorsy or strenuous. And I'm not actually into most water activities.
But if you search for fun things to do in Kauai, this Kauai tubing adventure always comes up!
I thought mountain tubing would be one of the Kauai adventures that my family would be excited about. So, we tried it!
Keep scrolling to read my honest review of Kauai tubing and why I think it's one of the top things to do in Kauai with kids.
Don't have time to read a bunch of Hawaii blog posts and reviews? Here are some of our top picks for visiting Kauai with kids.
Best Kid-Friendly Kauai Tours/Activities
Best Kid-Friendly Kauai Resorts
Grand Hyatt Kauai (this is a personal favorite for my kids because of the water slide and saltwater lagoon)
Royal Sonesta Kauai (my kids LOVE the pool here because it's the largest one in Hawaii)
Hilton Garden Inn (we like renting the cottages here because you can walk to a massive playground)
Want to Rent a Car in Hawaii?
One of the best places to rent a car in Hawaii is Discount Hawaii Car Rental because they get the best rates from top national companies like Alamo, Dollar, Thrifty, Avis, Enterprise, Budget, and Payless.
Want to skip all the planning and just access my detailed Kauai Itinerary complete with daily schedules, kid-friendly activities, and travel hacks? Click the button below.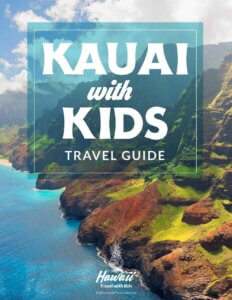 Hawaii Tubing FAQs
Where can I go tubing in Hawaii?
Kauai sugar plantation tubing with Kauai Backcountry Adventures is one of the most popular Hawaii tubing tours. It's located up in the Kauai mountains. You can also float down mountain streams on the other islands on your own.
Is river tubing in Kauai worth it?
I think so! It's a great way to access places on Kauai that are on private property. And Kauai river tubing is pretty gentle and relaxing. I love that it's an adventure the whole family can do, including grandparents. And it's a great way to see one of the best hidden gems in Hawaii!
What should I bring on my Kauai Backcountry Adventures tubing excursion?
You'll definitely want to wear water shoes, a rash guard, sunscreen, sunglasses, and maybe even a sun hat. And don't forget a dry change of clothes for after the tour. Lunch is included in your tour.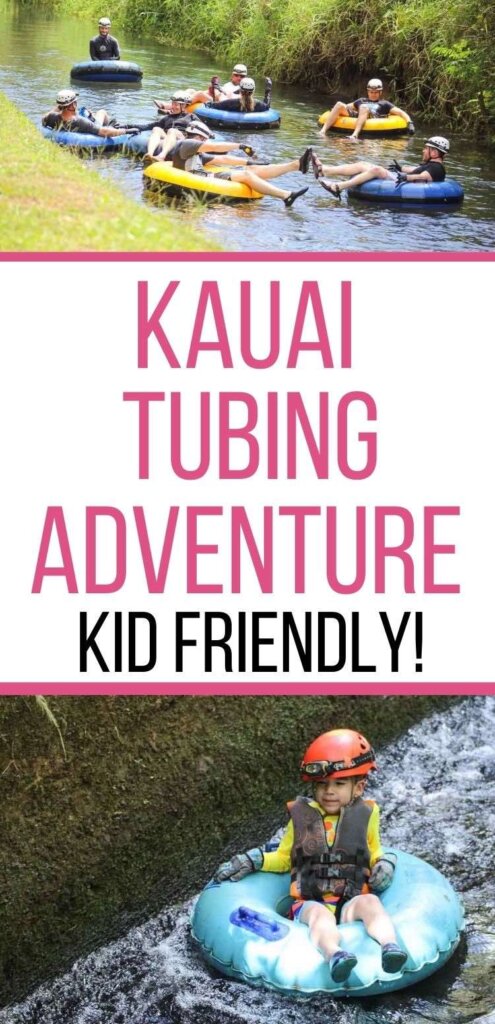 What's So Special about Kauai Tubing Tours?
The island of Kauai once had a lot of sugar cane mills. The last one closed up shop a long time ago. Today there aren't any working sugar cane plantations in Hawaii, but the old canals are still there.
In 2003, Kauai Backcountry Adventures saw an opportunity to launch eco-tours to families on the former Lihue Plantation. They came up with a unique way to explore the planation, through the historic irrigation system!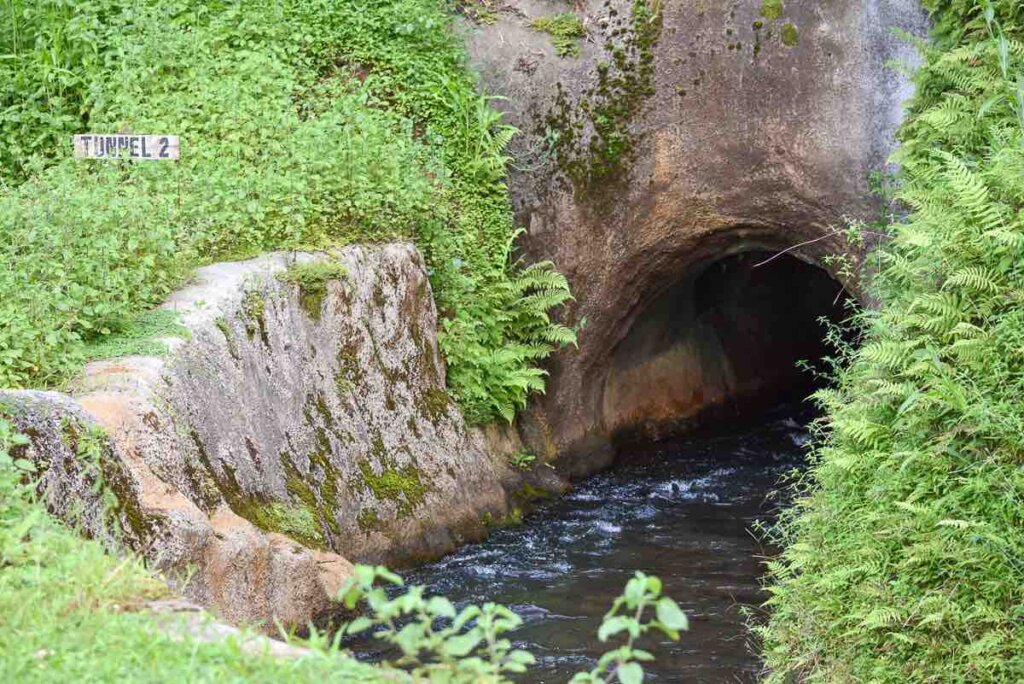 These sugar cane canals were hand-dug in the 1870s. They run through the remote areas near Mount Waialeale.
Kauai Backcountry Adventures went in and cleaned up the old canals. They built staircases for guests to get in and out of the water. And they added picnic shelters and restrooms.
During the tour, you'll wear a headlamp because you float through 5 Kauai tunnels! The rest of the time, you'll casually float through open sugar cane canals and marvel at the lovely Kauai scenery.
If you're looking for an awesome Kauai tubing adventure for families, I highly recommend this one. It's perfect for people ages 5 and older who are in good physical health. I think it's one of the best activities in Kauai.Check latest rates and availability.
Kauai Tubing with a 5-Year-Old
I love involving my kids in our vacation planning. We emphasize how everyone gets to take a turn choosing an adventure to do at some point during our trip.
My 5-year-old son saw one of the Kauai Backcountry Adventures videos on Facebook and he was interesting! So, we decided to schedule it at the start of our next trip to Kauai.
He later told me that part of the appeal was that his 2-year-old brother was not old enough to do it!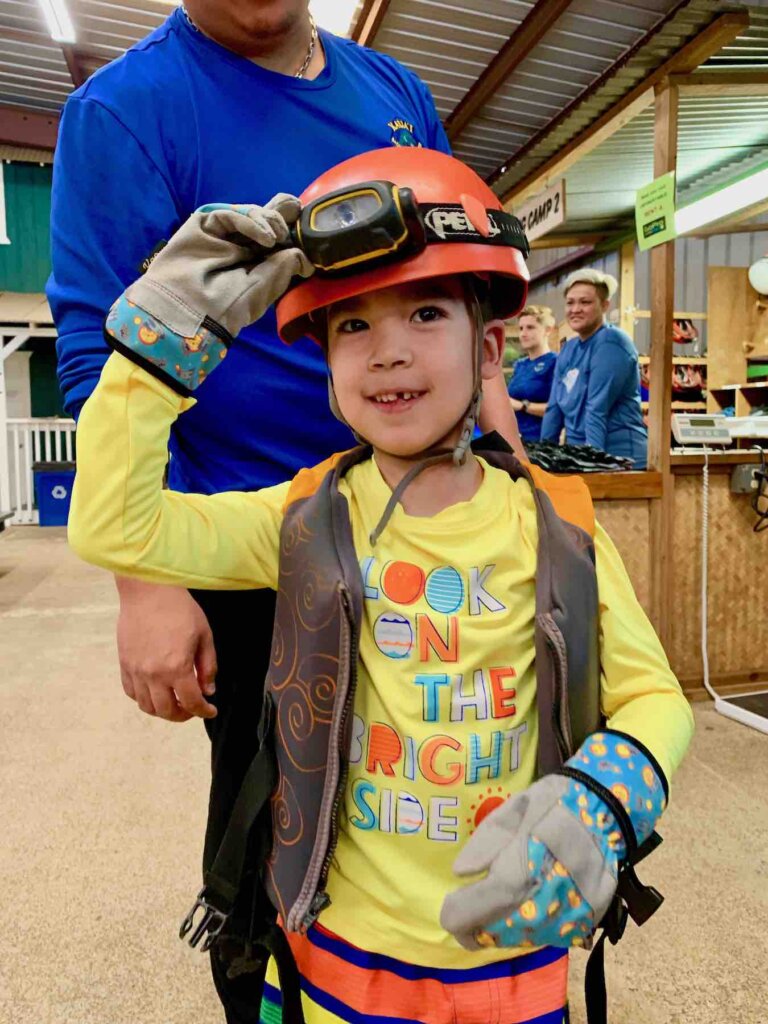 Arriving at Kauai Backcountry Adventures
When we got to the Kauai Backcountry Adventures headquarters, my son started feel a little nervous. That's because he remembered that the video showed participants going down a "rapid."
But he stayed calm and chatted with the staff members as they fitted him for a life jacket, gloves, and helmet.
Then we hopped into the van to take us to the launch point. My son got a bit tired on the van ride into the sugar cane canals. It's a fairly windy and bumpy road through private land.
He was still a little apprehensive as we listened to the practice presentation. So, one of the leaders asked if he'd like to ride up alongside him. My son jumped at the chance!
I should mention that my son is very friendly and loves attention.
So, the instructor put our son in a kid-size inner tube and kept him off to the side while he loaded the rest of us into our inner tubes.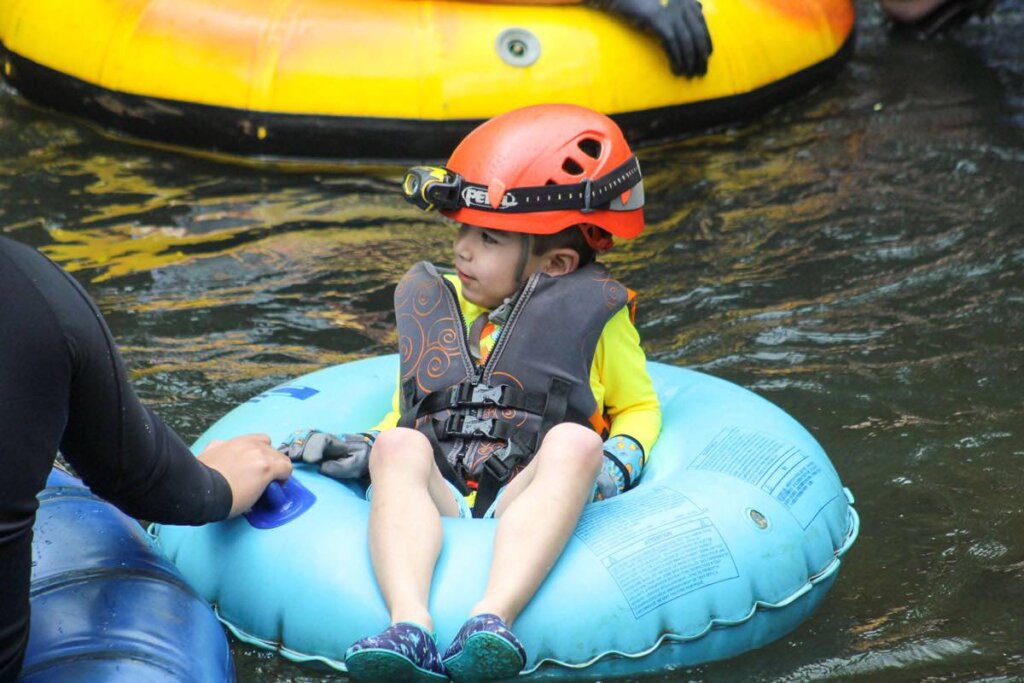 What Happened on the Water
And that was basically the last time we saw our son for the vast majority of the Kauai tube ride! See, our son stayed up front with the instructor while my husband and I kept drifting to the rear of the group.
Thankfully, each time an instructor or participant floated back, they would report back that our son was having a great time!
Also, our son was the only kid on this excursion. We went in the off-season and didn't see many children on vacation.
He even was the first person to go down the 3-foot "rapid" and thoroughly enjoyed it!
When we hopped out of the water, our son proclaimed that it was the "best day ever!" Check recent prices and more information.
My Thoughts on Our Kauai Backcountry Tubing Adventure
Though I've traveled to Kauai for 25 years, this was my first opportunity to really explore the area near Mount Waialeale.
Now I'm kicking myself for not signing up for one of these Kauai tours sooner. This is hands down one of the best things to do in Lihue!
And it was stunning. In every direction I looked, there was an incredible view you just can't get anyplace else on Kauai.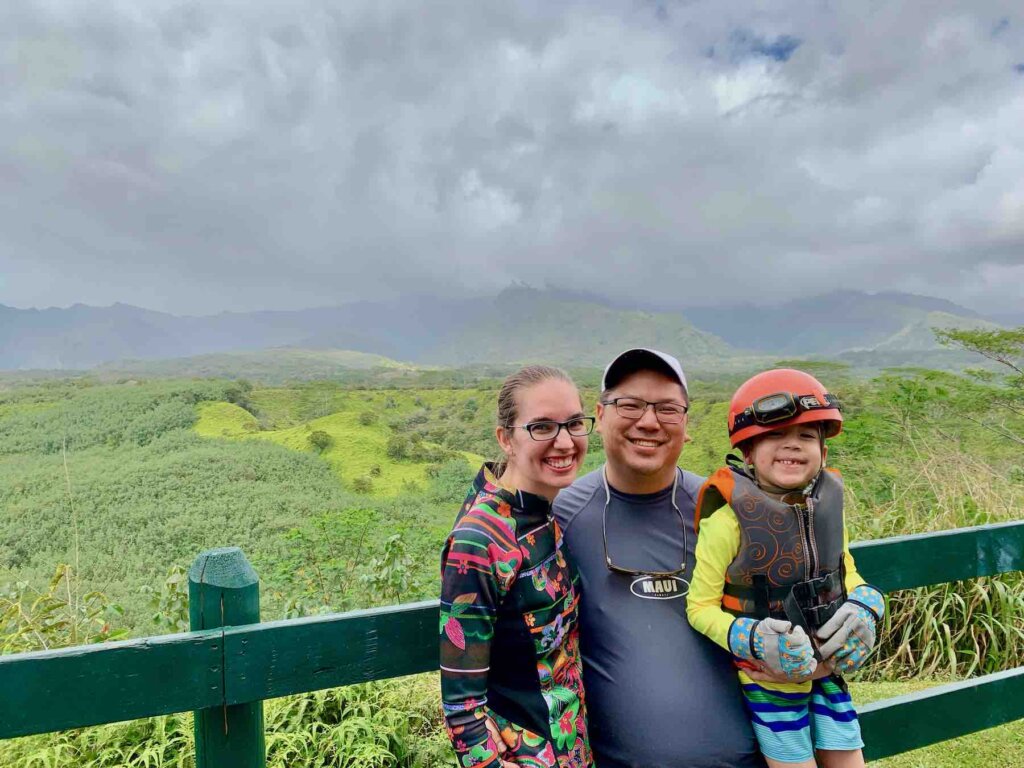 What to Expect at Kauai Tubing Adventure
Part of the tour entails stopping at a scenic viewpoint on the private property and the view was unreal. It's amazing to see parts of Kauai that are truly unspoiled.
And the tubing through the mountains of Kauai itself was a total blast! It's one of the best adventurous things to do in Kauai.
I'm not one to sugar-coat it: the water is C-O-L-D. Actually, it became a running joke.
The guides warned us not to use any F words (like freezing) or C words (like chilly)! Instead, our guides liked to say that the water is "refreshing" and "invigorating!"
But after a while, I barely noticed the cold at all. You just kind of float with your toes and your bum in the water while you relax under the sun in an inner tube!
Like I said, I'm not much for adventure. So, I had my share of thrills just turning on my head lamp to navigate the Kauai tunnels.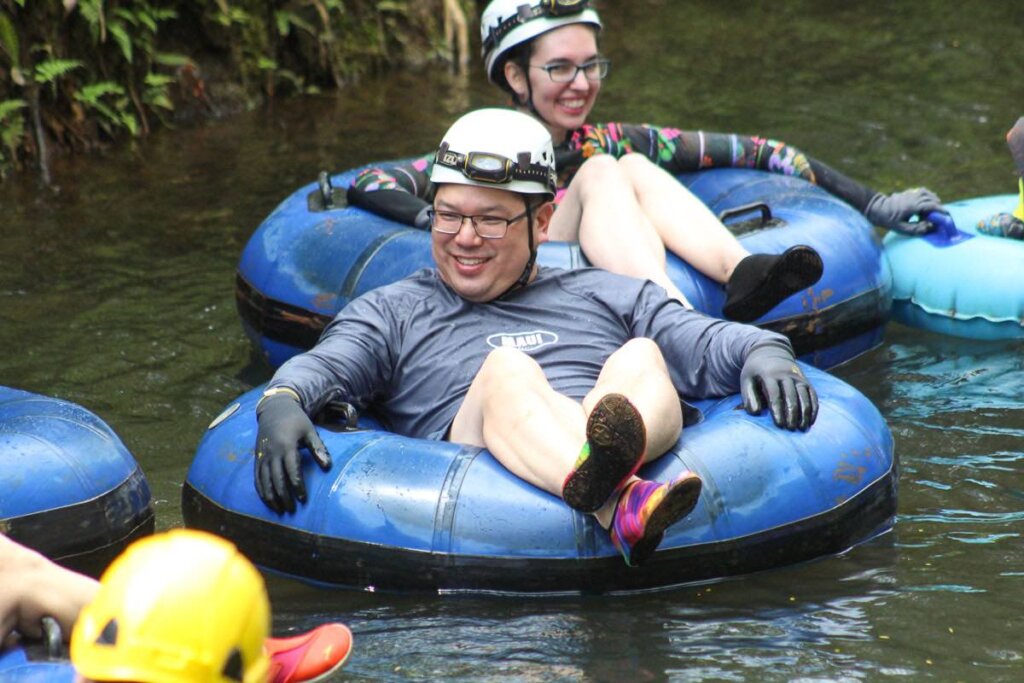 Actually, "navigate" is the wrong word. I really just floated and allowed the water take me down the canal. And every once in a while, I would push off the side of the Kauai irrigation ditch to get myself to float down the center.
I was worried that I would feel claustrophobic inside the tunnels. But it turned out to be a non-issue. Surprisingly, I was even fine turning off my head lamp to experience the final tunnel in the dark.
We were impressed with all the staff leading our experience. La`i and Paul were fantastic and sweet with our son.
Paul even played an intense game of tag with our son during lunch!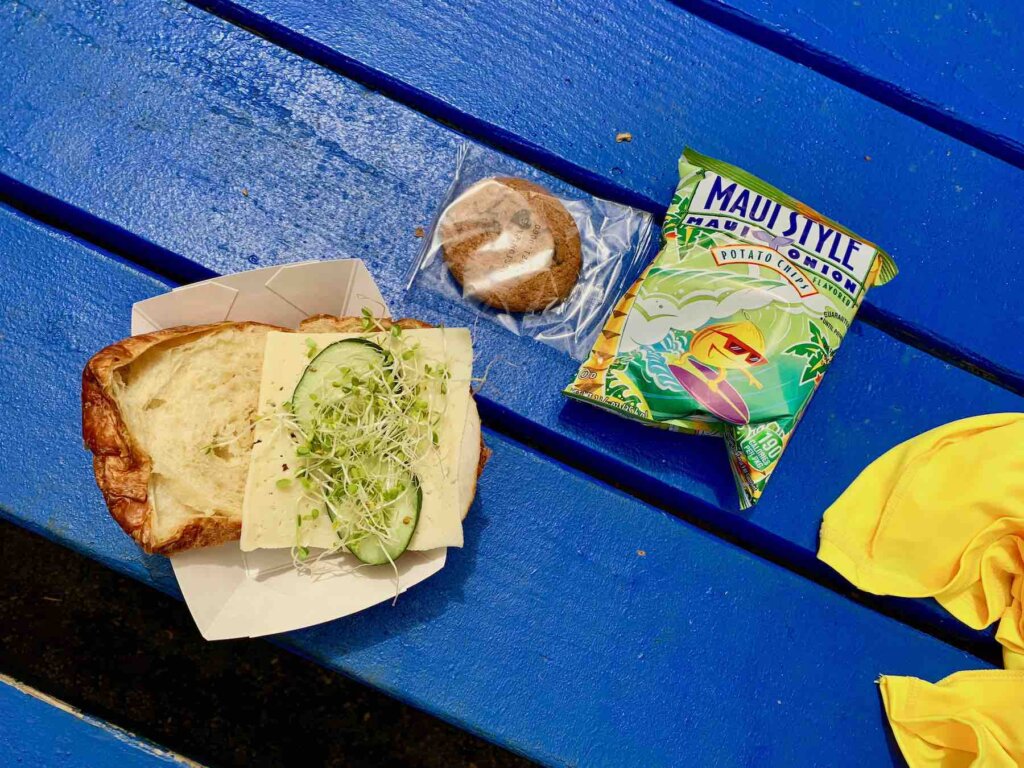 Kauai Hawaii Tubing Tours Includes Lunch
When you book a tour with Kauai Backcountry Adventures, I think they all include a delicious lunch.
I really enjoyed the selection of Costco sandwich makings, Hawaiian chips, and cookies. Turns out, you work up an appetite on the water, and it was the perfect amount of food!
After lunch, we rode back into an open air, all-terrain vehicle and it made me feel quite outdoorsy!
Our guide, La`i, gave us recommendations of his favorite places to eat (and which ones have the best happy hour). Plus, he shared lesser-known beaches, interesting hikes, and plenty of Kauai history.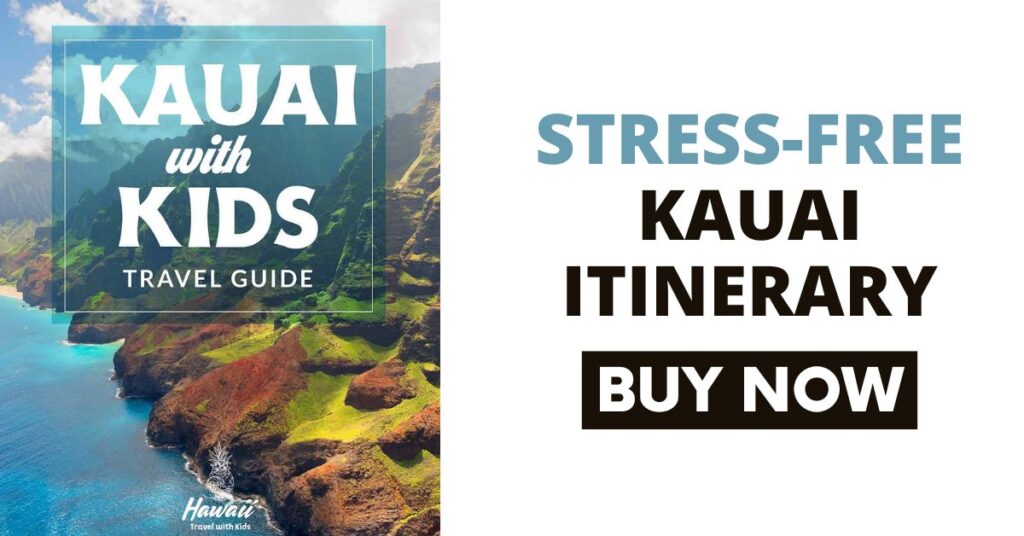 Final Thoughts on Tubing with Kauai Backcountry
I'd definitely suggest this Kauai activity to families with children ages 5 and up, or for multi-generational travel. I'm looking forward to doing it again when our youngest is old enough!
After our experience, I'm not surprised that Kauai Backcountry Adventures is one of the top places to go tubing in Kauai Hawaii. Find Kauai tubing discounts here.
What to Bring your Kauai Mountain Tubing Experience:
Water Shoes
The rocks in the caves are extremely jagged and you'll want to protect your feet. These are some cute water shoes for kids. And this is a cheap pair for adults.
And Kauai Backcountry Adventures offers Crocs to borrow if you don't bring your personal water shoes.
Swimsuits
Since this is a water activity, you'll need to put on a swimsuit or clothing that can get wet. I would suggest wearing a rash guard to protect against sunlight as well as the rocks. See our favorite SPF swimwear for the whole family HERE. You'll also need dry clothing to change into afterwards.
Towels
They don't provide towels, so you'll have to bring your own. Borrow some from the hotel or bring along a fast drying travel towel. We were fine sharing two towels between the 3 people.
Backpack
When you get into the Kauai tube launch site, you'll need to put all your belongings into plastic tubs. These tubs are transported to the pickup area.
I suggest bringing a bag or backpack to keep your items sorted out of everybody else's stuff. You don't need to lose your phone or keys!
What NOT to Bring
Due to the water, don't bother bringing fancy video or photography gear. I even left my cherished Osmo Pocket in the dry tubs for fear of it slipping into the water!
And be careful about your jewelry. Our guides told us that several people lose rings in the water every year when taking their gloves on and off.
Additionally, this tour is alcohol-free. You are going to have to finish your drinks before you get into the van.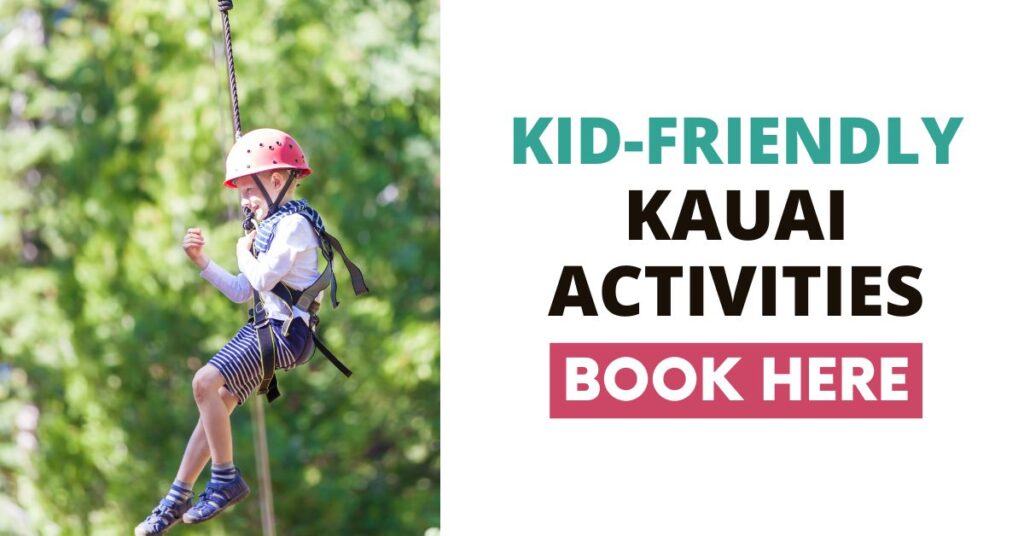 Kauai Mountain Tubing Tips for Families
Check the Weather
While this is a water activity. It may seem silly about worrying about rain, but this activity is much more enjoyable on sunny days.
Check the weather on Kauai to avoid super overcast days. That way, you'll be able to appreciate the view even more.
Wear a Wetsuit
The sugar cane canals are at the foot of Mt. Waialeale and the water is really cold. I thought I would be fine with just a rash guard, but my mom insisted that I put on her tight neoprene wet suit top.
I'm so happy I did since it kept me warm and comfortable from the freezing water and whether it rained on us.
Don't Forget the Sunscreen!
Be certain that you apply reef safe sunscreen before you get in the water. And remember, it takes some time for the sunscreen to soak in. Check out my favorite brands.
My advice is to apply it when you are sitting in the picnic tables inside the Kauai Backcountry Adventures office. This way, it can soak in on the van trip to the tubing location.
Be Prepared for Spinning
The one thing that really surprised me about tubing on Kauai was the spinning. Anytime my inner tube hit the side of this canal or another inner tube, I would start spinning.
I heard a couple of different participants state they took Dramamine before they started. That hadn't occurred to me but might be a good idea if you're prone to motion-sickness. Or eat a ginger chew.
I didn't feel sick, but definitely noticed the spinning.
Try the Apple Bananas
If you haven't attempted a Kauai apple banana, this is your chance! They're my favorite type of banana (and I don't really like bananas).
There are baskets of these at check in. It's a terrific way to fuel up a bit!
Get a Waterproof Pouch for Your Phone
The only way you should bring your mobile on this tubing adventure is if you have one of these waterproof pouches for your phone.
It's easy it to drop your phone into the water as you are drifting. This pouch has a lanyard that'll give you piece of mind.
We actually left our phones inside our backpacks and there were only a few times I wish I'd have been able to shoot some photographs.
Which leads me to my last tip…
Buy the Photos
While I'm always a pusher of investing in quality photos on family vacations, I do not typically buy the ones at attractions.
However, I was really impressed with how many fantastic photographs the team got of my family. And they even did a video!
You may see all the pictures online any time after your tour. You can purchase them individually or get the entire set for $40.
How to Reserve your Kauai Mountain Tubing Tour
To sign up for this Kauai tube experience, click here. They also offer zipline tours.
Tour Length: About 3 hours
Tour Times: 8 AM, 9 AM, 10 AM, 11 AM, Noon, 1 PM, and 2 PM
Wait List: These are super popular tours. If there aren't any available dates when you'll be in Kauai, sign up for their waitlist!
Limits: Kids must be at least 5 years old and 43 inches tall. Guests may not exceed 300 lbs. Maybe not recommended for those with knee, hip, or back problems. Women in first trimester of pregnancy may need a physician's note to participate.
Location: Their main office is located at 3-4131 Kuhio Highway, Lihue Hawaii, 96766
Kauai Backcountry Adventures hosted our excursion in exchange for an honest review. All comments are my own.
P.S. Join our Hawaii Travel with Kids Facebook group to get connected with other families planning a trip to Hawaii!