Don't go to Hawaii without trying shave ice! Find out where to find the best shave ice on Oahu (and we've tried them ALL!) Scroll down to see our top picks!
This best shave ice on Oahu post was originally published November 26, 2019 and was updated November 7, 2021 and contains affiliate links which means if you purchase something from one of my affiliate links, I may earn a small commission that goes back into maintaining this blog.
Don't Want to Scroll? Here Are My Top Oahu Shave Ice Spots
hide
Are you planning a trip to Oahu and want to know the best places for shave ice in Hawaii?
Whenever I go to Hawaii, shave ice is always on my mind. It's the perfect treat after a day of hiking, snorkeling, exploring, or just relaxing at the beach.
While shave ice is simply ice mixed with different flavors, it is something everyone loves to eat.
You can't find anything better to eat on a beautiful hot sunny day in Hawaii than shave ice! It is delicious and so satisfying.
Oahu has some of the best places to get Hawaiian shave ice.
Find out my favorite places to find shave ice in Oahu. And some even offer organic shave ice syrup and allergy-friendly options!
And be sure to check out the 101 best things to do on Oahu with kids!
Want to skip all the planning and just access my detailed Oahu Itinerary complete with daily schedules, kid-friendly activities, and travel hacks? Click the button below.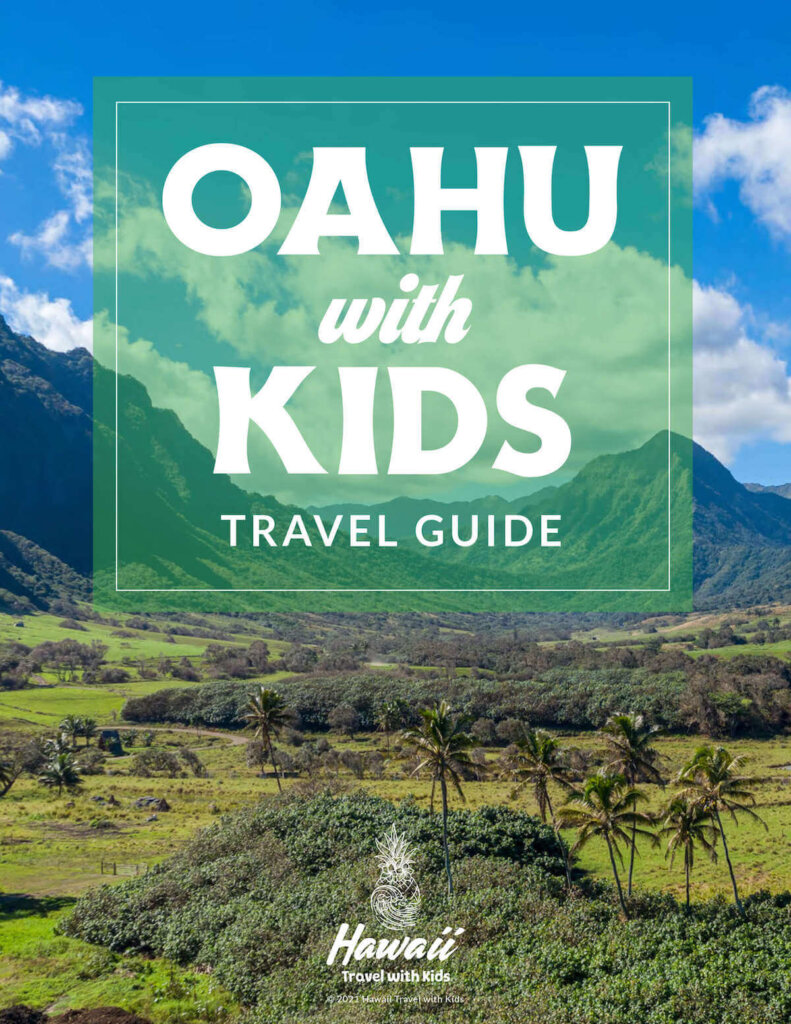 Oahu Shave Ice FAQs
How much is shave ice in Hawaii?
It varies, but you can usually find it for $4-$5 for a regular size. There's a fee for larger sizes and additional toppings.
Is it shave ice or shaved ice?
Locals call it shave ice. Only tourists call it shaved ice.
Why is shave ice popular in Hawaii?
It originated on the sugar cane fields during plantation days as a way to keep workers cool. Now, it's morphed into an iconic Hawaiian dessert treat that you won't be able to stop eating!
What's the most famous shave ice spot on Oahu?
Matsumoto's Shave Ice is probably the most well-known Oahu shave ice spot. It's in Haleiwa on the North Shore.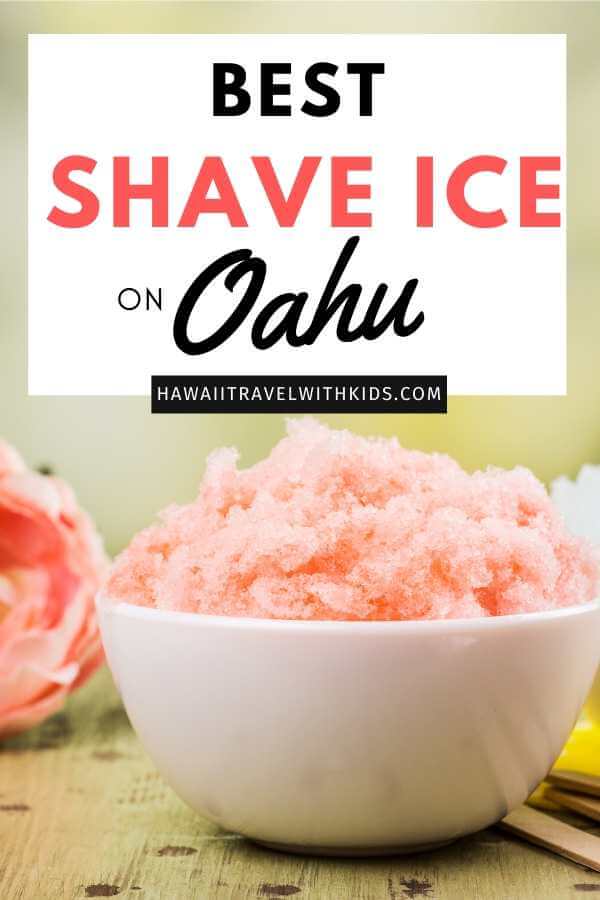 What is Hawaiian Shave Ice?
In case you aren't familiar, shave ice is a refreshing Hawaiian-style dessert or sweet treat.
Most of the time, you'll find them in colorful snack shacks or trendy trailers/food trucks in parking lots or at the beach all over the Hawaiian islands.
SHAVE ICE VS. SNOW CONE
So, a lot of people assume Hawaiian shave ice is just another term for a snow cone. That just not true.
Snow cones are made with crushed ice and syrup. The syrup usually pools at the bottom of the cup/cone and you are left with crunchy, unflavored ice. It's a total letdown.
Proper shave ice comes from a solid block of ice that is finely shaved and patted down to form a sphere.
Most places will add syrup as they go, or poke holes in it with chopsticks to make sure the syrup is consistent throughout your shave ice.
This blends the ice and syrup together so each bite is packed with flavor!
While the ice is shaved, it's called "shave ice" NOT "Hawaiian shaved ice." In fact, if you see a stand calling it "shaved ice" you probably won't want to go there!
Trust me, those usually offer more of a snow cone than actual shave ice. Don't make that rookie mistake!
SHAVE ICE TOPPINGS
As if shave ice wasn't already amazing just with the ice and syrup, over the past decade or so there has been a rise in available toppings.
Here's a run-down of the most popular shave ice toppings:
Snowcapped
This is my favorite shave ice topping! Usually it means they drizzle condensed milk on top, but other times it's coconut milk or some other sort of cream.
It's the perfect way to add a touch of creaminess and extra sweetness to this Hawaiian treat!
Li Hing Mui
If you want something that will spark joy on your taste buds, add some li hing mui powder on top!
It's powder made from dried salted plums and it pairs really well with fruity flavors. At home, we sprinkle it on fresh pineapple, mango, and apples.
If you haven't tried it before, I suggest just getting it on half of your shave ice, as it can be an acquired taste.
Sometimes, places will have a shaker where you can add your own li hing mui.
Ice Cream
My kids insist they get a scoop of ice cream at the bottom of their shave ice! Most of the time it's vanilla, but sometimes you can find macadamia nut ice cream!
The syrup mixes with the ice cream for a delectable treat!
There are a few places that will serve the ice cream on top, but I think it taste better when it's hidden in the bottom!
Fresh Fruit
If you visit an all-natural shave ice stand, they will most likely offer you a fresh fruit topping.
The fruit in Hawaii is super flavorful and the sweetness and texture works so well with shave ice.
Nowadays, it's easy to find all-natural shave ice with organic syrup and fresh fruit.
Mochi
While I didn't see this offered at any of the Hawaiian shave ice places on Kauai, I have seen it on Maui.
Basically, you can get little mochi balls on top of your shave ice. They are chewy and provide such a great texture to the super smooth shave ice!
8 Places for the Best Shave Ice on Oahu
Here are the top favorite places to get the best shave ice on Oahu. You will not be disappointed.
Between the variety of flavors to their unique toppings, you will be sure to find something every member of your family will enjoy!
Along the North Shore, in Haleiwa is Matsumoto. This is by far the most famous one on Oahu. It is so popular that there is usually a huge line even early into the morning!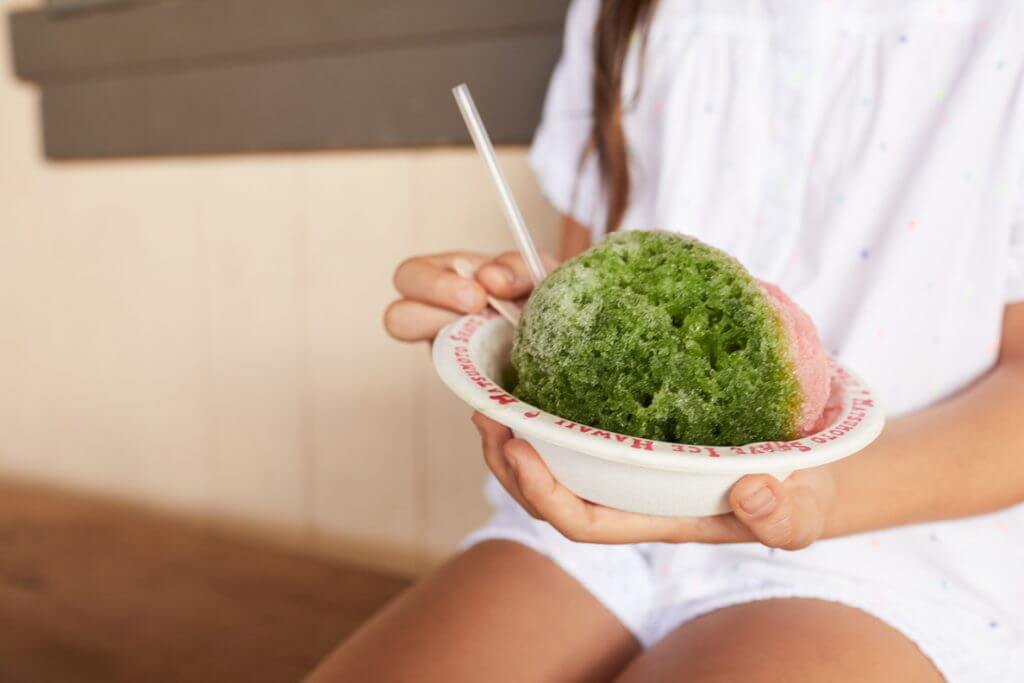 However long the line may be, it is definitely worth it. Matsumoto has by far the best shave ice you can imagine.
They have one of the most extended lists of flavors I have ever seen. You can choose up to 3 different flavors on your shaved ice, so choose very carefully!
Some of their flavors include cake, lilikoi, cotton candy along with traditional fruit flavors as well.
Another big crowd favorite is Waiola Shave Ice. It is located in Waikiki and Kamaki. It is so popular they had to open another store to help with the long lines!
Along with their shave ice, you can include delicious toppings and others that might make you stop and think.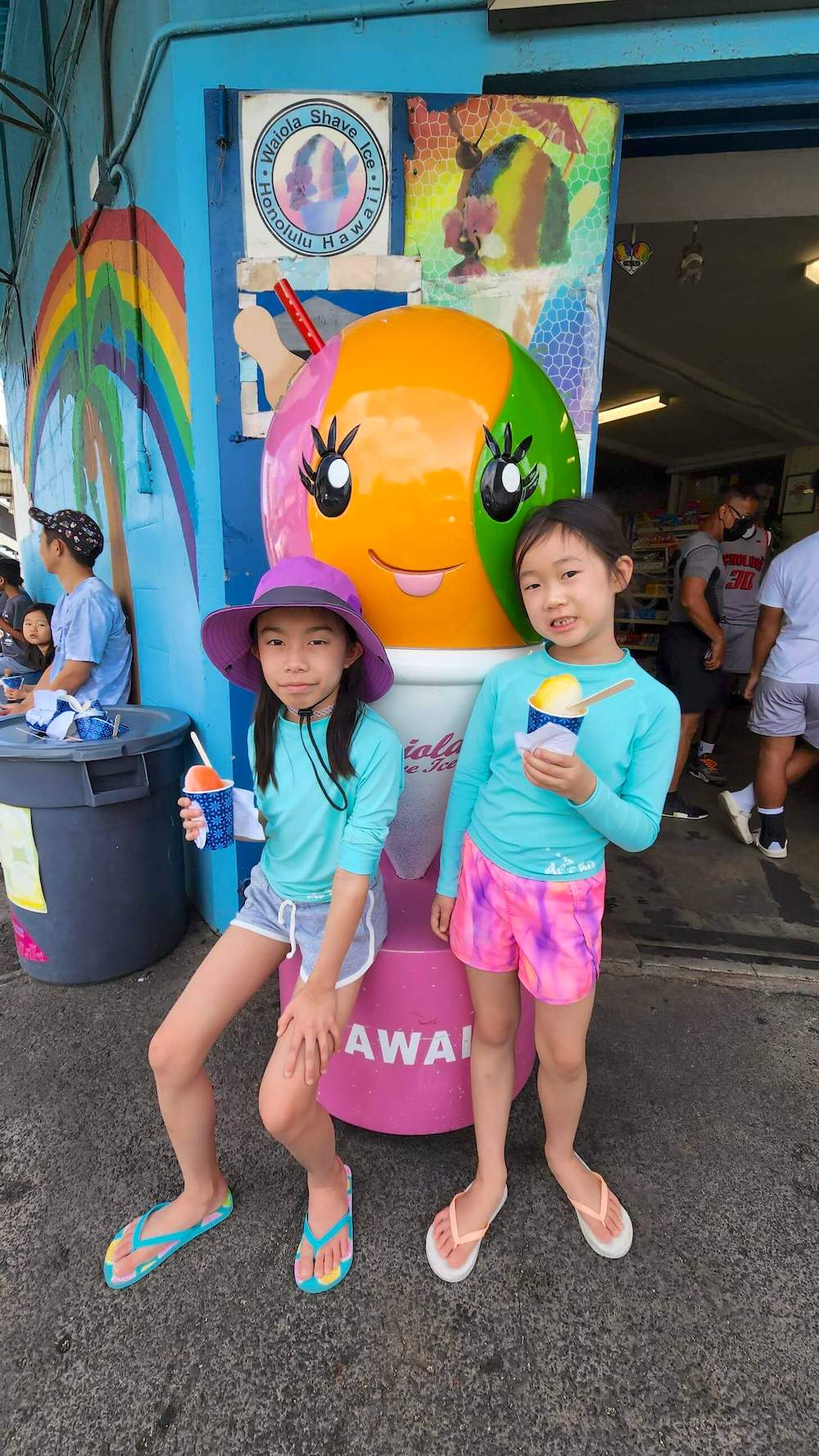 Lots of places, including Waiola Shave Ice, like to put sweet azuki beans on their shave ice, which some might find very interesting. Other toppings include vanilla ice cream and tapioca pearls. You can even add chocolate, caramel, and other fancy toppings for an additional charge.
With all the flavors and toppings, it can be shave ice paradise for many.
Fun fact: This is where President Obama likes to get his shave ice when he visits Hawaii!
Another town favorite is the Shimazu Store. It is located in Honolulu but can be challenging to find.
They do not have a parking lot or seating inside their store but don't let that scare you away. They still serve amazing shave ice!
With over 70 different flavors, you will be sure to find something you love. They have some unique flavors in their store, including red velvet cake and a latte flavor as well.
You can include some savory toppings such as dulce de leche, Li Hing powder, and coconut. They also have some other tasty treats in their store, in case some of your little ones do not like shave ice.
If you want a delicious but healthier option, try Uncle Clay's House of Pure Aloha. You can go to Honolulu to try their healthy shave ice.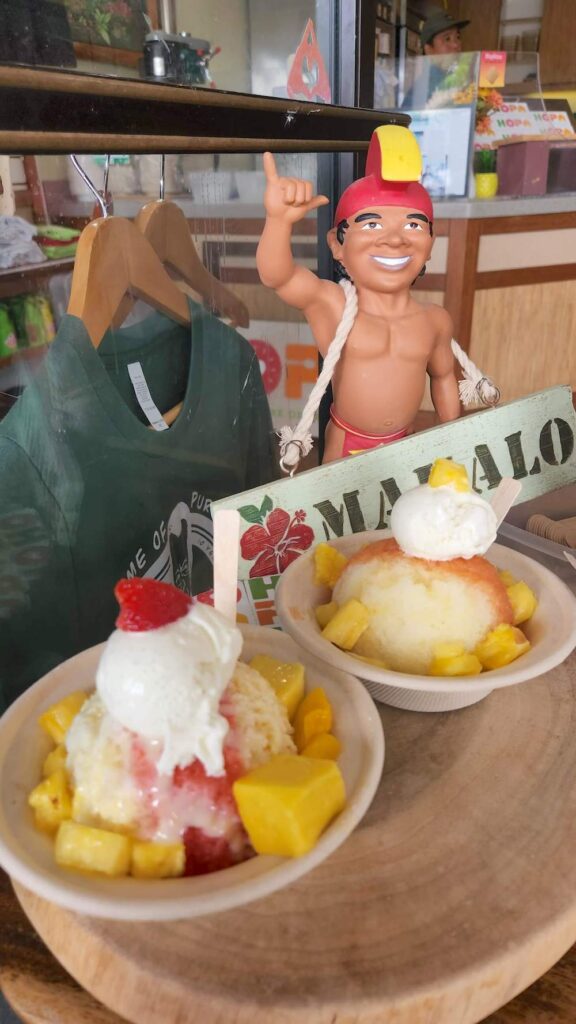 They do not like to use artificial flavors; therefore, each of their syrups includes fruit juices and natural cane sugar.
They also like only to use fruits and other sources from Hawaii to keep it more local. If you are trying to avoid artificial sugars, try out Uncle Clay's House of Pure Aloha.
While they are a healthier option, that doesn't mean the taste disappears. The shave ice will taste even better than the other shave ice around.
This was the first organic shave ice I tried and it blew me away!
5. Angel's
Located in the Foodland strip mall in Laie, is Angel's. It is an ideal place to get your shave ice.
They provide many numerous alternatives, including plain ice cream, bubble drinks, smoothies, and more.
You can even find the Dole Whip pineapple treat here too! Here you can also add the sweet beans, ice cream, and drizzle some delicious dulce de leche or caramel sauce.
Their shave ice cups are so huge; more than likely, you won't finish it on your own! You can choose up to three different flavors on your shaved ice, plus additional toppings.
Angel's is open until 10 pm, making it a perfect date night activity! It is not open on Sunday, so plan to go any other day of the week.
This is another place that likes to keep things healthy and organic.
Similar to Uncle Clay's, they also use fruit to make their syrups. While it may not be a sugary as other options, it is still a delicious treat.
You can add ice cream; however, unlike other traditional places, the ice cream is on the top! You can also add sweet beans and mochi, as well.
If you are in Honolulu, this is a great stop to add to your list to get some quality healthy shaved ice.
Aoki's is a family ran shave ice place. It has been in the family for quite some time, four generations to be exact.
Close to Matsumoto, they are in Haleiwa and a great stop, especially if you do not like to wait in the long lines.
For only a couple of dollars, you can get shave ice cups.
What is unique about Aoki's is that they also do shave ice shakes. You can have shave ice mixed with your choice of flavors and some vanilla ice cream. You can drink it instead of eating it and be amazed at the tasty texture.
Another great place to stop at for some shave ice is Island Vintage Shave Ice, located in Waikiki.
You have the option to make your own bowl or choose from their specialty menu. Some of the top favorite flavors are coconut island and heavenly lilikoi.
They are open all day long, so you can always get your fill of shave ice no matter what time of the day.
This one is my mom's absolute favorite place to get shave ice in Hawaii!
Best Shave Ice Oahu Wrap Up
Whether you are on the North Shore, Waikiki, or Honolulu, you can find incredible shave ice please all over the island.
Here are some places where you can find some of the best Oahu shave ice. You can find both shave ice flavors that are locally grown or have exotic flavors you won't find anywhere else.
Stop by one of these places during your next visit to the island of Oahu!