Don't go to Hawaii without trying shave ice! Find out where to find the best shave ice on Maui (and we've tried them ALL!) Scroll down to see our top picks!
This best shave ice on Maui post contains affiliate links which means if you purchase something from one of my affiliate links, I may earn a small commission that goes back into maintaining this blog.
Are you looking for the best shave ice in Maui?
You're not going to find a better treat than shave ice on a hot sunny day. It is so delicious and satisfying.
We've tried it all over Hawaii, including Oahu and Kauai, but Maui has some of the best places to get shave ice.
I've been trying out different places around Hawaii to see which ones are worth your time and money! Here are my top picks for where to go when you want to try something new or just have that craving that only shave ice can satisfy!
You'll be able to find a great spot no matter what part of Maui you visit. Some locations even offer other treats like bubble tea or smoothies, so it's worth checking them out if you have time. If not, don't worry – they still serve up delicious shave ice!
Keep scrolling for my favorite places to get shave ice on Maui!
Don't have time to read a bunch of Hawaii blog posts and reviews? Here are some of our top picks for visiting Maui.
Popular Maui Tours/Activities
Favorite Maui Resorts/Hotels
Andaz Maui (this is a luxury resort with the best luau on Maui)
Honua Kai Resort & Spa (this is one of our personal favorites because there are tons of pools and there are condo options)
Want to Rent a Car in Hawaii?
One of the best places to rent a car in Hawaii is Discount Hawaii Car Rental because they get the best rates from top national companies like Alamo, Dollar, Thrifty, Avis, Enterprise, Budget, and Payless.
Want to skip all the planning and just access my detailed Maui Itinerary complete with daily schedules, kid-friendly activities, and travel hacks? Click the button below.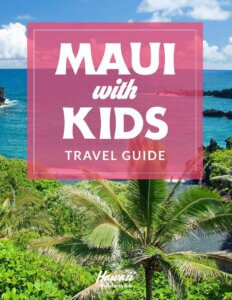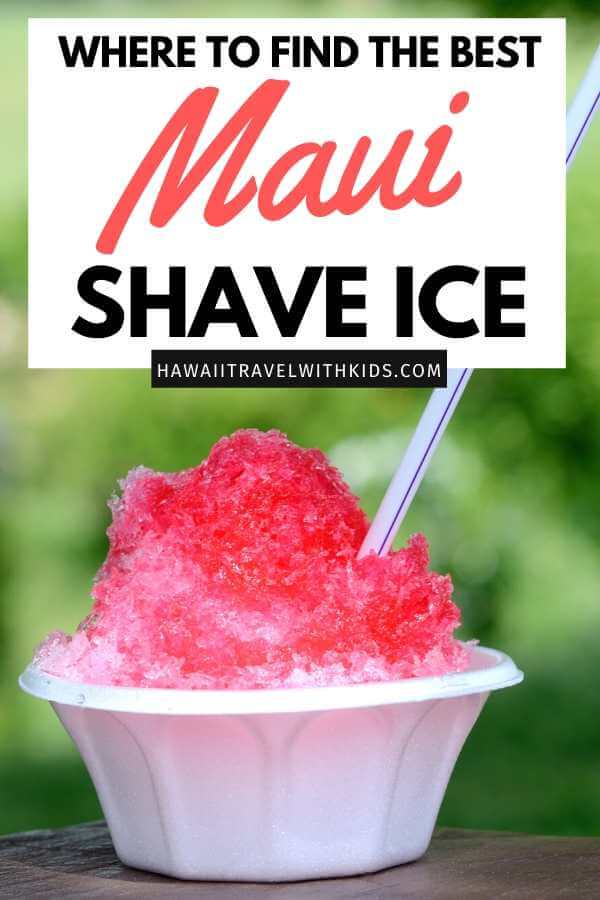 What is Hawaiian Shave Ice?
Shave ice is a refreshing Hawaiian-style dessert or sweet treat that is made from machine-shaven ice and drizzled with flavored syrups.
It's definitely one of the most popular treats in Hawaii (beating out ice cream, gelato, and popsicles.) And once you taste it, you'll see why.
Because the ice is finely shaved, it almost has a creamy texture, which is divine.
What's extra fabulous about shave ice is that it's vegan, gluten-free, and dairy-free. Just about anyone with any food allergies/sensitivities can enjoy this delicious treat.
Most of the time, you'll find shave ice served in colorful snack shacks or trendy trailers/food trucks in parking lots. If you're at one of the many beaches all over Hawaii, you'll probably find shave ice stands or trucks nearby!
SNOW CONE VS. SHAVE ICE
So, a lot of people assume Hawaiian shave ice is just another term for a snow cone. However, they're totally different things!
Snow cones are made with crushed ice and flavored corn syrup. The syrup usually immediately drips to the bottom of the paper cup, leaving you with crunchy, unflavored ice.
Think about the last time you had a snow cone. Chances are, you went to the circus or a carnival and felt completely underwhelmed.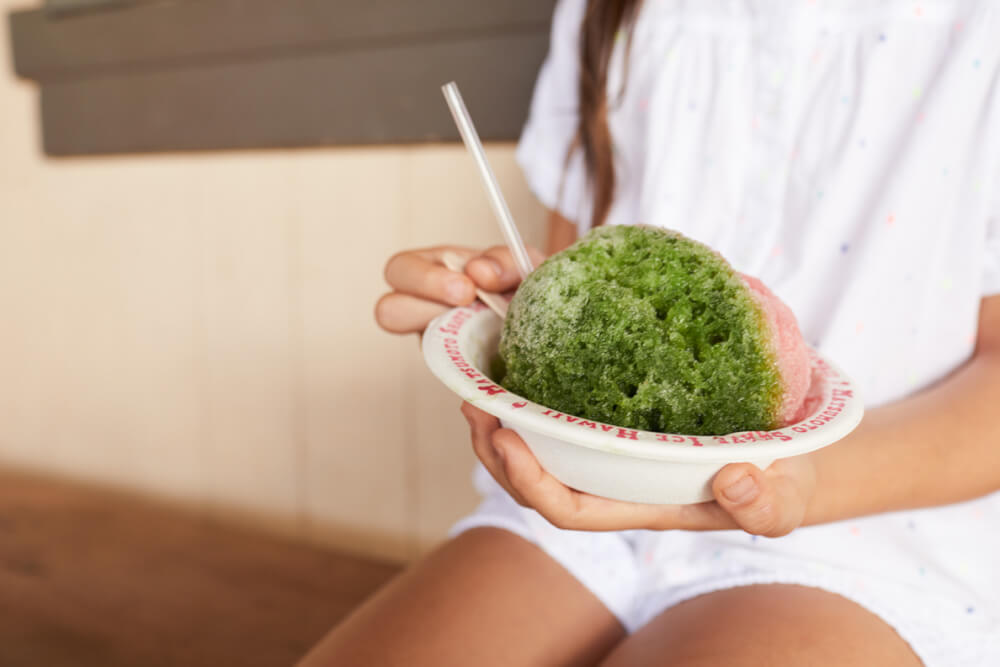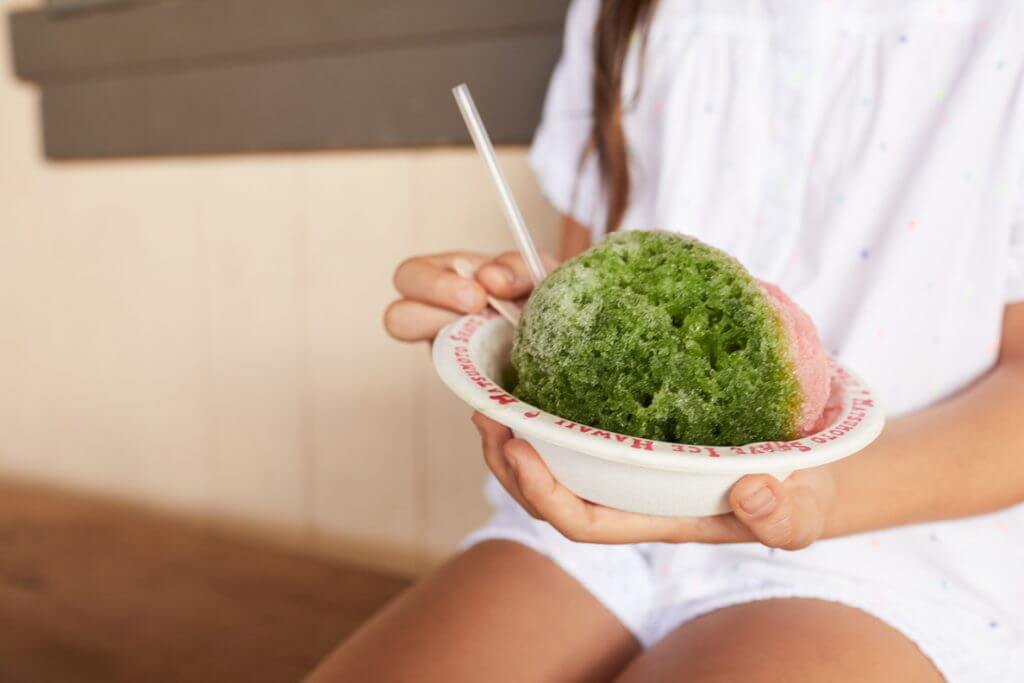 Proper shave ice comes from the Japanese tradition of shaving a solid block of ice with a special machine and patting it to form a compact sphere.
Most reputable shave ice places will add Hawaiian shave ice syrup as they go or poke holes in the large snowball with chopsticks to make sure the syrup is consistent throughout your entire shave ice.
This blends the ice and syrup together so each bite is packed with flavor, and you aren't left with bland ice!
If you've been reading carefully, you'll see that I've been calling it "shave ice" NOT "shaved ice." Trust me, leaving off the "d" makes a big difference.
The places that call it "Hawaiian shaved ice" (whether in Hawaii or on the Mainland) usually serve more of a snow cone than actual shave ice. That's not the experience you are looking for.
SHAVE ICE TOPPINGS
At shave ice stands in Maui, you can choose from a variety of common add-ons like coconut shavings, chocolate syrup, and more.
But over the past few decades, shave ice has evolved. These days they include a lot of specialty toppings. Now you have a lot more options to fully customize your shave ice!
Here's a run-down of the most popular shave ice toppings:
Snowcapped
This is my favorite shave ice topping! Usually, it means they drizzle condensed milk on top, but other times it's coconut milk or some other sort of cream. Note: this means if get this topping, your shave ice might not be dairy-free.
It's the perfect way to add a touch of creaminess and just a bit of extra sweetness to this Hawaiian treat! It pairs especially well with real fruit syrup (like a strawberry puree or fresh lilikoi.)
An added twist I've seen lately is where places will use a flavored foam on top, kind of a fluffier version of snowcapped.
Ice Cream
Hawaii actually has some pretty tasty, locally-made ice cream. Try it as a shave ice topping by requesting a scoop of it in a cup and have your shave ice built on top of it. That's how my boys like it!
Most of the time, the only ice cream flavor available at shave ice stands is vanilla ice cream. But sometimes you can find macadamia nut ice cream as well!
And I recommend getting both syrup and ice cream as shave ice toppings. The syrup mixes with the ice cream for a delectable treat!
Fresh Fruit
If you visit an all-natural shave ice stand, they will most likely offer you a fresh fruit topping. Definitely try this! The fruit is typically sliced and placed in a decorative pattern or chopped up and sprinkled on top of your shave ice.
Also, the local fresh fruit in Hawaii is super flavorful. The sweetness and texture work so well with shave ice.
Nowadays, it's easy to find all-natural shave ice with organic syrup and fresh fruit.
Li Hing Mui
One of the most popular toppings in Hawaii is called Li Hing Mui. In the whole form, these salt-preserved plums are called crack seed. they have a strong salty, sour taste with some sweetness. Locals like to just gnaw on the fruits to get the flavor.
Li hing mui is the powder form of crack seed. Sometimes, places (like Ululani's) will have a shaker on their counter so you can add your own li hing mui powder.
Besides adding it to shave ice, locals like to top fruit with it (like fresh pineapple, mango, and apple slices).
It can be an acquired taste, so if you haven't tried li hing mui powder before, don't put it all over your shave ice! Instead, you can ask for just a little bit to taste test.
Mochi
Mochi is a sweet Japanese dessert made from sugary glutinous rice dough. The dough is rounded into tiny balls and suspended in syrups at shave ice stands.
This is a really new topping in Hawaii. Ululani Shave Ice is one of the few places I've seen mochi balls offered at shave ice spots in Hawaii.
And occasionally, they have freshly made mochi that you can add on top for an additional fee. Get this if they have it! The mochi is soft and chewy and provides a really great texture alongside the super smooth shave ice.
Azuki Beans
Azuki beans are red beans that are commonly boiled, mashed, and sweetened with lots of sugar before being added to desserts. And it adds a kick of earthy sweetness and texture to shave ice!
If you've never had it before, you can ask for a sample to taste the red bean paste. Most people who don't like it complain about the texture. But a lot of people like the mash added to the center of their shave ice for a nice treat halfway through.
If you're brave enough to try it, I suggest getting it the way locals do: ladled over the top of a syrupy shave ice! The syrup creates a crunchy ice cap for the frozen treat.
So, when you add the azuki beans, they make for a nice, soft texture on top of everything else.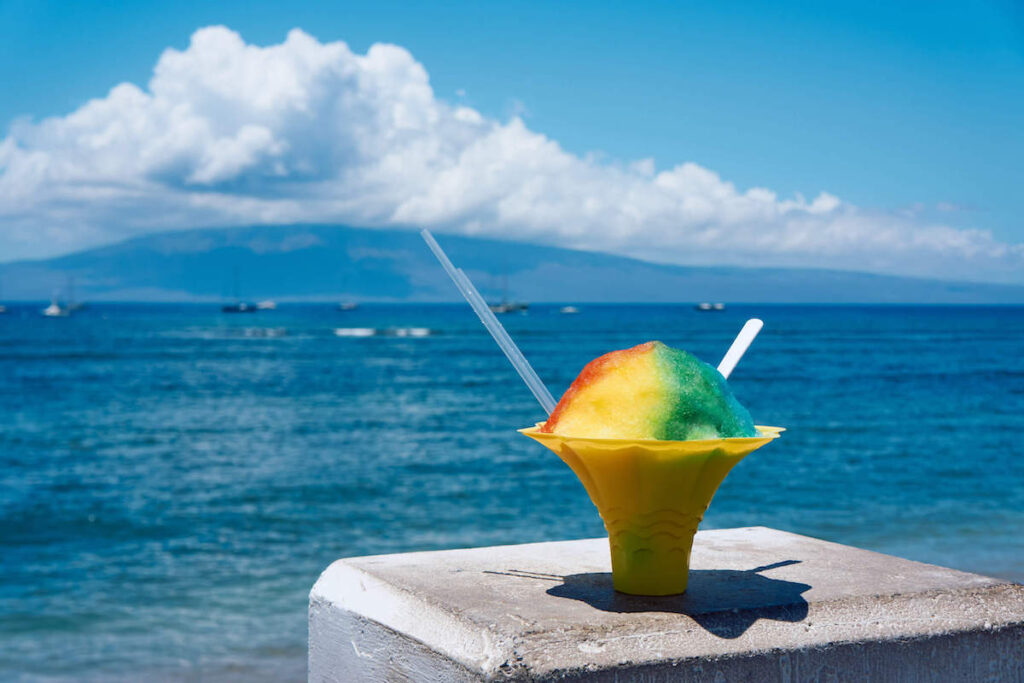 9 Places for the Best Shave Ice on Maui
Here are the top favorite places to get the best shave ice on Maui. You will not be disappointed.
Between the variety of flavors to their unique toppings, you will be sure to find something every member of your family will enjoy! These places offer the best shave ice Maui has to offer!
1. ULULANI'S SHAVE ICE
The most famous shave ice in Maui is Ululani's Shave Ice. They launched in 2008 with one small stand, and they've now expanded to 5 locations on Maui: Lahaina, Kihei, Kahului, Hyatt Regency, and Maui Lani.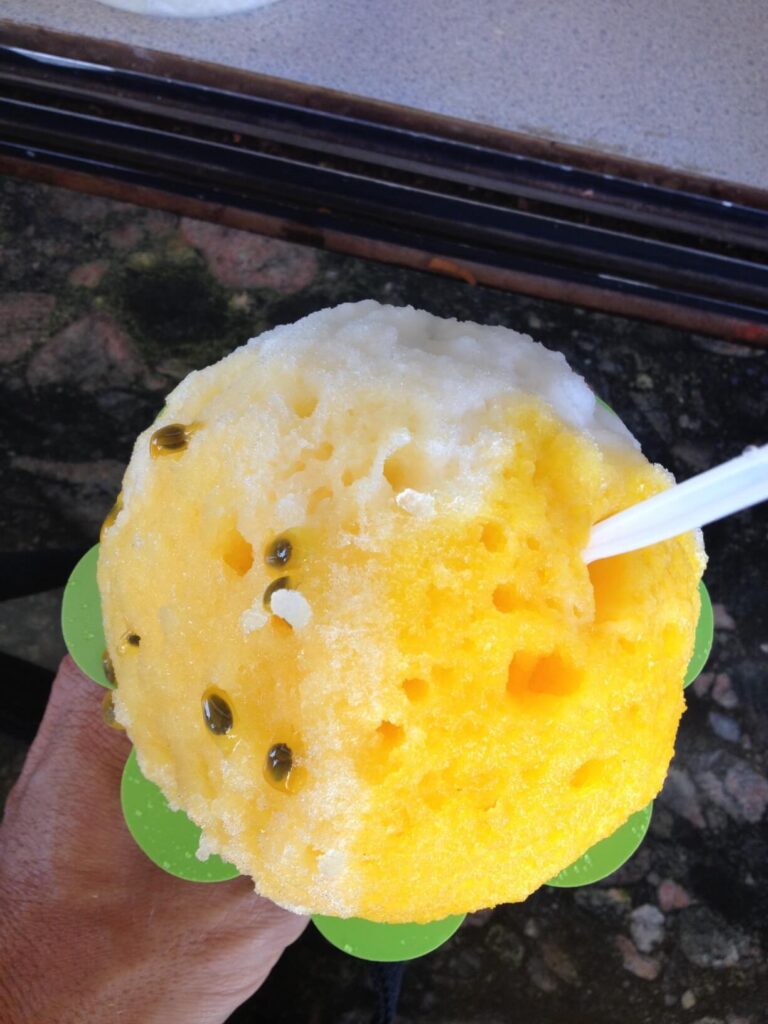 Their Lahaina shave ice location is tucked off the main drag of Front Street. It's the perfect spot to cool off after shopping at the boutiques or after going on a Maui whale watching tour. Have it as dessert after eating at one of the many restaurants nearby at the best shave ice Front Street Lahaina has to offer.
And their Kihei location is convenient for those heading in or out of town for a day of adventure hiking or snorkeling. It definitely offers some of the best shave ice in Kihei!
Their tables have holes cut out so people can place their shave ice in them (which helps them from melting in your hands).
Plus, their shave ice is made from pure, filtered water and they use pure cane sugar and natural fruit juices. Some of their most popular toppings include fresh mochi, azuki beans, and Maui-made Roselani's Ice Cream.
Having multiple locations helps so you can try their specialty syrups and wonderful ultra pure ice wherever you are during your trip at Maui shave ice Ululani's.
This is my personal favorite Maui shave ice, which is why I listed them first.
2. Beach Street Maui
Nestled in the bustling Rainbow Mall in Kihei, Beach Street Maui is a family-run delight that has been serving the community with remarkable shave ice and more since 2000.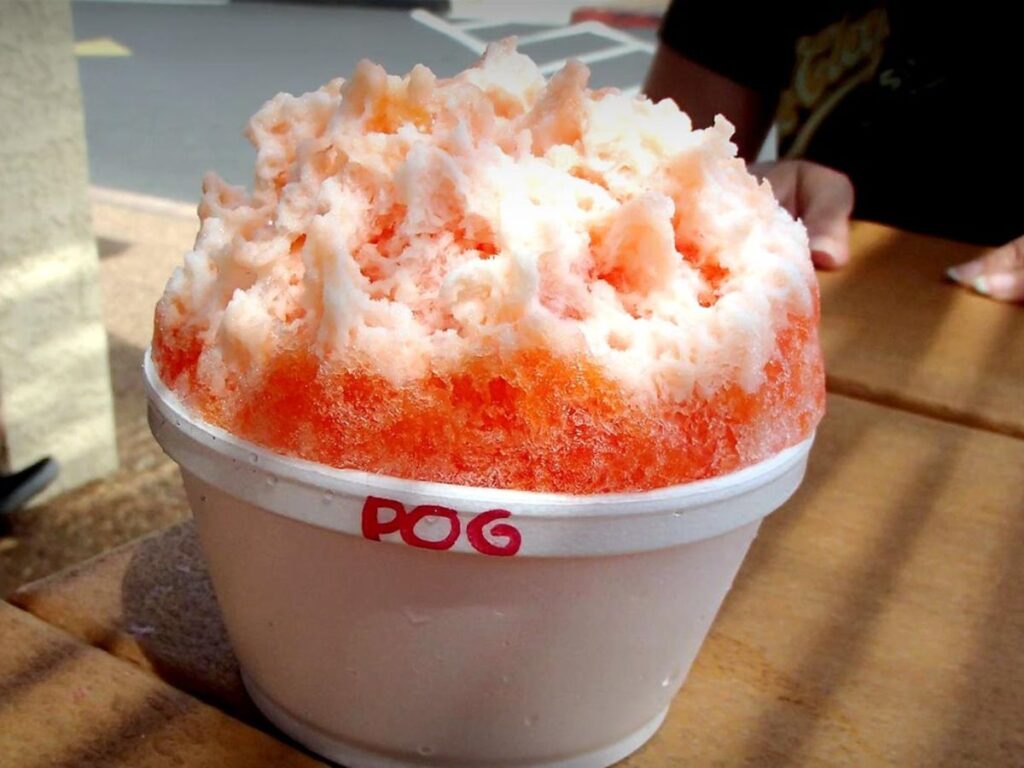 Conveniently located near the popular Kamaole Beach Park III and surrounded by a ton of shopping options, it's an ideal pit-stop during a day of sun-soaking and retail therapy.
Two shave ice concoctions steal the spotlight here. The "Hawaii Rainbow" is a visual and gustatory delight, with layers of strawberry, pineapple, and blue vanilla atop ice cream, crowned with your pick of mochi balls or gummy bears.
This tantalizing tropical trifecta evokes the brilliance of a Hawaiian rainbow, making it a feast for the eyes and palate alike.
Equally captivating is the "Blue Hawaii", a mesmerizing blend of pina colada and blue vanilla, served with ice cream, mochi balls, and a touch of Haupia, a traditional coconut dessert.
This combination mirrors the breathtaking blues of Hawaii's sky and sea, offering a refreshing retreat on a sunny beach day.
Beach Street Maui stands out not just for its tasty flavors, but for its commitment to quality and sustainable practices.
The use of organic and locally sourced ingredients reflects their dedication to delivering not just taste, but wholesome goodness in every serving.
So whether you're cooling off from the Kihei sun with their unforgettable shave ice, or grabbing a quick acai bowl or sandwich, Beach Street Maui offers an unmatched, flavorful experience that encapsulates the spirit of Maui.
In essence, it's more than just a stop on your day out – it's an integral part of the Maui experience.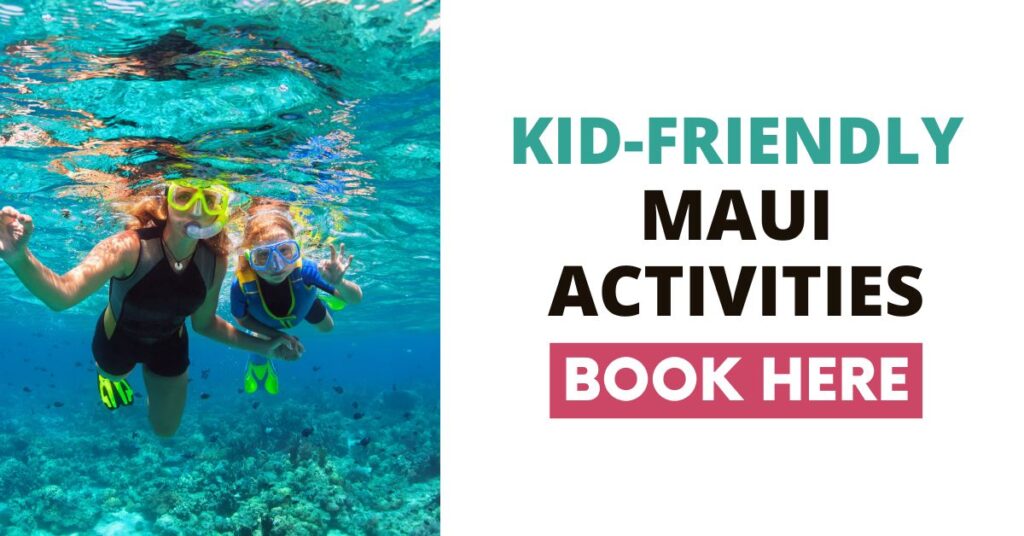 3. BREAKWALL SHAVE ICE CO.
If you'd like to try a boozy version of your favorite shave ice, head to Breakwall Shave Ice. It's next to Down the Hatch in Lahaina.
Here, you'll find a ton of ice cream options (including Kona coffee). They have fun toppings like strawberry lava, super sour spray, pickled mango, and coconut shavings.
Breakwall Shave Ice Co. offers many traditional shave ice flavors, like pineapple, mango, pina colada, and strawberry. But they also have a line of fun syrups like Tigers Blood and Incredible Hulk.
And you won't want to miss their natural flavors, like strawberry guava, lilikoi passion, and mojito mint. For those with adventurous palettes, they also have pickle juice!
They've marketed themselves as "adult shave ice" because adults ages 21 and up can order their shave ice with a splash of alcohol. Talk about a cocktail lover's dream!
But it's not just for adults. They have traditional kid's shave ice available, including some gummi bears as toppings. In fact, it's free with any kids' meal at Down the Hatch!
Oh, and they only have 2 sizes: small and massive! It is a fun Hawaii shave ice to try, especially adult shave ice on your honeymoon.
3. HALFWAY TO HANA
One of the most iconic places along the Hana Highway is the Halfway to Hana rest stop. The stand has been a local landmark for almost 40 years. It's a great place to pick up snacks and drinks while doing the Road to Hana scenic drive.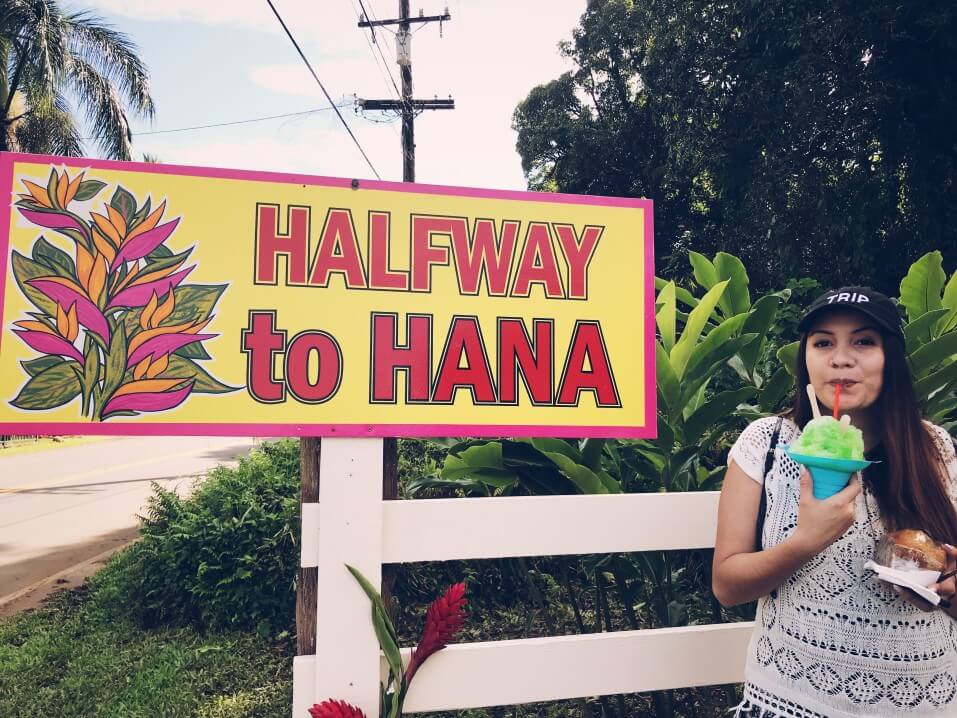 A lot of people don't realize this, but they also sell some pretty incredible shave ice. You can choose from 13 flavors. This is one of the shave ice stops where you can even add a scoop of ice cream on the bottom (which I HIGHLY recommend)!
4. SURFING MONKEY SHAVE ICE
There are so many awesome things to do in Wailea, including exploring The Shops at Wailea. Now, you can also grab shave ice at the Surfing Monkey Shave Ice! Plus, this place also has vegan and organic ice cream (made with coconut milk) options, making it one of the best shave ice Wailea places to visit.
Surfer Monkey has a ton of fruit flavors like lychee, pomegranate, and green apple, as well as flavors like Kona coffee, root beer, and wedding cake! There are actually 28 flavor options, and it's really hard to choose the best shave ice flavors.
Their signature shave ice is called the Surfing Monkey. It features wild cherry, pina colada, and banana syrups.
All of their shave ice syrups are made with real cane sugar and all-natural flavors (with no artificial flavors added).
They actually have several locations in South Maui. You'll find them at The Shops at Wailea, Fairmont Kea Lani, and for some Kihei shave ice, a location on South Kihei Road next to Foodland.
5. PEACE LOVE SHAVE ICE
One of the most popular shave ice spots on Maui is Peace Love Shave Ice at Azeka Plaza in Kihei. It's also one of the smallest shave ice Kihei has to explore.
Not only do they have amazing shave ice, but they also have coffee drinks and snacks. Plus, you can also grab a Maui-Rita or Frozen Hot Chocolate. And don't get me started on their gourmet ice cream sandwiches!
For an extra twist, try their Thai Iced Tea Shave Ice or Coffee Shave Ice.
They use purified water for the ice blocks and organic raw Maui cane sugar for sweetening the syrups (they have both natural syrups and traditional syrups available). Also, they offer Maui-made Roselani ice cream!
You can also check out Peace Love Shave Ice in San Diego, CA! They have a little trailer there.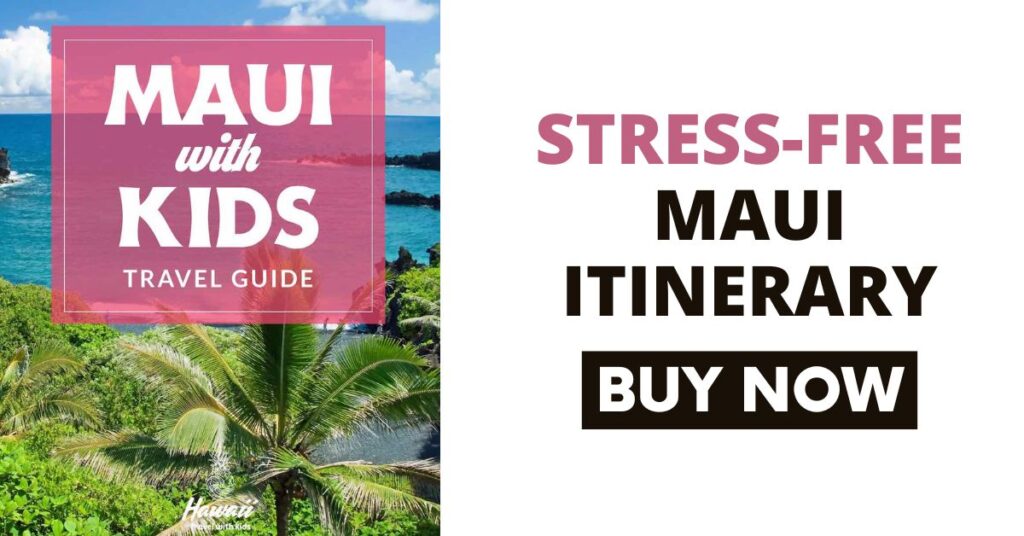 6. MAUI MIKE'S BEACH HOUSE
Maui Mike's Beach House is a surf shop, and snack shop all rolled into one. This is a one-stop shop where you can find clothing and accessories, rent a surfboard, or grab hot dogs! And they offer great acai bowls, dairy-free ice cream, and all-natural shave ice!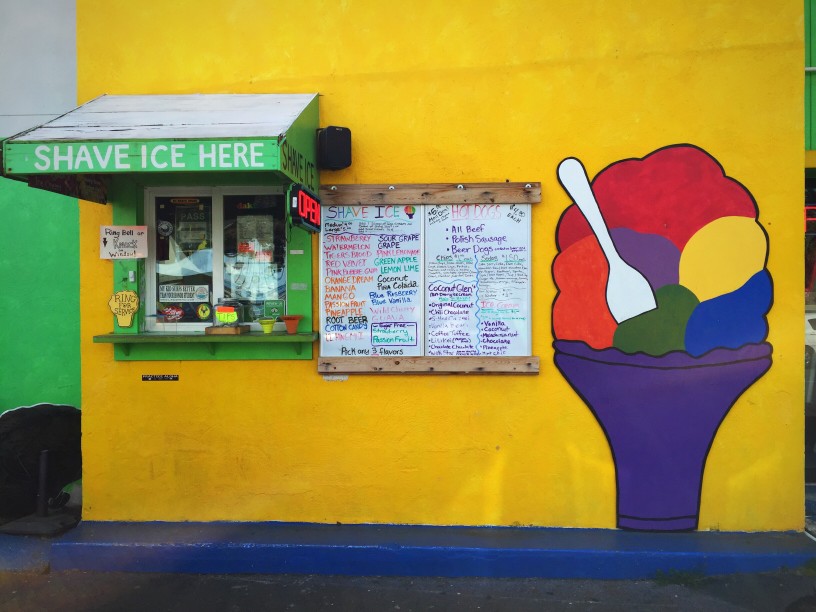 While they have limited all-natural Hawaiian shave ice flavors (pineapple, banana, strawberry and lemonade, pineapple and strawberry, and banana and strawberry) they do it right. And you can add Strawberry, Mango, or Guava Fruit Puree.
Plus, they have 27 flavors of regular shave ice, including sugar-free options.
But what makes Maui Mike's Beach House extra special is that they serve Coconut Glen's vegan organic ice cream. It's just organic coconut milk, organic cane sugar, natural ingredients, and guar gum. This comes in a few flavors, including vanilla, chocolate macadamia nut, and original coconut.
And it's a popular item to add to the bottom of shave ice for an amazing combination!
Maui Mike's Beach House is located next to Taco Bell in Lahaina. Also, don't miss out on the awesome Instagram wall where you can take a picture!
7. TOBI'S SHAVE ICE
If you're heading to Paia on the way to the Road to Hana, Tobi's Shave Ice is a must-stop.
They have all the typical shave ice flavors like watermelon, cherry, and strawberry, plus yummy tropical ones like lychee, passion fruit, and guava.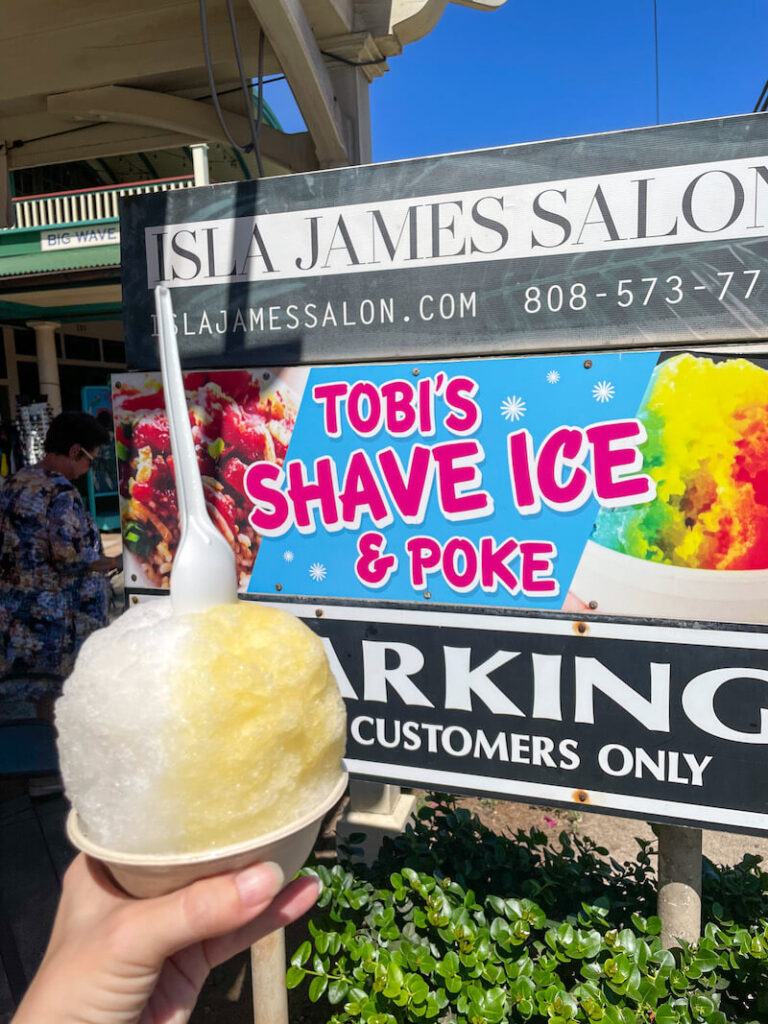 While shave ice is in their name, Tobi's Shave Ice is actually an awesome spot to get plate lunches and some of the best poke in Maui. So, plan on stopping here for a late breakfast or lunch as well as yummy shave ice!
Plus, they have a fun photo op!
8. ISLAND VINTAGE SHAVE ICE
One of the best places for shave ice on Oahu is Island Vintage Shave Ice. Also, they recently opened a location at Whaler's Village in Lahaina.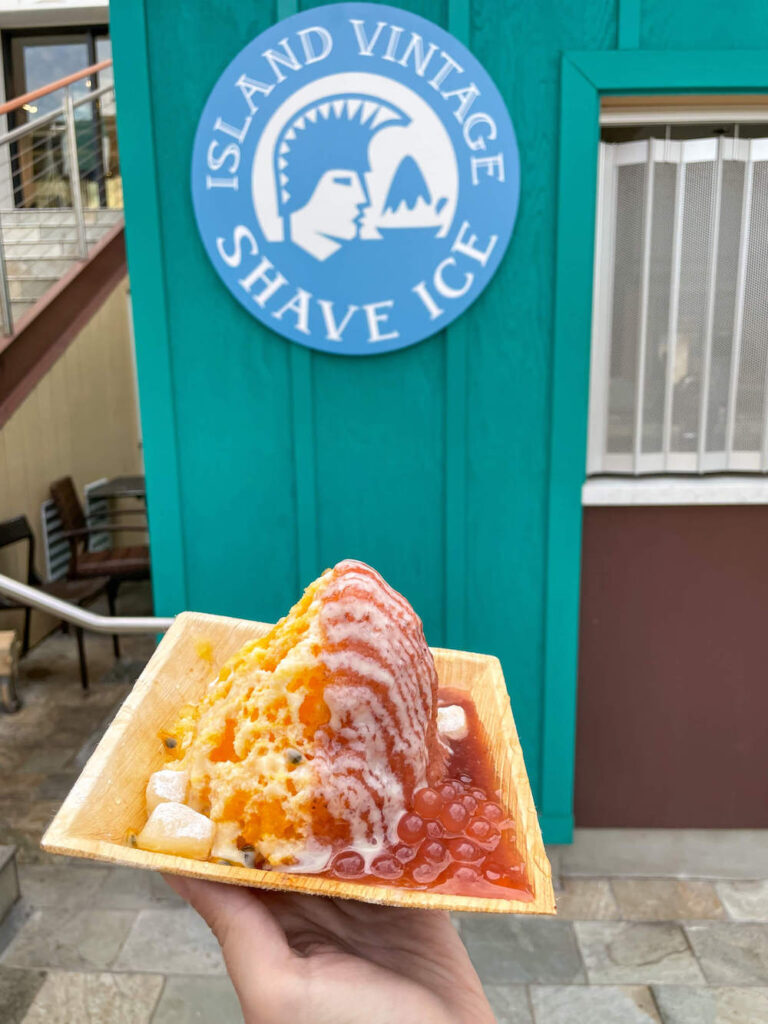 They have specialty shave ice with topping combinations, like popping boba, mochi, and fresh fruit syrups. Or, come up with your own favorite topping combo!
You can also get ice cream or frozen yogurt at the bottom, which is super yummy!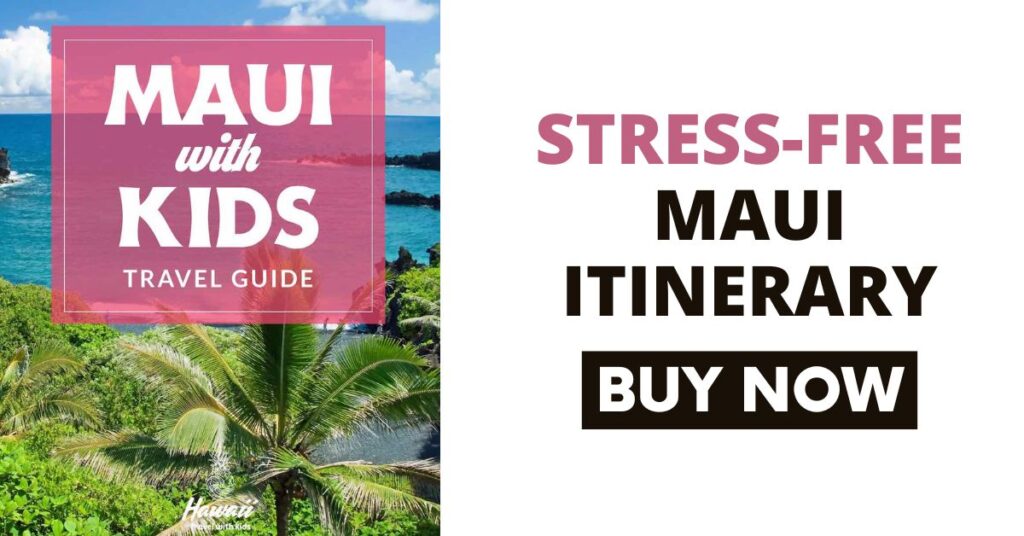 Maui Shave Ice FAQs
What is the most famous place for shave ice on Maui?
Ululani's is by far the most well-recognized Maui shave ice food truck. They've been in business for almost 20 years, and today they have 5 locations across Maui. And Ululani's is my personal favorite place to get shave ice!
How much is shave ice in Hawaii?
It can vary depending on where you are on the island. But typically, it costs about $4-$5 for a regular-size shave ice. Also, there's usually an additional fee for larger sizes or for extra toppings and syrups.
Is shave ice Hawaiian?
Shave ice was born in Hawaii! All the way back in the 1800s, it was made in the sugar cane fields as a way for workers to cool off and rehydrate. They would top ice shaved from blocks with fruit juice. Through the years, it's morphed into the iconic Hawaiian dessert treat it is today. So, if you're looking for the best shave ice in the world, you've come to the right place!
What kind of payment do shave ice stands take?
These days, most stands accept both cash and credit cards. But it's always good to carry cash with you while you're in Maui. And smaller stands might only take cash, especially if you're in more isolated areas.
Does shave ice contain artificial colors?
Added artificial colors are a concern for a lot of parents when it comes to their children. If you want to stay away from dyes, steer clear of more vague flavored syrups, like Tiger's Blood or Pink Lemonade. Instead, go with fresh fruit toppings. If anything, you can always ask!
What is the most well liked shave ice flavor?
There are a variety of popular flavors for this refreshing treat; however, blue raspberry, cotton candy, cherry, pineapple, mango, and lychee are the more famous flavors in Hawaii.
Best Shave Ice in Maui Wrap Up
We hope you enjoyed this roundup of the best Maui shave ice spots! If you're looking for more Maui travel content, be sure to check out our other blog posts. You never know what we'll uncover next about Hawaii's most popular island!