One of the biggest food trends to hit the mainland is Hawaiian poke. Find out the places to find the best poke on Maui! Scroll to see all the places!
This best poke on Maui post contains affiliate links which means if you purchase something from one of my affiliate links, I may earn a small commission that goes back into maintaining this blog.
Poke bowls are a very traditional Hawaiian food that you might have tried before where you live. You have to try the real thing when you're visiting the Hawaiian Islands! So, keep reading for where to find the best poke on Maui.
What is Hawaiian Poke?
If you love seafood and don't mind it being raw, you have to try Hawaiian poke. Poke literally means "chunks" in Hawaiian! That's because the star of the dish is chunks of raw fish.
It's mixed with a variety of local seasonings, including seaweed, Hawaiian sea salt, and rice vinegar. And some combination of soy sauce, ponzu sauce, and spicy mayo are usually in the mix.
Traditionally, poke is made from raw ahi tuna. But nowadays, you can find just about any fish or seafood, like salmon and squid! And you don't have to eat it raw! If you prefer, you can get cooked shrimp or even tofu.
Poke is easy to find because it's a traditional Hawaiian food that many love to eat daily. It's also easy to travel with and often comes in to-go containers.
Don't have time to read a bunch of Hawaii blog posts and reviews? Here are some of our top picks for visiting Maui.
Popular Maui Tours/Activities
Favorite Maui Resorts/Hotels
Andaz Maui (this is a luxury resort with the best luau on Maui)
Honua Kai Resort & Spa (this is one of our personal favorites because there are tons of pools and there are condo options)
Want to Rent a Car in Hawaii?
One of the best places to rent a car in Hawaii is Discount Hawaii Car Rental because they get the best rates from top national companies like Alamo, Dollar, Thrifty, Avis, Enterprise, Budget, and Payless.
Want to skip all the planning and just access my detailed Maui Itinerary complete with daily schedules, kid-friendly activities, and travel hacks? Click the button below.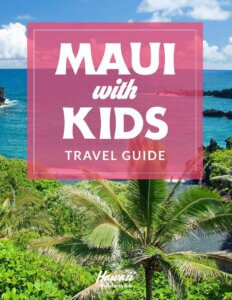 Hawaiian Poke FAQs
What does "poke" mean in Hawaiian?
The Hawaiian word "poke" simply means "chunk." While it's commonly in reference to raw fish, it can also mean chunks of any kind of meat.
Is poke bowl Japanese or Hawaiian?
While poke has roots in Japan, it's definitely Hawaiian. It also uses Japanese seasoning. Poke bowls are fresh rice topped with Hawaiian poke and different complimentary toppings.
Is eating poke safe?
Yes, it's just as safe as eating sushi or sashimi. Just make sure to keep poke refrigerated and eat it when it's fresh.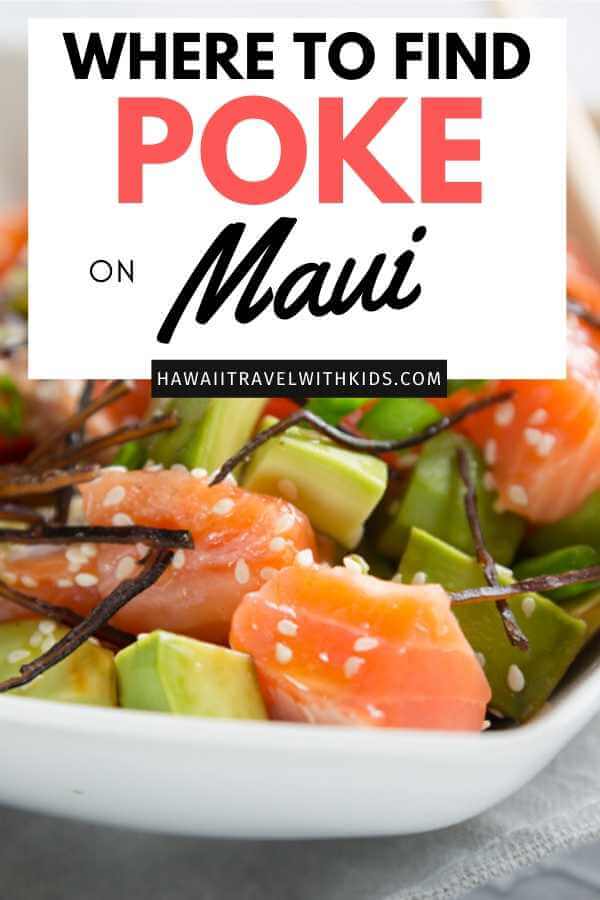 Where to Find the Best Poke on Maui
You can find poke just about anywhere, not just in Hawaii. But if you want the real thing, you have to try poke on Maui and the other Hawaiian Islands.
Just about anywhere you stop in Maui Hawaii, you can try some poke. Yes, even in local supermarkets like Foodland and Safeway! There are also food trucks and restaurants dedicated to the dish.
If you plan to eat poke while in your vacation, here is a list of the places to get the best fresh poke on Maui.
Eskimo Candy Seafood Market & Cafe is located in Kihei, only 2 or 3 blocks from the Main Drag. It offers smoked salmon and other types of fresh seafood for sale. It also makes some of the finest Hawaiian seafood on Maui Island.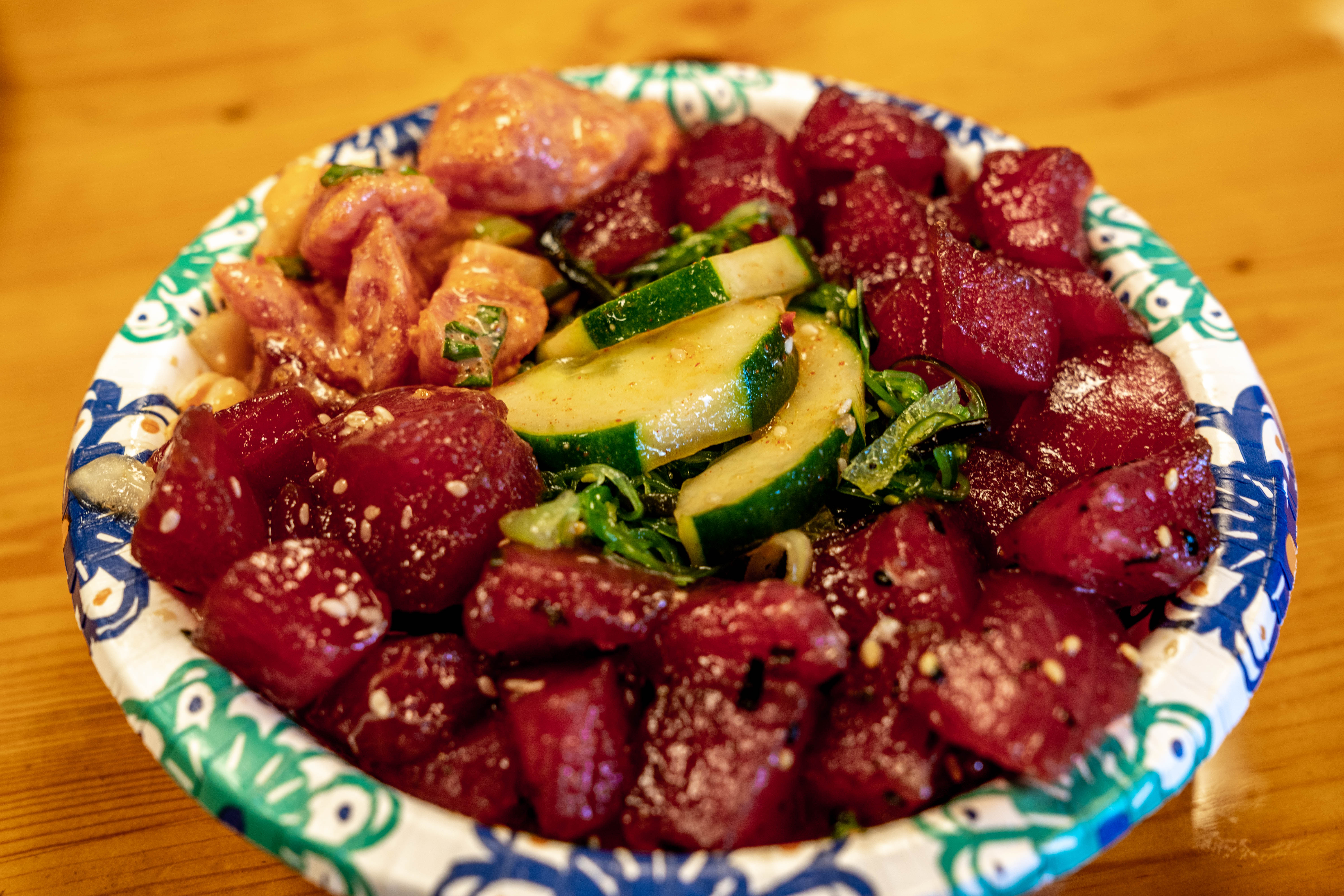 Tourists and locals alike pour in on a regular basis to taste some of the best Maui poke around. They also have shrimp, salmon, scallops, and other delicious dishes on their menu.
The dining-in experience here is actually amazing. The dining space is well designed and beautiful. And the customer service is top-notch!
Like Poke?
"Would you Like Poke?" The answer to this question should always be "Yes, please!"
The "Like Poke?" food truck is on the other side of the street from Costco in Kahului. There's a new food truck park here with a few other vendors and covered picnic tables as well.
View this post on Instagram
"Like Poke?" has one of the best poke menus in Maui. Try poke styles like Shoyu Ginger, Tako Poke, Shoyu Wasabi, and Spicy Ahi.
This truck is usually open for business by 10 AM and sells out by about 12 PM. If they don't sell out, they're open till 2 PM.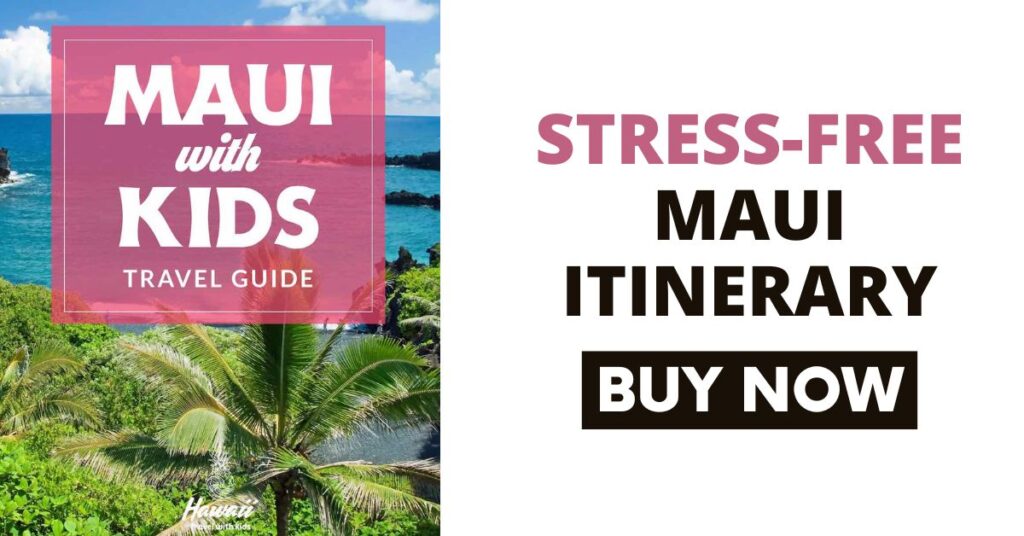 South Maui Fish Company can be found at the Aloha Open Market on South Kihei Road. I think this is one of Maui's best food trucks.
They catch all their seafood themselves! And they make their own unique takes on classic Hawaiian foods. They offer two types of poke: ceviche and fish tacos.
If you want to eat at South Maui Fish Company, they have an outdoor seating area which is comfortable and has its own beach partition. You can also purchase fresh seafood from the truck, market-style.
Tamura's is a specialty grocer with 2 locations: one in Lahaina and one in Kihei. Both locations sell a wide range of every day items, but also poke!
View this post on Instagram
The grocer has an expansive and tasty selection of poke. I recommend the Shoyu Tako (octopus) poke, Seaweed poke, and Hawaiian-style Ahi poke.
They offer takeout only. So Tamura's is perfect to swing by and up on your way home or to the beach with friends.
TJ's Warehouse Outlet is located in Wailuku and offers a large variety of products made locally and internationally. They also stock fresh foods and some of the best poke on Maui.
View this post on Instagram
Besides poke, but their menu includes delicious salads, bento boxes, fried rice, shave ice, and more.
Takamiya Market is another retail company located in Wailuku. The grocery has been serving locals some of the best poke in Maui since 1946! They're popular for their creative poke and mini-Bento boxes.
The market has a large group of regulars who can't get enough of their fun Taco Poke and Spicy Ahi Tuna. For people in your group who aren't into seafood, they offer yummy pork, beef, and chicken dishes.
Sample the Absolute Best Poke on Maui
For seafood lovers, Poke is a must-have food to eat during your stay in Hawaii.
While you can get poke almost anywhere in Maui, it can be overwhelming to figure out where to go! Trust this poke enthusiast when I tell you that this is where to find the best poke in Maui.
Stop by one of these places for the best poke on Maui during your next visit; you will not be disappointed!