Looking for a fun Oahu adventure? Scroll to see 4 of the best spots for kayaking Oahu plus the best Oahu kayaking tours.
This kayaking on Oahu post contains affiliate links which means if you purchase something from one of my affiliate links, I may earn a small commission that goes back into maintaining this blog.
Kayaking is a low impact sport that doesn't require much skill, making it a great way to take in Hawaii's sights! There are many great spots for kayaking on Oahu with varying levels of difficulty.
A kayak tour is a must on your trip to Oahu, whether it's self-guided or lead by an expert. Below, you'll read about the 4 best Oahu kayaking spots for all skill levels. I hope this post inspires you to plan an Oahu kayaking trip!
And be sure to read our top 101 things to do in Oahu with kids!
Don't have time to read a bunch of Hawaii blog posts and reviews? Here are some of our top picks for visiting Oahu.
Popular Oahu Tours/Activities
Favorite Oahu Resorts/Hotels
Want to Rent a Car in Hawaii?
One of the best places to rent a car in Hawaii is Discount Hawaii Car Rental because they get the best rates from top national companies like Alamo, Dollar, Thrifty, Avis, Enterprise, Budget, and Payless.
Want to skip all the planning and just access my detailed Oahu Itinerary complete with daily schedules, kid-friendly activities, and travel hacks? Click the button below.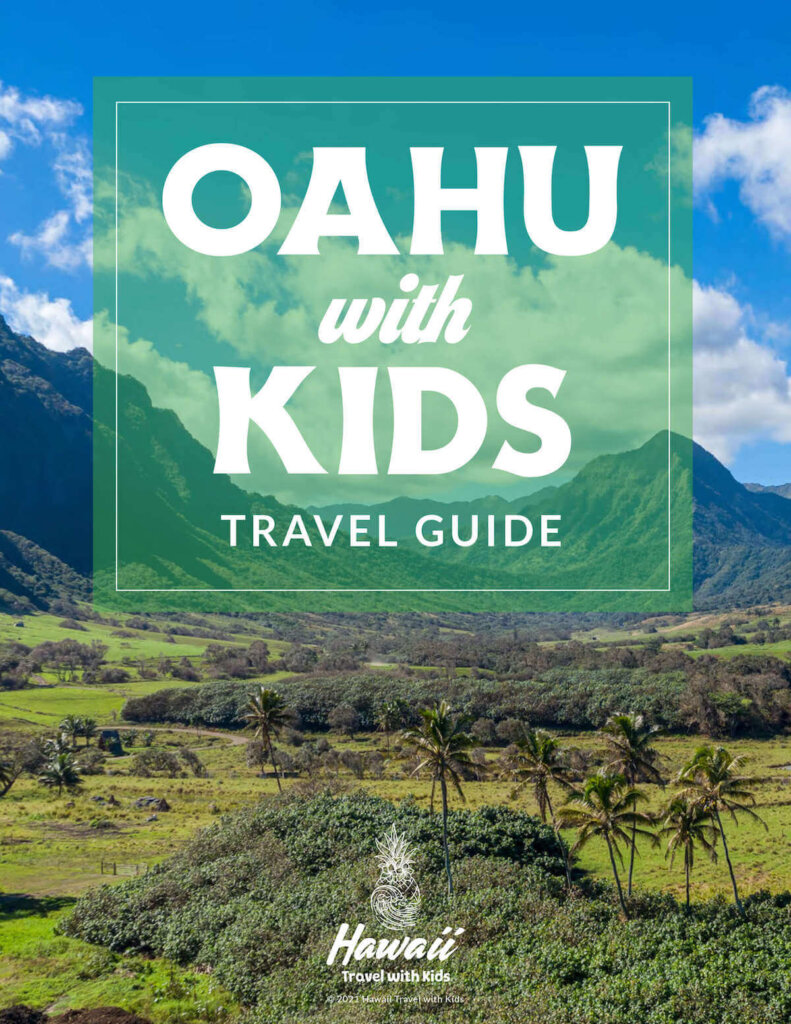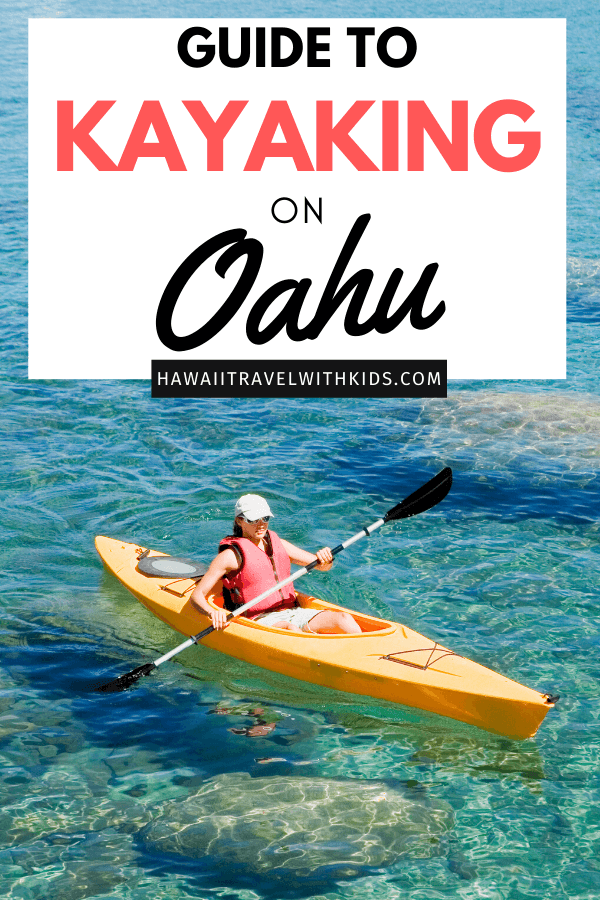 The Basics on Kayaking in Oahu
The island of Oahu is home to almost 1 million people, making up two-thirds of Hawaii's total population. It's a hotspot for tourism, with beautiful beaches and attractions to keep a family busy for days.
Since Honolulu is on Oahu, it's a mostly metropolitan island, with public transportation and fun things to do. You can indulge in a spectacular Hawaiian vacation without seeing the other islands!
Also because of this, you can find several different companies and rental shops across the island, but especially in Honolulu. They'll offer things like surf lessons, kayak tours, and rentals for different paddle sports.
You can use your own kayaks or rent them, usually for the hour or the day. And a lot of hotels and vacation rentals in Oahu provide complimentary kayaks and all the gear you'll need!
Not only is kayaking a great way to see Oahu, but anyone can do it. Kids and adults alike can enjoy kayaking. Plus, it's easy on the joints. So even if you have physical limitations, you might be able to kayak in Oahu!
When it comes to where to kayak on Oahu, I suggest sticking to calmer waters. This will most likely be along Oahu's Windward Coast, which is the northern-northeastern side of the island.
The Windward Coast is going to be safest for inexperienced kayakers. But even more experienced kayakers may feel more comfortable on the windward side, as well. All of the places I've chosen for kayaking on Oahu are on this side of the island.
Top 4 Places for Kayaking on Oahu
1. Kaneohe Bay
Kaneohe Bay is a body of water near the city of Kaneohe on Oahu's northeastern shore. It's a great place to take beginners on their first kayak Oahu adventure. And it's probably some of the best kayaking in Oahu.
The water in the bay is very calm because it's protected by a barrier reef, which blocks off much of the ocean current. You'll also see plenty of sea creatures on your kayaking journey due to the barrier reef's proximity to the bay!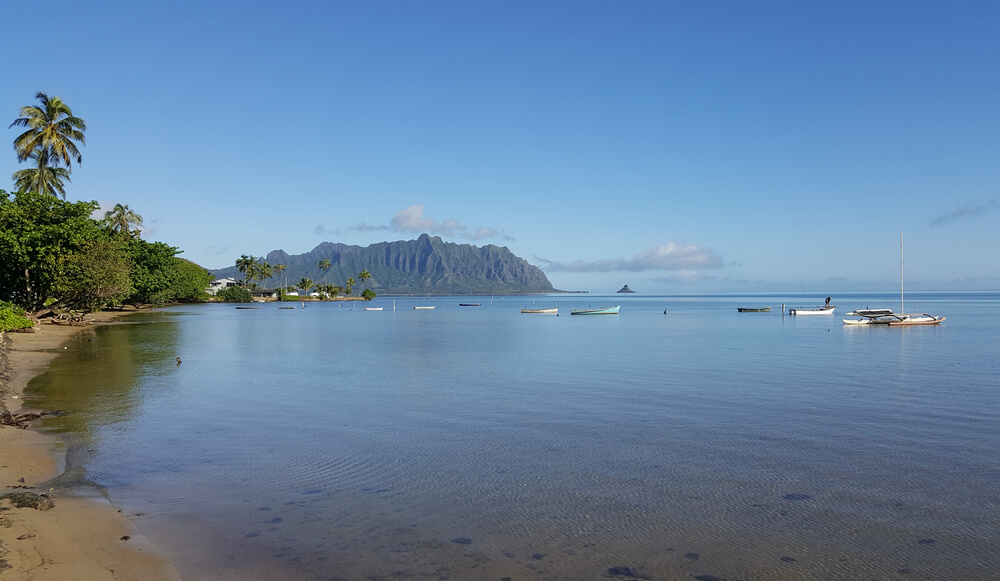 From Kaneohe Bay, kayakers of all skill levels can easily get to Sunken Island and Coconut Island. And yes, this is the same Coconut Island that Gilligan's Island was filmed on!
Kaneohe Bay is a kayaking spot that can be enjoyed by people of all ages. While your kids are busy playing in the water, the adults can come up with some clever references for your social media posts. After all, what would a trip to Hawaii be without some Instagram photos?
If you don't have your own kayak, you can rent one near Kaneohe Bay. And when you go with the rental company in the link, you'll receive a safety orientation from a certified instructor. They also rent out stand-up paddle boards or snorkeling equipment.
2. Kailua Beach/Lanikai Beach
Another Winward Coast location that's great for a family kayaking trip is Kailua Beach. Plus, it's far enough south that it's easy to get to from Waikiki and Honolulu. This makes it popular for tours that offer transportation from your hotel
When you kayak at Kailua Beach, it's easy to paddle to a few other small islets, like Popoia Island (or Flat Island). This tiny island in Kailua Bay is a bird sanctuary, so it's a great to see local wildlife.
However, if you're kayaking with kids, you might not want to travel beyond Flat Island. A lot of people like to go further out to Mokulua Islands. It's a pretty long trip, and waves get pretty rough before you reach the islands.
If you do decide to do a kayak adventure to the Mokulua Islands, prepare for a long, yet rewarding journey!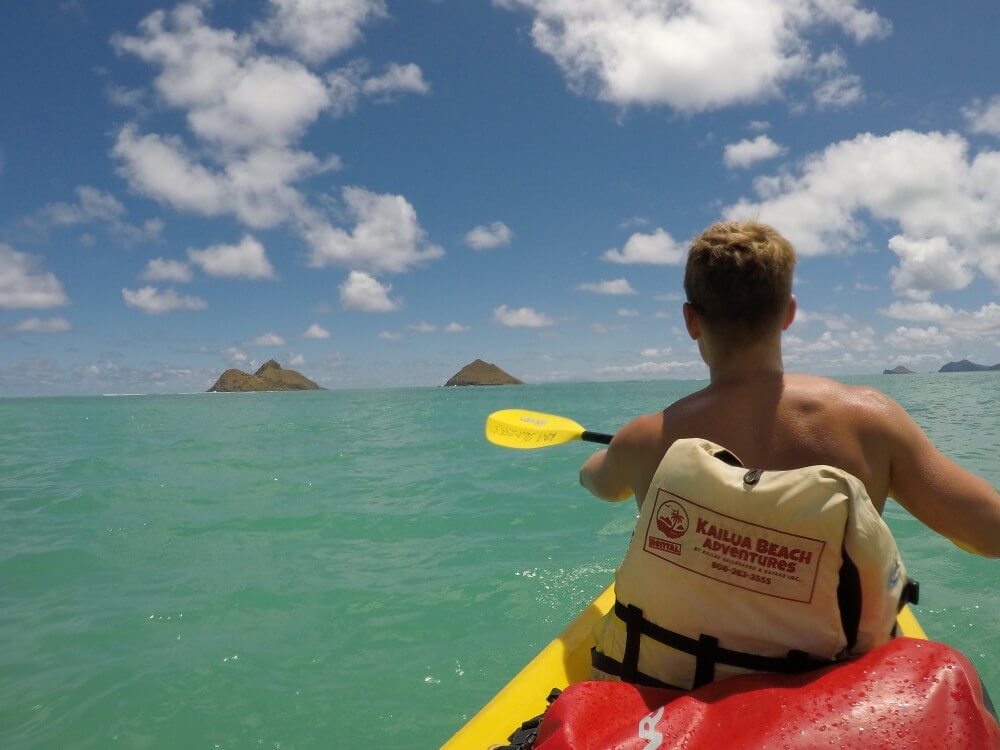 If you need kayak rentals, I suggest going with Kailua Beach Adventures. They're within walking distance of the beach. You can opt to rent their kayaks for a self-guided adventure, but they also offer guided kayaking tours in Kailua Bay.
I like thier tours because they pick you up from Waikiki! From there, you'll choose between a half-day journey or a shorter 2-hour trip.
Kailua Beach Adventures also offers a kayaking tour that include a snorkeling excursion, if you're interested in snorkeling! There are lots of great Oahu kayak tours to pick from.
From Kailua Beach, kayak about 30-minutes east to the next beach over, Lanakai Beach. You and your family could easily spend the entire day at Lanikai Beach, with its soft sand and peaceful waters.
Beach day trips are common for kayakers, which is why several companies, including Hawaii Beach Time offer beach rental packages to tourists. They have a value package includes beach chairs, umbrellas, a cooler with ice, and a double kayak for 4 hours.
3. Kahana Bay
Take the scenic route by kayaking in Kahana Bay!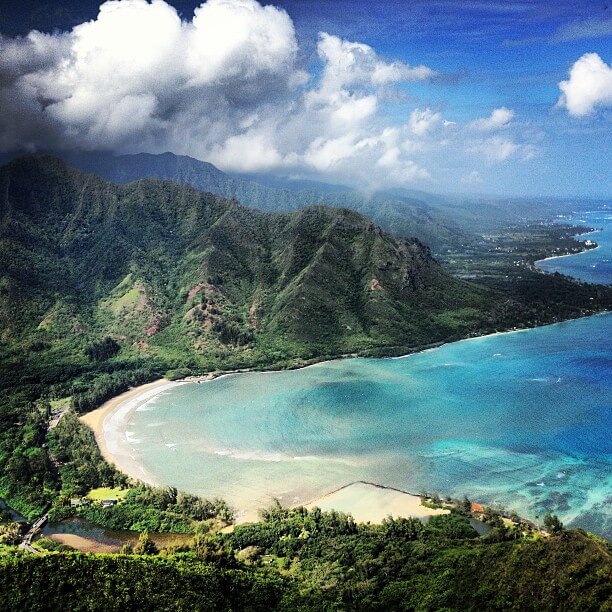 From the water, you'll enjoy picturesque views of the Ko'olau mountain range and a tropical rainforest. The area is thriving with diverse species, like monk seals and sea turtles. You may even see a humpback whale further offshore!
Since Kahana Bay is on the Windward Coast of Oahu, a kayaking journey will be relatively easy. You can follow the coastline and make a round-trip route is about 2-hours long, providing more of a challenge for experienced kayakers.
Since there's so much to see on this adventure, you might wind up spending more time on the water taking photos!
There are several rental companies that serve the Kahana Bay area, offering self-guided tour packages.
Active Oahu Tours is a great pick. They provide kayaks, life vests, and other kayaking equipment. But you'll need to plan travel, because they don't provide transportation to and from Kahana Bay.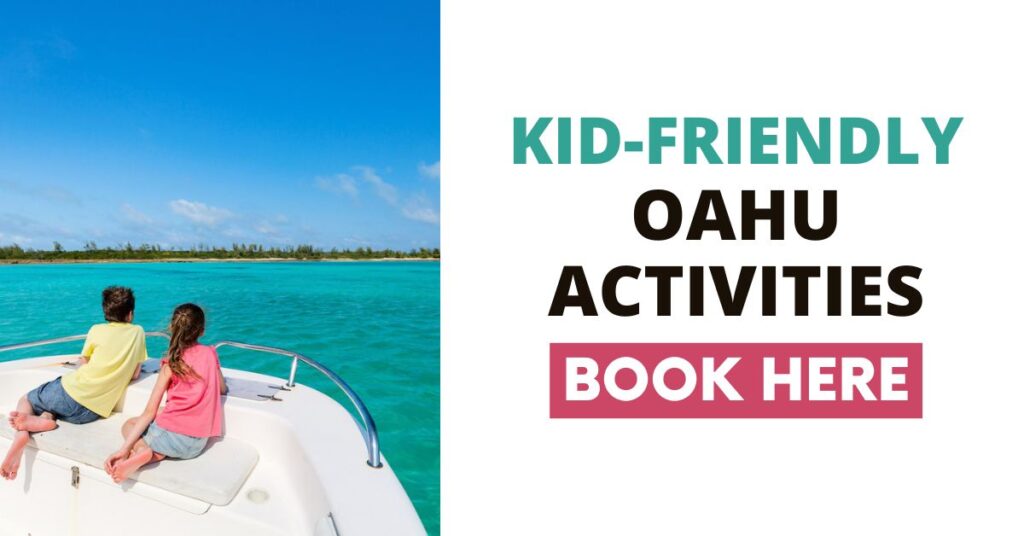 4. Haleiwa Beach Park
If you're interested in kayaking North Shore Oahu, Haleiwa Beach Park is a fabulous place to start.
Several kayaking spots on Oahu are home to sea turtles, but that doesn't guarantee you'll see any. Haleiwa Beach Park is an exception, with many turtles in plain sight!
To see even more, take a glass-bottom kayak along the Anahulu River at Haleiwa Harbor!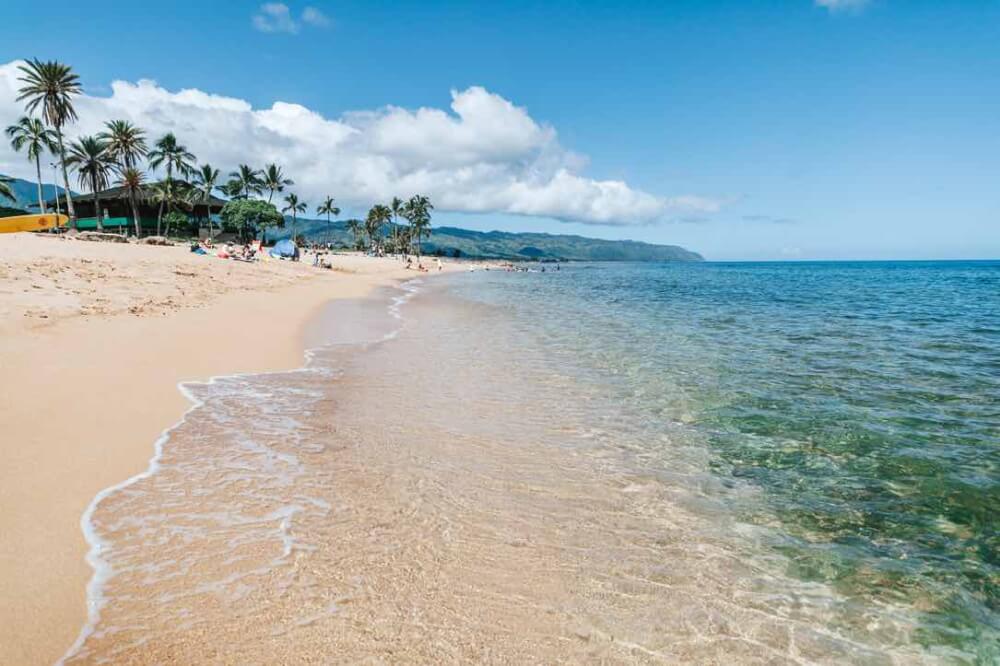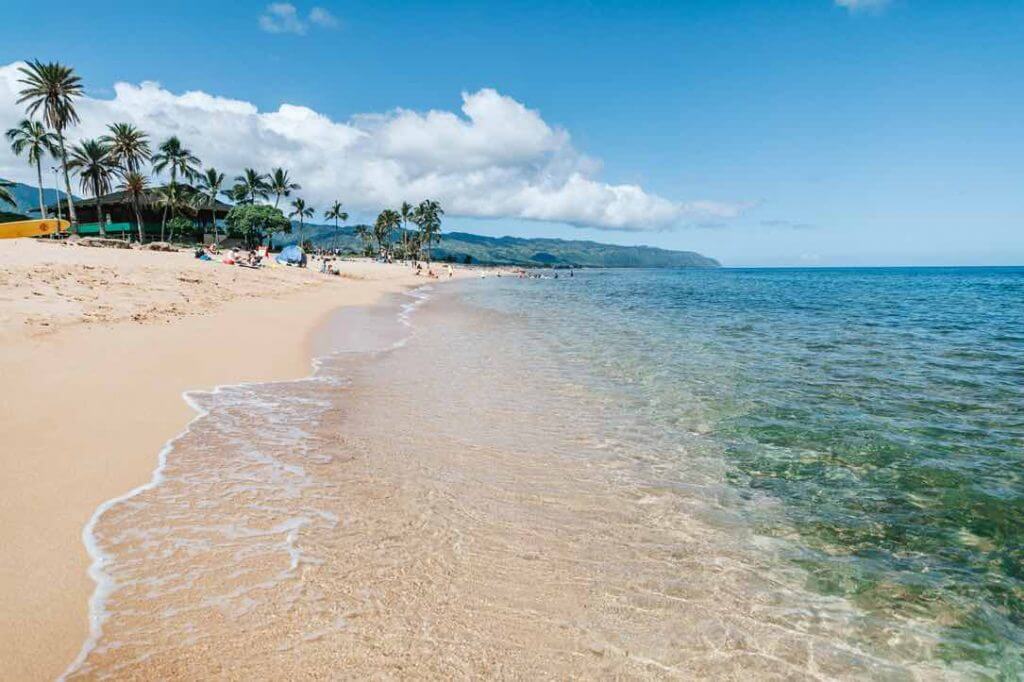 Start your 1.5-hour-long journey at Haleiwa Beach Park, where you'll find plenty of convenient parking spots.
As you paddle in the bay, you'll get a great view of Mt. Ka'ala, beautiful homes, and fellow kayakers. And don't worry, the river is wide enough for multiple boaters.
The currents can make a kayaking adventure on Anahulu River a bit challenging, so this spot is recommended for intermediate-level kayakers.
If you feel safer with a guide, Hawaii Activities offers turtle watching tours in glass kayaks that lasts about 2 hours.
Alternatively, you can rent a kayak for just $10/hour at Surf n Sea in Haleiwa. The knowledgeable shop staff will fill you in on the water conditions before you head out.
Kayaking on Oahu: The Best Guided Oahu Kayak Tours
Kayaking Tour of Kailua Bay with Lunch
During this half-day eco-adventure, paddle out to Popoia Island (Flat Island) or the Mokulua Islands to enjoy stunning island views from the water. Check out the latest prices and more details.
Guests can snorkel with green sea turtles at Lanikai and visit bird sanctuaries before enjoying a relaxing lunch on the beach.
This small-group tour includes round-trip transportation from select Waikiki hotels, all kayaking and snorkeling equipment, and lunch.
Get your discounted Kayak Tour of Kailua Bay tickets
2-Hour Guided Kayaking Excursion
This guided kayaking tour takes you to prime locations in Kailua Bay, with the Koʻolau Mountain Range and its dormant volcanoes as a backdrop. Check out the latest prices and more details.
After lunch, you'll have access to boogie boards, snorkeling gear, and shower facilities.
Get your discounted 2-Hour Guided Kayaking Excursion tickets
Twin Islands Guided Kayak Tour
Take a 5-hour kayak tour of Kailua and Lanikai beaches. The tour includes visits to the Twin Island bird sanctuary, tide pools, and snorkeling above live coral reefs. Find the best prices here.
The tour includes a break for a fresh picnic lunch, and your naturalist guide provides context and insights about the surroundings.
Get your discounted Twin Islands Guided Kayak Tour tickets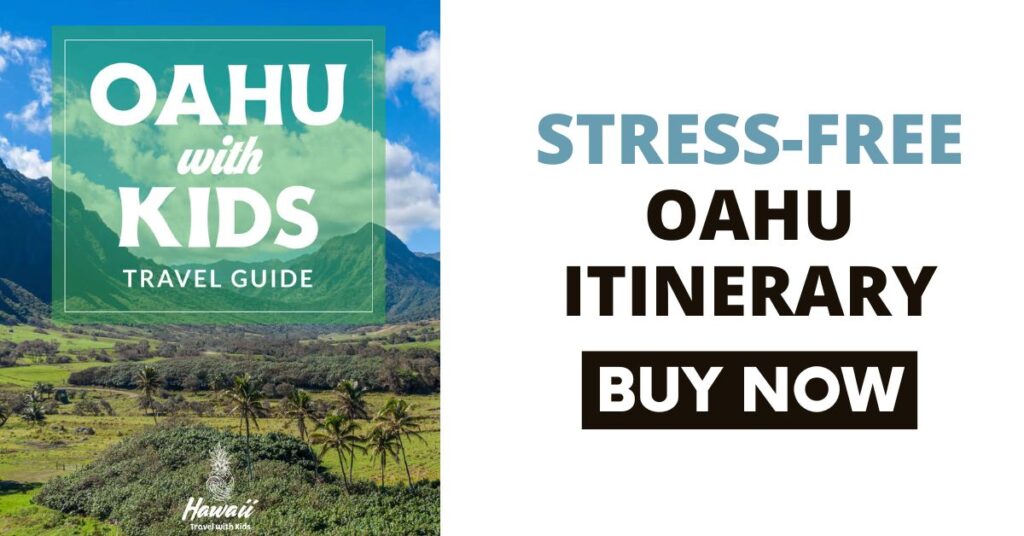 Top Questions About Kayaking in Oahu
Where can I kayak on Oahu?
You can kayak in various rivers as well as the ocean. My pick for the top Oahu kayaking spots are Kaneohe Bay, Kailua Beach, Lanikai Beach, Kahana Bay, and Haleiwa State Park.
What do you wear for kayaking in Hawaii?
The most important thing to wear on your Oahu kayaking adventure is a life jacket. If you're kayaking with kids, be sure to check out these kids life jackets before you go. Also consider UV-protected clothing (like a rashguard) and swimwear in case you get wet! Other protective items like a sun hat, water shoes, and sunglasses are good ideas.
Do you get wet kayaking?
Yep. From getting in and out of your kayak to paddling over waves, there's a really good chance you'll get wet at some point! And if you are kayaking with kids, there's a really good chance they will splash you (either on purpose or accidentally) at least once.
Hiking on Oahu
If you're heading to Oahu with kids and want to explore the island a bit more, try one of these easy Oahu hikes. Or experience an incredible waterfall hike.
You can also try one of the more intense North Shore Oahu hikes that are for intermediate or advanced hikers.
Snorkeling on Oahu
If you want to see more of the amazing Oahu tropical fish and sea creatures, you should do some snorkeling! These are some of the best places to snorkel on Oahu.
And if you want to see Hawaiian Sea Turtles, head to Turtle Beach! It's one of the best Oahu adventures!
Make Memories While Kayaking on Oahu
Whether you're an experienced kayaker or you've never paddled before, kayaking on Oahu will become one of the highlights of your vacation.
Picking the right launch spots can turn a basic activity into an incredible journey through Hawaii's turquoise waters. Remember to bring sunglasses, sunblock and plenty of water!