Planning to do some epic hiking on Oahu? You won't believe these amazing North Shore Oahu hikes for families. Scroll down to see them all!
This North Shore Oahu Hikes post was written by Hawaii travel expert Marcie Cheung and contains affiliate links which means if you purchase something from one of my affiliate links, I may earn a small commission that goes back into maintaining this blog.
Ready to explore the beauty of Hawaii?
North Shore Oahu is one of the most beautiful areas on the island and is a must-see for any visitor. With plenty of incredible hikes on the North Shore of Oahu to choose from, you could spend all your time here!
Families will love these easy and fun North Shore Oahu hikes that are perfect for exploring the area. You'll get to see some amazing sights and make unforgettable memories during your trip.
Here are the best North Shore Oahu hikes for families to enjoy during their trip to Hawaii!
Don't have time to read a bunch of Hawaii blog posts and reviews? Here are some of our top picks for visiting Oahu with kids.
Best Kid-Friendly Oahu Tours/Activities
Best Kid-Friendly Oahu Resorts
Want to Rent a Car in Hawaii?
One of the best places to rent a car in Hawaii is Discount Hawaii Car Rental because they get the best rates from top national companies like Alamo, Dollar, Thrifty, Avis, Enterprise, Budget, and Payless.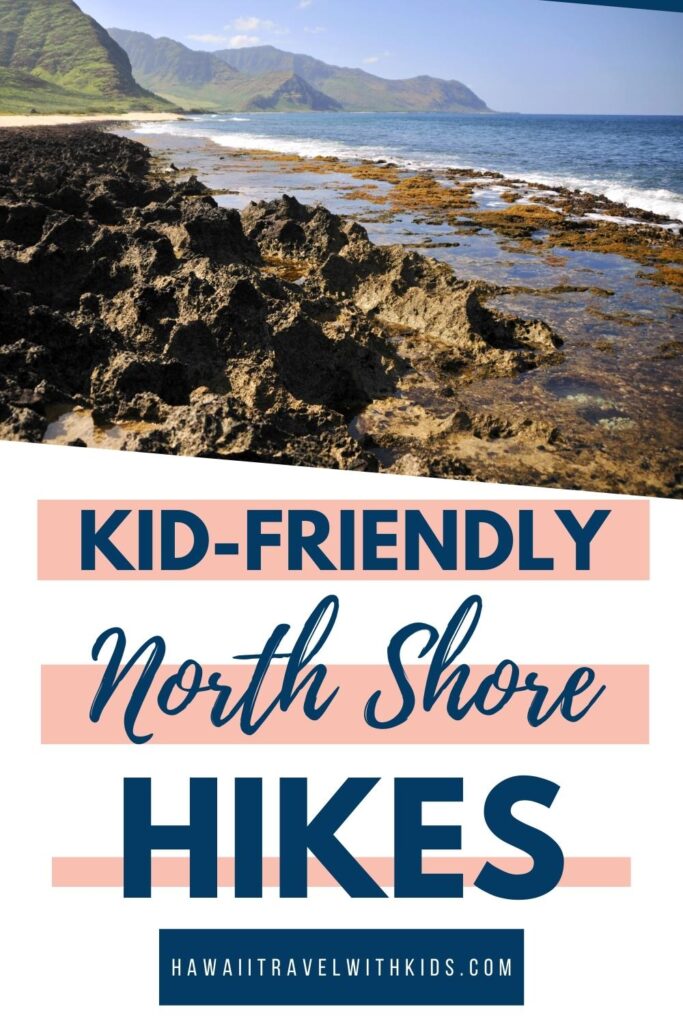 Best North Shore Oahu Hikes for Families
These are some of the best hikes on the North Shore the entire family can enjoy! From easy trails to gorgeous waterfalls, North Shore hiking is such a great activity to do during your stay in Oahu.
Waimea Falls
Waimea Falls is one of the best hikes in North Shore Oahu and is a great one for kids to enjoy as well. It is three and a half miles, is mostly paved, and is stroller-friendly!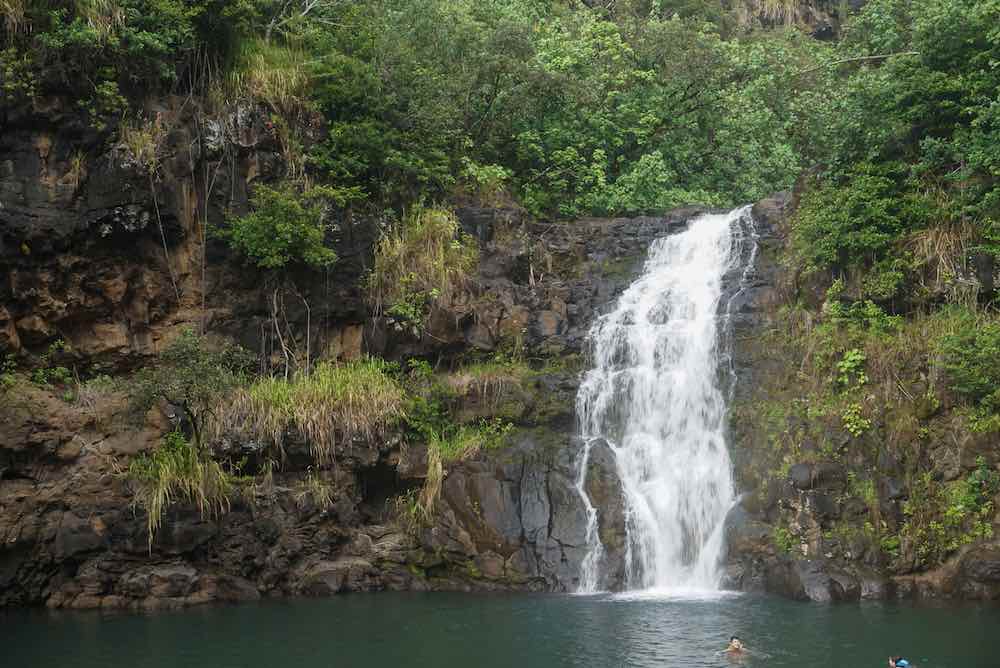 It is also one of the only waterfalls in North Shore Oahu that is easy for kids to get to, so you will want to visit here at least once.
If you have really young kids and want to see the waterfall but don't think you can handle the hike, there is also a shuttle that will take you to the top. That is another one of the great features of this waterfall hike North Shore Oahu offers.
This hike takes you through the stunning gardens and will also show you plenty of historical sites as well.
When you arrive at the top, you will see a gorgeous 45-foot waterfall! If weather conditions allow, you can cool off from your hike in the water. There are life vests for you to use free of charge by the lifeguard.
The only downside to this hike is that there is a small admission fee. It isn't very much, and there are plenty of other fun things to do here. The fee goes to help maintain Waimea Valley.
This is one of the best North Shore Oahu waterfall hikes you can go on, so it is worth it! I think it is the best hike on Oahu for families to enjoy.
Check out these other breathtaking Oahu waterfalls!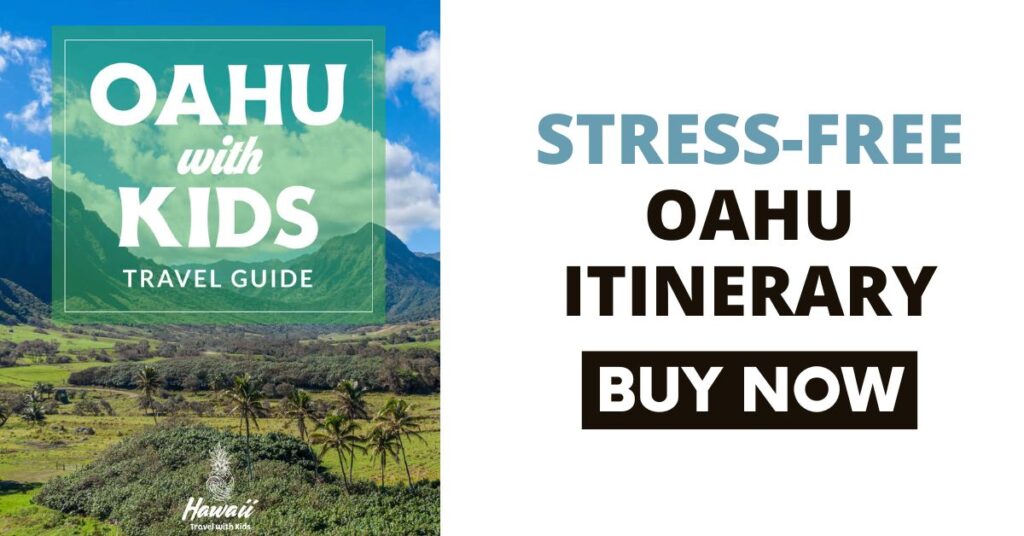 Turtle Bay Trails
The Turtle Bay Trails are all family-friendly, and some paths are even stroller-friendly! You do not have to be staying at the Turtle Bay Resort to go on their trails, either.
The trails are not technically hikes but more paths to enjoy taking in the beauty without strenuous effort, making them the best hiking trails in Hawaii for kids!
There are a variety of trails to choose from, ranging from half a mile to three miles. Along the trail, there is Keiki Cove, which is the perfect beach for little ones to enjoy. The water is shallow and calm.
One of the trails will lead to the WWII pillbox right out by the ocean. It is one of the only Pillbox hike North Shore offers. Another one will take you to the famous banyan tree, which has been in a few movies. You can end up at Kahuku Point too!
With all the different paths you can go on, these are some of the easy hikes on Oahu for kids you will want to try out during your trip here.
Kaena Point Trail
This North Shore hiking trail is around 5 miles round trip and is another great one for families to enjoy. It is at the end of the road along the North Shore and is quite beautiful. It is the best hike in Oahu's North Shore for stunning views and some great elevation gain.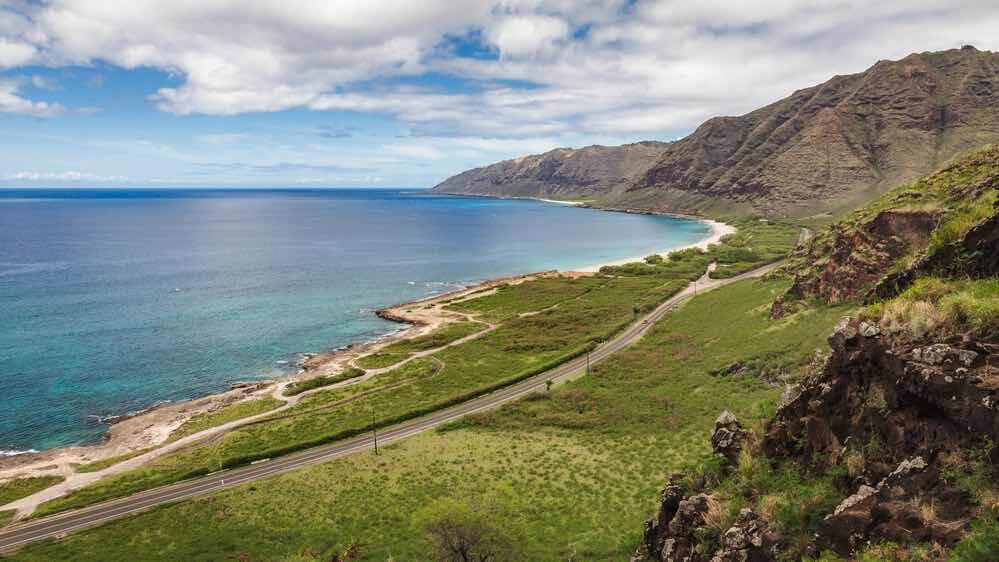 It is not stroller-friendly, and because it is long, you might want to go on this hike with older kids or not do the entire hike with toddlers.
You will get to walk along the beach and take in some natural beauty of Hawaii with the isolated beaches. At the end of the trail, you can go into the Natural Area Reserve, a sanctuary for birds and exotic plants.
There are sand dunes along the way, but it is mainly a flat hike. You might see some seals, whales during the wintertime, tidepools, and blowholes!
It is one of the best hiking trails in Oahu that North Shore hikers love to do! Check out my full guide to hiking Kaena Point.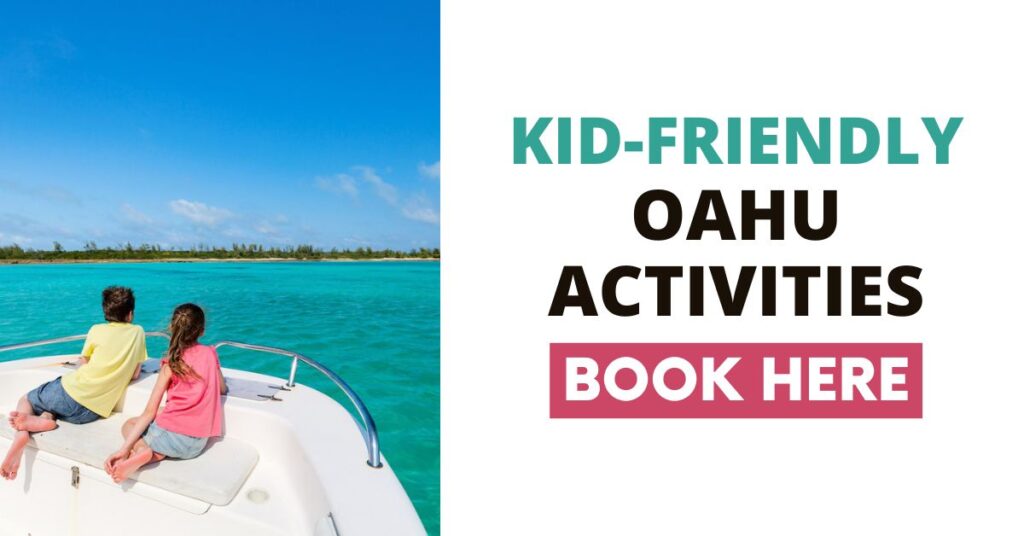 Ehukai Pillbox Hike
If you want to go hiking on the North Shore Oahu with older kids and need more of a challenge, try Ehukai Pillbox Hike, also known as Sunset Pillbox Trail. It is another great North Shore Pillbox hike.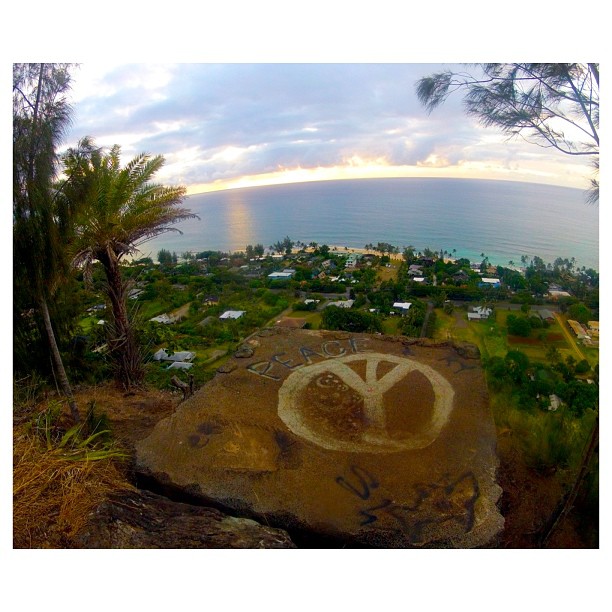 This hike is definitely not stroller-friendly and has a steep incline, so it is a challenging hike so it won't be good for toddlers either.
This is one of the North Shore Oahu hikes that are not as crowded as the Lanikai Pillbox Trail, which is nice for families to hike together without too many people around.
It is also shaded in a lot of areas as well. It takes a couple of miles to reach the top and has a few stopping points to get a break along the way.
You will see two pillboxes along the trail and incredible North Shore ocean views. It is definitely not easy and might be hard for younger children, but if your family is up for an adventure, try this trail along Oahu's North Shore!
It offers incredible North Shore views and is another one of the top hikes in Oahu.
Kaiaka Bay Trail
Another one of the best North Shore Oahu hikes for kids is the Kaiaka Bay Trail. This is a very simple trail that is super easy to do and will not take long at all. It is half a mile loop that takes you along a lava and coral beach.
This is a short, nice trail for families with small children and is right in Haleiwa! If you are short on time but want to walk for a bit with your children, try the Kaiaka Bay Trail!
It is another one of the great hiking trails North Shore Oahu offers.
North Shore and Malaekahana Bike Trail
The North Shore Bike Trail is an easy trail mainly used by bikers and runners but is also a great trail for walking to the different beaches along the North Shore. It is in between the road and the beaches and has plenty of shade, with trees and vines growing all around.
If you plan to hop from beach to beach, this is one of the North Shore Oahu hiking trails you can easily do with children, and it is stroller-friendly too. It is more of a walking path, but it is an easy, budget-friendly way to enjoy the greenery and beaches along the North Shore!
Along Kahuku, you will also find the Malaekahana Bike Trail, which will take you from Kahuku and Laie on a paved path that is 8 feet wide. It is stroller friendly and perfect for smaller kids. You will pass by a farm that has horses your children will love to see!
Kapa'ele'ele Ko'a Hiking Trail
The Kapa'ele'ele Ko'a Hiking Trail is another one of the hikes on North Shore Oahu that is kid-friendly. It is right by Kahana Bay and shows a very beautiful view of the bay. It is only a bit over a mile and is not too challenging.
This trail will take you to a Kapa'ele'ele Ko'a, a fishing shrine, and an awesome lookout, Keaniani Kilo. It does offer shade but is a bit narrower and can be muddy if it rains a lot. This hike is probably not best for toddlers but can be great for children five and older.
The hike does end at Kamehameha Highway, so if you are doing it with kids, you might want to go back to the start instead of walking by the highway.
It is another hike North Shore Oahu offers that has a bit more rugged terrain where you might want a walking stick.
Kualoa Regional Park
Another nice, simple trail is at Kualoa Regional Park. It is basically a trail going around the beach park, so it is very easy and stroller-friendly. It is a two-mile loop in total and will have some great views of the Koolau mountain range!
Hau'ula Loop Trail
For more easy hiking in Oahu, try the Hauula Loop Trail. It is a more hidden hike, but it really well-kept! This 2.5-mile hike takes hikers up 800 feet in elevation gain through lush forests.
You will want to hike this trail during the afternoon, so the many trees can provide you with plenty of shade, or else you might sweat and get tired more easily.
The Hauula Loop Trail is one of the easy hikes on Oahu, making it perfect for your family.
Kaunala Trail
If you want a more challenging hike, you will love Kaunala Trail. You will want to start early for this 5-mile hike as it does take some time. It is located right by Sunset Ranch and offers surreal views of the mountains and ocean.
The path might be uneven and slippery at times, like a few hikes on the North Shore, so wear hiking shoes!
Hikes Near North Shore Oahu
There are a few great hikes that are near the North Shore Oahu that are also kid-friendly too!
Old Pali Highway Trail
The Old Pali Highway Trail is located in Kaneohe and is a fun one to do as a family. Because it is the old Pali Highway, a good part of the trail is paved and can be stroller-friendly, too. You can either start down at the Ko'olau Golf Course or from the top at Nu'uanu Pali Lookout.
There are incredible views of the Ko'olau mountains as you walk through luscious green gardens, and there are even some waterfalls on a few of the trails. Some areas are not great for children, but the majority of the hike is just fine. Your family will love hiking here if you are in Kaneohe!
It is another one of the great waterfall hikes North Shore Oahu offers and is one of the best kid-friendly hikes on Oahu too!
Tips for Hiking on North Shore Oahu with Kids
Here are a few tips for going on these best North Shore hikes!
Bring bug spray, as many of the hikes will have tons of bugs!
Make sure to wear a hat and put on sunscreen so you don't get burned.
You will want to bring plenty of water for both you and your children.
If you are hiking with kids, bring snacks. This will keep them happy and excited to continue on.
A lot of the hikes and trails are close to the beach, so wear your swimsuit or pack it and head to the beach afterward to cool off!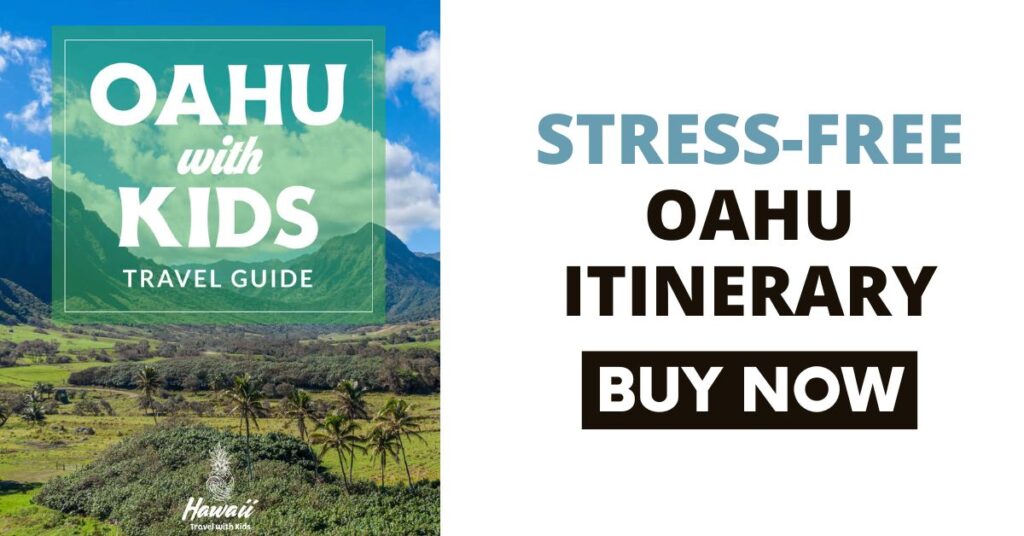 North Shore Hikes FAQs
Is North Shore Oahu kid-friendly? 
North Shore Oahu is definitely kid-friendly! There are countless things to do along this shore, including hiking, going to the PCC, horseback riding, and so much more!
Is crouching lion an illegal hike?
Yes, the crouching lion hike is closed and is considered illegal to go on. The State of Hawaii has signs put up urging people not to go on it.
What is the prettiest hike in Oahu?
I think one of the best hikes on Oahu is the Waimea Valley hike. You are in a lush rainforest, and at the top, you get to see a beautiful waterfall! It is an easy hike with beautiful scenery the entire family will love.
What is hiking North Shore Oahu like?
Hiking Oahu North Shore is quite incredible. You will get amazing views on all the hikes of the North Shore coastline and the mountains as well. There are plenty of great hikes in Oahu North Shore for all hikers too!
What is the easiest hike to a waterfall in Oahu?
Manoa Falls is usually a simple hike to a small waterfall, but the Waimea Valley hike is one of the Oahu North Shore waterfall hikes, and it is not too difficult either.
North Shore Hiking Trails Wrap-Up
Hiking in Oahu doesn't get much better than these Oahu North Shore hikes. Try any of these best hikes North Shore Oahu offers during your next trip, and enjoy any of these popular hikes with your family.
These are the best North Shore Oahu hikes for families to enjoy during their vacation to Hawaii. Whether you try to do them all or go on one, they will add adventure to your trip and will help you make plenty of fun family memories!