Are you looking for some awesome kid friendly hikes on Oahu? These are the top easy Oahu hikes perfect for families!
This list of the best kid friendly hikes on Oahu was written by Hawaii travel expert Marcie Cheung and contains affiliate links which means if you purchase something from one of my affiliate links, I may earn a small commission that goes back into maintaining this blog.
Are you visiting Oahu and want to find the best hikes for kids?
You're in luck! There are plenty of beautiful hikes that are kid-friendly. Here is your guide to finding the best kid-friendly hikes all over Oahu!
We have a list of some great places where you can take your family hiking, as well as tips about what to bring along on each hike.
Hiking also has many health benefits for everyone in your family. Read this blog post to find out more about why you should take your kids hiking while you're visiting Hawaii!
We know how important it is for parents to have an amazing experience when they travel, so we want to help make sure that happens by giving you some great ideas on where to go and what trails might be good for families like yours. Let us help make your trip unforgettable!
And if you need more inspiration, check out our blog posts about other fun things to do with kids on Oahu!
Don't have time to read a bunch of Hawaii blog posts and reviews? Here are some of our top picks for visiting Oahu with kids.
Best Kid-Friendly Oahu Tours/Activities
Best Kid-Friendly Oahu Resorts
Want to Rent a Car in Hawaii?
One of the best places to rent a car in Hawaii is Discount Hawaii Car Rental because they get the best rates from top national companies like Alamo, Dollar, Thrifty, Avis, Enterprise, Budget, and Payless.
Want to skip all the planning and just access my detailed Oahu Itinerary complete with daily schedules, kid-friendly activities, and travel hacks? Click the button below.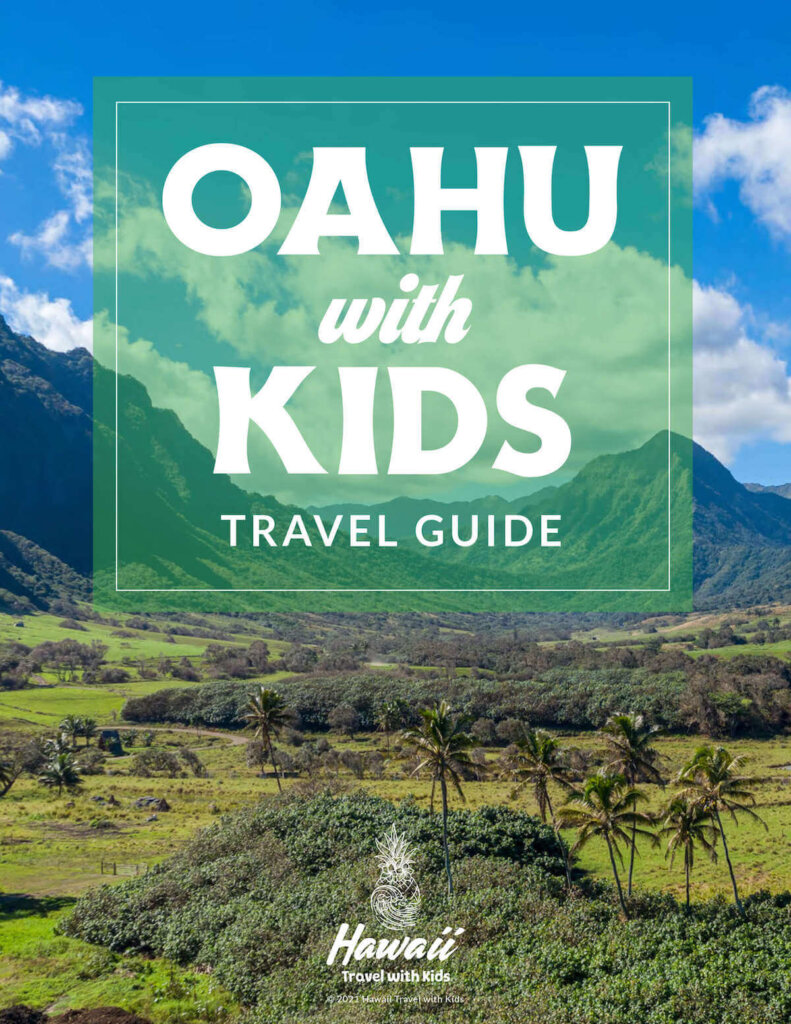 Oahu Hiking FAQS
Can a 4-year-old hike Diamond Head?
Diamond Head is one of the more popular hikes. It is not too challenging, so a four-year-old should be able to hike it. Be sure to keep a close eye on them, as it does get pretty high up!
When is the best time to hike with kids? 
If you are hiking with little ones, it is probably best to go early in the morning. It is not too hot then, and it will be less crowded so you can take your time and enjoy the scenery and being together as a family.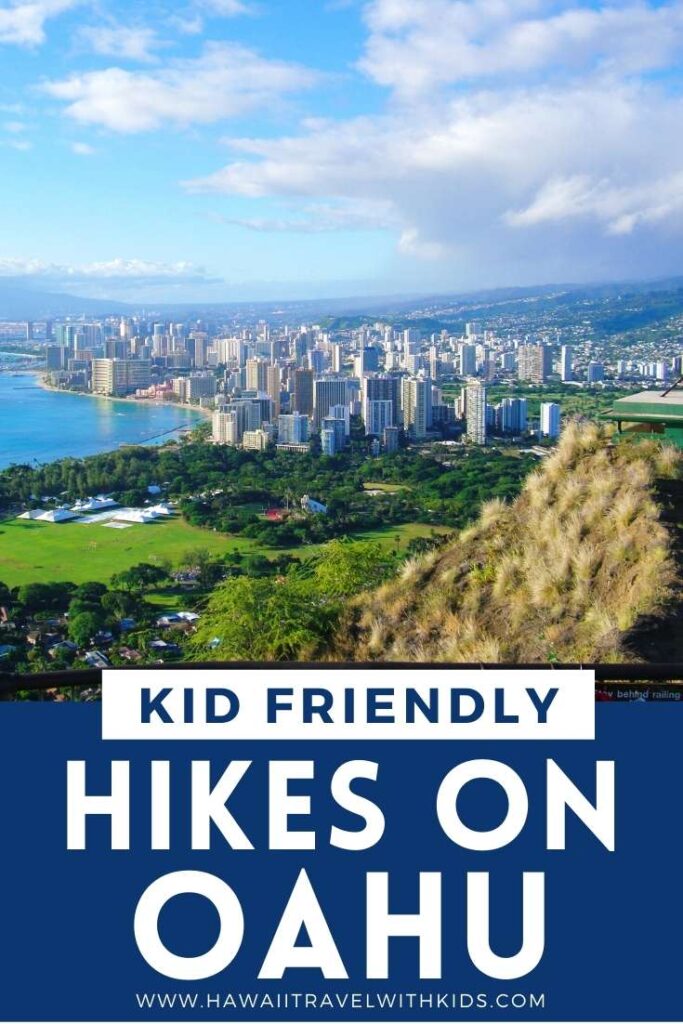 8 Best Kid-Friendly Hikes on Oahu
Here is a list of all the best kid-friendly hikes on Oahu. Many of these you can do with a stroller, too, if you are traveling with infants or toddlers.
Makapu'u Point Lighthouse Trail
Makapu'u Point Lighthouse Trail is one of the easiest hikes in Oahu. This is mainly because it is entirely paved for you! This trail leads you to the lighthouse and allows you to see a pretty stunning view of the ocean.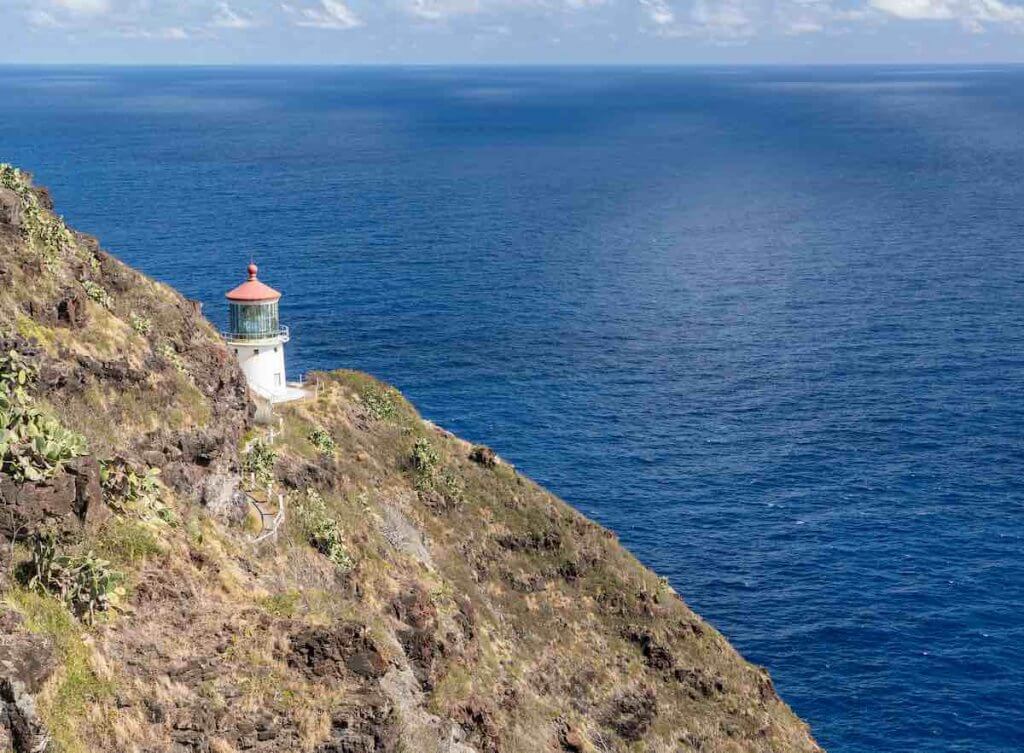 This lighthouse trail is also one of the stroller-friendly hikes in Oahu, so you can even hike it with a little one. You can even hike with a baby carrier and be just fine. I love that this hike has plenty of lookouts along the way up, so you can stop and rest if you want.
Be sure to watch your kids because you will get up to 500 feet elevation, and there are no rails on the side. This hike is two miles round trip and will take around an hour to an hour and a half to hike there and back with kids.
This is one of the short hikes in Oahu, which is why it is perfect for little ones! Check out our full guide to doing the Makapuu Lighthouse hike with kids!
Waimea Valley Falls
Another hike that is stroller friendly and is one of the best waterfall hikes in Oahu is the Waimea Valley Falls. The trail is paved but can get steep in some areas; however, any skill level or age can do this hike.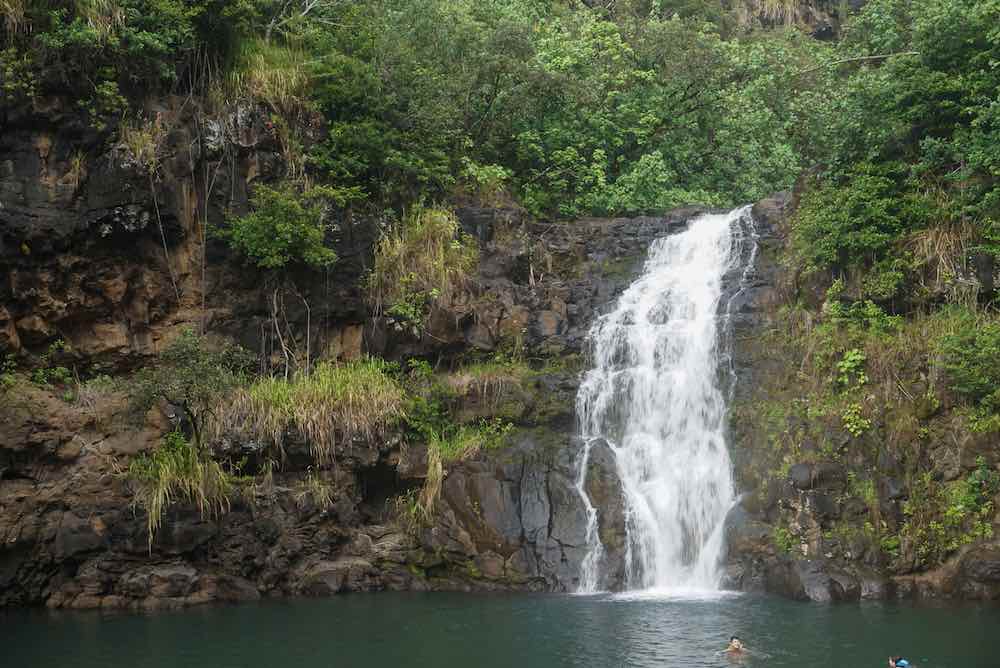 There is an admissions fee to get to this hike, but it is so worth it! Waimea Valley Falls trail is 1.9 miles and leads right to the waterfall. After hiking, you can even swim in the waterfall if the weather permits! There is also a lifeguard there, which helps, especially if you have younger kids.
While it does cost to hike, you will be able to explore everything Waimea Valley offers, including the botanical gardens and many cultural sites. Check out our full guide to Waimea Valley with kids.
Plus, you can get tickets to Toa Luau, one of the best kid-friendly luaus on Oahu. It takes place right at Waimea Valley.
Old Pali Highway Trail
This hike used to be the old Pali Highway, so it is paved for most of the hike and is stroller-friendly. You can enter from two different ways: through the Ko'olau Golf Course at the bottom or from Nu'uanu Pali Lookout at the top.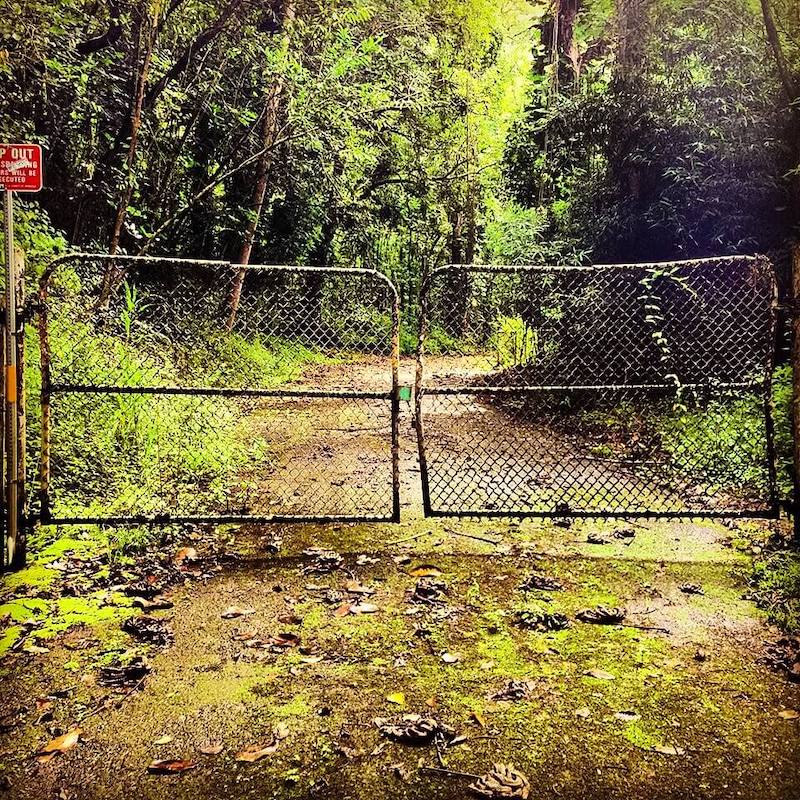 You'll find this hike in Kaneohe. Once you arrive at the top, you will see stunning views of the Ko'olau Mountains. Don't forget your camera for this hike!
There are signs of falling rocks, so you do need to be careful. You'll also see a lot of overgrowths which can make it dark and a little spooky in some areas.
However, it is a fairly easy hike, and you can choose to stay longer and go on a few other paths nearby, such as Likelike Falls or make it a shorter hike so you can explore other parts of Oahu.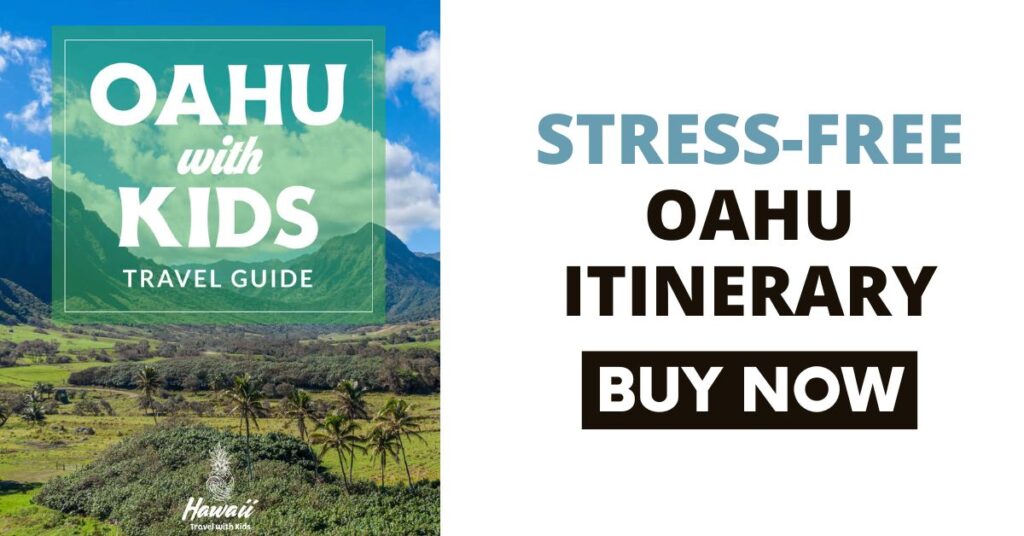 Manoa Falls 
Another one of the best easy hikes in Oahu Hawaii is the Manoa Falls. This Manoa hike is about a mile and a half long through a gorgeous rainforest where you will see nothing but beautiful greenery all around you.
When you arrive at the top, you will find a waterfall! And it's one of the best easy waterfall hikes in Oahu.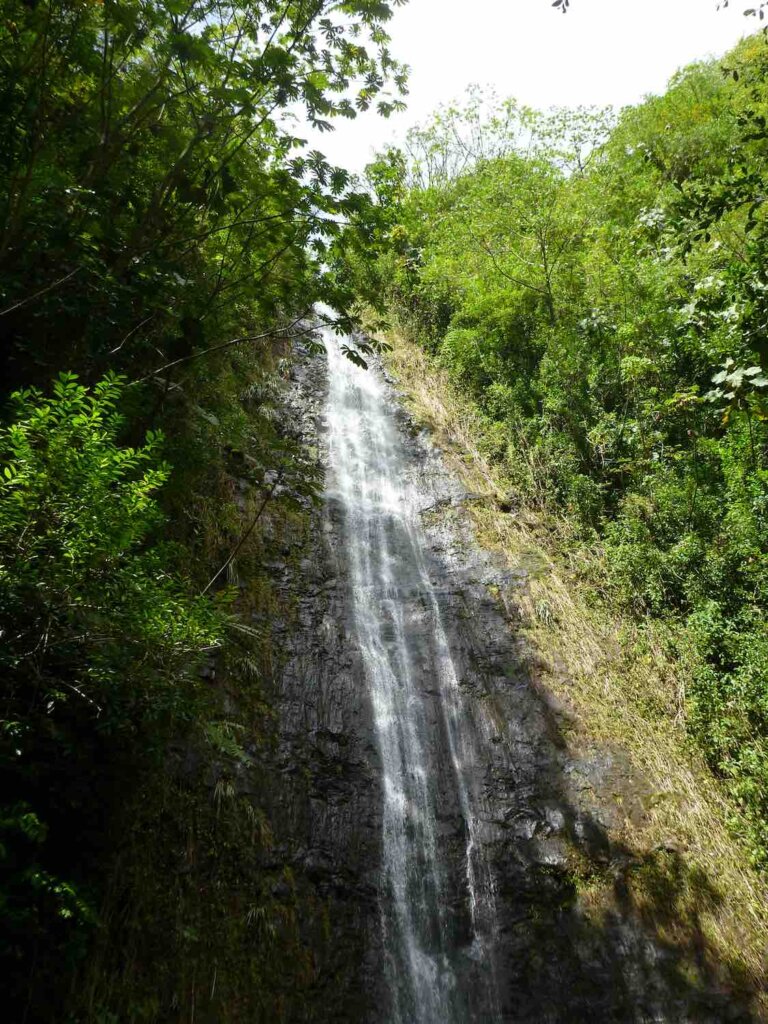 While this is one of the easy hikes in Honolulu, it is not paved, so don't try to bring a stroller. But, kids of all ages can easily do this hike, and you can hike it with a baby carrier as well. Try to find a stick or two for your kids if some parts get a little muddy.
This is one waterfall where you cannot swim in, but it is still worth it to go and see the beauty surrounding it. If there is a lot of rain during your vacation, this hike might have flooding, so it is best to try a different hike.
Manoa Falls is one of the easy hikes near Waikiki that your entire family will love. Get all our top tips for hiking Manoa Falls with kids.
Maili Pillbox
The Pillbox hikes are a little more challenging and very steep, so it probably isn't best to hike these hikes unless your kids are older.
However, the Maili Pillbox hike has a trail that zig-zags up the mountain, which is a lot more kid-friendly than the shorter route up the mountain.
This pillbox hike is on the island's west side and is super colorful. The pillbox is a lot easier to get into than the other pillbox hikes, so kids can go and explore inside if it isn't too crowded.
This hike will take about an hour and a half round trip, especially if you get inside the pillbox. It is not stroller-friendly and can be a bit harder for younger kids. Go slow, take your time, and wear your child on your back if they are younger.
Diamond Head
Diamond Head is one of the best hikes on Oahu and is considered a moderate hike. Kids might get tired on this hike, so allow yourself plenty of time. Most of this hike is stairs, which some people love, and others hate.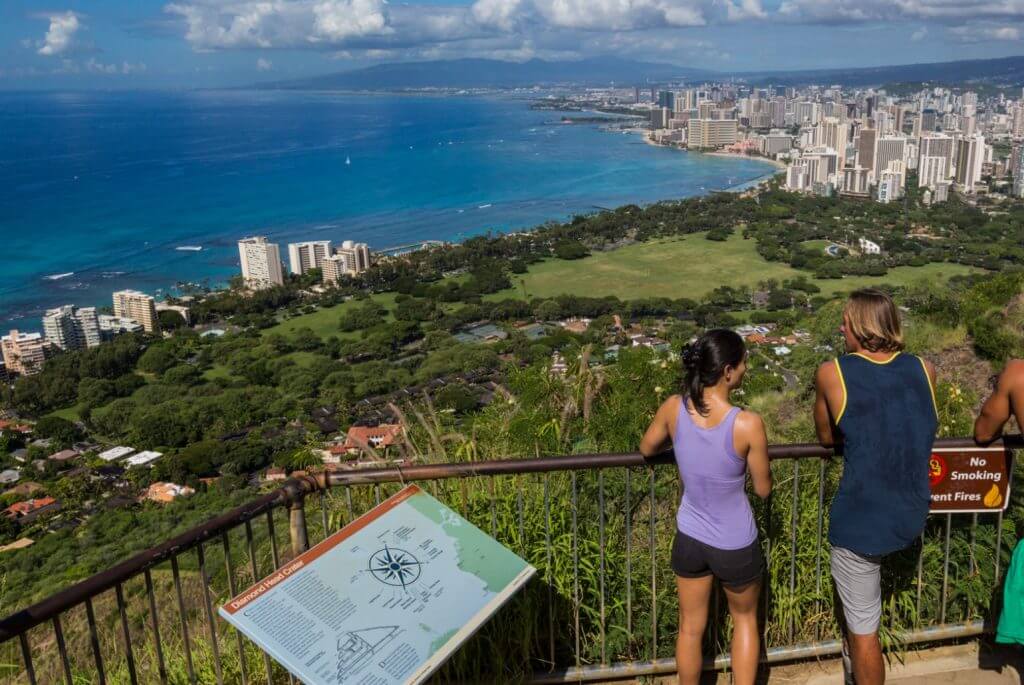 This hike also has flatter areas where you can stop, rest, and catch your breath while looking at the beautiful views. During the hike, there are also safety rails, which helps when you have toddlers!
You can hike Diamond Head with kids in about two hours, but you may want to give yourself another hour or so for leeway. You never know how tired your little one, or you, will get!
As of May 12th, 2022 all out-of-state visitors must have an advanced reservation to enter Diamond Head State Monument. Make your reservations HERE.
Check out all our tips for hiking Diamond Head with kids!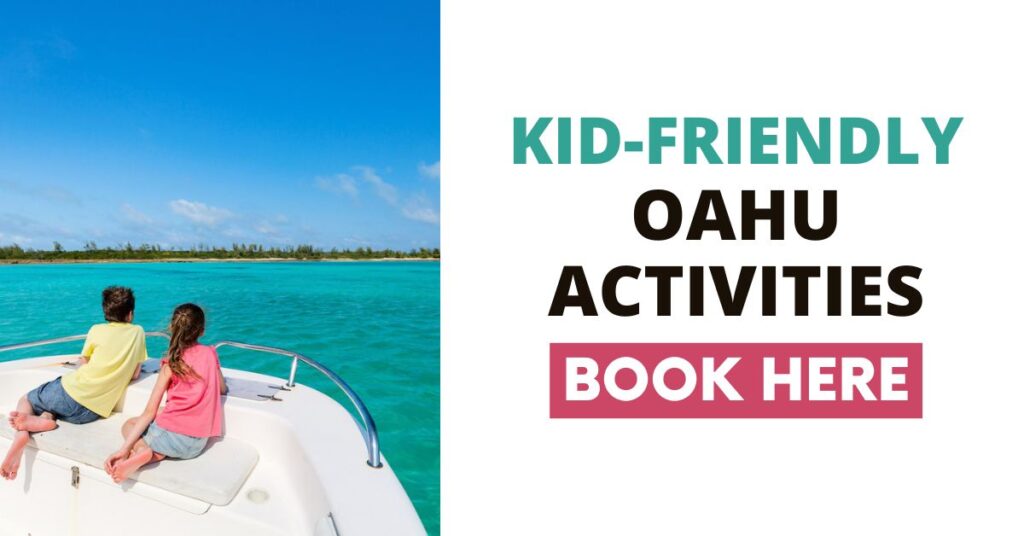 Kaena Point
Kaena Point is another one of the great Oahu hikes that you can do with kids. While this trail is pretty much flat, it is a lot longer than most of these hikes. It is around 2.7 miles one way.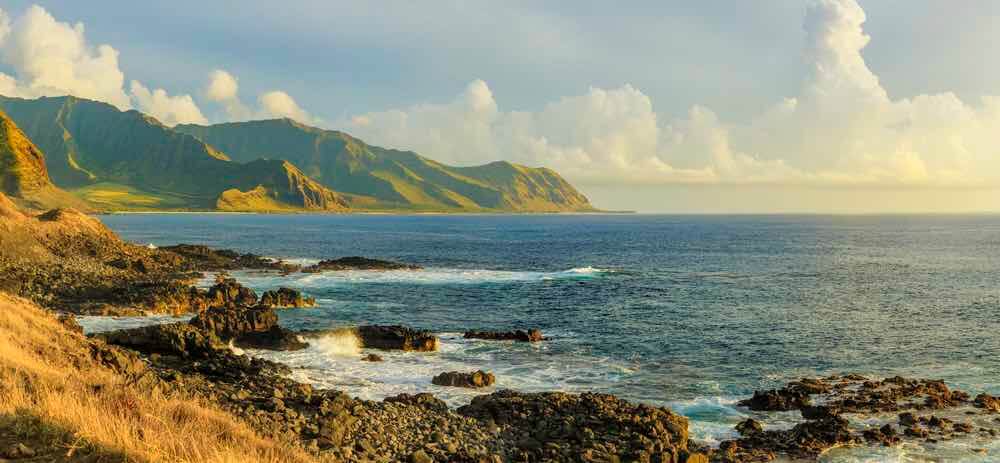 You might want to only do this hike with older kids, and make sure to bring plenty of food and water to keep them motivated! Read our full guide to hiking Kaena Point with kids.
Turtle Bay Trails
Another easy hiking trail on Oahu is the Turtle Bay Trails. You will start at the Turtle Bay Resort parking lot and walk 2.5 miles to end up at Kahuku Point.
This is more of a walk than a hike because it is completely flat and very easy to do. It will probably take no more than an hour to walk one way. It's one of the best family-friendly hikes on Oahu's North Shore.
This trail has plenty of places to rest and relax on the beach. You don't even have to finish it all if you don't want to. You can start at Kahuku Point or Turtle Bay Resort. This hike is perfect for children who need plenty of breaks, like toddlers!
Tips for Hiking on Oahu with Kids
While hiking may be a little difficult in Hawaii with kids, here are a few tips so you can enjoy your hike:
Bring plenty of bug spray as there are a lot of mosquitoes!
Apply reef-safe sunscreen as you start, and when you reach the top, so you don't get sunburned.
Wear sturdy shoes for both you and your kids.
Bring a baby carrier if you plan to do hikes that are not stroller-friendly.
Watch the weather conditions and only hike when it is safe!
Wear hats!
Be prepared to carry your younger kids just in case. They often get tired super-fast.
Bring plenty of water and a few snacks so you can refuel and stay hydrated!
Go at your own pace and just enjoy. Don't worry if people pass you.
Learn about the hikes ahead of time. While all these hikes are family-friendly hikes on Oahu, you know your kids best and what they can handle.
Bring your camera to capture memories of your children and the gorgeous views.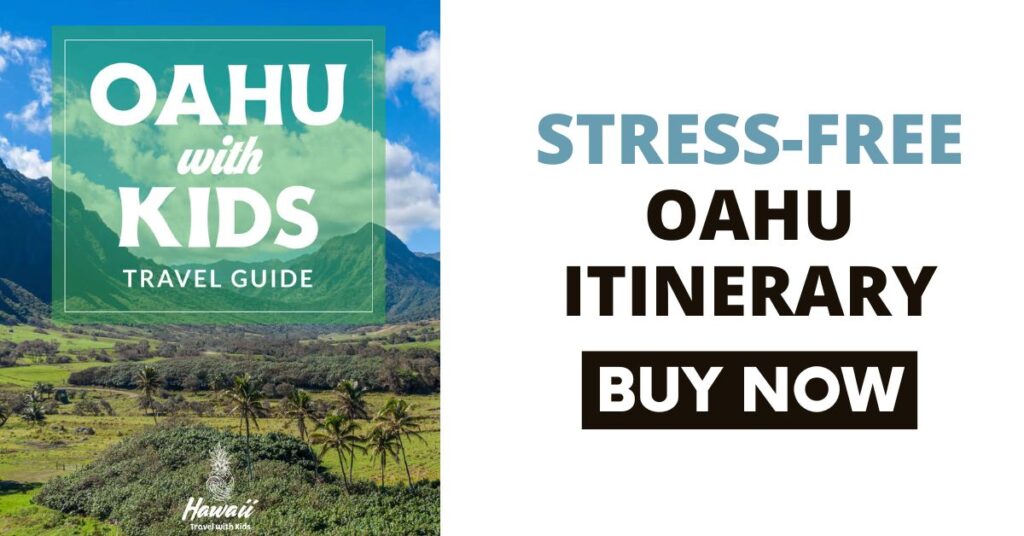 Easy Hikes on Oahu for Kids Wrap Up
If you are looking for kid-friendly activities on Oahu, try any of these kid-friendly hikes. You will be able to see the island and ocean with all the incredible views and teach your kids to love being out in nature! Plus it's one of the cheapest things to do on Oahu with kids!