Are you looking for things to do in North Shore Oahu with kids? Keep scrolling to learn how to visit Waimea Valley on Oahu with kids.
This guide to visiting Waimea Valley on Oahu with kids contains affiliate links which means if you purchase something from one of my affiliate links, I may earn a small commission that goes back into maintaining this blog.
Guest post by Sharlene Earnshaw
Are you looking for a family-friendly destination to visit on Oahu?
The North Shore of Oahu is a great destination for families who want to experience less hustle and bustle and more of the island's natural beauty.
Waimea Valley is an ideal place to enjoy nature and has one of the best waterfalls in Oahu for families to safely swim near.
Waimea Valley is a great place to enjoy nature and has one of the best waterfalls in Hawaii.
You can take your kids out for a day trip or just have them stay home while you go. There are plenty of things to do, see, eat, and explore.
Waimea Valley is also home to a lush and gorgeous botanical garden that you definitely won't want to miss.
I've been visiting this area multiple times and it's always a highlight of our Oahu family vacation. Here's everything you need to know about visiting Waimea Valley with kids!
You won't regret visiting this beautiful place with your family. It's an experience you don't want to miss out on!
Keep scrolling to check out our blog post about doing the Waimea Falls hike with kids.
Don't have time to read a bunch of Hawaii blog posts and reviews? Here are some of our top picks for visiting Oahu.
Popular Oahu Tours/Activities
Favorite Oahu Resorts/Hotels
Want to Rent a Car in Hawaii?
One of the best places to rent a car in Hawaii is Discount Hawaii Car Rental because they get the best rates from top national companies like Alamo, Dollar, Thrifty, Avis, Enterprise, Budget, and Payless.
Want to skip all the planning and just access my detailed Oahu Itinerary complete with daily schedules, kid-friendly activities, and travel hacks? Click the button below.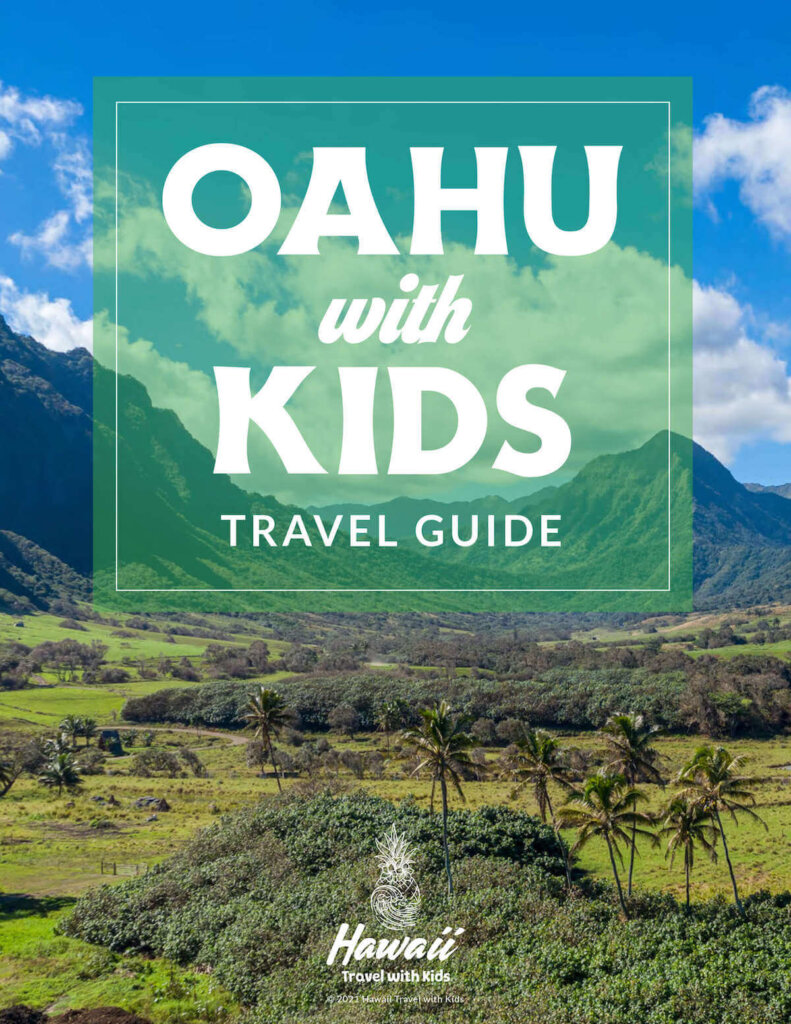 North Shore Oahu FAQs
Are there Oahu waterfall hikes in North Shore?
Absolutely! The Waimea Falls is one of our favorite North Shore waterfalls worth checking out. It's an easy hike that's perfect for the whole family. Plus, it's one of the few waterfalls on Oahu where you can swim.
What are some easy North Shore hikes worth doing?
Waimea Valley hike is one of the best North Shore hikes for families. Another option is the Kaena Point trail. If you're more adventurous, you can try the Kealia Trail, Laie Falls, or the Poamoho Trail.
How long does it take to get from Waikiki to North Shore Oahu?
It totally depends on traffic, however it usually takes 45-50 minutes if you aren't going during rush hour. I recommend getting an early start so you have plenty of time to explore all the awesome North Shore activities. There are also other ways to get to North Shore Oahu from Waikiki.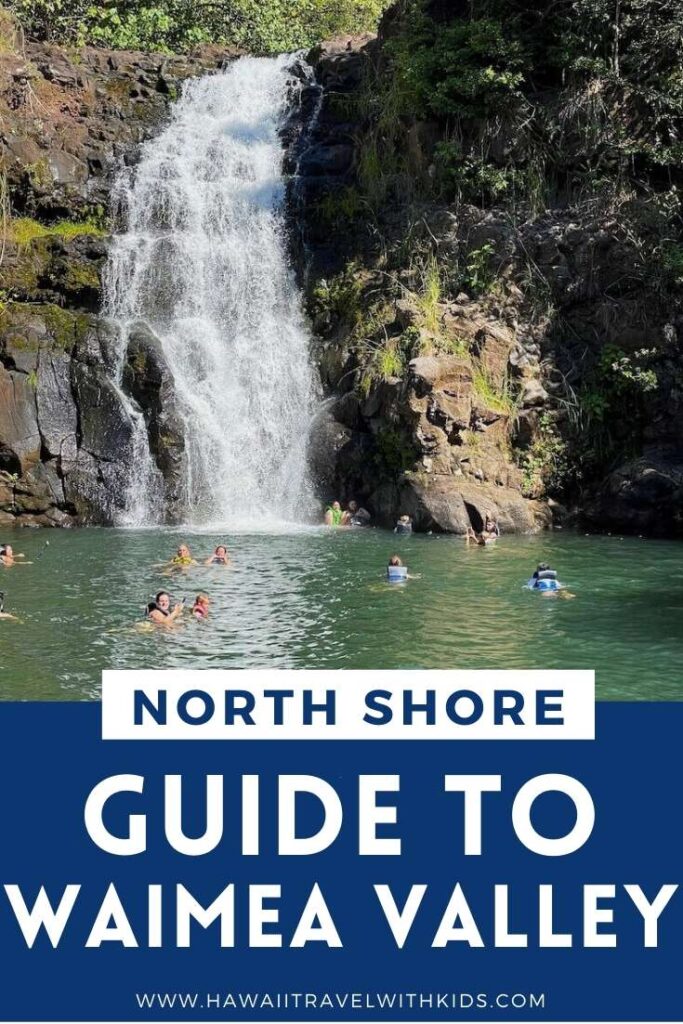 Where is Waimea Valley on Oahu?
Waimea Valley is located on Oahu's North Shore, just inland from the famed Waimea Bay Beach Park. It is easy to combine a visit to the bay and Waimea into one spectacular day trip from Honolulu.
The address is 59-864 Kamehameha Hwy, Haleiwa, HI 96712. The best way to reach Waimea Valley is via car. The drive along Oahu's North Shore is very scenic. I recommend stopping at the Dole Plantation and Haleiwa.
Visiting Waimea Valley: What to Expect
What is Parking Like at Waimea Valley?
Parking at Waimea Valley is free. There is a large parking lot and it is possible that the lot can fill up during peak visiting hours (weekends and holidays) but during our last visit on Thanksgiving week, we had no issues.
Waimea Valley is open Tuesday through Sunday from 9 am to 4 pm, except for Thanksgiving and Christmas Day.
How Much Does it Cost to Visit Waimea Valley?
Waimea Valley admission is $20 for adults, $16 for Seniors, $16 for students, and $12 for children ages 4-12. Children under age 4 are free. They do have Kama'aina (locals) and Military rates as well.
Is Waimea Valley Stroller Friendly?
Waimea Valley is very stroller-friendly. The trail to Waimea Falls is paved and about ¾ mile in each direction. That's one of the reasons why it's one of the best kid-friendly hikes on Oahu. And it's one of the top kids activities on Oahu.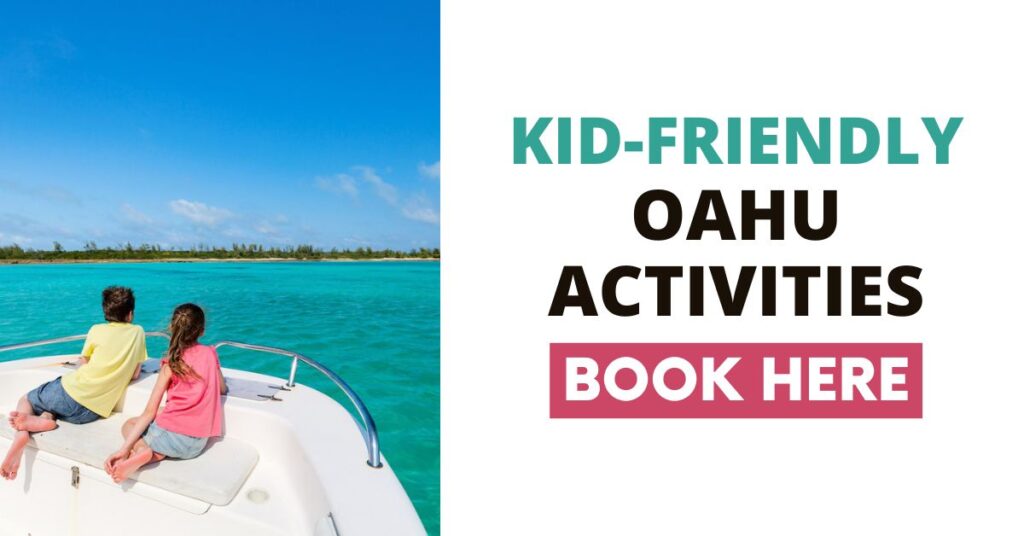 Can You Swim at Waimea Falls?
Swimming at Waimea Falls will certainly be the highlight for most children visiting Waimea Valley. There are lifeguards that monitor the large pool at the base of the falls, and free lifejackets are required to be worn while in the water.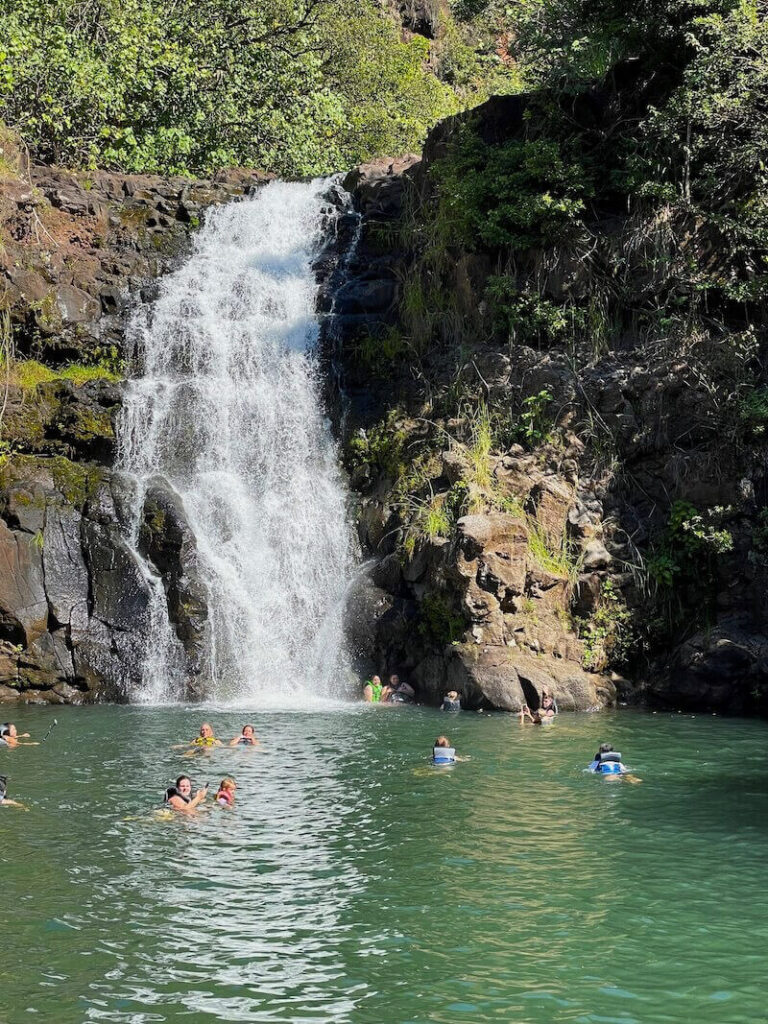 The 45-foot Waimea Valley waterfall flows continuously, but the rate of flow is dependent on rainfall. It is possible that after a big storm the swimming at the falls could be temporarily closed.
You can check on waterfall swimming status on the day you visit by calling (808) 638-7766 on the day of our visit after 9 am.
Things to do at Waimea Valley
1. Water Lilies
Check out the massive Victoria Amazonica water lilies in the pond just past the ticket booth. These water lilies were originally discovered in Bolivia and can grow up to a ½ meter a day!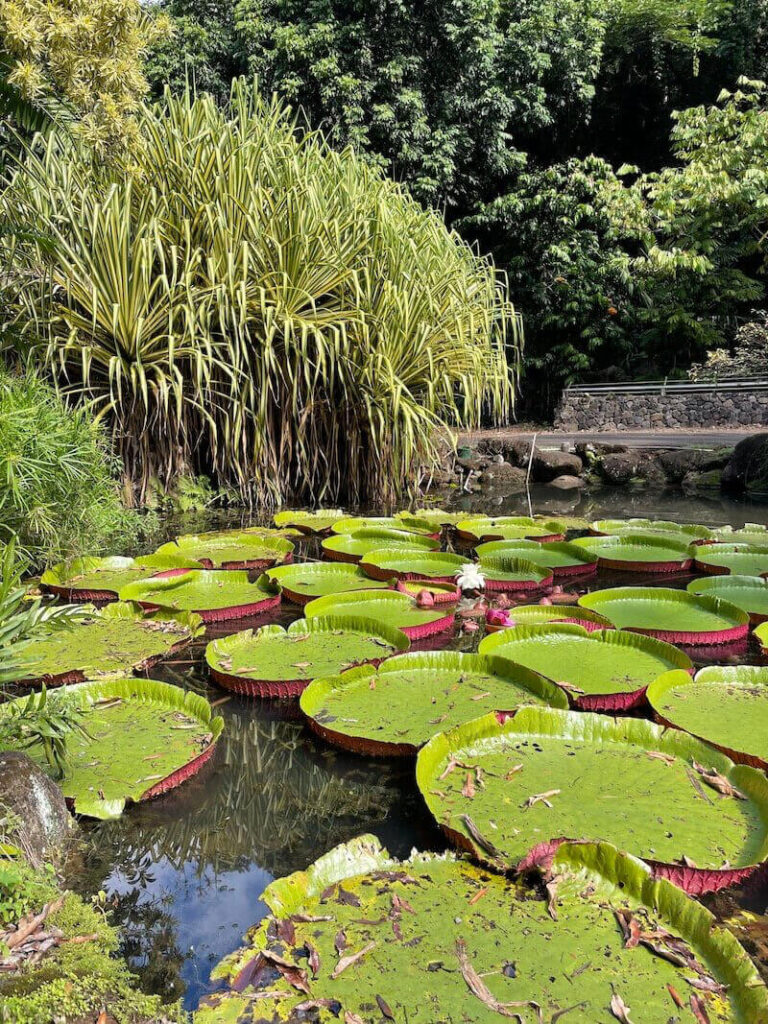 2. Discover Plants
Discover unique and beautiful plants from all over the globe. While Waimea Valley is home to a variety of impressive native species, it is also home to several unique plants from all around the globe.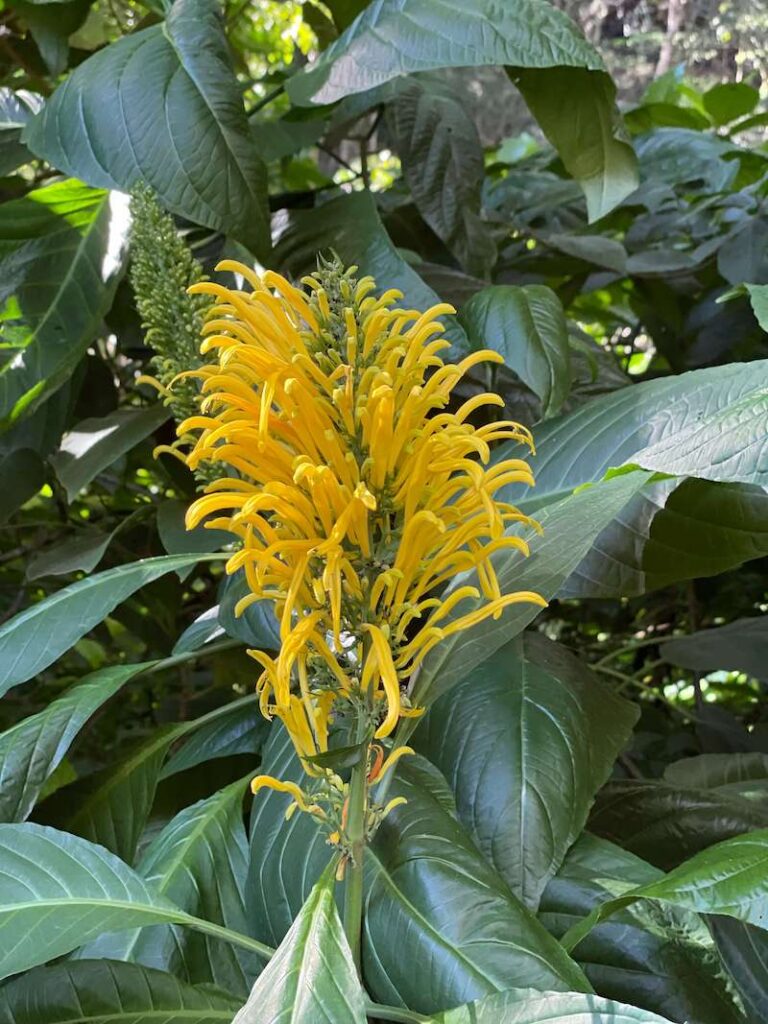 You don't have to be a "plant person" to come away impressed with the beauty of these exotic gardens. Waimea Valley is truly paradise.
3. Cultural Experiences
Play traditional Hawaiian games at the kauhale cultural site. In addition to playing games of skill, strategy, and strength (staff is on-site to demonstrate the games and help you learn to play them), there is also a traditional Hawaiian living site for a high-ranking chief.
Unlike American homes which have multiple rooms under one roof, the Hawaiians had separate hales (houses) for different purposes such as sleeping, cooking, and gathering.
4. Tropical Birds
Keep your eyes peeled for beautiful tropical birds. At one time, Waimea Valley was owned by the Audobon Society and you could feed the birds that lived in the valley out of birdseed dispensers. They would even land on your hands!
Unfortunately, the dispensers have been removed but there are still plenty of amazing birds hanging out in the park, especially around fruit trees. Don't be surprised if you encounter a peacock on your visit!
5. Make a Lei Po'o
Decorate your own palm leaf crown. There are often local craftspeople doing weaving demonstrations in Waimea Valley using palm (or coconut) leaves. They weave wonderful crowns, bowls, and baskets.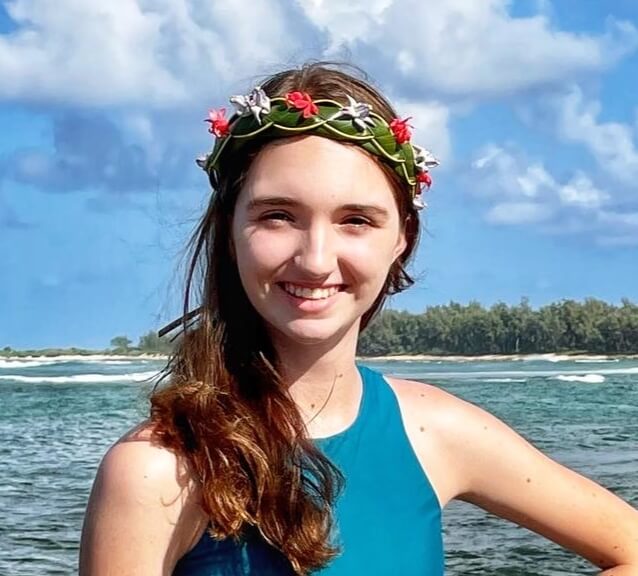 They provide little flowers that visitors can use to decorate the crowns. Donations are accepted for the crowns, but not required.
6. Swim at a Waterfall
Swim at the base of the waterfall. While the trail to Waimea Valley is absolutely gorgeous and just as great as its destination, swimming in Waimea Valley Falls is really fun and refreshing, so don't skip it!
How long should I plan to visit Waimea Valley?
I would plan on spending at least 2-4 hours in Waimea Valley. Your stay could be longer depending on much time you spend playing Hawaiian games and swimming in the waterfalls. This is one of the easiest North Shore hiking trails, but you'll still want to explore the valley.
5 Tips for Visiting Waimea Valley with Kids
Be sure to pack swimsuits and towels so that you can enjoy the waterfall and then change back into dry clothes after. There are changing rooms and showers available. There are rocks surrounding the pool so reef shoes aren't a bad idea either.
Wear sunscreen and bug spray. Sunscreen goes without saying anytime you are outdoors in Hawaii but since Waimea Valley is very lush and tropical and there is lots of water in the area, mosquitos are definitely around. Bug spray will make your day much more enjoyable.
Be prepared for no cell reception. There is limited wifi available in the park but we think it's best to enjoy your unplugged time in nature.
Bring money for food or treats while you are in Waimea Valley. There are a couple of different food and beverage stands in the Valley including a grill, coffee shop, and bar.
Take advantage of the shuttle service if you have anyone in your group with mobility issues. There is a shuttle that will take you to and/or from the waterfall for $10 each way. This is a good option for a grandparent that might have difficulty walking long distances or a child that is simply DONE after walking to the waterfall.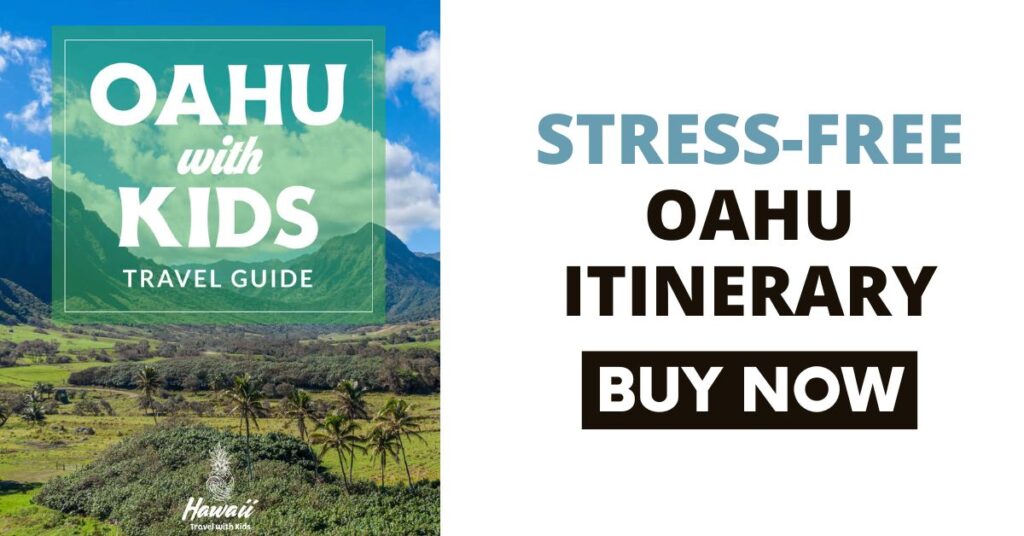 Would We Recommend Waimea Valley for Families?
I highly recommend Waimea Valley for families who love to be outside and surrounded by nature. This valley is one of the most beautiful places I have visited in Hawaii and the swimmable waterfall is like the cherry on top.
You won't find an Oahu waterfall hike that is easier! Visiting this special North Shore trail is definitely one of our favorite North Shore Oahu activities. I'd even say this is one of the top best waterfall hikes in Oahu for families
Toa Luau at Waimea Valley
Another fun thing to do in Waimea Valley is to stay for Toa Luau, the best North Shore luau. It takes place at Waimea Valley in the evening.
What makes Toa Luau so special is that it's a small, intimate experience (unlike the huge touristy shows). There are lots of hands-on activities and it's perfect for kids. Check the latest rates and seating options.
Your Toa Luau tickets actually give you free access to Waimea Valley for the entire day. They even have restrooms available so you can change clothes before the show. So, if you're already thinking about doing a luau, this is a great full-day adventure!
About Sharlene
Sharlene Earnshaw is the Managing Editor of Trekaroo.com and has worked in the family travel field for over 15 years. She was born in Hawaii and the islands are still her favorite place on Earth, so she visits them as much as possible. She currently lives in Orange County with her husband and 15-year-old son and daughter (twins!).