Planning a trip to Oahu and want to see some epic beaches? Find out 8 of the best North Shore Oahu beaches you have to see to believe! Scroll to see them all!
This North Shore beaches post was originally published December 4, 2019 and was updated April 4, 2022 and contains affiliate links which means if you purchase something from one of my affiliate links, I may earn a small commission that goes back into maintaining this blog.
Are you looking for the top beaches in Oahu?
The North Shore is a great place to visit when you want to get away from the hustle and bustle of Waikiki. It's quieter, more laid back, and has some of the best beaches in Hawaii.
If you are interested in watching some incredible surfing while you relax at the beach, then head up to North Shore Oahu.
Here's where you'll find some of the top surfing beaches in Hawaii that might recognize from movies and TV shows. The North Shore has a laid-back vibe and some of the best beaches in Oahu.
In this post, I'll share my favorite 8 North Shore Oahu Beaches worth checking out!
You can read about these best beaches in North Shore below or click on any link for more information! I hope it helps your next trip planning process go smoothly!
Be sure to check out my top 101 things to do on Oahu!
North Shore Oahu Beaches FAQ
Can you swim at North Shore Hawaii?
Yes and no. The water is really tumultuous during the winter months (November through April), which is why it hosts so many North Shore surf competitions. However, the water at North Shore beaches calms down a lot during the summer and fall so you can take advantage of this swimming and snorkeling spot.
How long is the drive from Honolulu to North Shore?
Typically, it's a 45-minute drive if you go on non-peak hours and don't make any stops. But, it really depends on traffic. It's taken us 2.5 hours when we went during rush hour. But the drive is worth it once you see some of the beaches on the North Shore.
Should I stay in North Shore or Waikiki?
This really depends on how many days you're visiting Oahu and what you want to do. Personally, our family loves staying in Waikiki and doing day trips to other areas of the island. That's because it's easy to get groceries, walk to restaurants, and join Oahu tours. But, if you are planning on renting a car and want a laid-back Oahu vacation, the North Shore is pretty awesome!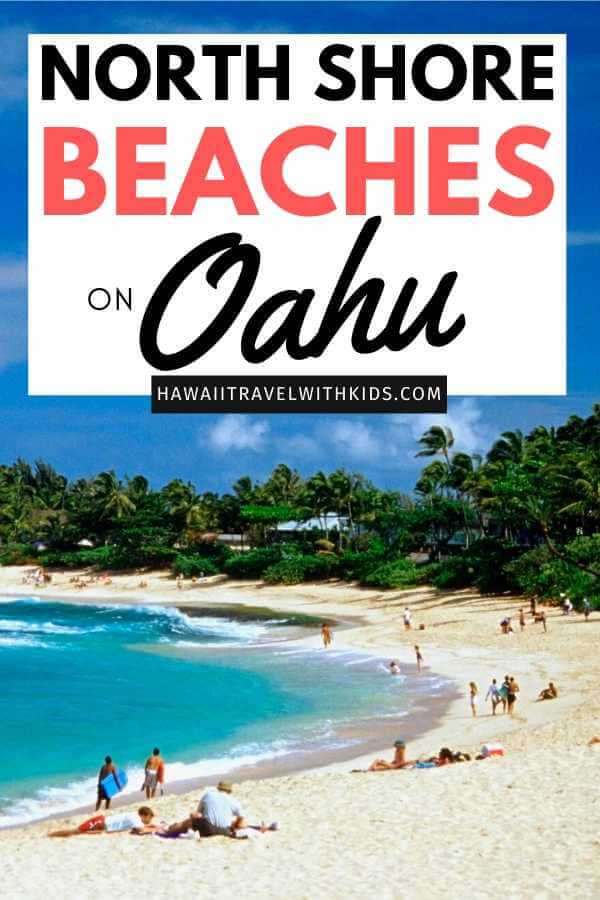 7 Amazing North Shore Oahu Beaches
The North Shore of Oahu is home to some of the most famous Hawaii beaches. You can easily visit a few in one day or spread them out throughout your trip.
There are lots of amazing beaches on the North Shore of Oahu, but Waimea Bay makes it to the top of the list.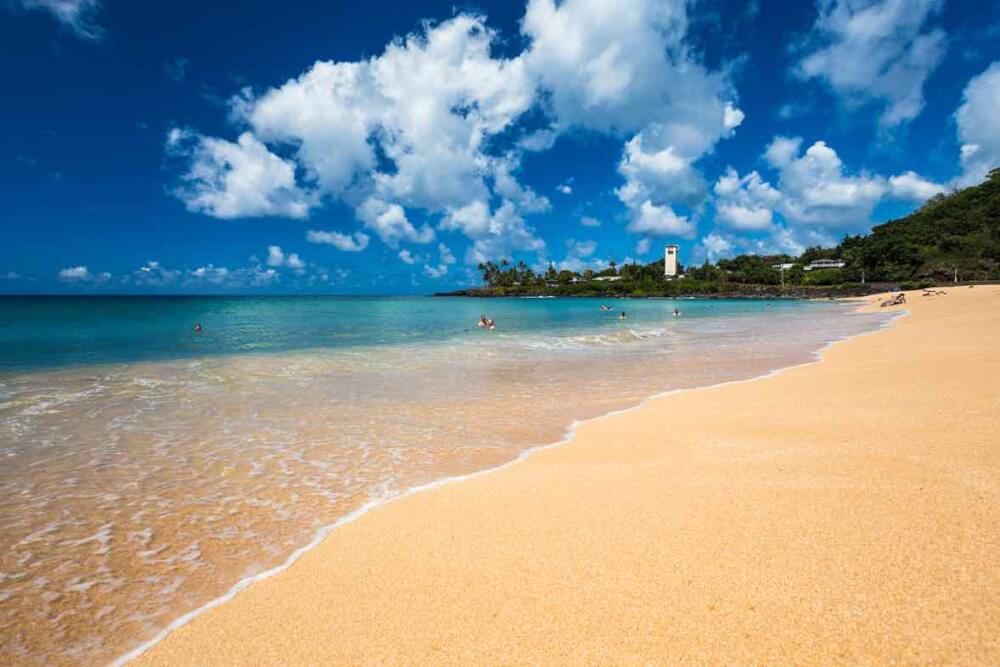 This is because of the plethora of things that fun lovers can do while they hang out on one of the most popular beach parks in all of Oahu.
Start out by taking a daredevil – but actually safe – dive from the famed rock that sits half-submerged at the shoreline. This is one of the top things to do at Waimea Bay on Oahu.
Snorkel down into the deep, surrounded by fish and turtles, and explore the tunnels that can be found beneath the rock. You can also surf, rock climb, and take amazing photos at this North Shore beach.
Read more about snorkeling on Oahu
Having been named after the three table-like sections of reef that become visible during low tide, Three Tables Beach is one of the most charming beaches on the North Shore of Oahu.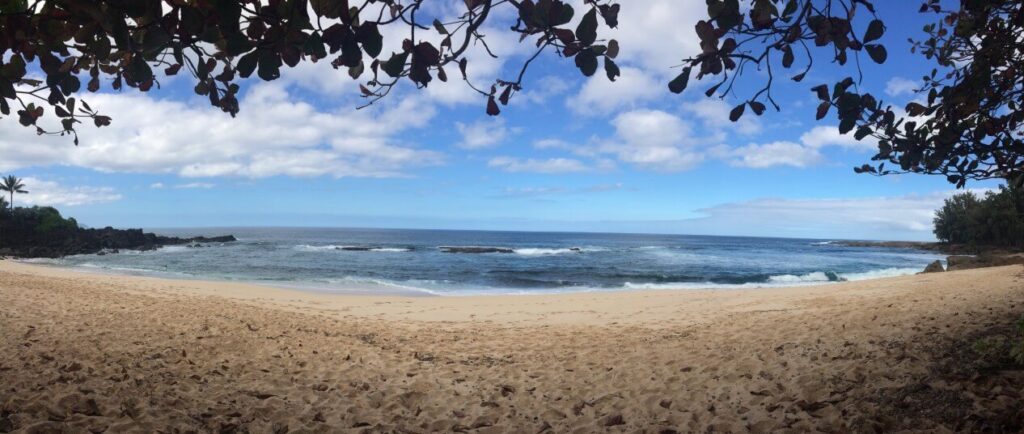 It is quite popular as a spot for snorkeling and diving during the months of May – September.
The water is quite clear and divers can usually see a variety of fish in numerous colors, sea turtles, as well as underwater lava tubes.
While the beach is also a popular spot for North Shore Hawaii surfing, only experienced surfers dare to ride in the winter, as the Oahu North Shore waves become unpredictable.
As one of the hosts of the 2019 event, the Vans Triple Crown of Surfing, Sunset Beach is one of the most famous North Shore surf spots.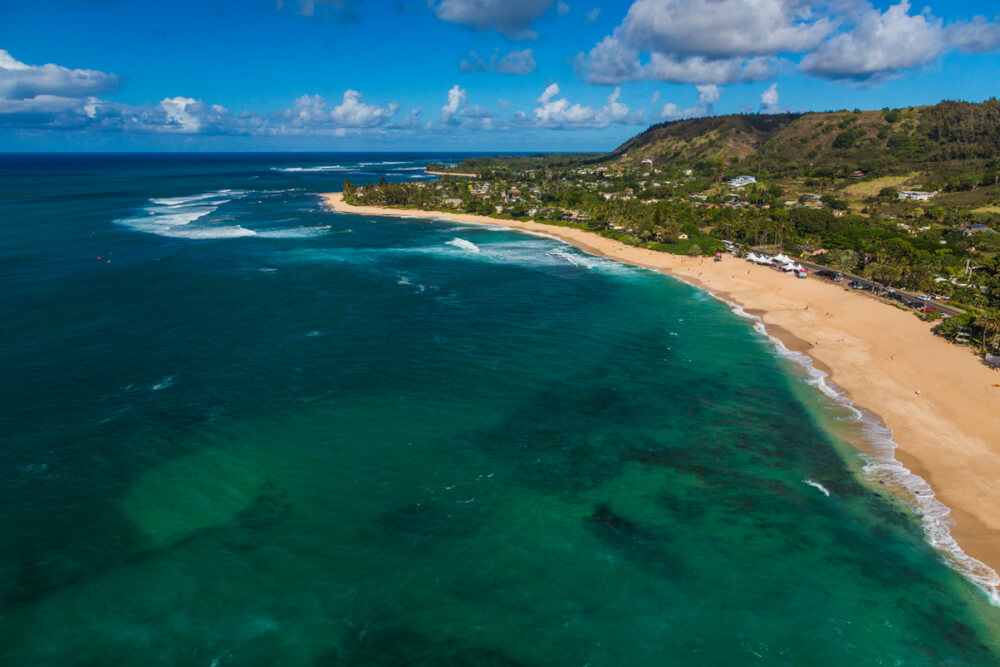 Lots of people, from professional surfers to lovers of the sport come from different places just to get a crack at the amazing waves that are present on this beautiful beach.
Not only do surfers love spending time at Sunset Beach Oahu during the surfer season, but families are also able to enjoy themselves in summer when the waves are calmer and children can swim in the water.
Of course, regardless of the season, the view of the sunset at Sunset Beach is one of the most amazing things you will ever see.
While beaches like Three Tables and Sunset are known for having professional-level surf waves, Haleiwa Beach Park offers calmer waves that are just perfect for beginner surfers. Check out the best Oahu surfing lessons for kids.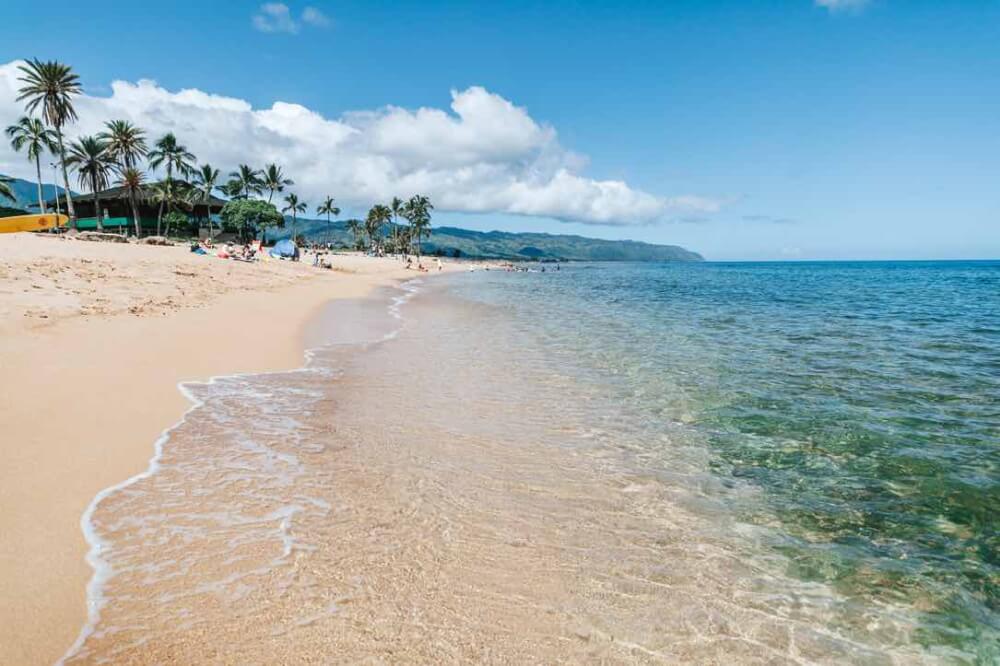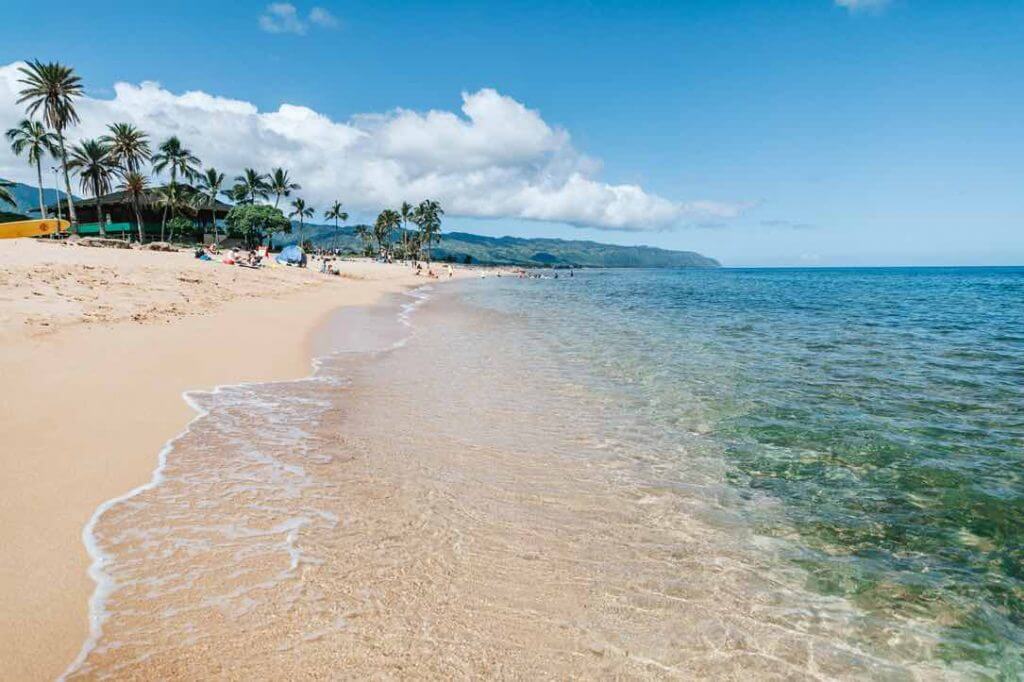 It is also great for swimming and there are lifeguards on hand to protect novices from getting in harm's way.
There are also showers to clean up before or after a swim. Adjacent to the beach, there is a park that is equipped with picnic tables where friends and families can hang out and share food, music, and fun.
If you're looking for Hawaiian green sea turtles in Oahu, you'll definitely want to make a stop at Laniakea Beach.
The beauty of Laniakea Beach is visible as soon as you set foot on the sands and look at the wide, open sky. In fact, the word "Laniakea" translates to "wide sky."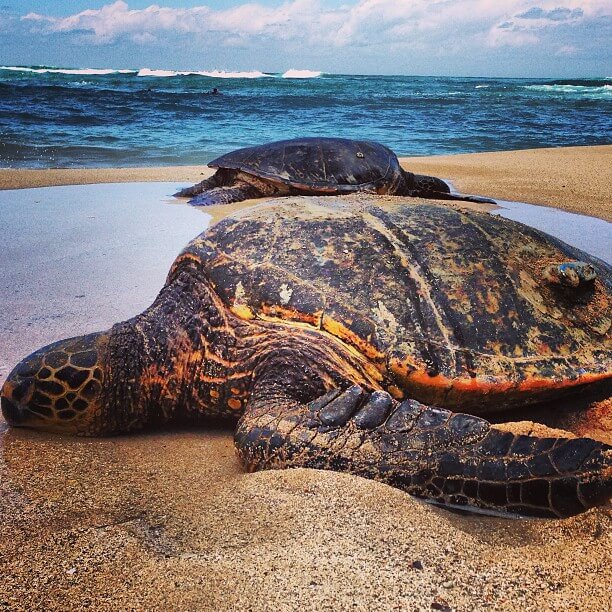 This breathtaking beach is also known as Turtle Beach because of the astounding number of sea turtles that come to hang out on the beach.
When they are not staring at turtles, visitors to Laniakea Beach Oahu are usually taking a swim in the water in the summer, or getting on top of the surfing waves in the winter.
Read more about Turtle Beach Oahu
Home of the tubular wave, the Banzai Pipeline is another of the most famous beaches in North Shore Oahu and is usually the host of the finale for the Vans Triple Crown of Surfing competition.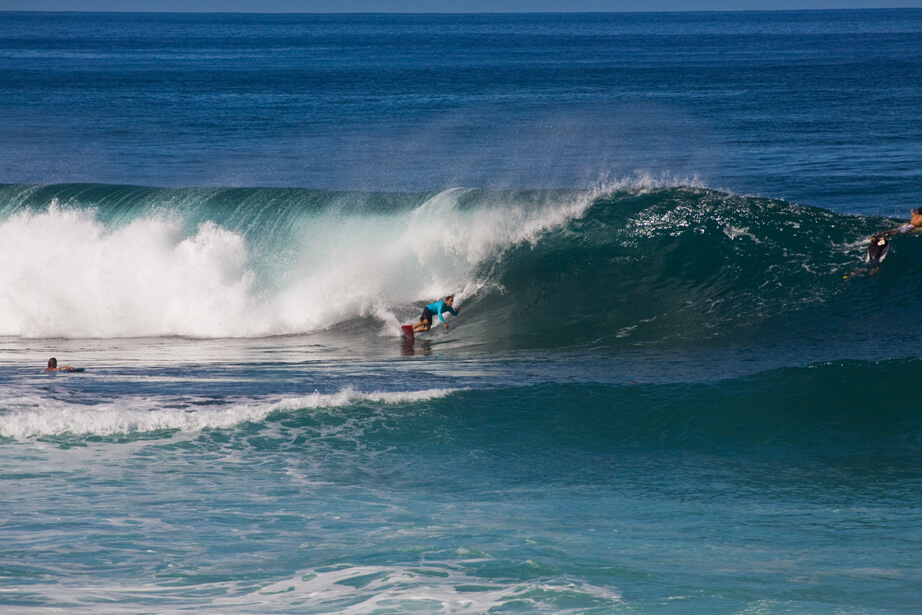 This is, of course, during the wintertime when the water is only suitable for professionals. Those North Shore Hawaii waves are serious!
During the spring, the water at Banzai Pipeline is calmer, allowing for family-related recreational activities like swimming, water skiing, snorkeling, and more.
You can access Banzai Pipeline through Ehukai Beach Park. Ths is one of the best beaches on Oahu to watch amazing surfing.
During the months from June to September, however, visitors are asked to stay out of the water to avoid being stung by limu which washes up to the shore.
Translated to "white shell" in the native Hawaiian, this gleaming beach is tucked just off the Kamehameha Highway on the northern end of Waimea Bay.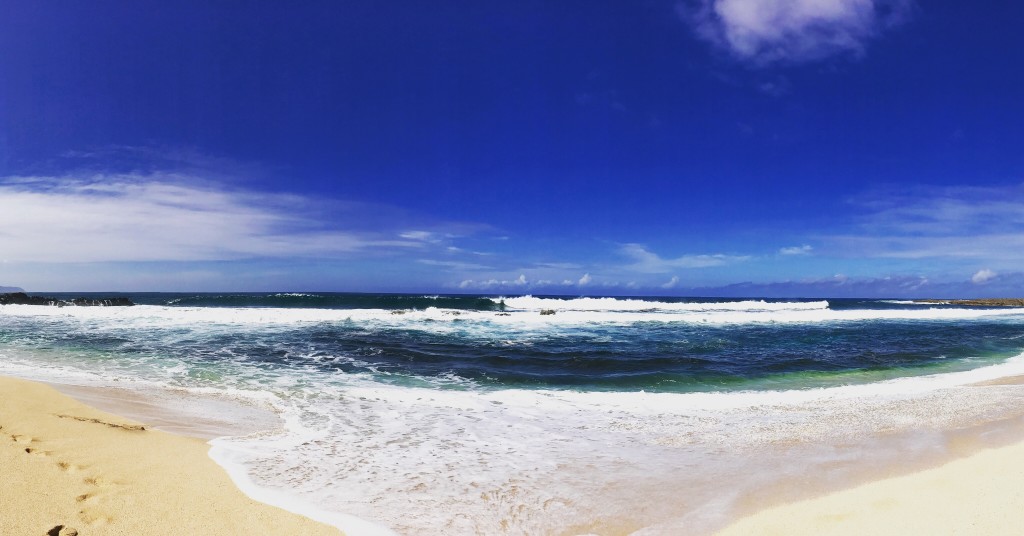 Hidden from the popular gaze, this little beach cove is usually quiet and calm during summer and is frequented by snorkeling lovers.
Visiting the beach park during the winter is not the best. It has two access points for swimming; Shark's Cove and Three Tables beach.
The Shark's Cove access is tricky and wearing water shoes is recommended.
8. Kuilima Cove
Another one of the best beaches on Oahu's North Shore is Kuilima Cove. This is a beautiful white sand beach on the eastern edge of Turtle Bay Resort.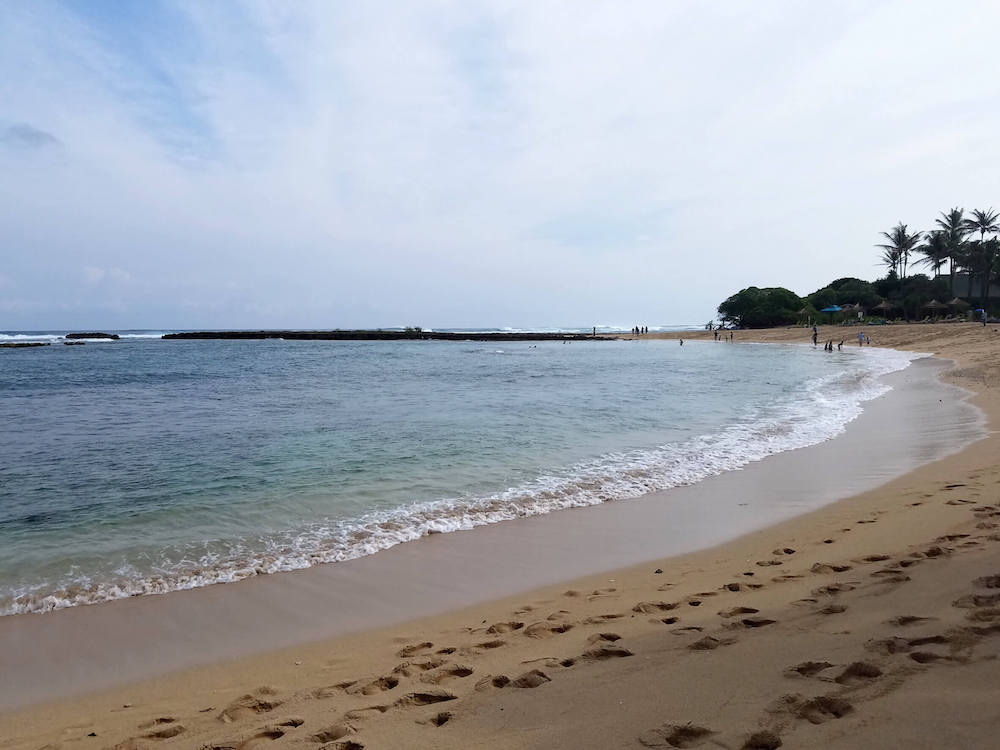 This is a great Oahu snorkeling spot for people of all ages and abilities. Plus, a lot of people don't know about it, so it usually isn't too crowded.
Of course, you'll want to check the surf report before you go. When there is high surf, that means there is a strong rip current and it's not safe for swimming.
Otherwise, Kuilima Cove is one of the best North Shore beaches that is worth the drive.
Oahu North Shore Beaches Wrap Up
I hope you found a few of the best North Shore beaches on Oahu worth checking out! Any of these make great day trips from Waikiki or fun stops on a scenic drive around Oahu.
Keep scrolling to find out my top picks of where to stay and other fun things to do in North Shore Hawaii.
Where to Stay in North Shore Oahu
Marriott Hotel in Laie
The Marriott Hotel is right in front of the Polynesian Cultural Center in Laie. It's a great place to stay if you want to do a lot of North Shore Oahu activities. Check out the latest prices and more details.
Turtle Bay Resort
Probably the most famous out of all the North Shore Oahu hotels is Turtle Bay.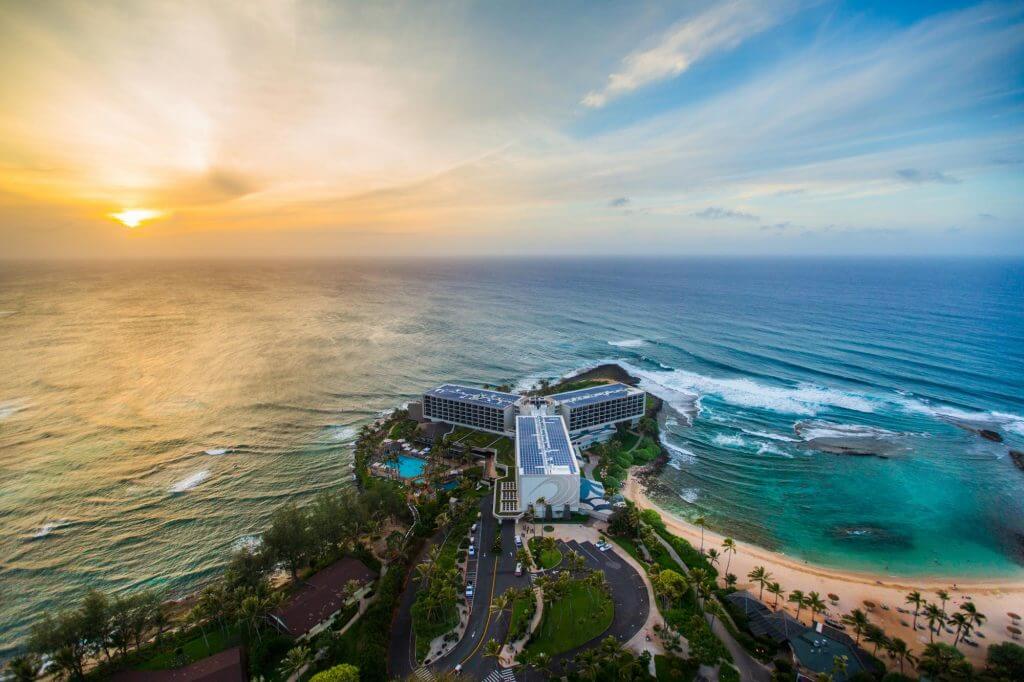 It is a very luxurious place to stay if you can afford it. They have access to some of the gorgeous North Shore beaches around. Check out the latest prices and more details.
North Shore Oahu Rentals
You can save a lot of money by taking advantage of one of the many North Shore Oahu vacation rentals!
There are plenty to choose from and you'll get a more authentic Hawaii experience and have the chance to talk story with locals.
What Else to do in North Shore Oahu
The North Shore of Oahu will not disappoint you. From the beautiful beaches and tasty shave ice to the adventurous activities, North Shore surf shops, and authentic poke, there are North Shore activities for every family member to enjoy!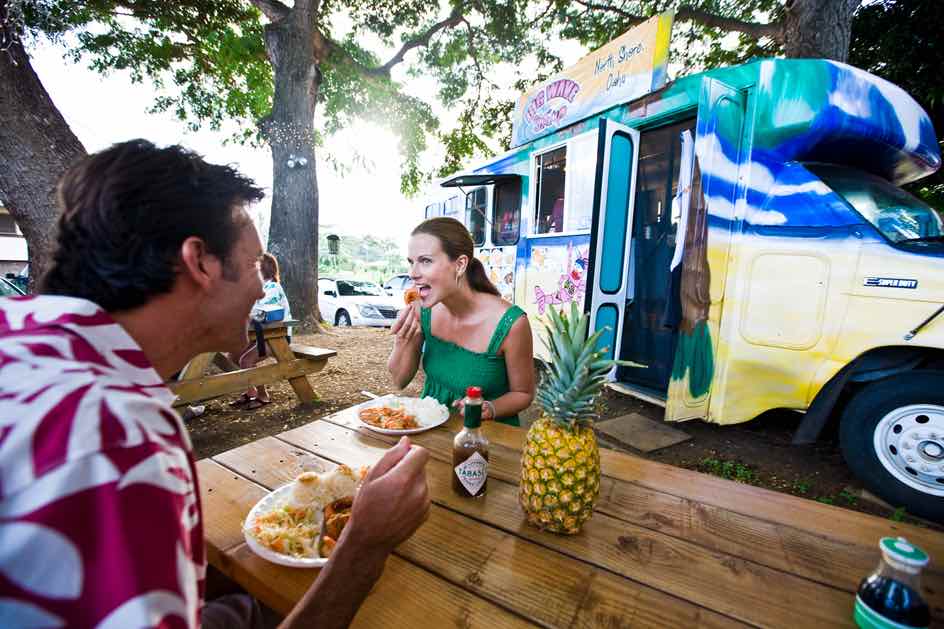 Plus, they are famous for their North Shore food trucks! I highly recommend hitting up the food trucks and taking your meal to the beach to enjoy the amazing scenery.
Next time you go, be sure to plan your vacation around some of these best North Shore Oahu beaches!