Are you looking for tasty things to do on Kauai with kids (or without)? Keep scrolling to read my honest review of the Kauai Chocolate Farm tour at Lydgate Farms.
This Kauai chocolate farm tour review contains affiliate links which means if you purchase something from one of my affiliate links, I may earn a small commission that goes back into maintaining this blog.
Planning a trip to Kauai with the family? Make sure to add a visit to the Lydgate Chocolate Farm in Kapaa!
We recently took this Kauai chocolate farm tour with our eight-year-old, and he loved it. Keep scrolling to read my honest Kauai chocolate farm tour review.
I'm sure your kids will love this fun and educational activity as much as ours did. The Lydgate Chocolate Farm is one of the best Kauai farm tours, so don't miss out!
Scroll down for more information on this incredible experience.
Don't have time to read a bunch of Hawaii blog posts and reviews? Here are some of our top picks for visiting Kauai.
Popular Kauai Tours/Activities
Favorite Kauai Resorts/Hotels
Grand Hyatt Kauai (this Poipu resort has a luxurious pool area, romantic restaurants, and a stunning ocean view)
Koloa Landing Resort (this is a luxury resort with an amazing pool area and truly spacious rooms)
Royal Sonesta Kauai (we LOVE the pool here because it's the largest one in Hawaii)
Want to Rent a Car in Hawaii?
One of the best places to rent a car in Hawaii is Discount Hawaii Car Rental because they get the best rates from top national companies like Alamo, Dollar, Thrifty, Avis, Enterprise, Budget, and Payless.
Want to skip all the planning and just access my detailed Kauai Itinerary complete with daily schedules, kid-friendly activities, and travel hacks? Click the button below.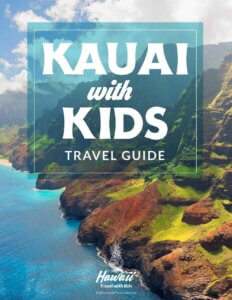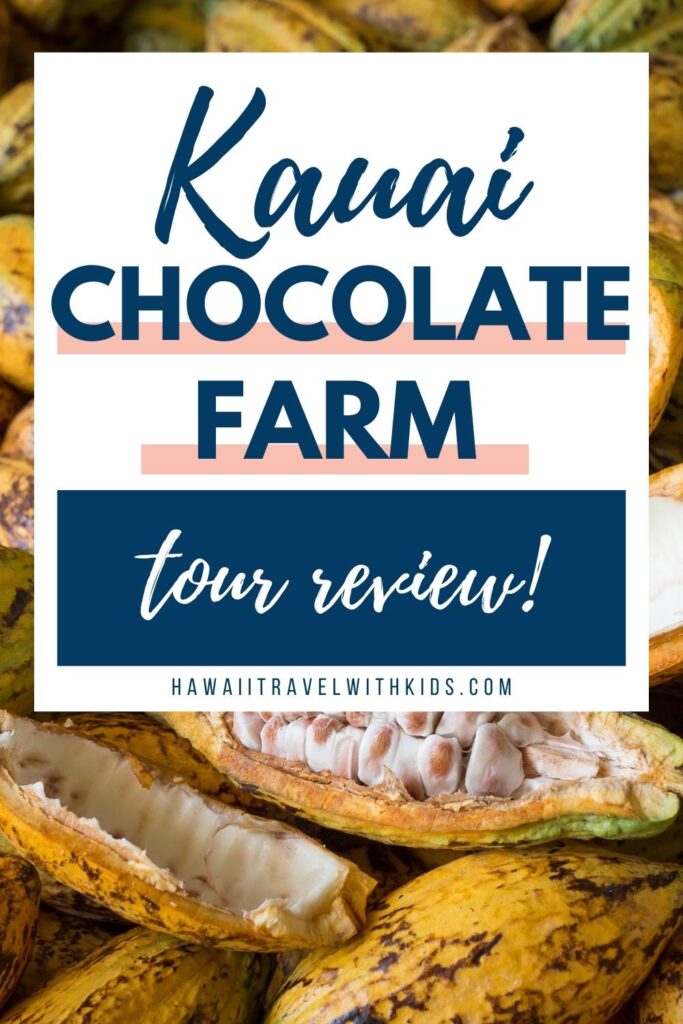 Where is Lydgate Farms on Kauai?
Lydgate Farms is located in a residential area and there are a bunch of signs to show you where to go. The address is 5730 Olohena Rd, Kapaʻa, HI 96746.
It's super important to type in "Lydgate Farm" into your GPS and NOT "Lydgate Beach Park." These are about 15 minutes from each other. If you aren't going up toward the mountain, re-check your GPS.
Brief Lydgate Farms History
The Lydgate family has been farming in the islands since the days of the Hawaiian kingdom.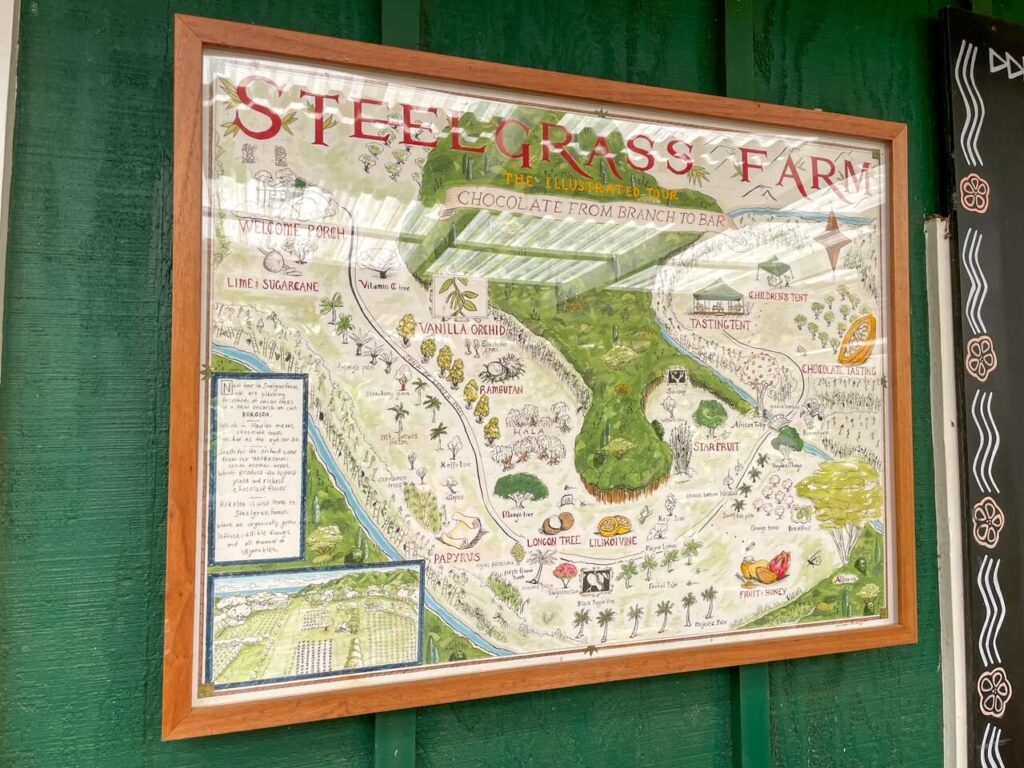 William Ludgate (later changed to Lydgate) arrived in Hawaii in the 1860s to work in the sugar industry on the Big Island. His oldest son moved to Kauai in the 1890s and managed the McBrydge sugar plantation in the 1900s.
Fast forward to 2008 when members of the Lydgate family launched Steelgrass Farm and produced chocolate, vanilla, and honey. This farm was later renamed Lydgate Farms to honor their family connection to Kauai.
What to Know about this Kauai Chocolate Farm Tour Before You Go:
They Make Award-Winning Chocolate
Lydgate Farms was recognized twice by Coco of Excellence in Paris as producing the best cacao beans in the WORLD. They are pioneers when it comes to growing chocolate on Kauai.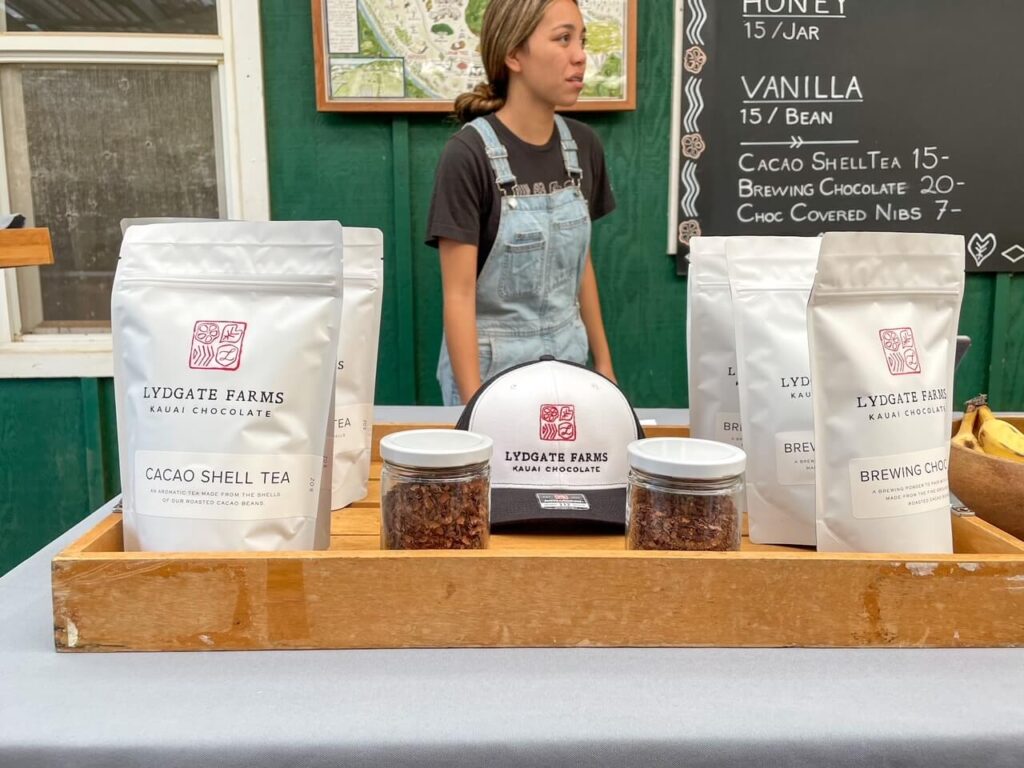 Lydgate Farms also makes Cacao Shell Tea which has a lot of health benefits, as well as brewing chocolate. These make unique Kauai souvenirs!
How to Visit the Lydgate Chocolate Farm
You'll definitely want to book your Lydgate Chocolate Farm Tour tickets before you go. There are limited tickets available for each tour, and they do fill up quickly.
Where to Park
There is a large parking lot directly behind the meeting area. Staff members will help direct you where to go.
It's a dirt parking lot with lines spray painted on the ground so you can see the parking spots.
Arrival
When you arrive, you'll want to take advantage of their table filled with various bug sprays. Be generous when applying, and then head to the restroom to wash your hands.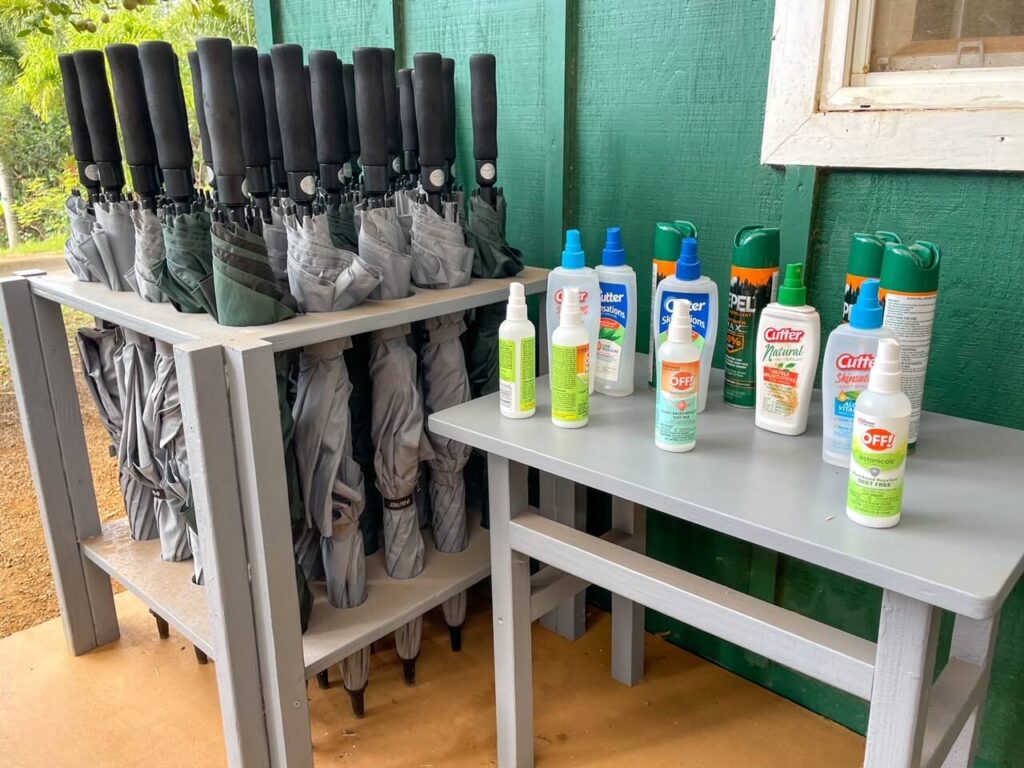 They also have Thai ice cream bananas to snack on before the tour. And there's a water dispenser.
Kauai Chocolate Farm Tour
Once everyone is ready, this three-hour guided tour kicks off with a walk around their beautiful Kauai botanical garden.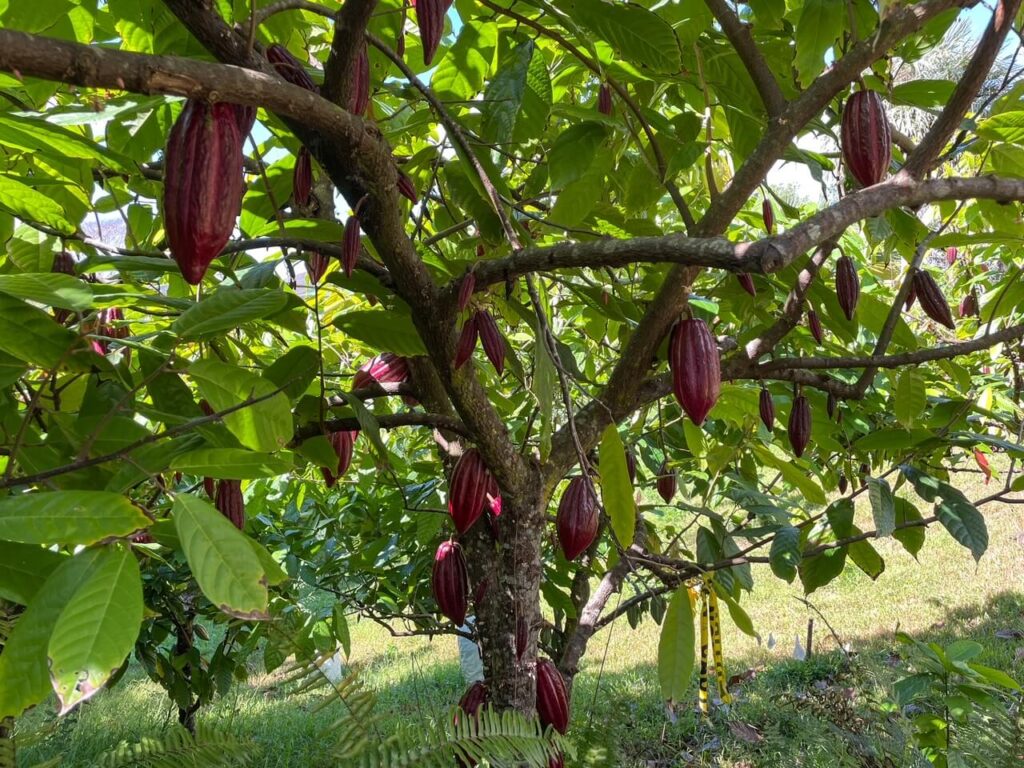 This is where you'll learn about their award-winning palm-blossom honey, smell vanilla beans, and see cacao plants at all stages.
There's also an extensive tropical fruit tasting where you can try all kinds of Hawaiian fruit and even cacao fruit!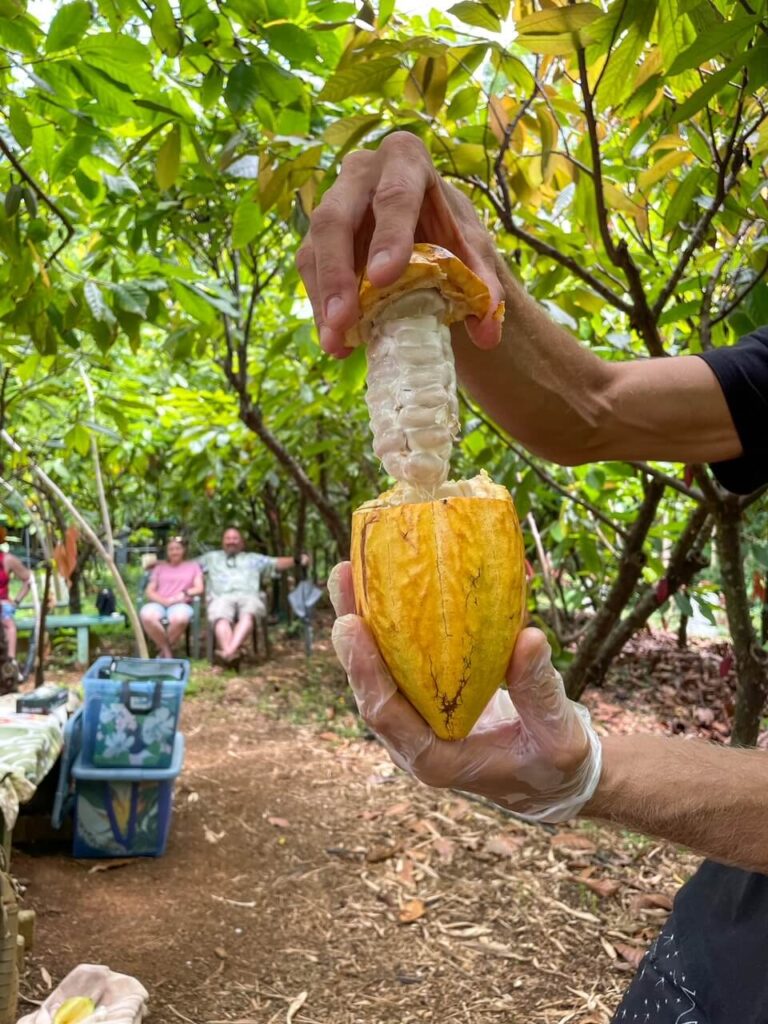 It ends with a huge chocolate tasting both of locally-grown Kauai chocolate in addition to chocolate from around the world so you can compare and contrast.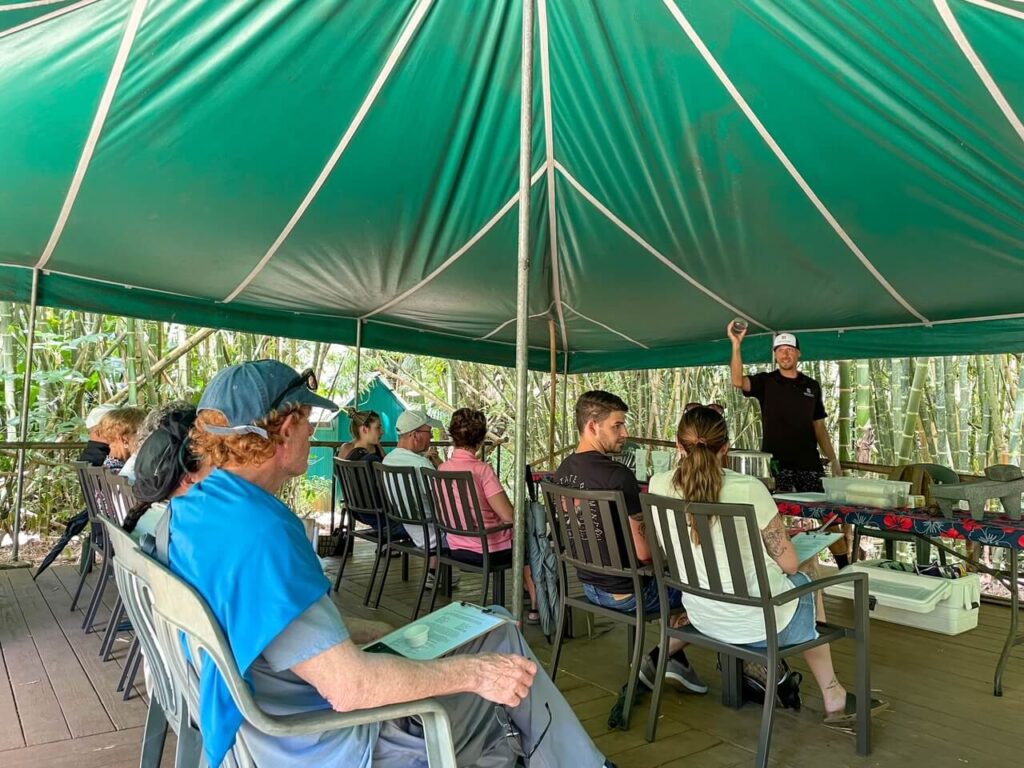 This is where you'll also learn about the health benefits of chocolate and why you should add it to your diet. And you'll be able to tell the distinctive flavors of cacao beans grown in different parts of the world.
Food Options
If you need something other than chocolate, you'll need to head back down the hill to Kapaa Town to get lunch or dinner. It's really only a few minutes from the farm and there are lots of food trucks, restaurants, and cafes to check out.
The Highlights of This Kauai Tour and What You Should Look Out For
Tropical Fruit Tasting
One of my favorite things on this Kauai farm tour was getting to taste an array of tropical fruit! If you don't have time to hit up a farmers market, this is a great way to sample some of Kauai's most delightful fruit!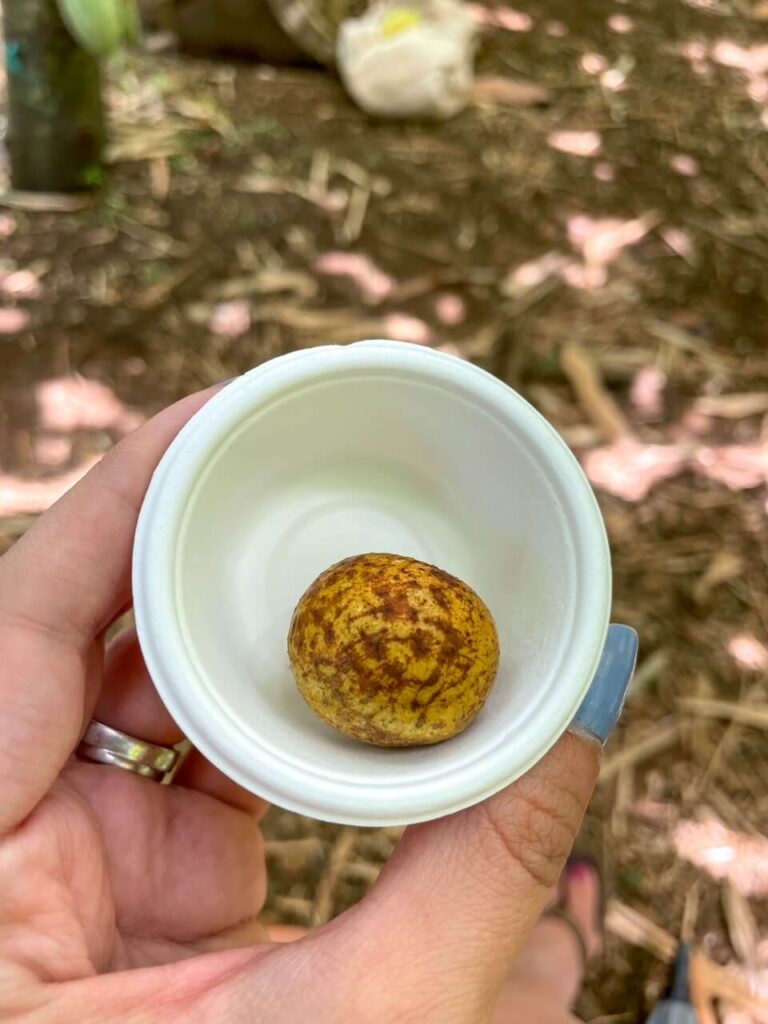 We got to try Kauai sugarloaf pineapple, longan (aka Dragon's Eye), mango, banana, and papaya. We also got to sample locally made honey.
It was also fun to throw our fruit scraps so the chickens could eat them up!
Chocolate Tasting
The chocolate tasting was super thorough! We tasted everything from beans to the final product.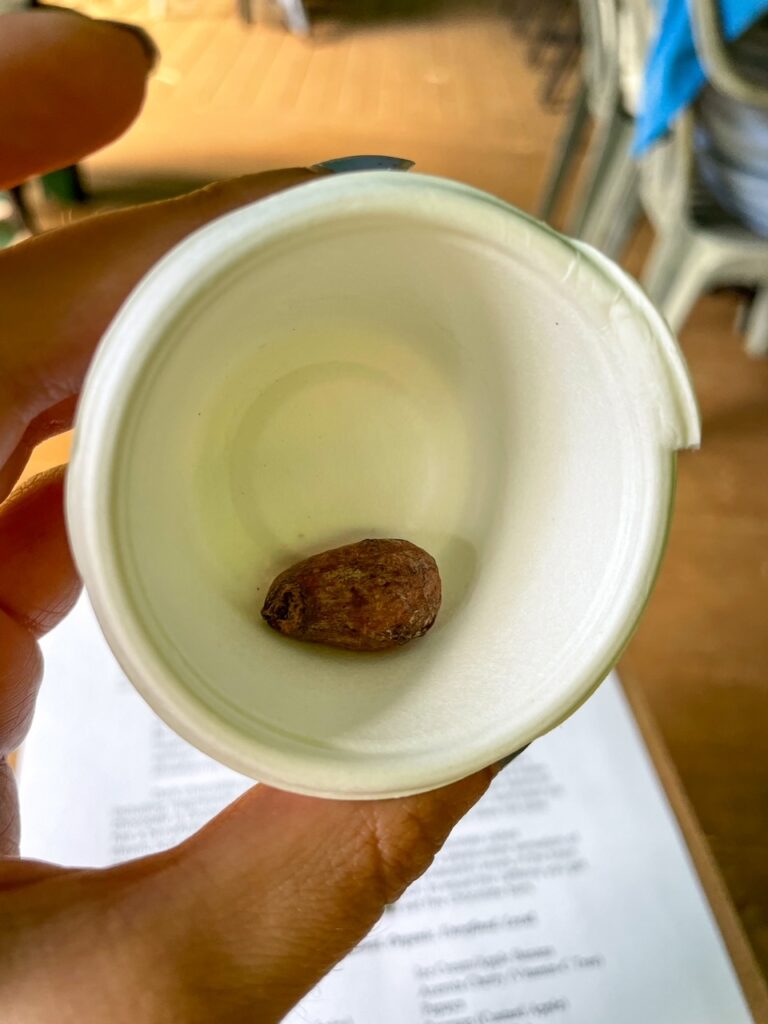 There were 10 chocolate tastings on this tour and it was amazing how different everything tasted.
My son and I really like the Lydgate Farms Dark with Koloa Rum as well as the Valrhona Dulcey White Chocolate.
Shopping
One of the best parts about this chocolate farm tour on Kauai is that you can only buy chocolate bars reserved for tour members.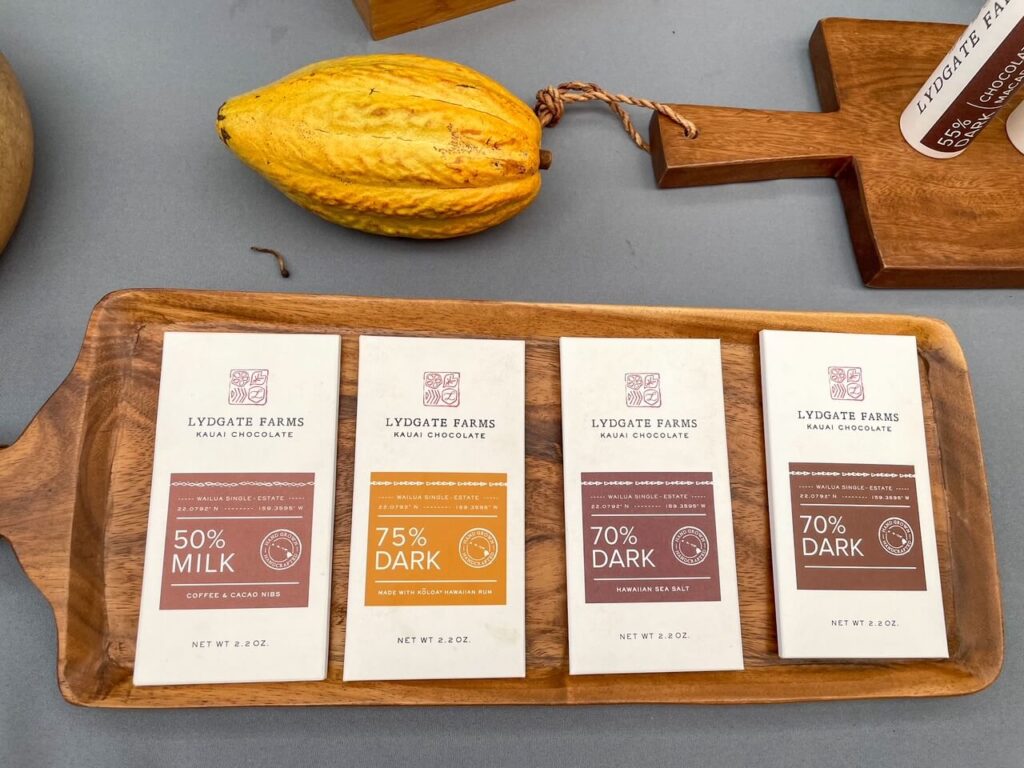 These are made in small batches, and they don't have enough supply to sell to the public. I definitely recommend stocking up on your favorites so you don't regret it later!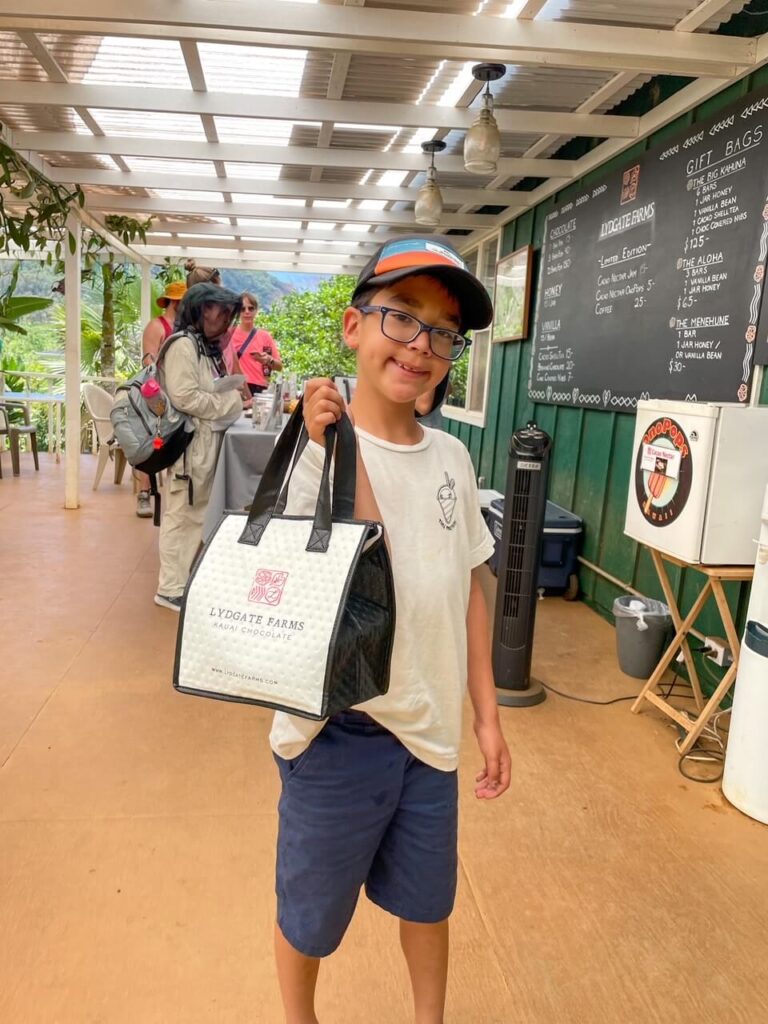 They will even package your chocolate in an insulated bag with ice so it doesn't melt on the drive back to your hotel.
You'll also get a discount of 10% off online orders just for taking the tour.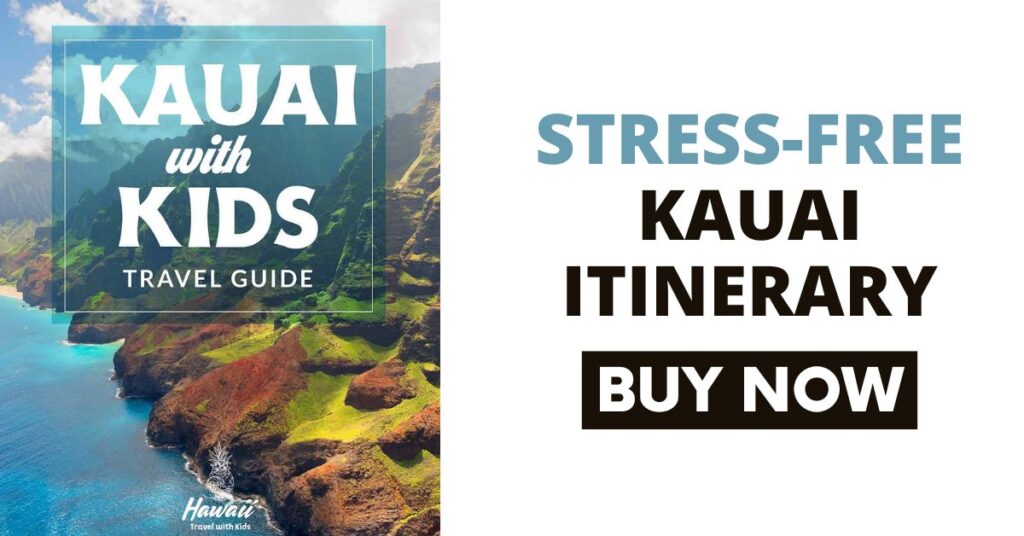 Kauai Chocolate Farm Tour Tips for Families
Ages 7+
I brought my 8-year-old on this Kauai chocolate farm tour and it was a blast! He enjoyed trying all the chocolate and exploring the jungle.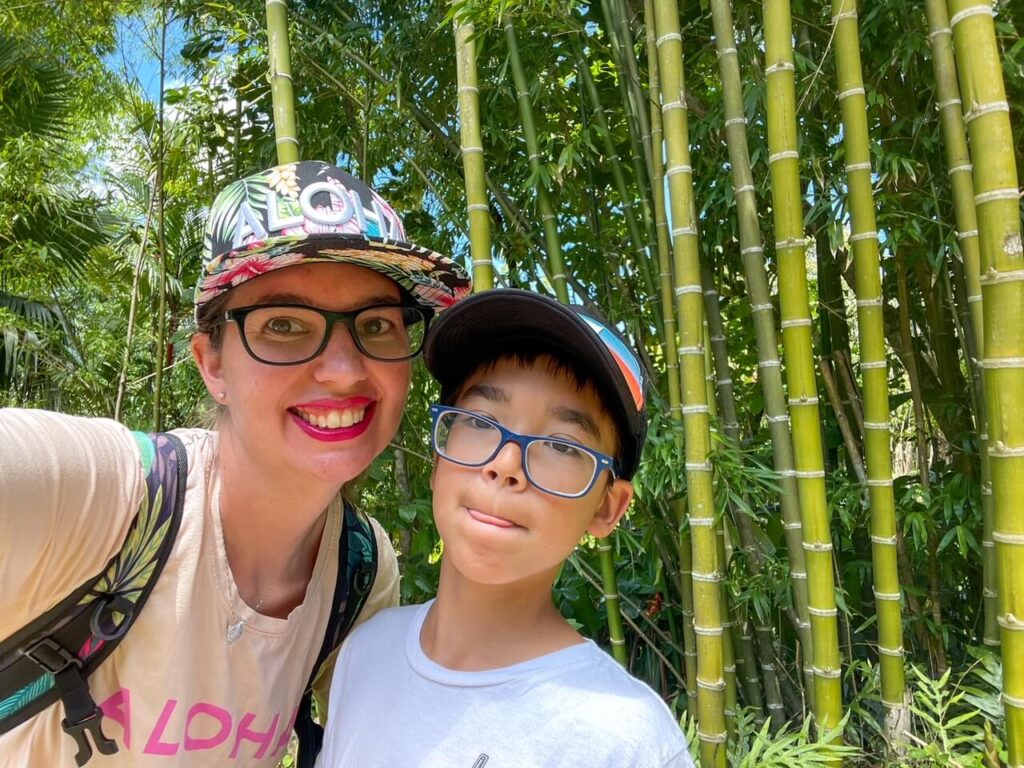 I can't wait for my 5-year-old to be old enough to join this tour. He's a major chocolate fan and he'll love it!
What to Wear
We wore t-shirts, shorts, and flip flops. However, I'd recommend wearing closed-toe shoes for walking around the farm. We managed in flip flops but it was a little dicey in areas.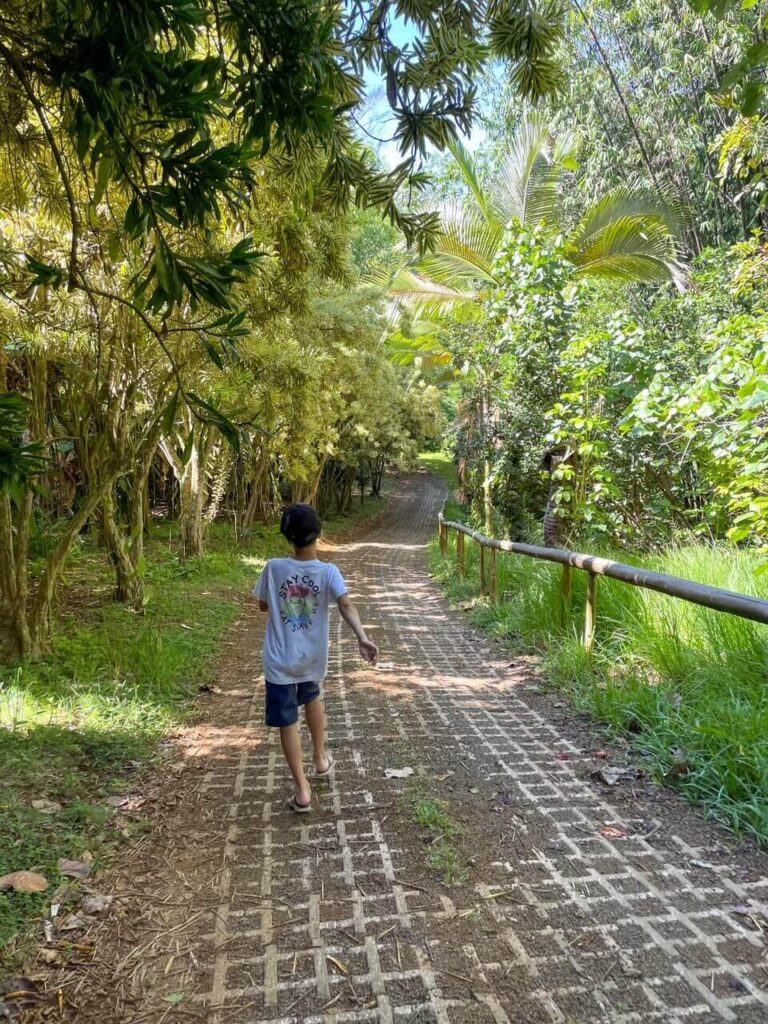 I also regretted not wearing long pants because I got eaten alive by mosquitoes (which never usually bite me).
I'm glad we had hats, though, because there were some sections where we were in direct sunlight.
What to Bring
While there are a few water stations available during the tour, I'd suggest bringing your own water bottle. We didn't, and I totally regretted it.
Not only is it hot and you'll get thirsty, but you'll also get thirsty tasting the tropical fruit and eating a bunch of chocolate.
I also suggest grabbing one of the umbrellas they have at the meeting area. You can use it for the sun or the rain.
How Much Does it Cost and Where is it Located?
This three-hour tour costs $125 for adults and $95 for children ages 7 and older.
It's located at Lydgate Farms up in the Wailua homesteads.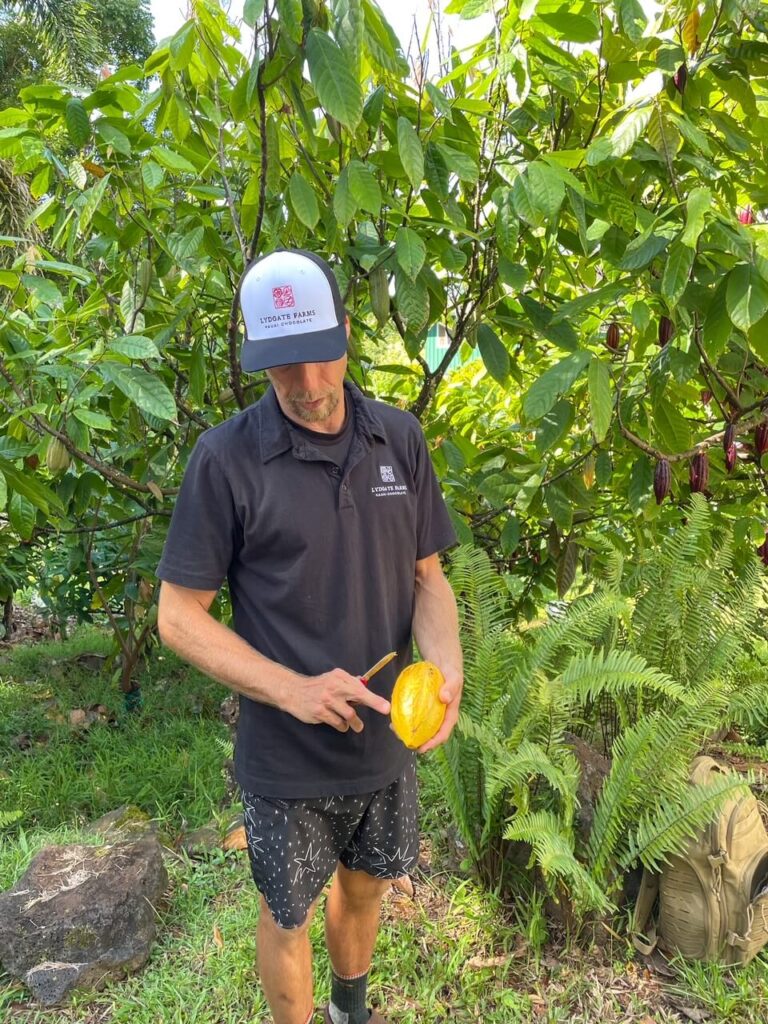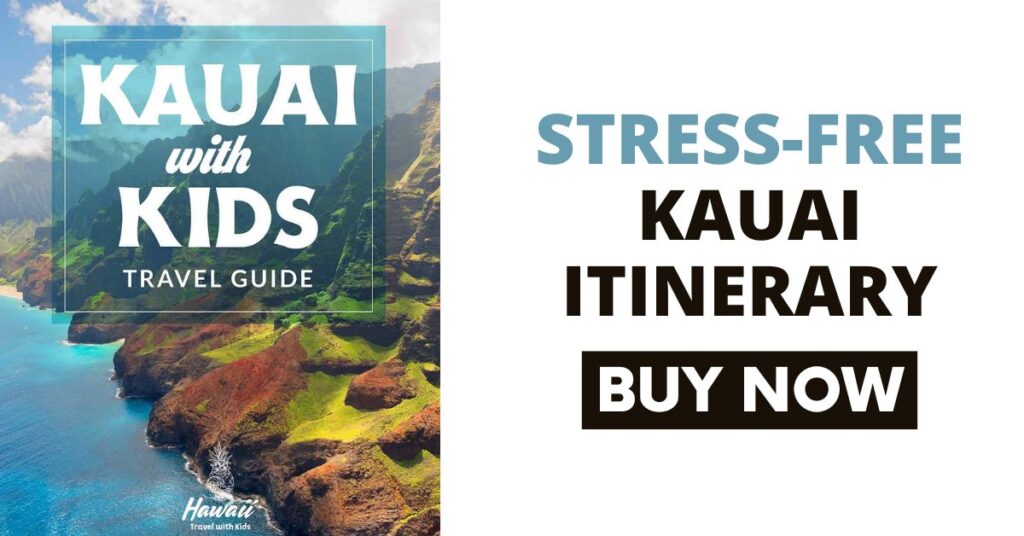 Hawaii Chocolate Farms FAQ
Where is chocolate grown in Hawaii?
Hawaii has the perfect climate for growing chocolate! There are several chocolate farms on the Big Island and Oahu, but you'll also see them on Kauai and Maui. And each year, more and more cacao is grown in Hawaii.
Is Hawaii famous for chocolate?
Sort of! It's the only state in the U.S. that can grow cacao, so it's a bit of a novelty. But, Hawaii chocolate is really, really good! Most Hawaii chocolate farms use high-quality ingredients that produce world-famous chocolate.
What type of cacao is grown in Hawaii?
The most commercially grown Hawaiian cacao is the Theobroma cacao. These cacao plants cross-pollinate and they pick up the flavors of their environment which makes each cacao tree unique.
So, is the Lydgate Farm Kauai Chocolate Tour Worth It?
YES! My 8-year-old said this was the best Kauai farm tour he's done! He really liked all the generous chocolate samples and the option to "hana hou" the samples to try them again!
This Kauai chocolate tour exceeded my expectations since we learned about all types of things on the farm besides the Hawaii cacao plants.
I also thought the samples were plentiful and the tropical fruit tasting was an added bonus!