Are you looking for fun things to do on Kauai with kids (or without)? Keep scrolling to read my honest review of the Kauai Coffee Farm tour near Poipu.
This Kauai coffee farm tour review was written by Hawaii travel expert Marcie Cheung and contains affiliate links which means if you purchase something from one of my affiliate links, I may earn a small commission that goes back into maintaining this blog.
Planning a trip to Kauai with kids and want to do a fun, informative farm tour?
We recently did the Kauai coffee farm tour near Poipu, which was a blast. The entire tour takes place in an open-air vehicle, so there's no walking involved.
You'll go into the coffee fields, see the plants, and drive down private roads most people don't get to explore. Plus, there are some stunning views of the ocean.
After the tour, you can do one of their free coffee tastings. Yum!
Keep scrolling to read my full Kauai coffee farm tour review to see if you should add it to your Kauai itinerary!
Don't have time to read a bunch of Hawaii blog posts and reviews? Here are some of our top picks for visiting Kauai.
Popular Kauai Tours/Activities
Favorite Kauai Resorts/Hotels
Grand Hyatt Kauai (this Poipu resort has a luxurious pool area, romantic restaurants, and a stunning ocean view)
Koloa Landing Resort (this is a luxury resort with an amazing pool area and truly spacious rooms)
Royal Sonesta Kauai (we LOVE the pool here because it's the largest one in Hawaii)
Want to Rent a Car in Hawaii?
One of the best places to rent a car in Hawaii is Discount Hawaii Car Rental because they get the best rates from top national companies like Alamo, Dollar, Thrifty, Avis, Enterprise, Budget, and Payless.
Want to skip all the planning and just access my detailed Kauai Itinerary complete with daily schedules, kid-friendly activities, and travel hacks? Click the button below.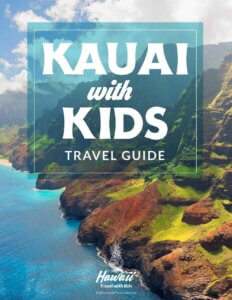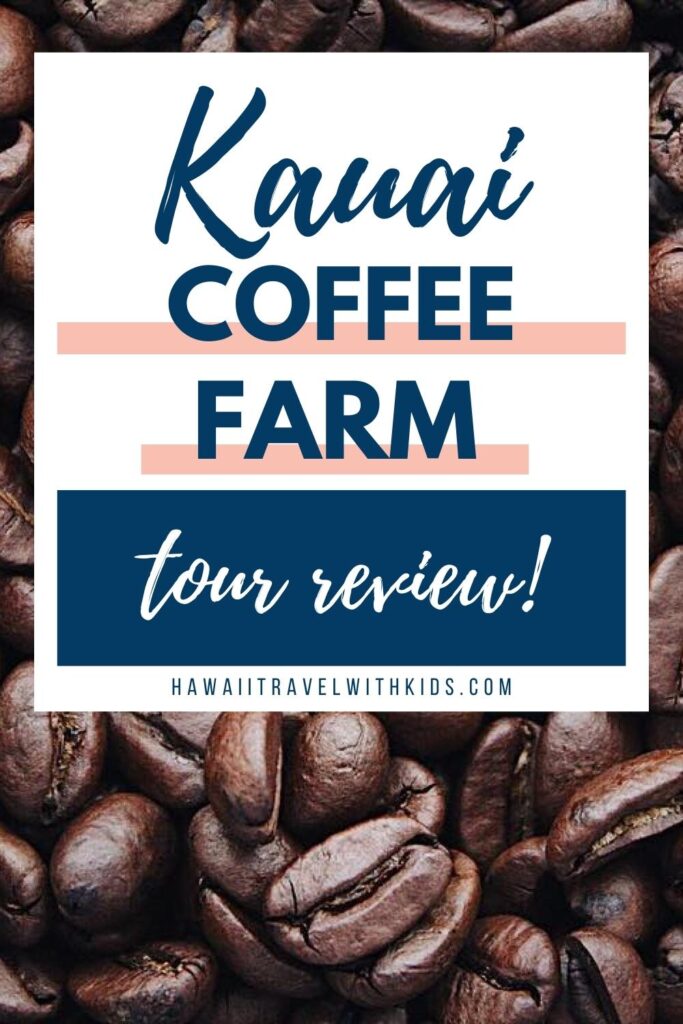 Where is the Kauai Coffee Company?
The Kauai Coffee Company visitors center is located near Poipu on the south shore of Kauai. The address is: 870 Halewili Rd, Kalaheo, HI 96741.
As you're driving down the highway, you'll see the big Kauai Coffee Company sign at the edge of the plantation. Then, you'll drive quite a ways before you get to the visitors center.
Brief Kauai Coffee Farm History
The Kauai Coffee Company launched in 1987. Today, they have more than 4 million coffee trees grown on 3,100 acres. This makes Kauai Coffee Company Hawaii's largest coffee grower and the largest coffee grower in the U.S.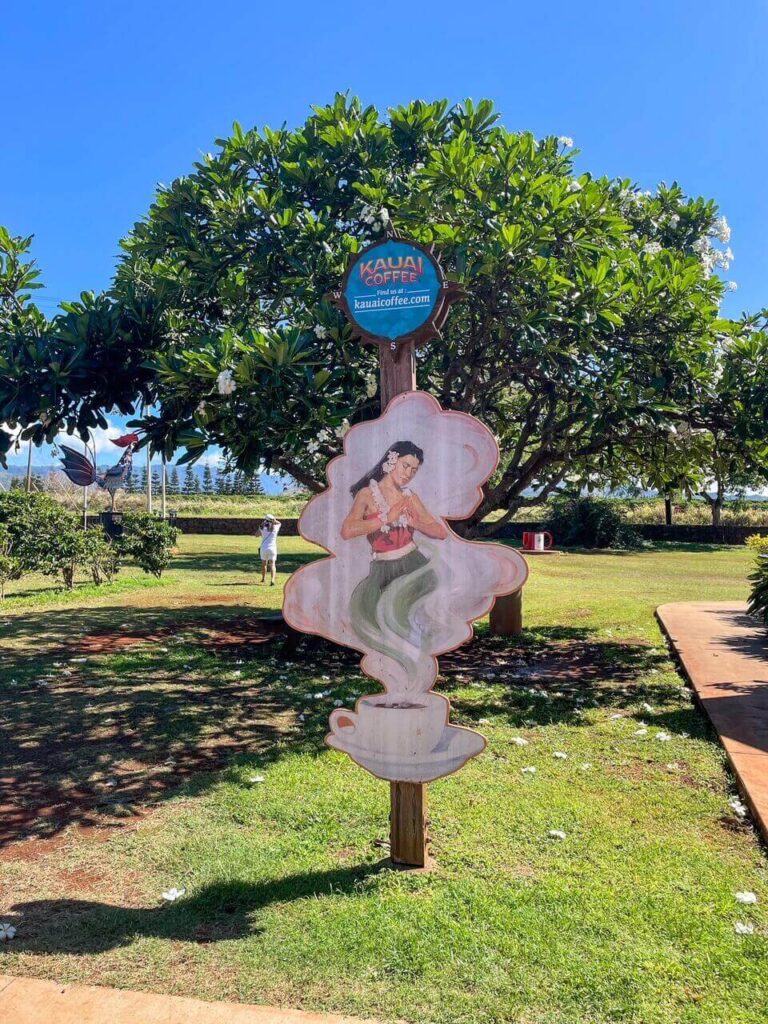 Something we learned on the tour is that the Kauai Coffee Company is located on an old sugar cane plantation (the McBryde Sugar Company).
This is cool because they could use all the irrigation systems and take advantage of the cane roads. And some of the workers have been with them since the sugar cane days!
What to Know about this Kauai Coffee Farm Tour Before You Go:
They Have 3 Certifications
When we were on this coffee tour on Kauai, our guide told us that they are the only coffee company to be triple-certified.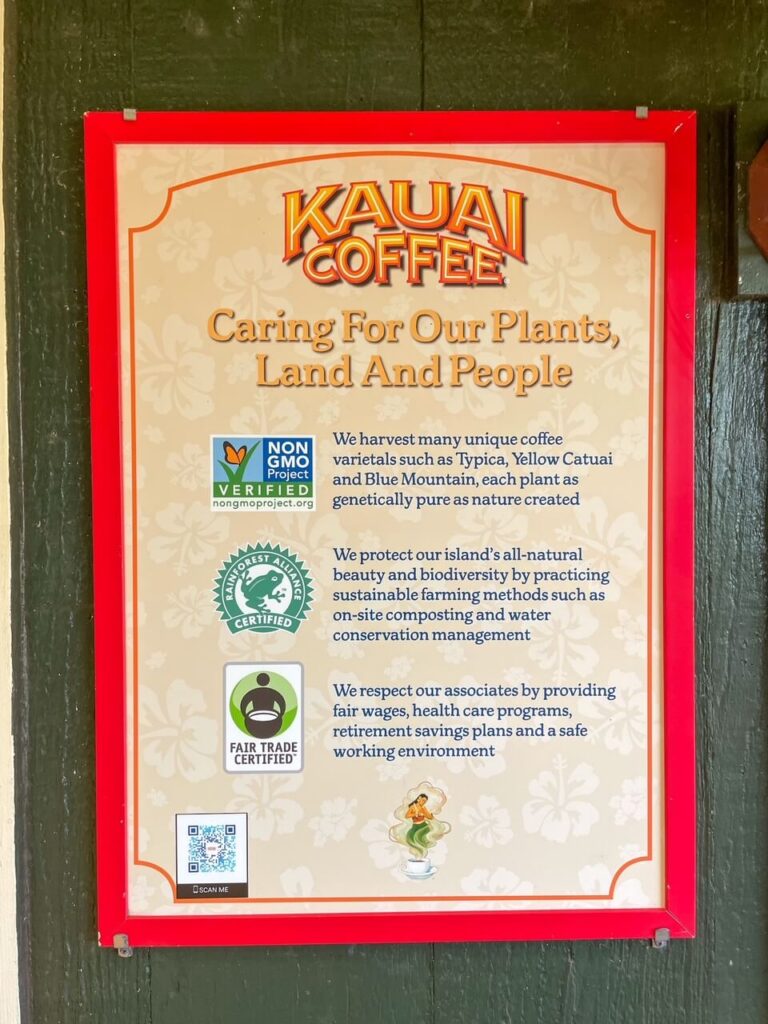 They are non-GMO, part of the Rainforest Alliance, and Fair Trade certified. This is quite the achievement!
They Have the Largest Chicken Statue in Hawaii
If this is your first trip to Kauai, you might not understand why they would have a sculpture of a chicken. If you are a return visitor, you know!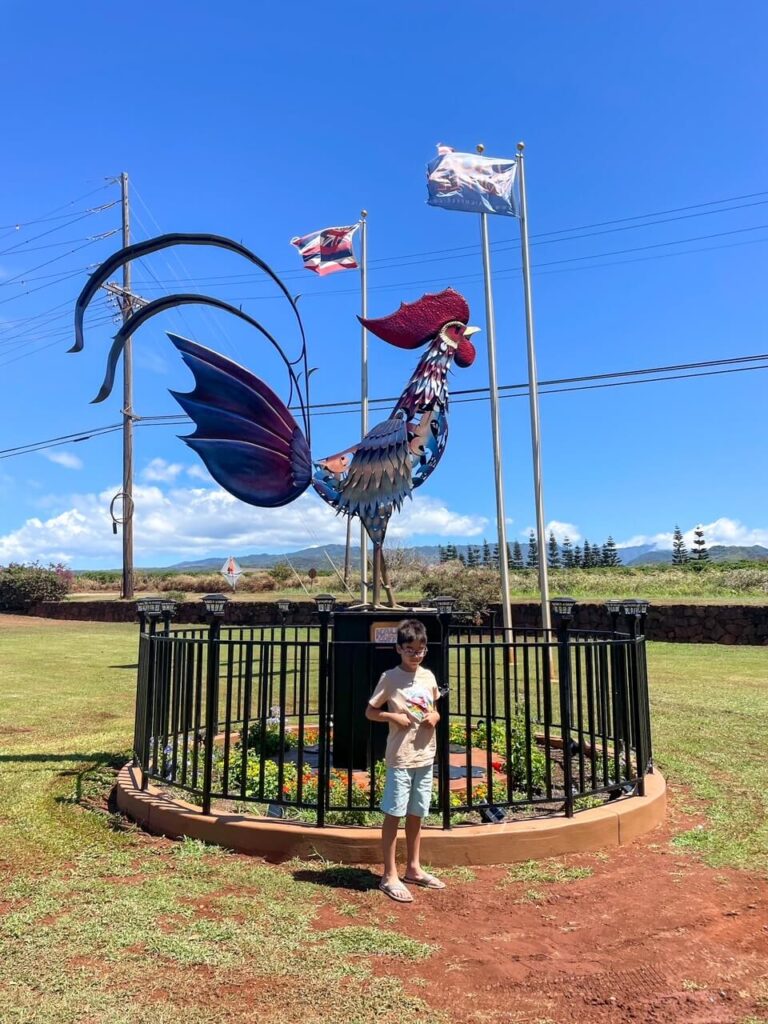 I think our tour guide said they installed it in August 2022 and it's the fifth largest chicken sculpture in the United States! If you like roadside attractions, you'll definitely want to snap a photo!
How to Visit the Kauai Coffee Farm
You'll definitely want to book your Kauai Coffee Farm Tour tickets before you go. Limited tickets are available for each tour, and they fill up quickly.
You'll also need to show up 30 minutes before your tour or you might have to come back another day. We saw this happen to someone on our tour.
Where to Park
There is a massive free parking lot at the Kauai Coffee Visitor's Center so you'll have no trouble finding a spot.
Arrival
You need to arrive 30 minutes before your tour. That's so you can sign in as a visitor, get your sticker, and fill out the liability waivers.
After that, you can head to the cafe to get a coffee drink, pastry, or ice cream.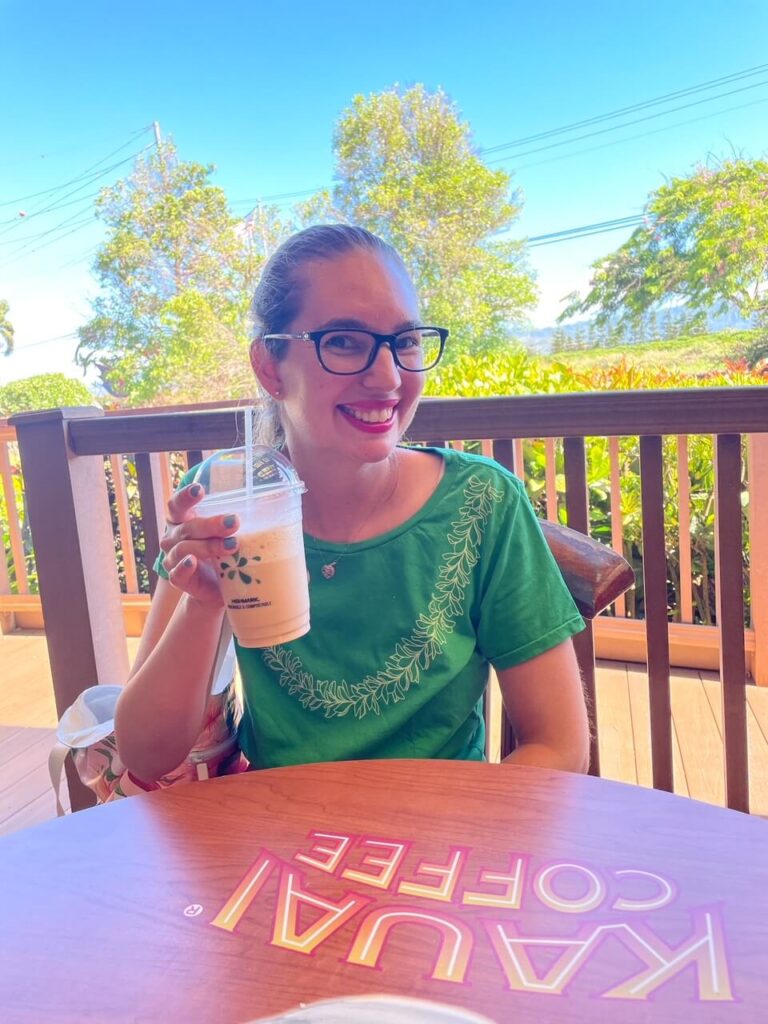 It's also a good time to do a free coffee tasting or take photos in the yard or at their photo wall. And take advantage of their restrooms!
Kauai Coffee Museum
If you want to learn just a bit about coffee on Kauai, the Kauai Coffee museum is a quick stop.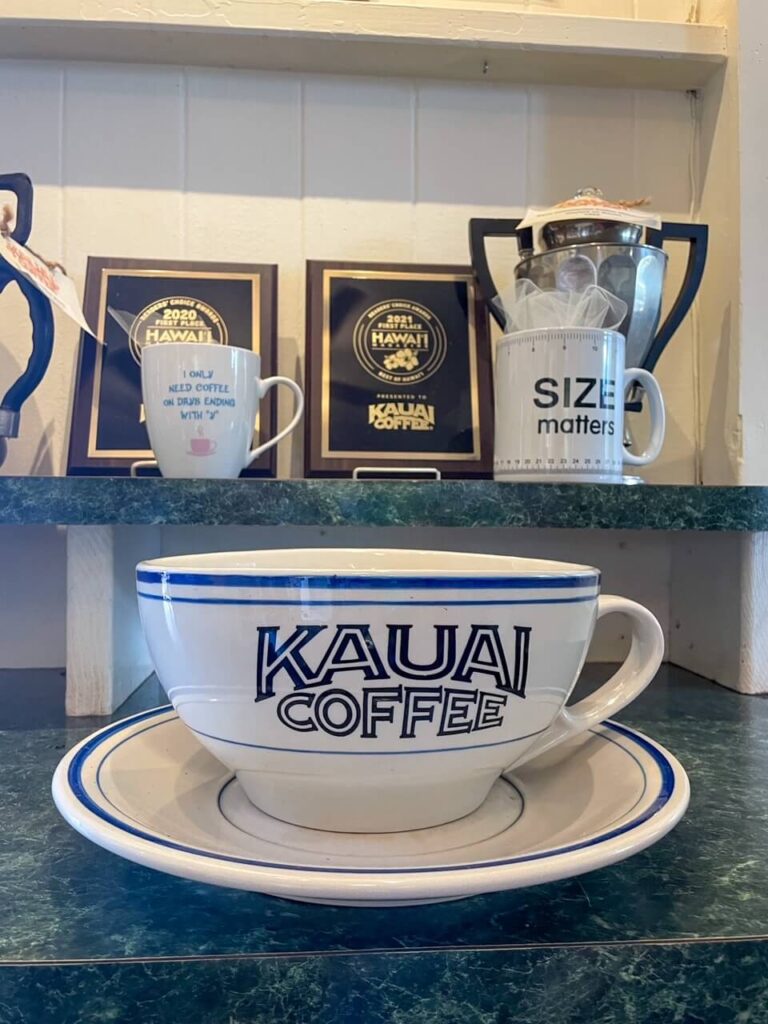 They have a bunch of old Kauai coffee plantation equipment as well as funny coffee memorabilia and signage.
Kauai Coffee Tasting
Take advantage of the free Kauai coffee tasting before or after your tour. They have a bunch of carafes set up with 5-6 different flavors of Kauai coffee.
You can go back as many times as you like to try them all and decide which is your favorite. And you can always buy bags of Kauai coffee at their gift shop.
Kauai Coffee Gift Shop
While there are a lot of gift shops on Kauai, this one is definitely one of the best. They have a bunch of clothing options, home decor, and unique souvenirs.
This is also where you can pick up bags of your favorite Kauai coffee beans.
Kauai Coffee Farm Tour
Once it's time for your tour, you'll head out to the parking lot and board their tram for a scenic tour of their property.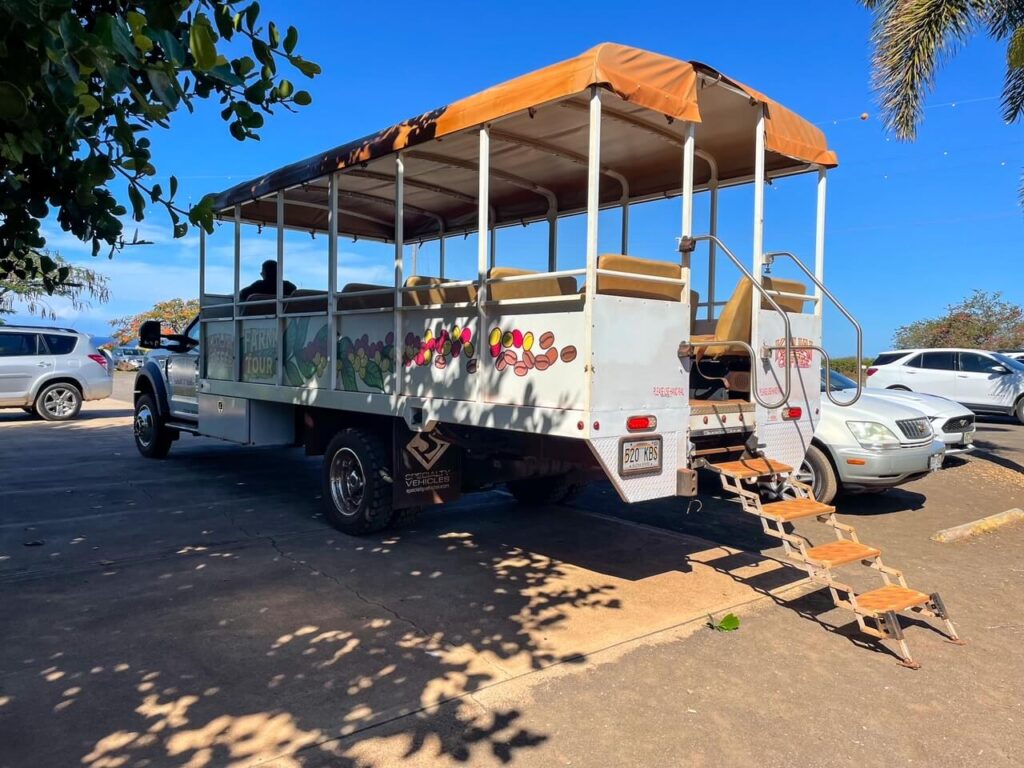 There are seatbelts and the dirt roads are only slightly bumpy, so it all feels pretty safe. And it's all open-air, which makes for great views and a slight breeze to keep people comfortable.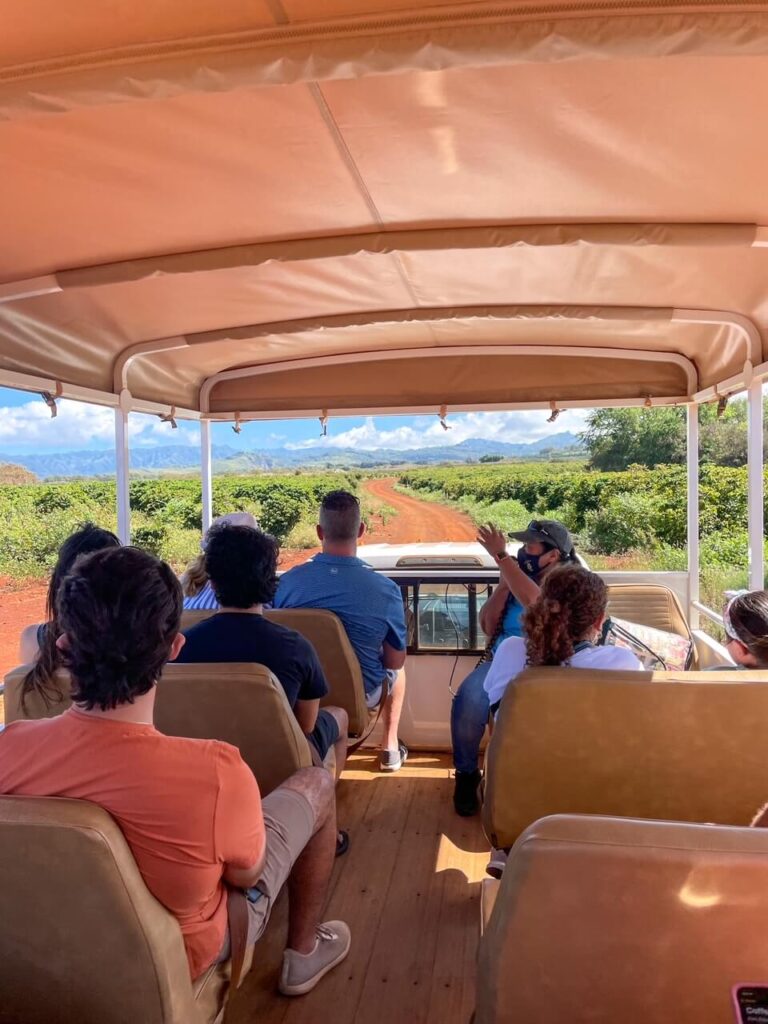 Our tour guide sat up from with a speaker and she was one of the best tour guides we've had in Hawaii!
She told us lots of stories about Kauai and included several honestly funny coffee puns and jokes!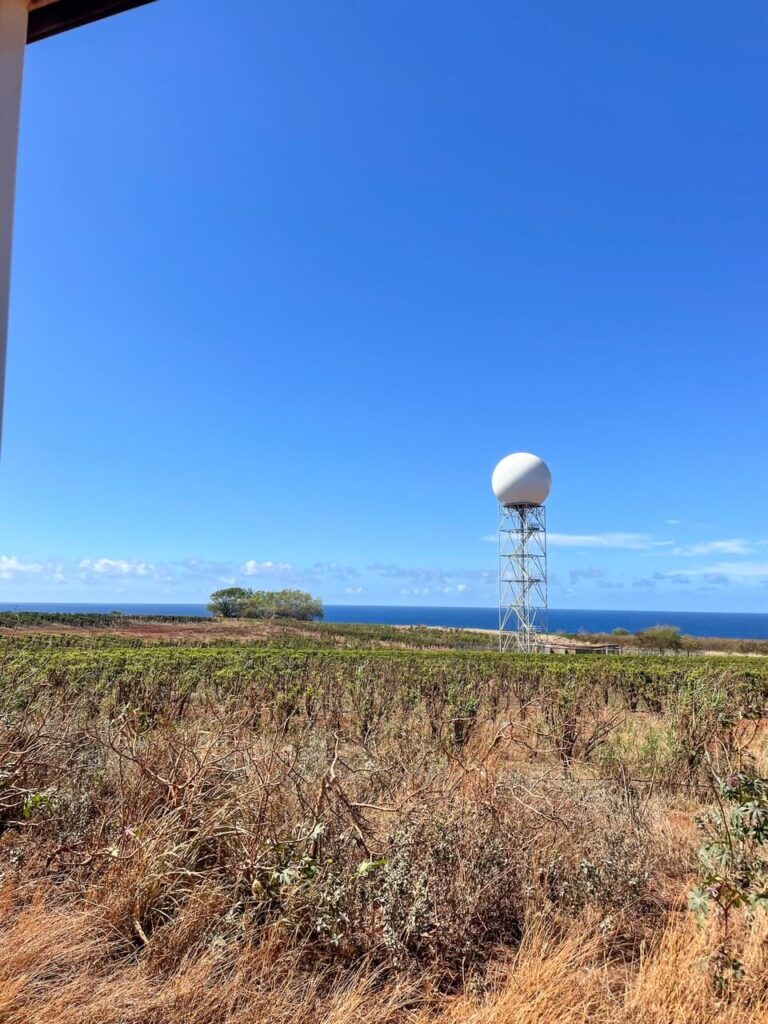 Along the way, we saw this giant golf ball tower and learned that it's actually a weather station for Kauai. We also saw one up at Waimea Canyon later in our trip.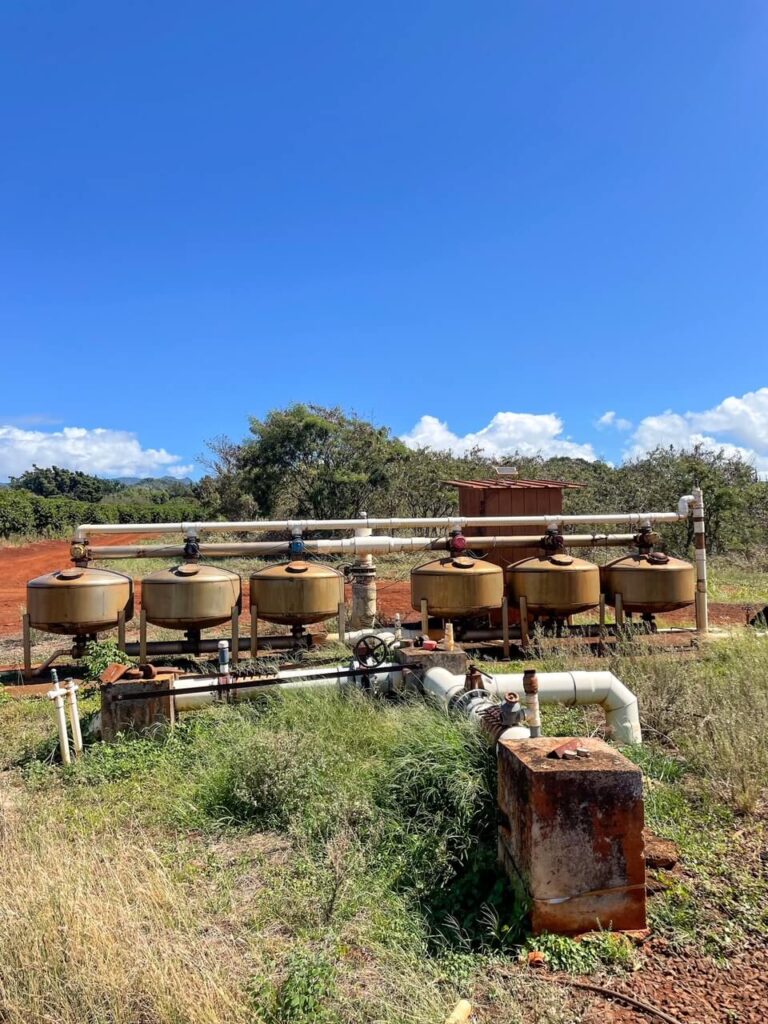 We felt special getting to see some old equipment hanging around the coffee plantation on Kauai. Some of it was still in use, and others just stayed.
It was a good reminder that people do work in the fields every day and what worked 50 years ago sometimes works just as well today.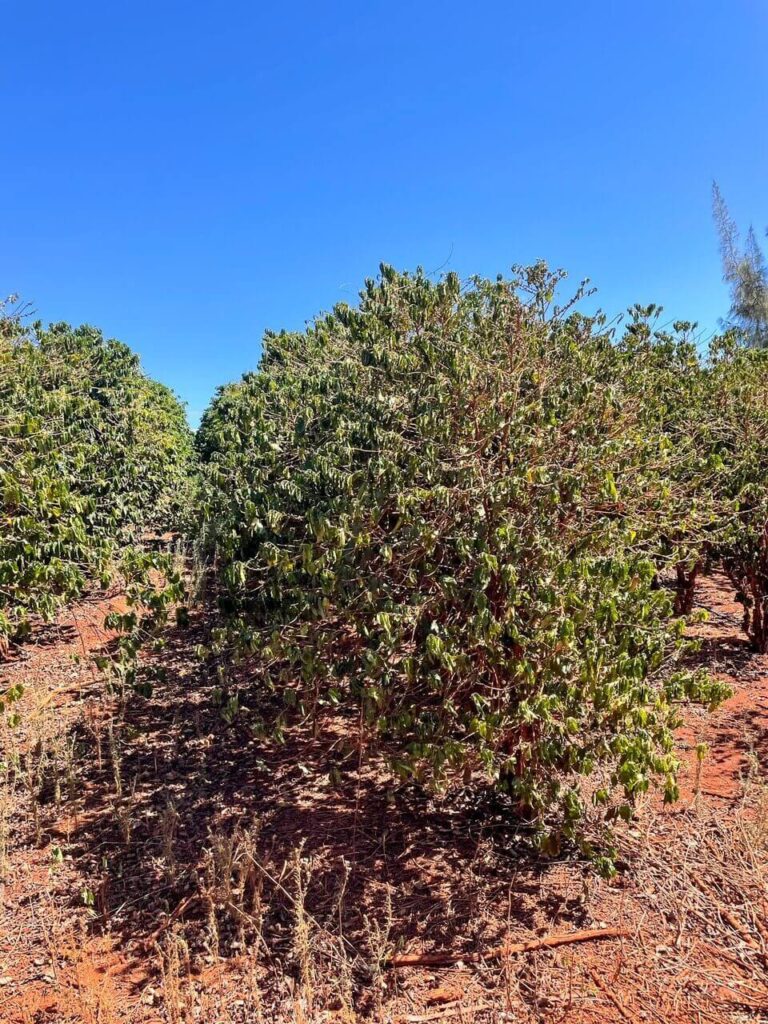 Of course, we also saw lots and lots of coffee bushes! Some of them had red/yellow berries.
Apparently, if you go in the spring, there's a good chance you'll see a bunch of white blossoms on the bushes!
Food Options
If you're hungry after your tour and don't want anything from their coffee shop, you'll need to head to Koloa or Poipu to get food. Koloa has a great food truck scene and Poipu has a lot of sit-down restaurants as well as grab-and-go spots.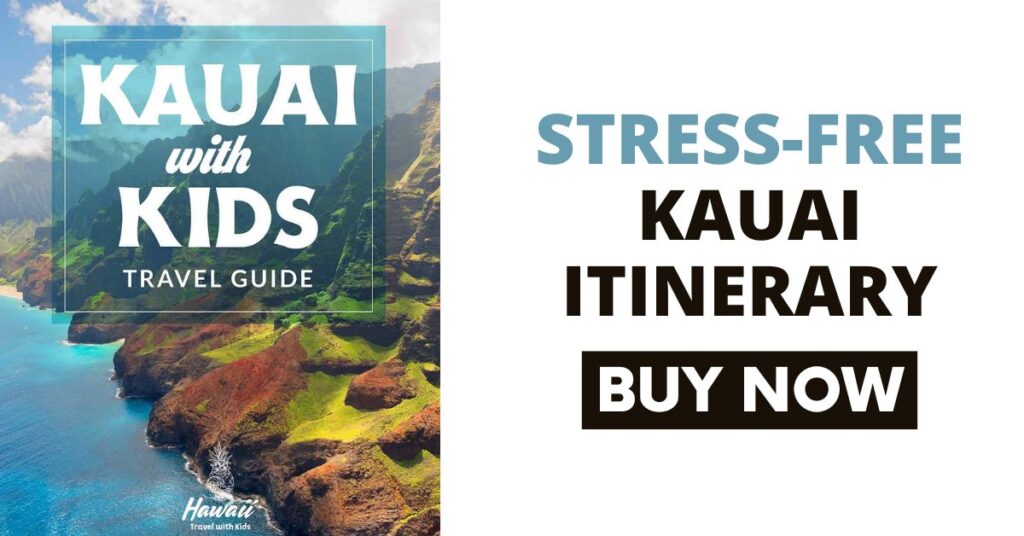 The Highlights of This Kauai Coffee Tour and What You Should Look Out For
Rubber Chicken
One of the highlights for my 8-year-old was getting to hold a rubber chicken. Our guide passed out a few of them to the kids and instructed them to squeeze it whenever they saw an animal.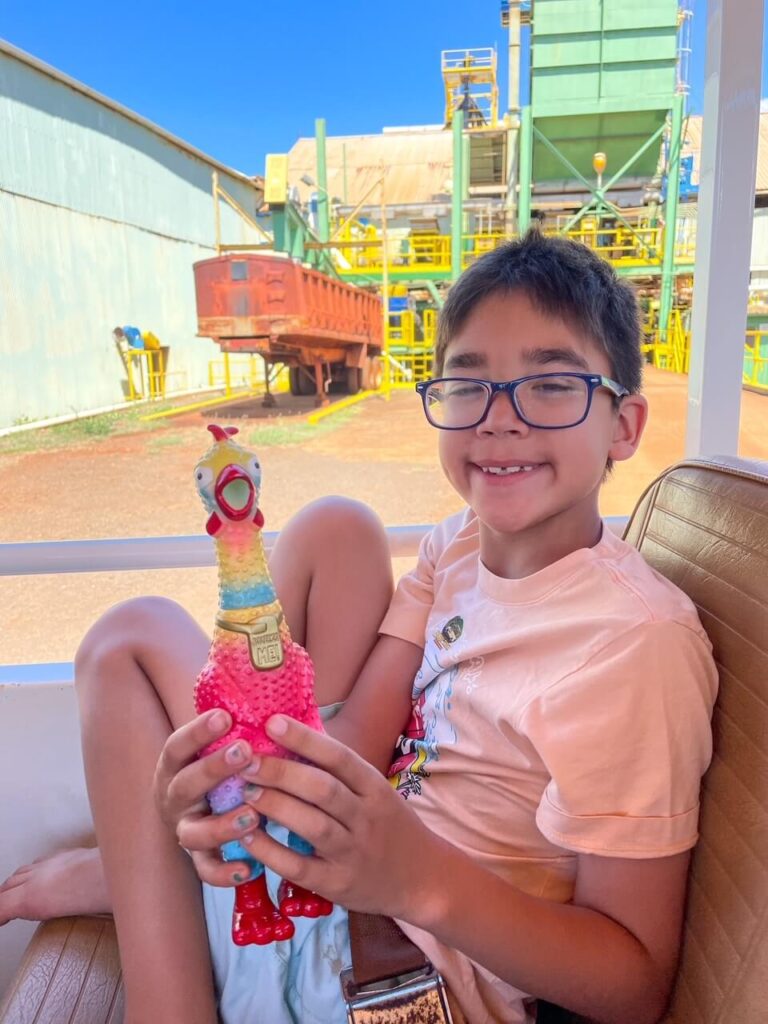 This toy is LOUD and hilarious! It sounds exactly like a chicken when you squeeze it!
It kept all the kids occupied during the tour and they liked the responsibility of alerting us all when there was an animal sighting.
Kauai History/Culture
One of my favorite parts of the tour was learning more about Kauai and Ni'ihau (the forbidden island). The people on Ni'ihau speak the "king's Hawaiian" language, which I found fascinating.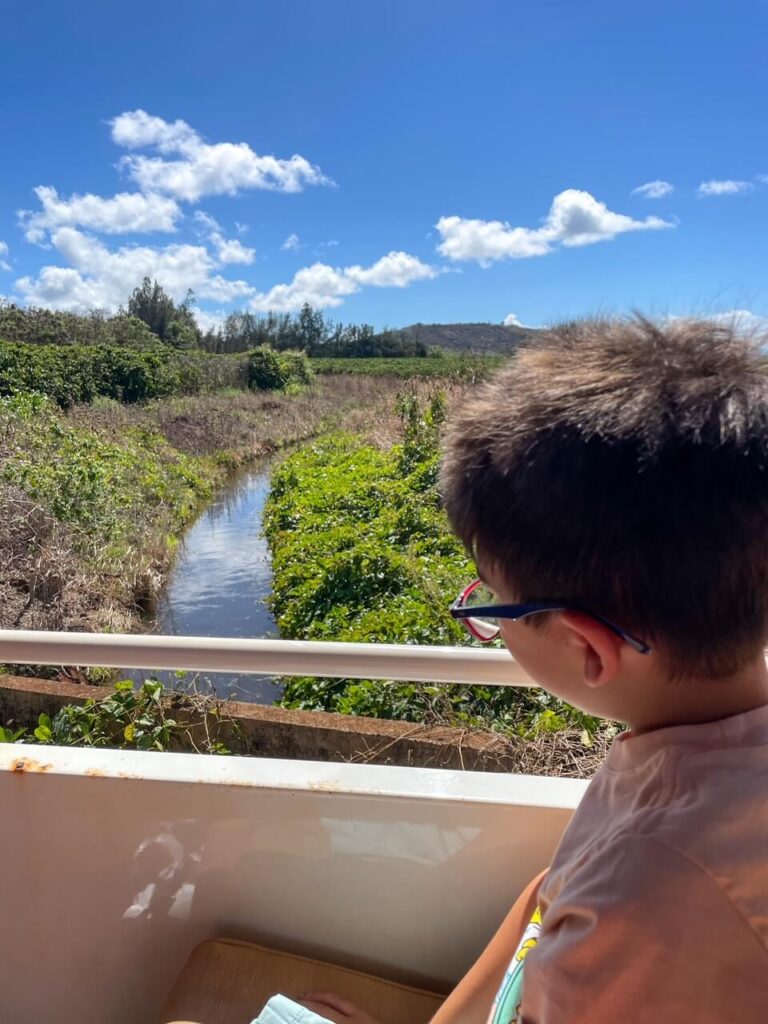 We also heard about how our tour guide used to sneak and float on these irrigation canals when she was a kid.
And we learned about Kauai plantation days and what life was like back in the day. We always appreciate these touches when doing Kauai tours.
Ocean Views
One of the most unexpected parts of this coffee plantation tour on Kauai was seeing the epic ocean views!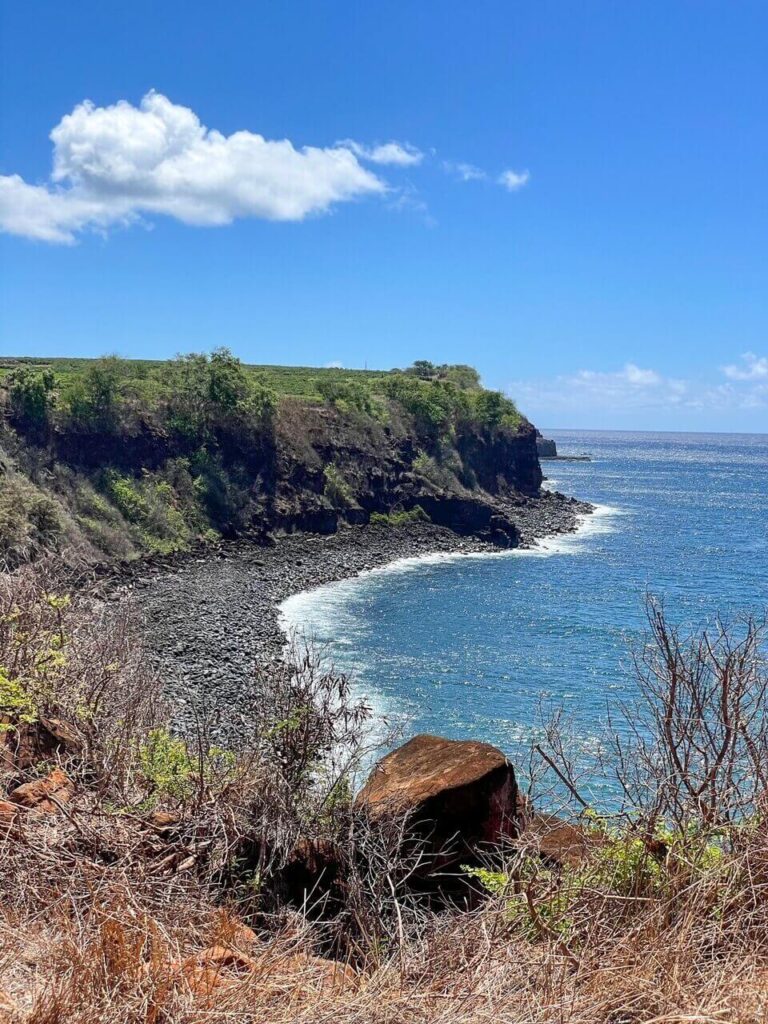 Since this is all on private property, the main way to see this area is on the Kauai coffee farm tour. Otherwise, you need a permit (mostly for fishermen).
So it felt special to get to see it for ourselves.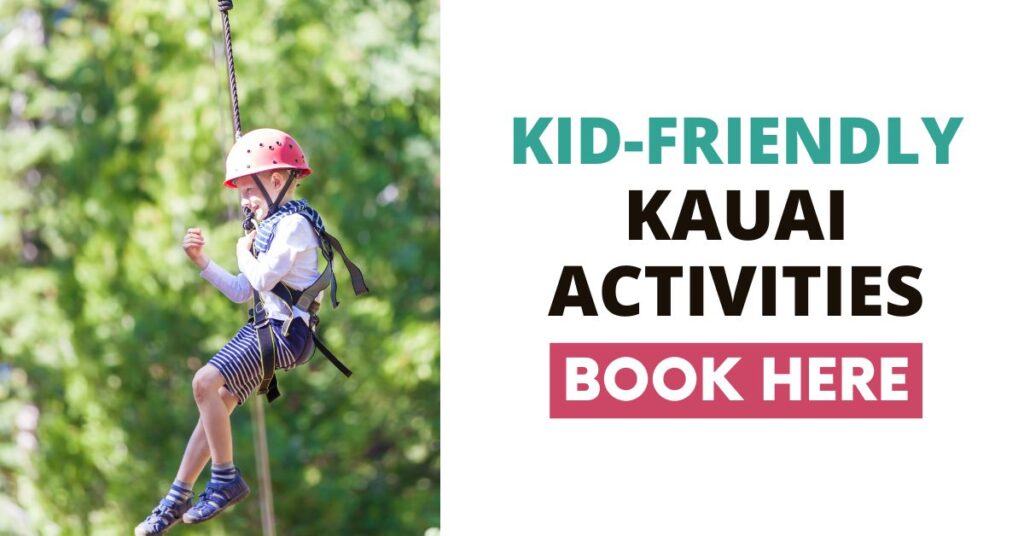 Kauai Coffee Farm Tour Tips for Families
Ages 8+
I brought my 8-year-old on this Kauai coffee farm tour and it was fun! He enjoyed driving on the backroads, seeing the animals, and trying coffee for the first time.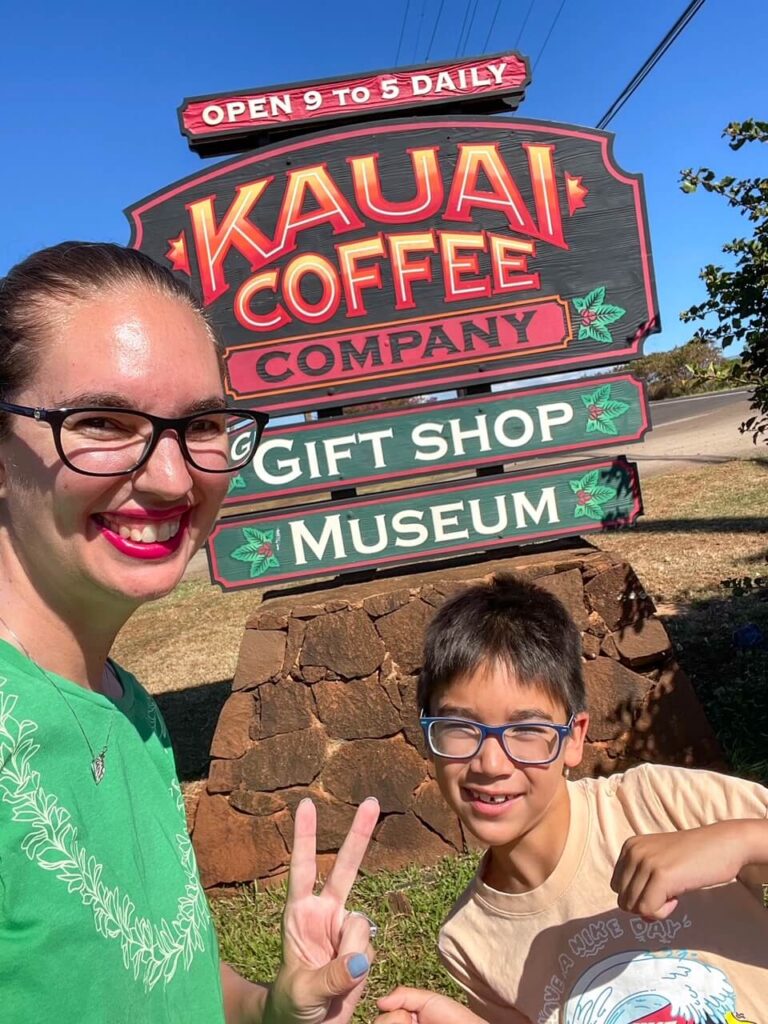 The tour guide was hilarious and kept his attention for most of the tour. And there was plenty to see as he looked outside the vehicle.
What to Wear
I had read a few reviews before we decided what to wear on this coffee farm tour. I kept seeing mentions of good walking shoes.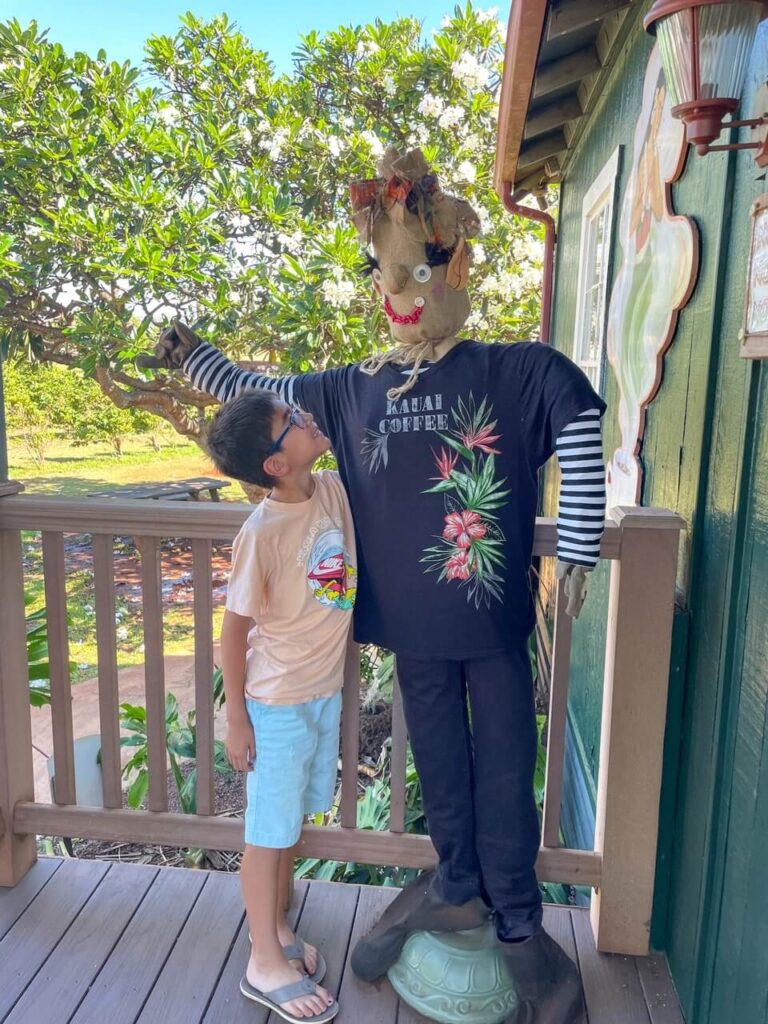 Well, let me tell you, there was NO walking involved. The whole tour took place inside the vehicle, so you can wear whatever you like.
We wore flip flops and comfortable clothing. You'll want to dress for the weather.
What to Bring
I'd definitely bring some sunscreen so you can reapply it if you have a window seat and your arms are in the direct sun.
Sunglasses are also a good idea if it's really bright outside.
And I'd bring some water and possibly snacks. The tour is one-hour long and chances are that someone in your family will be hungry or thirsty at some point.
Photo Ops
One of the coolest things about the Kauai Coffee Company is that they have a bunch of awesome photo ops set up around the property!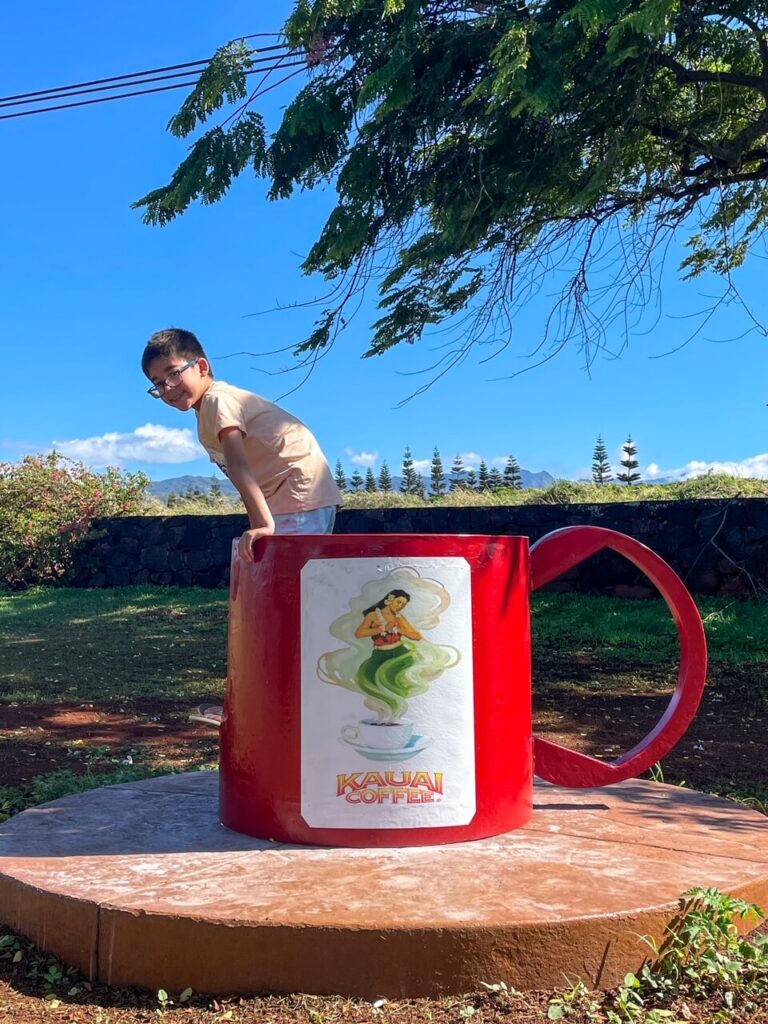 The giant mug and chicken sculpture are in the front lawn area. They used to have some cutouts where you can stick your head through, but we didn't see them this time.
There's also a photo wall on the back side of the visitor's center. And there are fun signs if you walk around the property for the self-guided tour.
How Much Does it Cost and Where is it Located?
The Kauai Coffee Farm Tour is located at the Kauai Coffee Company Visitor's Center in Kalaheo.
This Kauai farm tour costs $45 for adults and children 8-18 are $40.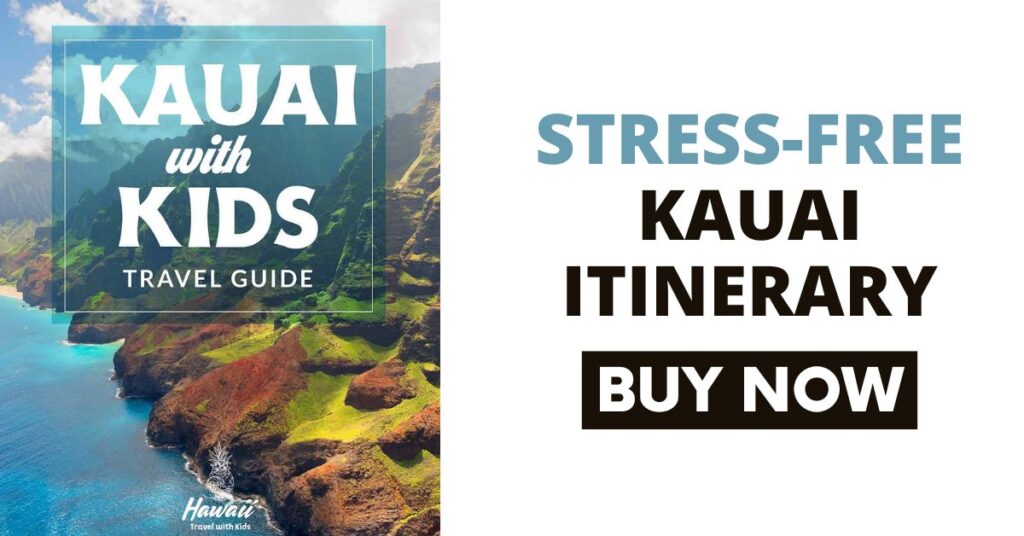 Kauai Coffee Tours FAQs
Is Kauai known for coffee?
YES! Hawaii is the only state in the U.S. where coffee is grown commercially. That's because the volcanic soil and year-round sunshine are ideal coffee-growing conditions. And the Kauai Coffee Company has the largest coffee farm in Hawaii!
Is there a free Kauai coffee tour?
Yes! You can do a free self-guided tour of the Kauai Coffee Company. It's an easy walk around the visitor's center and you can see the steps it takes to take your coffee from bean to cup.
Is Kauai Coffee Kona coffee?
No. These are two different things. Kona coffee is only grown on the Kona coast of the Big Island of Hawaii. The name implies where it is grown, not what type of coffee it is.
So, is the Kauai Coffee Company Farm Tour Worth It?
My son and I had a lot more fun on this tour than we expected. We learned about the coffee plantation in a fun yet informative way. And we got to sample lots of coffee after the tour!
I'd definitely recommend taking this tour if you're looking for unique things to do on Kauai. And there are some really cute photo ops as well as a great Kauai gift shop.