Are you looking for unique things to do on Kauai with kids (or without)? Keep scrolling to read my honest review of the Kauai Pineapple Plantation Tour in Anahola.
This Kauai Pineapple Plantation Tour Review was written by Hawaii travel expert Marcie Cheung and contains affiliate links which means if you purchase something from one of my affiliate links, I may earn a small commission that goes back into maintaining this blog.
Planning a trip to Kauai with the family?
Did you know that Kauai is famous for their sugarloaf pineapples? These pineapples have low acidity and are super sweet.
In fact, we recently took a Kauai pineapple plantation tour with our kids, and it was a blast!
Keep scrolling to read my honest review of the Kauai pineapple plantation tour. I'll tell you everything you need to know before booking your own tour.
Don't have time to read a bunch of Hawaii blog posts and reviews? Here are some of our top picks for visiting Kauai.
Popular Kauai Tours/Activities
Favorite Kauai Resorts/Hotels
Grand Hyatt Kauai (this Poipu resort has a luxurious pool area, romantic restaurants, and a stunning ocean view)
Koloa Landing Resort (this is a luxury resort with an amazing pool area and truly spacious rooms)
Royal Sonesta Kauai (we LOVE the pool here because it's the largest one in Hawaii)
Want to Rent a Car in Hawaii?
One of the best places to rent a car in Hawaii is Discount Hawaii Car Rental because they get the best rates from top national companies like Alamo, Dollar, Thrifty, Avis, Enterprise, Budget, and Payless.
Want to skip all the planning and just access my detailed Kauai Itinerary complete with daily schedules, kid-friendly activities, and travel hacks? Click the button below.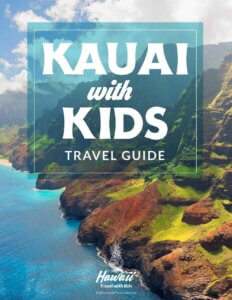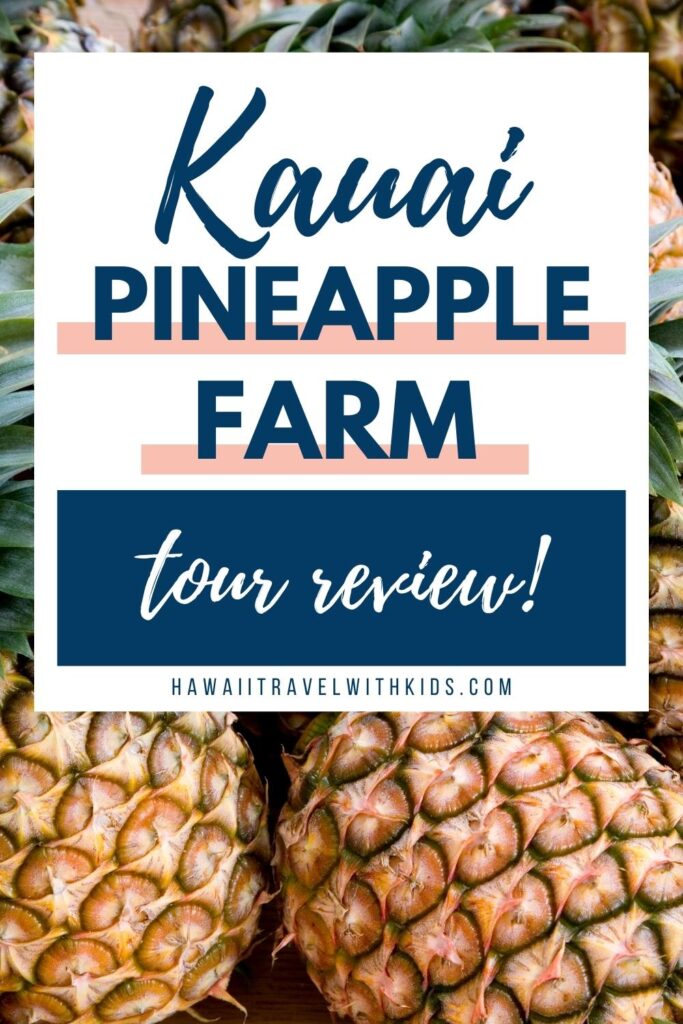 Where is the Kauai Pineapple Tour?
The Kauai Sugarloaf Pineapple Tour is located on the Hole in the Mountain Farm about 5 minutes from the highway in the Anahola area of the east side of Kauai.
Before your tour, they will email you very detailed directions on how to get there. It's not really a place you'll see along the highway (and GPS won't always get you there) so you'll definitely want to have a navigator in the car reading the emailed directions.
Brief Kauai Pineapple History
Pineapple has been associated with Hawaii for decades. I mean, people plop pineapple on any food and call it "Hawaiian."
Oahu, Maui, and Lana'i are most well-known for their pineapple plantations. But, Kauai also had them.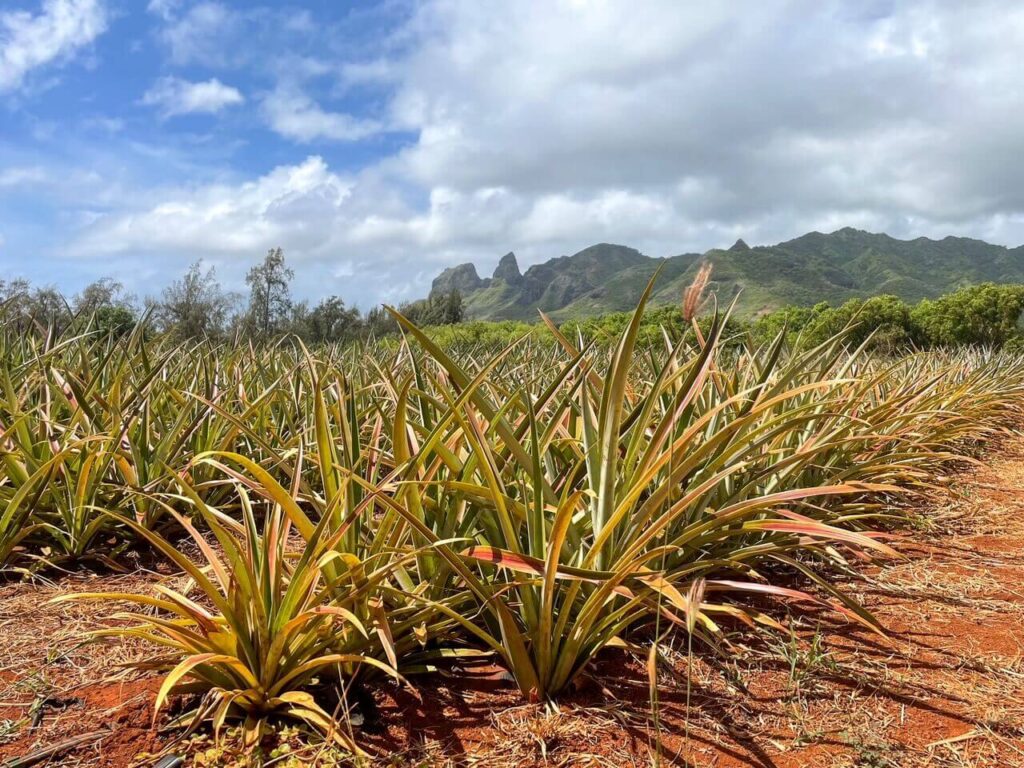 The Hawaiian Canneries Co. launched in 1913 in Kapaa on the east side of Kauai. The land was perfect for growing pineapple and everything went well until the 1950s.
When Hawaii became a state in 1959, businesses now had to pay taxes and follow fair labor laws. This made it simply too expensive for pineapple plantations to turn a profit.
So, in 1962, the pineapple canneries in Kapaa closed.
However, that doesn't mean you can't find pineapple on Kauai. While they aren't grown commercially on a large scale, you'll definitely find smaller farms that grow pineapple as well as the popular Kilohana Plantation.
And of course, you can get pineapple at the Hole in the Mountain Farm, home to sugarloaf pineapple.
Sugarloaf Pineapple vs Yellow Pineapple
Before I really get into this Kauai pineapple farm review, I want to highlight the difference between sugarloaf pineapple and standard yellow pineapple.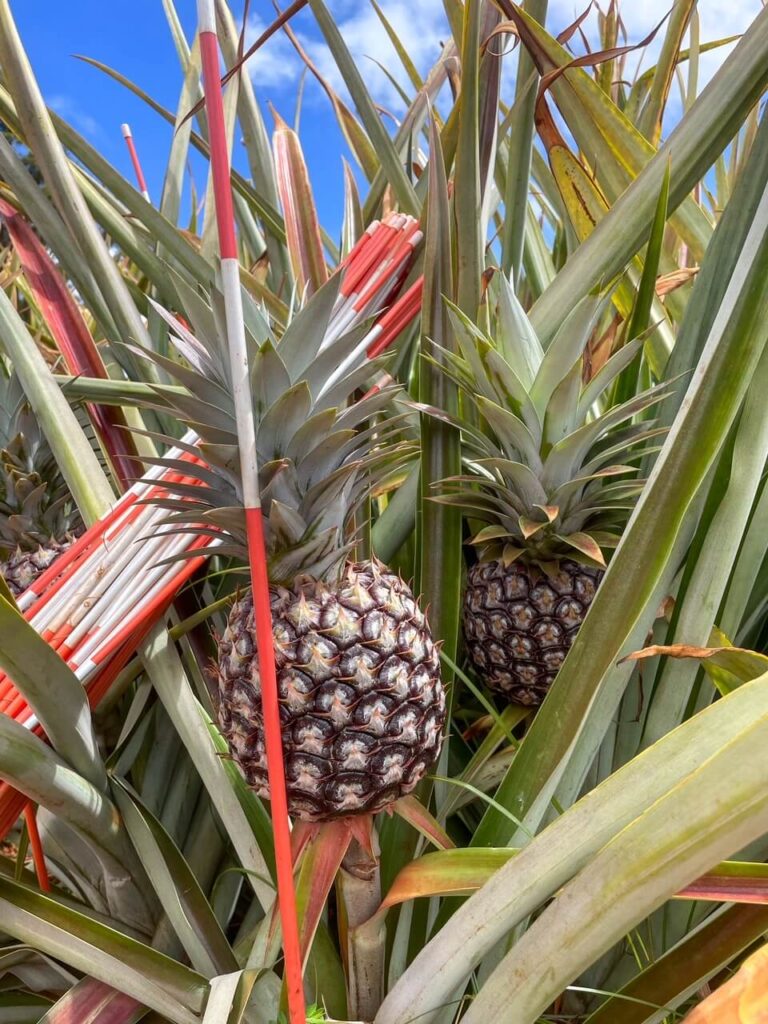 Sugarloaf pineapple is a white pineapple with a soft core that can be easily eaten. It's also less acidic than other pineapple and can taste a lot sweeter.
Supposedly, sugarloaf pineapple was first discovered on the island of Lana'i by plantation workers. Since they bruised easily and couldn't be canned, the plantation owners didn't want to use them.
But they were too delicious to just throw away. So, plantation workers took them home and started growing them in their own gardens.
What to Know about the Kauai Pineapple Plantation Tour Before You Go:
How to Visit the Kauai Pineapple Plantation
You'll definitely want to book your Kauai Sugarloaf Tour tickets before you go. Limited tickets are available for each tour, and they fill up quickly.
You do need tickets; you can't just show up. We did see some people show up thinking they could buy pineapple at the farm. You cannot.
Where to Park
There are plenty of parking spots to the left of the meeting area. And the owners will help show you exactly where to park.
Arrival
When you arrive, you'll check in under the green canopy. This is where you'll pay for your tour and you can grab a bottle of water and/or a big sun umbrella.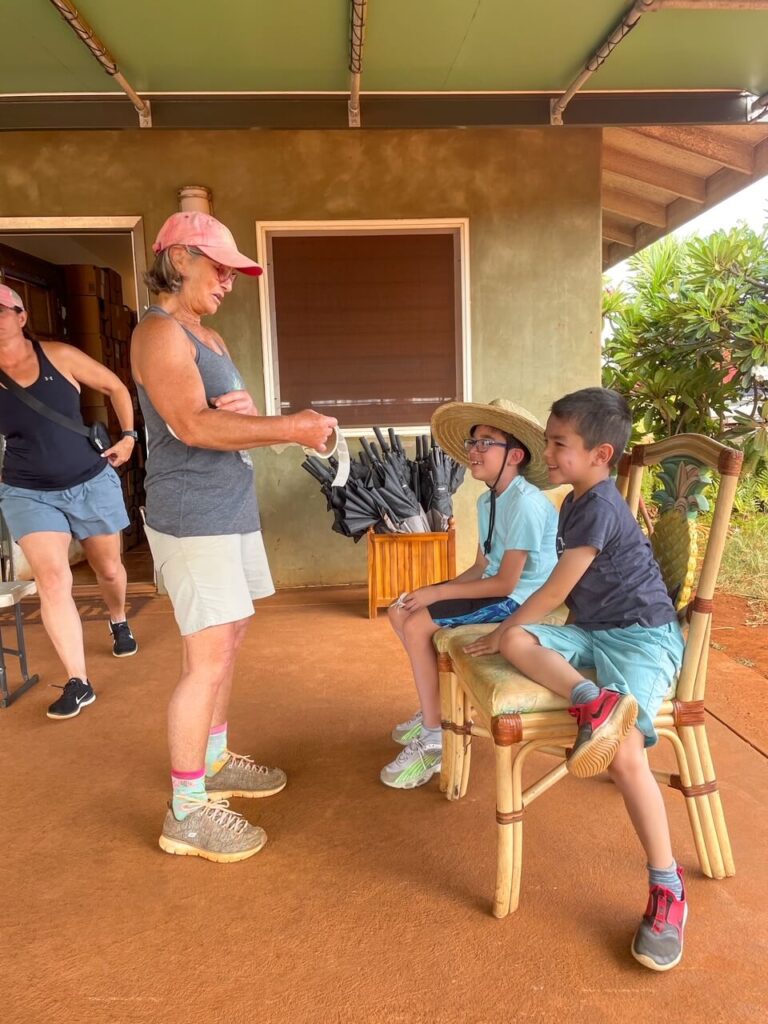 There are also restrooms there in case someone in your party needs to go. And they have a table of products you can buy like t-shirts, dehydrated pineapple, etc.
Kauai Sugarloaf Pineapple Tours
This is a 2-hour tour that takes place on a fully-operational pineapple plantation on Kauai. It's led by the owners of Hole in the Mountain Farm: Jude and Paul Huber.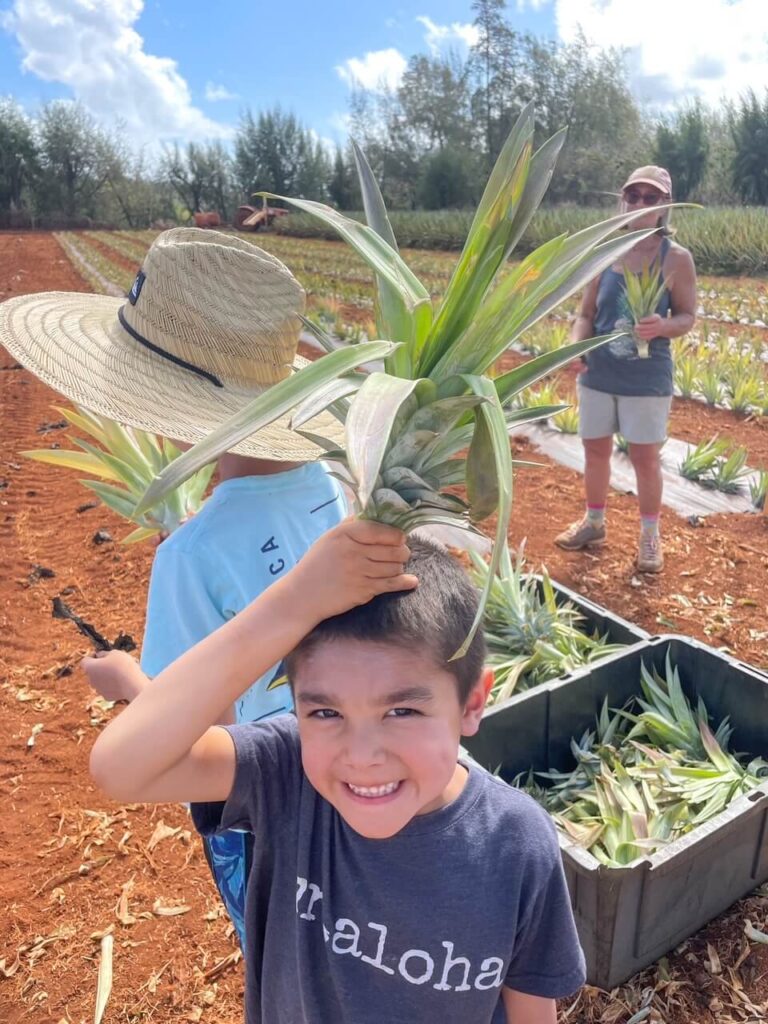 You'll learn all about how pineapples grow in Hawaii, what makes Kauai sugarloaf pineapple so special, and even get some hands-on opportunities on this Kauai farm.
Keep scrolling to see the Hawaii pineapple tour highlights!
Food Options
While the only food available at the farm is pineapple, I suggest heading over to Anahola Cafe to grab lunch either before or after your tour. They have a bunch of easy food options like hamburgers, hot dogs, and the best taro burger I've ever had.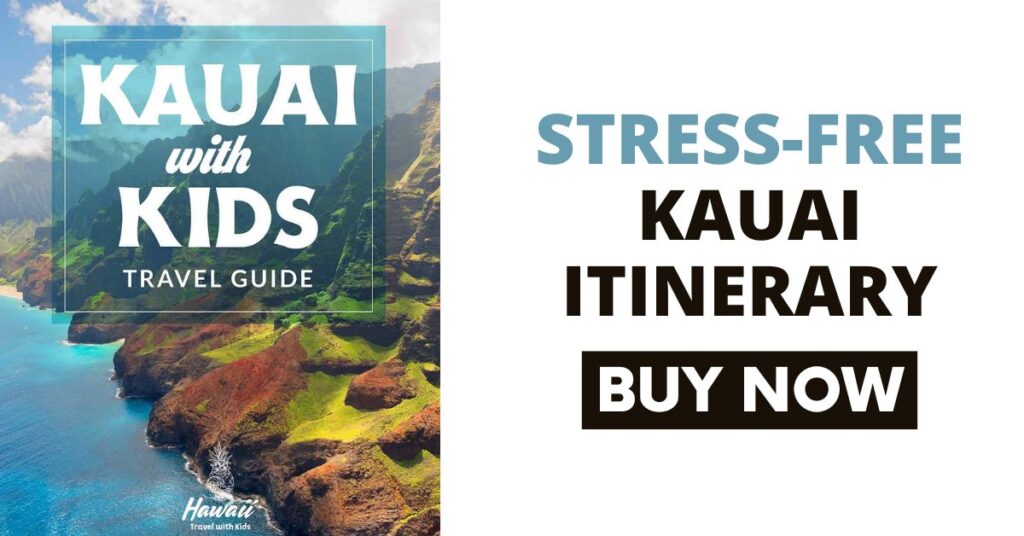 The Highlights of This Kauai Tour and What You Should Look Out For
The main highlight for our family was getting to pick our own pineapples in the field! Jude showed us exactly how to do it and everyone on the tour got to pick one to bring home.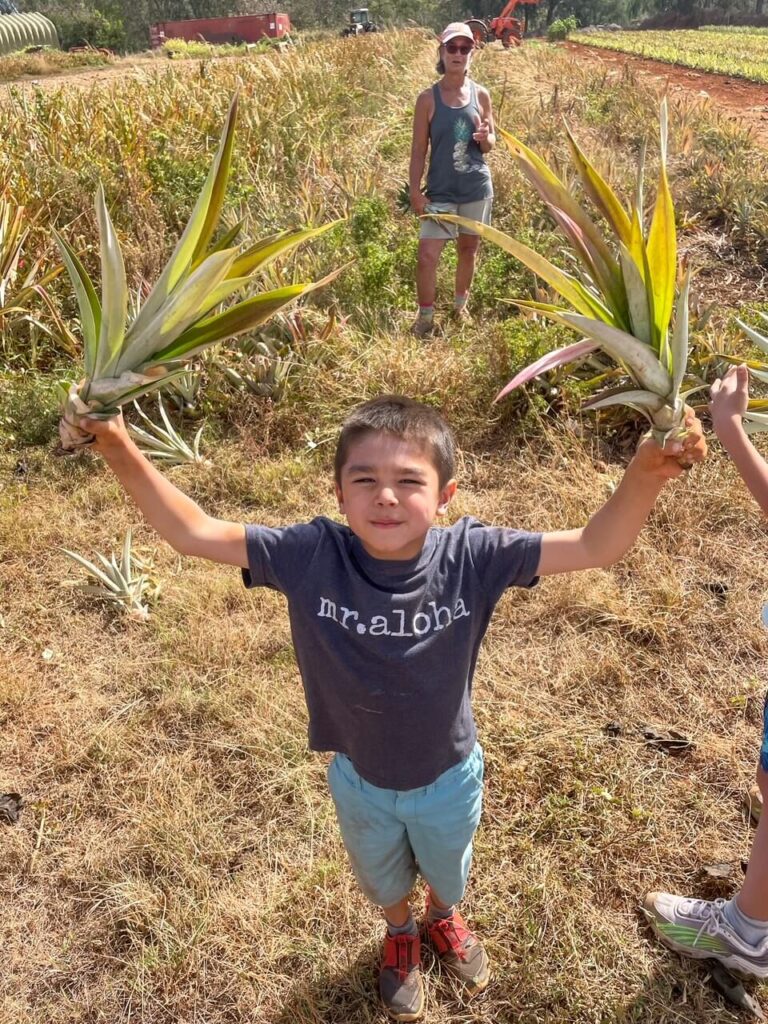 My kids also really enjoyed planting pineapples in the field. It's a great way for kids to learn about the pineapple life cycle!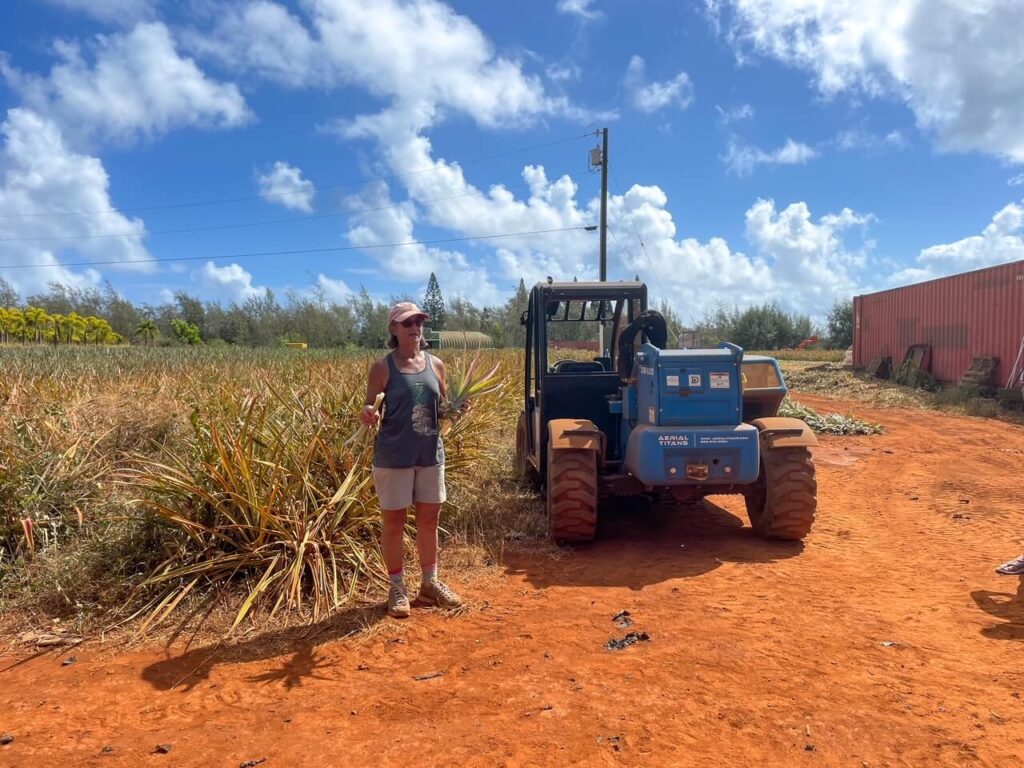 We got to walk around to different sections of the farm to learn about the different stages of pineapple growth. Part of it was seeing the new little plants growing inside the crowns and how to split the crowns to create new pineapple plants.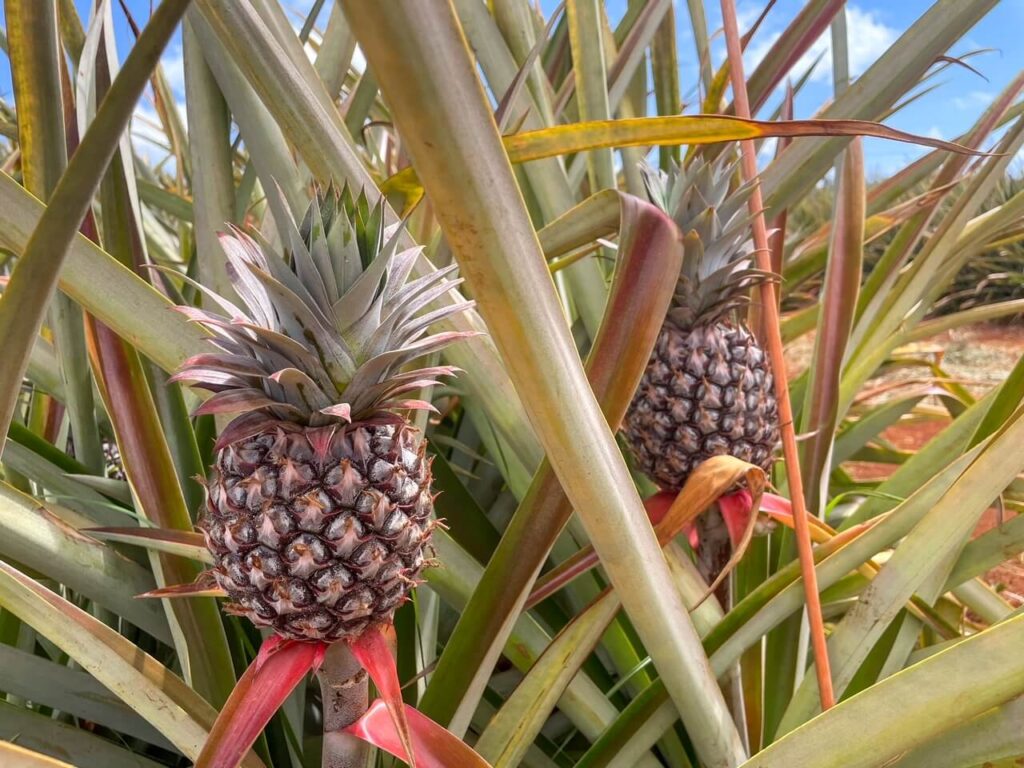 It was also really cool to see the pineapples growing in the field. This is something most Kauai tourists don't get to see!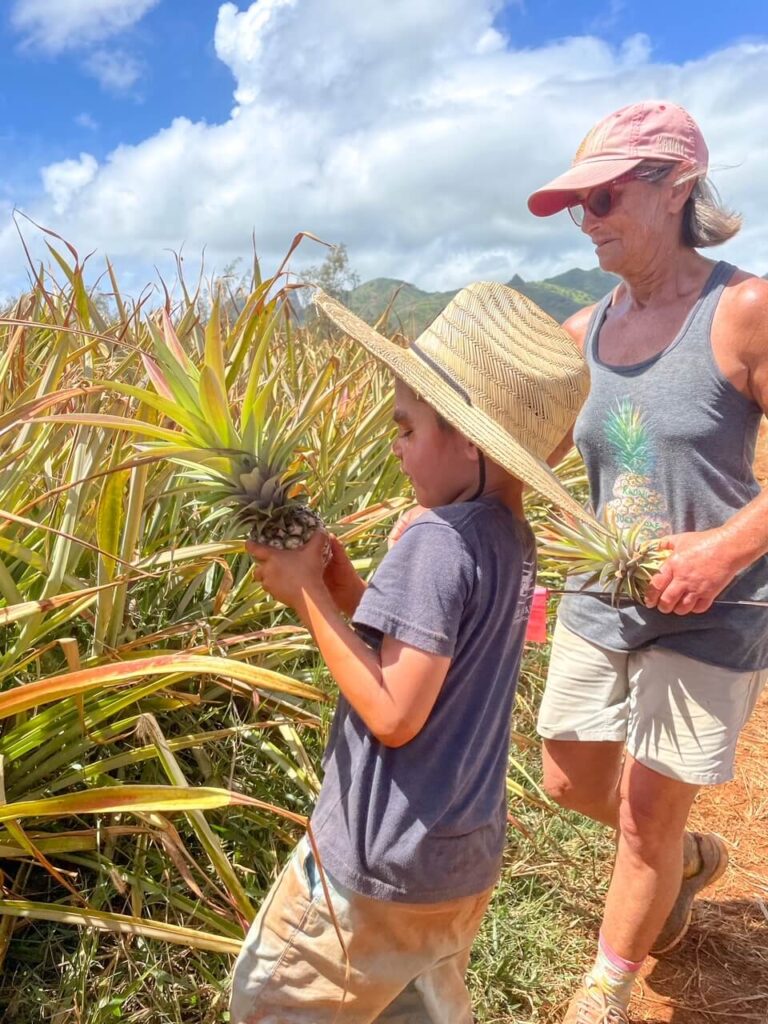 Near the end of the tour, each person was able to go into the field and pick their own pineapple.
Jude showed us exactly which one to pick and the correct way of picking it. We were lucky because we were at the tail end of the pineapple season.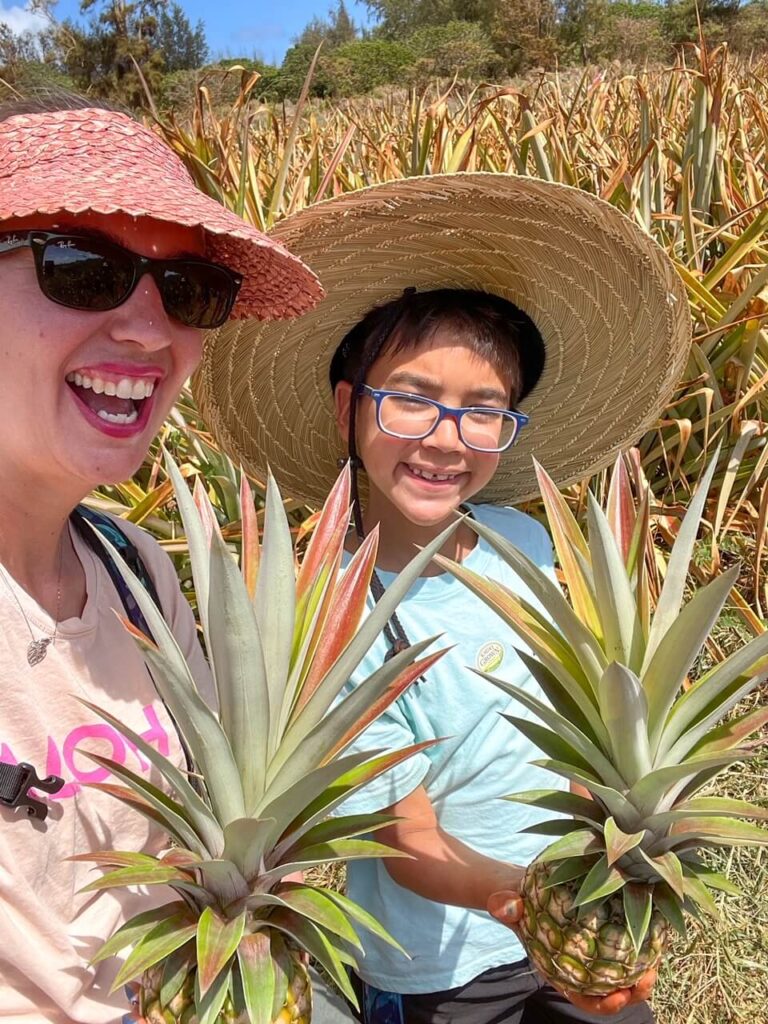 Some of the pineapples were fairly small, so Jude grabbed extras to compensate. But they were the perfect individual size to enjoy!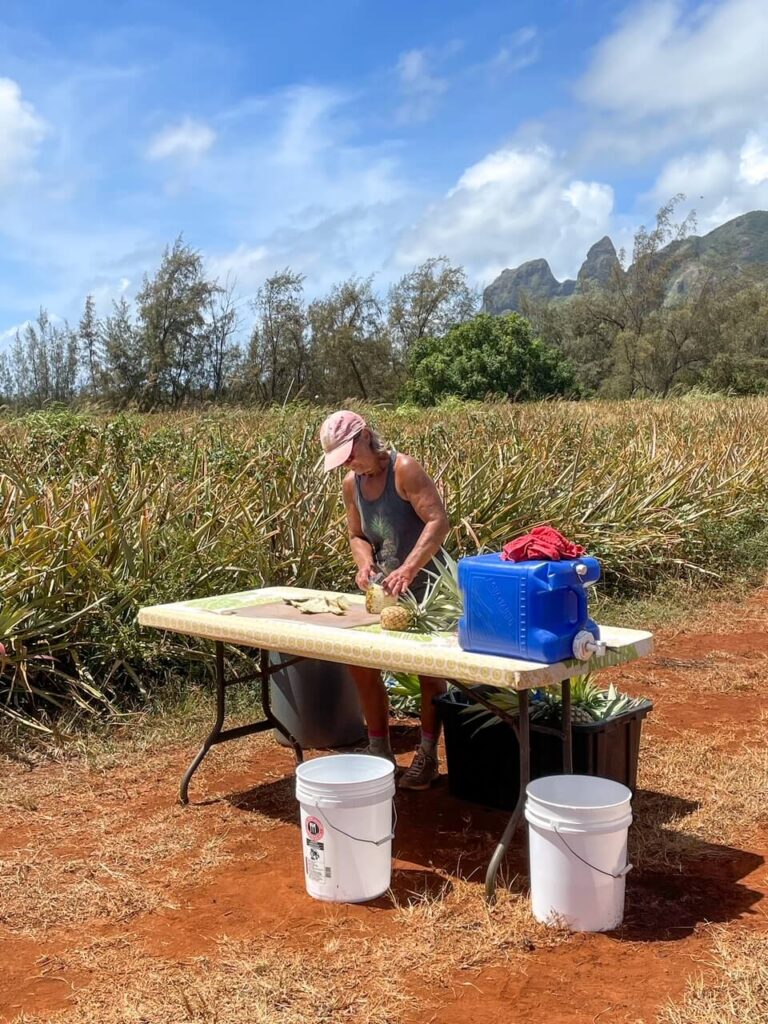 After we picked our pineapples, Jude sliced up fresh sugarloaf pineapple (not the ones we picked to take home) so we could all taste it.
She even let us try fresh sugarloaf pineapple juice which was AMAZING!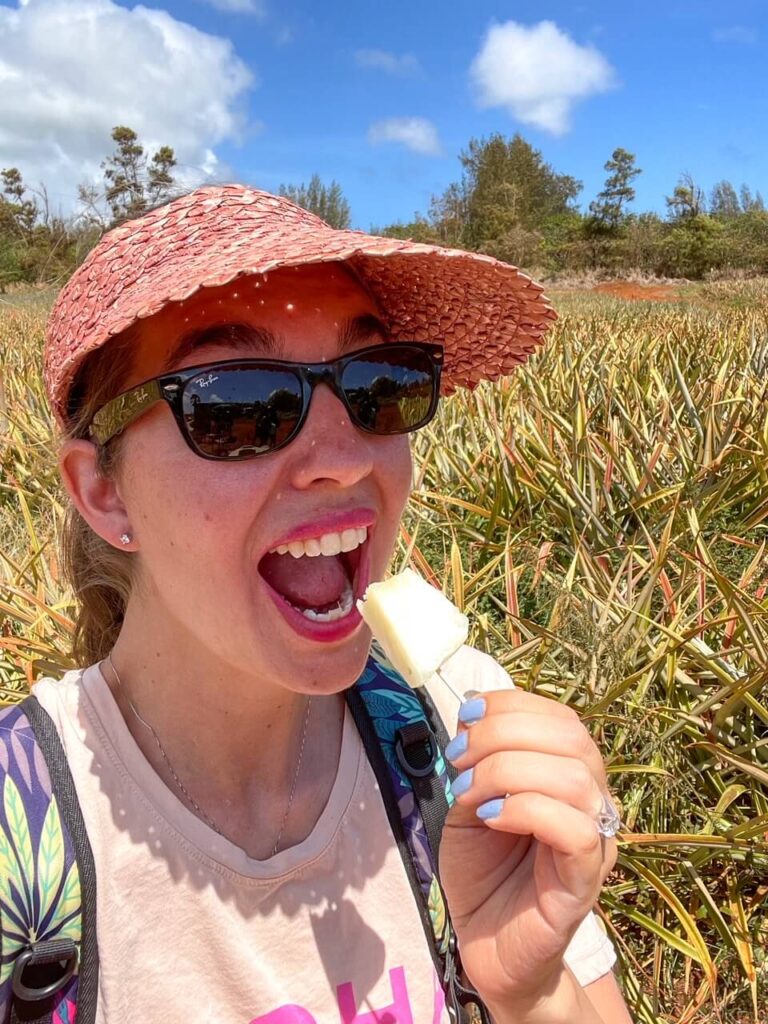 Kauai sugarloaf pineapple is the sweetest pineapple I've ever had. And it has a smoother texture than yellow pineapple.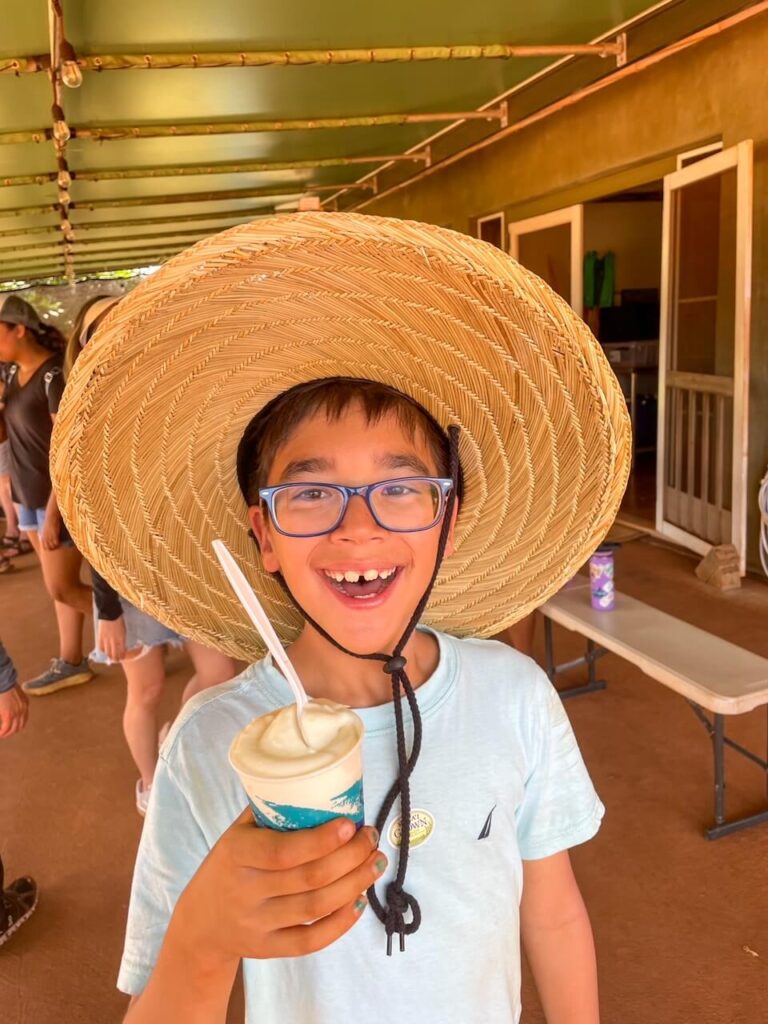 The tour ended with a cup of Pineapple Phrostie, which is just frozen sugarloaf pineapple that is pureed. There's no added sugar or anything but it's sweet and delicious! It's the ultimate dairy free pineapple ice cream!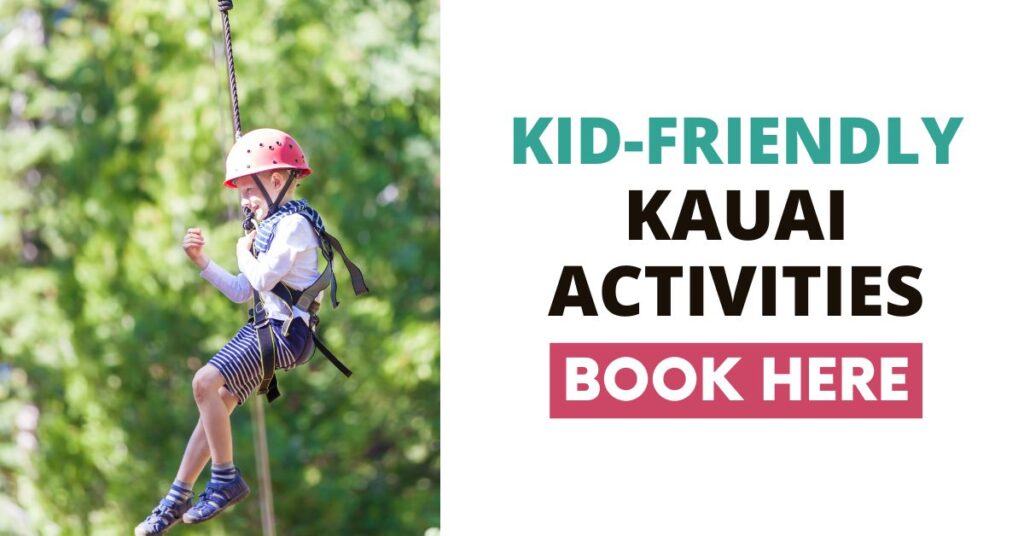 Hawaii Pineapple Tour Tips for Families
It's open to all ages
We saw a family pushing a stroller on the tour with a toddler. There were actually quite a few families on our tour with young kids.
What to Wear
You'll definitely want to wear closed toe shoes, clothes you can get dirty, a hat, and plenty of sunscreen.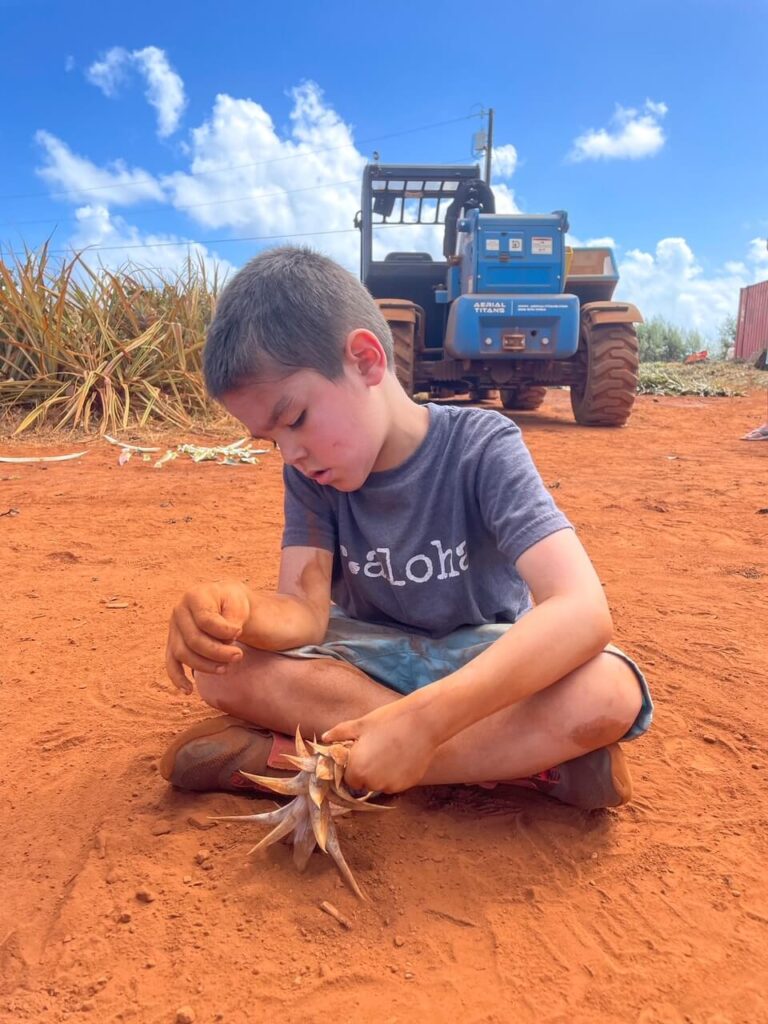 The red dirt does stain clothing, so choose wisely. I had my kids wear clothes that they were starting to grow out of because I knew they would get dirty.
What to Bring
You can bring extra water/drinks. You might also bring snacks for kids as the tour is a full 2 hours (our tour ended up being 2.5 hours).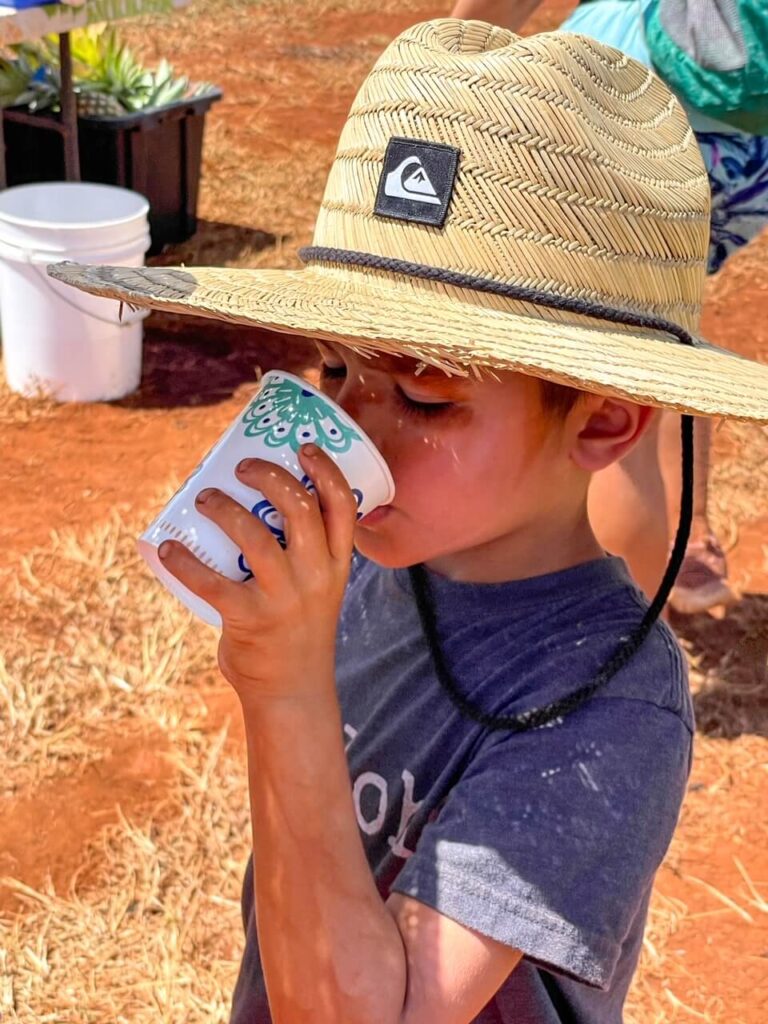 I'd also suggest bringing fidget toys or something small to keep kids occupied while standing around.
How Much Does it Cost and Where is it Located?
Tours last about​ two hours and cost​ $85 per person ($45 for pre-teen children, free for children 4 and under). Reservations are required in advance. You must email them to secure your spot.
It's located at the Hole in the Mountain Farm in Anahola. It's a bit complicated to find on your own so thankfully they send out turn-by-turn directions.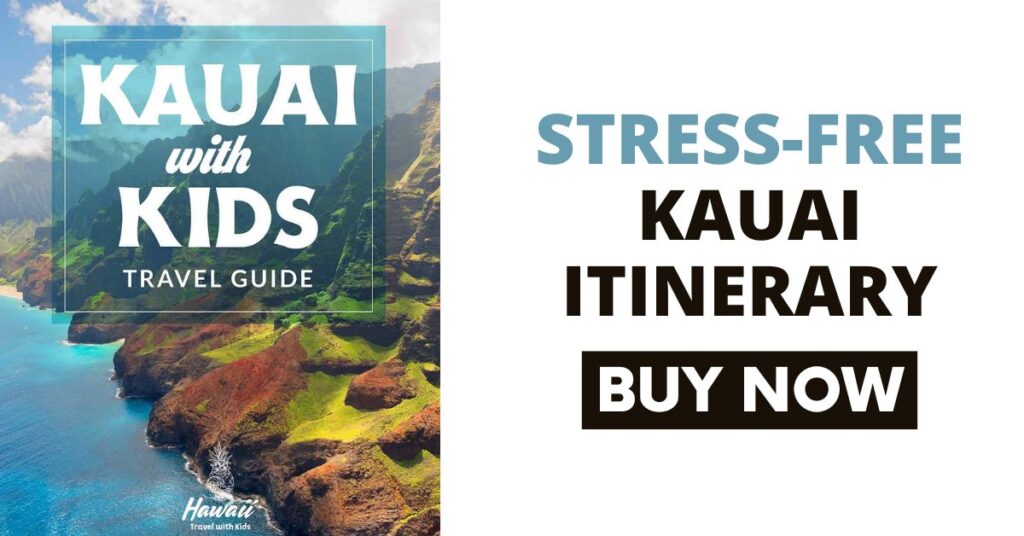 Hawaii Pineapple FAQs
How do you know if a pineapple is ripe?
For a yellow pineapple, you can look at the color and if the outside is yellow, it's probably ripe. Do NOT let your pineapple sit on the counter for a week to "ripen" as it won't riped after it's been picked.
Can you check the leaves of a pineapple to see if it's ripe?
No, it's a complete myth that you can pull a leaf from a pineapple crown to see if it's ripe. This won't determine ripeness.
Can you grow your own pineapple at home?
You bet! You can plant the crown of a pineapple in a pot and keep it in your home. But, keep in mind that it can take 18 months to 2 years to produce one pineapple.
So, is the Kauai Pineapple Farm Tour Worth It?
It depends. We thought it was really interesting and loved the hands-on experiences! I mean, where else can you pick your own pineapple to take home?
I'd done the Maui Pineapple Tour, which is also very cool but there isn't an opportunity to plant or pick pineapples.
However, my kids thought the tour was really long and they didn't like standing around in the sun for 2 hours. We've done a lot of Kauai farm tours and this was probably the least geared for kids.
If your family is interested in agriculture, or you want to learn more about the sweetest pineapple in Hawaii, this is a great opportunity!