Are you looking for unique things to do on Maui with kids (or without)? Keep scrolling to read my honest review of the Maui Pineapple Tour in Haliʻimaile.
This Maui Pineapple Tour Review contains affiliate links which means if you purchase something from one of my affiliate links, I may earn a small commission that goes back into maintaining this blog.
Planning a trip to Maui with the family? Make sure to add a visit to one of the last remaining Hawaii pineapple plantations on your list!
You'll get an up-close look at how pineapples are grown and harvested on this informative tour. Plus, you'll get to taste some delicious fresh pineapple afterward! It's definitely an educational experience that everyone will enjoy.
There are only a few left in operation in the islands, so read my review below to see if it's right for your family.
If you're looking for a unique activity that the whole family will enjoy, then definitely check out the Maui Pineapple Tour. It's something you won't find anywhere else in the world.
Keep scrolling to read my honest Maui Pineapple Tour review!
Don't have time to read a bunch of Hawaii blog posts and reviews? Here are some of our top picks for visiting Maui.
Popular Maui Tours/Activities
Favorite Maui Resorts/Hotels
Andaz Maui (this is a luxury resort with the best luau on Maui)
Honua Kai Resort & Spa (this is one of our personal favorites because there are tons of pools and there are condo options)
Want to Rent a Car in Hawaii?
One of the best places to rent a car in Hawaii is Discount Hawaii Car Rental because they get the best rates from top national companies like Alamo, Dollar, Thrifty, Avis, Enterprise, Budget, and Payless.
Want to skip all the planning and just access my detailed Maui Itinerary complete with daily schedules, kid-friendly activities, and travel hacks? Click the button below.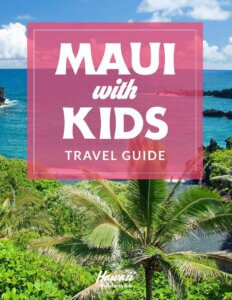 Hawaii Pineapple Farm FAQs
What type of pineapple is Maui Gold?
If you're looking for a super sweet pineapple that's less acidic than other pineapple varieties, you'll want to taste Maui Gold pineapple. The Maui Gold Pineapple Company started growing them in 2010 and they are the most popular pineapple to buy in Hawaii.
Who owns Maui Gold pineapple?
In 2018, the Hali'imaile Distilling Co. purchased the Maui Gold pineapple brand. Knowing that makes sense as to why you can also do Hali'imaile Distilling Tour along with the Maui Pineapple Tour.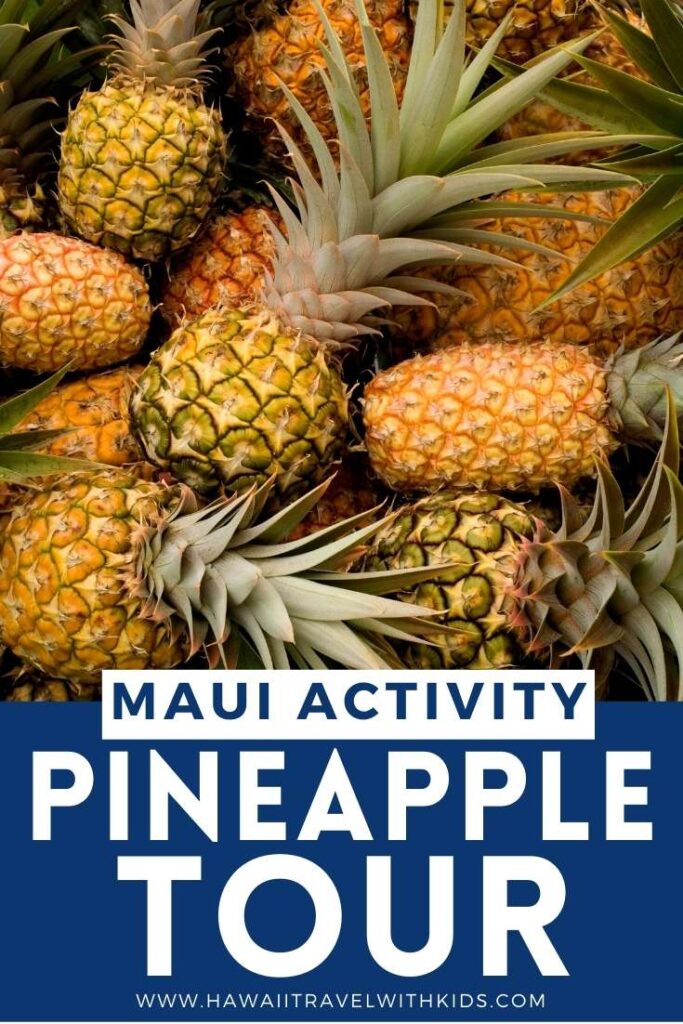 Where is the Maui Pineapple Tour?
The Maui Pineapple Tour takes places at the Maui Gold pineapple farm in Hali'imaile in Upcountry Maui. It's about 45 minutes from Lahaina and about 30 minutes from Wailea.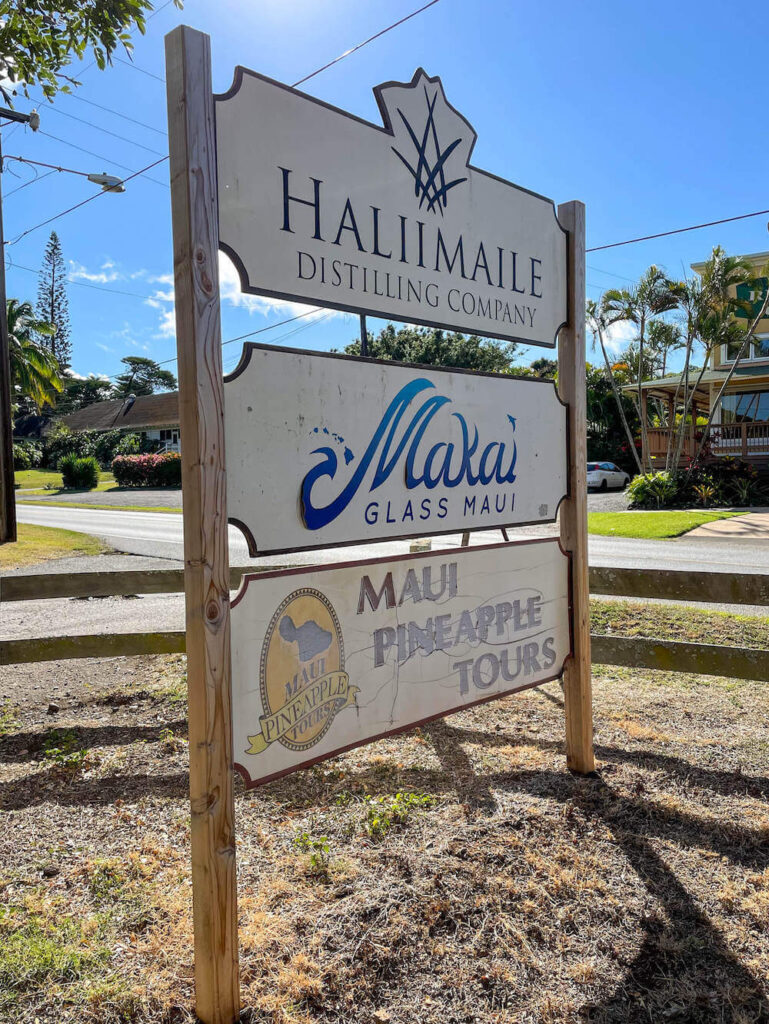 The Maui Gold pineapple tours is in the same area as Makai Glass Maui and the Hali'imaile Distilling Company.
Brief Maui Pineapple History
Reverend Dr. Dwight Baldwin and his wife Charlotte arrived in Lahaina Maui in the mid-1830s as missionaries. A few generations later, the Baldwin family owned the majority of Maui.
One of their endeavors was the Haiku Fruit & Packing Company. In 1903, this was the first pineapple plantation on Maui. Soon after, there was also the Maui Pineapple Company. In 1969, the Maui Pineapple Company merged with the Haiku Fruit & Packing Company.
This later became known as Maui Pine and they created the amazing pineapple crossbreed called Maui Gold pineapple.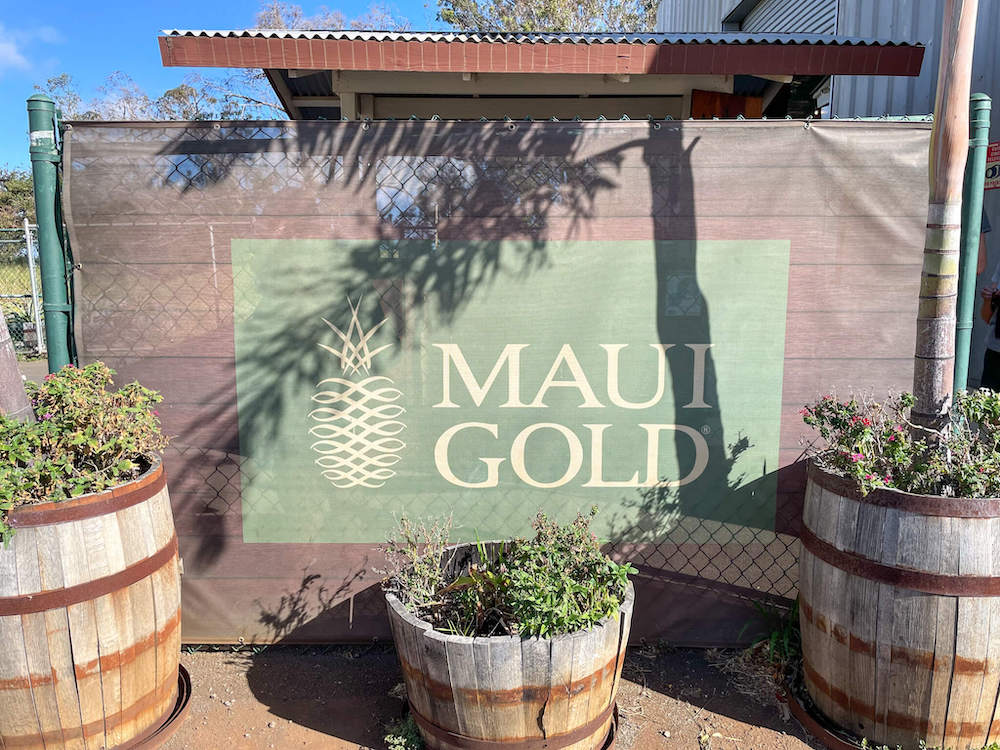 Maui Pine closed their doors in 2009, which ended pineapple production in Maui. Thankfully, the Hali'imaile Distilling Company bought the plantation in 2018 and now runs pineapple tours on Maui.
As of 2022, most of Maui Gold pineapples stay in Hawaii. Only 12% are shipped to the Mainland and 8% of the crop are reserved for the hotels.
The Maui Gold Pineapple Farm is also really conscious about their waste. As of 2022, they only produced 4% waste. That's because they are great about partnering with farmers to use discarded pineapples as compost.
Maui Gold Pineapple Farm
The Maui Gold pineapple plantation is in the small town of Hali'imaile near Makawao in Upcountry Maui. It's a working pineapple farm and you can see vehicles from the early plantation days all the way to newer equipment that they use today.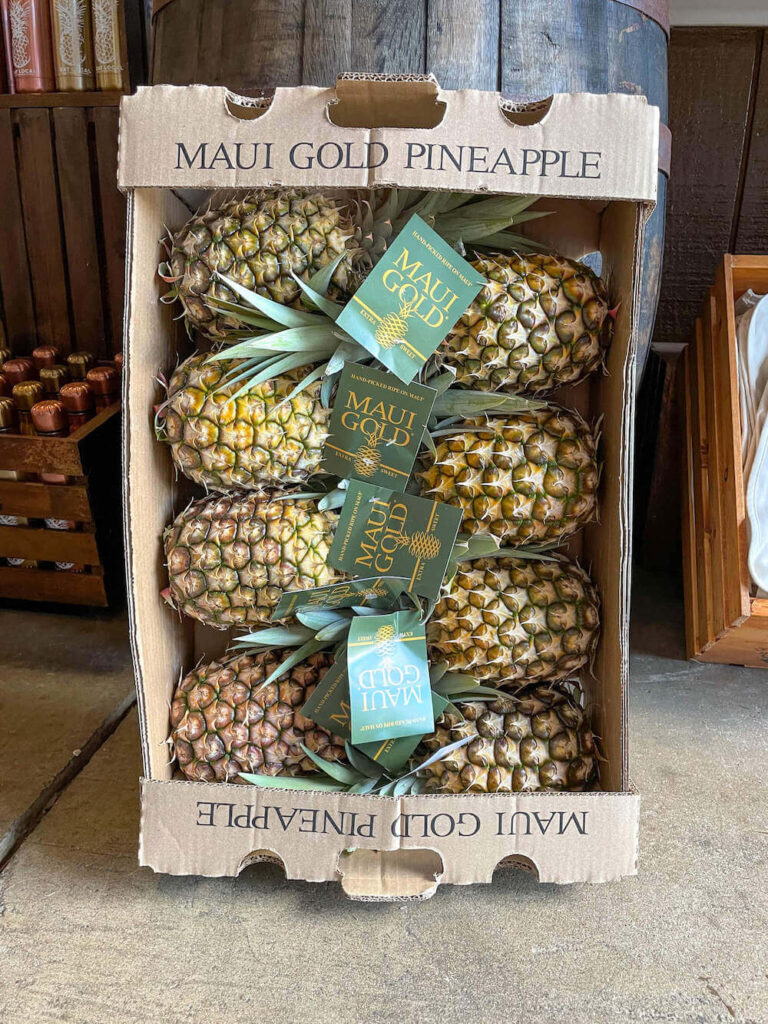 It's part of the Hali'imaile Distilling Company so you can actually also taste their spirits in addition to doing a pineapple tour.
The Maui Gold Pineapple Farm is one of the few pineapple farms in Hawaii where you can learn how pineapples are grown and do a pineapple tasting. And it's the most interactive pineapple plantation in Hawaii.
What to Know about the Maui Pineapple Tour Before You Go:
How to Visit the Maui Pineapple Plantation
If you want to visit the Maui Gold Pineapple Plantation, you'll need to make reservations for a pineapple tour. You can't just walk around the Maui Gold pineapple fields on your own. But, you can purchase Maui Gold pineapple directly from the plantation without doing a Maui gold plantation tour.
Where to Park
They have a dirt/grass parking lot with tons of parking available right in front of the Maui Pineapple Tour and Hali'imaile Distilling Co.
Arrival
You'll need to arrive 15 minutes before your tour starts. This gives you time to check-in, make sure your waiver is filled out, go to the restroom, and look at their cute gift shop.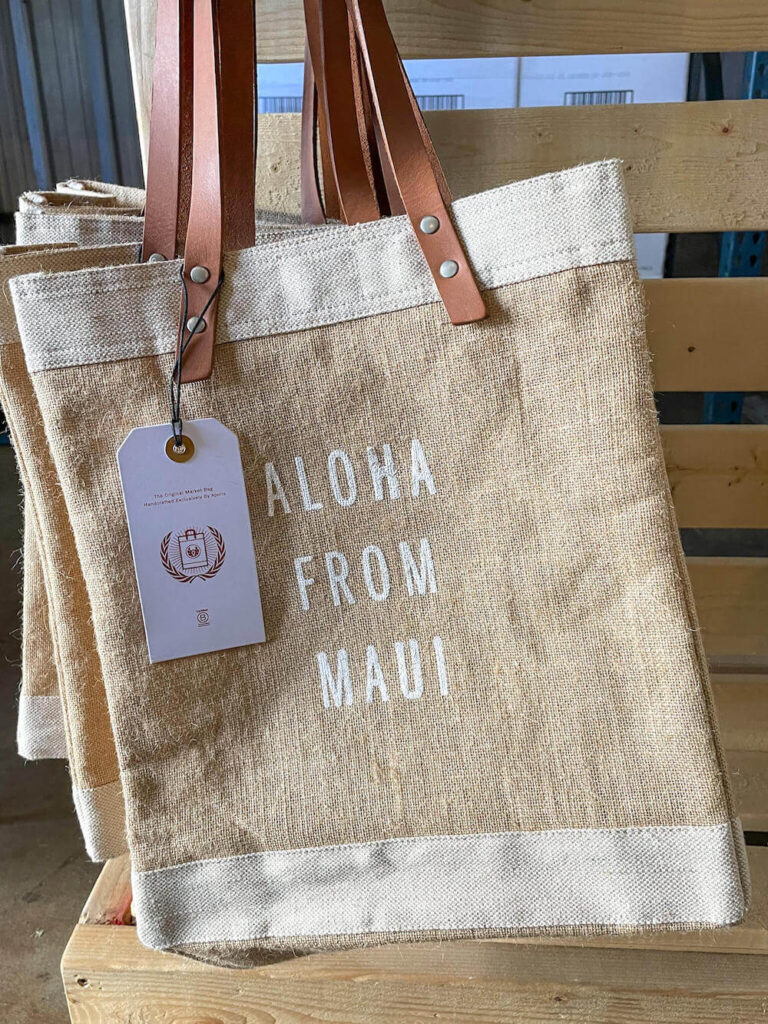 You can also hit up the gift shop when you are done with your tour. This is also where the Hali'imaile Distilling Company tasting is located.
Maui Gold Pineapple Tours
The pineapple tour on Maui is 1.5 hours long. You'll hop inside an air-conditioned bus and go through pineapple fields where you'll get off the bus several times to learn about pineapple.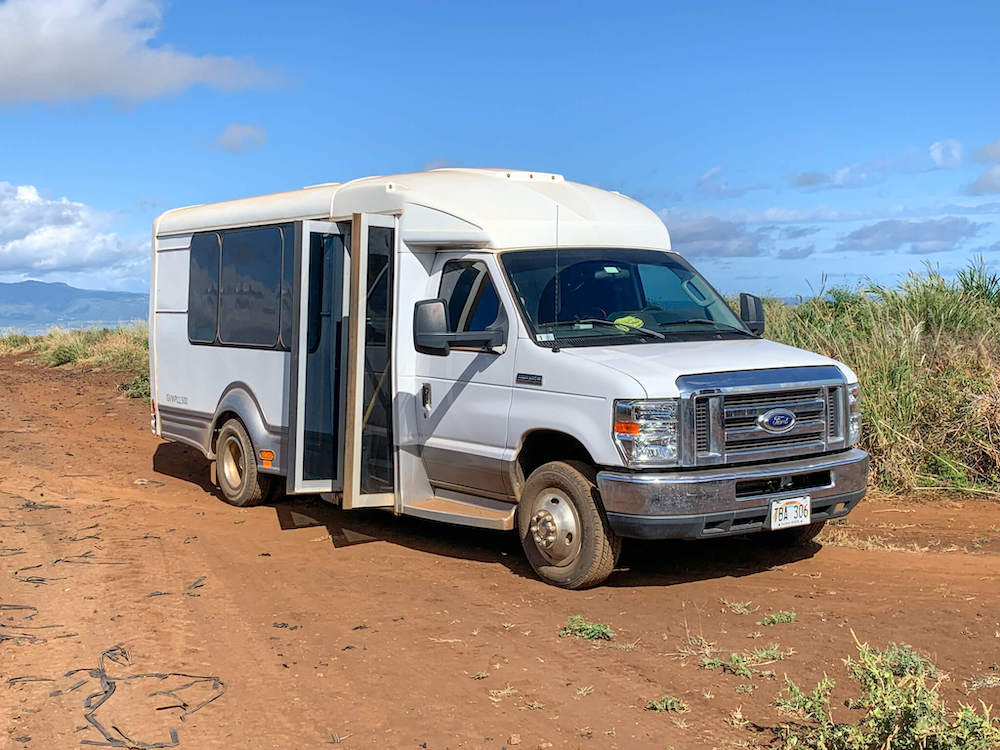 You'll also get to check out the pineapple processing factory where they put the pineapples into the boxes for shipping and for guests to take home.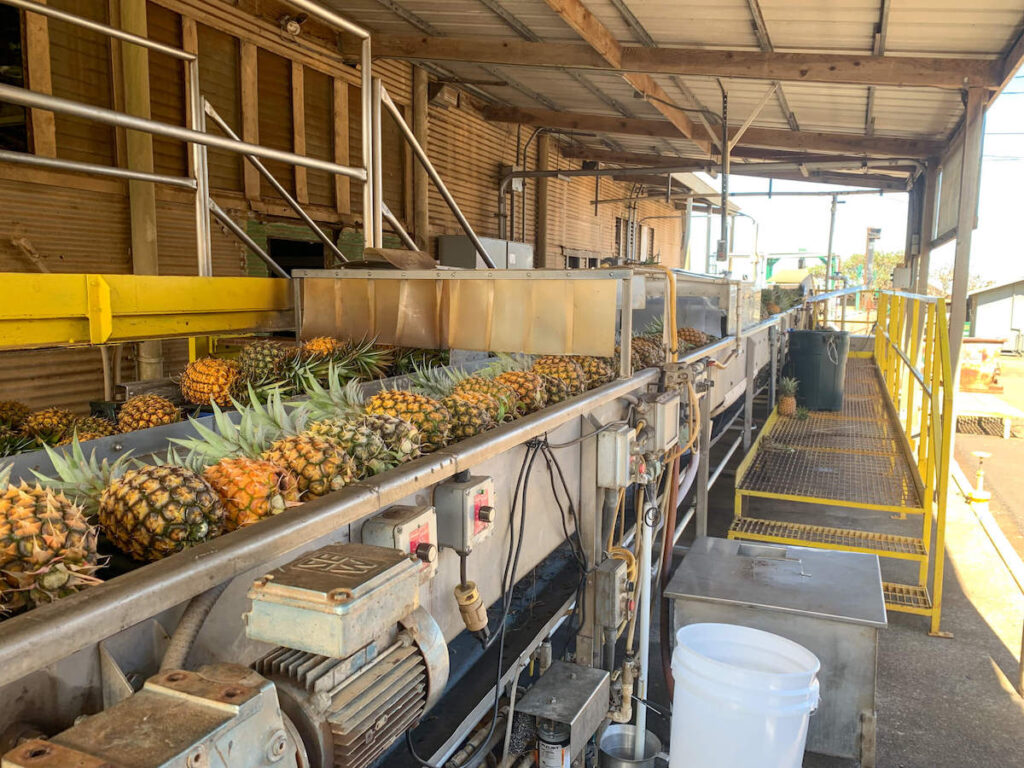 The tour ends back at the gift shop area where you can purchase additional pineapples or all kinds of pineapple-related items. This is the best pineapple tour in Maui.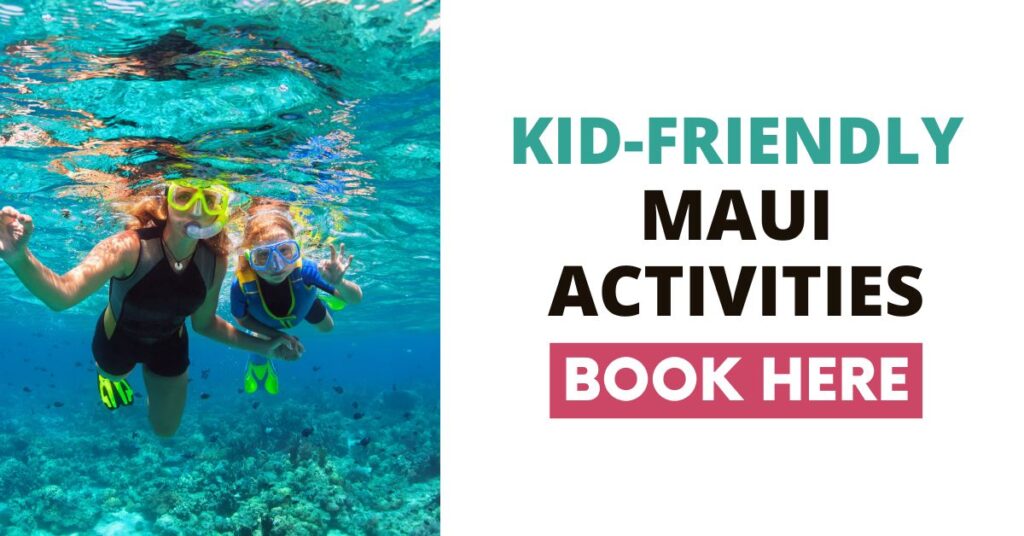 Food Options
There's actually a really cute pineapple stand on the property that sells tasty pineapple drinks, soft serve and freshly cut Maui Gold pineapples.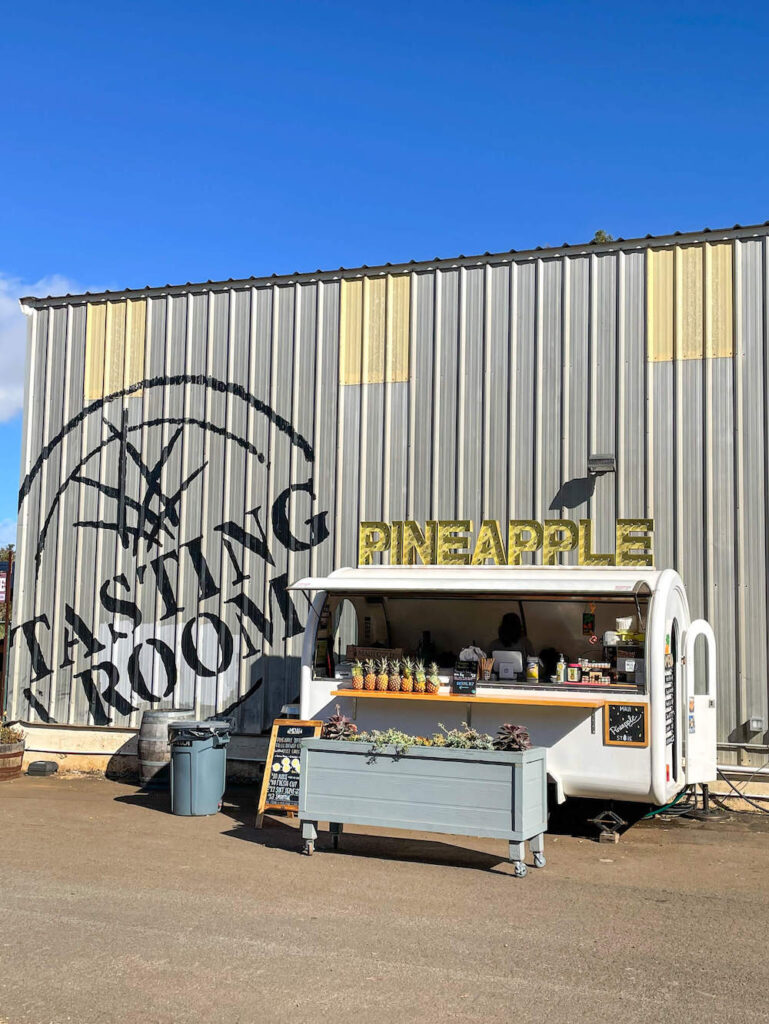 Right across the street is the Hali'imaile General Store which is actually a really amazing restaurant run by the owner of Merriman's and Monkeypod Kitchen.
The Highlights of This Maui Tour and What You Should Look Out For
The entire tour is pretty fantastic! It's about 90 minutes long and the time seriously flew by. Our guide Cliff was really excited to talk to us about pineapples and he was extremely knowledgeable. It's seriously the best Maui pineapple tour.
Learning About Plantation Days
Back in the day, people came from China, Japan, the Philippines, Portugal and many other places to work in the pineapple and sugar cane plantations.
Because there were so many different languages spoken, the Pidgin language sort of emerged. It's a mixture of many different languages and some slang in order for the workers to communicate with each other.
Along with that, plantation workers brought their own cultural food which morphed into different fusion cuisine like Spam musubi (which has Japanese roots but includes Spam brought to Hawaii during WWII).
Seeing the Pineapple Life Cycle
It was also really interesting to see pineapple plants at all stages of the pineapple life cycle. It actually takes 2 years for a pineapple plant to produce fruit, so they grown them on a rolling basis so there are always pineapples ready to harvest.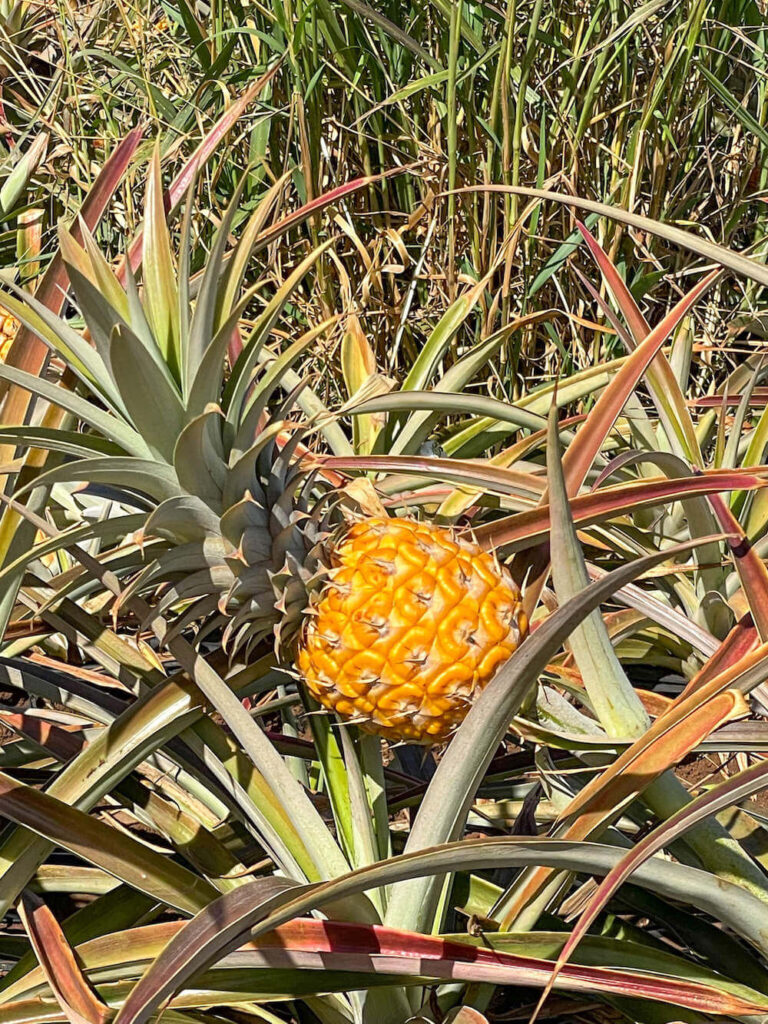 We got to see plants with no fruits, plants with baby pineapples, ones ready to pick, and ones that were 3rd generation pineapples that are sold to be juiced.
Tasting Fresh Maui Gold Pineapple
We got to taste Maui Gold pineapple that was picked that morning and we ate it while standing in the pineapple field. That part was actually pretty cool.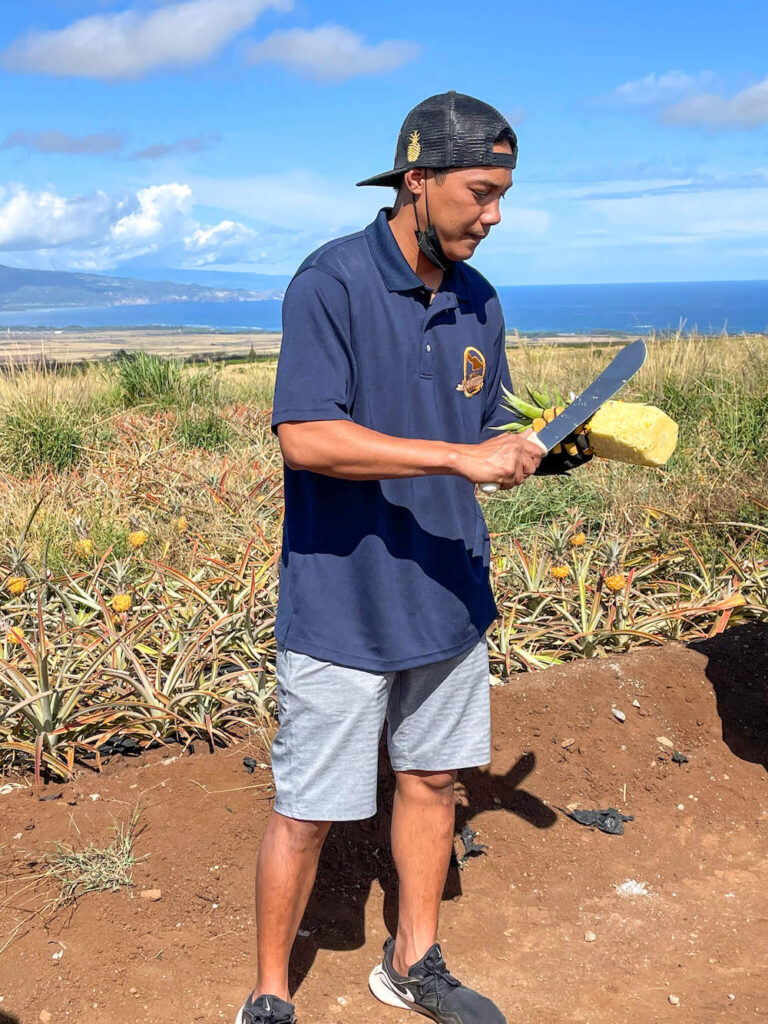 But, the awesome thing is that our guide Cliff used a machete to slice up the pineapple in front of us! There's was a bit of showmanship which made it feel a bit more special.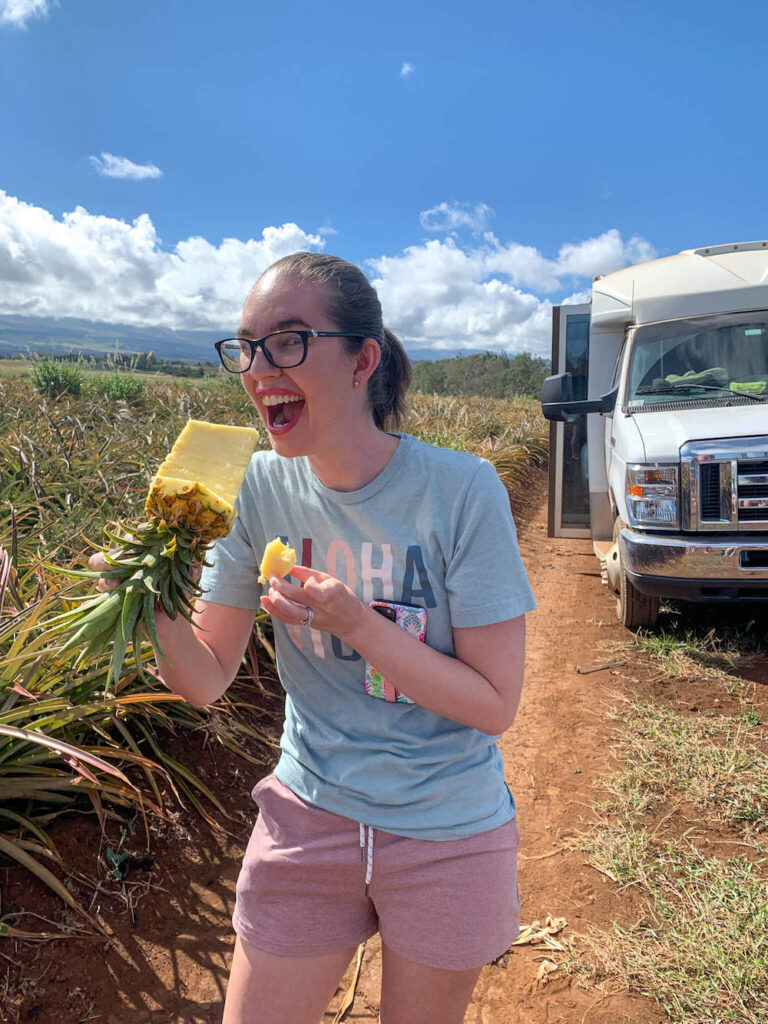 If you haven't tried Maui Gold pineapple before, it is head and shoulders tastier (and sweeter) than Dole or Del Monte pineapples that you can usually get on the mainland.
Getting a Pineapple to Take Home
At the end of your tour, each person will get a freshly picked Maui Gold pineapple in an airport-approved box (so you can bring it on the airplane without paying baggage fees).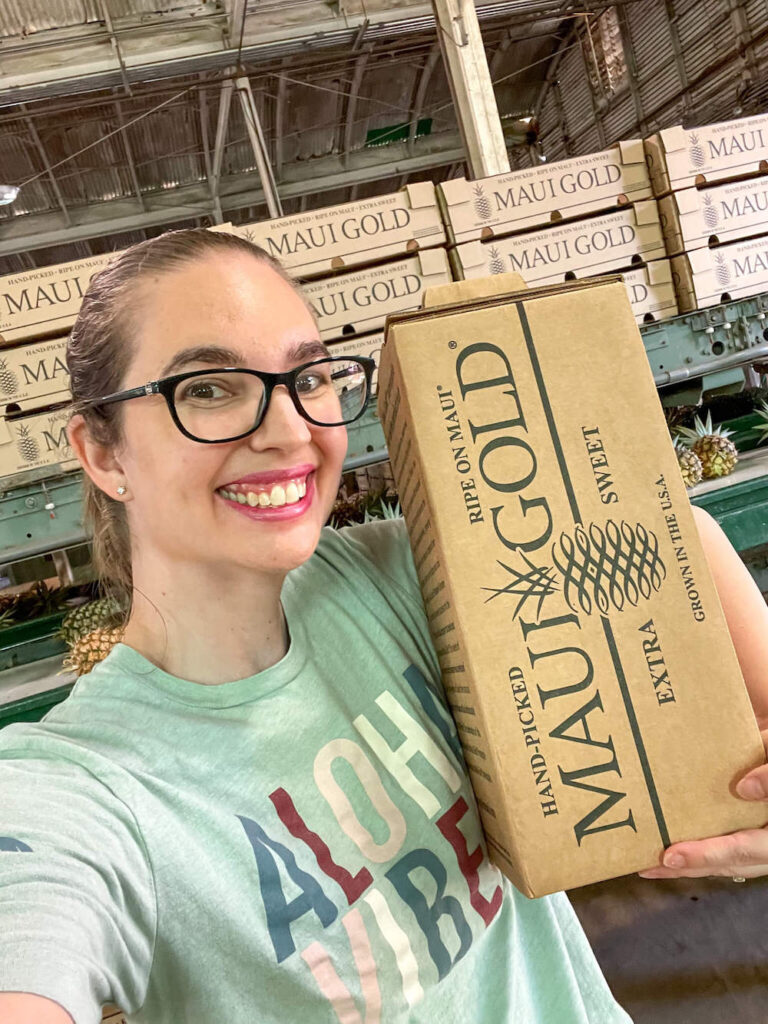 They usually pack them 2 pineapples to a box, but they also have individual pineapple boxes if you need it.
Hawaii Pineapple Tour Tips for Families
It's for Kids Ages 3+
Kids need to be at least 3 years old to join the tour. There are no exceptions.
What to Wear
Depending on the time of your tour, it might be really hot in the Maui pineapple field. We had a 9:30 a.m. tour and we wore t-shirts and shorts.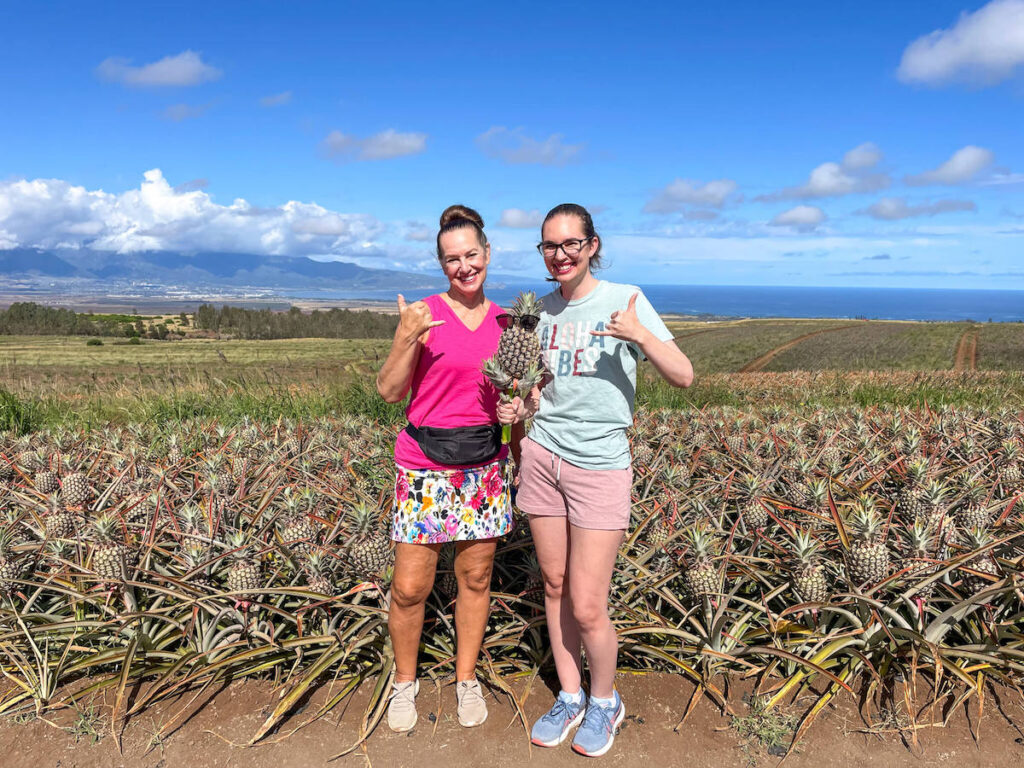 For footwear, I recommend wearing shoes and socks since you'll be walking around the pineapple field. The ground is uneven and there are usually pineapple parts around.
If you are doing an afternoon tour, I'd also suggest wearing a hat to help shield you from the strong sunshine. And you'll definitely want to wear sunscreen.
What to Bring
You really don't need to bring anything with you for the tour. They provide pineapple as well as water bottles and water to wash your hands.
How Much Does it Cost and Where is it Located?
The Maui Pineapple Farm Tour is $75 for adults (ages 13+) and $55 for kids ages 3-12 years old. It's located at 883 Haliimaile Rd, Makawao, HI 96768.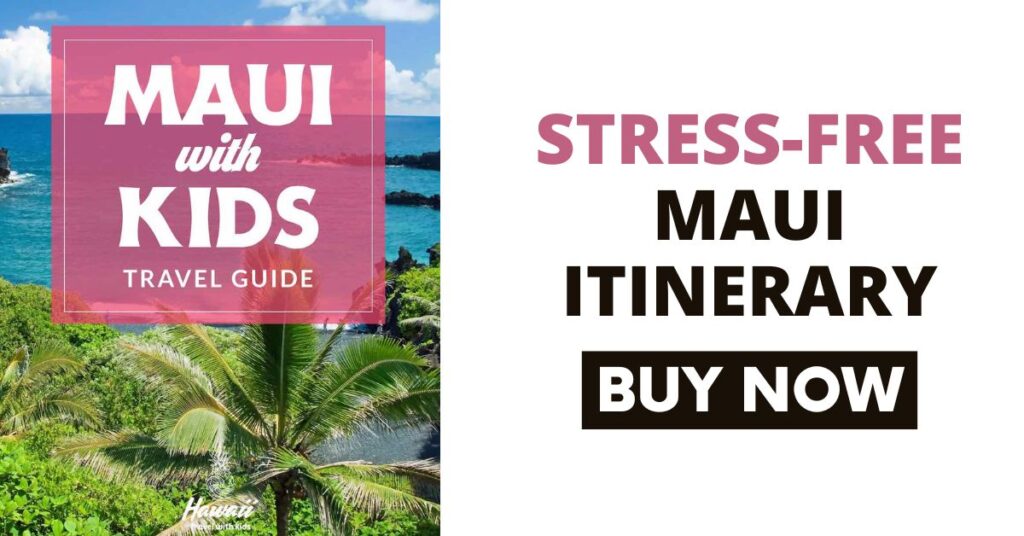 So, is the Maui Pineapple Farm Tour Worth It?
Absolutely! Maui is famous for growing pineapple and this was a great way to learn a lot about the process in a really fun way. Plus, how many people do you know that have actually walked through a real pineapple farm?
This Maui farm tour is a great thing to do on Maui with kids because they will love getting to see how pineapples grow (hint: it's not on a tree) and they will get a kick out of tasting the freshest pineapple imaginable.