Are you heading to Maui with kids? One of the most popular things to do is go on the Atlantis Submarine Tour on Maui. Get an honest review from family travel blogger Diane McAllister of Travels with Eli.
This is the best submarine tour in Maui and one of the top things to do in Maui for kids and families of all ages.
If you are wondering if this is the right tour for you, check out one of the top Atlantis Submarines Maui reviews down below.
Currently, since this submarine ride in Maui is in Lahaina, which was affected by the fires, it is currently not running until August 2024.
This Atlantis Submarine Tour on Maui review post contains affiliate links which means if you purchase something from one of my affiliate links, I may earn a small commission that goes back into maintaining this blog.
Guest post by Diane McAllister of Travels with Eli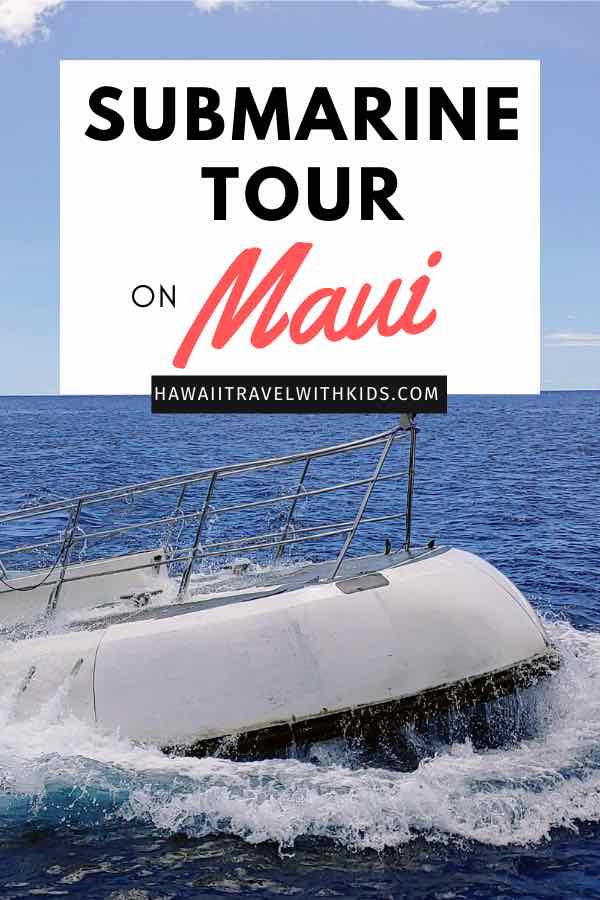 Atlantis Submarine Tour on Maui
The Atlantis Adventure Submarine Tour ticket office caught my eye while walking on Front Street in Lahaina with my family.
It was perfect timing.
We were leaving Maui the next evening and had just been talking about what we were going to do on our last day. Check-out time was eleven o'clock and our flight home wasn't until eight o'clock in the evening so we had some time to kill.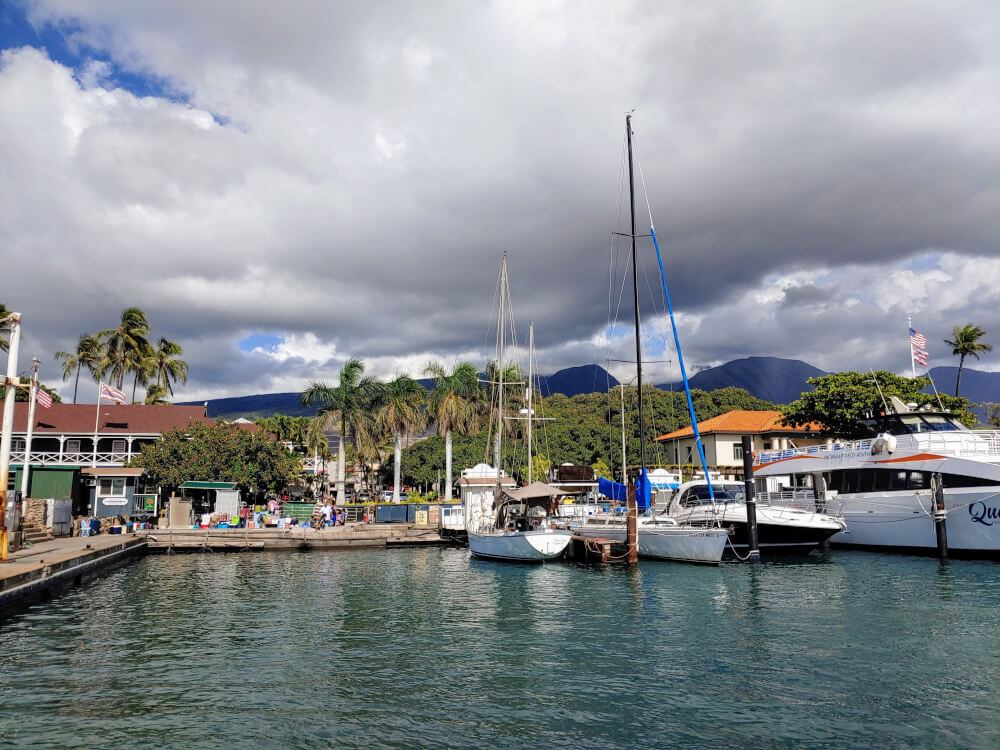 I threw out the idea of taking a submarine tour in Maui to my husband and six-year-old son and they both thought it would be fun.
The Atlantis Submarine Maui tour was something we'd never done and it sounded like the perfect activity for our last day in Maui. We decided to go ahead and book the Lahaina submarine ride.
Our seven days on Maui had been full of adventure. We'd driven the Road to Hana and stayed at the Wai'anapanapa State Park Cabins for the first half of our trip. The last half was spent exploring the other side of the island near Lahaina.
We hadn't done a single tour and thought the Maui submarine tour would be a nice addition to our trip. And we were not disappointed with this Maui submarine adventure.
In fact, the Atlantis Submarine tour ended up being one of the highlights of our trip.
Atlantis Maui Submarine Booking Tips
You will want to book your Lahaina submarine tour in advance if you are visiting Maui any time in late December through March or June through August. Our tour guide said during the busy months every tour is sold out.
We were able to buy our tickets the day of our tour because it was October, one of the slower travel months in Maui.
Check the Atlantis Submarine website for any online deals. The online deal in October was one free child seat with the purchase of an adult seat.
It's also worth your time to stop into the Lahaina office on Front Street if you are staying nearby. We purchased our tickets at the office the day of the tour and were offered the free child online deal plus ten dollars off.
Book a Maui submarine ride in the middle of the day so you can watch the submarine before you rise up and the one after you go down, it's really interesting to see.
*Children must be over 36 inches tall to participate in the tour and under twelve years old to qualify for the child fare.
Before Your Maui Atlantis Submarine Tour
There is a free parking lot on the corner of Front Street and Prison Street but it usually fills up first thing in the morning.
It's worth a drive around to see if anyone is leaving but keep in mind that you can only park there for three hours.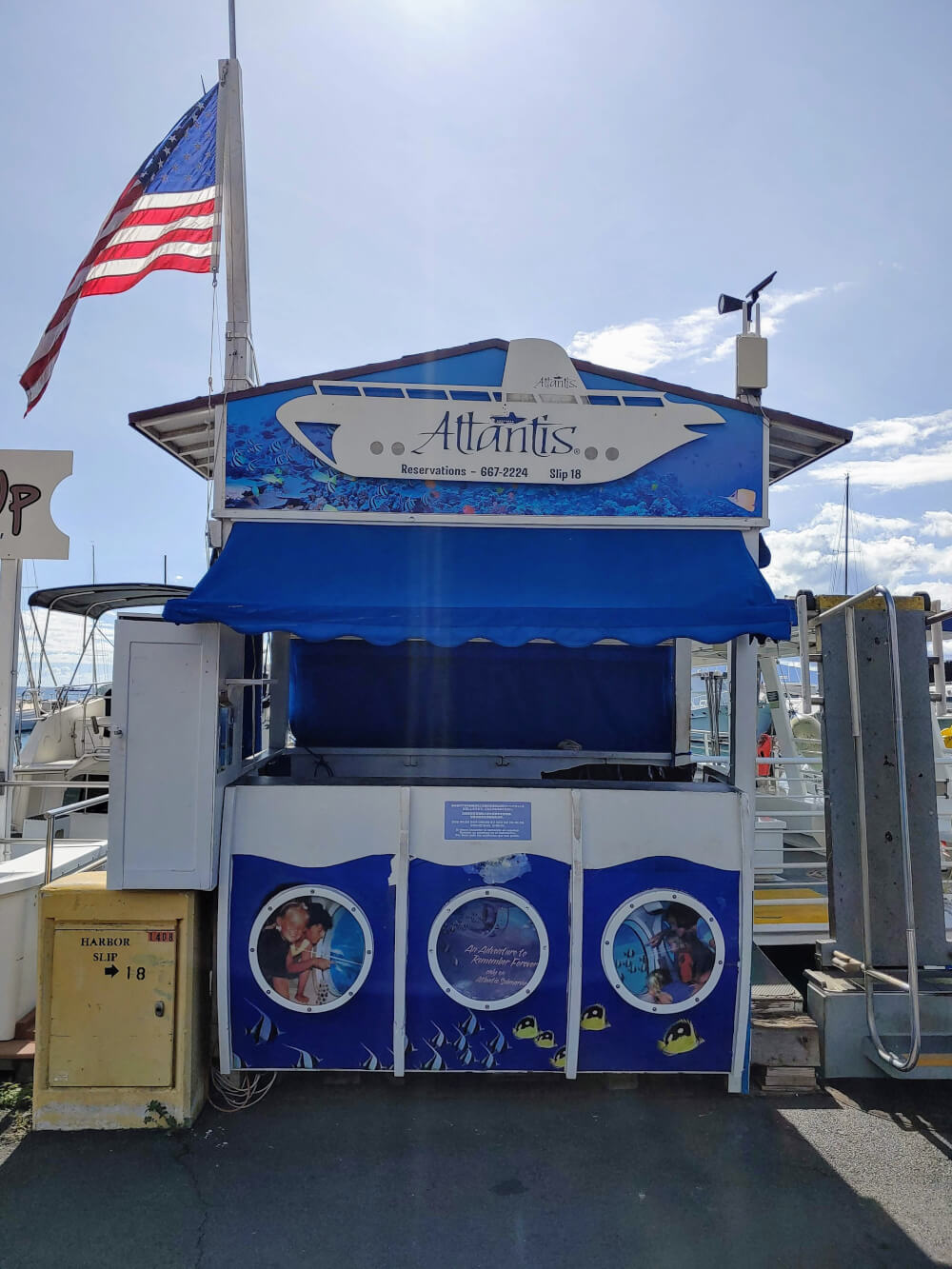 The Lahaina submarine tour takes one hour and forty-five minutes and it is recommended that you arrive at the dock a half hour before your tour.
If you plan to go to lunch or walk around Lahaina you will probably want to park in a pay lot so you don't have to worry about moving your car. You shouldn't have a problem finding an available spot in a pay lot and there are several near the marina.
We were instructed to meet at the dock across the street from the gigantic Banyan tree. Several rows of covered bench seats are available so you can sit in the shade while you wait.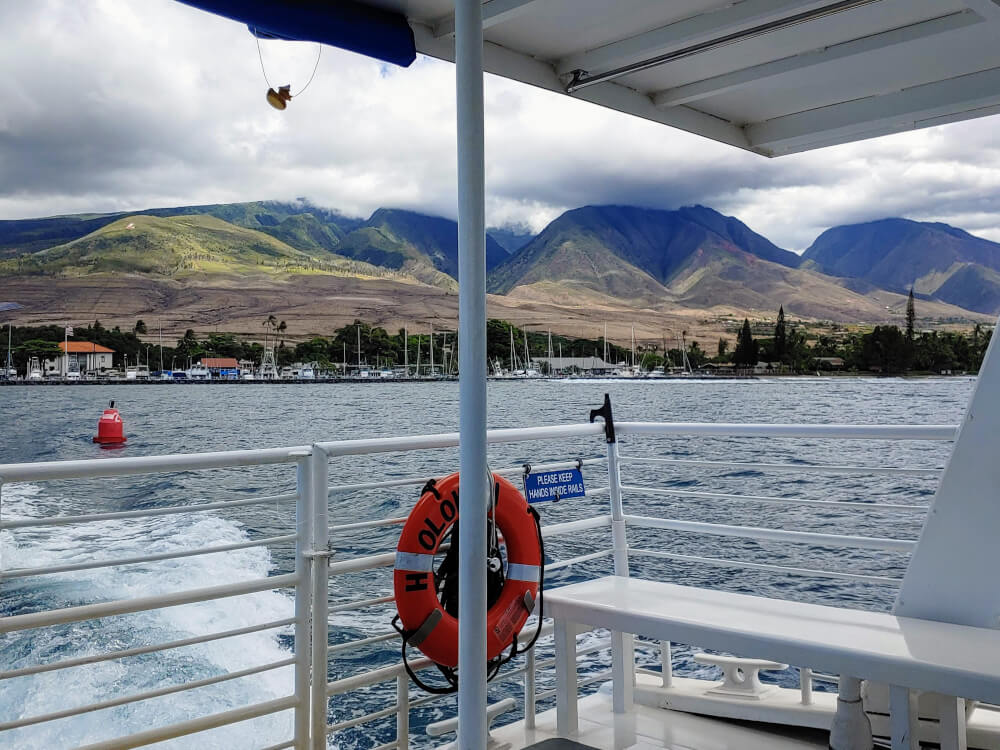 The submarine is located about a half mile off shore so you will take a boat shuttle out to the submarine. The short boat ride is actually a nice added bonus. We'd never taken a boat out of Lahaina harbor and the views from the boat were stunning.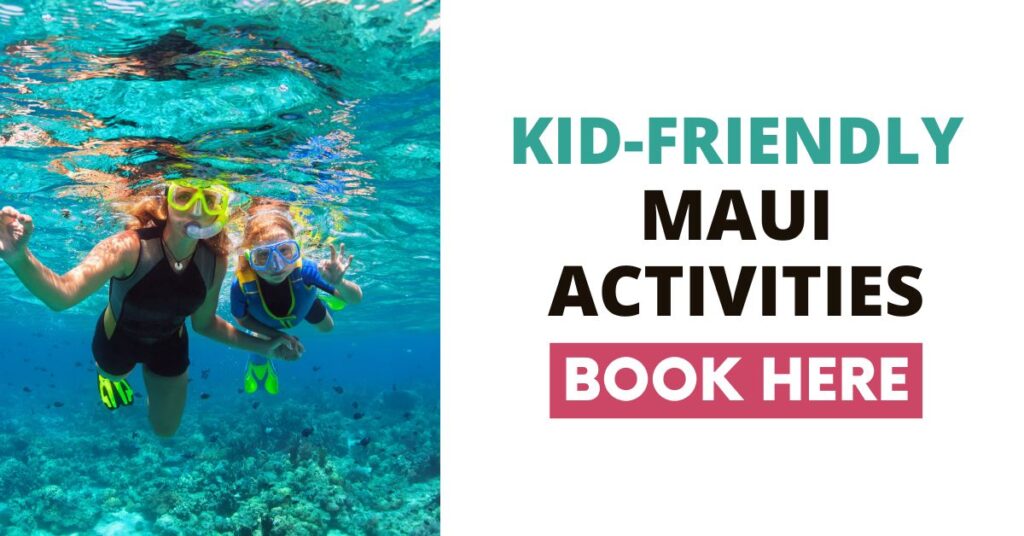 Boarding the Maui Atlantis Submarine
After watching the submarine rise to the surface, the captain will tie the shuttle boat up to the submarine.
Everyone in your group will move to one side of the boat so the passengers exiting the submarine can sit on the other side. The tour groups are relatively small, there are only 48 seats on the submarine.
We could tell the exiting passengers loved their Atlantis submarine ride from the huge smiles on their faces. Seeing them got us even more excited to board the submarine.
Boarding the submarine is a very organized process.
Complete groups are called up together and directed to alternating entrance ports. A steep 10-step ladder is used to board the Submarine.
It doesn't make a difference if you board first or last because every seat in the submarine has a window.
The submarine has air conditioning and each seat is equipped with an air vent similar to what you would find on an airplane.
Our Maui Atlantis Submarine Experience
Actually going underwater in a submarine is a surreal experience.
After everyone is seated, the captain does a countdown and off you go to the bottom of the ocean. It's a neat perspective if you look up at the other boat on top of the water as you head down.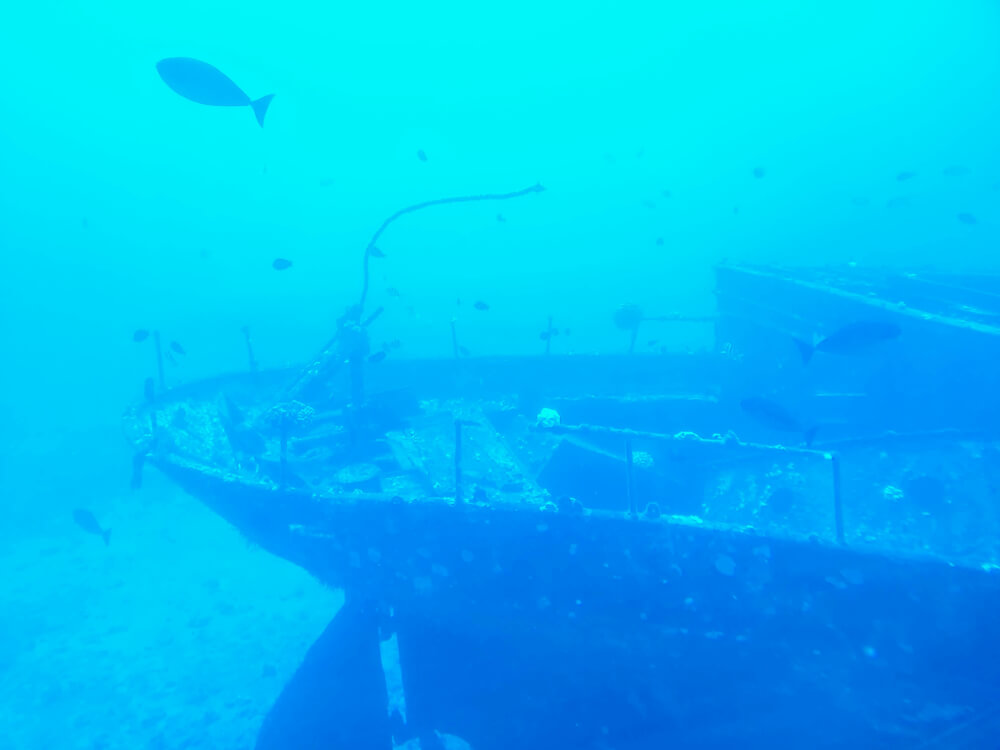 The Atlantis Submarines Maui Lahaina tour starts at a natural coral reef and goes on to view a sunken ship. The submarine turns around at each attraction so passengers on both sides of the submarine have a great view.
Our tour guide was very knowledgeable and told us all about all the different kinds of fish we encountered. We saw puffer fish, a few manta rays, and all different kinds of reef fish, and were even lucky enough to see an octopus.
The only thing we didn't see on our tour that we were hoping to see was a shark. Our guide told us that he'd seen sharks on every other of the Maui submarine tours that day so it is common to see sharks.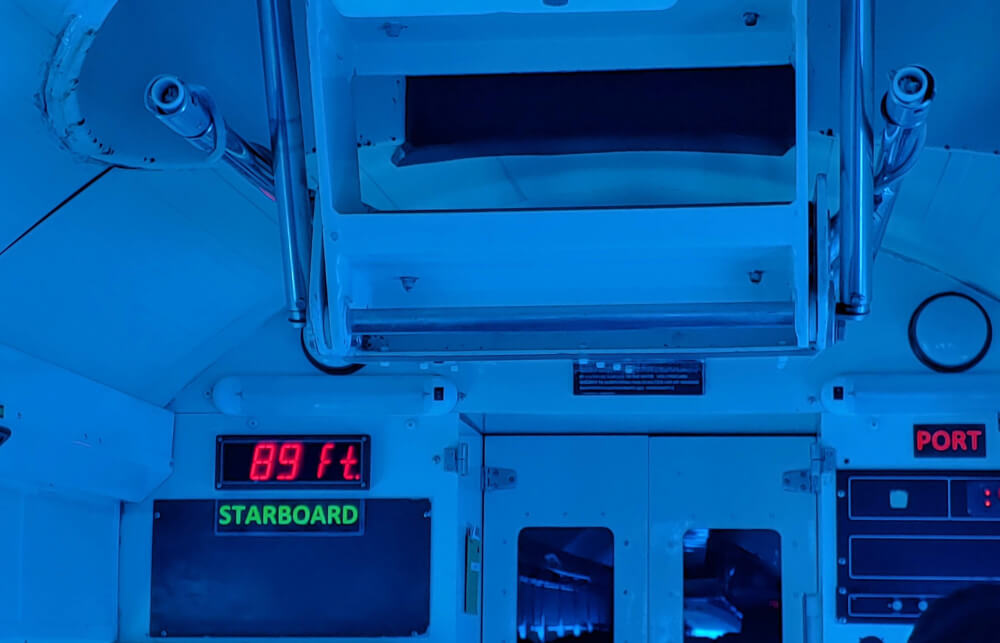 The forty-five minutes we were underwater flew by. We were all so mesmerized by what we saw. It was an incredible experience.
After passing the sunken ship and diving to a depth of 130 feet, we headed back up to the surface, exited the submarine, and got back on the boat.
This time we were the group with huge smiles on our faces.
We got to watch as the submarine descended into the water with the next group on board before heading back to the harbor.
Atlantis Submarine Tour FAQs
How long is the Atlantis Submarine Tour?
The Atlantis Submarines Maui tours are just over an hour with about 50 minutes of underwater time. But, you'll need to get there early to check in.
How deep does the Atlantis Submarine go?
The Maui underwater submarine adventure goes at least 100 feet underwater so you can see coral reefs and tropical fish.
Is the Maui Atlantis Submarine Adventure kid-friendly?
Absolutely! In fact, it's one of the easiest Maui tours to do with kids of all ages. It's all the fun of exploring underwater without getting wet and one of the top Maui things to do with kids!
Our Atlantis Submarine Tour Review
The Atlantis Submarine Tour is a unique one-of-a-kind experience that you don't want to miss when visiting Maui. It's the perfect tour for both adults and kids.
It is one of the best submarine rides in Maui! If you are looking for one of the best things to do with kids in Maui, you will love the Atlantis Adventures Maui submarine tour! Check latest rates and availability.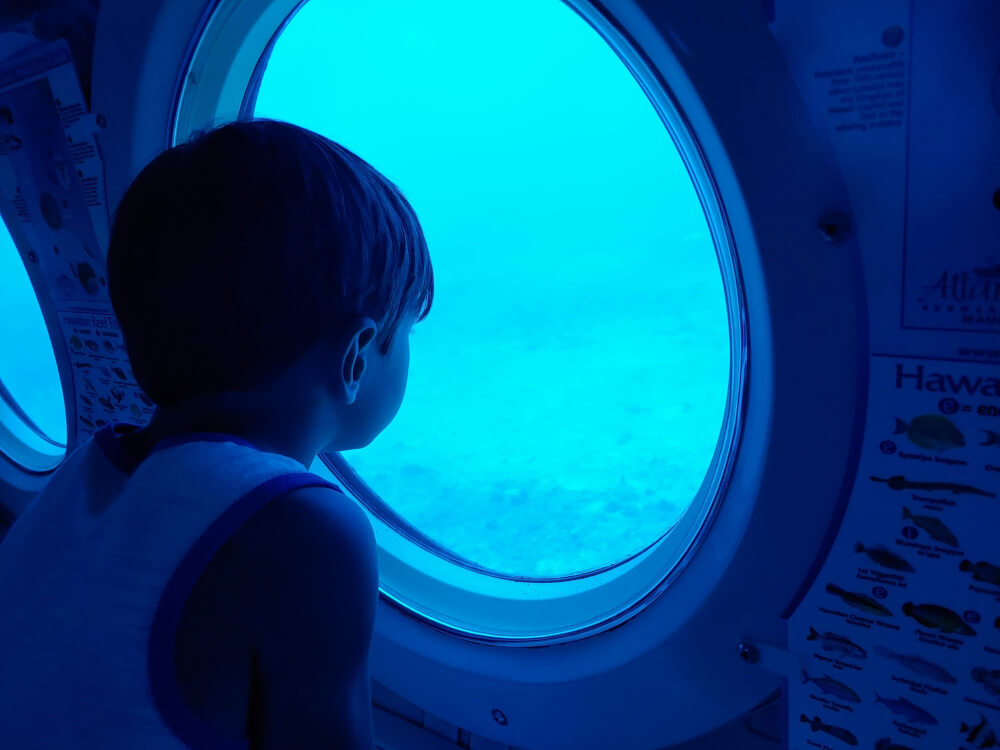 Our son was hesitant to try snorkeling so it was great for him to have the opportunity to see the fish in their natural habitat.
It is one of the more expensive tours in Maui, but you will find that the Atlantis Submarine cost is totally worth it.
Submarine tours in Maui are quite fun and nothing beats this Atlantis Submarine Lahaina tour!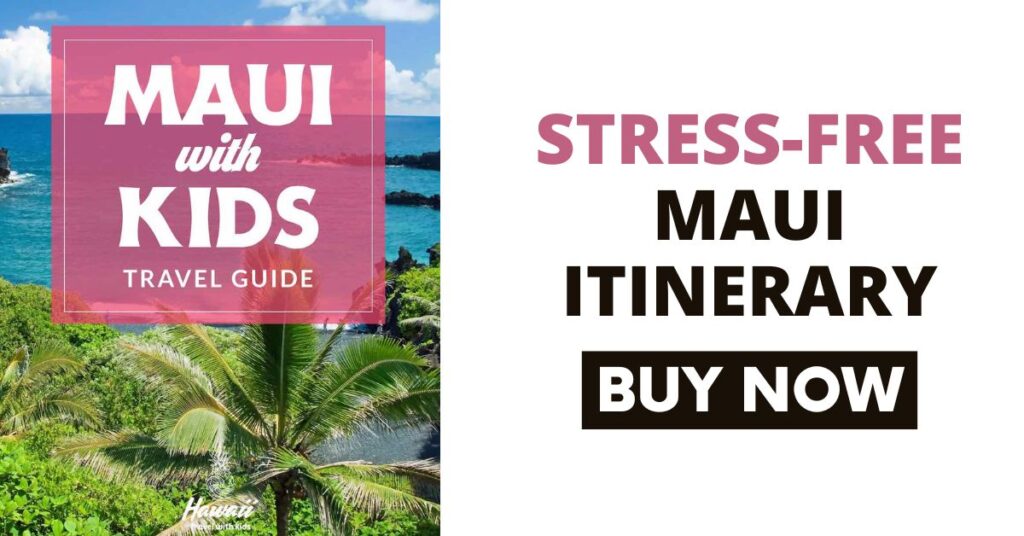 About Diane McAllister
Diane McAllister is the creator and writer behind the family travel blog travelswitheli.com. She is a stay-at-home mom who loves planning and embarking on travel adventures with her husband and son. When not traveling she is enjoying life with her family in the beautiful mountains of Colorado.