Planning a trip to Maui with kids and want to find the best kid-friendly attractions, activities, restaurants, and more? Scroll to check out this mega list of the best things to do in Maui with kids!
This guide on the best things to do in Maui with kids contains affiliate links which means if you purchase something from one of my affiliate links, I may earn a small commission that goes back into maintaining this blog.
Maui is hands down one of the most popular Hawaiian islands for family vacations, honeymoons, and babymoons.
I've visited Maui several times over the past 20 years and we always find new things to do each trip. I started visiting with my family when I was a teen and now we do big extended family trips with our own kids.
Because we've done so much on the island, I thought I'd create a huge list of our favorite kid-friendly things to do on Maui. Some are favorites from when I was a teen and others are new favorites our family has discovered.
Maui is one of my favorite kid-friendly travel destinations in the world. Keep scrolling to find out what to do on Maui with kids!
Whether you are spending 3 days in Maui, 5 days in Maui, or a full week (or two!), you'll definitely find out all the best things to do in Maui with kids!
Find out 10 things you NEED to know before visiting Maui!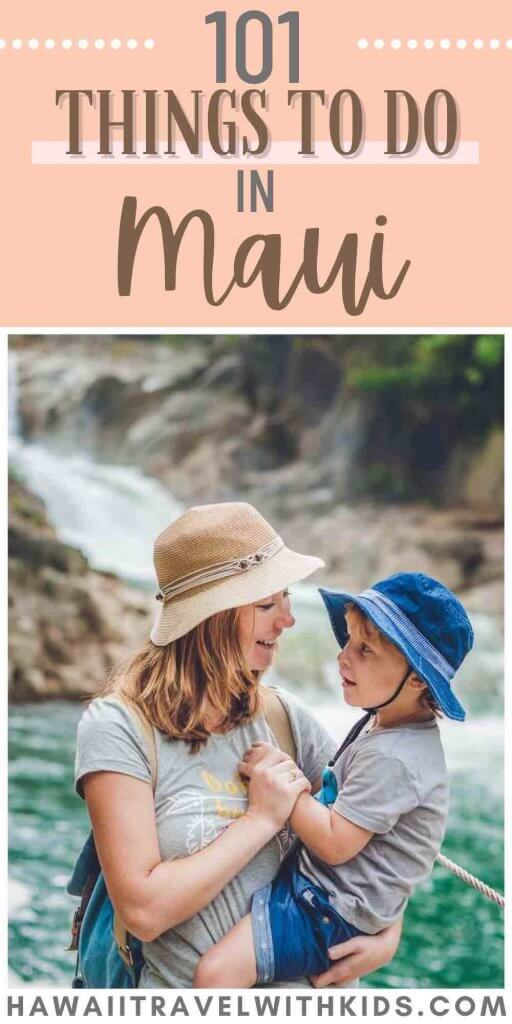 101 Best Things to do on Maui with Kids
Maui with Kids: Best Maui Beaches
1. KAPALUA BAY
One of the best beaches in Maui for kids on the West Shore is Kapalua Bay. It's tucked away a bit, so you'll feel a little secluded.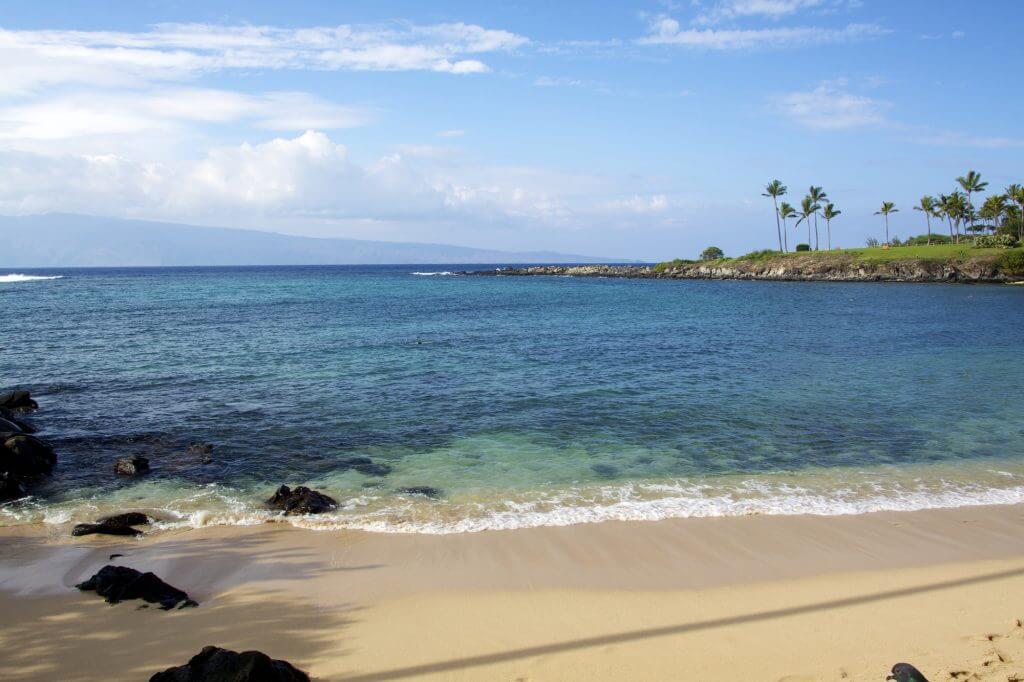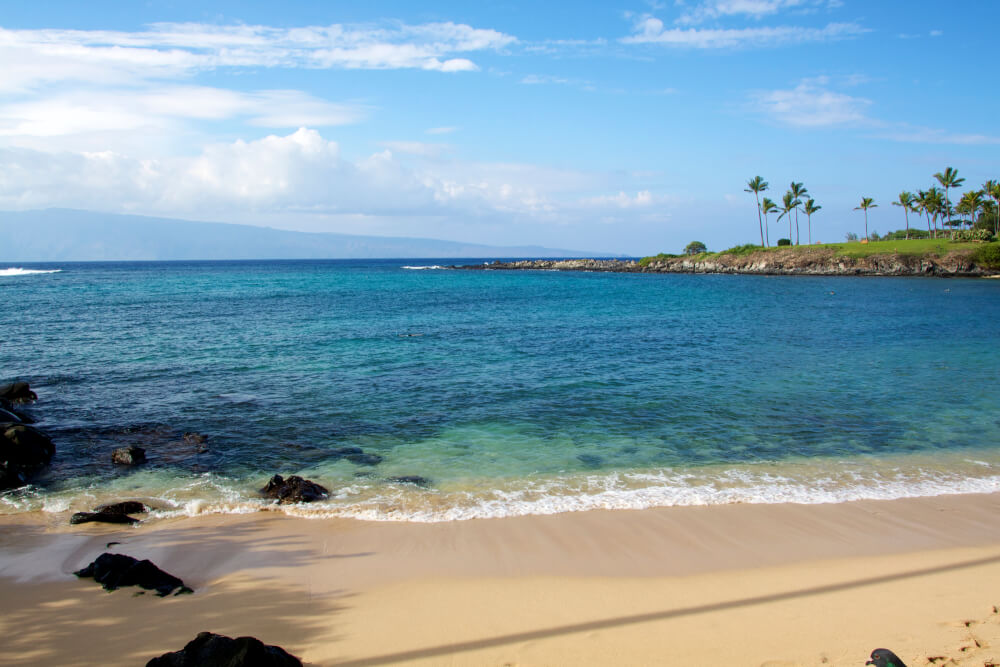 The water is fairly calm (it's on a reef), so it's a nice beach to let kids build sand castles or wade into the water.
Plus, it's also a popular snorkeling beach.
2. BABY BEACH IN PAIA
If you head up to Paia in North Shore Maui, you'll definitely want to stop at Baby Beach.
It's got a protected lagoon for swimming and locals consider it in the top Maui best beaches for kids.
It can get a little windy here, so it's nice to bring a pop up tent to protect babies from getting sand blown on them.
3. MAKENA BEACH
Down in Wailea, on the South Shore of Maui, you'll find Makena Beach State Park. This is an iconic white, sandy beach and probably exactly what you picture when you think about a tropical beach.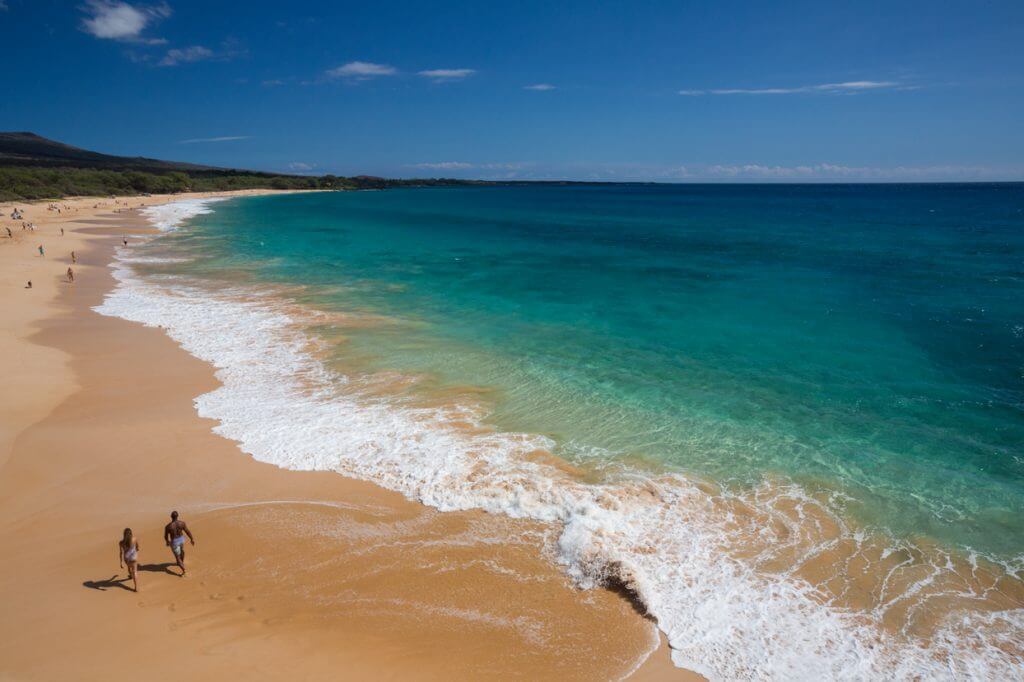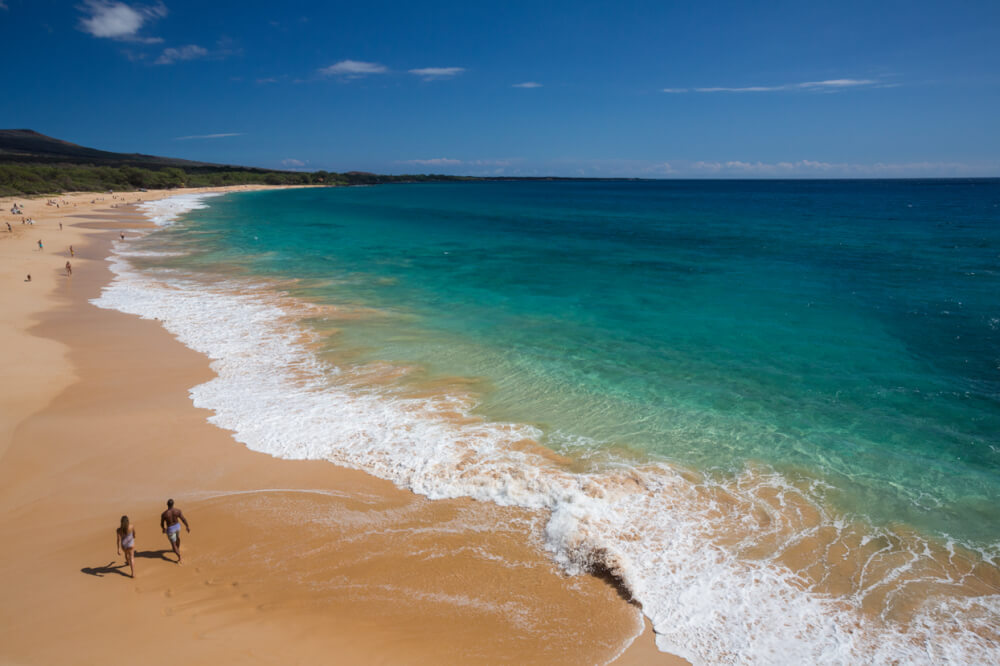 It's one of the best Maui beaches for kids because there's a lifeguard on duty (on the Big Beach side.)
Plus, you'll find plenty of parking, restrooms, picnic tables, and even food options. It's easy to spend the whole day here!
4. KAMAOLE BEACHES
In Kihei (on the South Shore), you'll find a set of 3 beaches. These are the Kamaole beaches, commonly called Kam 1, Kam 2, and Kam 3.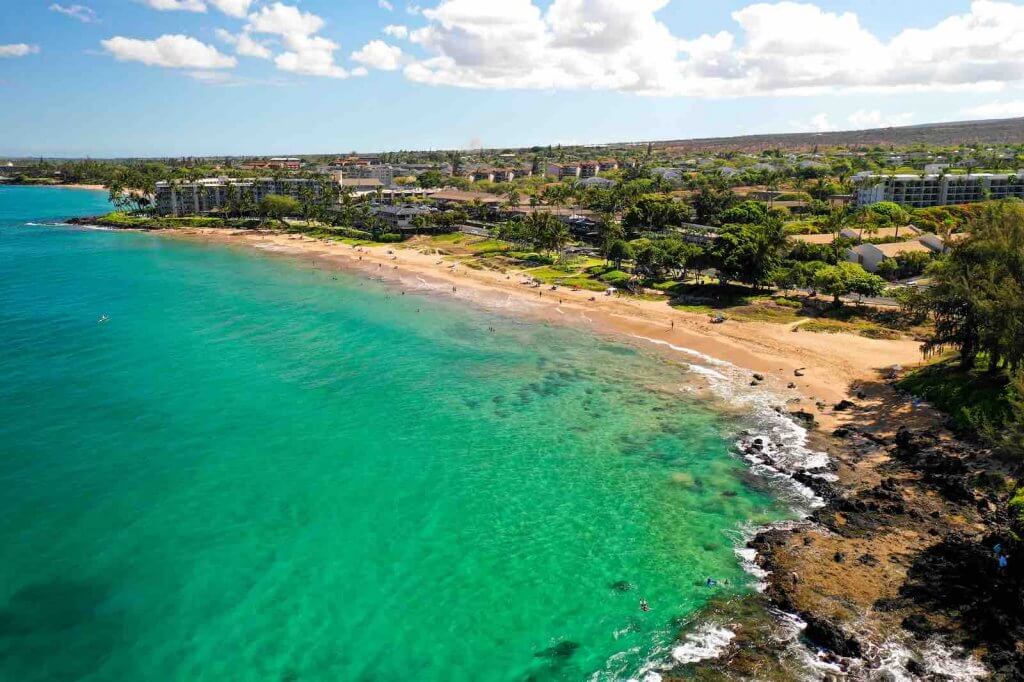 There are lots of on-site facilities and it's close to a lot of Kihei food options.
These kid-friendly Maui beaches are perfect for boogie boarding, snorkeling, and swimming.
And Kam 3 also has a playground, which is always a nice option with kids.
5. KAHEKILI BEACH PARK
If you're staying up in Kaanapali, definitely add Kahekili Beach Park to your list of kid-friendly beaches on Maui. It's near Kaanapali Beach, but it's much less crowded.
It's also perfect for kids just learning how to snorkel. Basically, the reef is super close to shore so kids don't have to swim very far out.
It's a great place to see Hawaiian Green Sea Turtles. And you might even see whales during the winter!
6. NAPILI BAY
Another great West Maui beach for kids is Napili Bay. It's got lots of golden sand and has really pretty views.
It's also one of the most popular Maui beaches, so prepare yourself for crowds. You can park on the side of the road, but many people just walk from nearby condos.
But, it's a pretty awesome beach for swimming, snorkeling, and just lounging around.
Maui with Kids: Best Places to Eat on Maui
They have some standard American dishes plus some that are Pan-Pacific, so you'll be able to find something to eat.
They have a decent kids menu. Plus, kids under 3 years old can get a free plate of noodles and cheese!
They have locations in both Wailea and Kaanapali, which make it a pretty convenient place to eat if you are staying in either resort town.
They also make the BEST Hawaiian Mai Tai ever!
While Leoda's is mostly known for their insanely delicious pie, they also have a pretty great menu.
They have tons of freshly made sandwiches, burgers, hot dogs, salads, mac and cheese, and pot pies.
Plus, they have a few kids items.
So, this is probably my favorite place to eat on Maui. We always hit up their Kihei location at least twice each trip.
They have coconut shrimp, fish and chips, salads, burgers, pasta, and tons of other things.
But, they are most famous for their fish tacos. These are 17-ingredient tacos (including mango salsa) that are crazy tasty!
They also have a pretty extensive kids menu.
This award-winning restaurant is located right in Kihei and it's a great option for families.
They are known for having some amazing breakfast options for an affordable price. Plus, they have several kids menu items (including whale-shaped pancakes!)
You can also grab lunch here. They have lots of sandwich options that are perfect for enjoying before a day at the beach.
Hula Grill is a kid-friendly place to eat in Kaanapali for families.
It's mostly American food (like burgers, pizza, salad, and fish) with an island twist.
Their kids menu offers mac and cheese, fish and chips, fried chicken, and cheeseburgers.
It's a sister restaurant to Duke's, so you can still order a slice of Hula Pie to share with your family!
While I wouldn't normally list Mama's Fish House as a "kid-friendly" restaurant, it's probably the most famous Maui restaurant and people include it on their Maui bucket list.
It's your call if you want to bring your kids or book a sitter that night. They don't have a kids menu, so it's really best for tweens or teens with a sophisticated palate.
You'll definitely need reservations (usually months in advance.)
Maui with Kids: Best Maui Attractions
13. MAUI OCEAN CENTER
This is probably the top thing to do on Maui with toddlers. They have indoor and outdoor marine life exhibit areas, tidepools, indoor aquariums, and an immersion tube where you feel like you are walking through the ocean!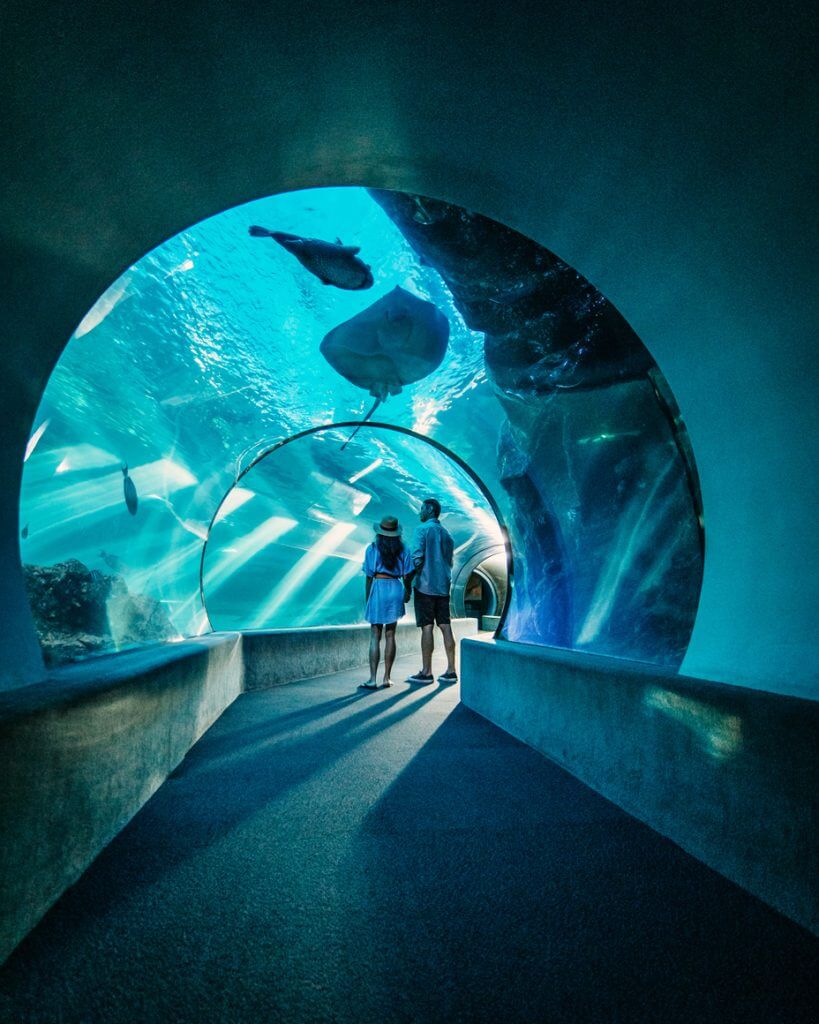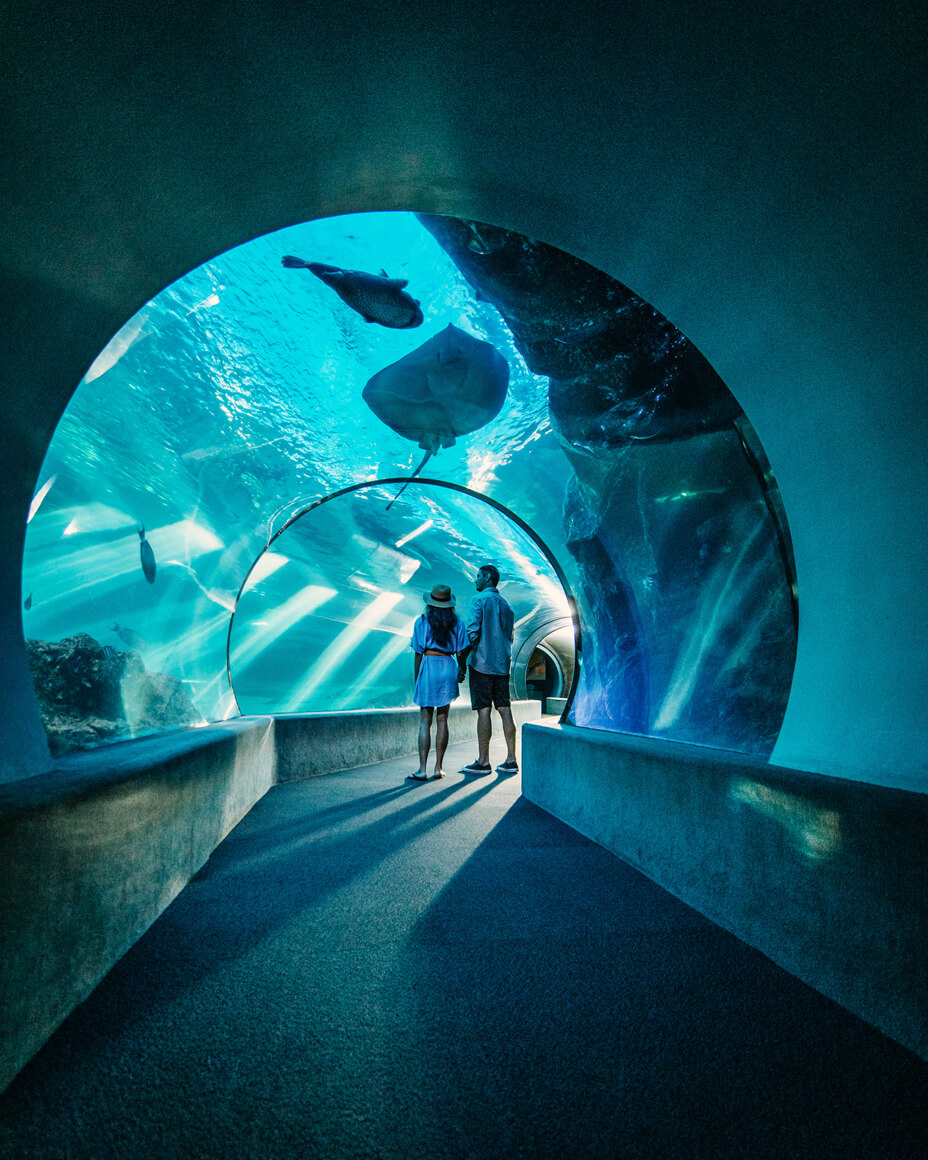 The really cool thing about the Maui Ocean Center is all the Hawaiian Cultural Programs they offer throughout the day.
The last time we went, we learned about all sorts of hula implements (instruments used while dancing) and it was fascinating for my kids!
14. SEE A WATERFALL
When you think of a tropical paradise, you probably envision a cascading waterfalls in the jungle, right?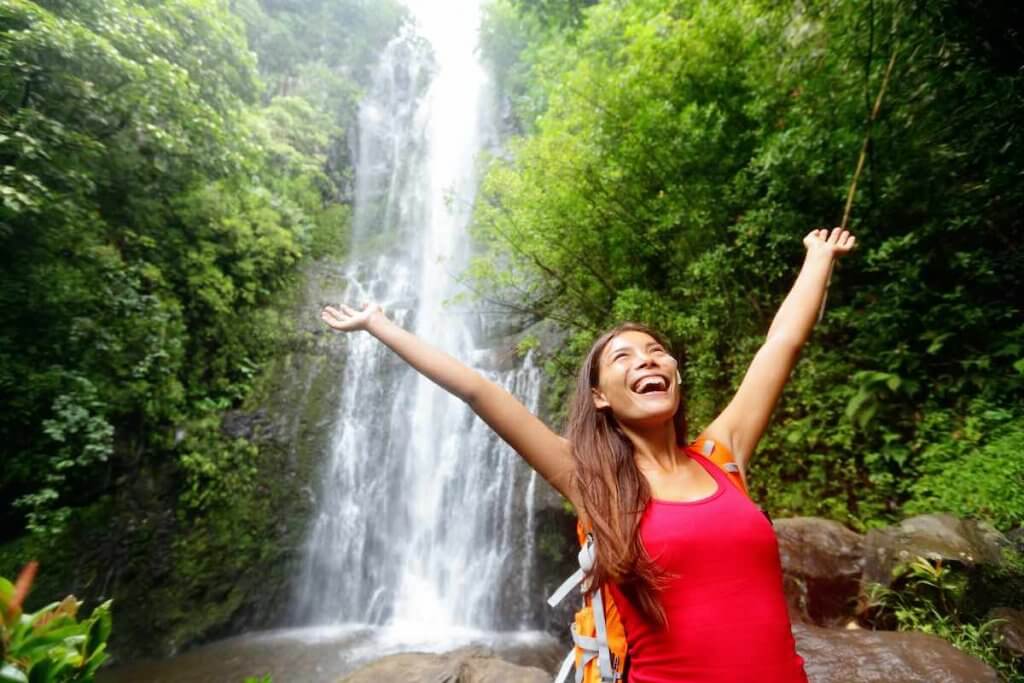 Some easy family activities in Maui are exploring a few of their gorgeous Hawaiian waterfalls.
There are several waterfalls just off the side of the road, or you can do easy (or extensive) hikes to find some pretty cool waterfalls on Maui.
Find out the 12 best Maui waterfalls!
If you have tweens or teens, they might find the Alexander & Baldwin Sugar Museum a great way to peak at what Maui was like during plantation days.
They have several exhibits, including one focused on how the sugar plantation brought immigrants from Asia and there's even a replica plantation house.
My kids really liked seeing the outdoor exhibits, which include several large sugar cane equipment.
Insider tip: It's on the way to the airport, so it's a great stop if you have some time to kill before your flight.
16. MOLOKINI CRATER
Something that's pretty cool about Maui is that there's actually a small crater off the coast that's one of the top snorkeling spots in Hawaii.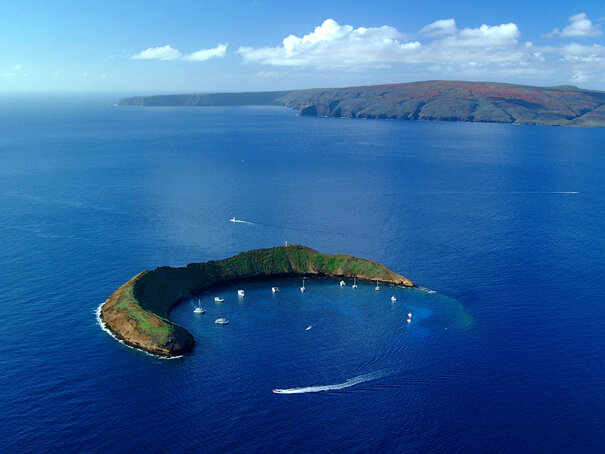 It's called Molokini Crater and it's one of the best Maui family activities to do as a day trip. That way, you have enough time to get there and fully explore the sea life before returning to the harbor.
There are tons of awesome Molokini Crater boat tours, like this Maui snorkeling tour that also goes to Turtle Town!
RESERVE NOW
Read my ultimate guide to Molokini Crater!
17. ROAD TO HANA
I know that people have mixed feelings about if the Road to Hana is kid-friendly. I've driven it with a 2-year-old in the back seat and he was fine.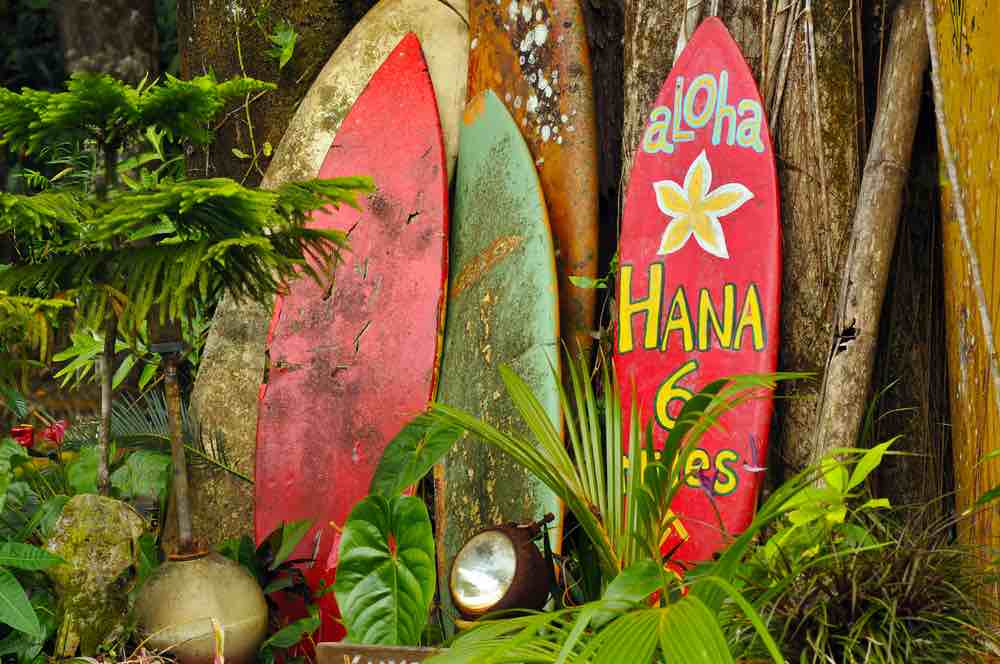 Personally, I think it's a must do for any Maui family vacation.
The drive itself is gorgeous and there are tons of awesome Road to Hana stops (my favorites usually include food.)
You can join a Road to Hana tour or drive it on your own.
RESERVE NOW
Find out 15 things you need to know before driving the Road to Hana
18. HALEAKALA NATIONAL PARK
I think one of the most unique things to do in Maui with kids is explore Haleakala National Park.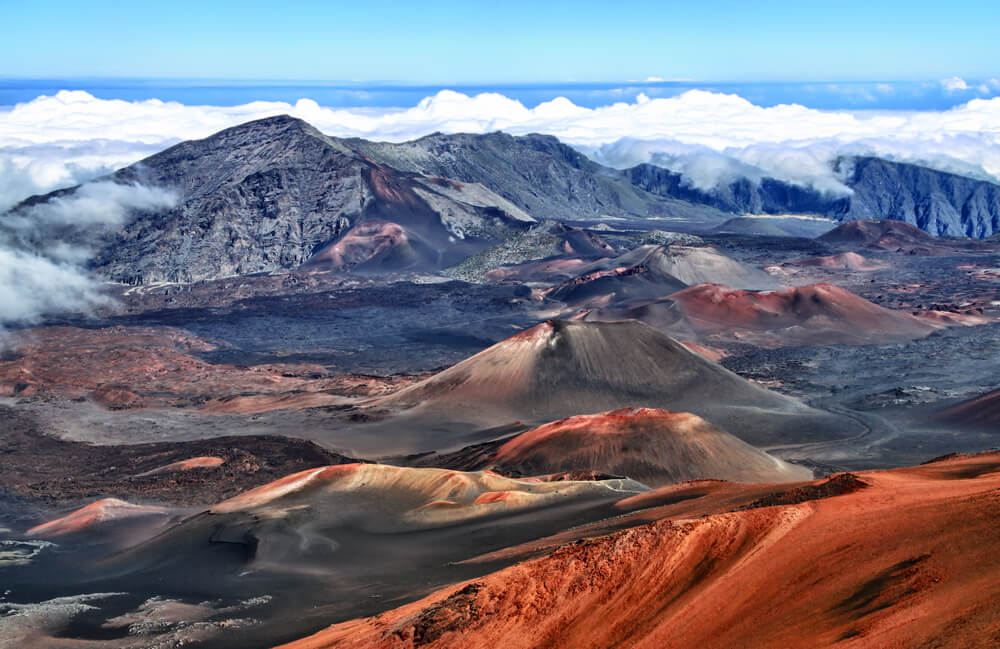 Up at the crater, the temperature is pretty chilly and it looks like you've landed on Mars. There's tons of hiking trails if you want to explore, or you can check out the visitors center.
The most famous time to visit is before sunset. People equate sunrise at Haleakala to a religious experience.
You can book a Haleakala sunrise tour from your resort or you can drive up on your own.
RESERVE NOW
19. I'AO NEEDLE
One of my favorite things to do in Maui with toddlers is head up to I'ao Valley State Park.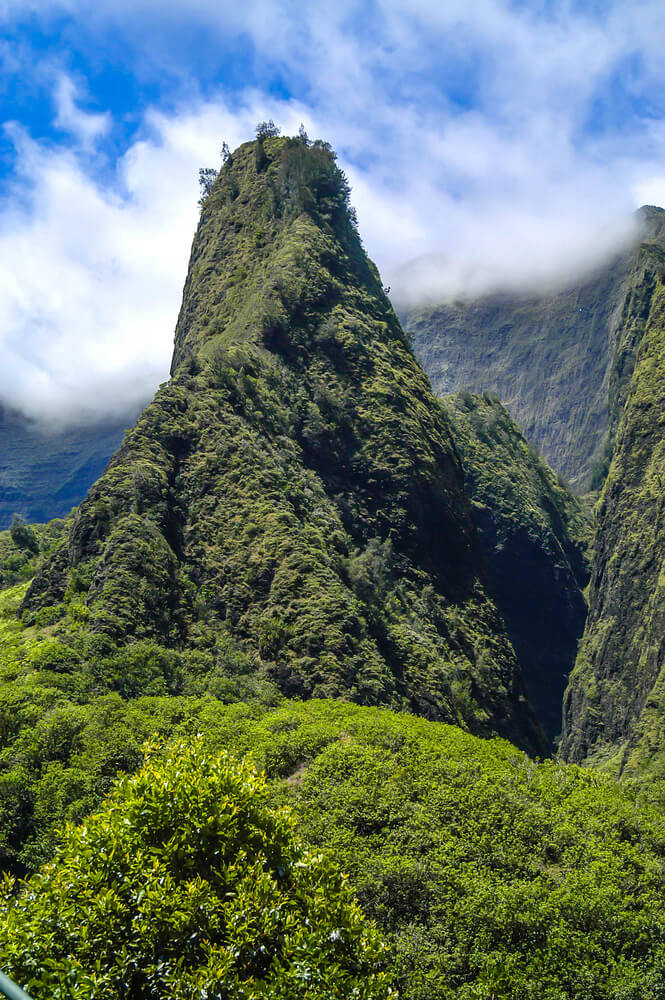 Here, you'll park your car and you can head on a kid-friendly Maui hike up to I'ao Needle. The path is paved and there are a bunch of stairs.
My son was able to walk the entire thing by himself as a 2-year-old and it was a great way to burn off some energy!
It's just a really beautiful spot with some lovely views and we usually visit every time we go to Maui.
Insider tip: Make sure to apply bug spray to avoid bug bites!
Ok, it might sound strange to visit a goat farm in Hawaii, but it's actually a pretty fun experience.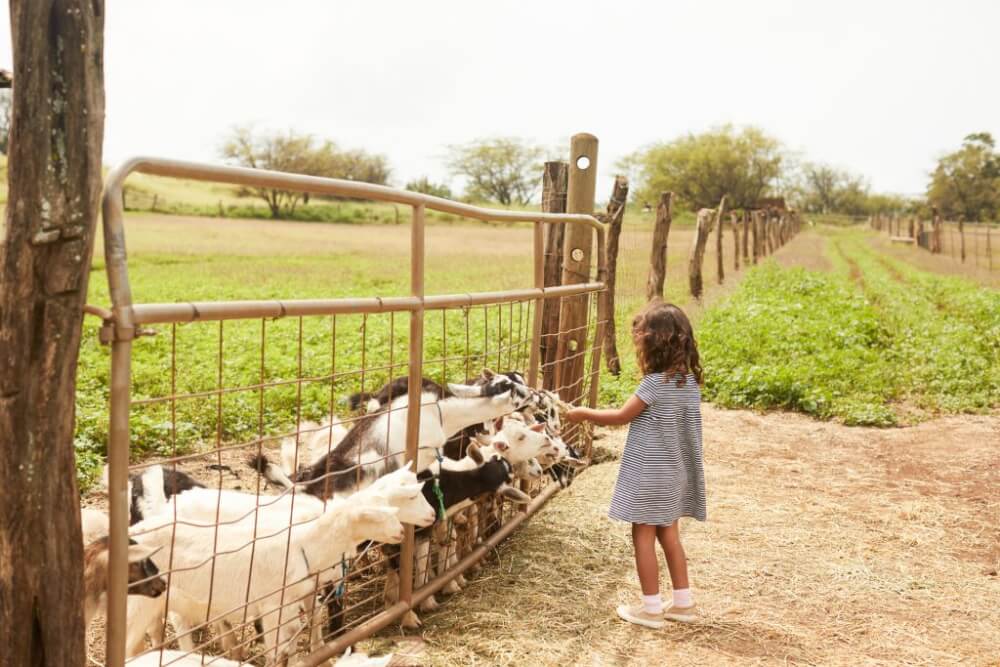 They have a few different tours available for families. You can hang out with the goats or help out with evening chores.
There's also the option of tasting their goat cheese or goat cheese truffles (which are SO good!)
It's a really beautiful drive through Upcountry Maui and it's a great stop on your way to/from Haleakala.
If your kids love animals, they probably will get a kick out of this petting zoo. There's miniature horses, pot bellied pigs, miniature cows, bunnies, peacocks, and more.
Plus they have other activities like catching tadpoles, feeding ducks and chickens, and going on a treasure hunt.
It's a little pricey at $25 per person, but kids under 2 are free.
22. MAKAWAO FOREST RESERVE
Another fun place to go in Upcountry Maui is the Makawao Forest Reserve. Here, you'll find lots of tropical plants and stunning ocean views.
Some popular things to do at Makawao Forest Reserve include hiking and mountain biking. There are several places to rent bikes on Maui.
Because the temperatures are cooler here, it's a nice place to go when you've had too much sun or need a break from the heat.
If you love the smell of lavender, this is definitely a fun activity on Maui for families.
There are group tours, events, and activities, or you can explore the farm on your own.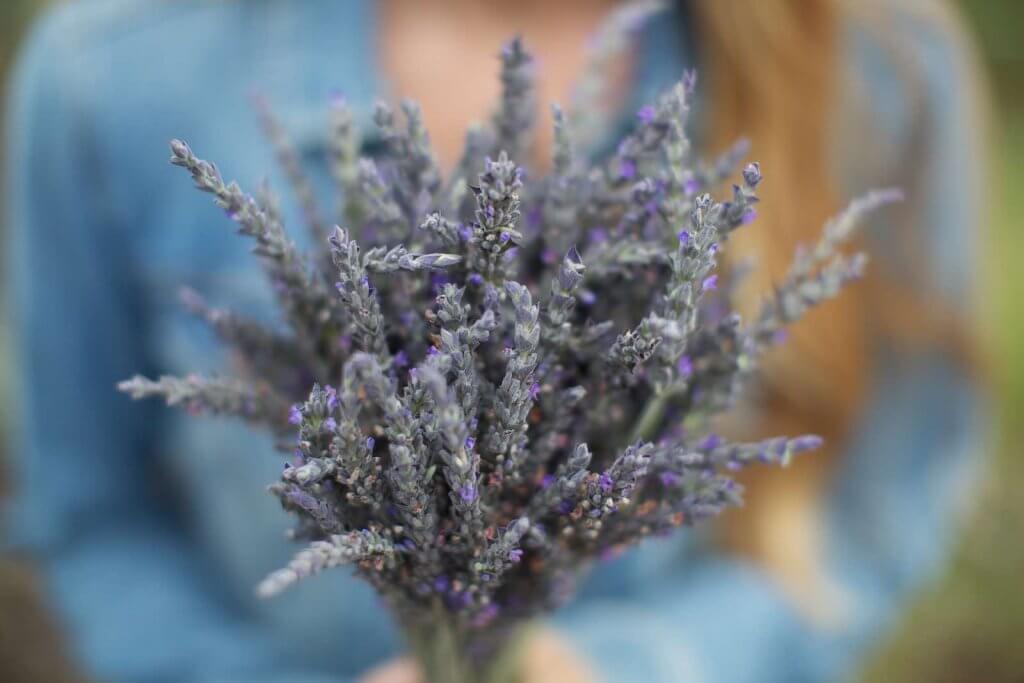 One of the most popular thing to do at Ali'i Kula Lavender Farm with kids is their Families Day Out. Here, you'll enjoy a walking tour of the farm and then make your own mini-bouquet to take with you.
24. BANYAN TREE PARK
Banyan Park is a great spot to stop as you walk around Lahaina. It features one of the world's most massive banyan trees and kids will love running around all the roots.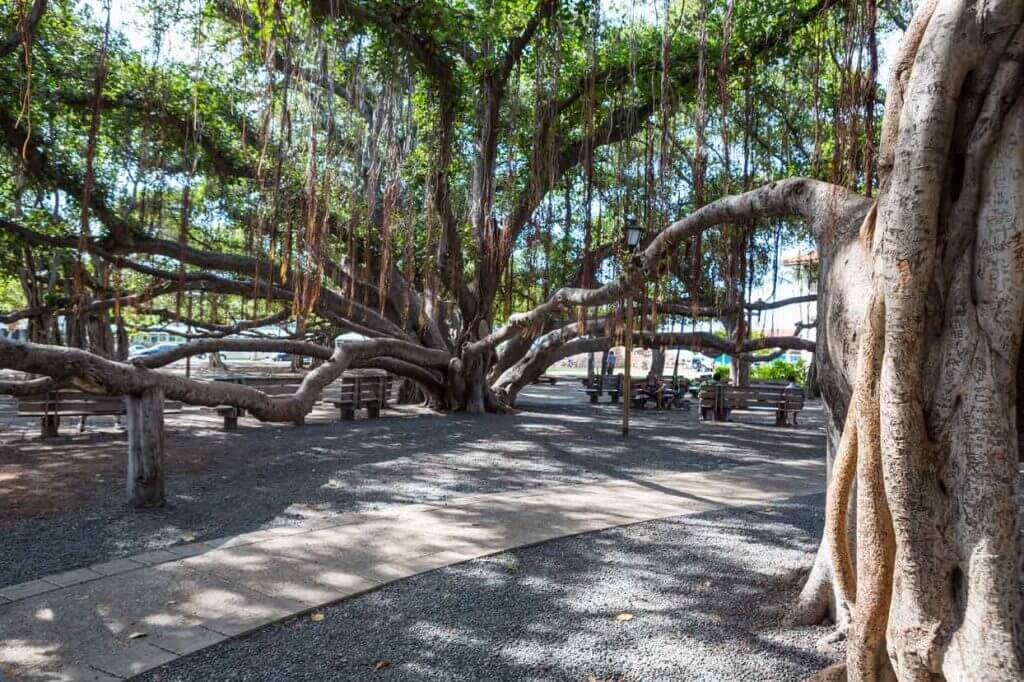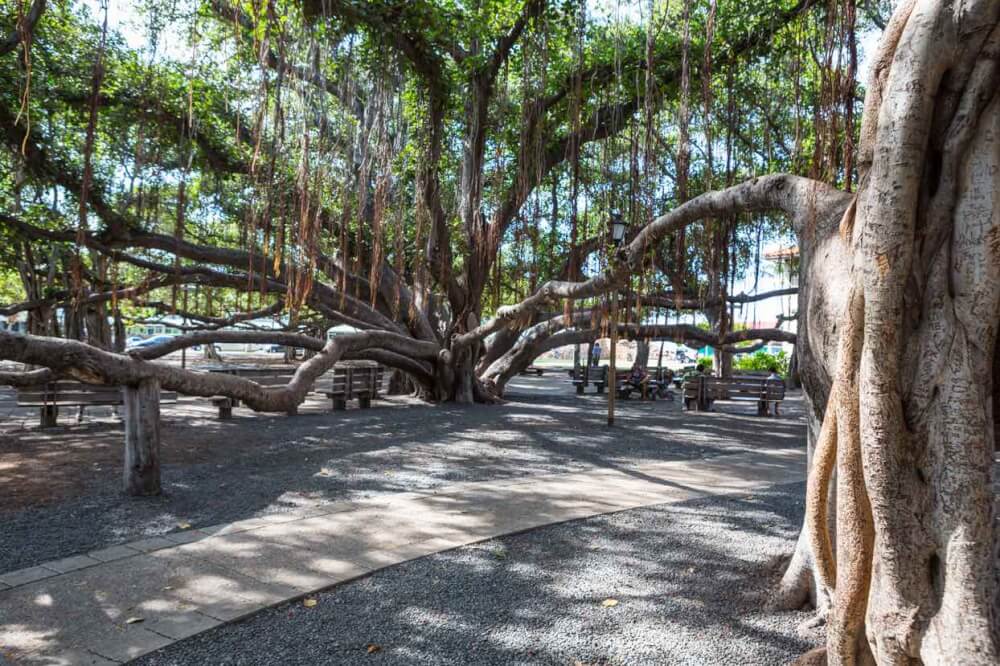 It was planted in 1873 and now there are more than 40 trunks coming off the original. You really have to see it in person to appreciate just how massive it is.
Maui with Kids: Best Maui Luaus
The Old Lahaina Luau is known for being a best luau in Maui for families. That's because it's been around for years and they have a good reputation.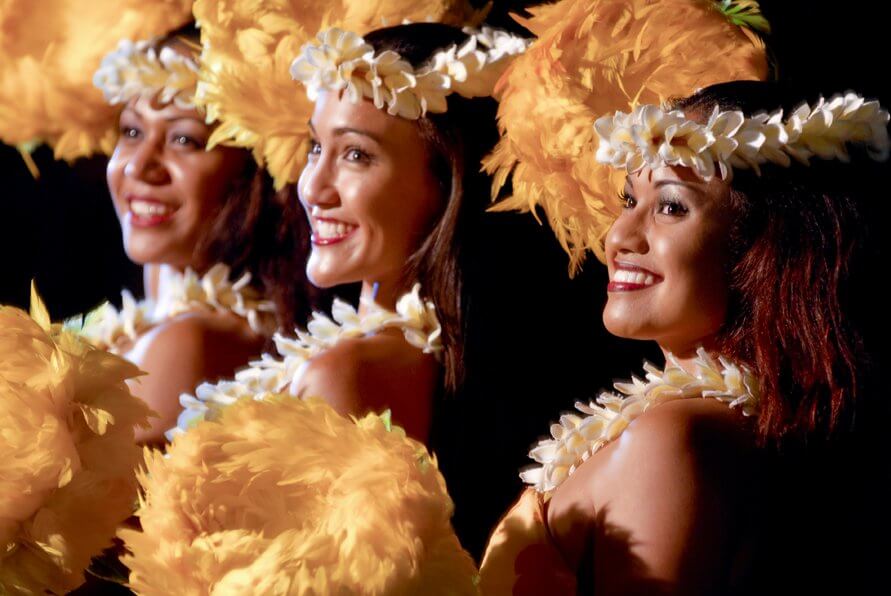 Like the name implies, it's located right in Lahaina which makes it really convenient for families staying in Lahaina or even Kaanapali.
They have lots of hands-on activities, good food, and excellent entertainment.
For families who have already done a traditional luau and are looking for something a little different, check out the Feast at Lele.
It's the same people who do the Old Lahaina Luau, but it's a plated dinner with Polynesian performances scattered throughout the meal. Think of it like a fancy dinner with entertainment.
It's nice for families who want to be able to play on the beach in between performances or would rather be at a private table instead of with a bunch of strangers.
Located at the Wailea Beach Marriott Resort, the Te Au Moana Luau is very popular with families staying in South Maui.
There's pre-show entertainment, a 3-course Polynesian dinner served tableside, storytelling performances, and a fire knife dance finale.
RESERVE NOW
This Royal Lahaina luau is another great option for families looking for an oceanfront Maui luau in West Maui.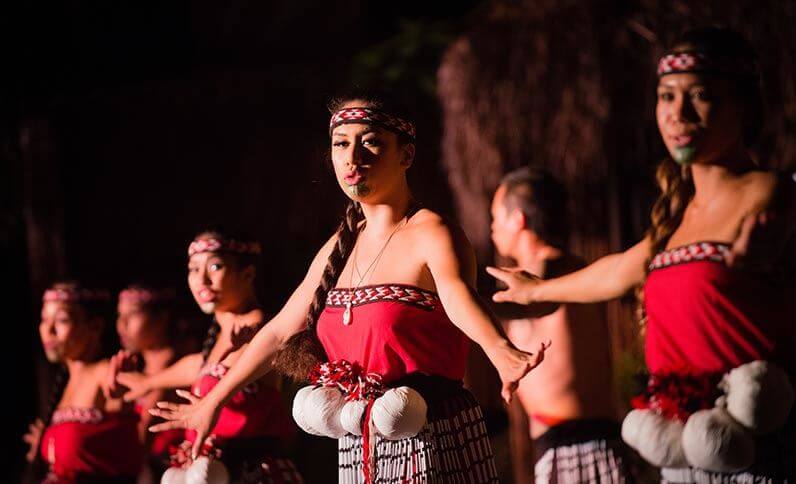 There are complimentary tropical cocktails, an imu ceremony, buffet dinner and dances from Hawaii, Tahiti, Samoa, and New Zealand.
RESERVE NOW
Find out my top 12 Maui luaus!
Maui with Kids: Best Maui Shopping
For the best shopping in West Maui, head to Whaler's Village in Lahaina. They have more than 80 stores including Cariloha, Crocs, Lilly Pulitzer, and Lululemon.
You can also find super cute beachy clothes at Mahina, Billabong, and Honolua Surf Company.
Plus, they have popular Maui restaurants like Hula Grill, Leilani's on the Beach, Monkeypod Kitchen, and Ono Gelato.
The Shops at Wailea have a lot of the same stores as Whaler's Village, but it's more convenient for families staying in Wailea.
There's more than 60 shops including high-end stores like Gucci, Louis Vuitton, and Prada. But there's also Lululemon, Quiksilver, Tommy Bahama, and Maui Clothing Company.
Plus, there are lots of places to eat like Ruth's Chris Steakhouse, the Pint and Cork, Lineage, and Island Vintage Coffee.
31. MAUI SWAP MEET
One of our favorite places to shop on Maui is at the Maui Swap Meet. It only happens on Saturday mornings in Kahului, so we usually plan our day around it.
Here, you'll find handcrafted items like body products, food items, ornaments, artwork, etc. But, you'll also find stands from local Maui boutiques selling clothing and accessories.
It's fairly small, so you can easily explore it in an hour or so.
32. MAUI FARMERS MARKET
Maui is known for growing some of the tastiest Hawaiian fruit. And while you can find some at local grocery stores, it's much more fun to shop at a Maui Farmers Market.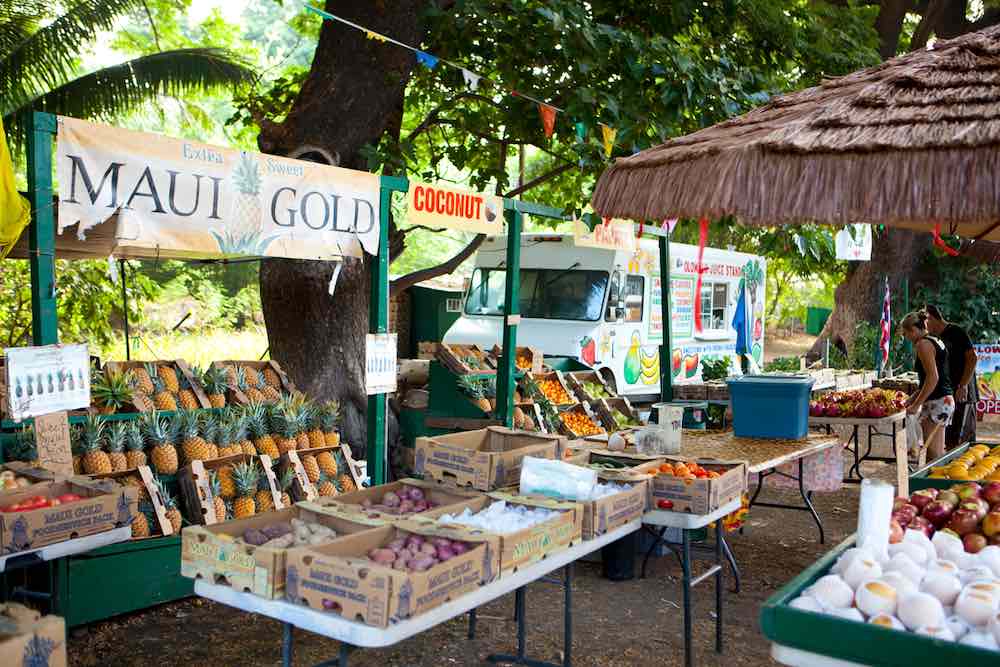 They happen all over the island and you'll be able to buy fresh produce from local farmers.
You can usually taste lots of samples and try some new fruit for the first time.
Find out which Maui farmers markets are worth checking out!
33. MAUI OUTLET MALL
I put the Outlets of Maui on this list for visitors who don't have an outlet mall near them.
That's because this one is pretty much like any premium outlet you'll find in the U.S. with stores like Adidas, Banana Republic, Coach, Kate Spade New York, Maui Jim, and more.
There isn't really anything specifically Hawaiian (except the food options and some t-shirts), but it's a great place to find deals on great brands.
34. WALMART
I always tell friends that Walmart in Hawaii is different than Walmart on the Mainland.
See, Maui only has a handful of big box stores and Walmart is the place where everyone shops (regardless of their social or economical status.)
You'll find cheap beach toys, Hawaiian books, Hawaiian home decor, and Hawaiian clothing for the whole family.
What we like to do is give the kids some cash and send them to the huge souvenir section here. Then, they are able to pick out a few items they are excited about and won't hurt our feelings if they don't last too long.
35. COSTCO
Costco is the other major big box store on Maui that is definitely worth a stop.
It's located steps away from the Maui airport and it makes a good first stop once you land (and where you'll fill up gas before returning your rental car.)
They have a great selection of Hawaiian items (like clothing) and the best price on Hawaiian books for kids. They also usually have pool toys, beach chairs, beach towels, and other items for outdoor fun.
Plus, it's a great place to load up on drinks, Hawaiian snacks, deli items, and Hawaiian baked goods to keep your family fed and happy at a good price.
36. TARGET
One of the more recent "big box" stores to hit Hawaii is Target. And there's a location just a few minutes from the Maui airport.
We love shopping at Target in Hawaii when we need to grab pool toys, water bottles, snorkeling masks, etc.
It has all the same stuff as the stores on the Mainland, but it's also a great place to find family matching Aloha wear, Hawaiian food items, Hawaiian books, UH merchandise, coffee, etc.
Read my full Maui shopping guide!
Maui with Kids: Best Maui Activities
One of the top outdoor activities for kids in Maui is going kayaking. Older kids can have their own kayak while younger kids can ride tandem with a grown up.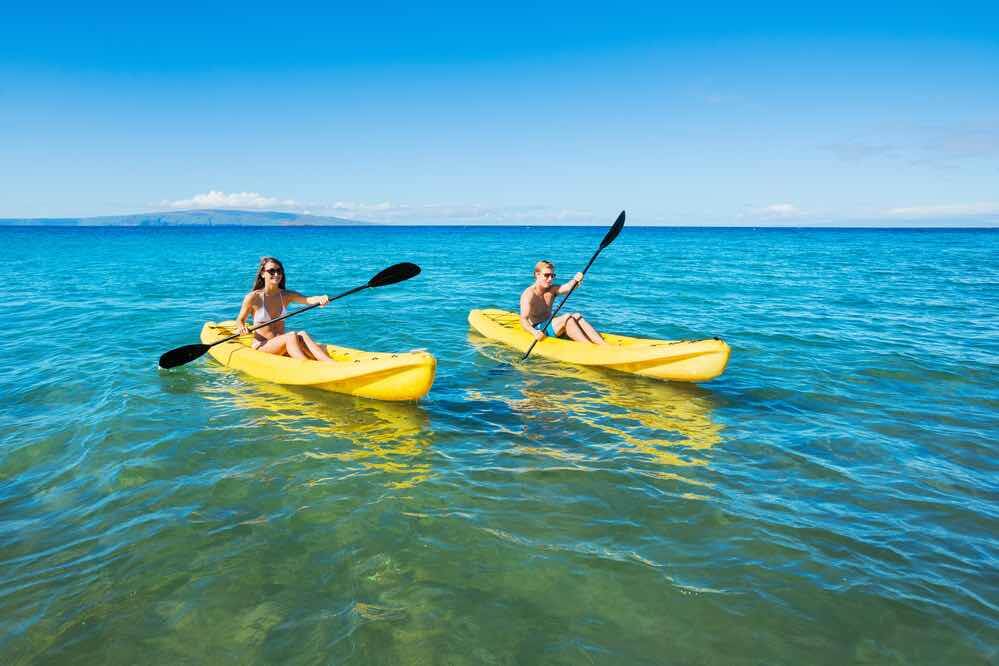 You can even book a clear kayak and snorkel adventure from Kihei that is sure to wow your family.
What a fun way for younger kids to get to see underwater from the comfort of a kayak. Plus, how often will you get this opportunity?
RESERVE NOW
One of our favorite things to do in Maui for families is to head out on the water. You can get some gorgeous views of Maui as you sail up and down the coast.
If you aren't planning on snorkeling, the best time of day to do a boat ride on Maui is definitely at sunset. The colors are gorgeous!
This barefoot Maui sunset sail is fun for families who want to kick back and listen to live Hawaiian music while enjoying tropical drinks and snacks.
RESERVE NOW
If your family is normally outdoorsy, you might want to explore Maui by bike. There are tons of cool mountain biking trails, like through the Makawao Forest Reserve.
Another idea is just to ride around town or along the coast where you can pull off and take in the view.
You can even rent bikes for a self-guided Haleakala bike tour! It's super popular to bike down the mountain and it's nice to go at your own pace with kids in tow.
RESERVE NOW
Find out all the best Maui bike rental options!
If you scroll Instagram looking at cute Hawaii pictures (I know I'm not the only one), I'm sure you've seen people wearing Hawaiian flower lei crowns in their Insta-worthy photos.
These are actually called haku leis (or sometimes lei po'o) and you'll frequently see them on hula dancers and musicians.
If you're heading to Maui with teens, booking this experience will make you a rock star!
Basically, you'll get to hang out at a gorgeous Upcountry Maui farm and get to make your own Hawaii flower crown to wear the rest of your trip.
RESERVE NOW
Another cool way to see Maui is from the air. There are plenty of places on Maui that are hard to get to by car or foot (like secret waterfalls), so this is a great option.
There are helicopter rides with the doors off (geared for slightly older kiddos) or ones with the doors on (perfect for families with babies and toddlers.)
This Maui helicopter ride also heads over to Molokai, so you'll get to see both islands!
RESERVE NOW
Ok, if you're looking for a unique yoga class on Maui, it doesn't get much cooler than Maui goat yoga!
It takes place outside on a farm overlooking the ocean.
Not only will you get a really good workout (and de-stress), but there's also plenty of time to cuddle with the miniature goats!
RESERVE NOW
Find out the best Maui yoga classes and activities
One of the coolest things to do in Maui for kids is ride in a Hawaiian outrigger canoe. This will give your kids total Moana vibes as you set out on your voyage.
After experiencing a traditional Hawaiian boat ride, you'll have an opportunity to go snorkeling to see tropical fish and Hawaiian marine life.
This Maui activity is geared for kids ages 5 and older. Everyone will be encouraged to paddle, so be prepared!
RESERVE NOW
Sometimes small gestures make the biggest impression on kids.
My kids always get a kick out of getting a lei in Hawaii. Some fancier resorts offer complimentary leis for guests, but most don't.
You can book a lei greeting at the airport to ensure your whole family gets a fresh flower lei as soon as they arrive in Hawaii.
RESERVE NOW
Maui is very famous for its pineapples and one of the best things to do with kids on Maui is take a Maui pineapple tour!
Here, you'll get to explore a working pineapple plantation, learn a bit about Maui's history and see how pineapple cultivation has changed throughout the years.
And there's lots of pineapple tasting, of course!
Kids as young as 2 years old can participate and everyone takes home an "airport-ready" pineapple!
RESERVE NOW
46. WAILEA BEACH PATH
There's a nice, 3-mile paved path that follows 5 beautiful beaches and goes past several Wailea resorts.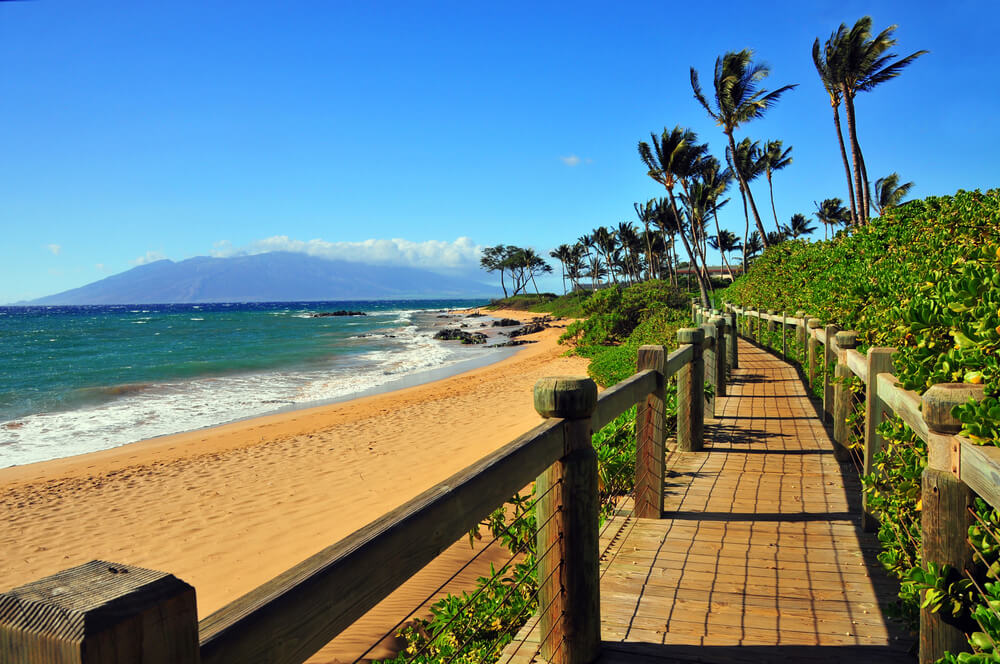 It's really nice for pushing a stroller, going for a run, or doing a family walk in the morning.
Or, head here after dinner for a romantic stroll during sunset.
One of the most memorable activities on Maui for kids is going horseback riding (especially if they have never hopped on a horse before.)
You'll get to learn a bit about Hawaii's rich paniolo history (Hawaiian cowboys) and get to explore places on Maui you've never seen.
This looks like a super cool Maui horseback riding tour where you can see a waterfall!
RESERVE NOW
48. TAKE A HIKE
There are so many kid-friendly hiking trails on Maui.
Some of my top Maui hikes for kids include hiking I'ao Valley, Pipiwai Trail, and Twin Falls.
I always suggest doing a little research before you go and make sure you pack these hiking essentials to stay safe and healthy.
Find out all the best Maui hiking trails!
If you're looking for things to do with kids in Maui they will get really excited about, how about hunting for treasure?
This Maui Treasure Hunt is open to kids of all ages and it's a sneaky way to get kids outside and exploring nature.
Basically, you'll do an easy hike and learn about Hawaiian plants and animals as you complete a few tasks.
And then you'll follow a treasure map to discover secret treasure!
RESERVE NOW
Since Maui is such a beautiful island, it's no wonder that people love flying their drones there.
There's a cool Maui drone lesson that's available to teens ages 16 and older that looks awesome.
You can bring your own drone or borrow one from the tour guide.
You'll get to go to a special location that's great for getting pictures and video of ocean wildlife, turtles, manta rays, fish, coral reef, and more.
RESERVE NOW
51. GO SNORKELING
One of the best Maui things to do with kids who love swimming is to go snorkeling!
There are plenty of Maui beaches with calm water that are perfect for snorkeling in Maui for kids who are new to it.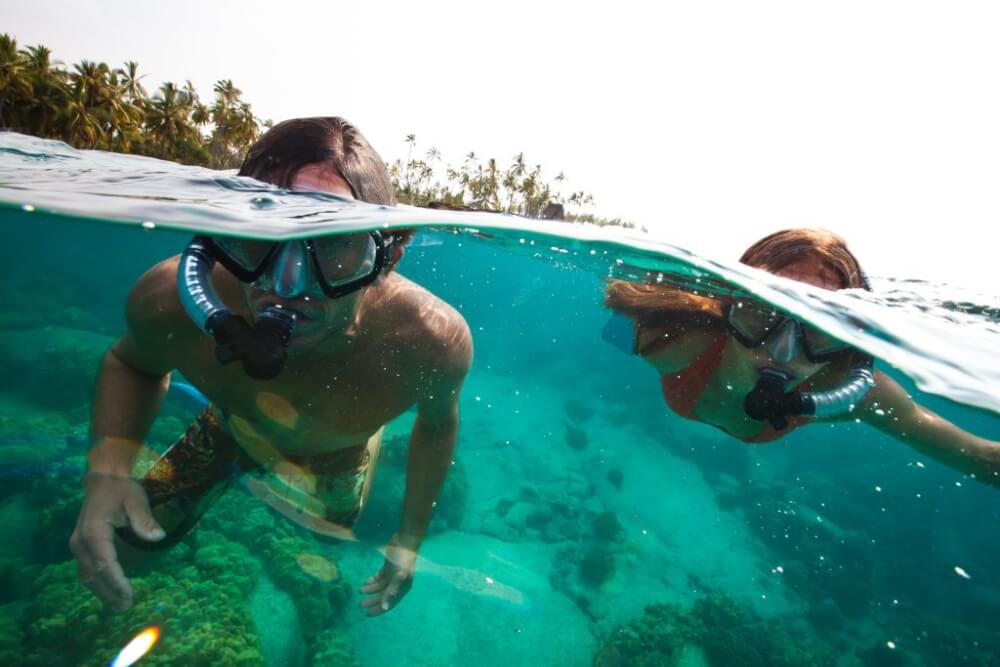 You can buy snorkel gear on Maui (if you think you'll do it several days) or you can rent just for the day.
There are even some kid-friendly snorkeling tours on Maui worth booking!
RESERVE NOW
Find out the best Maui snorkeling spots!
One of the most exciting things to do with kids on Maui is to soar hundreds of feet in the air with a parasailing tour off the coast of Maui.
Kids as young as 5 years old can experience this epic Maui parasailing adventure! And you can do it solo or in groups of 2-3 people, making it perfect for families!
RESERVE NOW
Find out all the best Maui parasailing options!
Is there anything more epic than learning to surf in Hawaii? Booking surfing lessons is one of the top things for kids to do in Maui.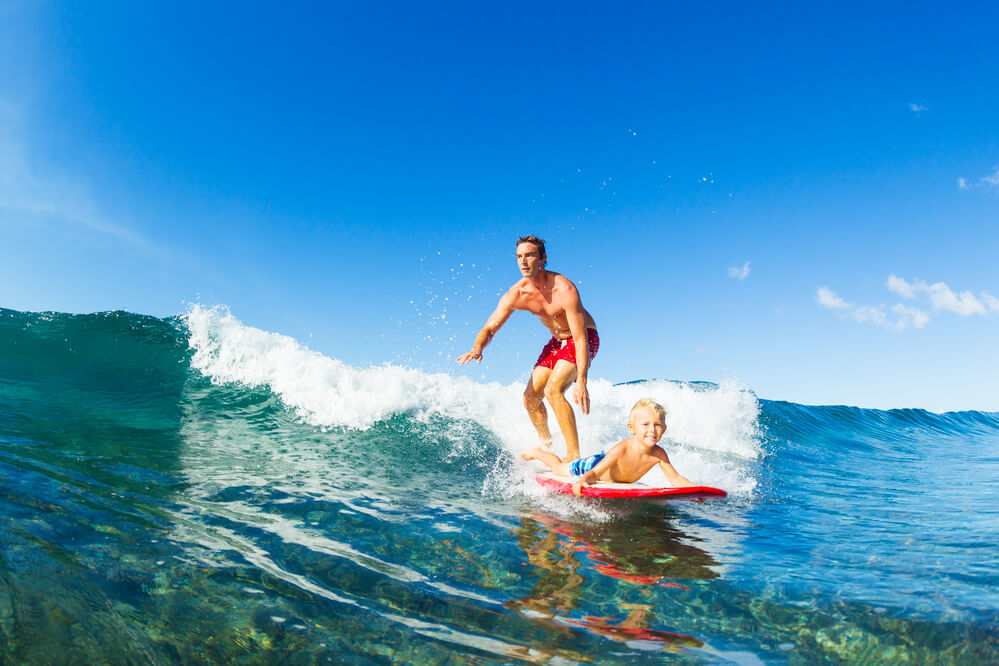 You'll learn tips and tricks for getting up (and staying up) on your board and get lots of individual attention.
You can do this as a family or sit on the beach and watch your kids learn a new skill.
Kids as young as 8 years old can join this Maui Surf School surfing lesson.
RESERVE NOW
One of the best things to do on Maui with teens is go off-roading across the rugged terrain.
It's a great way to see parts of Maui inaccessible by tour van, like secret waterfalls and gorgeous view points.
Teens ages 16 and older can participate in this Maui ATV tour.
RESERVE NOW
Find out all the best Maui ATV tours!
55. TRY WINDSURFING
Maui is actually one of the best places to try windsurfing (which is a surfing/sailing hybrid activity.)
Obviously, you'll need to head to a beach that's fairly windy. Kanaha Beach Park is best for beginners because the water is pretty calm.
There are places to take windsurfing lessons, which is a great place to start.
Maui is one of the best diving spots in the United States because of its incredible marine life.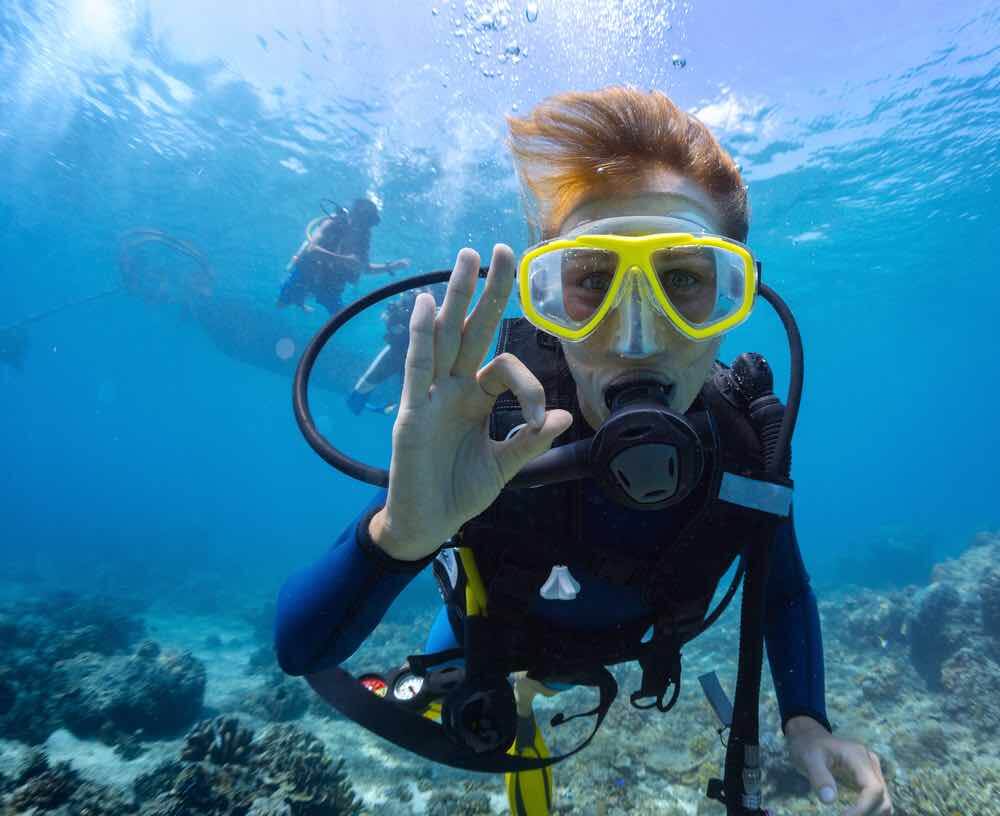 Kids as young as 12 years old can participate in this Maui scuba diving tour. It's geared for beginners, so you'll learn the basics of scuba diving and then test out your skills in a coral reef!
It's a great way to introduce kids to diving and they will have a good opportunity to see Hawaiian Green Sea Turtles!
RESERVE NOW
Read more about scuba diving in Hawaii!
One of the most famous instruments in Hawaii is the ukulele. It's now become one of the trendiest instruments to learn to play for both kids and adults.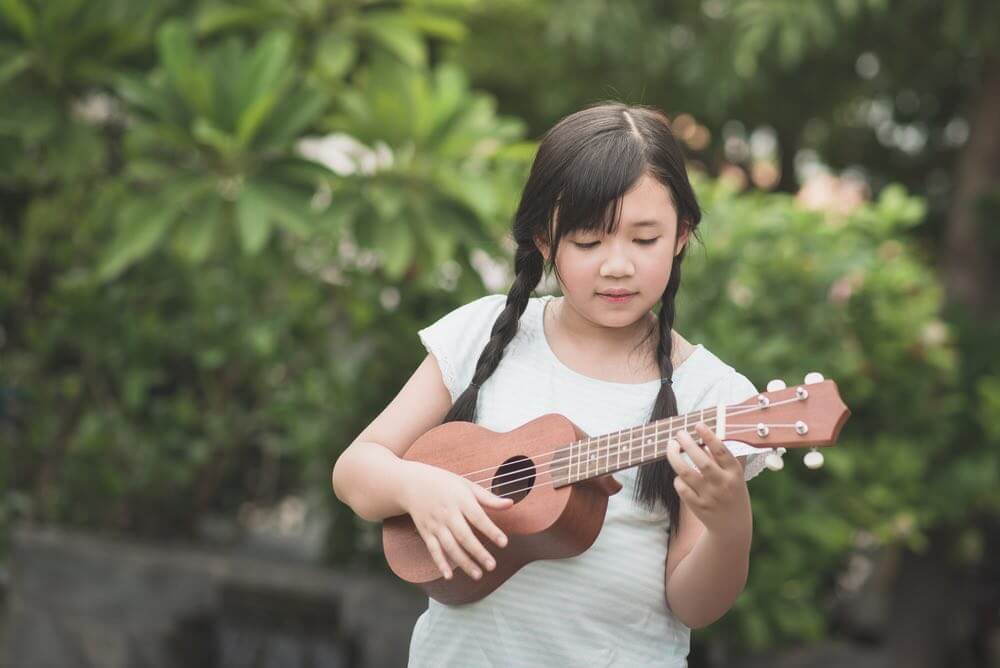 If you're interested in learning how to play, book a Maui ukulele lesson where you'll learn the basics and learn to play a full song in just an hour!
And if you really like it, you can continue your lessons online or find a local class near your home.
RESERVE NOW
Find out the best kids ukulele to buy!
If you're looking for Maui activities with toddlers or preschoolers, I highly recommend doing a submarine ride.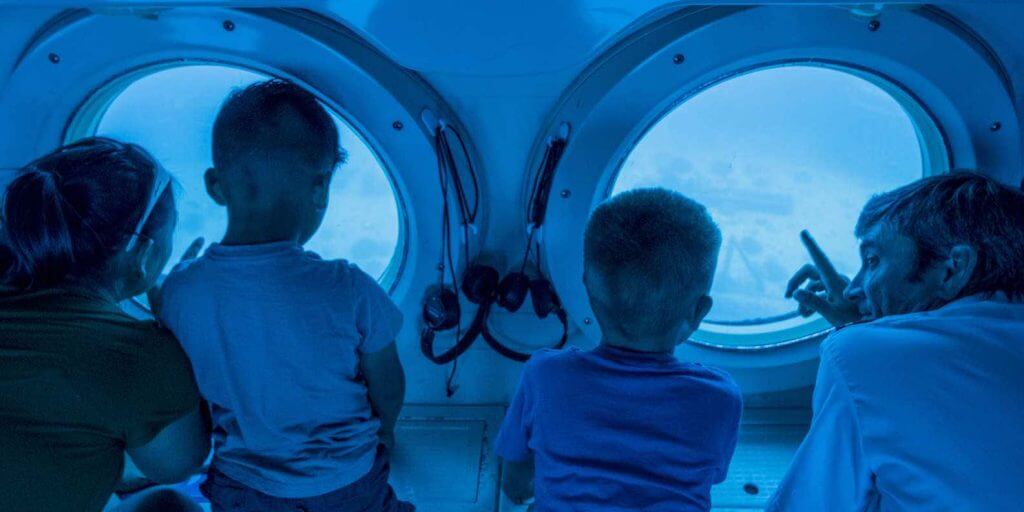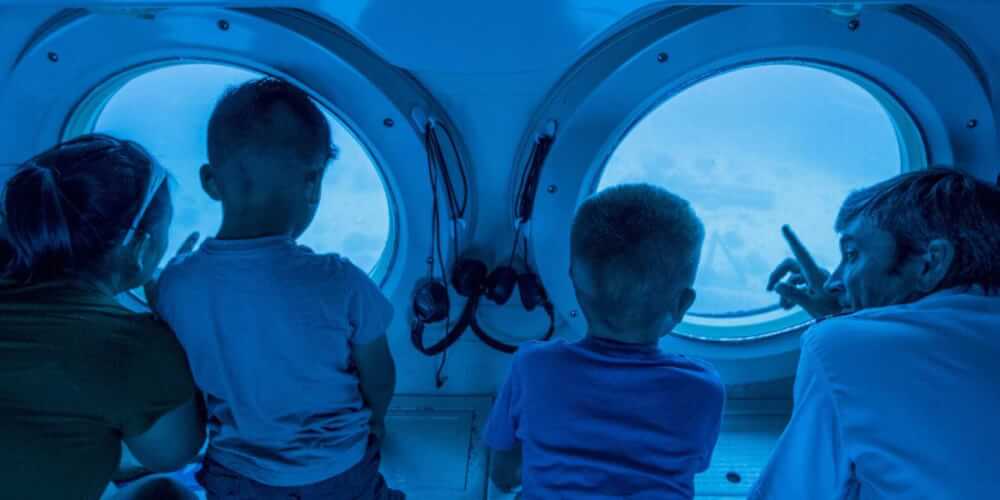 The Atlantis Submarine Tour from Lahaina is one of the best things to do with kids on Maui.
It's the perfect way for young kids to get to see Hawaii marine life without getting wet. And kids can ask lots of questions to professional divers.
RESERVE NOW
Read my Atlantis Submarine Tour review!
This Maui chocolate tour is open to people of all ages and it's a tasty way to learn about Maui's chocolate industry.
You'll get to hang out on the rooftop of Hawaii's largest chocolate factory while sampling the goods!
It's a fun way to try local chocolate with tropical flavors.
RESERVE NOW
Did you know that Maui has some of the most flavorful honey in the world? That's because of all the tropical flowers!
Put on a protective bee suit and get an up close look at Maui's honeybees at work at this bee sanctuary.
It's a great way for kids to learn more about bee hives and the bee life cycle. Plus, you get to taste lots of local Maui honey!
RESERVE NOW
61. GO CAMPING
If you'd like a unique Hawaii experience, why not try camping in Hawaii?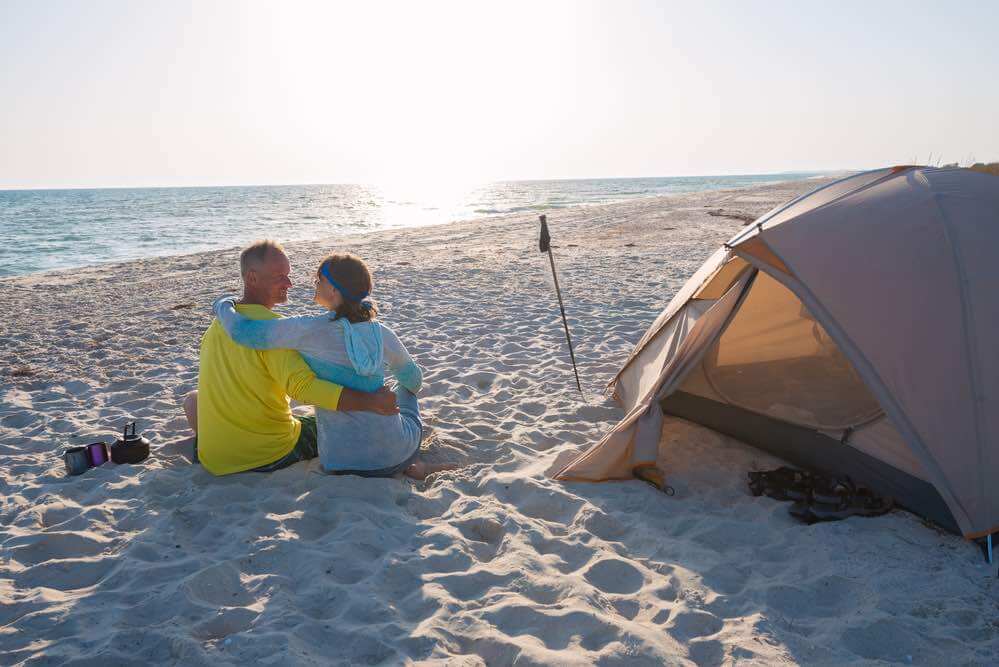 There are plenty of campgrounds in Maui (including one at the end of the Road to Hana) that make a great place to unplug from the world.
You'll save money on an expensive hotel room and get to be one-on-one with nature.
And you can camp your entire trip or just a few days.
Read more about camping on Maui with kids!
If you're hoping to see Hawaiian Spinner dolphins, you're in luck! Maui has them plus bottlenose and spotted dolphins.
This is a cool Maui snorkeling tour where you can dive into the water and swim with dolphins!
Technically you'll be snorkeling off the coast of Lanai, but the tour leaves from Maui so I'm counting it!
RESERVE NOW
Do your kids love scary movies and stories? This Maui ghost walk might be a great fit for your family!
Walk around historic Lahaina while hearing stories about supernatural experiences on Maui and other strange stories about Hawaiian royalty, haunted beaches, and more.
And don't worry, no one is going to jump out and scare you! It's just about sharing some crazy stories in a beautiful place.
RESERVE NOW
Kids as young as 8 years old can participate in this Maui Stand Up Paddling lesson.
It's a small group class, so it's great for families who want to learn a new skill together.
You'll learn the basics and then you can decide if you want to rent a SUP board later in your trip.
RESERVE NOW
One of my favorite Hawaiian souvenirs are professional photos of our trip. That way, I'm not stressed about taking "good" vacation photos during the trip.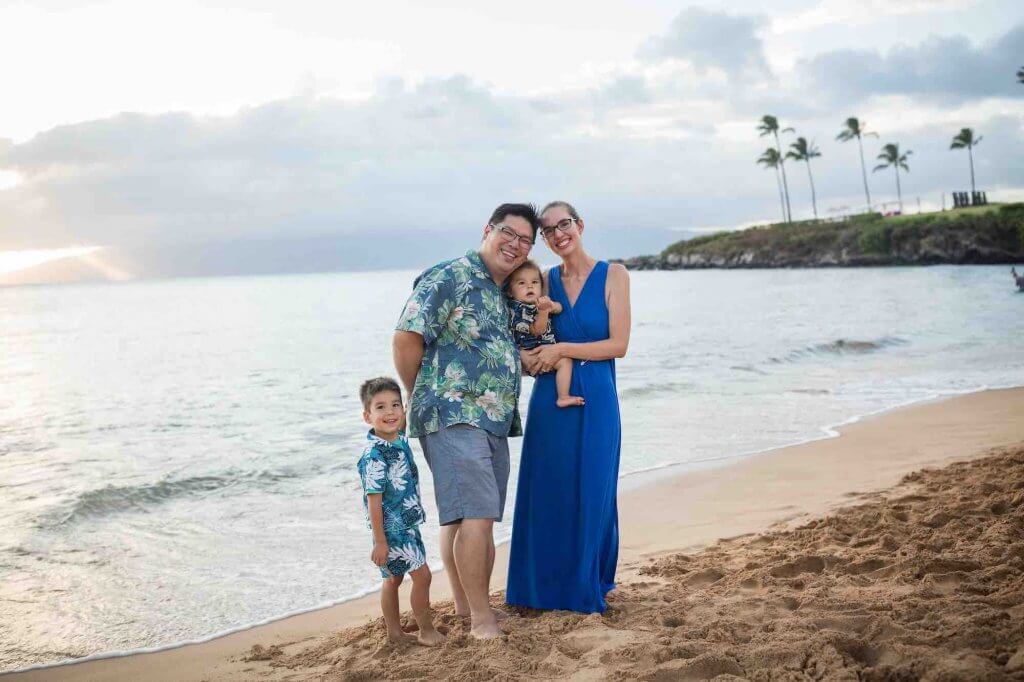 It's an easy way to get our family Christmas card photo, plus I like to print them and hang on our walls at home to remind me of our trip.
There are tons of Maui photographers to choose from. We like to use Flytographer because it's easy to find an affordable Maui vacation photographer who is available during our trip.
RESERVE NOW
If you want to explore the Kahului area without driving, this open-air hop on hop off trolley tour is a great option for kids!
It has stops in Paia town, several beaches, Alexander & Baldwin Sugar Museum, and more.
And it goes to the port, so it's a great option for people cruising to Maui.
RESERVE NOW
The island of Maui is incredibly gorgeous! One of the most unique viewpoints of the island is by zipline.
What a fun way to soar high above the treetops for unsurpassed ocean views!
This Maui zipline tour is available for kids as young as 5 years old, making it one of the best Maui kids activities the whole family can enjoy!
Plus, there's obstacle challenges and a Camp Maui museum that's worth checking out. That's why it's the best Maui zipline for kids.
RESERVE NOW
If you are heading to Maui in winter (anytime December thru April), you'll probably want to book a whale watching tour.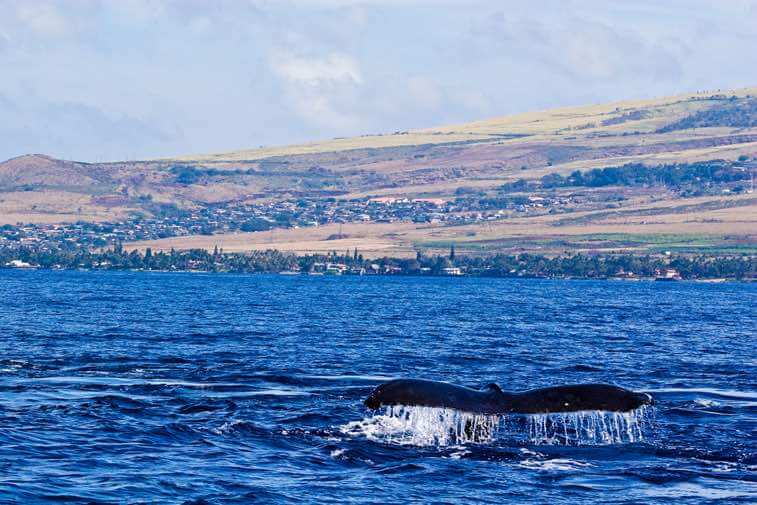 That's because this is when humpback whales migrate right past Maui and you'll see them everywhere!
It's true that you can see them from several beaches, but you'll get a much closer view from the water.
There are tons of Maui whale watching tours, like this one from Lahaina Harbor that make for a memorable experience.
RESERVE NOW
Read my full Maui whale watching guide!
One of the most beautiful places on Maui is Upcountry Maui. Here, you'll find rolling green hills and stunning views of the ocean.
This tour hits up I'ao Valley, gardens, the slopes of Haleakala Crater, old Wailuku town, and stops at several Upcountry Maui distilleries and farms.
Many of these places are off the beaten track but totally worth checking out!
RESERVE NOW
If you want to explore Maui in a unique way, rent a campervan!
That way, you can fully explore the Road to Hana and Haleakala National Park including spending the night there!
You can rent a campervan on Maui for your entire trip or just a few days to change things up.
RESERVE NOW
Maui has some of the prettiest waterfalls in Hawaii. If you're looking for a new way to experience them, how about by rappelling down cliffs?
Brave kids as young as 10 years old can participate in this Maui rappelling excursion!
You'll learn the basics of rappelling and then hit up some of the coolest Road to Hana waterfalls to test out your skills.
And then you'll even get to swim at the base of one of the waterfalls!
RESERVE NOW
72. LOOK FOR SEA TURTLES
Something special about Hawaii is that it's home to the Hawaiian Green Sea Turtle, which you can spot all over Maui.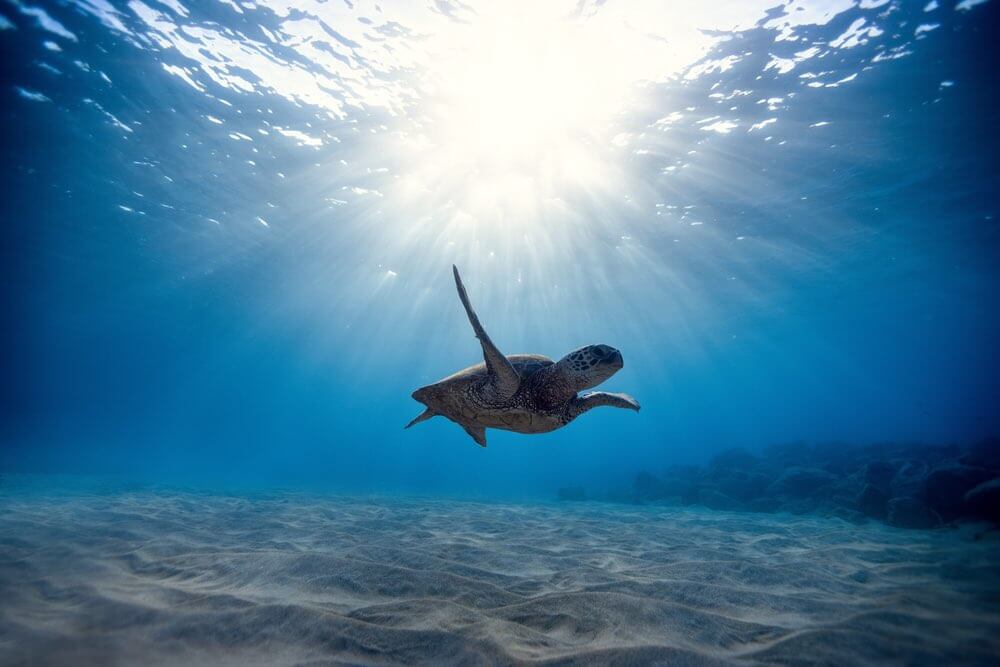 Some of our favorite places to see turtles in Maui are at Baby Beach in Lahaina and Kalepolepo Beach Park in Kihei.
It's really important that people don't touch the turtles (that's against the law) but you can definitely admire them from a safe distance.
And you can often see them when you are snorkeling.
Find out all the best places to see turtles in Maui!
Maui has the oldest butterfly farm in Hawaii and it's perfect for exploring with kids.
What makes this Maui butterfly farm special is that all the butterflies are born and raised on this organic farm, so they are endemic to Hawaii.
Plus, you'll also get to see geckos, chameleons, and farm animals.
RESERVE NOW
Remember when segways were all the rage and we thought it was the future of personal transportation?
Well, now they are basically reserved for mall cops and tour groups. But that doesn't mean they still aren't a fun way to get around.
Kids as young as 10 years old can join this Maui segway tour and explore Lahaina town. You'll cover a lot more ground than walking, and it's really fun (once you get the hang of it!)
RESERVE NOW
If you have older kids who are strong swimmers, you might consider booking a sea scooter snorkeling excursion.
These specially designed sea scooters allow participants to dive deeper into the ocean with minimal effort.
You'll get to explore the reef, see Manta Rays, eels, sea turtles, and so much more.
RESERVE NOW
There is so much more to the Hawaiian language than just Aloha and Mahalo. Get one-on-one instruction from a Hawaiian language expert on Maui.
In this Hawaiian language lesson, you'll learn the basics (including the Hawaiian alphabet) as well as the differences and similarities between several Polynesian languages.
Plus, you'll even learn a Hawaiian chant!
This is such a great activity for homeschooling families or ones looking for an educational component to their vacation.
RESERVE NOW
Best Foods to Try on Maui with Kids
77. HAWAIIAN PLATE LUNCH
If you have kids that are picky eaters, ordering a Hawaiian plate lunch can be a total lifesaver.
Hawaiian plate lunches are a great way to try several new foods without committing to an entire order.
There's usually 2 scoops of white rice, 1 scoop of macaroni salad, and then some sort of protein like mochiko chicken, teriyaki beef, or kalua pork. Sometimes you can upgrade to a combo with a few proteins.
Chances are, if your kids won't eat the protein, they can at least fill up on rice and macaroni salad.
78. SPAM MUSUBI
One of the best kid-friendly snacks in Hawaii is Spam Musubi. It's Hawaiian style sushi that is made with Spam that has been marinated and grilled.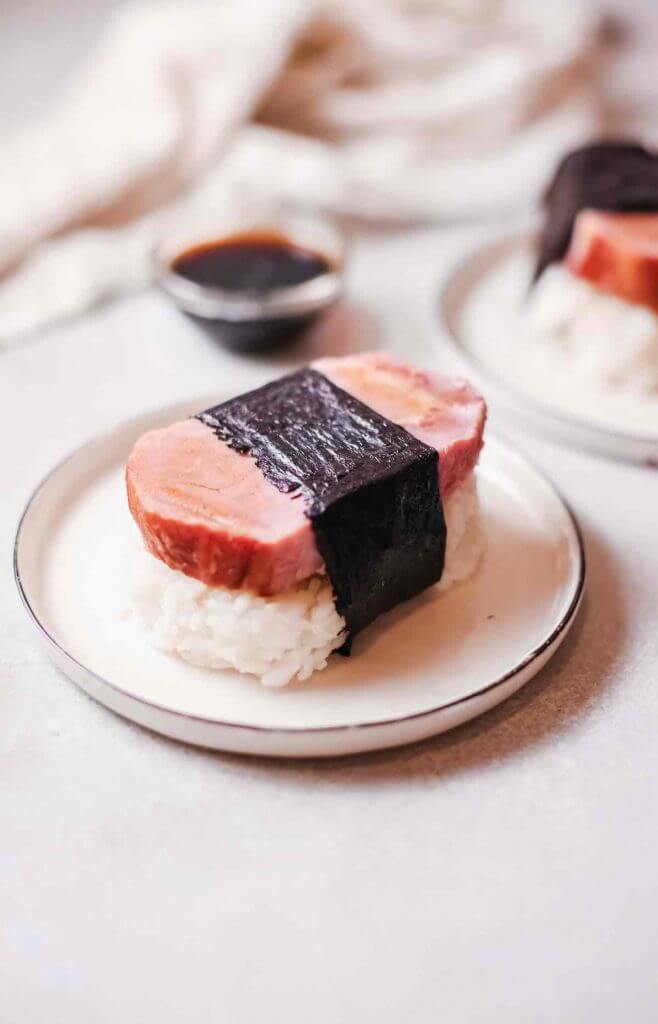 You can find Spam Musubi (and other flavors like Kalua Pork or Mochiko Chicken) at lots of restaurants, grocery stores, and even some gas stations. They are individually wrapped, which makes them easy to take to the beach.
We eat them for breakfast, lunch, or afternoon snack. It's salty and slightly sweet and the kids gobble them up!
Learn how to make Spam Musubi at home
79. DRINK POG
If you've been to Walt Disney World, you probably have tasted their "Jungle Juice" at Animal Kingdom.
Well, that's actually Passion-Orange-Guava juice (aka POG.)
If you fly Hawaiian Airlines, they will usually give you a little container of POG to drink on the airplane. But, you can also find it at any Hawaii grocery store (and sometimes on the Mainland!)
80. TRY POKE
The trendiest food on the Mainland this year is Hawaiian poke. It's basically chopped up raw fish that has been marinated and mixed with other items.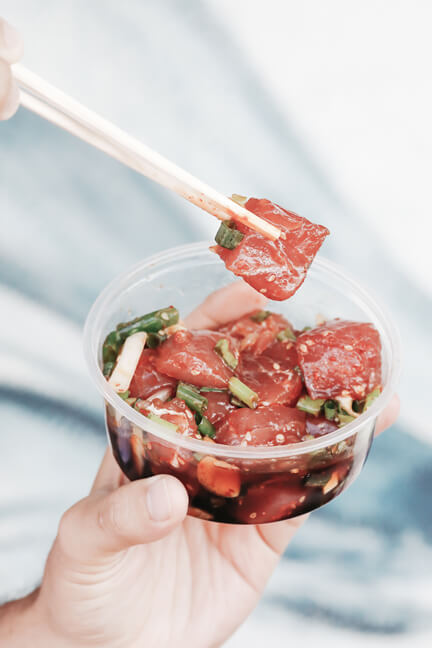 It can be served on top of rice for a Poke Bowl, eaten with chips, or straight out of the container.
Since it's the new "it" food on the Mainland, here's your opportunity to taste the real deal in Hawaii to see how it compares to your local poke shop.
Find out all the best places to eat poke on Maui!
81. HAWAIIAN PIE
Hawaii really knows how to make some tasty pies! Many of them a chilled pies with tropical flavors.
Some of the most popular Hawaiian pie flavors include Chocolate Haupia Pie, Coconut Cream Pie, Mango Pie, and Pineapple Pie.
The most famous place to get pie on Maui is Leoda's Kitchen and Pie Shop in Lahaina.
82. MALASADAS
Malasadas are Portuguese doughnuts that have been a breakfast staple in Hawaii for decades. They are kind of like oversized doughnut holes that are rolled in sugar.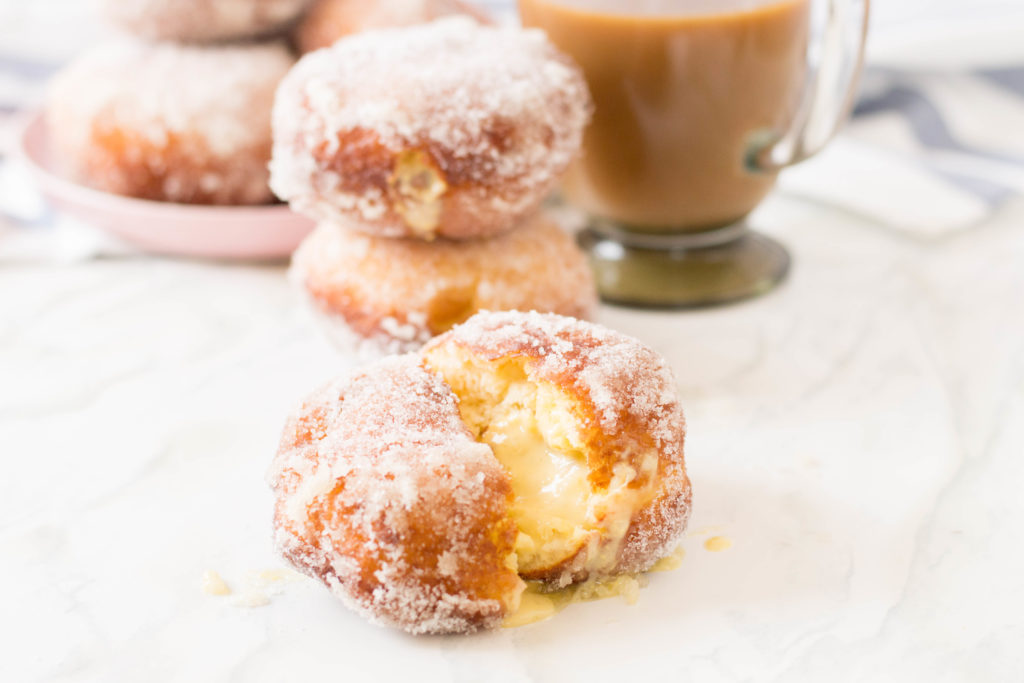 You can find them at local Maui bakeries (a popular spot is Komoda's Bakery in Makawao) and even some stands outside of shops.
Some fancier bakeries even fill them with tropical flavors like coconut, mango, and guava.
They are best eaten warm (or at least the same day), but you can also reheat a bit in the microwave if you have leftovers.
Learn how to make Coconut Filled Malasadas
83. FRESH COCONUT
Kids love drinking out of carved out fruit, especially coconuts!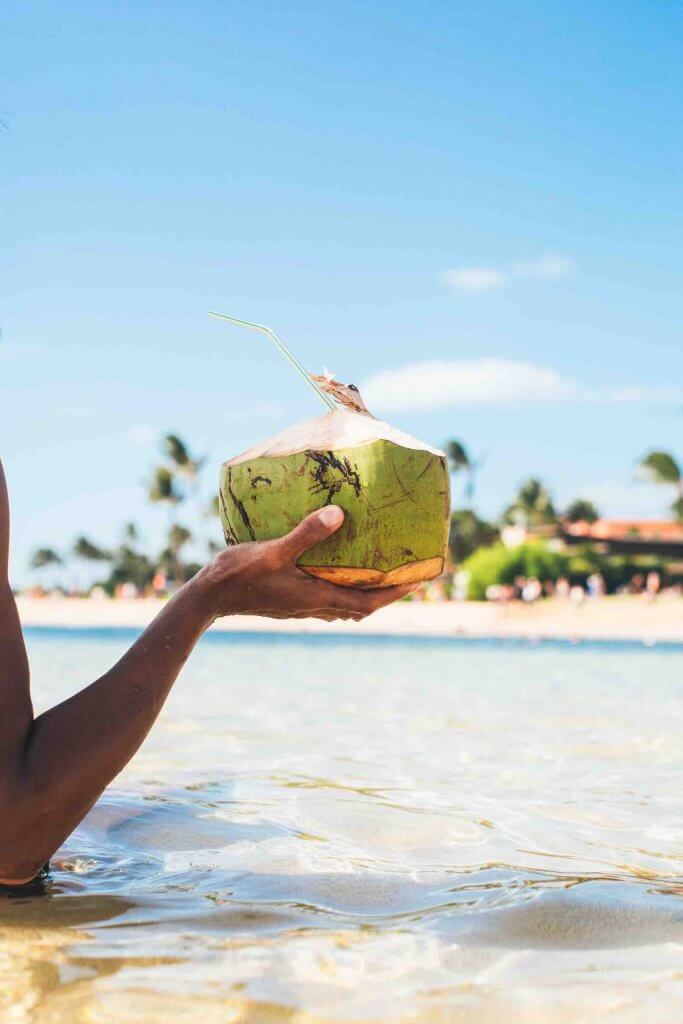 If you're heading to a Maui Farmers Market (or the Maui Swap Meet), be sure to pick up coconut water that is still in the coconut. You'll see other people walking around with straws coming out of the coconut.
After you drink the water, you can scrape out the coconut meat. Usually, one coconut is good for a family if they just want to try it.
Best Maui Shave Ice to Try
84. ULULANI'S SHAVE ICE
The most famous shave ice in Maui is Ululani's Shave Ice. They launched in 2008 with one little stand and have since expanded to 5 locations on Maui: Lahaina, Kihei, Kahului, Hyatt Regency, and Maui Lani.
Their shave ice is made from pure, filtered watered and they use pure cane sugar and natural fruit juices.
Some of their most popular toppings include fresh mochi, azuki beans, and Maui-made Roselani's Ice Cream.
85. BREAKWALL SHAVE ICE CO.
Adults will definitely want to try boozy version of their favorite shave ice. So head to Breakwall Shave Ice, next to Down the Hatch in Lahaina.
Here, you'll find a ton of ice cream options (like yummy Kona coffee) and fun toppings like strawberry lava, supersour spray, and coconut shavings.
And they've marketed themselves as "adult shave ice" because adults ages 21+ can order their shave ice with a splash of alcohol.
But, it's not just for adults. They have traditional kids shave ice available. In fact, it's free with any kids meal at Down the Hatch!
86. PEACE LOVE SHAVE ICE
One of the most popular shave ice spots on Maui is Peace Love Shave Ice at Azeka Plaza in Kihei. It's also one of the smallest.
Not only do they have amazing shave ice, but they also have coffee drinks and snacks.
And for an extra twist, try their Thai Ice Tea Shave Ice or Coffee Shave Ice.
They make their ice blocks out of purified water and use organic raw Maui cane sugar for sweetening the syrups (they have both natural syrups and traditional syrups.) Plus, they offer Maui-made Roselani ice cream.
87. MAUI MIKE'S BEACH HOUSE
Maui Mike's Beach House is an awesome surf shop and snack shop all rolled into one.
While they have limited all-natural Hawaiian shave ice flavors (pineapple, banana, strawberry and lemonade, pineapple and strawberry, and banana and strawberry) they do it right. And you can add fresh Strawberry, Mango or Guava Fruit Puree.
Plus, they have 27 flavors of regular shave ice, including sugar-free options.
What makes Maui Mike's Beach House extra special is that serve Coconut Glen's vegan organic ice cream. It's just organic coconut milk, organic cane sugar, natural ingredients, and guar gum.
88. TOBI'S SHAVE ICE
If you're heading to the small town of Paia on the way to the Road to Hana, Tobi's Shave Ice is a must-stop.
They have all the typically-loved shave ice flavors like watermelon, cherry, and strawberry, plus yummy tropical ones like lychee, passion fruit, and guava.
While shave ice is in their name, Tobi's Shave Ice is actually an awesome spot to get plate lunches and poke. So, plan on stopping here for a late breakfast or lunch as well as yummy shave ice!
Find out all the best Maui shave ice spots!
Maui with Kids: Free Things to do on Maui
89. EXPLORE PAIA TOWN
One of the cutest towns in North Shore Maui is Paia. You'll definitely drive past it on the Road to Hana, but it's totally worth a stop.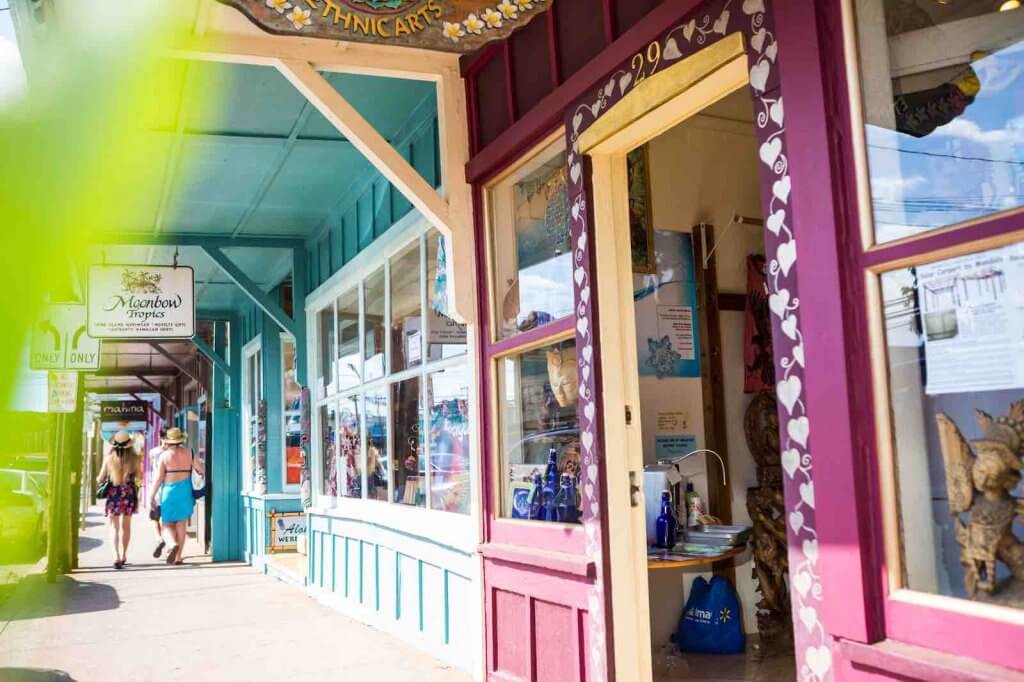 The town has a total surfer/boho vibe and is filled with adorable boutiques, spiritual places, and an awesome natural food store.
It's also a fun place for taking Instagram photos!
90. WALK AROUND LAHAINA
One of the most popular places on Maui is the town of Lahaina in West Maui.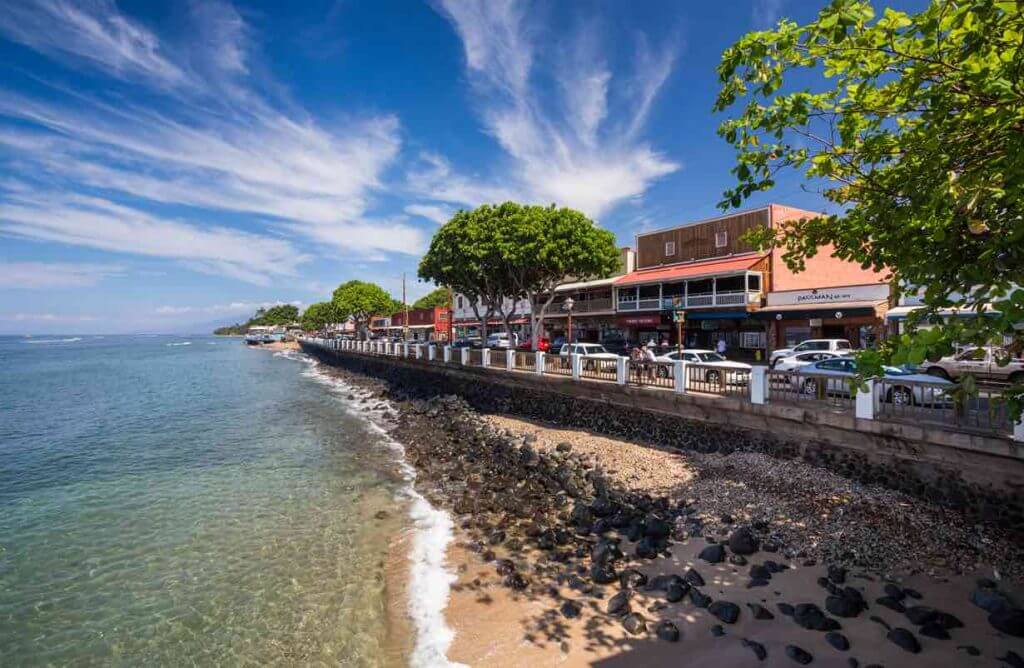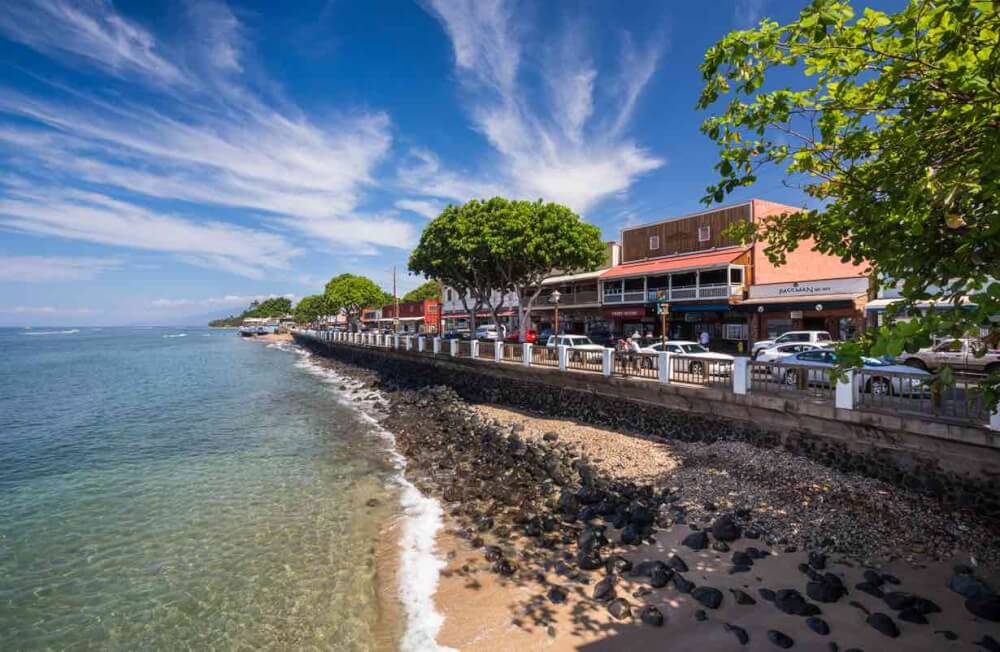 Front Street is the main road in Lahaina. This is where you'll find tons of boutique shops, tasty restaurants, and historic attractions.
If you're looking for an educational experience in Maui, head for the Lahaina Historic Trail which has cool stops like an old prison you can tour.
There are plenty of other things to do in Lahaina, and most of them are right off of Front Street.
Find out 13 fun things to do in Lahaina!
91. GO CLIFF DIVING
If you are heading to Maui with teens who love a bit of adventure, you might see if they are interested in cliff diving on Maui.
Basically, you just jump off of cliffs into the ocean. But, there are specific places where locals tend to go.
Your best bets for Maui cliff diving are at Black Rock in Kaanapali or Waianapanapa State Park on the Road to Hana.
If you're looking for the ultimate photo spot while cliff jumping, head to Ching's Pond along the Road to Hana.
92. VISIT A STATE PARK
Maui is home to several state parks and historical sites that are worth checking out, including:
Many of these Maui parks offer cool hiking trails or campgrounds.
93. FREE HULA SHOWS
If you have some free time in your schedule and want to know what to do in Maui with kids on a whim, you might consider seeing a hula show.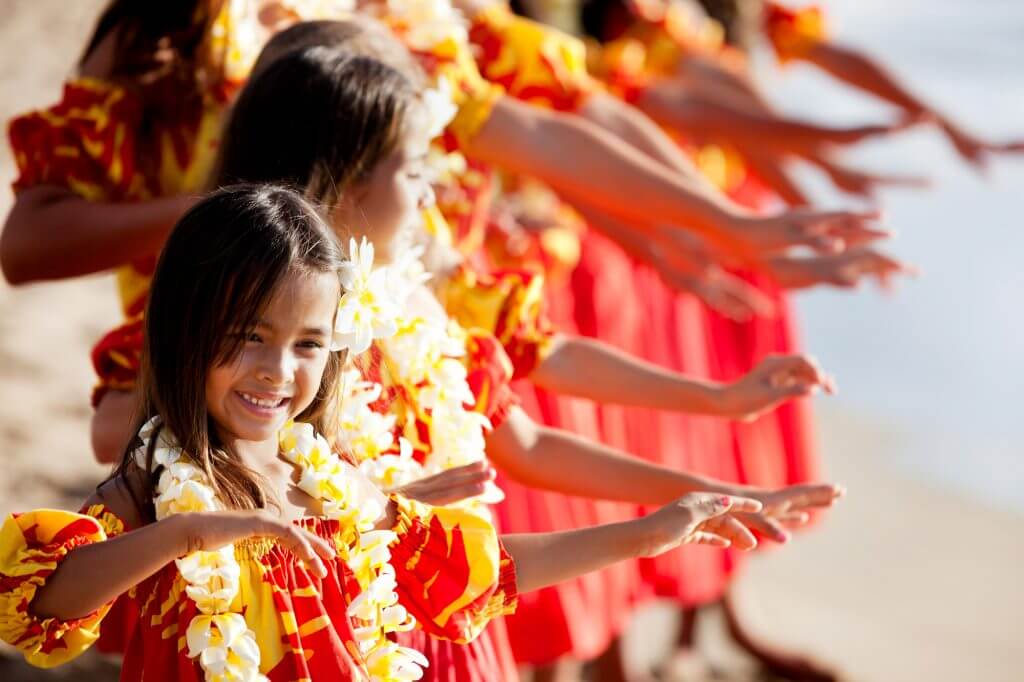 There are lots of free hula shows on Maui. Many take place at shopping centers or hotels.
The most popular Maui hula shows are at the Kaanapali Beach Hotel, Lahaina Cannery Mall, Whaler's Village, and the Outlets of Maui.
What's really special is that they usually feature kid performers, which can be really fun for families to see.
94. EXPLORE WAILEA
Wailea is located in South Maui and is one of the most popular places to stay on Maui for people looking for the ultimate resort vacation.
Wailea offers world-class golfing, picturesque beaches, outdoor activities, amazing shopping, and more!
I suggest coming here for lunch and to walk around the Shops at Wailea. Or head to the beach and take advantage of the Wailea Beach Walk.
Find out 21 awesome things to do in Wailea
95. GO TO A PLAYGROUND
If you're heading to Maui with toddlers or preschoolers, you might be interested to know that there are lots of playgrounds on Maui.
I will warn you, sometimes the play equipment at parks can get really hot in the sun, so it's a smart idea to go early in the morning or in the evening.
A few local favorites include Napili Park, Honokowai Beach Park, Kalama Park, and South Maui Community Park.
96. BROWSE ART GALLERIES
Depending on the ages of your kids, they might really enjoy seeing work by local Hawaiian artists.
There are tons of Maui art galleries to choose from all over the island covering many different artistic styles.
Some of the ones that kids might find interesting include Maui Hands, Lahaina Arts Society, and Art of Amanda.
97. VISIT AN ANCIENT HAWAIIAN HEIAU
There are a lot of sacred places in Hawaii that many people drive right past because they don't know they exist.
Many of these are Hawaiian heiau, which were built by Hawaiians many years ago. Some honor Hawaiian gods and goddesses and others have historical significance.
Today, they are mostly ruins but they are still pretty fascinating. You'll even see special offerings (usually tied up inside ti leaves) at some of them.
And there are usually plaques that say what used to happen at the sites. Definitely cool for kids fascinated by ancient cultures and way of life.
98. EXPLORE TIDE POOLS
If you need to figure out what to do with kids in Maui who don't really like swimming, you might opt to check out some of the tidepools on Maui.
There are lots of beaches with shallow water so kids can wade in and look for Hawaiian sea life (like crabs or small fish) or collect shells.
Baby Beach near Paia in North Shore Maui is a good option for families. The water is really calm and shallow.
Kuau Cove (right by Mama's Fish House) is another great Maui tidepool. And there's great snorkeling if kids want to try it.
99. LOOK FOR RAINBOWS
The rainbows in Hawaii are simply stunning. And you might even see double rainbows and sometimes even TRIPLE rainbows!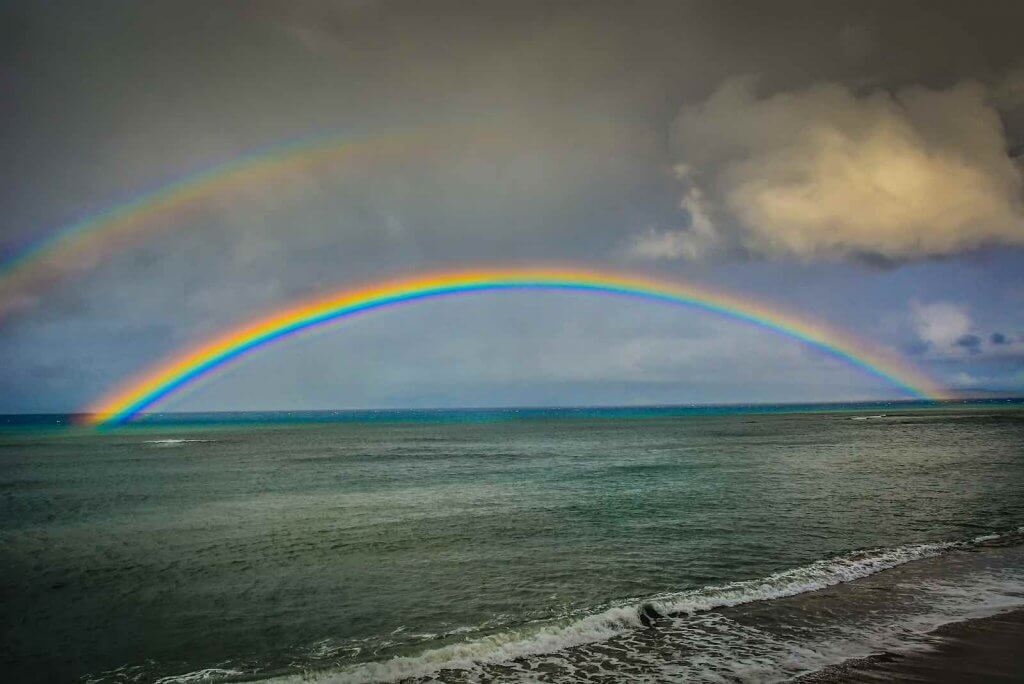 You're almost guaranteed to see at least one rainbow during your trip to Maui with kids, and you might even see one every day!
We like to turn it into a contest to see who can be the first to spot a rainbow each day. And we try to get selfies with rainbows in the background.
100. SEE A MAUI SUNRISE
There are no shortages of special spots to see a gorgeous Maui sunrise, but one of the most famous spots is at Haleakala National Park.
You'll need to leave your hotel in the middle of the night in order to make it to the summit in time.
Othere popular places to see a sunrise on Maui include Koki Beach Park, Makena Beach, and Kamaole Beach Parks
101. SEE A MAUI SUNSET
On the flip side, there are also some stunning places to see a Maui sunset. Surprisingly, Haleakala National Park is also a popular Maui sunset location.
But, there's also Kapalua Bay, Keawakapu Beach, or Po'olenalena Beach Park.
And if you're willing to put in a little work, you can always hike up Lahaina Pali Trail for a panaramic sunset view.
Where to Stay on Maui with Kids
If I've convinced you that Maui is the best Hawaiian island to visit with kids, you're probably wondering where to stay.
These are my top picks for kid-friendly Maui resorts:
If you can swing it, the Grand Wailea has one of the best pools in Maui that has waterslides and a lazy river. Plus lots of kids activities and experiences throughout the resort and in their kids club.
RESERVE NOW
This is another great Maui resort with fantastic pools. While they don't have a kids club, they do have tons of kids activities throughout the resort.
RESERVE NOW
This is a nice property that offers both hotel rooms and condo units. Great pool area and easy access to the beach. This is where we usually stay.
RESERVE NOW
Find out all the best Maui resorts for families in my detailed guide!