Are you looking for the best Maui ziplines that are worth it? Keep scrolling for an honest review of the Camp Maui North Shore zipline tour.
This Camp Maui North Shore zipline tour review contains affiliate links which means if you purchase something from one of my affiliate links, I may earn a small commission that goes back into maintaining this blog.
Guest post by Keri of Bon Voyage with Kids
If you are looking for an adrenaline rush to experience on your family vacation to Hawaii, ziplining in Maui is one of the best family adventures to try.
There are several companies that offer zipline in Maui Hawaii, but NorthShore Zipline's Camp Maui is our family's favorite.
Ziplining in Maui is a great activity for the whole family, and Camp Maui is one of the best ones offered on the island.
Not only is it very family-friendly, but its unique setting and top-notch staff also make it one of our favorite activities on Maui.
Don't have time to read a bunch of Hawaii blog posts and reviews? Here are some of our top picks for visiting Maui.
Popular Maui Tours/Activities
Favorite Maui Resorts/Hotels
Andaz Maui (this is a luxury resort with the best luau on Maui)
Honua Kai Resort & Spa (this is one of our personal favorites because there are tons of pools and there are condo options)
Want to skip all the planning and just access my detailed Maui Itinerary complete with daily schedules, kid-friendly activities, and travel hacks? Click the button below.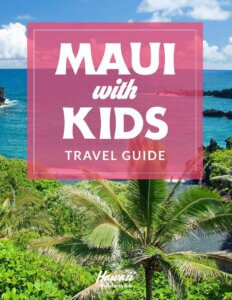 Maui Ziplines FAQs
What's the best zipline in Maui for kids?
The best ziplining in Maui with kids is this Maui North Shore Zipline Tour at Camp Maui. It's geared for kids ages 5 and older and it's one of the best kid-friendly things to do in Maui.
Which Hawaiian island has the best ziplining?
Out of all of the ziplines in Hawaii, I'd say Kauai and Maui have the best Hawaii ziplining experiences. Both have options to soar over extremely scenic areas.
Is ziplining on Maui dangerous?
As long as you follow the safety protocols correctly, Maui ziplining is a fairly safe activity. Of course, there are some risks with any outdoor activity. This is why it's extra important to pay attention during the safety briefing.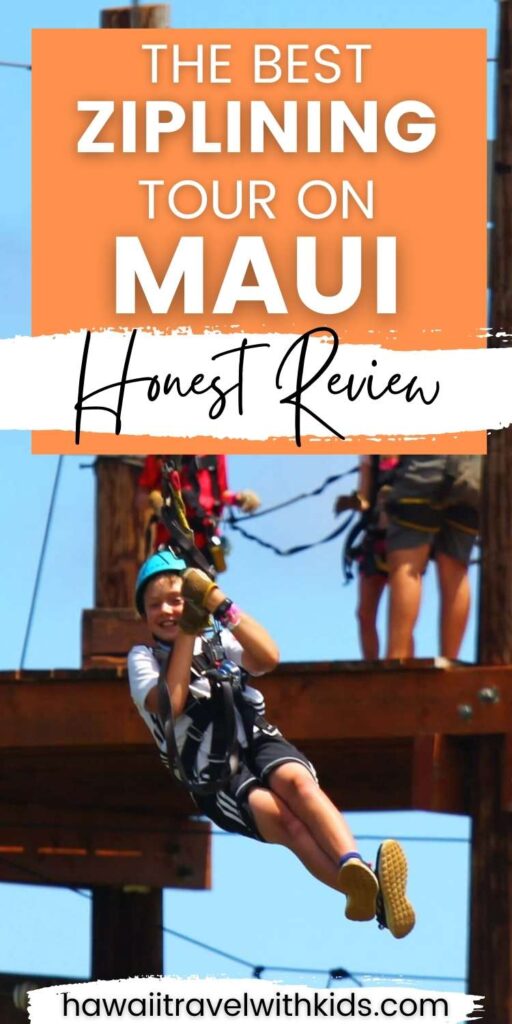 About Camp Maui
Officially run by the NorthShore Ziplining Company, a family-owned business, the Camp Maui Zipline Tour is noted as one of the best Maui ziplines on the island.
Located in Haiku, toward the Road To Hana, near mile-marker 11, it is an exhilarating ziplining and eco-adventure on Maui your family won't forget.
The historical site for the ziplining tour is called "Camp Maui", where US Marines trained during World War II. The NorthShore Ziplining Company continues to improve the site and provide tours in the area.
Maui's Marines were the most decorated Marine Corp division of the war, according to the history on the NorthShore Ziplining Company's website. So, it is committed to sharing this important history with visitors through photos, stories, and its small museum on site.
You'll find World War II-era vehicles and planes on property worth viewing while you wait for your ziplining tour, as it is a fascinating way to learn about the historical site you are visiting.
Camp Maui North Shore Zipline Tours
This is one of the best family activities on Maui! Kids as young as five years old can participate in these Maui Hawaii ziplines. Frankly, my kids did better than I did, as I am afraid of heights!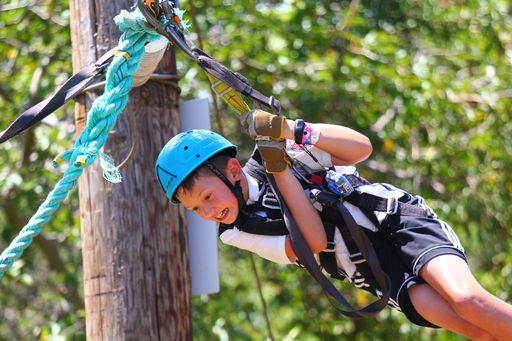 The Camp Maui NorthShore Zipline in Maui tours include a seven zipline experience. Guides take you on this high-flying adventure, ensuring you are strapped in and know what to expect. The expert staff takes care of you to make sure you can just sit back, relax and enjoy the ride.
What you will find on the Camp Maui Zipline Tour:
There are 7 ziplines that include multiple platforms, large towers, and tree to tree swinging bridges.
Heights can go as high as 70 feet and your speed on the zipline could be as much as 45 miles per hour! Some of the Camp Maui ziplines are 900 feet in length, so there is plenty of time for you to "freestyle" while zipping by.
There are great views of the ocean, lush upcountry, and the beauty of Maui from above.
This tour is very family-friendly, as long as your kids are ages 5 years older and above and weigh at least 40 lbs. The maximum weight is 270 lbs.
You will ride in padded three-point harnesses and wear helmets.
Because you are high above, you may not want to take photos (though you can bring a small camera that attaches to your wrist.) Rest assured, though, you can purchase photos as there is a staff photographer that captures the moments.
What to Know about the Camp Maui North Shore Zipline Tour Before You Go
Arrival and Tour Information:
Advanced reservations are required.
Arrival is at least 30 minutes prior to the start of your tour. This gives your time to explore the World War II museum.
Expect the tour to last between 1.5 and 2 hours long. It is a group tour.
Ticket Information:
Tickets are currently $147 per person (regardless of age) plus tax. You can book online or call the NorthShore Ziplining Company to book. Photos can be purchased for $30 for 1-3 people in a group and $10 for each additional person.
Camp Maui Zipline Tour
The Highlight of this Maui Zipline Tour and What You Should Look Out For
If you are a fan of heights and love the free feeling of a ziplining experience, you will love some of the highest ziplines (as tall as 70 feet.) One of the final ziplines is also one of the longest, and it is when most guests get their "air legs" underneath them.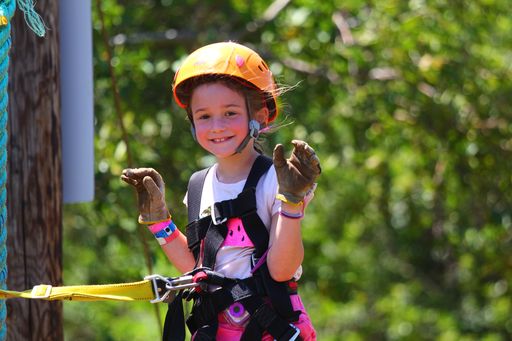 Watch for a lot of fancy posing during this final leg when there is plenty of time to do so. It was probably my favorite zipline of the trip.
Ziplining in Maui is definitely unique, as you are getting a birdseye view of one of the most spectacular places on earth.
From some of the platforms, you can see the ocean, and treetop views of this upcountry location, which is full of luscious greens. It is certainly one of the most natural and breathtaking places to enjoy a zipline.
The other highlight of this Maui Zipline Tour is the outstanding staff. Our guides were funny, entertaining, patient, and fantastic with kids. They were very serious and careful about their jobs, but they also made sure everyone had fun.
For those of us that were nervous, they made sure we were taken care of as well! Its location, history, and outstanding staff make this one of the best Maui experiences for families.
Honest Maui North Shore Zipline Tour Review
In general, I am not a fan of heights. So this activity was my family's idea, and I went along for the ride.
Interestingly enough, NorthShore Zipline anticipates they may have people like me. So they offer something called a "scaredy-cat clause" which offers you your money back if you chicken out at the last minute.
It is the only zipline in Maui that offers this guarantee. This is one of the first things that impressed me about this company.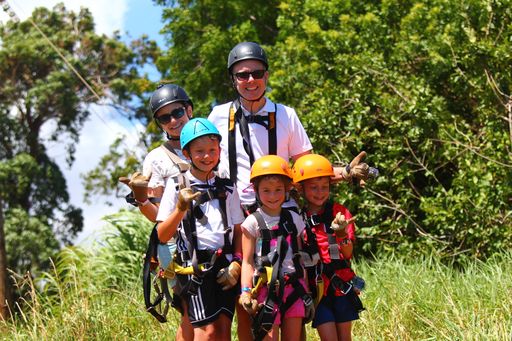 While I AM afraid of heights, I did not have to activate the clause. On one occasion, the guide asked, "what's the problem, ma'am?" And when I told him I was afraid, he sent me out first!
It actually helped, and so I appreciated that he helped me face my fears and sent me feet first. I also found closing my eyes for the first part of every zipline helped as well.
But, my kids and husband gleefully jumped out every time, trying their aerial poses while dangling from the zipline.
Heights for the ziplines range in size, and some require precarious ladders to climb up to get to the platform. But the guides ensure you are okay before sending you out. Their professionalism and great sense of humor made it so much fun.
In fact, on the last zipline, they squirted us all with a water shooter. Photos are also taken along the way so you can be sure of a great family shot!
Maui Zipline Tour Tips for Families
What to Wear
You will be flying high so wear comfortable clothing (t-shirts and shorts) you can move in and closed-toed shoes are required.
What to Bring
I wouldn't bring anything with you as it could fall out (leave it in the car.) You can bring a camera if it has a wristlet and can secure to your hand. The staff takes photos of you on the tour. But I would leave your phone and anything that can fall out of your pockets at home.
Additional Tips
Do take time to look at the Camp Maui Museum either before or after your zipline tour. Because the Camp Maui zipline is located in a spot with historical significance, this is well worth taking some time to review with your kids.
Definitely buy the photos! This is a Maui family adventure you won't want to forget.
You also pass through the town of Paia on the way as well as Mama's Fish House. If you time yourself well, you could grab a meal after your zipline at either Mama's Fish House or Flatbread Pizza Company in Paia.
You will also pass the Jaws General Store along the way there and back to Camp Maui, which is well worth a visit.
So, is the Camp Maui Zipline Tour on Maui Worth It?
Overall, the NorthShore Zipline Camp Maui Tour gets its reputation as the best zipline in Maui HI for a reason. It is a top-notch experience, with excellent staff, family-run, thoughtfully designed, and very kid-friendly.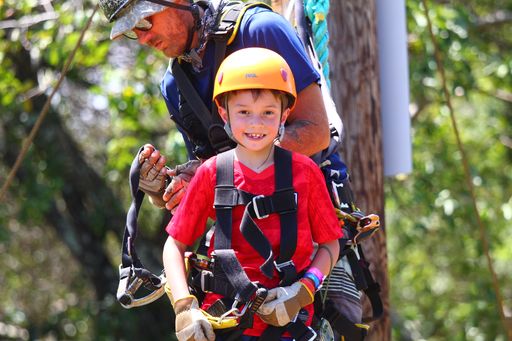 Despite my fear of heights, I would most certainly visit Camp Maui again. And for families who love adventure, I highly recommend this as one of the top activities for families on Maui.
About Keri
Keri is a mom of three kids and a family travel blogger at Bon Voyage With Kids. Based in New England, she has lived abroad three times, has traveled to nearly 30 countries, worked for Walt Disney World Resort and for an educational travel company, and travels regularly with her kids. Her family visits Hawaii every summer, with Maui being their favorite island. She inspires families to enjoy the journey of traveling with kids, and to experience destinations, not just visit them. She also loves finding ways to inspire learning about world cultures and countries when not traveling.