One of the biggest food trends to hit the mainland is Hawaiian poke. Find out the places to find the best poke in Oahu so you can try it where it started! Scroll to see all the places!
This best places to find poke on Oahu post contains affiliate links which means if you purchase something from one of my affiliate links, I may earn a small commission that goes back into maintaining this blog.
If you love seafood and don't mind it being raw, you have to try poke. Poke is chunks of raw fish mixed with delicious seasonings.
Typically poke is made from ahi, but nowadays, you can find just about any fish or seafood! The literal translation for poke is to cut or slice into pieces, hence the cubed fish.
Poke is a traditional Hawaiian food that many love to eat daily.
Don't have time to read a bunch of Hawaii blog posts and reviews? Here are some of our top picks for visiting Oahu.
Popular Oahu Tours/Activities
Favorite Oahu Resorts/Hotels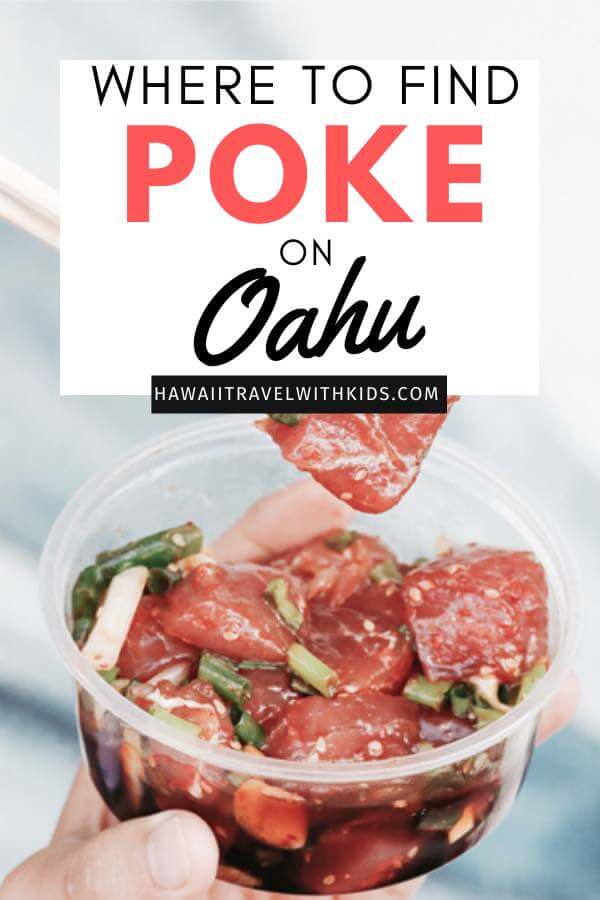 The Best Places for the Best Poke in Oahu
You can find poke just about anywhere, not just in Hawaii. However, today, we will be focusing on the best places to find poke on Oahu.
Just about anywhere you stop, you can try some poke, even in supermarkets!
If you plan to eat poke while in your vacation, here is a list of the places to get the best fresh poke on Oahu.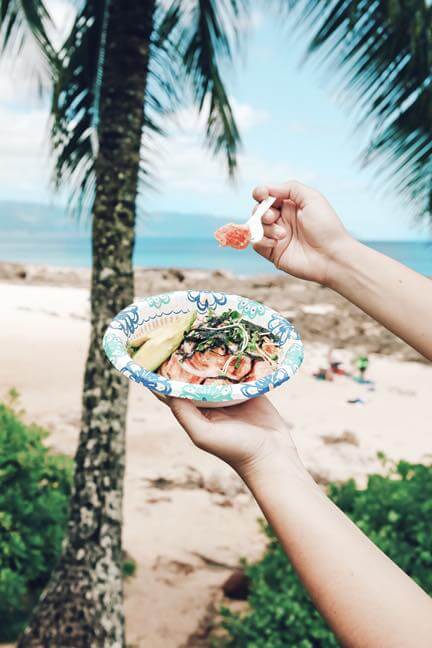 Foodland is a supermarket on the island. It is locally owned and has a wide range of variety of poke options. Each Foodland has its own recipes because the top chefs will try out different flavors and recipes. Some poke is made according to what is trending at the time, as well.
There are Foodlands all over the island, so finding one should not be a problem. You can find the traditional shoyu, spicy tuna, and California poke. Some Foodlands also have limu poke, amongst other flavors.
You can't go wrong with poke at Foodland! You can either purchase it by the pound, a poke bowl, or in a bento plate.
Another supermarket to get fresh poke is Tamura's. They have their poke selection open for only certain hours, varying between stores, so make sure to get there at the right time. It is typically between the hours of 10-3 pm.
View this post on Instagram

They have a bigger selection than Foodland.
Tamura's also offers poke with other fish than just ahi such as crab, octopus, shrimp, and so on.
With their wide range of poke options, there is almost always a line to get some poke! The line is worth it, though. It is nice to get some poke to go as well as some household items you require.
Fresh Catch has over 30 different types of poke! There are two locations, one in Honolulu and the other in Kaneohe. A husband and wife own the shop as it has become their passion. The husband will make the poke, while the wife bakes mouth-watering red velvet cakes.
View this post on Instagram
You can get poke, sashimi, seafood, and cake. It can come in a bowl, plate, or even platters. That way you can have poke at a wedding or special occasion and share it with the whole family!
It is one of the best places to get poke on Oahu.
Ono Seafood
Another great place to fulfill your poke cravings is Ono Seafood. It is very close to Fresh Catch in Honolulu. They sell eight different kinds of poke. They also have a food truck you can find along the island, as well.
View this post on Instagram
With Ono Seafood, you can add your own toppings. Many people like this as they can create new flavors on their own!
The downside to this place is that the parking is terrible. You might as well find someone to drop you off and drive around while you stop to get the poke.
The poke is made to order, so you know it is fresh and some of the best quality poke around the island.
Poke on da Run
Poke on da Run is in another part of the island called Pearl City. It is a family-run restaurant that everyone seems to enjoy.
View this post on Instagram
One thing that sets this place apart is that they sell poke nachos. You can get raw fish on top of salty chips with delicious seasonings and toppings. It is a crowd favorite for sure!
Another one of our top favorite places to get poke is Tanioko's Seafood and Catering! It is located in Waipahu, another side of the island. However, they also have a pop-up location in the Ala Moana Mall.
Similar to Ono Seafood, parking is horrible in Waipahu. They also have huge lines, because they have the best poke.
However, both the terrible parking and the enormous lines are worth it once you taste their fantastic poke.
This poke place is right next to Ala Moana Mall in Honolulu. There you will find a poke place dedicated to being healthy.
View this post on Instagram
You can either create your own poke bowl or choose from their specials. You can also include a salad with your bowl.
Fresh Ahi Off the Boat also will offer you a complimentary miso soup with your bowl, as well.
Two Japanese brothers own Maguro Brothers. They are located in Waikiki and do not disappoint.
View this post on Instagram
Their place is different from most. They open at 5:30 pm and are open late into the evening. They only offer takeout, so grab this as you head back to your hotel for a delicious dinner or late-night snack.
Another place in downtown Honolulu, Aloha Cones, is a little place that serves up incredible poke. You can also get some shave ice to go right along with your poke bowl.
 

 

 

View this post on Instagram

 

 
Make sure to order online, so you don't have to wait in any lines.
Kahuku Superette
You may think getting poke from a convenience store is weird, but trust me, you do not want to miss this poke. It is right across the Kahuku High School and cannot be missed.
They even have a sign outside stating that they have the best poke, and they aren't lying. Their poke is so fresh it will satisfy any craving you have for raw fish.
Poke is a must-have food to eat during your stay in Hawaii, if you love seafood.
While you can get poke almost anywhere you stop, they might not always have the freshest fish. This list includes the best places to find poke in Oahu.
Stop by one of them during your next visit to Oahu; you will not be disappointed!