Looking for cool things to do on Maui for your next Hawaiian vacation? Find out the best places to go parasailing on Maui. Scroll to see them all!
This parasailing on Maui post contains affiliate links which means if you purchase something from one of my affiliate links, I may earn a small commission that goes back into maintaining this blog.
So, you've already got a trip in the works to visit the beautiful island of Maui? GREAT!
We can't think of a better tropical and beach paradise destination that has little bits of relaxation and thrilling activities mixed in on a single visit. Speaking of thrilling activities, have you ever gone parasailing?
If not, it's an epic way of spending an average day at the beach by taking it to an unforgettable and unbeatable level.
It's also an amazing way to experience the beauty of Maui with an eagle's eye view. If you have daredevil children, they'll love it!
Take a look at some of the best tours and places that would be ideal for Hawaii parasailing while on the island of Maui.
Don't have time to read a bunch of Hawaii blog posts and reviews? Here are some of our top picks for visiting Maui.
Popular Maui Tours/Activities
Favorite Maui Resorts/Hotels
Andaz Maui (this is a luxury resort with the best luau on Maui)
Honua Kai Resort & Spa (this is one of our personal favorites because there are tons of pools and there are condo options)
Want to Rent a Car in Hawaii?
One of the best places to rent a car in Hawaii is Discount Hawaii Car Rental because they get the best rates from top national companies like Alamo, Dollar, Thrifty, Avis, Enterprise, Budget, and Payless.
Want to skip all the planning and just access my detailed Maui Itinerary complete with daily schedules, kid-friendly activities, and travel hacks? Click the button below.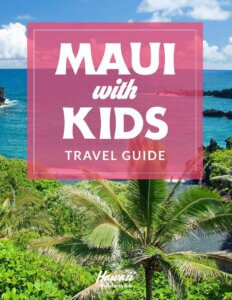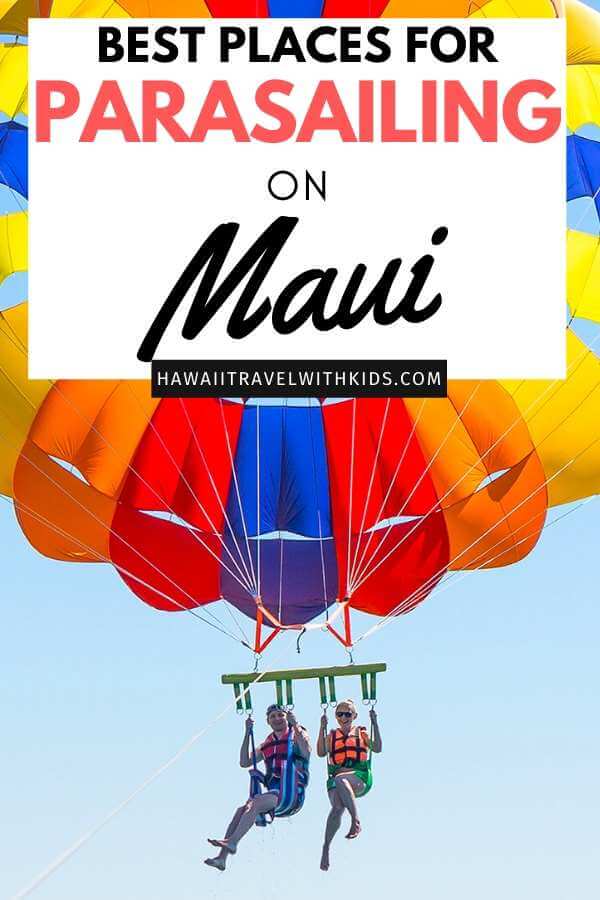 Basic Info for Parasailing on Maui:
While parasailing is year-round on the Big Island, Maui's season stretches from May to December. This is due to the humpback whales migrating to the waters of Maui.
Depending on where you decide to parasail, certain tours permit children that are at least 5 years old to participate. Pregnant women are not able to parasail either.
There is a minimum and maximum weight limit that you need to keep in mind.
The minimum weight for parasailers must be at least 160 pounds to ride alone, while 450 pounds is the maximum weight limit. You'll be taken to heights between 800′ to 1200′ (that's like 38-50 stories) and be soaring in the air for 8 to 14 minutes at a time.
What is Parasailing?
If you have never been parasailing before, you may not even know what it is. Parasailing is best known for being a recreational kite activity. You could be moved by boat, car, or truck.
Most of the time, people parasail by themselves; however, if the anchor is strong enough, 2-3 people can parasail at the same time.
This sport has been around since the 1980s and is still very popular today.
Some might confuse Maui paragliding with parasailing. Paragliding is when you are flying freely, whereas with parasailing, you are attached to the parasail boats.
Two Parasailing Locations:
The West Maui Parasail has two locations the parasail departs from Lahaina Harbor and Kaanapali Beach.
Lahaina Harbor:
One of the locations the parasail can depart from is Lahaina Harbor via the sales desk and/or boat dock at Slip 15.
Kaanapali Beach:
The other location is Kaanapali Beach which is located right in front of Whalers Village.
ACTIVITY TIPS
You can take the parasail ride from one of the two locations: Lahaina Harbor or Kaanapali Beach. The minimum age restriction is 6 years old, and the same goes for an observer on the boat.
The flight time lasts approximately 8-10 minutes for the 1200′ line. As for the weight, the minimum to fly alone is around 150 lbs, and the maximum combined weight, if you are doing the tandem flights option, is around 450 lbs.
These are subject to change as well, at the discretion of the captain on the boat.
These are good activity tips to consider beforehand!
Parasailing
Parasailing is basically as if you are floating…but on air. The vessels of the parasails will pull you high up from the ground, up about 50 stories high in the air.
There are different ways to parasail – you can do tandem, single, or triple flights. The parasail can be attached to a parasail boat – you can also enjoy a boat ride before and after your activity.
From up there, you can have breathtaking views of Maui and its neighboring islands of Lanai and Molokai, as well as the scenic blue ocean and crystal clear waters!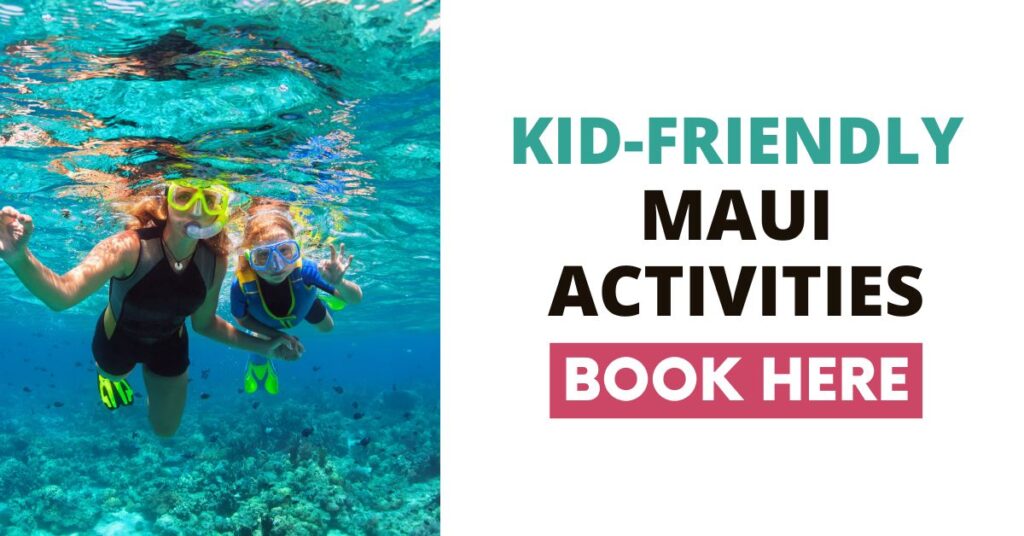 Booking
There are different times available for the parasailing activity. You can boon from Sunday to Saturday, starting from 10 am to 4 pm. There is only one observer that is allowed per boat.
As for the refunds, a 72-hour notice is required to receive a refund, and all charges must be paid if you do not show up for the parasail ride. The only exception, in this case, is a note from a local doctor.
You might struggle to book your parasailing boat tour during the winter since humpback whales are migrating. Try booking closer to summer when the spots are open and available.
Maui Parasailing Tour Companies
West Maui Parasail has been Maui's premier parasailing destination for over 30 years. There are two destinations that you can tour with West Maui Parasail while visiting Maui.
There's one located on Lahaina Harbor and another on Kaanapali Beach, in front of Whalers Village. They both have great crews and equipment that will give you a safe and super nice ride. Check out the latest prices and more details.
It can be extremely busy, and not uncommon for them to be completely booked. Be sure to reserve your parasailing adventure ahead of time to be certain you don't miss out on the chance of a lifetime.
West Maui Parasailing Kaanapali or Lahaina offers tandem or triple flights as well as flying single. Enjoy the Kaanapali coastline while in the air or all the fun parasailing Lahaina has to offer.
Get discount West Maui Parasail tours
UFO Parasail has not only parasailing tours for your family but also fishing charters as well as other water activities. You can fly single, with a partner, or even with up to three people at a time for a great experience. Check out the latest prices and more details.
Like West Maui Parasail, UFO Parasailing Maui offers Kaanapali beach parasailing on the western side of the island. Keep your eyes open for the green umbrellas on the beach in front of Whalers Village.
Get discount UFO Parasail tours
Other Great Locations for Parasailing on Maui
Mala Wharf
Mala Wharf is one of several places on Maui that's great for not only parasailing but also snorkeling.
It's an old concrete pier that was devastated and left in ruins after a hurricane hit the island. Such underwater conditions made it an ideal place for marine and coral life to flourish.
While it may be one of the best places to snorkel on the island, it's certainly a great option to parasail.
Parasailing the green mountainous Hana Harbor would also be a gorgeous spot for parasailing. It's located on the far eastern side of Maui.
When you can't think of anywhere to parasail and really want to explore the beautiful Island of Maui, this is the location to hit up.
Maalaea Harbor, like most of the best parasailing spots on the island of Maui, is located on the western shores of the island and offers some parasailing in Kihei Maui. There are plenty of volcanic mountains in the area that provides a great view.
Private boat tours, whale watching, snorkeling, surfing, and ski-dooing are among the popular water activities that you can enjoy along with parasailing.
While you might go parasailing, Kihei is mainly known for surfing, paddle boarding, and other great water activities.
Kahului Harbor
On the northern shores of Maui, you will find Kahului Harbor, another destination that has plenty of water activities.
Flying over the clear blue waters and looking off toward the green mountains of Kahului Harbor makes this a wonderfully scenic place for parasailing.
Surfing, boating, and scuba diving are exciting things to do in Kahului Harbor.
What to Wear When Parasailing on Maui
You may be wondering what to wear while parasailing. When you are parasailing, experts do recommend a swimsuit.
However, if it's colder out, you might want to put on a wet suit top over your swimsuit. Whatever you choose to wear, it should be tight and close to the body.
Men should wear tight-fitting swimming trunks if the weather is warmer.
It's also recommended that you wear a hat, sunglasses, and anything else that may protect you from the sun.
Don't forget the reef-safe sunscreen!
How Long Do You Stay In the Air When Parasailing?
Parasailing isn't something that is long and drawn out. Instead, you are only in the air for around 10 minutes.
When it comes to staying in the air, when parasailing, it doesn't seem like it at all.
Although, if you are parasailing with others, you may have to wait your turn, which could make the whole process and tour time a lot longer.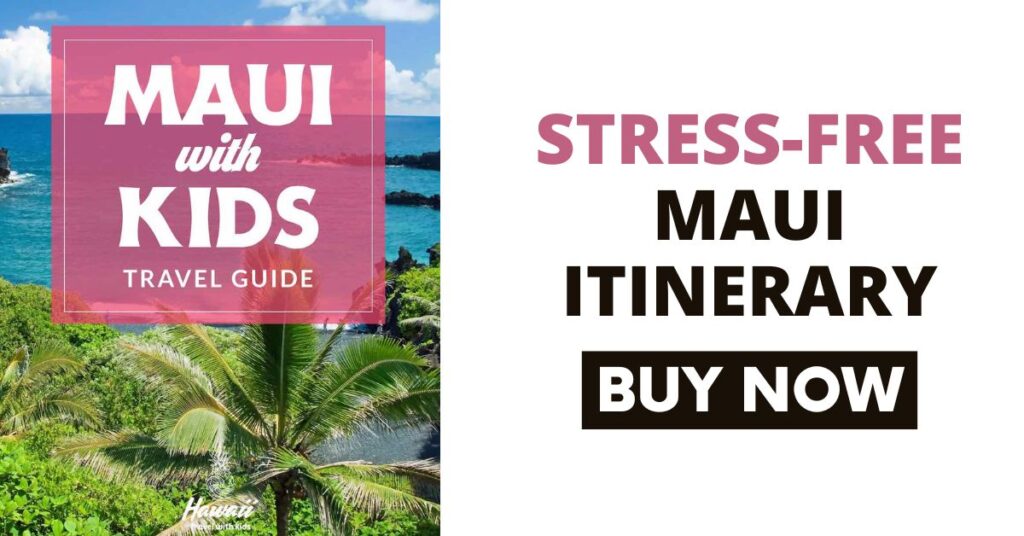 Maui Parasailing FAQs
Is parasailing in Maui safe?
It has been deemed "risky" in the past, so you'll want to make sure to only go with a licensed parasailing company and watch their safety video!
What is the best time to go parasailing?
Morning is definitely the best time of day to go parasailing in Hawaii. The weather isn't too hot yet. Plus, it won't take up your entire day.
Is parasailing scary?
While it can look frightening to watch parasailing from the land, many first-timers say it's a remarkably calm experience with moments of exhilaration.
How much does it cost to parasail in Maui?
The Maui parasailing prices vary depending on how long the ride is, if you fly solo or with a companion, and a few other variables. Parasailing in Maui prices usually is between $130 to $150.
How long is parasailing in Maui?
The whole experience will depend on the wind conditions, but it usually is between 10 to 15 minutes once you take off.
Parasailing on Maui Wrap Up
This is a brief guide of the two most popular parasailing tours you will find that have the best parasailing Maui, HI has to offer on the island, and also great locations on the island that is good for it too.
When it comes to the best places for parasailing in Maui, I hope you will use the tips. Parasailing is one of the best things you can do to see Maui up close!
As you're planning your stay on Maui, are you considering taking your family parasailing when you visit?
If you've parasailed in Hawaii before, tell us about your experience and what you would tell a first-time parasailer.