Heading to Maui in the winter? Be sure to go whale watching on Maui, one of the best things to do in December, January, or February. Scroll to see the whale watching Maui tour options!
This whale watching on Maui post was originally published November 22, 2019 and was updated January 14, 2022 and contains affiliate links which means if you purchase something from one of my affiliate links, I may earn a small commission that goes back into maintaining this blog.
Whale watching in Maui would surely ignite the inner marine biologist and explorer in your kid's inner being with the largest mammals on Earth.
Almost all the whale watching tours have experienced marine biologists that share their experiences with these magnificent marine mammals.
Kids will be astonished by the beauty and size of the Maui humpback whales, it's recommended for children aged seven and up to enjoy whale watching.
However, the age factor may vary depending on the whale watching company that you choose.
In addition, almost all the tours offer complimentary hydrophones when you tour so that you can listen to the beautiful songs that the humpback whales sing.
If you want to go whale watching, Maui is the place to do it.
Keep scrolling to learn about the best whale watching tours in Maui plus my top tips about when to go!
Don't miss my ultimate Maui packing list!
Don't have time to read a bunch of Hawaii blog posts and reviews? Here are some of our top picks for visiting Maui.
Popular Maui Tours/Activities
Favorite Maui Resorts/Hotels
Andaz Maui (this is a luxury resort with the best luau on Maui)
Honua Kai Resort & Spa (this is one of our personal favorites because there are tons of pools and there are condo options)
Want to Rent a Car in Hawaii?
One of the best places to rent a car in Hawaii is Discount Hawaii Car Rental because they get the best rates from top national companies like Alamo, Dollar, Thrifty, Avis, Enterprise, Budget, and Payless.
Want to skip all the planning and just access my detailed Maui Itinerary complete with daily schedules, kid-friendly activities, and travel hacks? Click the button below.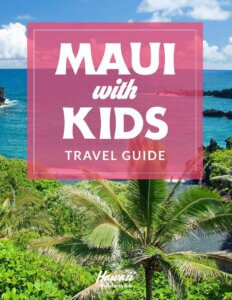 Top Questions About Maui Whale Watching Season
WHAT IS THE BEST MONTH TO SEE WHALES ON MAUI?
When is whale season in Maui? Maui's whale season in Hawaii is during the winter. Maui whale watching season runs from November through May. Personally, I think November is the best month to see whales on Maui simply because there are fewer tourists (especially between Thanksgiving and Christmas.)
WHAT IS THE BEST TIME OF DAY TO SEE WHALES IN MAUI?
Really, any time of day is awesome during Hawaii whale season! I'd suggest checking the weather before you go. That way, you can avoid choppy waters (and potential seasickness) and guarantee clear skies.

If your main goal is to take a lot of photos of the whales, the best time to see whales in Hawaii is late afternoon to take advantage of that beautiful golden hour light.
CAN YOU SEE WHALES FROM THE SHORE IN MAUI?
You bet! There are spots in Maalaea, Kaanapali, Kihei, and Wailea where you can see whales from the shore. You'll want to bring binoculars to get a better view, though. It's one of the best cheap things to do in Maui. Although, if you are serious about watching to see a lot of whales up close-ish, you're going to want to do a whale-watching boat tour.
WHERE IS THE BEST WHALE WATCHING IN MAUI?
While you can see whales all around Maui, there's a spot between Maui, Kaho'olawe, and Lanai that is called the Maui Nui Basin. About half the humpback whale population migrates through the Maui Nui Basin every year to breed.
IS WHALE WATCHING BETTER IN MAUI OR KAUAI?
While there are some awesome Kauai whale watching tours, Maui is pretty famous for its whale-watching experiences. That's because so many whales migrate near Maui. But, you can make your own judgment by reading my full post about whale watching in Kauai here.
What You Need to Know About Whale Watching on Maui
ABOUT THE WHALES
The whales have their annual winter migration roughly between November and March through the North Pacific Ocean.
Maui's whale season begins in October and November, with its first whale sightings. Between December and March, it is the official Maui whale season. In February, it's the peak season.
The North Pacific humpback whales are the 5th largest species of whale in the world. Newborns weigh about 2000 lbs and the grown whales can weigh between 50000 and 80000 lbs.
The whales travel to the oceans of Hawaii for the following reasons, to breed, to give birth, and to raise their calves.
Whales have an 11 to 12-month gestational period, so the calves are conceived and birthed in the Hawaiian islands.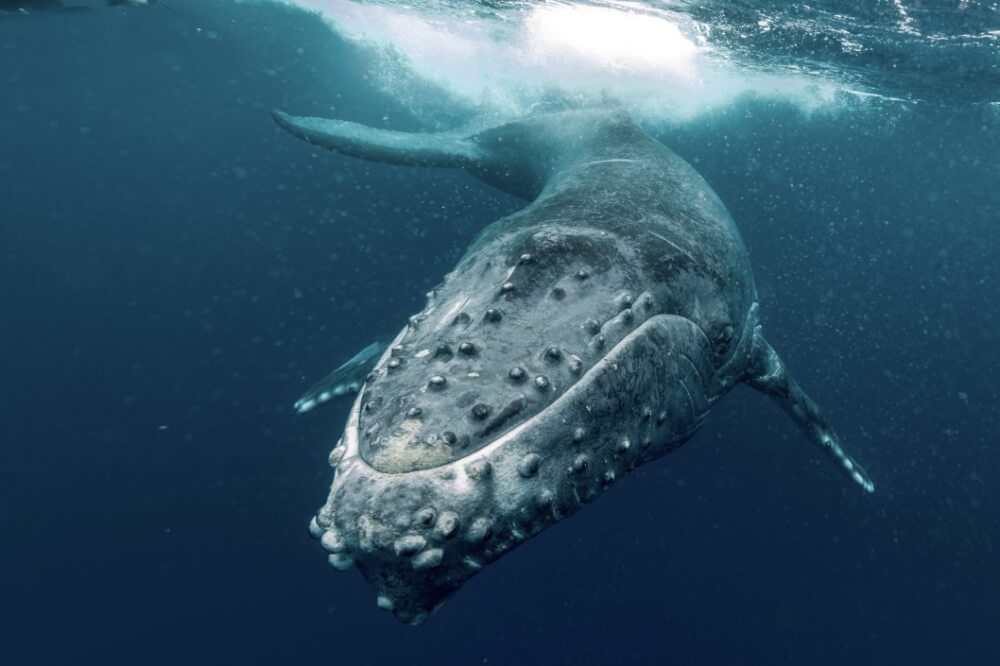 Adult humpback whales come to the surface to breathe every 10 to 15 minutes, newborns come to the surface every 3 to 5 minutes.
So, there's never a dull moment when experiencing whale watching in Maui Hawaii!
TIPS FOR WHALE WATCHING ON MAUI
Whales can be seen from the shore, but it would be better to see them on a boat- therefore booking a whale watch tour would be essential.
You'll not only get an amazing view but you'll be educated about these beautiful creatures by the naturalists that are on board these Maui whale tours.
Booking a whale tour early in the day would be advised, however, each day is different and it's mainly dependent on the weather.
The mornings are usually calm in Maui and the afternoons windy, so a whale watch tour would be more comfortable in the morning rather than the windy afternoon.
The next thing you would need to focus on is getting the right vessel, for example, inflatable rafts are fast and can offer you a thrilling ride- but it isn't safe for young children or people with back problems.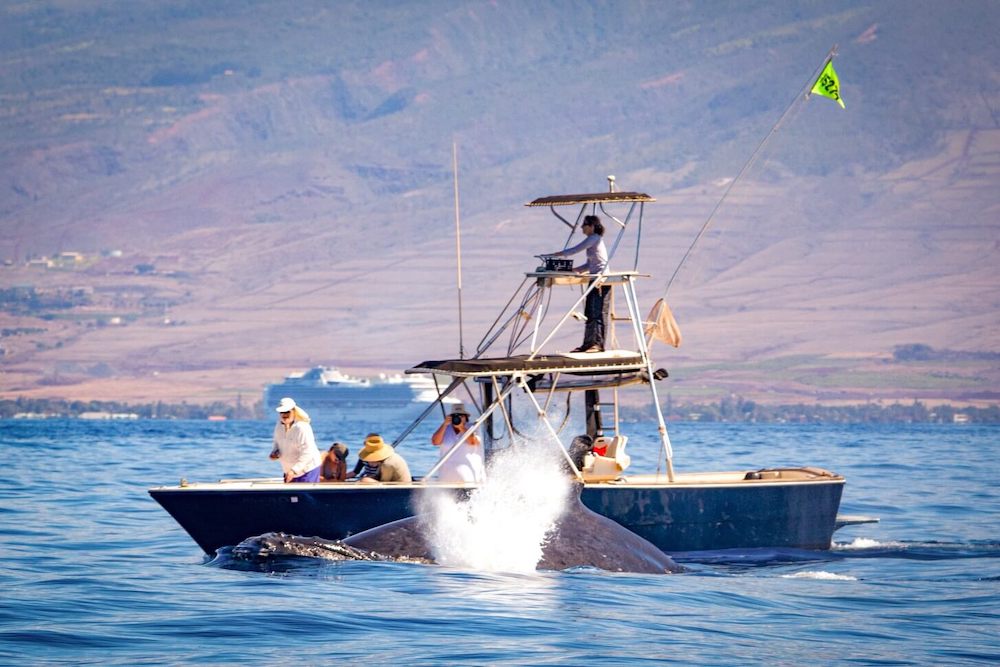 So you need to get a vessel that would be best suited to you and your situation- in terms of which family members are joining on the whale watch tour.
Also, you need to keep your head on a swivel, because the whales won't just pop up in front of the vessel, they often pop up behind as well. So using the boat as a clock is advised by captains.
If you want to avoid getting seasick and nauseous, you should stay above the deck and keep looking out at the horizon. You can take medication for nausea and avoid looking down. You should also avoid small and enclosed spaces.
When you look out at the water to see a humpback whale, just remember to listen. You don't always see the humpback whales first, but you hear them as the air goes out of their blowholes and creates a loud sound.
When a humpback whale flukes and you see its tail, it means that it'll go underwater.
The adults can hold their breath for up to 45 minutes, so going somewhere else to look for the humpbacks would be a better idea than waiting for them to come back up to breathe.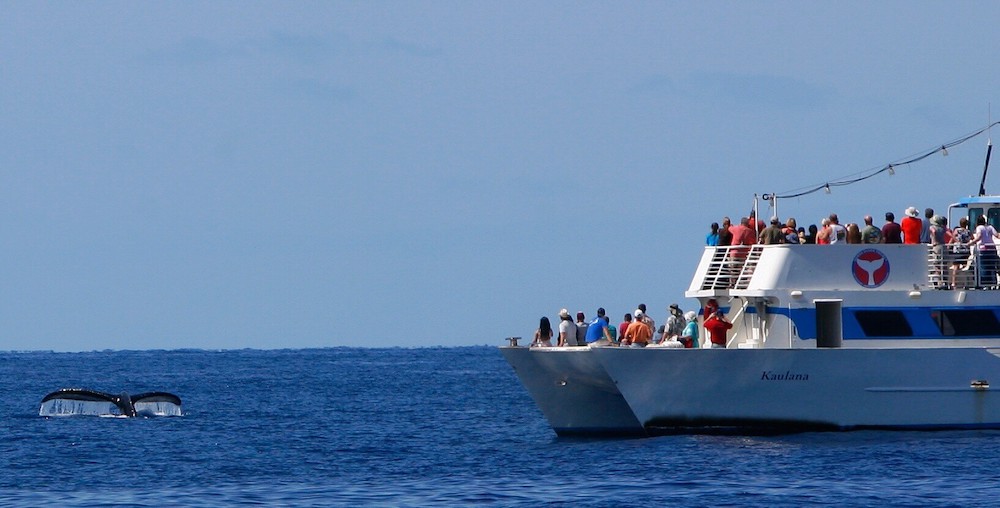 Best Whale Watching Tours on Maui Hawaii
There are various different kinds of whale watch tours that are offered by the Pacific Whale Foundation on Maui. All their tours include some of the best whale watching Hawaii has to offer. Check out the latest prices and more details.
A question and answer session and narration are included in the tour with the Marine Naturalists who are certified by the foundation.
You'll learn the history of the foundation, their decades' worth of research on whales and you'll learn more about Maui's humpback whales themselves.
You can hear the whales sing their songs using the underwater hydrophones and the catamarans offer a smooth journey for the guests along the coastline.
The Pacific Whale Foundation has a list of photo safaris, whale sails, sunrise whale watches, and more.
Find discounted Pacific Whale Foundation Tours
This 2-hour catamaran cruise takes you from the historic Lahaina Harbor out to waters home to Maui's humpback whales. Check out the latest prices and more details.
Using underwater hydrophones, listen to them sing, and watch males compete for mates or mother whales calving — you never know what you might see on this adventure that guarantees whale sightings.
Enjoy the views from the open upper deck or the shaded cabins below, and hear informative commentary from naturalist guides on board.
This family-friendly outing also includes a Naturalist Program for kids.
Find discounted Pac-Whale Eco Adventures whale watching tours.
For a more high-speed adventure, go for Redline Rafting while whale watching. Check out the latest prices and more details.
The great thing about the inflatable raft is that it puts the guests closer to the water. It's an awesome activity for you to do if you're staying around Makena, Kihei, or Wailea- areas in South Maui.
This activity, however, isn't recommended for kids under 8 years of age, and for people with back problems.
If the kids are younger than 8, rather opt for a different cruise, or do the Redline Rafting with hubby or your wife and take the kids on another cruise. The other convenient and great thing about the raft is that there's a bathroom on board.
The cost for an adult is $45. Get discounted Redline Rafting whale watching tours
There is a whale watch and kayak tour, which is perfect for adventure enthusiasts that are passionate about marine life. Check out the latest prices and more details.
It couldn't get more picturesque and surreal, seeing a humpback whale gliding under your kayak or feeling the vibrations from their songs along the water.
It's an experience you wouldn't want to miss out on! Book your Whale Watching Kayak & Snorkeling Tour.
The Pride of Maui is truly a once-in-a-lifetime whale-watching experience.
It's a two-hour cruise and the journey includes snorkeling in Maui's stunning coral reefs, namely the Turtle Reef and the Molokini Crater.
The boat trips are small group tours with naturalists on board that help educate the tourists about the Maui island and Humpback whales.
Who wouldn't want to experience this kind of fascinating beauty?
The tour boat has a glass bottom and it contains a water slide, a bar, onboard showers, two restrooms, submerged boarding ladders, and open deck space.
Food and beverages are included as well as complimentary hotel transport, which is dependent on where you stay on the island.
Remember to make a reservation in advance as they book out quickly.
For an active early morning while experiencing whale watching uniquely, opt for a paddling tour from Hawaiian Paddle Sports.
There are various types available, such as outrigger canoe tours, kayak, paddleboard- the mandated limits are adhered to of a 100-yard distance, however, the whales sometimes swim close- right under the boat!
There is an eco-tour company that offers lower rates for these adventures, if you volunteer some of your time to do voluntary work in Maui- the company is called travel2change.
The kids would also love it, as they can be active and use their energy while experiencing the fascinating sight of the beautiful humpback whales.
Are you looking to have a more secluded and private experience? You'll find Kaanapali Ocean Adventures off the coast of Maui, you would need to reserve a private yacht cruise.
Their cruise can take up to 32 guests at a time and is available each year from December through to April.
The cruise is a magnificent experience, you'll get to see baby humpback whales that are learning to navigate through the waters, humpback whales that are breaching, and, of course, the coastal wonders of Maui!
Remember to bring your cell phone, camera, or whatever you're using to record this amazing experience.
The Sail Trilogy tours have various different locations to depart from Maui, such as Lahaina Harbor, Ka'anapali, and Maalaea Harbor.
The whale watching tours are two hours long and there are naturalists on board who educate guests about the island and marine animals.
Hydrophones are also provided for guests to hear the magnificent songs that the whales make- definitely, an experience to remember.
The cruise also offers appetizers and drinks- as it's a popular cruise, it's limited to small groups, so you should book in advance to avoid disappointment.
Greatly increase your chances of seeing humpback whales in the wild on this whale watching trip to the Pailolo Channel off the West Maui coast.
In a small boat—in the company of guides with deep knowledge of whale behavior in these waters—get as close as respectfully possible to the gentle giants.
To make the experience even more magical, listen to whale songs through the boat's high-performance Hydrophone audio system.
Get discounted Blue Water Maui whale watching tours
For a more in-depth and longer whale watching tour, opt for Maui Boat Trips.
They have tours that don't only include whale watching, they include dolphin watching, Molokini Crater, and Turtle Town.
The tour lasts about 4 to 5 hours, so the tour provides a delicious continental breakfast and a filling savory lunch.
There are daily tours with the Hawaii Ocean Project which operate from Lahaina Harbor.
The tour lasts 2 hours long and it includes the narration by the expert naturalists that are on board.
The ride is smooth, has open-air and closed areas for viewing and the structure of the actual boat is huge.
To learn more about the magnificent humpback whales, visit the National Marine Sanctuary.
The sanctuary is located in the shallow, warm waters of Maui and the sanctuary provides an environment for the beautiful humpbacks.
The sanctuary is dedicated to preserving the environment of the humpbacks and protecting them.
When you leave the visitor center in the sanctuary, you'll be able to see the stunning humpbacks in action.
SUNRISE WHALE WATCHING
The best time and chance for you to see the whales is during the sunrise in Maui.
Start your day at sea and watch the gorgeous humpbacks against the backdrop of a stunning golden sunrise- can it get any more perfect than this?
By opting for a sunrise whale watch, you and the family can enjoy being the first ones to have a Maui whale sighting.
SNORKEL WHALE WATCHING
This Maui whale watch cruise is very much recommended due to its interactivity- the Pride of Maui Snorkel Tour.
The tour includes diving in and swimming nearby the fascinating humpback whales, snorkel gear, an open bar, a BBQ lunch, and more!
This tour starts on the 1st of December each year.
If you're going to be in Maui in the winter, you absolutely have to do a whale-watching tour. These excursions are the ones that come highly recommended and are the best.
Maui whale watching tours are perfect for the whole family and are definitely one for the books!
What to Bring on a Maui Whale Watching Cruise
WINDBREAKER
It can get quite windy in the Hawaiian islands, especially in Winter.
So, it's a good idea to have a windbreaker with you in case you get a bit chilly on early morning or evening Hawaii whale watching boat rides.
SUNSCREEN
The water reflects sunlight, so it's easy to get burned if you are taking a mid-day whale-watching boat ride on Maui. That's why you'll want to apply reef-safe sunscreen before and during your whale-watching cruise.
And you'll also want to wear sunscreen lip balm so your lips don't get chapped with the salty air.
BINOCULARS
While you don't have to use binoculars to see whales in Maui, it can be a great way to get a good look at them. And they are great for kids! Check out the latest prices and more details.
Whale Watching Maui Wrap Up
I hope you enjoyed reading this post about whale watching on Maui. Now you know a lot about what whales are in Hawaii, including which ones to expect to see while observing from the shore or boat.
It's an amazing experience seeing these majestic creatures up close so go enjoy it! But don't wait too long – tours are selling out fast with all of the new visitors coming here for vacation and work. Book your tour before they sell out today!