Are you thinking about scuba diving in Hawaii for your next vacation? Keep scrolling to find out the best Hawaii diving spots, Hawaii dive shops, where to get a Hawaii scuba certification, and get my Hawaii scuba diving safety checklist.
This post about diving in Hawaii contains affiliate links which means if you purchase something from one of my affiliate links, I may earn a small commission that goes back into maintaining this blog.
Don't Want to Scroll? Here Are the Best Hawaii Diving Spots
hide
Not only is Hawaii one of the prettiest islands to visit, but Hawaii is one of the best places in the world for outdoor adventure.
People fly from all over the world to experience snorkeling at Molokini Crater, seeing lava at Hawaii Volcanoes National Park, and seeing the sunrise at Haleakala Crater.
But, Hawaii is also a top scuba diving spot for both beginners and advanced divers.
In this post, I break down the best Hawaii scuba diving experiences, coolest Hawaii scuba tours, and where you'll find the best diving in Hawaii.
And at the end, I'll give you a handy Hawaii scuba diving safety checklist to make sure you have the best Hawaiian adventure!
Before we get too far, let's answer a few of your top Hawaii scuba diving questions: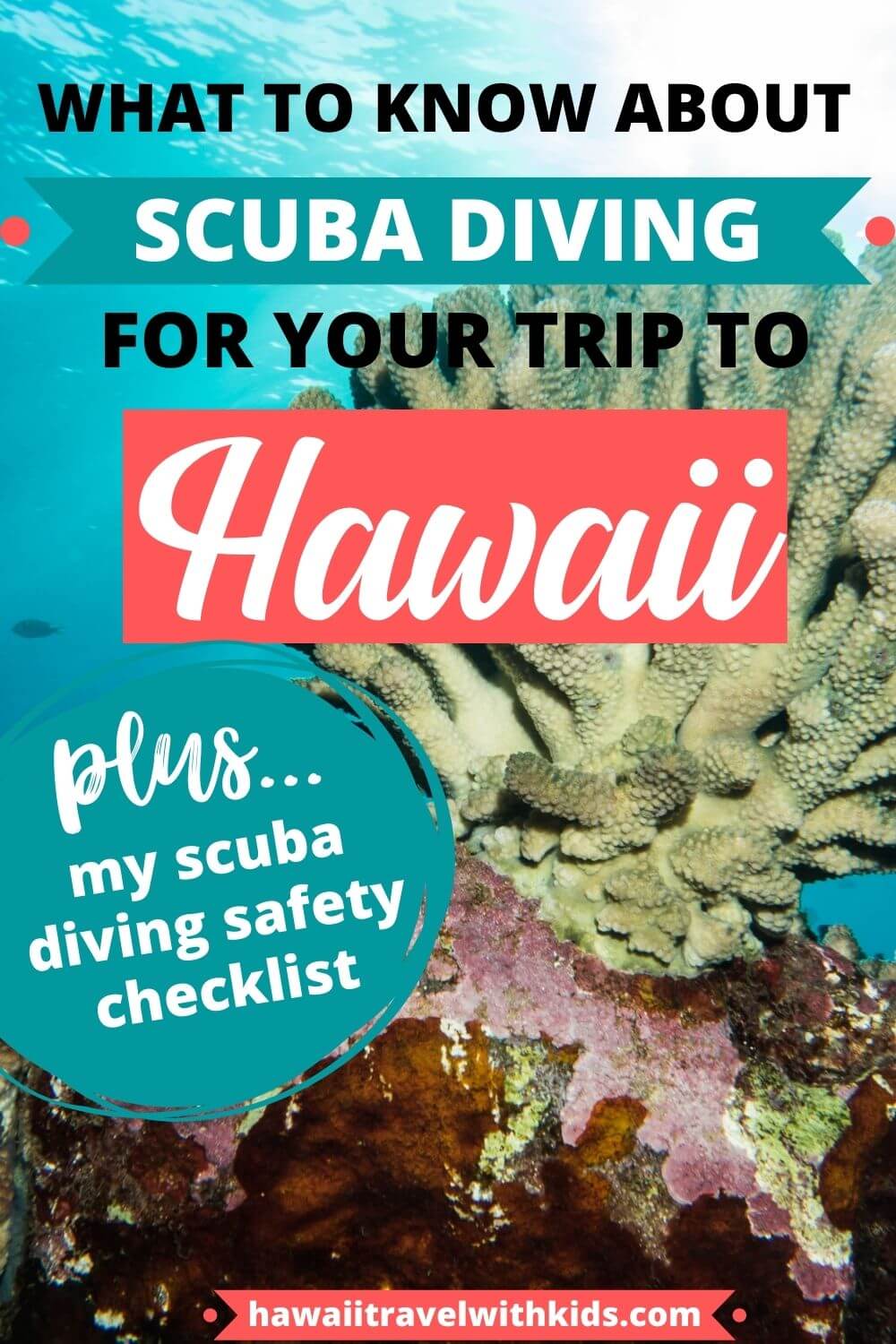 Top Questions about Hawaii Scuba Diving
Is Hawaii good for scuba diving?
Absolutely!
Hawaii actually an archipelago in the Pacific Ocean that's made up of 8 islands. In addition, there are islets and atolls. That's a lot of opportunity for some fascinating underwater adventures!
Both advanced and beginner divers flock to Hawaii to check out Hawaiian sea life (like the famous Hawaiian Green Sea Turtles), explore old shipwrecks, swim with Manta Rays, and even see sharks!
Hawaii offers some incredible, once-in-a-lifetime diving experiences!
Is scuba diving in Hawaii dangerous?
There is always some risk when it comes to scuba diving in open water. But, the best rule of thumb when diving in Hawaii is DON'T BOTHER THE SEA LIFE and they won't bother you!
Yes, you might encounter Sharks in Hawaii (like the Whitetip Reef Shark or Tiger Sharks.) But, sharks usually only attack if they are provoked, or if they think you are food.
However, you'll want to steer clear of Sea Urchins in Hawaii. They have long spines that can pierce through a wet suit.
Eels are another Hawaii sea creature you'll want to give a wide berth to. They have razor-like teeth and if they bite you, you might get muscle damage.
And don't bother the Sting Rays. Like their name suggests, they might sting you if you get too close or touch them.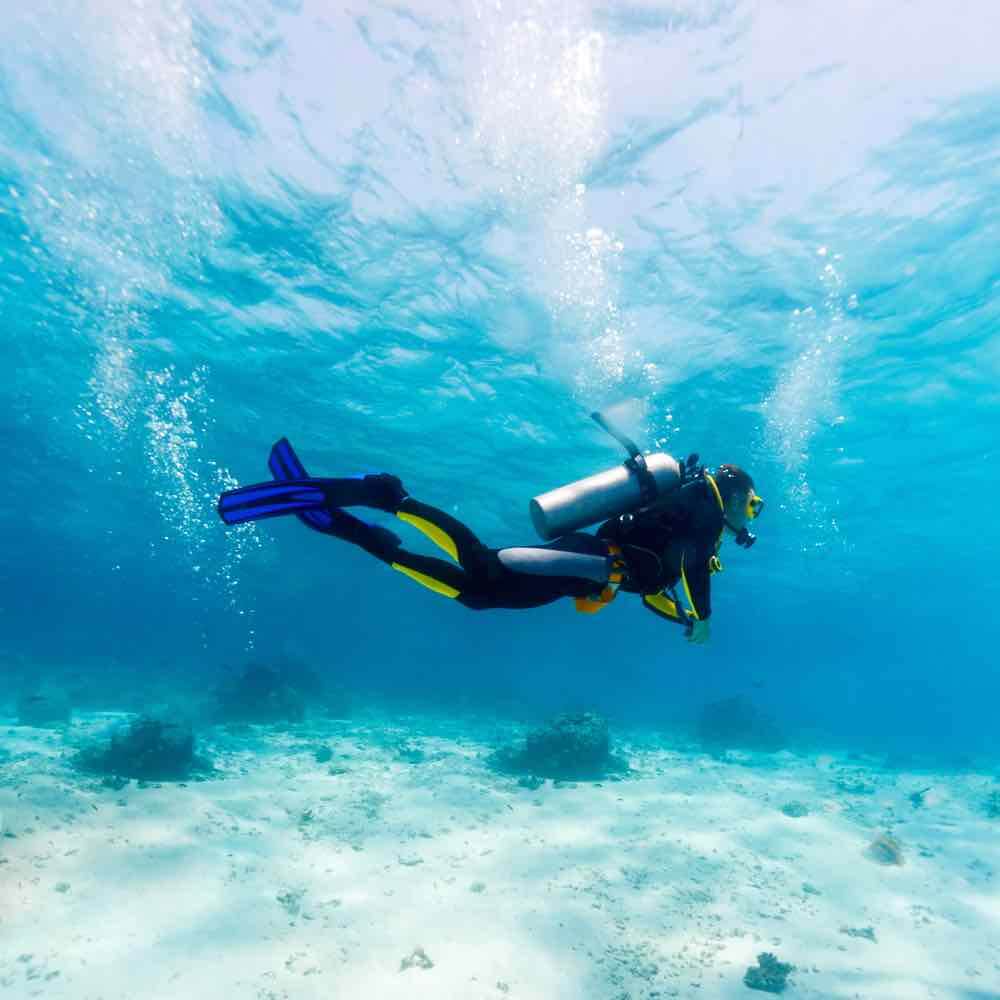 Which Hawaiian island is best for scuba diving?
This one is a tough call.
If you are planning a trip to Hawaii where scuba diving is your main priority, I'd definitely plan on going to Lanai. It's known for its crystal clear water and they have awesome cavern diving. You will be in awe.
Maui also has some cool scuba diving experiences. Molokini Crater is just off the coast of Maui and is a great spot to see Hawaiian Green Sea Turtles, Eagle Rays, and tropical fish.
Plus, it's really close to Lanai (if you want to do a day trip there to go diving.)
One of the most popular places to scuba dive in Hawaii is Kona on the Big Island. They have some spectacular reef, cool underwater lava formations, and the famous Manta Ray Night Dive.
Oahu has a lot of Hawaii scuba tours that are perfect for beginners. Plus, there are some great opportunities to see shipwrecks.
There are lots of cool diving spots on Kauai. And there are even some where you won't need a boat!
Molokai is another good option and makes a great stop if you plan on island hopping in Hawaii. You have a good chance of seeing Hammerhead Sharks and Hawaiian Monk Seals.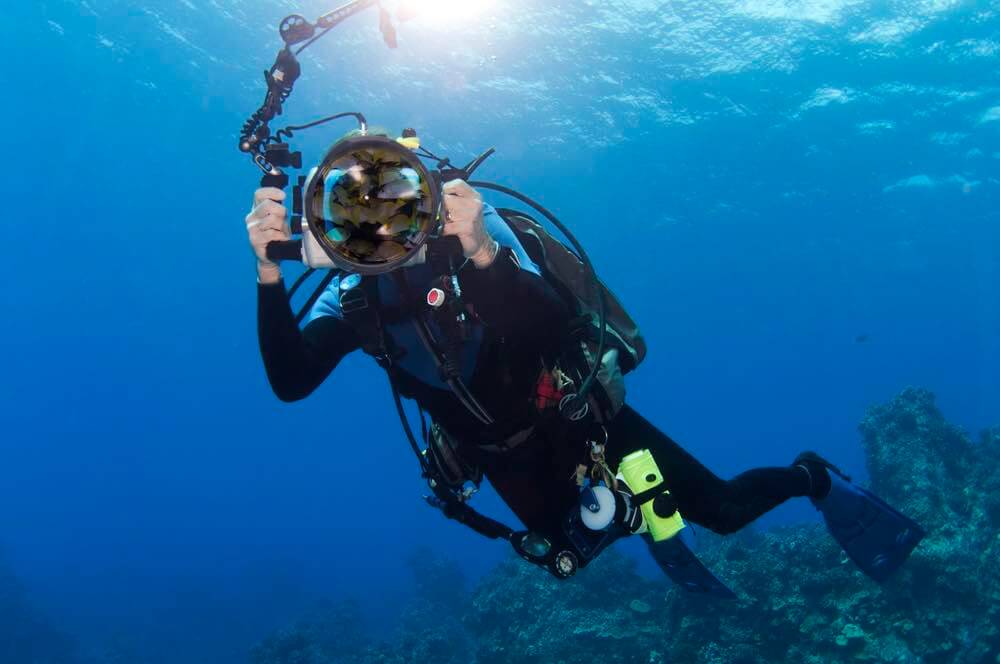 Where can I get a Hawaii scuba certification?
If you're thinking about getting your scuba diving certification, Hawaii is a fun place to do it! Plus, they offer several different courses, including deep diver and wreck diver courses.
For scuba certification on Oahu, there are a ton of options. A few include Kamaaina Divers, Oahu Diving, Living Ocean Scuba, Dive Oahu, or Island Divers Hawaii.
For scuba certification on Maui, head to Maui Diving, Banyan Tree Divers Maui, Scuba Mike, Prodiver Maui, or Maui Dreams Dive Co .
For scuba certification on Kauai, head to Bubbles Below Kauai, Kauai Down Under Scuba, Seasport Divers, Garden Isle Divers, or Explore Kauai Scuba.
For scuba certification on the Big Island, head to Big Island Divers, Kona Diving Company, Jack's Diving Locker, Kona Honu Divers, or Kohala Divers ltd.
Can you scuba dive in Hawaii without certification?
Absolutely. Although the safest way to do that is with a guided scuba dive tour in Hawaii.
Like we mentioned earlier, there are lots of dangerous things in the ocean and it's always safest to have an experienced scuba diving tour guide help you.
Plus, it's the easiest way to get to cool Hawaii dive sites!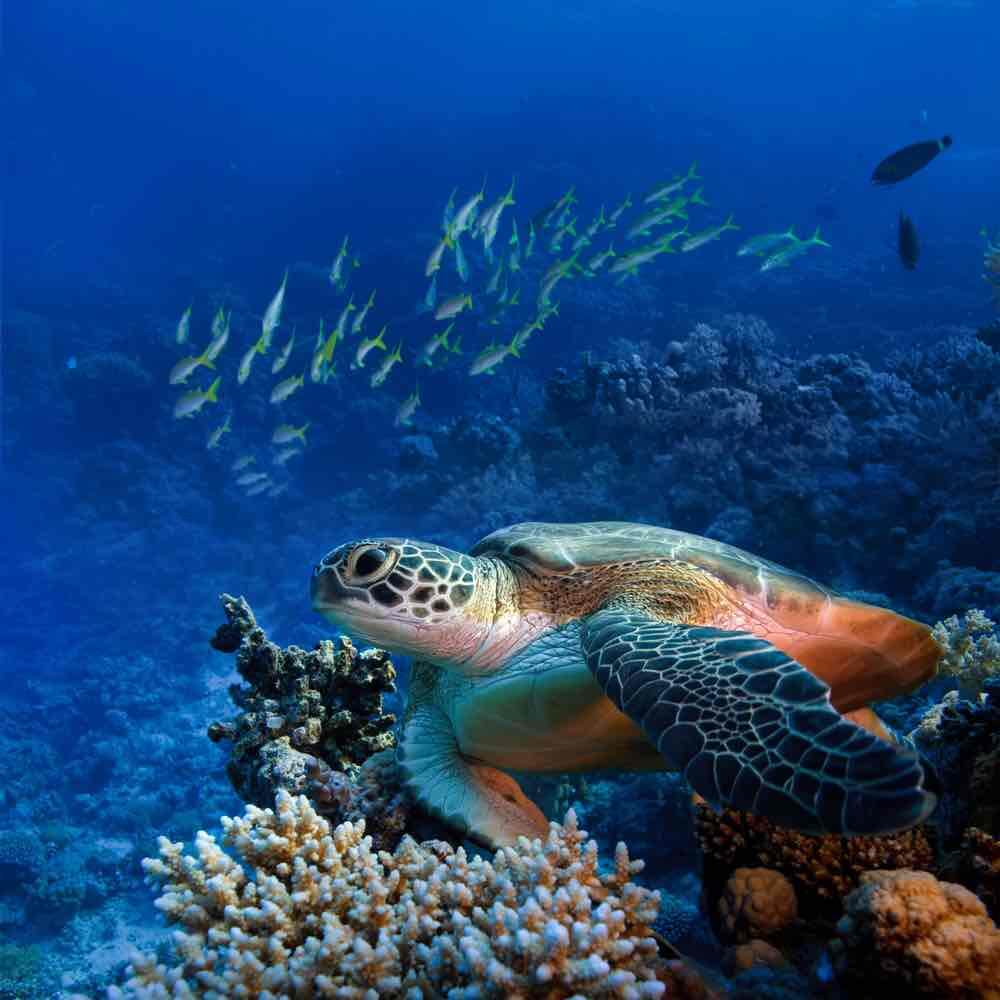 What's the cost of scuba diving in Hawaii?
It really varies. There are a few different things that can change the cost of scuba diving in Hawaii:
Boat Diving will either require you to charter a boat or join a guided scuba diving tour.
Shore Diving is a cheaper way to go scuba diving in Hawaii, but it's really only an option for experienced divers.
How old do you have to be to go scuba diving in Hawaii?
For families that just want to let their kids get a feel for scuba diving, you can sign up kids as young as 5 years old for non-certification scuba classes.
If you want to get a scuba certification with kids in Hawaii, they need to be at least 10 years old for most courses. There are a few that accept kids as young as 8 years old. You can sign up and do classes as a family.
Epic Hawaii Scuba Diving Spots
Oahu Scuba Diving
I'm starting this list off with Oahu since that's one of the most popular Hawaiian islands to visit. Thankfully, there are quite a few places for scuba diving in Oahu, Hawaii!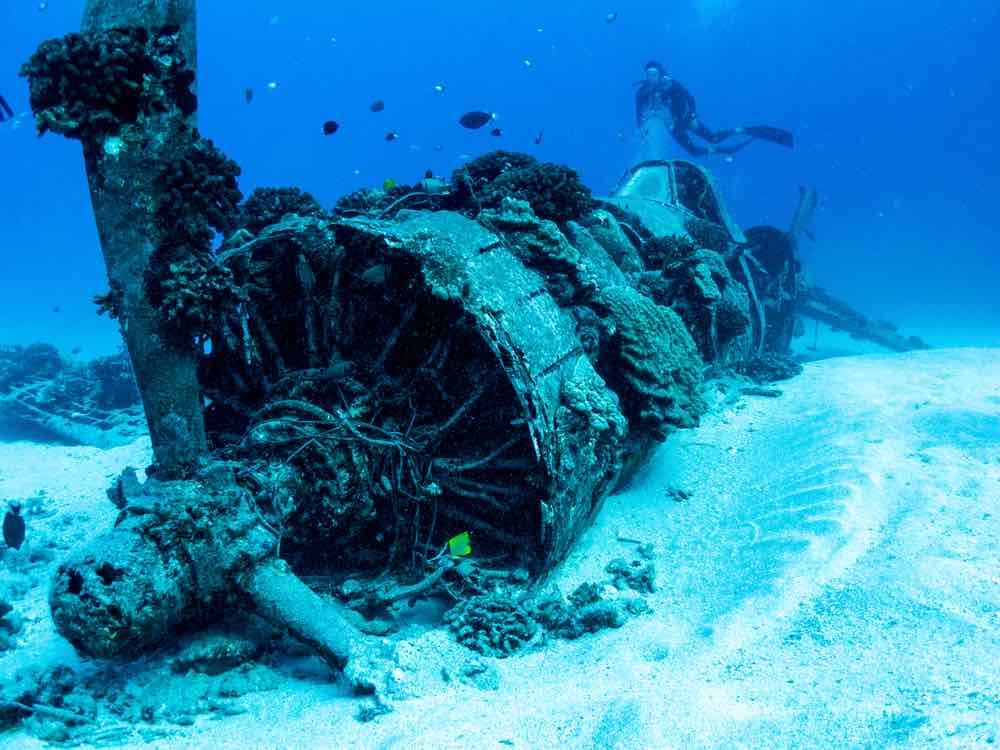 Sea Tiger
If you'd like to go scuba diving in Honolulu Hawaii, Sea Tiger is an awesome spot. It's just off the coast of Waikiki Beach and you'll be able to see a really cool shipwreck of the Sea Tiger.
And because it sits at 120 feet below the surface, it's great for deeper dives.
Kahuna Canyon
Oahu locals love to scuba dive at Kahuna Canyon. The bowl-shaped crater create a really cool place to explore and see everything from octopus to sharks!
Vought F4U Corsair
If you love history, this is a fascinating spot to see the Corsair airplane wreck. This fighter plane crashed and sank in 1946.
YO-257 and San Pedro
Two of the most popular places for scuba diving in Honolulu Hawaii are the YO-257 and San Pedro. These are located next to each other right off teh coast of Waikiki.
These ships were intentionally sunk by the Atlantis Submarine Company in order to enhance their submarine tours. But, they are cool places to find Eagle Rays, Puffer Fish, and Sea Turtles.
Waimea Wall
For scuba diving in North Shore Oahu, head to Waimea Wall. It's great for beginners and experienced divers and you'll get to see a lot of cool Hawaii sea life like Eagle Rays and Whitetip Reef Sharks.
Shark's Cove
Another popular North Shore Oahu scuba diving spot is Shark's Cove. The bay is pretty rocky, but the water is clear and shallow.
And despite its name, you most likely won't see any sharks!
Rainbow Reef
Another fun Oahu Hawaii scuba diving spots for beginners is Rainbow Reef on the South Shore. It's super calm water and only 20-60 feet deep.
Here, you might see Spotted Puffer Fish, Manta Rays, Moray Eels, and plenty of other Hawaii sea life!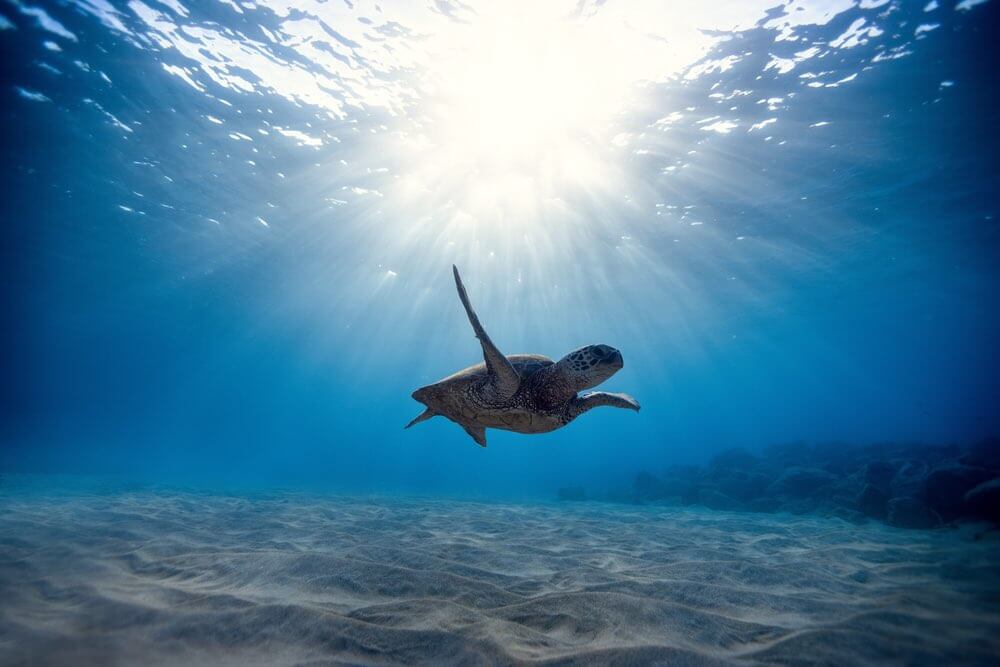 Oahu Scuba Diving Tours
Beginner Scuba Diving with Turtles in Honolulu
One of the coolest tours for Oahu scuba diving for beginners is this one where you can see colorful coral, tropical fish and Hawaiian Green Sea Turtles.
It's for kids ages 12 and older. Check out the latest prices and more details.
No Certification Required Guided Scuba Diving Tour
Beginner or experienced scuba divers will love looking for Sea Stars, Octopi, Sea Turtles, and other colorful marine life.
Plus, you'll get a Go Pro video of your experience! Check out the latest prices and more details.
Book This Oahu Scuba Diving Tour
Shark Cage Diving In Oahu
One of the coolest Oahu adventures is going shark cage diving in North Shore Oahu! You'll get to see Galapagos and Sandbar sharks in the wild.
Plus, you can bring kids as young as 5 years old! Check out the latest prices and more details.
Book Your Oahu Shark Cage Diving Experience
Discover Scuba Diving from Waikiki
If you want to learn how to scuba dive without doing a full scuba certification course, this is an awesome, 5-hour ocean dive on Oahu. Check out the latest prices and more details.
Book this Waikiki Scuba Diving Tour
Two Tank Boat SCUBA Dive from Waikiki
This Waikiki scuba tour is for certified divers only. It's a guided, 5-hour ocean dive to see Hawaii's colorful coral reefs and marine wildlife. Check out the latest prices and more details.
They offer Waikiki hotel pickup and drop off, so it's great if you are staying in Waikiki without a car!
Book this Waikiki Scuba Dive Tour
Scuba Shipwreck and Reef Tour for Certified Divers in Honolulu
This small group Honolulu scuba tour heads to either Sea Tiger or YO-257 to explore a shipwreck. You might also see White Tip Reef Sharks, Octopuses, Eagle Rays, and other Hawaii sea creatures.
It's for certified divers only who are at least 15 years old. Check prices and reviews.
Book this Oahu Shipwreck Scuba Diving Tour
Night Dive, SCUBA Shipwreck Exploration
If you are a certified scuba diver looking for a unique Oahu experience, plan on doing this incredible Hawaii night scuba dive to see the Sea Tiger shipwreck at night! Check prices and reviews.
You'll head out after the sun goes down for a once-in-a-lifetime Hawaii adventure!
Book this Oahu Night Scuba Diving Tour
Oahu Dive Shops
If you're planning on doing your own diving on Oahu, you might want to know where the best Oahu dive shops are.
Oahu Diving is a popular Waikiki dive shop in the Ala Moana area. Kaimana Divers and Honolulu Scuba Company are some Honolulu dive shops.
And Westside Dive & Tackle, Aqua Zone, and Island Divers Hawaii are a few other dive shops on Oahu.
Best Kauai Scuba Diving Locations
Kauai is hands-down one of the prettiest Hawaiian islands. But, it's still pretty awesome under the water.
Let's take a look at some of the most interesting places to go scuba diving in Kauai Hawaii.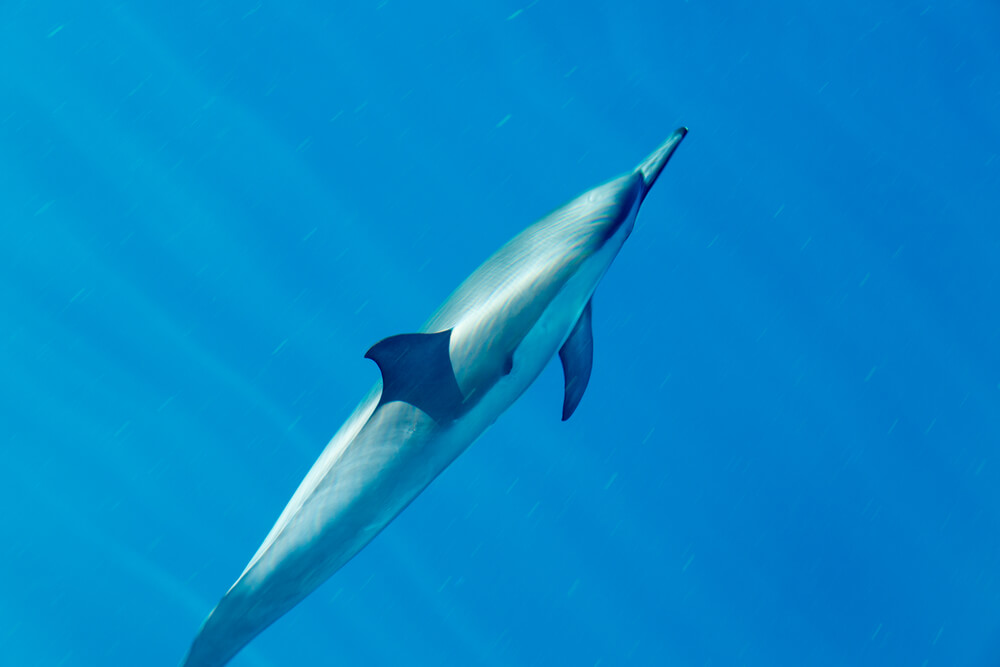 Sheraton Caverns
If you are hoping to see Hawaiian Green Sea Turtles, Poipu is one of my favorite spots. And Kauai's Sheraton Caves is considered on of the best Kauai scuba diving locations.
And there's even a few lava tubes you can explore!
Brenneckes Ledge
Another place to go scuba diving in Poipu is Brenneckes Ledge. Here, you'll find two big caves, lots of fish, and rare black coral.
Three Fingers
Three Fingers near Kukui'ula Harbor on Kauai's South Shore is another spot for divers of all skill levels.
This is also one of the best places for underwater photography, as the water is crystal clear and there are tons of amazing Hawaiian sea creatures.
Aquariums
On Kauai's East Shore, Aquariums is located by Nawiliwili Harobr and is a great, shallow dive site. You'll be able to explore big boulders underwater.
Tunnels Beach
If you want to go scuba diving on Kauai without a boat, head up to Kauai's North Shore. You'll be able to dive around collapsed lava tubes and look for octopus.
Koloa Landing
Another easy place for Kauai shore diving is Koloa Landing. It's right behind a gorgeous resort and it's where a lot of dive operators to open water training.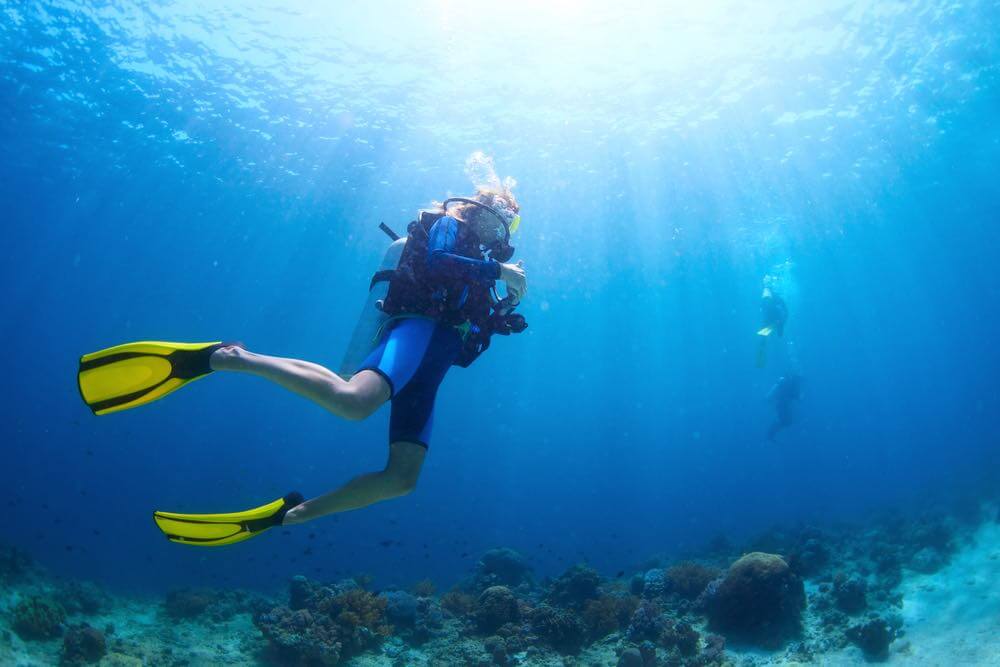 Kauai Scuba Diving Tours
Explore Kauai Scuba
This new Kauai scuba diving company is family owned and operated. They have a lot of different tours including one that goes to Ni'ihau!
Book your Explore Kauai Scuba tour
Bubbles Below Kauai
This Kauai scuba tour operator has options for both certified and non-certified divers. They also go over to Ni'ihau, offer scuba classes, and even have programs for non-certified divers where you can swim with the turtles.
Book your Bubbles Below Kauai scuba tour
Seasport Divers
This Kauai scuba diving company has been around since 1986. The do scuba diving tours all over Kauai and Ni'ihau.
They are a full service PADI 5 Star Instructor Development Center and even offer classes for kids and junior open water diver certification.
Book your Seasport Divers tour
Kauai Dive Shops
If you're looking for Kauai dive shops to do your own diving, be sure to check out Dive Kauai, Kapaa Beach Shop, Kauai Down Under Scuba, or Boss Frog's.
Where to go Diving on the Big Island
If you're looking for awesome things to do on the Big Island, scuba diving should be at the top of your list. Since it has more coastline than any other island in Hawaii, it's a paradise for Hawaii marine life!
If you're really serious about scuba diving on the Big Island of Hawaii, you'll want to head straight for Kona. The scuba diving in Kona Hawaii will blow your mind.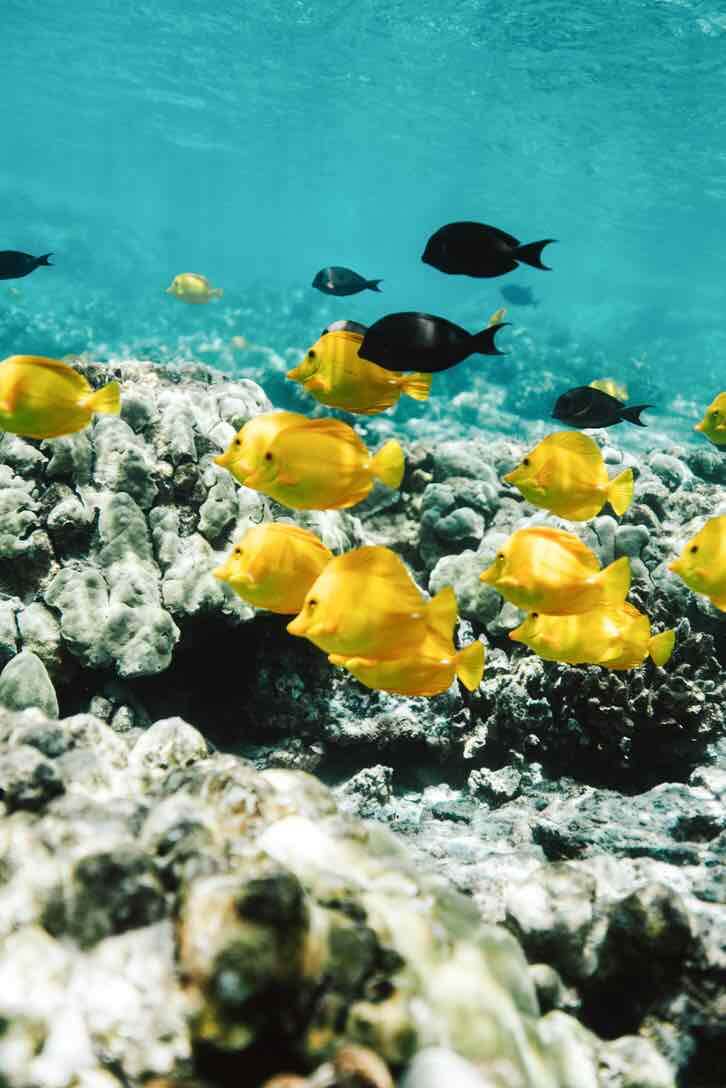 Crescent Beach
If you want to see super cool Hawaii animals like Tiger Sharks, Manta Rays, and Dolphins, Crescent Beach is the place to go!
It's just outside Honokohau Harbor and you can shore dive just off the beach.
Pu'uhonua o Honaunau
If you're looking for cool things to do in Kona, Pu'uhonua o Honauau National Park is a great option. Not only is it one of the most historic places in Hawaii, but it's got some awesome Kona Hawaii scuba diving and shore diving.
This Hawaii National Park is also nicknamed "Two Step" because of the two-tiered lava formation. You'll find Hawaiian Green Sea Turtles, Octopuses, and Black Tip Reef Sharks, here.
Honokohau
Another cool Kona scuba diving spot is at Kaloko-Honokohau National Park. It's a local favorite because of the cool coral reef, underwater sea caves, and lava tubes.
Here, you might glimpse Spinner Dolphins, Eagle Rays, and even the endangered Hawksbill Sea Turtle.
Four Mile
If you really want a Big Island adventure, try scuba diving at Four Mile off Ali'i Drive. This local favorite is a bit dangerous when the waves are crashing hard, so wait until it's a calm day.
There's great visibility and you can swim around a lava tube. You might see Sea Stars, Coches, and possible White Tip Sharks.
Suckem-up
If you're eager to see underwater lava caves in Hawaii, add this to your Big Island bucket list. There's a series of caves where lots of marine life like to hide.
The names comes from the phenomenon that divers can get "sucked out" if they exit the water at the same time as the surge of waves.
Touch of Grey
If you are determined to see sharks in Hawaii, plan on diving at Touch of Grey. Here, there are tons of cute baby sharks as well as colorful reef fish.
The currents at this Big Island Hawaii scuba diving spot are pretty strong and it's only recommended for advanced divers.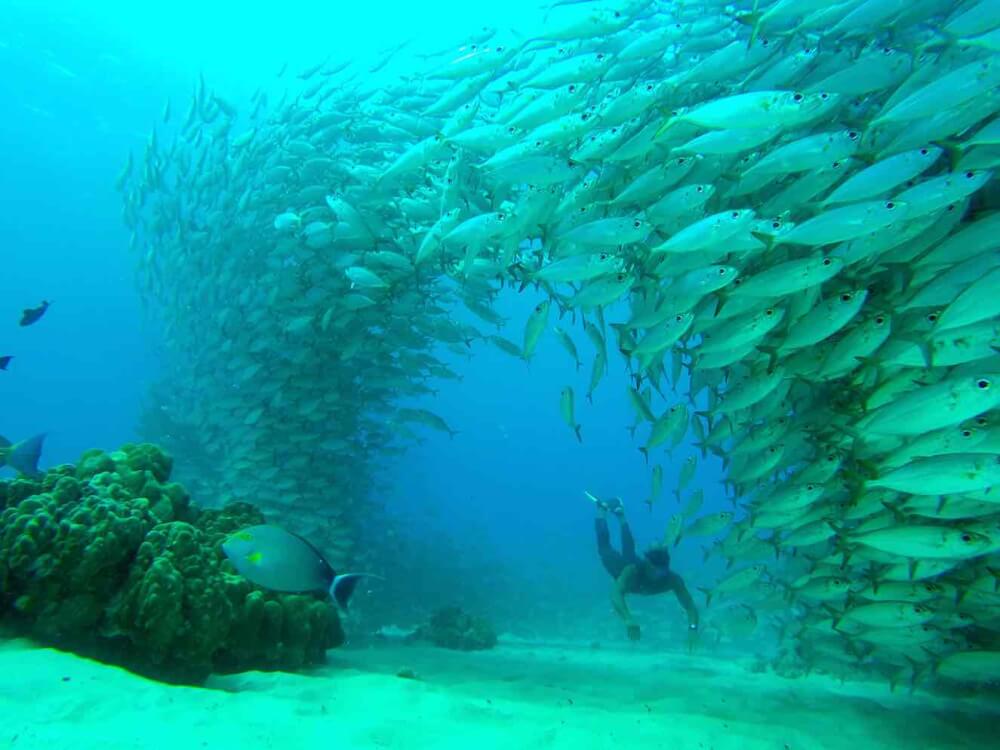 Big Island Scuba Diving Tours
One Tank Manta Night Dive
The absolute most popular Big Island scuba diving experience is this nighttime Manta Ray dive. You'll get to see them up close and learn about Hawaii sea life and ecology.
It's perfect for beginners or experienced divers. Check out the latest prices and more details.
Book This Manta Ray Scuba Tour
2 Tank Morning Scuba Dive in Kailua-Kona
If you're looking for a Kona eco-tour, you'll love this Kona scuba diving tour with conservation-minded divers will tell you all about how to conserved the coral reef.
Plus, explore vibrant reefs and Hawaii sea life. Check out the latest prices and more details.
Introductory Boat Scuba Dive – 2 Tank
If you're staying in Hilo, this is a great Big Island scuba diving tour option. They have hotel pick up and it's great for beginner divers who want to sea giant Sea Turtles and Spinner Dolphins up close.
Kids need to be at least 10 years old to do this tour. Find the best rates here.
Book This Big Island Scuba Diving Tour for Beginners
SCUBA Shore Dive at Sea Turtle Cove
This Sea Turtle Cove scuba dive is just for certified divers and it's great for those looking for an easy Big Island activity.
It's a 35-55 minute scuba dive and they provide all the equipment and gear. Find the best rates here.
Book This Sea Turtle Cove Diving Tour
Dolphin Swim in Kona, Hawaii
Want to swim with dolphins in Hawaii? This is an awesome thing to do in Kona with kids. There are clear-bottom rafts for little kids, scuba gear, flotation devices, Go-Pro cameras to rent, and everything you need for an epic Big Island adventure. Find the best rates here.
Book This Kid-Friendly Dolphin Swim in Kona
Big Island Hawaii Dive Shops
There are several Big Island dive shops if you need gear. Check out Kona Dive Company or Jacks Diving Locker on the Kona side.
Or in Hilo, check out the Nautilus Dive Center.
Best Maui Scuba Diving Locations
There are lots of great options for scuba diving in Maui Hawaii. Plus, it's a great jumping off point to do Molokini scuba diving, Maui shore diving, or hop over to Lanai or Molokai.
Let's take a look at some Maui dive sites:

Honolua Bay
This Maui Hawaii scuba diving spot is a bit of a trek. You'll have to hike down to the rocky beach (about 1/4 mile), but the diving here is pretty cool because they are part of a Marine Life Conservation District.
Airport Beach
This is next to the Westin Kaanapali Resort Villas, so it's easy if you're staying in Kaanapali or Lahaina.
It's a great Maui shore diving spot for beginners or intermediate divers who want to explore a colorful coral reef.
Makena Landing
Another place for Maui shore diving is Makena Landing. This is where you'll find Five Caves Maui, an awesome spot to see turtles on Maui.
Carthaginian II
If you want to see a Maui shipwreck, head to Lahaina to see the Carthaginian II that's 97 feet below the surface. Here, you'll get up to 100 feet of visibility and calm water.
Molokini Crater
Molokini Crater is some of the best scuba diving Maui has to offer. You'll need to take a boat tour to get there since it's located off the shore of Maui.
There are almost no currents and there are places for Maui scuba diving for beginners or for expert divers.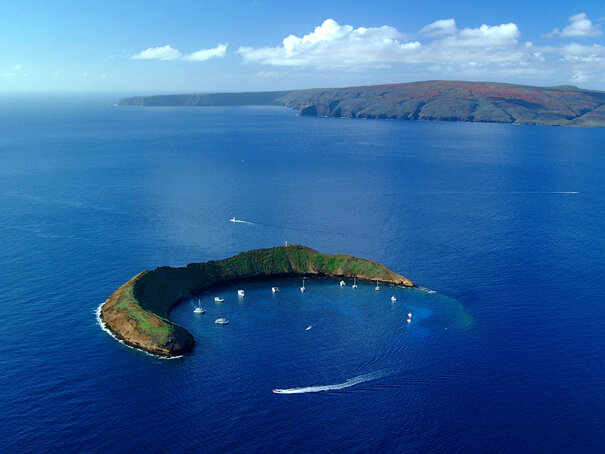 Maui Scuba Diving Tours
Maui Scuba Diving Introductory Lesson from Lahaina
If you'd like a Maui scuba diving lesson in a small group (more more than 4 divers), this is a great option. You'll learn all the basic skills for scuba diving in Maui.
Kids need to be at least 12 years old. Find the best rates here.
Book this Lahaina Scuba Diving Lesson
Maui Night Scuba Diving Tour from Lahaina
If you want to go night diving on Maui, this is a really cool option from Lahaina. You'll look for cool Hawaii sea life that will be attracted to your light.
Kids need to be at least 12 years old. Find the best rates here.
Book Your Maui Night Scuba Diving Tour
Discover Maui Scuba Diving for Beginners
If you want more personalized attention when learning how to scuba dive in Maui, book this private scuba diving lesson.
Kids need to be at least 10 years old. Find the best rates here.
Book this Maui Scuba Diving Tour for Beginners
South Maui Discover Scuba Dive
If you want some easy dives in Maui, book this introductory scuba diving course designed for beginners. You'll start in the classroom and then head to the ocean.
Kids must be at least 12 years old. Find the best rates here.
Book This South Maui Scuba Tour
Maui Dive Shops
It's hard to know which is the best dive shop on Maui because there are quite a few options.
In Kihei, there's Maui Dive Shop, Maui Dreams Dive Co., B&B Scuba, and Scuba Luv. And in Lahaina, there's Maui Diving-Scuba, Banyan Tree Divers, In2Scuba Diving Maui, Extended Horizons, and Dive Maui.
Molokai Scuba Diving
Did you know Molokai has the longest barrier reef in Hawaii? It's 28 miles of beautiful underwater wonders where you can spot Hawaiian Green Sea Turtles, Rays, and lots of tropical fish.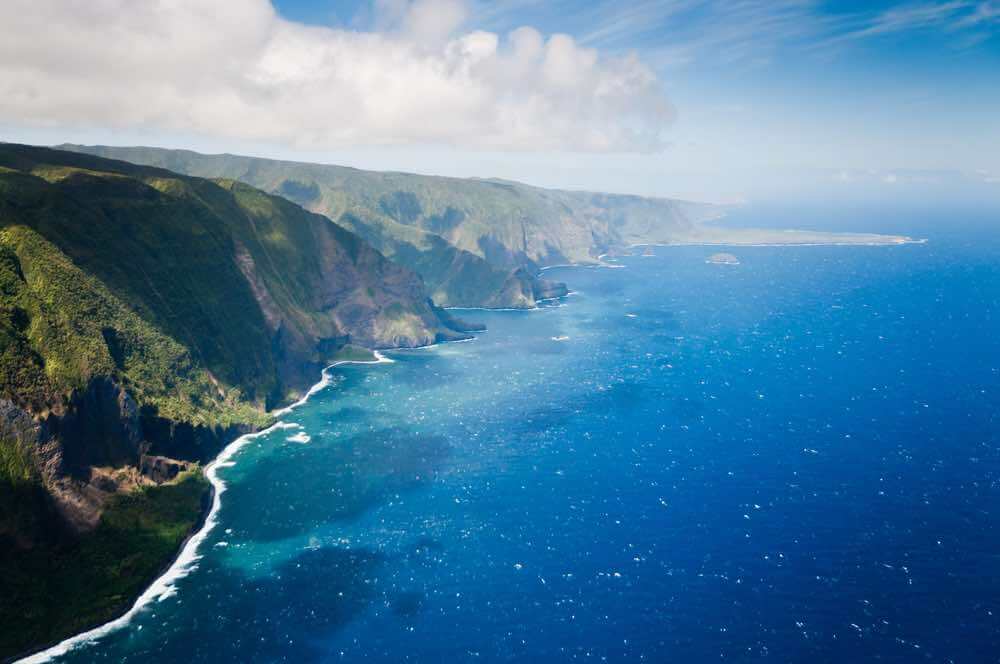 Fish Rain
If you want to see Hammerhead Sharks, you'll definitely want to head to Fish Rain on the East side of Molokai. You'll also get to see tons of tropical fish (hence the name "Fish Rain.")
Fish Bowl
Another East Molokai scuba diving spot is Fish Bowl. A lot of people dive here specifically to look for Hammerhead Sharks and Eagle Rays.
But, you'll also find coral, Octopus, and tropical fish.
Mokuho'oniki
Locals call this Molokai diving spot "the Rock" and it's perfect for people who are fascinated by World War II history.
The military heavily bombed this Hawaiian islet for military training and you might see remnants of World War II (like bombs, shrapnel, and bullets.)
You can also see cool rock structures, beatiful coral reefs, and lots of sharks.
Lanai Scuba Diving
If you are a serious scuba diver, you probably already have a Lanai Cathedrals dive on your scuba bucket list. It's an easy day trip from Maui or you can spend a few days on Lanai.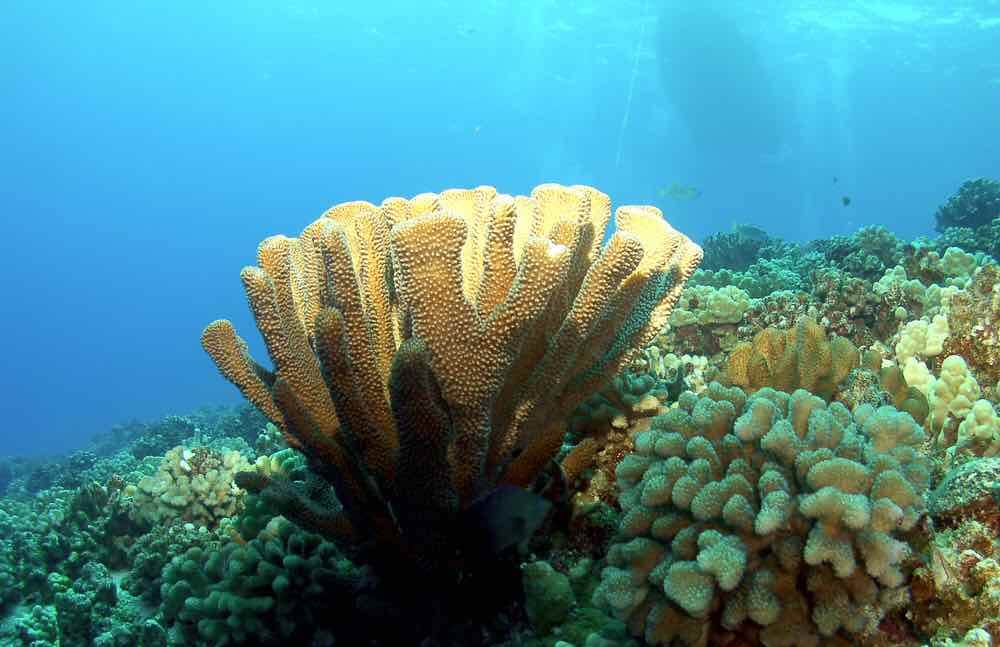 Lanai Cathedrals Dive
There's actually two cathedrals on Lanai: First Cathedral and Second Cathedral. Both are super popular and stunning underwater caverns.
This is one of the best dives sites in Hawaii! The light trickles down and illuminates all kinds of Hawaiian sea life, perfect for underwater photography.
Here, you'll find Hawaiian Sea Turtles, Reef Sharks, and Dolphins.
Lanai Scuba Diving Tours
Two Tank Lanai Diving Adventure from Lahaina
This is the best way to scuba dive on Molokai from Maui and it's perfect for families visiting Maui with teens. It's a two tank dive and you'll have plenty of time to explore the First and Second Cathedral.
Your family will get a kick out of diving through lava tubes, archways, and tons of tropical fish. Plus, they will provide breakfast.
Kids must be at least 12 years old and must be an Open Water diver. Find the best rates here.
Book This Lanai Scuba Diving Tour
Safe Scuba Diving in Hawaii Checklist
Scuba diving is an exhilarating sport and a window into a new world. Make sure you dive problem-free by preparing carefully and knowing your limits.
Problems in scuba diving can escalate quickly. One small issue can turn into a couple of slightly bigger issues, and those can turn into a disaster.
Learn to pay attention to the small things ahead of time so you can deal with them and minimize the chance of a major problem.
One day, when you have hundreds of safe and wonderful dives in your logbook, you'll be glad you did.
Here are 5 things to consider before any Hawaii scuba dive: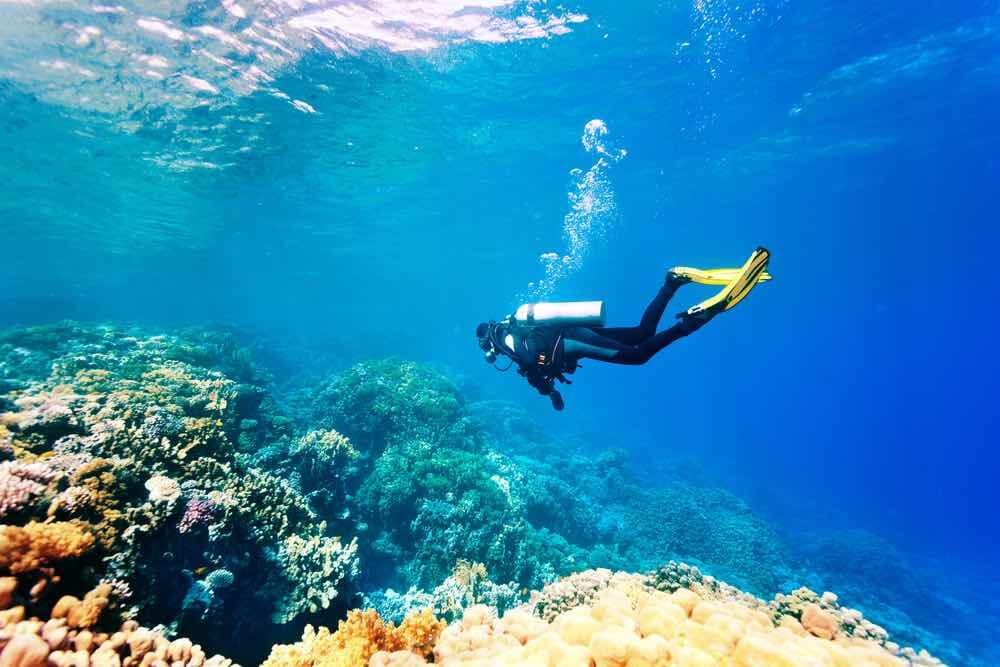 1. How Do You Feel?
A day of diving can easily be ruined by illness. It only takes a little congestion to prevent equalization, causing the most common diving injury, ear barotrauma.
If you are tired, hung-over, or dehydrated, you're more susceptible to decompression sickness and less ready to deal with unexpected situations underwater.
Even if you're on vacation and you've been looking forward to the trip, give yourself a break and wait for the next day.
As great as Hawaii diving can be, it's not worth health complications that are easily prevented.
2. Do You Have All Your Equipment and is it Working Correctly?
Whether you're leaving your house or a hotel room, take a few minutes to check your dive bag before you leave.
Verify that you have all the things you need for your dive. It's easy to walk out the door without something small but essential, like your dive watch or dive computer.
Once you arrive at your dive site or you're on the boat set up, check the function of your equipment as you put it together.
Don't ignore potential problems.
It's a good idea to carry a small kit with spare parts and basic tools so you can make simple repairs on the spot. If you're diving with a commercial operator, they probably have parts and tools with them also.
If you have an equipment issue and you can't fix it or rent or borrow a replacement, know when to cancel the dive.
Diver training organizations teach buddy checks.
Once you're ready to go in the water, take a couple of minutes to go over the equipment with your buddy. Each one makes sure the other has all the necessary gear in working order before the dive begins.
3. How Will You Communicate and Where are You Going?
If you're diving in Hawaii with a buddy only, agree on hand signals and a dive plan before you hit the water.
If you're diving with a dive guide, listen to the briefing before the dive.
It's inevitable that the person who is not paying attention during the briefing is the one who jumps in the water and swims in the wrong direction.
A professional divemaster or instructor leading a group will review hand signals and dive procedures before every dive.
4. Does Someone Know Where You Are?
If you are diving in Hawaii on your own with friends, have you told someone where you are and when you'll be back?
If you're diving with a commercial operator, do they have a method for accounting for all the divers in the group?
Were you asked to take a tag with you and return it when you return to the boat?
Did they do a roll call before the boat left the dock?
The movie Open Water was an exaggerated Hollywood story, but it's up to you to be comfortable that the dive operation knows where you are, so nothing like that ever happens.
Once you're in the water, do you have a way of signaling someone if you have a problem? Are you carrying a whistle, mirror, or safety tube so you can get someone's attention?
5. Does Your Dive Match Your Training and Experience?
Be smart. Don't try a dive that's way beyond your level. Gradually increase your skill level.
Try a dive with a more experienced diver that's slightly more advanced than what you're used to.
Sign up for a class to experience new types of dives.
If it's been a while since your last dive, take a refresher class or dive with a guide the first dive or two.
And if something unexpected happens, remember to stop, breathe, think, and then act. This is important because if you are still breathing, you have time to handle the situation.
All the preparation you've gone through makes it less likely there will be a problem.
This may seem like a long list, but once you make it a part of every dive, it will become routine. Committing to careful preparation results in safe and fun scuba diving.
And isn't fun what diving is supposed to be all about?