Hoping to do some snorkeling on Oahu? Here are the 7 best places for Oahu snorkeling you'll want to add to your Oahu itinerary, keep scrolling down for all the info!
This best snorkeling on Oahu post was originally published November 25, 2019 and was updated October 31, 2021 and contains affiliate links which means if you purchase something from one of my affiliate links, I may earn a small commission that goes back into maintaining this blog.
If you are going to see everything in Oahu that means seeing what's in the beautiful ocean.
A snorkeling adventure in Oahu is one of those things that is going to change the way you think about Oahu.
Sure, you've seen some amazing things, but you've never seen anything like this. Some of the best places for snorkeling in Oahu include places you never would have thought of.
Snorkeling in Hawaii is such a perfect way to see marine life the way it was meant to be seen.
Snorkeling means you can swim close to the surface of the water, which means you can see a lot! The unique thing about snorkeling is that the gear is very lightweight and easy to swim with.
If you have never snorkeled before, this is an activity that doesn't require a lot of experience.
So, let's dive in (get it?) with my top Oahu snorkeling spots!
And be sure to check out 101 things to do on Oahu with kids!
Want to skip all the planning and just access my detailed Oahu Itinerary complete with daily schedules, kid-friendly activities, and travel hacks? Click the button below.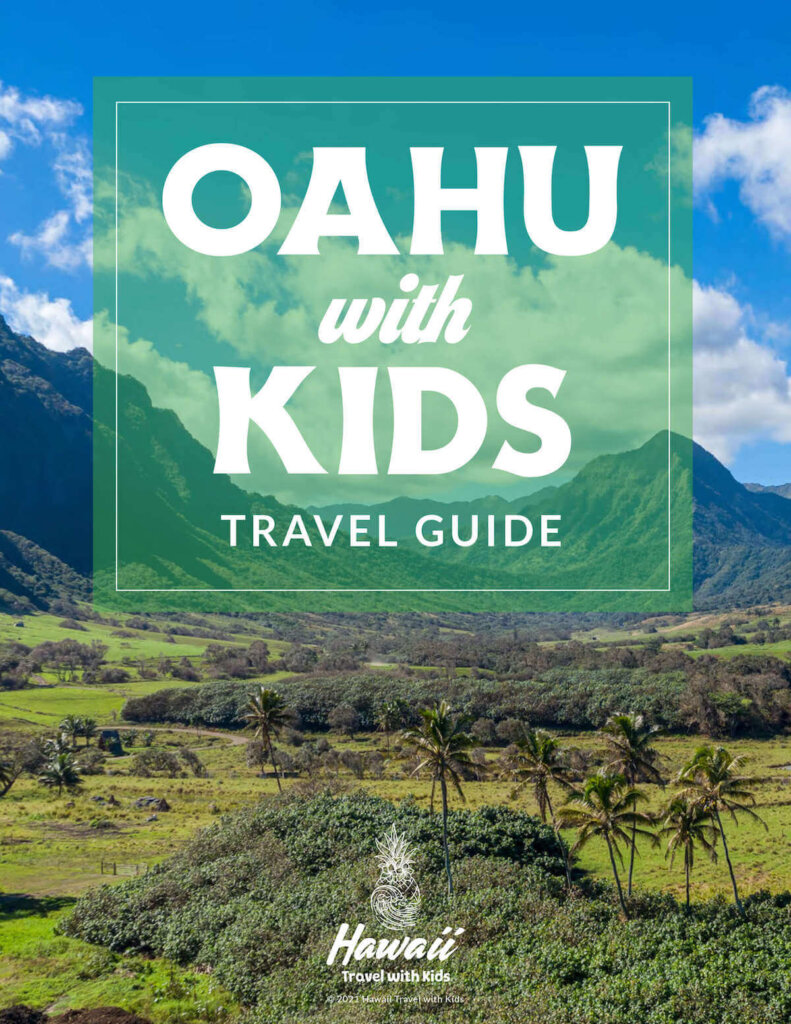 Oahu Snorkeling FAQs
Does Oahu have good snorkeling?
For sure! And there are beaches perfect for all snorkeling levels. And Oahu also has some cool diving spots.
Where can I snorkel with turtles on Oahu?
You can visit Turtle Beach on your own for a good chance at seeing turtles in the wild. Or, you can join a snorkeling tour from Waikiki or Honolulu to take you directly to Hawaiian Green Sea Turtles.
Where can you snorkel in Winter on Oahu?
North Shore waves are really rough in the winter, making it nearly impossible to snorkel up there. Instead, head to Hanauma Bay or Shark's Cove for calmer water.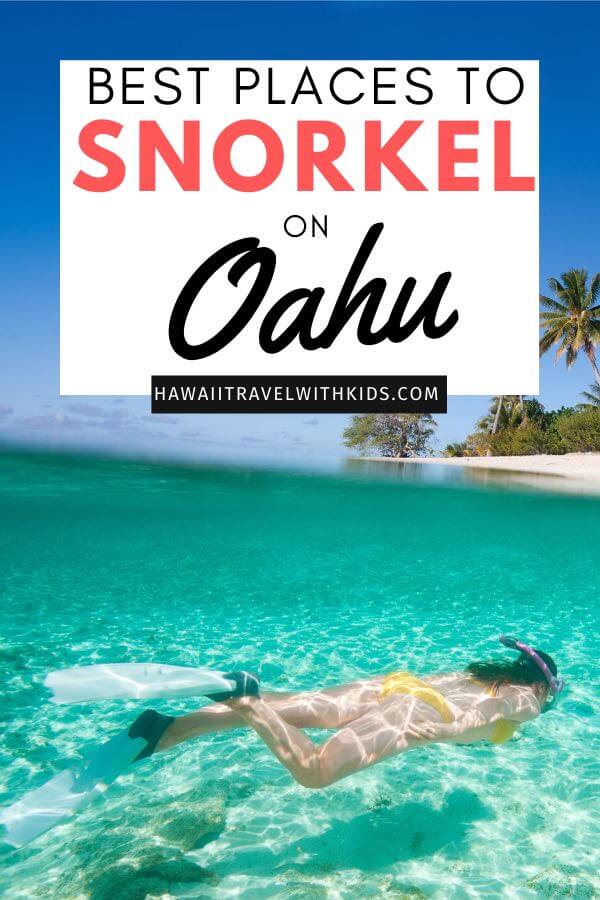 Top 7 Places for the Best Snorkeling on Oahu
Snorkeling on Oahu is a popular activity because what lies beneath the ocean that surrounds this Island is simply amazing.
Turtles, stingrays, tropical fish, and so much more. Snorkeling allows you to see marine life only a few feet away from you.
Your eyes will experience so much more than you'd be able to on a boat. Most people want the full experience when they are visiting Oahu and snorkeling is one way to do that.
1. KAHE POINT BEACH PARK
This great snorkeling spot is located between Nanakuli and Ko Olina on the west coast of Oahu.
The really unique part of Kahe Point Beach Park is that you can dive and snorkel all in the same spot. If you have a desire to do both, great! If not, you can do one or the other.
While there are no lifeguards in this area, it is said that a unique sea life is present here.
As you snorkel in the crystal clear waters, you get to experience seeing fish and other sea life you would otherwise have missed.
2. SHARK'S COVE
Although this sounds like the last place you would want to get into the water, Shark's Cove is a very popular place to snorkel.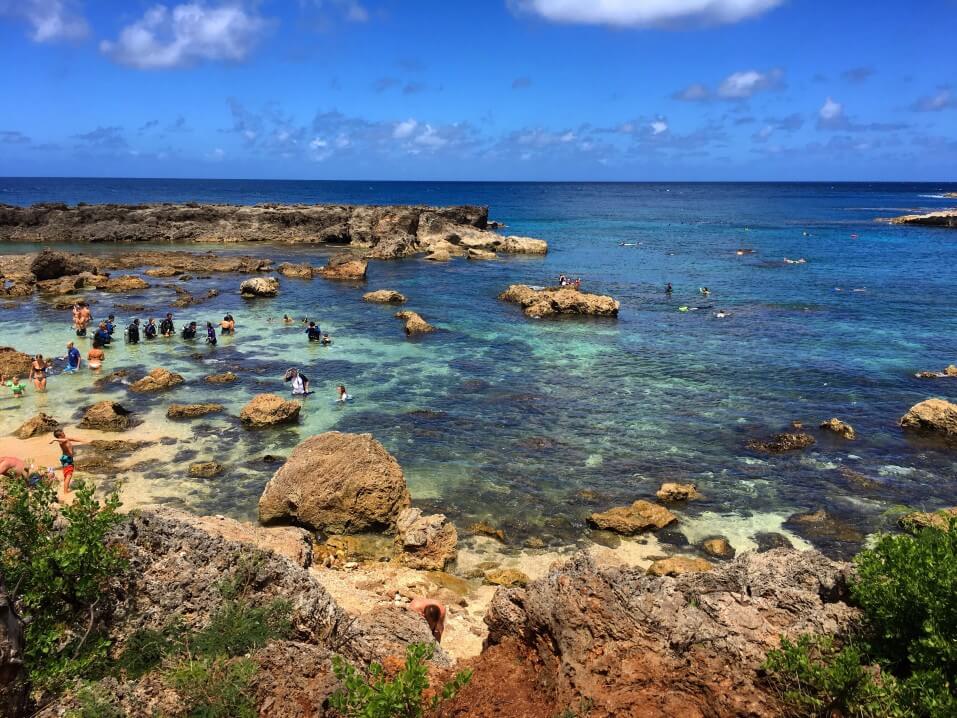 This is one of the best places for snorkeling in Oahu because it's located between Banzai Pipeline and Waimea Bay on Oahu's North Shore.
One of the reasons Shark's Cove is so popular is because of the calm waters.
The marine life located here is also mesmerizing, and because of the amazing visibility in the water, you won't miss a thing.
Shark's Cove is a stealthy tourist spot, but it's one of the best spots for snorkeling in this area.
3. KUILIMA COVE (TURTLE BAY)
Next up on one of the best places for snorkeling in Oahu is Kuilima Cove. Many people would say that this cover is ideal for people who are new to snorkeling.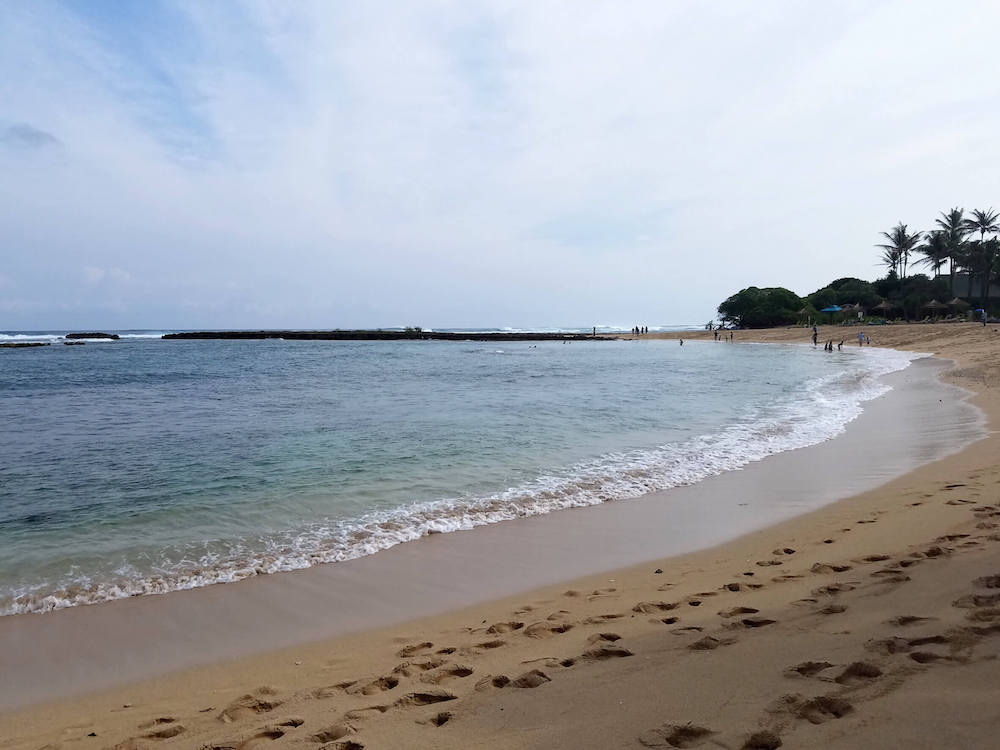 If you are staying at the Turtle Bay Resort and are looking for a place that is close to you, this is probably the place!
Rumor has it that this is one of the best-maintained snorkeling areas because of its location.
The local hotels maintain this area, but it's open to anyone who wants to snorkel.
If you are staying in this area, you will find access to Kuilima Cove easy. It's the best place to snorkel in Oahu for beginners.
4. THREE TABLES
Three Tables is also located to Shark's Cove and it is located on Oahu's North Shore.
The thing about snorkeling at Three Tables is that it is recommended for those who have more experience with snorkeling.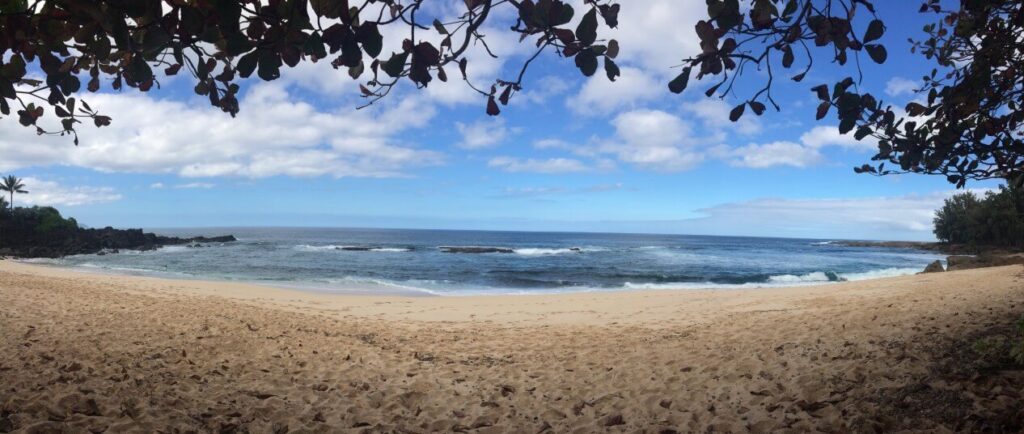 There are days when Three Tables experiences very heavy currents, you will not want to be in the water when this occurs.
While you are snorkeling, you will also get access to tons of different fish.
The local laws do not allow fishing in this area, so you have lots to see, as you go through this area snorkeling.
5. TURTLE CANYON
Are you looking for an awesome place in Oahu to continue your snorkeling experience?
You will want to check out Turtle Canyon. This spot one that you can only get to by boat.
It's common to see turtles come to this reef, they will eat and rest on the reef. This makes for an awesome snorkeling experience for you.
Turtle Canyon is a great spot to snorkel because you get to see a turtle life up close and personal.
There are also companies that will take you on a turtle snorkeling adventure.
6. WAIMEA BAY
If you have never been snorkeling on Oahu, then you are missing out. Waimea Bay is the perfect place to experience snorkeling session.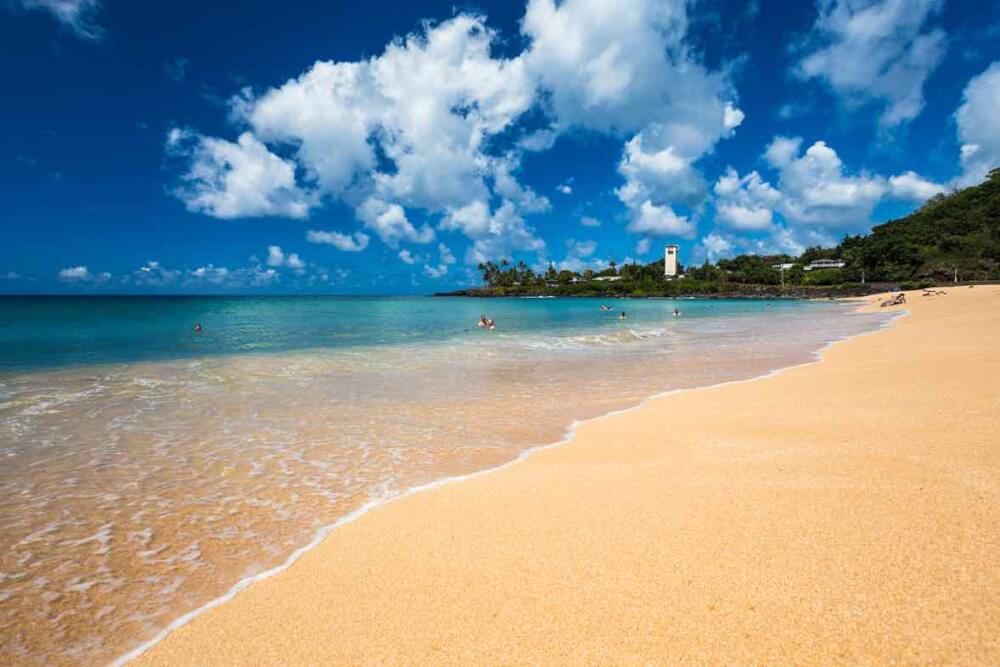 Rumor has it that this place is pure heaven in the summertime for snorkeling.
The waters are calm and the dolphins hang out here in the early morning. You will get to see tropical fish, seals, turtles, dolphins and whatever else this adventure brings you.
Keep in mind that Waimea Bay can be dangerous in the winter months, with waves reaching almost 40 feet.
7. WAIANAE COAST
Another top place for snorkeling on Oahu is the Waianae Coast. This part of Hawaii is so beautiful and breathtaking.
Experts recommend checking the surfing report before you head out.
While this is a great place for snorkeling, it's also said this area is great for checking out by boat.
You will be able to see tons of fish and even whales on this side of the Island. You can also see stingrays and eels near the Waianae Coast.
If you have never been snorkeling before this is a good place to start.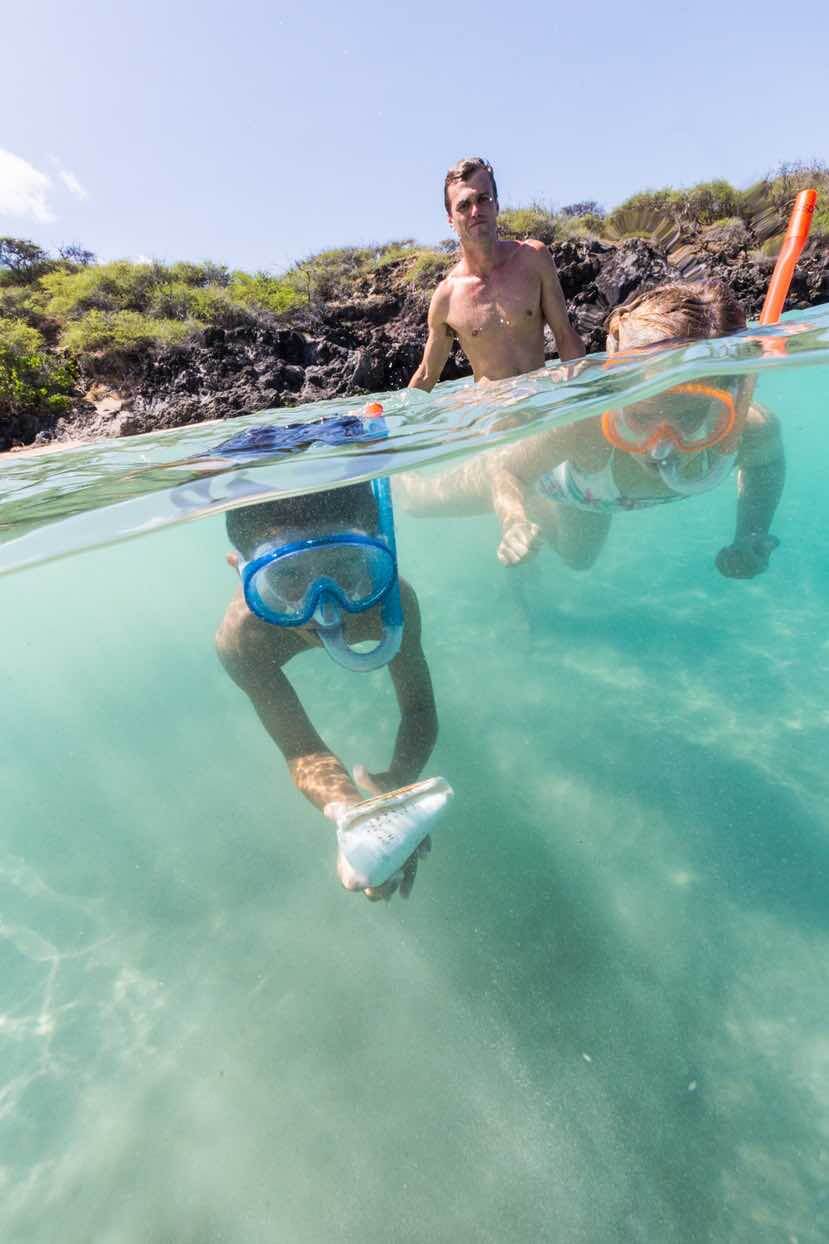 Best Snorkeling on Oahu: 5 Top Tours
Don't want to jump into the waters of Hawaii without having someone help you? There are some awesome snorkeling tours available in Oahu.
OAHU SNORKEL CRUISE
Swim within safe viewing distance to dolphins and green sea turtles on this popular Oahu snorkel cruise from Honolulu. Check out the latest prices and more details.
After a traditional Hawaiian ceremony wishing you a safe journey, sail into waters home to spinner dolphins, and then glide alongside colorful fish.
Get discounted Oahu Snorkel Cruise tickets
OAHU SHARK DIVE
Set out from Oahu's scenic North Shore to the depths of the big blue Pacific, where you'll have the chance to observe wild sharks from inside an underwater shark cage. Check out the latest prices and more details.
Whether you're in the cage with sharks right in front of you or watching from up in the boat, Oahu shark diving is a Hawaii activity you'll definitely never forget.
Get discounted Oahu Shark Dive tickets
TURTLE CANYON SNORKEL TOUR
Board a power catamaran and sail along the shore of Oahu towards the island's best place to spot the resident turtles. Check out the latest prices and more details.
Turtle sightings are guaranteed; if a turtle is not sighted, you will be given a free second cruise.
Get discounted Turtle Canyon Snorkel Tours
OAHU SUBMARINE SCOOTER ADVENTURE
Ride a personal, self-propelled, electric underwater scooter through Oahu's underwater world. Check out the latest prices and more details.
During this 2-hour tour, cruise past Diamond Head Crater through Maunalua Bay on a power catamaran, then dive under the surface on your scooter to see green sea turtles, schools of tropical fish and other native marine life.
Get discounted Oahu Submarine Scooter Adventure tickets
CAPTAIN BOB'S KANEOHE BAY SANDBAR SNORKEL
The Kaneohe Bay Sandbar is one of Oahu's best-kept secrets. This is a 4 hour tour where you'll get a fun boat ride, a Hawaiian-style BBQ lunch, and snorkel in a pristine tropical reef.
You can also go swimming, play water volleyball, or float around on the water. Check out the latest prices and more details.
Get discounted Kaneohe Sandbar Snorkeling Tour tickets
Snorkeling Oahu Wrap Up
And now you know where to find some of the best snorkeling in Oahu, Hawaii.
As you can see, snorkeling on Oahu is an excellent idea for an adventure. There is no shortage of spots to go snorkeling and there are plenty of companies to take you on the adventure that you desire.
I hope you found some best places to snorkel in Oahu with your family!