If you love gorgeous tropical flowers and cascading waterfalls, Oahu is a photographer's dream! Find out some of the most beautiful places on Oahu that will make you fall in love with Hawaii!
This most beautiful places to go in Oahu post was originally written September 29, 2019 and was updated March 28, 2022 and contains affiliate links which means if you purchase something from one of my affiliate links, I may earn a small commission that goes back into maintaining this blog.
When you think of Hawaii, you probably are picturing lush, green mountains and golden, sandy beaches.
Oahu is one of the best Hawaiian islands for photographers because it has such a variety of beautiful backdrops and amazing Oahu attractions.
From enchanting hiking trails and beautiful farms to tranquil beaches and awe-inspiring temples, Oahu is home to a seemingly limitless supply of magical places most people only dream of.
These 13 most beautiful places to visit in Oahu are simply awe-inspiring and will definitely have you doing a double-take to decide if that vision of beauty is real or just a figment of your imagination.
You'll definitely want to hit up these Oahu island attractions for the best views in Oahu! These are seriously the best Oahu Instagram spots!
First trip to Oahu? Get my top Oahu travel tips!
Want to skip all the planning and just access my detailed Oahu Itinerary complete with daily schedules, kid-friendly activities, and travel hacks? Click the button below.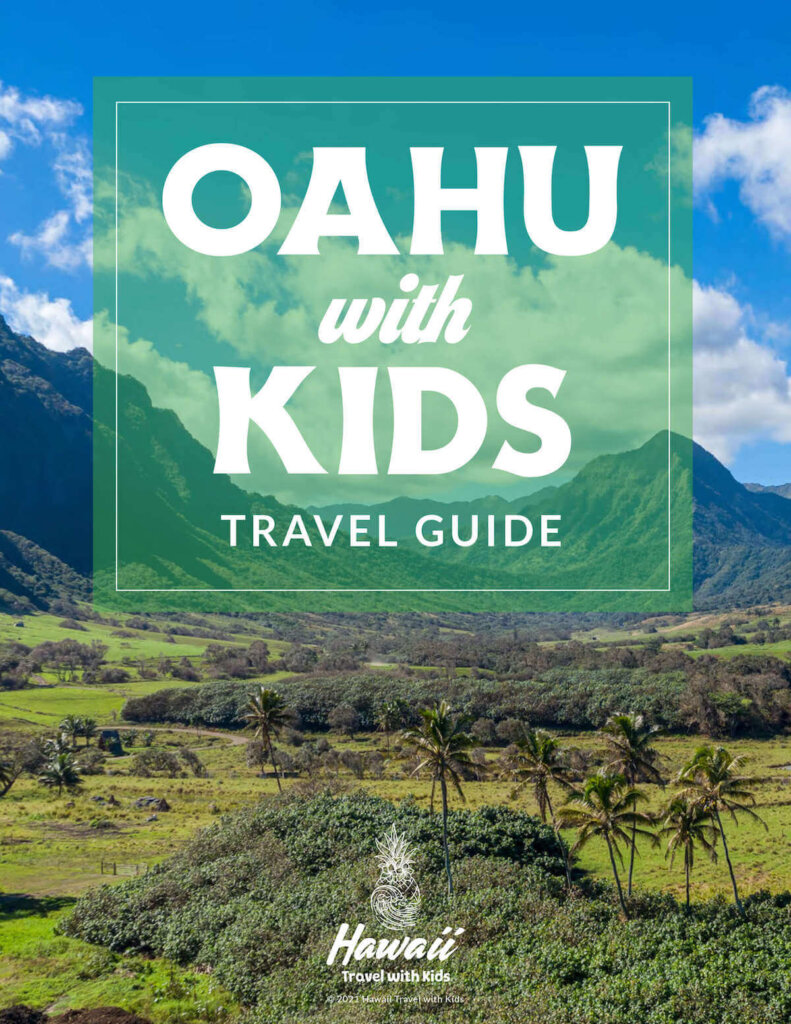 Beautiful Places on Oahu FAQs
What's the top place to visit on Oahu?
Waikiki is one of the most popular Oahu places to visit and it's also really pretty. You can walk toward the Diamond Head side to get away from the crowds. But, that's just one of the best places to visit in Oahu.
Why is Oahu the best place to visit?
Oahu truly has something for every traveler. There's world-class shopping, epic hiking, incredible diving, breathtaking beaches, exciting nightlife, and more! There are awesome Honolulu tourist attractions perfect for everyone in your family.
What's the rainiest month on Oahu?
Winter is definitely the rainy season in Hawaii. If you want to minimize the chances of it raining on your Oahu vacation, aim to travel from mid-April to September.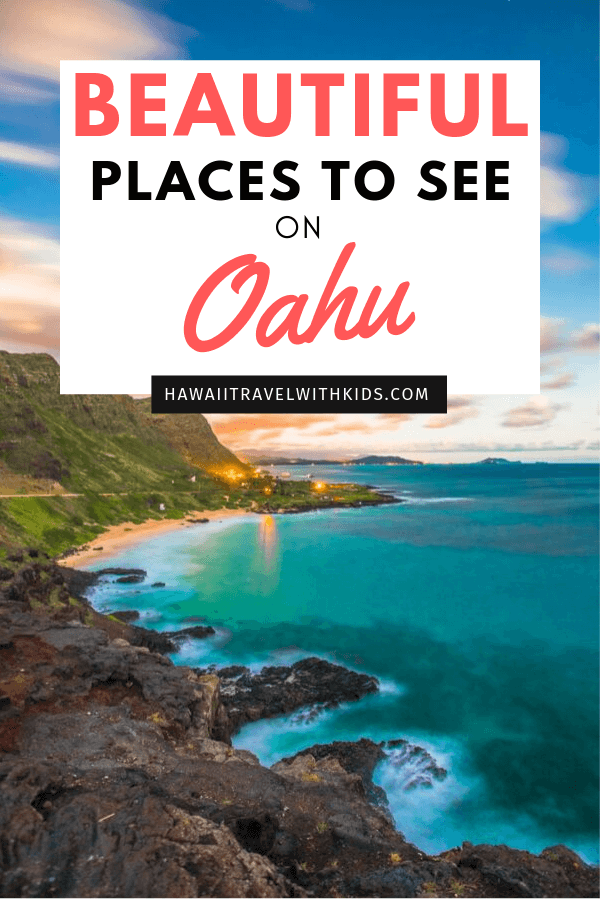 Most Beautiful Places on Oahu
Oahu is full of stunning natural wonders and scenic lookouts. You won't have to go far to snap your ultimate photo on Oahu!
1. LANAI LOOKOUT
The breathtaking Lanai Lookout is often overlooked, but it's one of the coolest Oahu island attractions.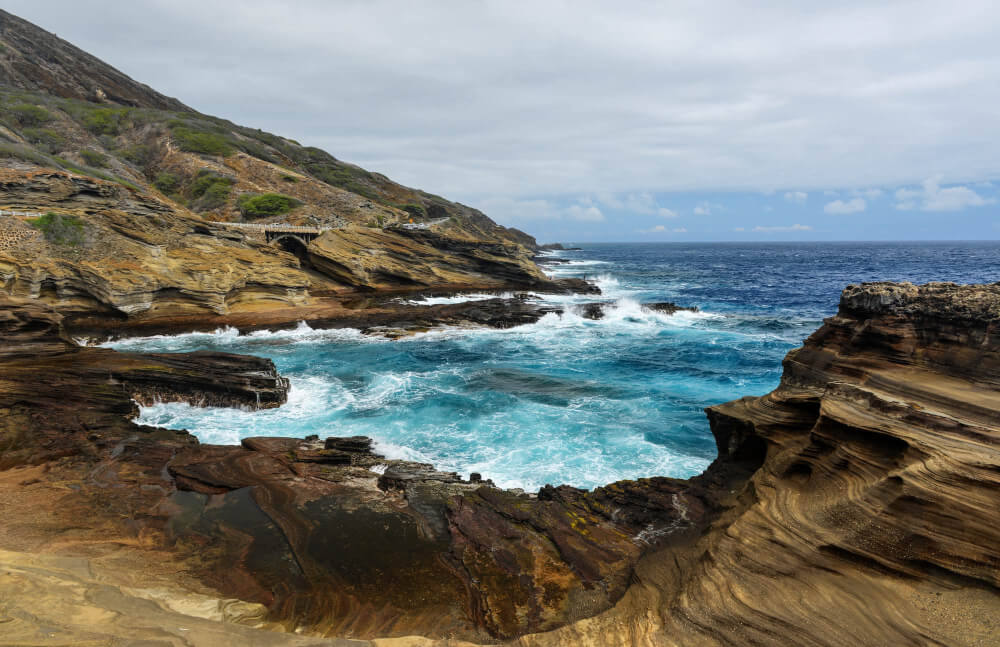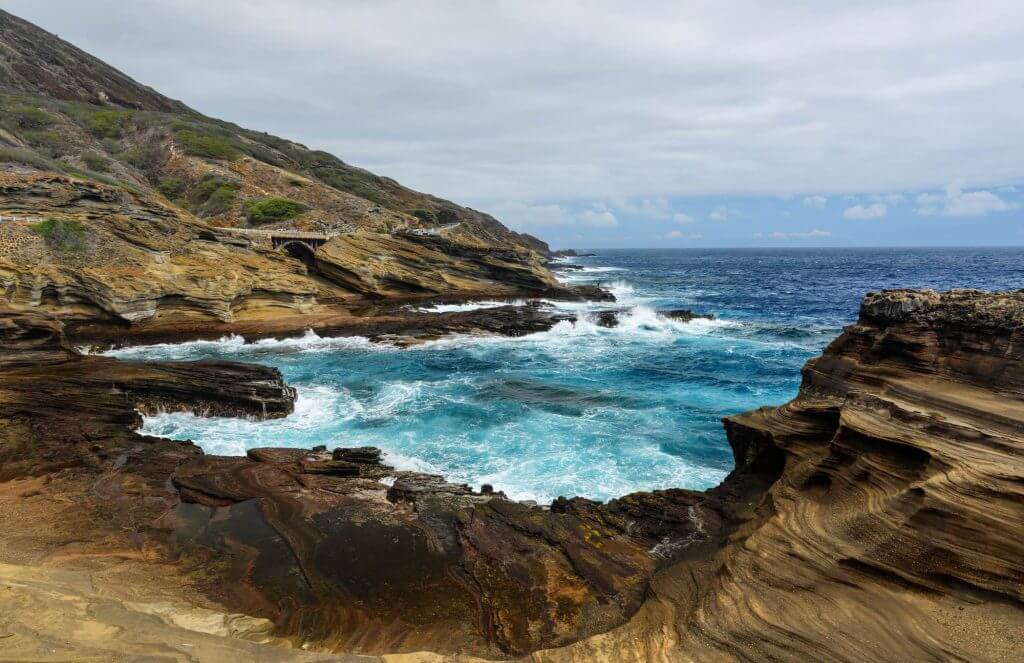 What is really special about this lookout? The stunning lava formations.
The dazzling blue waves crash into the rock formations creating one of the greatest photo opportunities on Oahu.
You may just be lucky enough to witness humpback whales frolicking off the coast!
Also known as Turtle Beach, it's hard not to become instantaneously mesmerized by the giant green sea turtles that bask in the sun and call this place home.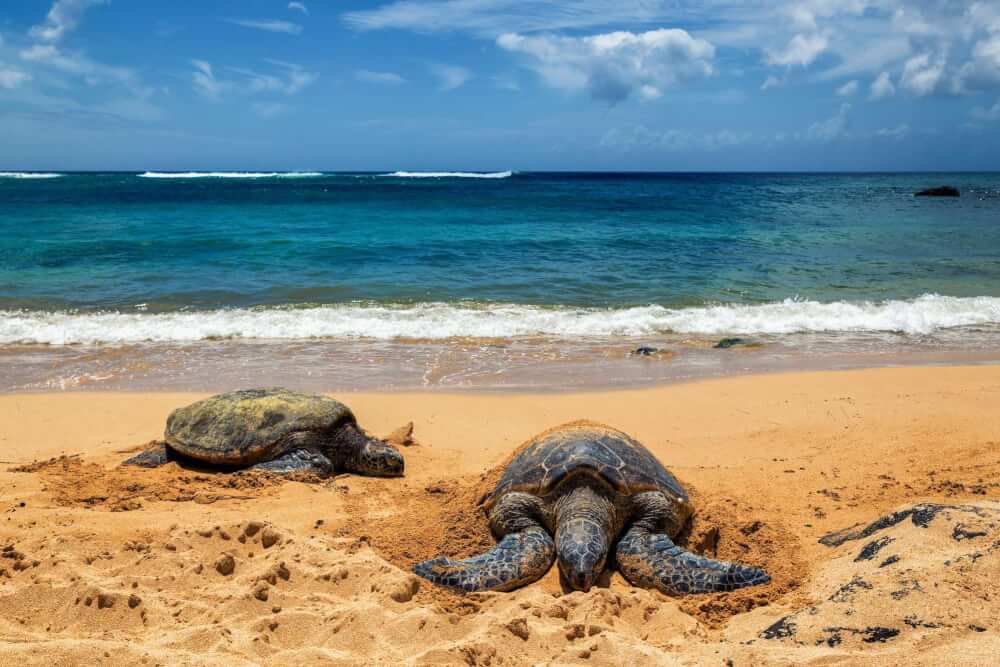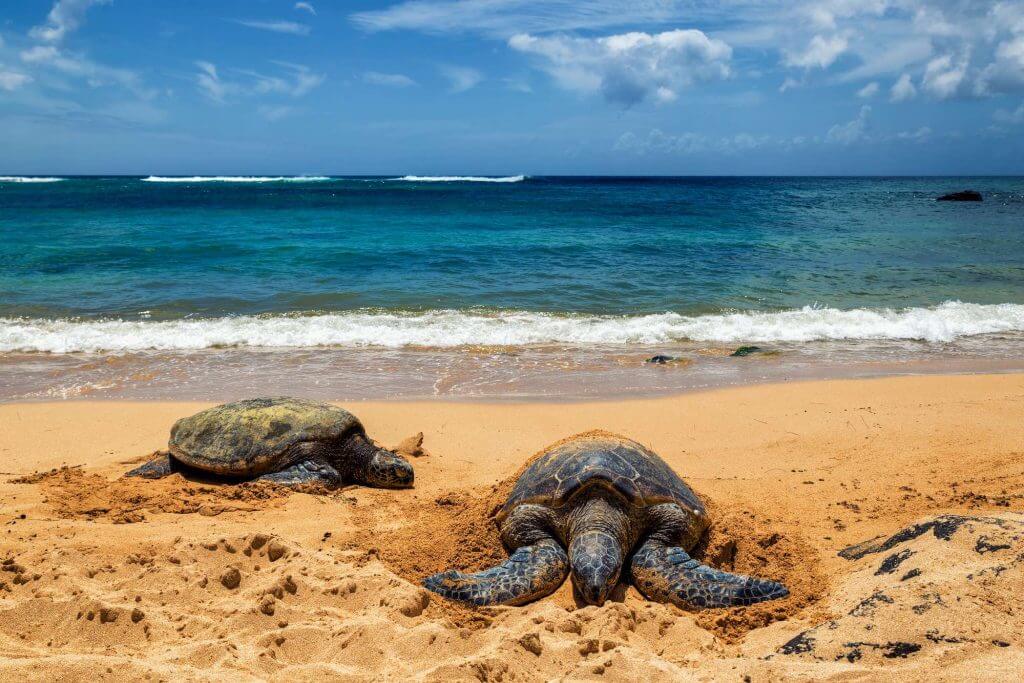 Laniakea Beach is part of the 7 Mile Miracle–a stretch of nature with an abundance of the perfect surf, sand, and shore found anywhere on Earth.
It's a place of heartbreaking beauty and absolute splendor. Plus it's a fun Instagram spot on Oahu's North Shore.
Puʻuohiʻa, also known as Tantalus, is a botanical paradise, cyclists proving ground, hikers heaven, and a birdwatcher's delight. It's also becoming one of the most Instagrammable places in Oahu.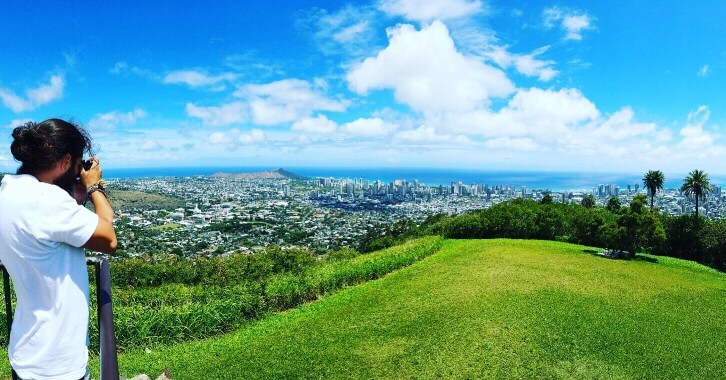 Few places on Oahu retain the mystery as Tantalus has.
A canopy of kukui and banyan trees shades the mountain's single road where mongooses race fearlessly across.
The melodic calls of shama thrush echo from trees swathed in giant philodendron leaves. It's cool, peaceful, and woodsy.
Memories from longtime residents paint a picture of the mountain in the last century as Eden-like.
Ka'a'awa Valley is one of Oahu's most beautiful valleys and is largely untouched by modern development. That's what makes it one of the top Oahu tourist attractions for photographers.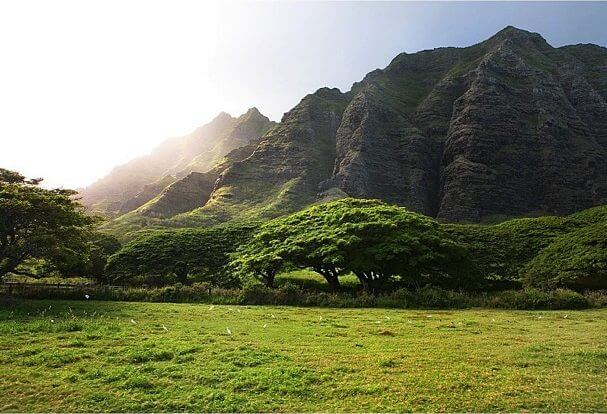 In ancient times, it was considered to be one of the most sacred places on Oahu.
The Ka'a'awa Valley has been used for location filming for more than 50 major motion pictures and television productions.
So if you feel like you're in Jurassic Park, it's because you are! Don't worry though, it was just a movie, right?
The non-denominational temple grounds are a lushly landscaped paradise nestled in a cleft of the pali.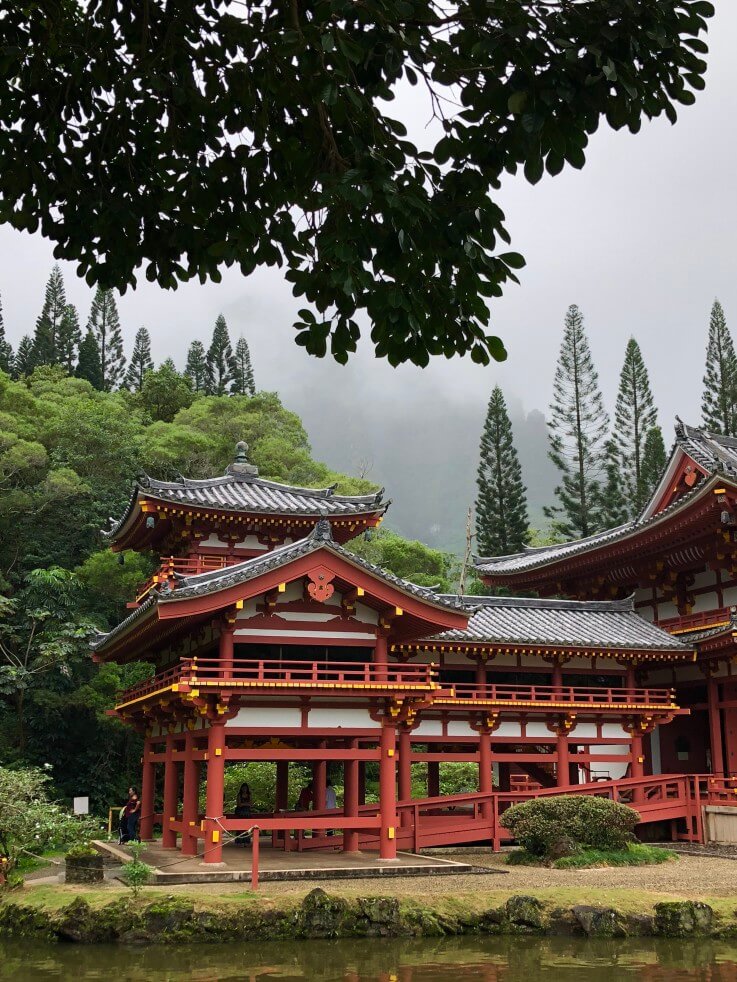 The Byodo-In Temple grounds include meditation areas, a large reflecting pond with hundreds of Japanese koi, stunning statues, small waterfalls, and a home to wild peacocks.
It's one of the best places in Oahu to just get away from it all.
Because it's hidden away and it's so gorgeous, it's a popular place to take photos of Oahu, Hawaii.
Kaneohe Sandbar is a collection of exposed islets surrounding coral reefs and is the only such place in all of Hawaii.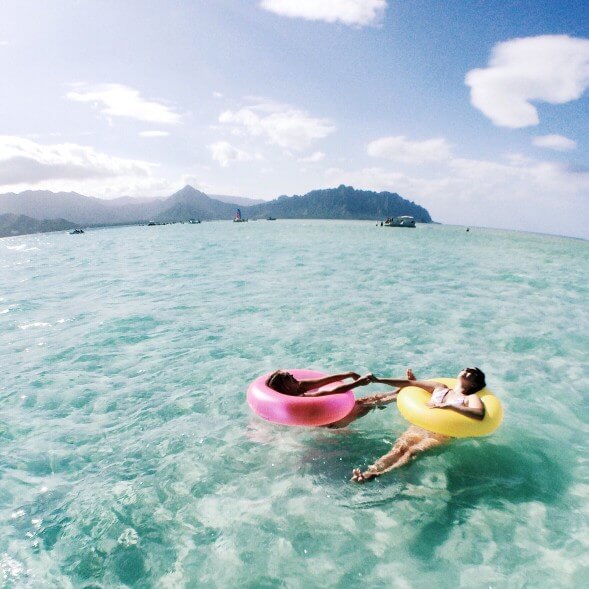 It is protected by a coral reef and shows up a beautiful bright white small beach during low tide and it can be covered with waist-high water or completely exposed during high tide.
Kaneohe sandbar is surrounded by the striking Ko'olau mountains, features crystalline turquoise waters, and fine white sand. It is truly a picturesque slice of paradise!
If you're looking for an amazing Oahu hike to a waterfall, Maunawili Falls has so much character.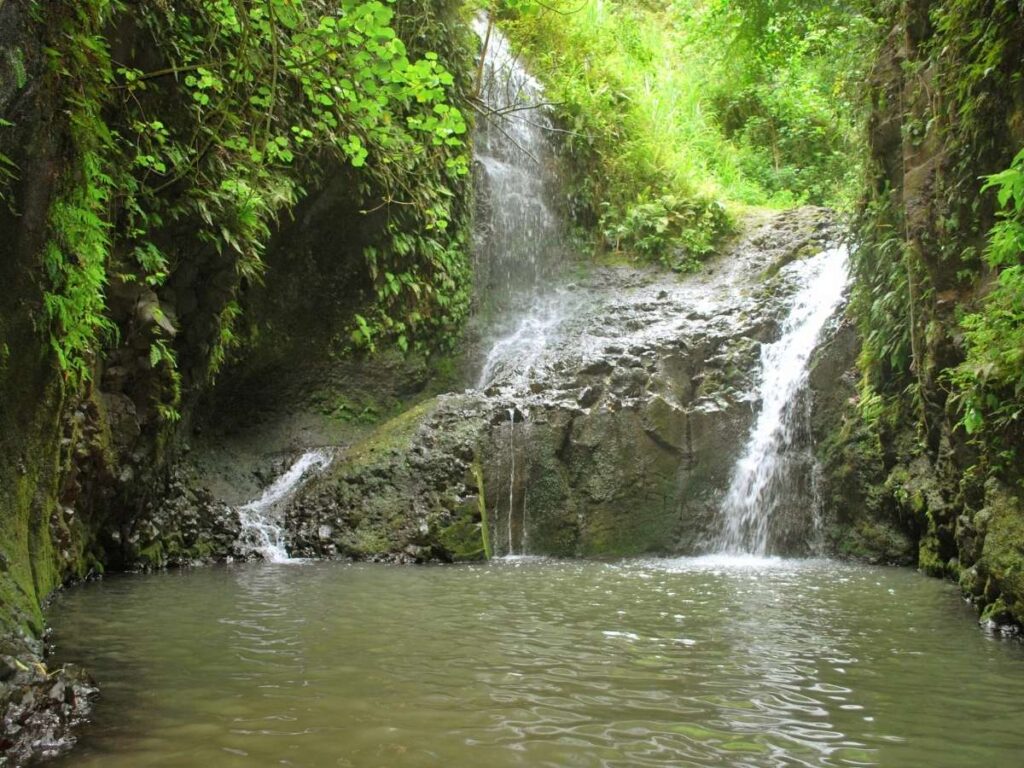 Although many Oahu waterfall hikes are gorgeous, this one is breathtaking!
It has several clearings that open up the valley to show you how deep in the midst you actually are. Truly storybook worthy.
Now, you might not necessarily consider Waikiki Beach to be "beautiful" because it can get crowded.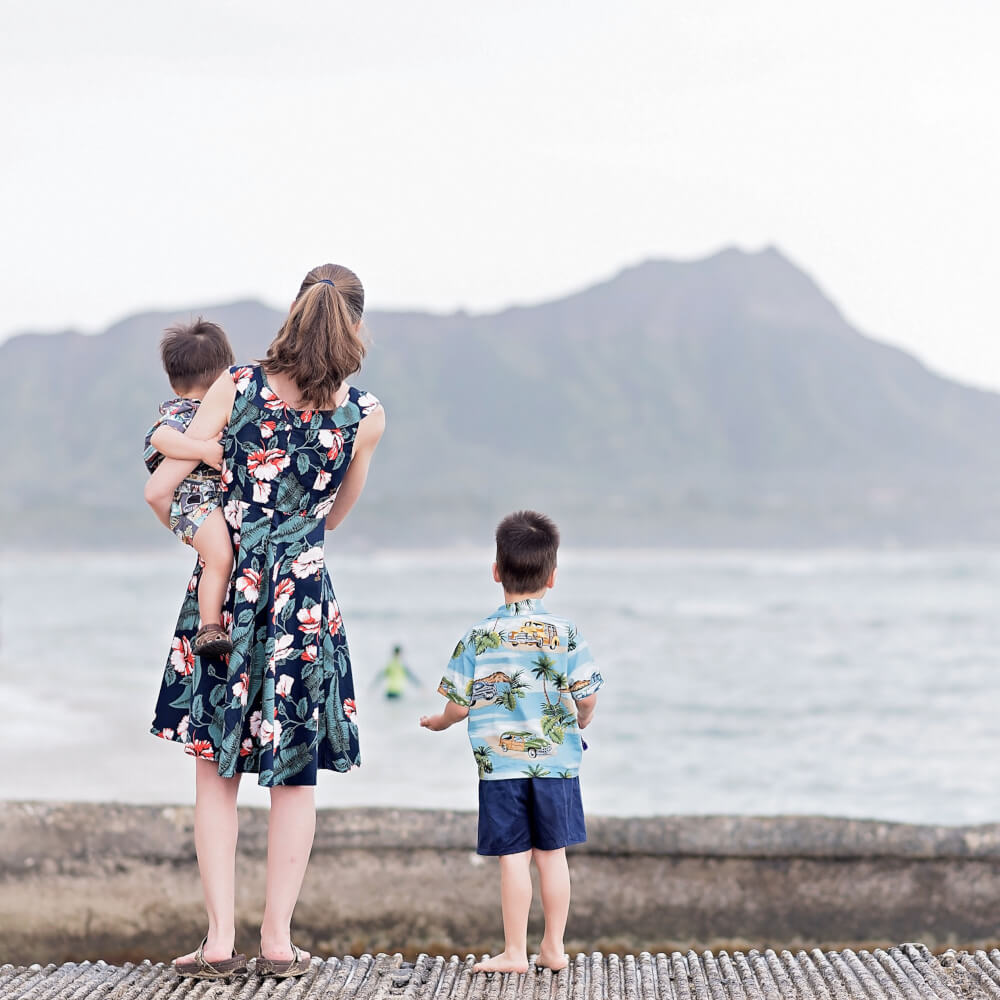 However, if you head to the Eastern part of the beach, closet to Diamond Head, you will be in for a real treat! It's actually one of my favorite places in Oahu.
Here, it's much less crowded so you'll get to enjoy this amazing beach without having to fight for a spot for your towel.
And the views of Diamond Head are simply gorgeous and it's no wonder it's one of the top Honolulu attractions!
While technically the Ka'a'awa Valley and Kualoa Ranch are in the same space, I decided to separate them for this post because I see them very individually.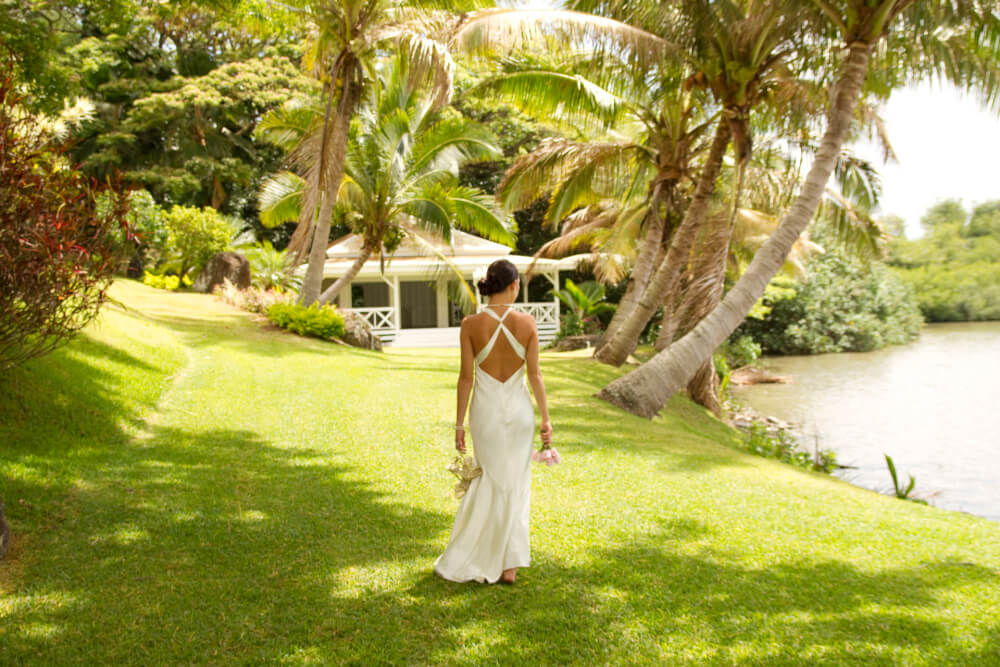 Kualoa Ranch is in the perfect spot to see mountains on one side and coastline on the other.
They have some of the best activities in Oahu, like movie tours, ATV rides, and jungle treks.
It's a popular Oahu wedding destination because it's absolutely gorgeous! And it's one of the must-do attractions in Oahu island.
If you've been drooling over Instagram photos of people standing on an empty road in Hawaii, chances are it was taken at Ho'omaluhia Botanical Garden on Oahu.
It's recently become one of the top tourist attractions in Oahu and hands down one of the top places to see in Oahu!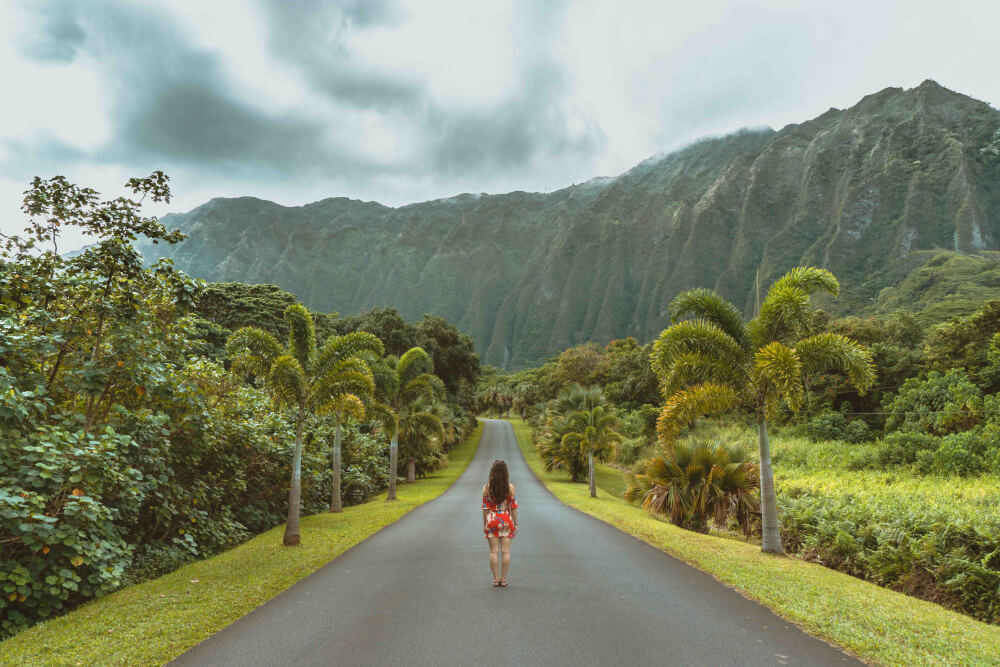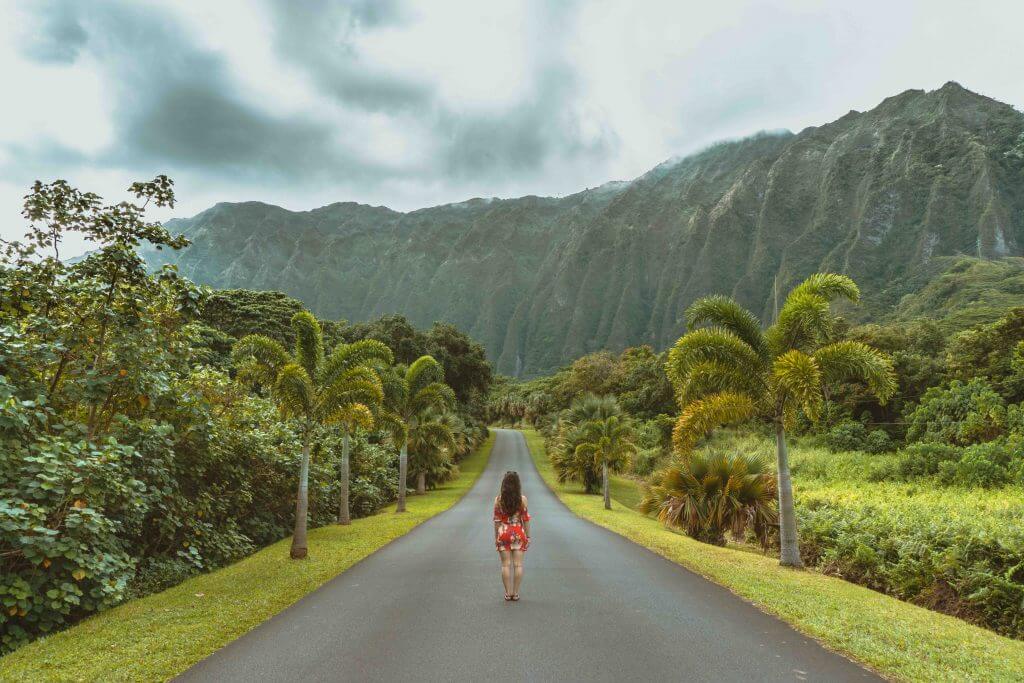 Now, technically you aren't supposed to take photos standing in the road. But, that doesn't mean it's not still one of the top beautiful Oahu Instagram spots.
Here, you'll see lush gardens right up against the mountain and it's enough to make any photographer drool a little.
There are also several other places to take photos here, like from the parking lot or service road.
It's no wonder it's one of the top attractions in Honolulu.
If you are looking for magazine-worthy places on Oahu, Crouching Lion is it. In fact, it made the cover of Hawaii Magazine!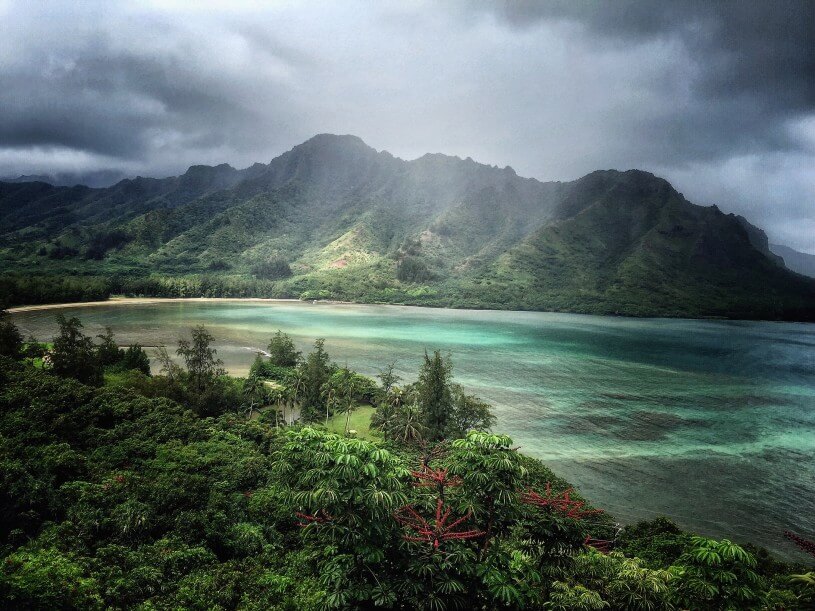 It's a bit of a hike, but even beginners will be able to climb up at least one of the two trails at Crouching Lion to get unsurpassed views of Oahu.
Now, I believe it might technically be illegal to do this hike, so keep that in mind and use your own common sense.
While this isn't a natural wonder on Oahu, it's seriously one of the most beautiful hotels in Hawaii.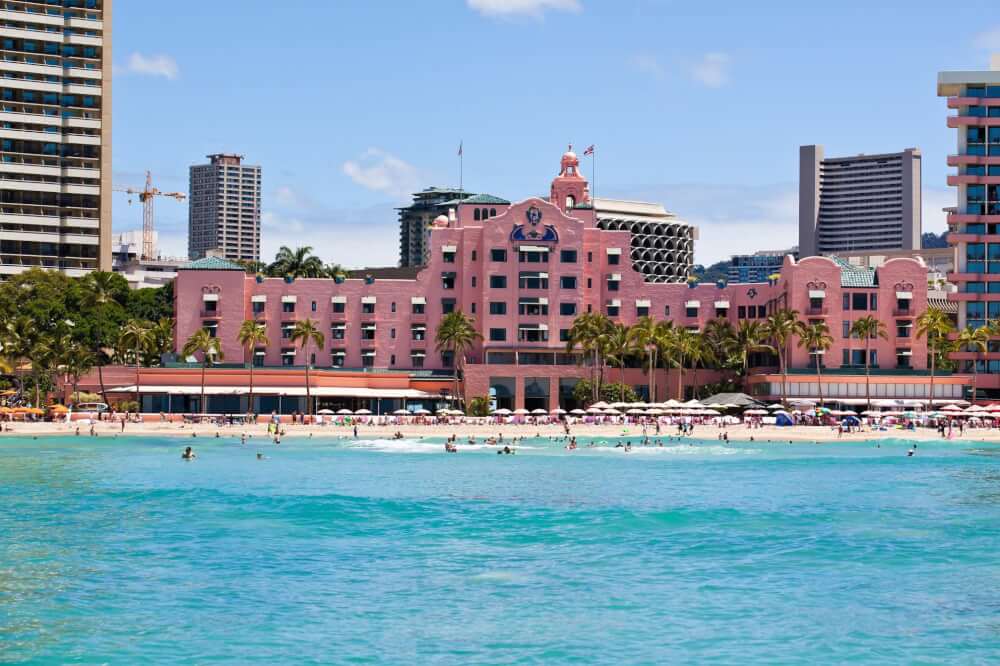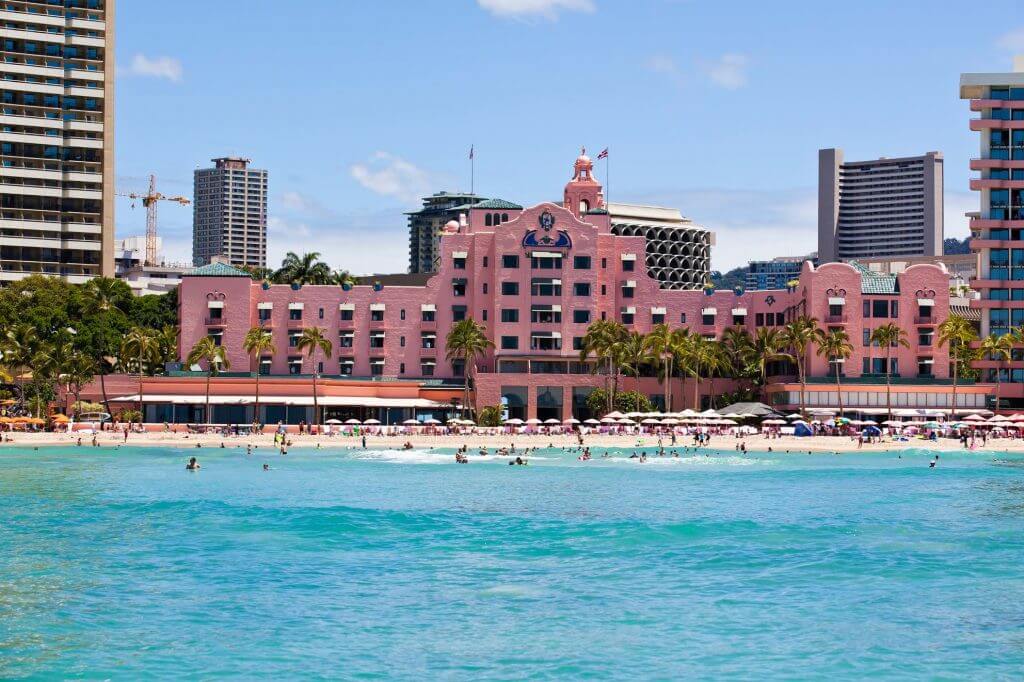 It's nicknamed the "Pink Palace" and you will truly feel like a princess when walking around the grounds. The architecture is really detailed and the lobby and the grounds are all immaculate.
It's also home to an awesome Waikiki luau that's pretty impressive!
Personally, I think this hotel is one of the prettiest places in Oahu!
If you are looking for one of the best beaches on Oahu, Kailua Beach will be at the top of your list. It's one of the best places to go in Oahu.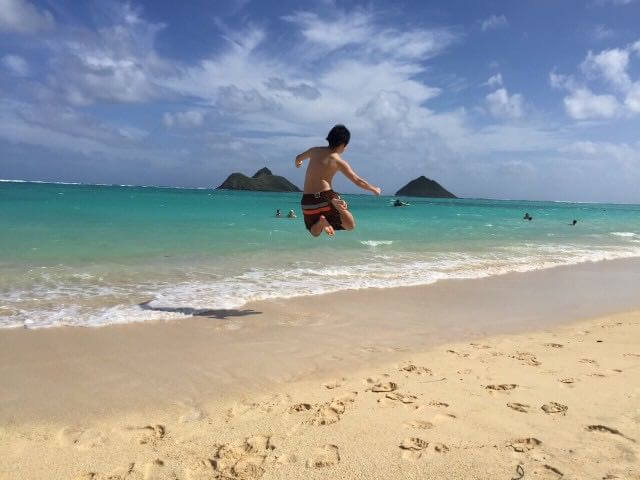 Well, I'd say it's tied with Lanikai Beach in terms of the most beautiful beach on Oahu.
Here, you'll find powdery sand and clear blue water. It's definitely a great stop on your sightseeing in Oahu tour of the island.
Plus, you can see Chinaman's Hat, a little island right off the coast.
Another amazing North Shore Oahu spot is Waimea Valley (also home to Waimea Falls). This valley actually has a cultural garden you can walk through that's really nice.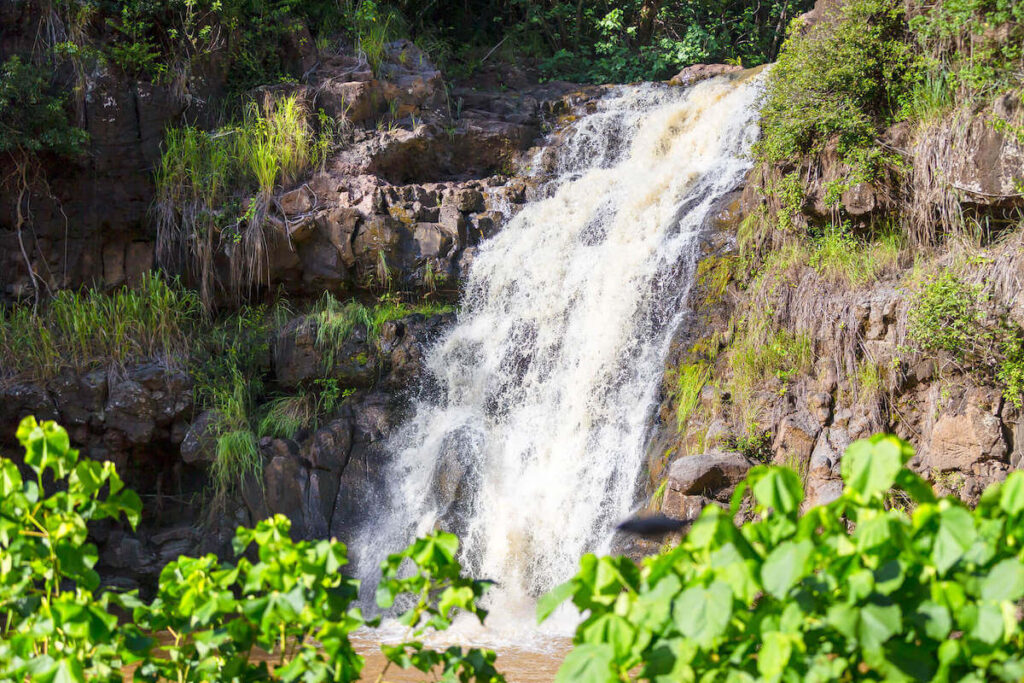 But, the reason you'll want to head to Waimea Valley is to do the short hike to Waimea Falls. This is one of the few Oahu waterfalls you can swim in.
If you're driving around Oahu on a circle island tour, you'll definitely want to park at Pali Lookout to take in the epic view.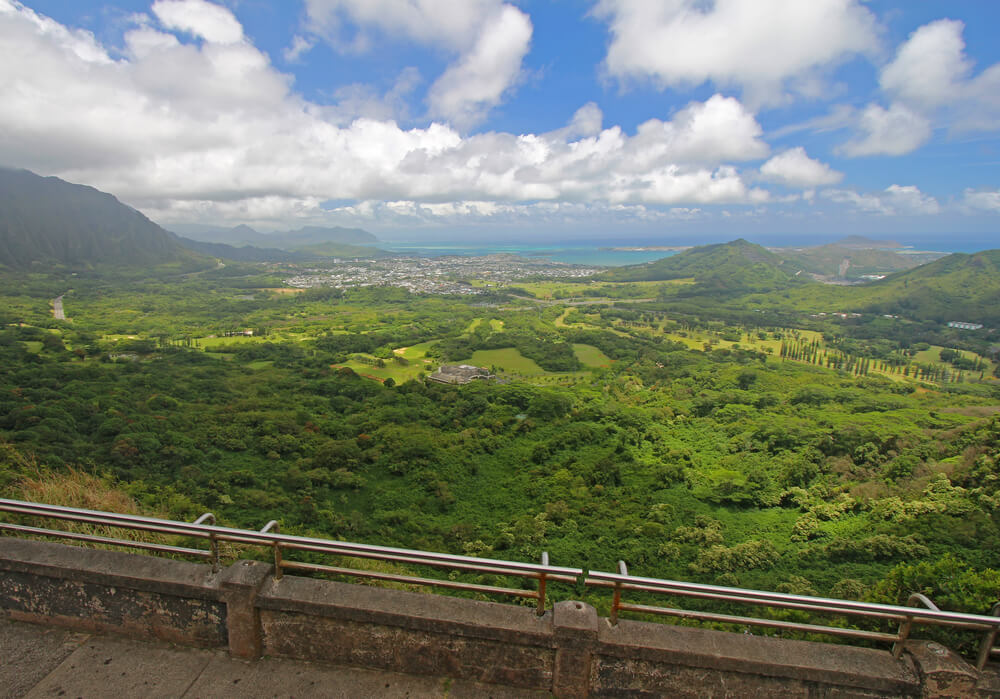 This place is full of Hawaiian battle history and that's worth the stop alone. However, it's also just an incredibly gorgeous view of Oahu.
I will warn you, this is a VERY windy spot and it may feel like you'll fly away. But, that's also fun for photos!
If you really want to take advantage of the most beautiful places to visit on Oahu, you should consider hiring a vacation photographer. Check out the latest prices and more details.
While we've used a lot of Oahu vacation photographers throughout the years, some of my favorite experiences have been through Flytographer.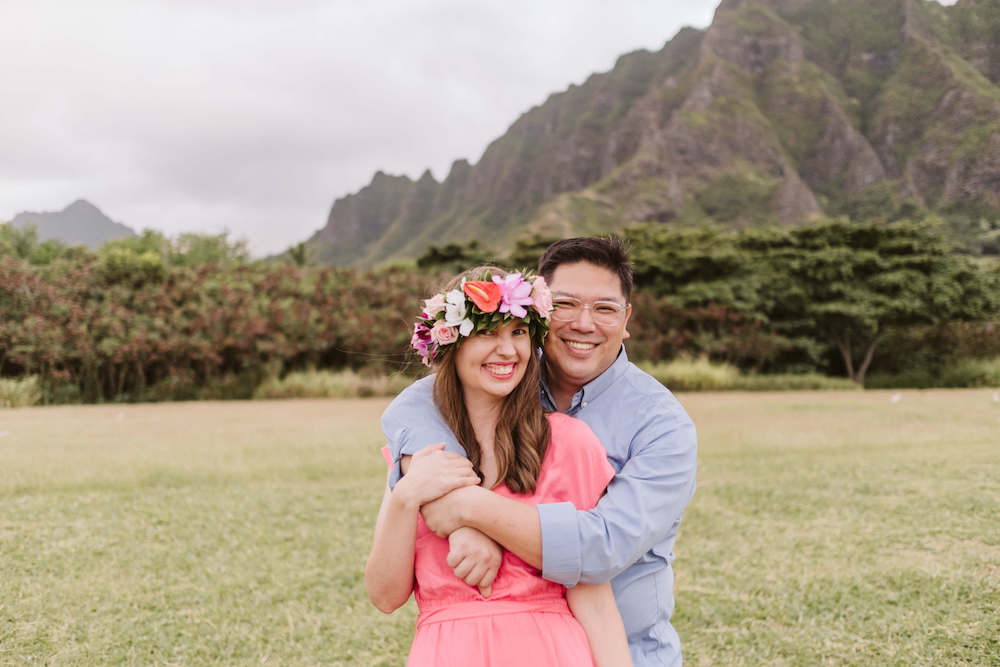 They are a concierge vacation photography website where you can find photographers almost anywhere in the world. Check out our Oahu photoshoot HERE.
Flytographer makes it easy to choose the right photographer for your vacation destination. You can read all about their photography style, favorite places to shoot, and scroll through their portfolio.
And the booking process is simple and quick. Choose the photographer you like and pick your preferred dates. Then, Flytographer will check availability and get back to you with a proposed plan.
If your favorite photographer isn't available, they will check to see if another photographer can do your shoot.
What I love most about Flytographer is that they are FAST! We sometimes receive our photos before the end of our trip!
First-timers will save $25 off their first Flytographer photoshoot if they use my affiliate link.
They specialize in proposals, engagement, maternity, and family photography. It's perfect for anniversaries, special occasions, or simply because! And you can meet that at any beach or cool attractions in Oahu.
Prettiest Places to See in Oahu Wrap Up
And there you have some of my favorite beautiful places in Oahu! Whether you are looking for Hawaii points of interest, Oahu secret spots, or the best Oahu Instagram spots, we have you covered!