Are you planning a trip to Maui but aren't sure how to get to Lahaina from the airport? Keep scrolling to find out how to get from Kahului Airport to Lahaina.
This guide to how to get from Kahului Airport to Lahaina was written by Hawaii travel expert Marcie Cheung and contains affiliate links which means if you purchase something from one of my affiliate links, I may earn a small commission that goes back into maintaining this blog.
So, you're looking for the best way to get from Kahului Airport to Lahaina. I've flown to Maui with my family several times over the years.
Below you'll find my best advice for low-stress ways to get from Kahului to where you'll stay in Lahaina on the West Coast.
Kahului Airport is in Central Maui and feeds Maui's largest residential area of Kahului.
To get from Kahului Airport to Lahaina on the West Coast, you have to go either north or south around the West Maui Mountains. It's only about 24 miles, but there can be a lot of traffic at times.
There are lots of things to factor in when it comes to traveling across the island, depending on your plans during your vacation. You also want to think about your plan to get back to the airport for your trip home.
In this post I'll go over all your options, so keep reading!
Don't have time to read a bunch of Hawaii blog posts and reviews? Here are some of our top picks for visiting Maui.
Popular Maui Tours/Activities
Favorite Maui Resorts/Hotels
Andaz Maui (this is a luxury resort with the best luau on Maui)
Honua Kai Resort & Spa (this is one of our personal favorites because there are tons of pools and there are condo options)
Want to Rent a Car in Hawaii?
One of the best places to rent a car in Hawaii is Discount Hawaii Car Rental because they get the best rates from top national companies like Alamo, Dollar, Thrifty, Avis, Enterprise, Budget, and Payless.
Want to skip all the planning and just access my detailed Maui Itinerary complete with daily schedules, kid-friendly activities, and travel hacks? Click the button below.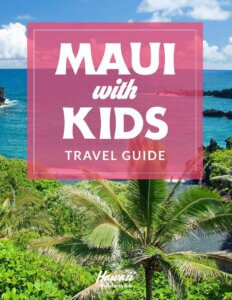 Frequently Asked Questions about Flying to Maui
Which Maui airport is closer to Lahaina?
Kapalua Airport (JHM) is the closest at about 6 miles away, but it doesn't accept international flights. You might take a connecting flight from another island to JHM, but most people land at Maui's largest airport, Kahului Airport (OGG). From Kahului Airport to Lahaina, it's just over 20 miles. OGG's the only airport in Maui to accept direct international flights.
Is Maui Airport the same as OGG Kahului Airport?
OGG Kahului Airport and Maui Airport are the same place! Lots of people call it Maui Airport because it's the main airport for the entire island.
Which month is the cheapest to fly to Hawaii?
For the Hawaiian Islands, you'll find the cheapest flights during the shoulder seasons of February through April and October through November. Flights get the most expensive in December and during the busy summer months. But sometimes you can also find great deals on cheap flights at the end of the summer when hotels and resorts are trying to fill rooms before the end of the season!
Does Uber provide car seats in Maui?
Although the company offers this service in a lot of locations, Uber doesn't provide car seats in Maui. But if you bring your own car seat, you'll find that most car service apps, taxis, and shuttles will load it into the vehicle for you at no extra cost.
How many days is enough for a vacation to Maui?
For a satisfying visit to the island of Maui, I recommend taking 7- to 10-days if you can! This way, you'll have time to travel around and do a variety of activities. If you factor in a few days at the beginning and end of your trip to just relax, a week is the perfect amount of time! I go into more detail in my post about how many days in Maui you need.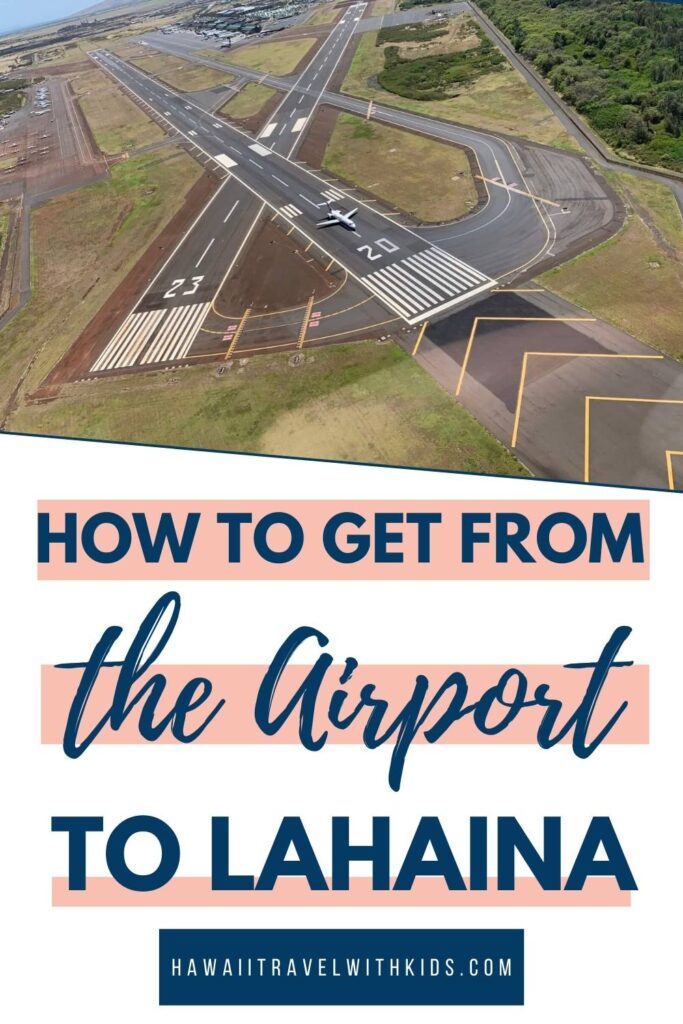 Facts about Maui Airports
I briefly touched on the fact that Kahului Airport is 1 of 3 different airports on the island of Maui. The airports are as follows:
Kahului Airport
Kapalua Airport
Hana Airport
Kahului is Maui's largest airport and the only one that accepts international flights. It's the one most people fly into and has the most amenities, including dining, shopping, and restrooms.
It's super convenient because you can get a rental car, shuttle, taxi, or car service directly from the airport.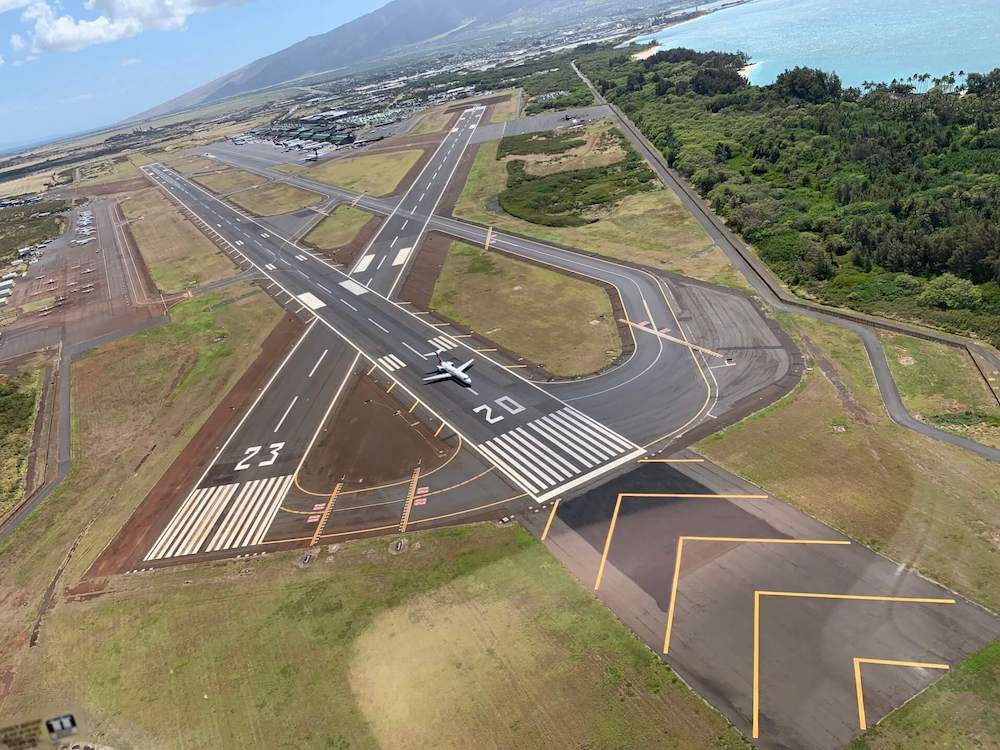 The Kahului Airport code is OGG and you might hear people refer to the airport as "OGG Airport" or "Maui Airport." OGG Airport is in the city of Kahului, Maui's main business and residential area. And from Kahului Airport to Lahaina, it's about 24 miles.
Kapalua Airport (JHM) is the closest to Lahaina at 6 miles away, but it's not as popular because it doesn't accept international flights. You might take a connecting flight to Kapalua Airport from the island of Oahu, but then you'll still have to figure out how your family will get around the island.
Kapalua Airport doesn't have as many amenities for arriving guests, and this includes transportation options. You might find a taxi or a rental car service nearby, but it's just not as hassle-free as at Kahului Airport. Hana is even smaller with even fewer amenities.
Hana Airport (HNM) basically services the islands and private planes. It's convenient if you're staying on the East Coast of Maui, but you probably won't fly into this one.
Best Way to Get from Kahului Airport to Lahaina
From Maui Airport to Lahaina, you'll take the highway from Central Maui over 20 miles around the West Maui Mountains to the West Coast. In most cases, the trip is less than an hour!
Below you can read about the easiest ways to get there.
Public Transportation
The cheapest way to get from Kahului to Lahaina is to take a bus. If you have independent children and less luggage, this could be an option for you.
Basically, each person pays a few dollars for bus fare and you'll be on the West Shore in about 90 minutes! Just walk to the Route 35/Route 40 bus stop outside of baggage claim.
Maui public transportation is a great way to travel if you don't want to rent a car and plan to stay in the Lahaina area. And the bus goes to all the big towns, including Kaanapali, Kapalua, Kihei, and Wailea.
If you want to do sightseeing deeper inland or on the Road to Hana, the bus isn't for you.
Just be prepared because the bus is slow. You'll take about twice as long to get a lot of places as you would with other forms of transportation. And, in a lot of places, the bus comes every 90 minutes and no sooner!
Also, there are a few factors that will decide if this is really a hassle-free option for you.
First, there's a limit of 1 bag per person and it has to be able to fit on your lap. Second, you'll have to make a transfer. After 3 stops, you'll transfer from both Route 35 and 40 to the Route 20 bus at Queen Ka'ahumanu Center Mall.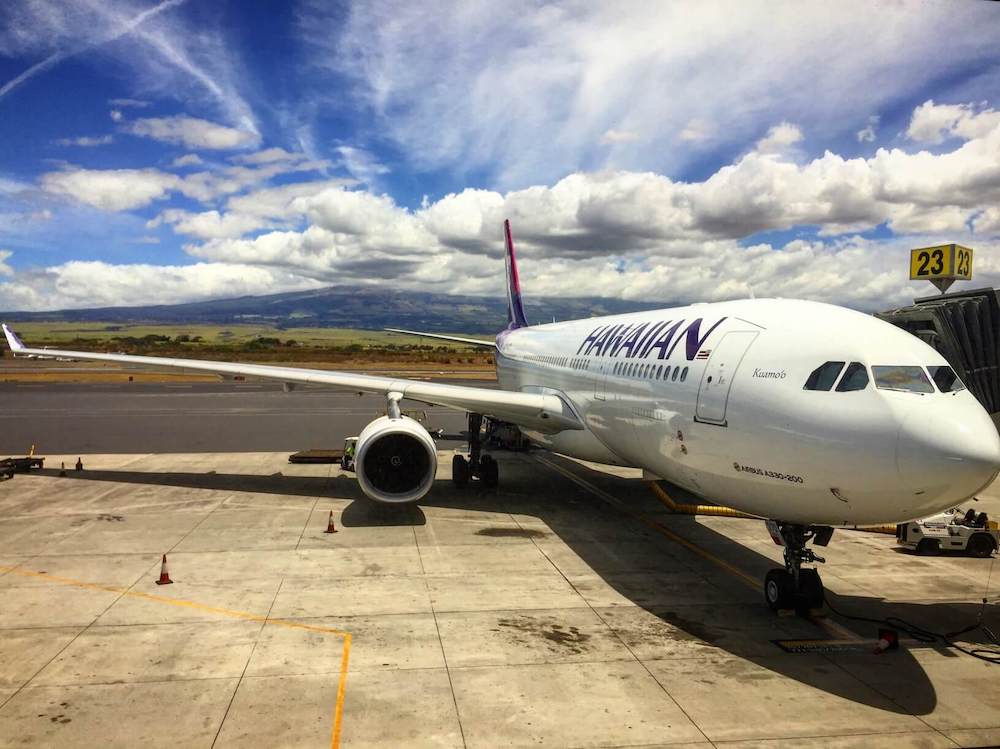 Taxi from OGG Airport to Lahaina
Another way to get to Lahaina is with a Kahului airport taxi. These are typical taxi cabs or vans that you'd find at any major US airport. You'll find a taxi terminal with a dispatcher outside of baggage claim.
All you do is stand in line and wait to be directed to the next available taxi cab!
This is a convenient option, but not always easy. Lines can be long and little legs might be tired after a long flight. And it's not cheap. It's a flat rate based on mileage, which might be a plus if you have a larger party.
One cab to Lahaina will probably run you around $100, and the cost fluctuates. But they assist in loading all your luggage, and they accept car seats.
If you're a small party, some taxis accept rideshare. For larger families, taxis will hold up to 6 or 7 people each.
Grabbing a Lahaina taxi is convenient for getting to Lahaina, but I wouldn't recommend dishing out the fare to explore the island during your stay.
Car Service Apps
One of the easiest and most convenient ways to travel from OGG Airport is by using a car share app. On the island of Maui, as well as the rest of the Hawaiian Islands, you can use Uber, Lyft, and Holoholo.
You might have used Uber or Lyft at home, and you can use them in Hawaii as well. Holoholo is another great local option that utilizes local drivers and has great service. You can even compare rates live between the apps to get the best price.
Car Service Apps are great because you can request a driver last minute or in advance of your trip. You can use your phone to communicate directly with your driver once they're on your way, so if you're stuck on the tarmac, they'll be in the loop.
Also, you can track your driver and see when they arrive at the designated car service pick-up location between the taxi terminal and car rental terminal.
A Lyft or Uber from OGG to Kaanapali and Lahaina typically runs less than $75, so it's cheaper than a taxi. However, during holidays or other busy times, car share apps are known to shoot rates way up.
Also, if you're running late and you cancel, you'll pay a cancellation fee.
However, car share apps still have more benefits. You don't really have to wait in line, they help you with luggage and car seats, and you can pay from your phone!
And for a more luxurious experience, there's also the Execucar app. Now you can book a town car or luxury ride the same way you'd book any other typical car service app!
Maui Airport Shuttle to Lahaina
Like ride-share apps, Shuttles are a cheap, easy, and hassle-free way to get from Kahului Airport to Lahaina. The airport uses SpeediShuttle, and they're located inside the baggage claim area for your convenience.
The rates for Maui airport shuttles to Lahaina are low, and you don't have to book in advance. This is great if you're flight was delayed or if you change your mind about your travel plans.
Or, if you prefer, you can book a shuttle in advance on their website.
Another big plus is that SpeediShuttle offers a flat rate for the 11-passenger vans that they use for their Kahului shuttle to Lahaina. That means for less than $50 you can get up to 11 people and all your luggage to the West Coast!
Shuttles are popular ways to get around the island, and you have all kinds of options besides this one. Companies like Hawaii Executive Transportation offer a private shuttle from Maui airport to Lahaina with all kinds of customizable options.
Why not give your group the full island experience with a lei greeting and a limousine waiting outside?
Rent a Car
Another popular way to get from Kahului Airport to Lahaina is with a rental car. The Conrac facility is next to the Kahului airport parking outside of baggage claim.
You have to take a tram to get to it, but once you get inside, you have about a dozen rental companies to choose from.
Renting a car in Maui is a great way to go if you want to get to Lahaina fast. You can book several days in a row for a cheaper rate, and it's ideal if you plan on exploring different parts of the island.
Plus, you don't have to worry about how you'll get back to the airport at the end of your trip, just drop off the car back at the airport!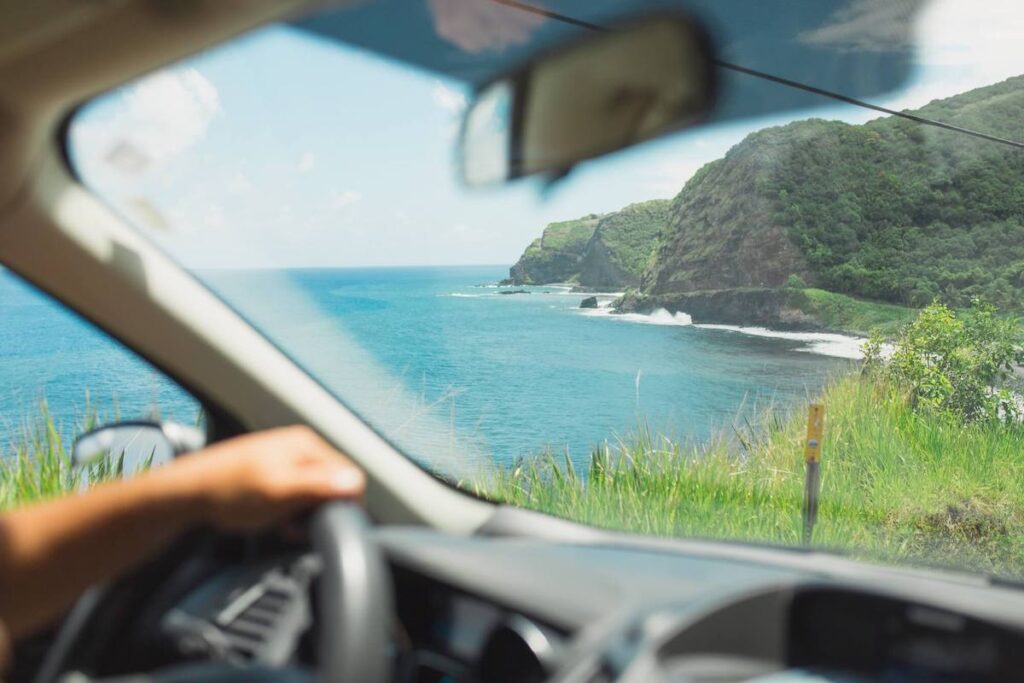 The best place to rent a car on Maui is through Discount Hawaii Car Rental. They have amazing deals on top national car rental brands like Alamo, Thrifty, Avis, Budget, Dollar, Enterprise, and Payless. Check out the latest prices and more details.
However, you might want to book well in advance of your arrival because rental cars are popular with visitors and sell out quickly. Also, depending on where you stay in Maui, you can have a hard time finding parking.
Plus, most places charge for parking, and the fees can really rack up after a week!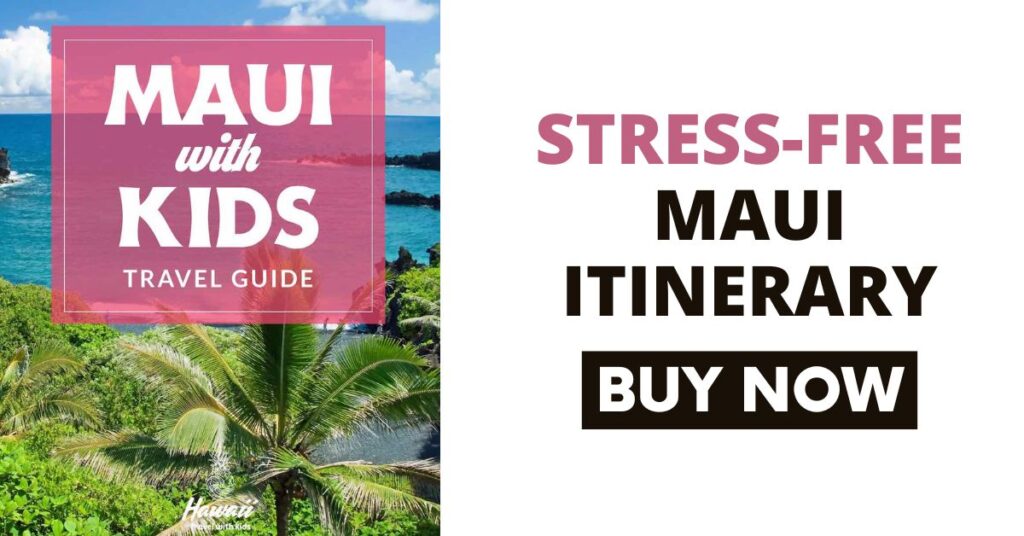 Final Thoughts on Getting from Kahului to Lahaina
Now you have all your options when it comes to the easiest ways to get from Kahului Airport to Lahaina town! When it comes to the most stress-free way to travel, I suggest either going with a car service app or a Maui shuttle service.
All the major apps you might already have on your phone and use on the mainland are available on the Hawaiian Islands!
Plus, there are all kinds of options at your fingertips to customize your experience. Shuttles are a great way to leave the planning up to the professionals. Just walk to the counter and let them know what you need!
Ultimately, what you consider the most hassle-free option for travel really depends on what your family's needs are.
I hope I offered you something to consider while you're making plans for your next trip to Maui!