Are you planning a trip to Maui and want to check out Kahului? Scroll to find out the top things to do in Kahului including the best shops, restaurants, activities, and more!
This post about things to do in Kahului Maui was written by Hawaii travel expert Marcie Cheung and contains affiliate links which means if you purchase something from one of my affiliate links, I may earn a small commission that goes back into maintaining this blog.
So, you're looking for memorable things to do in Kahului! Whether you're looking for something to do close to the airport or plan on staying in Kahului, I have options for you.
While most people head to West and South Maui for the big tourist attractions, you might be looking for the local experience. Kahului is in Central Maui, and it's especially geared towards residents, but that might be what you find appealing about it!
Kahului is Maui's biggest city and it's a very welcoming place. Below I've put together a list of what to do in Kahului.
Whether you want to explore the local food scene, head to a block party, or learn about Hawaiian culture at a museum, you can find it here!
Don't have time to read a bunch of Hawaii blog posts and reviews? Here are some of our top picks for visiting Maui.
Popular Maui Tours/Activities
Favorite Maui Resorts/Hotels
Andaz Maui (this is a luxury resort with the best luau on Maui)
Honua Kai Resort & Spa (this is one of our personal favorites because there are tons of pools and there are condo options)
Want to Rent a Car in Hawaii?
One of the best places to rent a car in Hawaii is Discount Hawaii Car Rental because they get the best rates from top national companies like Alamo, Dollar, Thrifty, Avis, Enterprise, Budget, and Payless.
Want to skip all the planning and just access my detailed Maui Itinerary complete with daily schedules, kid-friendly activities, and travel hacks? Click the button below.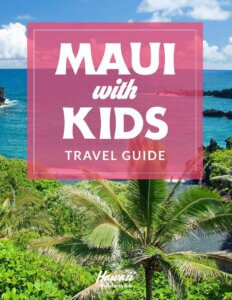 FAQ About Things to do in Kahului Hawaii
Is Kahului worth visiting?
If you fly to Maui, you'll probably start in Kahului, so it's a great place to look for things to do! It's definitely worth a visit with all kinds of shops, beaches, and diverse cultural experiences. Plus, it's at the beginning of the Hana Highway.
Does Kahului have beaches?
There are a few beaches. Check out Kahului Bay when you're looking for things to do in Kahului. You'll find Kanaha Beach, a popular place to go windsurfing or snorkeling. And if you keep going a few miles east along the Road to Hana, you'll find several different surf beaches and swim beaches that are also great for spotting sea turtles!
How long does it take to get to Kahului?
That depends on where you're coming from. Kihei to Kahului is less than 15 miles and only takes about 20- to 40-minutes to drive. Or you can take the Route #10 bus in about 35 minutes. Lahaina to Kahului takes about an hour to drive because you're going south around the West Maui Mountains. The Route #20 bus also gets there in about an hour.
Are there places to stay in Kahului?
There aren't any vacation rentals or resorts. But there are a handful of hotels, including the Maui Beachside Hotel on Kahului Harbor. There's also the Courtyard Maui Kahului Airport, conveniently located next to the airport and other amenities.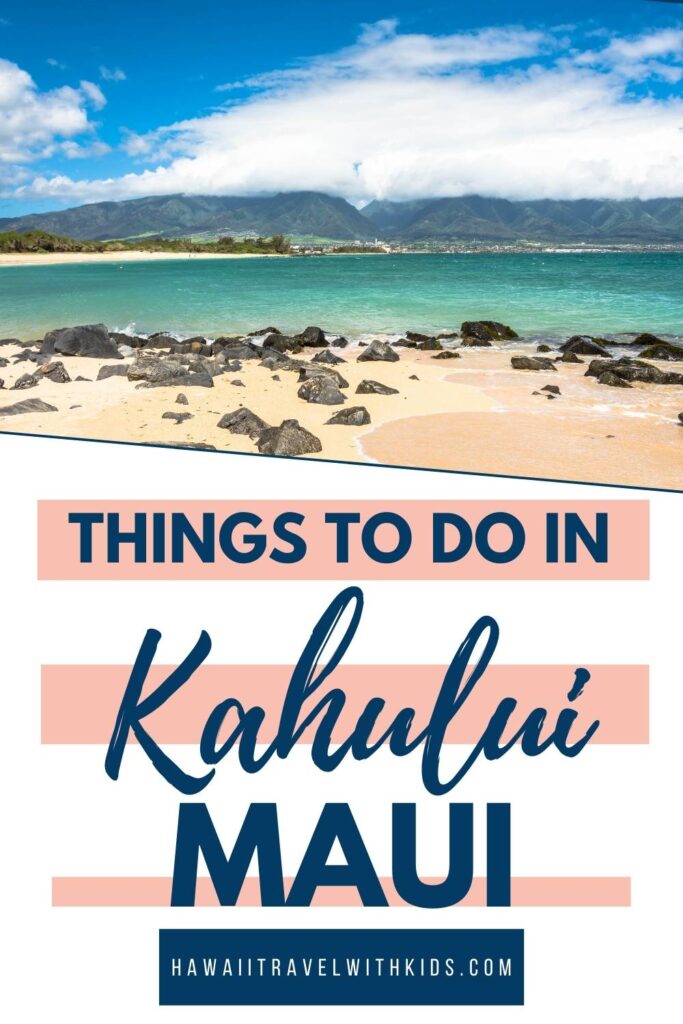 A Little Bit About Kahului
Kahului is right in the center of the Central Maui region on the northern shore. It's Maui's largest city and kind of merges a bit with Wailuku to the east and Paia to the right.
If you're driving the Road to Hana, you'll pass through Kahului.
A lot of people think there aren't many interesting things to do in Kahului, but that's mostly because it's not a big tourist destination like West Maui and South Maui.
Instead, Maui's biggest city has always been the central hub for locals, going back to the island's sugar plantation days.
You might hear an islander say they're "going to town," referring to Kahului! It's where you come to for a grocery haul, do business, or see a doctor.
Kahului is where you'll probably fly into Maui's largest airport. And it's home to Maui's largest harbor, where cruise ships come to dock.
Main Kahului Attractions
Kahului Bay
One of the biggest Kahului tourist attractions is Kahului Bay. This is where the big harbor is and you'll often see huge cruise ships docked there. There are also a few hotels along the bay and walking paths along the rocky shoreline.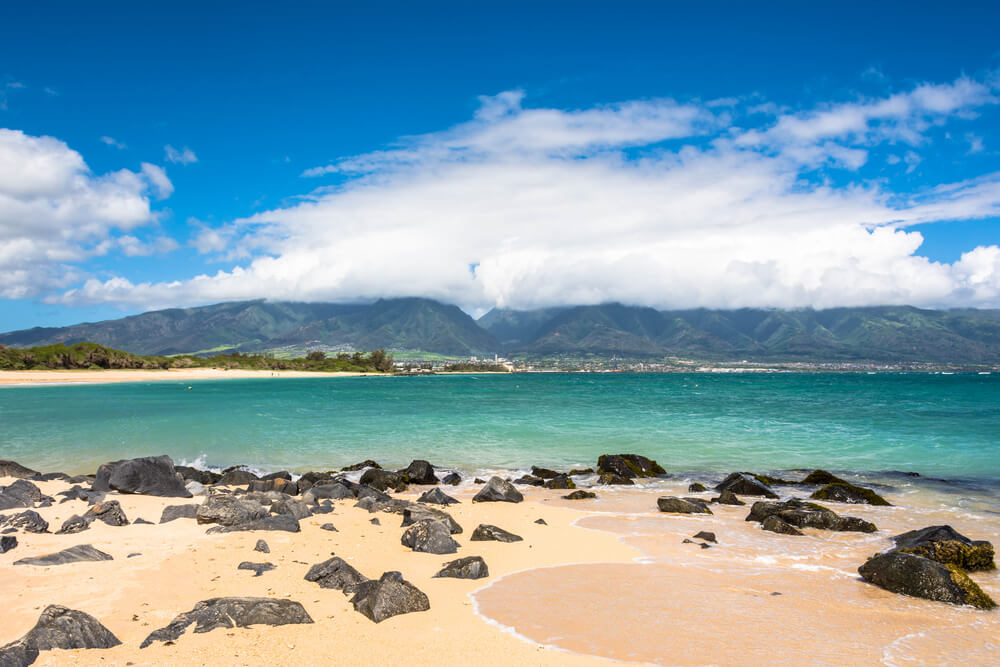 The bay is also where you'll find Kanaha Beach Park. Consider checking it out if you're looking for things to do near Kahului cruise port. This is Kahului's sandy beach that's popular for kitesurfing!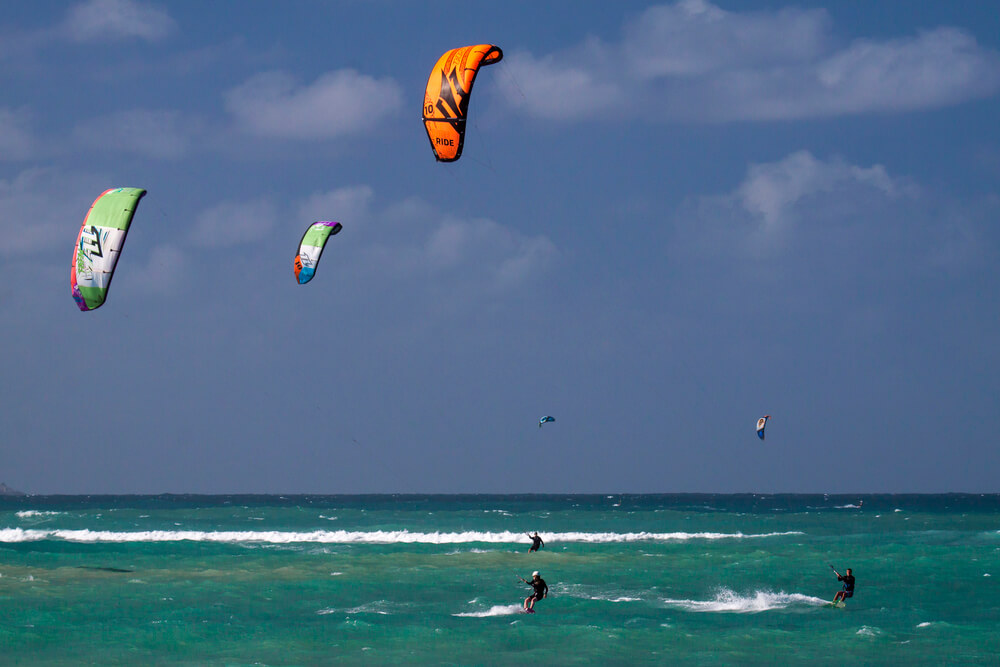 If you're staying in the area, you can take a 3-day kitesurfing course with a local instructor! It's perfect for beginners ages 11 and up.
On the bay, next to the beach, there's also the Kanaha Pond State Wildlife Sanctuary. If you're looking for free things to do in Kahului, check it out. It's a large, endangered bird park that makes for a peaceful 20-minute walk through coastal wetlands.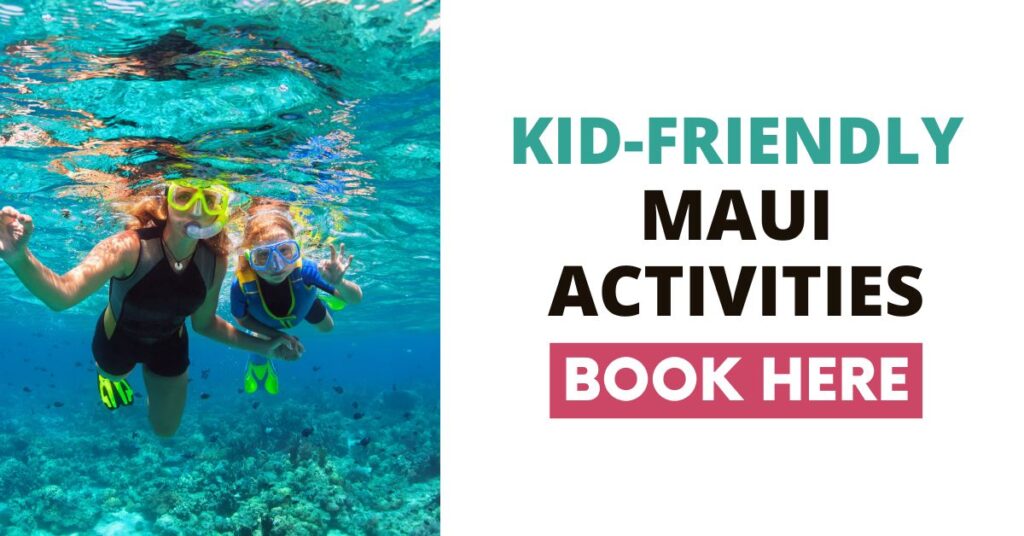 Maui Arts & Cultural Center
The Maui Arts & Cultural Center (MACC) is a huge event space with different indoor and outdoor spaces. There's always something going on here, so check the calendar when you're looking for things to do in Kahului.
The MACC hosts famous comedians, musicians and musical groups, dance teams, and a variety of art shows. You can enjoy beautiful grassy lawns and great views of the harbor, too.
Maui Swap Meet
A big draw for visitors to Kahului is the Maui Swap Meet, held every Saturday morning on the grounds of the Maui Community College. It's a great place to meet friendly locals, grab a bite to eat, and enjoy live music.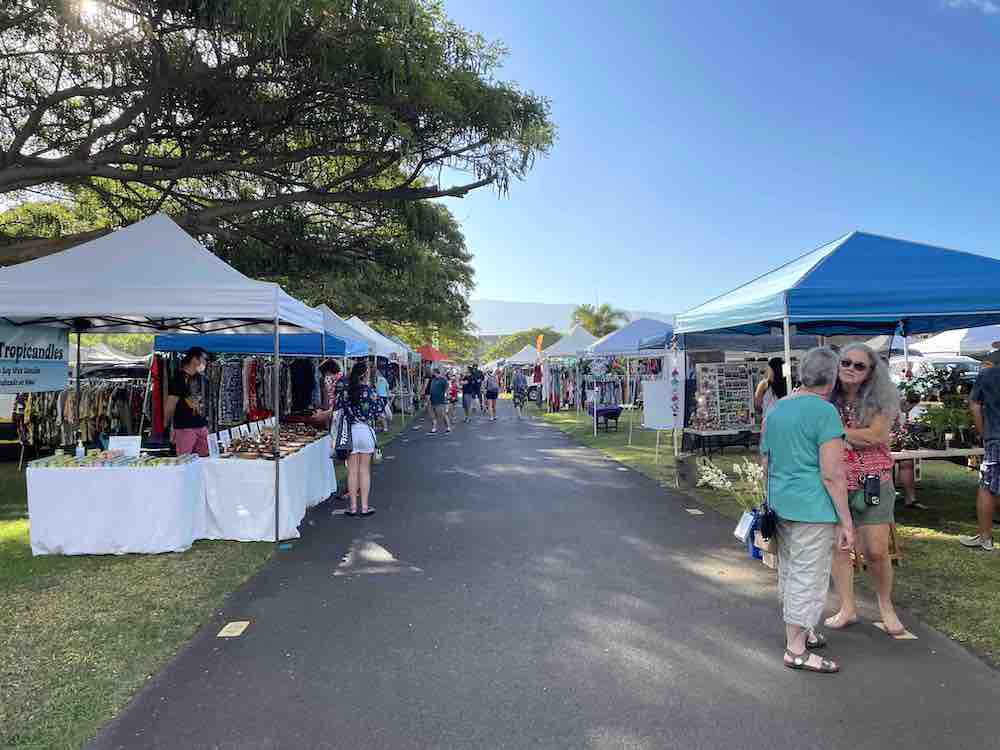 You can shop at all kinds of craft vendors, food trucks, produce stands, souvenir vendors, and more!
Queen Kaahumanu Center
One of the most popular Kahului things to do is shop at the Queen Kaahumanu Center. It's a giant outdoor shopping mall on Kaahumanu Road.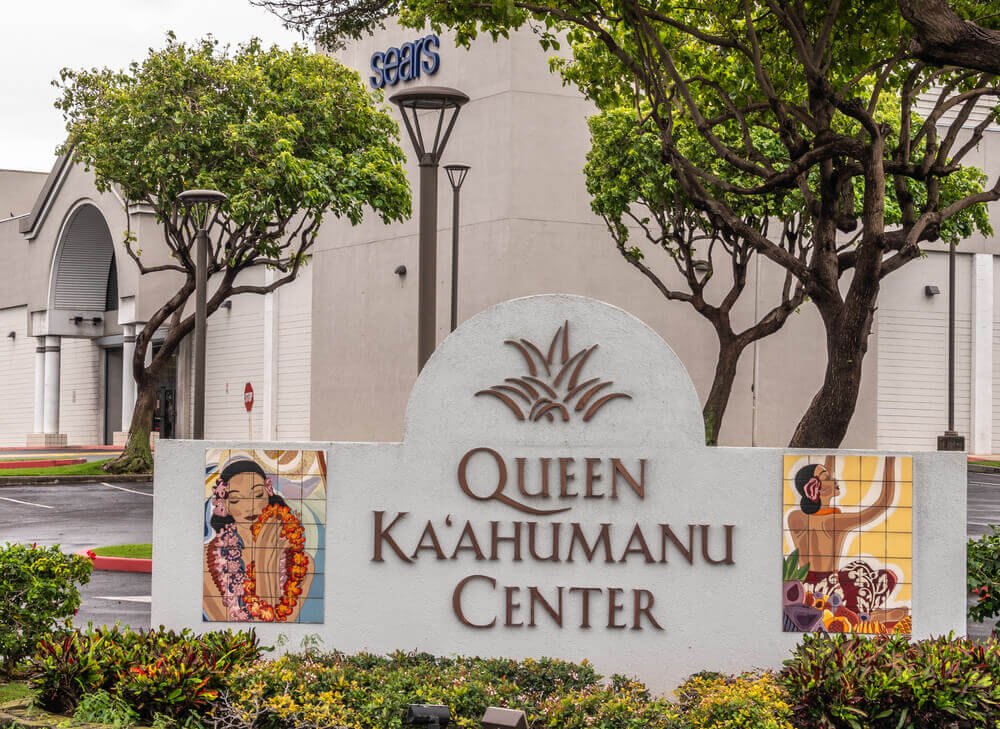 And if you take the bus to Kahului, this is where you'll arrive. The mall has all the classic shops like Macy's, Famous Footwear, and Jamba Juice.
Alexander & Baldwin Sugar Museum
A trip to the Alexander & Baldwin Sugar Museum is a wonderful way to learn about Hawaii's important role in the sugarcane industry.
The museum is in Puunene, which is still a more rural part of Kahului that still has farms, though not any more sugarcane. You can walk through exhibits that detail the lives of sugar plantation workers and see sugar farming equipment at work.
There's a small admission fee for ages 5 and up, and it's open Monday through Thursday from 10 AM to 2 PM.
Book a Family Photo Shoot
Whenever we travel to Hawaii, we almost always book a family photo shoot with Flytographer. They are super easy, affordable, AND it guarantees that I'll be in some photos. You can get $25 off if you book through this link or use the code HAWAIITRAVEL.
Sightseeing in Kahului
There are a variety of things to see in Kahului if you are interested in guided tours and outdoor adventures. The city's central location makes it the perfect spot to start all kinds of trips.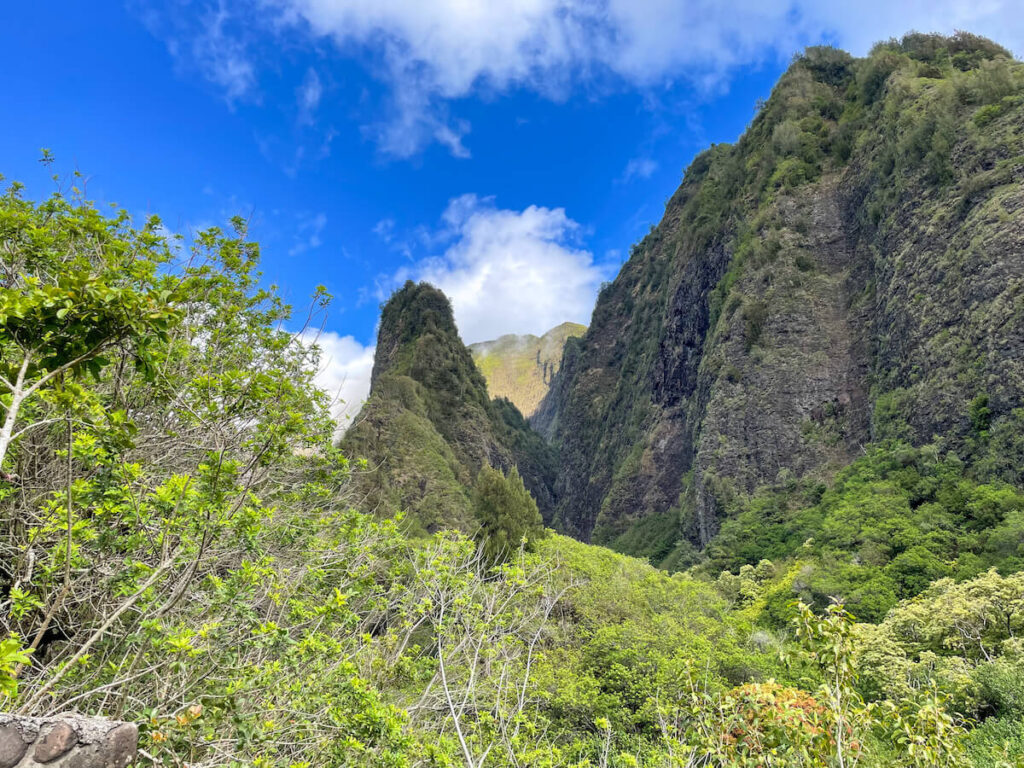 The city is just 4 miles away from Iao Valley State Monument, a state park at the foot of the West Maui Mountains. It's a great place to go for a nature walk or day hike.
There are streams and waterfalls, educational markers, and great views of the Iao Needle.
Advance reservations to enter I'ao Valley State Monument are now available online. The parking fee is $10 per vehicle. The additional non-resident entrance fee is $5 per person with no charge for children under three years old.
You can also book a local guide for a family-friendly jungle adventure near Kahului! Spend the morning on a hunt for hidden treasure using clues from a treasure map.
After a kid-friendly hike, you'll cool off in a lagoon before hiking back. This is a fun way to get you're elementary and middle school-age kids interested in a hike! It's also great if you're part of a larger family group visiting the Hawaiian Islands.
For a bit more of a thrill, take a private Jeep tour on the Road to Hana. These off-road vehicles are perfect for an experience of the Hana Highway that few get.
Your knowledgeable tour guide will take you on hikes, and give you info on local history and culture. They're always up for an adventure, and will even stop to jump in a waterfall lagoon with you.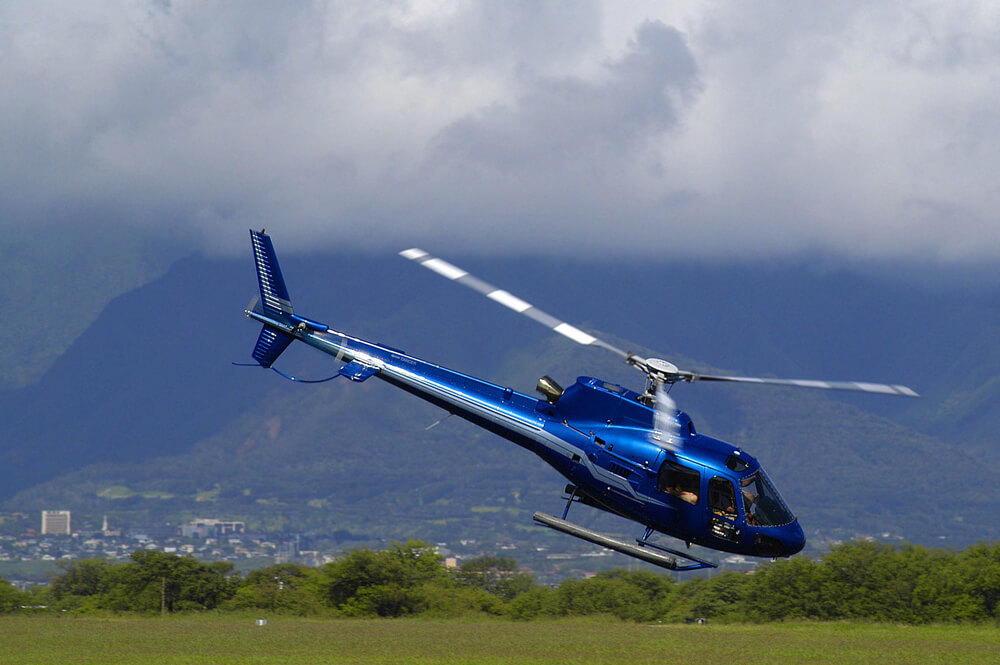 Or indulge in a helicopter tour out of Kahului. It's a special way to see some of the most amazing parts of Maui geography, and you get to see more of it!
See the West Maui Mountains, Haleakala, and Hana from above before you take a swing out to Molokai.
Best Food in Kahului
One of the top things to do in Kahului is checking out the local food scene!
Some of the best food in Maui is right here, with local favorites like Tasaka Guri-Guri in the Maui Mall. Locals swear by this place. Stop by for a frozen treat made with sweetened condensed milk.
And for a casual restaurant, enjoy a meal at Tante's Island Cuisine. They're in the Maui Seaside Hotel with views of Kahului Bay. You can enjoy American classics, as well as delicious Hawaiian and Asian cuisine.
But one of the most popular places to eat in Kahului is the Costco Food Truck Park!
If you're looking for things to do around Kahului airport, this is a great choice. It's across the street from the Costco gas station, on the same side as the Marriot hotel. You can sit at picnic tables under an awning for a casual meal.
It's considered the best of all the food truck parks in Maui. Go with Mo'ono Hawaii for acai bowls with fun toppings like lilikoi butter and chocolate shavings.
Or try Kalei's Lunch Box with all kinds of Hawaiian twists on classic breakfast, lunch, and dinner options. Some favorites there are the loco moco and the mochiko chicken.
For coffee, try Maui Coffee Roasters, a cute café along the Hana Highway. They serve fresh roasted 100% Kona and Hawaiian coffee, as well as breakfast and lunch bites.
Or check out the local Stillwell's Bakery & Café in Wailuku. It's an adorable little café in Wailuku. They serve up scrumptious pastries and cakes, but they're famous for their Chinese chicken salad!
Things to Do in Kahului at Night
You might be looking for Kahului Hawaii things to do after dark. Whether it's date night or family bonding time, I have a few options for you!
The first is one of the biggest Kahului activities, though it's technically in Wailuku. It's the Wailuku First Friday that happens on the first Friday of every month from 6 to 9 PM.
This is essentially a giant block party on Market Street in Wailuku. You can enjoy fun live music and all kinds of street vendors with trinkets, art, kids' activities, and more.
If you're hungry, there are a ton of food vendors to choose from as well. It's perfect for the whole family but couples can enjoy drinks and dancing the night away.
And it's part of Maui's bigger Maui Friday Town Parties, where a different town hosts each Friday of the month!
For something more low-key in this residential city, you could see a movie at the Regal Maui Mall Megaplex. Choose from several different screens with recliner seats that show all the latest movies.
Or take the kids to Mystery Maui Escape Room. There are 2 rooms with fun, creative themes like the Ramen Shop that are challenging for all ages.
If you want to get a babysitter and go for a drink, Wai Bar is a great choice. It's a local hang-out spot but it's also super welcoming to visitors. There's a DJ and plenty of space. Try the Maui Mule, made with ginger beer!
And the Ale House on the Hana Highway has a fun atmosphere. The drink list is long, and the menu has everything from pizza and salads to steak, seafood, and sushi!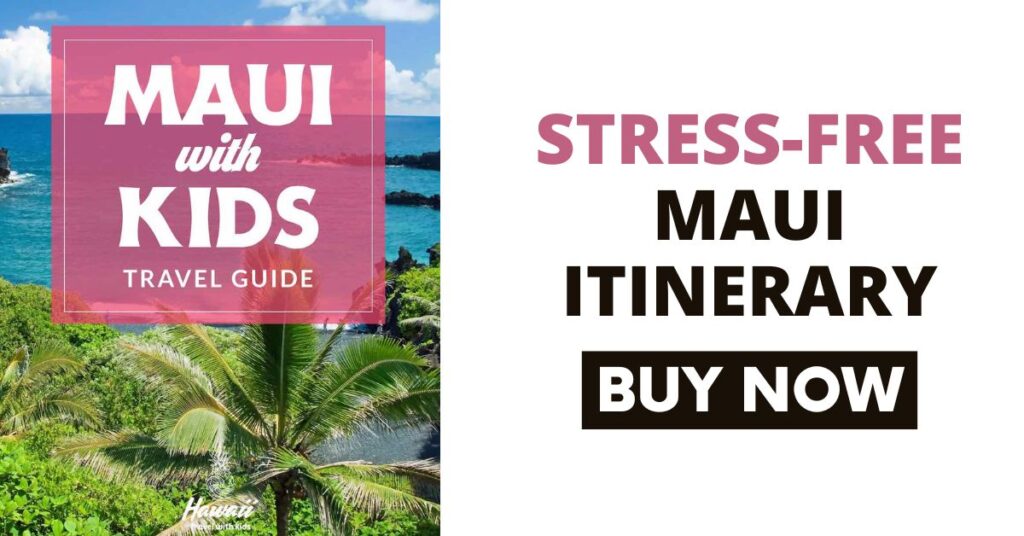 What Kahului Maui Attractions Will You Visit?
At first glance, you wouldn't think that there are many things to do in Kahului. But the truth is that the options are just different than the tourist-centric areas of West and South Maui!
The full tourist experience can be tons of fun and something you crave. But what Kahului offers is the local Hawaiian life, as well as convenience to the airport and harbor.
Whether you decide to spend your entire time in Maui's biggest city or just take a day trip from your resort, there are fun things to do for the whole family!