Heading to Maui and want to see some of the incredible Hawaiian sea life? Scroll to find exactly where to see Maui turtles on your next Hawaiian vacation!
This where to see Maui turtles post was originally written January 16, 2020 and was updated October 30, 2021 and contains affiliate links which means if you purchase something from one of my affiliate links, I may earn a small commission that goes back into maintaining this blog.
Are you going to Maui and want to see Hawaiian Green Sea Turtles in the wild?
In this post, I'll show you exactly where to go for your best chances of seeing sea turtles in Maui. The green sea turtle is one of the most endangered species on earth and it's important that we protect them. They're a vital part of Hawaii's ecosystem and culture, so it's important that we do our part as well!
If you're lucky enough to spot a honu (Hawaiian word for turtle), please don't touch or feed them. They are protected under federal law. Honu have been known to stay in the same area for years, so if you visit often enough, there's a good chance you might see some familiar faces!
Whether you are planning a romantic gateway or a family vacation, Maui is the ideal destination that will never go out of fun and adventure. The beautiful island of Maui in Hawaii ensures a lot of water activities that are fun-filled and thrilling like snorkeling and scuba diving.
Keep scrolling to find out where to see turtles in Maui, Hawaii!
Find out the top 101 Things to do on Maui with Kids!
Want to skip all the planning and just access my detailed Maui Itinerary complete with daily schedules, kid-friendly activities, and travel hacks? Click the button below.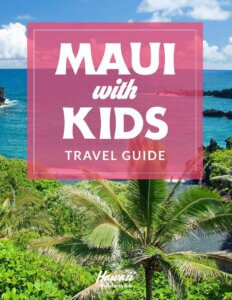 Maui Sea Turtles FAQs
What's the best time of year to see turtles in Maui?
The best time to see turtles in Maui is Summer, hands down. Sea turtles love calm water and that happens during the summer months of June, July, and August.
Is it illegal to touch a sea turtle in Hawaii?
Yes. They are protected by state and federal law and it's illegal to touch or harass them in any way.
What month do sea turtles lay eggs in Hawaii?
Usually between May and October.
How large are Hawaiian Green Sea Turtles?
Their shells are usually 4-5 feet long.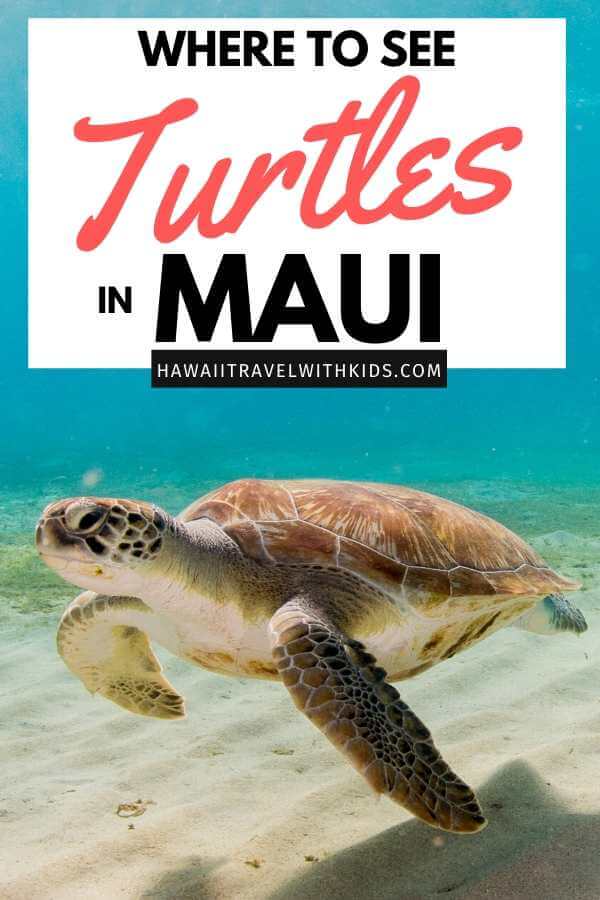 What Kind of Turtles Can You Find on Maui?
If you start looking into Maui turtles, you'll see that the sea turtles have been on the island for around 150 million years. The turtles have been one of the prime attractions among the snorkelers and divers on the sea beaches.
You will find five distinct species of turtles on Maui including:
Green sea turtles (honu)
Hawksbill sea turtles
Olive Ridleys
Leatherbacks
Loggerheads
The Green sea turtle or honu is the most common one, followed by the Hawksbill sea turtles found on the island.
If you want to witness the other three types as mentioned, you need to dive really deep into the sea. They won't nest on the sea beaches making it a bit difficult to notice them.
Where Can You See Maui Turtles in Hawaii?
Where to see turtles in Maui? The West and the South coastlines of Maui offer exceptional opportunities with some turtle seeing. In fact, you can also get the opportunity to swim with sea turtles, as long as you keep your distance.
Let us find out the places that offer the best opportunity to swim with turtles in Maui.
Maluaka Beach or Turtle Town
In case you are looking for the destination that offers the best place to snorkel with a huge population of honu turtles (Hawaiian Green sea turtles), Maluaka beach is an ideal consideration.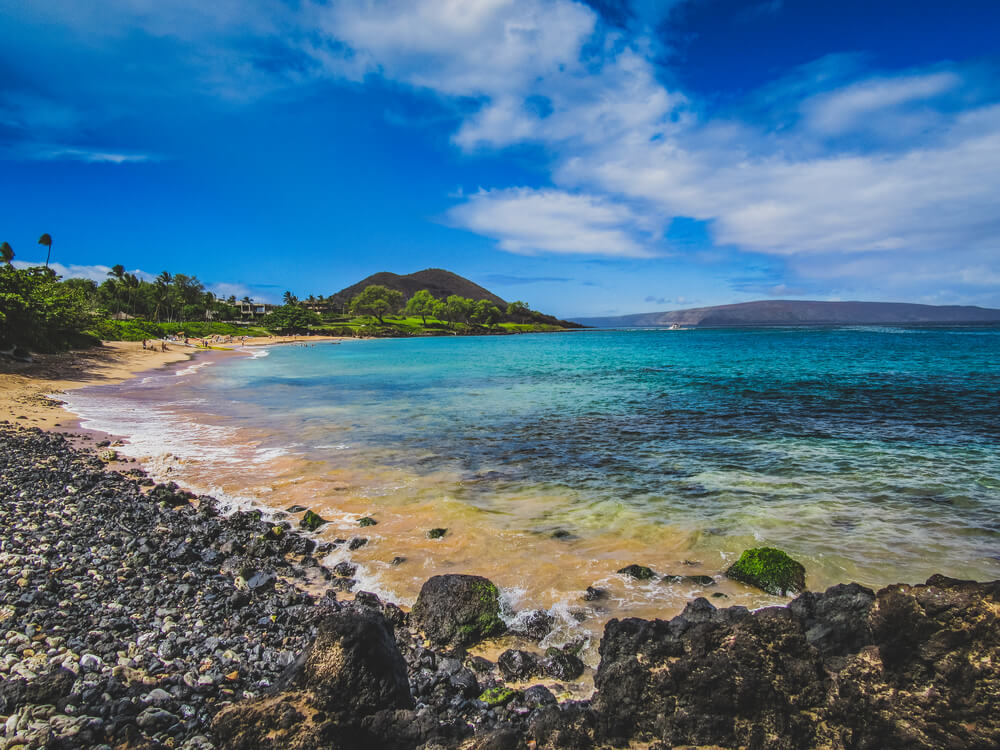 Basically, Turtle Town, Maui is the pivotal location for sea turtles on the island. And it's the best place to see turtles in Maui.
Tourists from all over the world, and of different demographics find this spot appealing due to serene blue water and the beautiful underwater world full of colorful marine life.
Swimming with the turtles is a once-in-a-lifetime experience that very lucky people can undertake and feel it.
If you want to witness the maximum number of turtles, walk down the southern part of the Maluaka beach and reach at the end of the sand, where the coral reef begins.
Black Rock Beach or Kaanapali
This is yet another excellent place to spot the sea turtles in Maui.
The area is quite popular for snorkeling and cliff diving. You will find tourists bustling all around the year not just for the beauty that the place has to offer, but for the turtle sightseeing.
The beach is considered one of the best with gentle waves, and fun-filled cliff jumping.
This is also where you can find the famous Volkswagen turtle, which weighs around 300 pounds. He is often found to be peeping up the seawater and munching on seaweed. He doesn't seem to be really bothered by the presence of the humans.
It is best if you can enjoy his sight from a distance without causing any harm.
If you are not an experienced snorkeler or a first-time participant, the Keawakapu Beach or "Sidewalks" as often called is the best option to consider.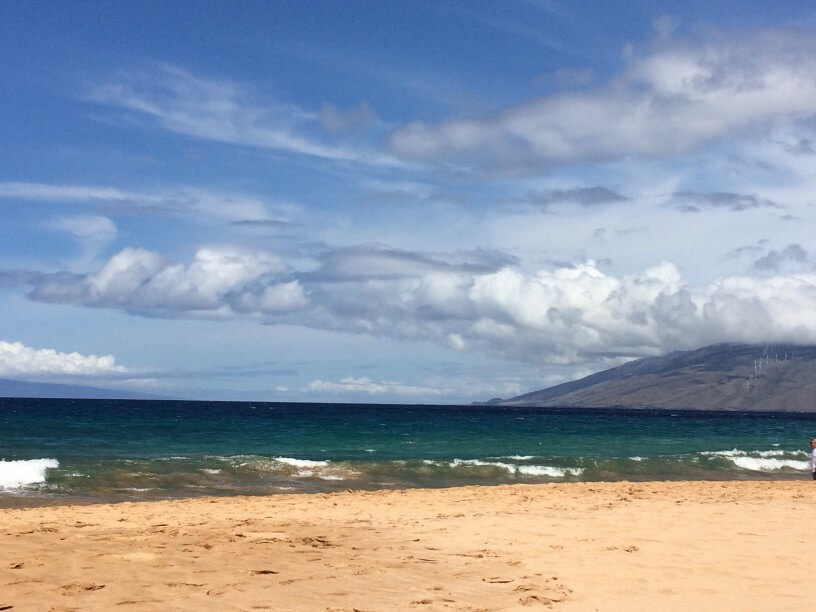 The sea waves are gentle, and you get to witness the magical coral reef that is full of fish, coral, and turtles. The best part is that the seawater is clear, which allows you to enjoy the underwater world without straining your eyes.
Apart from the opportunity to swim with a Hawaiian sea turtle, there is a host of other water activities that you can get involved in. For instance, kayaking is an excellent option for those wanting an adventurous activity.
Moreover, the beach is not overcrowded like the usual popular beaches in Maui.
Kids can also have a good time watching the turtles, and having fun with boogie boarding and jumping on the small waves of the sea. Free parking, portable toilets, and restaurants make the beach a tourist-friendly destination.
When you want to enjoy the sight of the sea turtles without really getting into the water, Hookipa Beach is the right spot for you. This is another best beach to see turtles in Maui.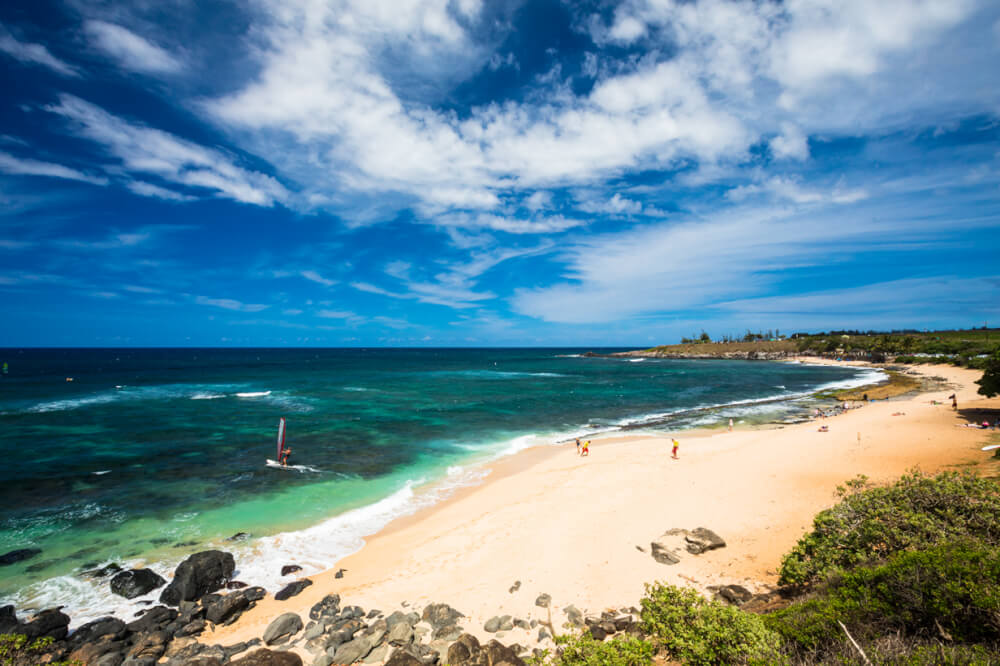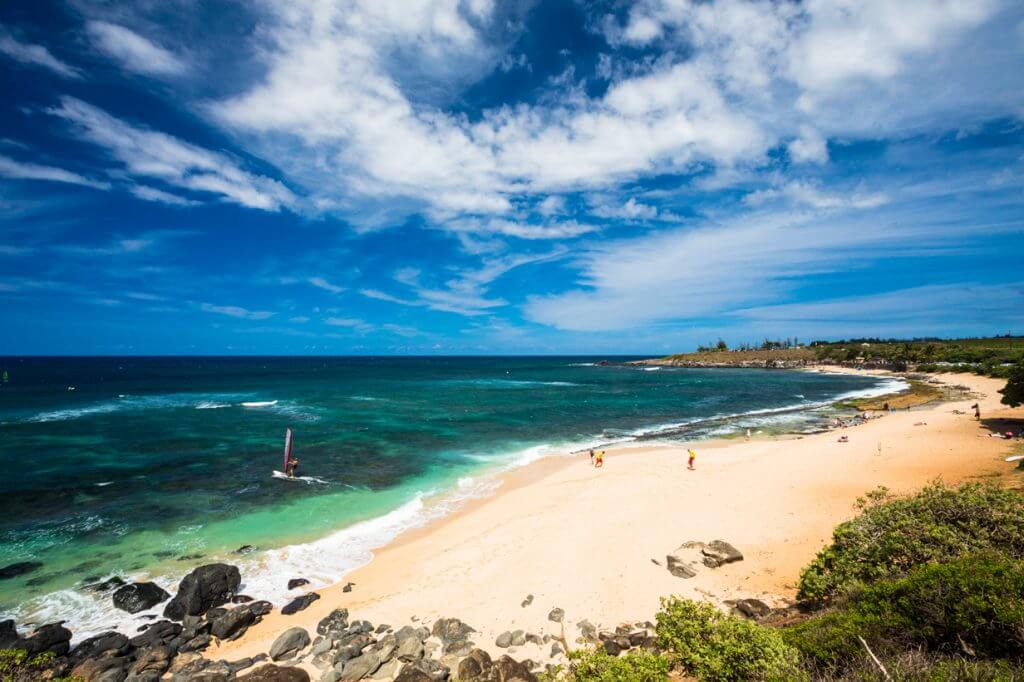 Reaching the beach before the sunset assures a guaranteed sighting of the turtles. You will find that the turtles pull themselves up from the sea and onto the shore to sleep.
In fact, you can see turtles all through the day on the beach basking under the rays of the sun. The crowd is found engaged in taking selfies with the turtles.
Hookipa Beach is a picturesque spot with strong waves. It is ideal for kites surfing and windsurfing, and you can expect a large crowd here. The good part is that the free parking is limited here, hence you will find the crowd moving really fast.
Adjacent to Keawakapu Beach, Ulua Beach is a popular spot for snorkeling, swimming, and sightseeing turtles.
The spot is so recognized that it is advised to reach early morning for snorkeling or else you won't get parking spaces. The good part about the beach is that the sea waves are calm and gentle, ideal for amateur snorkelers and swimmers.
In fact, kids can handle the waves as well and swim easily with turtles, keeping a distance of course.
When you are looking for the perfect Maui turtle beach, Maui offers you a host of options.
Almost every beach that offers the turtle sightseeing opportunity along with the swimming chance is considered to be ideal.
But when you are looking for any privacy, Polo Beach is considered one of the best beaches to see turtles in Maui. Not only is it a great spot for turtle watching, but it's one of the best places to go in Wailea.
When you visit the beach, you will be swayed away by the beautiful view, but the winds are quite choppy. You will be amazed to find how the sea turtles hang close to the shore.
If you are confident enough to manage the waves, you can try your luck clicking pictures or even swimming if the weather permits.
Five Caves
When you want to want to enjoy the bird's view of turtles, Five Caves is the popular destination that has emerged as a major attraction on Maui. You can easily find the sea turtles floating around or sleeping around.
Initially, you might find it very difficult to identify the turtles as they look more or so like rocks.
When you spot them successfully, you will be surprised to find so many turtles right in front of you. It is a sight that will behold your breath for sure.
Kaeleku Point on the southwest side of Napili Bay attracts a large number of tourists because of the easily accessible and the calm water that is suitable for snorkeling. This is also the beach that is an abode for sea turtles.
You can swim with the turtles and have an experience of a lifetime. You can also witness the Hawaiian sea turtle in abundance in the spot, the reason for which it has become one of the important tourist spots on Maui.
What You Need to Know about Seeing Turtles in Maui
Sea Turtles Don't Mind the Presence of People, But Be Respectful
It seems that the Maui turtles don't mind the presence of people. This is the main reason why you will find that there are plenty of opportunities for people to swim with the turtles.
In fact, they don't mind people clicking pictures with them, and some lucky ones even get the opportunity to swim.
You will find the Hawaiian green sea turtles at times to swim to the shore and bask under the sun on the beach.
The tourists visiting Maui beaches can come in close contact with the sea turtles and experience something which is almost not found anywhere across the globe.
Check out any ad for Maui holidays or vacations and you'll see Hawaiian sea turtles in them.
Snorkeling through Turtle Town provides you with an excellent opportunity to view and even photograph the turtles in their natural environment.
Chasing, riding, or even touching the turtles is strictly prohibited, and harassing the sea creature can land you in big trouble.
Turtle Town is the ideal location for snorkeling and encountering the Hawaiian green sea turtles.
No Hawaiian vacation is complete without experiencing a turtle snorkel tour. This Maui turtle snorkeling tour will give you memories to cherish for life. Check out the latest prices and more details.
What is the Best Time of Day to See Turtles in Maui?
There is no such specific time to have a glimpse of the sea turtles.
You can see them almost throughout the day, peeping out the water, coming to shore, and sun-basking on the beach. You can spot them swimming and even sleeping on the rocks.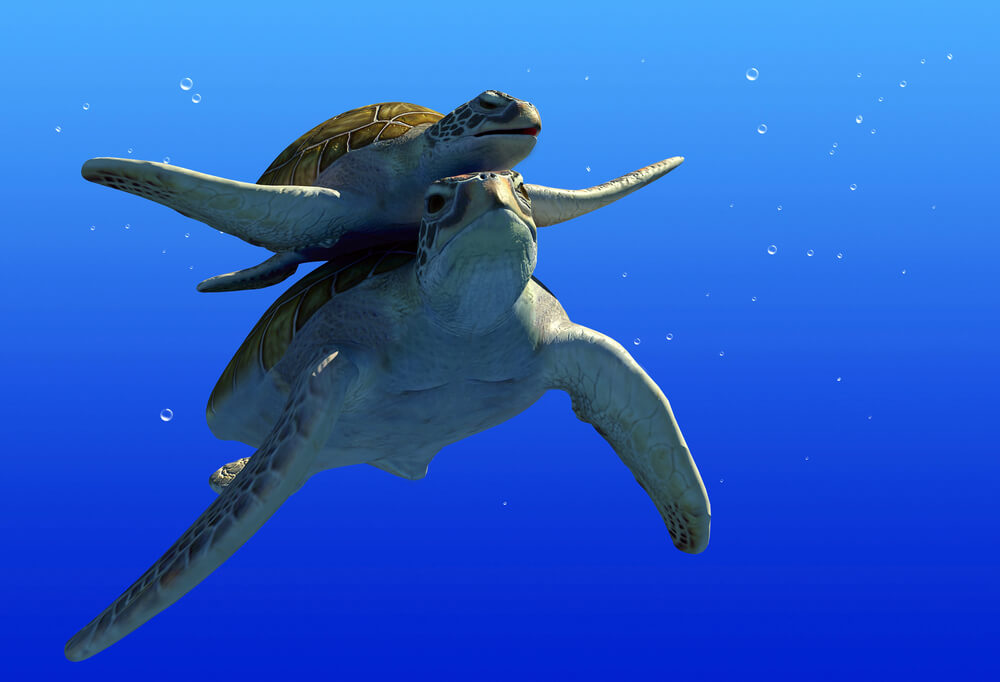 But there are certain factors that must be kept in mind to experience the best of snorkeling. They include:
Location of the sun
The wind
The height of the tide
The tide flow amount
If you are thinking about where to see turtles in Maui, you will have a host of beaches that gives you the opportunity to experience the beauty of turtle sightseeing.
Visiting the Maui Ocean Center is Worth It
Are you not really into snorkeling? Worried that your Maui vacation will remain incomplete as you don't get the opportunity for turtle sightseeing?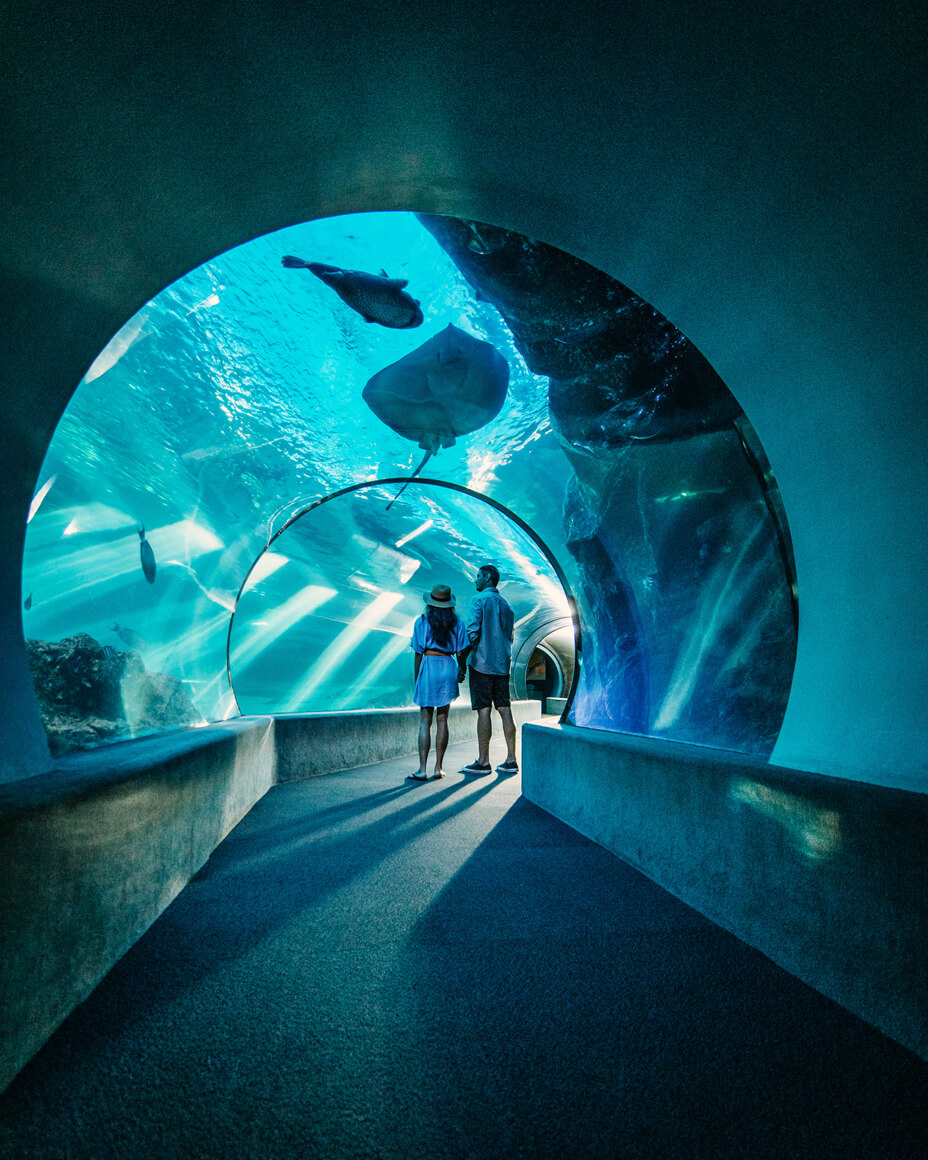 Worry not, as the Maui Ocean Center will give you the excellent experience of witnessing the turtles without actually getting into the water or visiting the sea beaches. Check out the latest prices and more details.
Spend a day at the center and get to experience the underwater view and the famous Hawaiian green sea turtles.
The complete tour gives a very different feeling as you learn about the native ocean life of Hawaii from the experienced staff, who are ready to answer all your queries.
Snorkeling in Maui is Amazing
If you want to enjoy the best underwater experience of your life, perhaps there is no better place than Maui and its incredible beaches. This exotic tourist destination boasts about having a great barrier reef.
Turtle sightseeing is definitely one of the prime tourist attractions here in the region. If you want to witness the majestic Maui turtles, you will not be disappointed at all.
See Turtles in Maui While Scuba Diving
Join a Maui scuba tour and you will be trained under the guidance of certified and professional scuba instructors. Check out the latest prices and more details.
Don't worry about the risk factors because Maui divemasters have their watchful eyes on you constantly. In case of any trouble, you will be immediately provided with the necessary services.
Check out the training centers and sign up for this wonderful activity.
Top Tours to See Turtles in Maui
Sometimes it's easier to join a guided tour where a Maui local can take you to the best places to see turtles in Maui.
These are some of the best snorkeling tours that feature turtles:
This family-friendly Maui snorkeling tour takes you to a sunken volcano where you can see thousands of tropical fish in the crystal clear water.
It includes a continental breakfast. Check out the latest prices and more details.
Book this Maui Morning Snorkeling Tour
In this full-day tour, learn to kayak, surf, and snorkel off Maui's coast, specifically Makena Bay, in search of fish and sea turtles. Check out the latest prices and more details.
Book this Paddle, Snorkel, and Surfing Package
Join this small-group kayak and snorkel tour to maximize your chances of seeing Hawaiian green sea turtles on Maui. Check out the latest prices and more details.
Book this Makena Turtle Town Eco Adventure
What to Bring When Snorkeling to See Turtles in Maui
If you aren't doing a tour that provides all your snorkeling gear, you'll want to bring a snorkel set and fins so you can swim longer in search of sea turtles.
This is one of the most traditional snorkel sets and works really well. There's also a kid-size snorkel set if you are going as a family.
When snorkeling with kids, I also recommend a life jacket or puddle jumper, just to be safe.
Also, when the weather is colder (especially if you are going to Maui in the winter) I recommend wearing a wet suit top over your swimsuit for an extra layer.
Maui Turtles Wrap Up
You now know where to find green sea turtles in Maui, Hawaii. These gorgeous creatures are not only fun to see but they're also important because Hawaiian green sea turtle populations have been decreasing due to various factors.
Keep the above-mentioned things in mind and enjoy the colorful coral and marine life twelve months of the year on beautiful Maui!