Is it worth going to Maui for just a few days? Absolutely! Find out the coolest 3 day Maui itinerary with kids, keep scrolling down for all the info!
This 3 day Maui itinerary post contains affiliate links which means if you purchase something from one of my affiliate links, I may earn a small commission that goes back into maintaining this blog.
Visiting Hawaii has been on my personal bucket list since I was a kid so I was so excited to visit with the family for all of our first times in the state!
After some research and debating back and forth we settled on spending our week-long vacation splitting our time between Maui and Kauai.
We received countless tips and advice from fellow travel friends, and everyone seemed to agree that Maui was a great island to visit for our family's first trip to Hawaii.
You can read more about our entire week-long trip here: One Week in Hawaii with Kids, but also below I share with you the perfect 3-day itinerary in Maui with kids.
Staying longer? Check out my 5 days in Maui itinerary!
Don't have time to read a bunch of Hawaii blog posts and reviews? Here are some of our top picks for visiting Maui with kids.
Best Kid-Friendly Maui Tours/Activities
Best Kid-Friendly Maui Resorts
Hyatt Regency Maui (this has the BEST pool area and on-site shave ice stand)
Honua Kai Resort & Spa (this is one of our personal favorites because there are tons of pools and there are condo options)
Fairmont Kea Lani (this is a swanky resort with incredible kids' programming and an awesome pool area)
Want to Rent a Car in Hawaii?
One of the best places to rent a car in Hawaii is Discount Hawaii Car Rental because they get the best rates from top national companies like Alamo, Dollar, Thrifty, Avis, Enterprise, Budget, and Payless.
Want to skip all the planning and just access my detailed Maui Itinerary complete with daily schedules, kid-friendly activities, and travel hacks? Click the button below.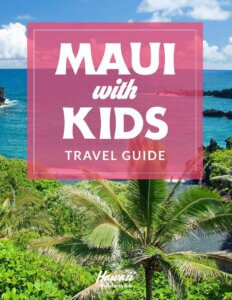 Maui with Kids FAQ
Is Maui good for families?
While Maui has long had the reputation as being a good honeymoon destination, it's become increasingly kid-friendly over the years.
What is there to do in Maui for families?
So many things! Some of the top kid-friendly Maui activities include: zip lining, hiking, snorkeling, visiting the Maui Ocean Center, eating shave ice, exploring the Road to Hana, and learning how to surf.
What area of Maui is best for families?
There are lots of great areas on Maui for families. If you are planning on exploring Maui, staying in Kihei is an affordable option that's centrally located. Wailea is another option if you're able to spend a bit more.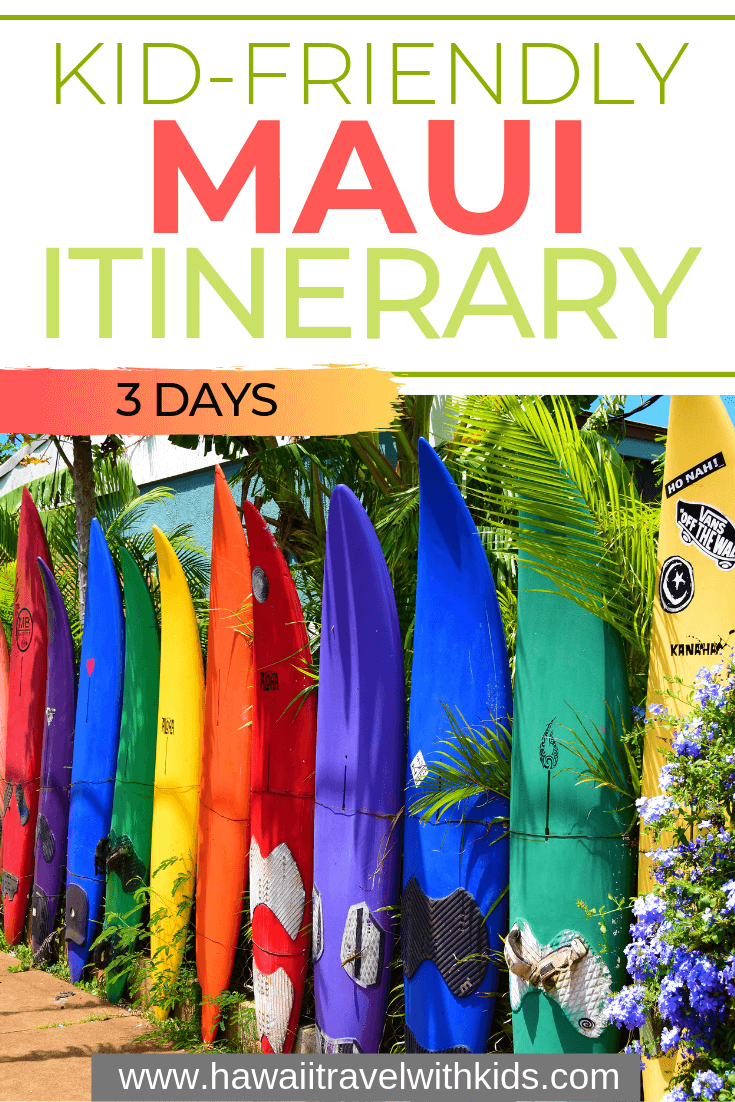 Where to Stay on Maui with Kids
Maui is full of gorgeous areas all around the island to stay in and I am positive you can absolutely not go wrong no matter where you choose to stay.
We, however, chose to stay in Kaanapali for a few different reasons.
One of the reasons was that we wanted to stay in a Hyatt property and the Hyatt Regency in Maui is definitely known to be one of the best resorts in Maui.
It was located directly on the beach in Kaanapali and had some great features for the kids and us parents.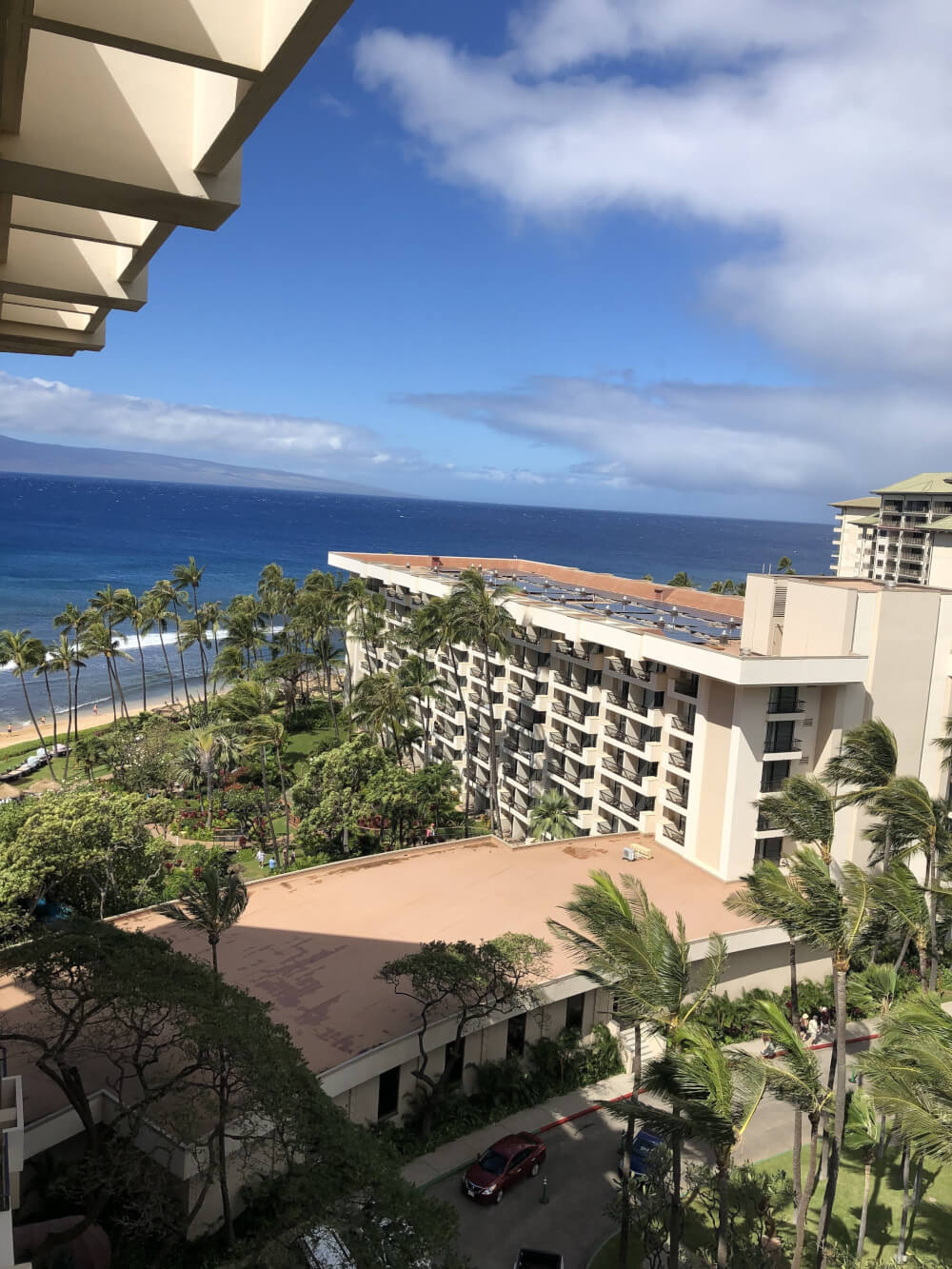 Not only is the hotel feet from the beach, but it also has a great pool right on the beach.
There were also birds and penguins on the property which our kids loved stopping to see every time we passed.
The Hyatt Regency in Maui also has a luau on-site, which while we didn't attend, we did hear it was pretty amazing.
The town of Kaanapali is home to many other resorts, and also has a great area with restaurants and shopping.
But I will have to say the highlight of Kaanapali is hands down is the beach. This was the ultimate family-friendly beach in Maui, with gentle waves and warm water.
It was also not crowded in the least, which we always appreciate!
Renting a Car in Maui

Personally, we think it is 100% necessary for a family visiting Maui to rent a car unless of course, you plan on never leaving the resort.
When the company Sixt is an option we almost always choose them for our car rentals. And lucky for us, Maui has a Sixt rental car location right near the airport!
We arrived late at night but got a quick shuttle ride to Sixt where we were rented a VW Atlas for a great price for our short time on Maui.
We definitely wanted to have an SUV or van for this trip since we knew we were spending at least one full day in the car to drive the Road to Hana.
Kid-Friendly Maui Itinerary: Day 1
Our first morning in Maui, we woke up bright and early (thanks to that time zone change) and were ready to get out and explore.
We are big fans of saving some money when traveling, and almost never eat breakfast out when we are on a trip.
So in order to save a bit, we ventured out to find a grocery store to stock up on some breakfast foods, and some snacks for our 3 days in Maui.
Located less than 10 minutes south of our hotel was a Safeway, which was perfect for us to load up on snacks and drinks for the family.
We made it a plan to keep our first day relatively low-key, which is never exactly very easy for our family.
We did decide after grabbing some breakfast that we wanted to get out and see the island in the daylight since we had arrived after dark the night before.
Located about 30 minutes north of the Hyatt Regency in Maui is the Nakalele Blowhole.
We figured this was a great way to get out and explore but still kept us close to the hotel so we could continue with a chill day.
The road up to the blowhole was an adventure in itself as it was hugging the coastline the entire time.
We were so excited to see the amazing views from the road, and also once we arrived at the blowhole parking area.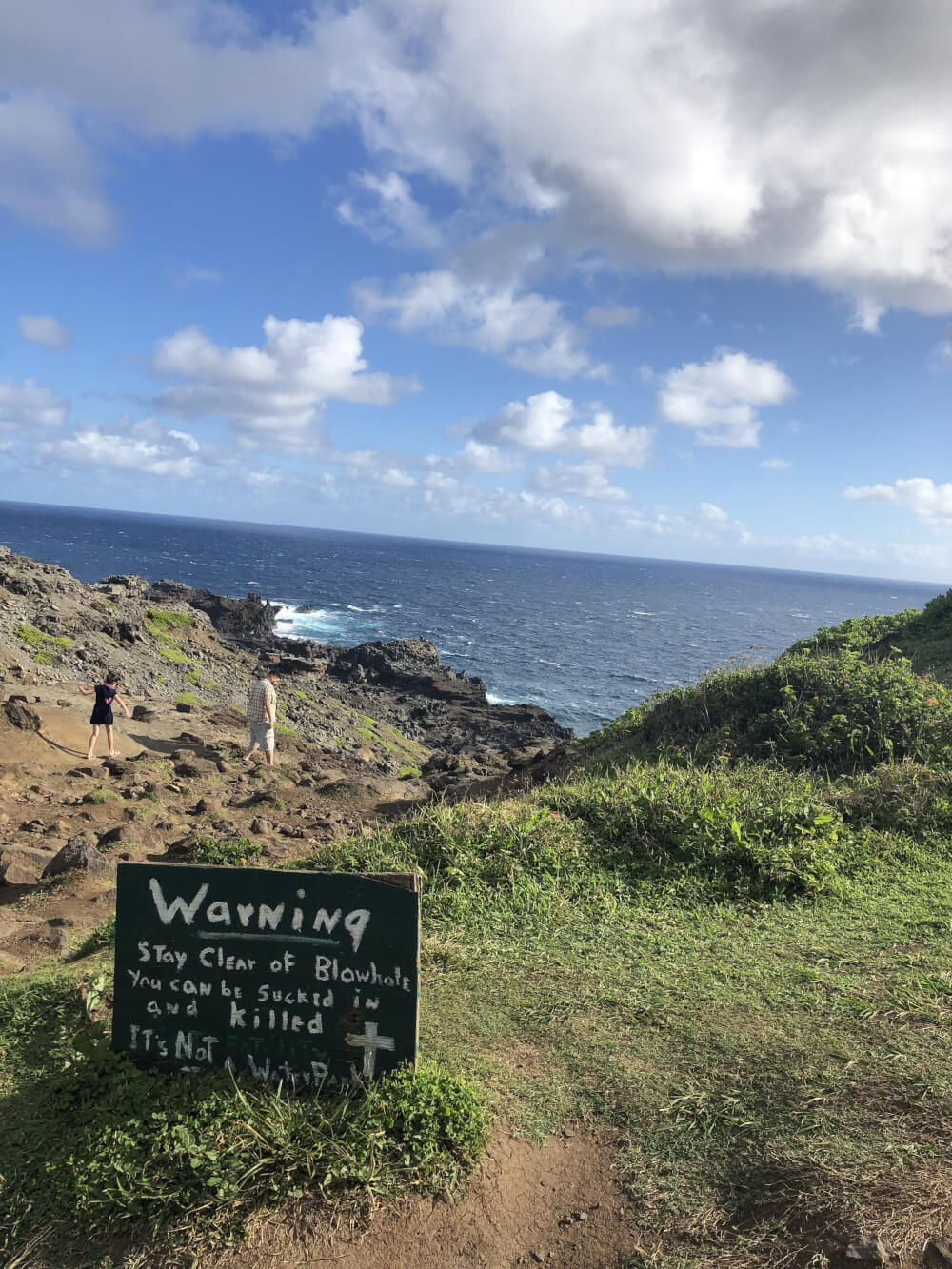 We really weren't sure what to expect with this natural wonder in Maui and we simply put the location into Google maps and drove there.
There is a small area for parking, and when we arrived at around 9 am, there were only 2 other cars.
While there wasn't an official trail leading down to the blowhole, you can choose to see the blowhole from as close as you'd like.
There are, however, warning signs all over to not get too close to it as it can be dangerous if you aren't careful.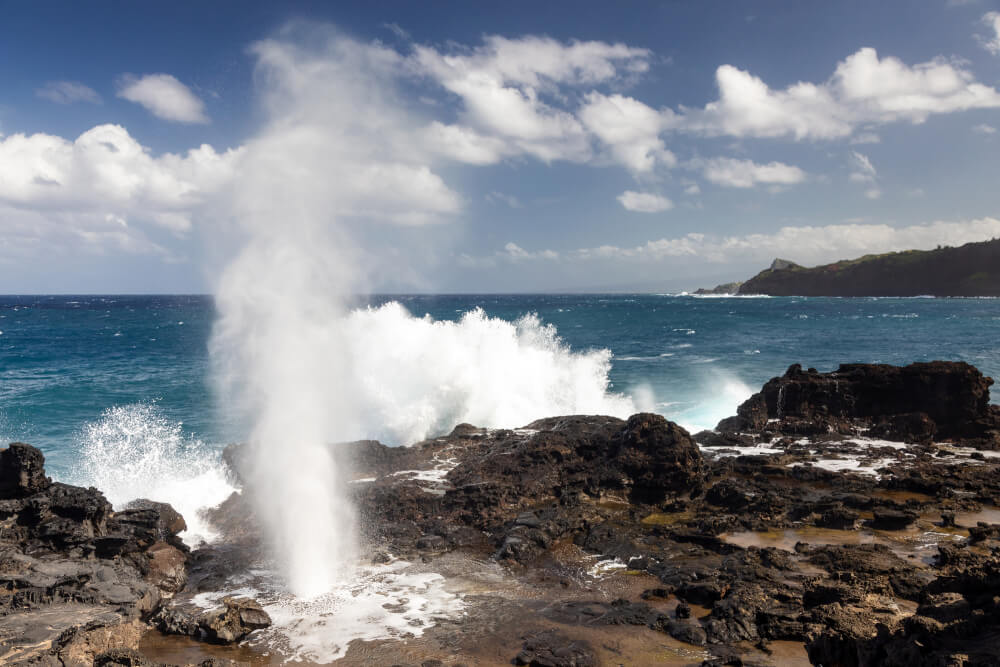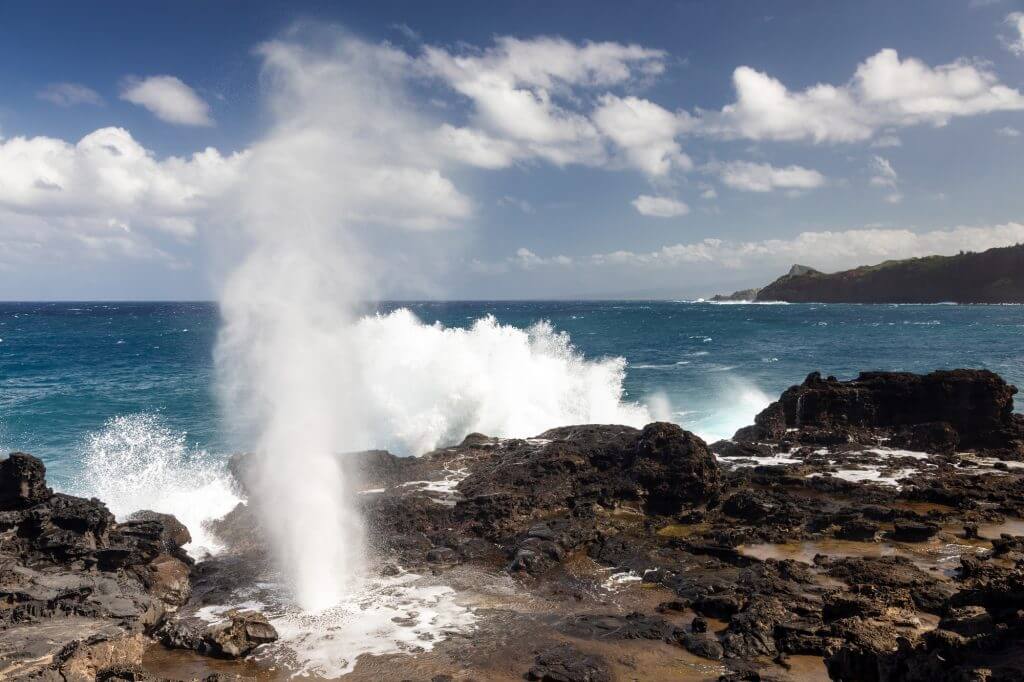 After spending some time climbing around the rocks at the Nakalele Blowhole and taking in the amazing views we decided to head back to Kaanapali.
We then spent a few hours at the beach in Kaanapali. There are places you can rent gear for the beach, even things like snorkeling or SUP boards!
We mostly just brought towels and got right in that ocean! The beaches in Kaanapali are simply perfect and are perfect for a family visiting Maui with kids.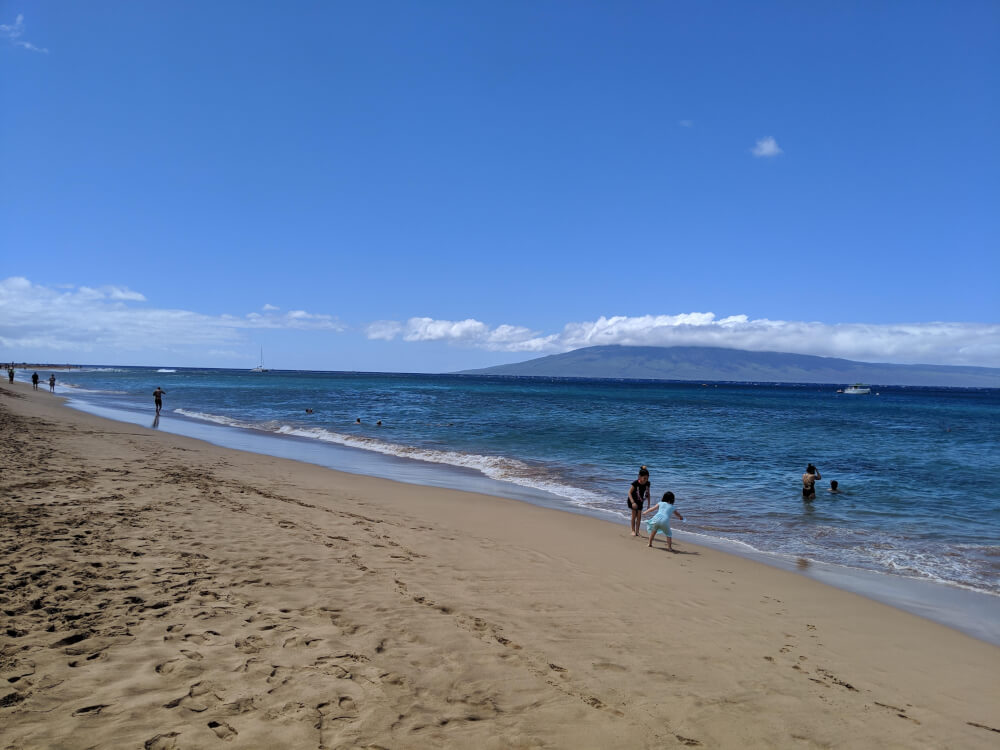 Once we were beached out, or just really hungry, we walked to Whaler's Village, which is only about a 15-minute beachside walk from the Hyatt Regency in Maui.
We chose to eat at Leilani's because they offered outdoor seating with a view and had wonderful views.
The food was great, as well as the drinks and it was here that we had our first mai tais ever!
Leilani's also offers a great children's menu which is always key when traveling with picky eaters!
The rest of the afternoon was spent at the hotel pools at the Hyatt Regency.
I will be honest, we so rarely hang out at hotel pools, but this one could not be skipped.
So we were sure to spend an entire afternoon swimming and lounging pool-side.
It was on this trip that I realized how important and valuable it is to work in some relaxing pool days, even if it is on that first day of the trip!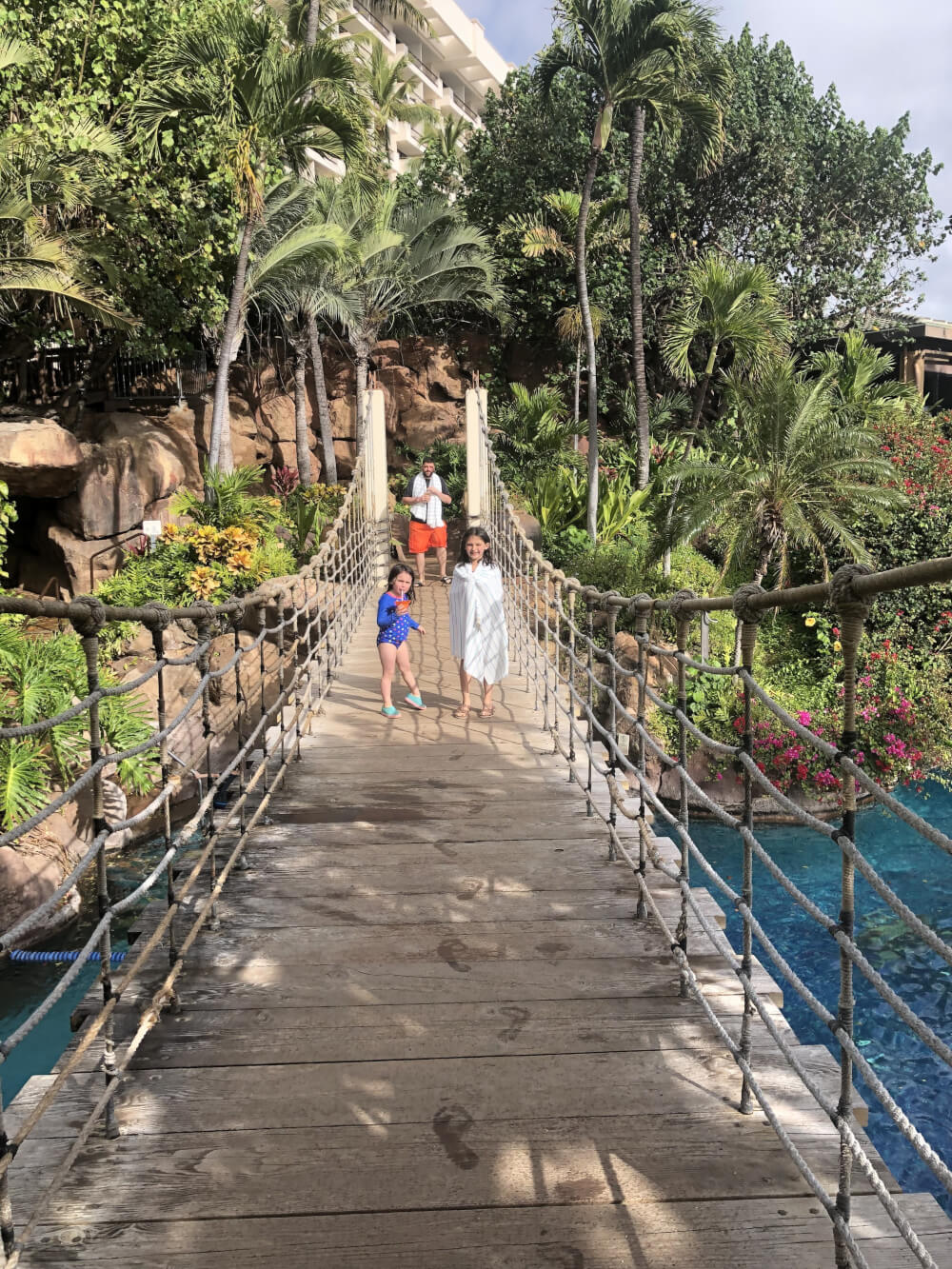 For dinner our first day in Maui with kids, we weren't terribly hungry after having a late lunch, and we decided to eat at Merriman's.
We chose this restaurant for their happy hour and amazing views since here you could also sit outside right on the water!
Remember how I told you at lunch I had my first Mai Tai ever, well at Merriman's I had my second and it was also the best Mai Tai I had our entire time in Hawaii.
This restaurant was a perfect one to visit with kids in Maui because it was casual when visiting for the happy hour and sitting outside, and it had some amazing food that was kid-friendly as well!
Kid-Friendly Maui Itinerary: Day 2
The second day in Maui we felt rested and refreshed after our relaxing first day, and this was the plan since we had a big day ahead of us.
Again, up early due to that time change and a good night's rest, but this time it was crucial to be up early because we were off on an epic road trip.
Remember those snacks we bought the first day? Well, we made sure they were easy things to eat in the car with minimal mess and fuss. Think bananas, yogurt tubes, cereal, and muffins!
There are also options to grab something at the Hyatt Regency if need be.
This was it – the day we finally got to check off a massive bucket list item – we were driving the Road to Hana!
This was one of the things I did extensive research on before going.
Like I mentioned earlier, we made sure to rent a nice comfortable SUV for our trip in order to make the drive to Hana as pleasant as possible.
Our VW Atlas car rental from Sixt was perfect for the drive and gave us all plenty of room to get comfy since we were planning to be in the car all day long.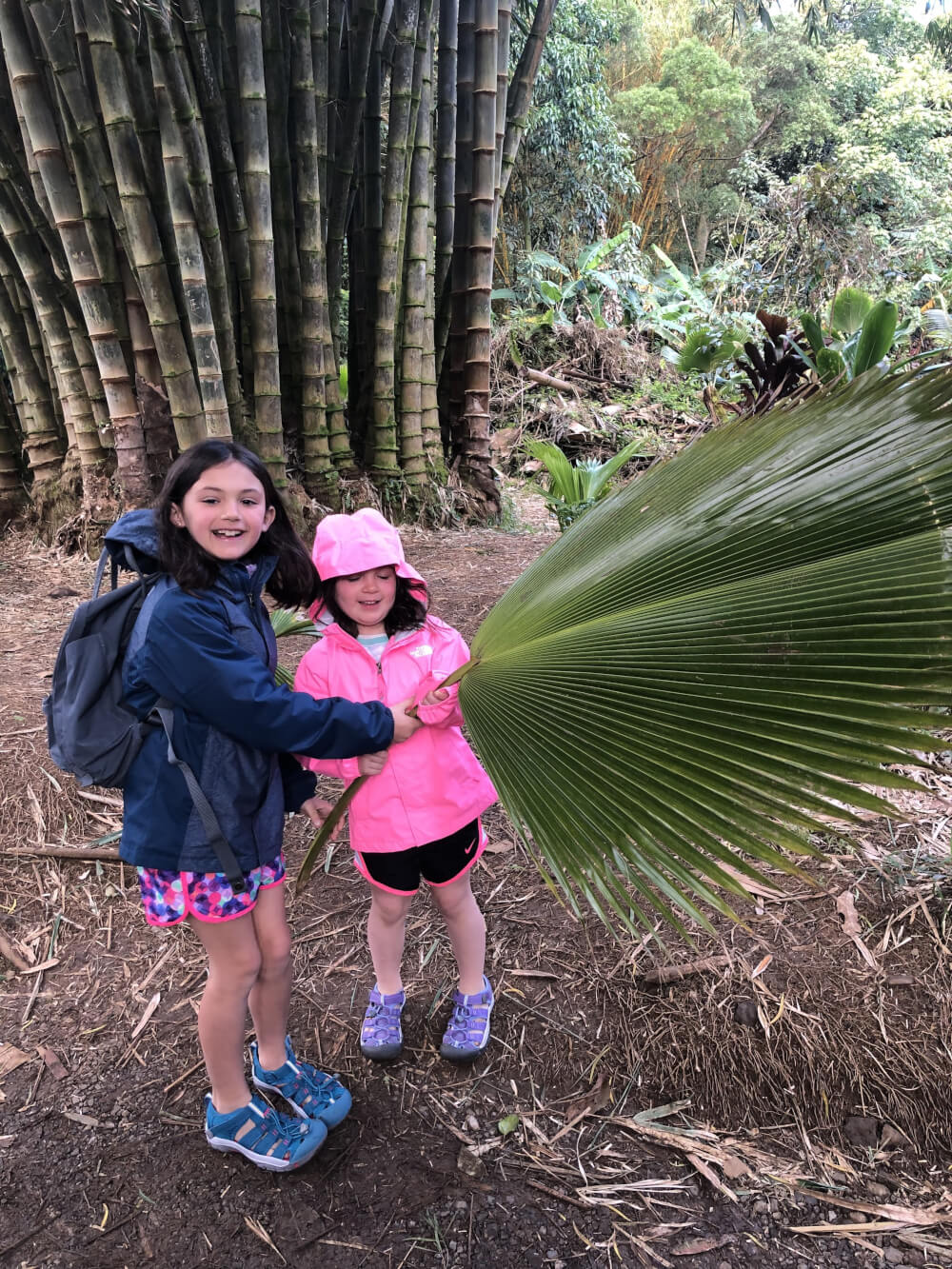 The Road to Hana is by far an all-day event, and you could possibly also extend it into a second day if you chose to stay in Hana and then drive back the following day.
We, however, chose to drive to Hana and back all in one day, and it was totally realistic and worth it for us.
If you don't feel like driving it yourself there are some companies that will drive you in a tour group as well. This wasn't exactly for us, and we wanted to do it on our own terms and have the flexibility.
In addition to researching my stops ahead of time, I also used an app called The Shaka Guide, which I highly recommend even if you know exactly where you plan to stop.
I will give you an overview for this amazing once in a lifetime experience in Maui below, but for a more detailed itinerary check out my post: The Road to Hana with Kids.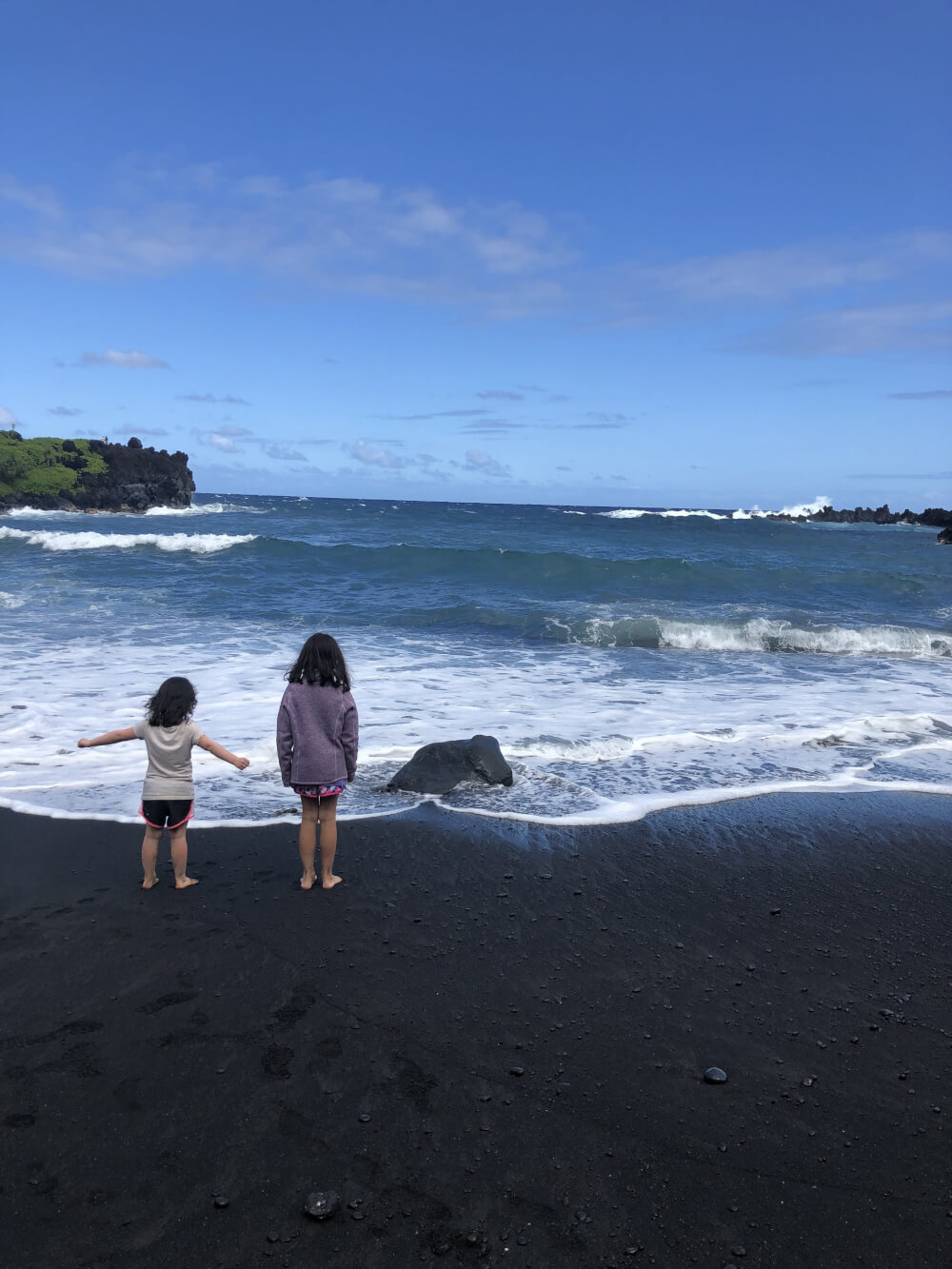 The Road to Hana starts in a town called Paia, which is about 45 minutes away from Kaanapali, Maui.
It is here where the Shaka Guide app will start its guidance, and where the mile markers for the Road to Hana begin.
The different sights to see are referenced based on what mile marker they are at.
For the majority of the highlights along this route, there are no signs, so you have to know where to stop in advance, and the Shaka Guide is perfect for helping with this.
We left Kaanapali at 7:00 AM and weren't back for a good 12 hours.
It is important to get on the road early in order to maximize your time on the journey, and also so you aren't too late and miss out on parking spots at some crucial stops!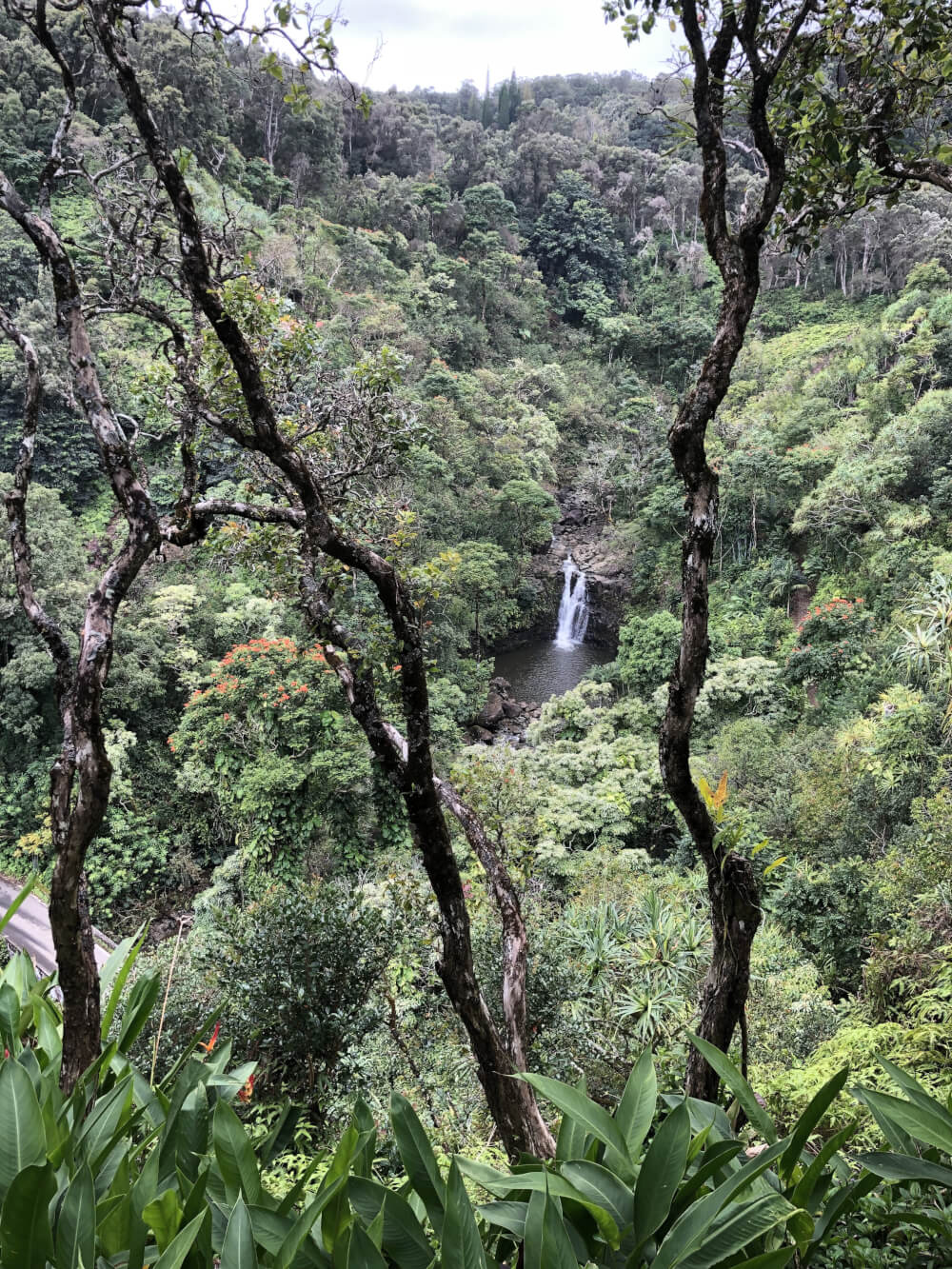 Overall, we made 12 stops on the Road to Hana, and here are some of our favorites:
Ka Huka Smoke Shack
Ke'anae Penisula
Wailua Iki Falls
Lava Tube Caves
Nahiku Marketplace
By 6 pm we were back in Paia, which has many different options for dinner. Paia Fish Market is an excellent choice for dinner before heading back to Kaanapali!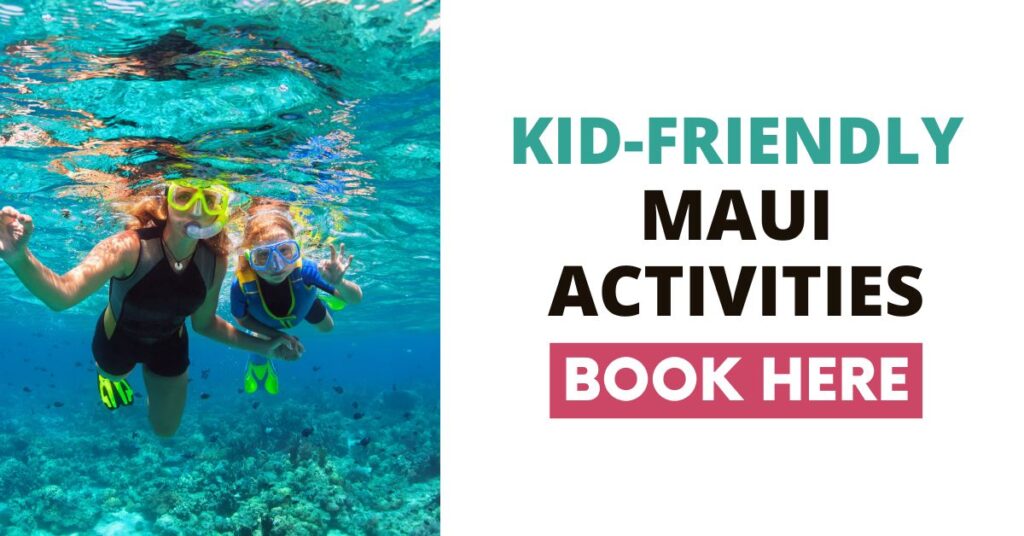 Kid-Friendly Maui Itinerary: Day 3
For our last full day on Maui, we decided we wanted to do something totally new and out of our comfort zone.
After some research and suggestions from friends, we chose to book our very first snorkeling experience with a company in Maui called Four Winds II.
This boating company had incredible reviews for snorkeling at Molokini Crater, and they also were known to be family-friendly which was important to us.
We weren't sure if we could take a 4 and 7-year-old snorkeling, but we sure were wrong, as Four Winds Maui was prepared for kids and beginner level snorkelers!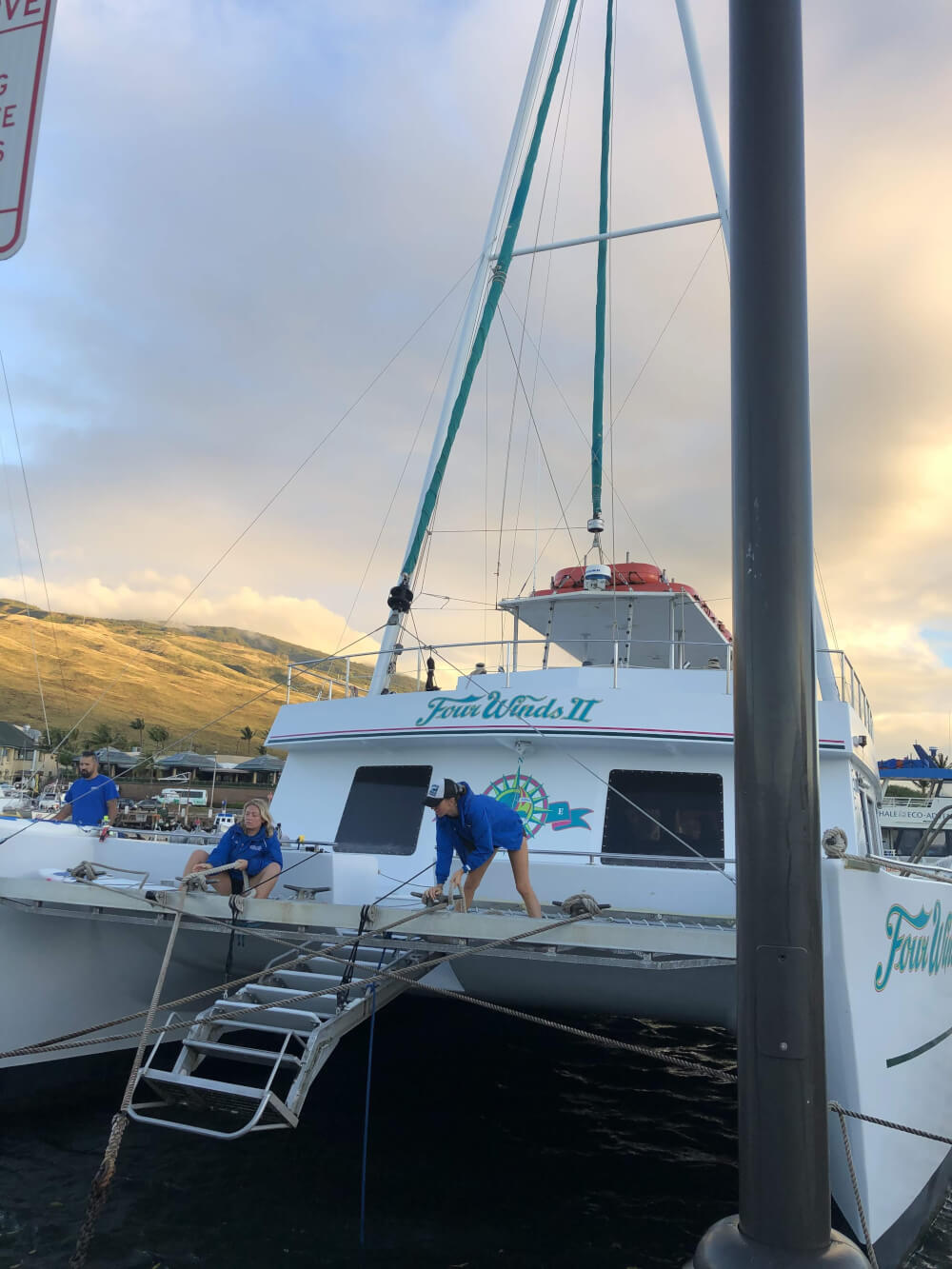 We had to be at the dock by 7:00 AM and the boat was scheduled to disembark at 7:30 AM.
From Kaanapali, it was only about a 30-minute drive to get there, and honestly, these early mornings weren't that hard as we still were adjusting to the time zone change.
We still had plenty of breakfast snacks and brought those, but Four Winds Maui also offered a light breakfast on the boat.
Once the boat set off to Molokini Crater the crew came around handing out snorkeling gear and explaining the process on how to snorkel.
When I tell you Four Winds II is perfect for beginners, I mean it because we honestly had no idea what we were doing or what to expect.
But the crew made it all seem totally do-able and once we were at the crater we were all excited to get in the water and explore!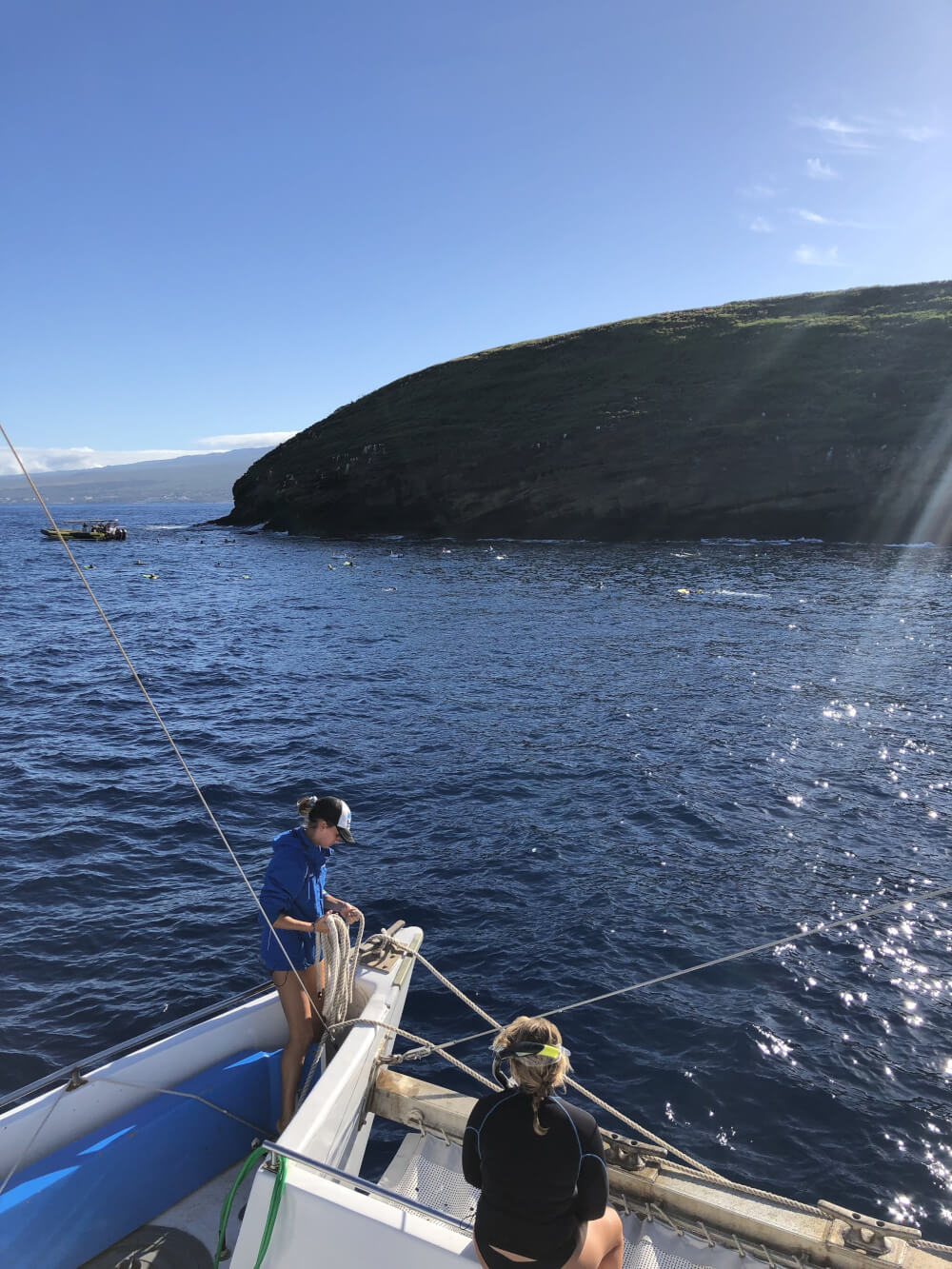 We spent the entire allowed time in the water snorkeling at Molokini Crater until they told us to come back to board the boat to head back to Maui.
Lunch was also served on Four Winds, and consisted of a few options that were all kid-friendly as well!
The ride to and from Molokini was just as exciting as snorkeling itself because we got to see tons of whales, and the views were simply stunning!
For more details on our experience snorkeling at Molokini Crater with kids check out my detailed review!
Following the snorkeling excursion, you can check out some more beaches in the area which is perfect especially since you are already in bathing suits.
South of where the Four Winds II docks are where you can find a ton of awesome beaches in Maui:
Maalaea Beach
Mai Poina Beach Park
Kalepolepo Beach Park
Waipuilani Park
Kamaole Beach Park
Many of these beach areas offer snorkeling gear that you can rent if you wanted to continue using your new snorkeling skills.
You will also find countless restaurants in the area, as well as the best place for shave ice in Maui: Ululani's Hawaiian Shave Ice.
This specific shave ice place was our favorite in Maui, and they have multiple locations, including one at the Hyatt Regency!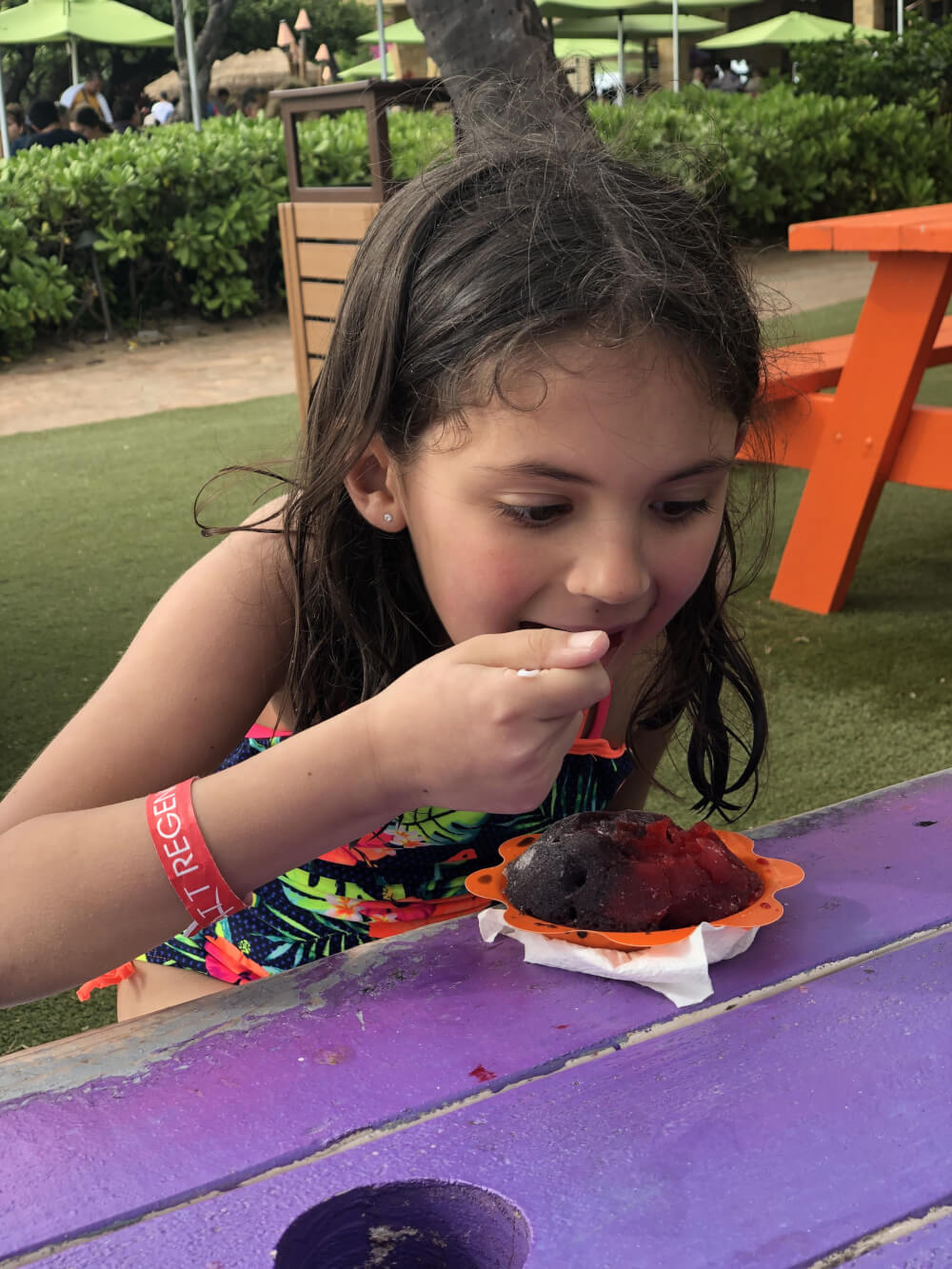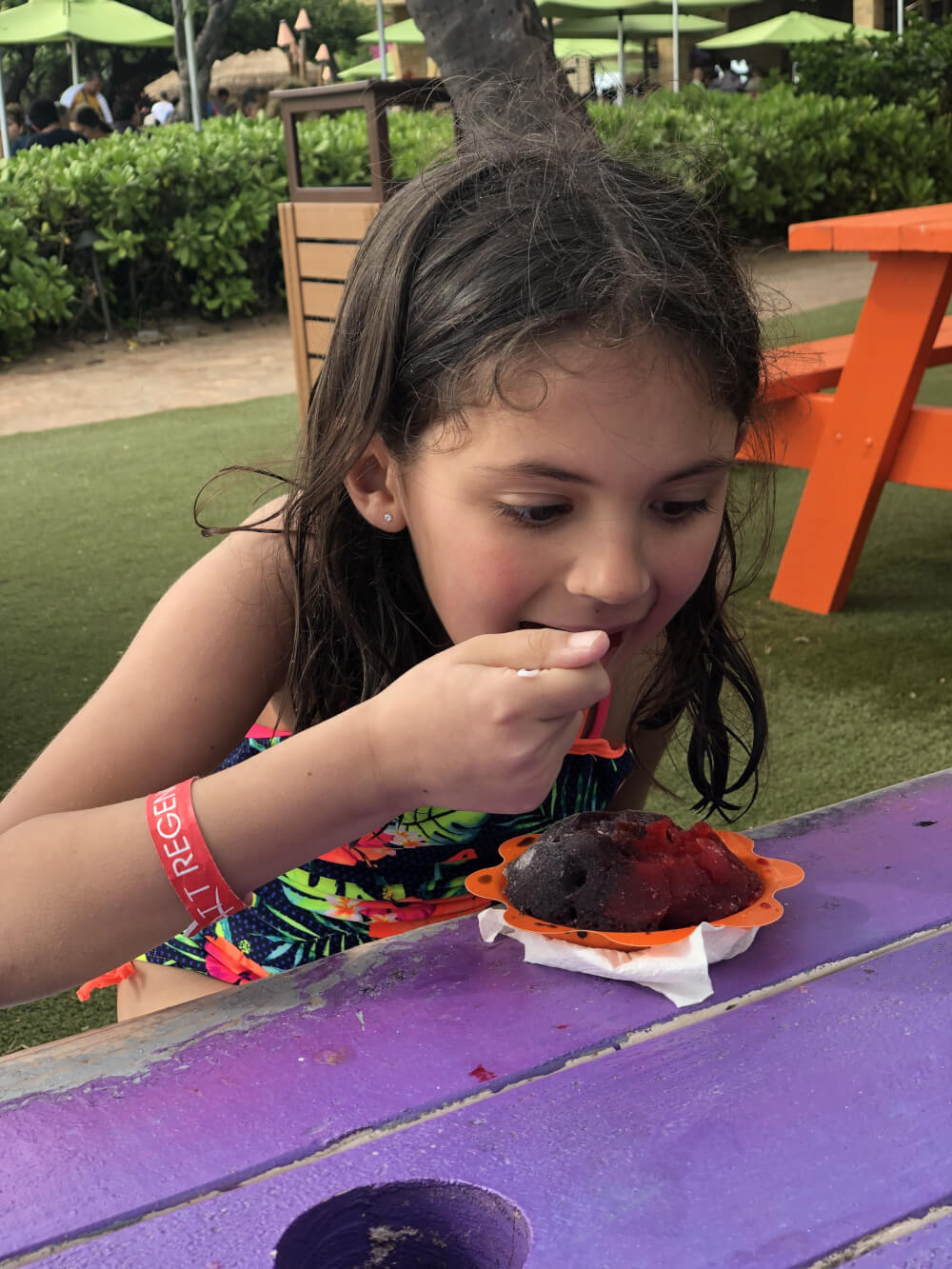 We had spent the majority of the day in the water snorkeling and hanging at the beach so we eventually drove back to the hotel to shower and clean up for dinner.
If you are visiting Maui, there is one place you must make sure you visit for a meal. Mama's Fish House is one of the best restaurants I've ever been to and was definitely my favorite for a memorable meal in Maui.
Whether you go for lunch or for dinner you will not be disappointed.
The location is not the most convenient when staying in Kaanapali because it is actually near the airport, but I am telling you it is worth the drive.
Visiting Maui with Kids
Our family only had 3 full days in Maui, and I think we totally made the best of our short time there.
I will say that if you can stretch your time there even longer you will be able to do even more amazing things that the island offers.
Being that it was our first time and we only had a week, we chose to split our time between Maui and Kauai so we could get a sampling of both, and that is just what it was, a sampling.
If you want to read how our trip continued then check out this post of mine: 3 Days in Kauai.
But if you are fortunate enough to spend longer in Maui, here are some ideas of other fun things to do on the island. I know we will be doing many of these when we visit Maui again.
Spend more time exploring Hana
Bio:
Amanda Patsey is a family travel blogger who lives in the Northeast United States. Her blog is aimed to help other families get inspired and plan outdoor adventures with kids in tow.
You will often find her and her family hitting the road exploring within the United States. Amanda and her family mostly enjoy hiking, visiting National Parks, finding all the best restaurants and breweries, and also discovering all the fun things to do near their home.
Give them a follow on Instagram and Facebook to see what they are up to these days, and read more on their trip to Hawaii (and more!) on Patsey Family Travels.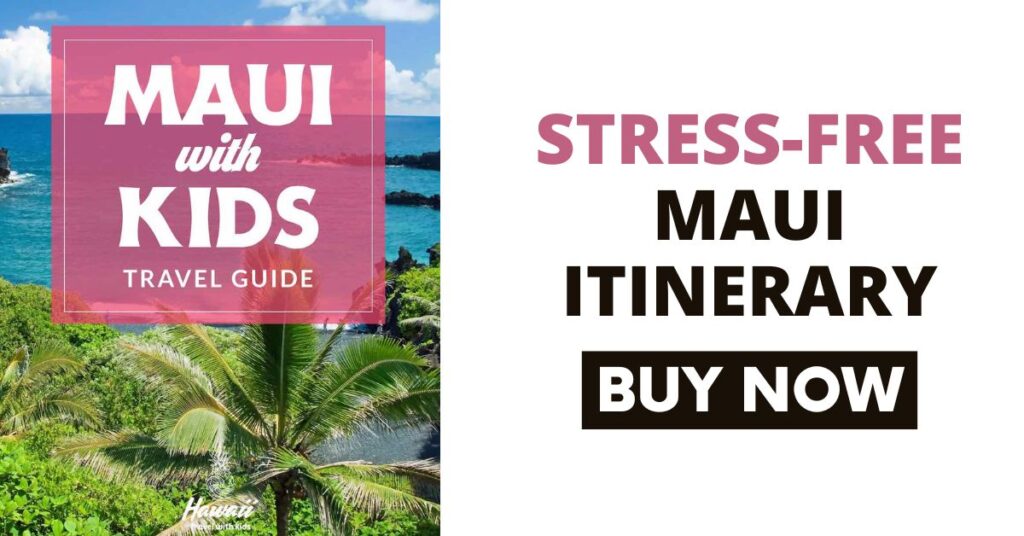 P.S. Join our Hawaii Travel with Kids Facebook group to get connected with other families planning a trip to Hawaii!