Are you thinking about booking a trip to Maui? Keep scrolling to find out the best areas to stay on Maui plus our top picks for hotels and resorts.
This list of the best areas to stay on Maui Hawaii was written by Hawaii travel expert Marcie Cheung and contains affiliate links which means if you purchase something from one of my affiliate links, I may earn a small commission that goes back into maintaining this blog.
You're planning a family vacation to Maui! I've visited Maui several times over the last 20 years, ever since I was a teenager. Now that I have kids of my own, it's one of my favorite places to vacation with the family.
Based on my experience, I'd like to share with you what I think are the best areas to stay in Maui. With children, you may be looking for specific types of experiences, like family-friendly resorts, activities for kids, Maui cottages, or condos with full kitchens. I'll go over everything you should know.
Maui is the second-largest of the Hawaiian Islands and Maui County includes the smaller islands of Molokaʻi, Lanaʻi, and Kahoʻolawe. Maui's known for its waterfalls and white sand beaches. It's also the place to watch the sunrise over Haleakala or to catch a glimpse of migrating humpback whales.
Depending on where you stay on the island, you'll have plenty of kid-friendly things to do! Keep reading for the best places to stay in Maui for families.
Don't have time to read a bunch of Hawaii blog posts and reviews? Here are some of our top picks for visiting Maui.
Popular Maui Tours/Activities
Favorite Maui Resorts/Hotels
Andaz Maui (this is a luxury resort with the best luau on Maui)
Honua Kai Resort & Spa (this is one of our personal favorites because there are tons of pools and there are condo options)
Want to Rent a Car in Hawaii?
One of the best places to rent a car in Hawaii is Discount Hawaii Car Rental because they get the best rates from top national companies like Alamo, Dollar, Thrifty, Avis, Enterprise, Budget, and Payless.
Want to skip all the planning and just access my detailed Maui Itinerary complete with daily schedules, kid-friendly activities, and travel hacks? Click the button below.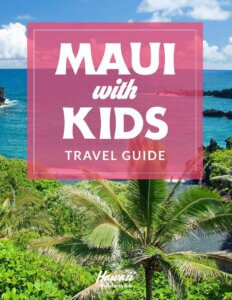 FAQ About Staying in Maui
You may have questions about the best areas to stay in Maui. Here are the most common questions so you can make the best choices for your family vacation.
When is the best time of year to visit Maui?
It depends on what you want to do! Come during the dry season (April through October) if you plan to be on the beaches. November through March is the best time to go whale watching. If you plan on visiting the mountains in the winter, it can get pretty cold. Make sure to bring a jacket and long pants!
What's the best time to see whales in Maui?
You may see whales as early as October, but the peak whale sighting season is January through March. They love the shallow Au'au Channel and can be seen at all times of the day.
Are there any all-inclusive resorts on Maui?
There's only one all-inclusive resort on the island. You'll find the Hana-Maui Hyatt Resort at the end of the Road to Hana in East Maui. Be aware that it's an over 2-hour drive from the airport on a good day! The best area in Maui to stay at resorts is the West Coast.
What about areas to stay on Lanai and Molokai?
While they're technically part of Maui County, the islands of Lanai and Molokai are more geared towards residents and there aren't many hotels or resorts there. However, these smaller islands are a great option if you want to take a day trip to explore them.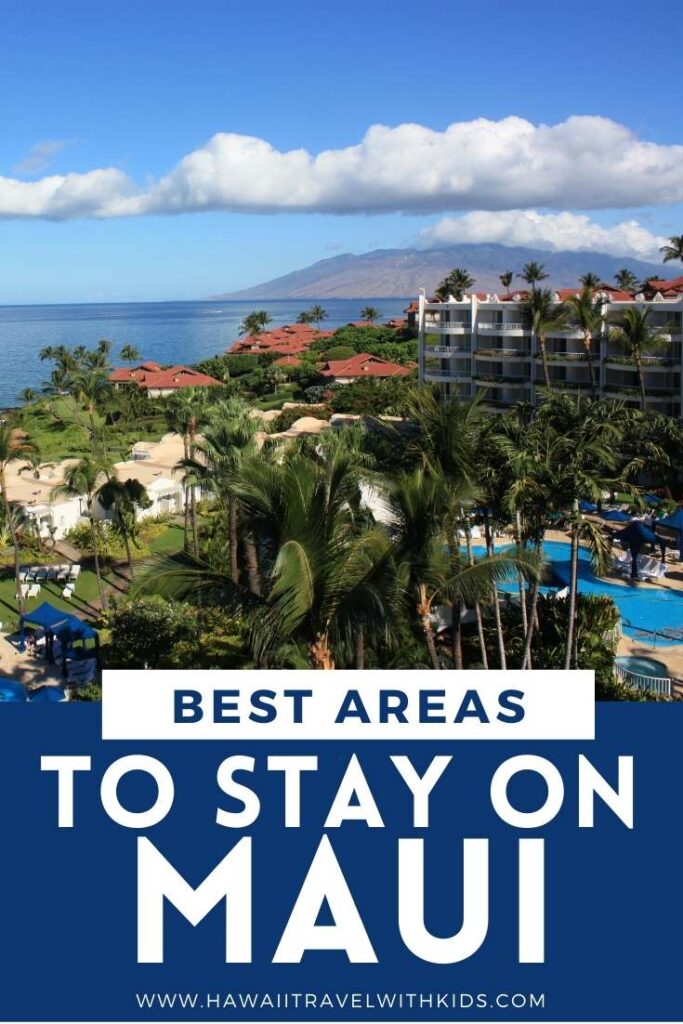 Best Areas to Stay in Maui for Families
I'll be focusing on West Maui and South Maui, where all the family-friendly areas are. Here you'll find the best towns in Maui to stay with kids. They're less remote and you'll still find a variety of activity levels to choose from.
Whether you're looking for resorts with kids clubs or hotels near a quiet beach, this is the best side of Maui to stay.
Central Maui, including its largest city, Kahului, where the airport is, is more of a business district. This isn't really considered one of the best areas to stay in Maui for families. But there are some great places to visit there, like Iao Valley State Park.
Upcountry doesn't have any hotels or resorts, but it's a great day trip to experience authentic Maui life. The North and East Coasts of Maui are isolated. They mostly include forest reserves and villages.
Take a day and drive the Road to Hana for great pit stops, like one of Maui's many waterfalls!
Whether you're looking for budget-friendly places to stay or luxury villas, I have some ideas for you. If you want my suggestions for the best areas to stay for families in West and South Maui, read on!
Save Money with Points
Here are the best credit card offers for families who travel and want to use points to pay for airfare and hotels in Hawaii.
West Maui
The west side of Maui is where you're going to find high-end resorts, private villas, rocky cliffsides, and golf courses. Stay here if you're looking for luxury shopping and resorts with programs for children.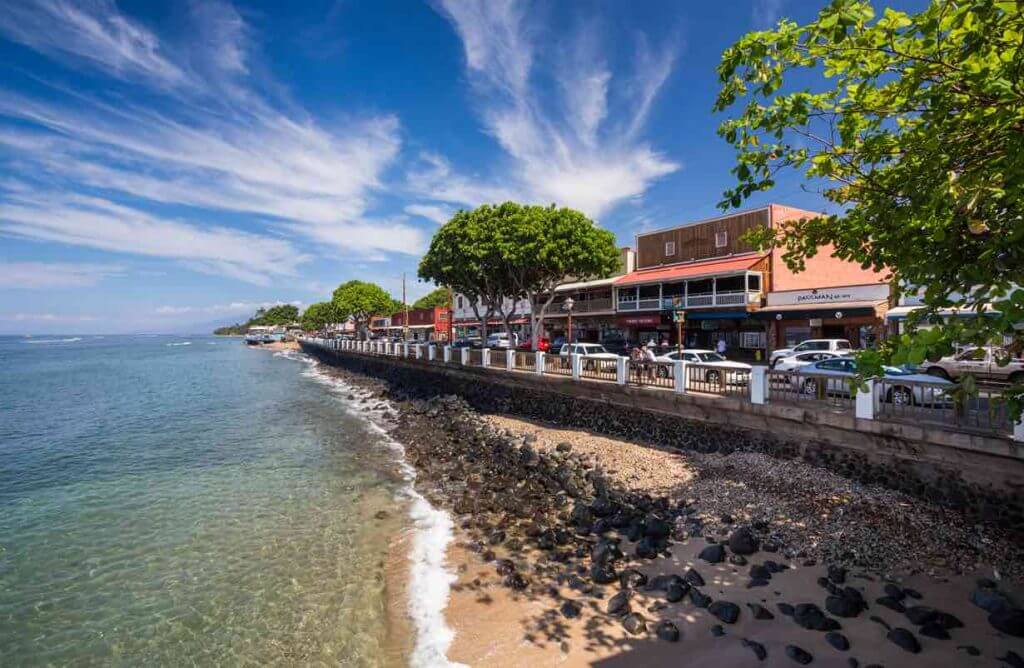 The best locations to stay in Maui on the West Coast are Kapalua, Ka'anapali, and Lahaina.
The West Coast is also one of the best areas to stay in Maui to book a whale-watching tour. The weather is generally mild here, staying between 60- and 85-degrees.
In the winter there are more rainy and cloudy days than there are on the South Coast. However, if you're goal is to do everything inside your resort, you may not even notice!
Kapalua
This is the best area to stay in Maui with family if you're looking for exclusive resorts. Think of places like the Ritz-Carlton.
There are entire villages of private villas if you prefer more rooms. Here you'll also find golf courses and high-end restaurants. Check the latest rates and more information.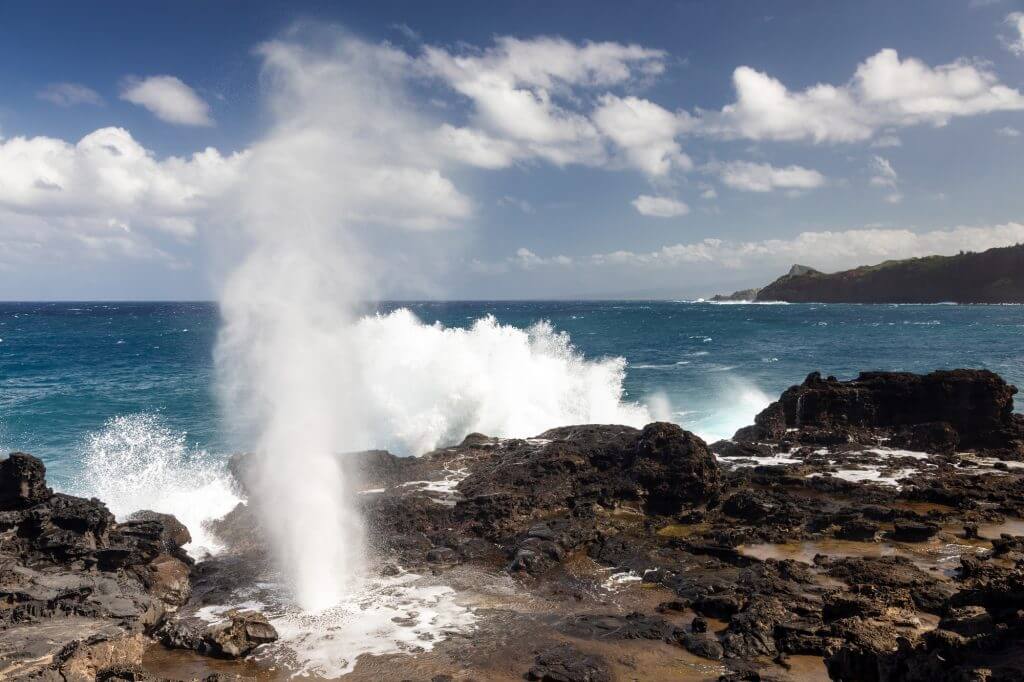 If you have kids, you'll love the amenities the resorts offer, as well as the miles of hiking trails along gorgeous beach cliffs.
A stay in Kapalua probably means you'll be exploring the rest of the island. I highly suggest hiking with the kids north to Nakalele Point, where they can see the Nakalele Blowhole!
For a stay in Kapalua, look for resorts with children's programs. There are a few. I love Montage Kapalua Bay.
At the Montage, there are "residences" or villas ranging from 1 to 4 bedrooms. Each residence has full kitchens and sprawling porches. Check the latest rates and more information.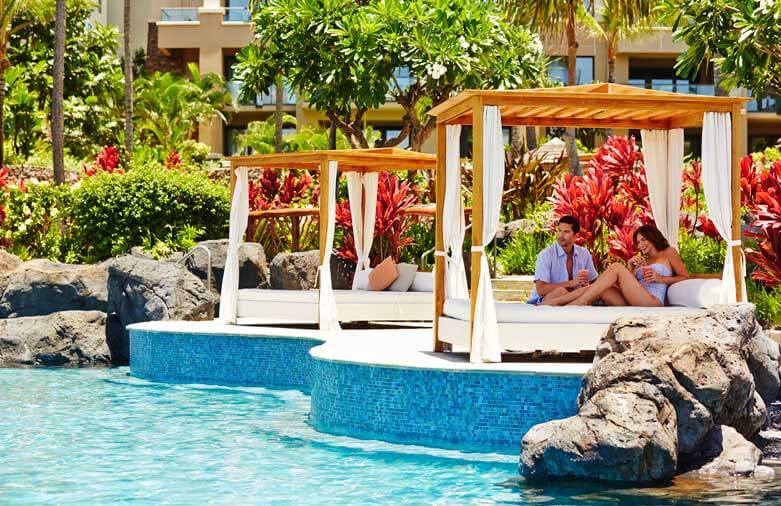 But the reason why I recommend this luxury resort is because of their Paintbox children's program.
Paintbox offers partial or full-day programs for children ages 5 to 12. You can also schedule hourly and date night care. Children have themed days full of fun activities, meals, and swim time in the pools and at the beaches.
Enjoy Montage's spa or take your spouse out for a swanky meal with peace of mind that your child is cared for in Maui!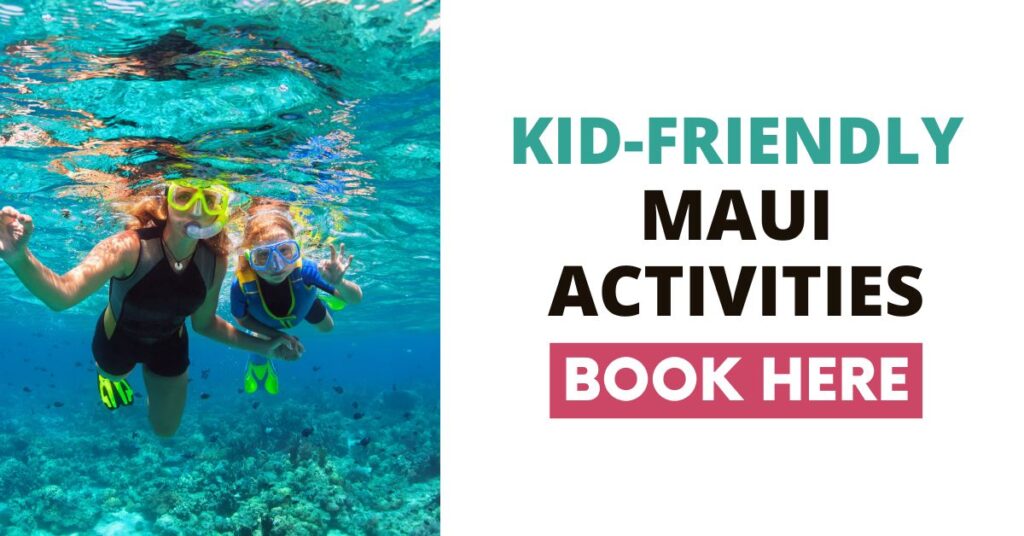 Ka'anapali
Some of the best places to stay in Maui for families can be found in Ka'anapali. This is where most of the kid-friendly resorts are. Hang out on the beach, get in the water, do some water activities.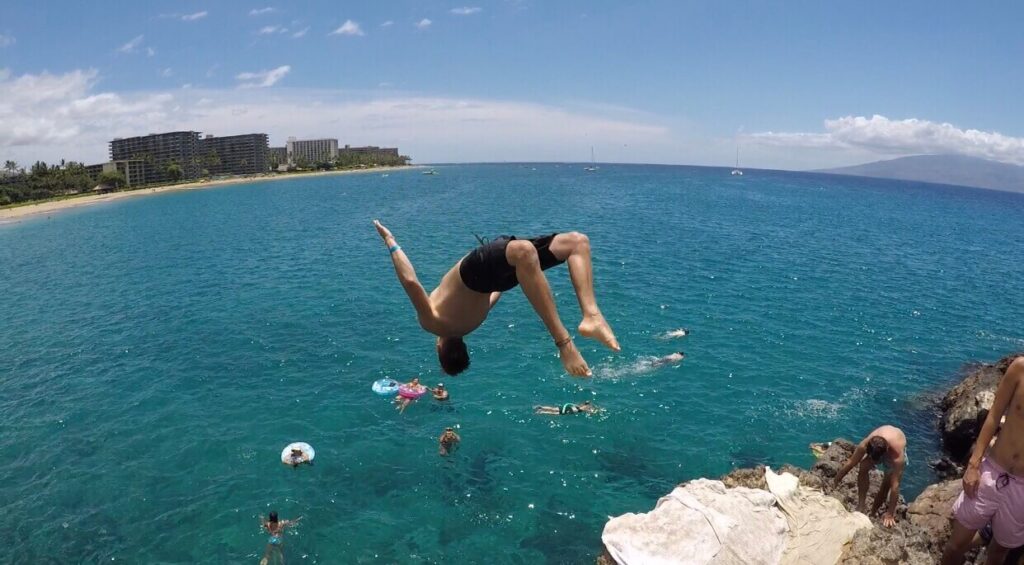 On my list of the best places to stay in Maui, this is the place to come for snorkeling or swimming, especially at Black Rock Beach!
Head to Ka'anapali Beach to go paddleboarding or try your hand at surfing. There are a handful of surf shops nearby where you can sign up for lessons.
For an authentic luau experience, Head to the Myths of Maui. There's shopping at Whaler's Village Shopping Mall, as well.
Check out Marriott's Maui Ocean Club on Ka'anapali Beach. Our family loves the Ocean Club for how welcoming the hotel is to children. It's also really close to grocery stores and Whaler's Village!
There are activities for the kids, a splash pad near the pools, and all the rooms and suites have kitchens. Check the latest rates and more information.
Lahaina
Lahaina Town is less than 10 miles from Ka'anapali, but the town lines are blurred.
A lot of resorts and hotels with Lahaina in their name will have Ka'anapali in their address, and vice-versa. All the resorts are closer to the Ka'anapali side.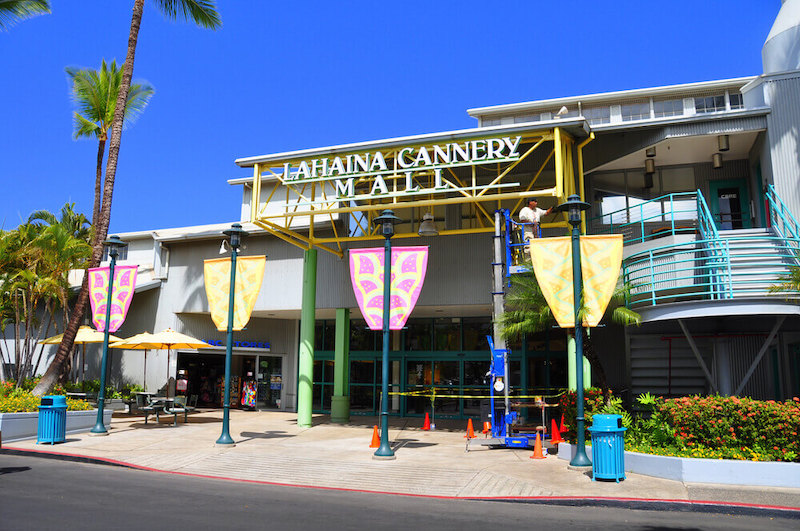 My suggestion is to stay south in Lahaina for shopping and town amenities. Everyone goes to the Lahaina Outlets or Lahaina Cannery Mall to shop. During whale season, head out on a Lahaina Whale Watching Boat Tour.
For an authentically Hawaiian luau, I recommend Old Lahaina Luau. And Baby Beach in Lahaina is perfect for kids with its soft sand and calm waters.
If you're looking for unique places to stay in Maui, a great option is Aina Nalu Lahaina by Outrigger. These vacation condos are nestled into the town center so everything's within walking distance!
Hang out by the 2 pools and use the outdoor grills or walk to the outlets. Every unit except the studios has a kitchen and full washer/dryer set! Check the latest rates and more information.
South Maui
Consider the South Coast if you're looking for a casual, peaceful vacation that involves laying on the beach. This is the best area to stay in Maui for a laid-back, quiet getaway.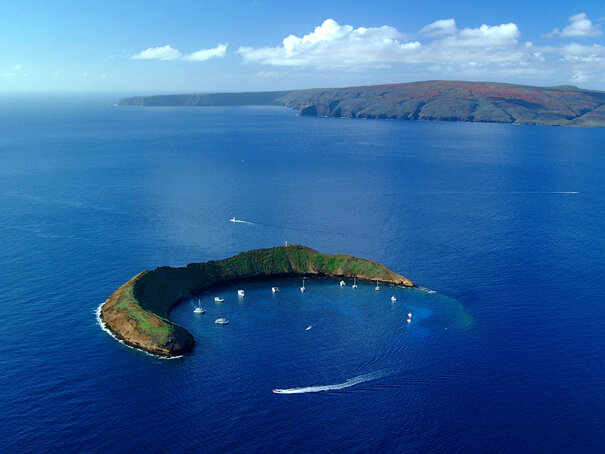 Take a boat tour out to Molokini off the coast. Check out Makena Beach for swimming or Cove Beach Park for surfing and picnicking.
South Maui has the best weather, staying sunny and dry longer than any other area. Come here for the sunniest days on bleached sand beaches.
When it comes to the best areas to stay in Maui, you'll find both budget-friendly places and high-end luxury resorts on the South Coast.
Kihei
For where to stay in Maui on a budget, check out Kihei. Here you'll find family-friendly condos in a range of price points.
When you want to get out of your rental, head to the beach. Kihei has all kinds of water-based activities for you to try.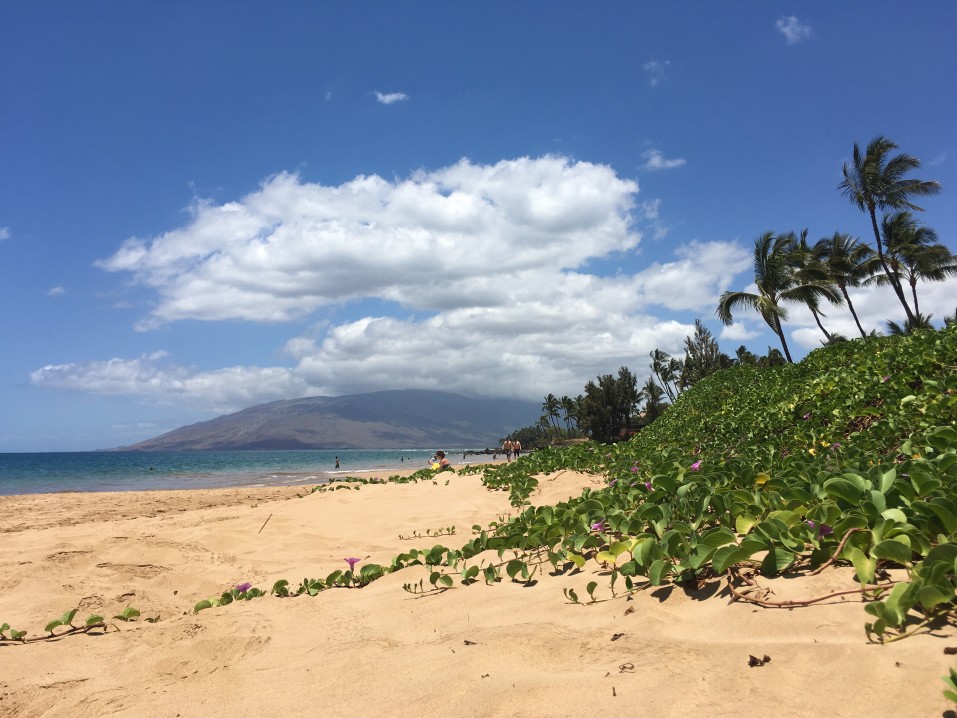 Book a surf lesson with Surf Club Maui for kids or adults. Use the grills and enjoy the ball fields at Kalama Park. There are 3 Kamaole Beach Parks that have kid-friendly sandy beaches, picnic tables, and shade trees.
Or take the kids to the Hawaiian Islands Humpback Whale National Marine Sanctuary for an educational experience.
When it comes to affordable places to stay in Maui, check out Kihei Kai Nani Rentals. This budget-friendly option is conveniently located next to shopping, a deli, grocery stores, and other services.
Enjoy spacious one-bedroom condos with full kitchens. There's even air conditioning and washer/dryer units in deluxe units. Check the latest rates and more information.
Book a Family Photo Shoot
Whenever we travel to Hawaii, we almost always book a family photo shoot with Flytographer. They are super easy, affordable, AND it guarantees that I'll be in some photos. You can get $25 off if you book through this link or use the code HAWAIITRAVEL.
Wailea
Wailea is the best location to stay in Maui for a high-end luxury resort experience. Plus, it's less than an hour from the airport!
This is a beautiful area with quality attractions. You can attend a luau at Te Au Moana or Grand Wailea Luau.
Wailea is the place everyone comes to shop. Make sure to check out the Shops at Wailea. There's a golf course and a tennis club. Wailea Beach is a great beach to take the kids. It's in a cove and is usually really calm.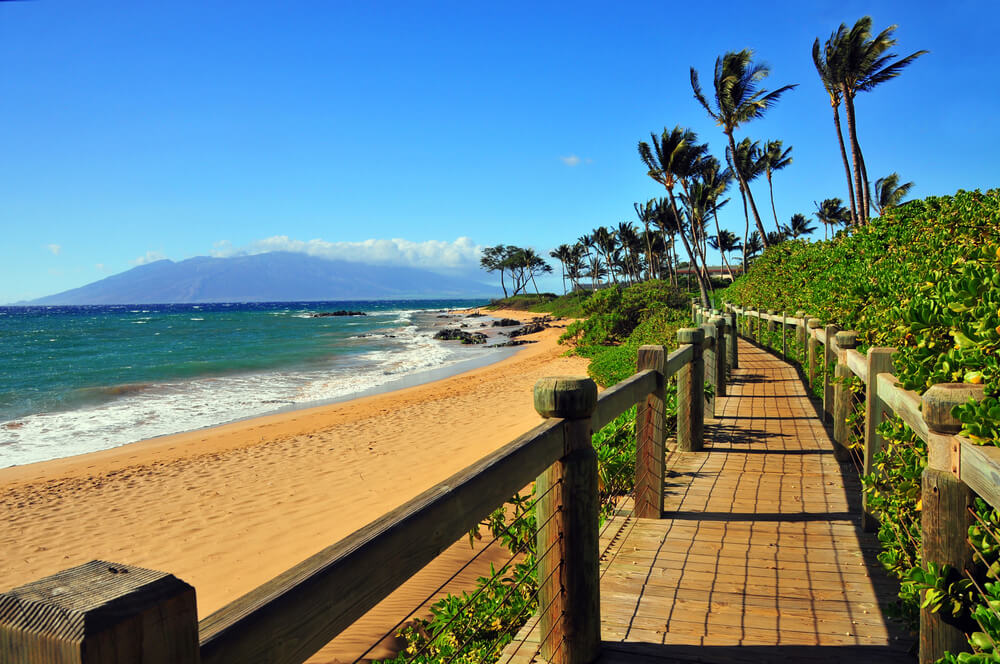 Wailea Beach also has paved walking paths with great views of the water. Lots of people use the paths, both to go jogging and to get around Wailea. Just be aware that there aren't any benches along the way if you need to rest.
One of the best areas to stay in Maui for a top-notch experience is the Four Seasons Resort, Maui at Wailea. They offer families complimentary baby items, including bathtubs, bath products, strollers, and more.
Also, if you speak to the concierge, they can assist you in planning kid-friendly activities for your stay! Check out the latest rates and more information.
Tips for Choosing the Best Areas to Stay in Maui
While you're planning your family vacation to Maui, I have a few tips for you. Keep these things in mind when looking for the best areas to stay in Maui.
Think about what kind of accommodations you're looking for, and that will give you an idea of the best part of Maui to stay in. Think about whether you want the amenities of hotels and resorts or the privacy of condos and villas.
If you don't want to rent a car, it's best to make accommodations near a town center, like in Kihei or Lahaina. Then, you can rent an airport shuttle to and from, which is cheaper than a taxi or car service will be.
To get the most out of your trip, I suggest planning to take 5 to 7 days. You can take a 3-day trip to Maui, but it may not give you the experience you're looking for. Especially with smaller children, I recommend taking a day to settle in. This time frame will also allow you to plan a variety of experiences, from planned outings and shopping trips to low-key beach days.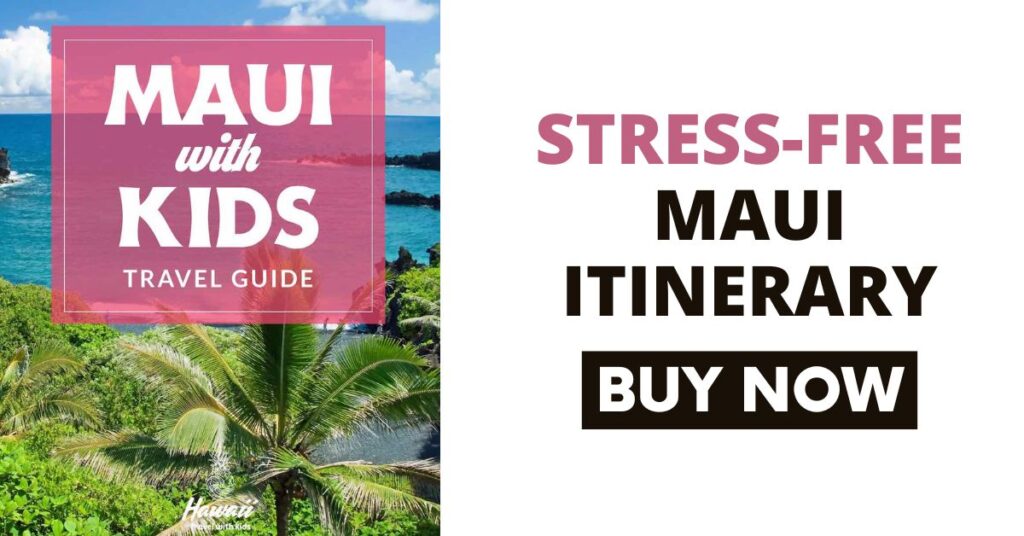 Where to Stay in Maui with Family
If you're looking to vacation on the islands of Hawaii, Maui is a wonderful family-friendly choice. When it comes to the best places to stay in Maui, you can't go wrong with the West or South Coasts.
From luxury resorts and villas to hotels and condos that are gentle on your wallet, there's something for everyone here. With all kinds of events and attractions, Maui is a welcoming place to visitors. I hope I inspired you to book your next trip to this great island!