Planning a trip to Hawaii and are looking for awesome backpacks for the beach? Keep scrolling to find out the best beach backpacks for Hawaii vacations!
This post about the best beach backpacks for Hawaii was written by Hawaii travel expert Marcie Cheung and contains affiliate links which means if you purchase something from one of my affiliate links, I may earn a small commission that goes back into maintaining this blog.
When you're heading out for a day at the beach, there are a lot of things you probably want to bring. It's a day out you want to be prepared for.
Facilities at beaches in Hawaii are often very limited, so you may need to take extra items with you so you have everything you need. This is especially true if your day at the beach includes children.
You also want to make sure the material your bag is made from will suitably protect your belongings from sand and water.
Sometimes though, the question is not what to bring but what to put everything in. You may not have a beach backpack that's suitable for all the things you may need to pack for the beach, so you may be looking to buy one.
To help you choose the right backpacks for the beach, I have compiled a list of the best beach backpacks that would be great to use on Hawaiian beaches (or any other beach, for that matter).
Want to skip all the planning and just access my detailed Hawaii Itineraries complete with daily schedules, kid-friendly activities, and travel hacks? Click the button below.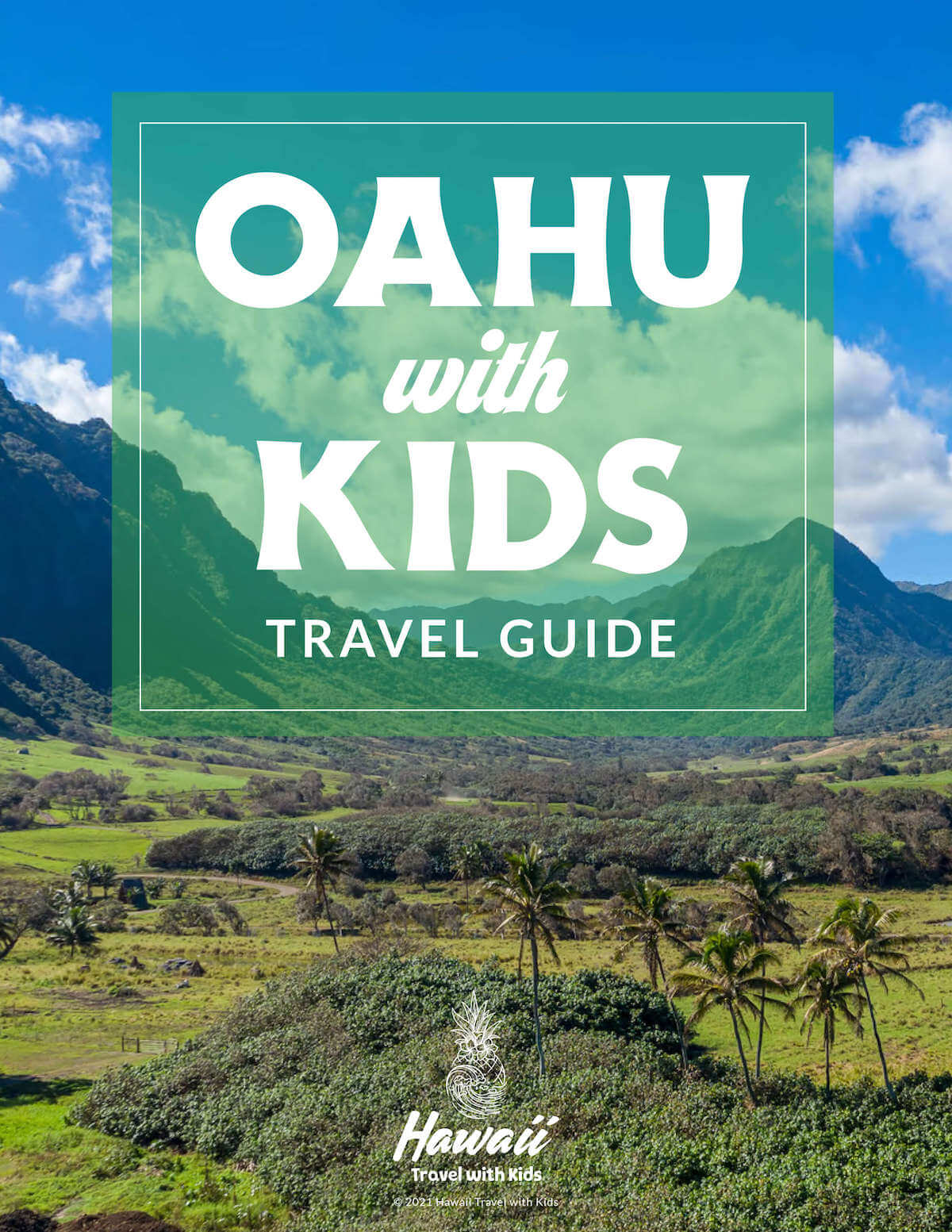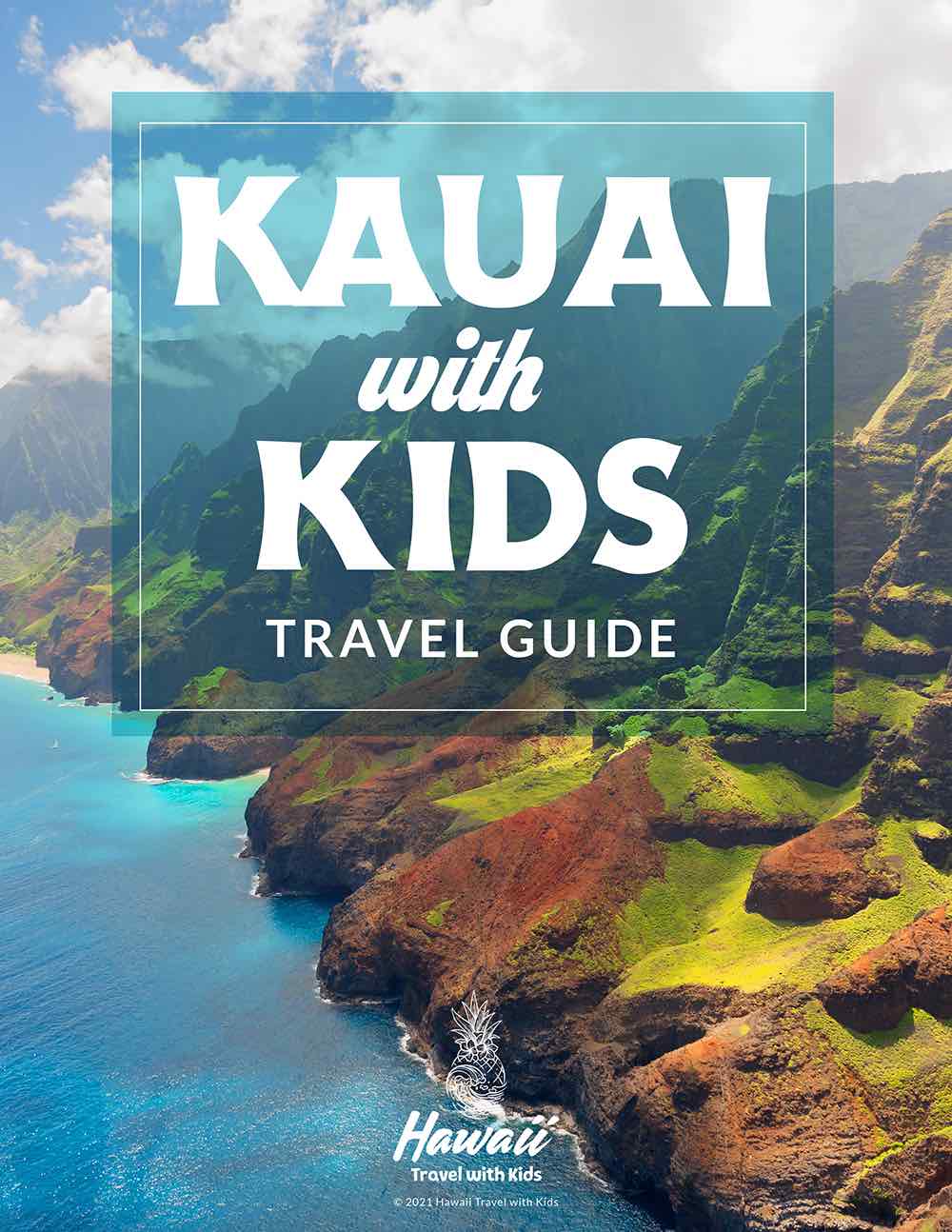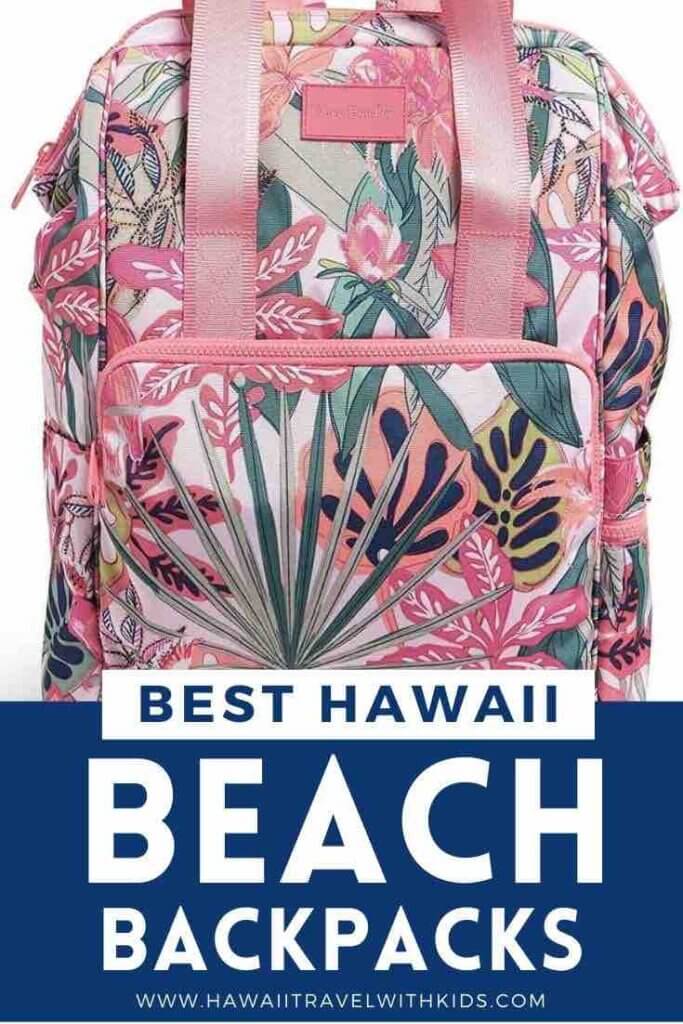 Best Beach Backpacks to Bring to Hawaii
If style is just as important to you as practicality, then this Vera Bradley cooler backpack is perfect. Not obviously a cooler backpack with its fashionable design, you can fit both your picnic and beach essentials in this bag.
These cute beach backpacks are made from recycled plastic bottles so they are both environmentally friendly and durable. Due to the material it's made from, it's also extremely lightweight.
It has several pockets so you can divide your things. They are much easier to find when you need them preventing a panicked search and sand everywhere in your bag.
What is really handy is the small compartment at the back of the bag where you can safely house your valuables. Check out the latest prices and more details.
What we love about this bag
Beautiful designs (you can choose from several)
Extremely water resistant
Environmentally friendly
Multiple compartments
Perfect backpack for picnics at the beach
Shoulder straps and handles to act as a tote bag if you want
What's not so great
It's not the largest backpack. If packing a picnic, you will probably only be able to fit the bare essentials in and probably only a small towel.
Higher price range
If you want a stylish bag, this is the best beach style backpacks for Hawaii you can find!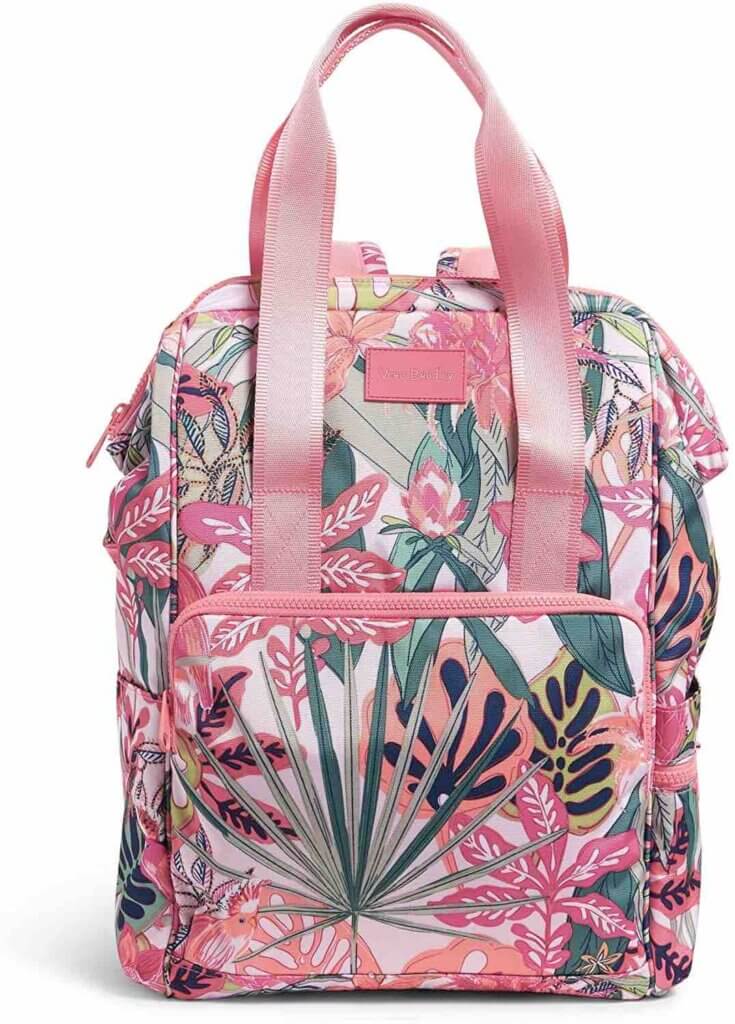 This is a great beach backpack for kids. It's not always easy to find a big enough backpack that will fit the whole family's belongings in, so sometimes individuals may have to carry their own things.
Finding the right one that your child will enjoy carrying is important.
This kid's backpack is extremely lightweight, which is helpful when you have kids carrying things. They're less likely to get tired of carrying their beach toys and other stuff.
For the same reason, this bag isn't overly big. Small beach backpacks are perfect for little ones.
While this bag isn't waterproof, as it's made of mesh, it dries out quickly. It also helps wet clothes inside to air out, too, before you get it all home. It has an extra pocket to separate out some of the items your child may need to take with them.
There is also a bottle pocket that could be used for either a water bottle or even a sunscreen bottle if necessary on this mesh backpack.
It also has a really easy barrel opening and closing mechanism, so it's super kid friendly. And the seams are very strong, so this drawstring backpack will last. Check out the latest prices and more details.
What we love about this bag
It has a number of designs you can choose from, so kids can really enjoy the style of their backpack
Extremely lightweight backpack
Perfect beach backpack for kids
Dries out easily if it gets wet at the beach
Cheap beach bag
What's not so great
It's not waterproof or particularly secure, so valuable or important items aren't suitable in this bag
Likely to only fit in the bare essentials for the beach
Not great for packing a picnic
These are the best backpacks for the beach for independent little ones who are happy to carry their own belongings to the beach.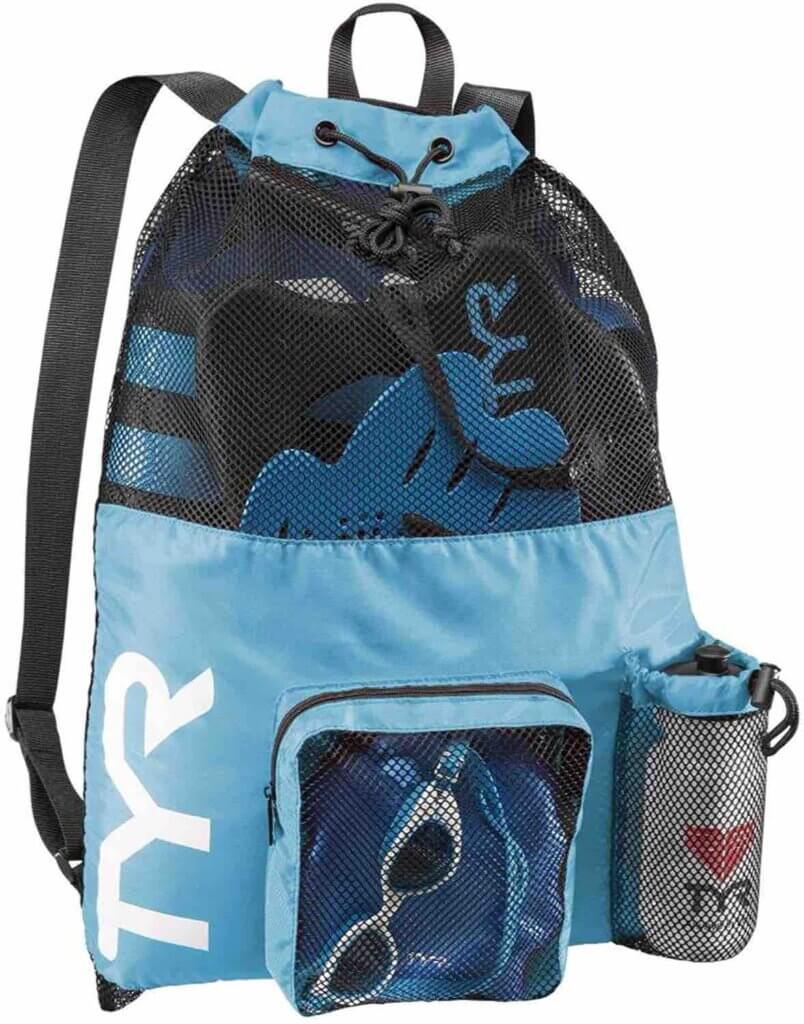 If you are looking for a large beach backpack with a cooler, this is the one for you.
This cooler backpack is an excellent choice if you're planning on having a picnic at the beach.
With two main compartments and several smaller pockets, you can choose to pack a mighty beach feast for a large family.
Alternatively, you can pack both food and essentials – by separating them into their own compartments.
This backpack is made from eco-friendly materials made from waste plastic bottles. It is also waterproof and does a great job of protecting your belongings/ picnic from getting damp. The inner lining is also leakproof so that your picnic stays in the bag and doesn't leak out.
This waterproof beach backpack is also great for keeping food cool for a long time, which is definitely necessary for Hawaii's warm climate.
It's an extremely spacious bag, so you can fit a lot into it. Even though it's large, it is not bulky.
It is designed to be very comfortable to carry with adjustable shoulder straps that are padded along with a padded back panel. It also has a padded handle for multiple carrying options. This is great if you have another backpack with you. Check out the latest prices and more details.
What we love about this backpack
Fantastic for taking food to the beach
Can separate out food from other belongings such as sunscreen and other beach essentials
Extra handle means you can carry this along with another backpack
High-end waterproof material
Small pocket at the front, which is ideal for a phone or money
Affordable cooler backpack option.
What's not so great
Could potentially have more compartments
Mainly designed for food rather than other essential beach items
This is a great backpack for families and those who want to be stocked up with food and drinks for a whole day at the beach.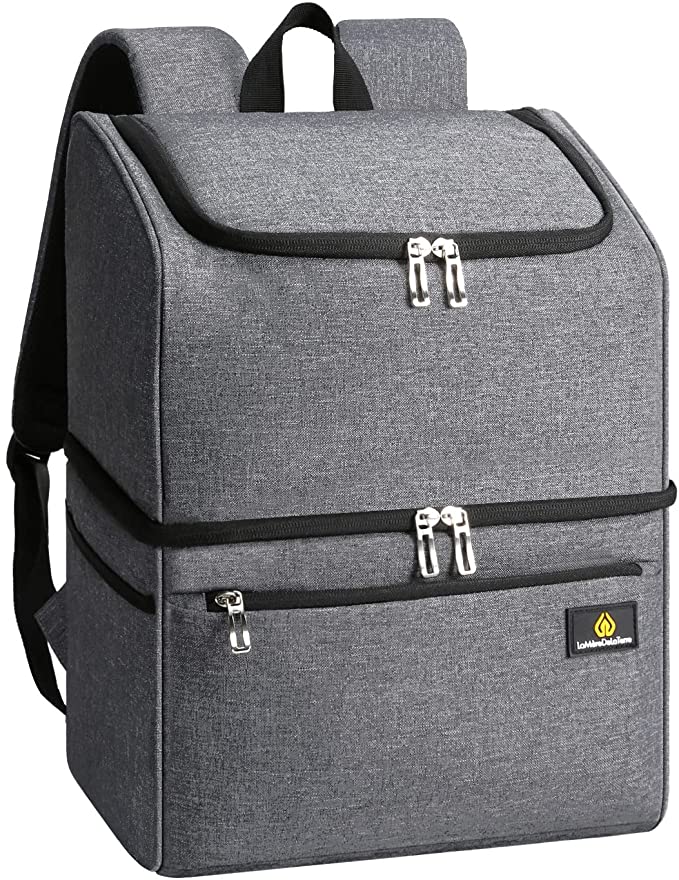 This is the best dry backpack that has a bigger capacity than other outdoor gear. This waterproof bag has a roomy main compartment, padded shoulder straps, and a hidden zipper pocket that is great for your keys and wallet.
It is lightweight, fully collapsible, and made from a durable material, making it a great beach bag! Instead of a zipper at the top to keep everything inside, you roll it down three times, which might be more easy access for little ones.
It is a pretty decent size backpack for the beach, so you can fit lots of your beach gear inside and have room for both your towels and kid's toys! Check out latest prices and more details.
What we love about this bag
Waterproof pouch and sand-proof backpack.
Padded shoulder straps to easily carry and not hurt your arms.
Hidden zippered pocket to keep your phone, wallet, and keys safe.
Fully collapsible, making it the perfect backpack for traveling to Hawaii!
Made from heavy-duty materials.
What's not so good
No zipper at the top to keep everything inside, might be tricky to keep everything completely dry and away from the sand.
Won't keep your items cool, especially out in the heat.
Not very many pockets to separate everything, making it harder to find things when you need them.
If you want a water-resistant sand-proof backpack with a main interior pocket, and the ability to fold up small when you are finished at the beach, this is one of the best beach bags for you.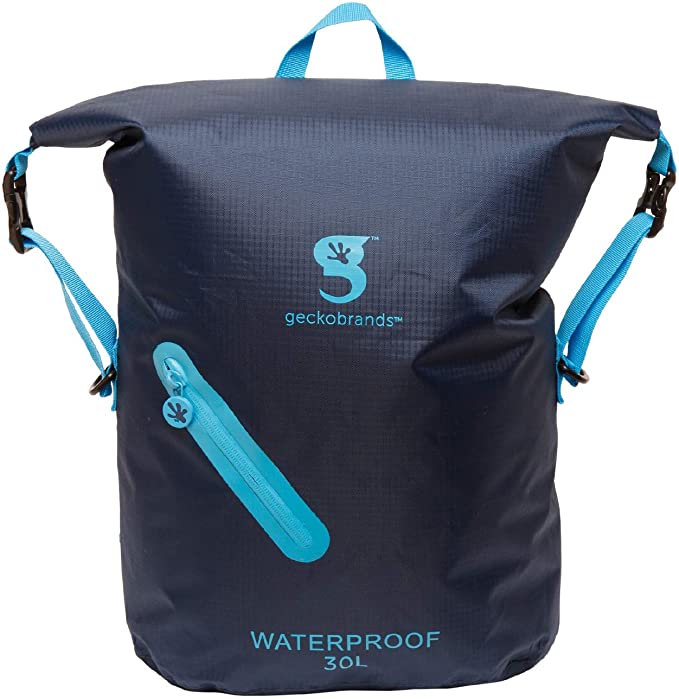 The Tourit Cooler Backpack is the best beach backpack cooler! It is leakproof and has plenty of compartments for everything you'll need. It is another shoulder bag that is perfect for picnics and beach trips.
Keep your food and drinks cold all day long with this cooler backpack. Plus, it also comes with an awesome bottle opener right on the padded sleeve!
With 7 different pockets, you can fit everything you will need, plus have it all organized and quick to grab during your beach trip. Check out latest prices and more details.
What we love about this bag
It will keep all your food and drinks cool for up to 16 hours!
More affordable cooler backpack option.
Spacious main compartment that can hold up to 30 cans, along with 6 other pockets for all your picnic and beach essentials.
Made with water-resistant, durable material that is easy to clean.
What's not so good
It is a little bit over a pound, so a bit heavier than other beach backpacks you'll find.
Doesn't have padded sleeves, so it can get pretty heavy with lots of food and drinks.
It is mainly used for food and drinks, not beach essentials.
If you plan to stay out of the beach all day long, this is one of the best cooler backpacks for a beach trip and can be filled with both food and beach accessories!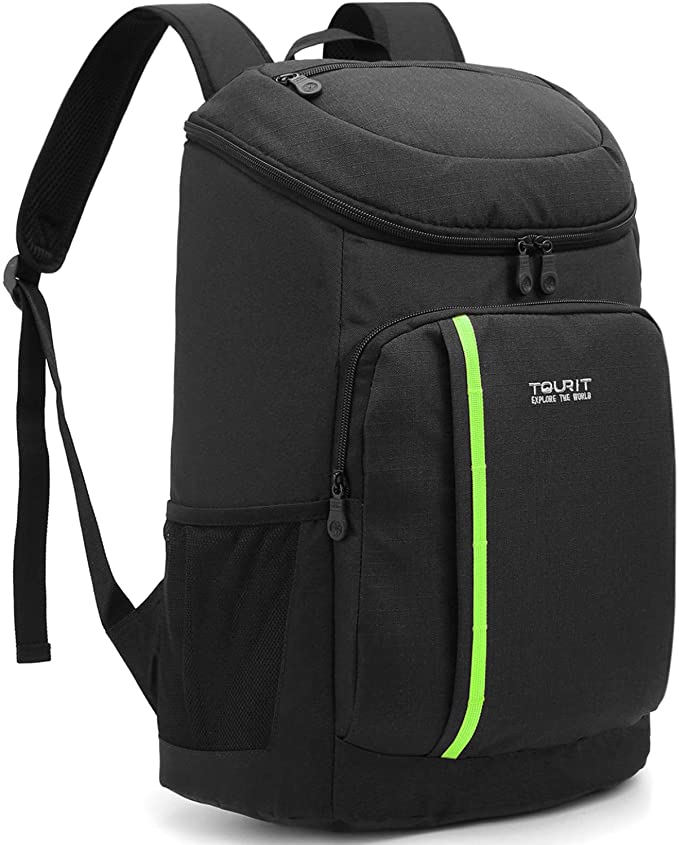 This is another one of the cute beachy backpacks perfect for moms with little ones! It has both shoulder straps and grab-and-go hand straps, so you can use it as a beach bag or a backpack.
It is a pretty lightweight backpack that has a drawstring closure at the top, with easy access for your kids. This is also a mesh backpack that comes with a removable pocket great for your wallet, phone, and keys.
The main compartment is very large and can fit a wide variety of beach items. Check out latest prices and more details.
What we love about this bag
Is water-resistant and sand resistant with mesh and neoprene materials.
Not zippered pocket, only has a drawstring to clench at the top.
What's not so good
Only one main compartment, it would be better with multiple compartments!
This is the best backpack for beach trips for the entire family. If you want a drawstring backpack that has nice shoulder straps, this will be perfect for you!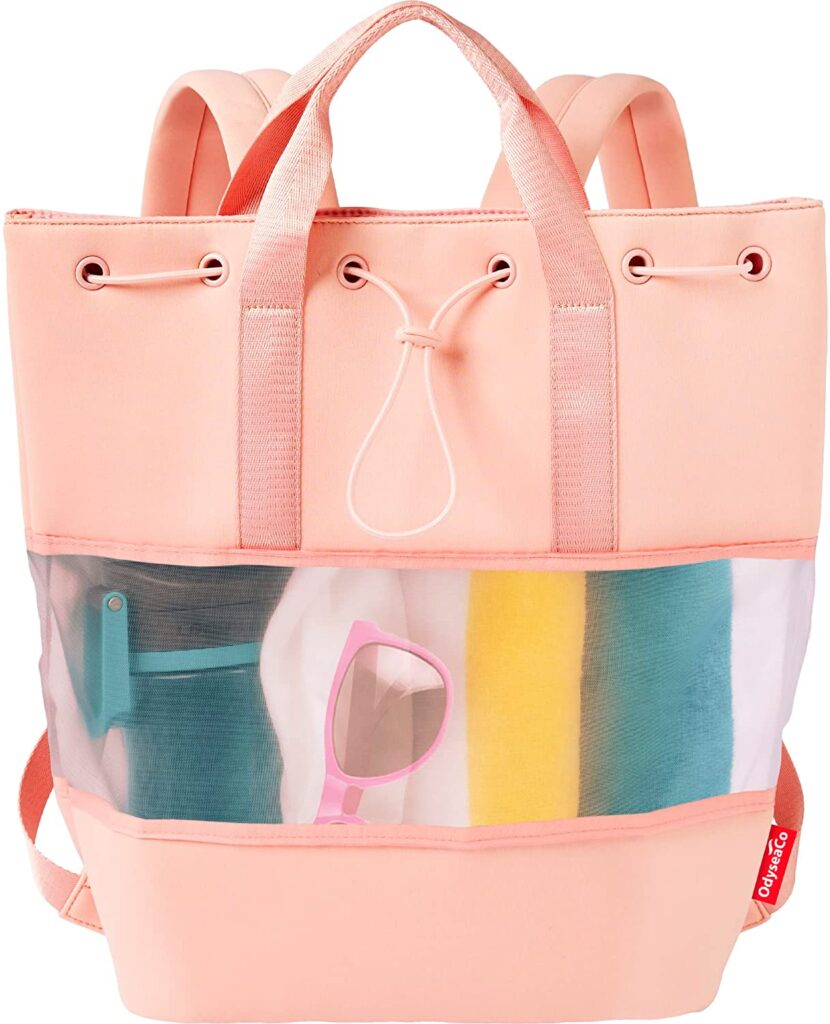 This waterproof drawstring backpack is the best backpack for the beach for your kids. It is made with a water-resistant material and is so cute and very beachy!
The shoulder straps are adjustable, making it the perfect size for little ones to carry their beach towel and flip-flops in. Inside the main compartment, you will find four inside pockets to organize all your items.
Other than that, you will find front and back zippered pockets to fit smaller items inside. The drawstring at the top makes it very easy to use and quickly grab what you need. Check out latest prices and more details.
What we love about this bag
Drawstring access is perfect for kids to carry their items for their beach trip.
Lots of fun Hawaiian designs, so kids can choose exactly what they want.
Hidden pocket at the back for your valuable items.
Water-resistant fabric is so helpful for the beach.
One of the best cheap backpacks!
What's not so good
A slightly smaller backpack for the beach than the other options, so it won't hold a lot of items.
No water bottle pocket, which means less space inside for other beach essentials.
If you are looking for a cheap beach bag for your kids, this would be great! It can fit most everything your kid will need for the beach and is a bag they can easily get into whenever they need.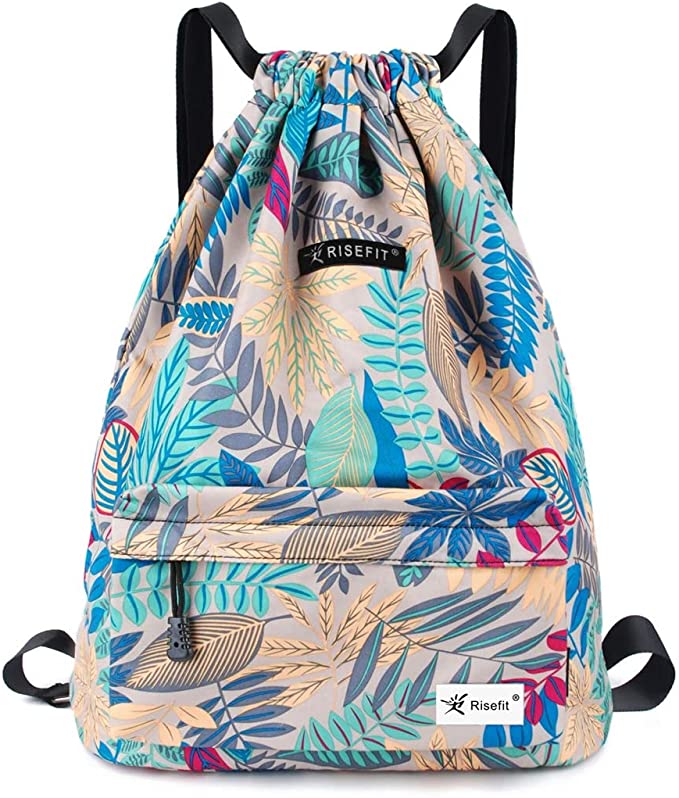 This is the best beach bag backpack if you hate sand getting in all your things. This mesh beach backpack will help keep your wet swimsuits from getting stinky and staying wet all day long!
A mesh beach backpack is so nice if you don't have a lot of items or valuables when you head to the beach. There are two pockets: a good size interior pocket and a small zippered pocket on the outside. Check out latest prices and more details.
What we love about this bag
Since it is completely made from mesh, it is the best waterproof and sand-proof backpack.
Comes in a variety of colors, so kids can have their own.
What's not so good
Is not a great beach backpack if you plan to carry valuables or things that cannot get wet.
Does not have multiple compartments, so things won't be as organized.
If you absolutely hate bringing a bunch of sand home, a mesh beach backpack like this one would probably be the best one for you!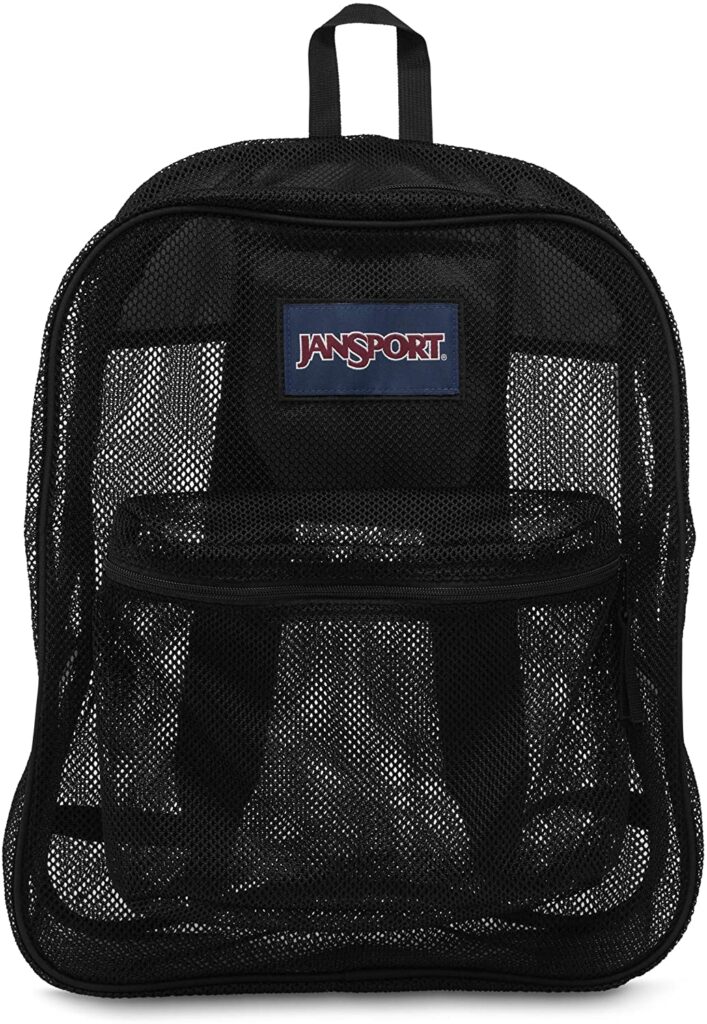 The CYUREAY Convertible Backpack Tote is the best beach backpack for moms. You can easily carry it on your back, and when you need to quickly grab it and go, there are tote handles to use. And, if you want to carry it as a shoulder bag, there is a shoulder strap too!
You will find just about everything with this large beach backpack. It has multiple pockets all over the bag, including an anti-theft back pocket. You'll find side pockets for your water bottles as well.
If you stay at the beach all day, you will love the charging port also included in the bag. So, take all the pictures and videos you want, and keep your phone charged when you are out relaxing on the beach. Check out latest prices and more details.
What we love about this bag
Very affordable convertible backpack for the beach.
Made from nylon material that is lightweight, durable, and water resistant.
USB charging port to keep your phone at 100% battery all day long for pictures and videos of your beach trip.
Large main compartment for your beach towels, along with smaller pockets for all your other items.
Removable straps so you can attach to beach chair to prevent theft.
What's not so good
No extra pocket for wet clothes, so they might stay wet and get stinky all day long.
Won't keep your drinks and food cold since there isn't a cooler section.
All in all, if you want a versatile beach bag, this is the perfect beach backpack for you.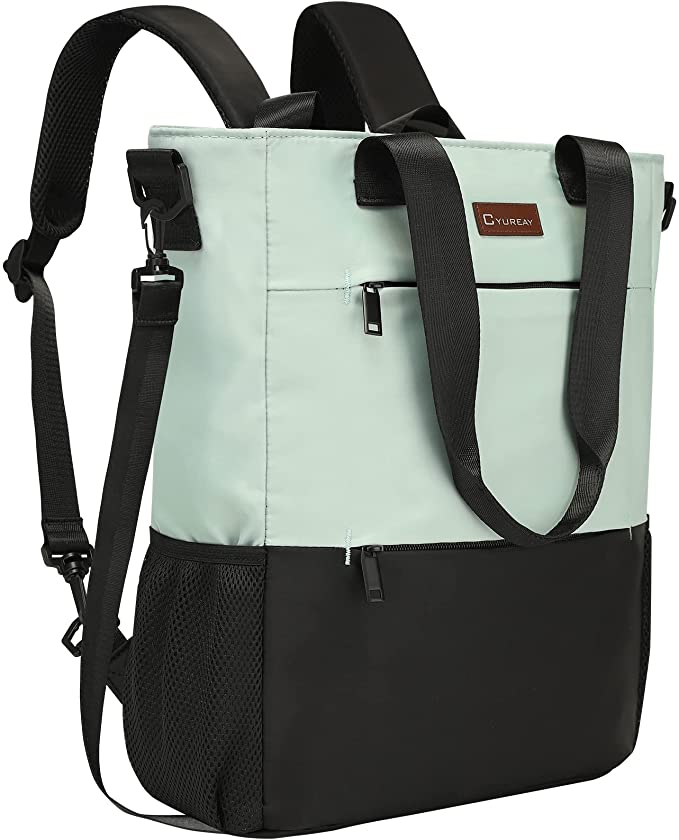 For another waterproof option, this Shylero Clear Backpack is a great one for beach trips. While it seems small, it is very expandable and can hold a lot of beach towels, a beach blanket, beach toys, and more!
There are plenty of zippered pockets, including three inner pockets, and some even have durable two-way zippers. There are side pockets great for water bottles, padded straps, and a built-in key holder. Check out latest prices and more details.
What we love about this bag
Since it is clear, you can quickly find what you need inside, especially your kids.
Very expandable and large, so you can fit all your items inside.
The clear material is waterproof and the best backpack for the beach.
What's not so good
A bit pricer than other options.
It is see-through, so if you don't want other people to know what's in your bag, this isn't the one for you.
Hard to hide your valuables with clear pockets.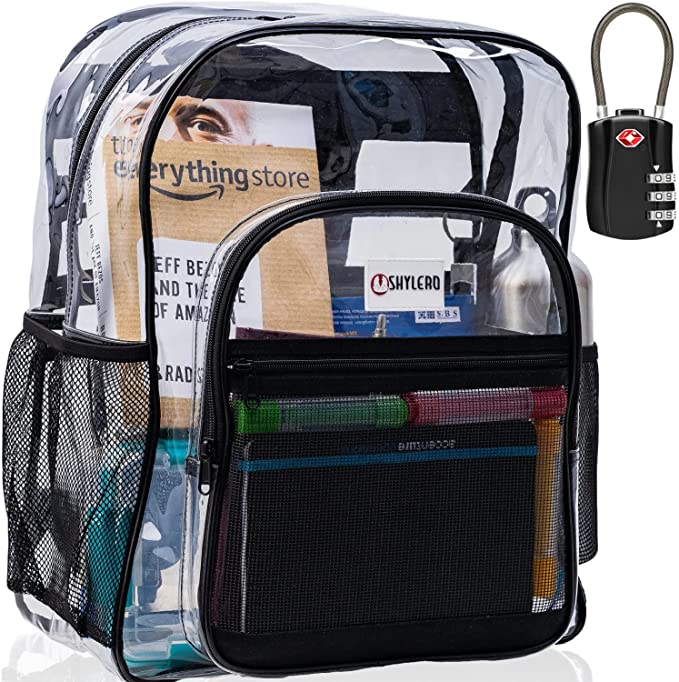 Beach Backpack FAQs and Important Information
Why do you need a beach backpack for Hawaii?
It's probably a good idea to invest in a beach backpack rather than an ordinary bag for several reasons.

The first reason is that a specialized beach backpack is weather and water-resistant.

This will stop any wetness or water from getting into your bag and destroying your belongings. These bags also tend to be made of material that doesn't pick the sand up or deteriorate in the sea air.

Beach backpacks are also necessary as they tend to have more pockets which allow you to pack several types of items and categorize them, including kids' beach toys, beach blankets, beach towels, snorkeling gear, clothes, sunscreen, cold drinks, wet gear, and more.

For example, you probably want to keep your toiletries like sunscreen separate from your valuables like your cell phone.

The last main reason for investing in a beach backpack is that many of them have a section to keep food and drinks cool. This is important if you plan to spend the day at a warm beach in Hawaii.
What types of beach backpacks are there, and when do you use them?
There are several types of backpack beach bags:

Foldable beach bags
If you are traveling a lot, there are foldable bags that are really useful. They tend to have lots of compartments and fold down very small.

These are handy if you are traveling from place to place a lot and you generally need minimal luggage. They are also really good for keeping your airplane luggage more lightweight.

Mesh backpacks
Mesh beach bags are really good if you don't have any valuables you need to keep safe in them. Another perk of a mesh beach bag is that it will dry very quickly after getting wet at the beach. Find the best prices here.

Cooler backpacks
Beach bag packs that have a cooler facility are really handy to have if you're going on a family day to a Hawaiian Beach. It's expensive to feed a whole family while out, so having the ability to make and take a picnic is the best option.

A cooler beach backpack allows you to carry your food easily (along with your other essentials) and keep it cool for a long time. Who doesn't want ice-cold drinks while at the beach!

As Hawaii has a warm climate, keeping your food and drinks cold is essential.
How to choose the right-sized beach backpack for Hawaii?
It's important to figure out what size backpack you will need for your beach outing.

You aren't likely to need a big one if you're going solo and you don't want to be carrying excess weight around with you.

However, if you are packing for the family, you need to make sure the bag is big enough to at least fit everyone's beach accessories in.

A great way to figure out the size of the beach backpack you are going to need is to write a packing list beforehand and, from there, determine how large you think your bag needs to be.

You can also attempt to pack your things into a bag you already have that isn't beach suitable to gauge how well your items will and buy the size according to that.
Things you may want to consider buying along with your beach backpack?
When going to the beach, it's really important to consider how you are going to keep your valuables safe. It's very easy for valuables such as keys, phones, and money to get lost or full of sand.

Water damage is definitely another issue to consider.

Personally, I recommend using wet/dry bags to prevent your items from getting wet if they fall out of your bag. It's also a great way to keep wet swimsuits from ruining everything else in your bag. Check out the latest prices and more details.

Another option for keeping valuables safe is to get some waterproof pouch sets. 

Each set comes with several different-sized pouches that can fit valuables inside to protect them from damage or loss at the beach.

Some even come with an adjustable hip belt so you can keep them on your person easily while you're enjoying the beach.

These pouches can easily fit into your beach backpack to give your valuables extra protection. Check out the latest prices.
What makes a beach bag a beach bag?
While traditional backpacks can be used on your beach trip, a specific beach bag is typically made to be waterproof, lightweight, sand-proof, and sunproof in one way or another.
Why should I use a backpack instead of other beach bags?
There are plenty of beach bags, but I think beach backpacks are much better since they allow you to be hands-free and generally have more storage space. Most of them also have extra pockets versus a beach tote.

Beach goers will also like the right beach backpack over a new beach bag because of their adjustable straps, so both mom and dad can carry them with ease!
Conclusion
There are several types of beach bag backpacks that you can choose from depending on what type of day you're planning to have at the beach.
They are mainly made from either waterproof material or mesh, which both work great at the beach.
Always remember that if you're going to take food to the beach, Hawaiian beaches are very warm.
A beach bag with a good cooler section is really recommended to keep drinks cool and food fresh. This is also a good idea if you have a big family and want to save money on lunches so you aren't buying everyone's food out.
If you are a solo traveler, then the foldable waterproof backpacks will do well at the beach to carry everything you need for yourself.
Just remember, when you're packing for the beach, write a list. You wouldn't want to have the beach backpack without everything you needed in it.