Shopping in Hawaii is a lot of fun! There are cute souvenirs, hand-made items, local products, and more. Scroll to find out the best places for shopping in Maui, Hawaii!
This shopping on Maui post was originally written January 5, 2020 and was updated January 14, 2022 and contains affiliate links which means if you purchase something from one of my affiliate links, I may earn a small commission that goes back into maintaining this blog.
Don't Want to Scroll? Here's Where to Shop in Maui
hide
Every vacation should involve some shopping! After all, how else will you bring home souvenirs?
Maui is home to plenty of shopping centers with handmade craft vendors, Hawaiian clothing, and touristy gifts to give to your friends back home. It's no wonder that shopping is one of the most popular tourist activities on the island!
When shopping in Maui, avoid the tourist traps. That hula dancer figurine is probably made in China, not on a neighboring island. Instead, look for island-made Hawaiian goods to take home with you.
Also, be on the lookout for national chain stores that carry the things you left at home. If you just need one basic tank top, it may make more sense to find it at Old Navy than at a boutique shop. Don't spend more than you have to on essentials!
If you're looking for an authentic shopping experience on Maui, check out these retail hubs. They include malls, shopping districts, and communities with plenty of fun stores to explore.
While this post mainly focuses on small businesses on Maui, you'll find the best places to find familiar brands towards the end.
Before buying anything on Maui, remember that it will have to go back on the plane with you. Make sure everything you buy will pass a TSA baggage check!
Keep scrolling to find out where to shop in Maui for any budget!
Don't have time to read a bunch of Hawaii blog posts and reviews? Here are some of our top picks for visiting Maui.
Popular Maui Tours/Activities
Favorite Maui Resorts/Hotels
Andaz Maui (this is a luxury resort with the best luau on Maui)
Honua Kai Resort & Spa (this is one of our personal favorites because there are tons of pools and there are condo options)
Want to Rent a Car in Hawaii?
One of the best places to rent a car in Hawaii is Discount Hawaii Car Rental because they get the best rates from top national companies like Alamo, Dollar, Thrifty, Avis, Enterprise, Budget, and Payless.
Want to skip all the planning and just access my detailed Maui Itinerary complete with daily schedules, kid-friendly activities, and travel hacks? Click the button below.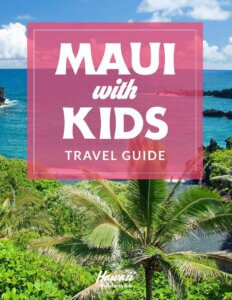 Maui Shopping FAQs
What should I buy in Maui?
You should buy locally made products like Maui coffee, jewelry, clothing, food items, swimsuits, art, and craft items. Plus, so many awesome Hawaiian souvenirs!
Are there malls in Maui?
Yes, there's the Queen Ka'ahumanu Center, Maui Mall, Whaler's Village, Rainbow Mall, and the Outlets of Maui for the best shopping in Maui. Here you'll find some of the best shops in Maui.
Is there a Costco on Maui?
Yes, and it's right by the airport. We recommend making this your first stop after you land.
Are there Maui farmer's markets?
Yes! There are tons of Maui farmer's markets where you can buy locally grown Hawaii fruits and vegetables and baked goods. These are the best places to shop in Maui that support local families.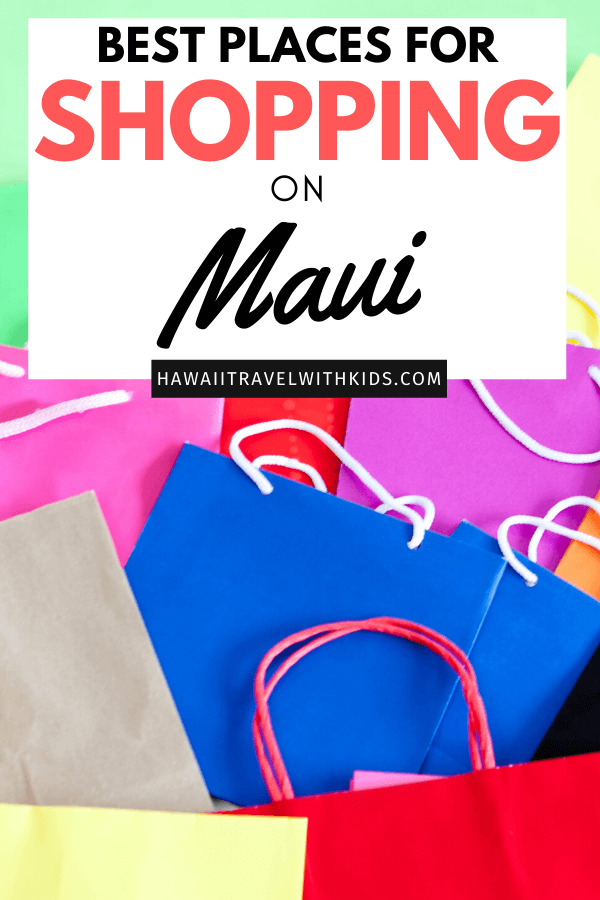 Where to Go Shopping on Maui
Front Street in Lahaina
If you're staying near Lahaina, take a stroll down Front Street! It's basically the Lahaina shopping district. Here, you'll find some of the cutest shops in Maui.
As you walk along the waterfront, you'll see a mix of restaurants, art galleries, and small businesses. Tropical Toes sells beautiful toe rings that are manufactured on Maui, and Maui Jewelers offers quality jewelry at affordable prices.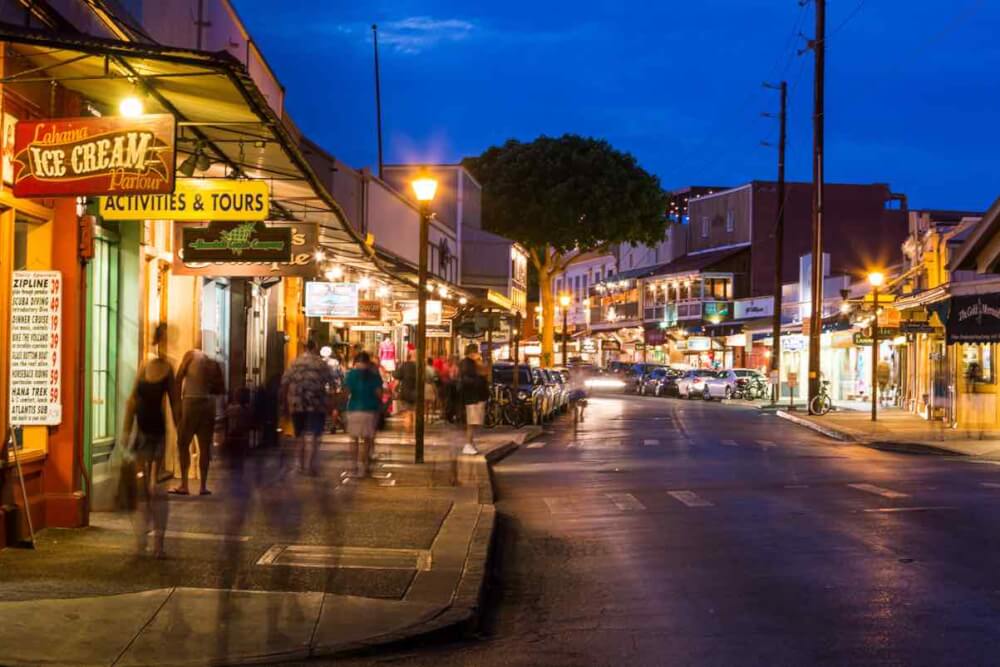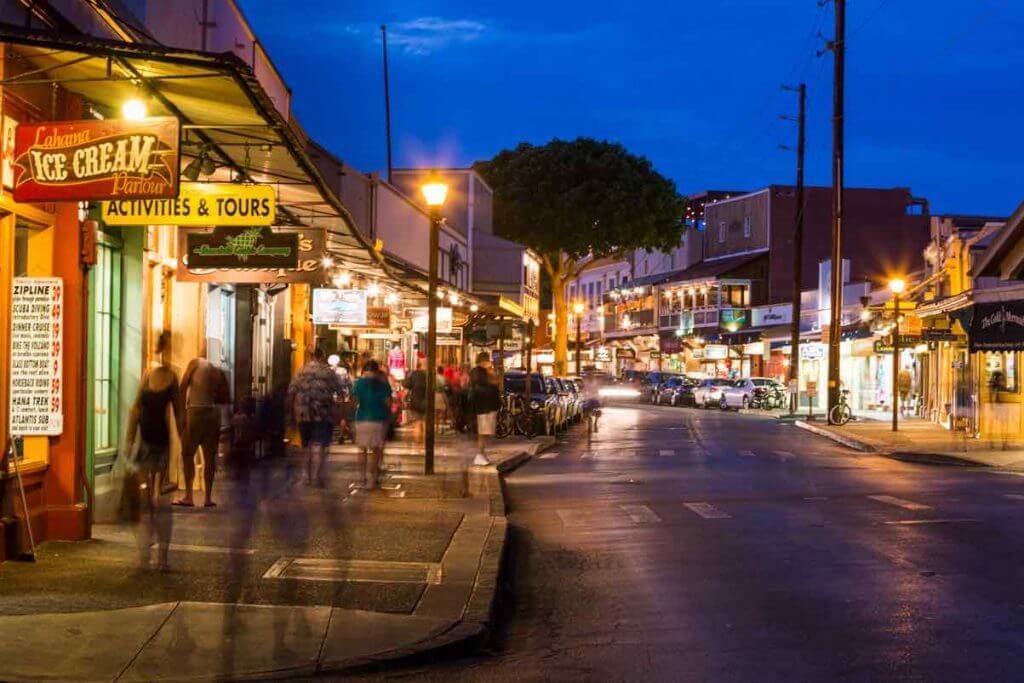 If you're looking for an authentic souvenir, check out Whaler's Locker. They sell Megalodon teeth, Baltic amber pendants, and hand-carved hooks that you'll be tempted to buy for everyone at home!
While you may not want to spend hundreds on fine art while you're on vacation, the galleries on Front Street are worth browsing, anyway.
Artist Vladimir Kush showcases his oil paintings, sculptures, and jewelry creations at his Lahaina gallery.
If you want to be truly blown away, visit Harte International Galleries on 844 Front Street. They have work from masters like Picasso and Rembrandt, along with "modern-day masters" like Woodrow Nash and Academy Award winning actor Anthony Hopkins.
Front Street has a few gimmicky shops that sell Hawaiian shirts and flashy souvenirs. You'll know which stores these are when you see them!
There's also an ABC convenience store on Front Street that sells sunblock and other essentials.
Paia
This "hippie" town on Maui is a great place to find locally-made goods. You'll also find some cute cafés in this North Maui spot.
Aloha Bead Company has an Etsy store, but you can buy the seller's products on Hana Highway.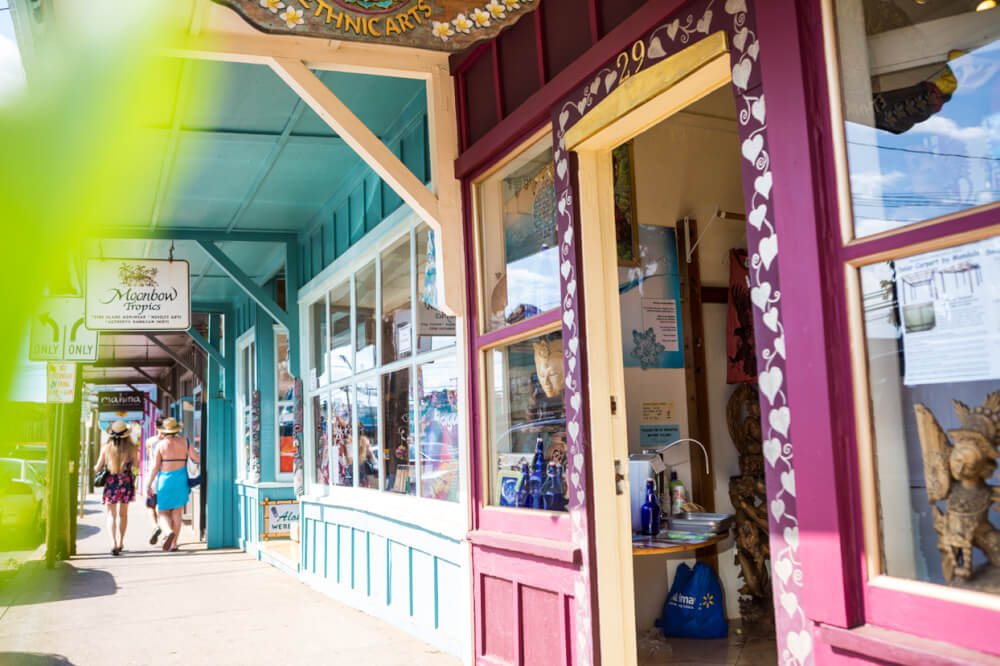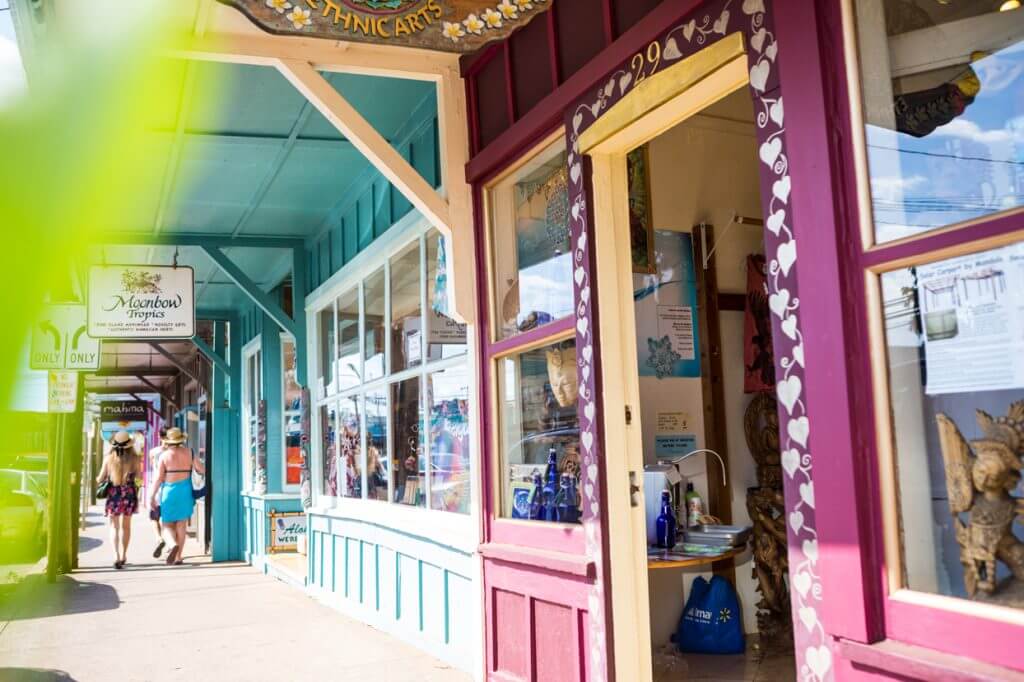 If you're looking to buy clothing, you're in luck: boutique stores like Mahina, Boutique Aloha, and Nectar Creations have fashionable pieces to try on.
Don't forget to browse the art galleries while you're here, too! Find surf-themed art at Maui Crafts Guild, Art Project Paia, and Cesere Brothers. You won't just find wall art in these galleries – you'll find ceramics, woodwork, and other art forms to marvel at, too.
Paia is a small town on Maui near Kahului Airport. It's also close to Haiku and Wailuku, places you might be more familiar with. The town is fairly accessible to those staying on North Maui.
Makawao
Not too far from Paia sits Makawao, a place that's earned the name paniolo (cowboy town). Anyone looking to do clothes shopping on Maui should stop by the boutiques in this town!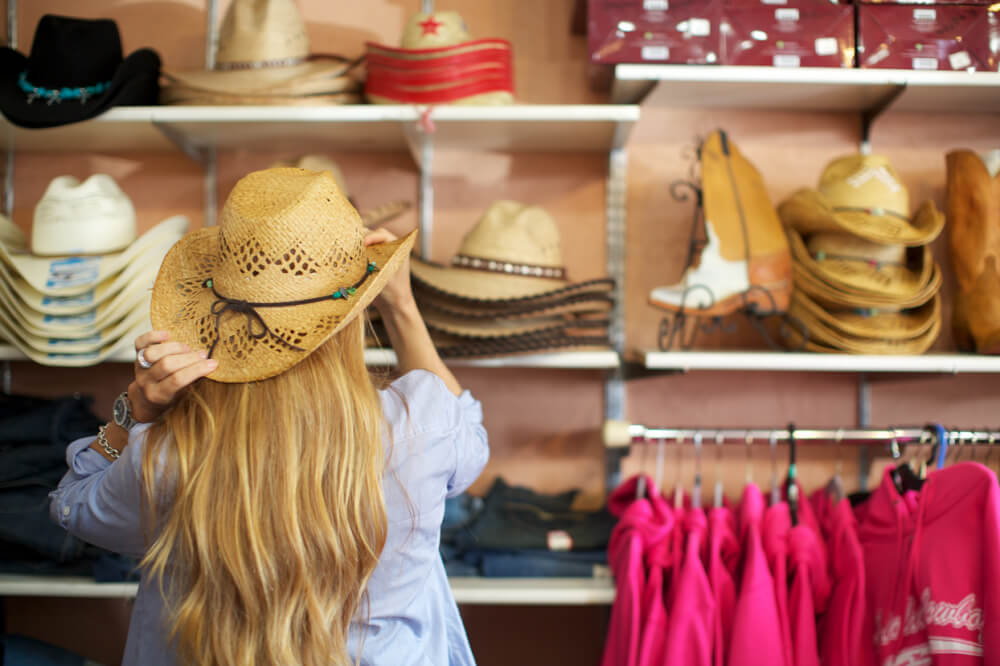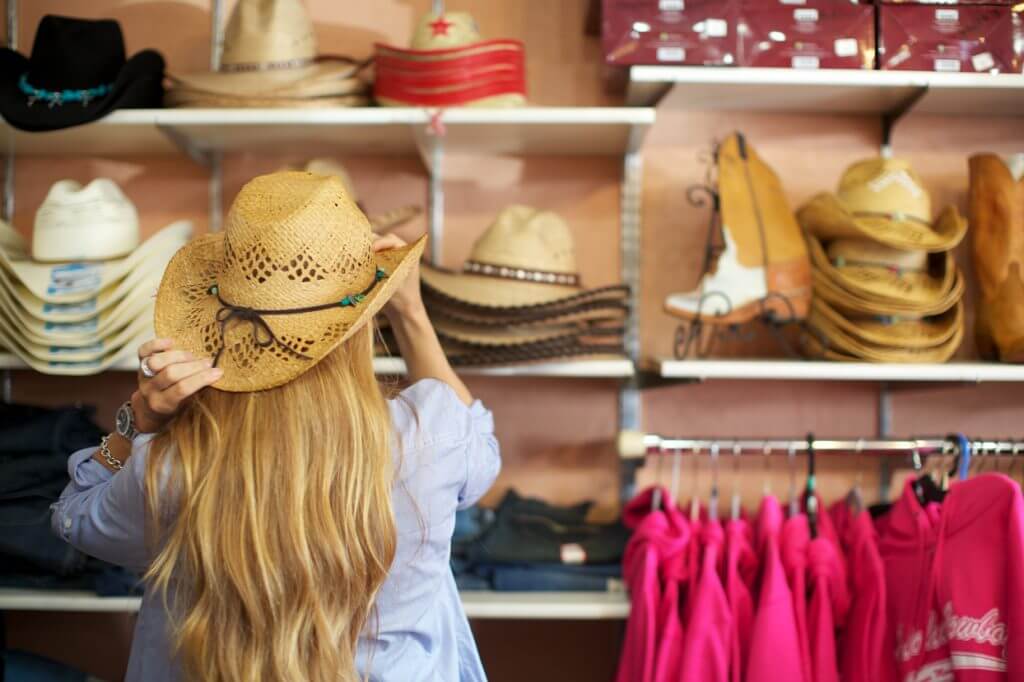 Pink by Nature carries well-known designers (like Havaianas), but you'll likely stumble upon brands you've never heard of, too.
For eco-friendly finds, head to Fleur de Lei. This boutique only curates clothing from brands that share their values, so you can feel confident in your purchases.
If you're not in the mood for clothes shopping, don't cross Makawao off of your Maui bucket list!
The town has some specialty shops and galleries to browse, like Hot Island Glass. At this gallery, you can watch the glassblowers make high-quality pieces that will then be sold.
Chefs and tea lovers should stop at Dragon's Den Herb Shop. In addition to their wide variety of bulk herbs and teas, they sell incense, candles, crystals, and other gifts.
Makawao is just 10 minutes away from Paia and Pukalani, and roughly 30 minutes away from Wailea and Kihei. Stop by after a day at the beach!
Another place to find locally made Maui products is at the Maui Swap Meet. It's not your typical swap meet. Instead, it's like a local arts and crafts fair.
Here, you'll find t-shirts, jewelry, ornaments, baked goods, and one-of-a-kind souvenirs. It's a lot smaller than the Aloha Swap Meet on Oahu, but it's still worth a stop.
It's held every Saturday morning from 7 AM to 1 PM, in the parking lot of University of Hawaii Maui College in Kahului.
Plus, they have food trucks and vendors that sell snacks, shave ice, and plate lunches. In my opinion, the Maui Swap Meet is the best place to shop in Maui Hawaii if you want to shop local.
Shopping on Maui: the Best Shopping Malls
Malls on Maui are filled with the brands you love, along with some smaller souvenir shops.
Across from the Kaanapali beach, you'll find Whaler's Village.
Since this mall is right across from the beach, you'll easily find Hawaiian surf brands here, like Honolua Surf Company and Volcom. If you left your rash guard at home, grab one at the mall before surfing!
There's also an escape room at Whaler's Village for those who want to spend time away from the Maui heat.
If you want an amazing, high-end resort shopping experience, head to The Shops at Wailea.
You'll find designer stores like Gucci, Louis Vuitton, and Prada. But, you'll also find Lululemon, Billabong, SoHa Living, Honolua Surf Company and more.
It's also one of the few places on Maui to find Honolulu Cookie Company (the place with the adorable pineapple shaped cookies!)
The largest mall on Maui is Queen Ka'ahumanu Center, also known as Queen K.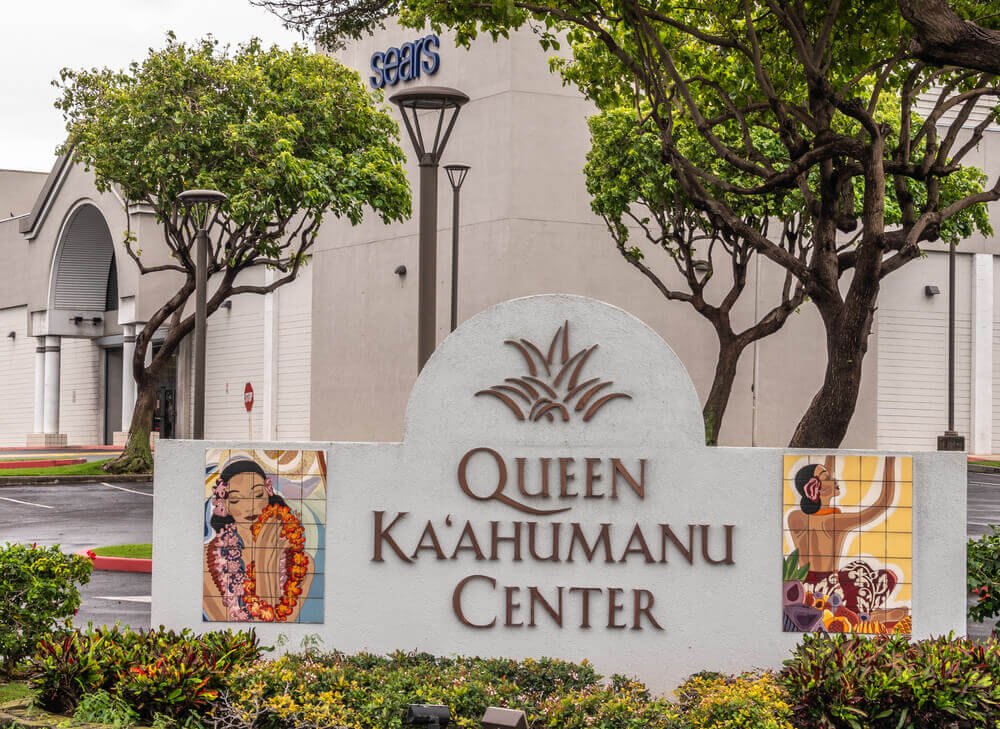 Unlike Whaler's Village, parking is free here. Get your fast fashion fix at Forever 21, or grab that much-needed pair of shoes at Journey's.
If you're looking for an authentic Hawaiian gift and have a large budget, check out Na Hoku, a Hawaiian jeweler with locations nationwide.
The Outlets of Maui is a fairly small outlet mall located in Lahaina.
They have about 25 shops and restaurants, including Carters, Maui Jim, Kate Spade, Hawaiian Island Creations, Banana Republic, and more.
The prices are similar to other outlet malls on the Mainland, but sometimes you can find great deals on long sleeve "winter" clothing to bring back home.
If you're looking for a fully enclosed, air-conditioned mall, this is the place to go. It's pretty small, but they have a cool toy store, an ABC store, Hawaiian clothing shops, and even a Denny's.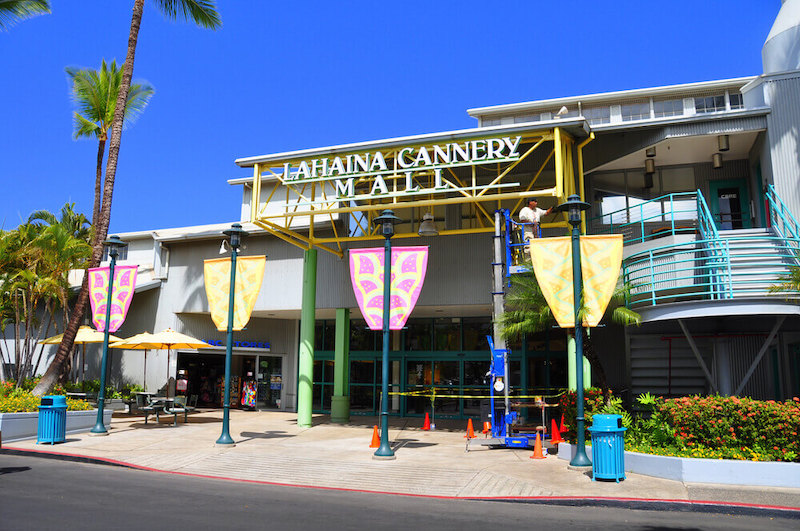 Not only do they have a few great stores and restaurants, but they also have a 24-hour Safeway. This is super helpful if you arrive on a late flight and need something to eat on the way to your hotel. Plus, they have a Longs Drug Store which will have everything you forgot to pack.
If you'll be in Kahului on a Sunday, visit Maui Mall. The mall hosts a hula dancing event every Sunday morning, and visitors can join in!
There are only 8 stores here, one of which is a Whole Foods. However, you should still stop in if you could use something from TJ Maxx or a locally-owned apparel brand.
Big Box Stores on Maui
Right outside the Kahului Airport, you'll find several big box stores where you can stock up on groceries and vacation essentials before heading to your hotel.
Walmart
Walmart is one of the original Maui Big Box Stores. It's an easy place to grab some groceries, beach essentials, clothing, etc.
It's also a great place to get cheap souvenirs, like calendars, t-shirts, silk flower leis, grass skirts, tiki statues, etc.
Target
One of the newest Big Box Stores to open on Maui is Target. They have a fairly small souvenir section, but they have a nice selection of Aloha shirts and dresses for the whole family.
It's also a great place to stop for pool toys/inflatables, swim diapers, baby supplies, snacks, and just about anything you can think of.
Costco
I'm ending this list with one of my favorite places to shop on Maui: COSTCO! Even though I'm from Seattle (where Costco is headquartered) I always make a point to stop at Costco on Maui.
If you are renting a condo or Airbnb on Maui, you can save a lot of money by grabbing food at Costco and cooking your own food.
Not only do they have lots of bulk items like meat, produce, drinks, etc, but you can also find a lot of products that are made in Hawaii.
If you go to Costco during the holidays, you'll find TONS of gift baskets full of Hawaiian treats, sauces, and other fun items that are a fraction of the cost you'll find anywhere else.
Whether you're looking for trinkets to remember your trip by or an extra pair of sunglasses, you can find it all on Maui.
If you're buying authentic Hawaiian merchandise, you should expect to see some prices that are out of your comfort zone.
Even if you have a small shopping budget, though, you can find something to bring home!
What to Buy in Maui
Now that you know where to go, you're probably wondering what things to buy in Maui. Different Maui shops specialize in a variety of items and Maui souvenirs.
Personally, I think the best things to buy in Maui are clothing items that you can wear during your trip as well as once you get home. A similar option is to buy a sarong that you can use as a beach coverup or blanket for the sand. Or a nice sun hat.
I'm also a huge fan of buying food souvenirs. Maui CookWees are some of my favorite Hawaiian cookies and they have an outlet store in Kahului. Ululani's Shave Ice sells their own shave ice maker and shave ice syrups.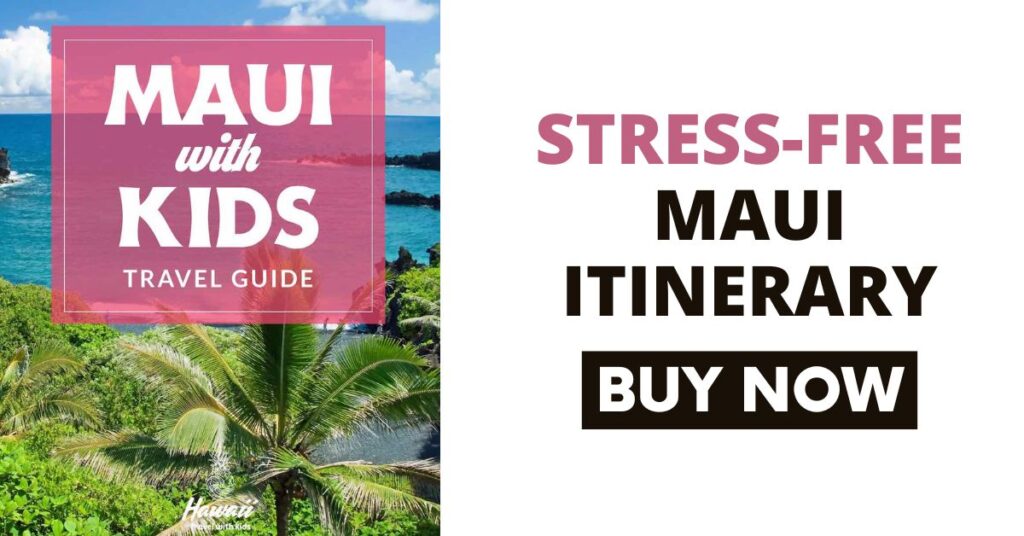 Best Maui Shopping Wrap Up
If you love shopping, Maui is a great island to visit. I hope you enjoyed this list of the best shopping Maui has to offer.
If you want more information on traveling in Maui, check out our other blog posts about visiting here! With all these great shops around, it's no wonder why people are coming from all over the world to visit Maui!