Have you been hearing about all the amazing locally grown produce at Maui farmers markets? Scroll to get all the tips and find out where to hit up all the best farmers markets in Maui.
This Maui farmers markets post was written by Hawaii travel expert Marcie Cheung and contains affiliate links which means if you purchase something from one of my affiliate links, I may earn a small commission that goes back into maintaining this blog.
When visiting the island, your first stop after getting settled should be a visit to one of the many Maui farmers markets.
A family trip to a farmers market on Maui is a great way to interact with a community, whether you're on vacation or not. You'll be able to meet farmers and interact with locals. And through food, you'll learn a little more about the area you're visiting.
While on vacation in Maui, consider a stop at farmer's market or swap meet. It's the ideal transition to put you into a relaxing vacation mindset.
They're the perfect place to grab locally grown produce before you hit the best Maui hiking trails on the island. And farmers markets on Maui are also ideal for families in vacation rentals and villas that have full kitchens.
If you happen to choose a place to stay in Maui with a kitchen, you'll find countless options for fresh fruit, local vegetables, baked goods, sauces, honey, and so much more.
Shopping farmers markets are a great way to save a little bit of money on dining while supporting local farms. Why not try your hand at creating something new and different?
Plus, it's one of the best cheap things to do on Maui!
Don't have time to read a bunch of Hawaii blog posts and reviews? Here are some of our top picks for visiting Maui.
Popular Maui Tours/Activities
Favorite Maui Resorts/Hotels
Andaz Maui (this is a luxury resort with the best luau on Maui)
Honua Kai Resort & Spa (this is one of our personal favorites because there are tons of pools and there are condo options)
Want to Rent a Car in Hawaii?
One of the best places to rent a car in Hawaii is Discount Hawaii Car Rental because they get the best rates from top national companies like Alamo, Dollar, Thrifty, Avis, Enterprise, Budget, and Payless.
Want to skip all the planning and just access my detailed Maui Itinerary complete with daily schedules, kid-friendly activities, and travel hacks? Click the button below.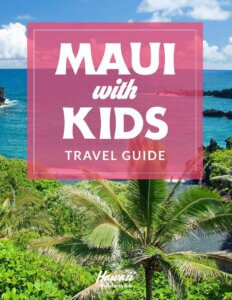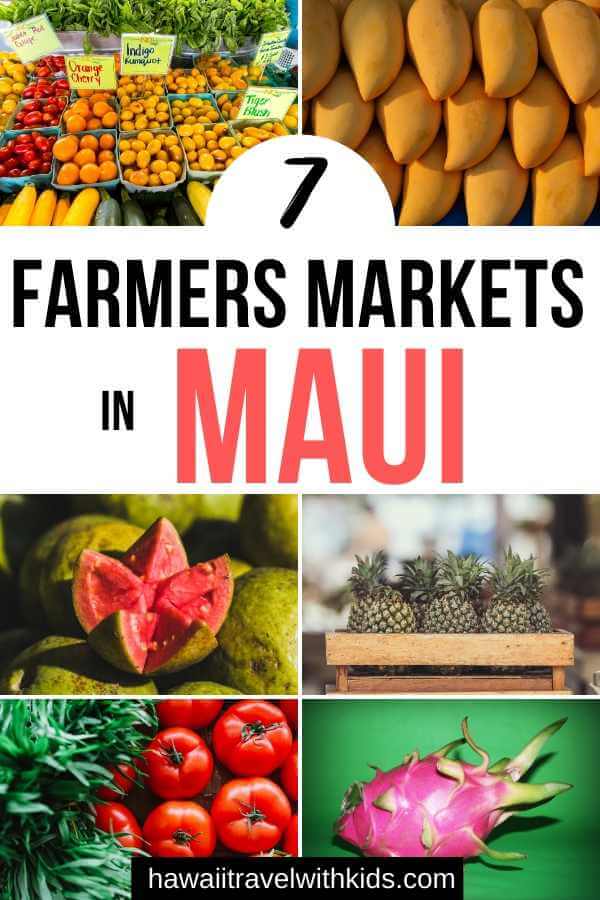 Benefits of Shopping at a Maui Farmers Market
Having access to fresh locally grown foods is ideal for health and wellness. Purchasing your produce and food items from a farmers market also boosts the local communities' economy and helps neighborhoods and farmers thrive.
When you visit Maui farmers markets while on vacation, you're giving back to the beautiful community that is providing you so much.
In Maui, you'll encounter some of the most delicious fruits and vegetables. It's a great opportunity to try exotic produce that you don't normally have access to.
You'll get to see fun options, like eggfruit, dragon fruit, starfruit, guava, lilikoi, lychee, rambutan, and kabocha squash.
Check out a few of these Maui farmers markets on your next visit for the best locally, grown fruits and vegetables.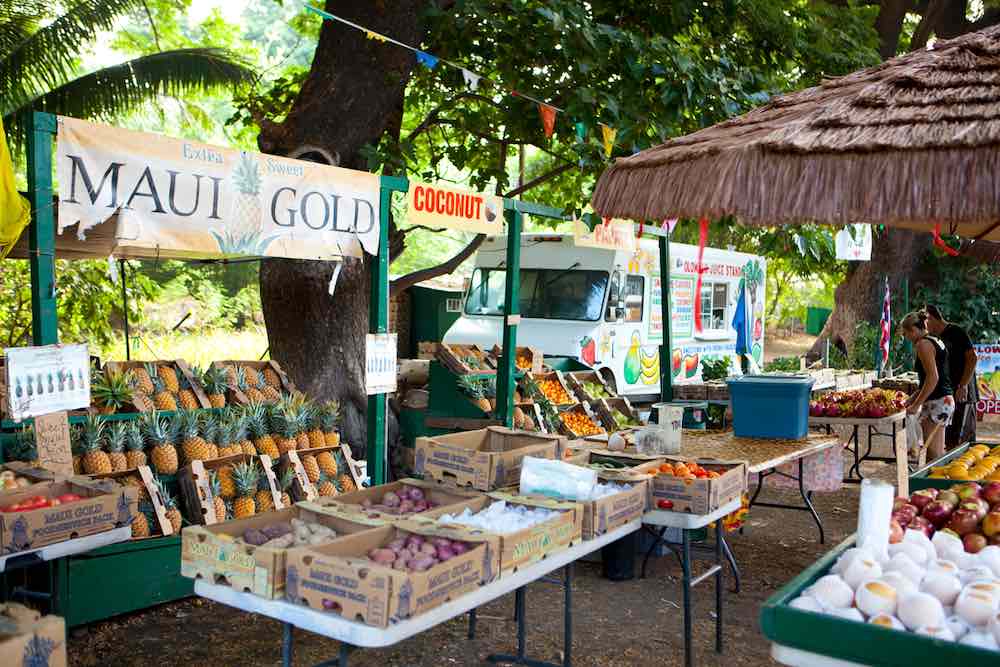 Best Maui Farmer's Markets to Visit
Honokowai Farmers Market
The Honokowai Farmers Market is an extension of the health food store, Farmers Market Maui. This Maui farmers market is perfect if you want to do some quick shopping while on vacation.
The grocery store/restaurant features soup, salads, acai bowls, fresh organic fruits and vegetables, smoothies, sandwiches, and burgers. The shop is located at 3636 Lower Honoapi'ilani Road in Lahaina.
Popular with vegetarian and vegan visitors, this is the place to go for vegan bread and breakfast pockets. They also have a vegan ramen booth.
The Honokowai Farmer's Market takes place Monday, Wednesday, and Friday from 7 AM to 11 AM.
Napili Farmers Market
The Napili Farmers Market is in Lahaina. It's a West Maui farmers market located at 4900 Honoapiilani Hwy. The market features local produce, honey, juice, and nuts.
Maui farmers are eager to share their experiences and Hawaiian recipes so be sure to stop and chat.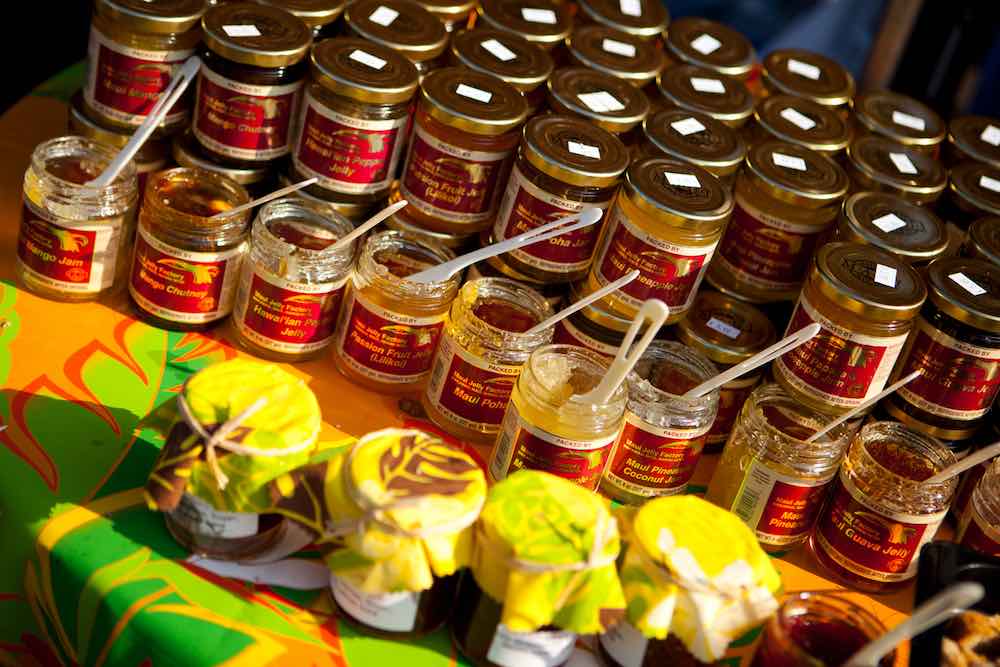 Visitors to this cozy farmers market in Maui can expect friendly vendors and farmers with samples. Some popular items include vegan banana bread, coconut muffins and a variety of locally-sourced hot sauces and jams.
The market runs from 8 AM to noon on Wednesdays and Saturdays.
Maui Saturday Market Swap Meet
Maui Swap Meet and Saturday Market is held at the University of Hawaii at Maui College campus in Kahului. Every Saturday morning between 7 AM and 1 PM, locals and visitors flock this popular Maui farmers market.
It's a great spot for purchasing souvenirs and handcrafted items like jewelry and woodwork.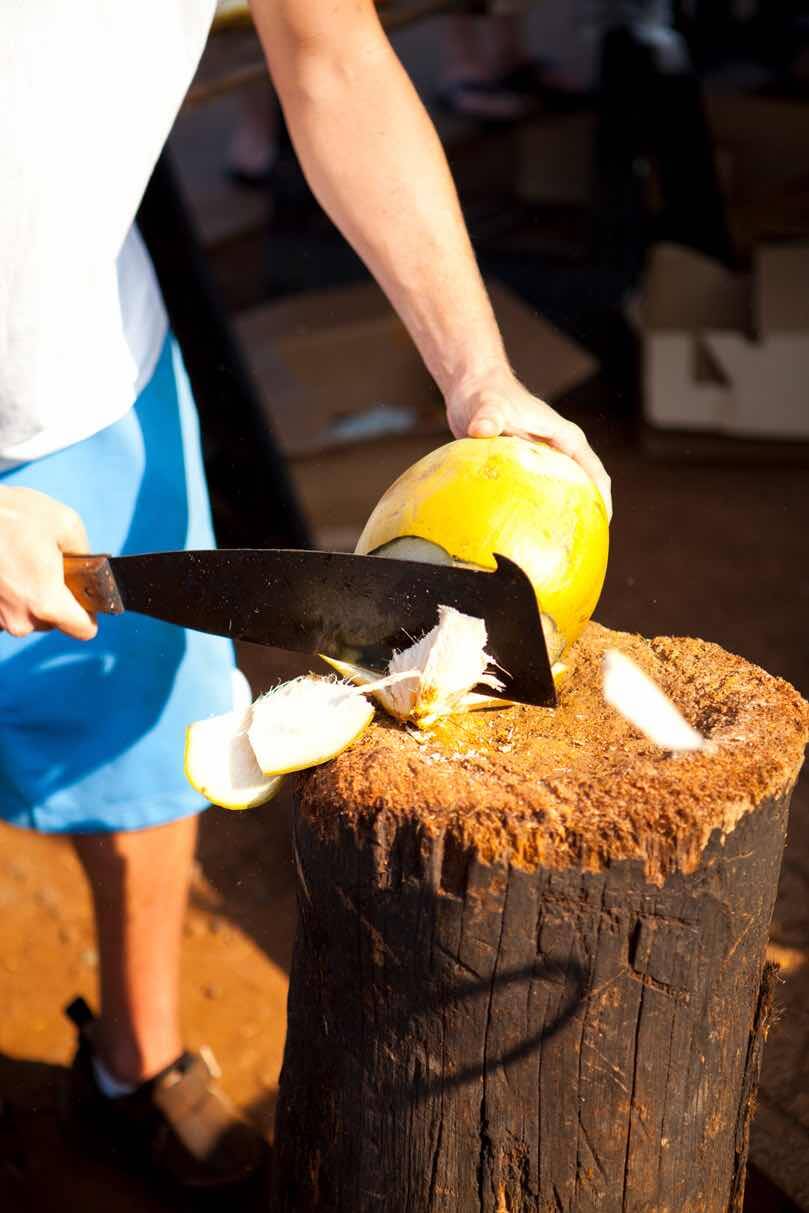 Local farmers offer fruits, vegetables, and honey. There are also countless booths with delicious foods for purchase like shave ice and fresh pineapple.
Much like a flea market, over 200 vendors at the Maui swap meet sell t-shirts, dresses, artwork, locally grown foods, and so much more.
Admission is 50 cents for everyone over the age of 12, so bring change. Maui Saturday Market is an ideal spot for an inexpensive brunch at one of the vendor booths or food trucks.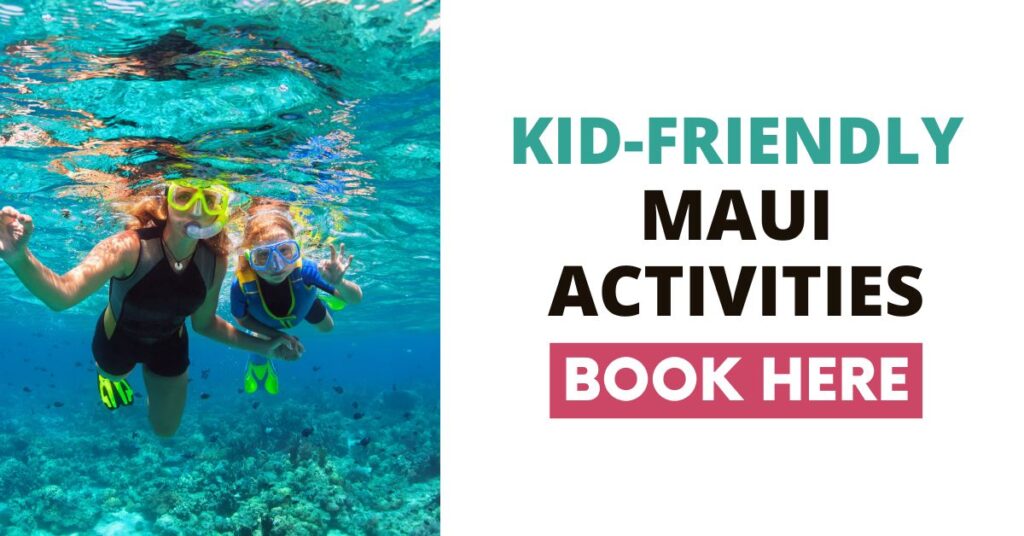 Additional Maui Farmers Markets to Visit
While not an exhaustive list, there are several other farmers markets on the island of Maui that are also worth a visit.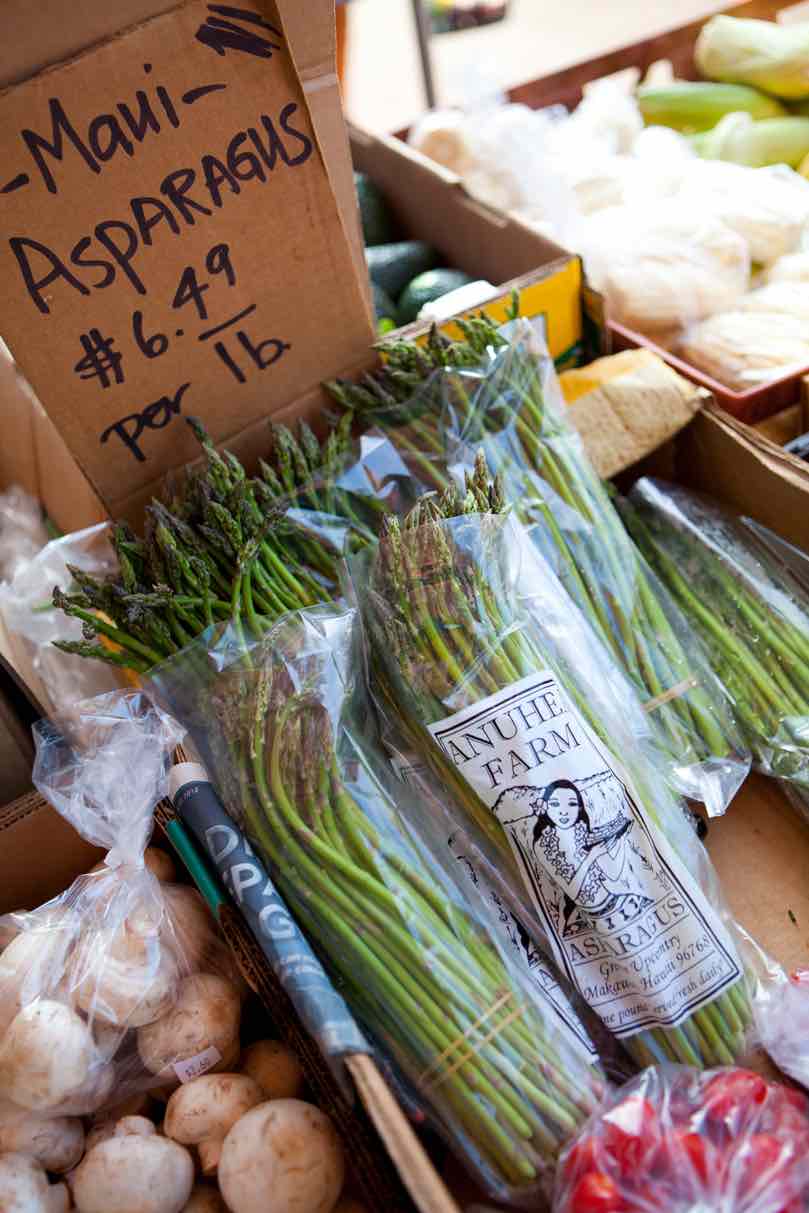 The Upcountry Farmer's Market is located in the Kulamalu Town Center and held on Saturdays from 7 AM to 11 AM.
This Maui farmers market is held every Thursday, Friday, Saturday, and Sunday from 8 AM to 5 PM at Maui Nui Farm. The farm also offers on-site tours, and the owners operate the Nui Garden Kitchens Thai Food Truck.
Located inside the mall, this farmers market is open on Tuesdays, Wednesdays, and Fridays from 8 AM to 4 PM.
The Hana Fresh Farm Stand is along the Road to Hana between mile marker 34 and 35. Be sure to stop by on your way for a picnic or some organic food to go.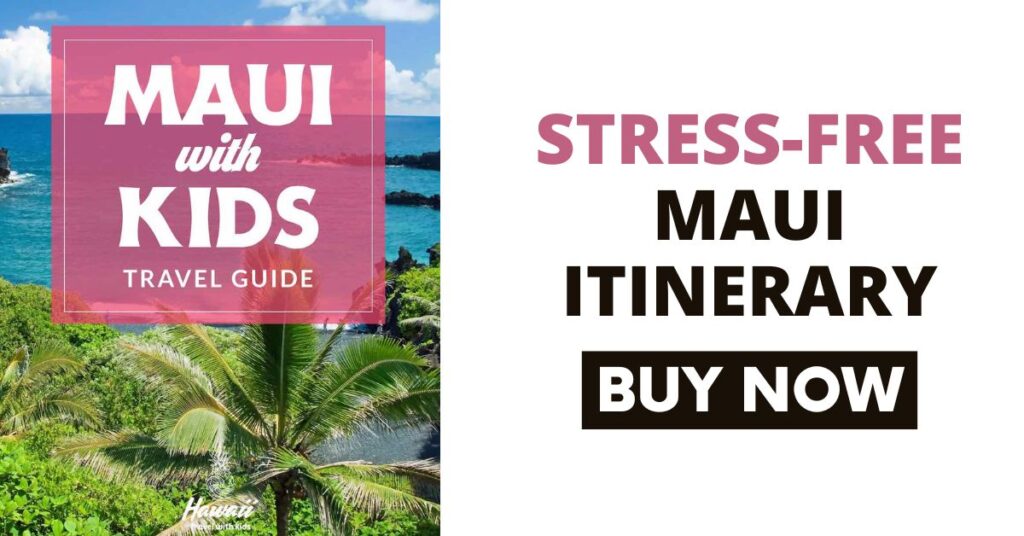 Maui Farmers Markets FAQs
Where can I buy fruit in Maui?
Just about anywhere you can imagine. I'm serious. There are farmers markets, grocery stores, and health food stores that sell fresh Maui fruit. You can also find them at roadside stands and out of peoples' trucks on the side of the road.
Where can I buy fresh fish in Maui?
You're not going to find the best fresh fish in Maui at the farmers markets. Instead, try Billy Jackson's Fresh Fish, Eskimo Candy Seafood Market, or The Fish Market.
What fruits or vegetables are native to Hawaii?
If you're wondering what fruits and veggies grow well in Hawaii, the list is pretty long. Taro, lilikoi (passion fruit), guava, pineapple, banana, coconut, starfruit, and papaya are all good options to buy at the farmers market.
Entice Picky Eaters at a Maui Farmer's Market
Whether you're at home or on vacation in Maui, visiting a farmers market with the family is a fun activity for the entire family.
One challenge you may come upon are children who refuse new foods. It often takes at least 15 exposures to new foods before a child develops a taste for them.
Good news! You can incorporate farmers market visits to speed up that exposure. This will help create an interest in new foods and different ways to prepare them. Often, seeing how a vegetable is grown piques a child's curiosity.
Try incorporating a Maui farmers market trip to your vacation and have your child help you prepare a soothing soup with that kabocha squash. There's a chance they'll try something new and different!
Consider visiting local Maui farmers market or swap meet on your next family trip to the island. Getting the family out in the community on vacation while meeting local farmers is the perfect way to teach them about the world.