Are you looking for the best luaus in Kona, Hawaii? Keep scrolling for this honest review of the Fairmont Orchid Luau on the Big Island.
This review of the Fairmont Orchid Luau on the Big Island of Hawaii was written by Hawaii travel expert Marcie Cheung and contains affiliate links which means if you purchase something from one of my affiliate links, I may earn a small commission that goes back into maintaining this blog.
Planning a trip to the Big Island and looking for some fun things to do?
While there are many things to do in Hawaii, one of the most popular activities is attending a luau. But with so many luaus to choose from, which one should you attend?
We've been to our fair share of luaus in Hawaii and we're excited to share our honest review of the Hawaii Loa luau at the Fairmont Orchid Resort on the Big Island. Spoiler alert – it was awesome!
Keep scrolling to see our honest review of the Hawaii Loa Luau at the Fairmont Orchid Resort on the Big Island of Hawaii.
Don't have time to read a bunch of Hawaii blog posts and reviews? Here are some of our top picks for visiting the Big Island.
Popular Big Island Tours/Activities
Favorite Big Island Resorts/Hotels
Want to Rent a Car in Hawaii?
One of the best places to rent a car in Hawaii is Discount Hawaii Car Rental because they get the best rates from top national companies like Alamo, Dollar, Thrifty, Avis, Enterprise, Budget, and Payless.
Want to skip all the planning and just access my detailed Big Island Itinerary complete with daily schedules, kid-friendly activities, and travel hacks? Click the button below.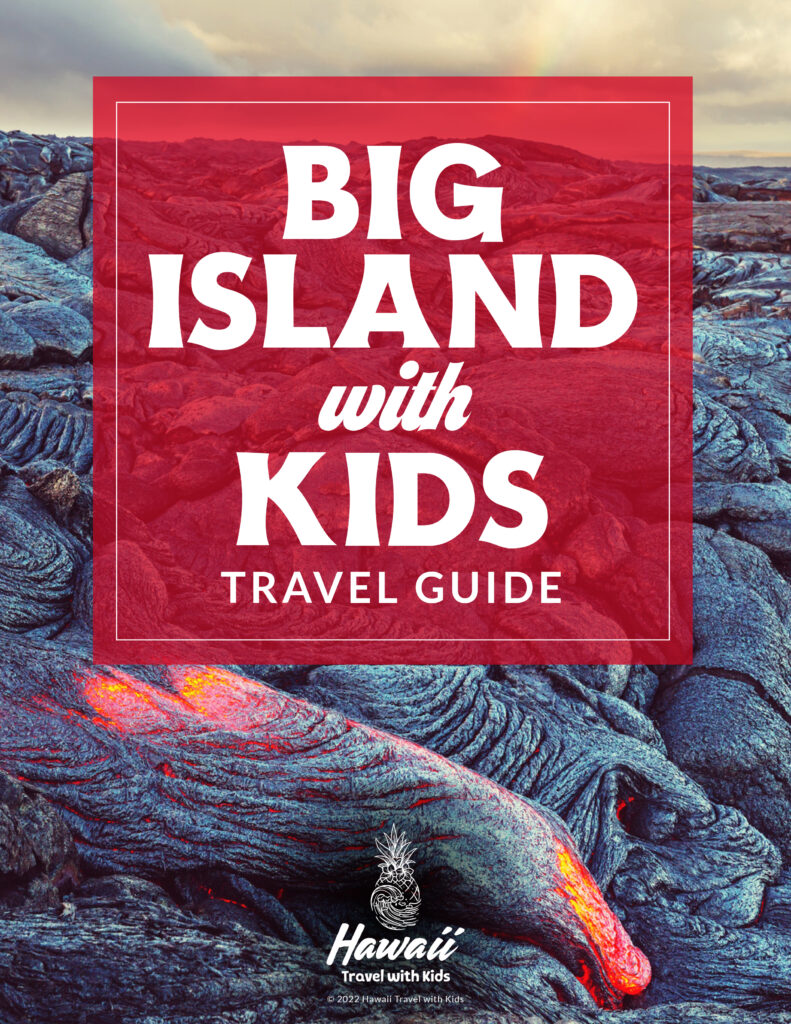 What is a Hawaiian Luau and What Should You Expect?
A traditional Hawaiian luau is a community event that consists of Hawaiian food and entertainment.
A commercial luau in Hawaii will typically have a bar, live Hawaiian music, either a buffet or plated dinner, and hula dancing (or other Polynesian dancing).
If you are attending a luau, expect it to last about 2.5-3 hours. Most of the time the drinks are complimentary (or they will give you drink tickets).
There are often souvenir photos, as well. I've got a whole post about what to expect at a Hawaiian luau, including Big Island luau prices.
There are NO free luaus in Hawaii. You can see free hula shows at shopping centers, but that is NOT a luau.
Where is the Fairmont Orchid Luau on the Big Island?
The Hawaii Loa Luau takes place at the Fairmont Orchid Resort on the west shore of the Big Island. The address is: 1 N Kaniku Dr, Waimea, HI 96743.
It takes about 30 minutes to get there from the Kona Airport and it's just a few minutes away from most Waikoloa resorts.
The luau itself is tucked away near the tennis courts off to the side of the Fairmont Orchid Resort.
What to Expect at the Fairmont Orchid Luau
Arrival
It's always hard to know when to arrive to a luau. Usually, they give you an arrival time but sometimes there's already a massive line by then. And since many luaus seat people as they arrive, we always try to get there early.
When we arrived, we checked in at the desk and received our leis. We knew we were a little early, so we took our time walking over there.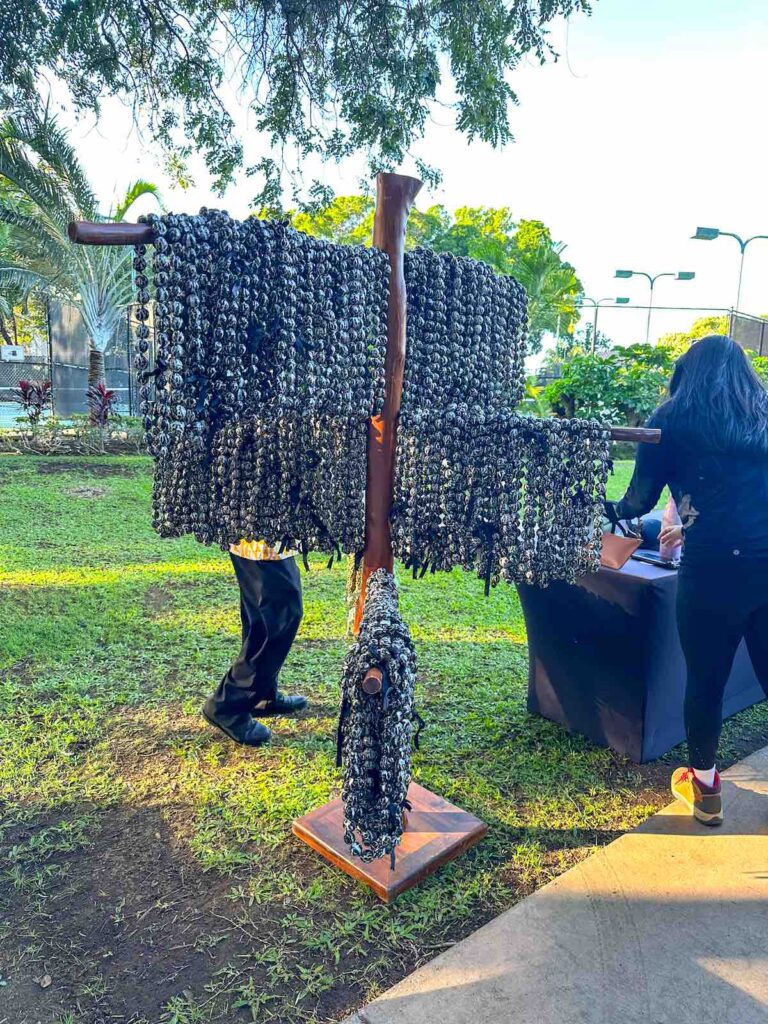 After we got our leis, we posed for professional photos. Since we opted for the VIP package, our photo was complimentary. I love how it turned out!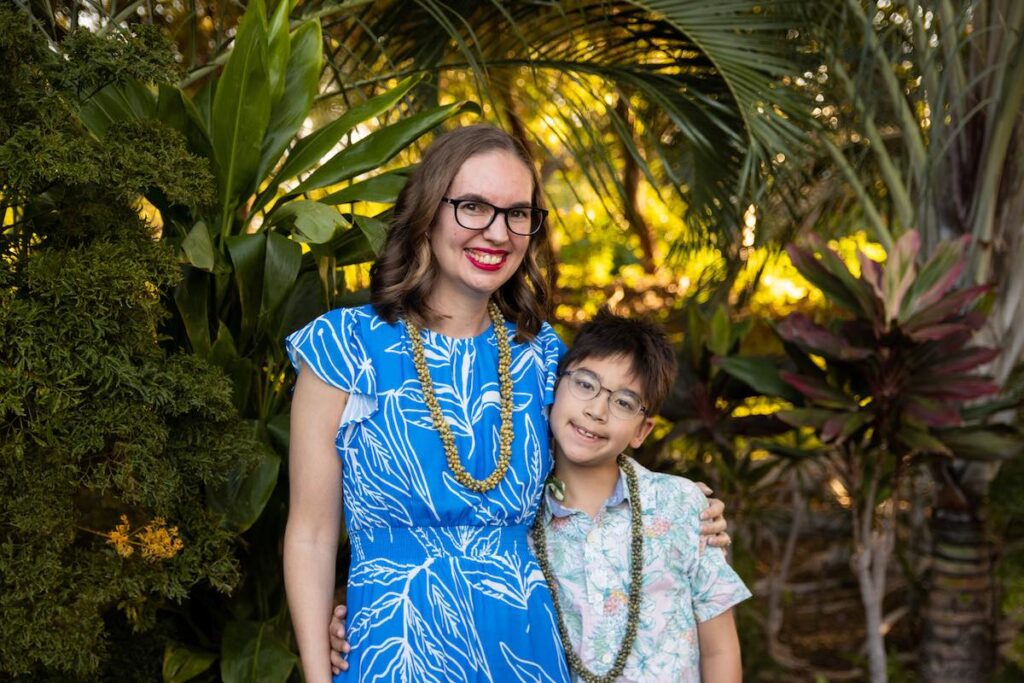 Next, we slowly wandered over to the event space. We had about 15 minutes before they started seating people but we wanted to be one of the first in line.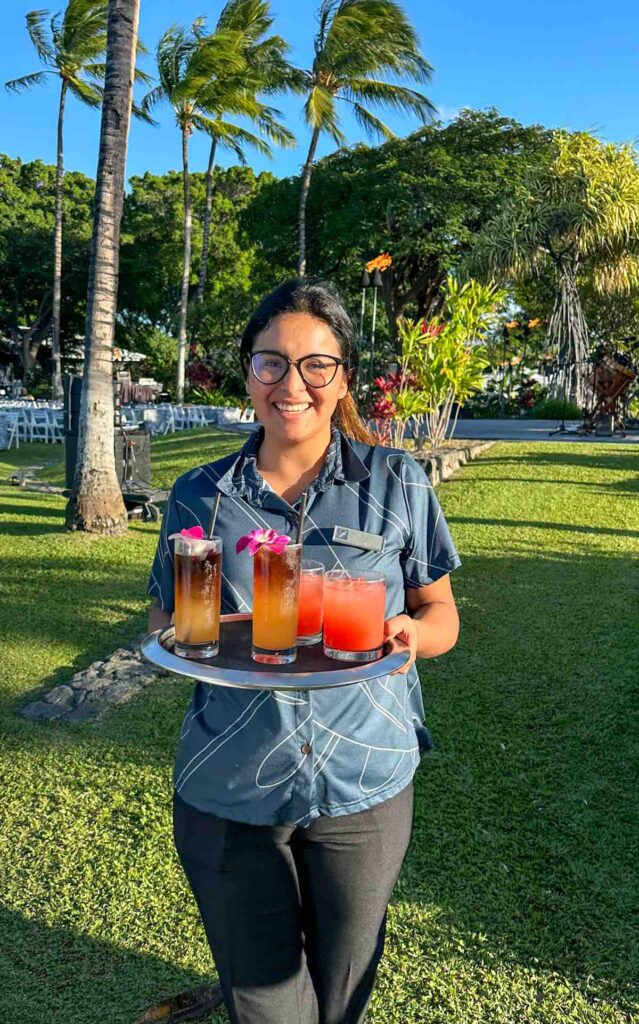 As soon as we walked in, we were greeted by a friendly server who had mai tais and tropical punch. Then, we were escorted to our seats.
Since we booked VIP seats, we got to sit right in the center. And since we got there a little bit early, we were in the front row!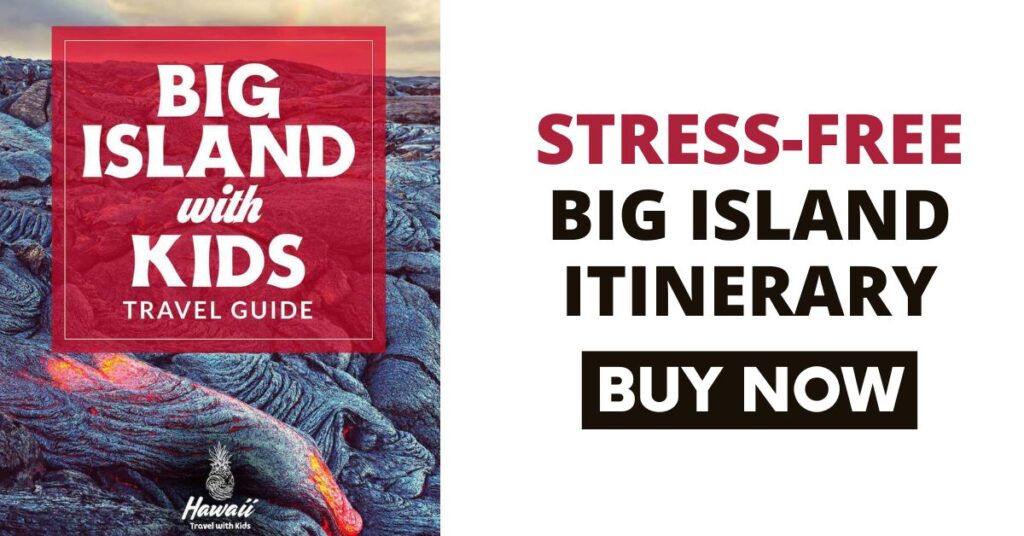 Pre-Show Activities
My 9-year-old is all about the pre-show activities for kids. And this luau did not disappoint!
The first activity he tried was a Polynesian stick game. We actually played it at Aloha Adventure Farms earlier in the week so he was really excited for it!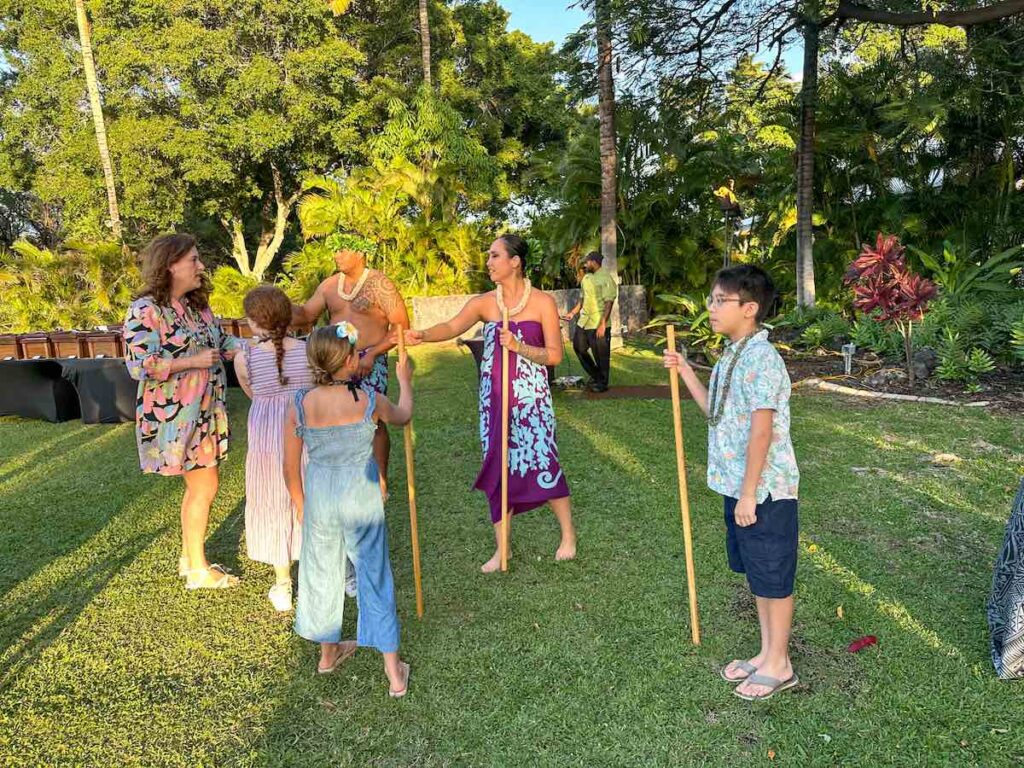 Next up was a lawn game that was sort of like bowling. We played it at the Experience Nutridge Luau on Oahu so we knew what to do.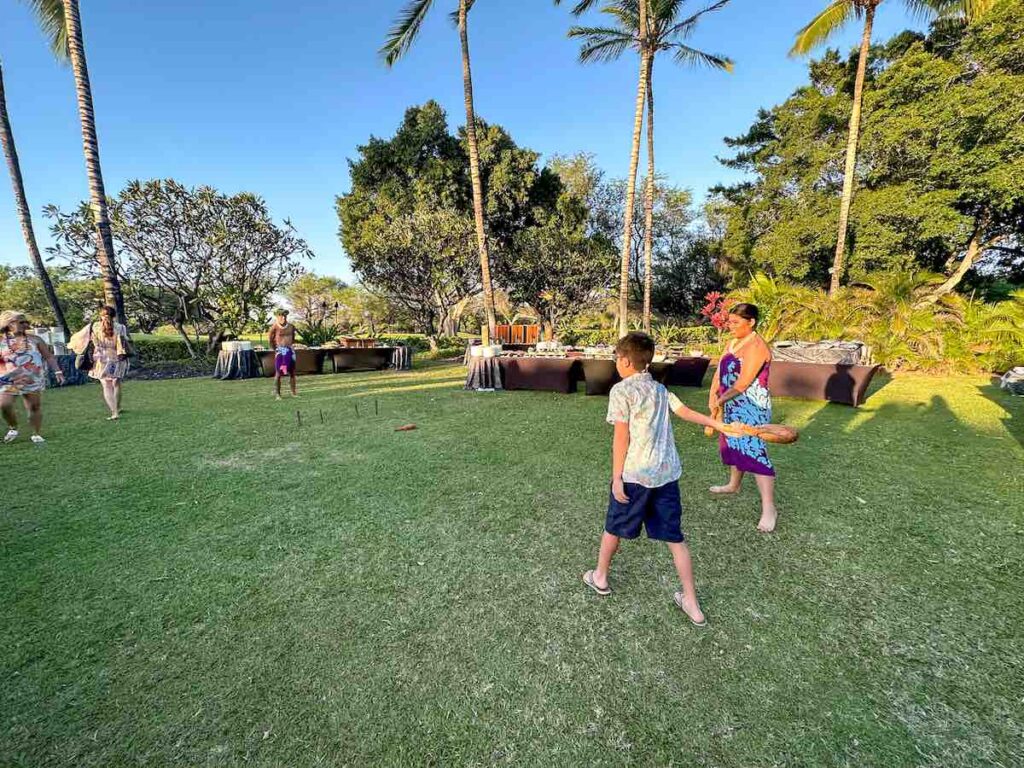 Finally, the last activity involved temporary Polynesian tattoos! These were done using a stamp that had been brushed with paint.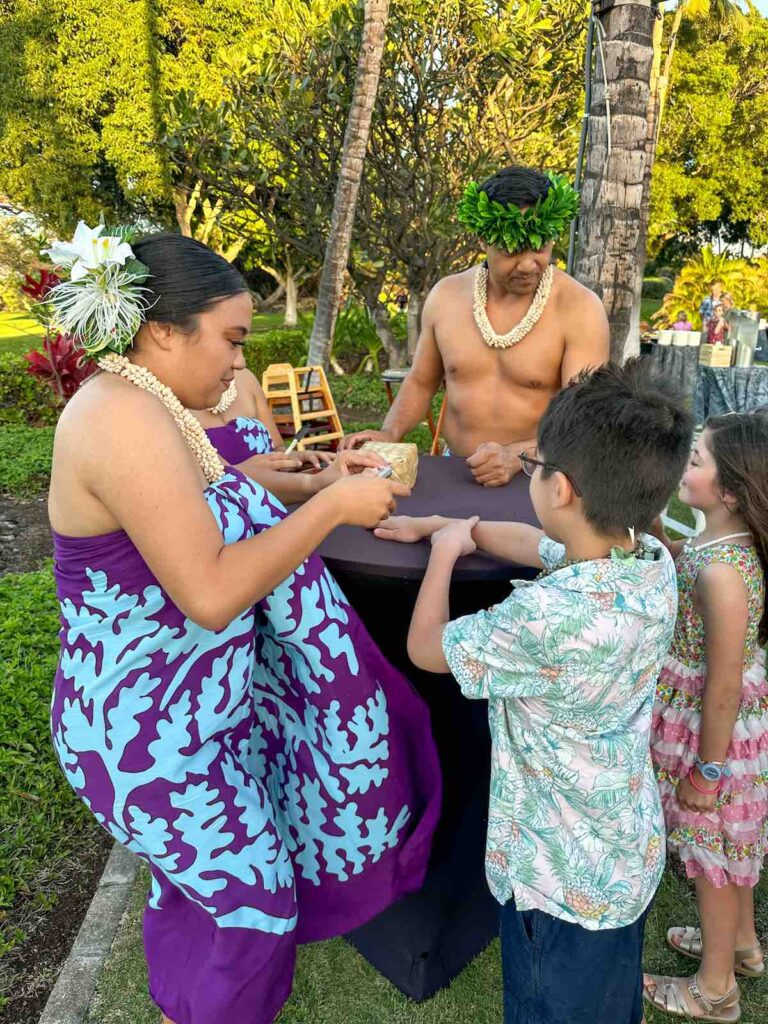 We saw tons of people get in line for their tattoos. The funniest was a balding man who got a tattoo smack dab in the middle of his forehead!
Hawaii Loa Luau Bar Options
The Fairmont Orchid luau offers a full bar as part of your luau package. This is in addition to the welcome drink as you arrive.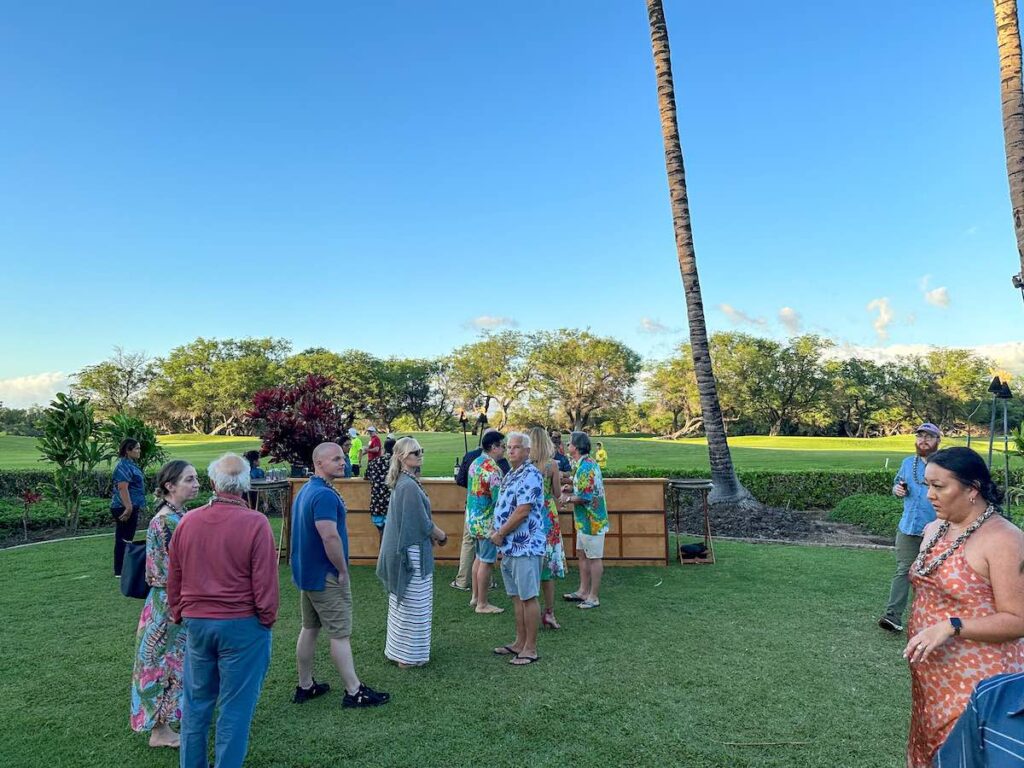 They have a full bar of mixed drinks, beer, wine, and soft drinks. We were fine with my mai tai and my son's fruit punch so we never ventured over here.
But the people sitting next to us grabbed drinks there and said they had a lot of great options.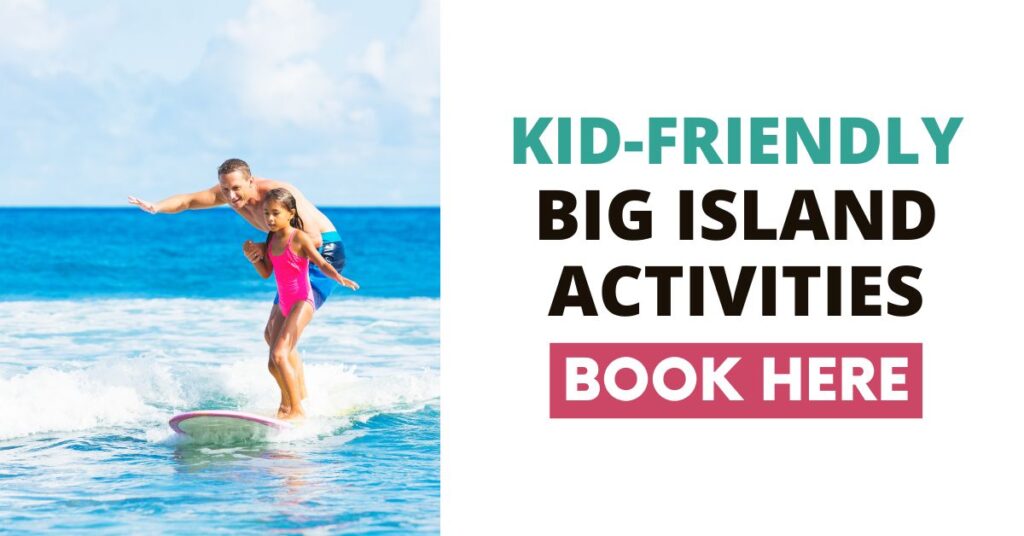 Fairmont Orchid Luau Menu
Since we had VIP tickets, our server brought our table some fresh fruit to enjoy during the pre-show entertainment time.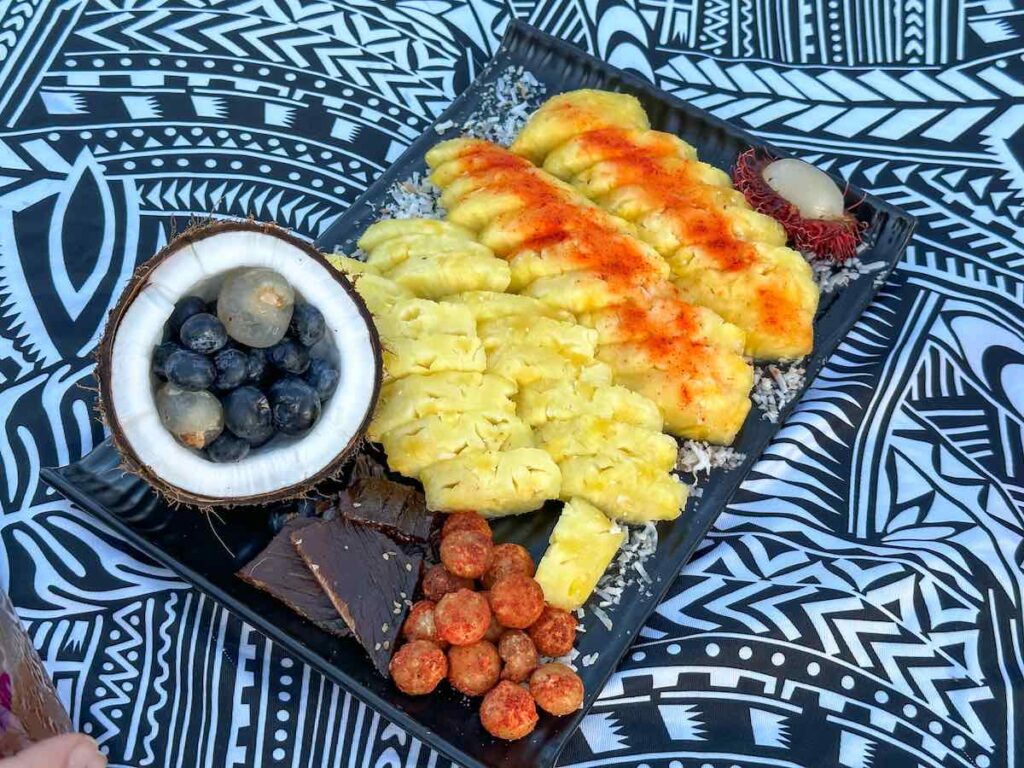 Typically, luaus will have some pineapple on the table. This plate was so much more!
Not only did they have sliced pineapple (both plain and with li hing mui powder), but there was rambutan, longan, blueberries, ahi jerky, and macadamia nuts.
I've been to a LOT of luaus and I've never seen a spread as impressive as the Hawaii Loa Luau buffet. I'm not joking.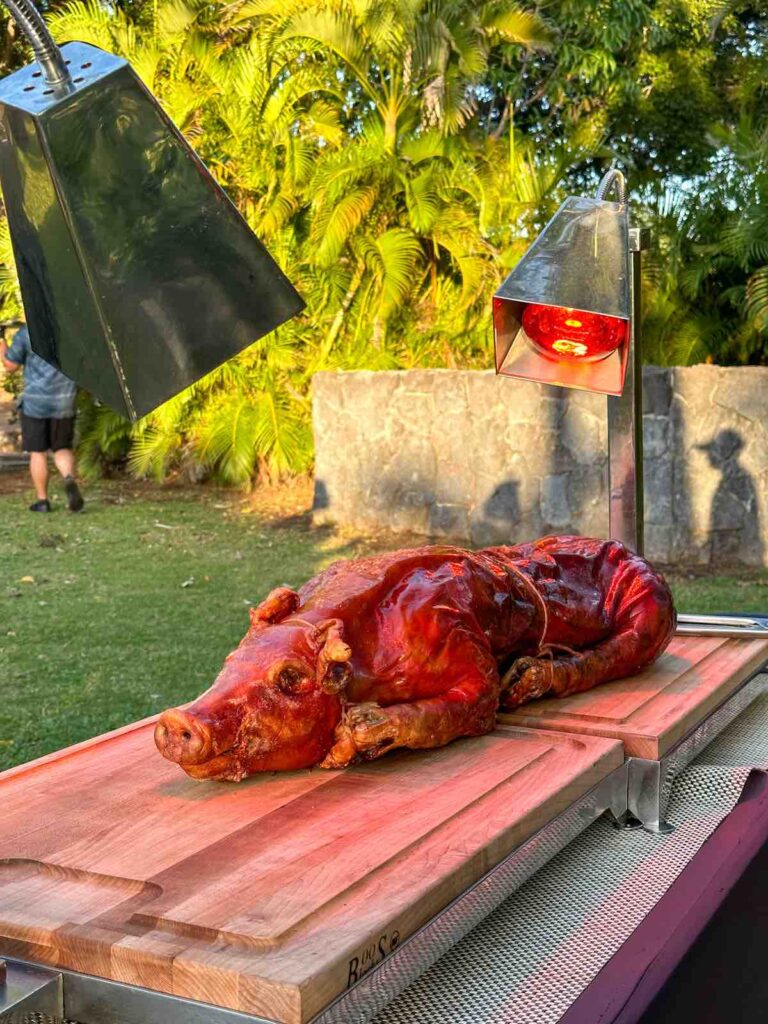 Poke Station
Poi
Ahi Limu Koho
Spicy Shellfish
Surimi Crab & Broccoli
Garlic Sesame Edamame Soy Beans
Lomi Lomi Salmon
Cucumber Namasu
Molokaʻi Sweet Potato Salad
Heirloom Lettuce Salad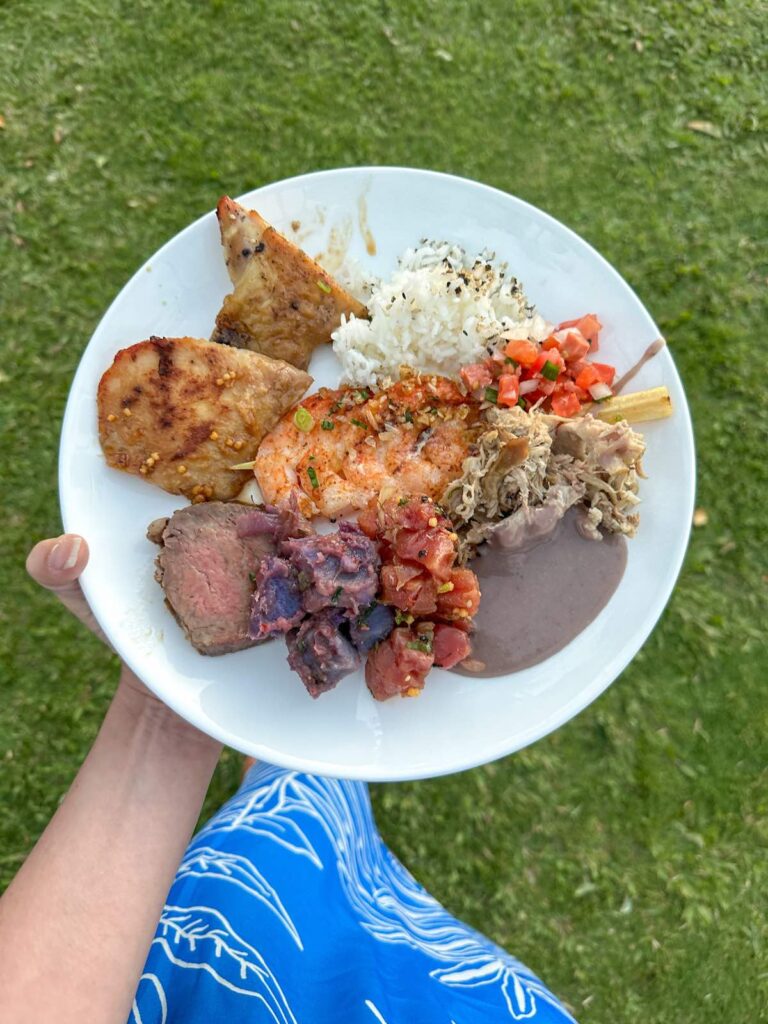 Dinner Buffet
Teriyaki BBQ Chicken
Miso Glazed Chef's Catch
Kiawe Wood Smoked Kalua Pork
Stir-Fried Vegetables
Furikake Rice
Taro Rolls
Kalbi Style Hawaiian Low Line Beef w/ Ginger Soy Glaze
Sugar Cane Skewered Shrimp Yakitori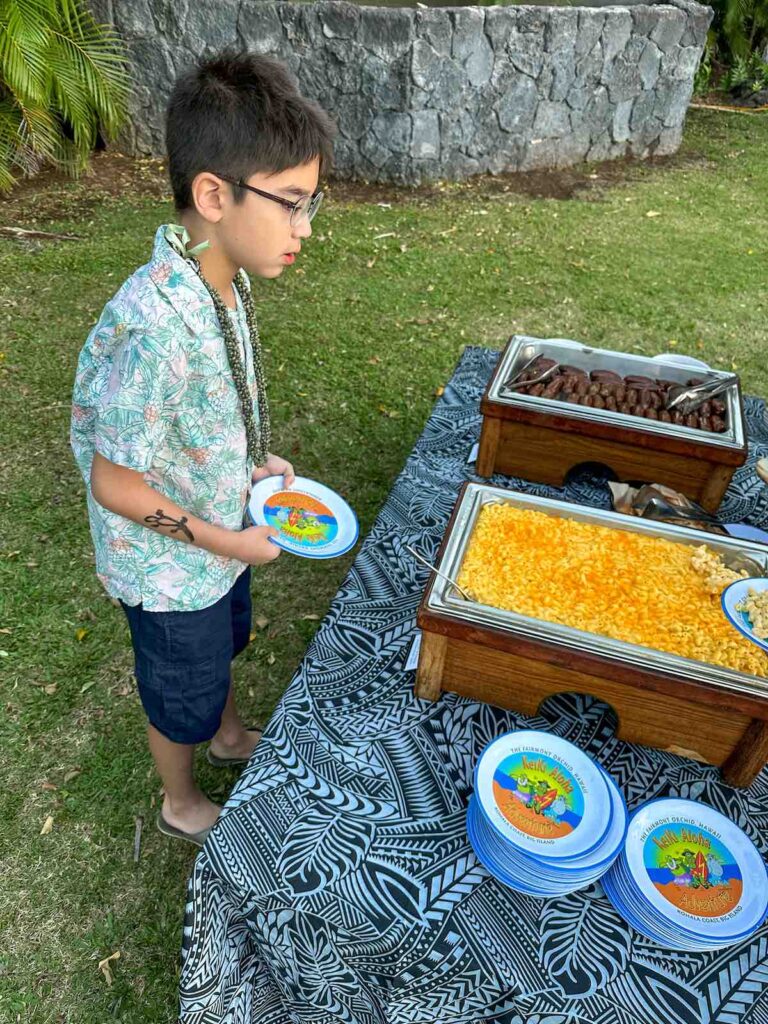 Keiki Buffet
Mini Hot Dogs
Macaroni & Cheese
Taro Rolls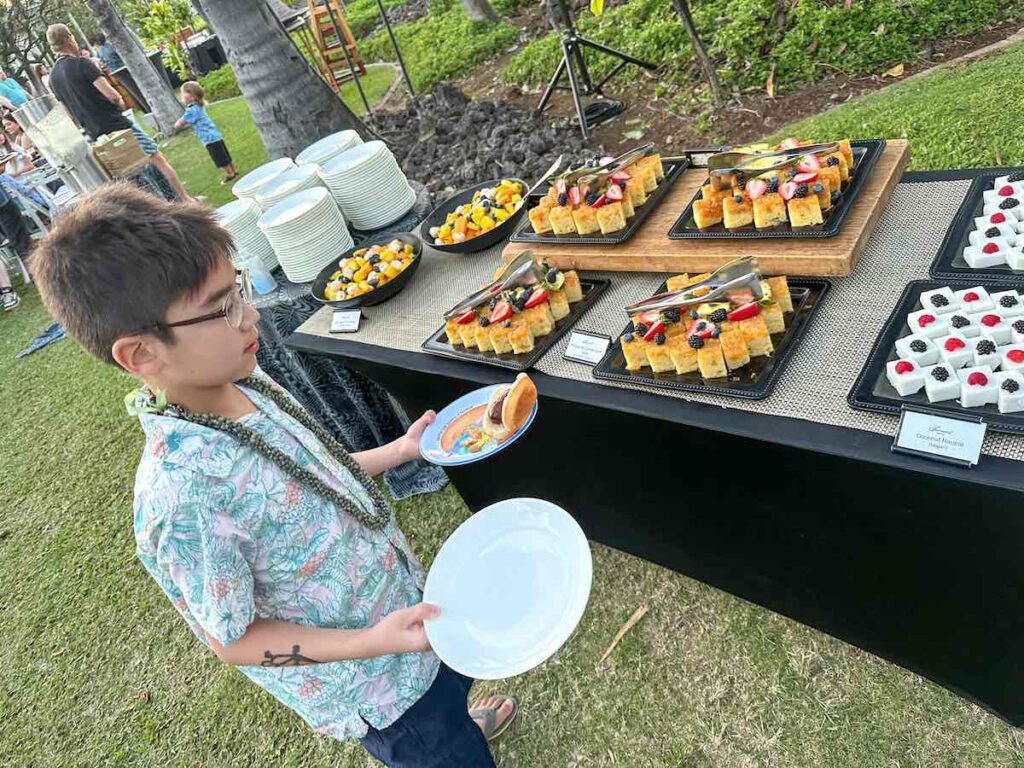 Dessert
Hawaiian Dark Chocolate Lava Cake
Pineapple Upside Down Cake
Molokaʻi Banana Bread
Coconut Cream Haupia
Big Island Fruit Salad
Fairmont Orchid Luau Show
We thought the show itself was really well done!
Like most traditional Hawaiian luaus, this one started off with a man blowing a conch shell to signify the start of the luau. It actually happened right before dinner started.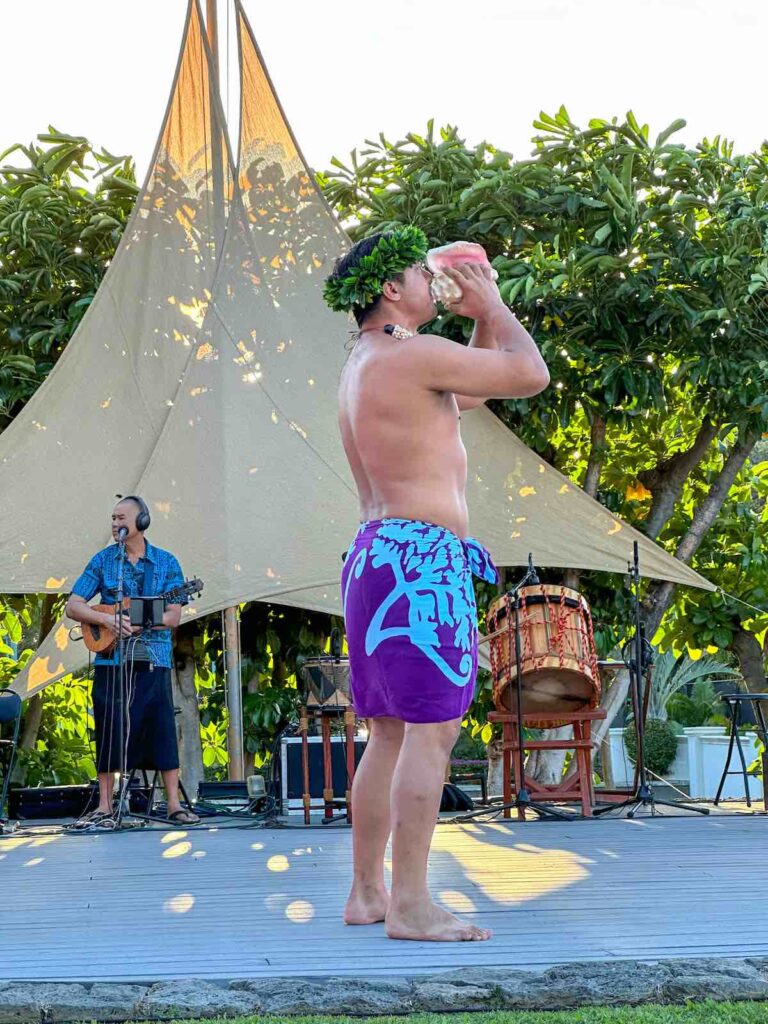 There was lots of great live Hawaiian music during dinner and our emcee came out and welcomed everyone.
They started the show with a hula kahiko performance. That's the ancient style of hula dancing and it was really well done.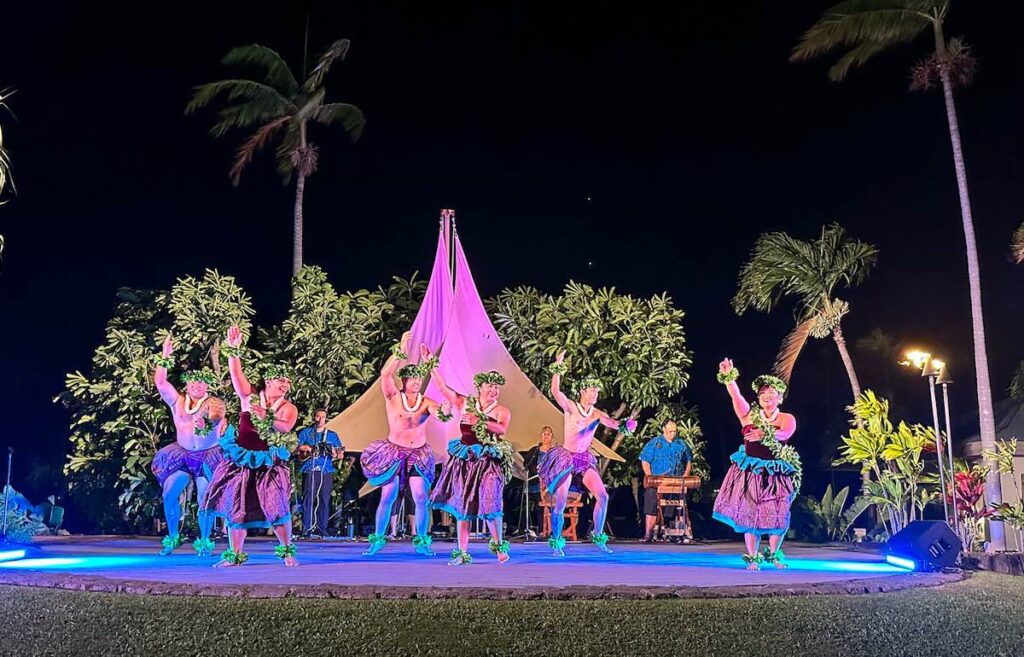 They also did Tahitian dancing, which is always a crowd favorite! Our emcee talked about how people from Polynesia used the stars to navigate and arrive in Hawaii.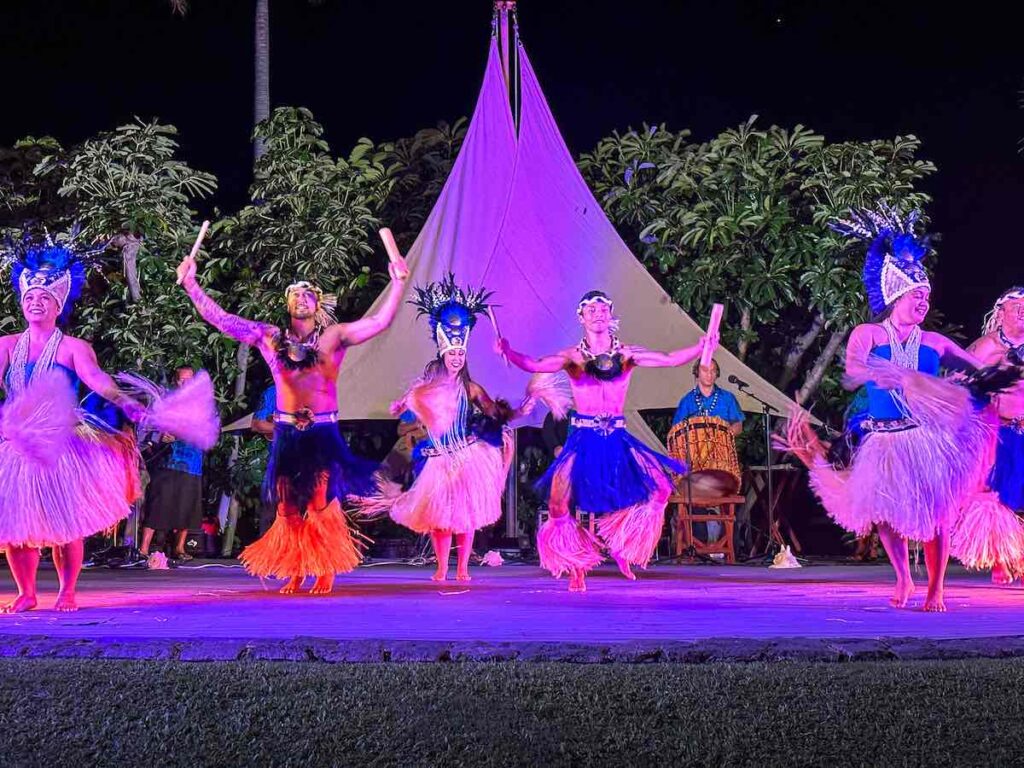 They also did a bunch of contemporary Hawaiian hula dances that were in English as well as Hawaiian.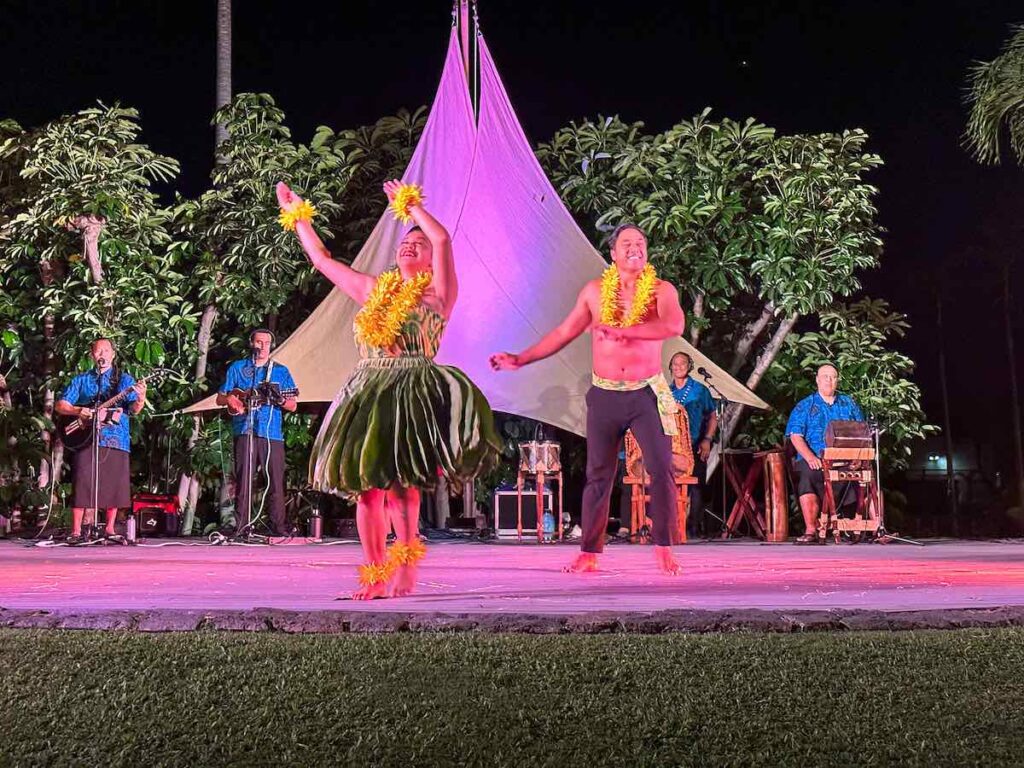 The show ended with a cool Samoan fire knife dance. It was mainly performed on stage but the dancer also came into the front row of tables and high-fived guests and ate fire in front of us!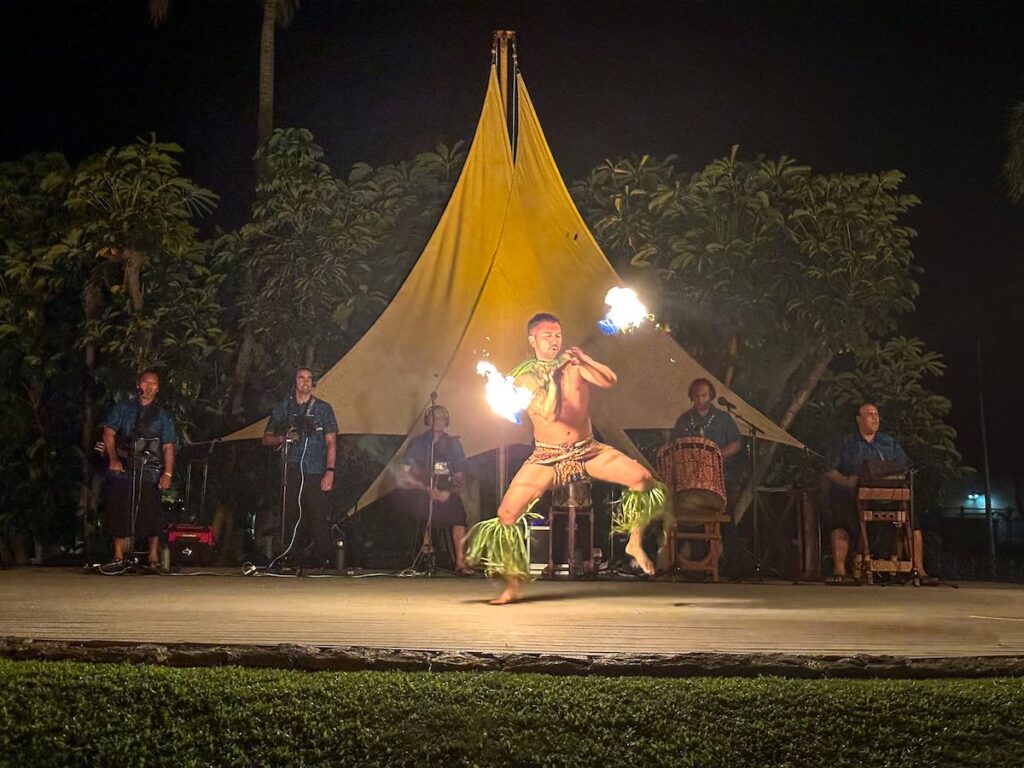 My son and I clapped enthusiastically at the end of the luau because it was such a fabulous show!
Why I Went to This Big Island Luau
I was a hula dancer for 20 years and I always love supporting anything having to do with Polynesian culture when I visit Hawaii.
One of the reasons that we stayed at the Fairmont Orchid Resort is because it's the home of the Hawaii Loa Luau.
We've been hearing good things about this luau for years and I wanted to see if it lived up to the hype. It totally did! Check the latest rates and availability.
It was so nice to be able to just walk back to our room after the luau, as well!
Is this Kona Luau the Best Luau on the Big Island for Families?
We've been to a LOT of luaus in Hawaii. I'm a self-proclaimed luau addict. We've visited several on the Big Island.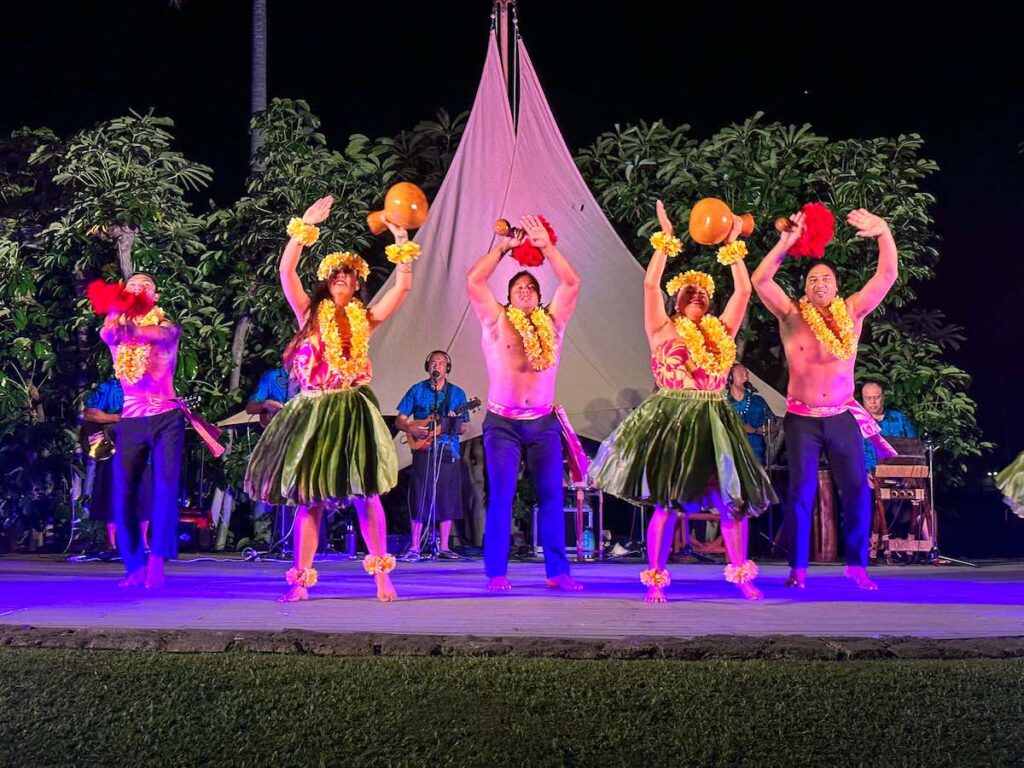 Out of all the Kona luaus that we've experienced, this is by far my favorite for kids.
I love that they serve drinks right away, which can be a lifesaver for thirsty kiddos. They also have fun children's activities, a kids' buffet table, and lots of grassy areas to run around before the show.
How Does the Fairmont Orchid Luau Compare to Other Hawaii Luaus?
The Hawaii Loa luau ranks right up there with the other luxury luau experiences we've done on other islands. It's very comparable to the Auli'i Luau on Kauai.
It's geared toward people who don't mind spending a little bit extra for outstanding food, great drinks, and a fantastic show. Check the latest rates and availability.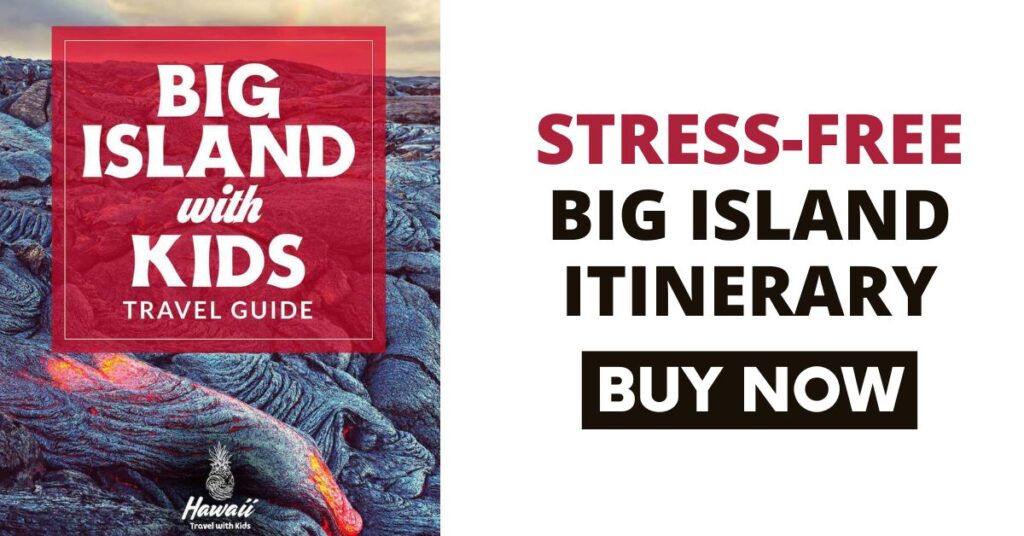 Big Island Luaus FAQs
Are luaus on the Big Island suitable for children?
Yes, many luaus on the Big Island of Hawaii are family-friendly and suitable for children. Some luaus even offer special children's menus and activities, such as hula dancing lessons, lei making, and Hawaiian games.
Are luaus on the Big Island canceled due to weather?
In the event of severe weather conditions, such as heavy rain or high winds, luaus on the Big Island may be canceled or rescheduled for safety reasons. It's recommended to check with the specific luau venue for their cancellation policy and procedures.
Can I participate in the hula dance at a luau on the Big Island?
Usually, there is a place in the luau for audience participation. This is when the emcee or a hula dancer teaches the audience a simple hula dance.
What is the cost of attending a luau on the Big Island?
The cost of attending a luau on the Big Island of Hawaii varies depending on the venue, location, and level of experience offered. Generally, the cost of attending a luau can range from around $120 to $200 per person for adults, and around $60 to $85 per child. Some luaus may offer VIP packages that include additional amenities and services, such as premium seating, private bars, or exclusive menus, which can be more expensive.
So, Would I Recommend the Fairmont Orchid Luau?
If you're going to book a luau on the Big Island, this is definitely the one to do. It's in a beautiful setting and the experience is well worth the money. Get your Fairmont Orchid luau tickets.