Are you looking for the best Big Island luaus in Kona? Keep scrolling for my honest review of the Royal Kona Resort luau, a.k.a the Voyagers of the Pacific luau.
This Royal Kona Resort luau review was written by Hawaii travel expert Marcie Cheung and contains affiliate links which means if you purchase something from one of my affiliate links, I may earn a small commission that goes back into maintaining this blog.
Looking for an amazing luau on the Big Island of Hawaii?
My family recently experienced the Voyagers of the Pacific Luau at the Royal Kona Resort and we had a blast! Read my honest review to see if you'd like to add it to your Big Island itinerary.
The show was great, and we had an amazing time. I would definitely recommend this as one of your stops when visiting Hawaii with kids! It's a great way for everyone in your family (including parents!) to have fun together.
Plus, it's one of the only oceanfront luaus in Hawaii!
If you're interested in learning more about our experience in this Royal Kona luau review, keep reading below!
Ready to book? Get discounted luau tickets HERE.
Want to skip all the planning and just access my detailed Big Island Itinerary complete with daily schedules, kid-friendly activities, and travel hacks? Click the button below.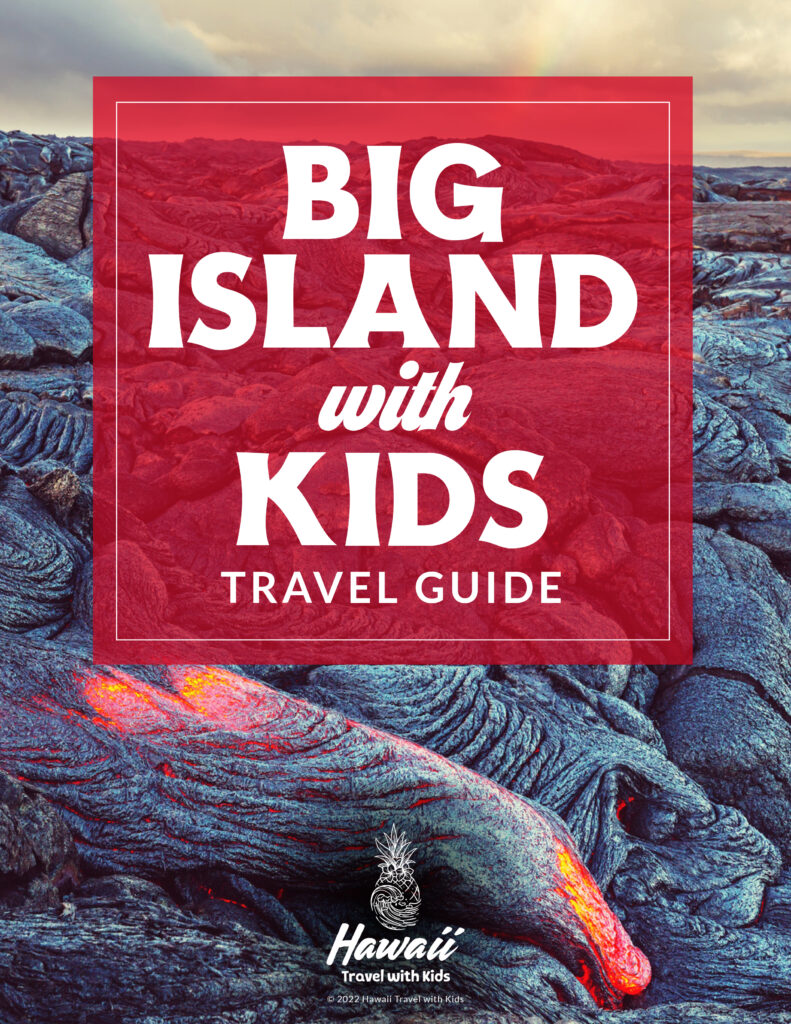 Big Island Luau FAQs
Should I do a luau in Kona or Hilo?
There are far more luaus in Kona than Hilo. Right now, there is only one Hilo luau. So your best bet is to book a Kona luau that fits into the rest of your Big Island itinerary.
Is there alcohol at the Voyagers of the Pacific Luau in Kona Hawaii?
Absolutely! There's a bar as soon as you enter plus staff go around throughout the evening with trays of mai tais and other tropical cocktails. These are all complimentary and included in your luau admission. They also have non-alcoholic options like soda and fruit punch.
How far away is the Royal Kona Luau from the rest of Kona?
It's located right in the middle of the popular Ali'i Drive strip. It's about 1 mile from the Courtyard by Marriott's King Kamehameha Beach Hotel.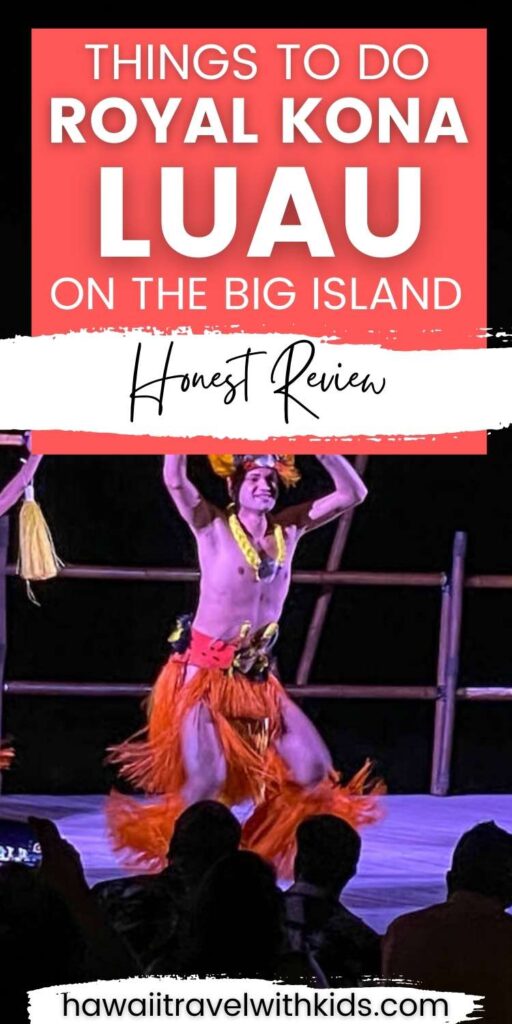 What is a Luau and What Can You Expect at One?
A luau is an evening event that features Hawaiian food, music, and hula dancing. These events typically last for a few hours and might include some hands-on activities, demonstrations, and audience participation.
Many luaus in Hawaii also incorporate dances from other Polynesian islands, like Samoa, Tahiti, and New Zealand.
Guests who attend a Hawaiian luau usually dress up in Aloha shirts and dresses (or at least something dressy casual).
And luaus are fun for anyone traveling with family, going on a honeymoon or babymoon, couples, or even solo travelers.
Click here for my full breakdown of what to expect at a luau in Hawaii.
Where is the Voyagers of the Pacific Luau in Kona Hawaii?
The Voyagers of the Pacific Luau is located at the Royal Kona Resort on the famous Ali'i Drive. This means it's within walking distance of several Kona hotels.
What to Expect at the Royal Kona Luau
Arrival
If you're staying at the Royal Kona Resort, it's super easy to find the luau. It's located between the pool and the Lagoon Tower. You seriously can't miss it.
If you're driving, you can get a reduced parking rate of $5 for the night.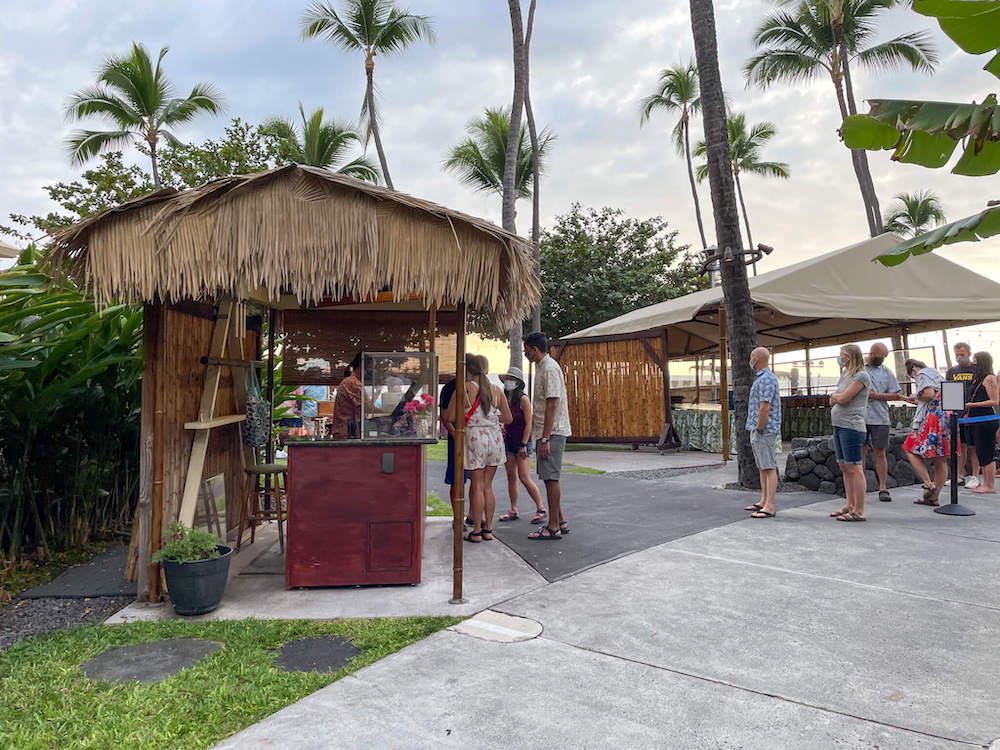 The first thing you'll do is stand in line for check in. This is where you'll get wristbands to show that you are guests at the Royal Kona luau. Then, you'll have an opportunity to write down if you are celebrating a birthday, anniversary, or other special event.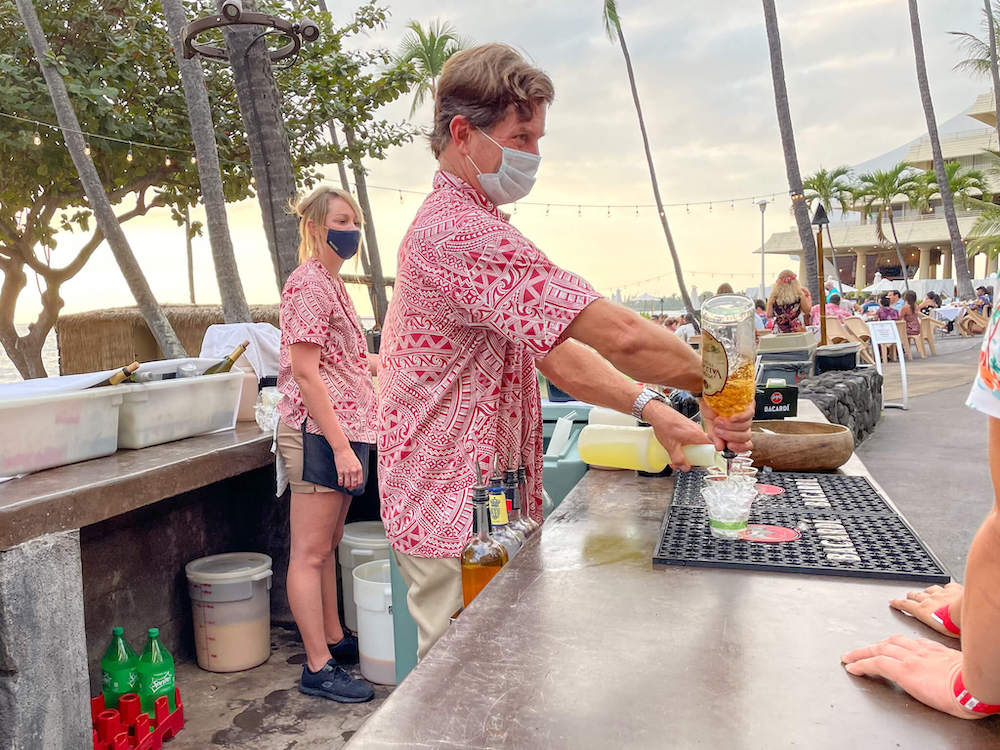 From there, you'll get a photo taken of your party with the gorgeous ocean backdrop before you get in line for cocktails and other drinks. This is where you can get soda for kids or people not wanting cocktails.
Next, you'll head over to the host/hostess who will take you to your assigned table. When we were there in November 2021, there were individual tables for each party.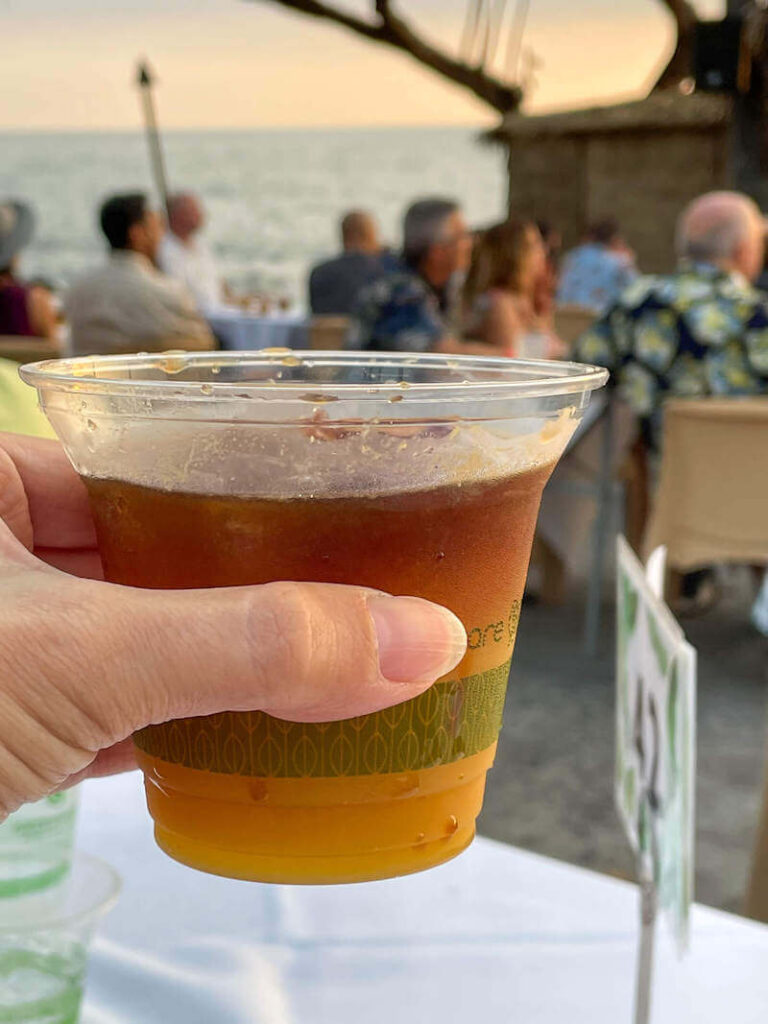 Staff will come around with trays of mai tais and will pass out cups of water to anyone who would like them.
Welcome
After you sit down at your table, you'll be welcomed by the emcee and have the opportunity to listen to live Hawaiian music.
The emcee also led the audience in a prayer.
Hula Dancing
While they start dismissing tables to go stand in the luau buffet line, you'll get to see some hula dancing during sunset.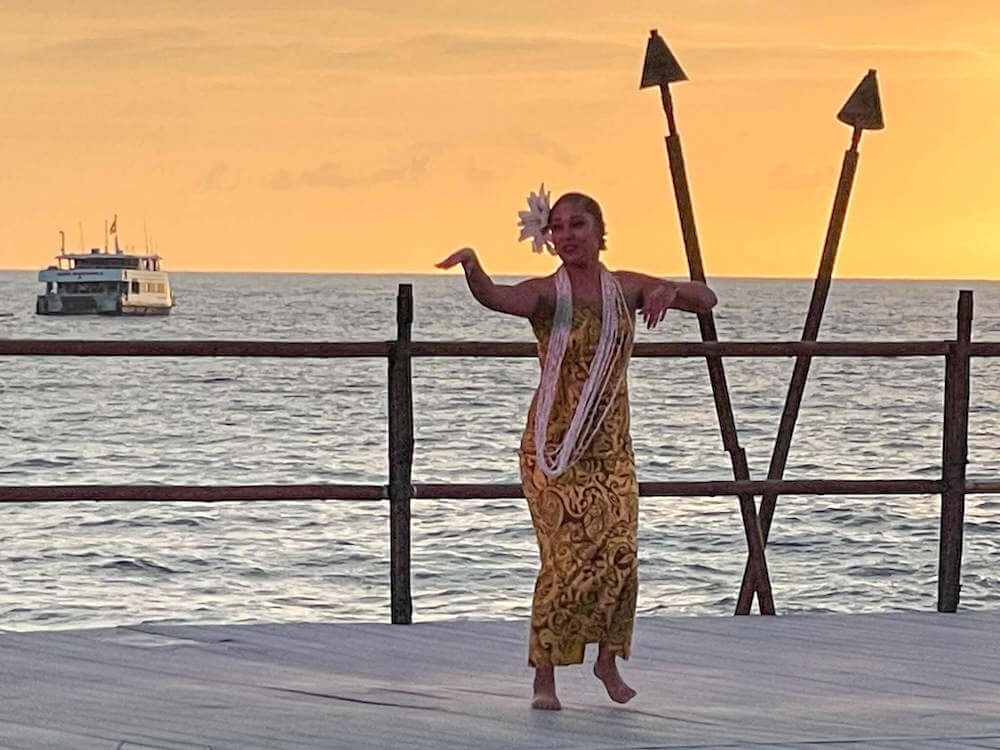 The dancing was beautiful and it was a great way to keep the audience entertained before being invited to grab food.
Food/Drinks
I have to say, I've been to a lot of luaus in Hawaii and this might be my FAVORITE luau food ever. My mouth is watering just thinking about all the yummy options. And I'm a self-proclaimed luau snob.
Ok, let me break down the items on the menu. And the portions are HUGE.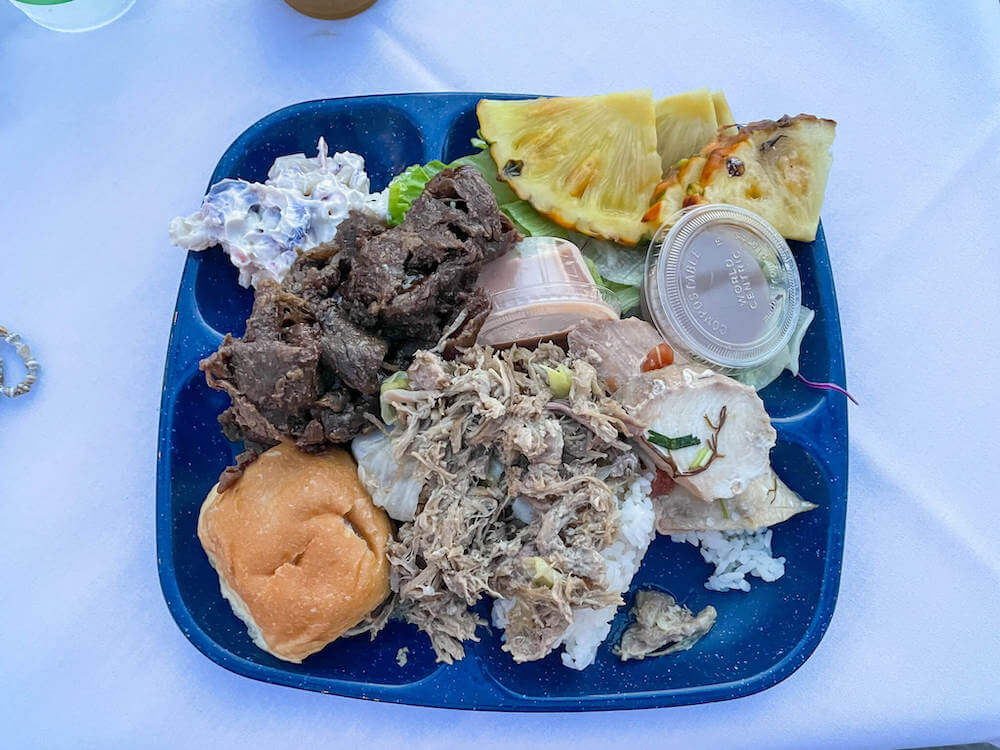 Green Salad
They had a fairly generic garden salad with a choice of several salad dressing options already packed in little containers.
Coconut Roll
This was a fluffy Hawaiian roll with a little container of butter.
Teriyaki Beef
This was super flavorful and juicy teriyaki beef. It's the thin kind vs the steak, which means more opportunity for the marinade to seep in.
Kalua Pork and Cabbage
Their kalua pork was super flavorful and moist. Much better than basically any other luau I've ever attended.
Mahi Mahi Fish
They also had their catch of the day. The day we went, it was mahi mahi. It was quite flavorful.
Potato Macaroni Salad
Ok, I could have eaten an entire bowl of this. It was a typical potato macaroni salad but it also had purple sweet potatoes in it and it's HEAVENLY.
Waipio Valley Poi
I appreciated that their poi wasn't watered down, like they do at other Hawaii luaus. It was really flavorful and paired nicely with the kalua pork as well as the Mahi Mahi fish. You should at least try it!
Fresh Pineapple
They also gave us each about 4-5 thin slices of fresh pineapple. They were super juicy and sweet.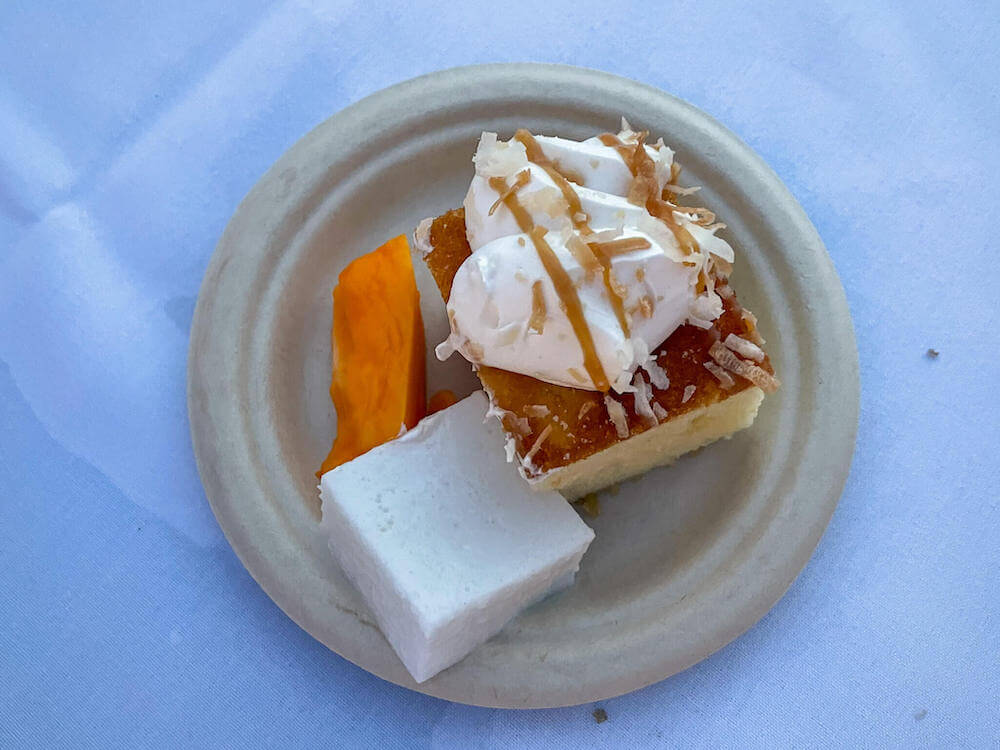 Luau Desserts
We got a little plate with haupia (coconut jello), a slice of Mai Tai cake, and a slice of fresh papaya.
Torch Lighting Ceremony
After everyone got their food, they kicked off the show with a torch lighting ceremony. It started near the stage, went through the audience and then ended back up on stage.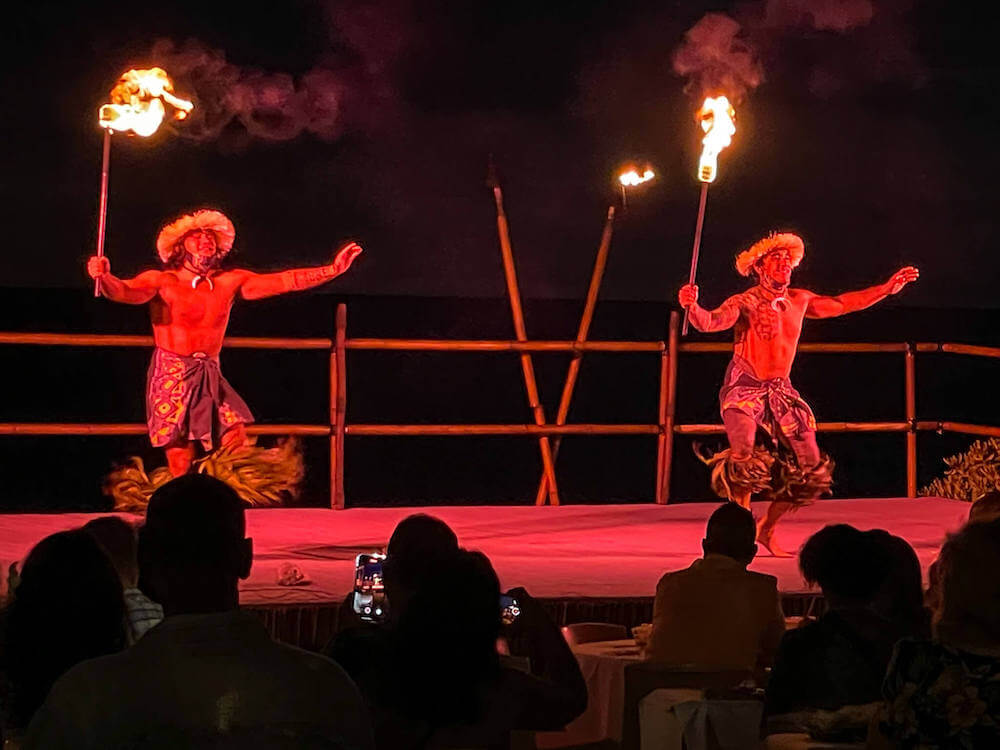 They also did some dancing up there to get everyone jazzed up about the show.
Pareo Fashion Show
As people were finishing up their meal, they did a Polynesian fashion show to highlight a few of the many ways to wear a traditional Polynesian pareo (also called a sarong or lava lava).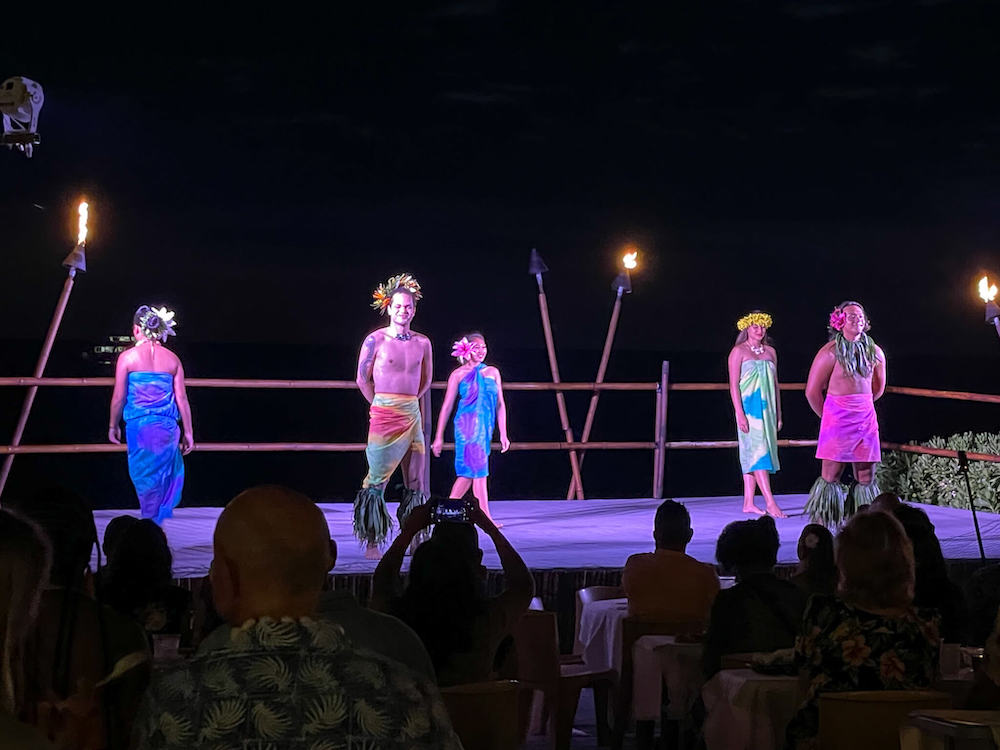 This was the first time I'd seen someone make a swimsuit out of it before! Plus there were several cute dresses and even some men's fashion items.
Luau Entertainment
Tahitian
They kicked off the main luau show with Tahitian dancing. Usually luaus do this and make sure the audience knows it's because people from Hawaii originally came from Tahiti.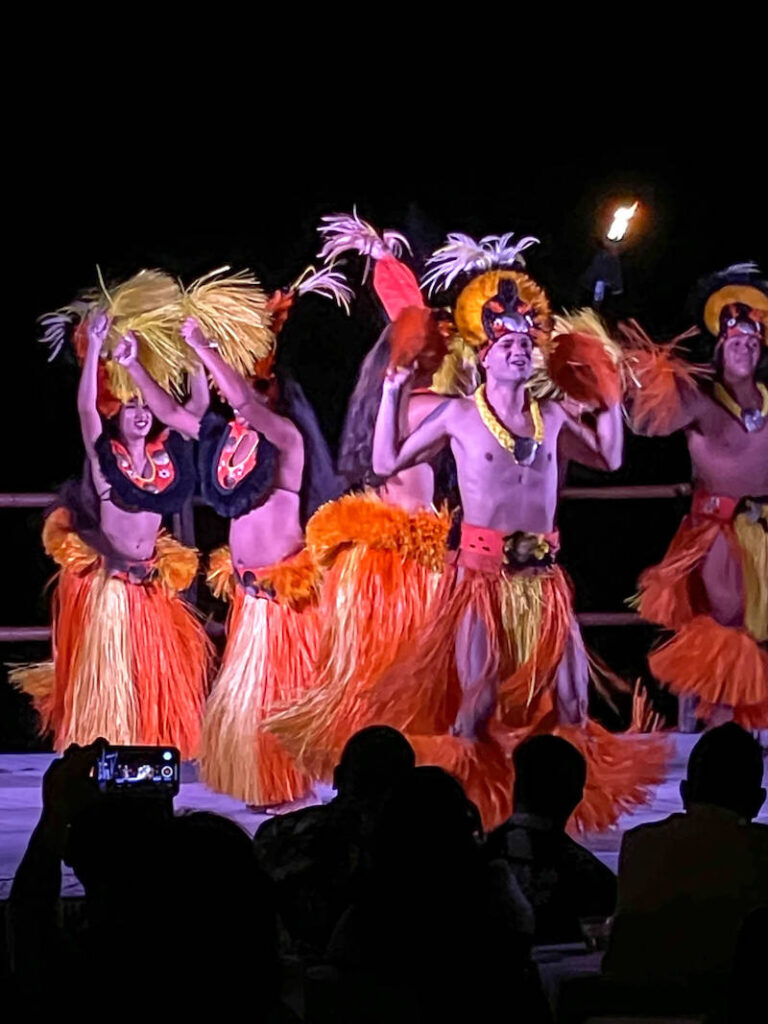 The dancing was great and they incorporated both men and women in the show.
They also did a dance about the tiare flower which ended with a soloist doing a mesmerizing dance.
Hula Kahiko
Next up was the ancient style of hula dancing called Hula Kahiko. The performers danced to a chant about when the fire goddess Pele asked her sister Hi'iaka to head to Kauai to get her lover Lohiau.
Taught the Audience How to Honi
This was one of my favorite parts about this Kona luau and I've never seen this done at a luau before. The emcee taught everyone how to give a traditional Hawaiian honi.
Basically, two people press their foreheads and noses together and take a deep breath. My son and I practiced it a lot and it might become our new thing when snuggling.
Tuamotu Islands
Another thing unique to this Big Island Hawaii luau is that they featured a dance from the Tuamotu islands. The style was similar to Tahitian dancing.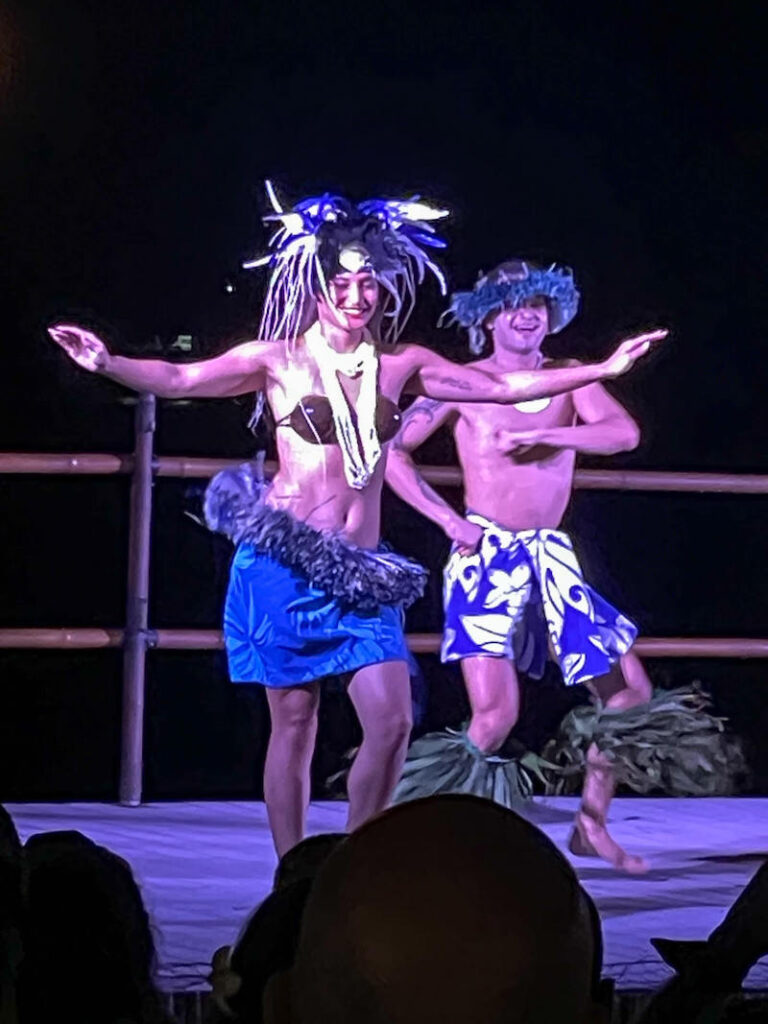 Cook Islands
I love that this Kona luau also featured a dance from the Cook Islands. They don't get a lot of visibility in most Hawaiian luaus, so that was fun to see!
Emcee Announced Birthdays, Anniversaries, etc
There was a pause in the dancing for the emcee to read off the names of people celebrating special events. This part was much longer than I expected.
Hawaiian Wedding Song
After they congratulated all the newlyweds, honeymooners, and people celebrating anniversaries, a hula dancer came out to perform the Hawaiian Wedding Song. This was made popular by Elvis in Blue Hawaii.
Hula Auana
They did another modern hula dance, but this time they used hula implements (instruments used while dancing).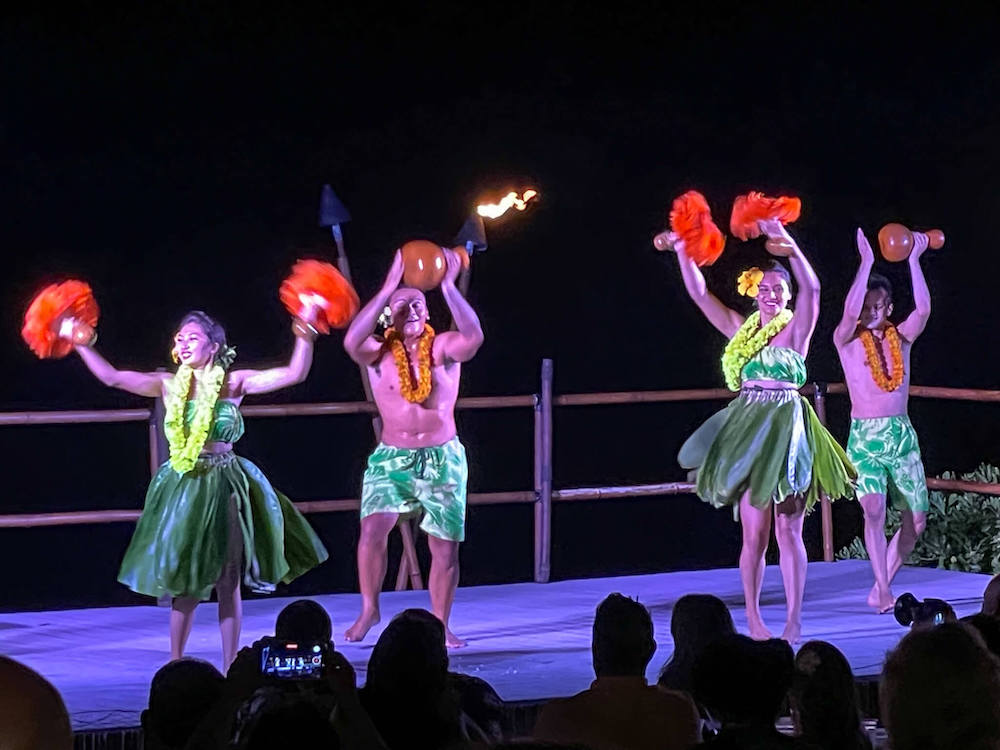 Maori Haka
Next up was New Zealand. It started off with men performing a traditional Haka. This is what most people have seen during football and rugby matches.
Maori Poi Balls
They also showed the women dancing with poi balls. It started with the short poi balls and ended with double poi balls.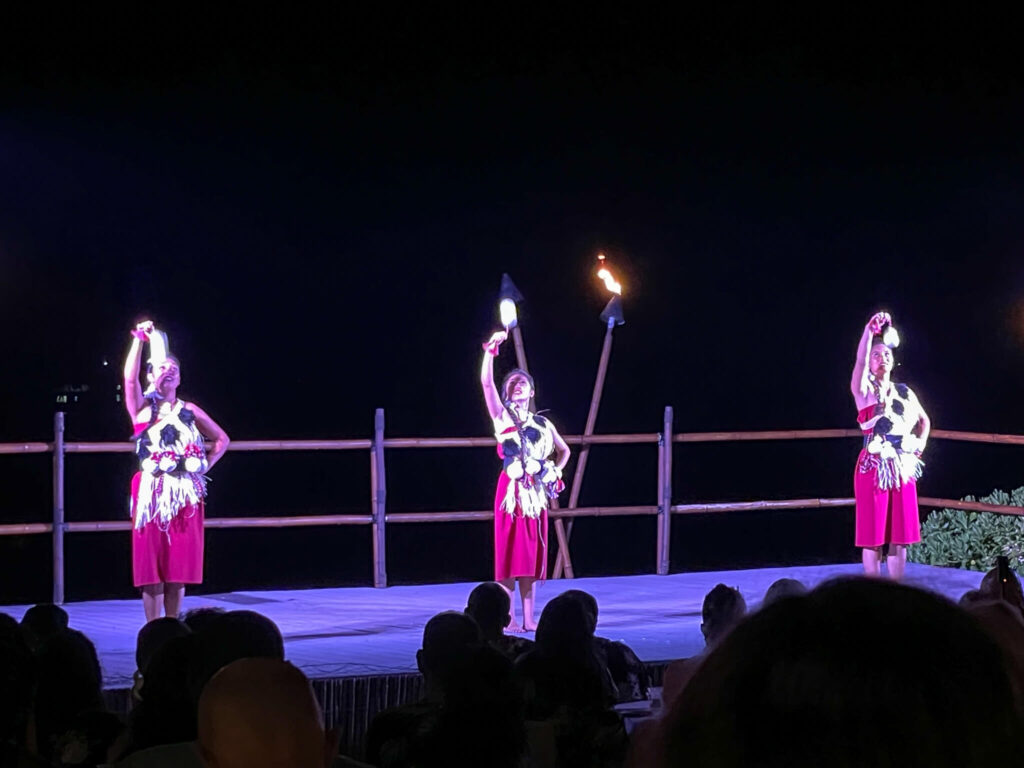 Samoan Fire Knife Dancing
Like most luaus in Hawaii, this one ended with the Samoan fire knife dance. It was super impressive and he even had two knives going at one point.
Farewell
After the Samoan fire dancing, it was time to say goodbye. The audience was invited to stand near the stage and take selfies with the cast members.
They did a great job grouping a few men together and a few women together so people were able to split the line a bit.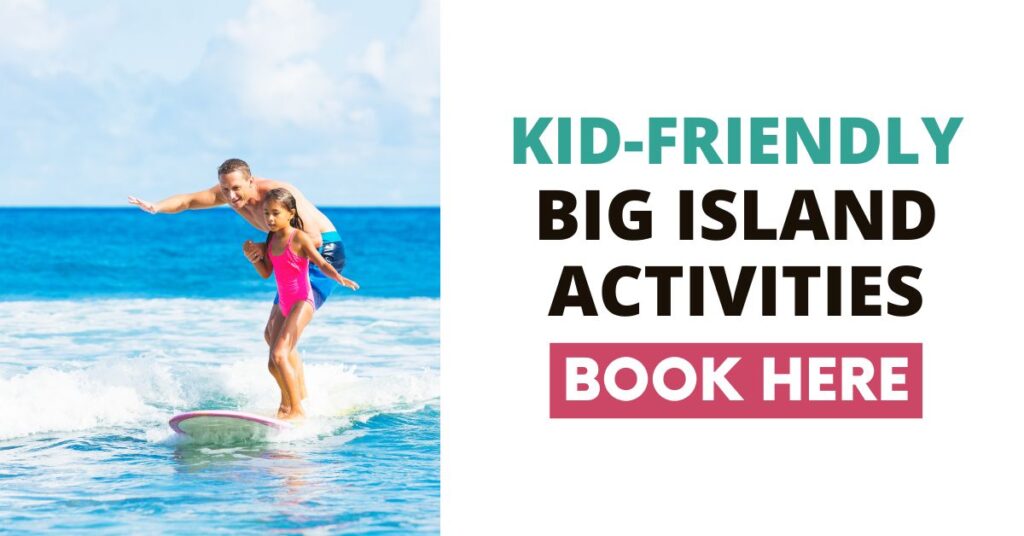 Why I Went to this Big Island Luau
I've been to a lot of luaus on Kauai, Maui, and Oahu, so I was curious how this Big Island luau compared with them. I had always heard that the luaus on the Big Island are less fancy.
Part of the reason why we stayed at the Royal Kona Resort is because they had their own luau on-site. I wanted to see what it was like to just walk back up to our room instead of having to carry a sleepy 5-year-old to the car and then to a hotel room.
Plus, the Royal Kona Luau uses Tihati Productions, which produces several other Big Island luaus.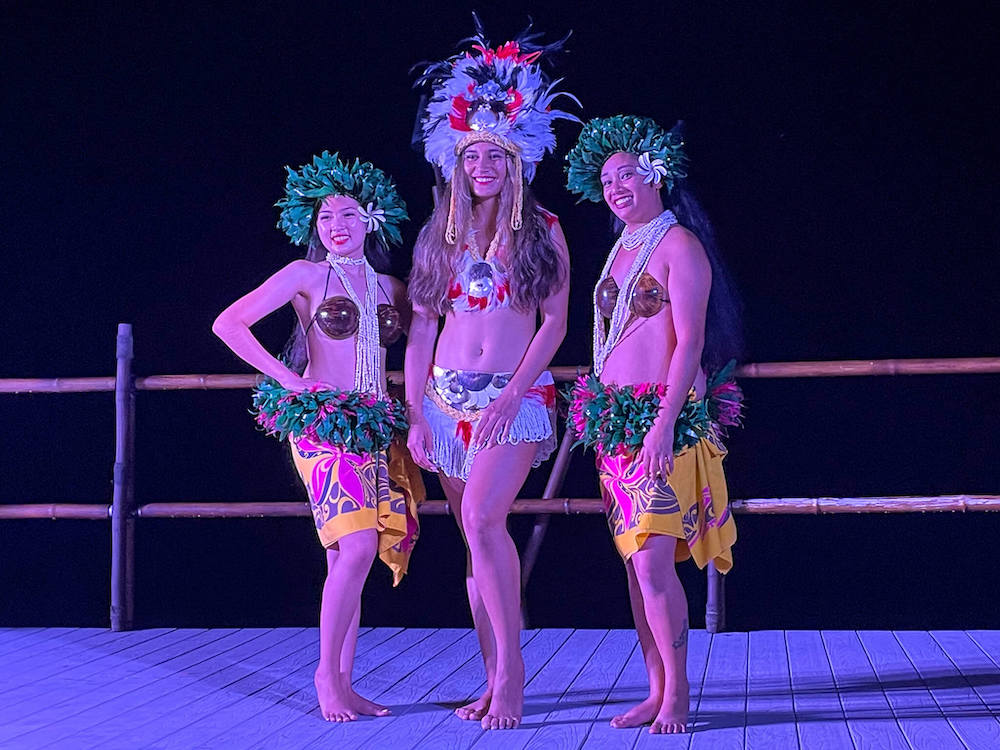 How Does the Voyagers of the Pacific Luau Compare to Other Hawaii Luaus?
I want to start of by stating that kids ages 5 and younger are FREE. This is awesome because most luaus only offer free admission to kids ages 2 and younger. This can save you a lot of money.
I thought the Royal Kona luau food was outstanding. If they were a restaurant, I would have gone back the next day. It's seriously flavorful!
They asked everyone to arrive by 4:45pm but they didn't really serve food until 6pm. When we went in November 2021, there were NO activities, crafts, or things to do while waiting for food.
So, my 5-year-old was already starting to get bored before dinner and then he was ready to leave half-way into the show.
I appreciated that the luau was over by about 7:30pm. Sometimes luaus are really late and that's hard with younger kids or when dealing with jet lag from the Mainland.
The show itself was pretty good. Nothing really outstanding or memorable.
Oh, but they put up a big net before they did the Samoan fire knife dancing. They said it was a liability thing and I'm guessing it's because the front tables were really close to the stage. I've just never seen that done before.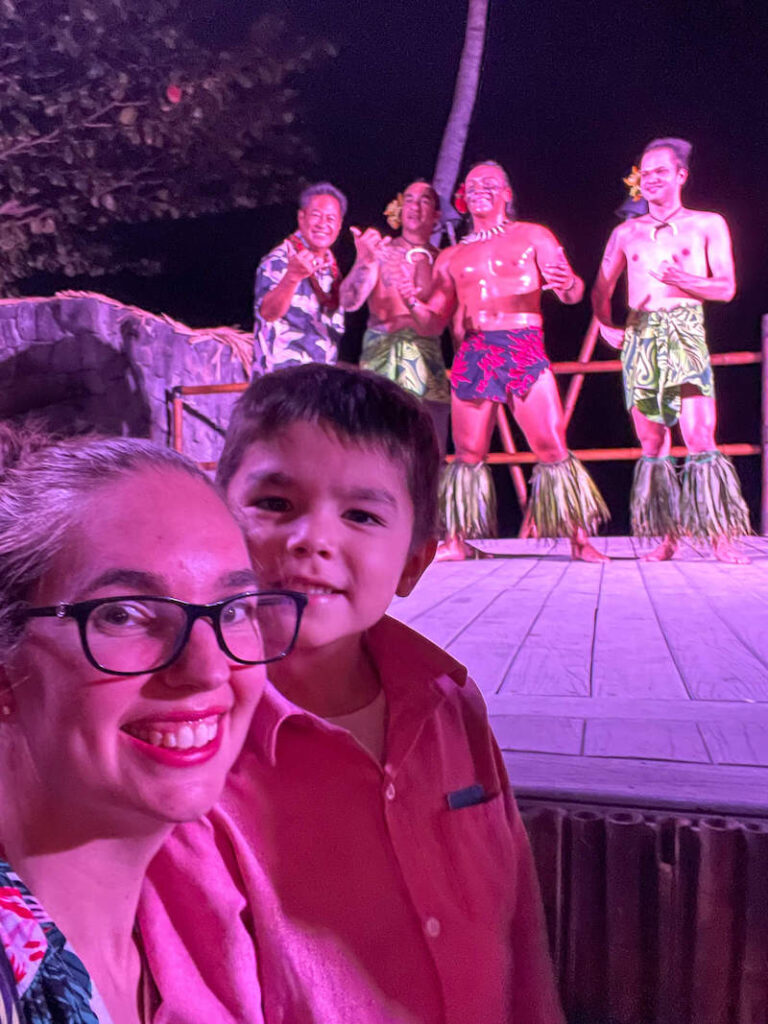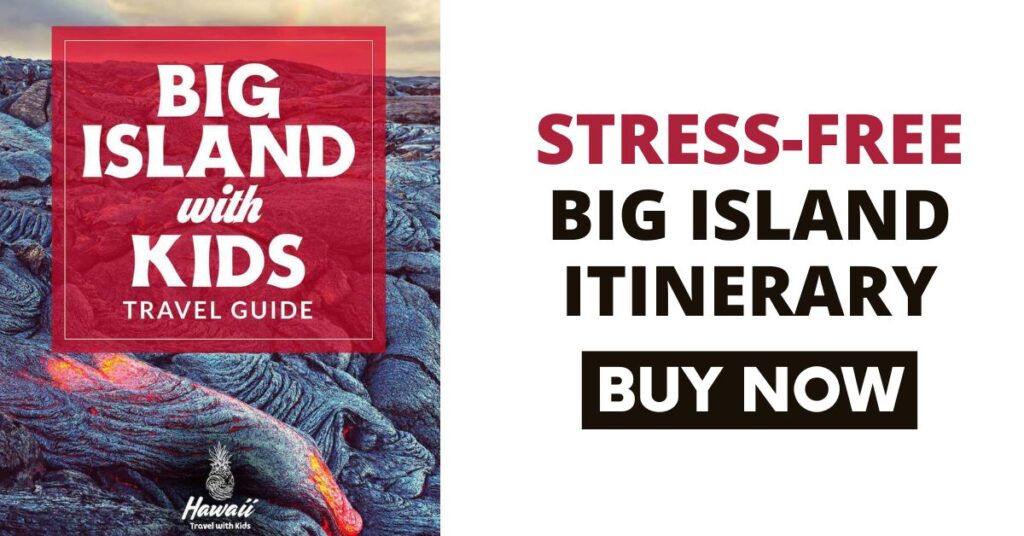 So, Would I Recommend the Royal Kona Resort Luau?
I really enjoyed the Voyagers of the Pacific Luau at the Royal Kona Resort. I'd absolutely recommend it for families who are staying at the Royal Kona Resort or nearby. It's super convenient and the food is outstanding. It's the best luau on the Big Island for people at the Royal Kona Resort.
If you've never been to a Hawaiian luau, this is a great one to try. They provide an overview of a few Hawaiian traditions, highlight several Polynesian cultures, and make it easy to sit back and enjoy the entertainment. Check latest rates and availability.