Are you looking for the best things to do on the Big Island with kids? Keep scrolling to read my honest review of the Kona Atlantis Submarine tour to see if it's right for your family.
This Kona Atlantis Submarine Tour Review contains affiliate links which means if you purchase something from one of my affiliate links, I may earn a small commission that goes back into maintaining this blog.
Are you wondering what to do in Kona Hawaii with kids?
I recently took my 5-year-old on the Kona Atlantis Submarine on the Big Island. This is a kid-friendly tour that takes you underwater to see tropical fish and sunken ships.
We have previously done the Waikiki Atlantis Submarine and the Maui Atlantis Submarine so we were curious how this one compared. Keep scrolling to read my honest Kona Atlantis Submarine tour review.
You will be able to see all of your favorite Hawaiian sea creatures up close, including a manta ray, parrotfish, triggerfish, and more! The crew was friendly and helpful throughout our entire trip as well which made it even better for us!
If you are looking for an exciting way to spend your day in Hawaii then look no further than this fun submarine adventure!
Keep scrolling to read my review of the Atlantis Kona Submarine Adventure.
Ready to book? Get your discounted tickets HERE!
Don't have time to read a bunch of Hawaii blog posts and reviews? Here are some of our top picks for visiting the Big Island.
Popular Big Island Tours/Activities
Favorite Big Island Resorts/Hotels
Want to Rent a Car in Hawaii?
One of the best places to rent a car in Hawaii is Discount Hawaii Car Rental because they get the best rates from top national companies like Alamo, Dollar, Thrifty, Avis, Enterprise, Budget, and Payless.
Want to skip all the planning and just access my detailed Big Island Itinerary complete with daily schedules, kid-friendly activities, and travel hacks? Click the button below.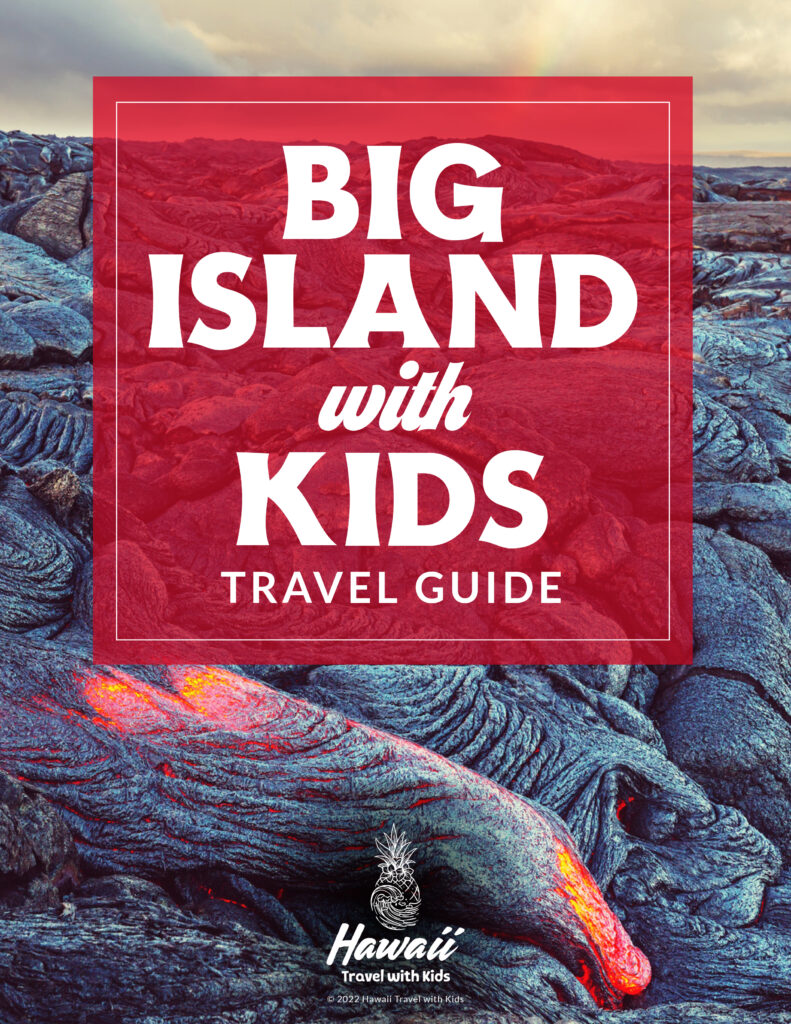 Kona Submarine Tour FAQs
Is the Kona submarine one of the top things to do in Big Island with kids?
YES! We've done the Atlantis Submarine on Maui, Oahu and the Big Island and the Kona submarine was by far our favorite. It's an easy way to see tropical fish without snorkeling.
What are some other activities in Kona for kids?
One of our favorite Kona Hawaii excursions for kids is the Aloha Adventure Farms ATV tour. They offer UTV rides for kids ages 5-15 and people ages 16+ can ride ATVs through the jungle, stopping villages to learn about Polynesian cultures through hands-on activities. There's also swimming with dolphins at the Hilton Waikoloa Village. These are all awesome things to do on Big Island with kids.
What are the age restrictions for the Kona submarine?
Kids need to be at least 36″ tall to ride.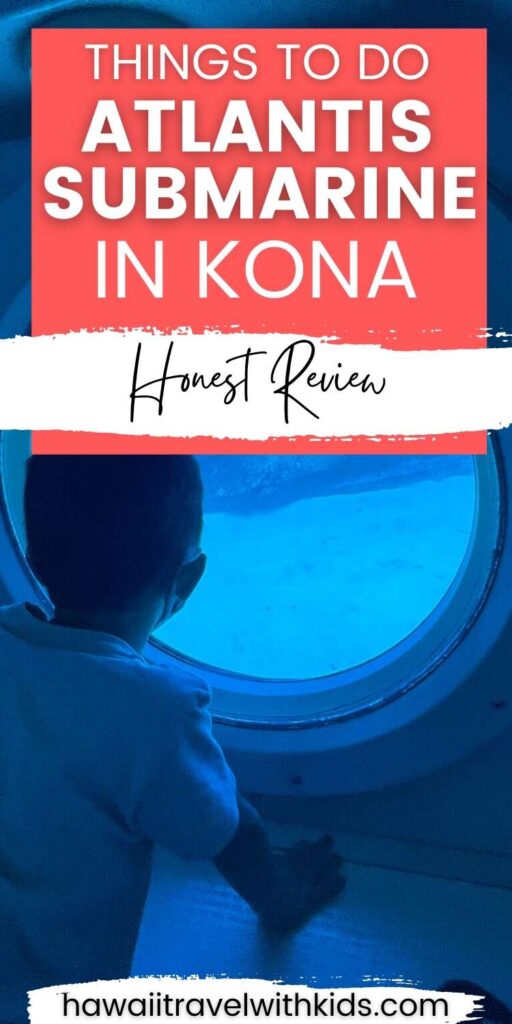 Brief History of the Atlantis Submarine
Atlantis Submarine Adventures has been operating in Hawaii since 1988. They have some of the largest and most technically advanced passenger submarines in the world.
They are pretty passionate about sustainable tourism and their Hawaii submarines are battery powered and don't pollute the water. And in an effort to not disturb the sea life, they are also really quiet.
Atlantis Submarines currently have dive sites in Waikiki, Oahu; Lahaina, Maui; and Kona, Big Island. These are popular activities for a Hawaii vacation with kids.
What to Know about the Kona Atlantis Submarine Before You Go:
Arrival
The Kona Atlantis Submarine is located in the Courtyard by Marriott King Kamehameha's Kona Beach Hotel on Ali'i Drive. This is walking distance from many Kona hotels.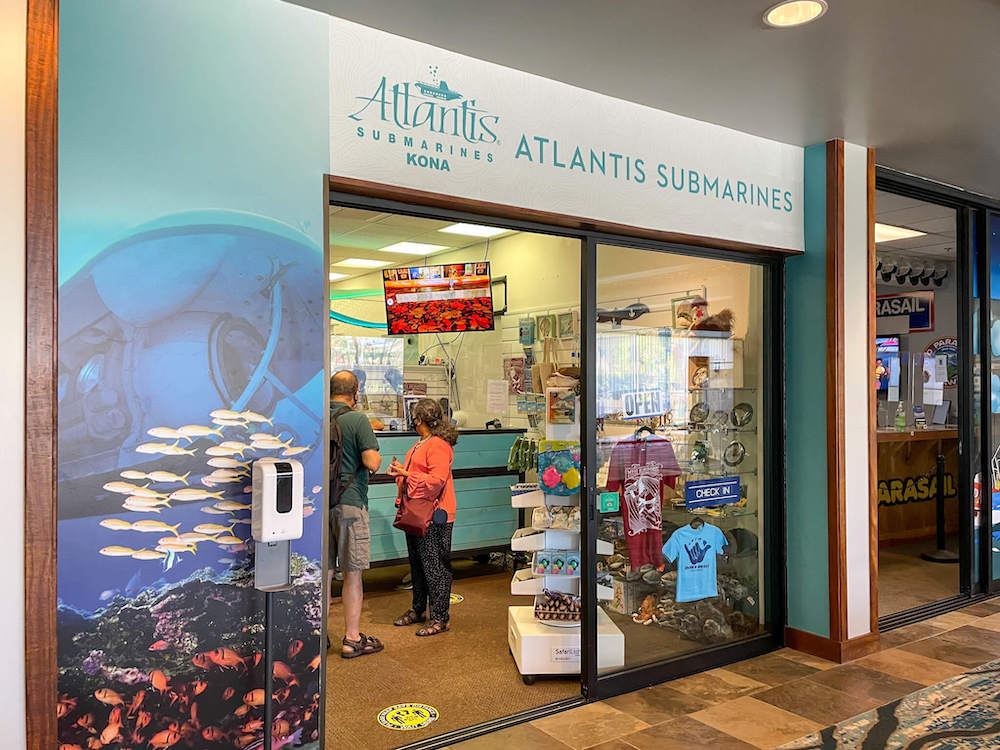 You can either walk or park in their paid lot. We parked there for about 3 hours and it ended up being $25. However we forgot to get our parking validated.
When you enter the hotel, you'll take a left and then a right until you see the Kona Atlantis Submarine check in area. It's all indoors and air conditioned.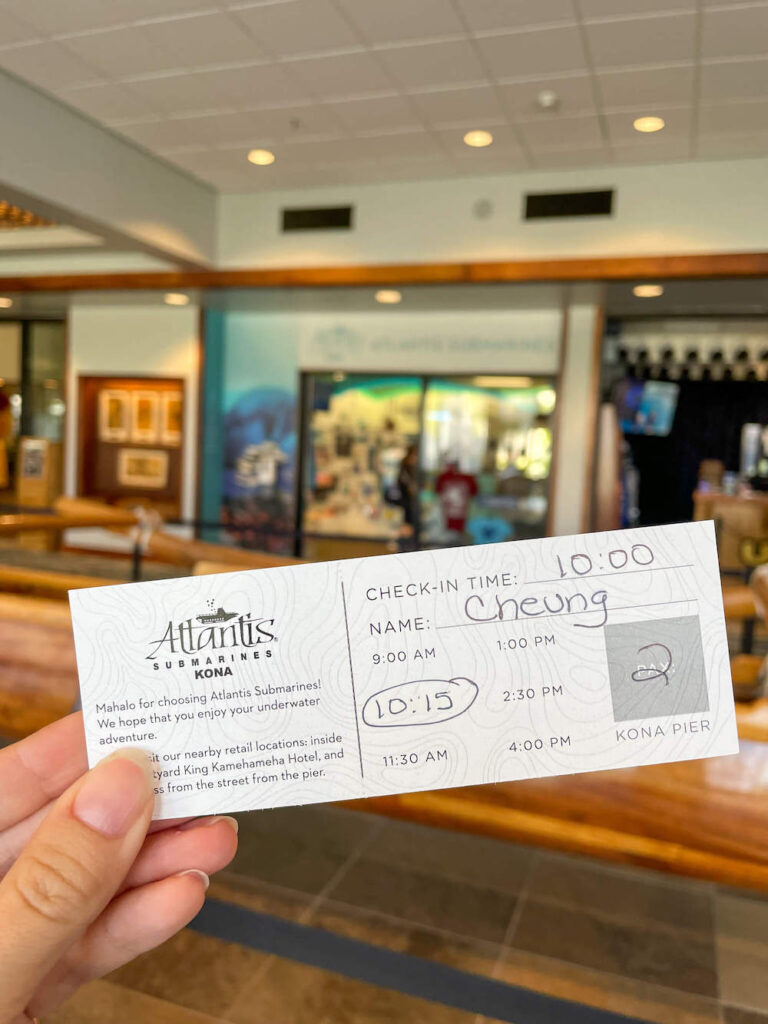 After you're checked in, you'll have the option of walking around the hotel for a bit or hanging out by the large outrigger canoe. When we were there, they had an amazing display of artwork by the famous Hawaiian artist Herb Kane.
Note: there are no restrooms on the submarine, so you're best bet is to use the one by the luau check-in desk near the hotel's main entrance.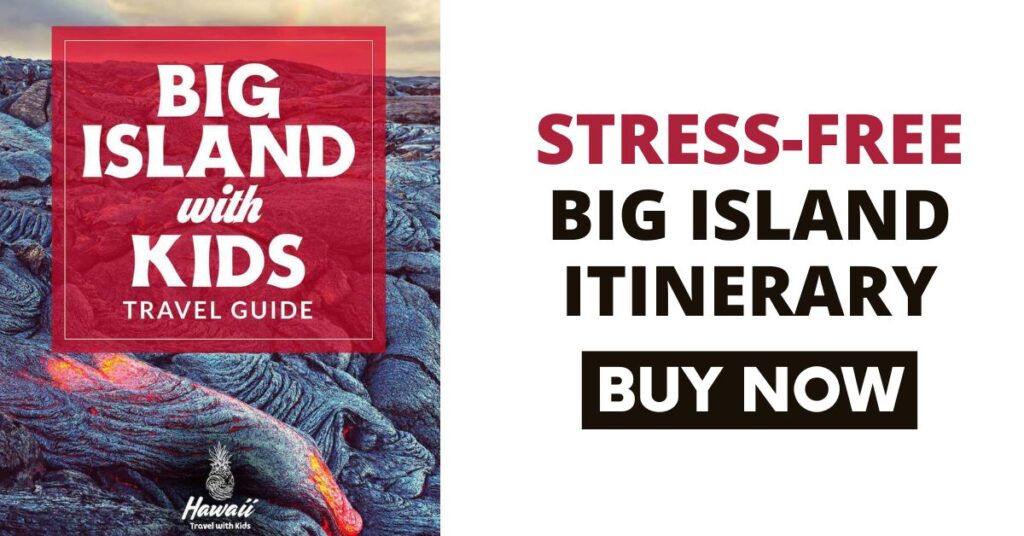 Short Boat Ride to Submarine
Since the reef right in front of the Courtyard by Marriott King Kamehameha's Kona Beach Hotel is pretty shallow, you'll take a 5 minute boat ride out to the submarine.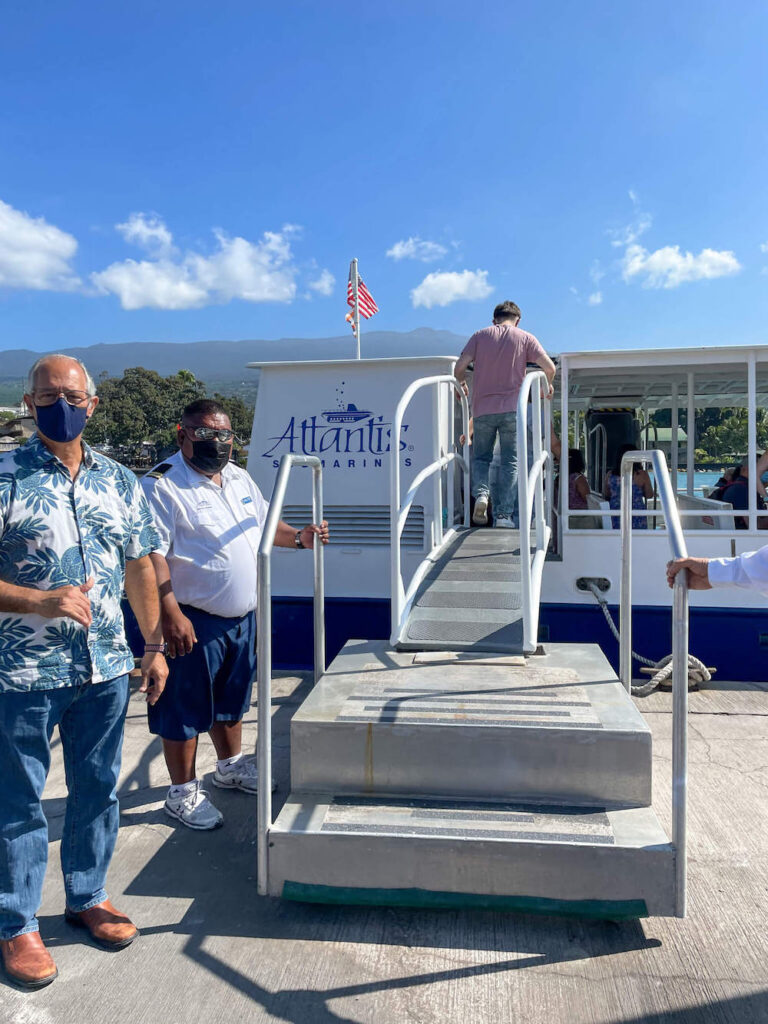 During this short boat ride, you'll see safety presentations about all the different equipment you may have to use in an emergency (however they haven't needed any since they started tours 30 years ago).
You'll also get sweeping views of the entire Ali'i Drive strip, which is pretty cool!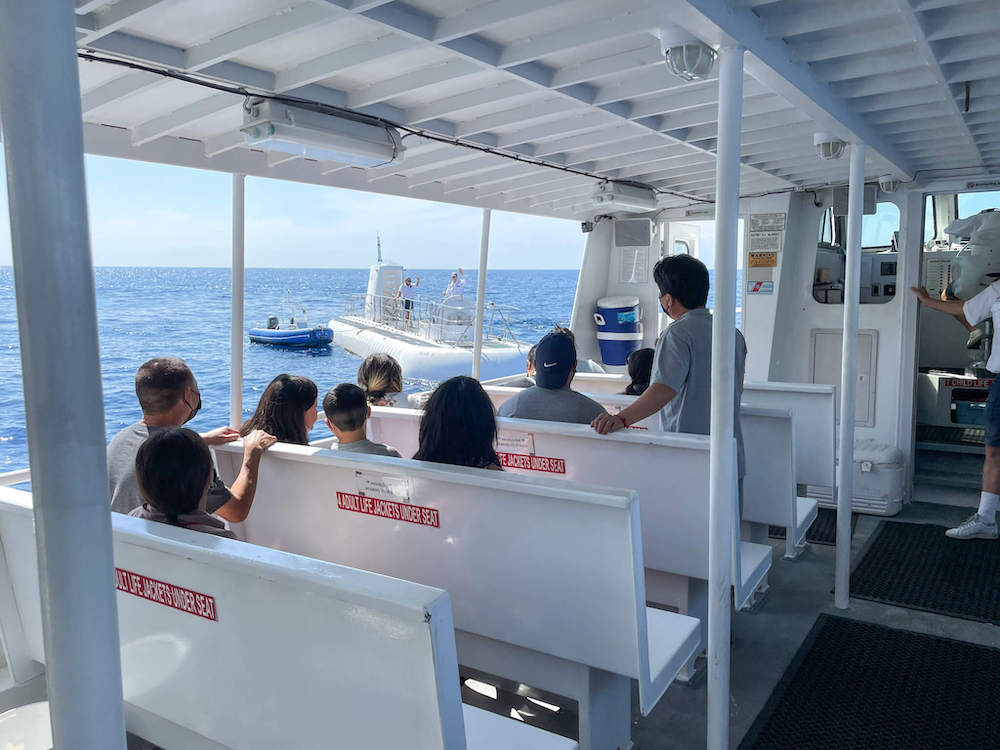 There's only one open-air section with built in benches. And the boat is pretty small. You also must stay seated the whole time. There's no need to stand up to take photos of the submarine as you'll have a much better opportunity on the way back to shore.
Once you reach the submarine, the crew will direct you to a line so you can climb down into the submarine with the rest of your group. You can leave your bags on the boat if you like. No one but the crew is on the boat while you are in your submarine.
You will need to turn around and climb down a steep 10-step ladder. My 5-year-old was nervous at first, but he managed to do it all by himself.
Submarine Tour in Kona Hawaii
Once you enter the submarine, you'll see there are giant circular windows right in front of you. Two people share one large window.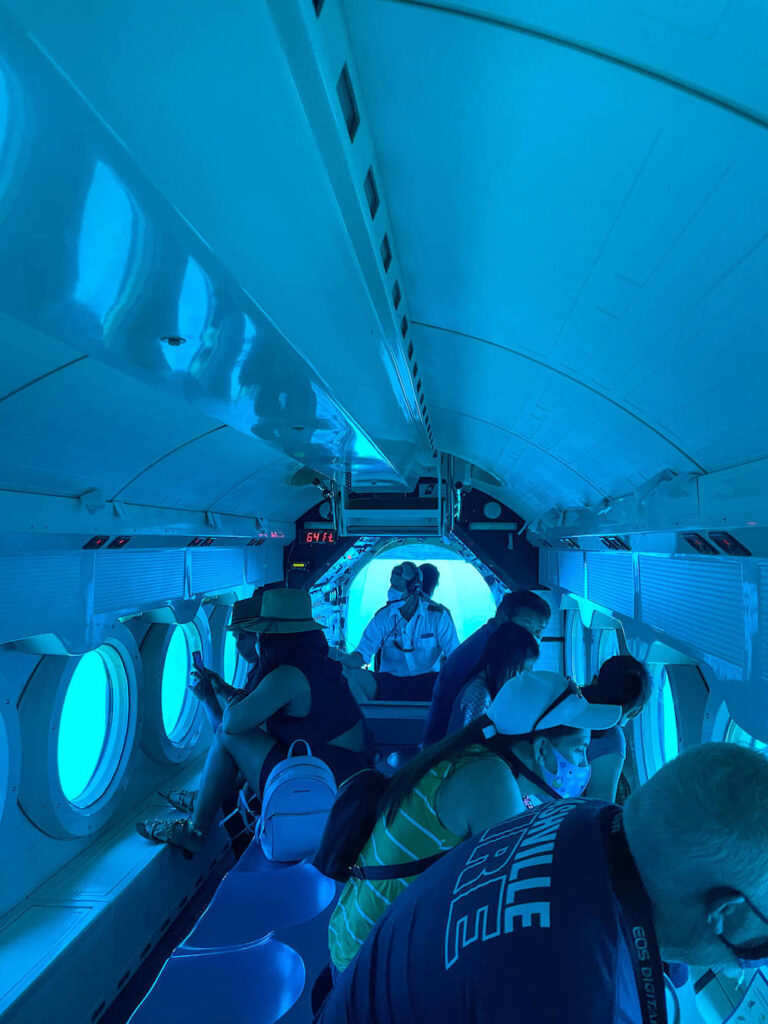 You'll start off going 60 feet under water and then you'll gradually get to about 100 feet under the sea.
Underwater, you'll get to see an 18,000-year-old coral reef that spans 25 acres! You'll see TONS of tropical fish and other undersea creatures. We saw a manta ray and it was majestic!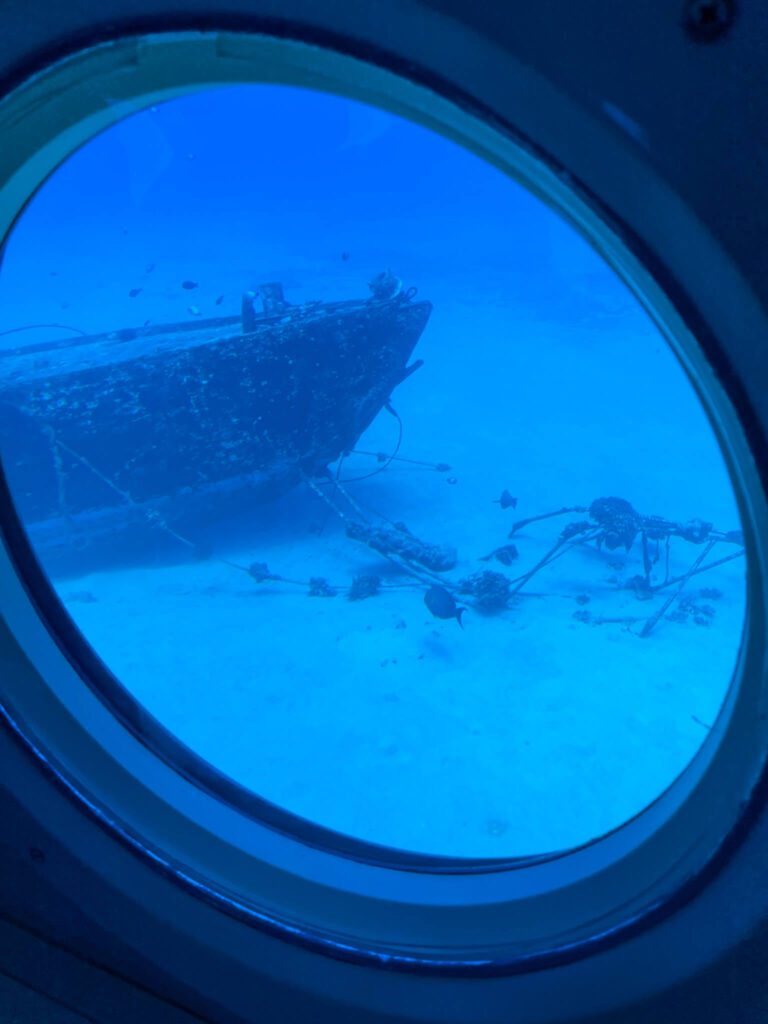 The major Kona attractions are the sunken shipwrecks. And there are fascinating (and humorous) stories that go along with them.
The captain is really good about turning around so that the other side of the submarine can also get views of the items under water. That's one of the reasons I think it's one of the best Kona adventures for families.
Along the way, you'll see fish and other sea creatures pop up sporadically. Because this is an ocean, they cannot guarantee you'll see any fish, sea turtles, sea horses, sharks, or whales. It varies so much from tour to tour.
We ended up seeing a lot of schools of fish, which was awesome!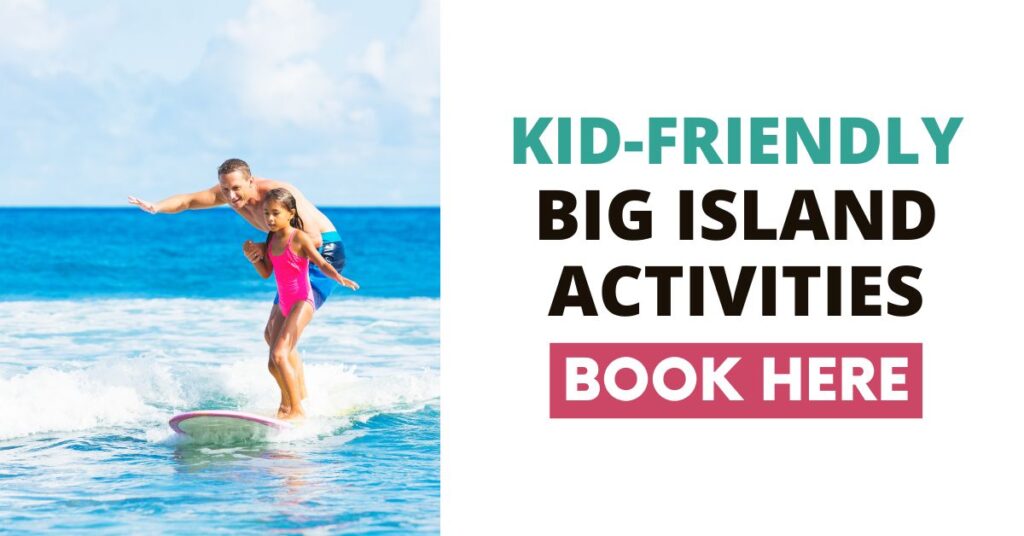 Kona Boat Ride to Shore
After the submarine ride, we climbed back out and onto the boat.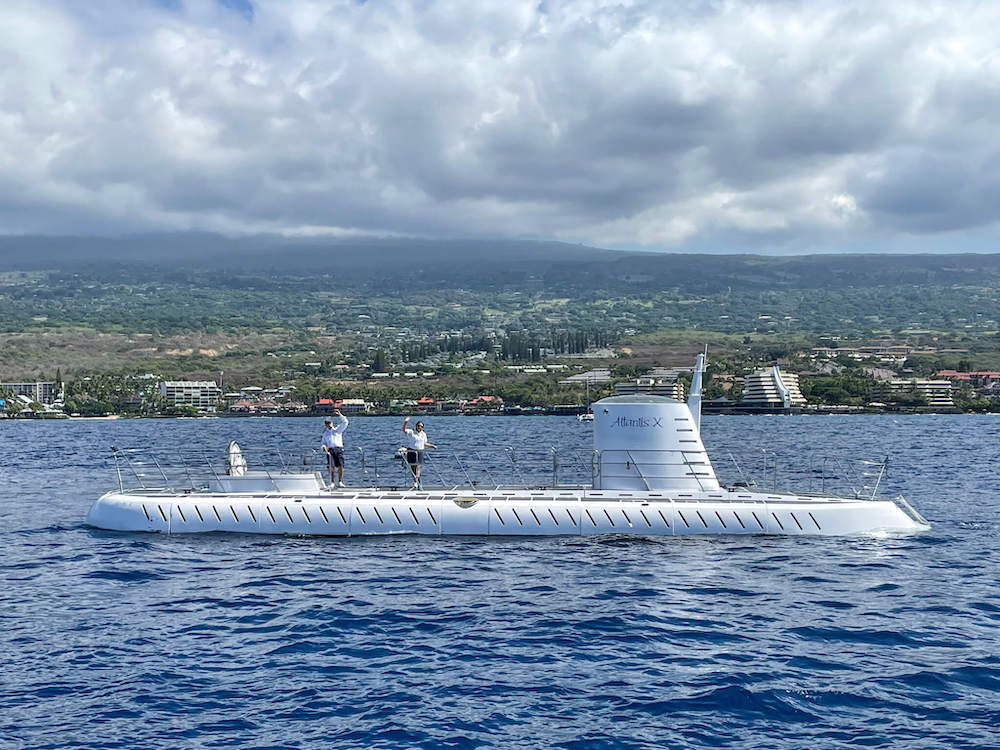 They did a full circle around the submarine so that everyone on the boat could stand up and take their own photo of the submarine in the water. The crew even waved!
It's a quick 5 minute ride back to shore, but the views are pretty amazing!
How does the Kona Submarine Tour Compare with the Waikiki and Maui Submarine Tours?
Now that we've done all three Atlantis Submarine tours in Hawaii, I can confidently say the Kona submarine tour is our favorite.
We appreciated being able to wait for our tour to start in an air-conditioned hotel. The boat ride was short yet really fun and scenic. And the tour itself was informative, funny, and we saw TONS of coral and sea life in addition to the cool wreckage.
It's definitely one of the top Big Island adventures worth checking out.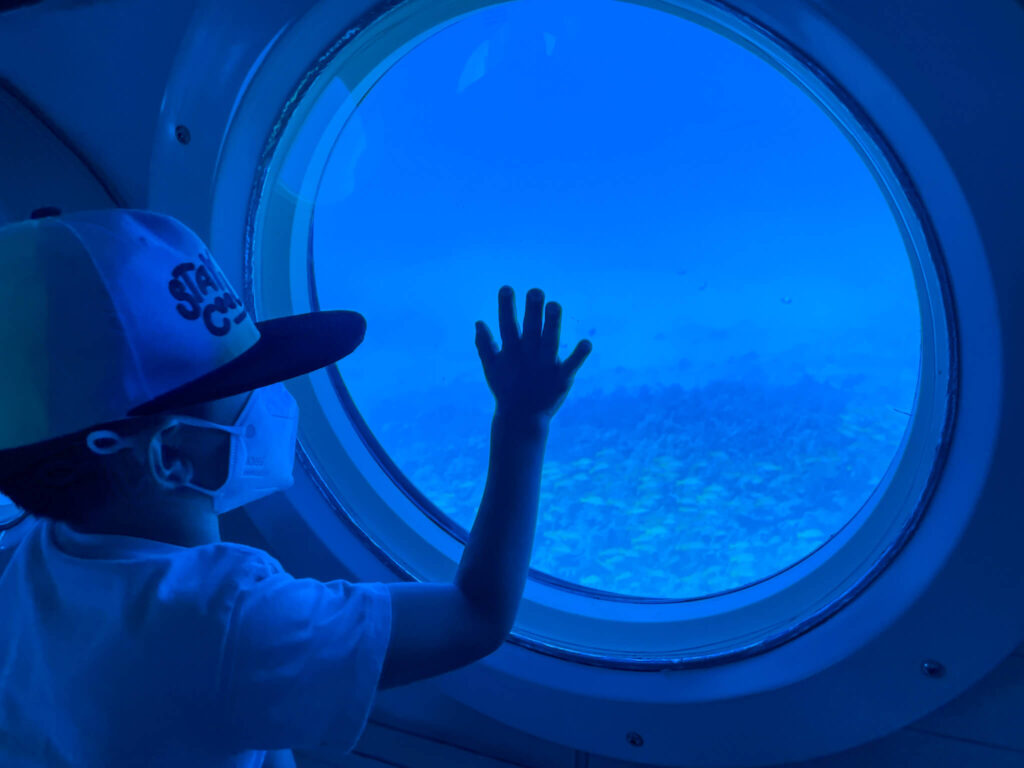 The Highlight of this Kona Tour and What You Should Look Out For
For my son and me, the highlight was simply going on a REAL submarine ride. It's something unique that many people never have the opportunity to do. In fact, our guide said only 1% of people across the globe ever go 100 feet under water.
And fun fact: our submarine was built in Everett, Washington!
There are a couple of things families should know:
There are NO restrooms on the submarine. So, I encourage you to have your family use the facilities inside the hotel instead.
If anyone in your family gets motion sickness, they do have sick bags that are easily accessible on the submarine.
The ladder to get in/out of the submarine is super steep and they want kids to do it on their own instead of being carried.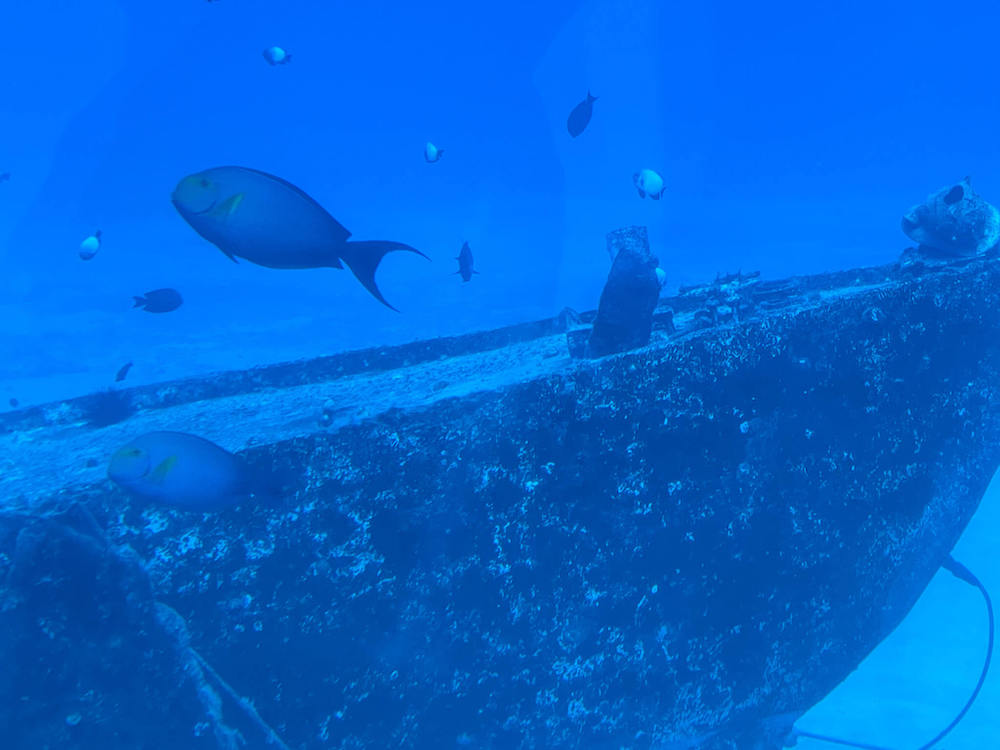 How Much Does it Cost and Where is it Located?
You'll find the Kona Atlantis Submarine tour at the Courtyard by Marriott King Kamehameha's Kona Beach Hotel on Ali'i Drive.
There's a ticket booth inside the hotel if you want to get same day tickets. From there, you'll walk along the beach and onto the dock to get on the shuttle boat.
If you are sure you want to do this Kona activity, you'll definitely want to reserve tickets before you arrive. Adult tickets start at $133 and children start at $51. Prices vary depending on restrictions/availability.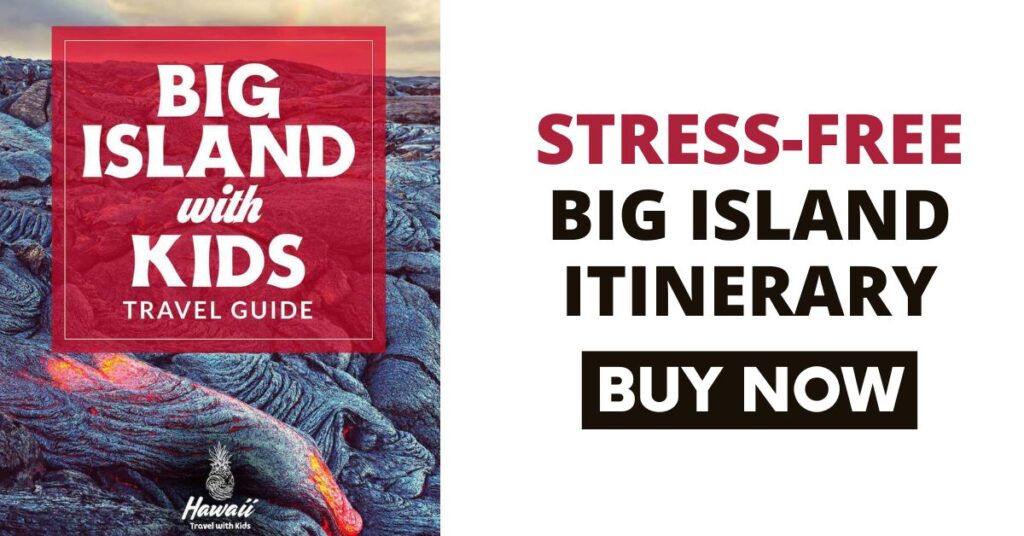 So, is the Kona Atlantis Submarine Worth It?
Absolutely! My 5-year-old son said this was his favorite Kona activity! We both loved seeing all the tropical fish, the manta ray, and the cool wreckage sites. Plus, our Kona tour guide was hilarious!
We've done the Atlantis Submarine on Oahu and Maui, but the Kona Atlantis Submarine ride is by far our favorite!
It's definitely one of the best Kona Hawaii activities and top Big Island excursions for families!