Are you looking for a kid-friendly Kona activity? Keep scrolling to read my honest review of the Hawaii Keiki Museum on the Big Island of Hawaii.
This Hawaii Keiki Museum review contains affiliate links which means if you purchase something from one of my affiliate links, I may earn a small commission that goes back into maintaining this blog.
My kids LOVE children's museums. We've done all of them near our home in Seattle and we usually try to visit a few anytime we travel.
So, when I found out that there was a children's museum in Kona, I totally flipped out.
We made it a priority to swing by on our last trip to Kona to see whether or not it's something we'd recommend for families. Spoiler alert: It's AMAZING!
Keep scrolling to find out exactly what we thought of the Hawaii Keiki Museum and get a sneak peek of why your family might want to add it to your Kona itinerary.
Don't have time to read a bunch of Hawaii blog posts and reviews? Here are some of our top picks for visiting the Big Island with kids.
Best Kid-Friendly Big Island Tours/Activities
Best Kid-Friendly Big Island Resorts
Save Money with Points
My favorite credit card for travel is Chase Sapphire because it offers the best value on flights and hotels. Check out the latest sign-up bonus deal.
Want to Rent a Car in Hawaii?
One of the best places to rent a car in Hawaii is Discount Hawaii Car Rental because they get the best rates from top national companies like Alamo, Dollar, Thrifty, Avis, Enterprise, Budget, and Payless.
Want to skip all the planning and just access my detailed Big Island Itinerary complete with daily schedules, kid-friendly activities, and travel hacks? Click the button below.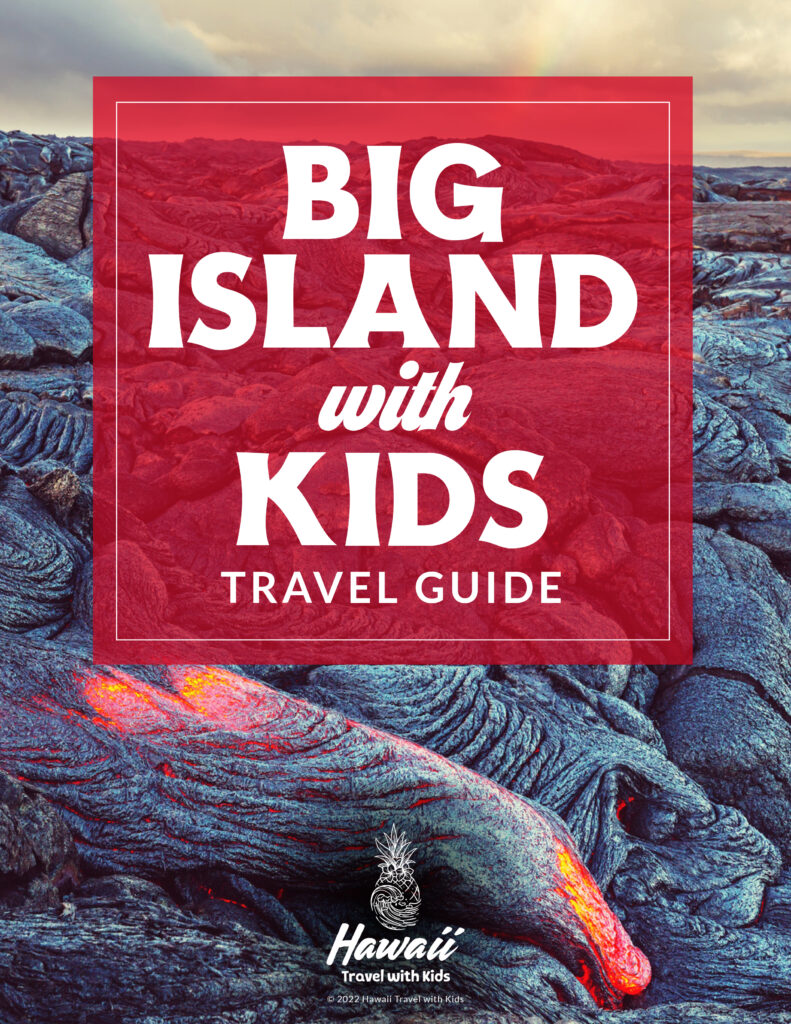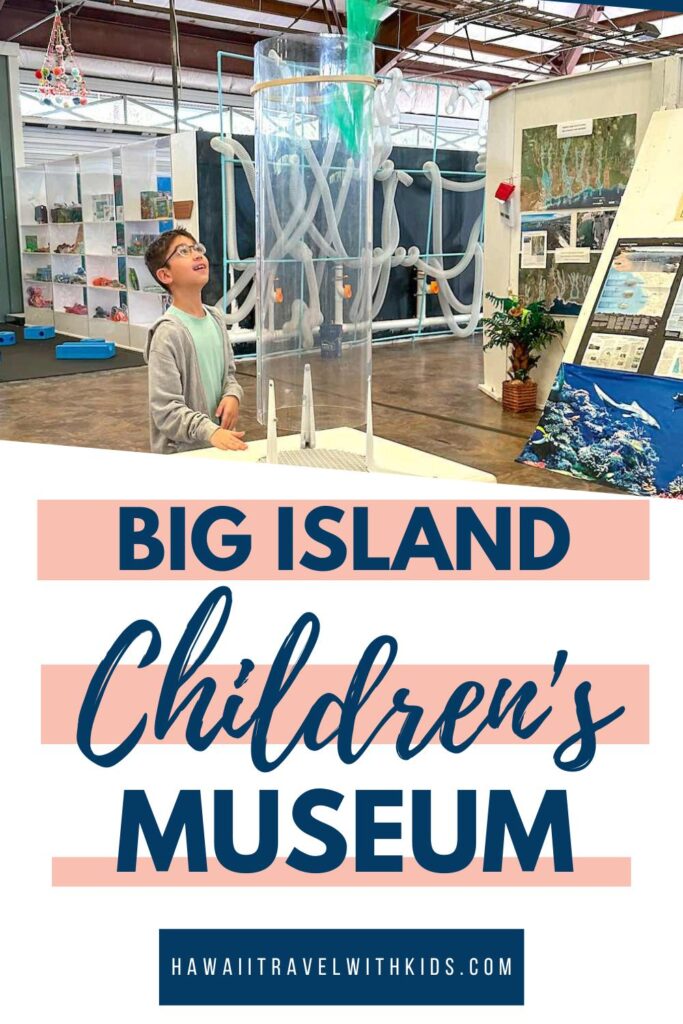 Where is the Hawaii Keiki Museum on the Big Island?
The Hawaii Keiki Museum launched in October 2022 and it's located in Building D at 74-5533 Luhia St. Box 14, Kailua-Kona, HI 96740.
My GPS actually took me past the entrance and I had to turn around and I went a funky way. It's literally right across the street from Target, which is super convenient for parents.
Brief Hawaii Keiki Museum History
The Hawaii Keiki Museum opened to the public in October 2022. But, the idea came about during the pandemic when it was apparent that the community needed a gathering place for families.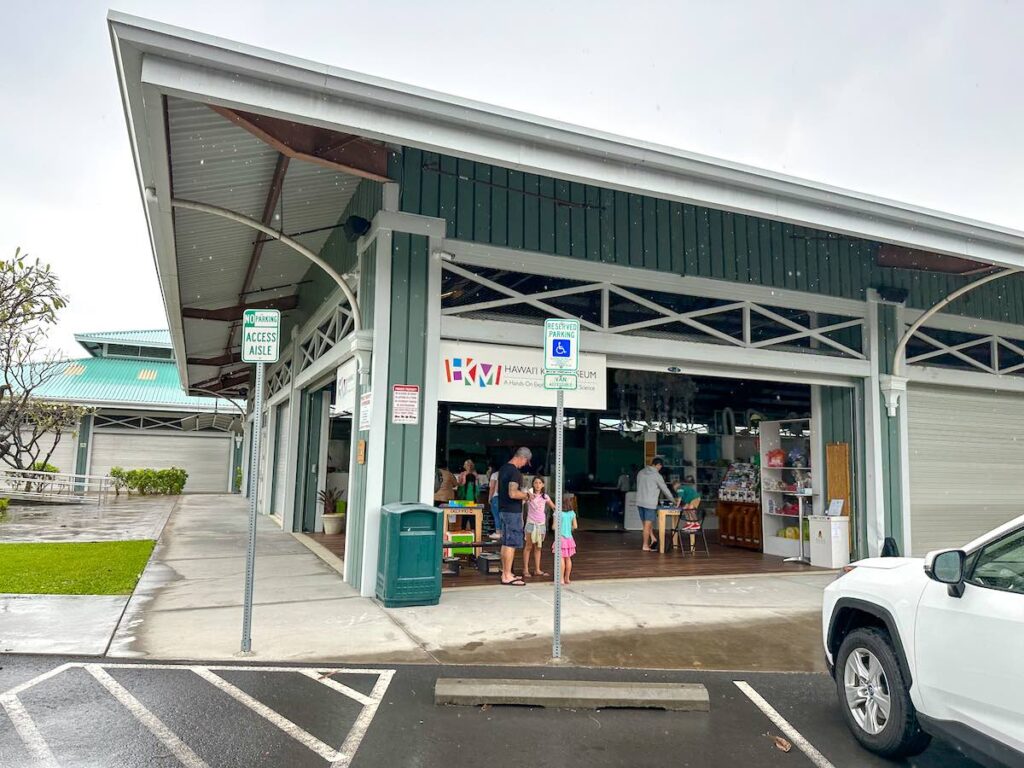 There are 3 women who have leveraged their varied expertise to create this amazing Hawaii non-profit organization.
I got to chat with Anne, one of the founders, and she likened the Hawaii Keiki Museum to a community center. That really fits the bill!
They have partnered with a lot of community leaders to create a fun and educational place for local families and visitors to come together.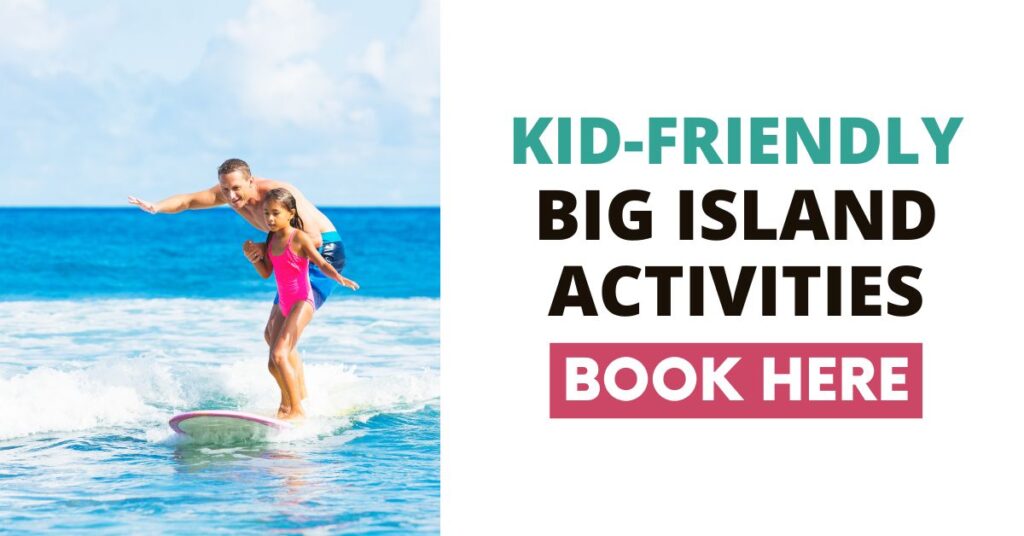 What to Know about this Hawaii Keiki Museum Before You Go:
Parking
There is a massive parking lot, so you really don't need to stress about parking.
You Can Bring Items to Donate
One of the first things I saw when we entered the Hawaii Keiki Museum is that there was a place to donate diapers to families in need. This is such a perfect tie-in to the museum.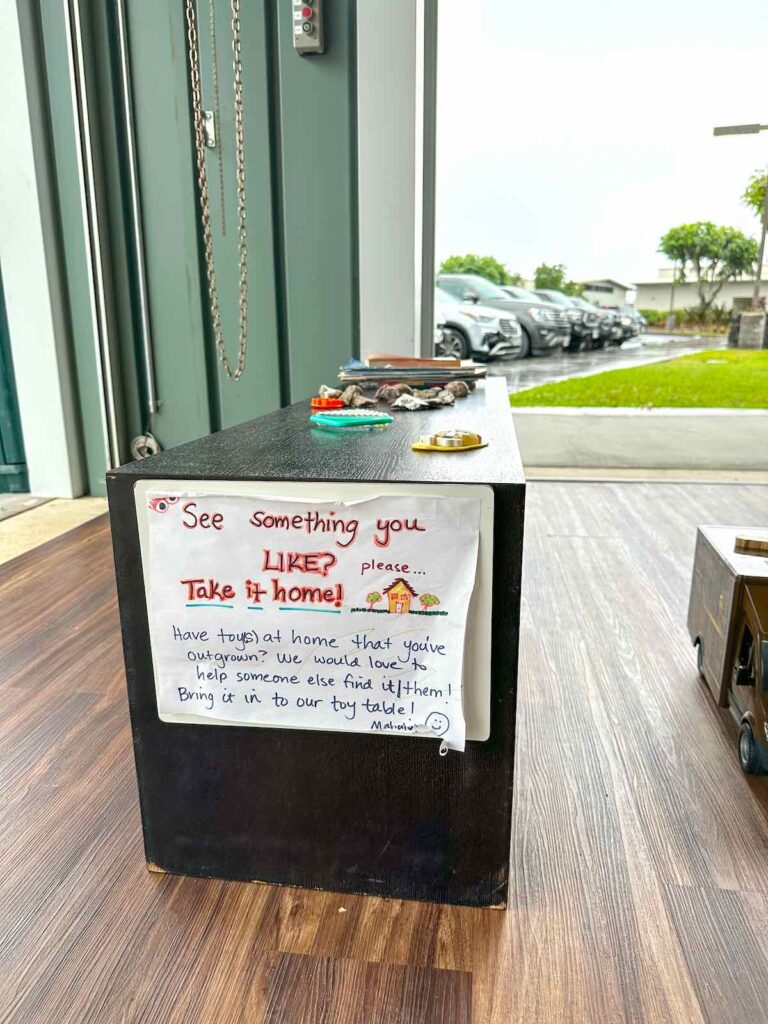 There's also a spot to donate toys, books, puzzles, etc that your kids no longer want/use. These items are available to any museum-goer.
I know that a lot of us who travel with our kids are always looking for opportunities to give back to the communities we visit. This is an EASY way to do that and get your kids involved.
It's Entirely Undercover
Need a fun thing to do in Kona when it's raining? The Hawaii Keiki Museum has you covered…literally.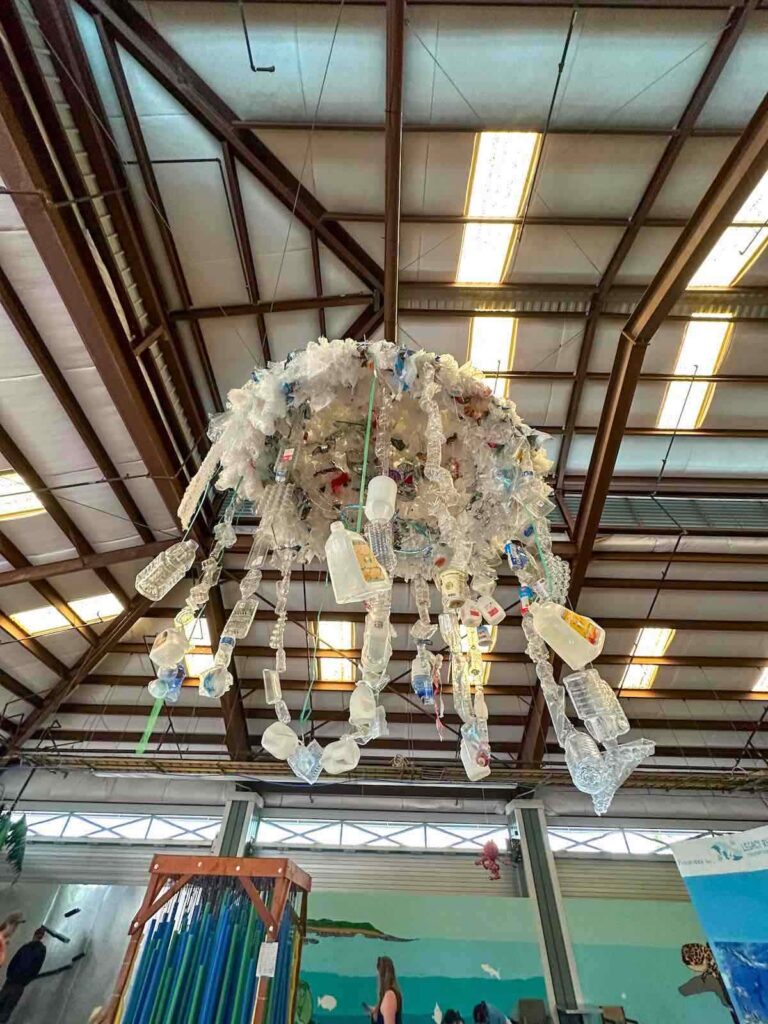 It's located in an old warehouse and it's easy to stay dry or get a nice break from the sun.
Sometimes There is Programming
The museum has just started offering various programming throughout the year. Sometimes they have hands-on workshops, demonstrations, STEM activities, etc.
They Have an Incredible Gift Shop
Are you looking for a boutique toy store on the Big Island? This is probably the best Kona toy store you'll find!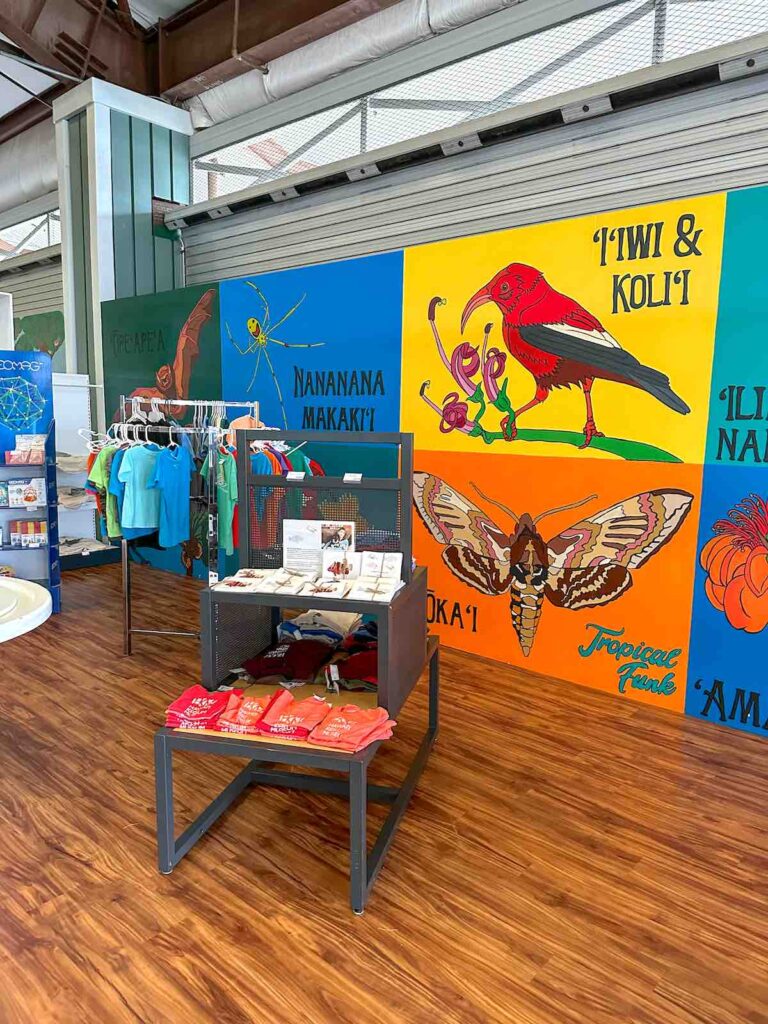 We found all kinds of wooden toys, STEM activities, items for imaginative play, and Hawaii-inspired gift ideas.
The Highlights of the Hawaii Keiki Museum and What You Should Look Out For
There are some seriously cool science-based activities and demonstrations at the Hawaii Keiki Museum in Kona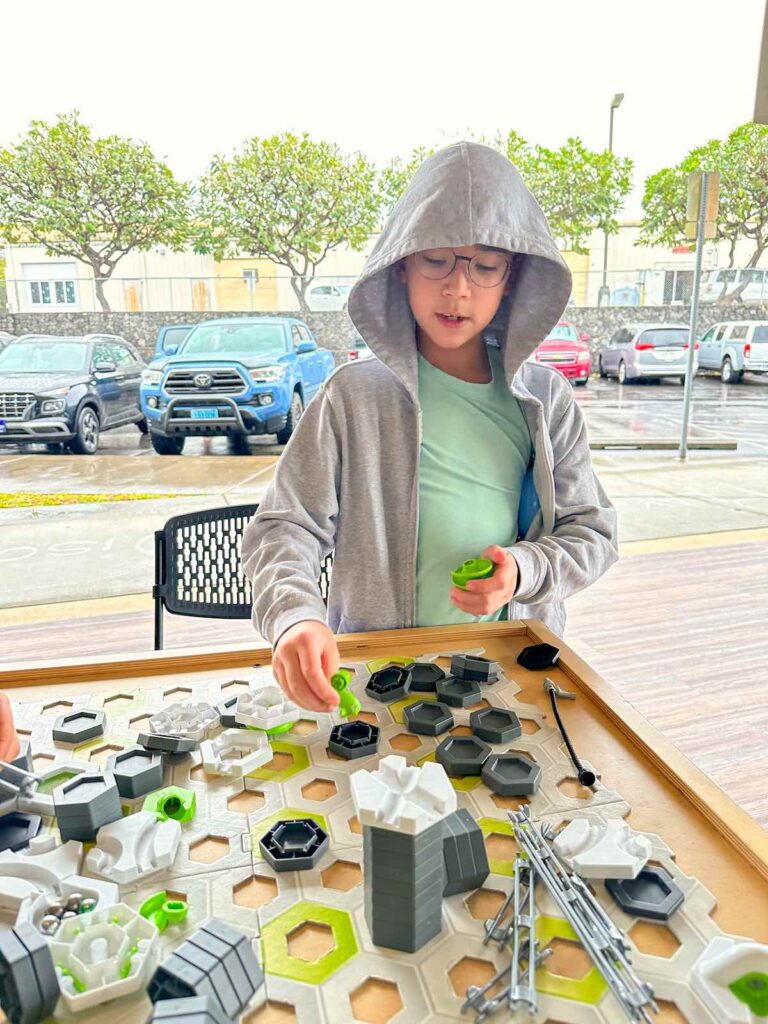 Right inside the entrance is a table where kids can build marble runs. I've only seen the toy versions in the past. This is something they design and build themselves using a variety of materials.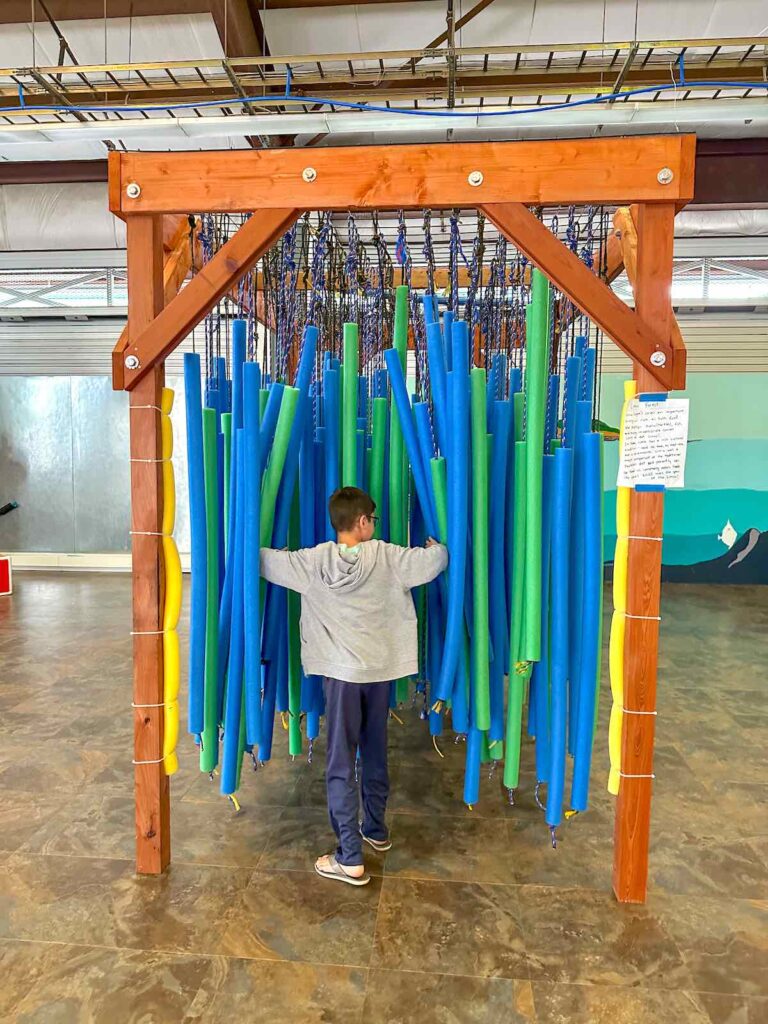 This Hawaii children's museum also incorporates Hawaiian culture in a cool way. The photo above is of a limu (seaweed) forest.
There was a sign explaining that limu has traditionally been used for food, as medicine, and in ceremonies. Today, it's usually incorporated in poke!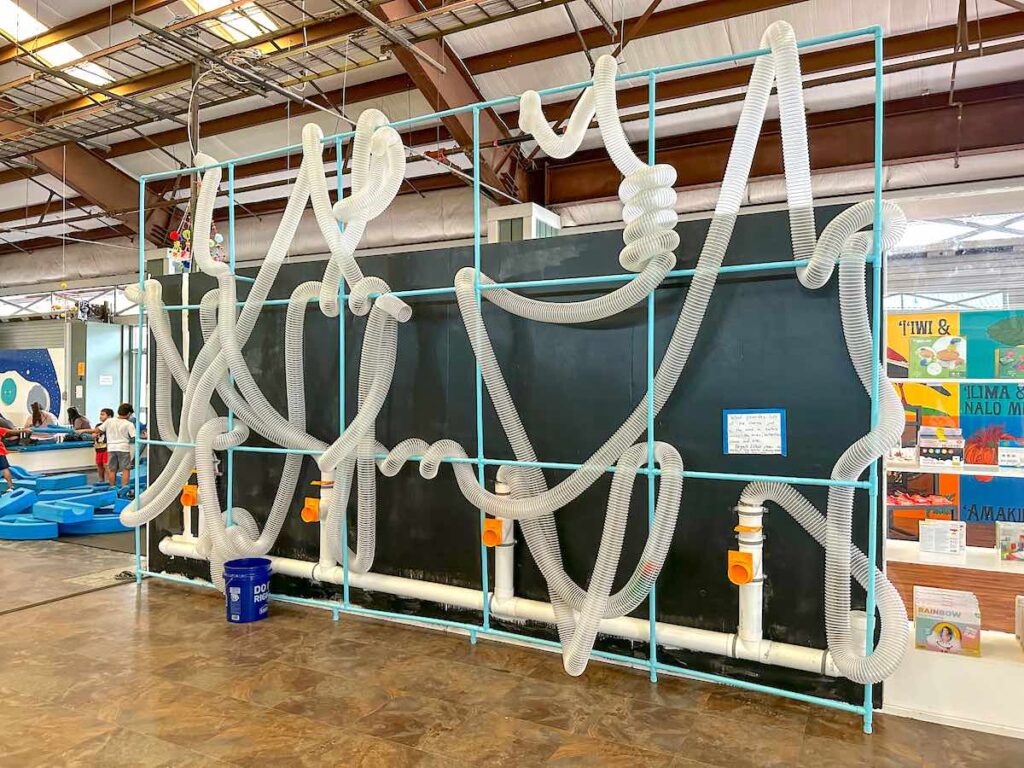 We go to a LOT of children's museums when we travel and my son was super stoked to see the wind tunnel activity. You grab scarves and put them in the orange holes and see them get sucked up into the tubes.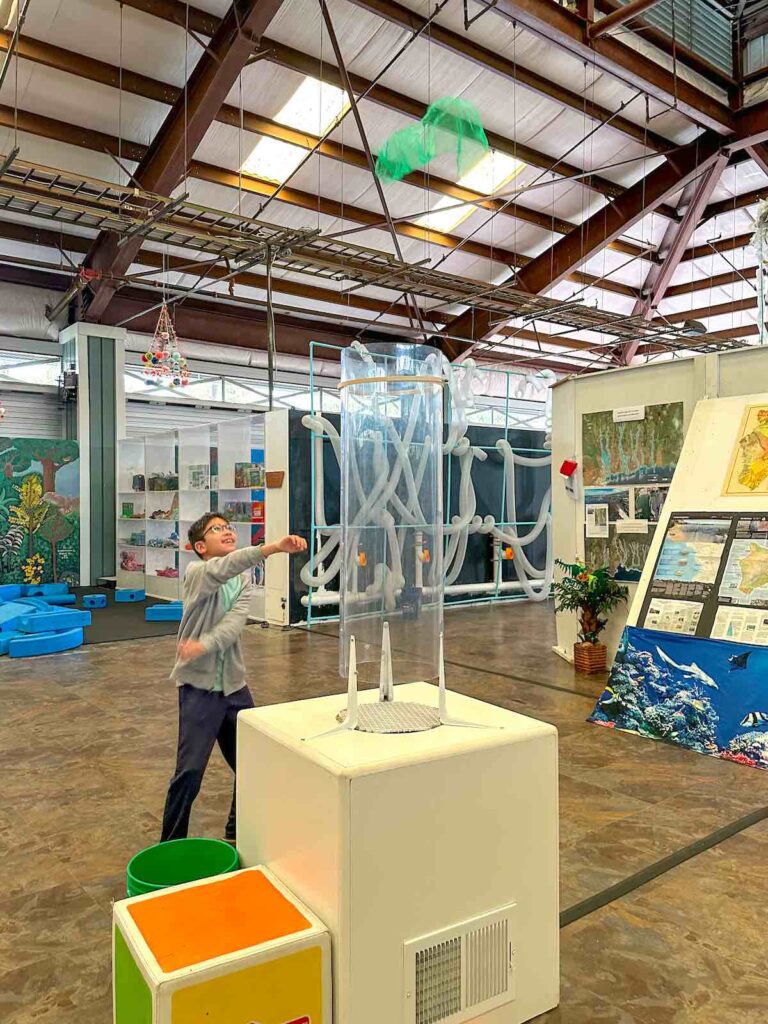 There's also a place where you can see how high your scarf will fly. This is another popular science museum activity that kids LOVE to do.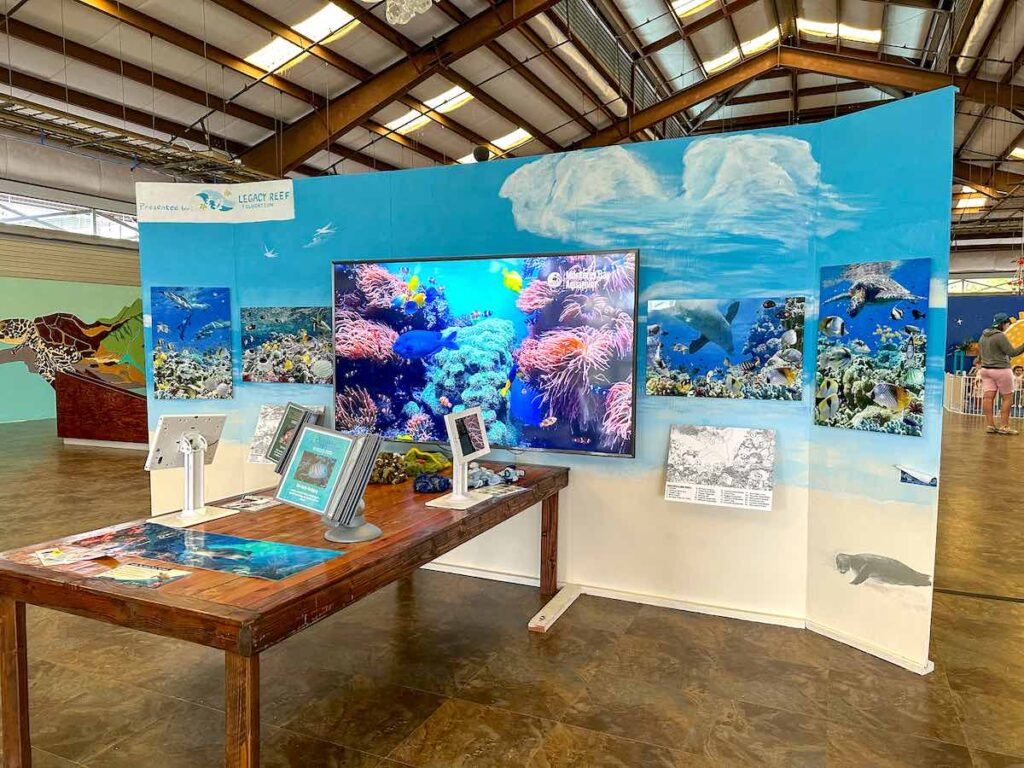 Of course, Hawaii is known for its incredible sea life. So, it makes sense that there is an area where kids can learn all about what's under the sea.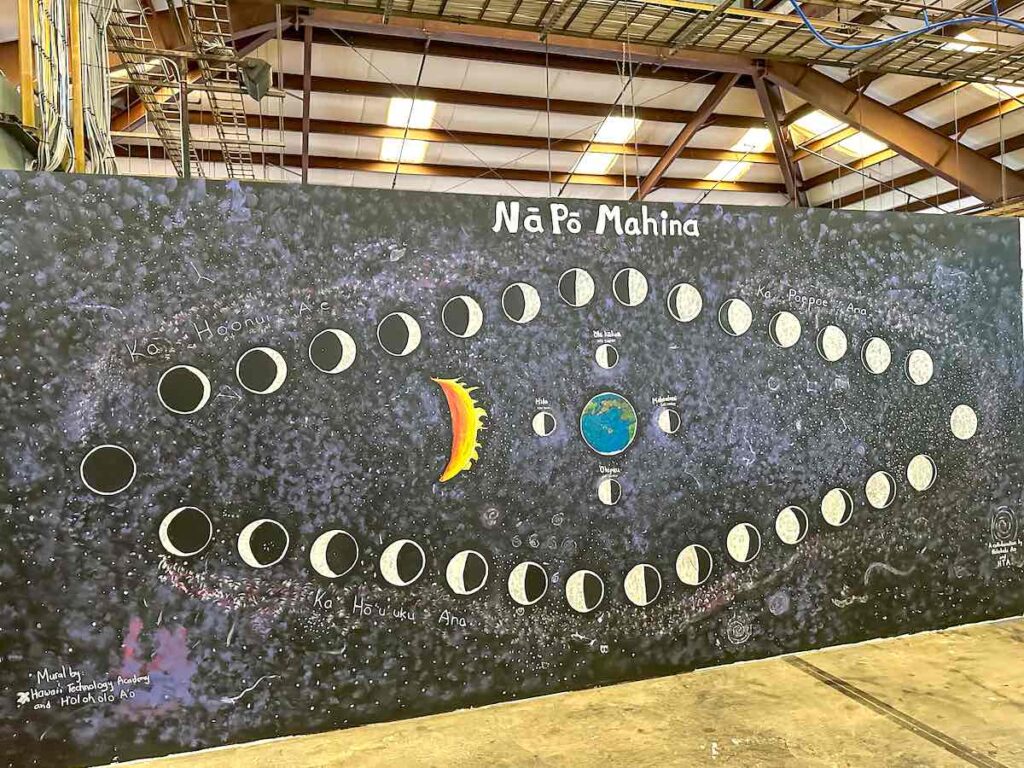 The entire museum is covered with cool murals designed by local artists. They do a great job of incorporating the Hawaiian language and culture into each one.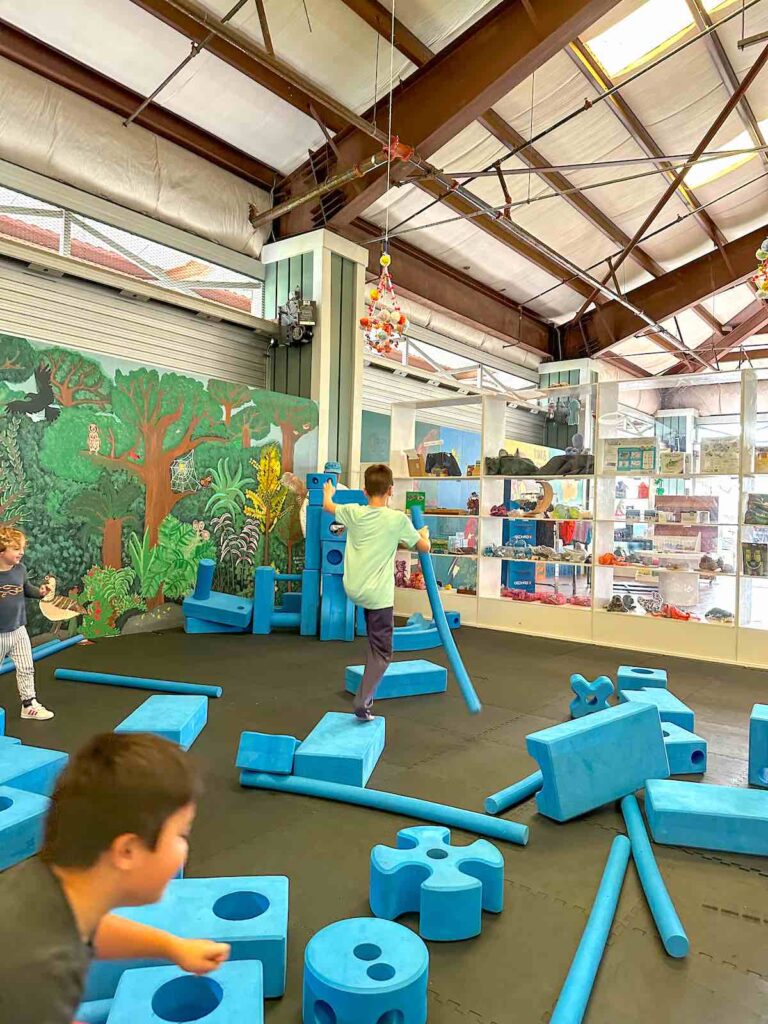 One of the coolest things about the Hawaii Keiki Museum is that it attracts both locals and visitors. So, this is a great opportunity for kids to meet new friends and collaborate.
Hawaii Keiki Museum Tips for Families
It's Geared for Kids Ages 0-10
Right now, the museum is mostly set up for kids ages 10 and younger.
They do have a section of the museum that will eventually be open to older kids. But it's not currently open.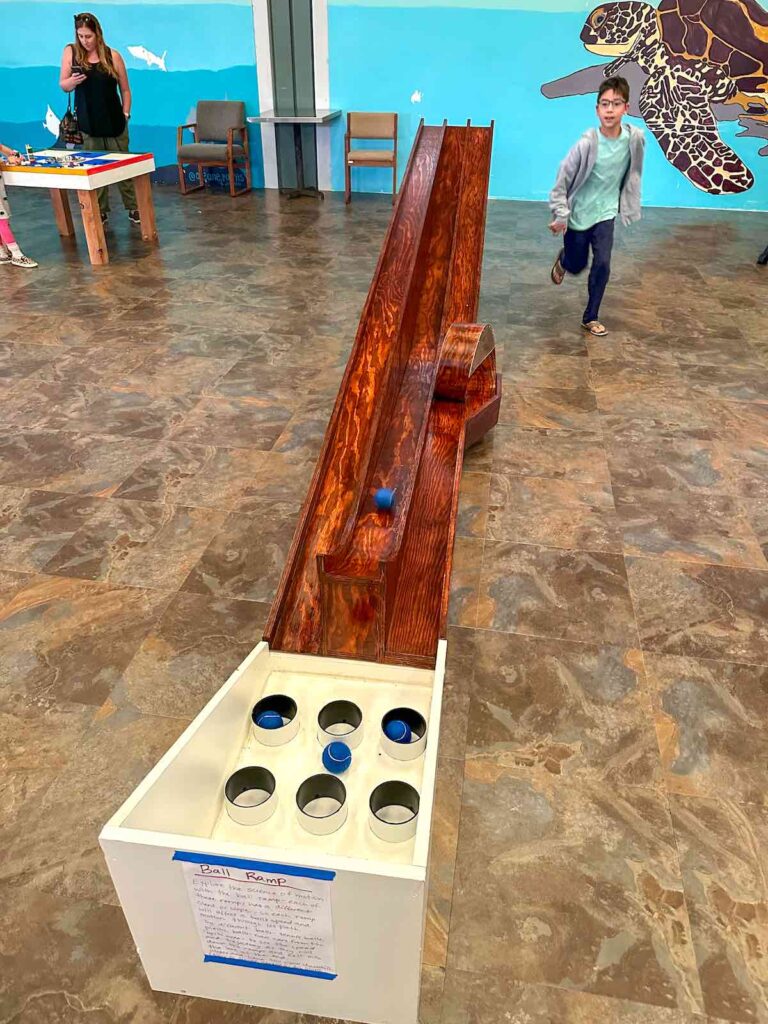 I brought my 9-year-old to explore and he was pretty engaged for the 90 minutes we were there.
What to Wear
For the most part, you can wear whatever you'd normally wear out and about.
My son ended up taking off his shoes when he played in the foam play area. But, that was more about his own comfort and realizing he might trip while wearing his wet flip flops.
What to Bring
How Much Does it Cost and Where is it Located?
Children are $7 unless you are a Hawaii resident and then it's $5. And babies under 6 months old are free.
Adults are $12 unless you are a Hawaii resident and then it's $5.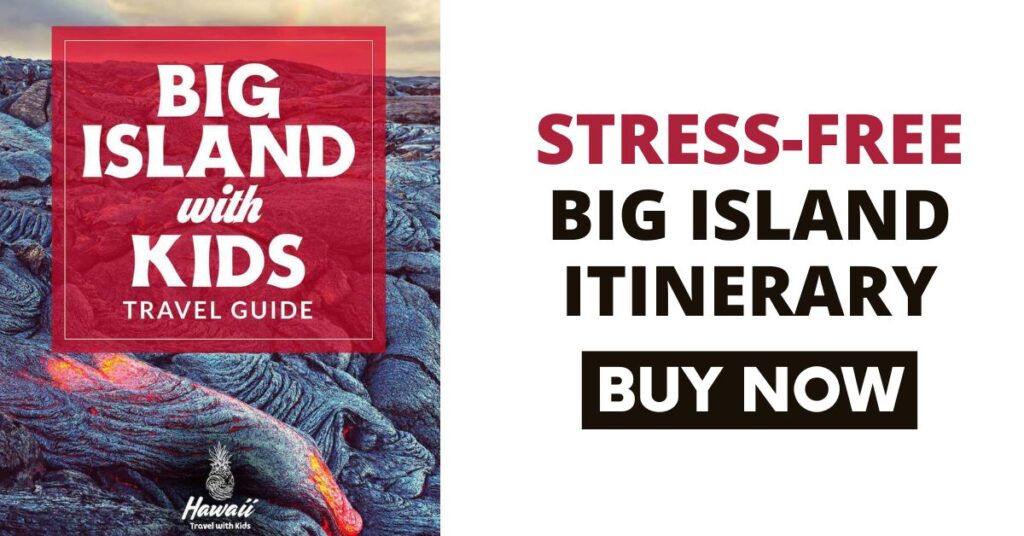 Hawaii Keiki Museum in Kona FAQs
What are the hours of the Hawaii Keiki Museum?
The Hawaii Keiki Museum is open from 10 a.m. to 5 p.m. every day except for Thursdays.
Is there a kama'aina discount?
Yes! People with a valid Hawaii I.D. can get $5 tickets for both kids and adults.
Are there special events?
Yes! Check their website to see what workshops are coming up. They have special workshops as well as weekly classes and activities.
Does the Hawaii Keiki Museum offer summer camps?
Yes! Check their website to get all the summer camp information.
Can I have a party at the Hawaii Keiki Museum?
You bet! They have all their party rental information available on their website.
Can I volunteer at the Hawaii Keiki Museum?
Yes! They are always looking to partner with community members on creating exhibits. They also need people to help paint, do woodworking, build stuff, or be a museum docent. There are even opportunities for high school students to get volunteer credit.
So, is the Hawaii Keiki Museum on the Big Island Worth It?
I think this is one of the best hidden gems on the Big Island for families! It's the perfect mix of educational activities and things that will get some extra wiggles out.
Plus, it's a great place to grab a few items to keep your kids busy in the hotel room.
We highly recommend spending an hour or two at the Hawaii Keiki Museum on your next trip to Kona!