Are you thinking about planning a trip to Kauai in June? Find out some of the best things to do in Kauai in June that are worth adding to your itinerary!
This list of things to do in Kauai in June was written by Hawaii travel expert Marcie Cheung and contains affiliate links which means if you purchase something from one of my affiliate links, I may earn a small commission that goes back into maintaining this blog.
Visiting Kauai in June means gorgeous weather, lots of activities and so much fun. The culture in Kauai is a must-experience, no matter what time of year.
When you plan a vacation to Kauai in June, you can expect to find plenty of fun events to take part in. From festivals and attractions to Father's Day celebrations, Kauai has plenty to offer.
Whether you are going to Kauai to celebrate Father's Day in Hawaii, or simply want to experience the amazing Kauai weather in June, you are sure to be pleased.
No matter the reason for your vacation to Kauai, you will find many ways to create long-lasting memories.
Don't have time to read a bunch of Hawaii blog posts and reviews? Here are some of our top picks for visiting Kauai.
Popular Kauai Tours/Activities
Favorite Kauai Resorts/Hotels
Grand Hyatt Kauai (this Poipu resort has a luxurious pool area, romantic restaurants, and a stunning ocean view)
Koloa Landing Resort (this is a luxury resort with an amazing pool area and truly spacious rooms)
Royal Sonesta Kauai (we LOVE the pool here because it's the largest one in Hawaii)
Want to Rent a Car in Hawaii?
One of the best places to rent a car in Hawaii is Discount Hawaii Car Rental because they get the best rates from top national companies like Alamo, Dollar, Thrifty, Avis, Enterprise, Budget, and Payless.
Want to skip all the planning and just access my detailed Kauai Itinerary complete with daily schedules, kid-friendly activities, and travel hacks? Click the button below.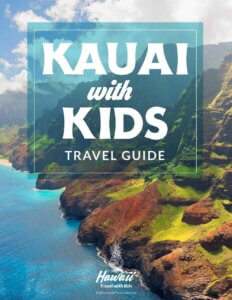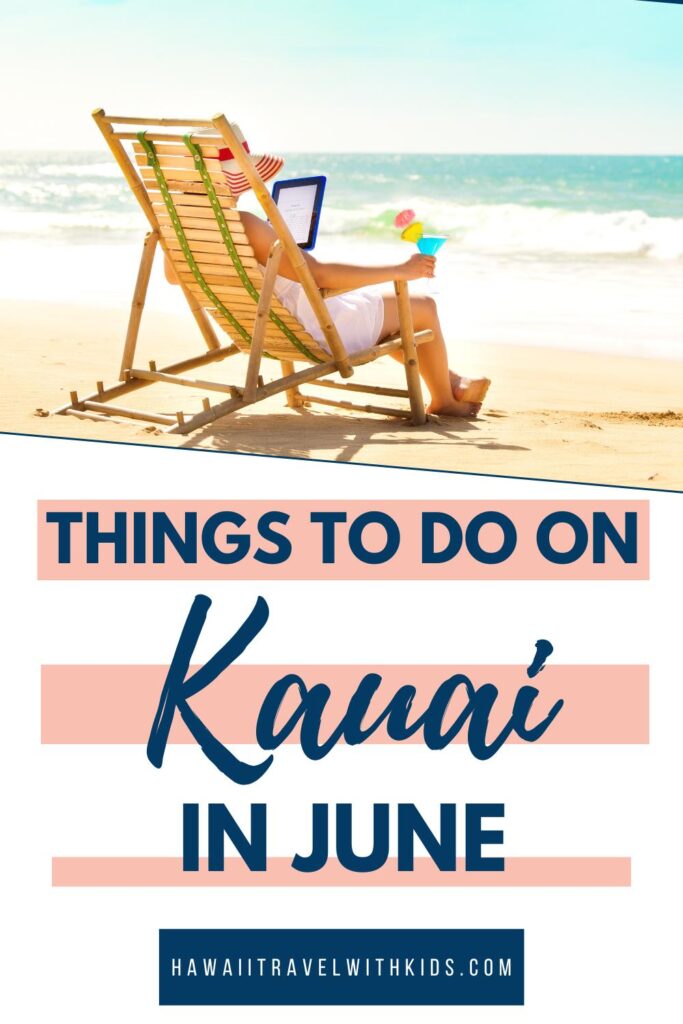 Kauai Weather in June
Summer is beginning to get underway in Kaui in June. If it is nice weather you are after, the Kauai weather in June is spectacular.
It is also a good idea to note that rain is a possibility this month and although the chances of rainfall are not as high in June as in other months, it is a good idea to be prepared.
Kauai Temperatures in June
The temperature in Kauai in June makes way for plenty of beach days and sunshine. The summer season in Kauai is a beautiful one, boasting great temperatures and plenty of chances to enjoy the great outdoors.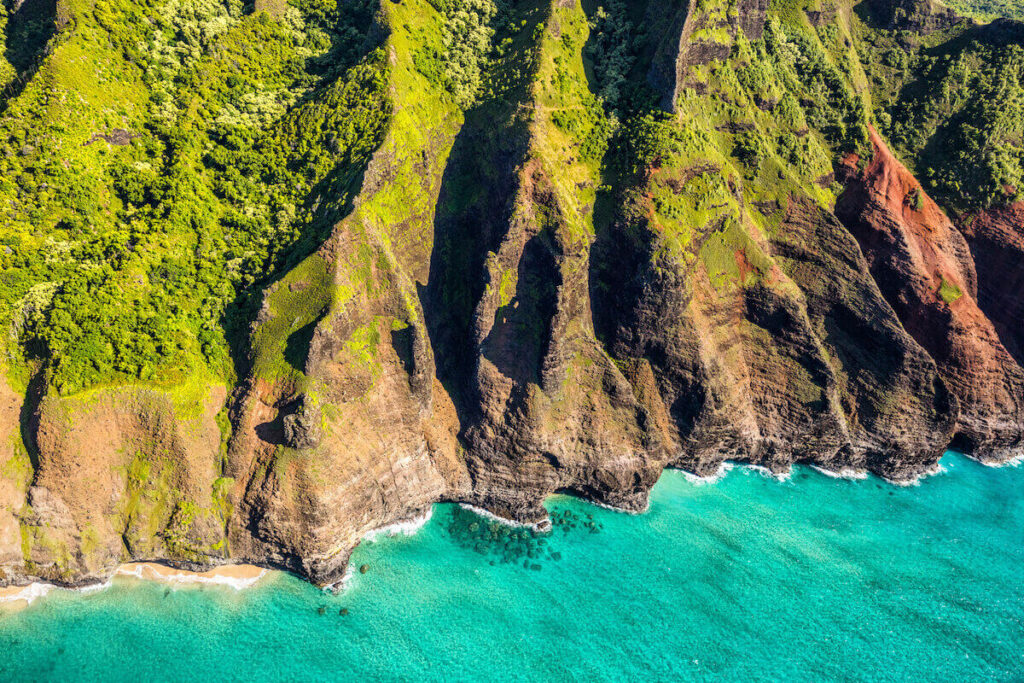 The average temperatures in Kauai in June are generally straightforward. The daytime highs in Kauai generally reach upwards of 83 degrees Fahrenheit. The temperatures don't generally get lower than 74 degrees Fahrenheit.
Weather in Kauai in June
When visiting Kauai in June, it is a good idea to ensure that you are ready for the temperatures but also aware of the possibility of rain.
When packing, it may be a great idea to include some rain gear just in case.
For more information check out What's Hawaii Summer Like?
Book a Family Photo Shoot
Whenever we travel to Hawaii, we almost always book a family photo shoot with Flytographer. They are super easy, affordable, AND it guarantees that I'll be in some photos. You can get $25 off if you book through this link or use the code HAWAIITRAVEL.
Things to do in Kauai in June
There are so many great things to do in Kauai in June. The options are fantastic and diverse.
Whether you participate in an annual festival or event or decide to take part in some exciting cultural celebrations you are sure to have lots of fun.
Father's Day on Kauai
Spending Father's Day on Kauai is a fantastic idea. There are so many great ways to honor dad while on the island.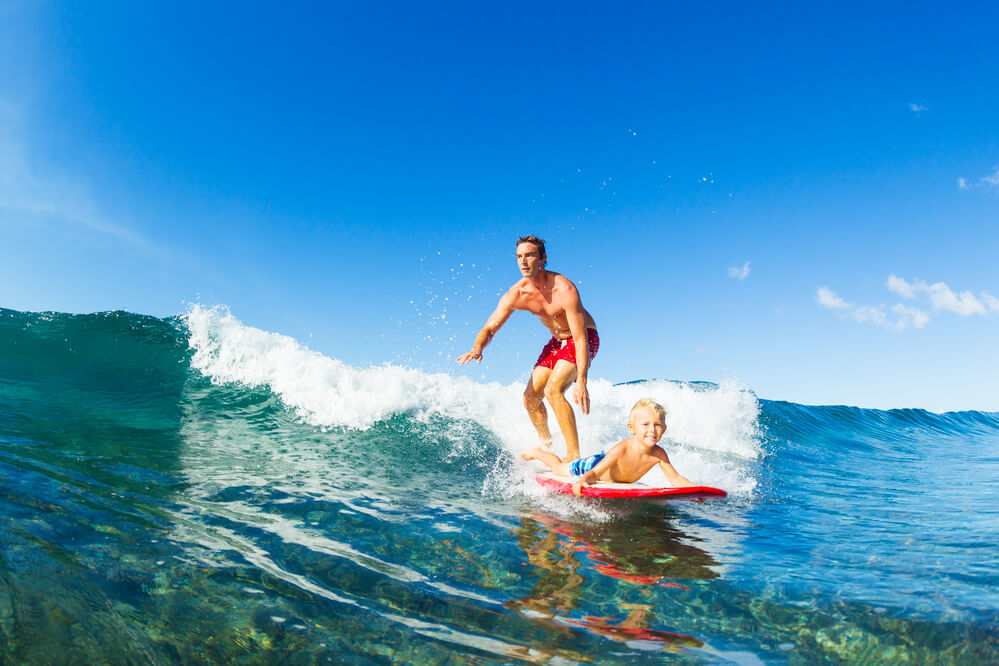 Whether you participate in some fun activities or decide to enjoy a special Father's Day event, Dad is sure to feel special.
Father's Day Meal in Kauai
There are several fantastic restaurants that offer up delicious Father's Day meals. Whether you take Dad out for brunch, lunch, or dinner, you are sure to have many places to choose from.
Many of the restaurants in Kauai will have a specialized menu designed just for Father's Day.
Check your local listings to find a restaurant near you. Just remember though, you will want to make reservations to ensure there is availability.
Father's Day Fishing
You can either book a fishing charter, especially for dad, or simply hit the beach with some fishing gear and cast a line.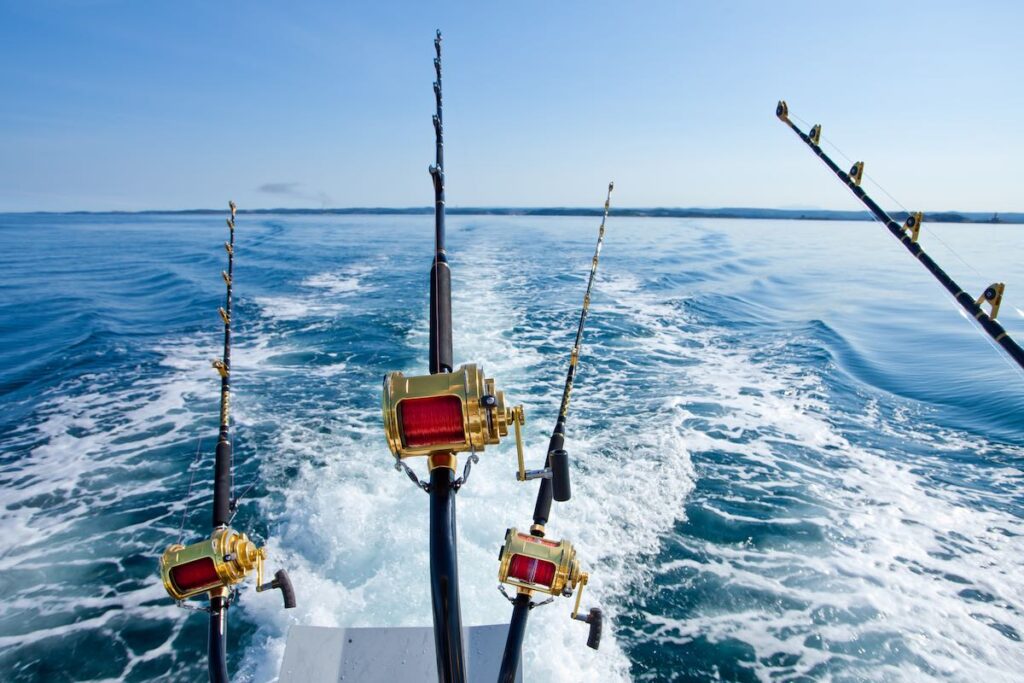 No matter how you decide to go fishing for the day, this is a relaxing activity that is sure to please. Research local fishing charters and book one ahead of time to treat Dad to a day on the water. Check the latest rates and availability.
For more fantastic ideas check out How to Spend Father's Day in Hawaii.
Kauai Pride Parade & Festival
This annual event is an exciting one to attend. It takes place on the first Saturday every June in Lihue. The Kauai Pride Parade and Festival begins with an amazing parade down Rice Street.
Once the parade is over, there is a fun festival that takes place. There will be food trucks, live performances, face painting, and more.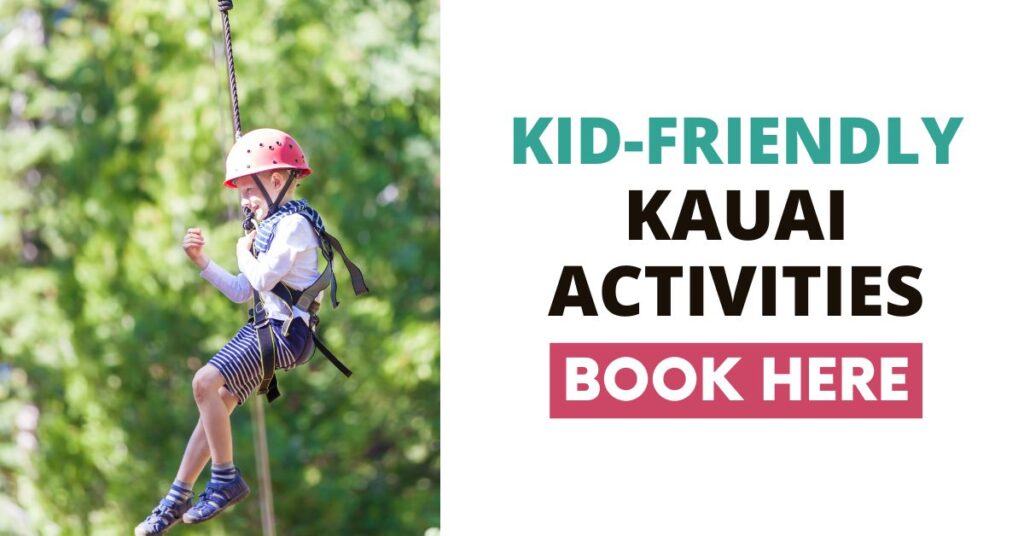 Top 10 Kauai Attractions in June
There are so many fun attractions in Kauai in June. No There is always something spectacular to see or do while visiting this gorgeous island. Spending June in Kauai is sure to provide a fantastic experience.
If you are looking for the best things to do in Kauai in June, there are many things to choose from.
1. Kauai ATV Tour
One of the coolest Kauai adventures is an ATV ride. There are a few companies, but we really like Kauai ATV.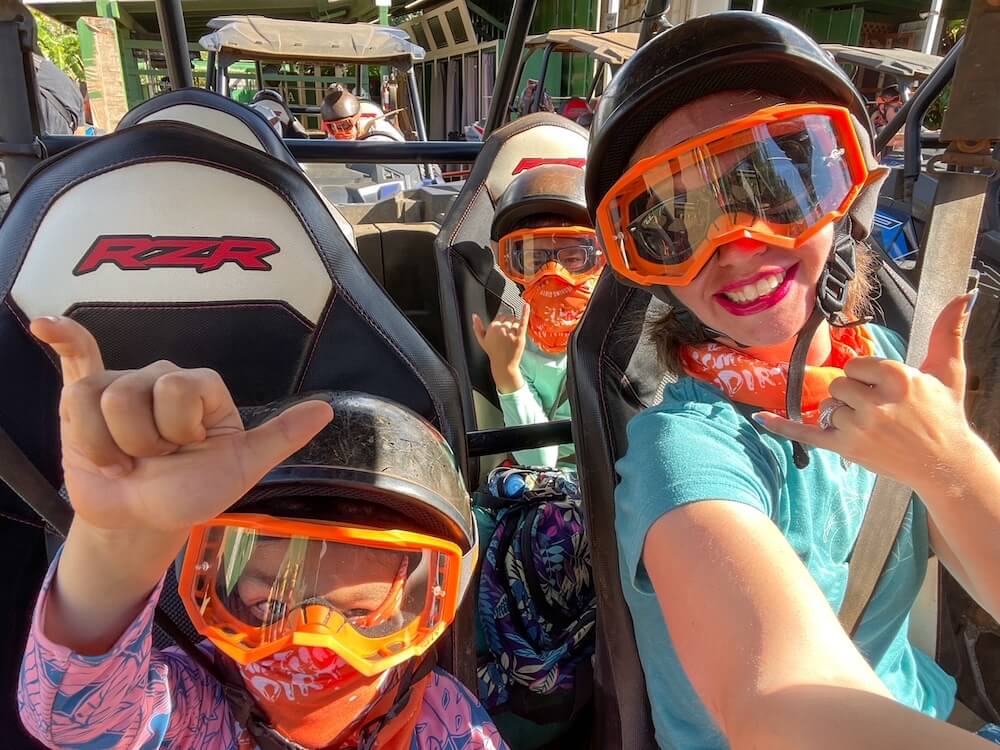 You actually drive around in a UTV that can fit a family of four. There there are tons of cool stops to check out movie sites or hidden gems. Check the latest rates and availability.
2. Hawaiian Luau
It is an absolute must to attend a traditional Hawaiian luau while in Kauai. There are several different Kauai luaus that you can choose from on the island.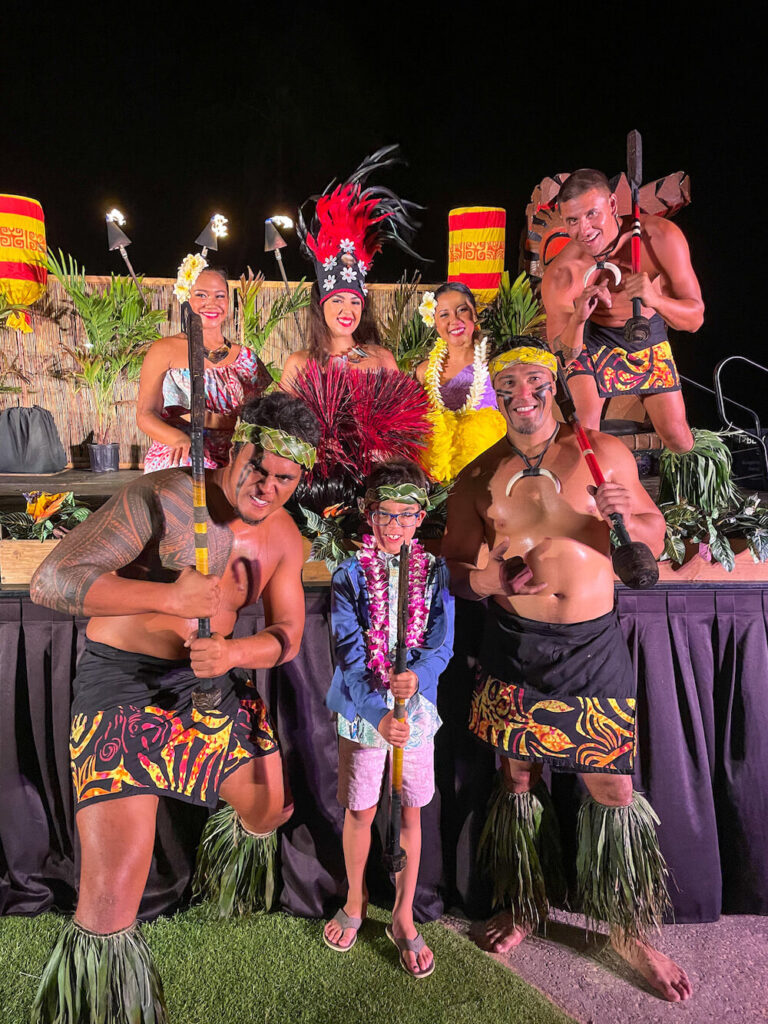 At a luau, you will get to see live performances, hula dancers, and more. In fact, some luaus will even allow you to learn how to dance the hula yourself.
Enjoy a delicious dinner and a fantastic evening being seduced by the peaceful rhythm of traditional Hawaiian music.
3. Hanalei
The town of Hanalei is a great place to visit while on Kauai. This cute surfer town is packed with adorable historic buildings and quaint little shops.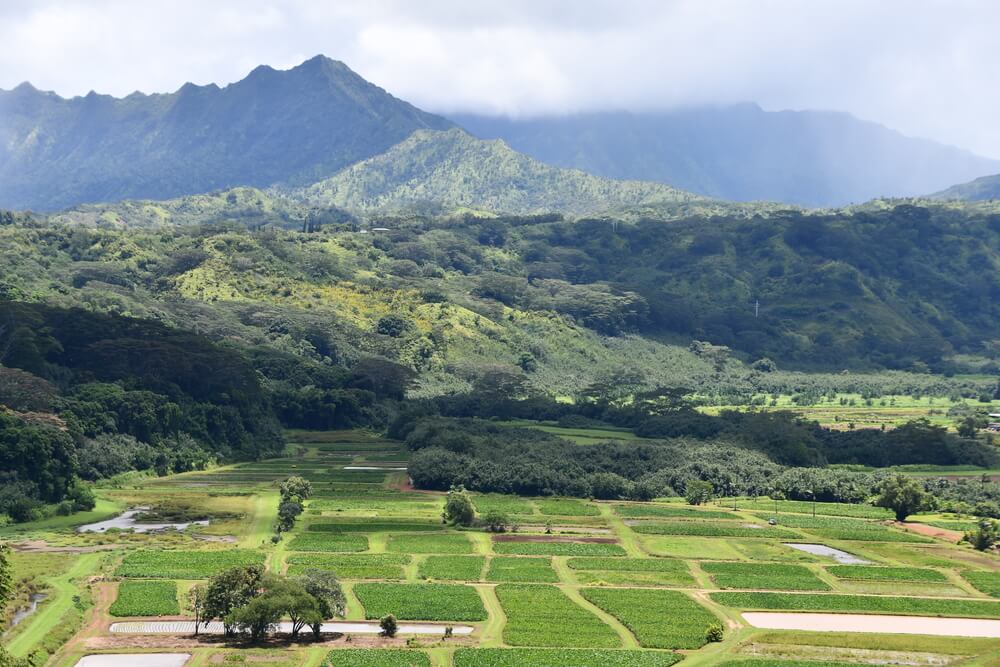 Walk through the gorgeous town and visit the surfboard shops, art galleries, ice cream parlors, cafes, small boutiques and more.
There are several places in this town to get some really neat Kauai souvenirs to take back with you.
4. Maha'ulepu Heritage Trail
The scenery you will take in while hiking this trail makes it such a spectacular experience.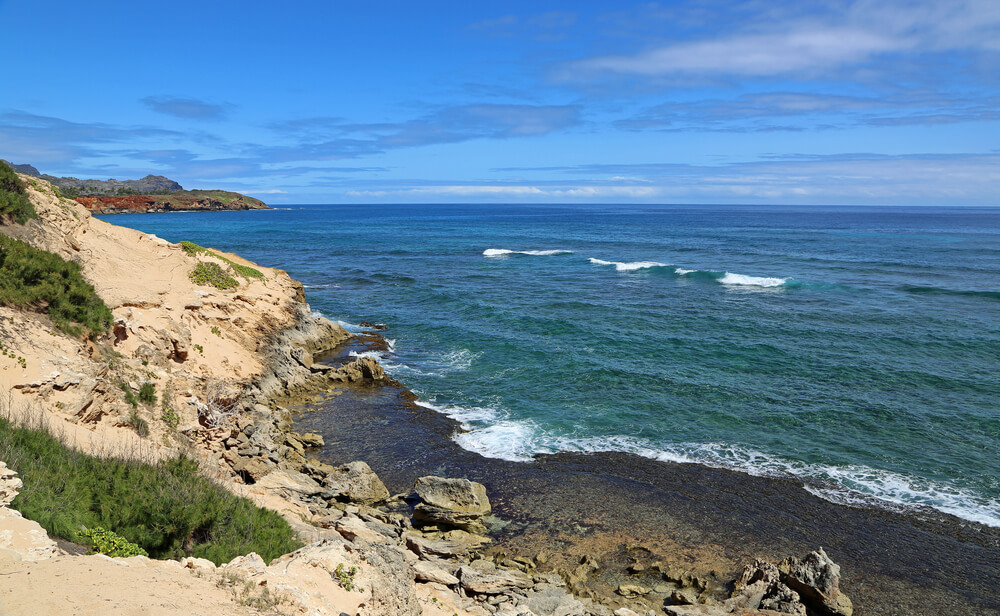 Located along the rugged coastline of Kauai from Shipwreck Beach to Mahaulepu Beach, this heritage trail will have you viewing sand dunes, cliffs, crashing blue waves, and gorgeous tide pools.
If you want to take a hike while in Kauai, this is a great option. Once you get to Mahaulepu beach, you will probably see some Hawaiian Monk Seals catching some sun.
5. Tunnels Beach
This stunning beach is a scuba diver's dream. Fringed by Ironwood and Palm trees, you are sure to enjoy the beauty this golden sand beach has to offer.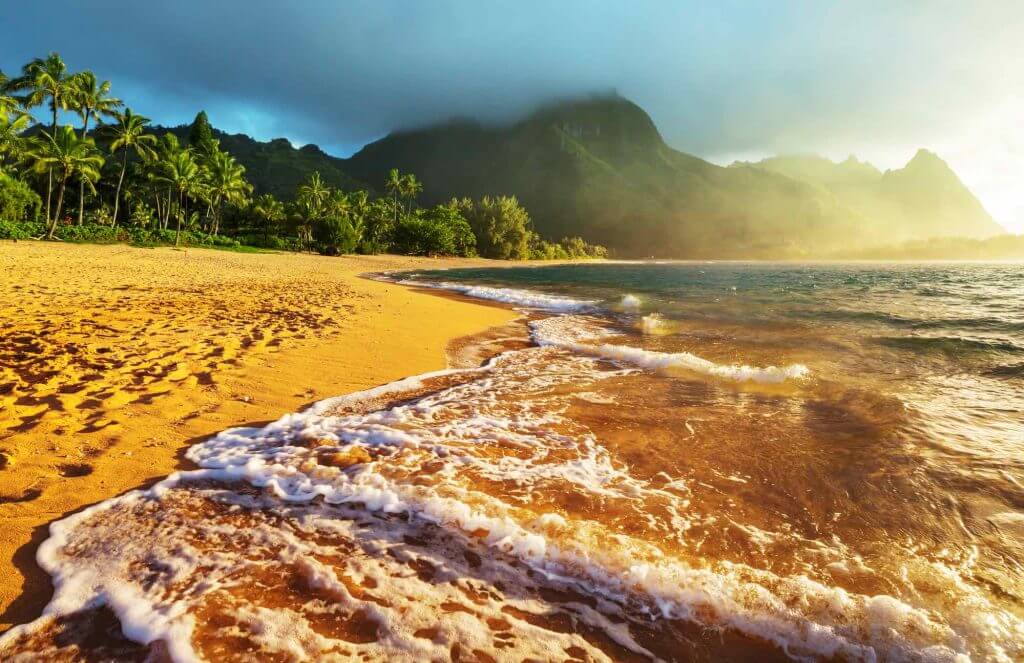 With the mountains and the lush jungle acting as a backdrop, Tunnels Beach is picture-perfect.
This beach is a great place to participate in watersports and more. You can go windsurfing, surging, and kite surfing. There are also lava tubes here that form some amazing underwater caverns to explore.
Tunnels Beach is located on the North Shore, making it a spectacular place to view a beautiful sunset.
6. Kilauea Lighthouse
Located inside a wildlife refuge, this lighthouse is a great place to visit. Especially if you like birds.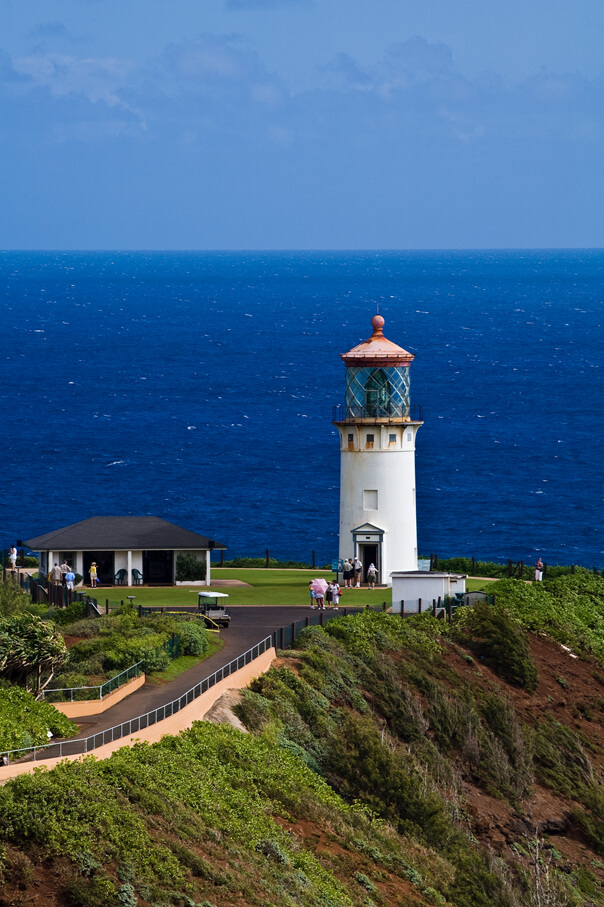 Bring along your binoculars and you can spot several species of birds from the lighthouse. There are brown boobies, red-footed boobies, white-tailed tropicbirds and so many more.
The lighthouse was erected in 1912 and was built to help with the navigation of ships and some of the very first flights to Kauai. Admire the beauty and history the Kilauea Lighthouse has to offer.
7. Spouting Horn Blowhole
Located on the South Shore of Kauai, the Spouting Horn Blowhole is one of the most photographed spots on the island.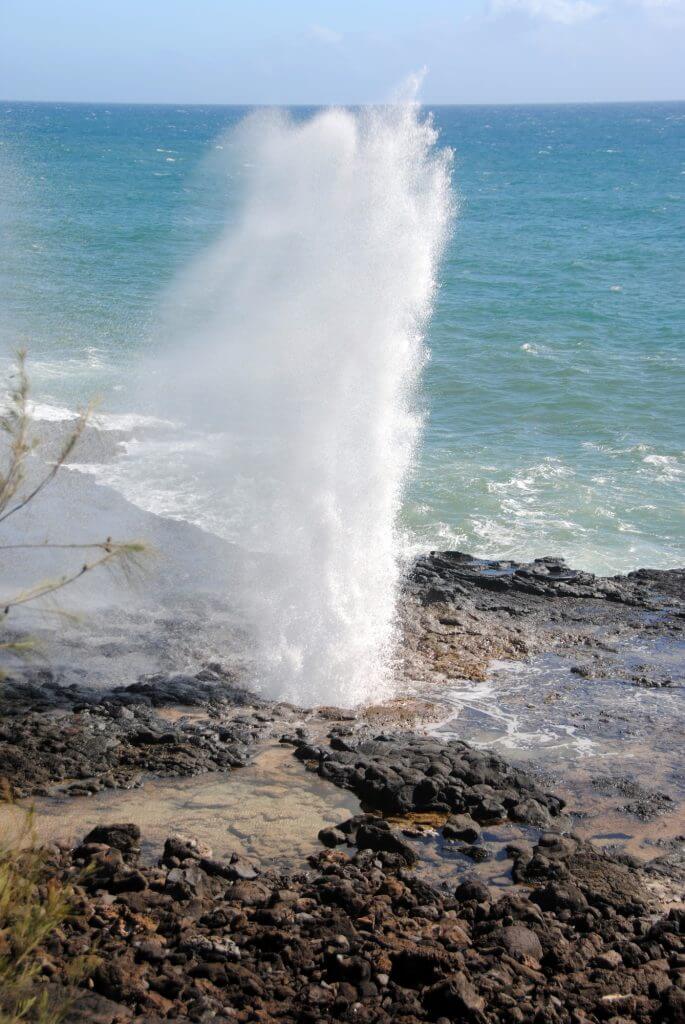 This stunning blowhole shoots water spray up to a staggering 50 feet into the air. It is a great place to watch the sunrise and get wonderful photographs. You can even hear the water as it makes its way through the blowhole.
8. Shipwreck Beach
This amazing beach is a great place to go beachcombing or take in a sunset. Located in front of the Grand Hyatt Resort and spa, you are going to want to visit Shipwreck Beach.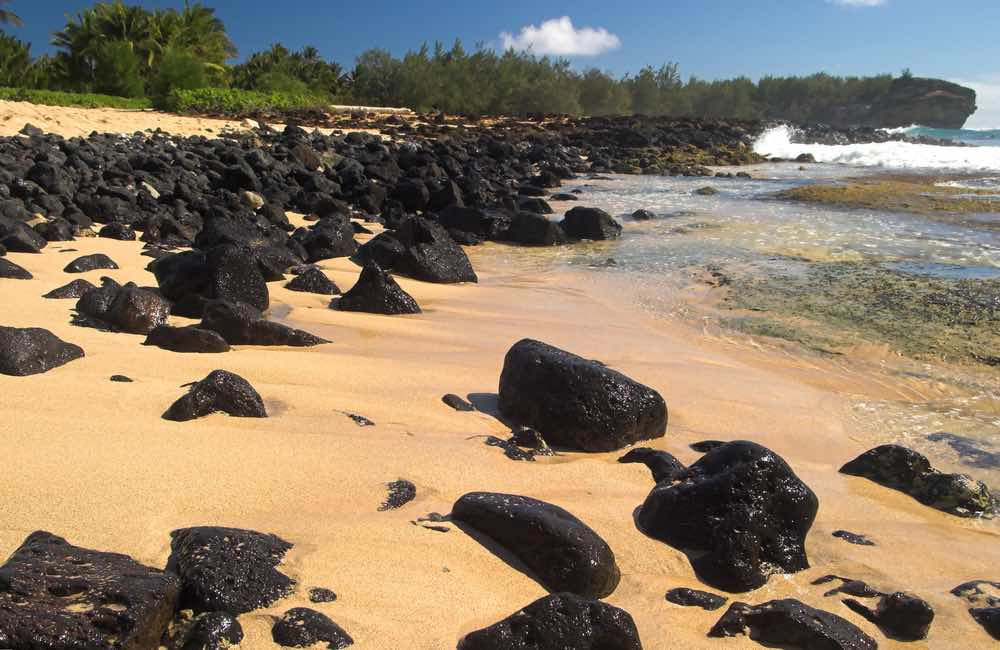 Many of the Kauai locals visit this beach for surfing, bodyboarding and more. If you are experienced with watersports, this is a great beach for you.
Keep in mind that the water here can be rather rough and choppy. This beach can be an extremely dangerous spot to take a dip.
If you aren't an avid swimmer experienced with watersports, it's best to visit for the sunset or to do some beachcombing.
9. Allerton-McBryde Botanical Gardens
Located side by side, these gorgeous tropical gardens are a must-visit on Kauai's South Shore. Providing stunning scenic views and over 350 acres to explore, you are sure to enjoy this fun attraction in Kauai.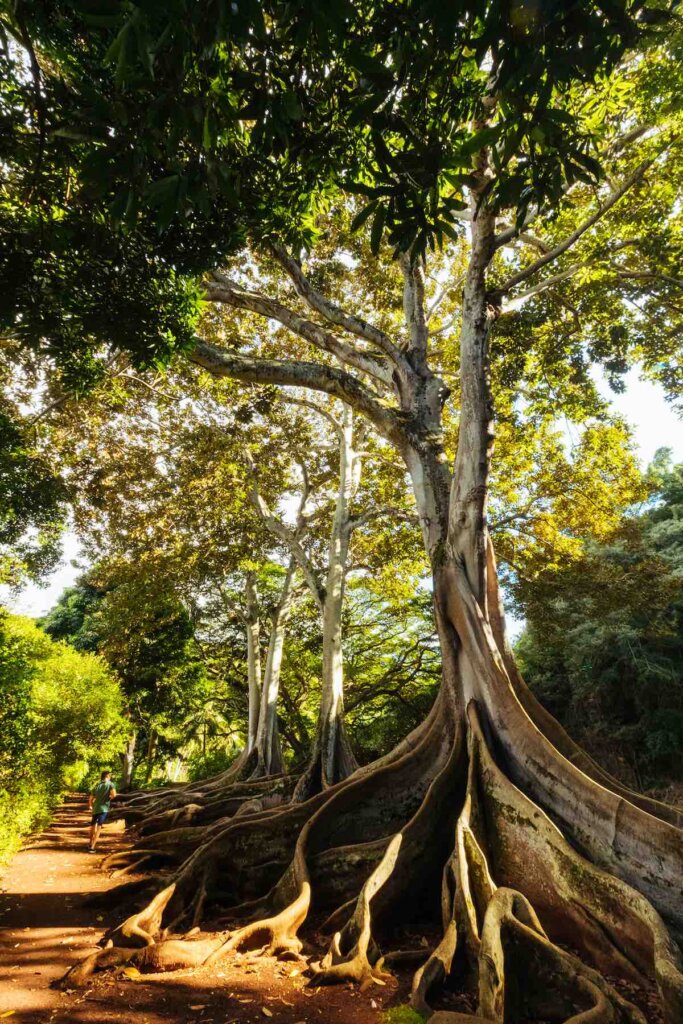 Stroll through a bamboo forest and visit the outdoor rooms complete with rippling pools and fountains with a tour guide.
These guided tours will also teach you about amazing Hawaiian fruits like noni fruit. You will also see plants that were brought to Kauai by early Polynesians, called Canoe Plants.
At the Allerton-McBryde Botanical Gardens, you will also see Moreton Bay Fig Trees. This species of tree was featured in Jurassic Park.
10. Stand Up Paddleboarding
Stand-up paddleboarding is an exciting watersport to participate in while visiting Kauai. This ancient Hawaiian sport has been revived and is now prominent throughout the island again.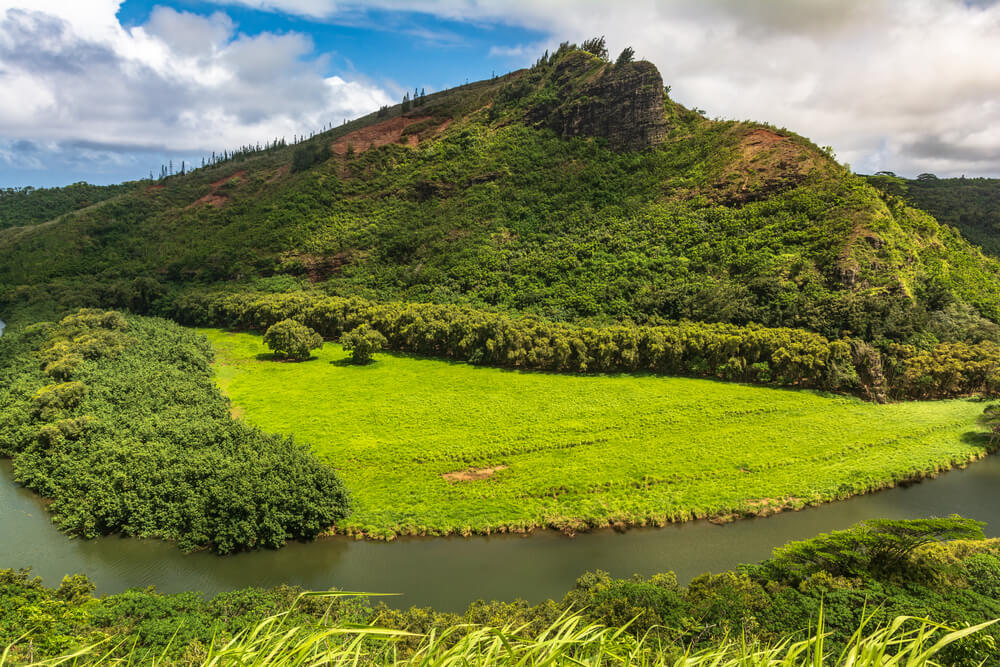 Stand-up paddleboarding can actually be treated as an amazing core exercise. It is designed to engage your core as you stand up on a surfboard and paddle through the water.
This fun water sport is generally simple to learn. You may be a little off balance at first, but as long as the water is calm it should be easy to gain your balance.
There are several chances to learn to stand up paddleboard on Kauai. Whether you need lessons or you are an avid paddleboarder, you are sure to enjoy your adventure.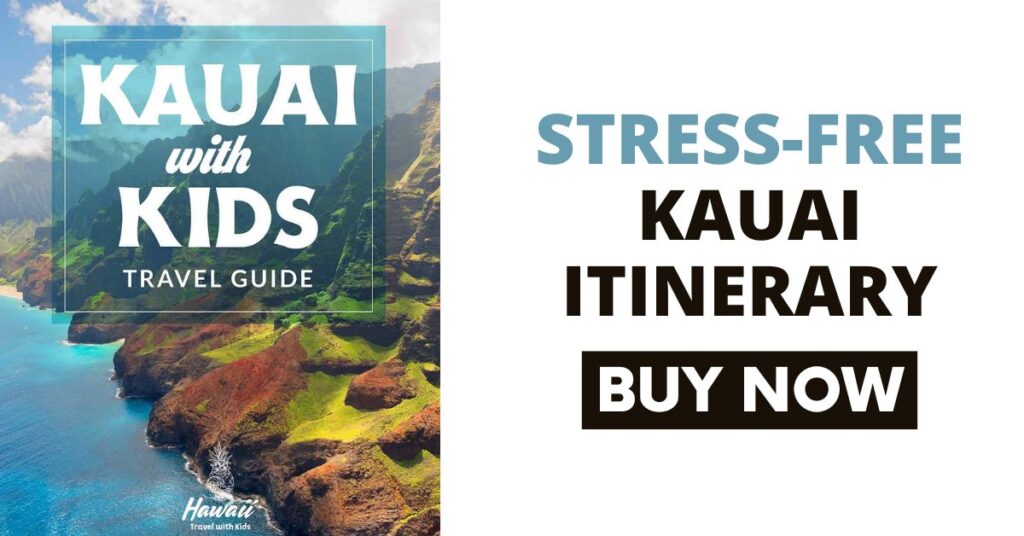 Kauai Hawaii in June Wrap Up
Visiting Kaui in June can be a fantastic experience for all. Whether you are visiting with your family, on a romantic getaway or simply escaping the hustle and bustle of daily life, Kauai is a great place to go.
Book your Kauai vacation today. You are sure to create exciting memories. Especially if you spend Father's Day in Hawaii.
Looking for more Kauai travel content? Check out surprising facts about Kauai, how to get around Kauai, and how many days on Kauai you really need!
P.S. Join our Hawaii Travel with Kids Facebook group to get connected with other families planning a trip to Hawaii!