Are you thinking about planning a trip to Kauai in February? Find out some of the best things to do in Kauai in February that are worth adding to your itinerary!
This list of things to do in Kauai in February was written by Hawaii travel expert Marcie Cheung and contains affiliate links which means if you purchase something from one of my affiliate links, I may earn a small commission that goes back into maintaining this blog
Visiting Kauai in February offers up a spectacular way to enjoy gorgeous a vacation.
If you reside somewhere where the cold winter climate is still happening in full force, planning a vacation to Kauai in February is a great way to get away from that.
After all, sometimes, escaping the snow and cold is a must.
There are many things to do when you travel to Kauai. From several attractions and events to the wonderful Kauai temperature in February, there is something here for everyone.
When you plan to visit Kauai in February, you can even spend Valentine's Day on Kauai.
Whether you are looking for a romantic getaway or a family-friendly retreat, there is something on the island for everyone.
With so much fun to be had, book your Kauai vacation today. February may be the best time to visit Kauai.
Don't have time to read a bunch of Hawaii blog posts and reviews? Here are some of our top picks for visiting Kauai.
Popular Kauai Tours/Activities
Favorite Kauai Resorts/Hotels
Grand Hyatt Kauai (this Poipu resort has a luxurious pool area, romantic restaurants, and a stunning ocean view)
Koloa Landing Resort (this is a luxury resort with an amazing pool area and truly spacious rooms)
Royal Sonesta Kauai (we LOVE the pool here because it's the largest one in Hawaii)
Want to Rent a Car in Hawaii?
One of the best places to rent a car in Hawaii is Discount Hawaii Car Rental because they get the best rates from top national companies like Alamo, Dollar, Thrifty, Avis, Enterprise, Budget, and Payless.
Want to skip all the planning and just access my detailed Kauai Itinerary complete with daily schedules, kid-friendly activities, and travel hacks? Click the button below.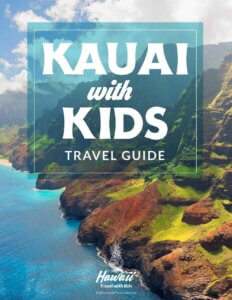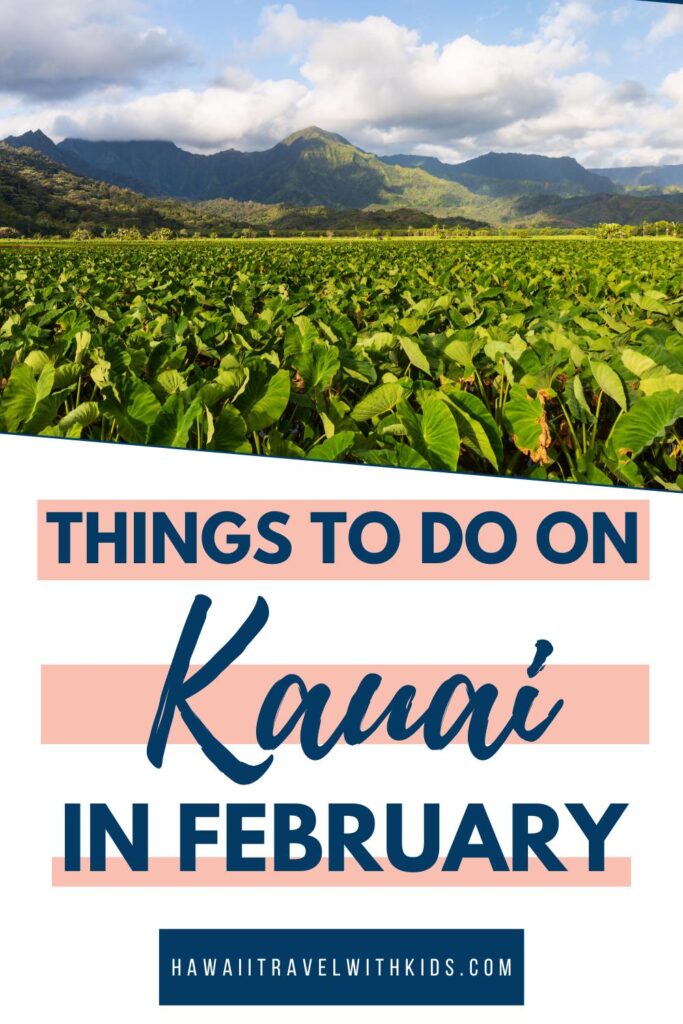 Kauai Weather in February
Planning a trip to Hawaii in February is a great way to evade the freezing winter weather in other places.
The weather on Kauai in February is warm and inviting. In fact, the Kauai weather is amazing for spending a day at one of the best beaches in Kauai in February.
Can you swim in Kauai in February? Absolutely.
Temperature in Kauai in February
The temperature in Kauai in February is typically warmer than in other locations in the country.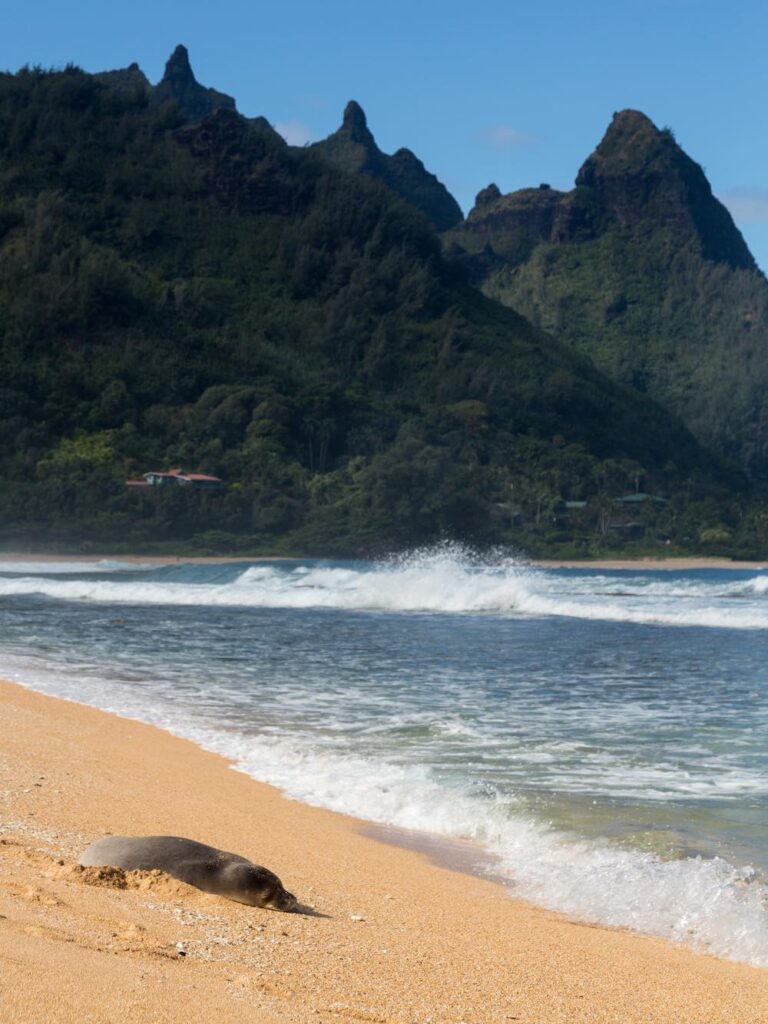 The average high on Kauai in February is 78 degrees Fahrenheit. The lows during this month sometimes hit about 67 degrees Fahrenheit. It does get a touch cooler in the evening hours, therefore it's a good idea to pack a light sweater.
Weather in Kauai in February
The weather in Kauai Hawaii in February is stunning. When it comes to the temperature and weather in Kauai, it is typically balmy and warm. It is important to note, that it isn't always sunny.
What to Wear in Kauai in February?
While there is less of a chance of rain in February than there is in January, it can still get some rain.
But don't worry! There are plenty of things to do on Kauai in February, even if it is a little wet. Just make sure to pack some rain gear in case you need it.
It is also a great idea to pack yourself some warm sweaters. Especially if you plan on visiting higher elevations.
Visit Winter in Hawaii to learn more.
Book a Family Photo Shoot
Whenever we travel to Hawaii, we almost always book a family photo shoot with Flytographer. They are super easy, affordable, AND it guarantees that I'll be in some photos. You can get $25 off if you book through this link or use the code HAWAIITRAVEL.
Things to do in Kauai in February
There are plenty of things to do on the gorgeous island of Kauai in February.
Whether you are looking for romantic things to do on the island or some fun family activities, there are several great ways to celebrate Valentine's day in Hawaii.
If you are looking for other intriguing adventures, there is no shortage of those either. Check out all the exciting events taking place when visiting Kauai in February.
Valentine's Day on Kauai
Celebrating a romantic Valentine's Day in Hawaii is a great experience. There are several exciting activities to participate in on the island. These activities will create long-lasting, magical memories.
Romantic Valentine's Dinner in Kauai
There are a wide variety of Valentine's Dinner options on the island. Many of the local restaurants will have specialized menus and dinner packages available to book.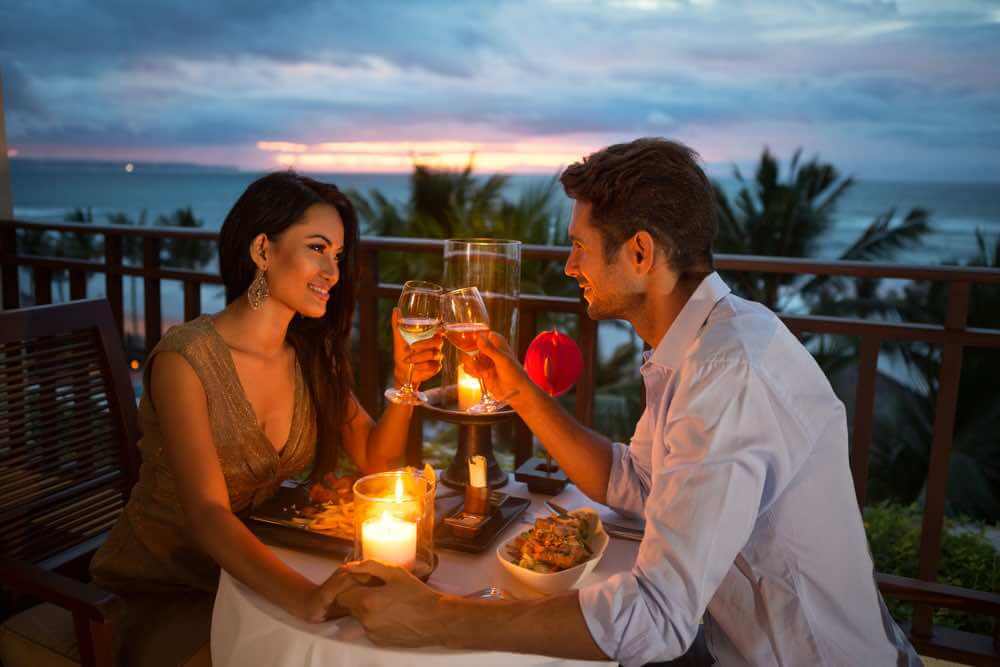 No matter where you choose to enjoy a romantic dinner, you will want to ensure that you make reservations. Valentine's day can be particularly busy.
View the Sunrise
Visit a local Kauai beach and take in a gorgeous sunrise. There are so many great places in Kauai to view the sunrise. If you want a great vantage point you are sure to find one in Kauai.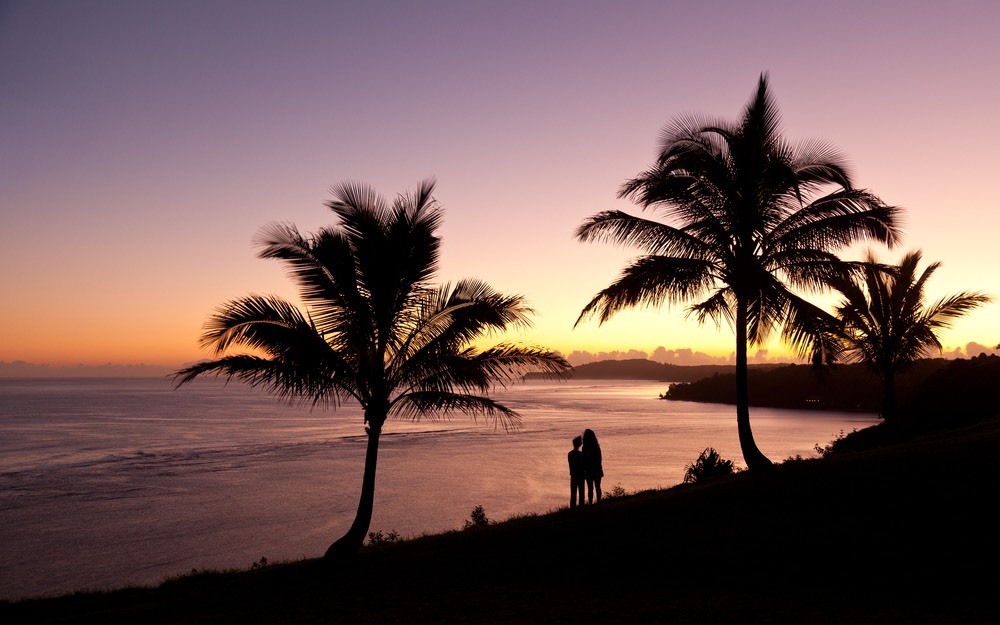 Bring a blanket and some snacks and settle in to catch some spectacular views. Just keep in mind that you will want to ensure that you are at your location early enough that you don't miss it. The sunrise usually happens around 7am.
Go Stargazing
If the sky is clear and the weather is nice, head out to view the stars. In fact, you can get a great view of the milky way, especially in the winter months.
Bring a blanket, some warm clothes, and something delicious to eat and lay under the stars together.
There are several great ways to Celebrate Valentines Day in Hawaii.
Waimea Town Celebration
Every year, the Waimea Town Celebration is held in the town of Waimea. For Kauai, this is one of their biggest February celebrations.
The celebrations take place for 8 days and host a spectacular range of diverse activities. This fun festival is known for hula, live Hawaiian music, storytelling, and more.
Check out the canoe races and the rodeos as well. With so many exciting things to enjoy at this festival, you aren't going to want to miss it.
Visit the Waimea Town Celebration website for more information.
Annual E Pili Kakou I Hookahi Lahui
This yearly celebration is a must-attend while in Kauai. Check out the fun performances, and learn to dance the hula. You will learn the history of Hula, enjoy a hula performance, and more.
At this exciting event you will see a few cultural ambassadors, get to meet them, and learn so much about Hawaiian Culture.
Visit the E Pili Kakou Website for information.
Makai Music and Art Festival
This festival is a complete staple for the island of Kauai. The combination of amazing features makes this a fantastic Hawaiian event to attend.
There is music, handmade local crafts, delicious local foods, and so much more. The atmosphere on its own is a must-experience.
Visit the Makai Music and Art Festival Website for more.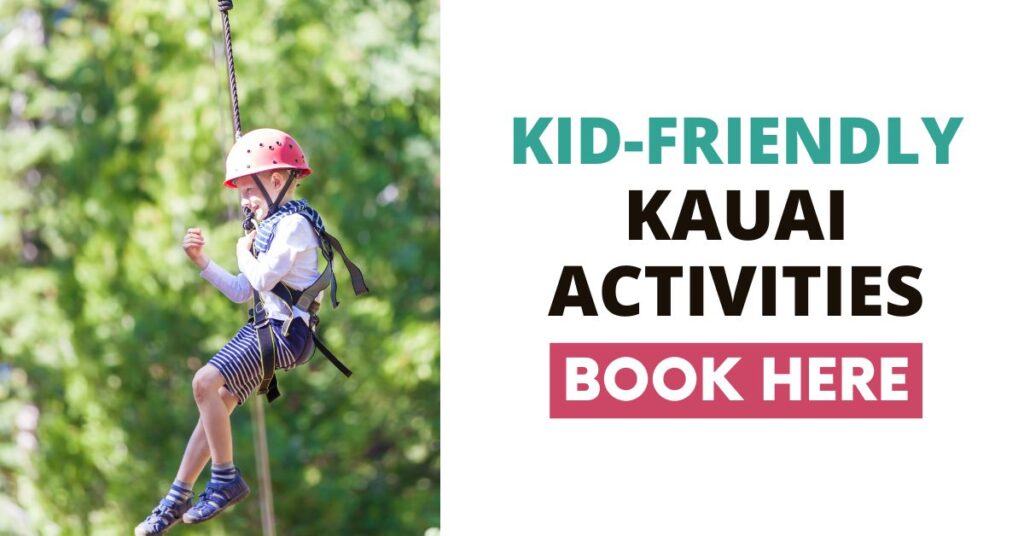 Top 10 Attractions in Kauai in February
Whether you are looking for Things to do on Kauai with kids, or simply want to enjoy some of the amazing attractions, you are sure to find something to enjoy. There are several Kauai attractions to choose from.
Your vacation to Kauai is sure to be an exciting one filled with amazing experiences. Plan a trip to Kauai today and enjoy all the amazing things the island has to offer.
1. Whale Watching
The whales on Kauai in February are a spectacular sight. The whale watching season in Hawaii runs from November through March and provides many great chances to see these beautiful creatures in their natural habitats.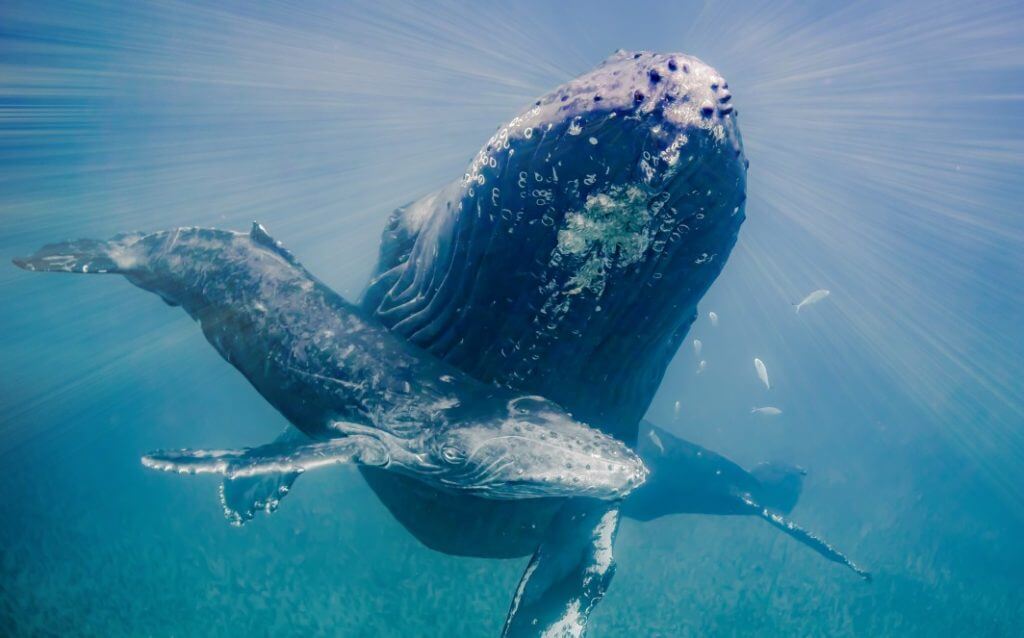 You can book an exciting tour and view the humpback whales from the water, or even spot some from the shoreline.
No matter where you choose to watch the whales on Kauai, you are sure to enjoy your experience.
2. Helicopter Tours
The best way to get a dose of the Island of Kauai's natural beauty is to view it from the sky.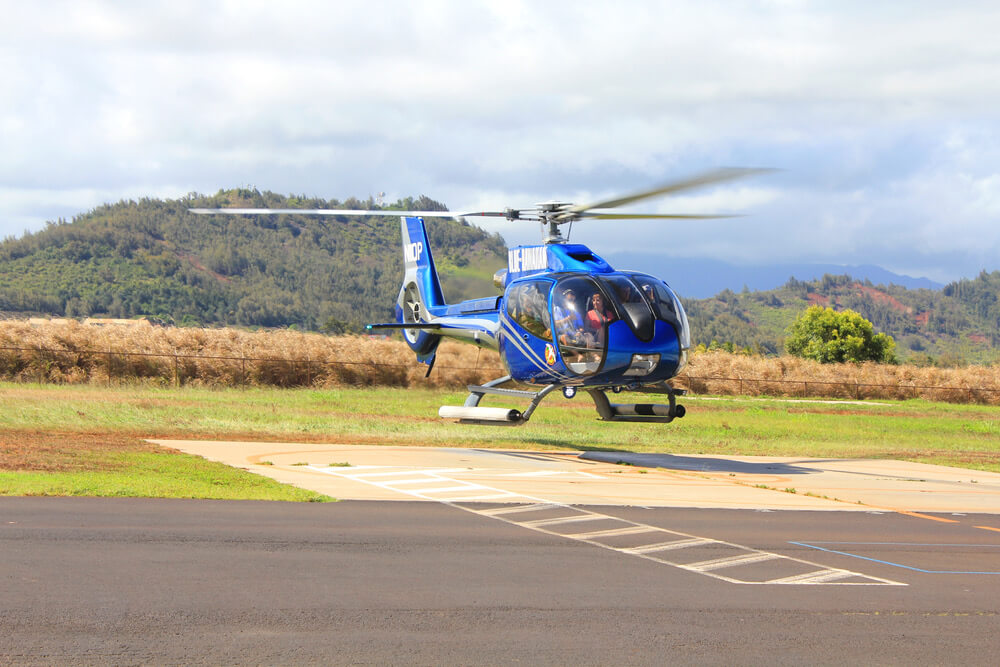 Booking a helicopter tour is a fantastic way to enjoy your vacation to Kauai in February. You will have the chance to view the entire island from the air and learn more about the culture.
Check out some of the spots that are only discoverable from above. Book your helicopter tour right away. You will not regret it.
3. Allerton-Mcbryde Botanical Gardens
These gorgeous gardens are side by side on the Island's south shore. The conservation grounds are 350 acres worth of beautiful sights.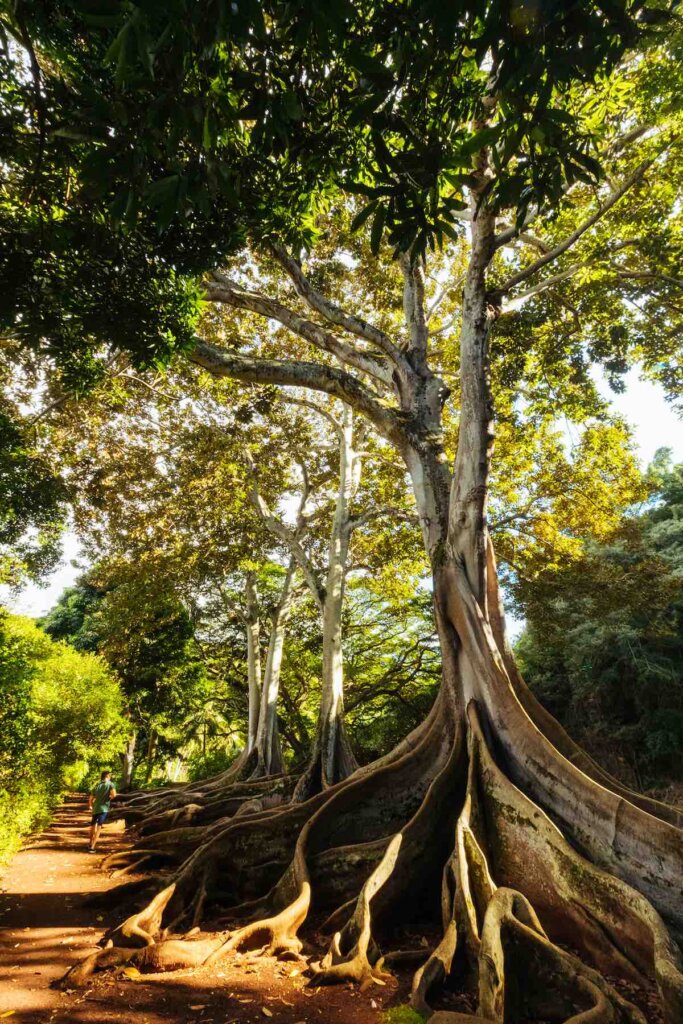 Take the guided tour through the outdoor rooms. Complete with pools and fountains as well as an amazing bamboo forest, this is a great place to visit.
You will learn about some of the most unique Hawaiian fruits and plants as you marvel at the sheer height of the Moreton Bay Fig Trees.
4. Spouting Horn Blowhole
This amazing tourist attraction is a great place to visit. The Spouting horn is a blowhole nestled in the lava rocks. The surf shoots up through the blowhole and creates a beautiful water feature.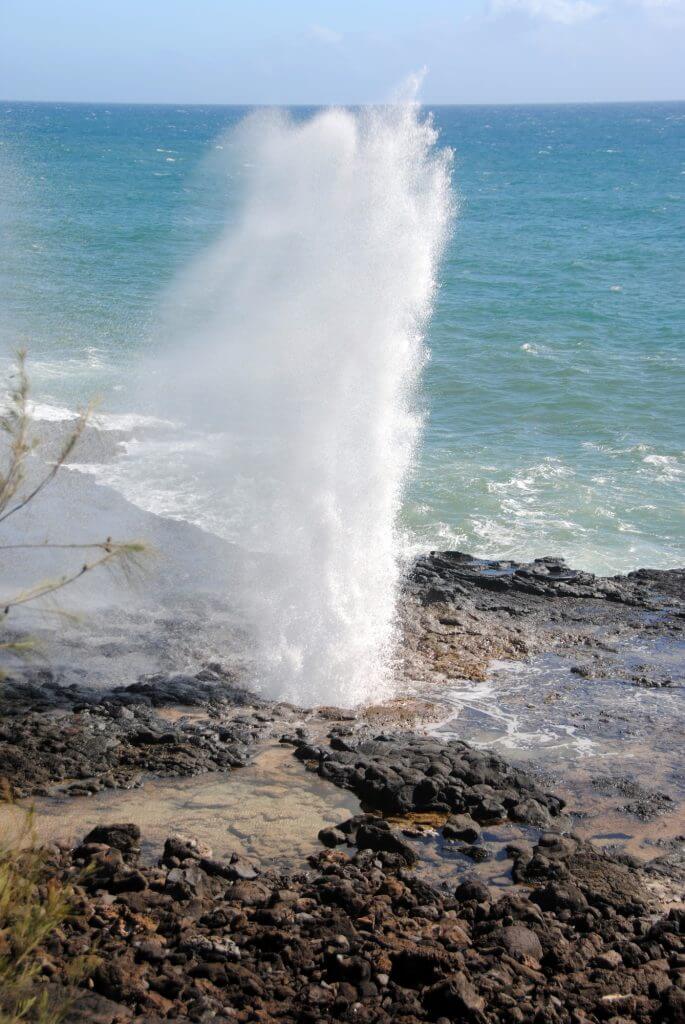 Occasionally the water can reach as high as 50 feet tall. Make sure to bring your camera to catch some amazing photos of this natural wonder.
5. Koke'e State Park
This beautiful state park is located more than 3,200 feet above sea level. Rife with lush rainforests and wildflowers, this is a wonderful place to go for a hike.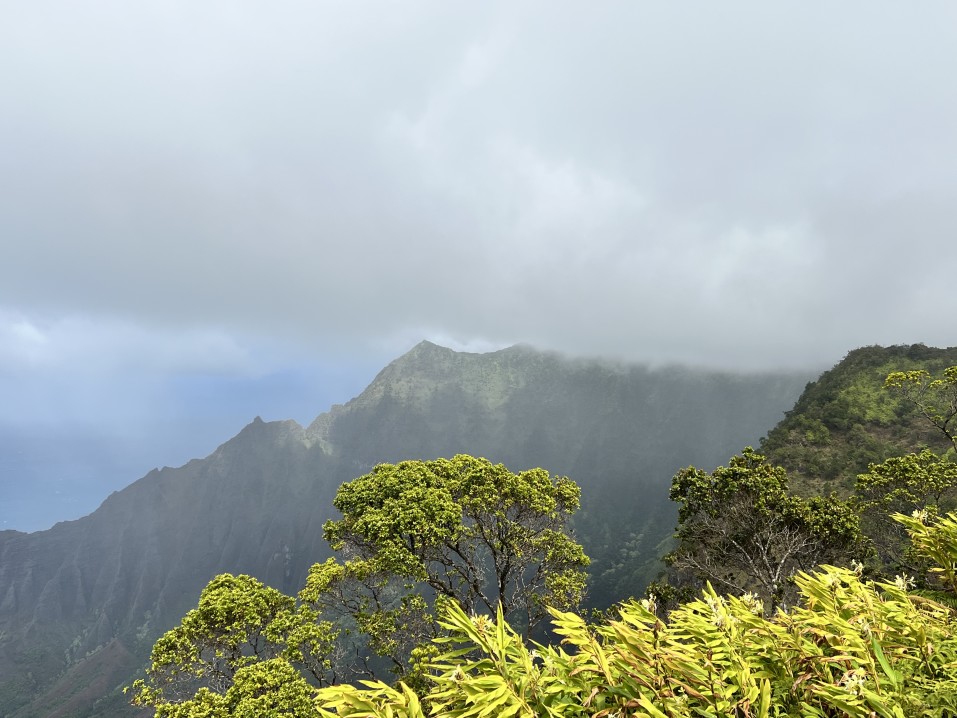 Just make sure to pack some warm clothing as the higher elevation does make it much cooler.
The Natural History Museum on site is a great place to grab a hiking map. You will also learn more about the trails here.
They also offer private hiking tours. These are great for couples or families that want to travel through and learn more about the state park alongside a guide.
6. Kauai Luaus
If you are in Hawaii, visiting a luau is a must. There are so many great things to experience here. And thankfully, there are several amazing Kauai luaus to choose from.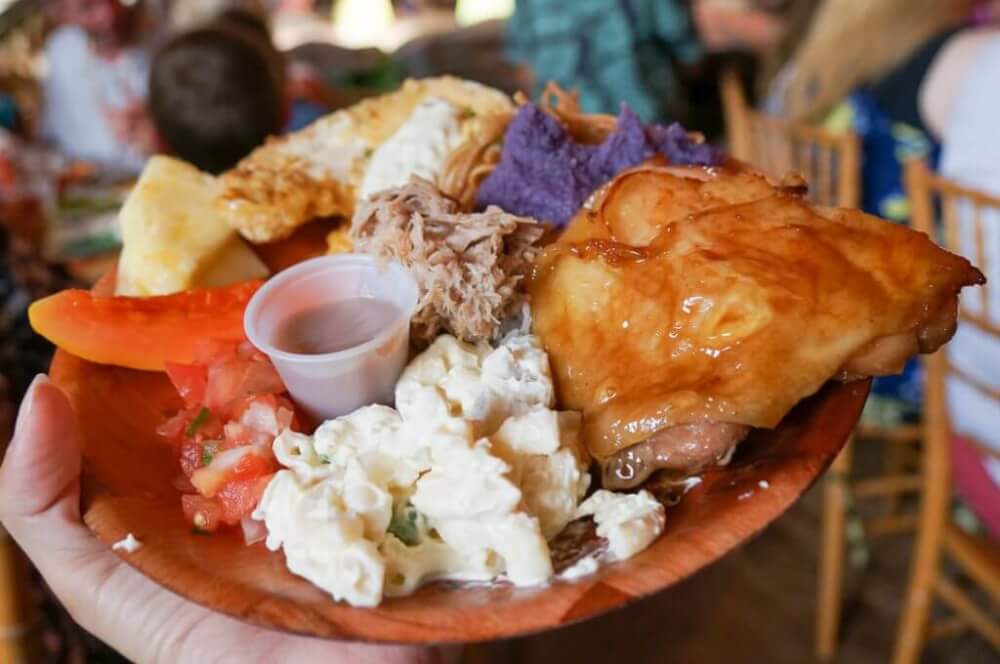 Watching a hula performance, enjoying a delicious meal, and taking in the sunset, are all fantastic on their own. When you add them all together, you are sure to have a great time.
7. Horseback Riding on the Beach
If you want to take in some spectacular views and enjoy an amazing Kauai activity, check out CJM Country Stables.
They offer rides on their gorgeous horses that will take you for a secret beach picnic or a stroll through the Maha'ulelpu area.
This is a great activity for the entire family and is sure to please. Who doesn't want to go on a horseback riding adventure?
8. Wailua Falls
Wailua Falls is a great place to visit for some beautiful adventures. On the Wailua River, the twin falls descend down over 80 feet, making for some spectacular views and breathtaking sights.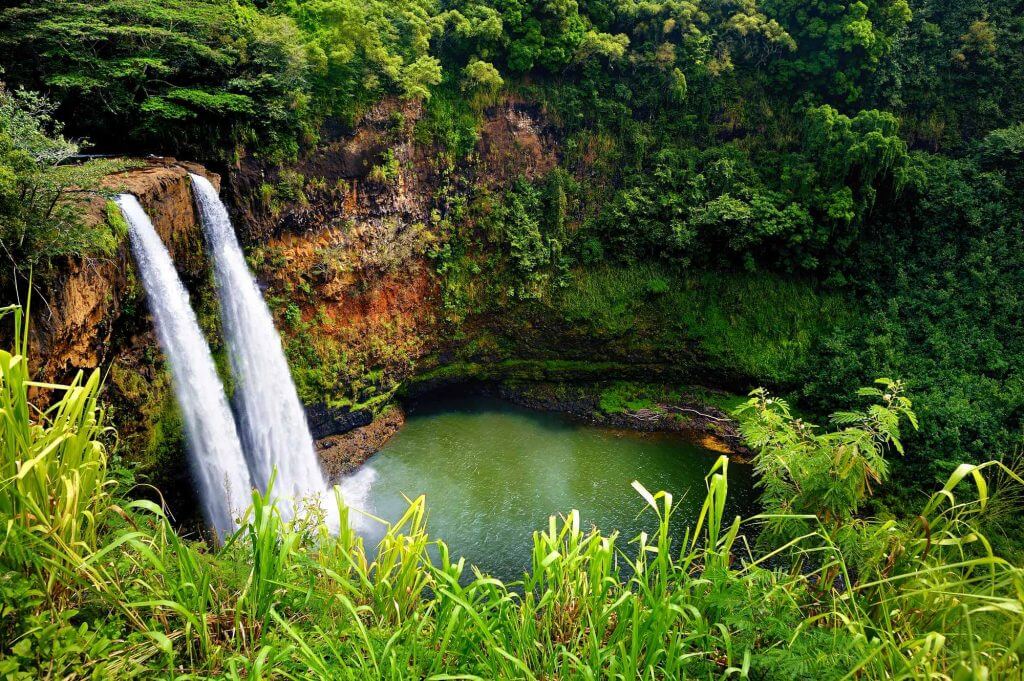 You can easily view the falls from the road and get some amazing pictures. This is one beautiful natural wonder on Kauai you must see.
9. Ziplining in Koloa
Get a spectacular view of Kauai's native forest from one of the many Kauai zipline experiences. This includes Kauai's largest and longest zipline and you are sure to enjoy the view.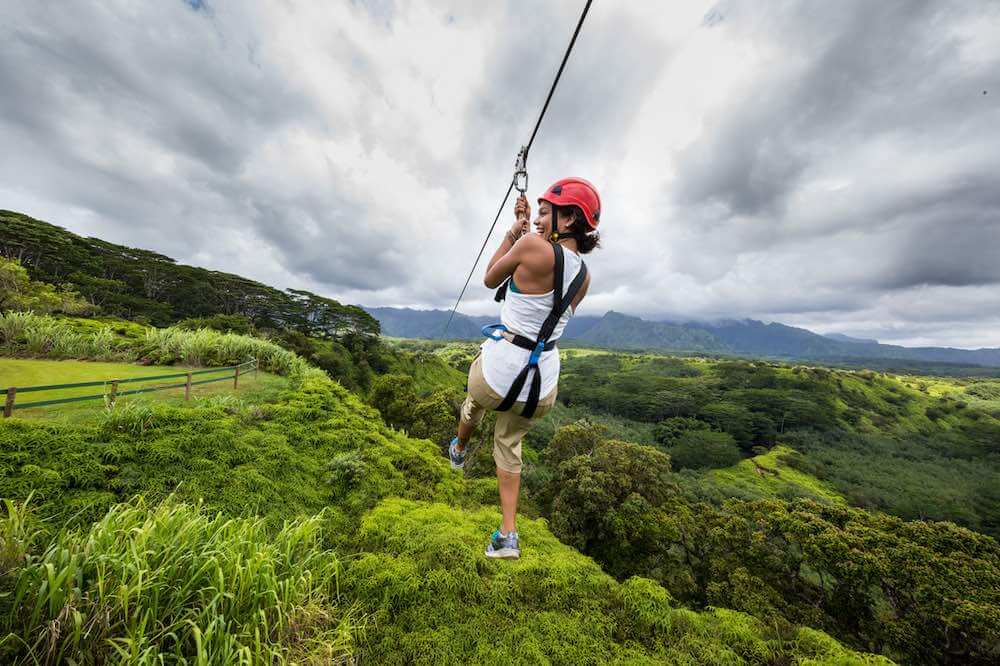 Kauai has ziplines for families as well as adventure-seekers.
Whether you want to go hands-free, hang on to the handlebars, or flip upside down, the sky is truly the limit.
10. Kilauea Point Lighthouse
Built in 1913, this stunning lighthouse is a must-visit. Located just past the village of Kilauea, you can rest along the 180-foot-high cliffs. Check out the spectacular views of the coast.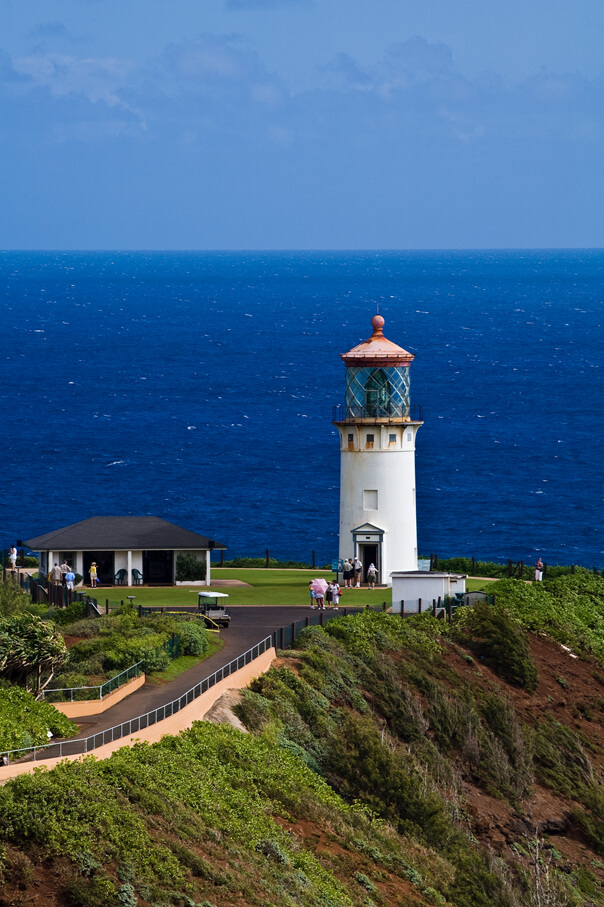 The Lighthouse is also located at the Kilauea Point National Wildlife Refuge. You will get the chance to see so much wildlife like Hawaii's state bird the Nene, Blue Footed Boobies, and more.
Book your reservations to enter the refuge today. You won't want to miss this experience of a lifetime.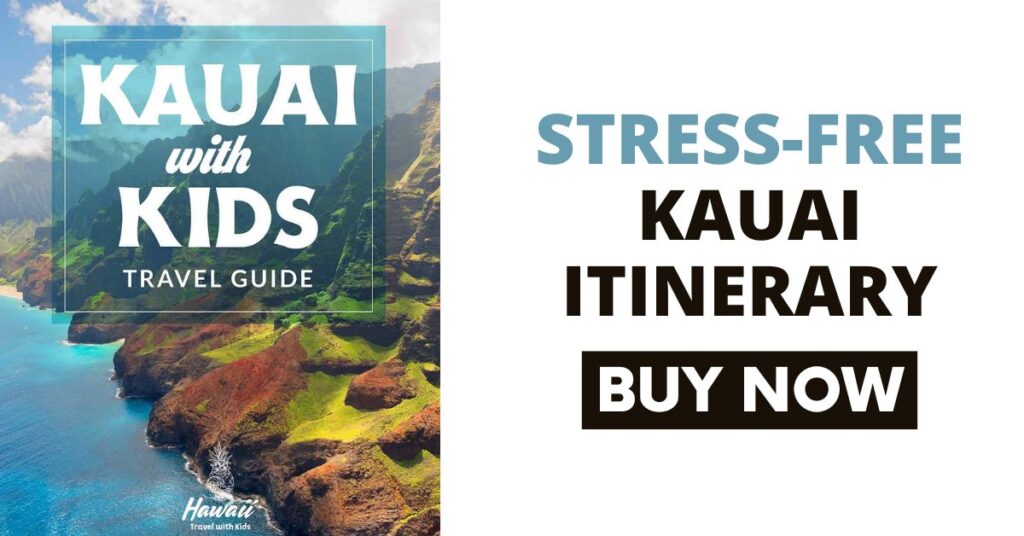 Kauai Hawaii in February Wrap Up
If you have been wondering to yourself "What is Kauai like in February?", wonder no more. It's a spectacular experience to visit this Hawaiian island during any month. With several Kauai things to do in February, there is no shortage of fun.
Celebrate Valentine's Day, Visit some of the best beaches in Kauai in February, and more. No matter what you choose, you are going to have a great vacation.