Want to attend a luau on Kauai but are having a hard time deciding? Find out 6 of the most exciting Kauai luau experiences for families with kids of all ages, keep scrolling for all the info!
This best Kauai luau post contains affiliate links which means if you purchase something from one of my affiliate links, I may earn a small commission that goes back into maintaining this blog.
One of the things that Hawaii is famous for is luaus.
A luau is one of the most festive experiences tourists can experience. Luaus differ for every region and island in Hawaii.
However, it's usually a grand celebration of food, music, and most importantly, culture.
That said, it's completely understandable that people have a hard time choosing the best luau for their trip.
While there are tons of awesome thing to do on Kauai, attending a Hawaiian luau is almost always on the top of every tourists' list.
Traditionally, luaus are celebrated with a kalua pig cooked in an imu, haupia, and poi. After dining, guests enjoy live music and hula performances that tell stories about the islands.
We've put together a list of Kauai's best luau options for different types of trips! Read on!
Not looking for luaus on Kauai? Here are some of our articles that talk about luaus on the Big Island, Oahu and Maui.
Get all your Hawaii luau questions answered HERE
Want to skip all the planning and just access my detailed Kauai Itinerary complete with daily schedules, kid-friendly activities, and travel hacks? Click the button below.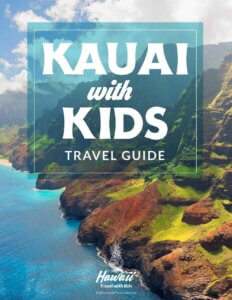 How to Choose the Best Kauai Luau
When traveling, it's important to consider what you'll be expecting during the trip.
Similarly, when traveling with a group or family, it can be difficult to meet satisfy everyone's wants.
However, it's also important to consider each family or group member when deciding on which luau to go to. Hawaii is home to all types and forms of luaus and some aren't exactly kid-friendly.
If you're after an authentic luau experience, you'd definitely want it to be on Kauai.
However, think about what you'd prefer during the luau. Would you want to attend a large luau? Would you prefer kid-friendly performances and dances?
These are only some of the things to consider when deciding which Luau to attend.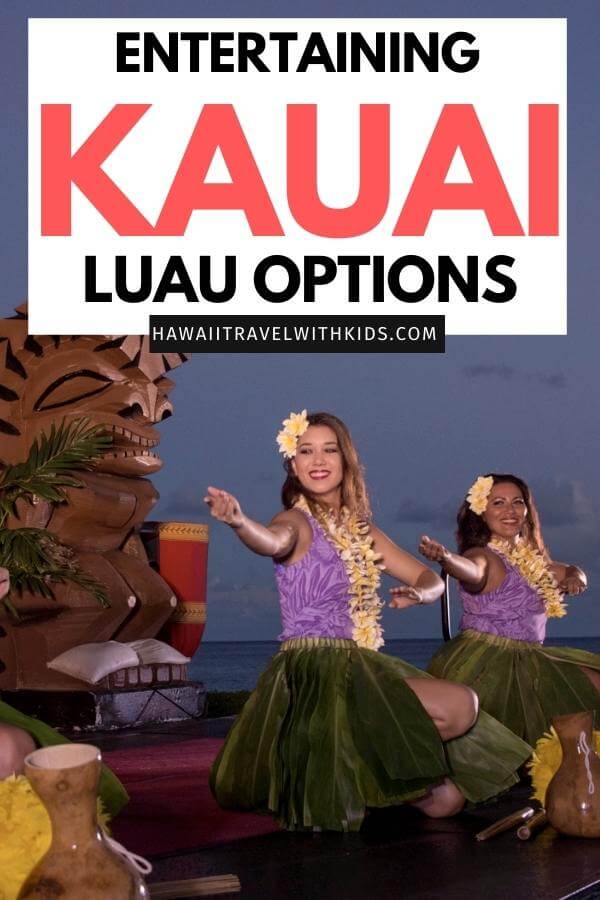 Finding a Luau in Poipu, Kauai
Poipu beach is located on the southern area of Kauai. It was also named as America's Best Beach by the Travel Channel.
The beach is perfect for all types of activities including swimming, snorkeling, boogie-boarding and of course, surfing.
That said, it's no question that it is one of the best places to go for a luau.
The Grand Hyatt is known for its accommodation and amenities. One of the best experiences Grand Hyatt Kauai highlights is its luau.
The luau is perfect for experiencing and learning about Hawaii's culture.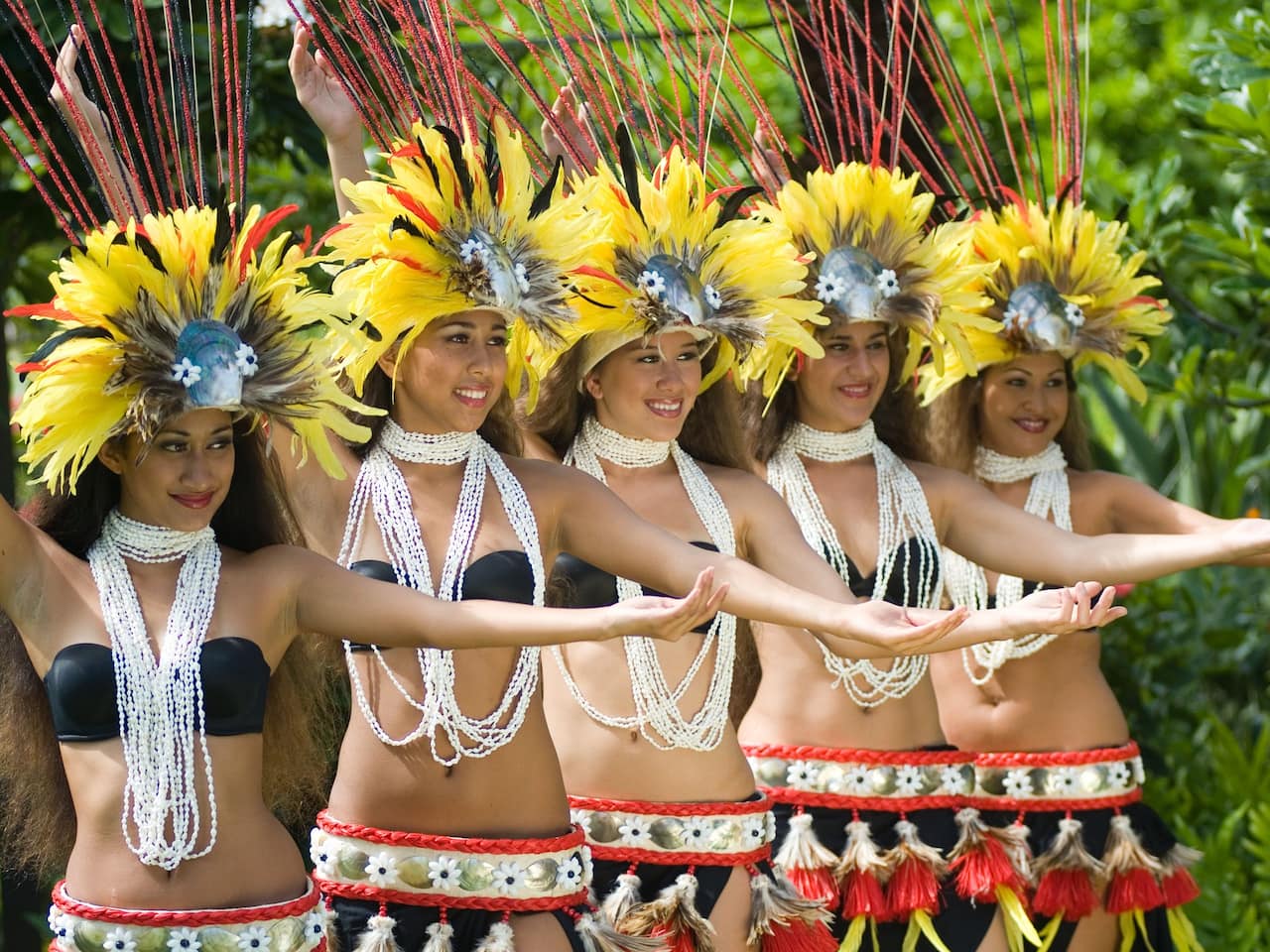 Vibrant songs and dances tell stories of Hawaii's rich history and voyages through the South Pacific. Cultural activities are interactive and the feast features Hawaii's local delicacies.
The Luau is perfect for families, couples, and friends who are eager to learn and experience tradition and culture.
Grand Hyatt Kauai's Luau includes a traditional Lei greeting, an open bar, and an all-you-can-eat dinner.
In addition, kids and families can enjoy making their own Hawaiian crafts and even attend Hula lessons.
Auli'i Luau is Kauai's only oceanfront Luau. In fact, it is also one of the most popular ones among younger crowds.
If you're the type to enjoy beachfront parties, this is the luau for you.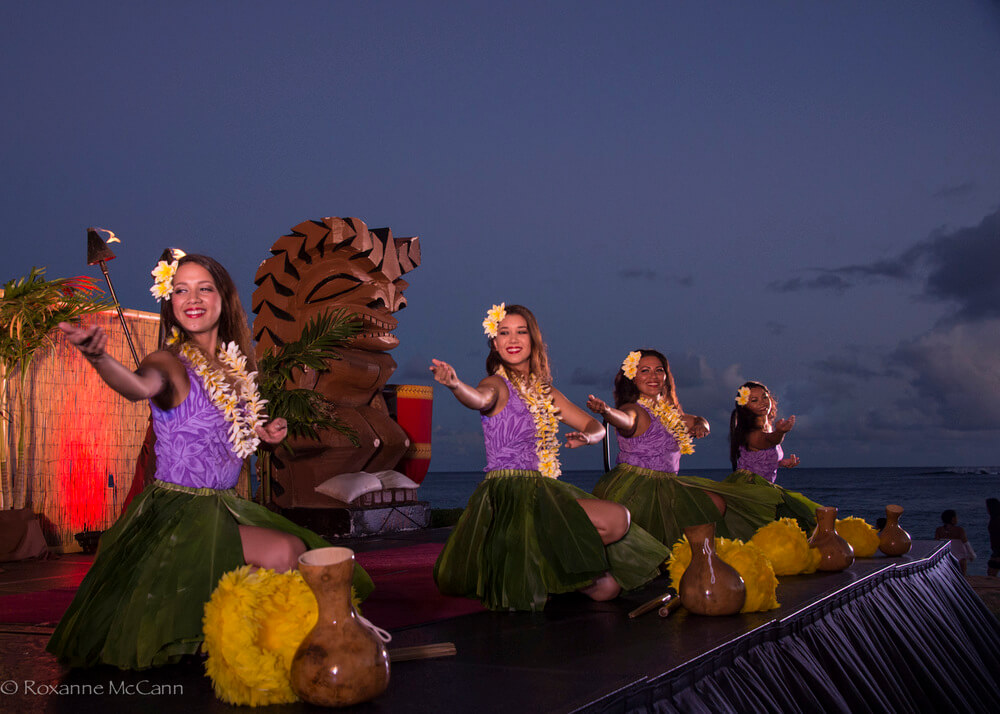 The Auli'i Luau presents the perfect picture of what you imagined your Hawaii vacation to be.
Most guests feel the aloha spirit through the celebration and live music played in the background.
Like most Luaus, Auli'i made an effort to make guests feel welcome through the majestic performances set before them.
The luau is highlighted by performances made by the award-winning hula dancers of Urahutia.
Then, everyone feels the thrill as the pahu drums beat to the pulse of the waves only yards away as the Fire-Knife Dancers take that stage.
However, it wouldn't be a luau without a delicious feast.
The Auli'i Luau is served with a buffet dinner filled with the island's local delicacies.
Among the dishes are the fish, poi, and the traditional slow-roasted pig that truly melts in the mouth. Also, guests can enjoy delicious cocktails inspired by the Hawaiian spirit.
Of course, nothing can truly beat a luau held at the Sheraton.
Finding a Luau in Lihue, Kauai
Luau Kalamaku is one of the most popular luaus on the island. Check out the latest prices and more details.
That said, the Plantation Owners Dinner begins with a large feast that brings you to a culinary journey back in time.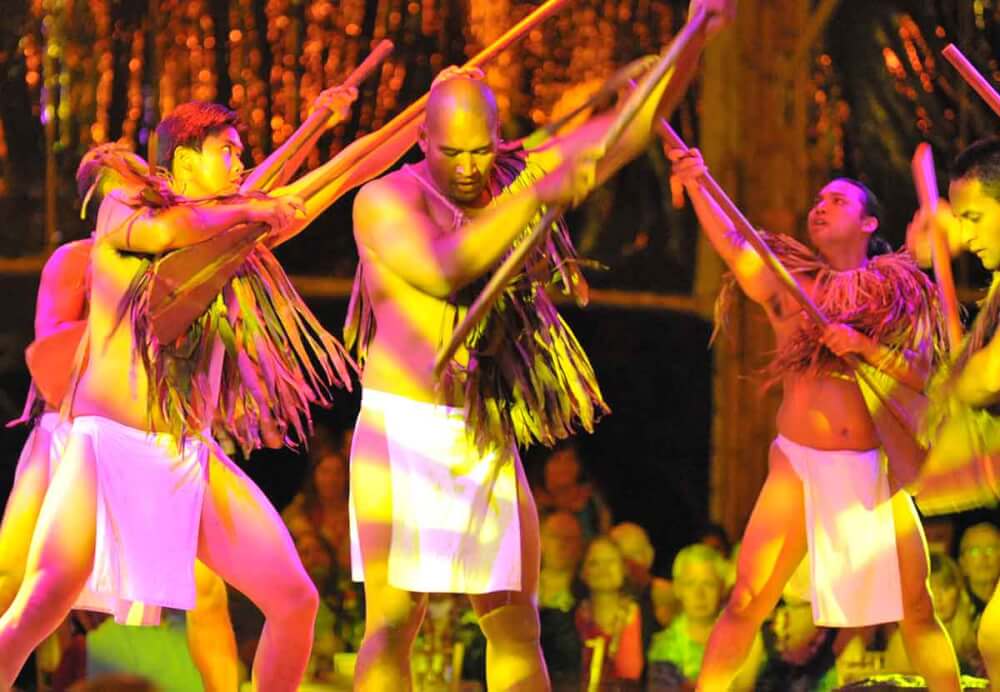 There, you'll feast on a traditional dinner at Gaylord's Restaurant at Kilohana's. The feast consists of a four-course meal that highlights the local cuisine of the guests' choice.
Then, guests have a torchlit walk to the Luau Pavilion to attend the Luau. It is there when guests can feast their eyes on one of the most famous luaus on Kauai.
Live Hawaiian music and graceful hula dancers grace the stage as they tell the tale of the Kalamakū, an epic voyage along one of the longest sea roads of Polynesia.
Kids and kids-at-heart can learn about the island's culture and enjoy the magnificent fire poi ball twirlers and the fire dancing.
The Luau includes a fresh flower lei greeting, champagne toast, the 4-course meal at Gaylord's, complimentary drinks and premiere seating to the Luau Kalamaku show.
I brought my kids here a couple years ago and you can read our full Luau Kalamaku review.
Book your discount Kauai luau at Gaylord's
Another great way luau is the Kauai Luau and Sunset dinner at Lihue. Check out the latest prices and more details.
The Smith Family Garden Luau is named as Ultimate Kauai Guidebook's "Best Luau on the Island." In fact, it is one of the most popular tourist attractions of the island.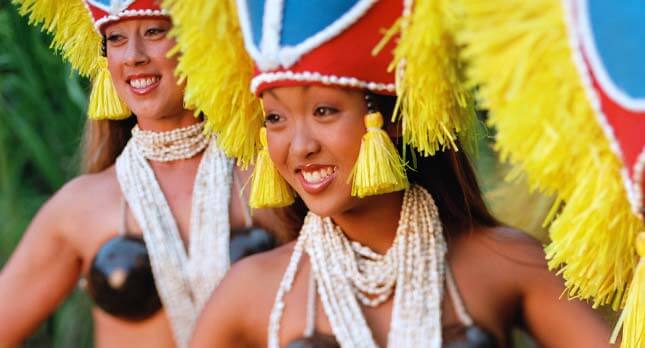 In addition, the Sunset Dinner and Kauai Luau experience perfectly highlights the island's culture and delicacy.
Unlike some of the other luaus on the list, the Sunset dinner begins with a traditional imu ceremony.
This tradition wherein a roast pig is removed from an underground clay oven is often put aside to focus on the hula show.
However, the Kauai Luau and Sunset dinner is definitely more on the traditional side.
First, the sunset dinner is served banquet-style where guests can interact with each other. Also, there is a buffet of island favorites available for anyone willing to try.
Among the dishes served in the banquet are Teriyaki beef, Chicken Adobo, Mahimahi, and Poi. The dinner is accompanied by your choice of complimentary wine, beer, cocktails, or non-alcoholic drinks.
Next, guests are guided onto a torch-lit amphitheater where they can enjoy the beginning of the luau.
The luau begins just after sunset and starts with locals presenting songs and dances in tribute to the diverse cultures that have inhabited Hawaii throughout history.
The Smith Family Garden Luau has been in the business for over 50 years, passing the tradition over 4 generations. The family believes that while food is the heart of the luau, music is its soul.
The night proceeds with performers and local tribes passing down traditional Hawaiian songs.
After, the Hawaiian hula and Tahitian drum dance are performed. Finally, the Samoan Fire Knife dance tells the tale of all the people who have come to call Hawaii home.
You can read our full Smith Family Luau review.
Book your discount Lihue Kauai luau
The Hawaii Alive Luau show and dinner is described as Royal Sonesta Kaua'i Resort Lihue's intimate night. The dinner and show is one of the island's longest-running shows.
Kids and adults alike can enjoy Hawaii's culture every Monday evening at the world-class Royal Sonesta Kaua'i Resort in Lihue (formerly the Kauai Marriott.)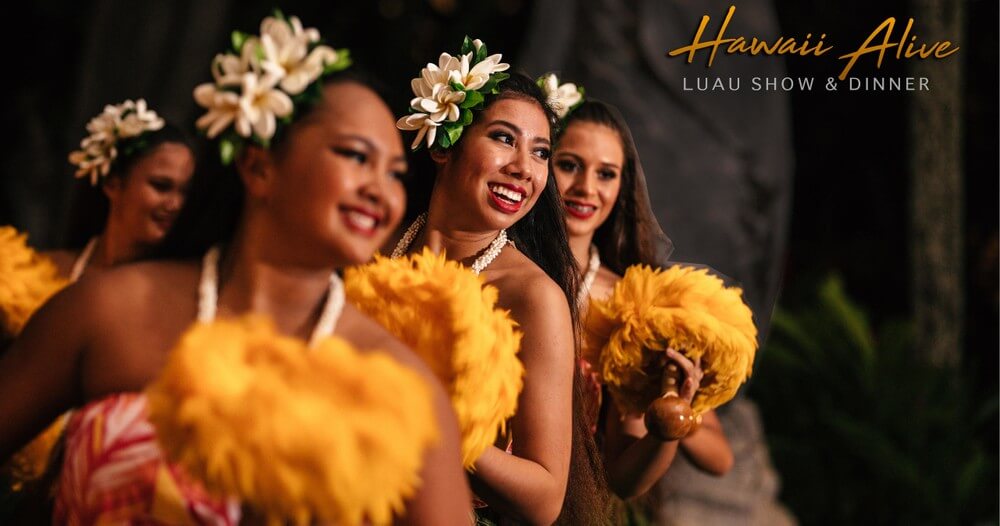 For groups interested in the full luau experience, the dinner and show begins at 5:30 pm.
The feast is prepared by Kukui's Restaurant. The buffet includes Kalua pork, huli huli chicken, lomi salmon, coconut glazed sweet potato, and haupia with sliced fruits.
Travel through Hawaii's rich culture via your taste buds. The package includes one standard alcoholic or non-alcoholic drink per person.
And children age 5 and younger can attend for free.
After dinner, guests can proceed to the secluded Niihau Court where the fiery and majestic Hawaii Alive Luau show will take place. Hawaii Alive Luau is perfect for kids because the performances are electric, lively and educational.
Don't forget to bring your grass skirts, you might just get to hula!
Slightly North of Lihue is the Luau Makaiwa at the Sheraton Kauai Coconut Coast Hotel in Kapaa. Check latest rates and availability.
This fun Kauai experience includes an impressive torch lighting ceremony, amazing food, and a spectacular show.
You can choose between general admission or upgrade to VIP seating. Kids ages 3 and younger are free.
It's super easy to get to from any East Shore hotel or vacation rental home.
Kauai Luaus on the North Shore
When talking about Kauai's luaus, some would argue that the best ones are on the northern part of the island.
If you're one to look for a truly local and culturally-rich experience, the North Shores' luaus are for you.
We've researched and put together a list of some of the North Shore Kauai luaus to check out.
First on our northern Luaus is Tahiti Nui Luau, which calls itself as the best in the North!
This luau is definitely more of a party vibe. Younger crowds can enjoy this luau every Wednesday, with free Mai Tais for an hour before the dinner and show.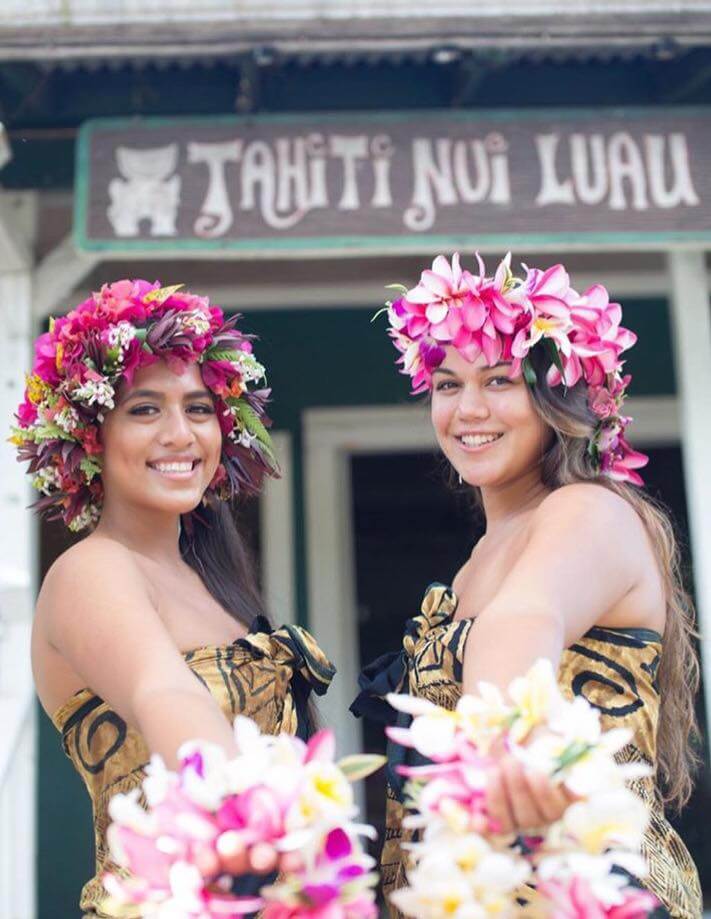 Tahiti Nui's luau night is in tribute to their legendary Aunty Louise, the better half of Tahiti Nui's founder.
Guests enjoy a night of culture and aloha in Tahiti Nui's Luau. In fact, the entire luau makes you feel like you're part of their family.
Food is grilled and served in front of you and it feels so welcoming that you think you're part of the island.
Before the show, a buffet dinner is served that includes staple Hawaiian dishes: fresh fish, mahimahi, pineapple upside down cake, teriyaki chicken, and pork.
However, unlike most buffet dinners, the buffet is served by the staff.
The Luau is laid-back, friendly and perfectly welcoming. Tahiti Nui always makes sure that guests feel welcome and are educated without all the glitz and glamour.
This luau is perfect for travelers who would truly love a local experience rather than a polished one.
However, it definitely makes traveling more personal and nostalgic for the old days of Hawaii.
The Ahi Lele fire Show is done at the Anaina Hou Community Park every Wednesday. Similar to the other ones on the list, this Luau includes dinner and drinks.
In fact, the Ahi Lele Luau Fire Show is dubbed as "Hawaii's only exclusive fire show and Polynesian culinary experience."
This luau experience is also best for experiencing true local culture as this begins with a tasting of Hawaii-made craft brews and cocktails made with local spirits.
The dinner is served with a salad, entree, and dessert of the guests' choice. However, the traditional slow-roasted kalua pork is still served.
After, the luau begins with a story of the history of fire in Polynesia. Then, the Tahitian dancers in costumes dance to the beat of the drums. This show is beautiful and truly fascinating.
Children will definitely appreciate the eight dancers swaying to the music, teaching them about fire's important role in Tahiti, Samoa and Kauai.
Click to see my full Ahi Lele Fire Show review.
Frequently Asked Questions about a Kauai Luau: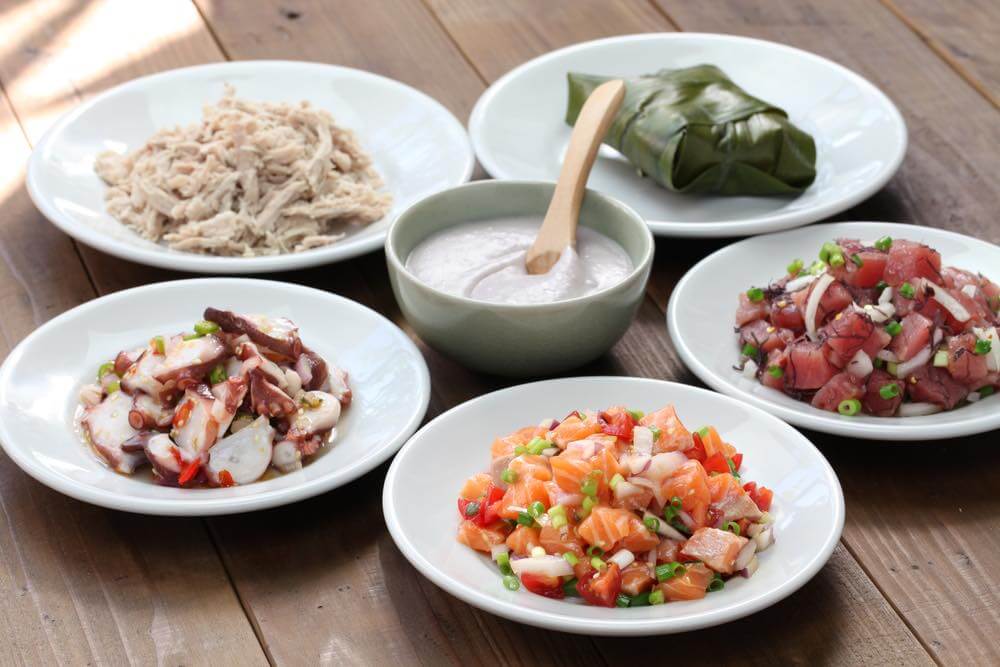 WHAT DO YOU EAT AT A LUAU?
At most traditional Hawaiian luaus, you'll find the following items:
Kalua Pork
This is the most well-known Hawaiian luau food. It's a whole pig that's been roasted underground in an imu.
The pork is so tender that it falls right off the bone and shreds. Very flavorful!
You can try it at home with my Instant Pot Kalua Pork Recipe!
Poi
So, at whatever luau you choose, they will probably make some sort of joke about poi tasting like wallpaper paste. That's just to scare you away!
Poi is mashed up taro root that is fermented. It helps bring out the flavor of fish and meat, so be sure to combine them and use it more like a condiment!
Chicken Long Rice
If you have a picky eater in your family, chances are they will like Chicken Long Rice!
It's long noodles with bits of chicken sprinkled in. It tastes a little like chicken soup, without the soup.
Huli Huli Chicken
If you like barbecue chicken with an island twist, you'll love Huli Huli Chicken!
You'll also see roadside stands selling Huli Huli Chicken or at fundraisers around Oahu.
Try my Oven Baked Huli Huli Chicken Recipe!
Lau Lau
This is a super traditional Hawaiian food, but not all luau menus have it. It's usually pork or fish wrapped up in ti leaves and steamed.
Lomi Lomi Salmon
This is very similar to ceviche, where it's chopped up raw fish mixed diced tomatoes and onions.
Macaroni Salad
Yes, it's just what it sounds like. Basically macaroni noodles with a lot of mayonnaise and usually some shredded carrots.
This is another option for picky eaters. Personally, I love mixing in a bit of Huli Huli Chicken when I eat it. So tasty!
Haupia
These little white squares are like a creamy coconut jello. They are cold and make a refreshing palate cleanser! Plus kids usually enjoy eating it!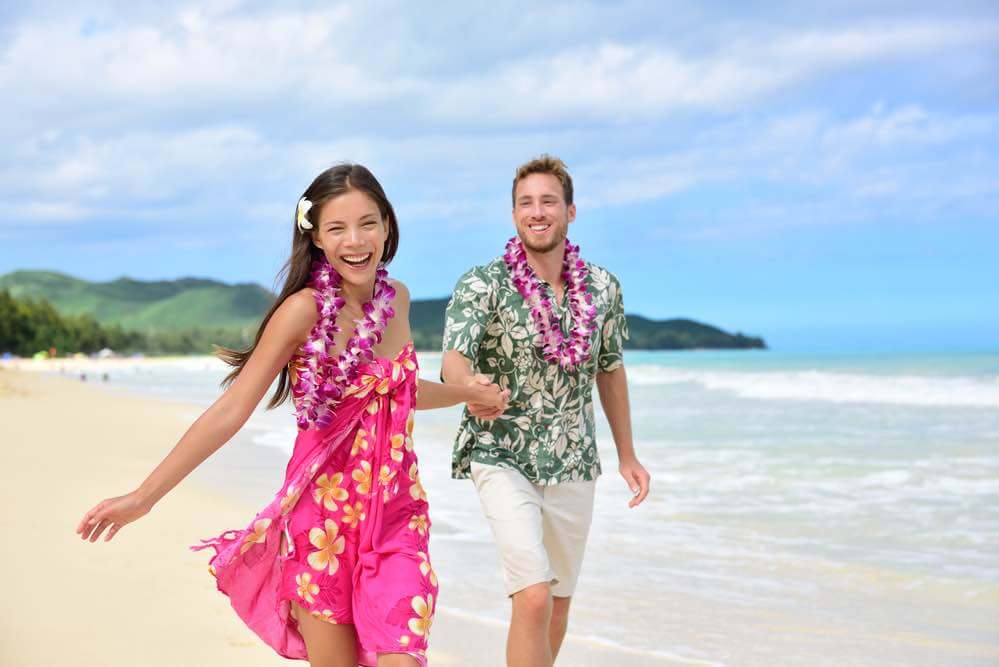 WHAT TO WEAR TO A LUAU?
I know when people are packing for their trip to Kauai, they always ask about what to wear to a luau. So, here are my top picks to add to your Kauai packing list:
Luau Dresses
Most luau will give you either a shell lei or a purple orchid lei as you arrive.
If you think you'll be taking a lot of photos, you'll want to keep in mind so the lei will stand out against your dress.
For fun, tropical dresses, my top picks are this one and this one. Putting on a Hawaiian dress always makes me feel happy and like I'm on vacation! Check out the latest prices and more details.
But, you don't need to buy a new dress! Look in your closet for something brightly colored or a white dress always looks nice.
For shoes, I tend to always wear sandals. You probably won't want to risk heels, especially if the luau is on grass or near the beach.
Aloha Shirts
Men often get a shell lei, purple orchid lei, or sometimes they get a black kukui nut lei.
While men can wear any type of shirt, a Hawaiian shirt is always more memorable! If you want to order ahead of time, this one and this one are fun picks! Check out the latest prices and more details.
Men can easily pair Aloha Shirts with khaki pants or shorts. Or linen pants or slacks of any kind.
Hawaiian Clothes for Kids
And don't forget about your kids! While they can wear anything they like, it's so much cuter if they wear Hawaiian print!
I love matching Aloha shirt and shorts sets like this for boys and adorable Hawaiian dresses like this for girls.
Found the right Kauai Luau for your trip?
As mentioned earlier, the luau you want will ultimately depend on what you want to see.
Most of Hawaii's luaus are fascinating to watch but true local experience is one that is rare.
We hope that our little list helped you decide which Kauai Luaus to add to your list!