Planning a trip to Kauai and want to know the best things to buy to bring back home? Scroll to find out the best Kauai souvenirs you'll want to pick up on your next trip!
This Kauai souvenirs post was originally published January 17, 2020 and was updated January 23, 2022 and contains affiliate links which means if you purchase something from one of my affiliate links, I may earn a small commission that goes back into maintaining this blog.
Don't Want to Scroll? Here Are My Top Kauai Souvenirs
hide
Are you looking for unique Kauai souvenirs?
You'll find the best selection of Kauai gifts at local boutiques, craft fairs, and small businesses. These are items that can be hard to find online or anywhere else in Hawaii. They make great mementos of your trip and will motivate you to book another trip asap!
If you want to pick up some truly unique Kauai souvenirs on your next visit, then these are the places we recommend checking out. These are the best places for shopping on Kauai.
We know how much effort it takes to plan a vacation so we've done all the research for you already! Now all that's left is for you to have an amazing time exploring this beautiful island with your family.
Keep scrolling to learn more about the best souvenir shopping in Kauai today!
Read my top tips for planning a Kauai vacation!
Don't have time to read a bunch of Hawaii blog posts and reviews? Here are some of our top picks for visiting Kauai.
Popular Kauai Tours/Activities
Favorite Kauai Resorts/Hotels
Grand Hyatt Kauai (this Poipu resort has a luxurious pool area, romantic restaurants, and a stunning ocean view)
Koloa Landing Resort (this is a luxury resort with an amazing pool area and truly spacious rooms)
Royal Sonesta Kauai (we LOVE the pool here because it's the largest one in Hawaii)
Want to Rent a Car in Hawaii?
One of the best places to rent a car in Hawaii is Discount Hawaii Car Rental because they get the best rates from top national companies like Alamo, Dollar, Thrifty, Avis, Enterprise, Budget, and Payless.
Kauai Souvenir FAQs
Where can I buy souvenirs on Kauai?
Just about anywhere! Some of our favorite places to get souvenirs on Kauai are the Shops at Kukuiula, The Kauai Store, Long's Drug, Costco, Whaler's, Warehouse 3540, and Poipu Shopping Village. Plus there are other Kauai souvenir shops like the Made on Kauai store.
What are the best souvenirs from Hawaii?
Some of the most popular Hawaiian souvenirs include ukuleles, fresh pineapple, Aloha Shirts, Hawaiian dolls, surfing products, and more. But, really, the best Hawaiian souvenirs are ones that make you smile when you think about your Hawaii vacation.
What can you NOT bring back from Hawaii?
You won't be able to bring home any fresh fruit or flower leis that don't have an agricultural tag on them. And please don't bring back any lava rocks, or you may endure the wrath of Pele!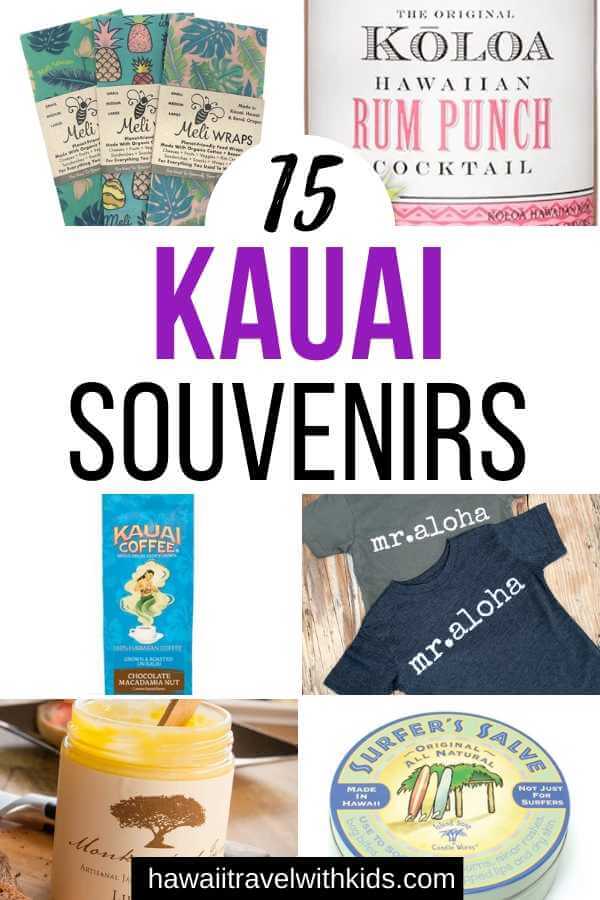 15 Best Kauai Souvenirs to Bring Home
1. KAUAI KOOKIES
One of the top cookie brands in Hawaii is Kauai Kookie, made in Ele Ele on the South Shore of Kauai. They sell them at every grocery store, ABC Store, Long's Drugs, and so many other places.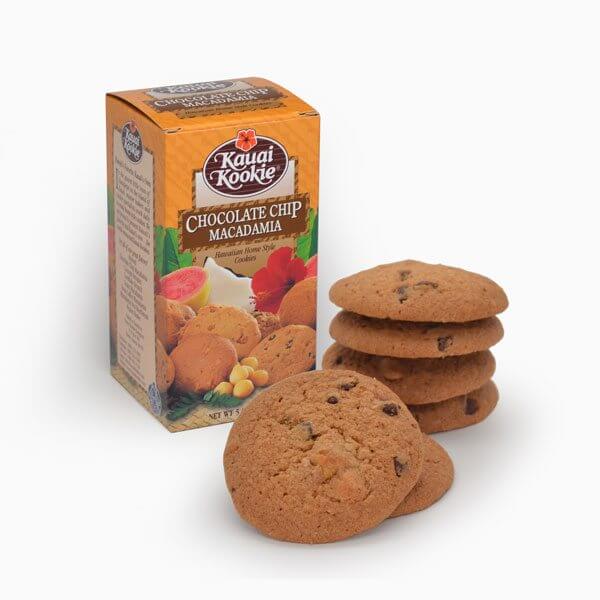 They sell boxes of Hawaiian cookies with flavors like Almond Cookies, Chocolate Chip Macadamia Nut, Coconut Krispies, Cornflake Krunch, Guava Macadamia, Kona Coffee Macadamia, Macadamia Nut Shortbread, Peanut Butter, and more.
Another popular item is their toast. They offer Homestyle Garlic Toast, Artisan Taro Toast, and (my favorite) Double Baked Cinnamon Toast.
You can also visit their factory store where they have specialty flavors not sold in retail locations and it's the best price on the island. They also offer other Made on Kauai products, so it's always worth a stop.
2. BANANA PATCH STUDIO CHILDREN'S BOOKS
If you'd like to shop local on Kauai, head to Hanapepe Town. It's filled with art galleries and boutiques with items you won't find in other places.
One of the coolest stores in Hanapepe is Banana Patch Studio.
They sell an array of artsy items like decorative tiles instructing guests to remove their shoes or featuring a Hawaiian blessing.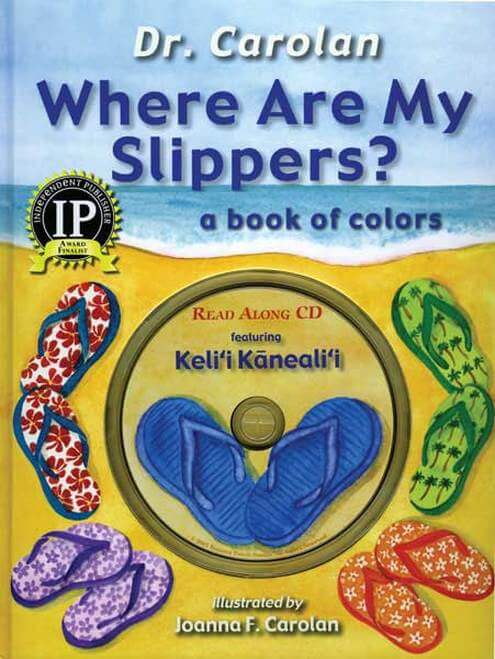 But, they also publish some really cool Hawaiian books for kids! And some of them come with a read-along CD featuring local Hawaiian musicians.
They even have a book all about President Obama (who grew up in Hawaii!)
Find out my top Hawaiian Children's Books
3. SURFER'S SALVE
For more than 30 years, Island Soap & Candle Works has been creating handmade soaps, lotions, lip balms, bath salts, candles, and other skincare and lifestyle products.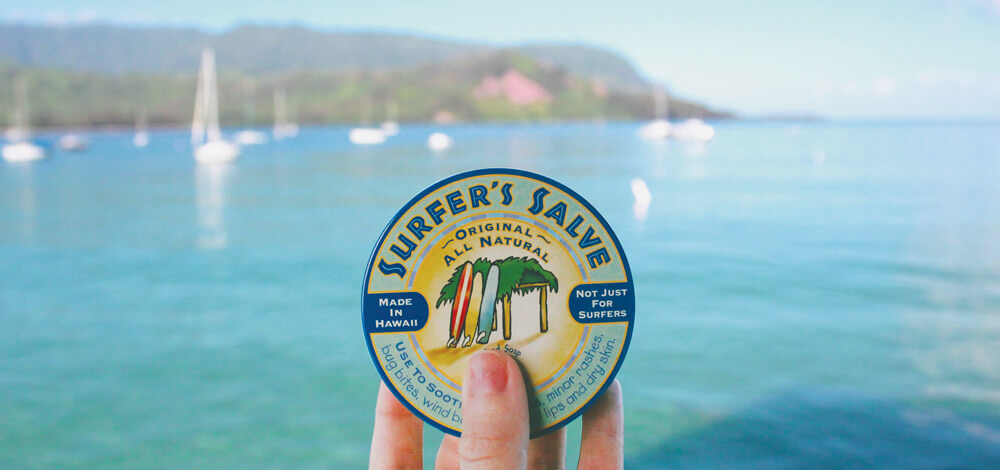 One of their most popular (and cult favorite) products is their Surfer's Salve. Made with all-natural ingredients, Surfer's Salve helps alleviate bug bites, sunburns, minor burns, dry skin, scars, and rashes.
People claim it's the only first aid product they keep and it's so portable that it can easily fit in a day bag or be kept in the car (it doesn't melt.)
You can find Surfer's Salve at Island Soap & Candle Works stores in Princeville, Kilauea, and Koloa. Plus, they are in a ton of surf shops and retail locations such as Long's Drug, Times Market, Foodland, ABC Stores, and resort gift shops.
Do you go through tons and tons of plastic bags when you bring a sack lunch to work (or prepare lunches for your kids?) Or lots of plastic wraps when you package up leftover dinner each night?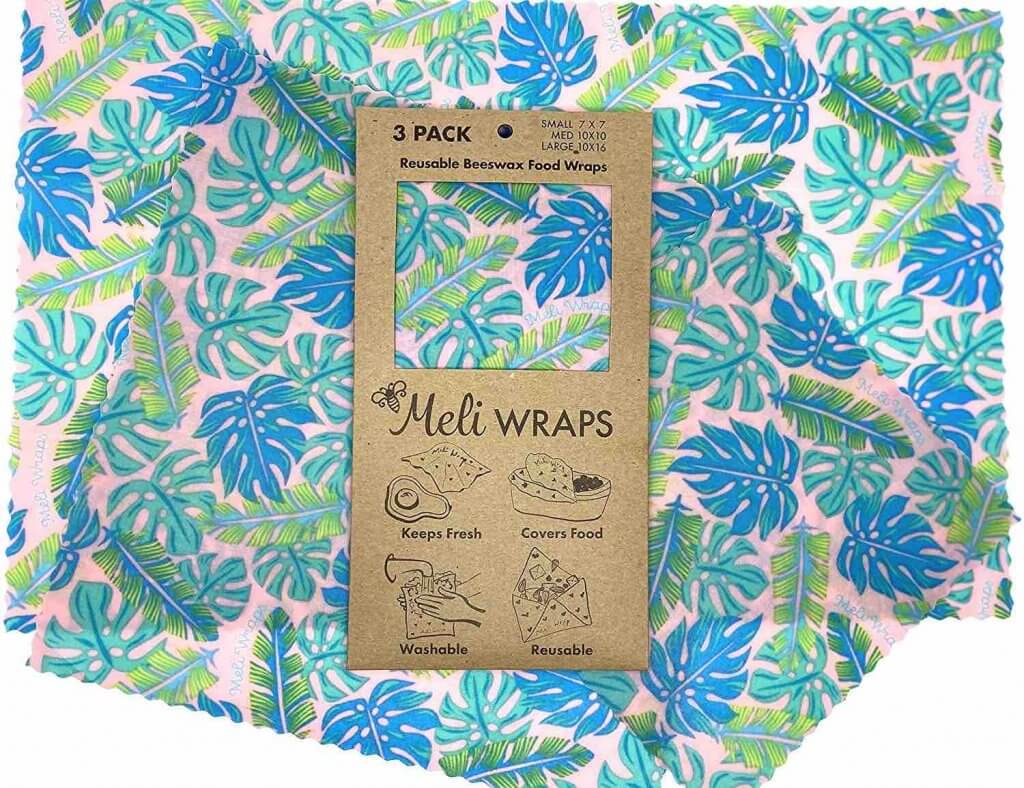 Meli Wraps are an easy way to ditch the plastic and become more eco-friendly. They are made with organic cotton, beeswax, tree resin, and plant oils and they can stick to just about anything. Check out the latest prices and more details.
The plant oils keep food fresh naturally and the beeswax makes it possible for Meli Wraps to cling to most dishes.
They are made on Kauai and Bend, Oregon, and come in a variety of sizes and some of the cutest tropical prints. You can also buy them on Amazon.
5. UNCLE MIKEY'S DRIED FRUIT
We discovered Uncle Mikey's Dried Fruit on the Kauai Food Tour and we immediately bought 3 bags.
It's seriously the most flavorful dried fruit I've ever had! I think it's because he doesn't use sugar or other additives. It's just dehydrated fruit, plain and simple.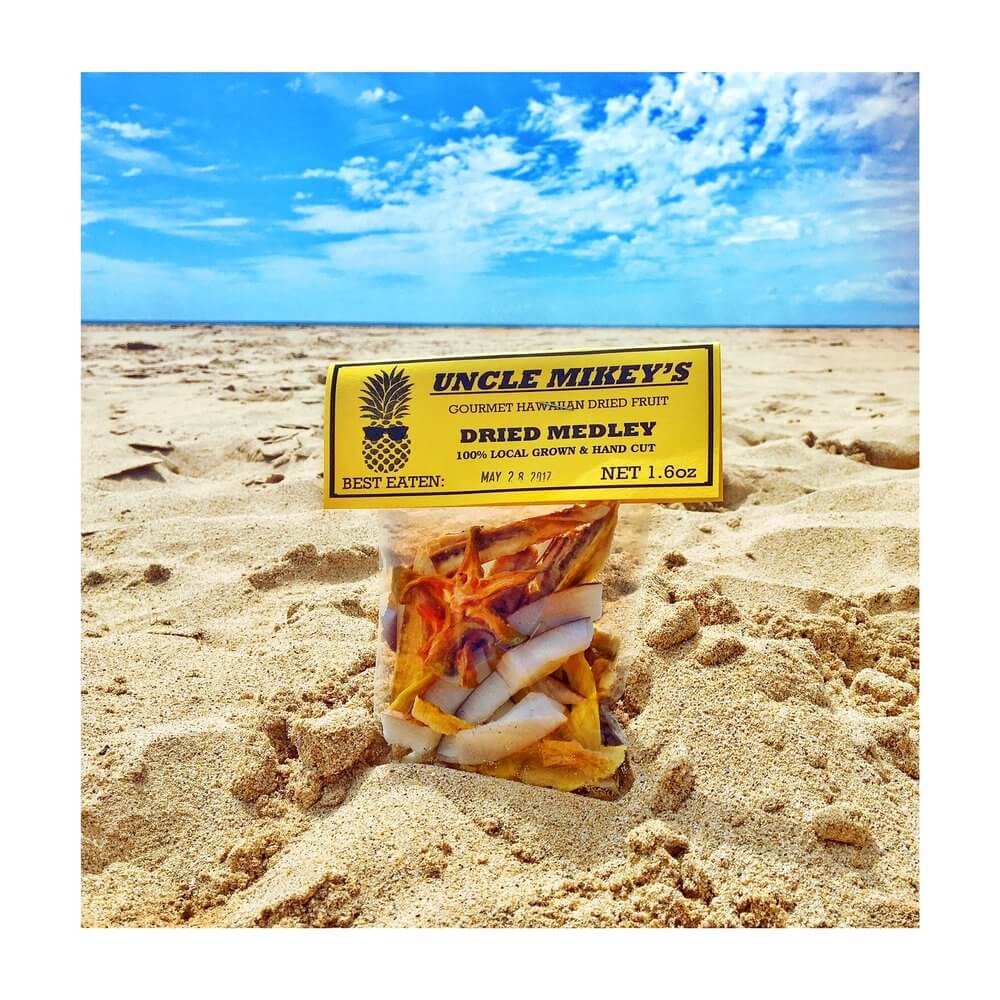 The flavors taste just like they do when they are fresh. He's got a dried fruit mix with papaya, mango, pineapple, Kauai's famous apple bananas, and coconut that is incredible! And it's not leathery or gummy.
He also sells some coconut candy that I swear is addictive. So good!
You can find Uncle Mikey's Dried Fruit at Foodland in Princeville, ABC Store in Kapaa, Aloha Juice Bar in Hanalei, the Healthy Hut in Kilauea, and the Kauai Store in Kapaa.
Book a Family Photo Shoot
Whenever we travel to Hawaii, we almost always book a family photo shoot with Flytographer. They are super easy, affordable, AND it guarantees that I'll be in some photos. You can get $25 off if you book through this link or use the code HAWAIITRAVEL.
6. IVY & CO T-SHIRTS
One of the trendiest places to shop on Kauai is Warehouse 3540 in Lawai (near Poipu.) They have several adorable clothing boutiques, but my favorite is Ivy & Co.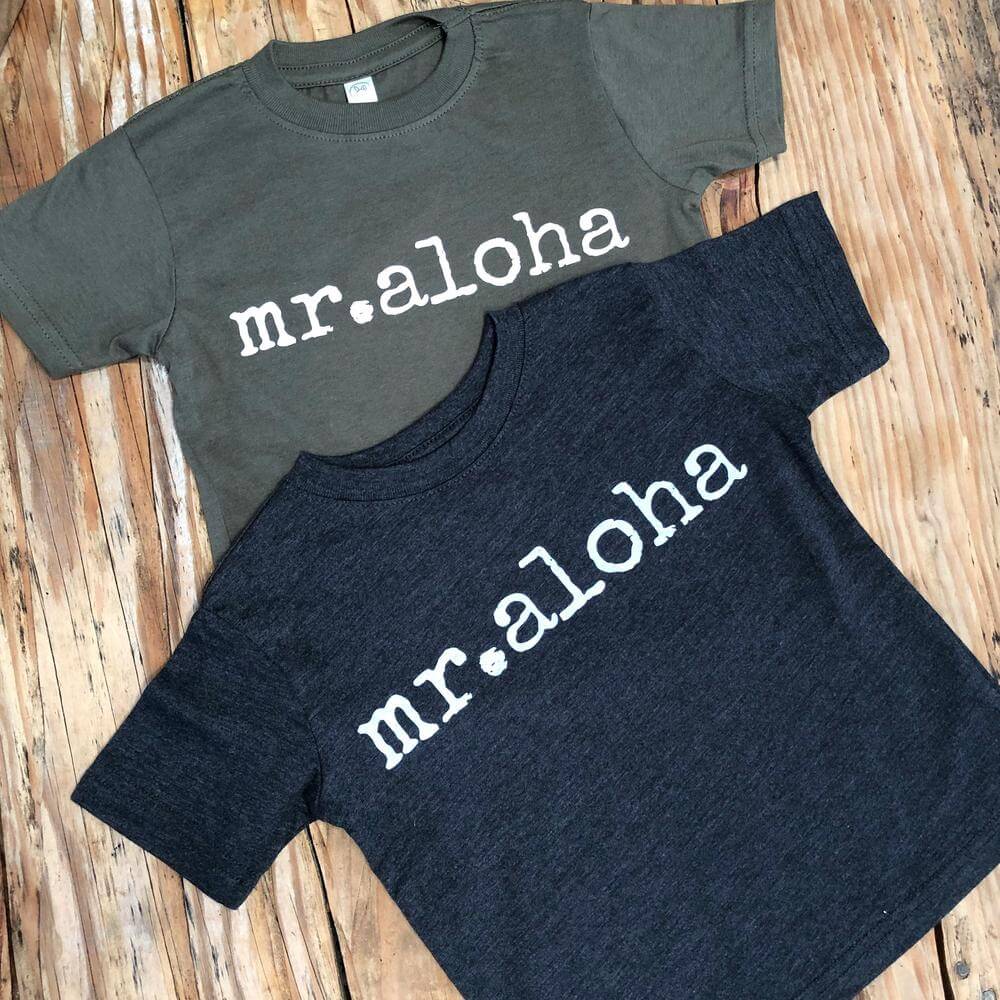 The whole shop is filled with retro-inspired Hawaiian items that are hip and feel special. It's a small operation and they use another local Kauai business to do their screen printing.
They sell the cutest shirts for men, women, and children with simple messages like "Mr. Aloha," "Wahine," "Kaua'i," and "Mahalo."
You can also find baby products, head wraps, pins, stickers, home decor, and more!
They recently moved to only an online store, but it's easy to purchase.
7. MONKEYPOD JAM
If you are looking for gourmet Hawaiian preserves that will knock the socks off of your foodie friends, head straight to Monkeypod Jam on Kauai.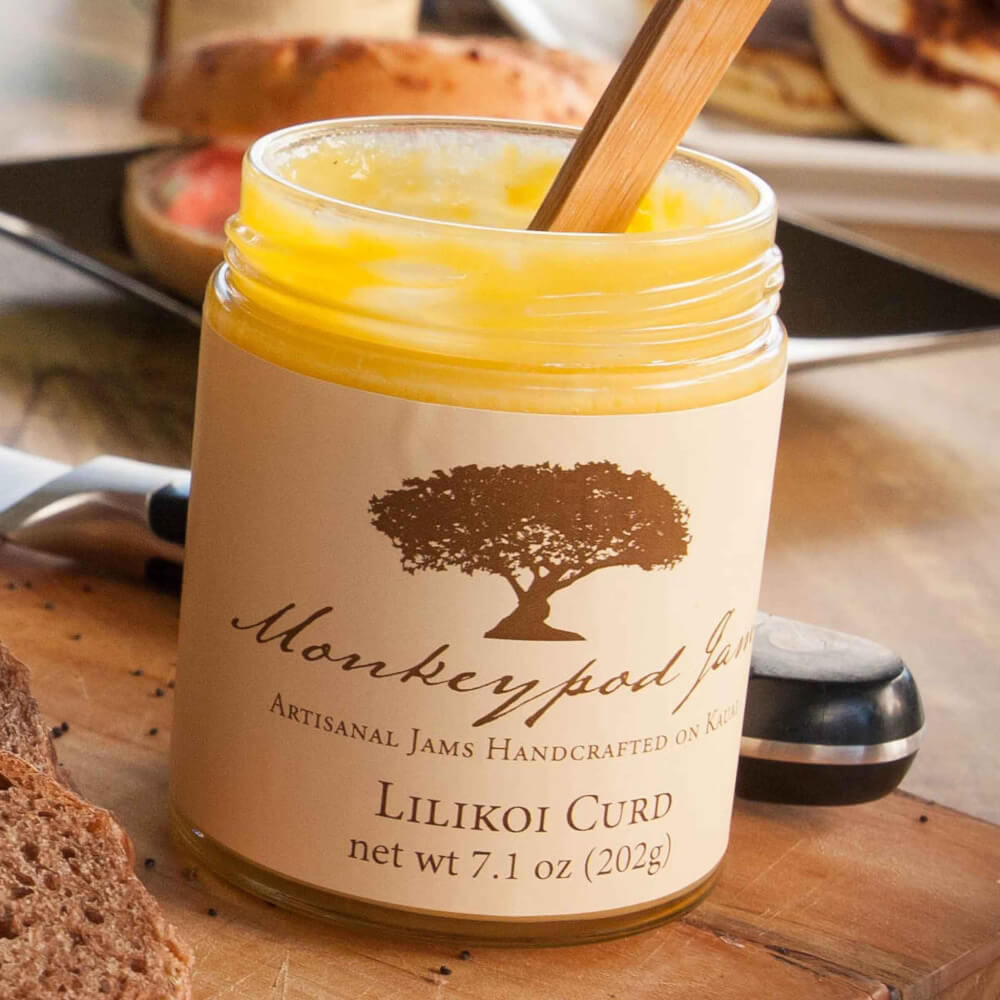 They offer products like Lilikoi (passion fruit) Curd, Tahitian Lime Curd, White Pineapple Jam, Mango Chipotle Jam, Calamansi Curd, Pink Grapefruit Marmalade, and more.
Monkeypod Jam is truly a local Kauai business. They work with more than 25 Kauai farmers to create 55 seasonal preserves. And they only use fruit from Kauai, so it truly is Kauai-made, through and through.
If you head to their website, they also offer recipes using their curds, chutneys, and jams, plus you can join their Jam Club.
8. LUCKY WE LIVE HAWAII PRODUCTS
If you are on Instagram as much as we are when planning your trip to Hawaii, you've probably come across the hashtag #luckywelivehawaii.
Lucky We Live Hawaii is a clothing and lifestyle brand where all the items are designed in Hawaii.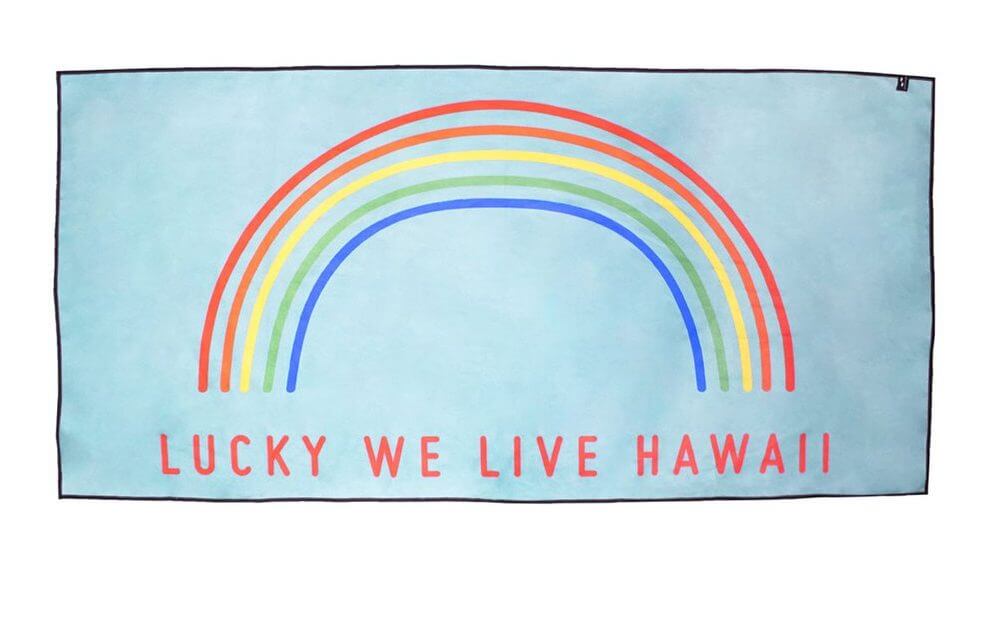 I'm currently obsessed with their travel towels because they have fun designs on both sides and they are perfect for beach days. Plus, they pack up compactly for the flight home.
You can find Lucky We Live Hawaii products on Kauai at The Aloha Exchange, Sand People, Kayak Hanalei, and Work it Out.
9. KAUAI COFFEE
For some truly Made on Kauai coffee, head to the Kauai Coffee Plantation.
They sell 100% Kauai coffee in delicious flavors like Coconut Caramel Crunch, Vanilla Macadamia Nut, and Hawaiian Chocolate Macadamia Nut.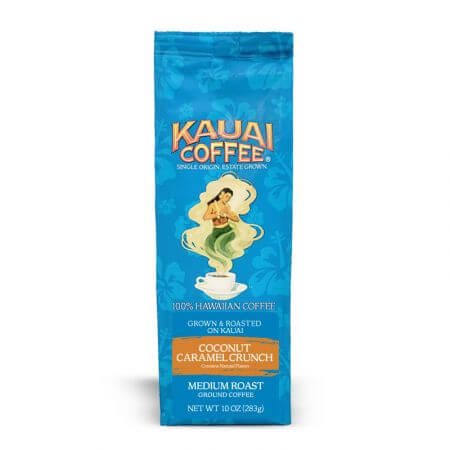 But, they also sell regular coffee as well as 100% Estate Reserve Coffee, which is custom roasted. They even have K-cup pods available.
The Kauai Coffee Estate is the largest coffee farm in the U.S. and they offer both free walking tours and paid farm tours, so it's worth a visit. Plus, they have one of my favorite gift shops on Kauai. You can also take a Kauai Coffee farm tour.
But, if you can't make it to the Estate, you can find Kauai Coffee just about anywhere on Kauai including Kauai grocery stores, Walmart, ABC Stores, and Long's Drug.
It seriously is the best Kauai coffee and one taste will instantly transport you to the islands!
10. SALTY WAHINE
If you watch any cooking shows, you know Hawaiian sea salt is all the rage. And Kauai has salt ponds where families harvest 100% Kauai-made sea salt.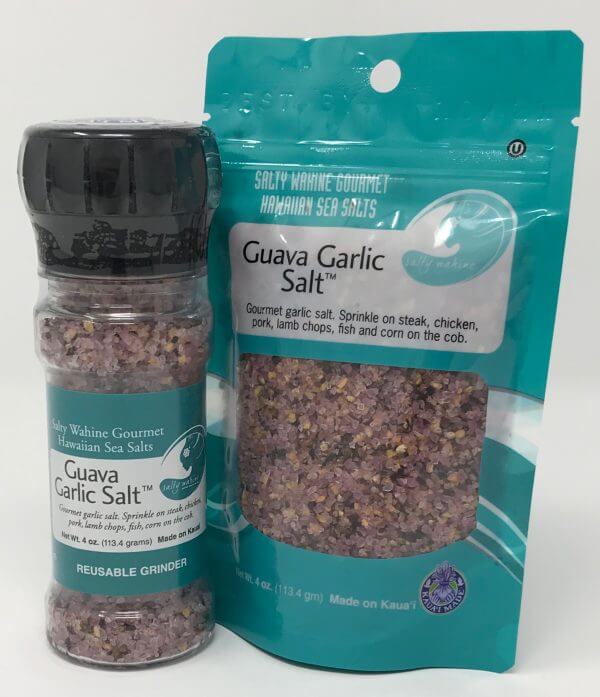 Salty Wahine is a locally owned company that specializes in gourmet Hawaiian salt, steak rubs, poultry seasonings, and more using Kauai sea salt. But it doesn't stop there.
Those with a sweet tooth might want to pick up a bag of their specialty sugars like Coconut Cane Sugar, Ginger Sugar, Lychee Cane Sugar, or Passion Fruit Cane Sugar.
Head to their website for lots of tasty recipes using their products.
Plus, you can feel good about buying Salty Wahine products because the family gives back to the community by donating products to more than 100 non-profit charitable organizations.
11. THE ALOHA EXCHANGE CLOTHING
One of the trendiest Kauai boutiques is The Aloha Exchange in Kalaheo and Kilauea.
They sell a lot of camping equipment, surfing essentials, and custom skateboards. But, they also sell their own line of popular shirts for men, women, and kids. Plus, amazing Hawaii lapel pins, hats, tote bags, and more.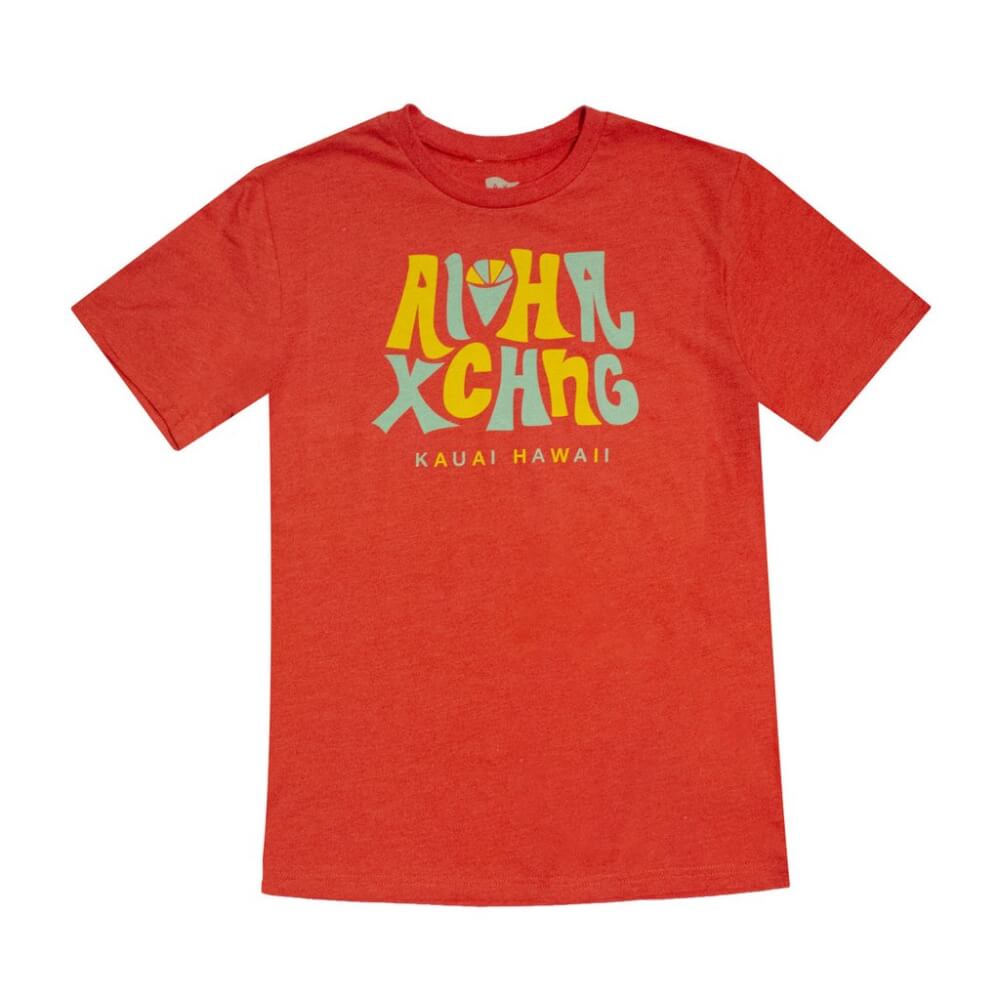 One of my favorite shirts is this Shave Ice Tee (they also sell a version in bubble gum pink.) I love the retro vibe and it's all about Kauai shave ice, so what's not to love?
12. ANYTHING BAMBOO FROM CARILOHA
Bamboo clothing is super popular right now because it's eco-friendly, breathable, and unbelievably soft. Bamboo naturally repels odors and allergens, making it a great choice for families.
While I've purchased several Cariloha bamboo t-shirts from them throughout the years (they hold up so well!) they also have a line of bamboo sheets and towels.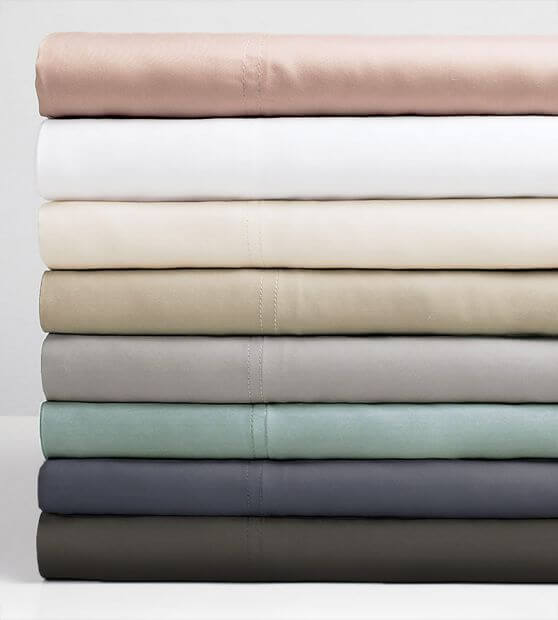 Yes, it might seem crazy to buy linens as a Kauai souvenir, but once you feel them, you'll understand. They have oversized towels that are simply luxurious and their sheets just get softer and softer over time.
There's a Cariloha shop in Poipu Village, Anchor Cove, and the Coconut Marketplace on Kauai. And you can have everything shipped home, saving you space in your suitcase!
13. KOLOA RUM
For the ultimate Kauai souvenir, head to Gaylord's Plantation to pick up some Kauai-made Koloa Rum. In fact, you can sign up for a free rum tasting in order to choose the right bottle.
Koloa Rum is special because it's made from real Hawaiian sugar cane, rainwater from Mount Waialeale (the wettest spot on Earth) and it's twice distilled in vintage copper pots.
Some of their specialty rums include Kauai Coconut Rum, Kauai Spice Rum, Kauai Coffee Rum,
Pick up an extra bottle to enjoy cocktails on your lanai (or spike your shave ice!)
And for an extra special treat, bring home a bottle of their already mixed best Koloa rum cocktails including Koloa Hawaiian Mai Tai, Koloa Hawaiian Rum Punch, or Koloa Hawaiian Pineapple Passion Rum Cocktail.
14. KAIKINI BIKINIS
Have you ever wanted a custom-made bikini? Kaikini Bikinis on Kauai can do that for you. They even offer Mommy & Me bikini sets!
These custom bikinis are handmade by women on Kauai, so you're supporting the community.
They also sell pre-made bikinis in a variety of styles and prints. You can find Kaikini Bikinis at Shipwrecked Kauai, The Bikini Room, and A.Ell Atelier.
What's awesome about buying a bikini as your Kauai souvenir is that it's something you can use immediately on your trip to Kauai as well as future vacations anywhere near the ocean or pool.
Plus, everyone has room to pack a bikini!
15. ANAHOLA GRANOLA
Lastly, something that has been one of the most classic Kauai souvenirs for decades is the world-famous Anahola Granola. It's the original Hawaiian granola and it's so tasty!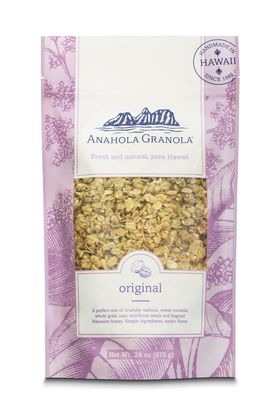 They come in Original, Tropical, Mango Ginger, and Trail Mix. It's a solid breakfast cereal, or you can sprinkle it on top of yogurt, or simply eat right out of the bag.
They also sell granola bars in Original, Chocolate Chip, Tropical, and Mango Ginger. Perfect for eating as you explore Kauai or on the plane ride home.
You can find Anahola Granola in any Kauai grocery store, resort gift shop, and even Costco!
What Are the Most Unique Hawaiian Gifts on Kauai?
When it comes to gifts from Hawaii, you may be wondering what the most unique gifts out there are. There are Hawaiian gifts out there like leis and music that are so traditional and fun.
Really, anything that you buy from Kauai that is unique will be a great gift.
Be aware though, there are places that mass produce Kauai souvenirs and sometimes these aren't as special. But, if you see something you really want, go for it!
Read my full post on amazing Hawaiian gift ideas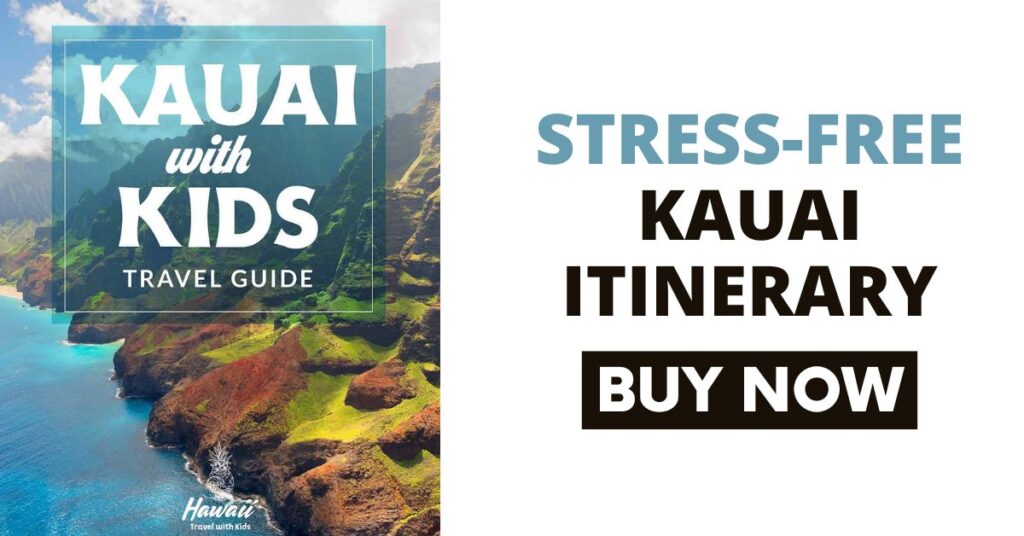 Best Shopping in Kauai Wrap Up
These are just some of the best Kauai souvenirs that would make for a great gift for yourself or for your loved ones.
Where there aren't many Kauai shopping centers or Kauai gift shops, there are plenty of places to find unique Hawaii gifts you'll treasure!