Looking for the perfect surfing gifts for someone who would rather ride the waves than just about anything on Earth? Scroll down to get my top gifts for a surfer they will LOVE!
This post about the best surfing gifts for him and her contains affiliate links which means if you purchase something from one of my affiliate links, I may earn a small commission that goes back into maintaining this blog.
The holidays are coming up and that's always the time when people start wracking their brains to come up with unique gift ideas for the people they love.
One of the best ways to do that is by thinking about their hobbies, interests, and where they like to travel.
Because this site is ALL about Hawaii, I've been pulling together Hawaii gift guides to help showcase some of the awesome Hawaiian gifts out there.
I've already written about cute pineapple gifts, Hawaiian children's books, how to choose the best kids ukulele, Hawaii gifts for her, Hawaiian toys for kids, Hawaiian ornaments, and Hawaiian Christmas decorations.
But, I've been missing something: SURFING!
Surfing is such a big part of Hawaii life and has been for generations. That's because Hawaii is the birthplace of surfing.
So, if you really want to impress the surfer in your life, choose a surfing gift from Hawaii!
Keep scrolling to find the best surfing gifts for him, her, kids, and awesome stocking stuffers for surfers. And you'll find plenty of gifts for surfers under $50!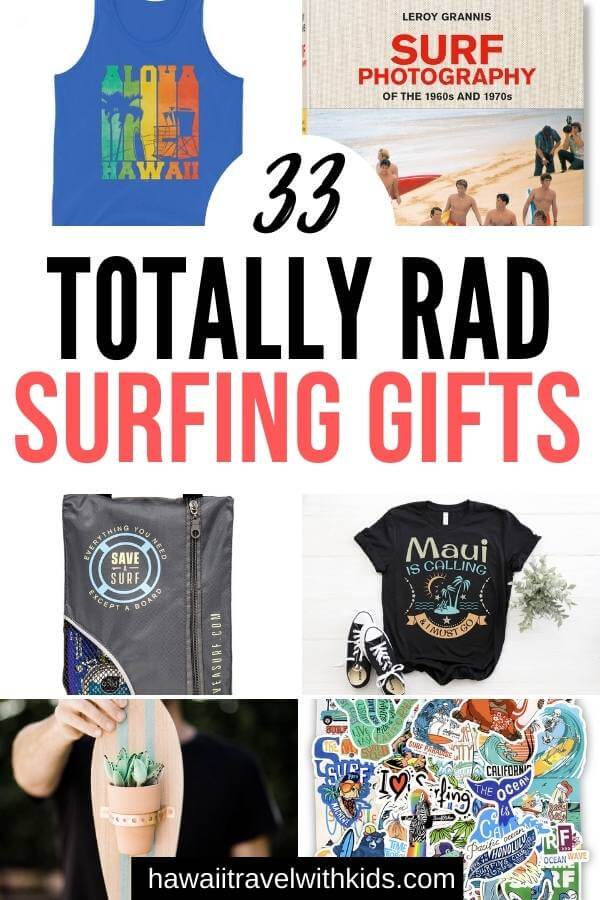 Surf Gifts FAQs
What should I buy for surfing?
If you are buying a gift for a surfing newbie, here are a few items they will need: a surfboard, a surfboard leash, a board bag, and surf wax. Surfers also need rashguards, swimsuits, and wet suits (if surfing in cold water.)
What's the best surf wax?
There are tons of surf wax brands out there and people have varying opinions on which one is best. Always remember that while there are big surf wax brands (like Mr Zog's Sex Wax), you can also find small batches of homemade surf wax and boutiques and on Etsy that might be incredible.
Who is the most famous Hawaiian surfer?
Everyone in Hawaii knows who Duke Kahanamoku was. In fact, there's an awesome statue of him right in Waikiki that's a huge tourist attraction.
33 Totally Awesome Surfing Gifts
Surfing Gifts for Him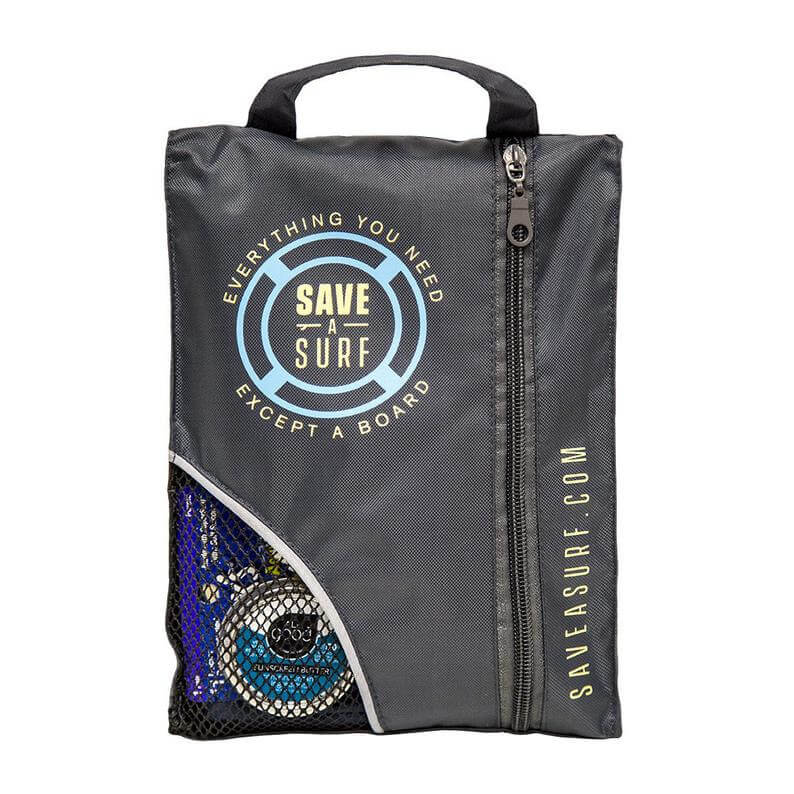 If you're planning on surfing in Hawaii, this is the ultimate surfing accessory kit! It has a bar of Rob Machado's Eco Friendly TROPICAL/BASE wax, a changing towel, earplugs, fin screws, leash cord, and sunscreen all in a zipper pouch that fits in a glove box!
Buy this surfer gift on Etsy
BUY ON ETSY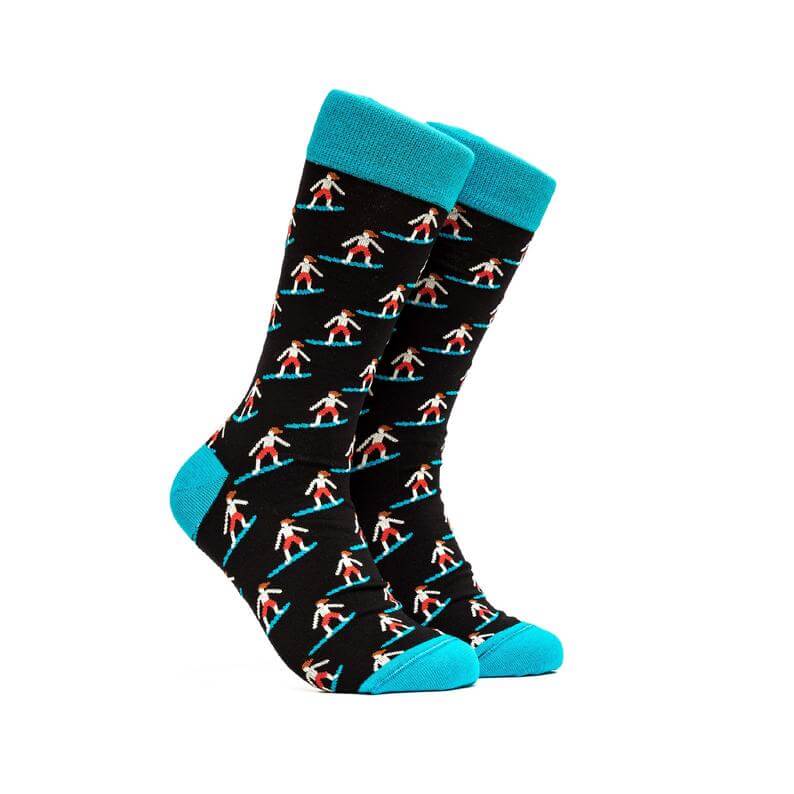 Fun socks have been trendy for quite awhile and that trend doesn't seem to be going anywhere, so dive in! These adorable surfer socks make great groomsmen gifts or they are perfect for birthdays, Valentine's Day, or holiday gifts.
These are some of the most unique gifts for surfers and are sure to be a conversation starter!
Buy these surfing socks on Etsy
BUY ON ETSY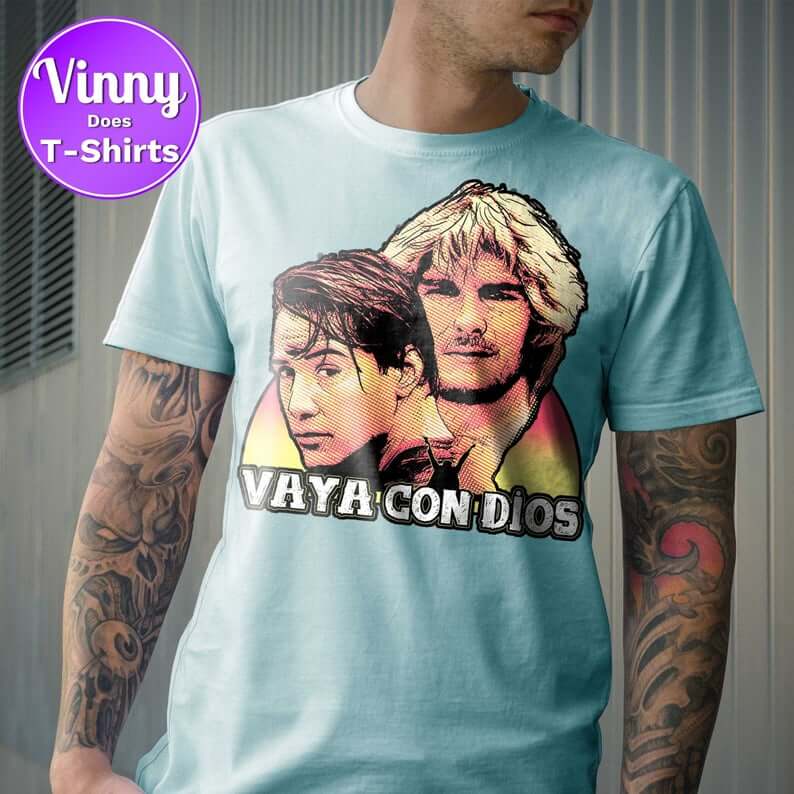 If you're running out of gift ideas for surfers, Point Break is a classic 90s surfer movie and this shirt is pretty awesome! It features Keanu Reeves and Patrick Swayze and it makes an awesome BFF shirt.
They also have it in women's sizes here.
Buy this Point Break shirt on Etsy
BUY ON ETSY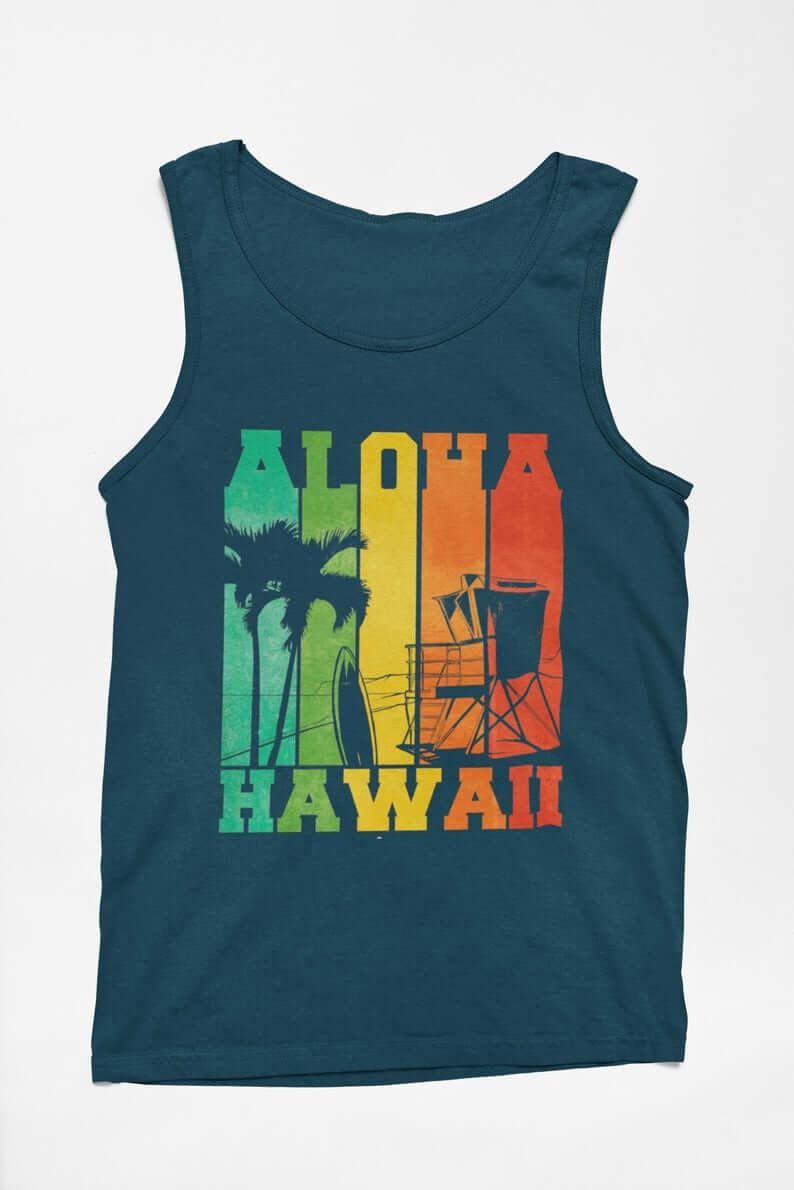 This is a super awesome throwback tank top that just oozes nostalgia. It's perfect for surfers who've experienced true Hawaii surfing or ones who have it on their bucket list.
Buy this retro Aloha Hawaii tank top on Etsy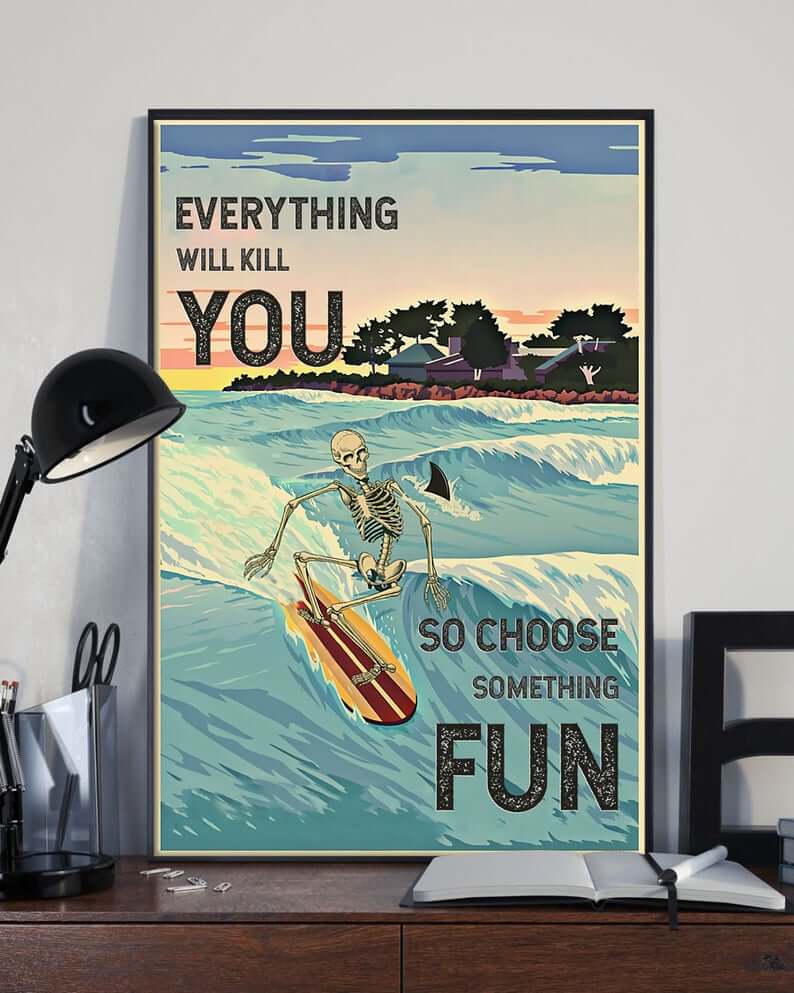 If you're looking to dress up a teen bedroom, dorm room, or bachelor pad, this surfing skeleton poster is pretty rad. I especially love the detail of the shark fin in the water!
Buy this surfing skeleton poster on Etsy
BUY ON ETSY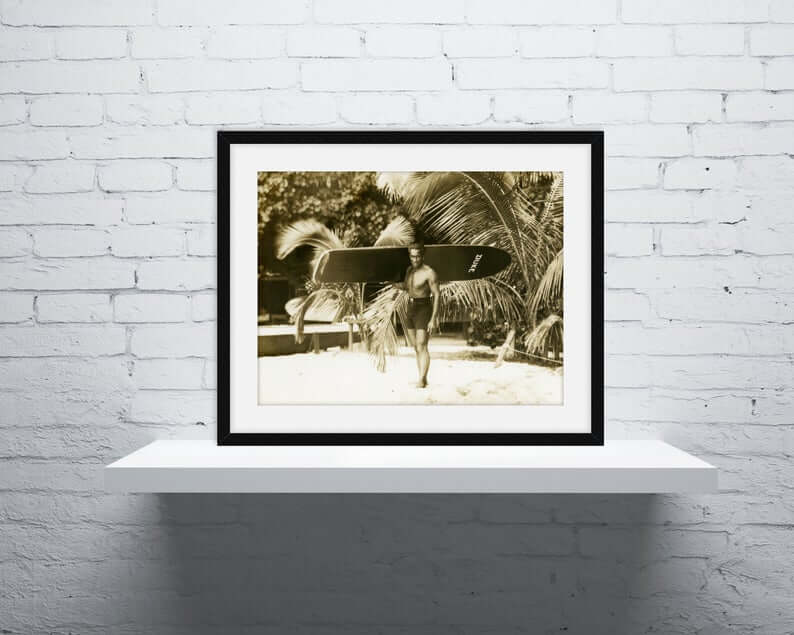 When you think of Hawaiian surfers, it doesn't get more iconic than Duke Kahanamoku. He's a surfing legend. Any legit surfer will go gaga over this photo of Duke Kahanamoku holding his surfboard in Hawaii.
Plus, it's retro-chic and would look great in any home. It's definitely one of the best presents for surfers.
Buy this Duke Kahanamoku surfing photo on Etsy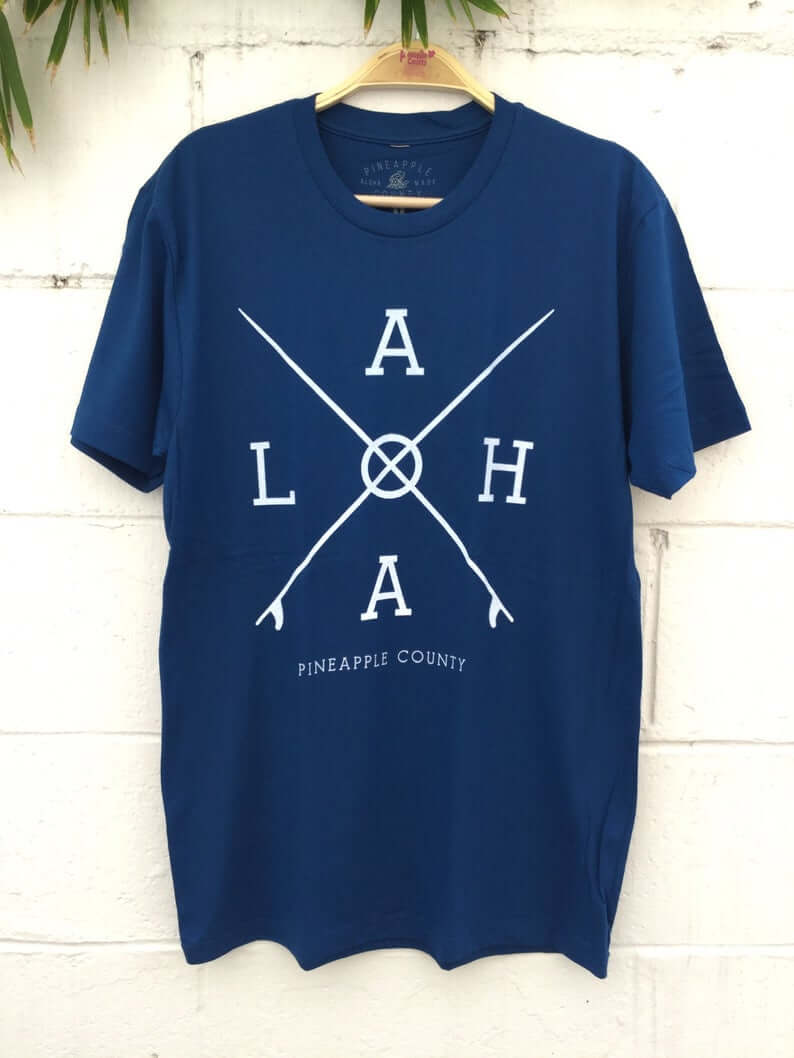 Support a local Hawaii business by purchasing this awesome Pineapple Country surfing t-shirt. These original designs are made and shipped from Hawaii and come in a few different colors.
They have lots of really cool designs and make awesome surf gifts!
Buy this surfing t-shirt on Etsy
BUY ON ETSY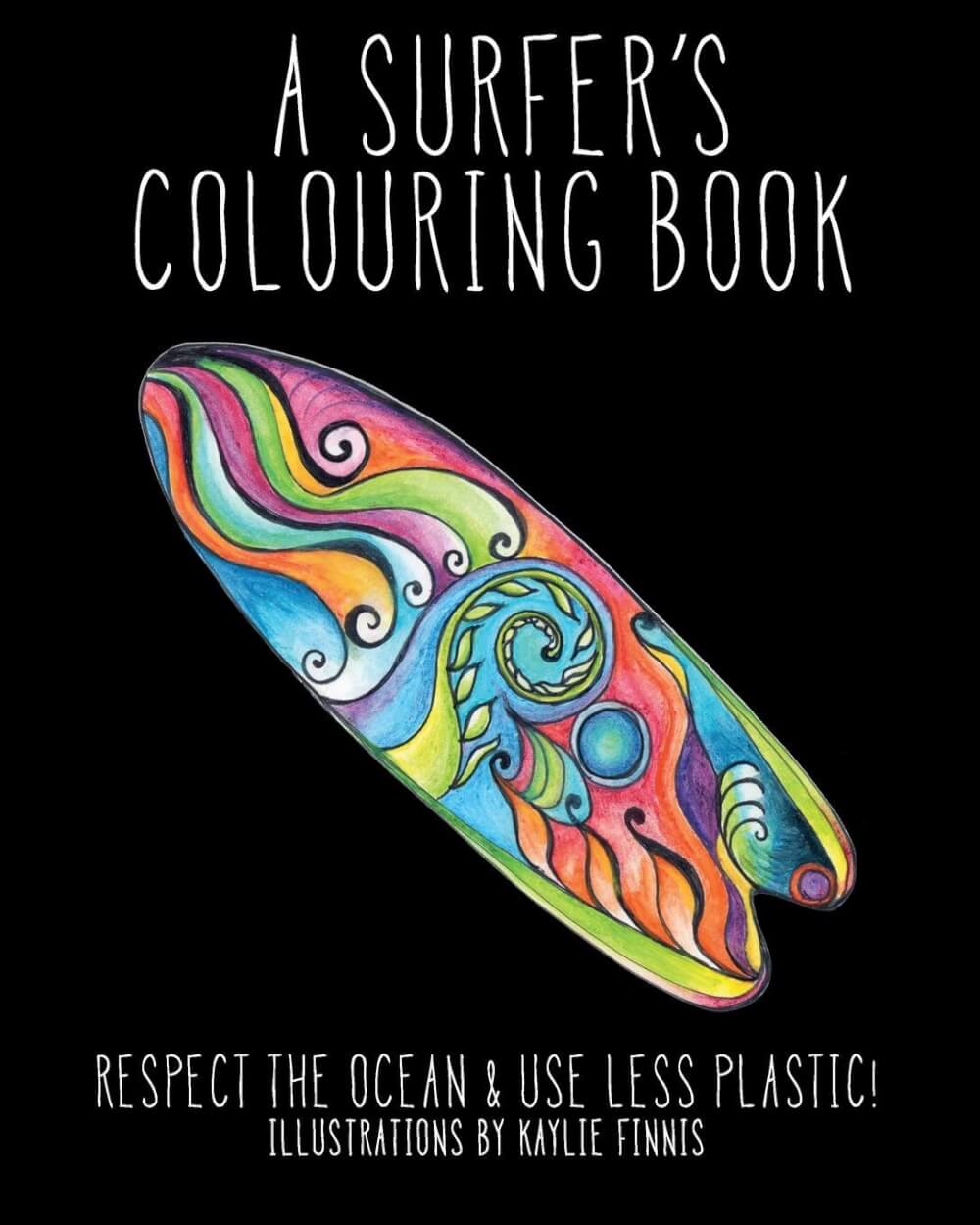 Unique surfer gifts for him can include coloring books. Over the years, we've learned one of the best ways to relieve stress (besides surfing) is with adult coloring books.
This one is pretty cool because it features top surfing spots across the world, like Hawaii, New Zealand, and Tahiti.
Buy this surf coloring book on Amazon
BUY ON AMAZON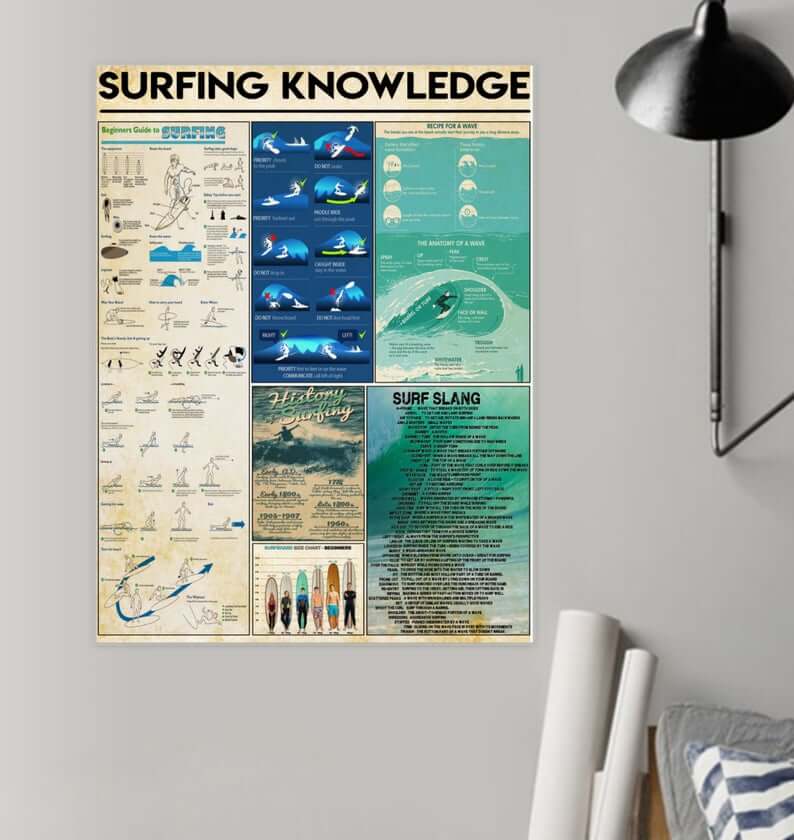 Both beginner and expert surfers will appreciate this poster that highlights things every surfer should know. It's got a cool, retro vibe and is the perfect addition to any room!
Buy this surfing poster on Etsy
BUY ON ETSY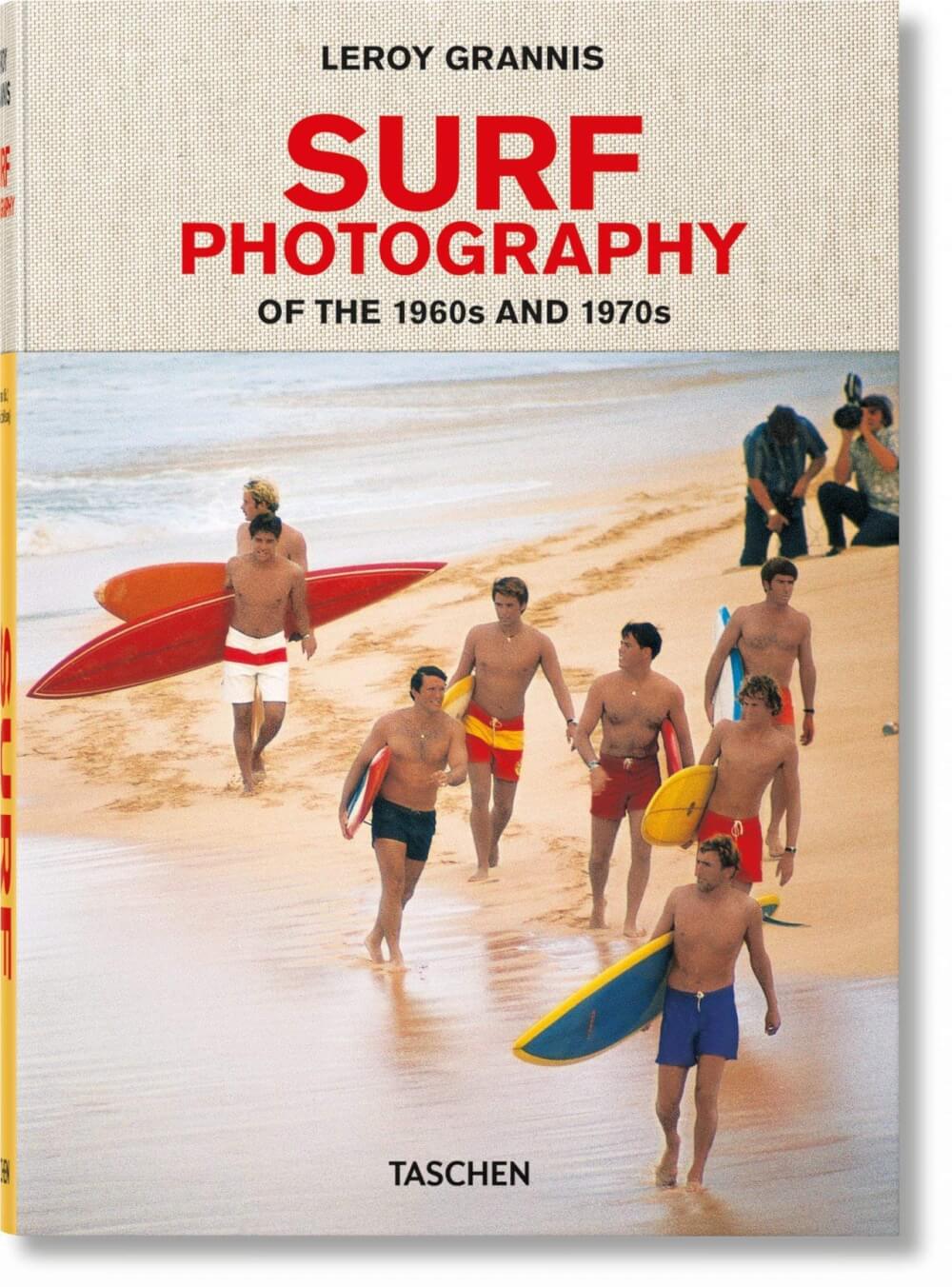 This gorgeous coffee table book features stunning photos of surfers in the 1960s and 1970s. It would look great in any surf themed room.
Buy this surf photography book on Amazon
BUY ON AMAZON
Surfing Gifts for Her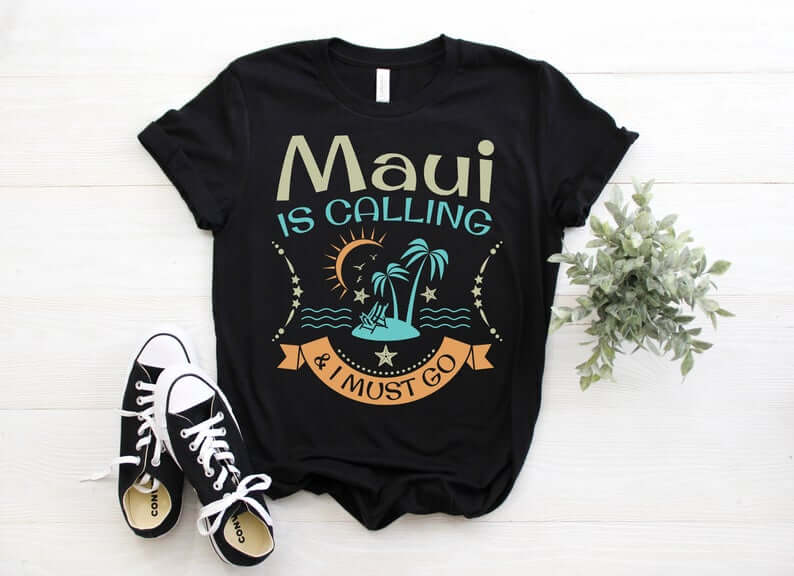 If you've ever been to Maui, you know exactly what this means. There's something about Hawaii that draws people back year after year.
This shirt actually also comes in men sizes and kids sizes and tank top or sweatshirt styles.
Buy this women's surf shirt on Etsy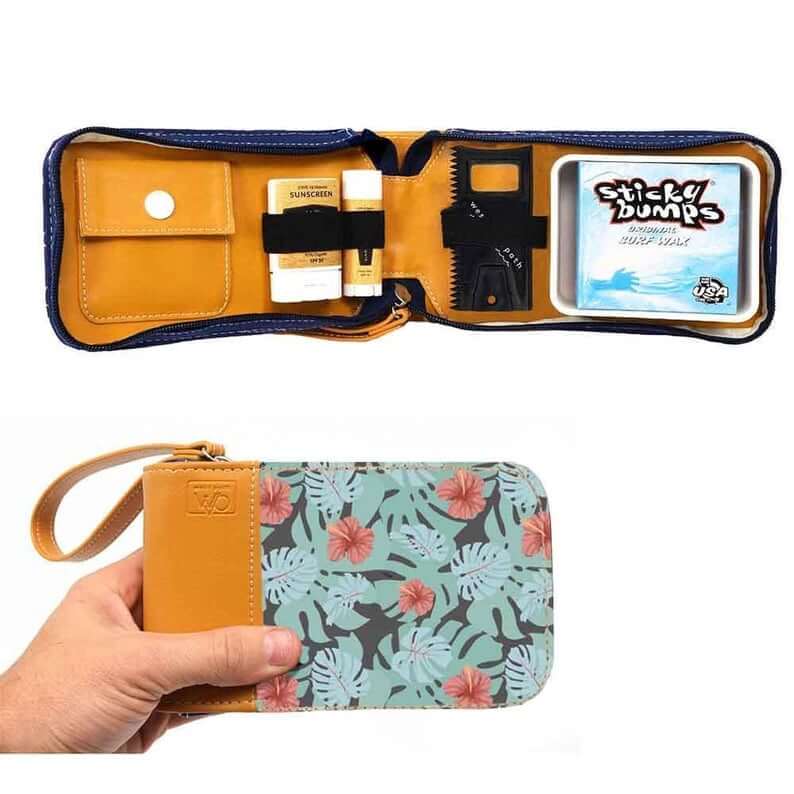 I'm a total sucker for Hawaiian prints and this min surf kit is just perfect. It comes stocked with natural sunscreen (for face and lips), organic surf wax, and mess-free wax storage all in this water resistance clutch.
It's the perfect travel size!
Buy this women's surf kit on Etsy
BUY ON ETSY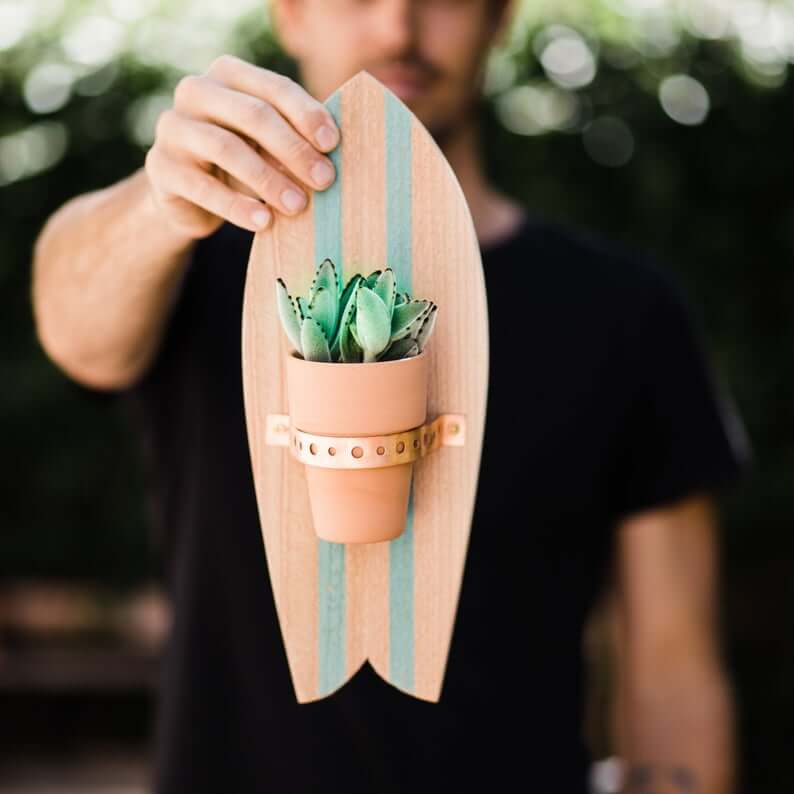 Okay, how seriously adorable is this plant holder? It would look awesome in a teen girls room, a dorm room, or even a first apartment or beach bungalow.
It's good for indoor or outdoor use and will add a hint of Hawaii to any room.
Buy this surfboard plant holder on Etsy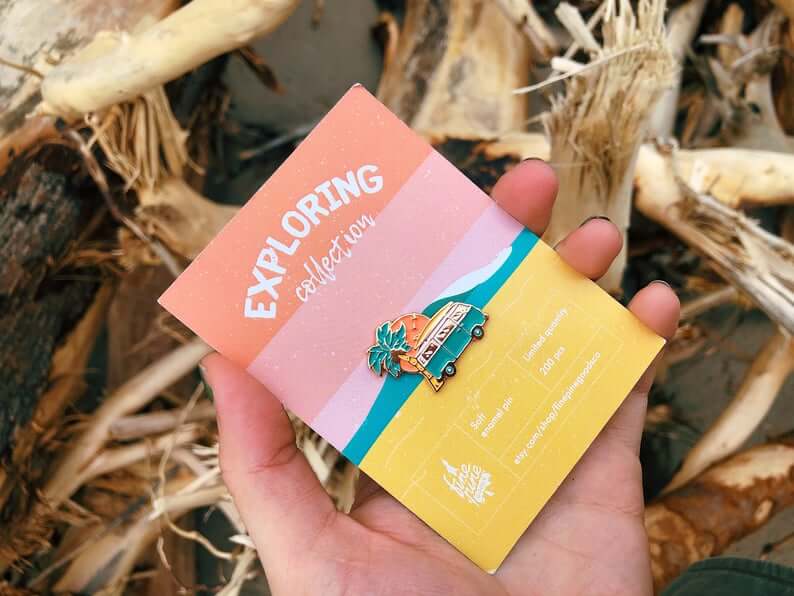 Lapel pins are one of the coolest gifts for women. They can put it on jackets, bags, hats, and just about anything.
It's such a fun way to personalize your items and showcase a love of surfing.
Buy this Hawaii lapel pin on Etsy
BUY ON ETSY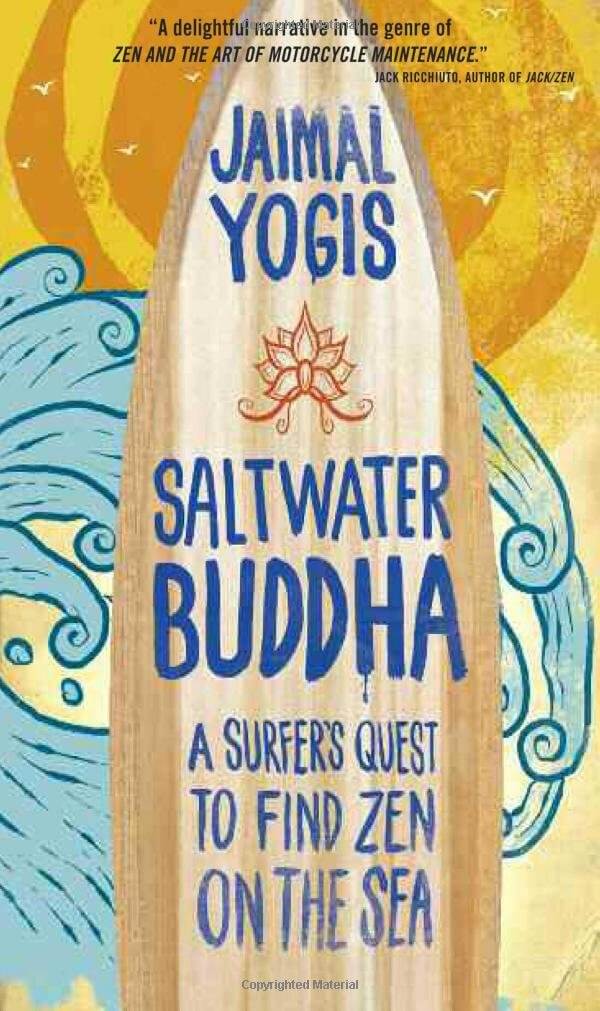 This is a spiritual, coming of age story of a teen who runs away to learn how to surf in Hawaii.
It's all about finding peace and tranquility in surfing and would be a great book to read on the flight to Hawaii.
Buy Saltwater Buddha on Amazon
It's always fun to find custom gifts for friends or family.
These Hawaiian pajamas look super comfy, plus you can personalize it with someone's name or use them as Hawaii bridal gifts.
Buy these custom Hawaii pajamas on Etsy
BUY ON ETSY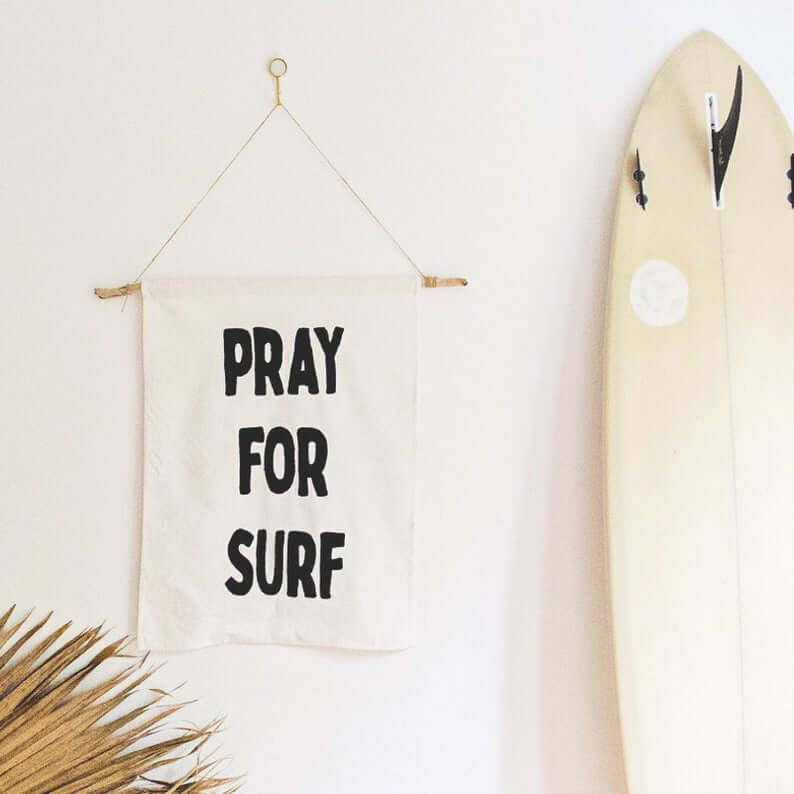 I love the simplicity of this surf wall hanging. It would look great in any home that has a boho chic vibe.
I also think it would be super cute in a surf-themed baby nursery.
Buy this Pray for Surf wall hanging on Etsy
BUY ON ETSY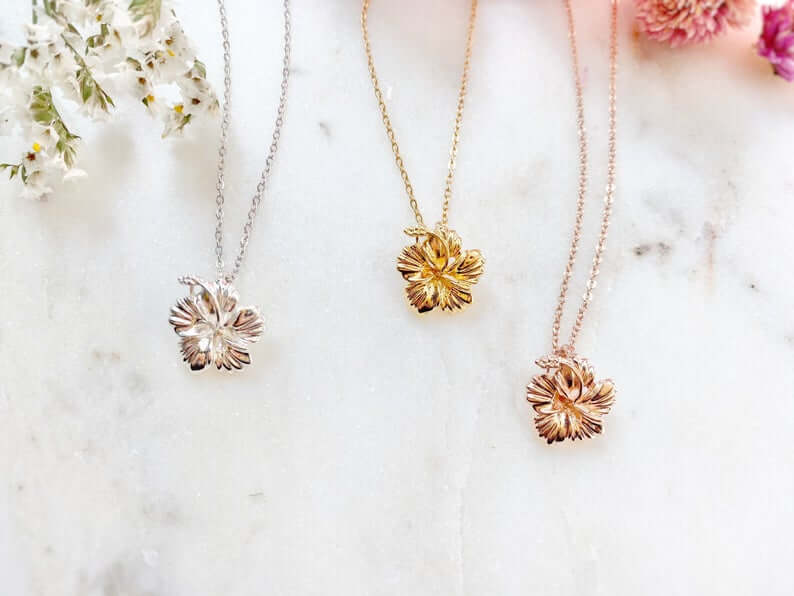 Showcase your love of Hawaii by wearing a necklace with Hawaii's state flower on it!
This sterling silver Hawaiian necklace is also available in Rose Gold over Sterling Silver and 18k Gold over Sterling Silver.
Buy this hibiscus necklace on Etsy
BUY ON ETSY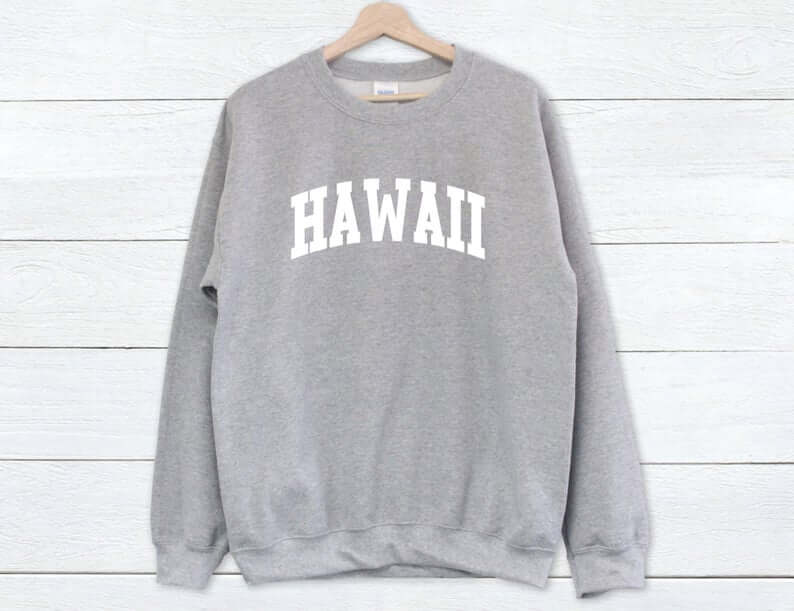 This Hawaii University sweatshirt is a medium thickness, so it's perfect for wearing all year long. It comes in a variety of colors and has a relaxed fit.
Trust me, any surfer girl will love this!
Buy this Hawaii sweatshirt on Etsy
BUY ON ETSY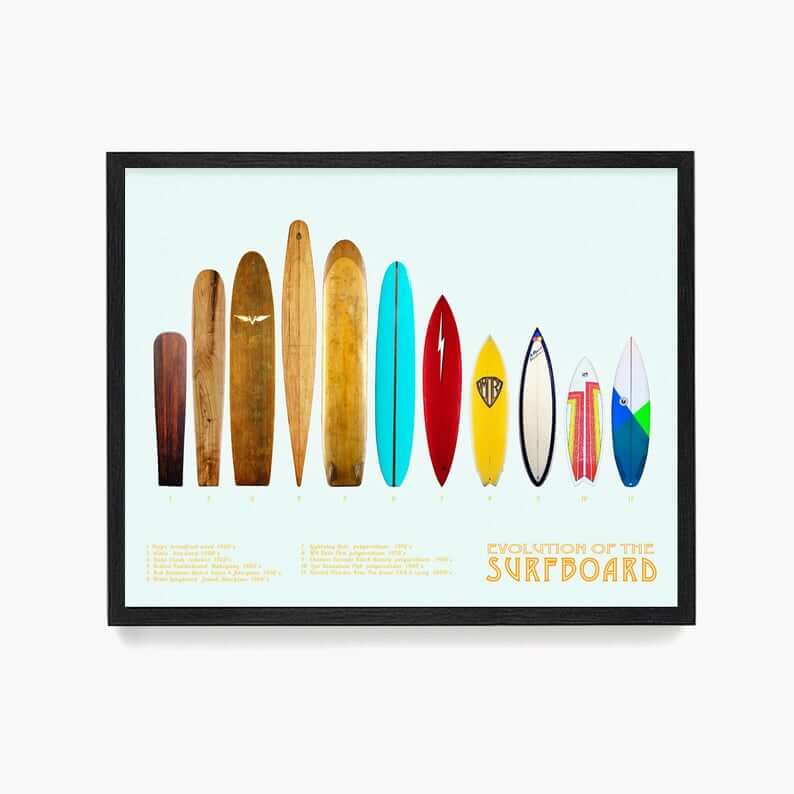 This brightly colored poster shows the evolution of the surfboard from ancient times to modern day.
It's a fun throwback and will impress both beginner and expert surfers!
Buy this surfboard poster on Etsy
BUY ON ETSY
Surfing Gifts for Kids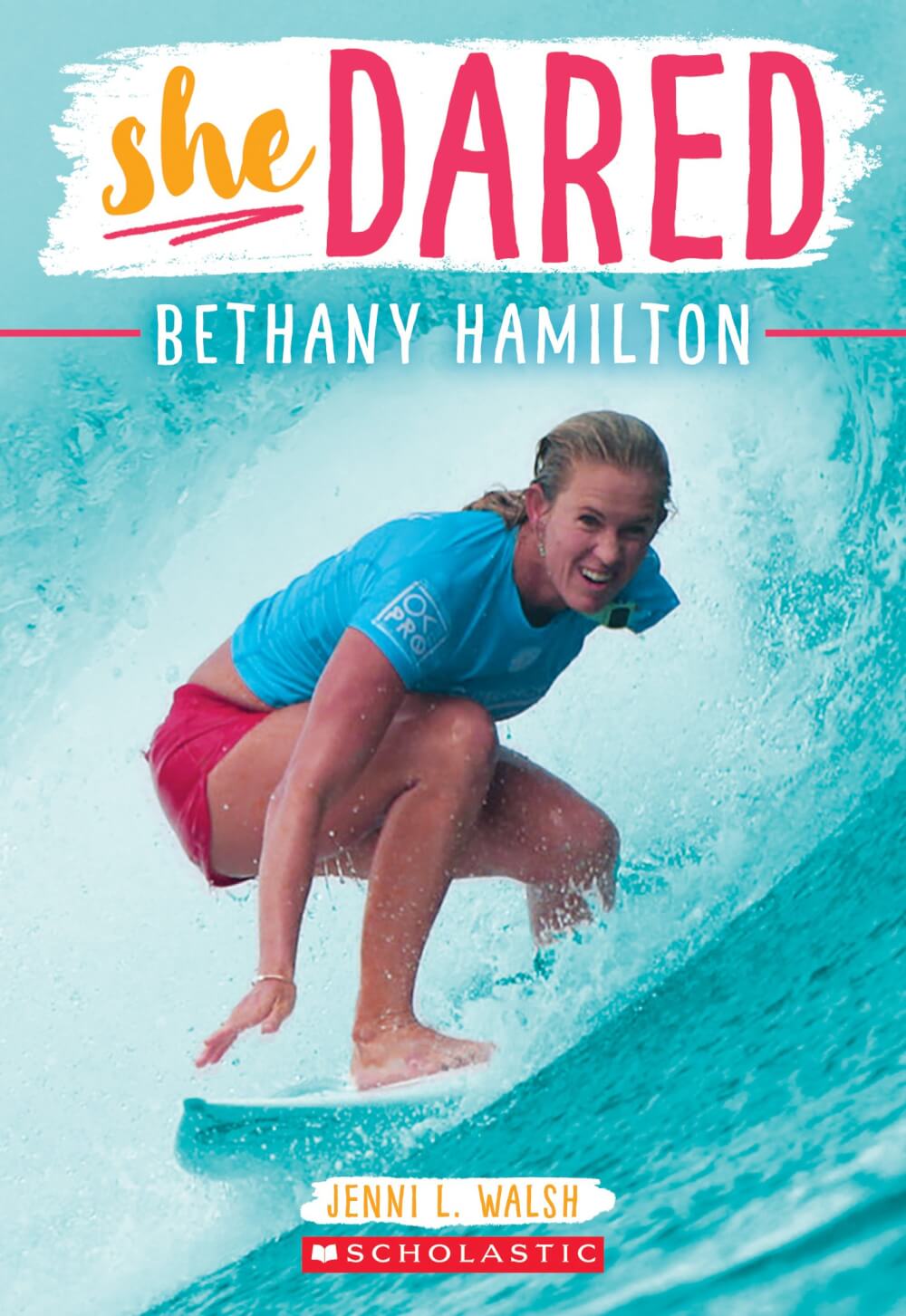 Bethany Hamilton is a Kauai surfer who lost her arm when she was 13 due to a shark attack while surfing.
This inspiring book is geared for kids in grades 3-5 and gives a good overview of surfing while talking about how her life changed.
Buy this kids surfing book on Amazon
BUY ON AMAZON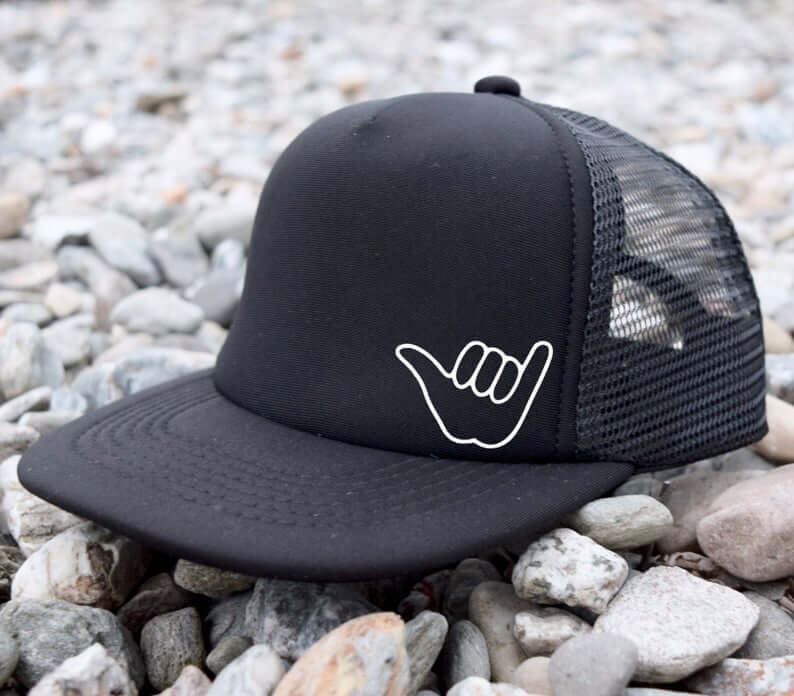 This cute hat comes in sizes for babies, toddlers, and kids of all ages.
It's a great way to shield their faces from harsh sunlight while also giving off a cool surfer vibe.
Buy this shaka kids trucker hat on Etsy
BUY ON ETSY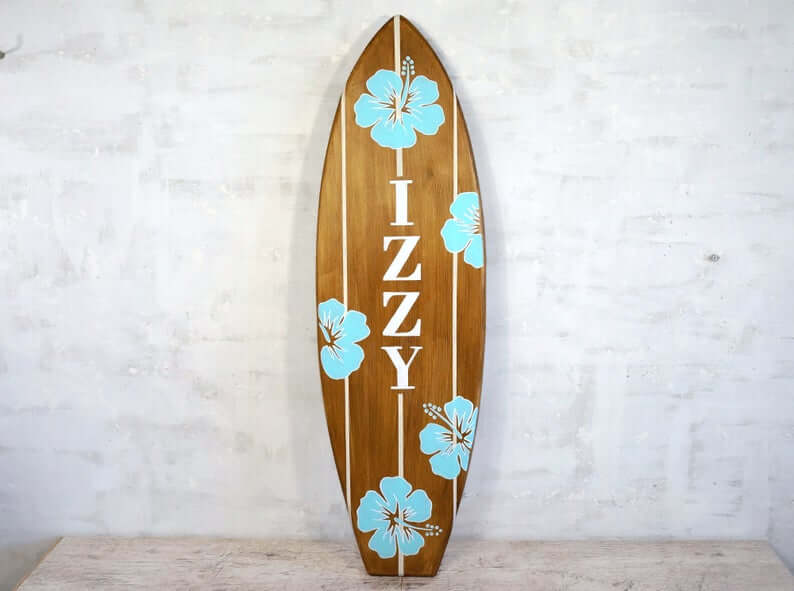 Kids love seeing things with their name on it. And they will flip out when they get a wooden surfboard with their name painted on it!
It's perfect for any surf themed bedroom.
Buy this wooden surf board wall art on Etsy
BUY ON ETSY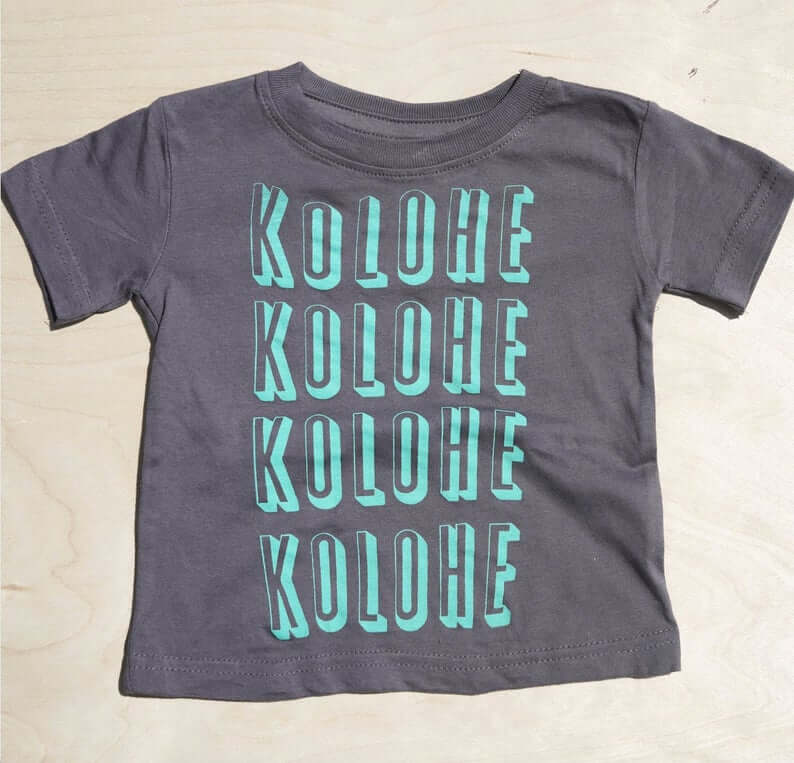 Kolohe is the Hawaiian term for "crazy" and this shirt is probably perfect for many kids you know!
Since it's in Hawaiian, it's a fun shirt to wear and see if anyone knows what it means!
Buy this kolohe Hawaii shirt for kids on Etsy
Surfing Gifts for Babies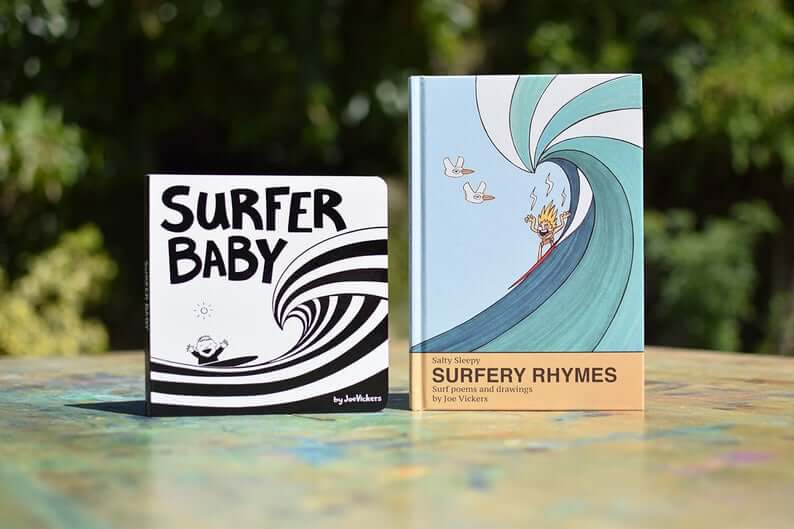 If you're looking for an awesome baby shower present or first Father's Day gift, these baby surf books are pretty cool.
Surfer Baby is one of those high-contrast books that are so important for babies. And the Surfer Rhymes is the ultimate bedtime book.
Buy these surfer gifts for babies on Etsy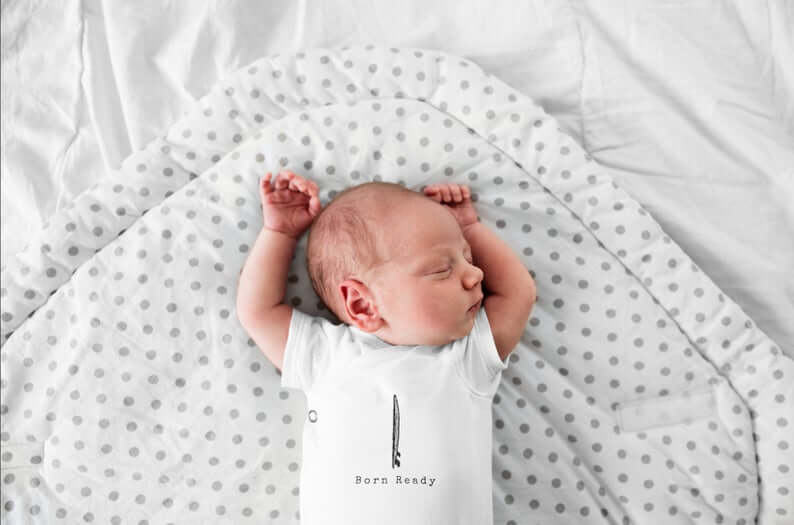 This adorable Hawaii baby onesie says "born ready" and is gender-neutral. It's a great baby shower gift to give to new parents who love to surf.
Buy this surfer baby onesie on Etsy
BUY ON ETSY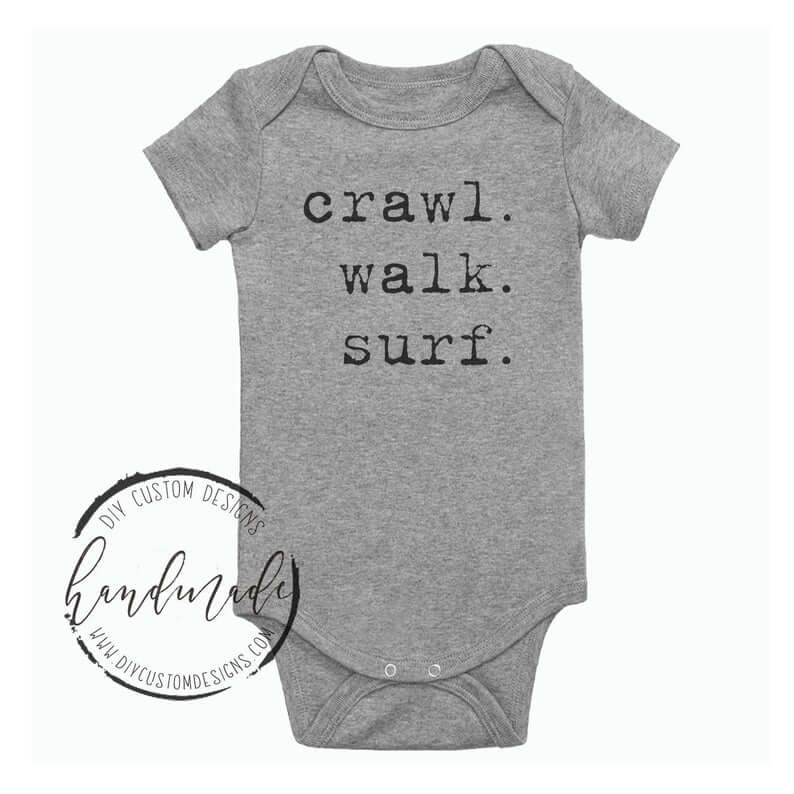 And since babies can never have too many onesies, I had to also include this one on the list.
It comes in a bunch of different colors and it would be super cute for baby photos in Hawaii!
Buy this surfing baby onesie on Etsy
Stocking Stuffers for Surfers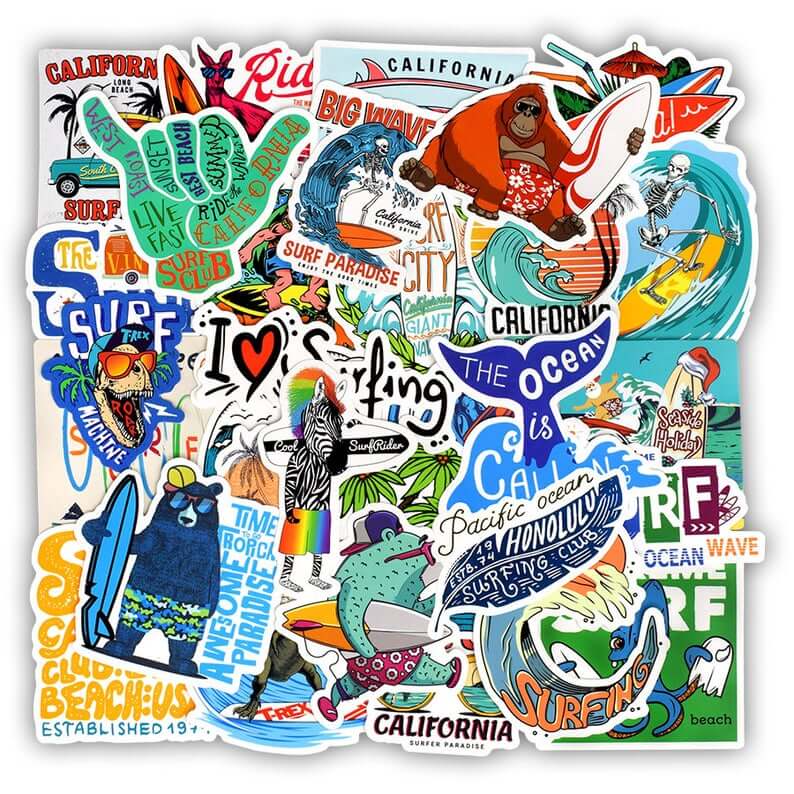 Kids, teens, and adults will go nuts over this pack of 50 surfing stickers that can be put on almost any surface. It's a great way to personalize a laptop, cell phone, surfboards, hard luggage, etc.
These vinyl stickers are both waterproof and have sun protection, so the possibilities are almost endless!
Buy these surf stickers on Etsy
BUY ON ETSY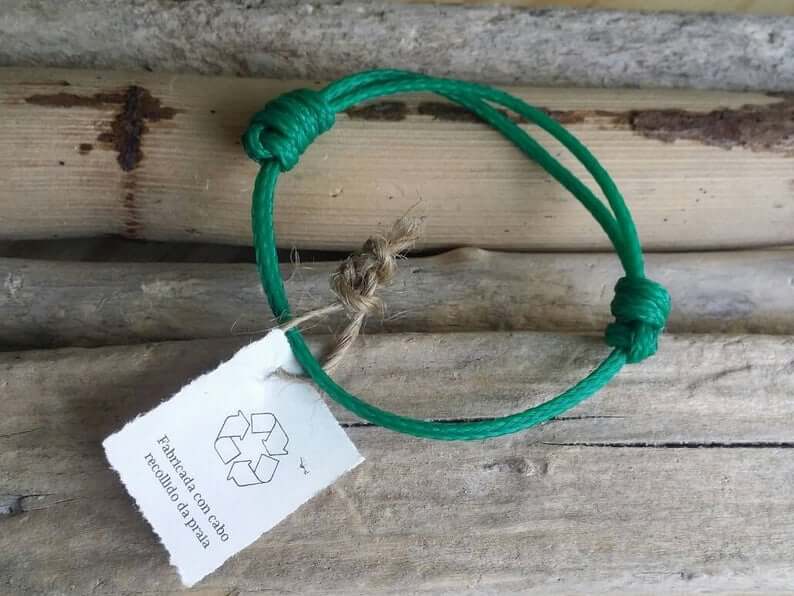 This upcycled gift is made with marine rope. It's a zero waste gift, plus it's eco-friendly.
And did we mention it's super cute and subtle for men or women?
Buy this surfer stocking stuffer on Etsy
BUY ON ETSY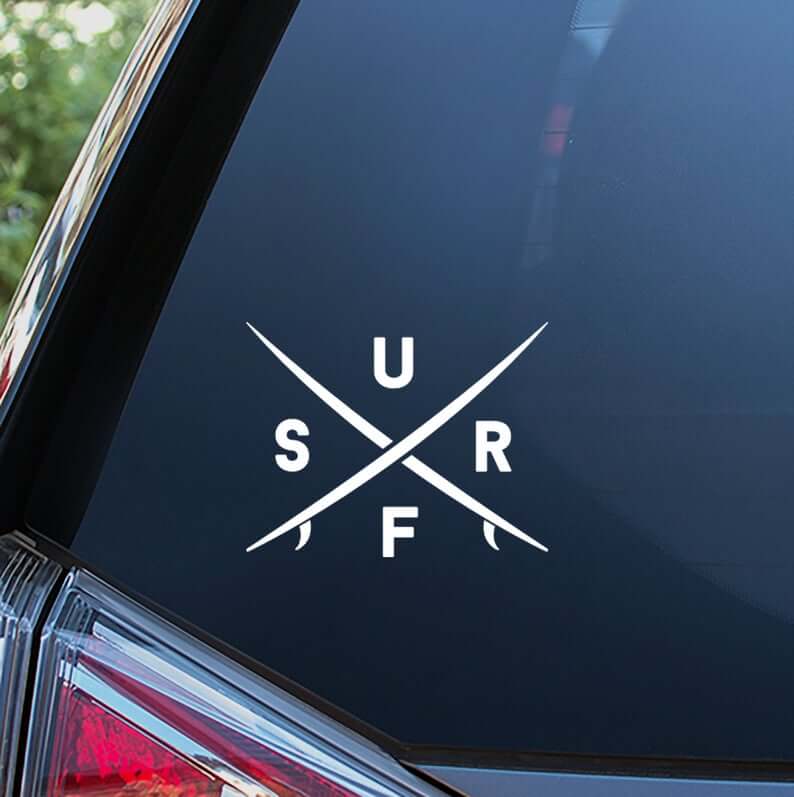 This surf car decal is awesome for someone's 16th birthday or if someone has just bought a new car. It's a fun (and cheap) way to personalize a car.
Buy this surf car decal on Etsy
BUY ON ETSY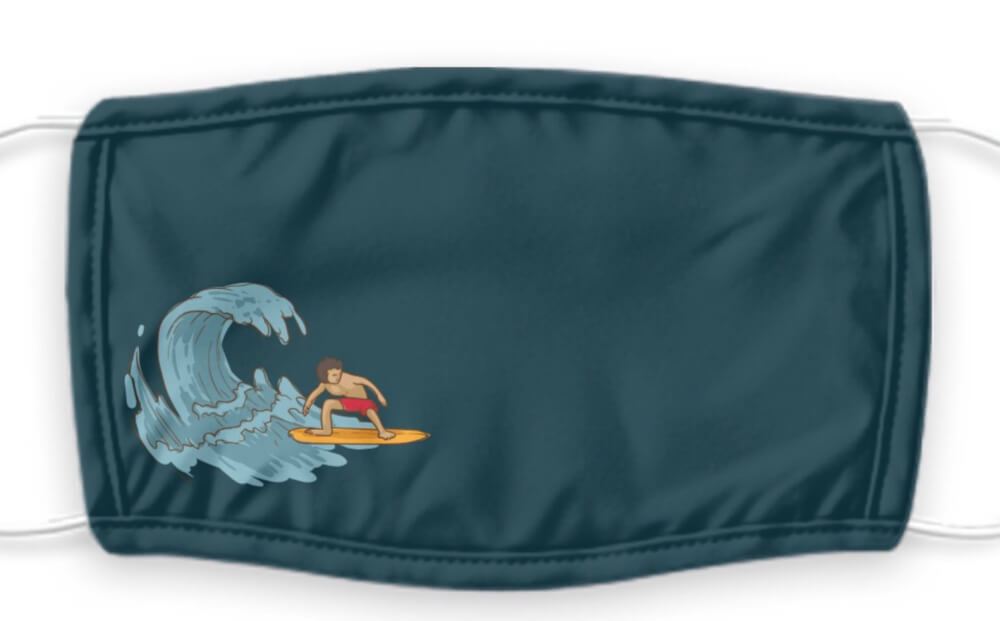 Face masks are definitely the must-have accessory of the year. It doesn't get much cuter than this retro surfing face mask.
Perfect for keeping in your car to stay safe and healthy (while showing your love of surfing!)
Buy this Hawaii surfer face mask on Etsy
BUY ON ETSY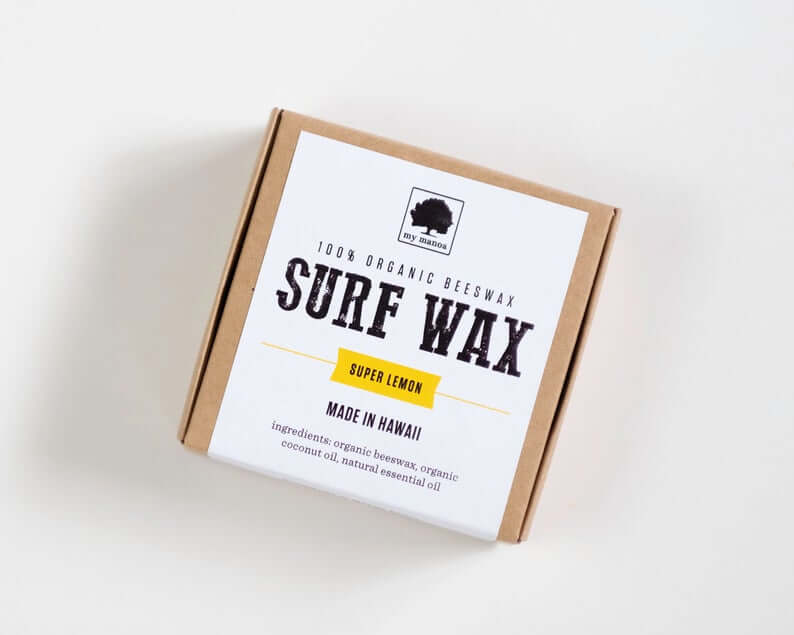 Support a local Hawaii business by purchasing this organic beeswax surf wax.
It's all natural and handmade in Manoa, Hawaii and surf wax is usually the best gift for a surfer.
Buy this Hawaii surf wax on Etsy

BUY ON ETSY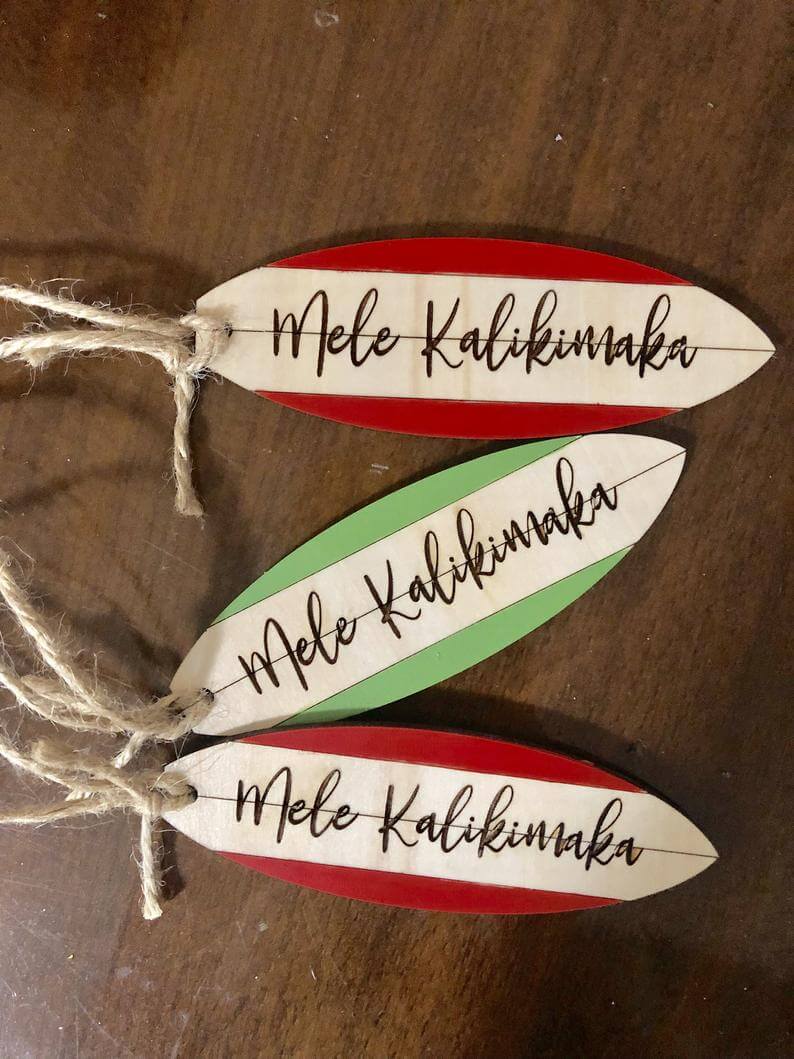 Mele Kalikimaka is Hawaiian for Merry Christmas! Your surfer will get a kick out of getting this in their stocking to add to your Christmas tree.
It also makes a cute tag to put on Christmas wrapping if you don't want to put it in a stocking.
Buy these surfing Christmas ornaments on Etsy

And there you have it! My top surfing gifts for Christmas, birthdays, and any other holiday or celebration.