Are you looking for Hawaiian gifts for kids that are sure to wow? Scroll to get all the best Hawaiian toys and adorable Hawaiian gifts for kids!
This post about Hawaiian toys for kids contains affiliate links which means if you purchase something from one of my affiliate links, I may earn a small commission that goes back into maintaining this blog.
Shopping in Hawaii is one of my favorite things to do. I love browsing little boutiques, craft fairs, and shopping malls.
I always find something fun and unique, from Hawaii souvenirs to cute Hawaiian clothing. I'm always on a mission to find the best gifts from Hawaii for friends and family!
Now that I'm a mom, I'm always on the hunt for Hawaiian toys for my kids to play with. We've found a lot of wooden toys, felt toys, and even an adorable Hawaiian doll that we've added to our toy box.
Whether you are looking for Hawaii Christmas gifts for kids or just want something to remind your kids of Hawaii, you'll find what you're looking for on this list of the coolest Hawaiian toys and gift ideas!
These are perfect for baby showers, kids birthday parties, the holidays, or just because!
You can find all these Hawaiian toys and gifts on Etsy and Amazon, so you don't even have to fly to Hawaii to pick them up yourself!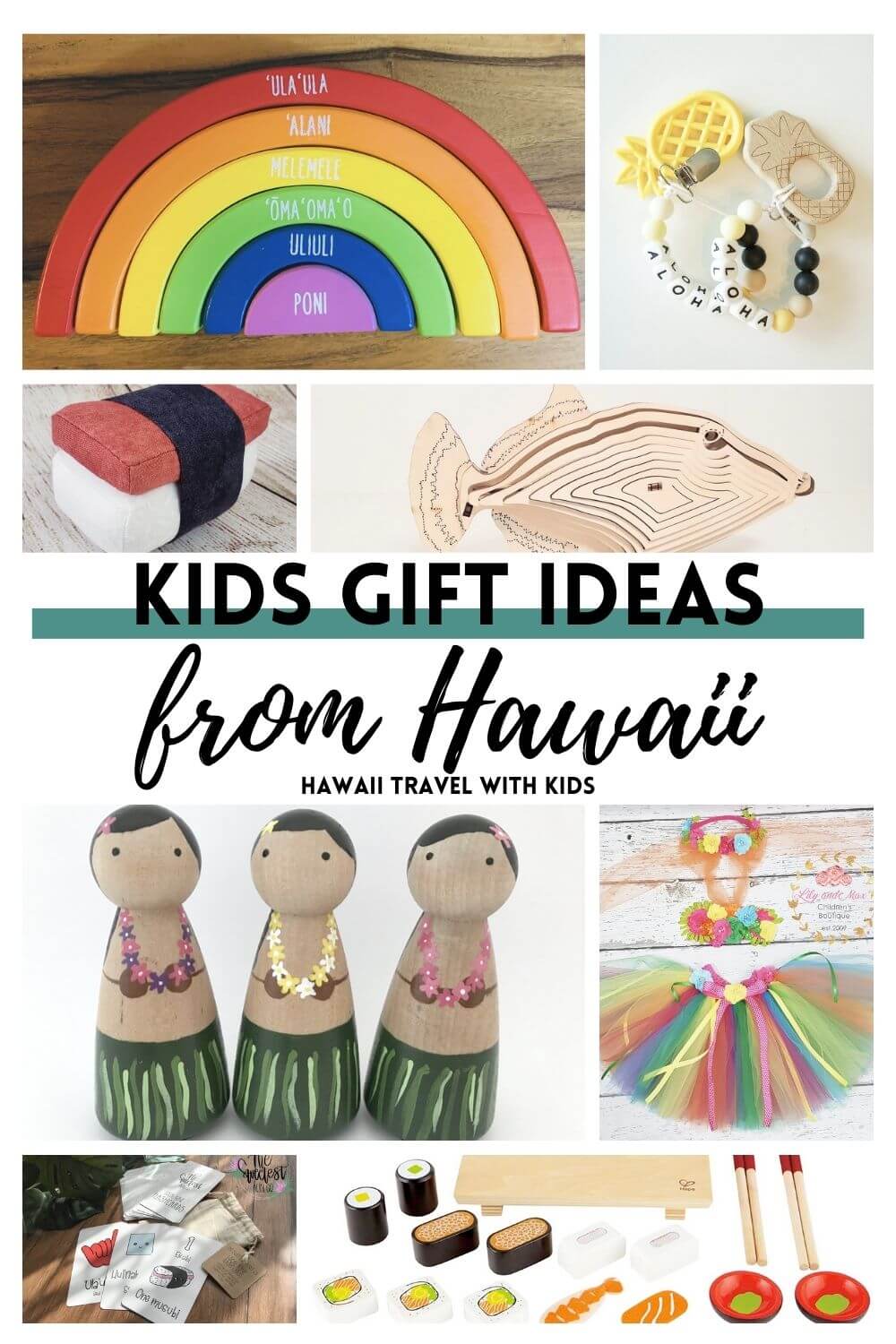 Hawaii Gift FAQs
What's a traditional Hawaiian gift?
One of the most universal Hawaiian gifts is a lei. For kids, you might give them a silk lei, kukui nut lei, or shell lei so that it will last longer than a fresh flower lei.
What's the best Hawaiian souvenir?
If you are planning on buying Hawaiian gifts for kids during your trip to Hawaii, consider buying an ukulele, hula skirt set, or Hawaiian doll. You can find these at most gift shops in Hawaii.
What are the best Hawaiian baby toys?
You can find soft sided baby blocks and Hawaiian dolls at craft fairs. There are also Hawaiian stuffed animals, baby board books, and wooden toys at stores.
27 Hawaiian Toys and Hawaiian Gifts for Kids
HAWAIIAN DOLL IDEAS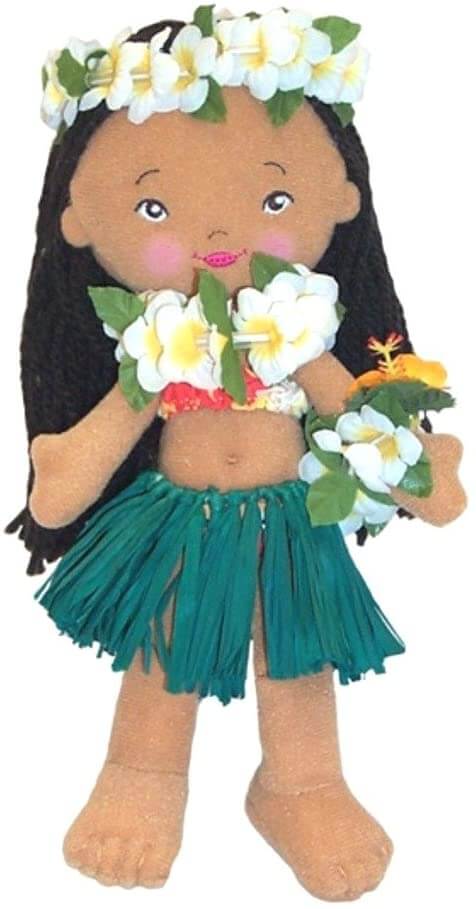 You'll find these Island Friends Hawaiian dolls at any gift shop in Hawaii. It's a popular Hawaiian doll company and they make the most adorable, and squishy dolls.
And if you don't like this hula girl doll, they also have a surfer boy doll and surfer girl doll.
Buy this Hawaiian souvenir doll on Amazon
BUY ON AMAZON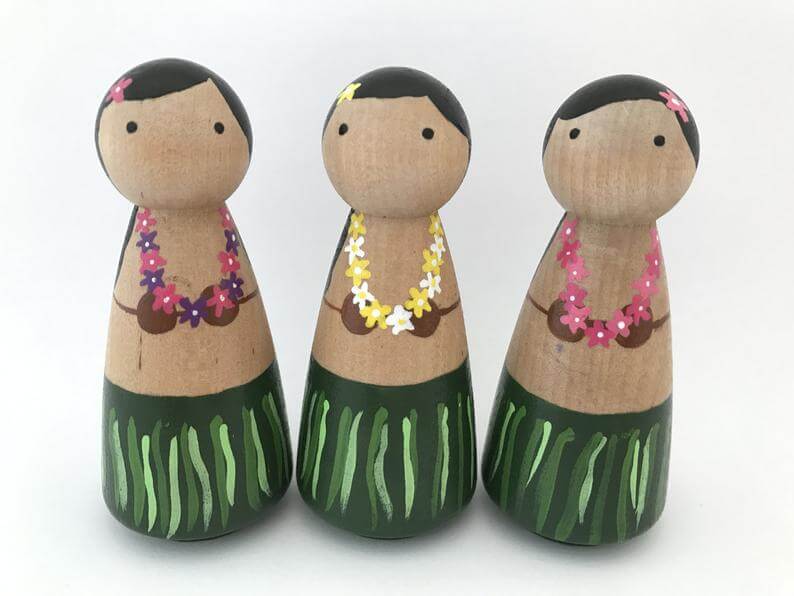 Peg dolls have been super trendy the past few years because they encourage creativity and imagination in kids.
These hula girl peg dolls can be played with, or you can use them as birthday cake toppers or Hawaiian home decor.
Plus, they are durable enough to pass along to another family when you are done. We love gifts that can be gifted many times to many kids!
Buy these hula girl peg dolls on Etsy
BUY ON ETSY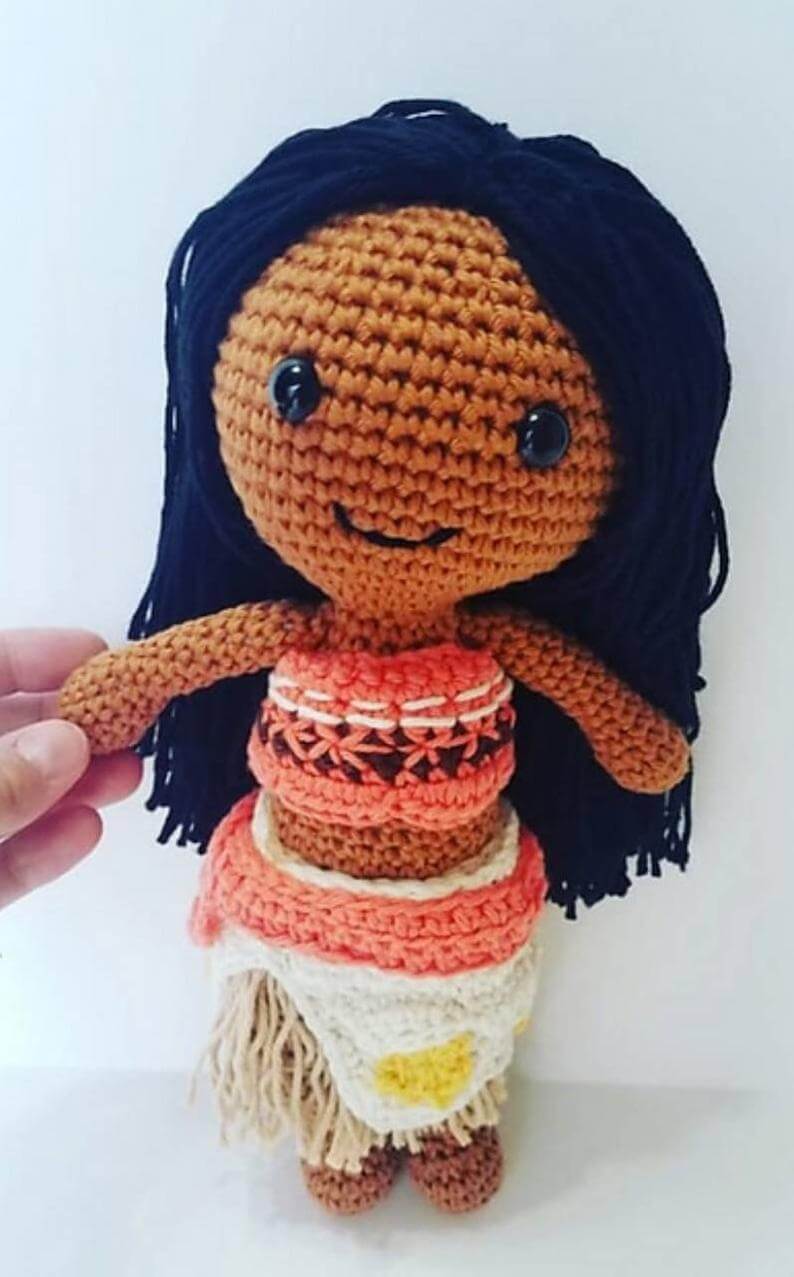 If your child loves Disney's Moana, this is one of the cutest Moana dolls out there.
This snuggly Hawaiian doll is super soft and is sure to be your child's new BFF.
Plus, it's handmade and would look cute in any Hawaiian nursery.
Buy this crochet Moana Hawaiian doll on Etsy
BUY ON ETSY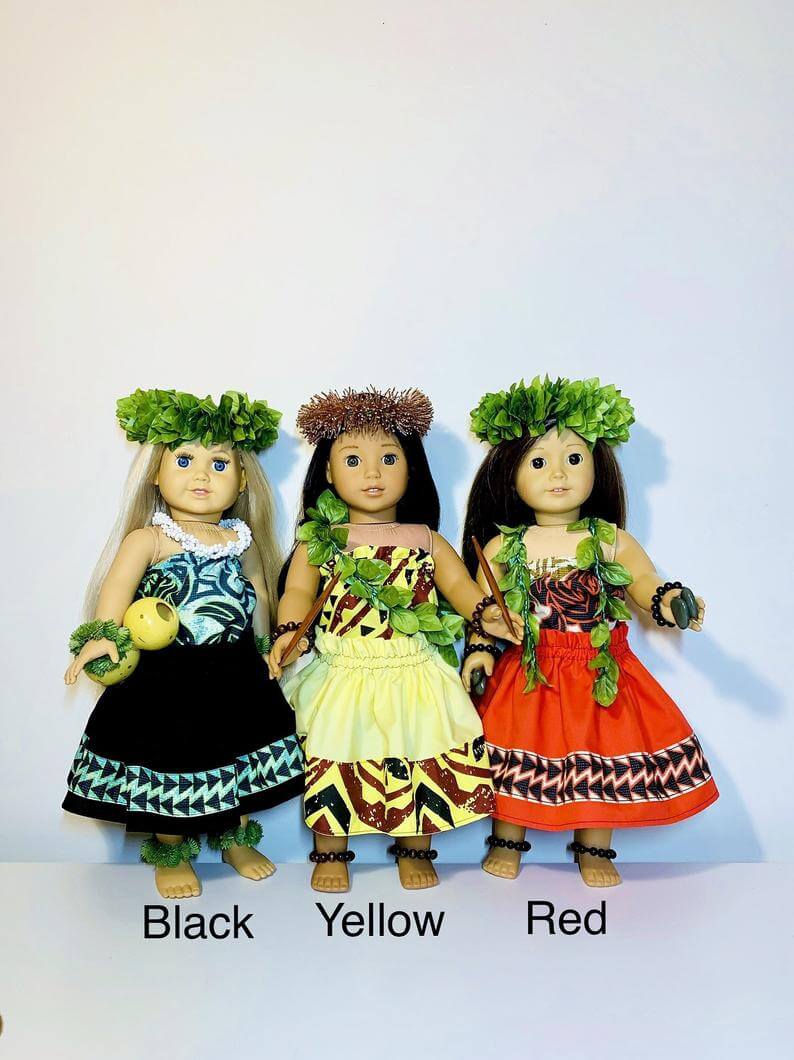 If your child has an American Girl doll, Our Generation, My Life, Journey Girl, Penelope & Friends, or Springfield dolls, these adorable Hawaiian hula outfits will be perfect for their doll.
Get these Hawaiian doll tops and skirts and let your child's imagination run wild as their doll learns hula dancing!
Fun for play at home or on the airplane to Hawaii.
Buy these Hawaiian doll outfits on Etsy
BUY ON ETSY
KIDS UKULELE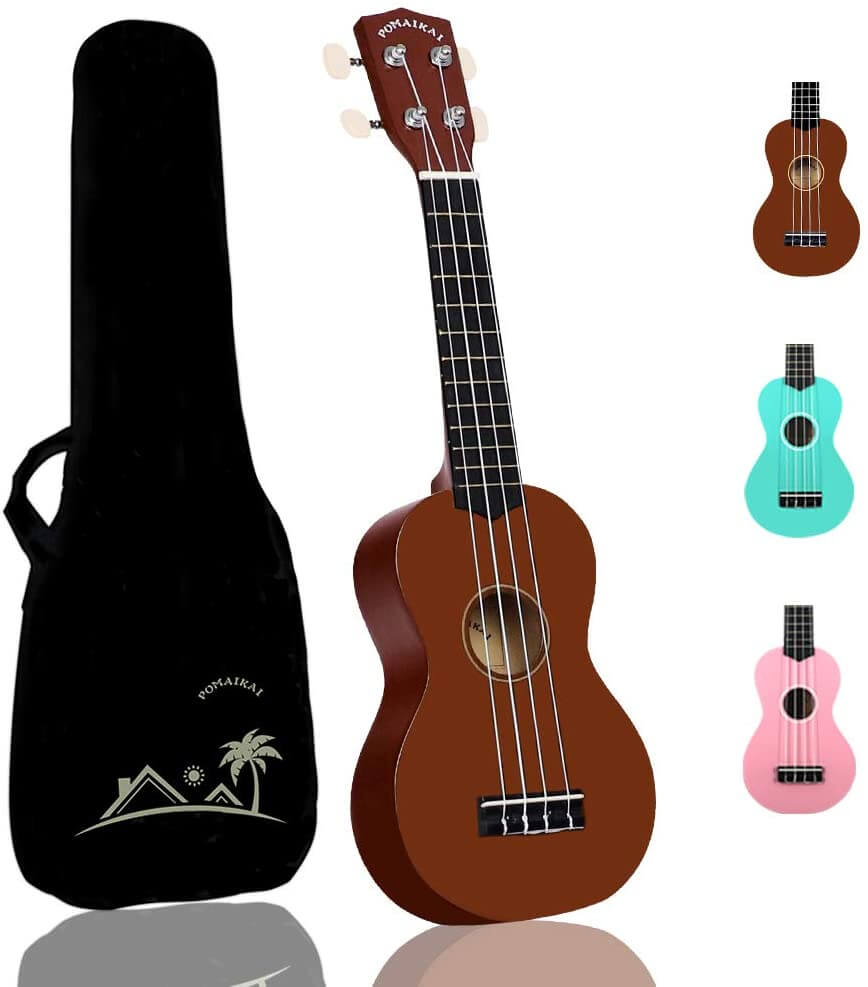 If your child is serious about learning how to play the ukulele (as opposed to messing around with a souvenir one), this is a great beginner ukulele for children. It's lightweight and has a beautiful sound.
It comes in standard brown wood, or painted in teal or pink to make it a bit more unique.
Plus, it comes with a handy carry case.
Buy this kids ukulele on Amazon
BUY ON AMAZON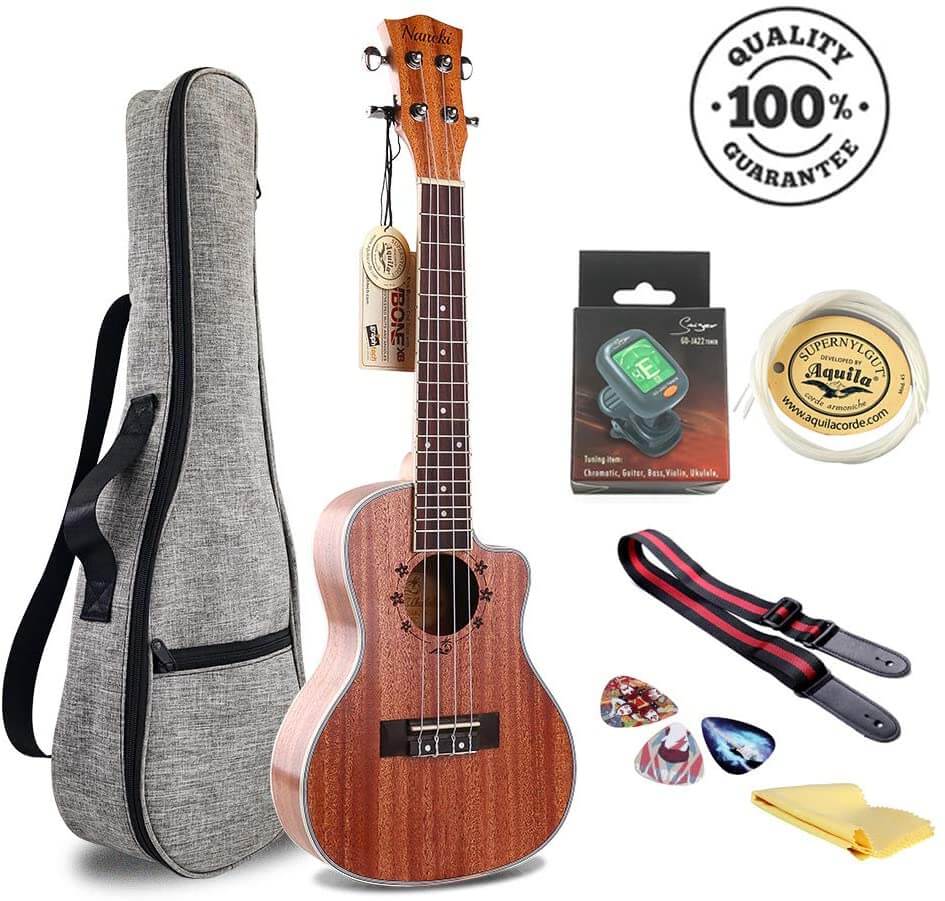 This is another great children's ukulele option.
It's a concert ukulele that has a little cut out on the mahogany body.
It's actually a whole set that includes a digital tuner, carry bag, extra strings, a shoulder strap, polishing cloth, strap buttons and 3 ukulele picks.
Buy this Naneki kids ukulele on Amazon
BUY ON AMAZON
HAWAII CRAFTS FOR KIDS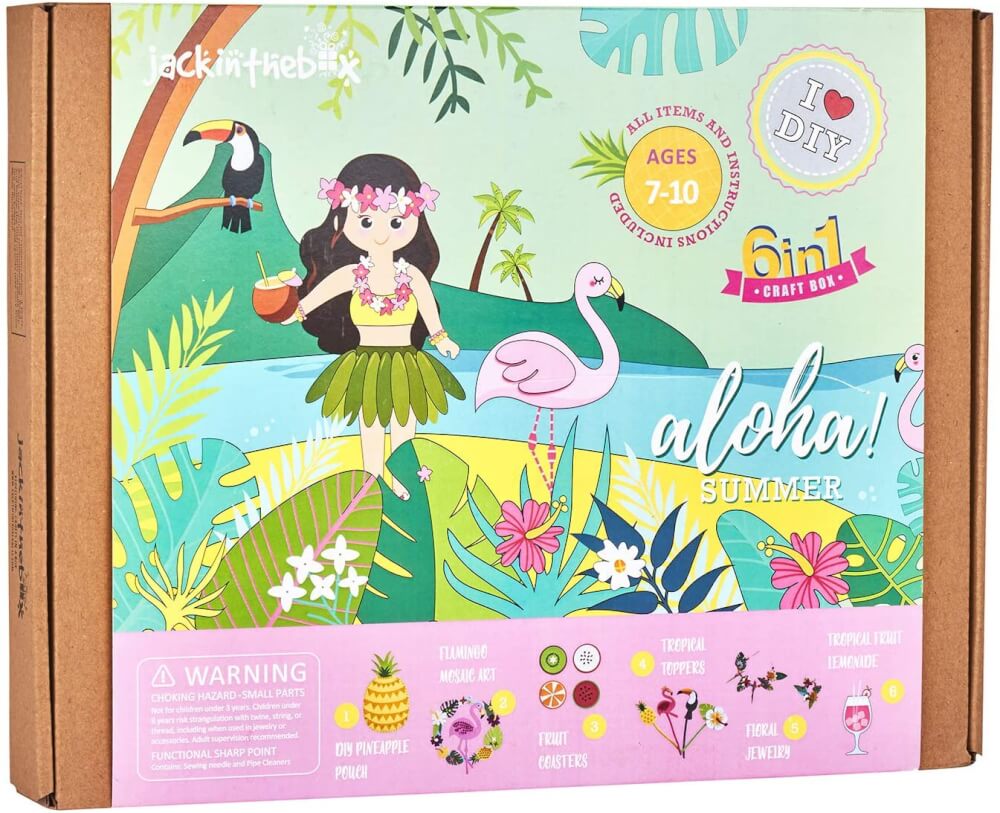 This kit has so many awesome Hawaii crafts for kids!
They can learn to sew a pineapple pouch, create tropical pencil toppers, make colorful fruit coasters, make a Hawaiian wreath, string jewelry and learn to make tropical fruit lemonade.
It's a great way to keep kids occupied during summer or school breaks, too!
Buy this Hawaiian craft kit on Amazon
BUY ON AMAZON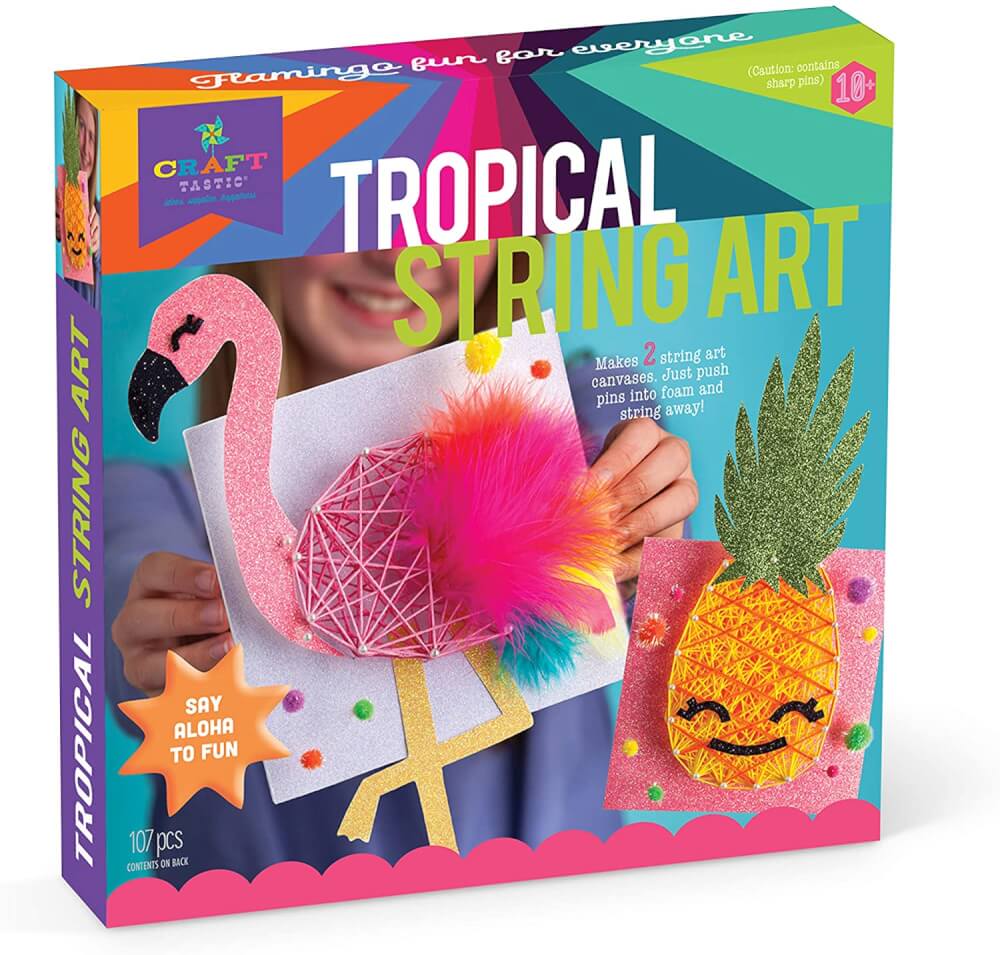 How adorable is this string art kit? Kids can create their own flamingo and pineapple crafts to hang on their wall or decorate their room.
This Hawaii craft for kids is geared for artsy tweens and teens and the final product is oh-so-cute.
Buy this tropical string art Hawaii craft kit on Amazon
BUY ON AMAZON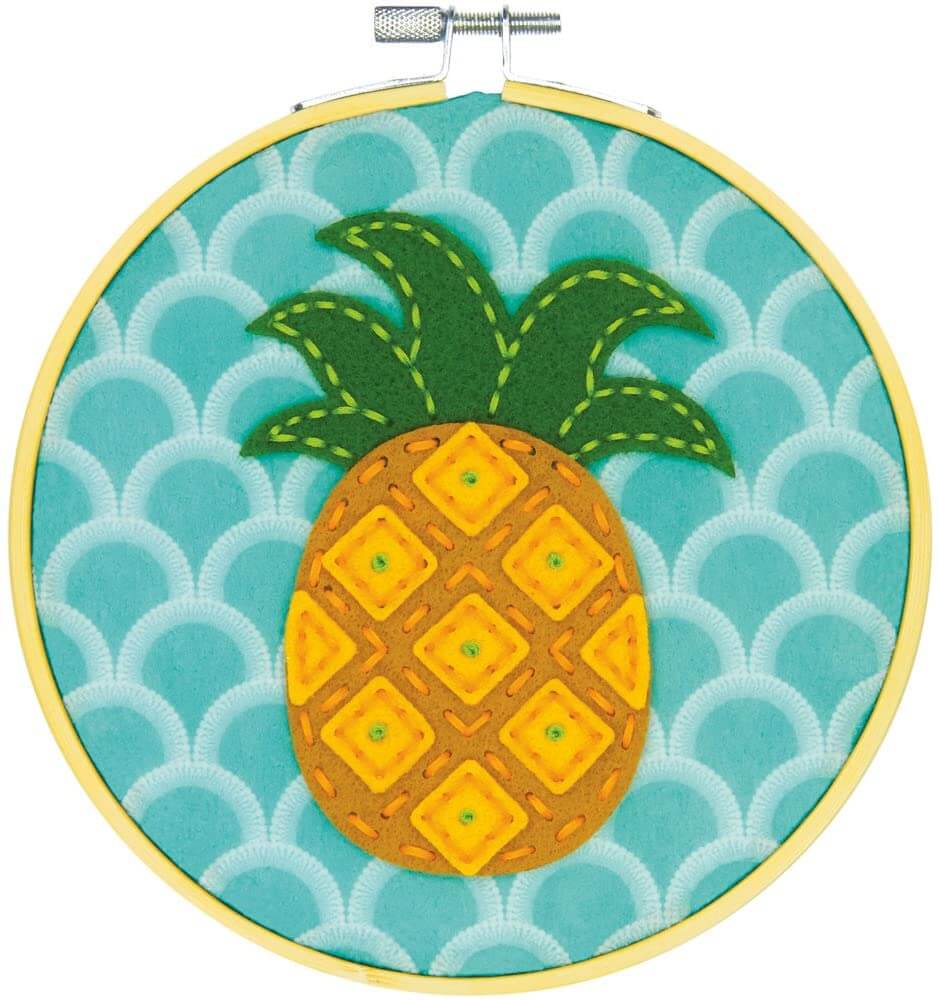 If your child is old enough to hold a needle, this might be the ultimate Hawaii craft to do with them!
Learn how to make an applique pineapple needlepoint craft. It's easy enough for beginners and the end result is super cute!
Buy this pineapple needle craft for kids on Amazon
BUY ON AMAZON
HAWAIIAN CHILDREN'S BOOKS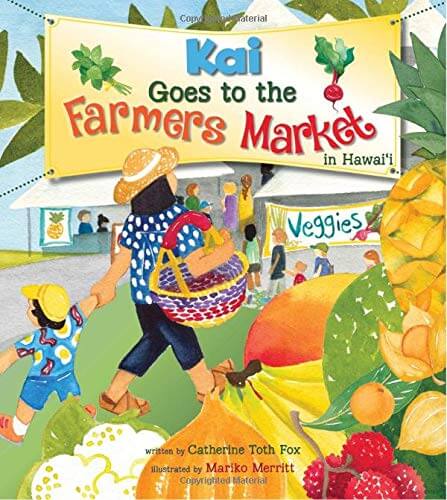 If you want to teach your kids about Hawaii fruits and veggies, this is such a cute book to read together. It's all about a mom and boy visiting a Hawaii farmer's market together to shop for groceries.
Plus, at the end of the book, they have a recipe you can make with your kids.
Buy Kai Goes to the Farmers Market in Hawaii on Amazon
BUY ON AMAZON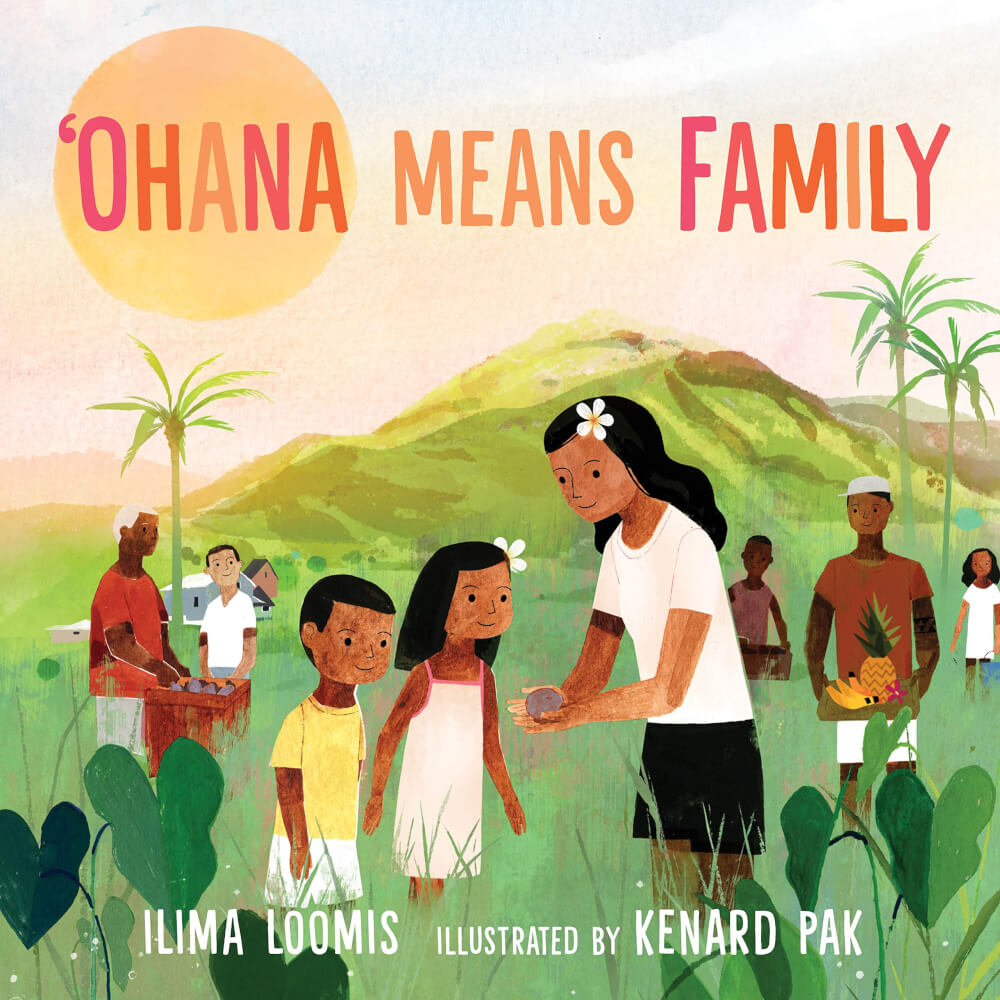 If Disney's Lilo & Stitch taught us anything, it's that "ohana means family!" This book just explains that concept a lot further.
The illustrations are just as beautiful as the poetic words that talk about a family getting ready for a big luau celebration at home.
Buy Ohana Means Family on Amazon
BUY ON AMAZON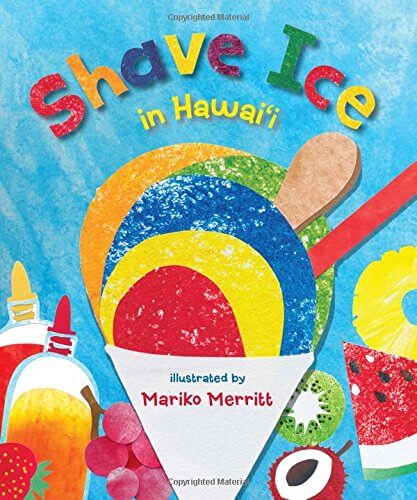 This is one of our all-time favorite Hawaiian board books for babies and toddlers.
The bright colors take us back to Hawaii where we love eating shave ice everyday. It's a book that you can read again and again and not get bored.
Buy Shave Ice in Hawaii on Amazon
BUY ON AMAZON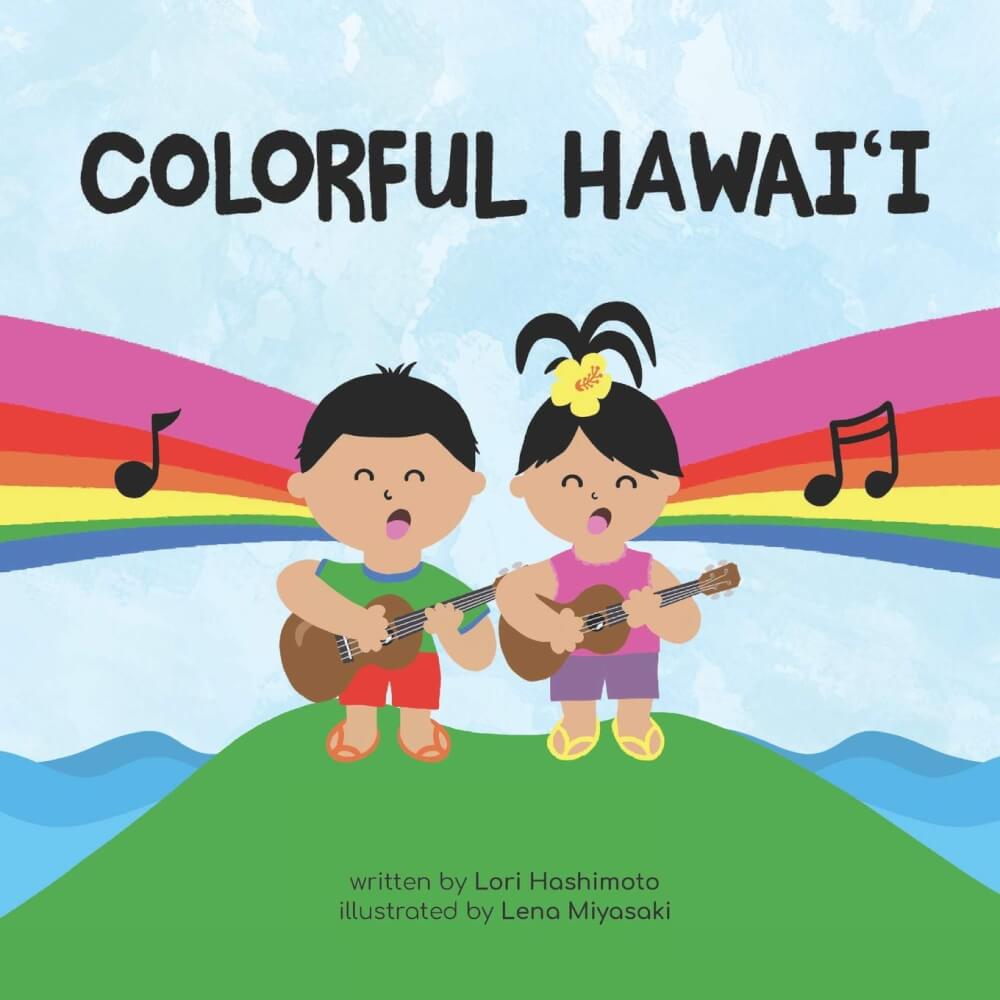 If you're looking to add some diverse books to your child's library at home, this is a really cool one that teaches Hawaiian language to kids!
It talks about all the colors of the rainbow and teaches the Hawaiian words for plants and animals you'll see in Hawaii.
Buy Colorful Hawai'i on Amazon
BUY ON AMAZON
HAWAIIAN BABY TOYS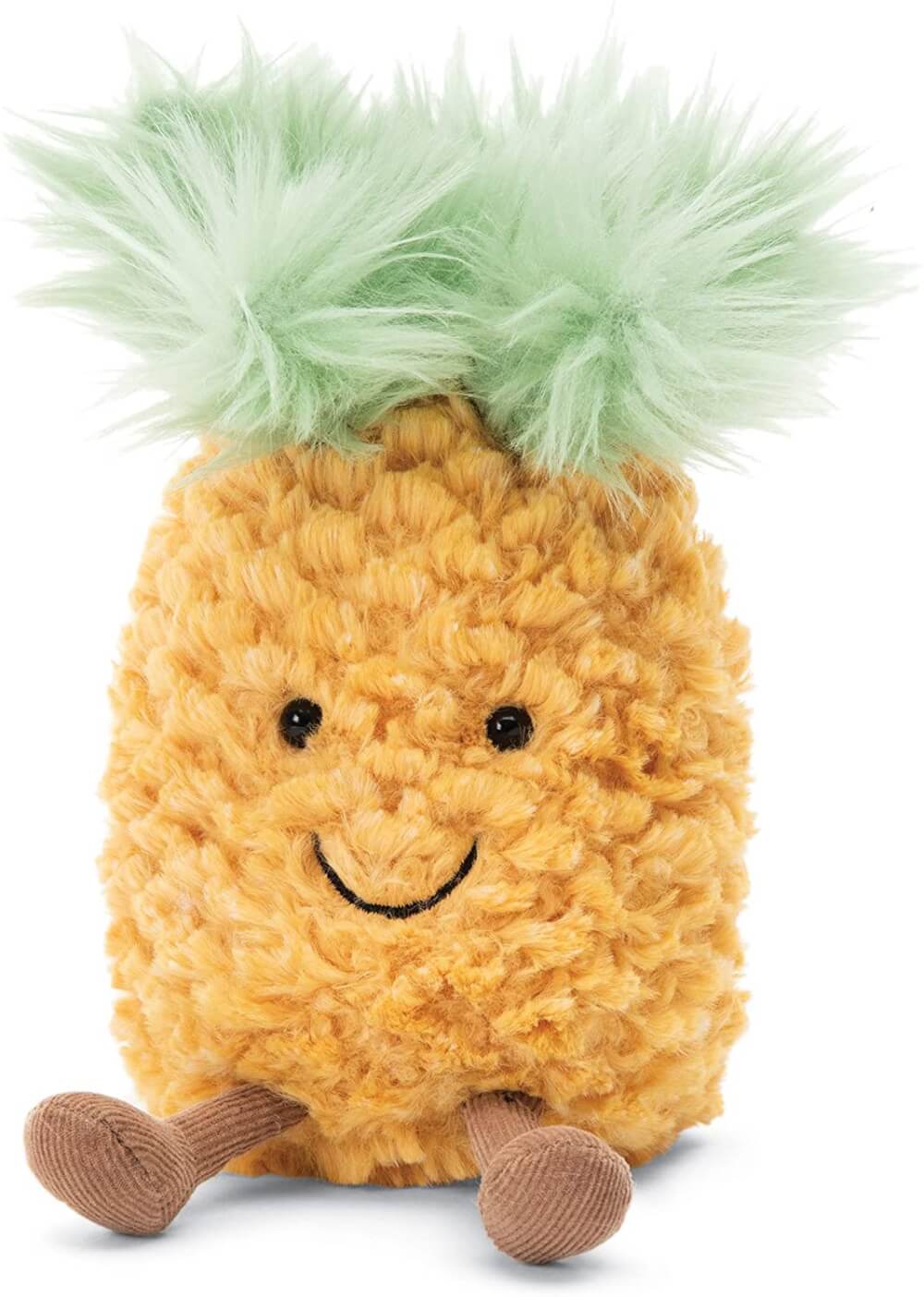 Jellycat is a super popular baby brand known for making the absolute softest plushies around. They have a ton of different styles, but this pineapple plush toy is by far my favorite!
It's safe for newborns, toddlers, and preschoolers. And it comes in 3 different sizes!
Buy this pineapple plush toy on Amazon
BUY ON AMAZON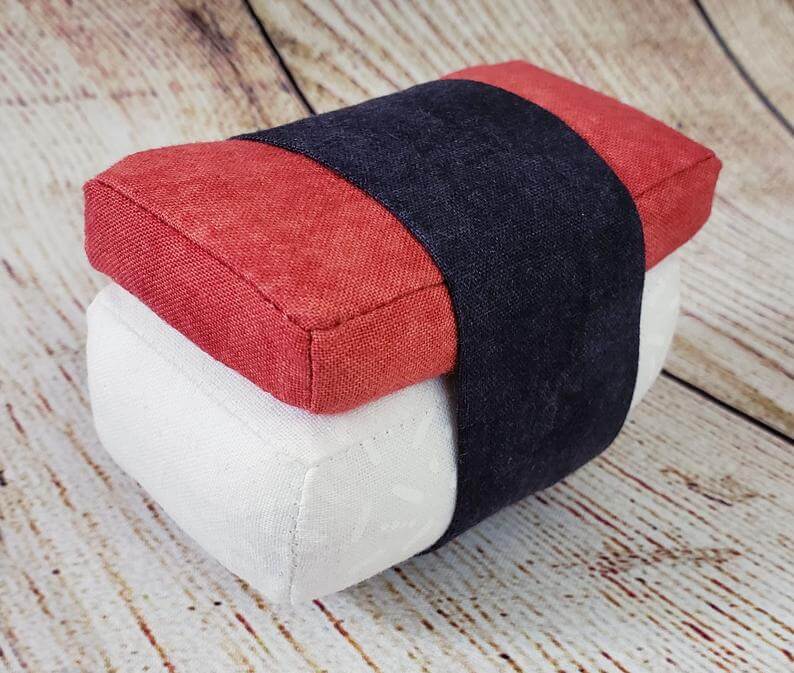 Ok, I'm kicking myself for not looking for one of these when my boys were babies!
We love eating Spam Musubi in Hawaii and this has to be the cutest baby shower gift for moms who love Hawaii!
These Hawaiian rattles are made using 100% cotton fabric that have been pre-washed with fragrance and dye free detergent.
Buy this Spam Musubi Hawaiian rattle on Etsy
BUY ON ETSY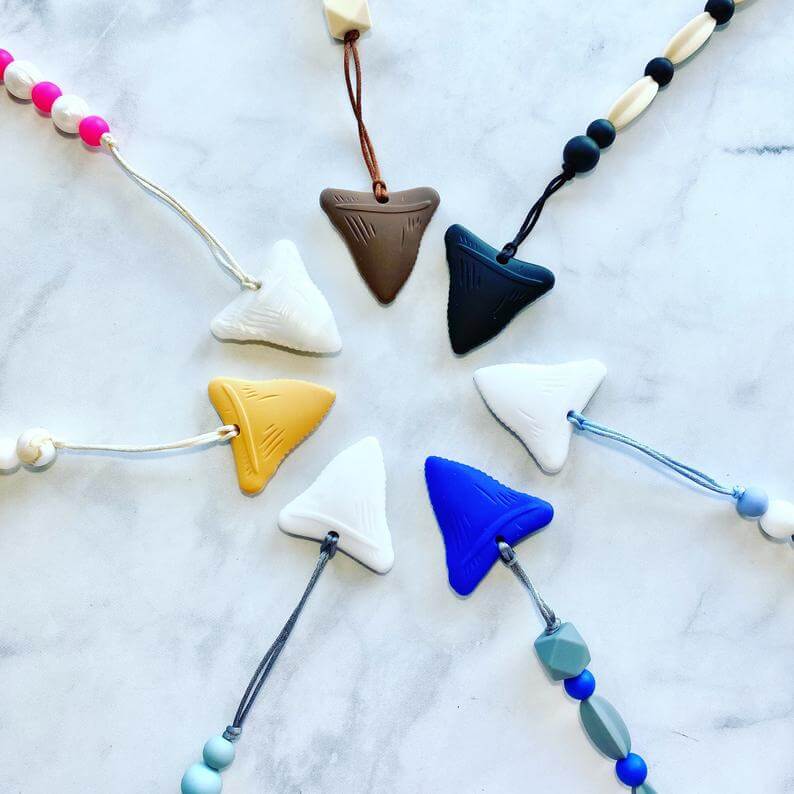 Teethers can be a new mom's best friend. Add in this shark tooth silicone teether to your next Hawaiian baby shower present.
Not only is it cute, but it's super useful for teething babies!
Buy this shark tooth silicone teether on Etsy
BUY ON ETSY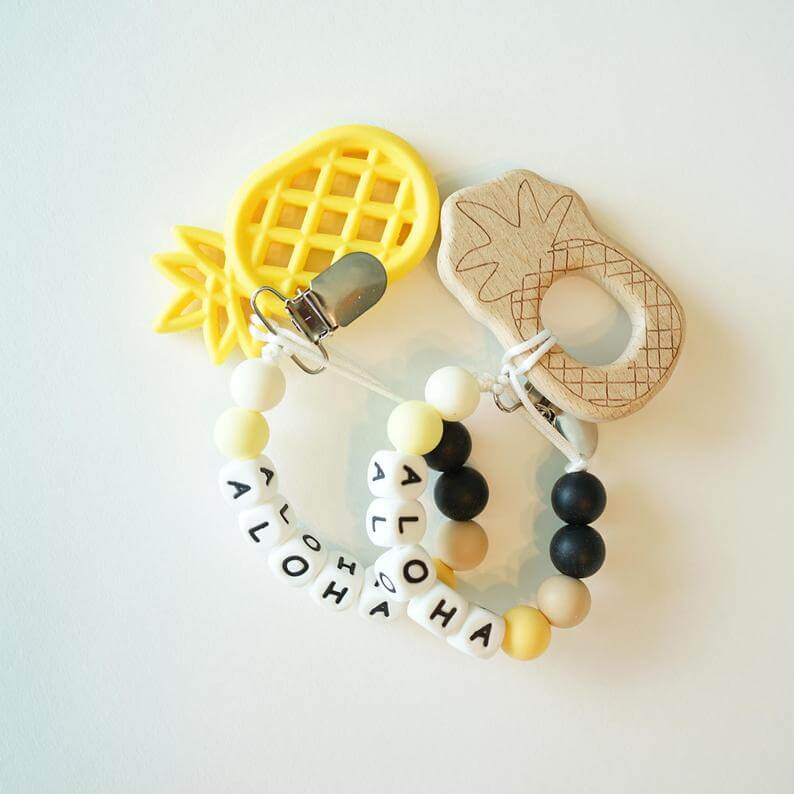 These are a couple of other Hawaiian teether options. There's a silicone yellow pineapple or a wooden pineapple. Choose one or get the set!
These are super easy to clip onto baby onesies, baby carriers, or diaper bags so you're always ready!
Buy this Aloha pineapple teether on Etsy
BUY ON ETSY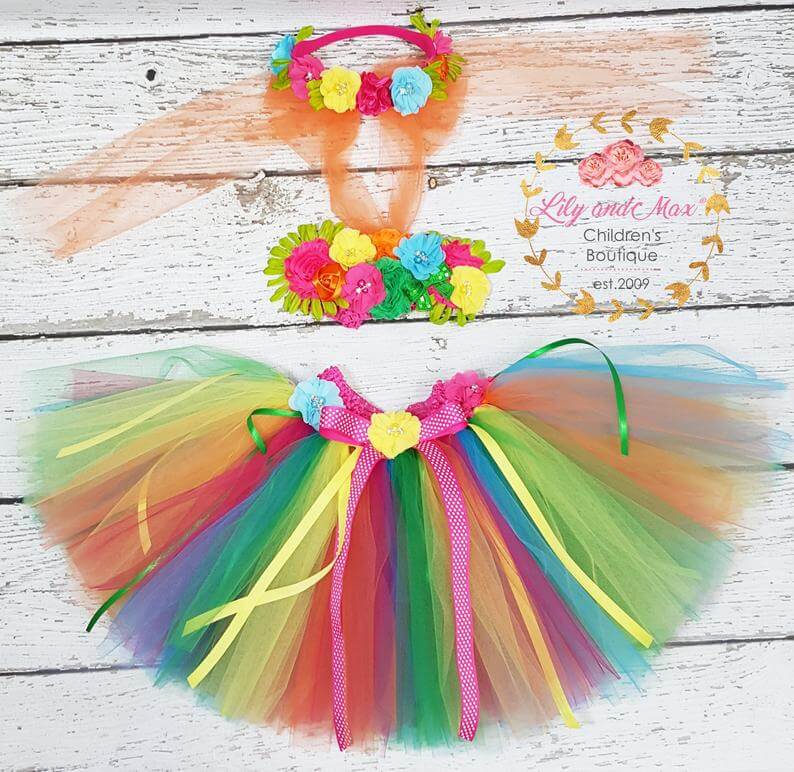 While this isn't really a Hawaii toy, it was just too cute to not include in my list!
If you're looking for an adorable Hawaiian birthday cake smash outfit, this hula costume for babies is perfect for those first birthday photos!
Or grab it for any summertime or beach photo shoot!
Buy this Hawaiian baby outfit on Etsy
BUY ON ETSY
MORE HAWAIIAN GIFTS FOR KIDS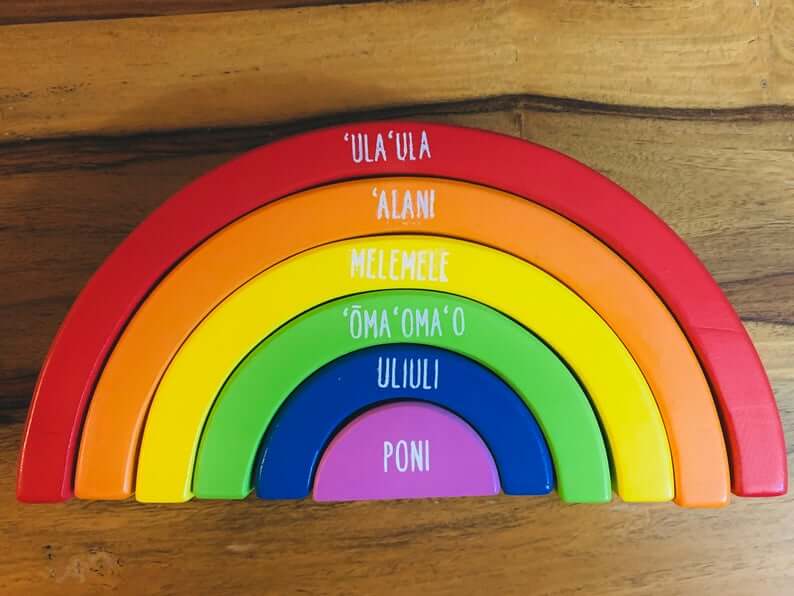 These rainbow stacking block are not only cute but they have the Hawaiian words for each color hand stenciled onto the blocks.
Geared for kids ages 3 and older, these Hawaiian blocks help kids with spacial awareness and putting things in the right order.
Plus, you can feel good about supporting a small family shop.
Buy these Hawaiian blocks on Etsy
BUY ON ETSY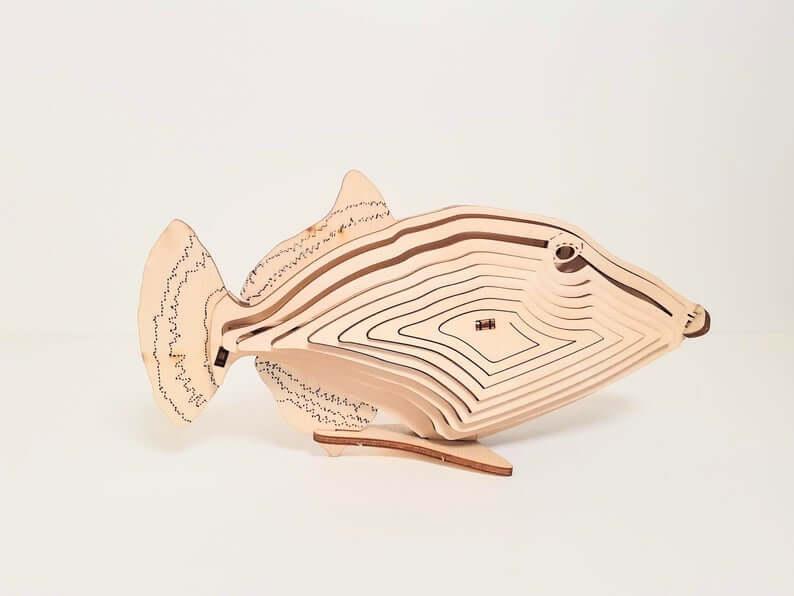 If you have a crafty kid who likes to build things, they will love this laser cut Hawaiian puzzle where they can assemble Hawaii's state fish.
It also comes with information about the Humuhumunukunukuapua'a so kids can learn a bit about Hawaiian mythology as they put together this Hawaiian puzzle.
Buy this Hawaiian puzzle on Etsy
BUY ON ETSY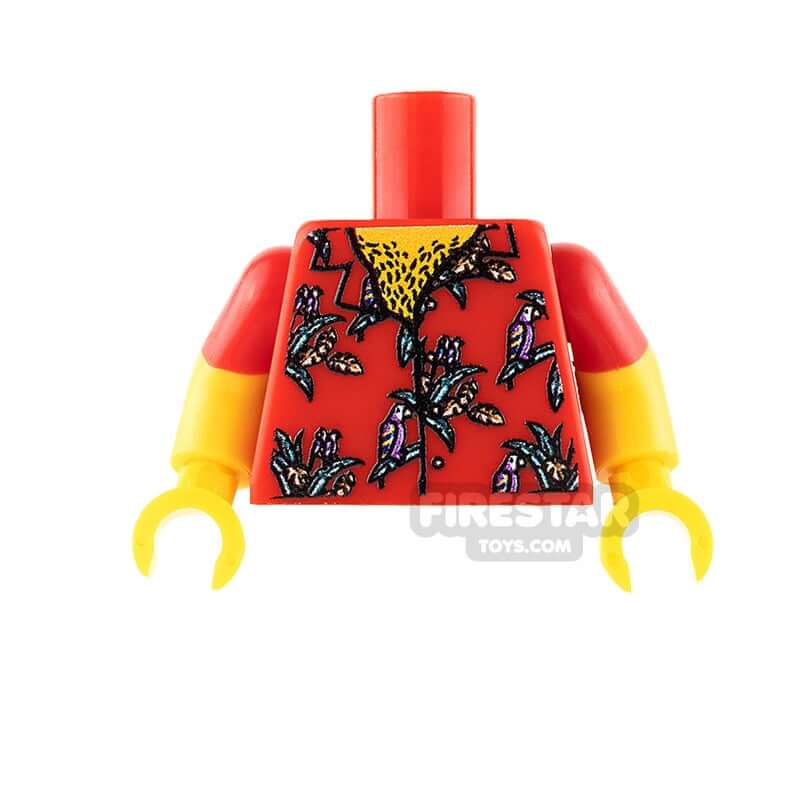 If you know a kid who loves LEGOs, surprise them with this LEGO minifigure torso featuring a Hawaiian shirt! It definitely gives off Tom Selleck in Magnum P-I vibes!
This seller also has a few other Hawaiian LEGO torsos, so you can get a few and gift them together!
Buy this Hawaiian LEGO minifigure torso on Etsy
BUY ON ETSY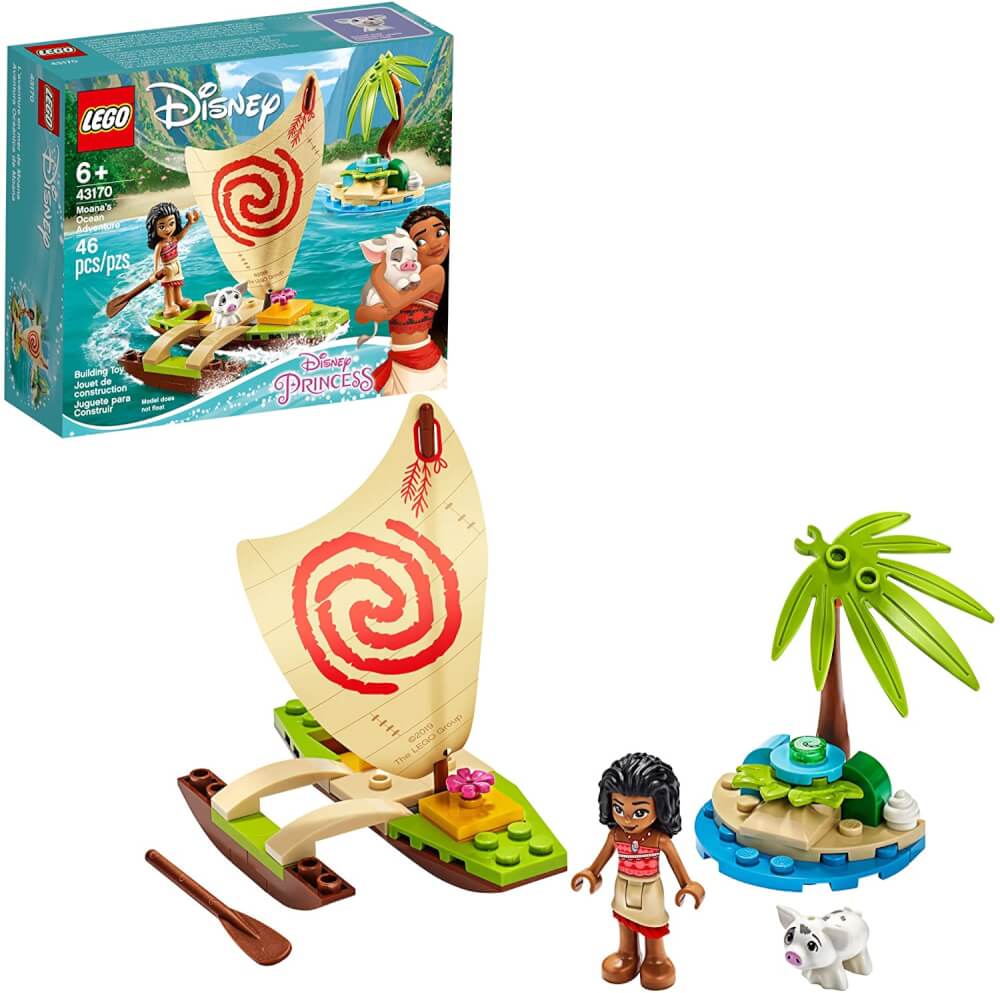 While Moana isn't technically Hawaiian, I just had to include this Moana LEGO set to remind you that there's a whole line of Moana LEGOs out there that make awesome gifts!
I like this LEGO set because it's small, affordable, and easy to pack in a Hawaii carry on bag to keep kids busy on the airplane.
Buy this Moana LEGO kit on Amazon
BUY ON AMAZON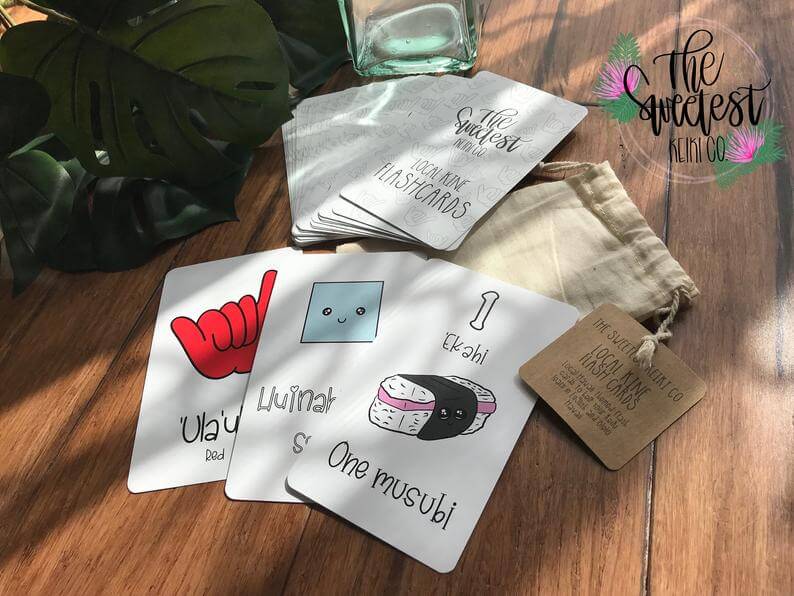 These adorable Hawaiian flash cards use cute Hawaiian illustrations to teach kids how to count and how to recognize numbers.
Plus, they even include the Hawaiian word for each number, so it's a fun way to start learning a new language!
It's an awesome baby shower gift or present for a 1st birthday.
Buy these Hawaiian flash cards on Etsy
BUY ON ETSY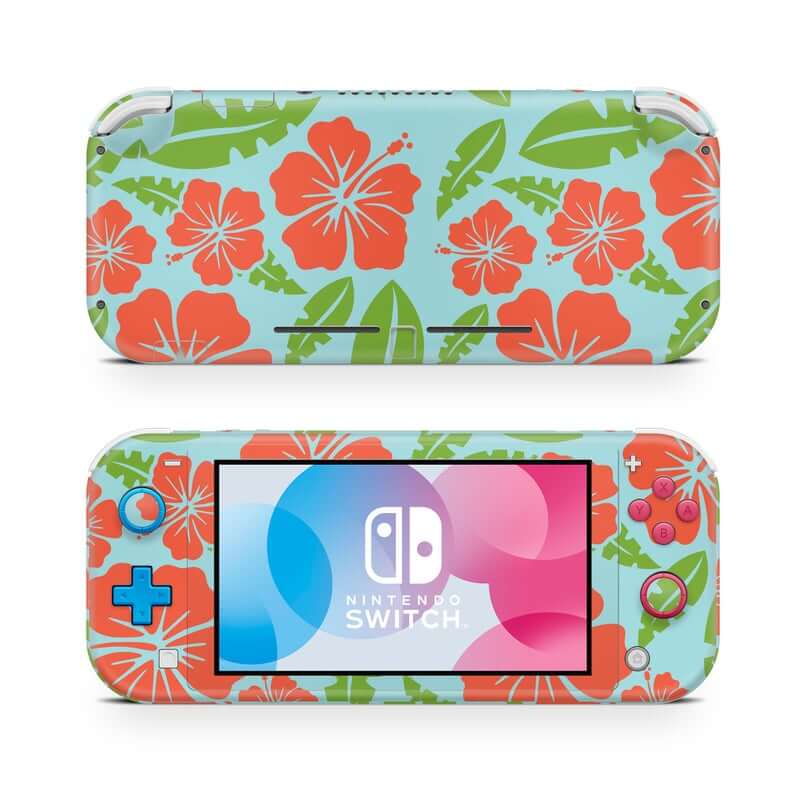 One of the most coveted video game system for kids is the Nintendo Switch.
Whether you are giving one as a gift, or wanting to buy a Nintendo Switch accessory, you can't go wrong with this Hawaiian Nintendo Switch cover.
There are several different prints to choose from, too.
Buy this Hawaiian Nintendo Switch cover on Etsy
BUY ON ETSY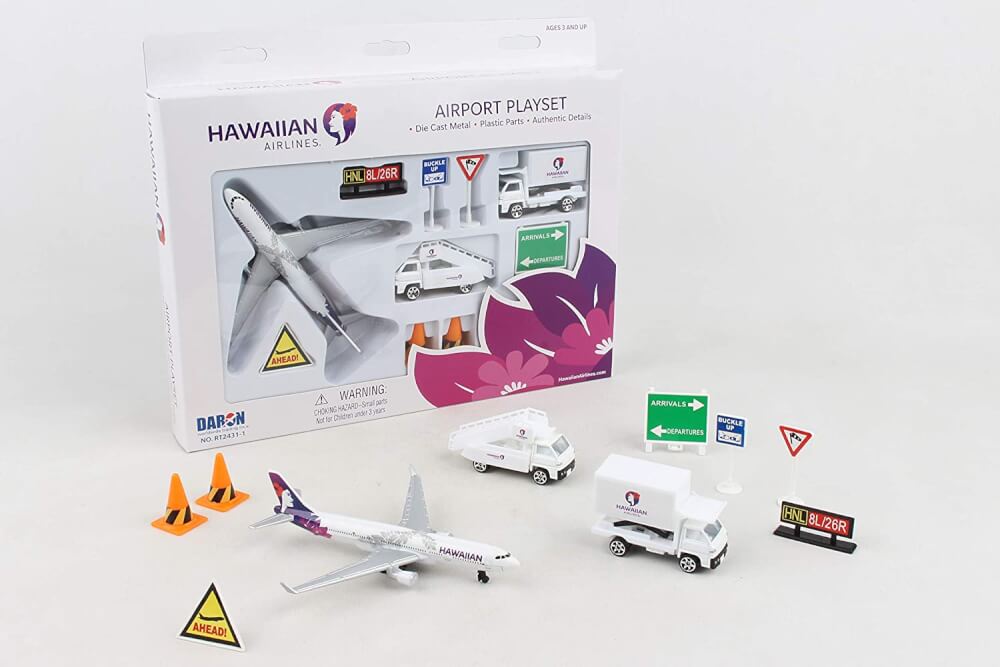 This is a really fun gift idea for someone going to Hawaii! Kids can play with it before their trip to get familiar with how airports work, or they can play with it at the airport while waiting for their flight.
We have this set at home and I was shocked how many hours this has occupied my kids throughout the years.
Buy this Hawaiian Airlines airport playset on Amazon
BUY ON AMAZON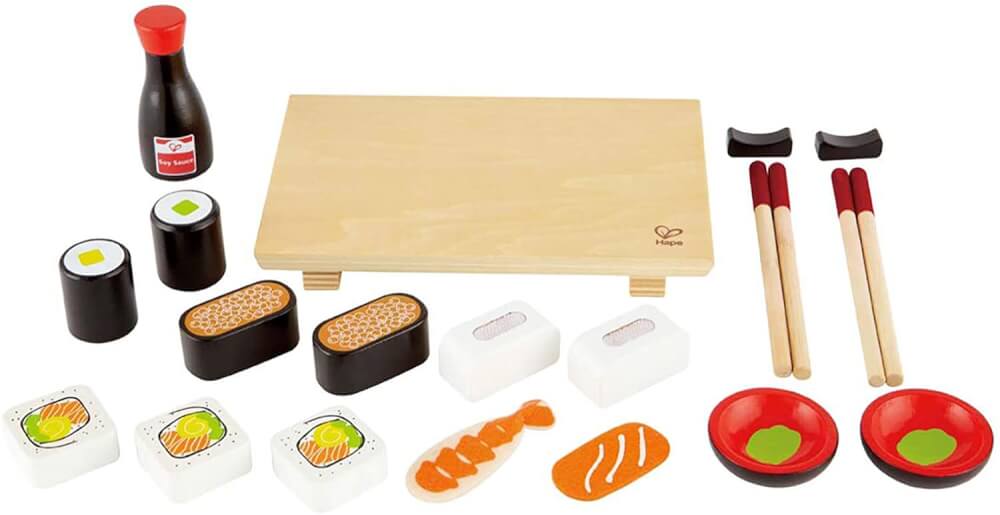 Hawaii has an incredible food scene with cuisine from all over the world.
You'll find tons of Asian restaurants and pan-Pacific restaurants featuring sushi.
Wooden play food is a fun way to get kids familiar with food from around the world. I like this set because kids can practice using chopsticks, which is awesome for fine motor skills.
Buy this sushi play food set for kids on Amazon
BUY ON AMAZON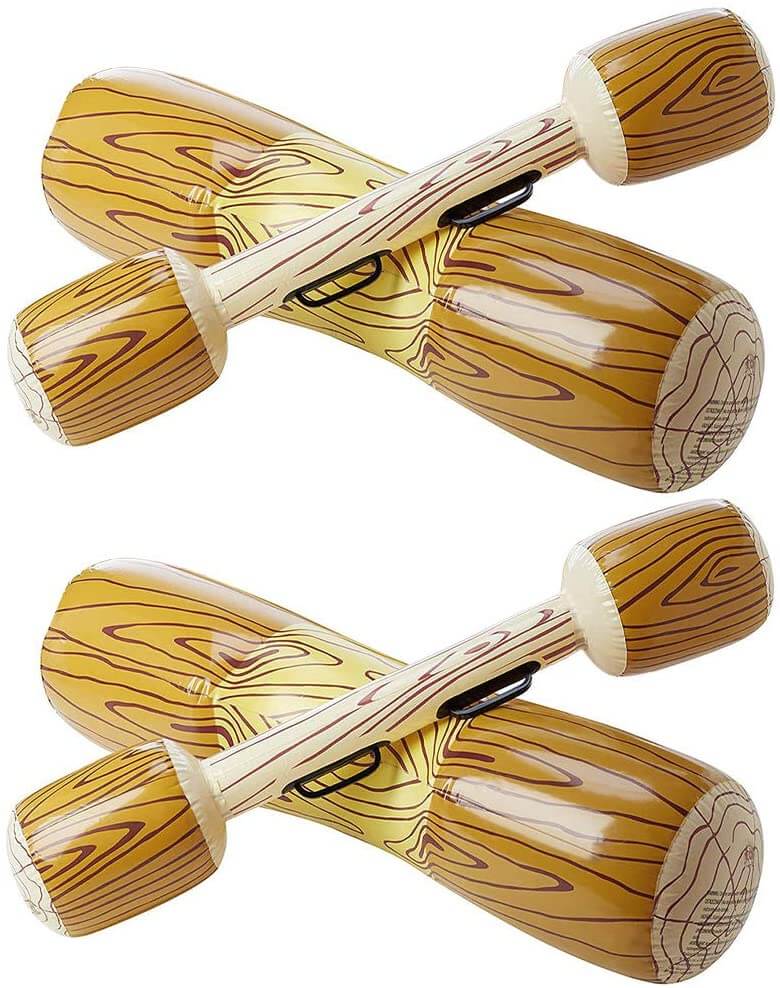 Whether you are looking for awesome pool floats for Hawaii or you have your own backyard pool, these Hawaiian canoe pool floats are a blast for kids.
It comes in a 2-pack, so you can race each other or have a battle!
Buy this Hawaiian pool float on Amazon
BUY ON AMAZON