Are you shopping for a kids ukulele and not sure which is the best ukulele for kids just learning how to play? Keep scrolling for my kids ukulele buying guide, simple ukulele songs, where to find ukulele lessons online, and which ukulele brands to avoid.
This post about the best ukulele for kids contains affiliate links which means if you purchase something from one of my affiliate links, I may earn a small commission that goes back into maintaining this blog.
One of the coolest trends I've seen in the past decade is that schools are teaching kids how to play the ukulele. Some have after-school ukulele clubs while others include it in their music classes.
I'm a huge fan of teaching ukulele to kids at an early age. Because the ukulele is a small instrument, it's easy for kids to hold.
Plus, there are just 4 strings. That also helps when teaching ukulele for kids.
If you found this post, you are probably in the market to buy a kids ukulele for your baby, toddler, preschooler, elementary or middle school student.
Don't worry, I cover it all! And then some!
By the end of this post, you should know which ukulele to buy your child and how to get started with ukulele lessons and ukulele books for kids.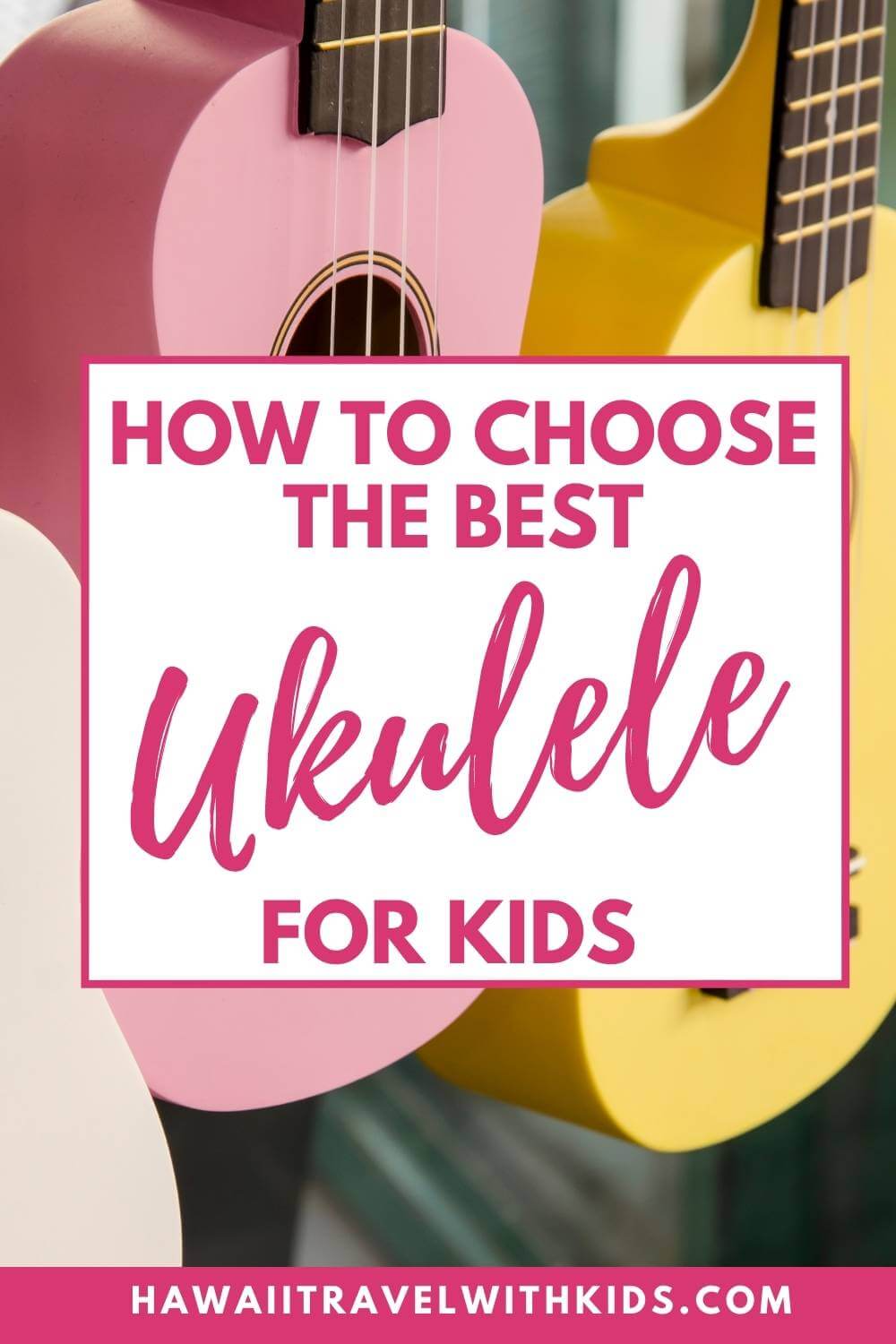 Top Questions about Buying a Kids Ukulele
Before we really get into it, I figured you might have some initial questions that I could answer right now.
Why is the ukulele so popular?
Um, because it's awesome?
In all seriousness, the ukulele keeps getting trendier and trendier. Part of that is because more and more musicians are incorporating it into their music (I'm looking at you, Eddie Vedder.)
Of course, there are also musicians like Jack Johnson who primarily play ukulele in all their music.
But, it's also becoming a super popular instrument for kids to play because it's easier than other instruments and they are pretty fun to play.
Because of its size and shape, kids as young as 4 or 5 years old can successfully learn how to play the ukulele.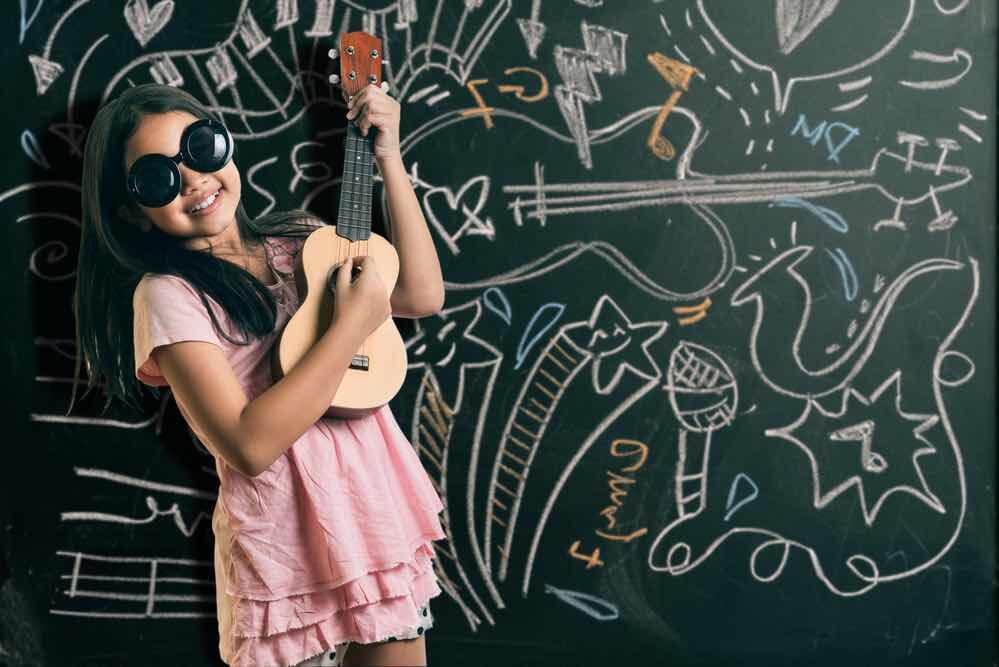 Is it worth buying a ukulele for kids?
If you want your kids to learn how to play an instrument, ukuleles are fairly inexpensive compared with other beginner instruments.
Plus, they are a lot smaller than guitars, pianos, or the cello. That means less for kids to haul around (and it won't take up a ton of room in your home.)
Those are just 2 simple reasons why it's worth buying an ukulele for kids who have an interest in learning.
I'll also throw in a bonus 3rd reason: They make awesome photo props and luau decorations. So, you can at least get some extra use out of them if your kid decides it isn't their jam.
How much is a ukulele?
There's a total range with how much to spend on an ukulele for kids. It really depends on the size, shape, and brand name.
I'd say prepare to spend between $50 and $150 for a basic ukulele for kids that is decent quality.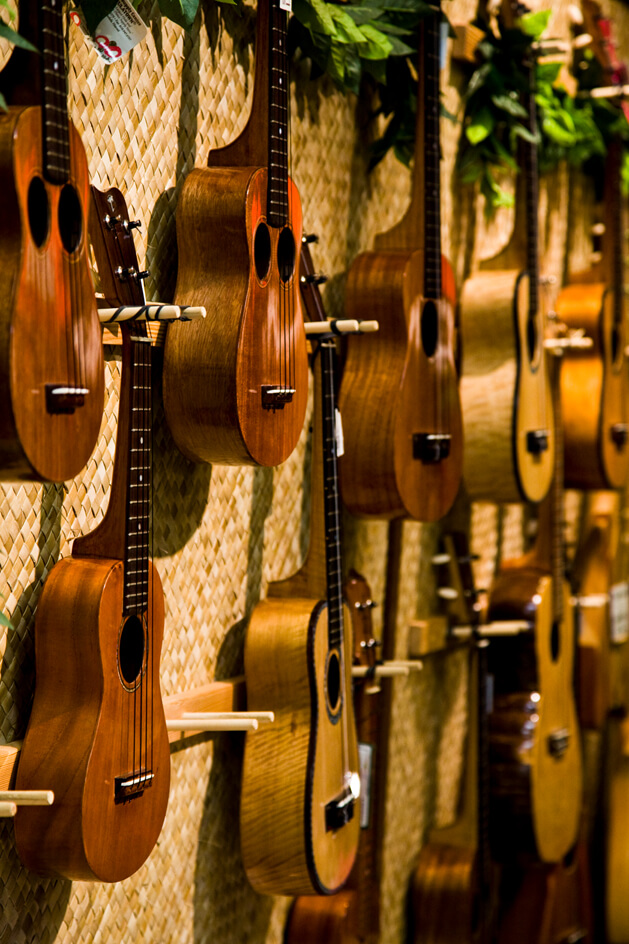 What are the best ukulele brands?
There are so many places that make ukuleles that it can be hard to know which ukulele brands are better than others.
As of 2020, the best ukulele brands include:
Kala
If you are looking for a decent ukulele for kids, Kala offers a ton of affordable ukuleles that are perfect for beginners. These are actually some of the most popular ukuleles for beginners on the market.
Mahalo
Mahalo ukuleles are geared for kids and beginner ukulele players. They have lots of affordable beginner ukulele models to choose from and they are made with sustainable wood from renewable sources
Mitchell
Mitchell ukuleles come in a lot of different colors and designs, which make them appealing for kids. They are also not as loud as other brands, which might be helpful with younger kids learning to play.
Lanikai
Another great ukulele brand for kids is Lanikai. They have quite a range of ukulele styles, with tons of cute and unique designs. But, some of their models don't have the traditional ukulele tone.
Lohanu
This is actually a Canadian brand and they offer free access to ukulele lessons. These are definitely geared for beginners and they have a lot of affordable options with a lifetime guarantee.
Cordoba
While these ukuleles aren't made in Hawaii, they are still a top pick among musicians because they are good quality. Most of the ukuleles have mahogony bodies and some even have the option of using an amplifier.
Martin
Martin is one of the most well-established ukulele brands on the market. They have been around since the early 1900s. They are known for their craftsmanship, and that's also why they are more expensive than others.
Fender
While you might immediately think of guitars when you head the name Fender, they also have a line of ukuleles in lots of cute styles. But, some of them sound a bit more like a guitar than a traditional ukulele.
Luna
Luna ukuleles are designed by an artist and they are really beautiful instruments that can be played or used as home decor.
Oscar Schmidt
These gorgeous koa and mahogany ukuleles are geared for intermediate and professional ukulele players. It's a historic brand used by celebrities like Warren Buffet. But, there aren't any affordable options for beginners.
What are the ukulele brands to avoid?
There are a lot of cheap ukulele brands that are poor quality. I always recommend reading the reviews online of any ukulele you are looking at so you can decide how much value you want to place on negative reviews.
These are the ukulele brands that usually pop up as ukulele brands to avoid: Hricane, Huawind, ADM, Vangoa, Kaka, and Ammoon.
Where can I find the best cheap ukulele for under $50?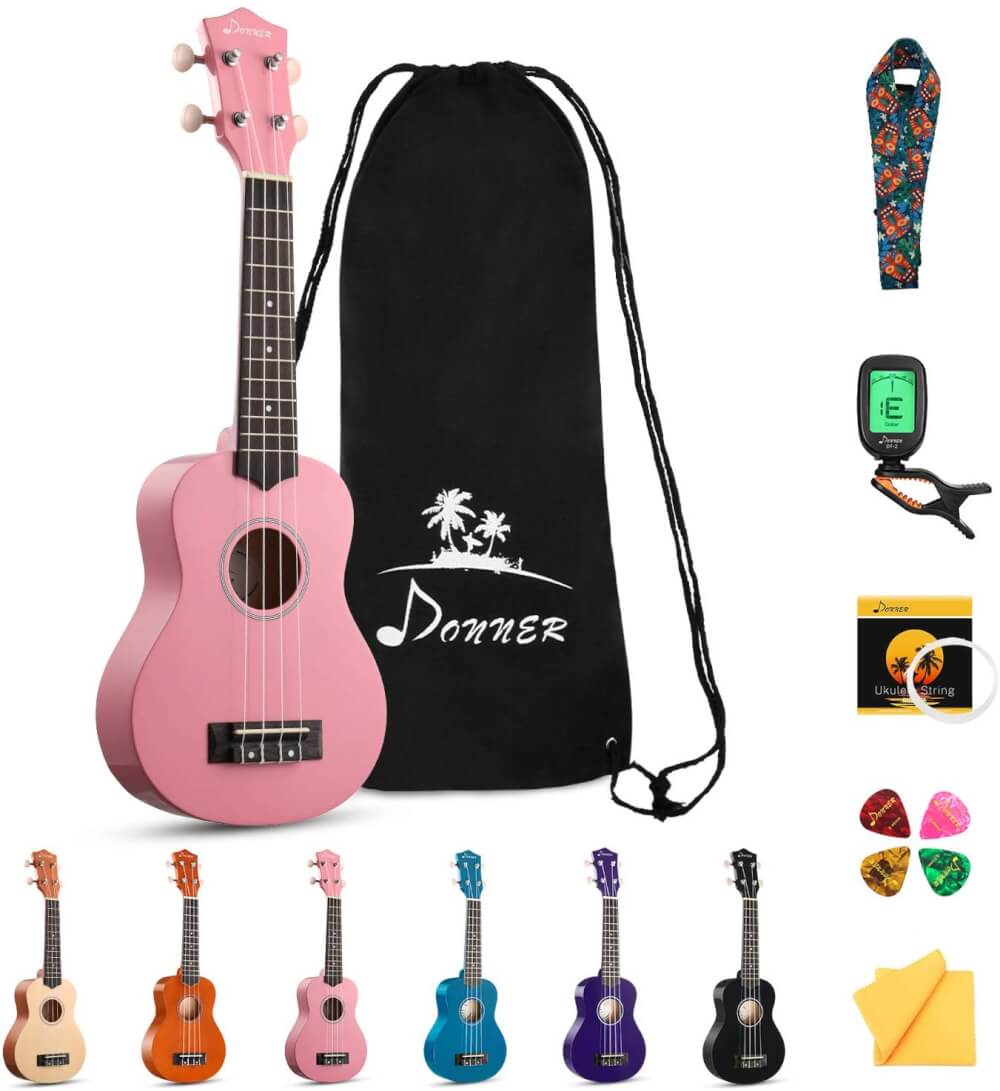 If you're looking for a cheap ukulele, Donner is a go-to brand for affordable instruments. They aren't the highest quality, but they are a good starter ukulele.
Buy this Donner DUS-10K Soprano Ukulele Ukulele Beginner Kit for Kids on Amazon for $40.99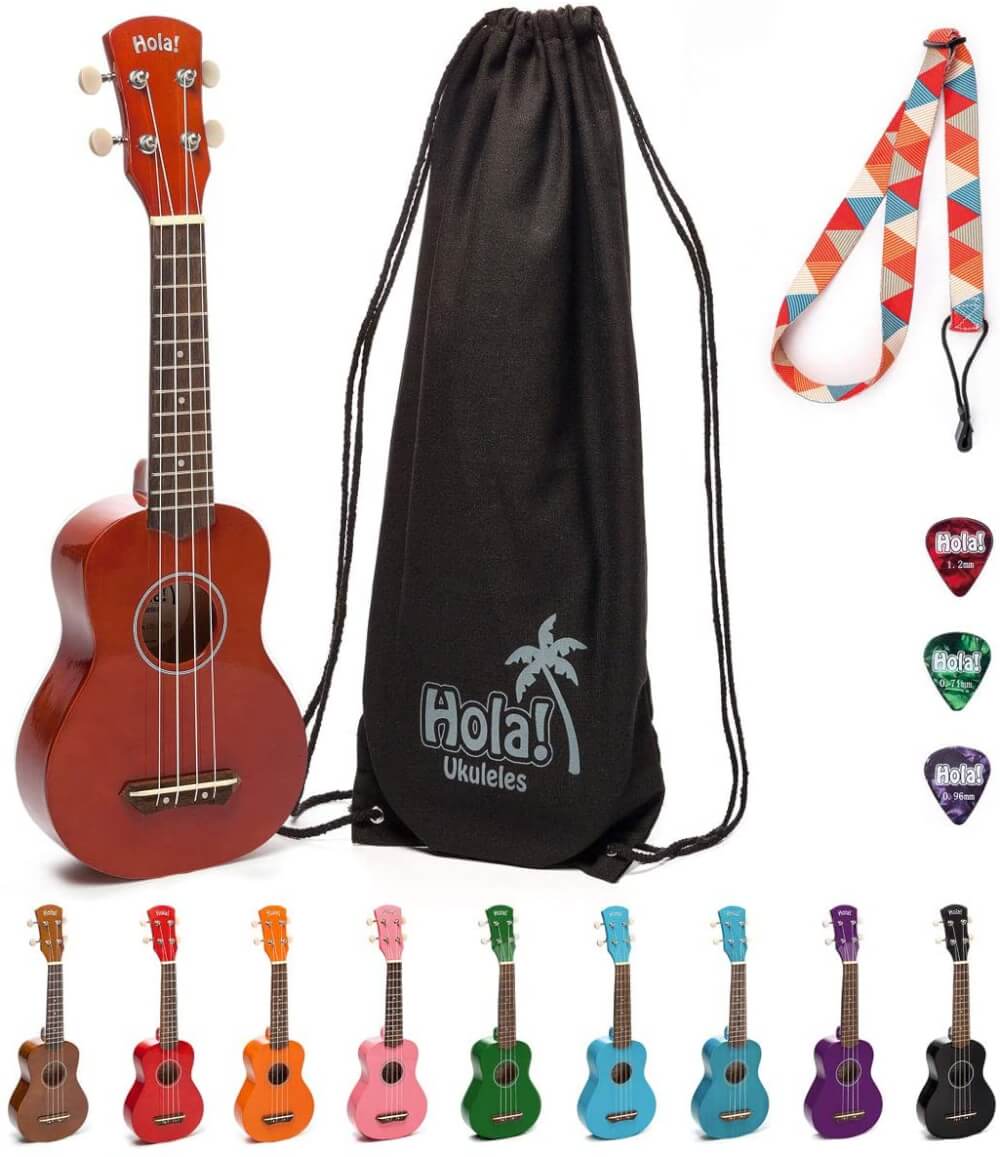 This is a fairly newish ukulele brand that is known for making one of the best affordable ukulele bundles.
Their ukuleles come in a lot of fun colors, plus you'll get two months of live ukulele lessons online!
Buy this Hola! Music HM-21MG Soprano Ukulele Bundle on Amazon for $39.99

Kala ukuleles have a line of beginner ukuleles called Makala. These are the ukuleles most schools use when teaching ukulele to kids.
Buy this Makala Surf Green Shark Soprano Ukulele by Kala on Amazon for $49.99
What's the best toddler ukulele?
If you want to get an ukulele for toddlers, there are several adorable choices. These ones are usually made with plastic strings and they might break if your toddler is rough with it.

Hape is one of my favorite brands for wooden toys for kids. There items are pretty durable and this one is highly recommended by parents of toddlers.
Buy this Hape Kid's Wooden Toy Ukulele on Amazon for $28.69
BUY ON AMAZON

This one is a #1 seller on Amazon and I like how the pick is attached to the ukulele, so you won't worry about losing it. Plus, it's super cute!
Buy this YEZI Kids Toy Classical Ukulele on Amazon for $13.99

BUY ON AMAZON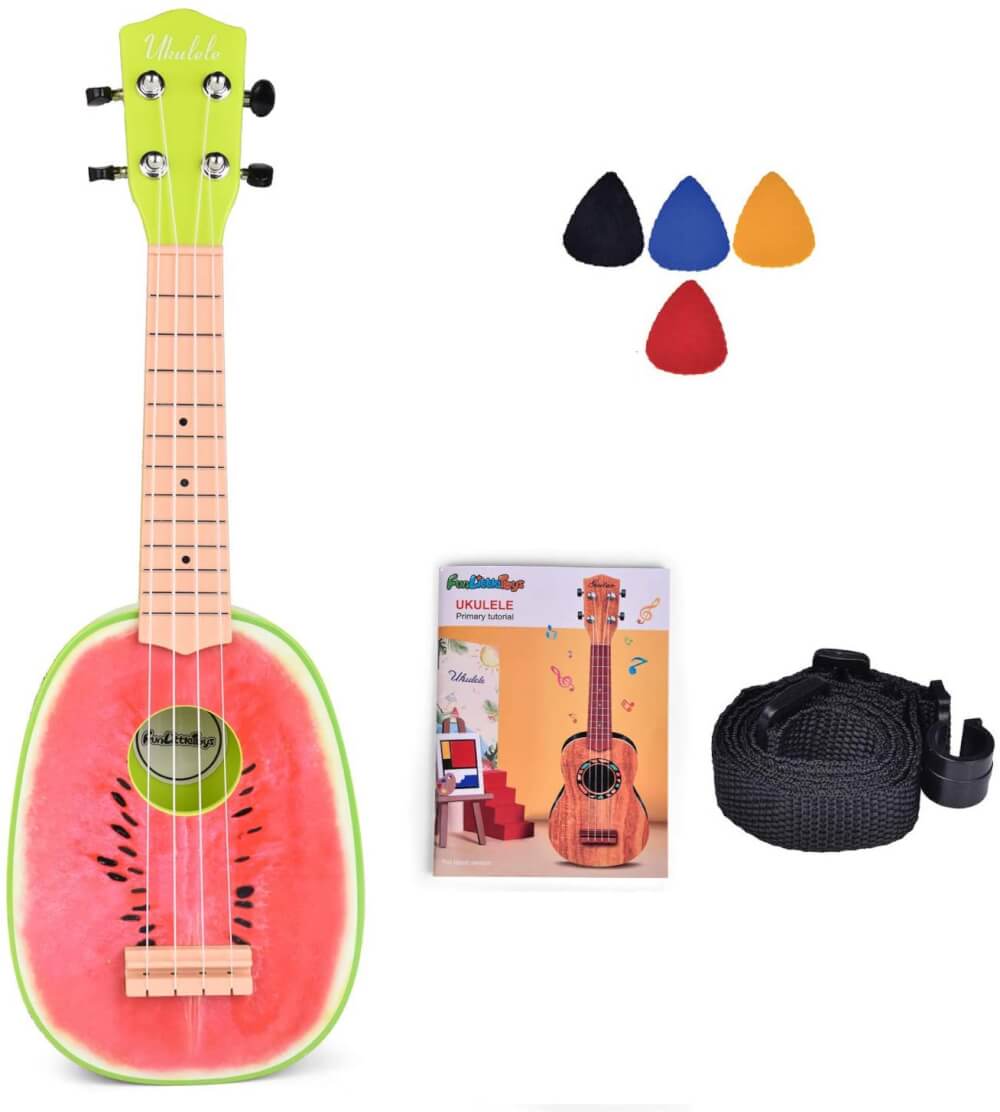 It's a toy ukulele that looks like a watermelon! How cute is that? Plus, it comes with a beginner ukulele book and a strap.
Buy this Fun Little Toys 21 Inch Toy Ukulele for Kids on Amazon for $19.95
BUY ON AMAZON
Where can I find a left handed ukulele?
My uncle is left handed and he told me that back in the day, he learned how to play the ukulele upside down. That's because he didn't know left handed ukuleles even existed.
Thankfully, there are several left handed ukulele options these days and there's even a book about how to play the ukulele left handed: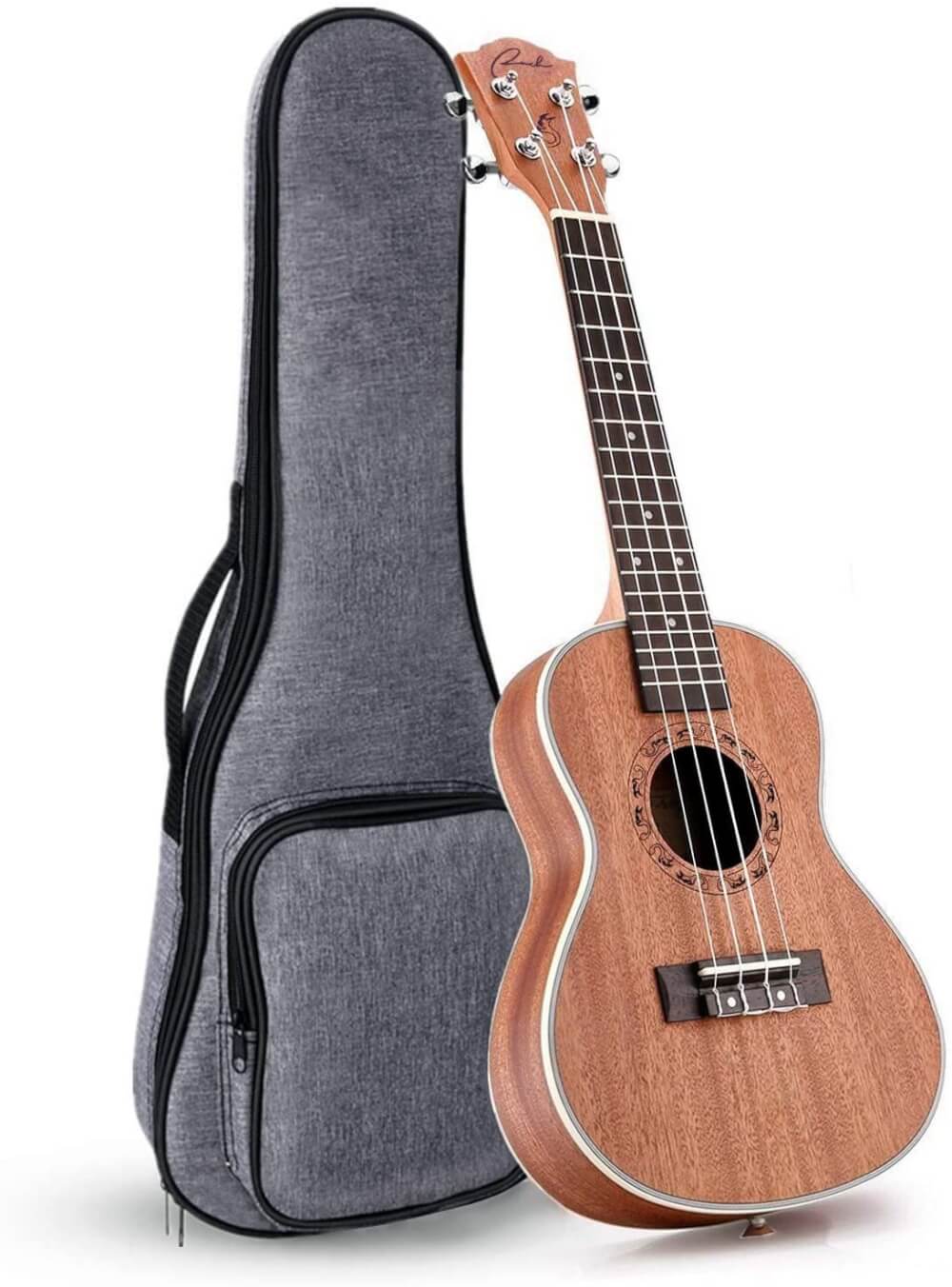 This left handed ukulele comes with a carry case.
Buy this Ranch left handed ukulele on Amazon for $54.99
BUY ON AMAZON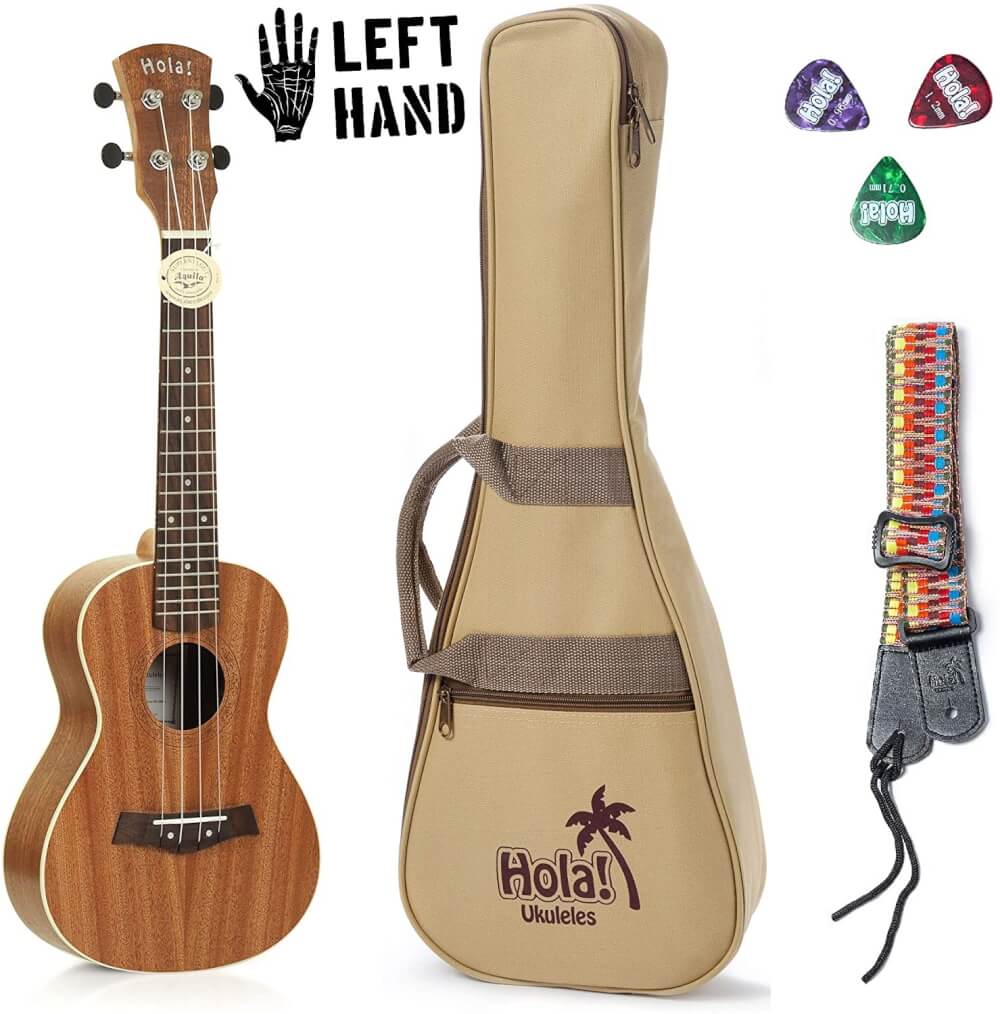 This ukulele bundle includes a padded gig bag, ukulele strap, and picks.

Buy this Hola concert ukulele bundle on Amazon for $69.95!
BUY ON AMAZON

This one is highly recommended by left handed ukulele players. It's pricier than the rest and doesn't come with any accessories.
Buy this Oscar Schmidt Mahogany Concert Ukulele on Amazon for $84.00

BUY ON AMAZON
What are the best ukulele shops in Hawaii?
Where to buy an ukulele on Oahu
Hawaii Music Supply is a really good place to shop for an ukulele on Oahu. It's up in Haleiwa and it's totally worth the drive if you want hands-on help choosing the perfect ukulele.
Kanile'a 'Ukulele is in Kaneohe on Oahu and they specialize in Hawaii made ukuleles. Plus, they usually offer a tour of their factory, which sounds pretty cool!
One of the most famous ukulele players is Jake Shimabukuro. His brother has an ukulele shop at the Pacific Beach Hotel in Waikiki called the Ukebox.
On Oahu, there's also the Aloha Stadium Swap Meet. This is where my husband actually bought his first ukulele and he was able to haggle the price a little. There are usually several ukulele vendors there.
Where to buy an ukulele on Maui
Mele Ukulele has shops in Wailuku and Wailea and it's where Maui musicians go to pick up ukulele stuff. And they even offer free ukulele lessons!
Lahaina Music is another option that's near a lot of Lahaina hotels and resorts. They offer online ukulele lessons and you can even rent a ukulele during your trip.
Where to buy an ukulele on Kauai
Scotty's Music House has been around for years and they have the largest selection of ukuleles in the world! You can even buy used ukuleles there.
Kamoa Ukuleles is also a good option on Kauai. They offer student pineapple ukuleles as well as professional ones.
Where to buy an ukulele on the Big Island
Just Ukes is in the main area of Kailua-Kona and they have a great assortment of ukuleles and accessories.
Hilo Ukulele & Guitar is on the other side of the island and it's a great place to check out ukulele gear.
If you just want a Hawaii souvenir ukulele, you can find those at ABC Stores or Walmart on any island.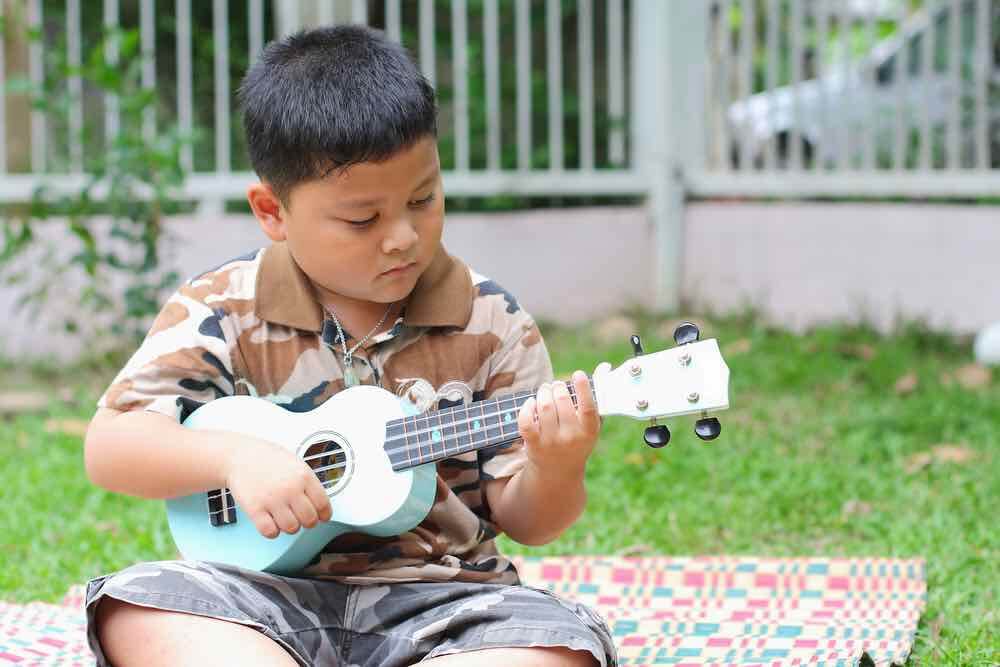 Where can I find ukulele lessons?
If you are looking for in-person ukulele lessons near your home or in Hawaii, you might check Airbnb Experiences. There are usually regular people looking to make extra money by teaching you how to play the ukulele.
There's also ukulele lessons through many kids music programs on the Mainland.
Keep scrolling to read about some awesome online ukulele lesson options.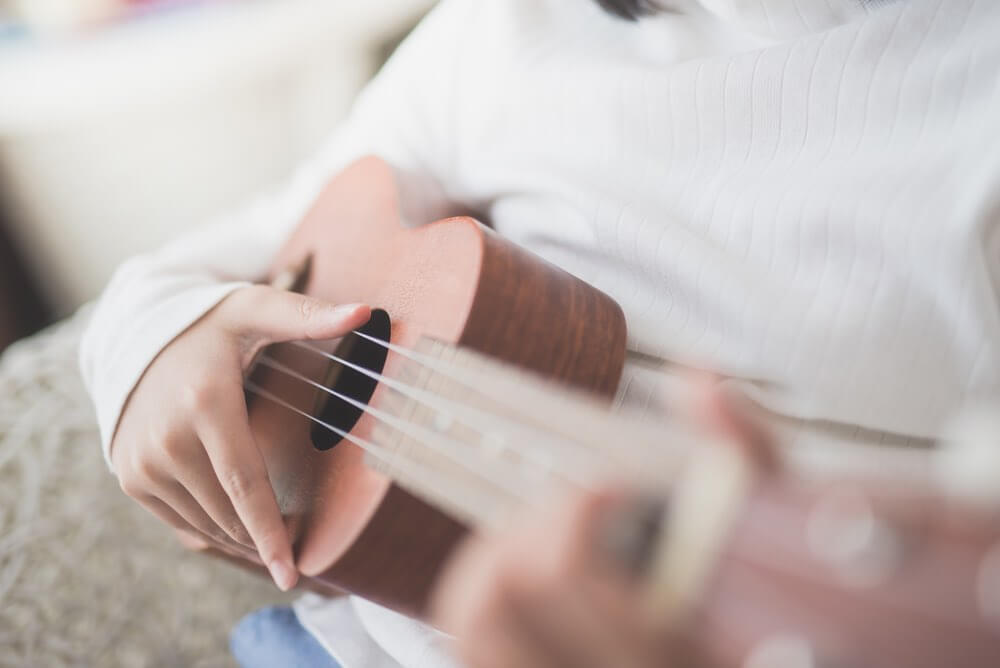 Children's Ukulele Buying Guide
What Should I Know BEFORE Buying a Ukulele?
1. Consider your child's age
Usually, people recommend the ukulele for kids ages 6 and older if they want to seriously study the instrument. That's when you'll want to invest in a good quality beginner ukulele.
But, that's not to say kids as young as 3 years old can't learn to play. For that age, you might want to invest in a cheap ukulele though, in case of tantrums or roughness.
2. What ukulele size you need
Did you know there are 4 different types of ukuleles? There's Soprano, Tenor, Concert, and Baritone.
You'll probably want to know that the soprano is the smallest and lightest ukulele. It's also the most common ukulele for kids.
And it's what you probably picture when you think of a traditional ukulele.
3. What shape you like
There are two main ukulele shapes: the traditional ukulele (like what you normally see) and the pineapple ukulele (which is oval-shaped and often a sopranissimo.)
4. How much you're willing to spend
Like I said before, most beginner ukuleles cost between $50-$150.
Figure out where your budget falls on that scale before you really start looking at buying an ukulele (or you might fall in love with an ukulele out of your price range.)
If you're involving your child in the ukulele buying process, make sure they also understand your budget before you go shopping.
5. Brand quality
While the brand name doesn't matter for a lot of things, it does make a difference when buying a ukulele.
Most Hawaiian musicians swear by particular ukulele brands because they are known for their high quality, rich sound, and durability.
There's a lot of history and prestige with some more established ukulele brands and it's good to know that before you buy.
6. Online or in-store shopping
Another thing to consider is whether you want to shop at an ukulele store (or a general music store) or if you are wanting to buy an ukulele online.
If you shop in person, you can usually ask a salesperson questions and possibly test out the instrument to make sure it's a good fit.
But, you might not have an ukulele store nearby. Or they might not have what you're looking for in-stock.
Online shopping is great if you know exactly what you are looking for and want to be able to compare prices before buying.
6 Best Ukulele for Beginners
What kind of ukulele is best for a beginner? I've come up with my 6 favorite ukulele options for kids and beginners.
This is a good beginner ukulele that a lot of schools go with.
This official Kala Learn to Play Ukulele starter kit comes with a mahogany ukulele, a booklet, tuner app, and access to online ukulele lessons.
The carry case is just a nylon bag, so you might want to get a sturdier ukulele case if your child will be taking it to and from school or ukulele lessons.
Buy this Kala Ukulele Starter Kit on Amazon
BUY ON AMAZON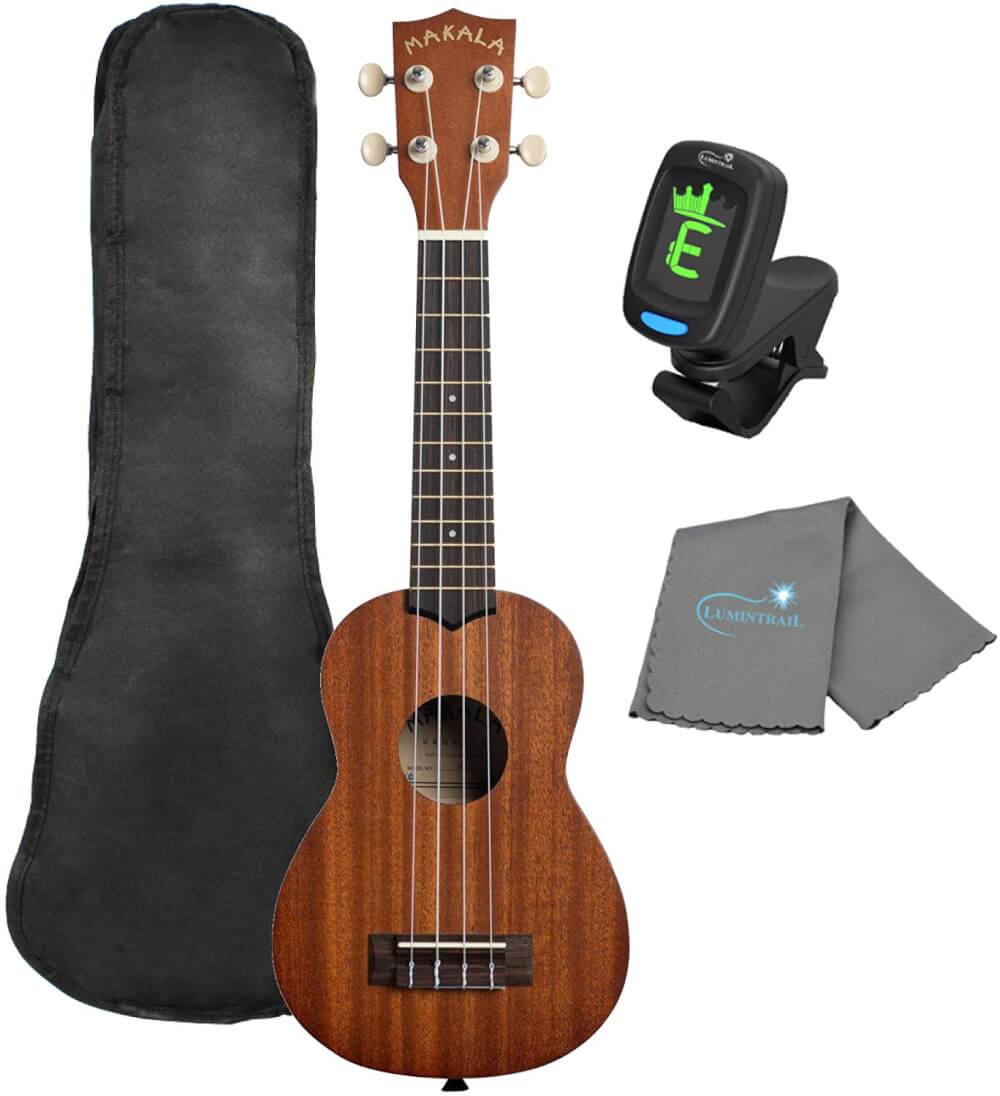 For the best budget ukulele, this one is a good pick. It's made by Kala, which is a well-established ukulele brand that many schools use.
This Makala ukulele bundle includes a mahogany ukulele, tote bag, tuner, and polishing cloth.
Buy this Makala Soprano Ukulele by Kala on Amazon
BUY ON AMAZON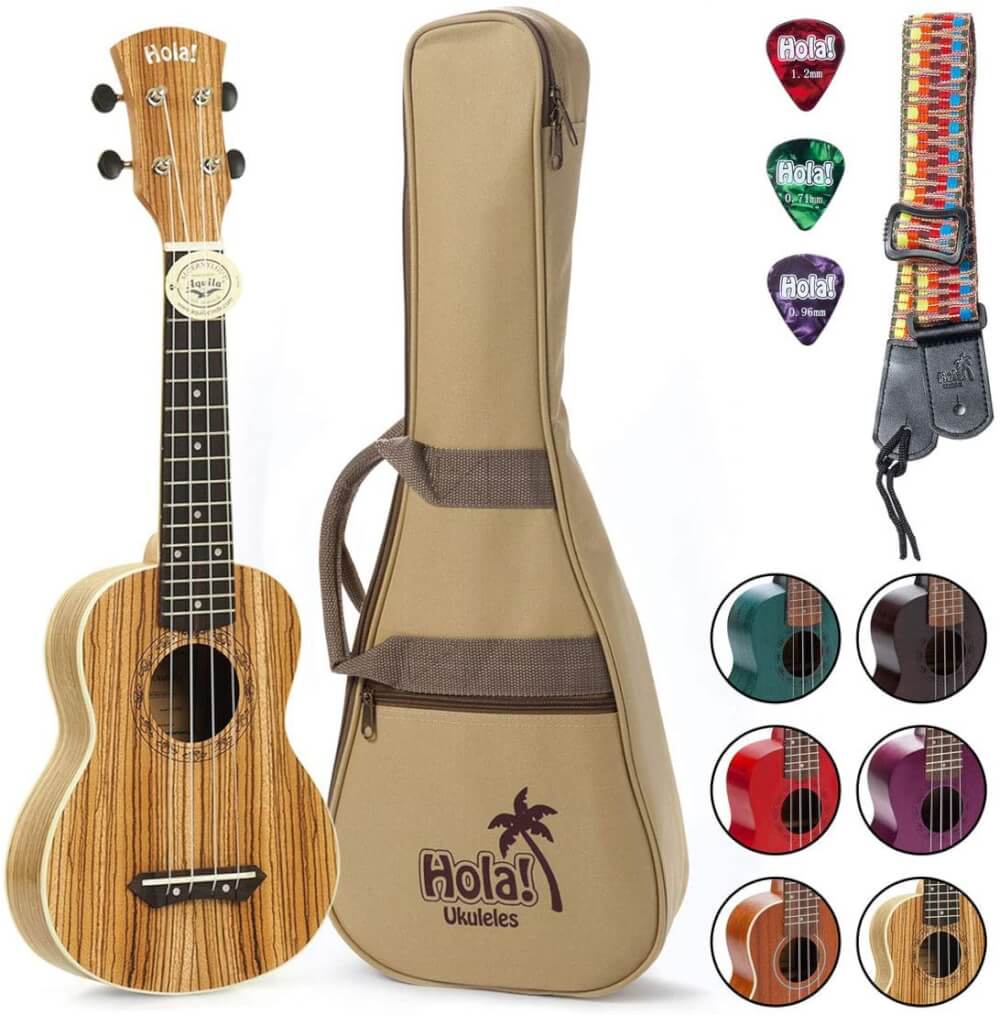 This deluxe Soprano Ukulele Bundle come with a walnut ukulele (in a variety of colors,) Aquila strings, a padded gig bag, kids ukulele strap, and picks.

Buy the Hola! Music HM-121ZW+ Deluxe Soprano Ukulele Bundle on Amazon
BUY ON AMAZON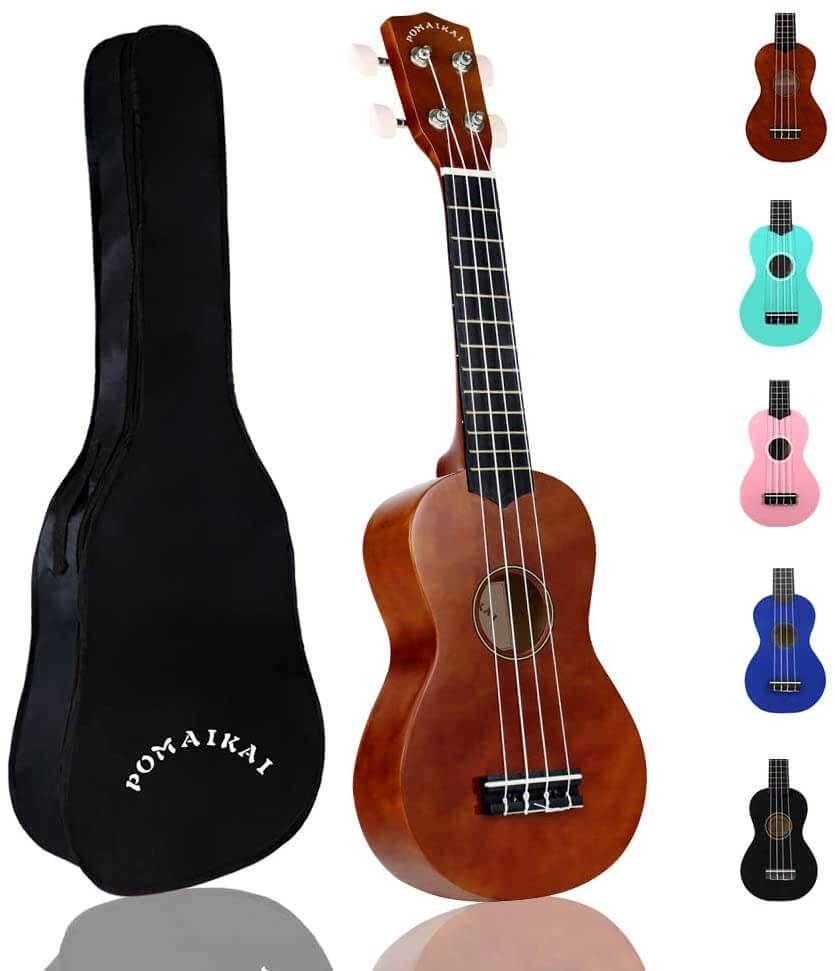 Another one of the best budget ukuleles for kids is this POMAIKAI wooden ukulele and carry case.
This small ukulele comes in a variety of super fun colors, making it appealing for kids. And the body is made from basswood.
Buy this POMAIKAI Starter Uke on Amazon
BUY ON AMAZON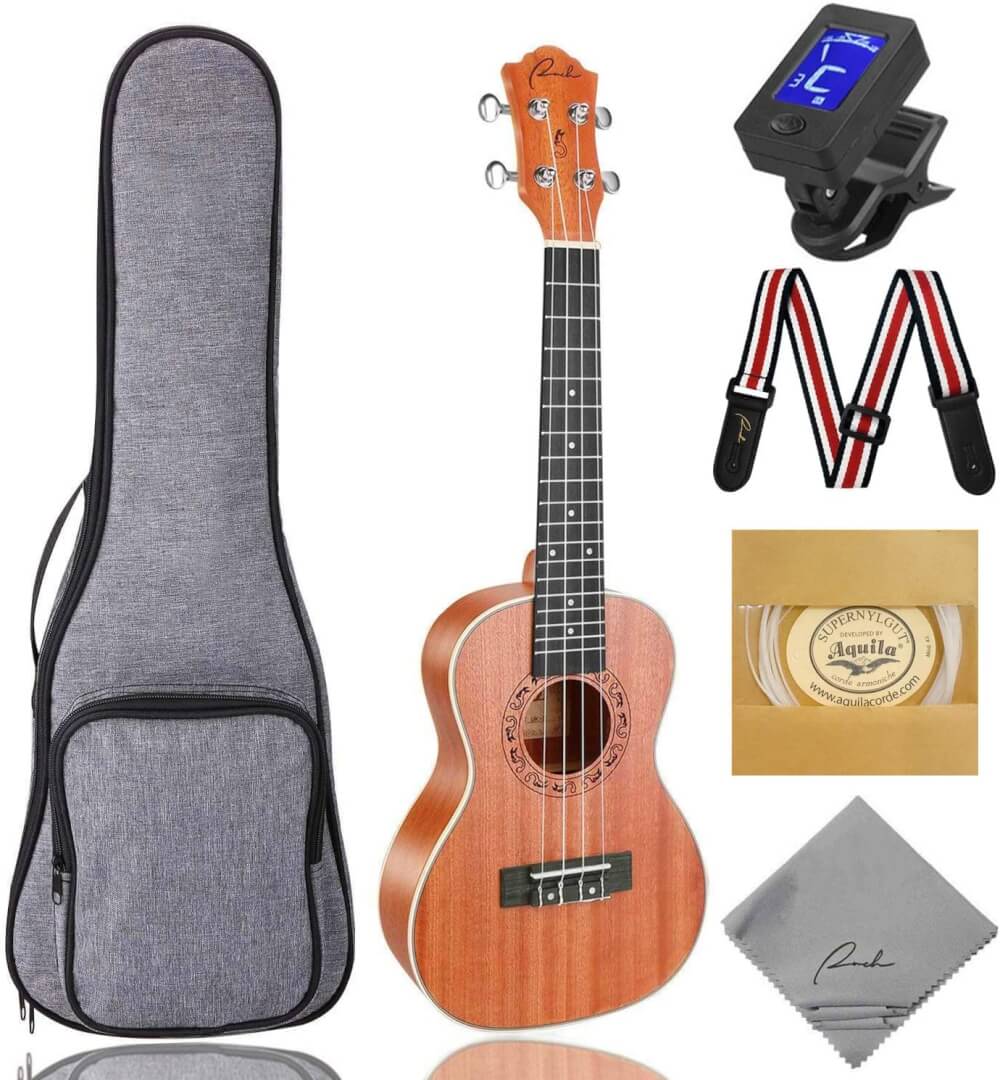 This is another great ukulele for beginners. This ukulele set comes with a Sapele wood ukulele (with Aquila strings attached), a gig bag, digital tuner, extra set of Aquila strings, a kids ukulele strap, and a polishing cloth.
Buy this Ranch 23 Inch Concert Wooden Ukulele on Amazon
BUY ON AMAZON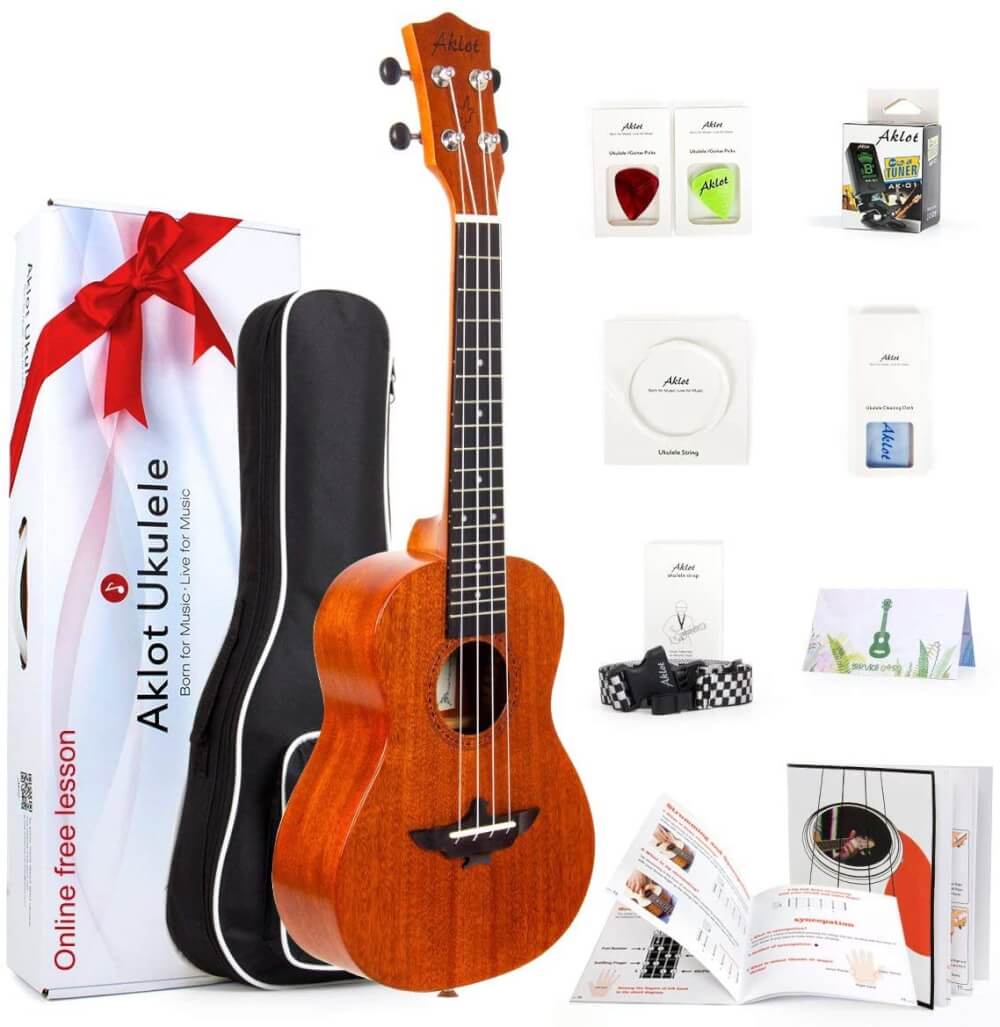 This beginner ukulele bundle comes with a mahogany ukulele, a carrying bag, a tuner, spare set of strings, an ukulele strap, a cleaning cloth, and 2 picks.
You'll also get a free online ukulele tutorial that will teach you how to play the ukulele in 30 minutes.
Buy this Aklot Mahogany Concert Ukulele on Amazon
BUY ON AMAZON
I Have a Good Beginner Ukulele, Now What?
Helpful Ukulele Accessories
If you don"t buy a ukulele bundle, you can still get ukulele accessories to go with them. You might not need all of these, but it's good to know what's out there.
If you're investing in a good quality instrument, you'll want to make sure to protect it with a decent ukulele case.

This backpack ukulele case is highly rated on Amazon and looks like an easy way for kids to carry their ukes.
BUY ON AMAZON
Another helpful ukulele accessory is an ukulele strap. That way, kids don't have to hold their ukes and they can focus just on finger placement.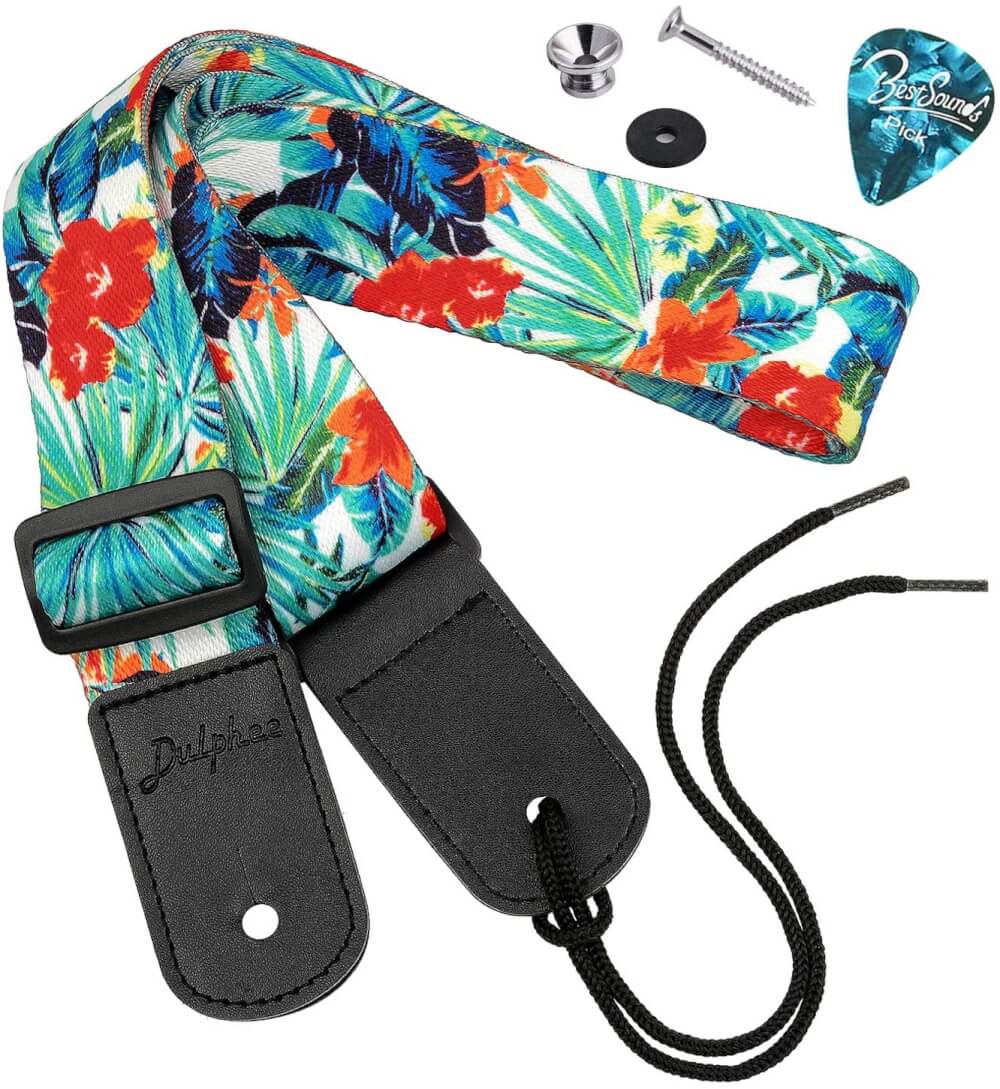 There are tons of kids ukulele straps available on Amazon in a variety of colors and prints. I like this one because it feels very tropical and has good reviews.
BUY ON AMAZON
Another thing that is really helpful for beginning ukulele players is a trusty tuner.
That way, they can start to hear what the ukulele is supposed to sound like and know if they are in tune.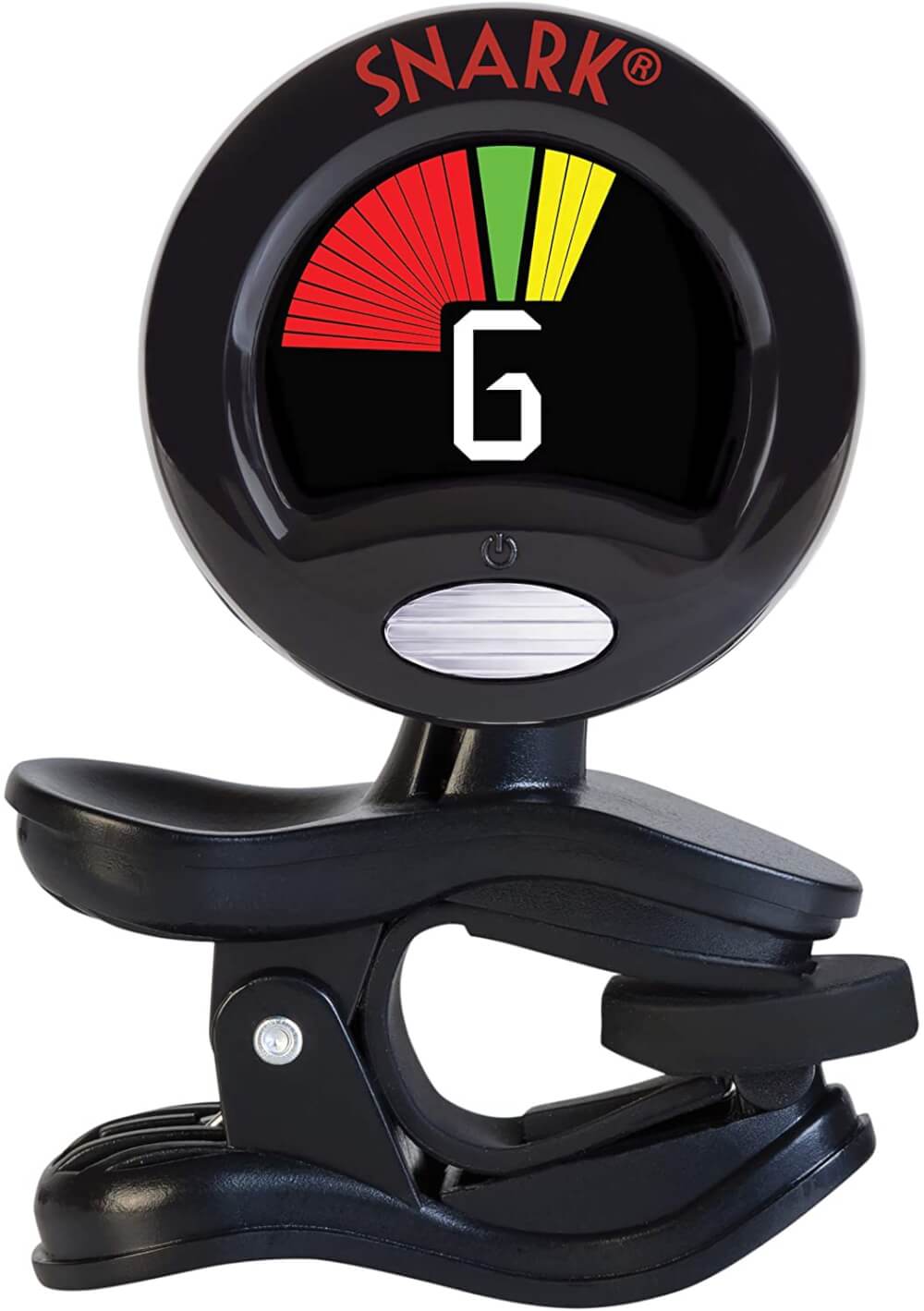 This ukulele tuner is highly rated and clips right on your ukulele. Because it can rotate, it works well with both right handed and left handed ukuleles.
BUY ON AMAZON
If your child will be playing the ukulele a lot at home, will be switching between instruments, or would like to put it on display, you'll want to get an ukulele stand.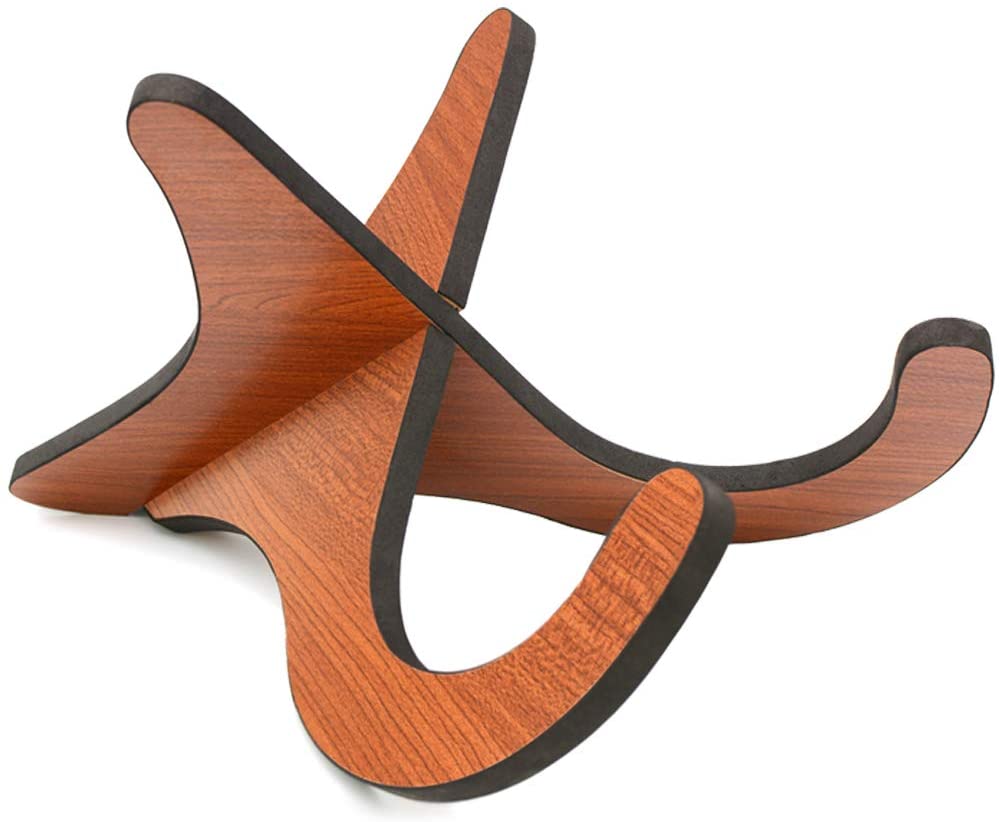 This wooden ukulele stand is sleek and super portable. The two piece just slide together to make the stand and you can keep it in your ukulele bag.
BUY ON AMAZON
While most of the time, your child will be strumming the ukulele with their fingers, there are times where they might need to use a pick.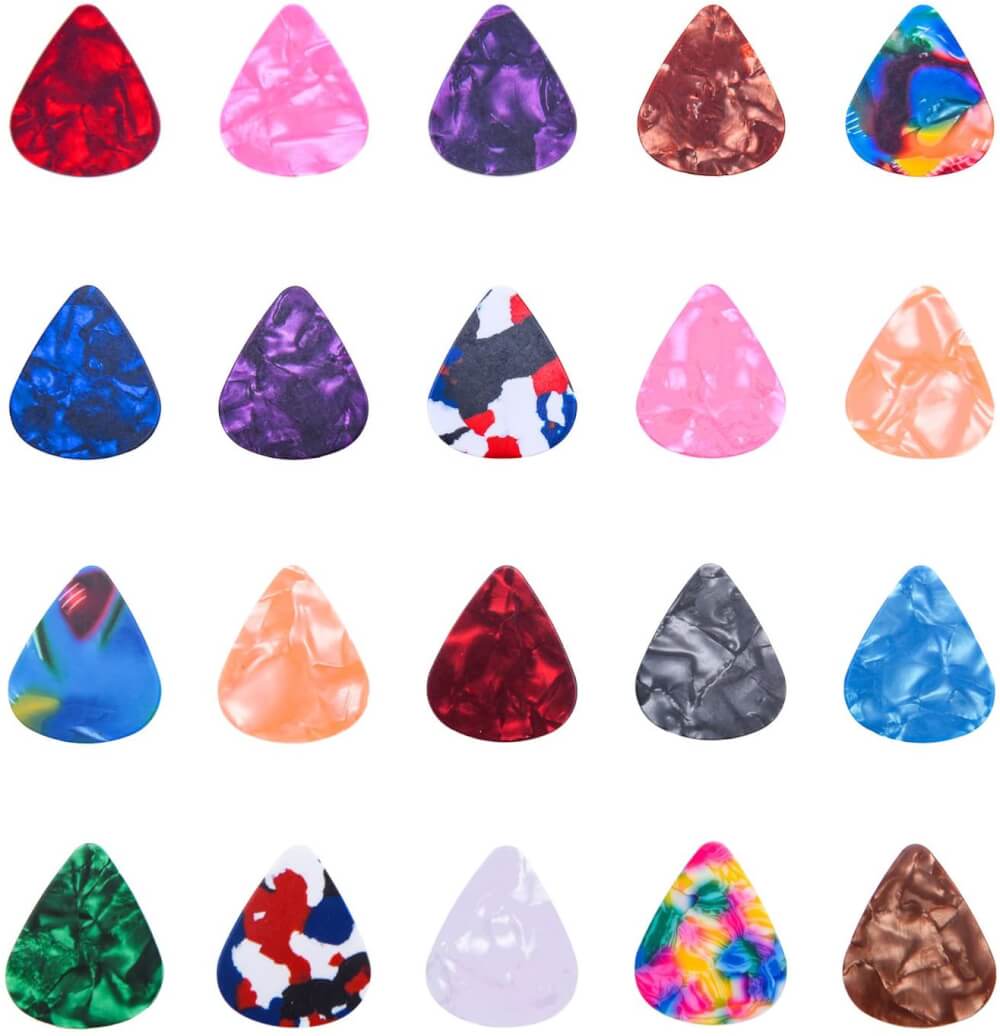 You can use guitar picks as ukulele picks and there are tons of cheap ukulele picks on Amazon in a variety of colors and patterns.
BUY ON AMAZON
Online Ukulele Lessons for Kids
One of the easiest ways to learn ukulele for beginners is by taking lessons online in the comfort of your home. And there are a bunch of good options to choose from:
Beachside Music offers weekly 60 minutes Zoom small group kids ukulele lessons plus a private 30 minute lesson. They also offer ukulele lessons for teens and adults.
There are also lots of places to sign up for ukulele courses with pre-recorded ukulele video lessons.
Take Lessons is another platform where you can find a private ukulele teacher for your child. There are many teachers to choose from and they will teach your child the ukulele online.
Outschool offers a ton of online classes, including private ukulele classes for kids. These are geared for kids ages 5-10 years old.
Beginners Ukulele Books
Whether you are teaching yourself how to play the ukulele or you want to practice between ukulele lessons, it's definitely a good idea to have at least one beginners ukulele book.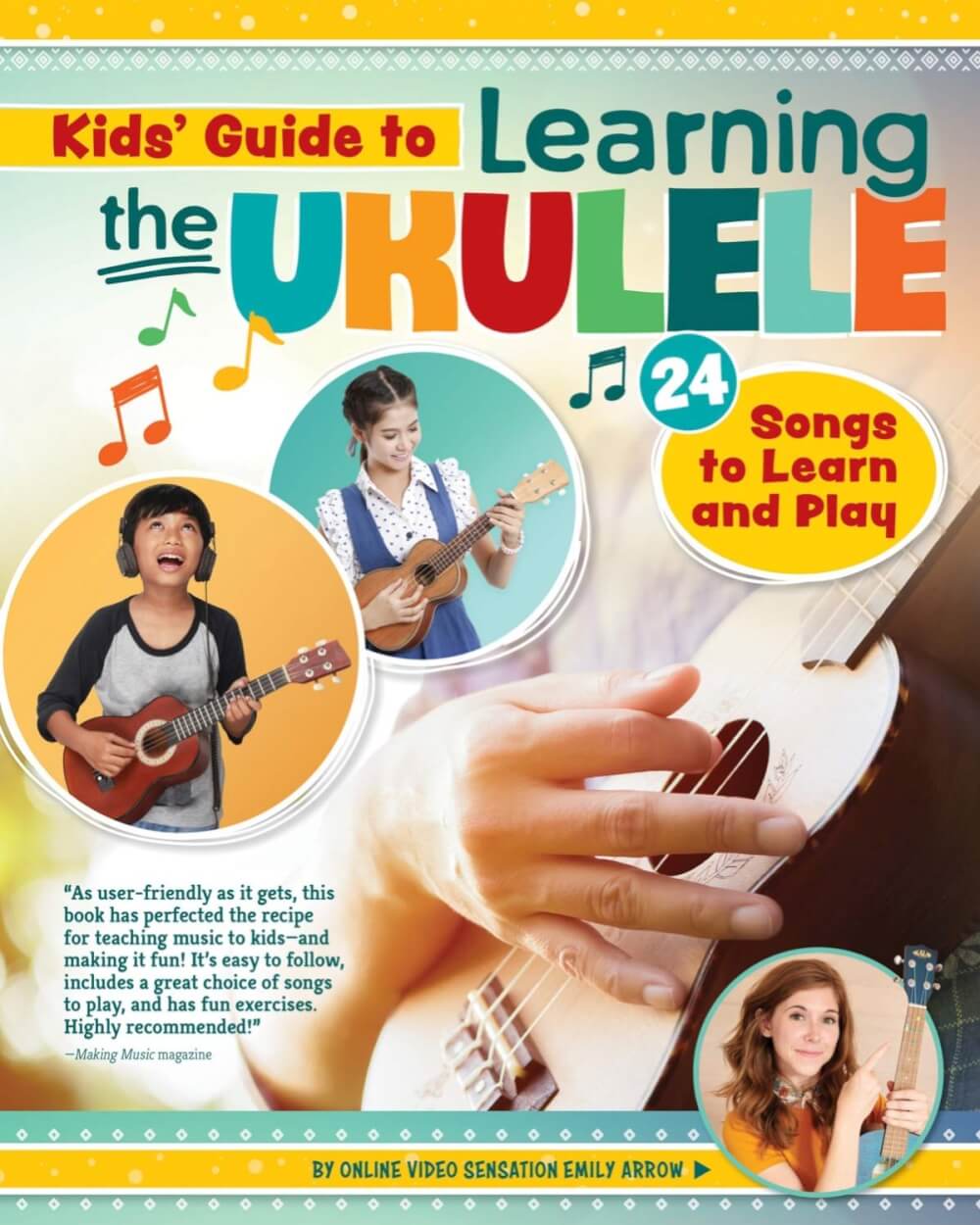 This is a really awesome ukulele for kids book to get if your child grew up singing songs like Itsy Bitsy Spider. The author is a music teacher who uses familiar songs to teach kids how to play the ukulele.
Plus, there's lots of introductory info about the history of the ukulele and a guide to all the parts of an ukulele.
Buy a Kids' Guide to Learning the Ukulele on Amazon

BUY ON AMAZON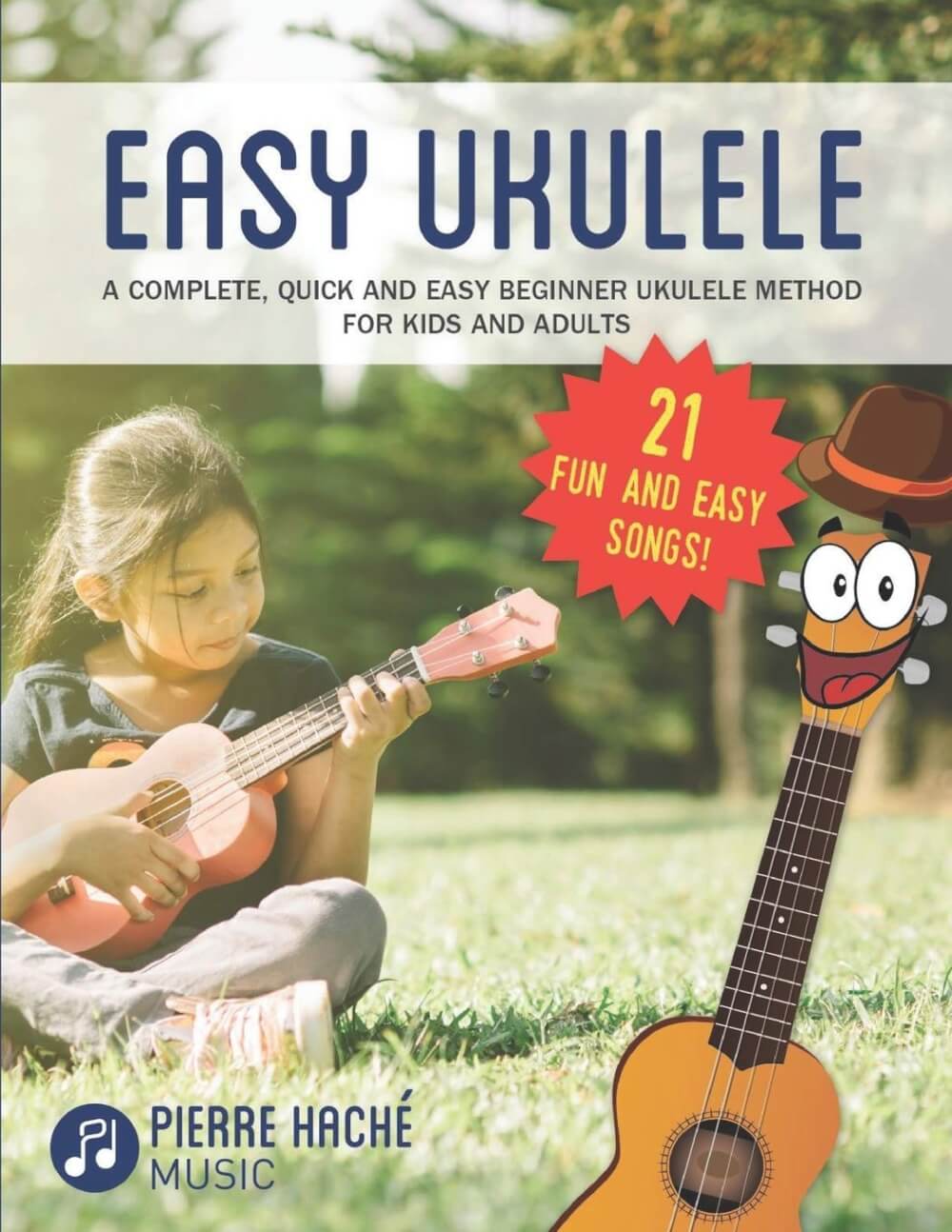 This is another great ukulele for kids book. It's pretty clear on how to strum the ukulele, how to learn different chords, and then progress to playing a full song.
What's extra cool is that kids can also access the free ukulele videos if they want some visuals as they practice.
Buy Easy Ukulele on Amazon

BUY ON AMAZON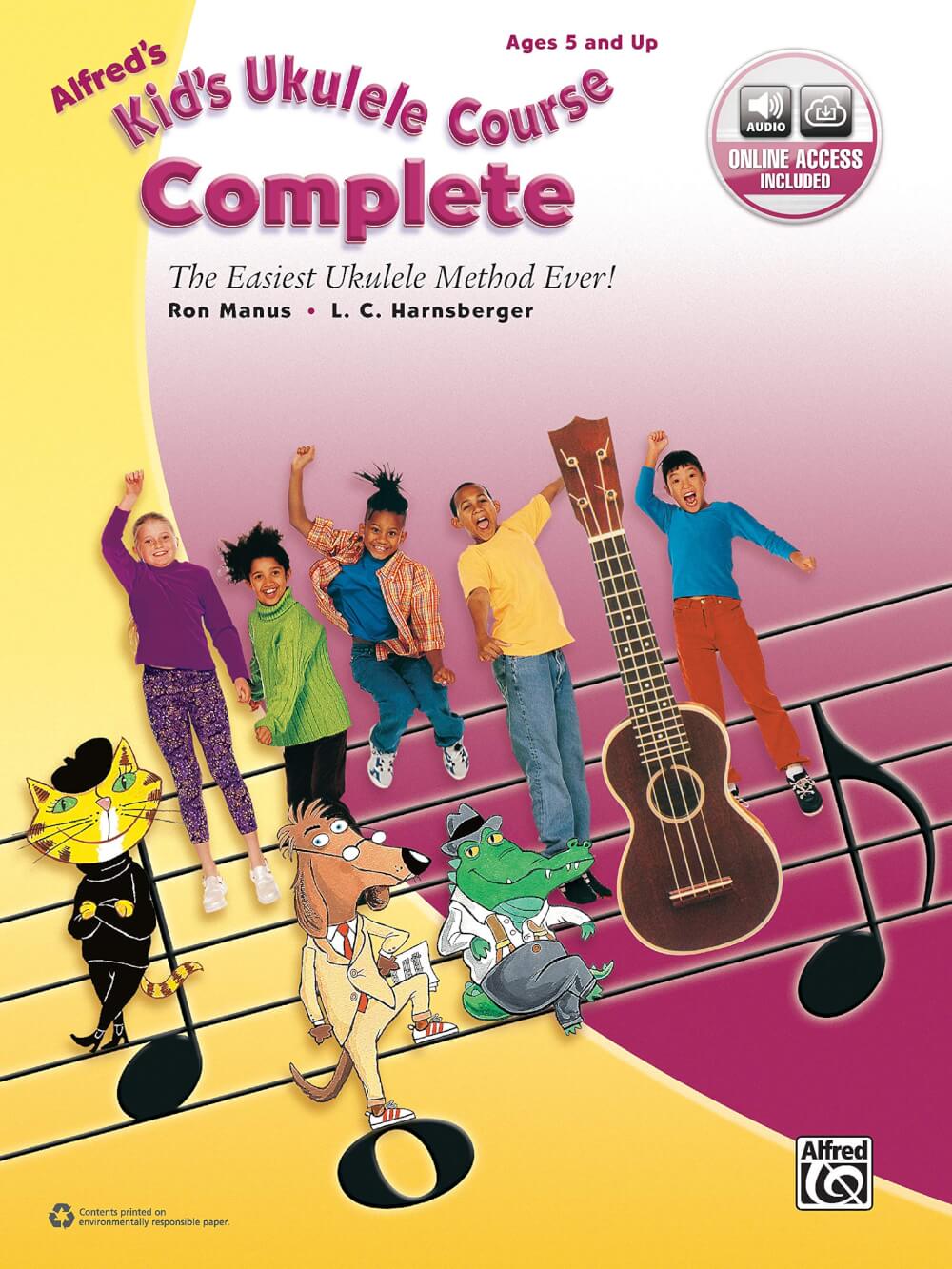 This is another great ukulele book option. This one comes with access to download audio files to go with the book.
But, what I like about this kids ukulele book is that they teach kids how to play Aloha 'Oe (Hawaii's state song.)
Buy Alfred's Kid's Ukulele Course Complete on Amazon

BUY ON AMAZON
Kid Songs for Ukulele
And if you'd like to learn some additional children's songs for ukulele practice, here are a few easy ukulele songs for kids to check out on YouTube (besides nursery rhymes):
Loving this post about the best ukulele for kids and want to learn more about Hawaiian music? Find out the best Hawaiian musicians to add to your Spotify list!