Are you curious about Hawaii and what is Hawaii most known for? Keep scrolling to find out 23 things associated with Hawaii you might not realize.
This list of things associated with Hawaii was written by Hawaii travel expert Marcie Cheung and contains affiliate links which means if you purchase something from one of my affiliate links, I may earn a small commission that goes back into maintaining this blog.
Hawaii is a beautiful state with many of the best things in life. It's home to some amazing natural attractions, as well as surfing, snorkeling, and other water sports.
The Hawaiian islands are one of the most popular destinations in the world. It's also a great place to take your kids on vacation. It's the only state in America where you can see active volcanoes, lush rainforests, and beautiful beaches all in one day!
It also has delicious food that you can't find anywhere else on the planet. And it has warm weather year-round!
The Aloha State is a magical place that's perfect for families.
So if you're planning a trip there soon, here are 23 things that people associate with a Hawaiian vacation.
So what is Hawaii known for? Keep scrolling to find out!
Want to skip all the planning and just access my detailed Hawaii Itineraries complete with daily schedules, kid-friendly activities, and travel hacks? Click the button below.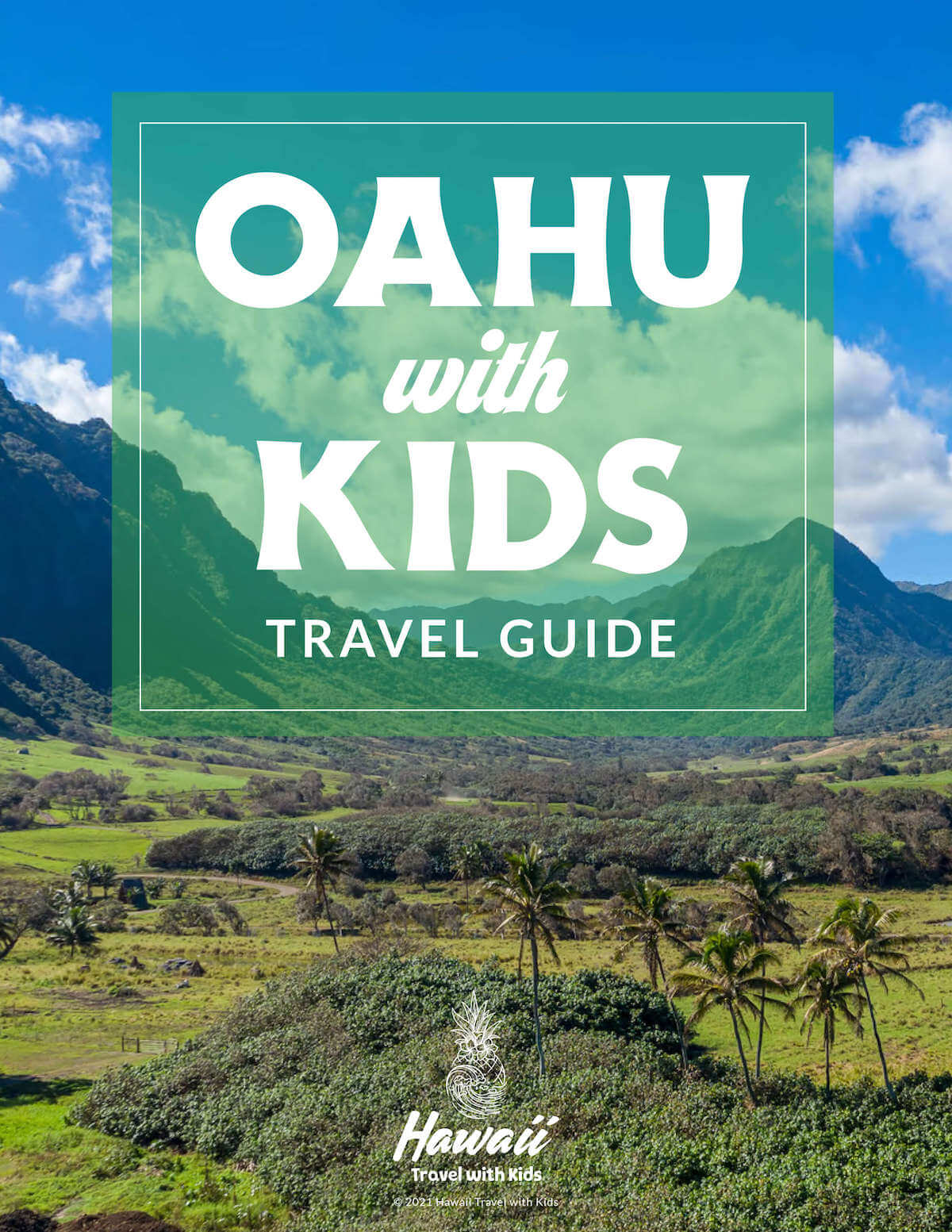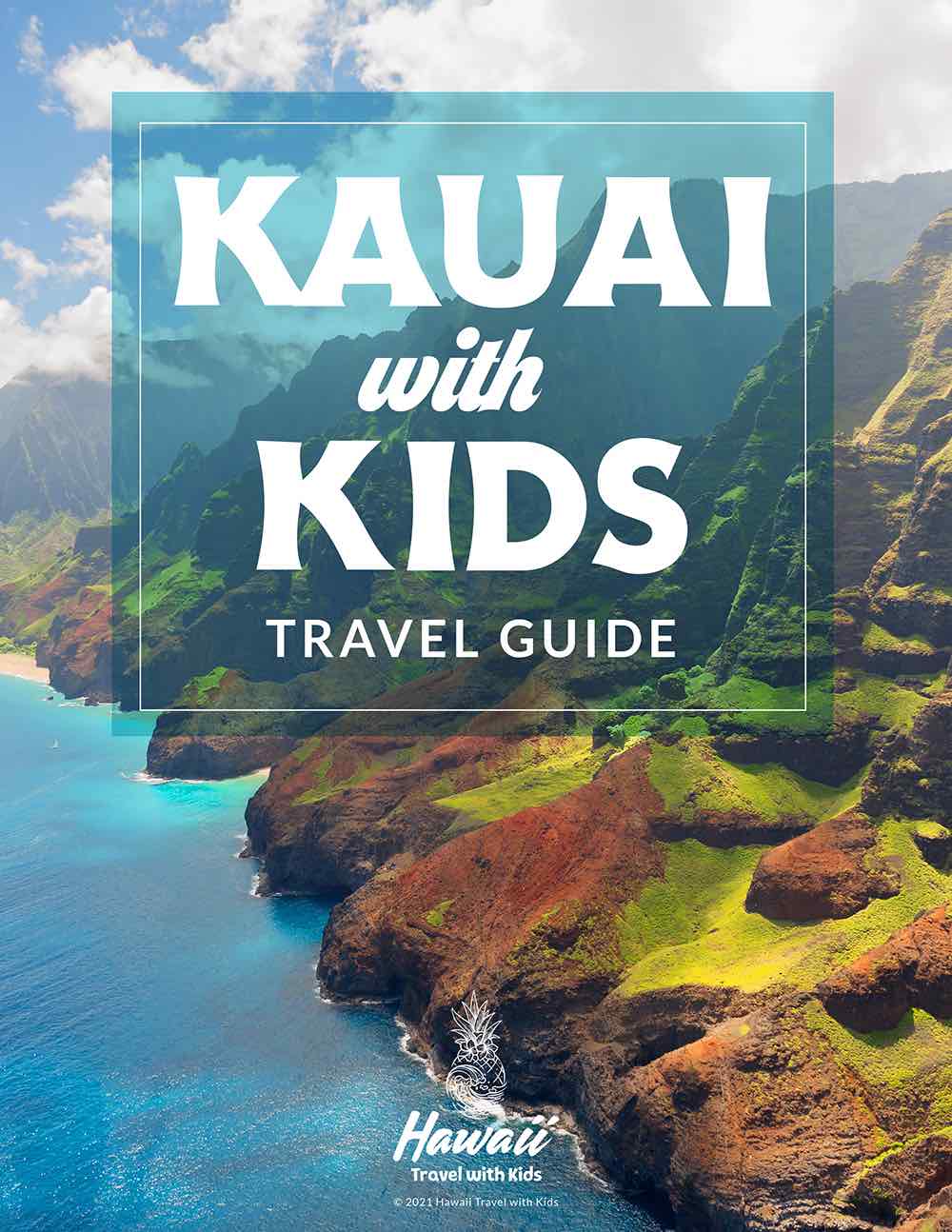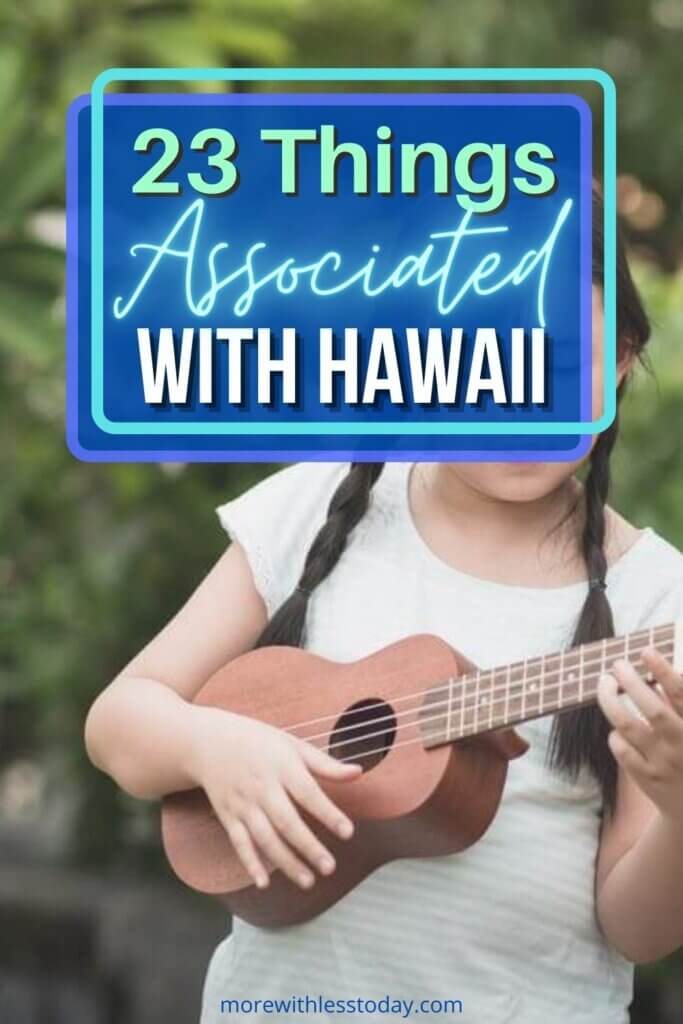 23 Things Associated with Hawaii
Here are some of the top things that represent Hawaii. These are things that make Hawaii famous.
1. Pineapples
If you were asked, "What is Hawaii known for food wise" you would say pineapples.
So, of course, I have to kick off this list with one of the most iconic Hawaiian fruits: Pineapples! This is one of the top Hawaii gifts to bring home to friends and family.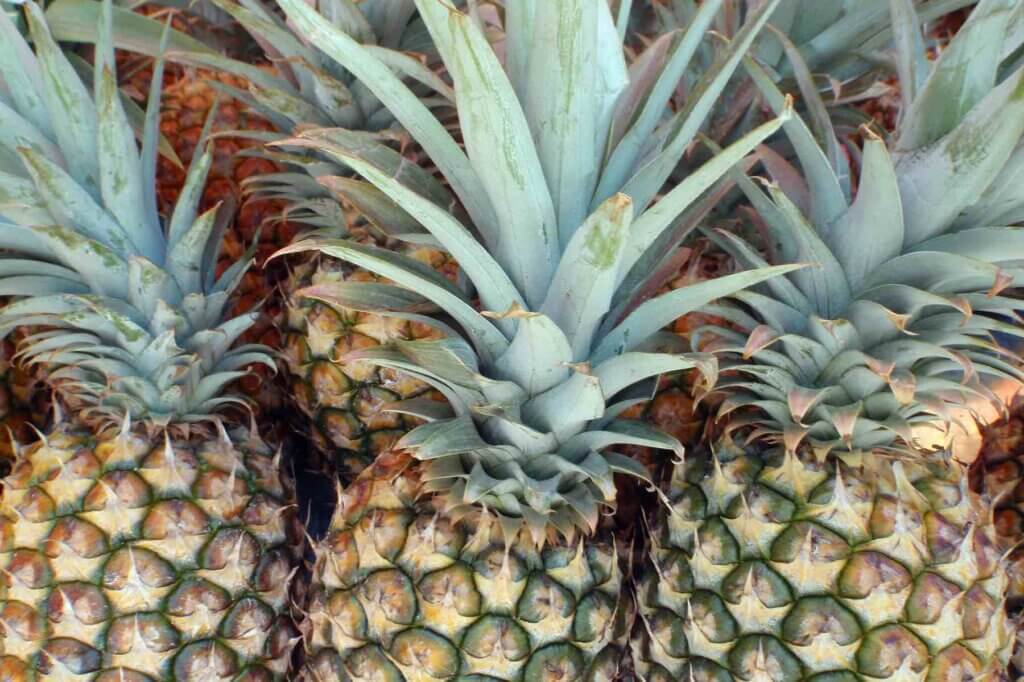 These delicious, sweet treats can be found in all kinds of drinks and desserts here on the island, including Dole Whip! You can even tour pineapple plantations (like Dole Plantation on Oahu) to see how these luscious cones grow into a fruit we love so much.
It is the top food Hawaii is known for!
2. Palm Trees
It's hard to daydream about Hawaii without including a few swaying palm trees. But, did you know Hawaii has a bunch of varieties of palm trees?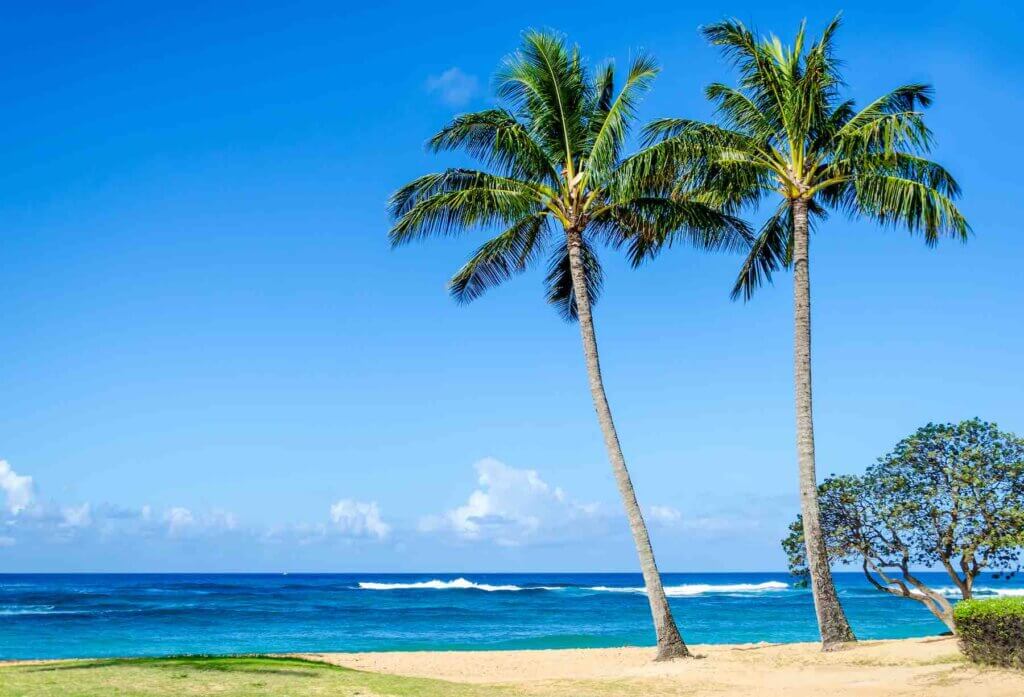 The Loulu Palms are the only palm trees native to Hawaii. The date palms, coconut palms, traveler's palms, and bottle palms found on the island are foreign to the land. Polynesian settlers introduced most of these species.
And while palm trees are awesome at providing shade, people also use the palm fronds for Polynesian dance costumes, hats, baskets, and more.
If you visit the Polynesian Cultural Center on Oahu, you'll learn how to weave a fish using palm fronds.
Palm trees are one of the best things in Hawaii!
3. Surfing
Surfing is a huge part of Hawaii's culture. You see it in the artwork, on t-shirts, and as an iconic symbol for the island state.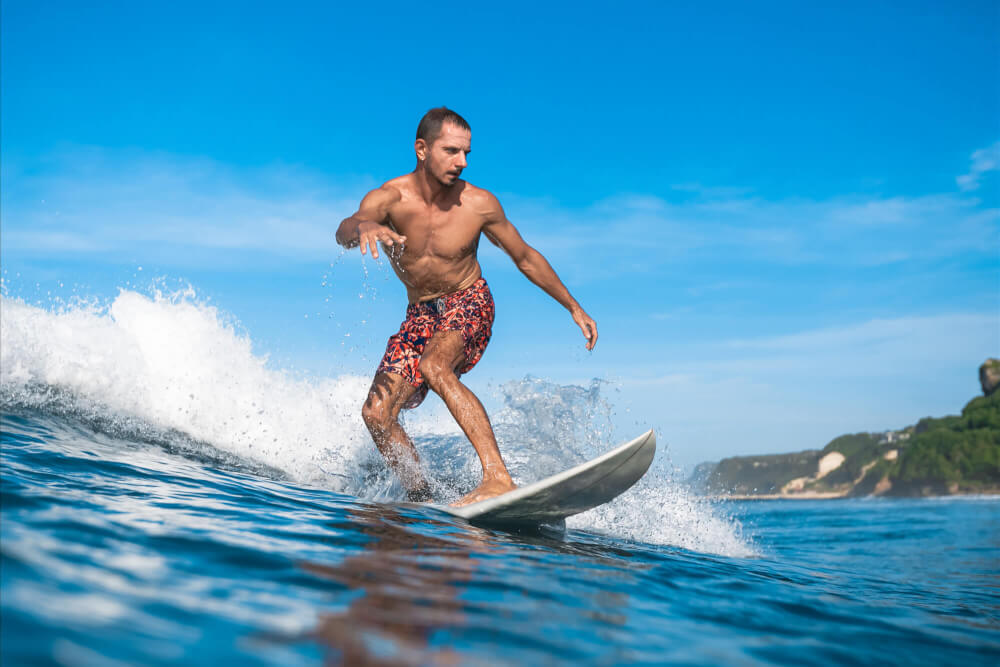 The connection between surfing and Hawaii has existed since King Kamehameha I (one of the famous Hawaiian people), united all the islands under his rule in 1810. However, surfing didn't become popular worldwide until Westerners came to visit in the 1900s.
The most famous Hawaiians surfer is Duke Kahanamoku, who was an Olympic swimmer. People consider him the forefather of modern surfing.
In 2021, Native Hawaiian Carissa Moore won gold in women's surfing at the Tokyo Olympics. This was the first time the Olympics featured it as a sport. These are just some of the famous people from Hawaii.
Find out the best surf lessons on Oahu and Maui! And check out my list of the best surfing gift ideas!
Surfing is definitely one of the best things about Hawaii, with the tropical climate and best beaches in the world.
4. Ukulele
The ukulele is the most famous instrument associated with Hawaii. It's easy to see why. It sounds beautiful, and it's small enough to carry on a plane or in your backpack.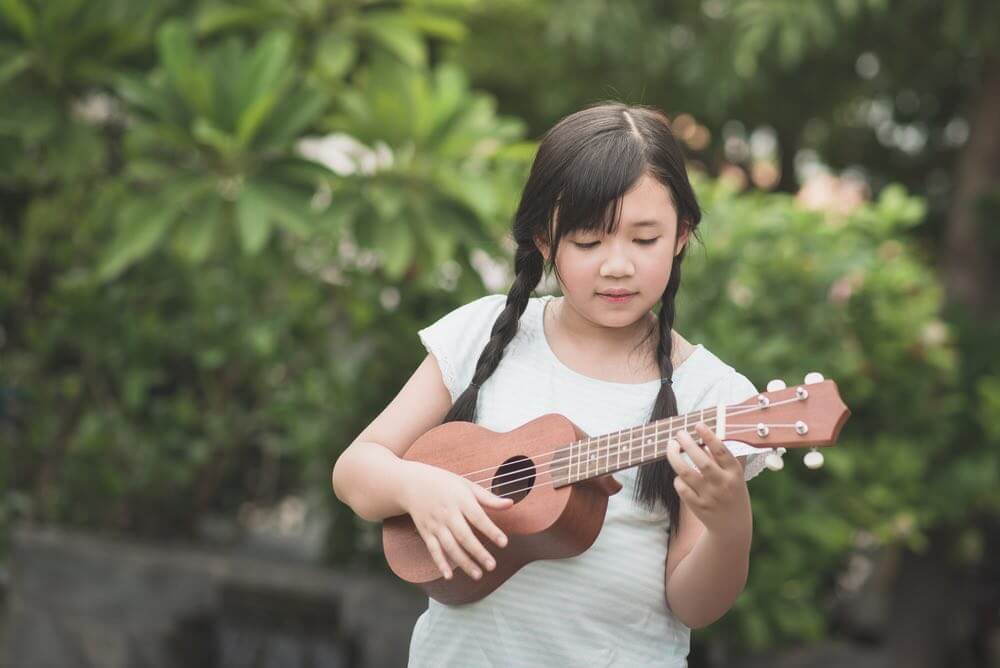 Portuguese plantation workers actually brought over ukuleles to Hawaii in the late 1800s. King David Kalakaua (the last king of Hawaii) loved the sound so much that he incorporated it into Hawaiian music.
Today, you'll hear the ukulele in many famous Hawaiian songs performed by top Hawaiian musicians.
The ukulele is also a popular first instrument for kids to play. That's because it only has 4 strings. Find out the best ukuleles for kids in my comprehensive review.
Hawaiian music would not be complete without ukuleles! They are another one of the top things Hawaii is known for.
5. Hula Dancing
Hula is a traditional Hawaiian dance that has been practiced for centuries. Originally performed by men, women were allowed to dance beginning in the late 1700s.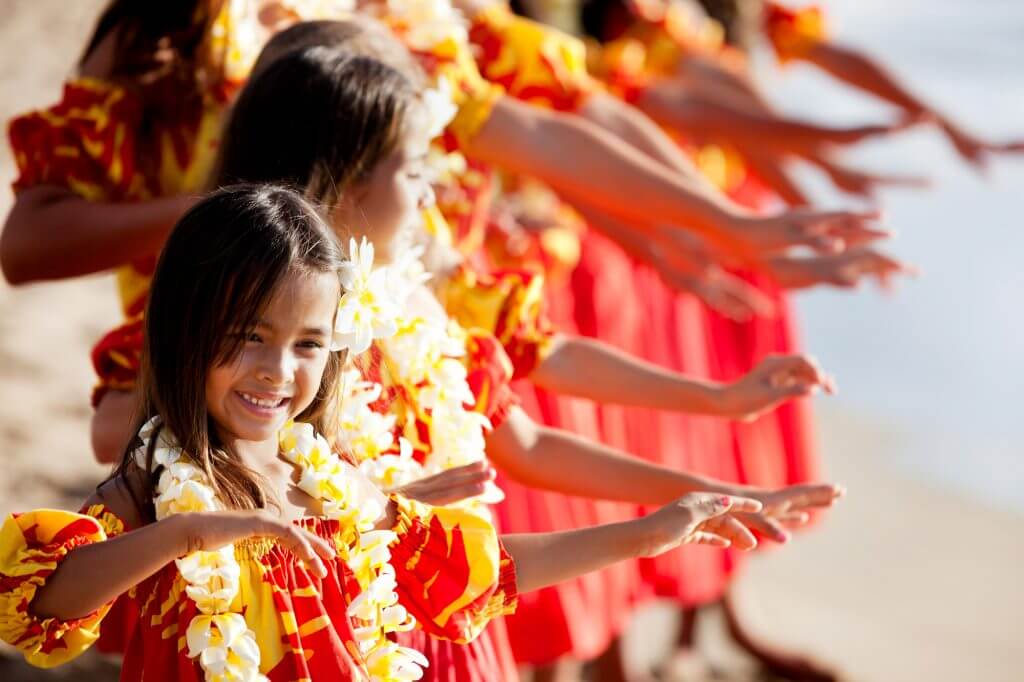 There are actually two types of hula dancing: Kahiko and Auana. Kahiko is the ancient style of dancing to drums and chanting. Auana is the more modern style with instrumental music and singing.
Today, you can enjoy some free hula shows in Hawaii or make a reservation at an authentic Hawaiian luau. Find out the best luaus on Oahu, Kauai, Maui, and the Big Island.
This dance is famous in Hawaii and all over the world.
6. Mai Tai Cocktails
The Mai Tai is a classic cocktail that has been associated with Hawaii for decades. The drink was actually invented in 1944 at Trader Vic's restaurant in Oakland. By 1960, it became one of the most popular drinks in America.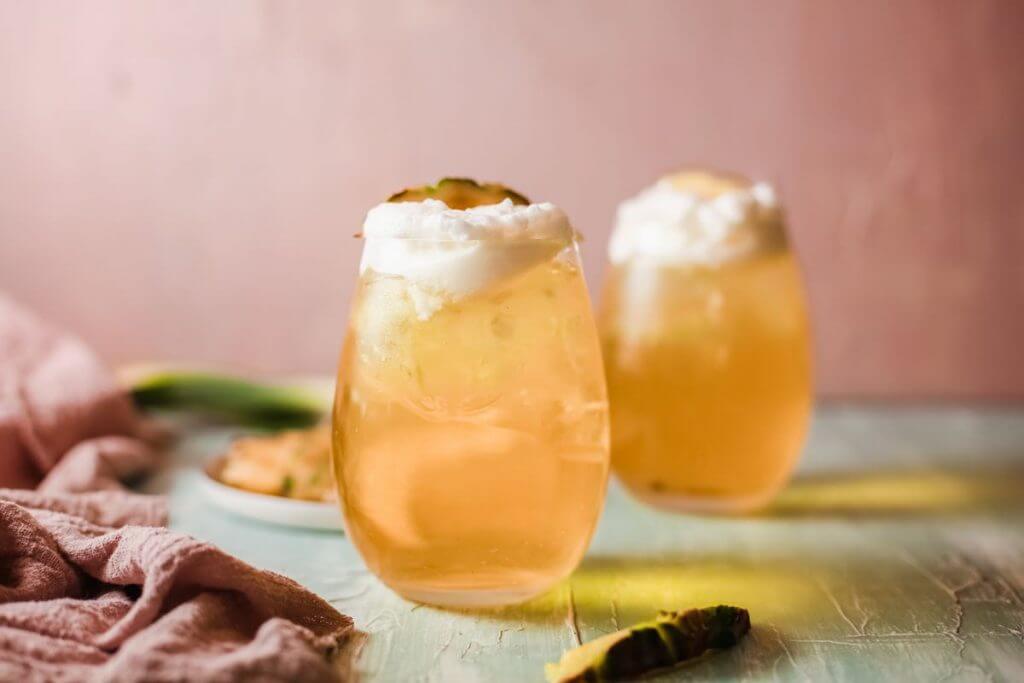 There are many variations on this Hawaiian cocktail recipe depending on which part of the world you are drinking it. However, it usually consists of rum, pineapple juice, lime juice, orange liqueur, and orgeat syrup.
One of the best places to have a mai tai in Hawaii is Merriman's or Monkeypod Kitchen. It's the same company, and they serve a mai tai with lilikoi foam on top that is incredible!
Get my copy-cat Monkeypod Kitchen Mai Tai recipe to make one at home!
It is definitely one of the Hawaiian things you'll want to try at least once!
7. Beaches
People come to the Hawaiian Islands for many reasons. Some are here on vacation, and others live here year-round. But one thing we know for sure is that there's no place quite like Hawaii when it comes to beaches!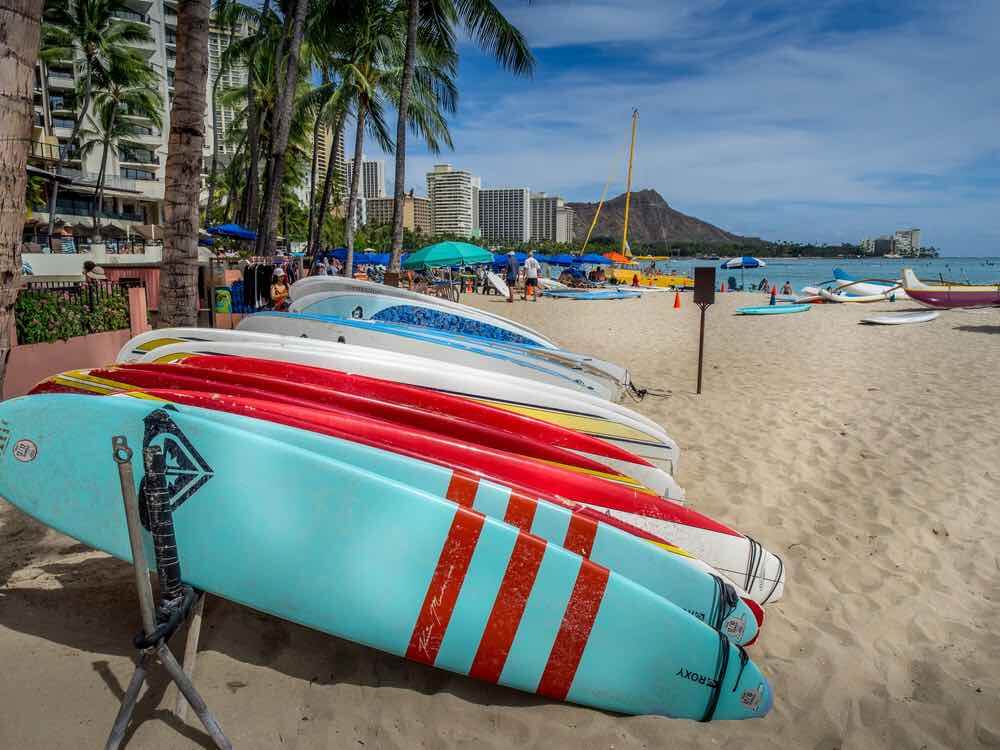 There are so many beautiful beaches in Hawaii, from sunny Waikiki Beach with its iconic surfers and can't-miss Diamond Head Crater in the distance, or majestic Hanauma Bay, where you can snorkel among an abundance of sea life in crystal clear waters.
And if you're looking for a beach experience off the beaten path…we've got those too. Check out places like Ke'e Beach with stunning views of Kauai's Na Pali Coast. Or visit Green Sands Beach on the Big Island.
Some of the most beautiful places in Hawaii are these beaches. From the famous beaches to more hidden beaches very few know about, you can't miss visiting these gorgeous places.
8. Sunshine
What is Hawaii known for producing? Sunshine, of course!
I don't know about you, but I almost always see the sun shining in pictures of Hawaii. It's almost as if it's a requirement for any photo of a tropical paradise to showcase sunshine!
On average, Hawaii enjoys 240 sunny days per year as it is a tropical climate right next to the Pacific Ocean.
The sunniest place in Hawaii is the Kohala Coast on the Big Island. It only gets about 10 inches of rain per year, making it one of the driest places in Hawaii.
Because of all this lovely sunshine, it's important to protect your skin. Make sure to pack reef-safe sunscreen as well as SPF rashguards to shield yourself from UV rays.
9. Shave Ice
One of the items that you see EVERYWHERE in Hawaii is Shave Ice. It's on every corner, and there are even food trucks devoted to it!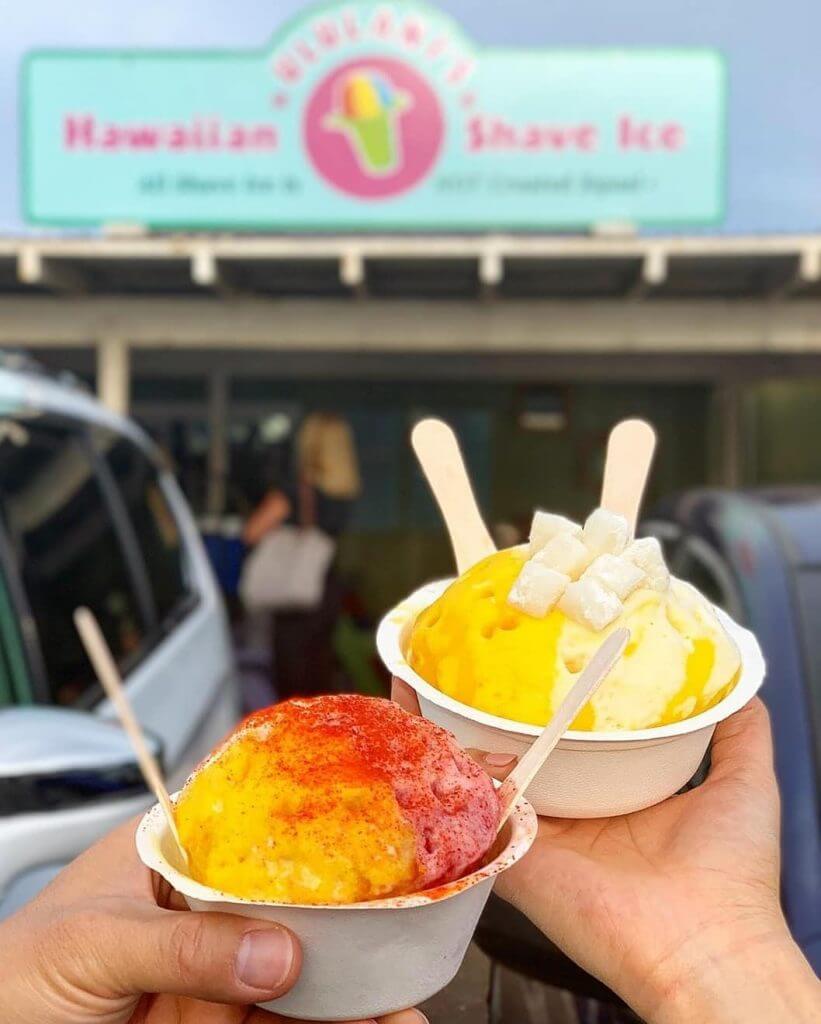 When Japanese workers came to work in the plantations in the early 1900s, they brought with them this Japanese dessert. It's basically a block of ice that is shaved to create fluffy snow, and then it's topped with fruit syrup.
Since then, this cold treat has evolved into a true masterpiece. Some of them feature organic fruit syrups, freshly cut tropical fruit, li hing mui, etc. And you can even find it with a scoop of Hawaiian ice cream on the bottom.
Find out the best places for shave ice on Maui and Oahu. It is another one of the Hawaiian food and things in Hawaii you will love to try.
10. Rainbows
Rainbows are a common sight in Hawaii, and there's a good reason for it. Hawaii is known for having quick bursts of rain followed by sunshine. The sun shines through water droplets in the air, which bend light rays as they pass through them like prisms.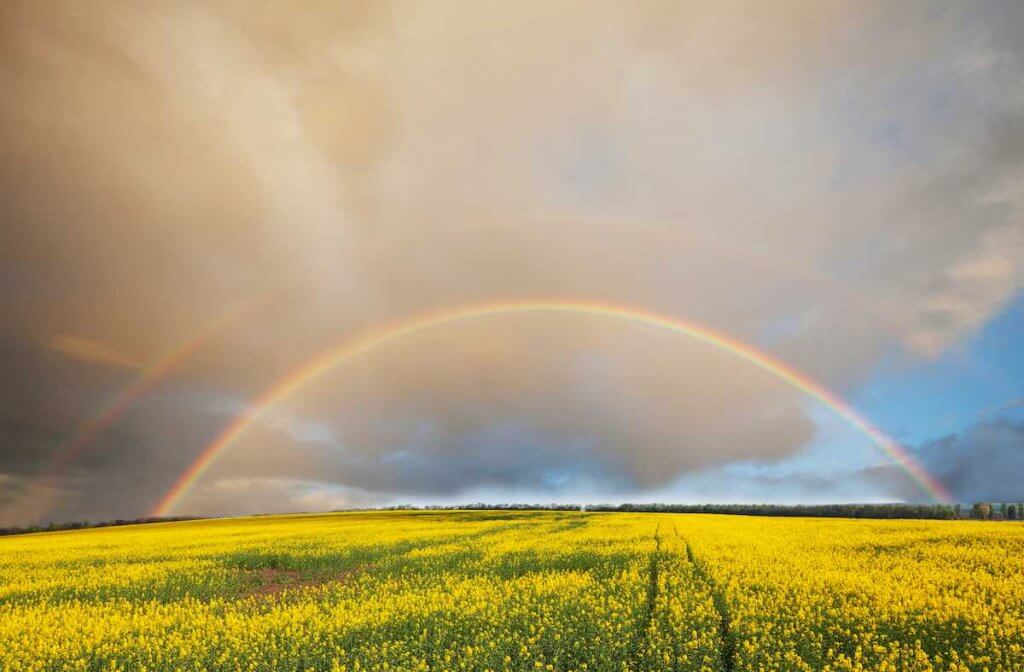 This is called refraction, and we call those rainbows! And it's not uncommon to see rainbows several times on your Hawaii vacation.
What's really special about the rainbows in Hawaii is that you can often see double rainbows. And in rare instances, you can even see triple rainbows.
11. Poke
Poke is a Hawaiian dish that's been associated with the state for quite some time, and it's easy to see why. With its fresh ingredients and simple preparation method, poke has become one of the most popular dishes in Hawaii.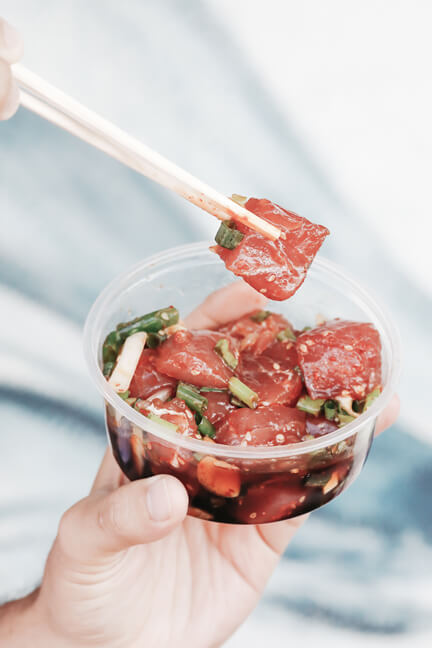 But what exactly is poke?
Poke is a traditional Hawaiian dish that is usually served as an appetizer or snack in Hawaii. It's typically made with cubes of raw fish, seasoned with soy sauce and sesame oil, and mixed together with seaweed (or other vegetables).
It's one of the latest food crazes on the Mainland, and you can find poke bowls (poke with rice) and even poke nachos.
Find out the best places to get poke on Oahu and Maui.
It is another one of the things Hawaii is famous for!
12. Leis
Leis are flowers that are strung together using a needle and thread. Giving a lei to someone is a way to show your love and appreciation. And it's also a way to mark an occasion like a wedding, graduation, birthday, or other special event.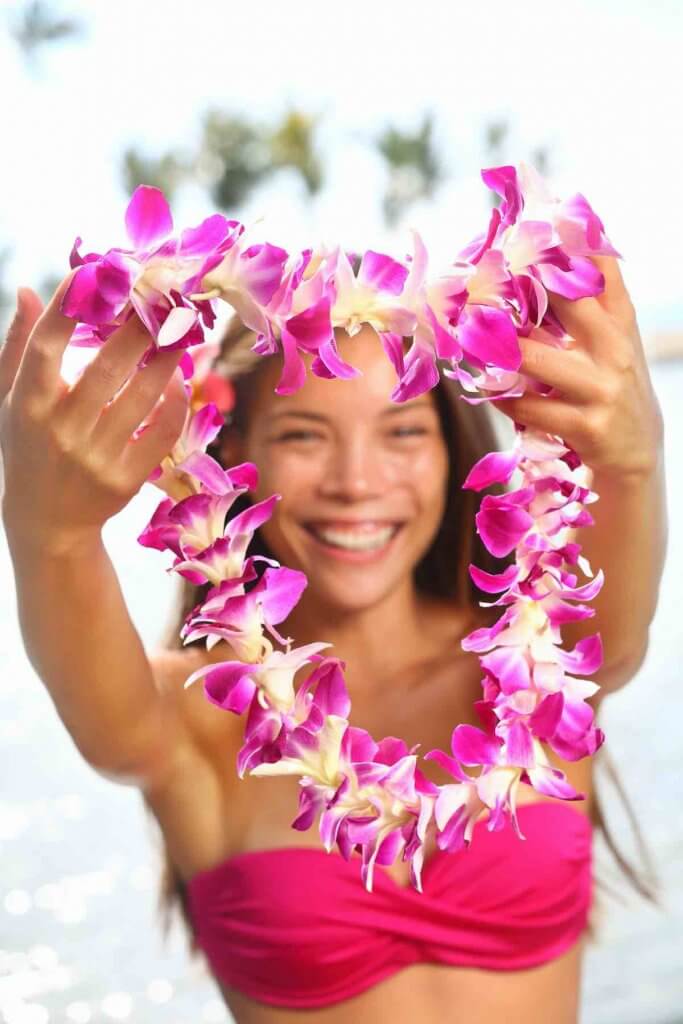 Leis are a common symbol of Hawaii, and they're worn by many people who visit the islands.
While a lot of people assume they will get a lei when they arrive in Hawaii, that hasn't been the case for many decades. You can pay to book a lei greeting at the airport, though. That's great for first trips to Hawaii.
If you attend a Hawaiian luau or check into a fancy resort, you'll probably get a fresh flower lei as soon as you arrive.
One of the best Hawaiian holidays is Lei Day. This takes place on May 1st, and there are usually lei-making contests, royal processions, and pageants.
It is one of the Hawaiian objects everyone loves!
13. Malasadas
Besides the ukulele, Portuguese settlers also brought along malasadas. These Portuguese-style donuts are covered in sugar. They're light, fluffy, and delicious!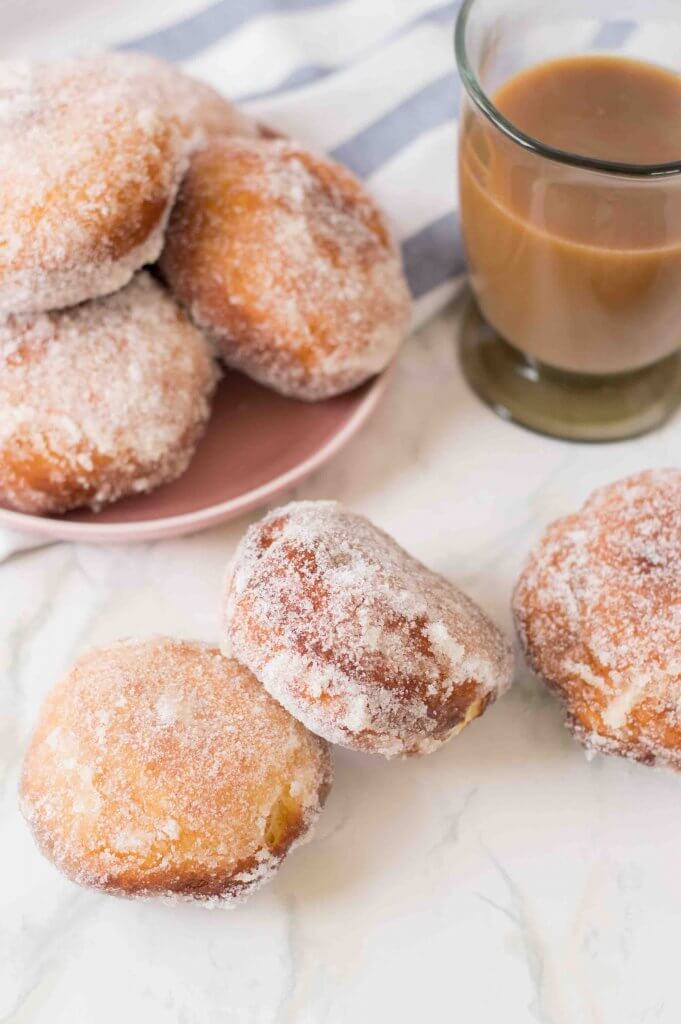 The traditional recipe is made of flour, yeast, water, butter, milk, sugar, salt, and vanilla extract. Then, it's shaped into balls before being deep-fried until golden brown.
Today, many bakeries also fill them with cream and fruit filling, like passion fruit, mango, or even ube.
It's hard to find them outside of Hawaii, so you should stop by your local bakery for some while on vacation in Hawaii! Leonard's Bakery is the most famous place to get malasadas on Oahu.
Or you can try to make them at home. Get my melt-in-your-mouth malasada recipe.
14. Kona Coffee
What is Kona Hawaii known for?
The Big Island of Hawaii is home to Kona coffee, which has a reputation for being the best in the state. It's also one of the most expensive coffees in the world.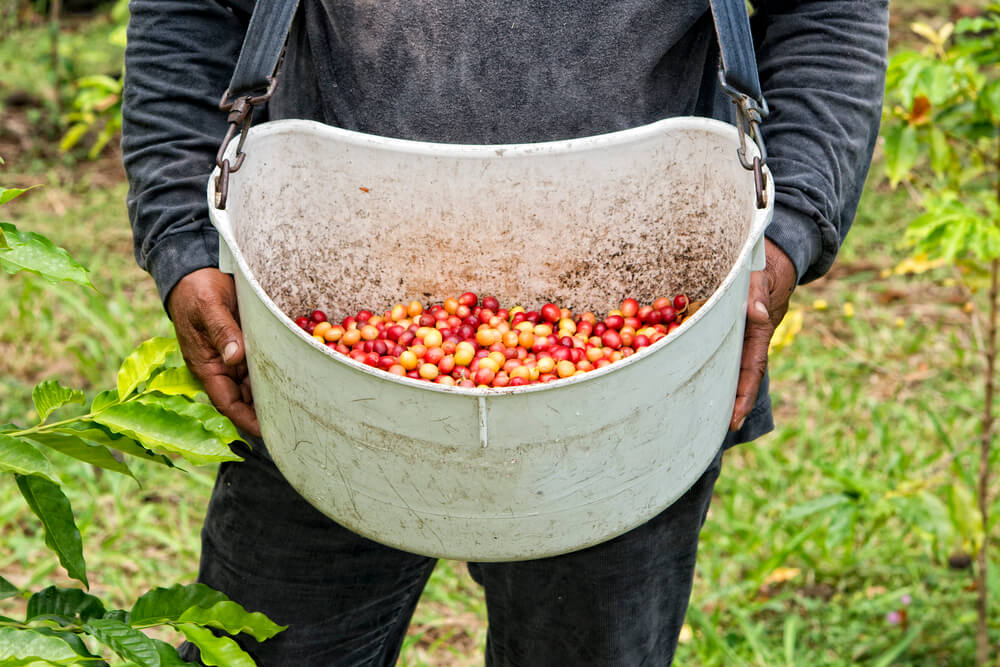 The coffee beans are grown on the slopes of Hualalai and Mauna Loa. Only coffee grown in the Kona district can authentically be called "Kona coffee."
So, if you're visiting the Big Island, you'll definitely want to stop by some of the coffee plantations and try this delectable drink for yourself.
But, they also sell Kona coffee just about anywhere in Hawaii. You can even pick up a few bags to bring home as Hawaiian souvenirs.
15. Volcanoes
Some people don't realize it, but Hawaii was completely formed by volcanic eruptions thousands of years ago.
Haleakala is a famous volcano in Maui. People drive up to see the sunrise at Haleakala Crater or ride bikes down for a scenic activity. However, Haleakala is a dormant volcano, meaning it doesn't erupt.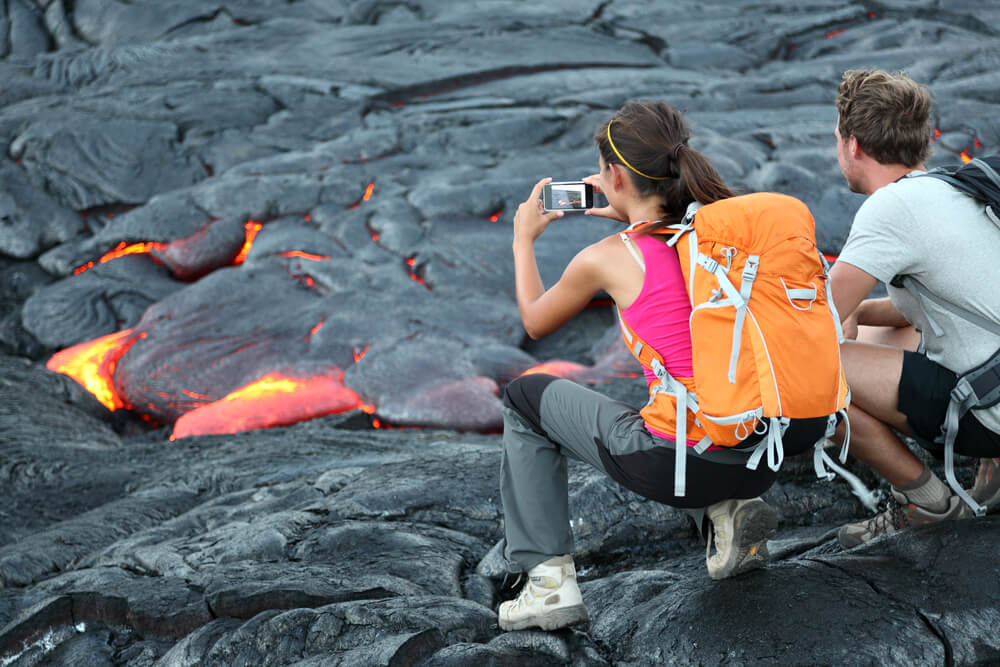 If you're wanting to see an active volcano in Hawaii, your best bet is to check out Hawaii Volcanoes National Park on the Big Island. That's where you'll find Kilauea. Mauna Kea is also on the Big Island.
Make sure to check to see whether or not it's currently erupting before you go. Regardless, it's still a really cool place to explore.
16. Spam
You will see Spam on just about every menu in Hawaii. It's served with eggs for breakfast, it's chopped up in fried noodles and fried rice, and you'll even see it on burgers.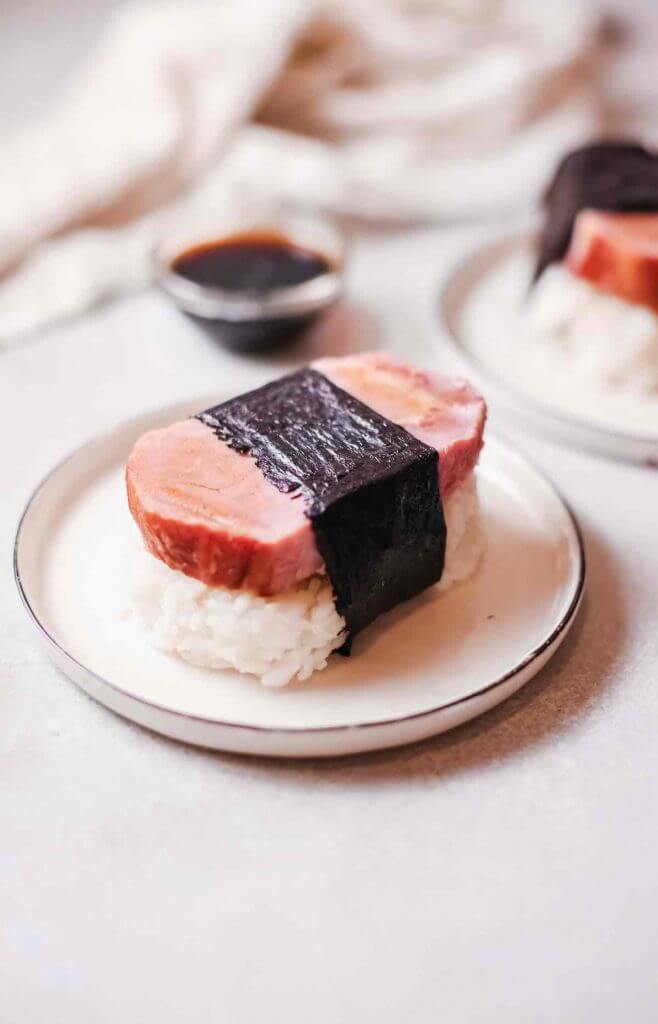 It's super popular in Hawaii because of World War II. It began when the U.S. government shipped this canned meat to Hawaii for American soldiers during Pearl Harbor. There was a surplus, and people who lived in Hawaii started incorporating it into their usual recipes.
The reason that it's continued to be used so much in Hawaii is that it's a pantry item that doesn't quickly expire. That's important for islands that import most of their food items.
It's such a celebrated food that it has a whole festival dedicated to it called Spam Jam.
My favorite spam item is Spam Musubi. You'll find this tasty snack item at convenience stores (like ABC Stores and 7-11) as well as on restaurant menus. It's an easy breakfast, lunch, or mid-day snack to take to the beach.
17. Aloha Shirts
Aloha shirts first became popular in Hawaii in the 1920s-1930s featuring Japanese prints. There are actually some conflicting reports of who exactly invented it. Regardless, they have since become an iconic piece of Hawaiian clothing.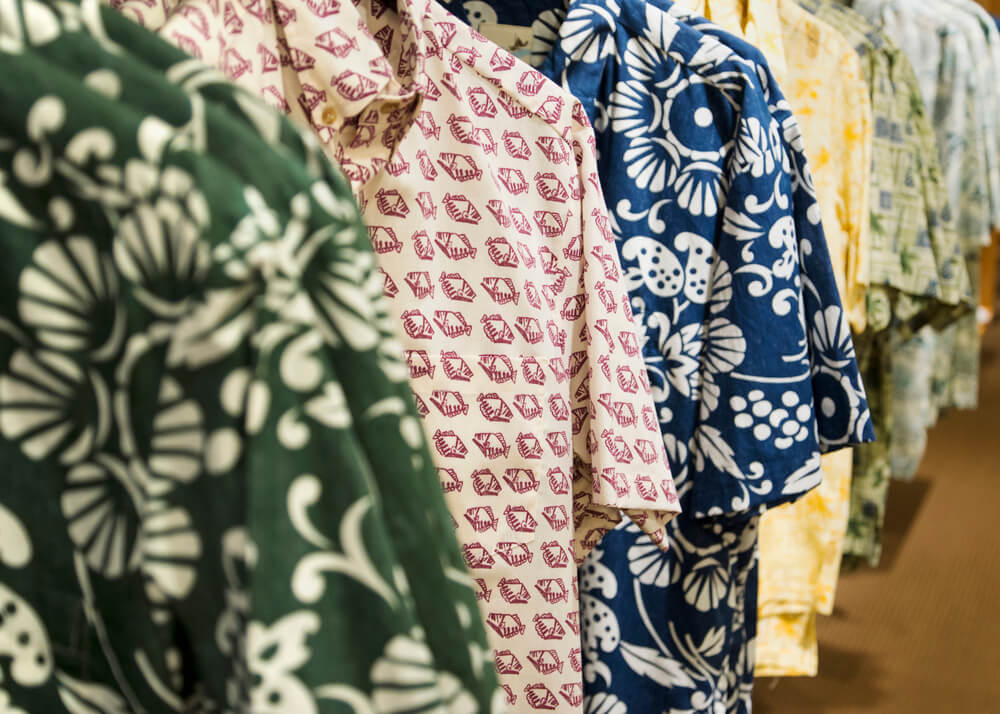 After World War II, many servicemen who were stationed in Hawaii came back to the mainland with a few Aloha shirts.
Today, these colorful and fun-loving pieces of clothing can be seen at any tourist spot in Hawaii. And they are worn by everyone from surfers to businessmen. An aloha shirt is what Hawaii is known for!
And you can find them anywhere, from the Aloha Swap Meet to Costco to high-end luxury stores. People even collect fancy Aloha shirts from Reyn Spooner.
18. Mu'u Mu'u Dresses
Missionaries actually brought the mu'u mu'u dresses to Hawaii in the 1820s. They were called Mother Hubbard dresses, and their main purpose was to cover women up and promote modesty.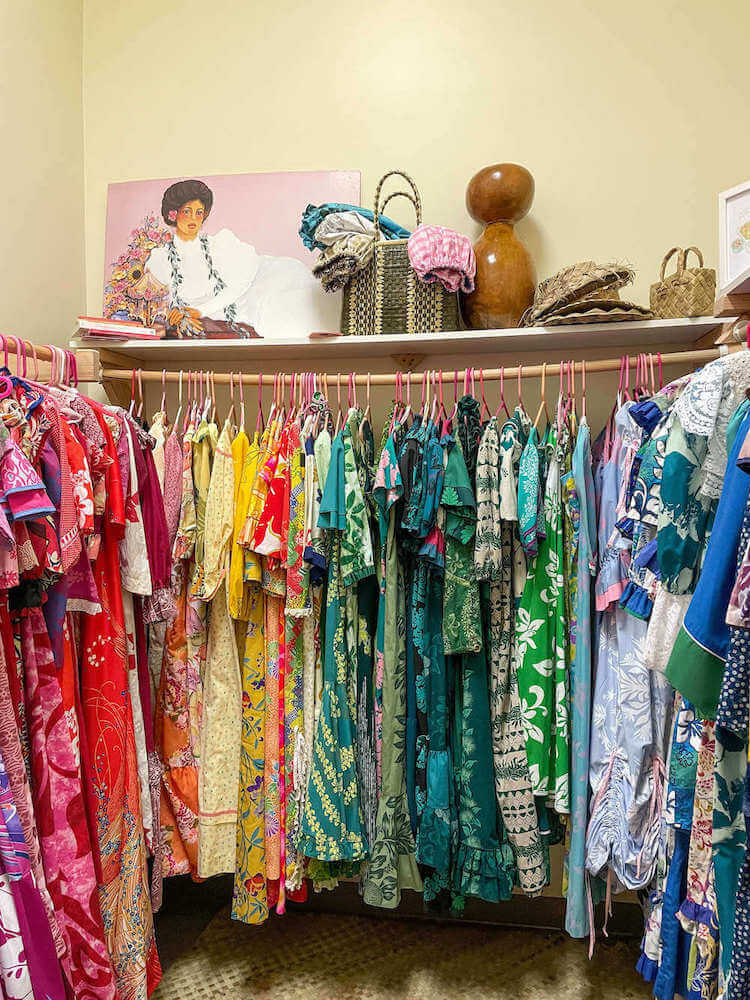 Throughout the years, the style has changed. Some are pretty form-fitting and used for a hula dance. Some have a long train for formal events. There are even shorter styles for everyday use.
Today, the mu'u mu'u dress is making a fashion comeback. I urge you to pick one up to wear to a luau or any event in Hawaii.
19. Sugar Cane
Polynesian settlers first brought sugar cane to Hawaii as early as 600 AD. Used for medicine and food, it's played a huge part in Hawaiian culture.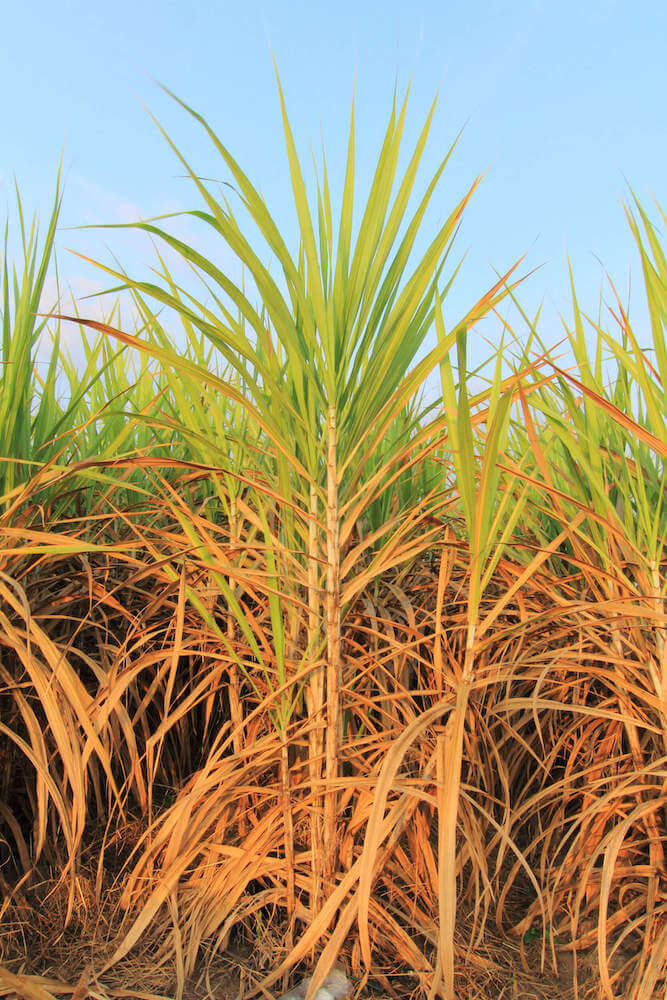 In the mid-1800s, sugar plantations were established, and workers came from all over the world to work the fields. That's a big reason why Hawaii is considered a true melting pot of cultures.
Today, the sugar cane plantations in Hawaii have all shut down. Some have turned into museums, like the Alexander & Baldwin Sugar Museum on Maui.
20. Coconuts
A lot of people don't realize it, but coconuts aren't naturally from Hawaii. The early Polynesian settlers brought them in their canoes as a source of food.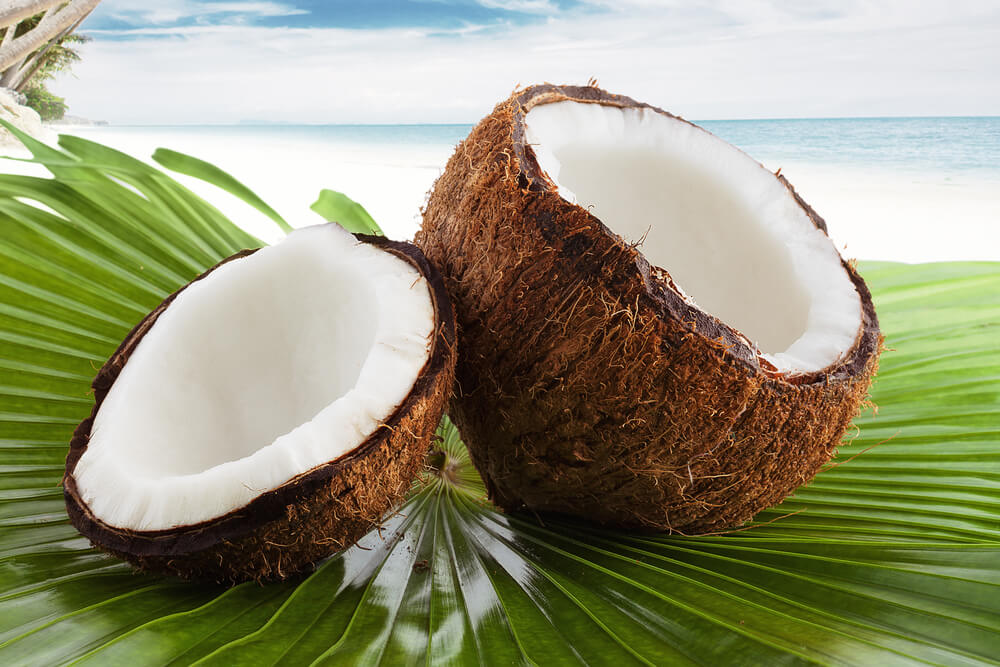 However, coconuts are everywhere in Hawaii, from the coconut trees lining the coast to island drinks like Mai Tai's and Piña Coladas. You can't go anywhere without seeing a sign or advertisement for fresh coconuts.
They are also a major ingredient in a lot of Hawaiian desserts like chocolate haupia pie and coconut cake.
21. Hawaii Five-0 (and other TV shows)
There are tons of TV shows filmed in Hawaii, but the most well-known is Hawaii Five-0. The original series was filmed in the 1960s-1970s and featured the iconic line "Book 'em Danno!"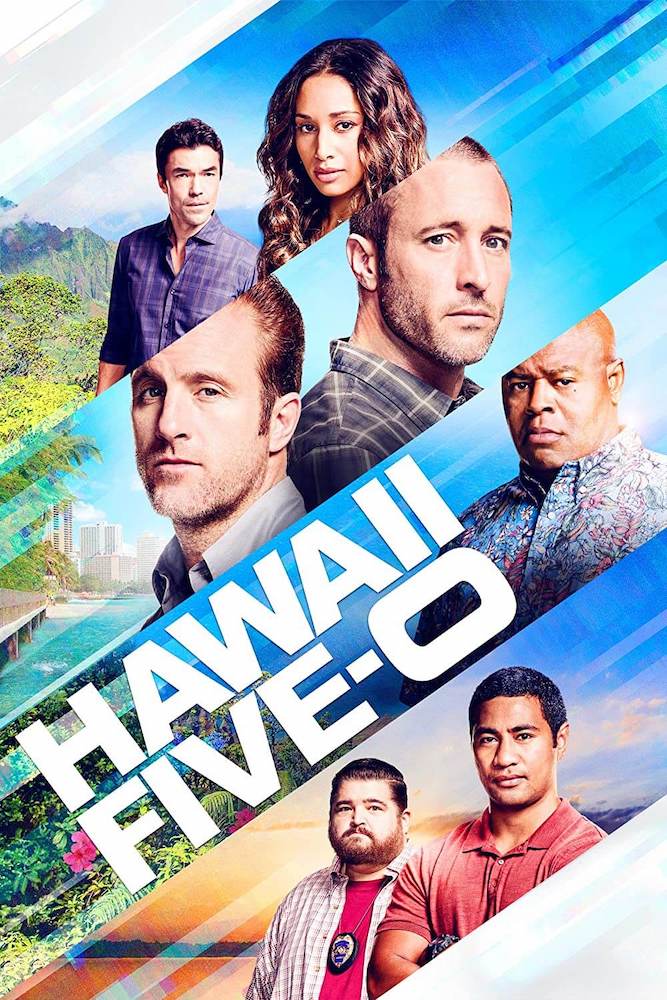 In 2010, the show was re-booted and lasted 10 seasons. They filmed mostly on Oahu.
Magnum P.I. was another popular show filmed in Hawaii in the 1980s starring Tom Selleck. It was re-booted in 2018.
22. Shrimp Trucks
Hawaii has some of the sweetest shrimp in the world. And there's no better place to taste it than the North Shore of Oahu.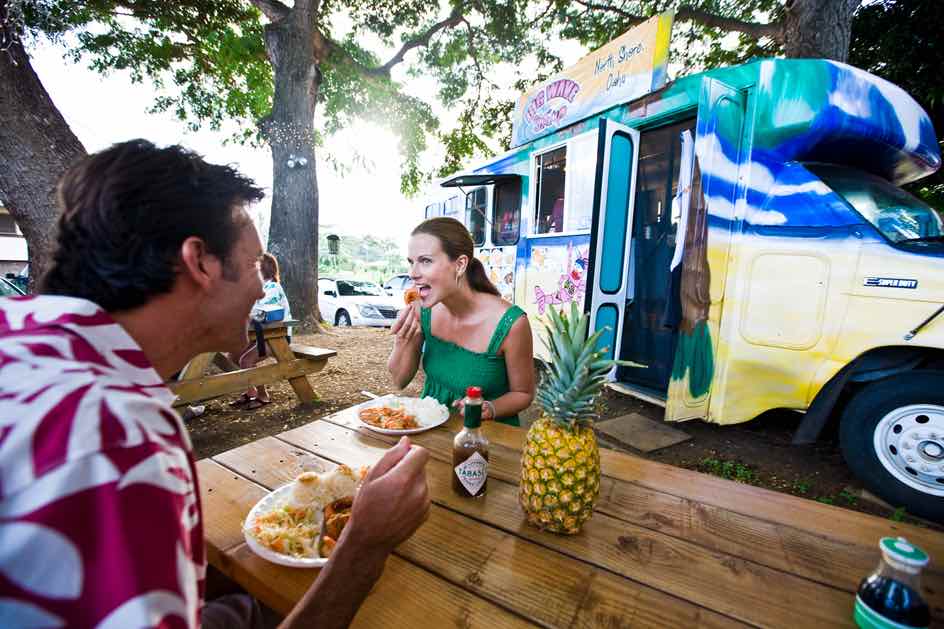 Here, you can find tons of North Shore food trucks. Many of them specialize in garlic shrimp, butter shrimp, and even coconut shrimp.
These shrimp plates usually come with rice and a scoop of macaroni salad.
23. Macadamia Nuts
Macadamia nuts are originally from Australia, but they've become so popular in Hawaii that it is now synonymous with the state.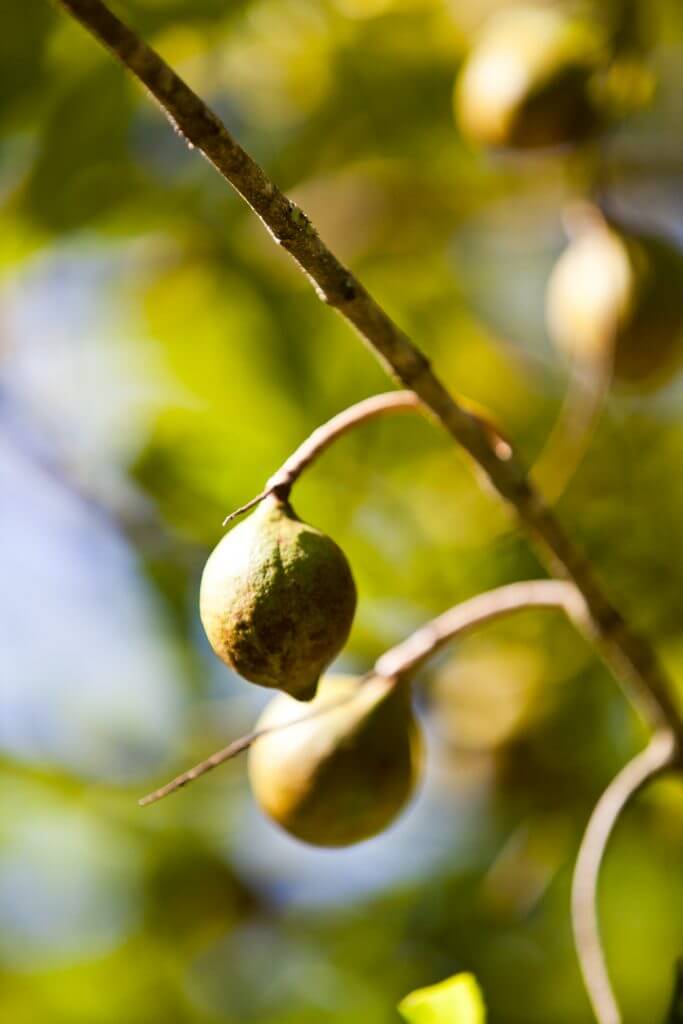 The popularity of these delicious treats has a lot to do with their taste and texture. That's why many people find them more flavorful and crunchier than other types of nuts.
You'll see them used in lots of different savory recipes, including macadamia nut-crusted fish, as well as Hawaiian desserts.
And one of the most popular Hawaii souvenirs includes chocolate-covered macadamia nuts! Hawaiian Host and Mauna Loa are two popular brands of chocolate macadamia nuts.
What is Hawaii Best Known For FAQs
What's the best Hawaiian island to visit?
It really depends on what you like to do. Oahu is a popular island for first timers because they can visit Pearl Harbor, Waikiki Beach, and see Diamond Head. Maui has a great mix of luxury resorts as well as day trips like the Road to Hana and Haleakala Crater. Kauai is perfect for adventure travelers who want to hike the Na Pali Coast or explore the Waimea Canyon. And the Big Island has black sand beaches and Hawaii Volcanoes National Park.
What's the best month to visit Hawaii?
If you want to escape the crowds, I suggest visiting Hawaii during its shoulder seasons. These run mid-April to June (between Spring Break and Summer Break) as well as September to mid-December (after the start of school and before Winter Break).
Should I rent a condo or hotel?
If you're looking for a place to stay in Hawaii with a lot of amenities like on-site restaurants, pools, and a workout center, you'll want to look at resorts in Hawaii. If you're hoping to save money in Hawaii, look for condos with full kitchens and washer/dryers in the units.
What is Hawaii famous for?
Hawaii is known for its stunning beaches, the hula dance, Hawaiian cuisine, and the Pearl Harbor Attack.
How big are the Hawaiian islands?
There are eight main islands of ancient Hawaii, and the Big Island is the biggest out of them all, with Maui being second, and Oahu third.
What food is Hawaii known for?
The traditional Hawaiian dishes include poi, poke, loco moco, and kalua pork. Other Hawaiian food you will see on the islands are shave ice, malasadas, and taro, amongst others.
What is Maui known for?
Maui, Hawaii, is known for being the Valley Isle, Haleakala National Park, stunning beaches, and so much more.
What is Kauai known for?
Kauai is known for being a natural beauty island. You will see Waimea Canyon, Na Pali, native birds, and so much more.
What is Oahu known for?
Oahu is known for being a popular tourist destination that has the only royal palace, a diverse culture, USS Arizona, Dole Plantation, and Pearl Harbor. Oahu, Hawaii, is known for having tons of tourist attractions.
What is Molokai known for?
Molokai is known for being a widely untouched island with tons of natural beauty. It also has some pretty high sea cliffs too.
What is Lanai known for?
Lanai was famous for pineapple farming and is now known for being a fun island to visit for a day trip.
Wrap Up
I hope you've enjoyed reading about some of the top things associated with Hawaii. From pineapples and shave ice to surfing and hula dancing, there really is something for everyone in this beautiful state.
If you are traveling soon or want a little help planning your next trip to the island, be sure to download my step-by-step vacation planner, which will have everything covered, from booking flights (and seats) to packing tips!
Enjoy exploring all that Hawaii has to offer!